Some posts on this site contain affiliate links, meaning if you book or buy something through one of these links, I may earn a small commission (at no additional cost to you!). Read the full disclosure policy here.
---
Looking for the best honeymoon destinations in December? We've got you covered!
Whether you are getting married in December or postponing your honeymoon a bit, the best romantic honeymoon destinations in December can easily be found. There are places to escape the cold, spots for witnessing the Northern Lights, and many more romantic destinations for a December honeymoon.
So we've compiled a list of the best honeymoon places in December for you to enjoy that post-wedded bliss!
Happy honeymooning!
The 21 Best Honeymoon Destinations in December
When it comes to the best places to visit in December for a honeymoon, there are ample dreamy winter wonderlands, tropical paradises, and adventurous mountains to enjoy! Check out these top honeymoon destinations.
Adventurous Honeymoon Places to Visit in December
From exciting safari drives to mountain trekking, there are several destinations for a December honeymoon that are ideal for adventure!
South Africa Is One Of the Best Places to Visit in December for a Honeymoon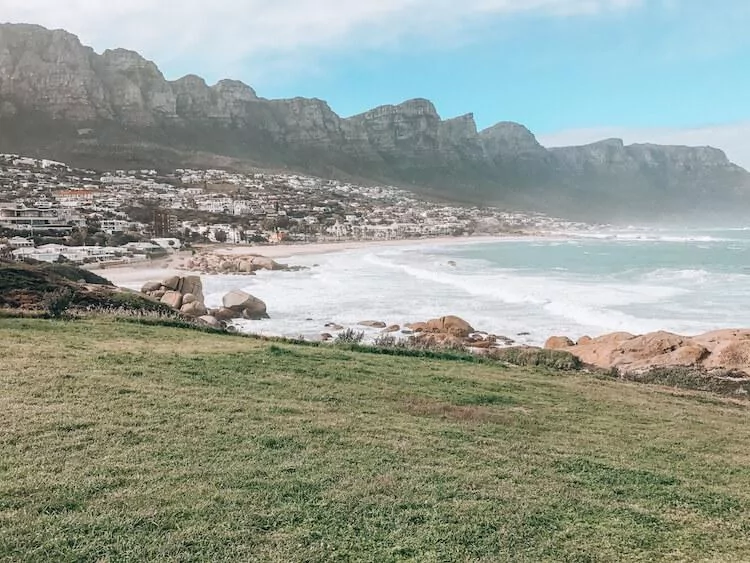 South Africa is located in the southern hemisphere, meaning December is their summertime! This makes it ideal for strolling hand-in-hand in Cape Town, sipping delightful Pinotage and Chenin Blanc at a luxurious wine estate in the Cape Winelands, and, of course, getting in touch with nature as you explore the Big 5 on safari!
Just keep in mind that while the weather is great in Cape Town and the Winelands, it can be a bit rainier near many of the safari reserves and in Kruger National Park. However, as it is the end of spring, you may catch a glimpse at some adorable baby animals!
South Africa is also one of the most affordable countries for a safari. You can score 5-star luxury safari tents, like at Simbavati River Lodge, for under $1,000 per night including game drives, food, and some drinks!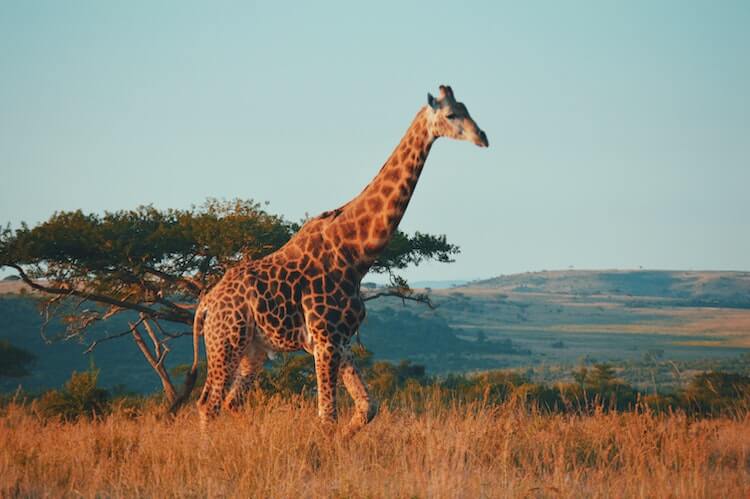 South Africa is a stunning country to visit year-round, but December is a wonderful time of year to go. If you plan to visit South Africa, be sure to check out our 2 Week South Africa itinerary!
Australia & New Zealand Make For Perfect December Honeymoon Ideas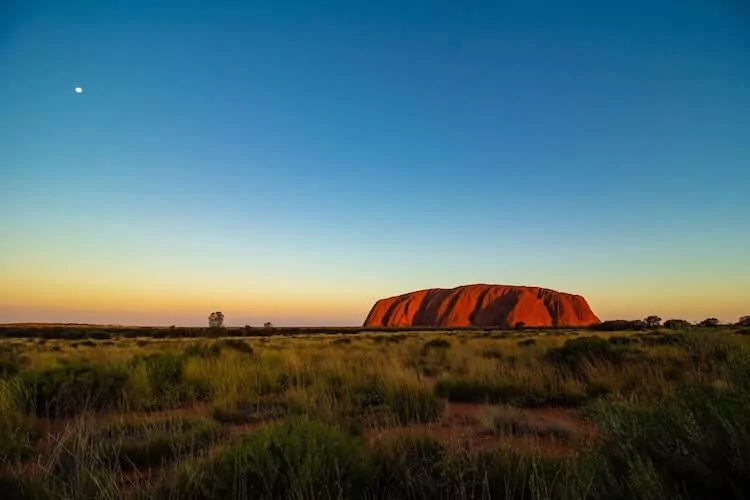 Escape the cold weather in the southern hemisphere in Australia and New Zealand. While this is a popular time of year to visit, the warm weather and incredible opportunity for adventure make these places well worth adding to your December honeymoon idea list!
In New Zealand, December is perfect for spotting penguins in the Otago Peninsula, exploring the beaches in the Coromandel Peninsula, and enjoying the bright lights of the Waitomo Glowworm Caves.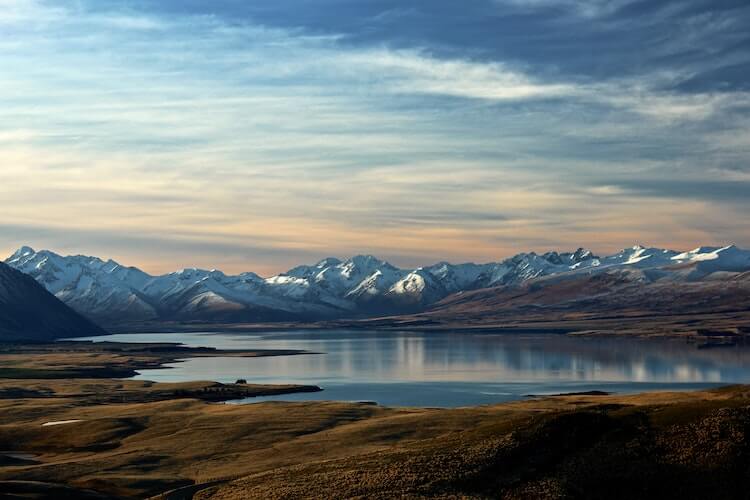 For more on visiting New Zealand in December, be sure to check out our podcast episode!
In Australia, it is the perfect time for beach hopping, enjoying the sights and sounds of Sydney, snorkeling in the Great Barrier Reef, visiting the majestic Uluru, and staying in an idyllic fruit farm lodge in Daintree Forest.
Dance, Drink, and Hike in Argentina and Chile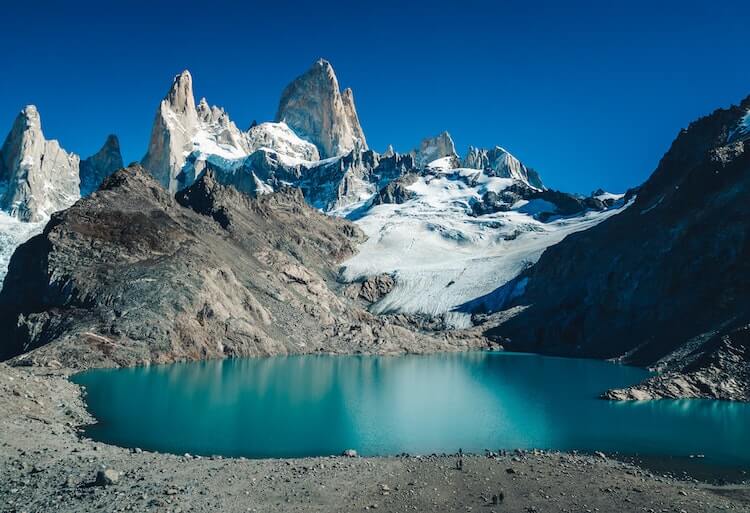 When it comes to the best places for honeymoons in December, I can't think of more exciting spots than Argentina and Chile.
Dance the tango in the streets of Buenos Aires, visit the stunning Iguazu Falls, taste enchanting Malbecs in Mendoza, see delightful penguins in Ushuaia, and then start your journey to Patagonia.
Patagonia comprises both Argentina and Chile and includes incredible places like Perito Moreno Glacier and Torres del Paine. Looking for Patagonia tours? Intrepid Travel has some great ones!
Malta is One of the Best Winter Sun Destinations in Europe for a Honeymoon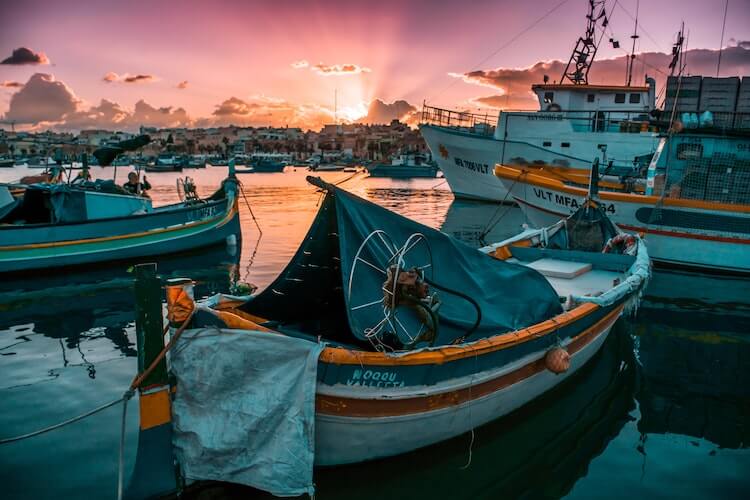 It can be hard to find a warmer destination in Europe to enjoy during the month of December. While not terribly warm enough to enjoy swimming in the sea, this island nation in the Mediterranean has plenty of sunshine and incredible views!
Visit the old capital of Mdina, explore the capital city of Valletta (where parts of Game of Thrones were filmed), take the ferry to Gozo to admire scenic beaches and rugged coastlines, visit the megalithic temple complex of Ggantija, and visit the charming fishing village of Marsaxlokk.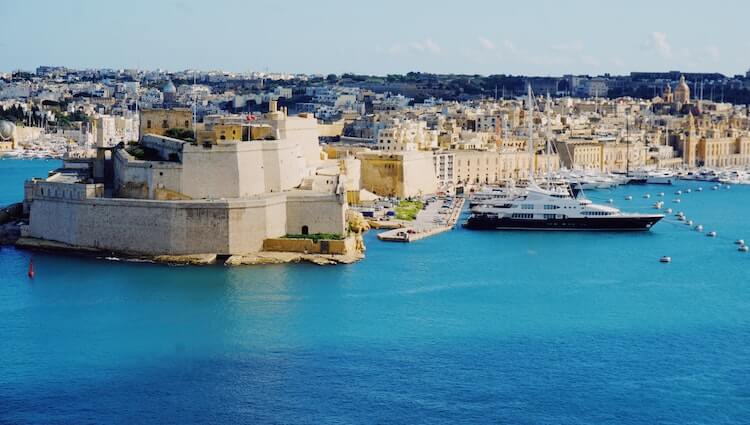 I recommend basing yourself in Valletta for most of the time, but be sure to check out Gozo for a few days too! A stay at Hotel Ta'Cenc & Spa on Gozo has stunning coast views and is really affordable, and LA Falconeria in the heart of Valletta is perfectly charming. It is definitely a lovely European honeymoon idea!
The Best Honeymoon Destinations in December for Romance
After months and months of wedding planning, sometimes you just need to take the time to reconnect and enjoy your honeymoon with your love! These December honeymoon ideas will help you do just that!
Thailand is the Gorgeous December Honeymoon Destination You Need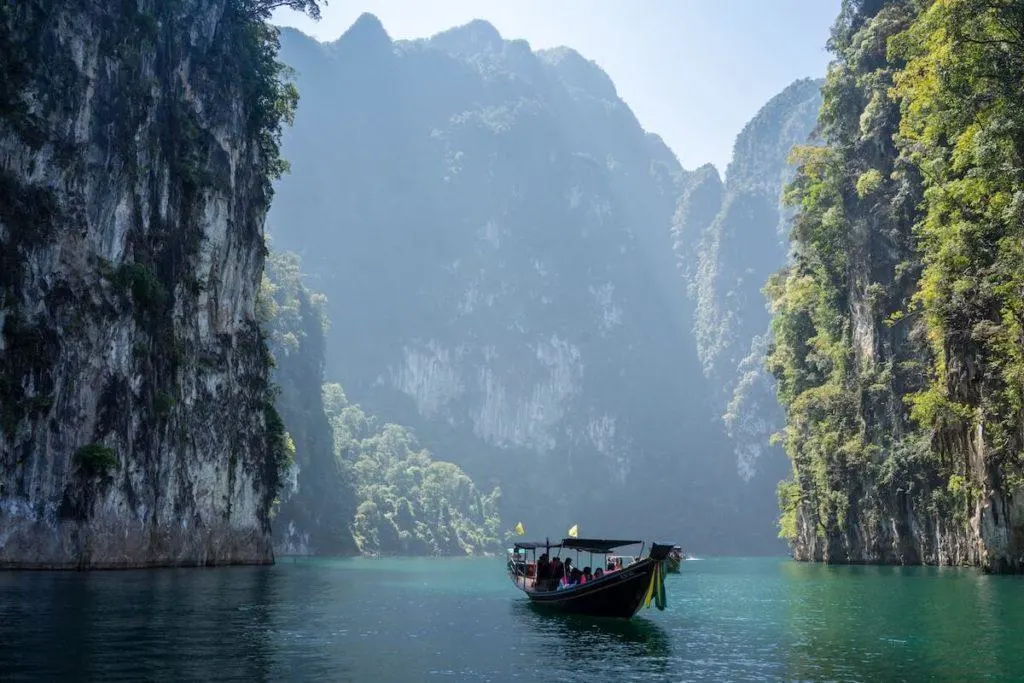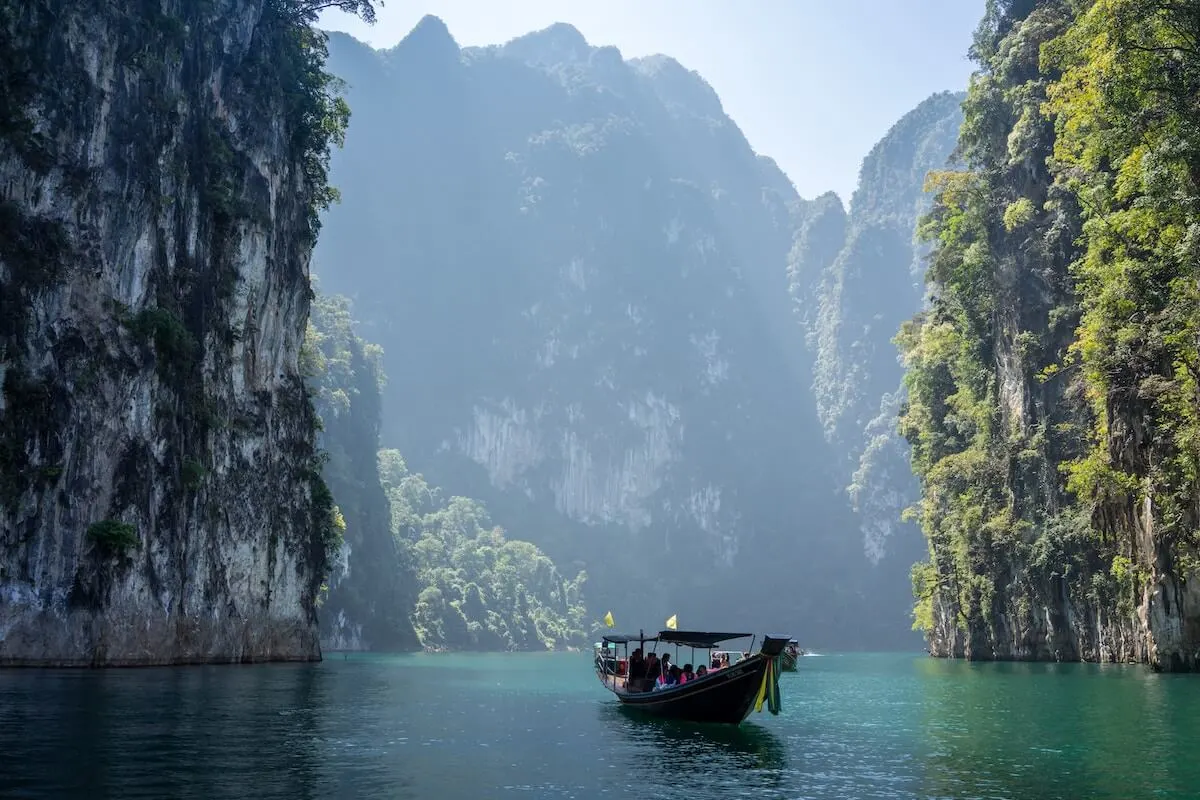 From the relaxing beaches and islands in the south to stunning mountains in the north, Thailand has it all for the perfect honeymoon destination.
Chris and I actually spent 10 days in Thailand during our own honeymoon in November of 2018, and we loved the relaxation, adventure, and romance the country offered. And December is the best time to visit Thailand as it is the dry season, the temperatures are more pleasant, and the days are sunnier!
Enjoy the exciting city of Bangkok, explore the northern jungles while walking with an elephant at Elephant Nature Park in Chiang Mai, and relax and let time slow down at the quiet and lovely Koh Lipe island in the Andaman Sea.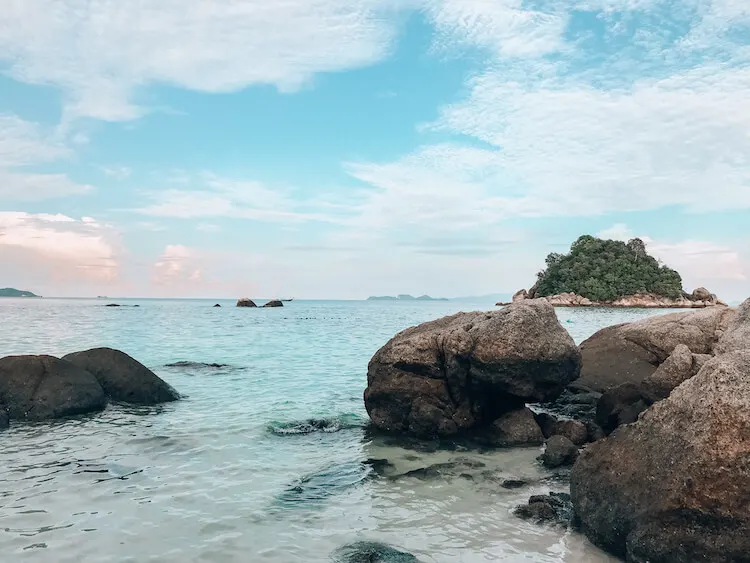 For the ultimate luxury at a super affordable price, check out Akyra Manor in Chiang Mai for honeymoon pampering you'll love!
Planning to enjoy Southeast Asia during your honeymoon? Check out our 3 Week Southeast Asia itinerary for more!
Bali is Full of Romance for Your December Honeymoon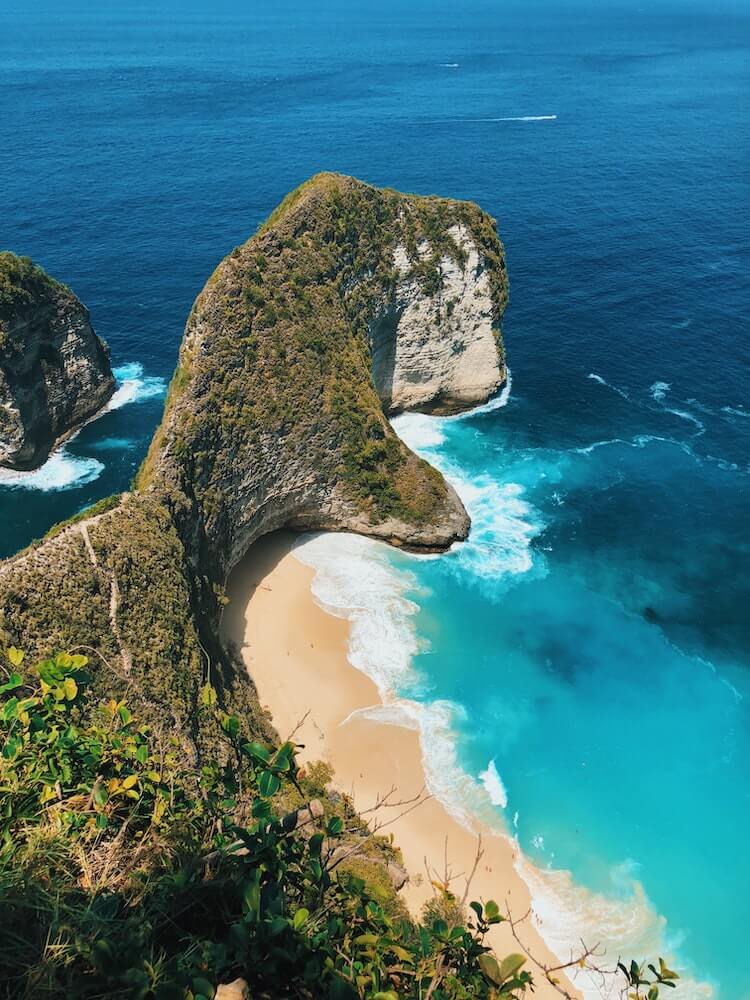 Speaking of Southeast Asia, Bali is also a perfect place to visit during your honeymoon in December. While this is the rainy season, it is still a fantastic time to visit as the rain doesn't last all day and you can use the rainy time to get amazing and inexpensive massages!
Marvel at stunning temples, rent a motorbike and venture to the dreamy rice paddies, take in the food and culture in Ubud, explore Monkey Forest, and snorkel or dive to some gorgeous coral reefs!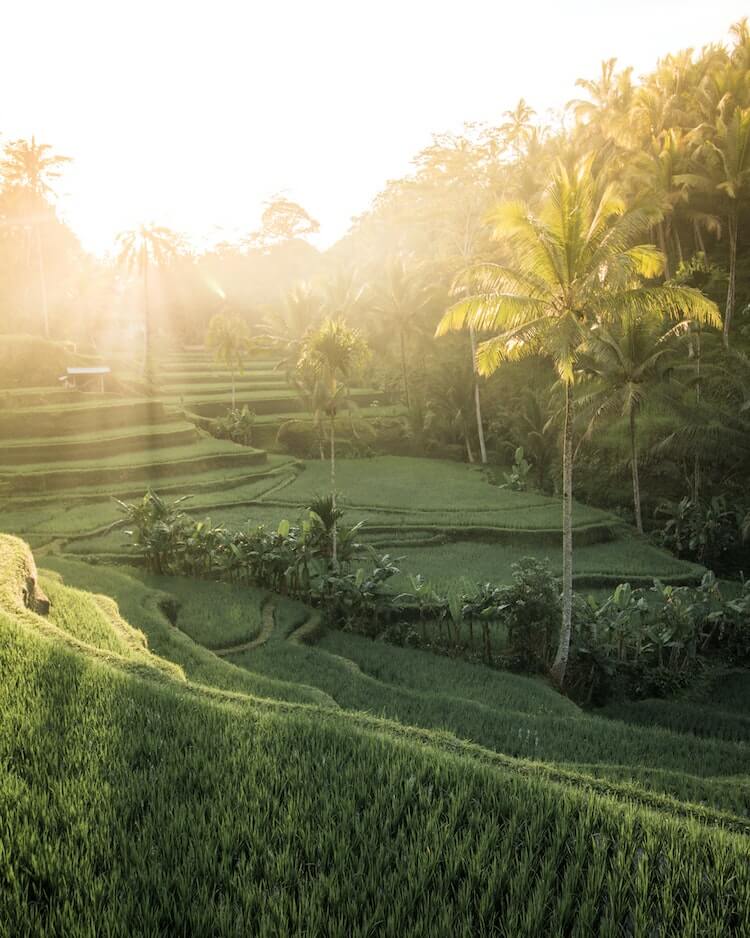 A stay in Bali is idyllic for any honeymoon, and to top it off, you've got to stay at a luxury resort! For incredible luxury without the crazy high costs, check out Alaya Resort Ubud.
Dubai is One of the Best Places to Go For a Honeymoon in December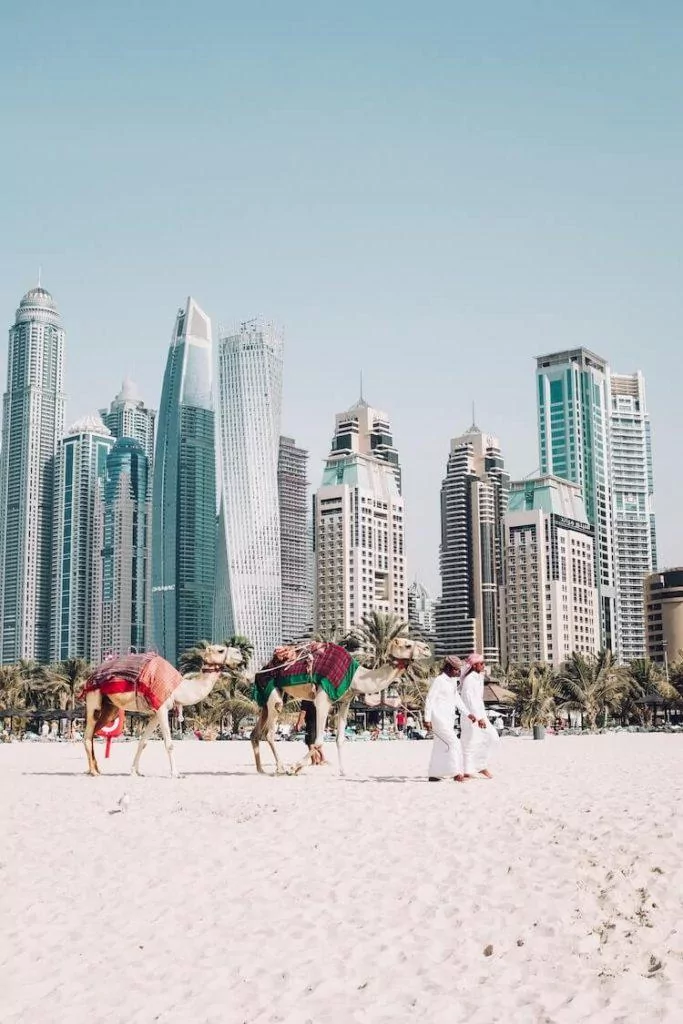 With much cooler weather than the summer months, December is perfect for a visit to the luxurious and romantic city of Dubai.
Filled with glitz, glamour, style, and luxury, Dubai is a place to treat yourself for a pampered honeymoon. Visit the tallest building in the world, Burj Khalifa, explore the souks, sail to Dubai's old town along Dubai Creek, relax on the beach, and definitely splurge on a nice hotel.
If you are planning a honeymoon in December that includes going all-out, Dubai is your place! They even have 7-star hotels like the famed Burj Al Arab hotel! So splurge on a really fancy hotel to celebrate your honeymoon!
Check out things to do in Dubai here!
Relax and Enjoy Romantic Mauritius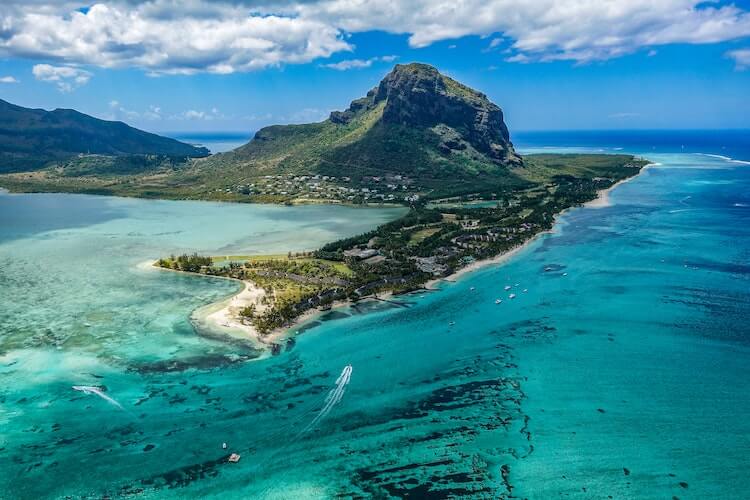 This African island nation in the Indian Ocean has so many incredible things to do during a honeymoon! From the iconic beaches to the mountainous peaks, Mauritius is a place where you could relax and plant yourself on the beach for a week or hike to amazing spots!
On the water, you can sail around, spot wild dolphins, kayak in Tamarin Bay, and partake in several water sports like diving, snorkeling, water skiing, and more.
Then, check out the interior of the island for incredible views like Chamarel Waterfall, 7-Coloured Earth, and more!
For a romantic spot to stay in Mauritius, check out the LUX Le Morne located on the sunset side of Mauritius and offers great views of the ocean as well as mountains!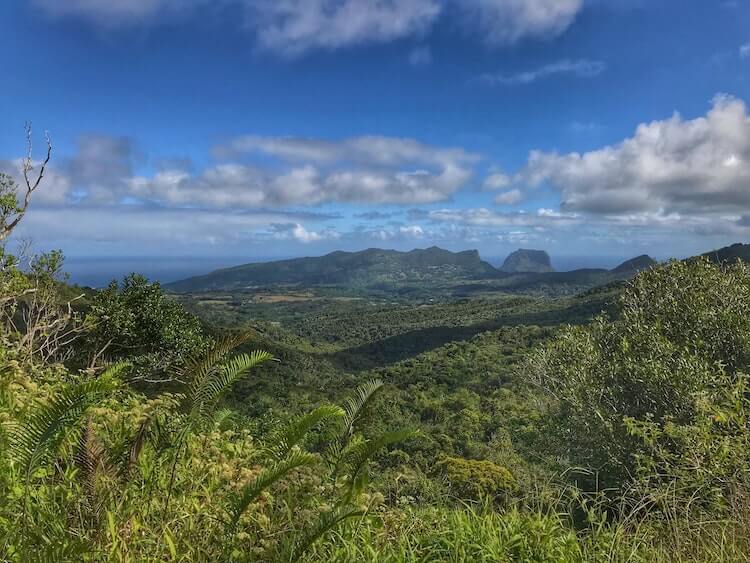 Sedona, Arizona is Full of Romance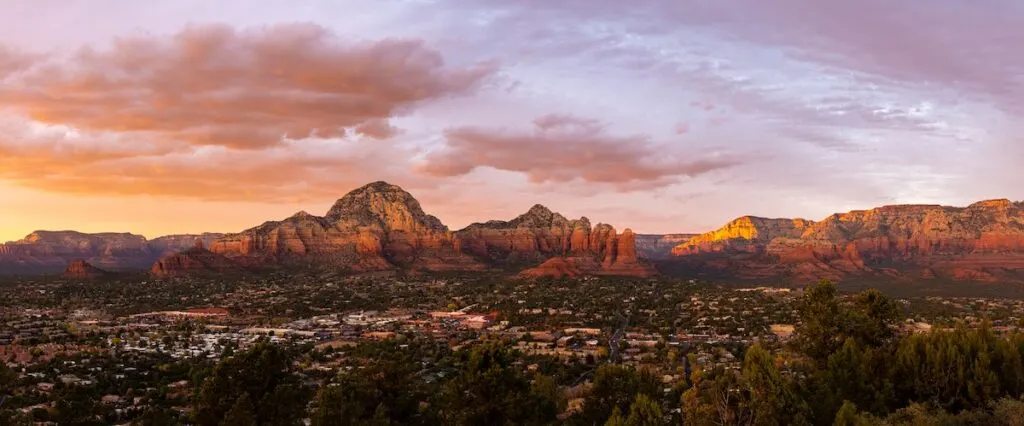 From several spas to dreamy landscapes, Sedona is easily a romantic honeymoon destination. And in December, you'll have far fewer crowds than during the peak times of the year.
Daytime temperatures are breezy and evenings are cool, making this a great time to visit for things like hiking to the red rocks, sipping through the Verde Valley Wine Trail, and relaxing together at luxurious spas.
A great place to stay in Sedona is Enchantment Resort. This place has stunning rooms and suites, a luxurious spa, a heated pool, and several amenities to make your stay special. Plus, you are immersed in nature here.
The Perfect Tropical December Honeymoon Ideas
While December in the US usually means chilly weather and shorter days, that doesn't mean you can't escape the cold and honeymoon in these tropical locales!
Aruba is an Island Oasis and is One of the Best Places to go for a Honeymoon in December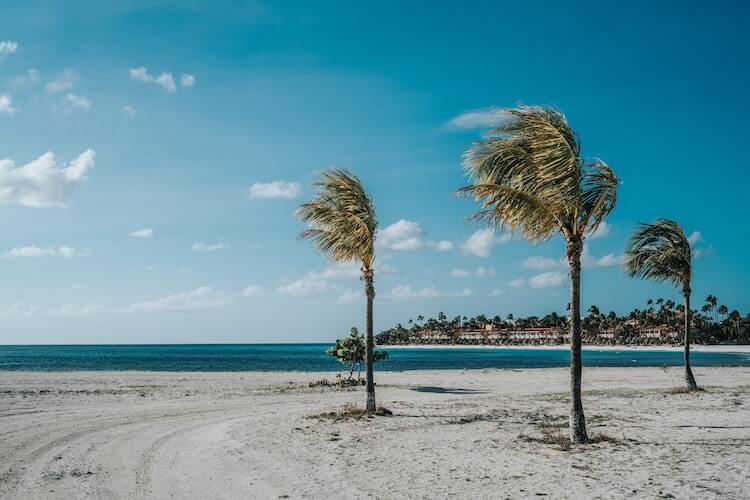 Aruba has pretty amazing weather year-round, making it a great spot to visit during the winter months. While the prices may increase a little bit as many other people want to visit during this time, there are plenty of boutique hotels and gorgeous resorts to enjoy on the little island!
Rent a jeep and explore some hidden gems and beaches around the island, go diving around a shipwreck, take a sunset snorkel cruise, explore the Arikok National Park for a bit of adventure, admire Eagle Beach, well known as one of the best beaches in the world, and definitely stay the night at the Renaissance Wind Creek Aruba Resort to explore their private island with the famous flamingo beach!
For a romantic beach resort, be sure to book Bucuti & Tara Beach Resort. Located on Eagle Beach, it is perfect for your honeymoon!
Mexico Makes for the Best Honeymoon in December
Mexico is perfect for honeymooners! Whether you prefer to party it up in Cabo, explore Mayan ruins and swim in cenotes in the Yucatan Peninsula, or eat your way through the country, this nation has everything you could want during a honeymoon.
A road trip around the Yucatan Peninsula is a perfect idea for a tropical honeymoon getaway! Relax on the beach in Tulum, get on island time in Isla Holbox, frolic in charming cenotes, and explore the many ruins in the area from Chichen Itza to Coba.
For a luxurious honeymoon escape, stay at the Rosewood Mayakoba for an overwater suite on the lagoon next to a gorgeous beach in Playa Del Carmen.
Key West is the Perfect December Honeymoon Destination in the US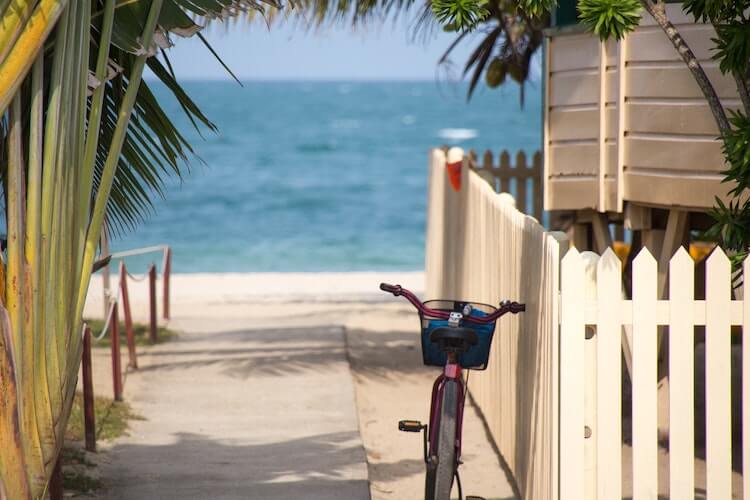 Want to stay in the continental US, but not sure where the best place to go for a honeymoon in December is? Key West is perfect!
Party along Duval Street, admire the home and 6-toed cats at the Ernest Hemingway Home, visit the Southernmost Point of the Continental US, and enjoy the Fort Zachary Taylor State Park Beach. This place is laid back with all the relaxed vibes you need for the best honeymoon!
The Mansion on the Sea hotel is full of charm and in a great spot for exploring the island!
Madeira, Portugal is One of the Best Honeymoon Destinations in December in Europe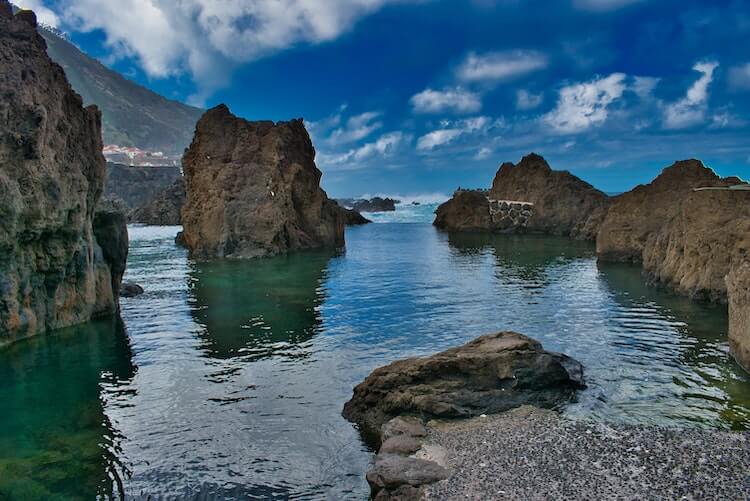 Madeira is a Portuguese archipelago in the Atlantic ocean off the coast of Morocco. Thanks to its geographical location, the weather is pretty good here year-round. This island is famous for its beautiful landscapes and fortified wine by the same name!
Explore the vineyards and wine cellars of Madeira, go hiking, find scenic spots on a road trip around the main island, and eat and enjoy the charms of Funchal, the main city. Oh, and, being an island, expect pretty beaches and lots of opportunities for water sports like diving, swimming, surfing, and more!
Plan to base yourself in Funchal at the romantic Hotel The Cliff Bay for dreamy views of the ocean and affordable luxury.
Belize Is Always a Great December Honeymoon Destination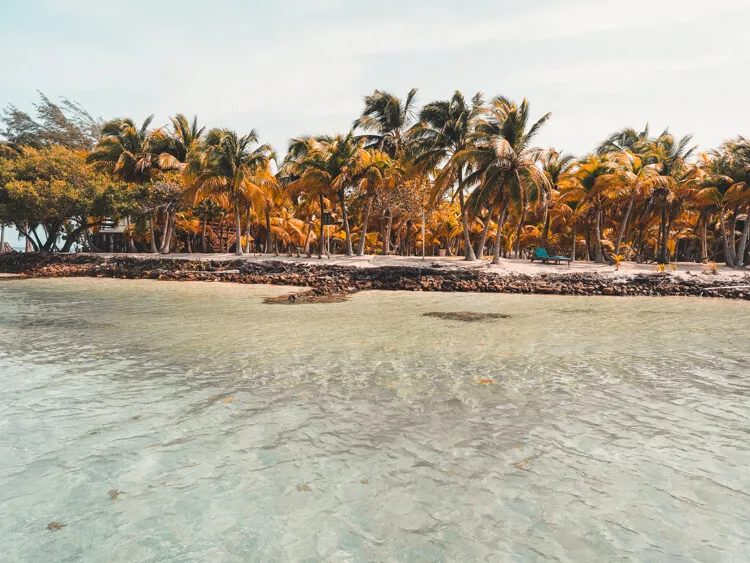 With beautiful beaches, amazing cuisine, and tons of adventurous spots, this little Central American country packs a punch for any honeymoon.
December is the end of the rainy season, meaning you can enjoy the best of Belize with good weather. Some great things to do during a Belize honeymoon include visiting Mayan Ruins like at Xunantunich, snorkeling on the Belize Barrier Reef, ziplining in the jungle, exploring the famous Blue Hole, and even swimming in the Inland Blue Hole.
For a romantic place to stay, opt for Thatch Caye Resort, which is located on its own private island and has overwater bungalows! I have a whole post about the best honeymoon resorts in Belize too for more information!
Be sure to check out more information on how much a trip to Belize costs and how to pack for Belize!
Puerto Rico is a Dreamy Winter Honeymoon Locale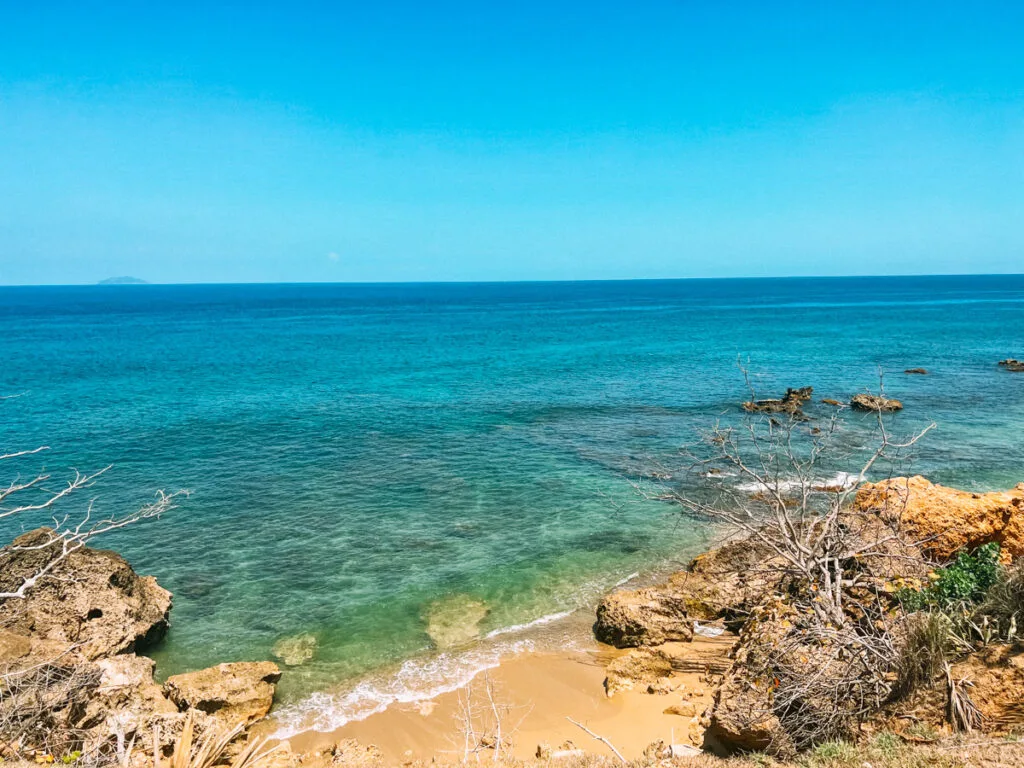 Want to escape the cold winter post-nuptials? Do you love stunning, sandy beaches, magnificent landscapes, incredible cuisine, and the chance to explore multiple bioluminescent bays? Puerto Rico is the honeymoon destination in December for you!
Start in San Juan where you'll be dazzled by the architecture and colors of Old San Juan. Take a food tour to learn all about Puerto Rican classics like mofongo and, of course, the pina colada.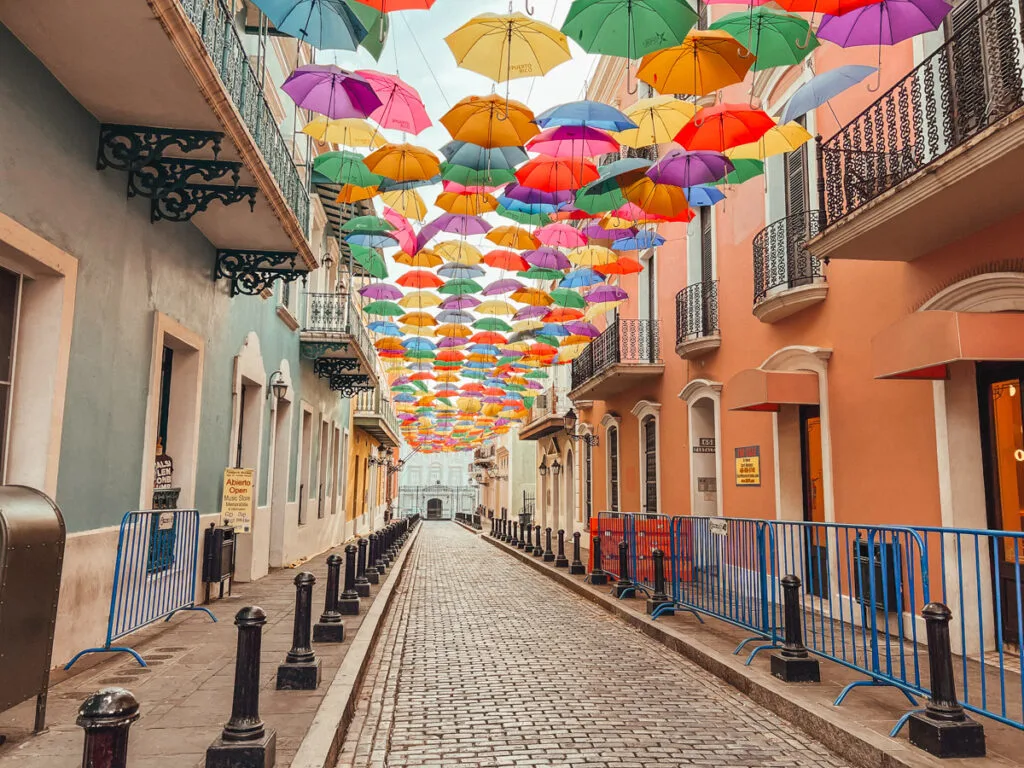 Then, head to the island of Vieques to explore the beaches, go snorkeling, and visit the world's brightest bioluminescent bay: Mosquito Bay. Be sure to go on a clear-bottom kayak tour and be mesmerized as you float on a bay where the water sparkles at night!
Head back to the mainland and enjoy the beach destinations of Rincon and La Paguera. And definitely take the opportunity to go on a sunset and evening snorkel tour in La Paguera. This is the only bio bay in Puerto Rico that you can swim in!
For a truly romantic getaway, check out Parguera Plaza in La Paguera. This adults-only hotel has a stunning pool and is close to where you'll catch the boat for snorkeling!
In San Juan, the Caribe Hilton is a great place to stay along the beach.
Best Winter Honeymoon Destinations
Not every couple dreams of a honeymoon in a tropical destination. If frolicking in the snow and admiring charming Christmas markets around the holiday season is your thing, then these are the best winter honeymoon destinations for you in December!
Explore Rugged Iceland in Winter to Spot the Northern Lights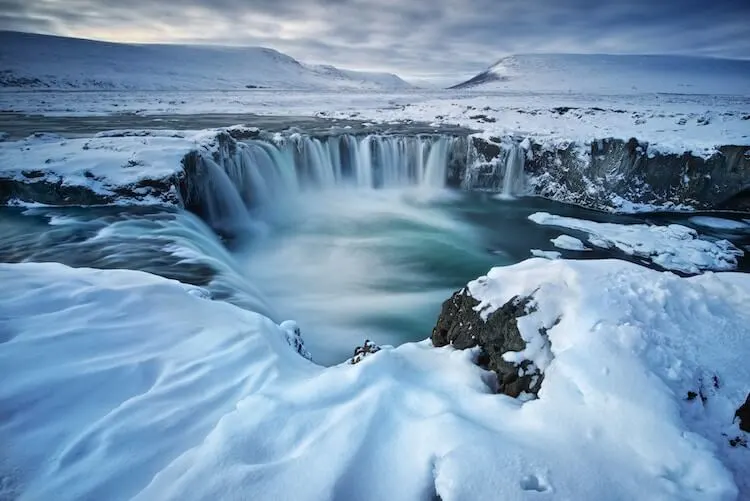 Most people love to visit Iceland for the continuous sunshine and slightly warmer temperatures in the summer. However, December is a great time to visit Iceland to celebrate the holidays in Reykjavik, warm up in hot springs across the country, admire the ice caves, enjoy plenty of great hiking without the crowds, and witness the awe-inspiring Northern Lights.
While taking a tour gives you a better chance of spotting these elusive lights, staying in a luxury hotel in the middle of nowhere certainly doesn't hurt!
The Panorama Glass Lodge allows you to sleep under the stars, soak in a hot tub outside, and perhaps spot the Northern Lights from your room on a chilly December night.
Stowe, Vermont is a Ski Lovers Dream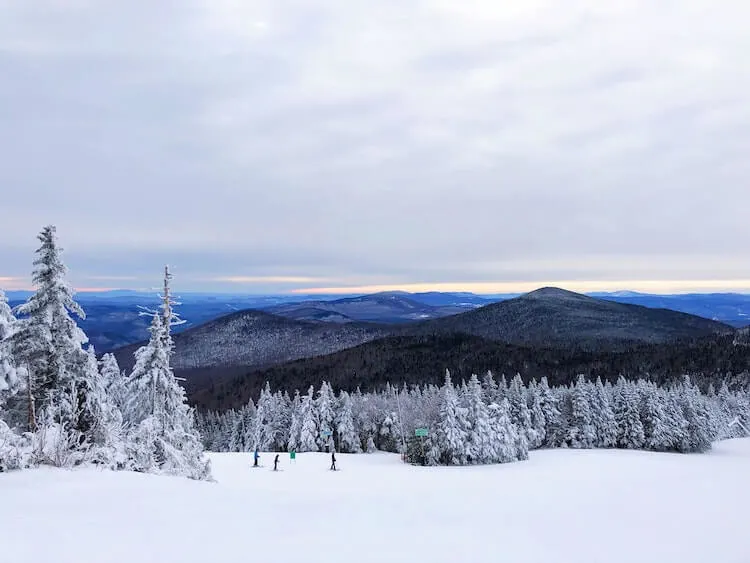 December is a great time to visit Stowe, Vermont for the start of ski season. If you honeymoon here earlier in the month, you'll have fewer crowds than waiting to go during the peak of ski season.
Stowe is dreamy to go to year-round, but there are tons of great holiday events in December to enjoy, and who wouldn't love to snuggle together in a ski lodge by the fire after a day out on the slopes?
For a great place to stay, The Lodge at Spruce Peak is a luxury ski-in/ski-out resort.
Vienna, Austria has Some of the Best Christmas Markets Making it One of the Best Honeymoon Destinations in December in Europe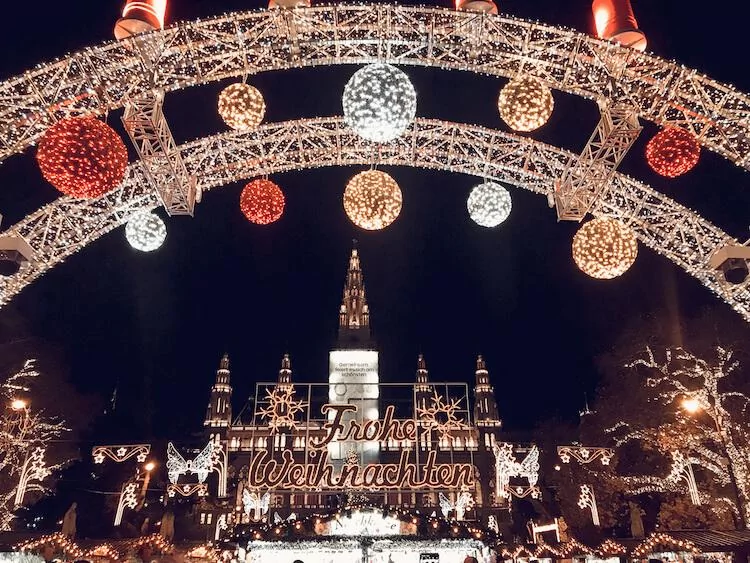 If you don't mind the cold, then visiting Europe around the Christmas market season is pretty freaking magical. In 2019, we explored the Christmas markets of Europe from the charming Bruges markets to creating our own Cologne Christmas crawl, and then popped over to Vienna, Prague, and Budapest for their charming markets.
I can honestly say that visiting as many cities as possible to enjoy the markets is your best bet. But there is truly something about Vienna that makes the holiday season extra special. Everywhere you turn Vienna fills you with wonder as you spot Christmas markets large and small, opulent palaces, decadent cafes, and luxurious hotels.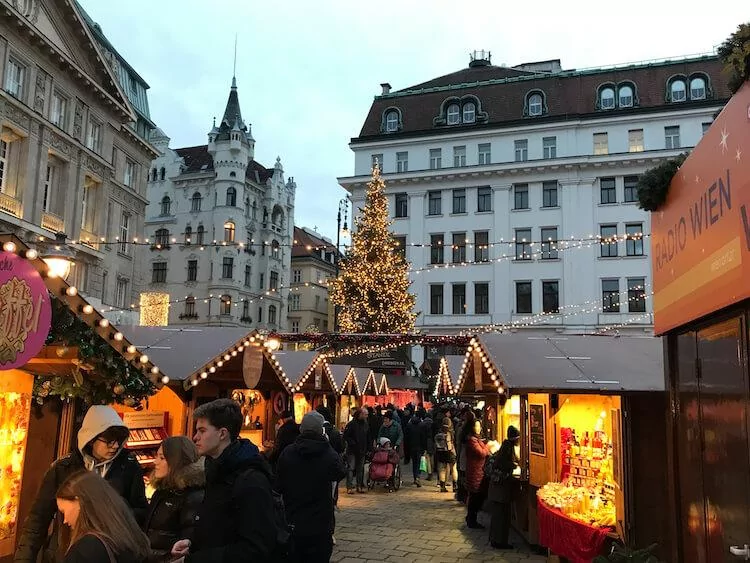 Vienna is a place of opulence and grace, and Vienna in December has so much to offer from concerts and New Year's celebrations to the many Christmas markets! If you are planning a trip to Europe for your December honeymoon, don't count Vienna out, as it will truly make you feel the magic around the holiday season.
For the ultimate experience, stay at Steigenberger Hotel Herrenhof Vienna.
Alsace Region of France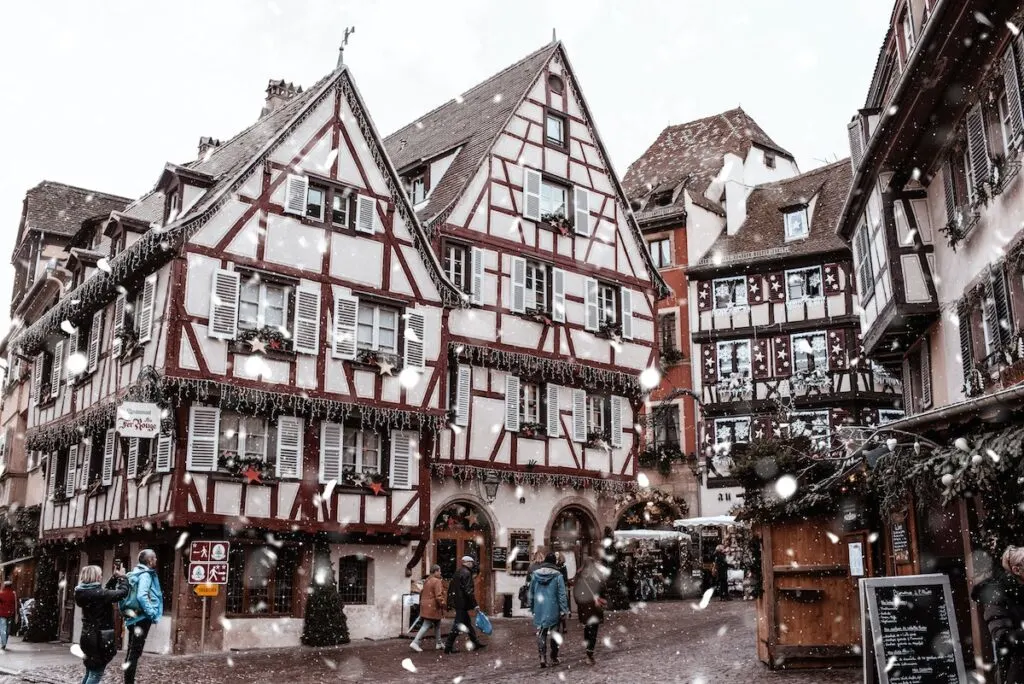 If you are searching for dreamy towns and villages that go all out for the holiday season, the Alsace region of France fits the bill.
This is the place to really get into the spirit of Christmas during your honeymoon in December, as the towns here have several stunning Christmas markets!
Some places you'll want to visit for their markets include Colmar and Strasbourg, but be sure to visit smaller towns too like Ribeauville, Riquewihr, Obernai, and Kayersberg.
For a place to stay, check out La Maison des Tetes – Relais & Chateaux.
The Perfect Winter Wonderland Destination Has to Be Finland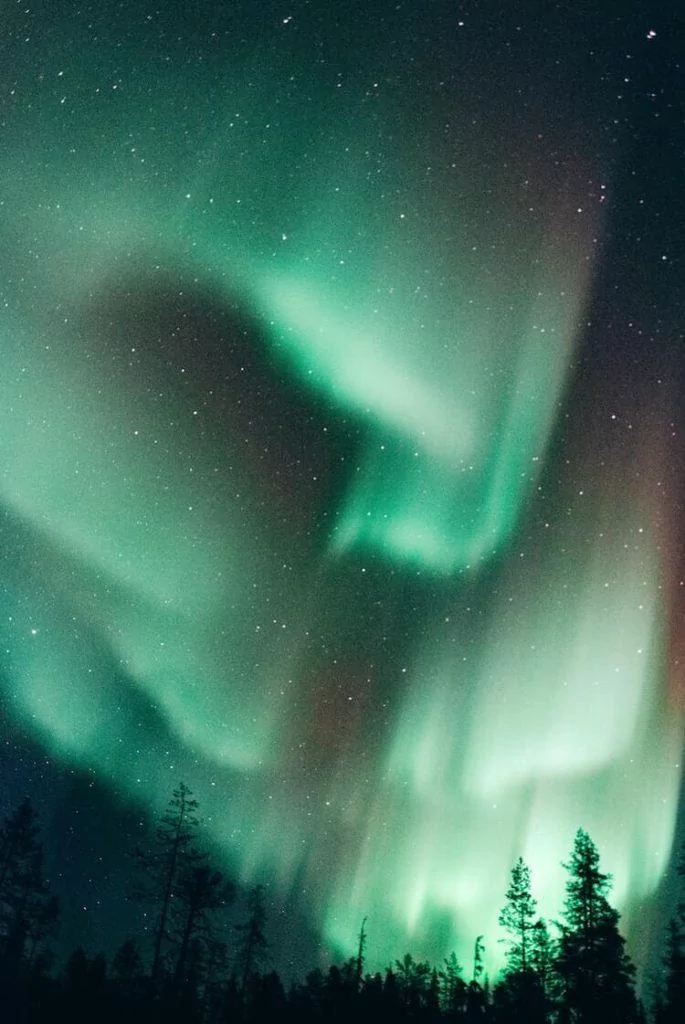 Finland is perfect for a dreamy honeymoon in December.
Finland, and more specifically Lapland, has so much to offer in the winter that a honeymoon here is truly romantic. Go dog sledding with your love in the snow, take an icy bath and warm up in a sauna, try your hand at snowshoeing, stay at the Snow Village ice hotel, witness the Northern Lights, and perhaps spot Santa in his hometown of Rovaniemi.
For the ideal place to sleep under the stars and spot the Northern Lights, stay at Kakslauttanen Arctic Resort.
Prague is Perfection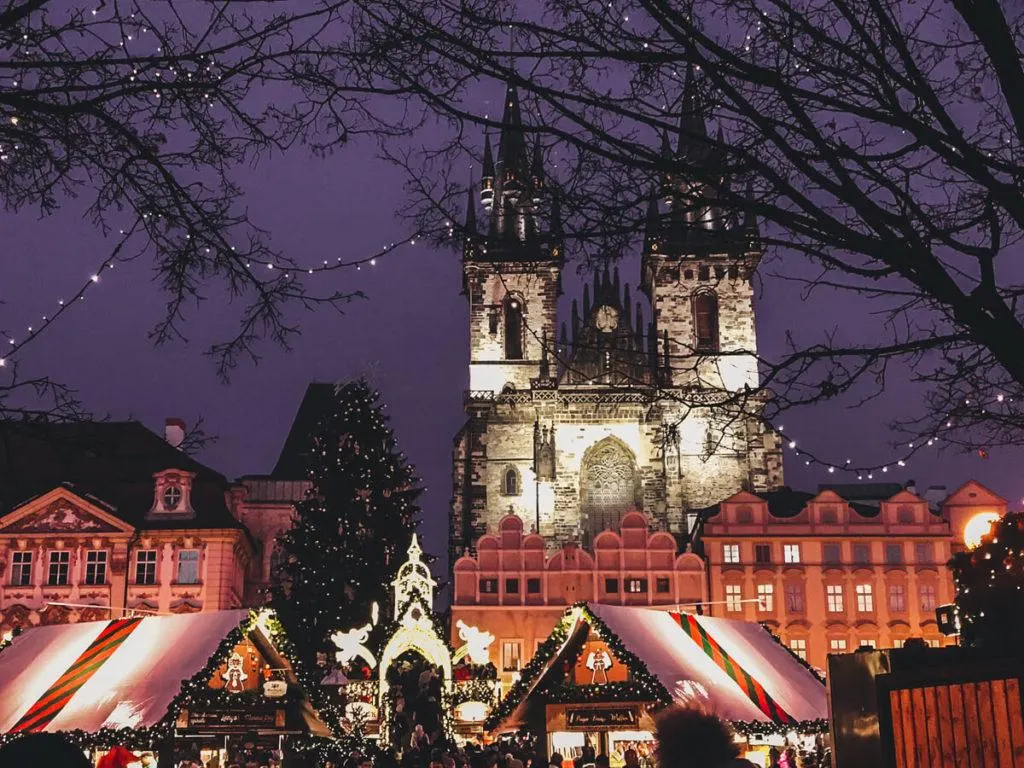 For jaw-droppingly beautiful sights, dreamy Christmas markets, and so many romantic places to stroll, you'll fall head-over heels for Prague during your December honeymoon.
I mean, the picture above is pretty darn perfect, but to be there in person is other-worldly. You'll feel immersed in the holiday spirit while strolling around the Old Town Square Christmas Market sipping on mulled wine and enjoying the live music and twinkling lights.
Explore the best holiday markets in Prague for the perfect souvenir, cross Charles Bridge together, and definitely wander up to Prague Castle!
For a romantic hotel in Prague, opt for the Hotel Pod Vezi.
These are all incredible places around the world to celebrate your December honeymoon! Whether you enjoy tropical beaches, adventure travel, or dreamy winter landscapes, we hope you have the best time at these incredible honeymoon destinations in December!
Are you planning a December honeymoon? Where would you most like to travel?
Read next: Peru Honeymoon Guide, Vegas Honeymoon Guide, Best Honeymoon Spots in France, Where to Honeymoon in June, Best California Honeymoon Locales, Best All-Inclusive Honeymoon Resorts in the USA, Top USA Honeymoon Road Trips, Costa Rica Honeymoon Guide, Ultimate Italy Honeymoon Itinerary, Best Kenya Honeymoon Destinations, Most Romantic Things to do in Rome, Top Uganda Honeymoon Spots, Best Honeymoon Destinations in January, Rome Honeymoon Guide, Where to Honeymoon in February, Best St Lucia All-Inclusive Honeymoon Resorts, Best May Honeymoon Destinations, Top Caribbean Honeymoon Destinations, Top July Honeymoon Destinations, Vietnam Honeymoon Guide, Belgium Honeymoon Guide, August Honeymoon Destinations, Top Puerto Rico Honeymoon Resorts, 23 Top September Honeymoon Destinations, Best November Honeymoon Destinations
Pin it here!