Some posts on this site contain affiliate links, meaning if you book or buy something through one of these links, I may earn a small commission (at no additional cost to you!). Read the full disclosure policy here.
---
A 1 day in Bruges itinerary is more than worth your time. When one thinks of dreamy canals underneath romantic footbridges, chocolate shops with stacks of pralines, world-class breweries, and people walking around with delicious waffles, Bruges is the city they are picturing.
During a trip to Europe, aside from exploring the Christmas markets in Cologne, wandering the streets of Budapest with family, exploring the beauty of Prague, or even strolling through the palaces of Vienna, we started out visiting friends in Belgium.
And though they live in Antwerp, another fantastic city to add to your Belgium itinerary, we knew we had to take a day trip to Bruges.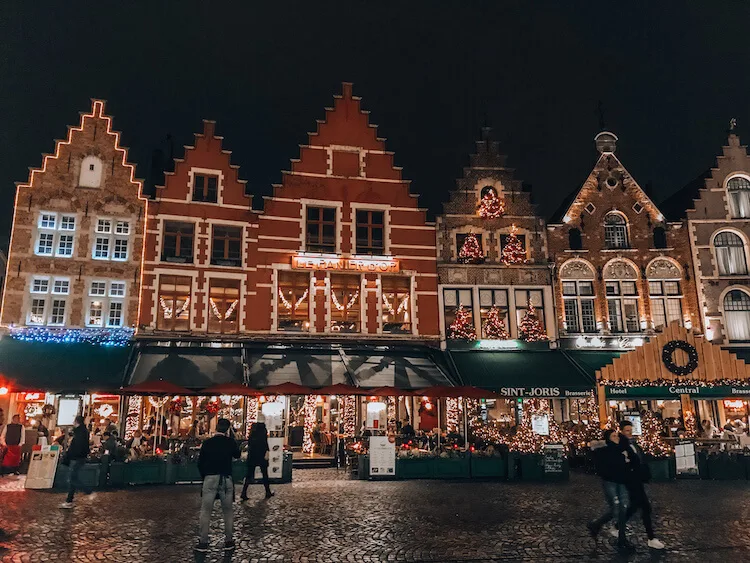 It was actually what we did on the first full day of our visit, and it set the bar pretty high for the remainder of the trip. It is dreamy, even on a cloudy, misty, hazy day like the one we went on. In most cities that may put a damper on things, but in Bruges, it added to its mysterious charm.
So even if you only have 1 day in Bruges, we want to make sure you get to see and do all of the main highlights and enjoy every second in the "Venice of the north".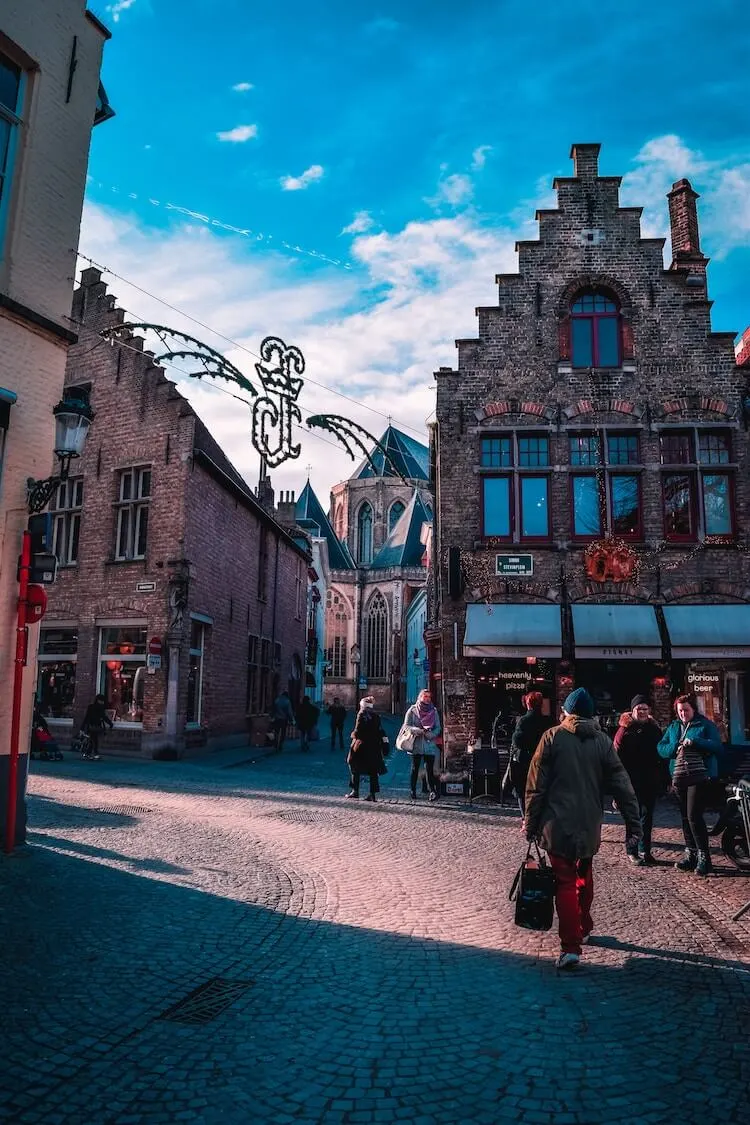 Ultimate 1 Day in Bruges Itinerary: Best Things to Do in Bruges in 1 Day
When it comes to what to do in Bruges for a day, we've got you covered!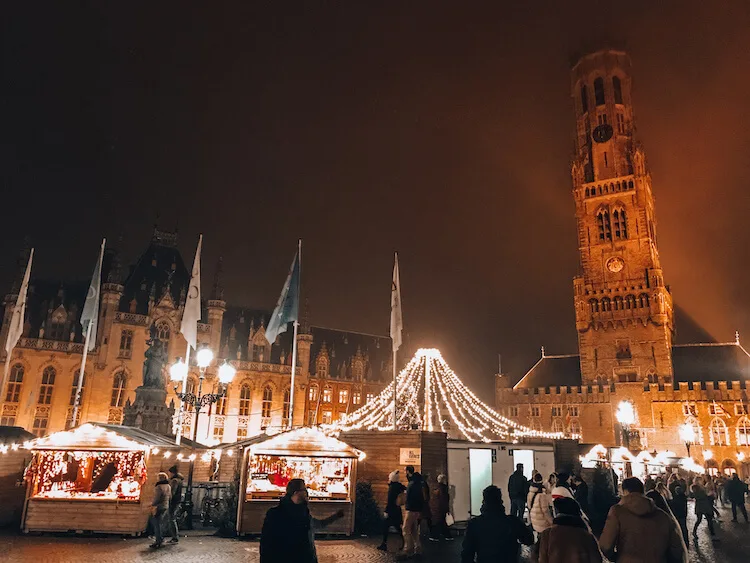 1. Grote Markt.
When you first arrive in Bruges, you'll want to start heading toward the Grote Markt, otherwise known as Market Square in English. This is basically a big square with many beautiful buildings surrounding it, including the 12th-century Belfry and the Provincial Court.
Most of the action in Bruges happens in this square. There is a lovely Christmas market set up during the holidays (when we went), and it is perfect for great people-watching in general. So start here and admire the scenery before going to the next spot.
Hours & Price: Open 24 hours and free.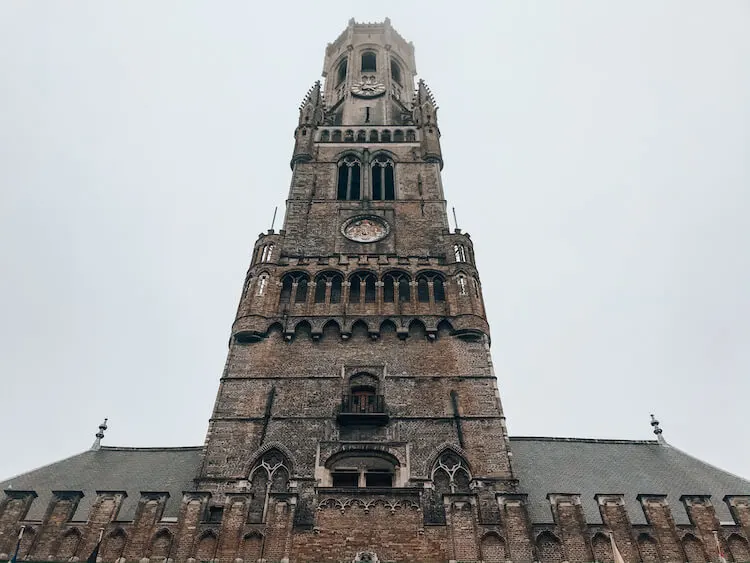 2. Belfry of Bruges
.
For those who'd love a great view out over the city and Grote Markt, I recommend climbing the 366 steps up to the top of this medieval bell tower!
Hours & Price: Open daily. Summer hours (April 1 through November 2): 9 am-8 pm. Winter hours (November 3-March 31): 10 am-6 pm Sunday through Friday and 9 am-8 pm on Saturday. Christmas period (December 26-30): 9 am-8 pm. €15 for an adult.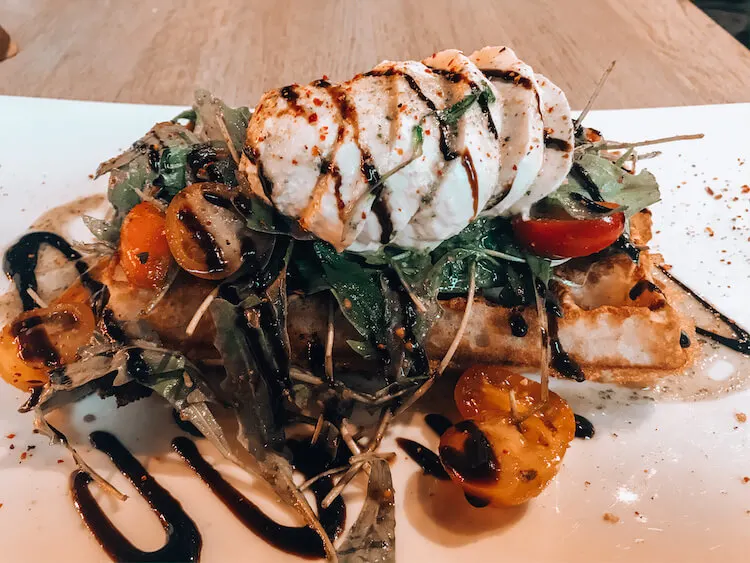 3. House of Waffles.
Once you've gotten in your daily workout with those stairs, it is time to treat yourself at House of Waffles. Look, we know Belgium is known for waffles, so why not grab a sweet or savory treat for lunch?
While you could get these waffles to go, I recommend trying to snag a table to warm up (if it is chilly outside) and have a delicious espresso. Inside, you'll determine whether you'd like a Brussels waffle (rectangular, light, and crispy waffles that we're more accustomed to in the US) or a Liege waffle (round, dense, with a crisp, sugary crunch). Then, top it with items like chocolate and banana, powdered sugar, or even whipped cream with strawberries.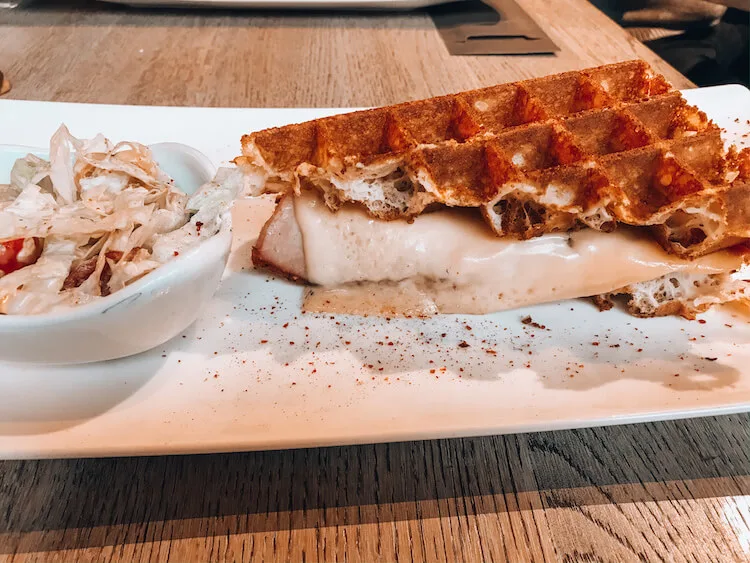 If you're feeling something salty, you can grab one of their tasty, savory concoctions like the Bruges Cheese Festival (a Brussels waffle sandwich with Breydelham, cheese, lettuce, and tomatoes) or the Italian (Brussels waffle topped with buffalo mozzarella, arugula, tomato, pesto, and balsamic).
Hours: Open daily 10:30 am-6:30 pm.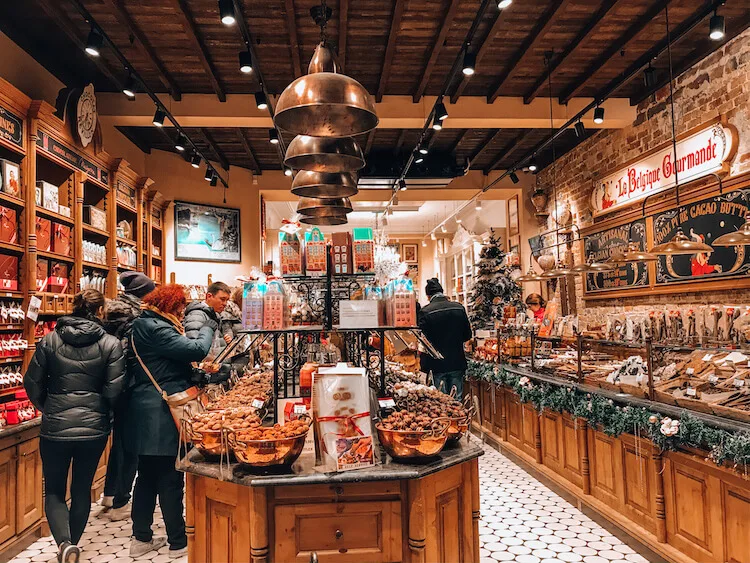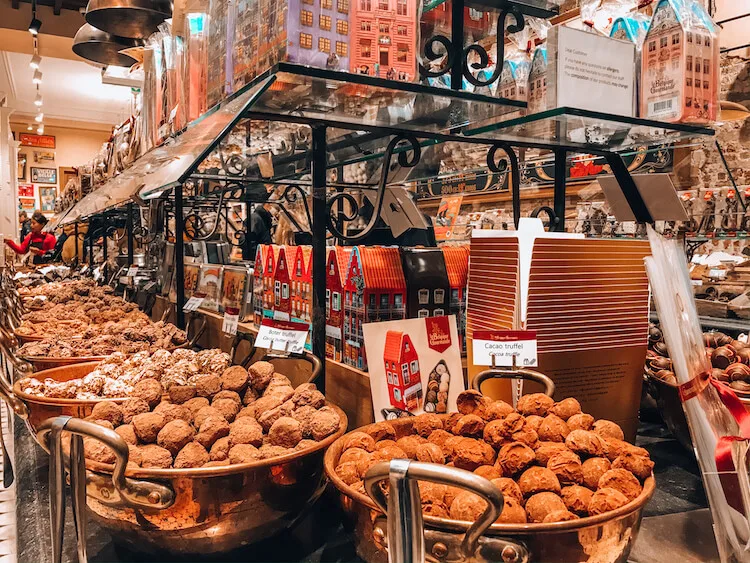 4. La Belgique Gourmande.
I mean, how could you visit any city in Belgium and not go to a chocolate shop? Famous for pralines (or chocolates with many different fillings), this shop is just across from House of Waffles and a great spot to try famous Belgian chocolate. Plus, the inside is decorated so decadently that you may as well buy a few chocolates to go.
Hours: Open daily 10:30 am-6:30 pm.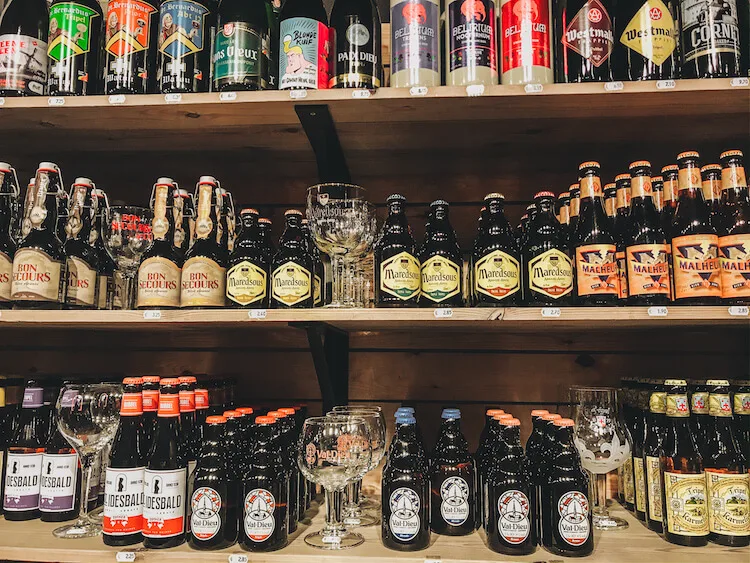 5. The Bottle Shop.
After the hearty lunch of waffles and chocolate, I recommend washing it all down at the Bottle Shop nearby. If you want to learn about and see the most popular beers in Belgium, this is the place to stop in. Discover the rows of Delirium encased in their ceramic bottles, Kwak beer that comes with what I can only describe as a wooden tray supporting a beaker for drinking, and even some Belgian gin.
Buy a few bottles or at least get acquainted with the bigger names in Belgian beer and perhaps sample some gin before continuing on your 1 day in Bruges itinerary.
Hours: Open daily 11 am-7 pm.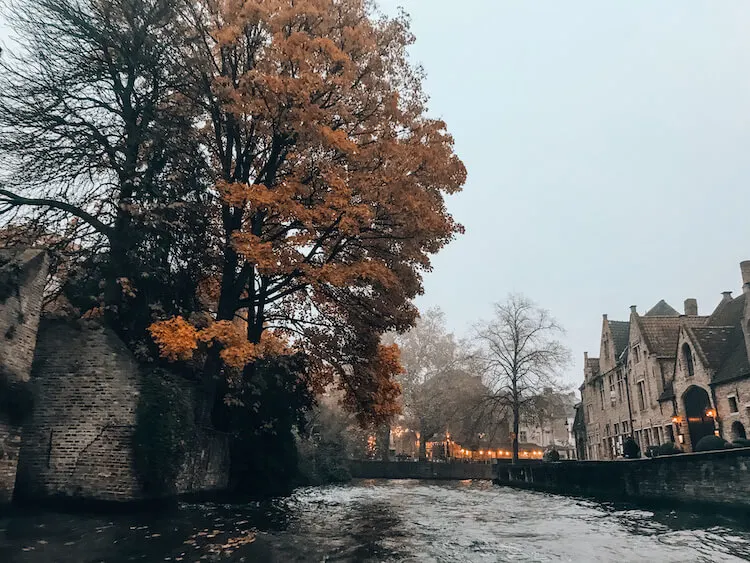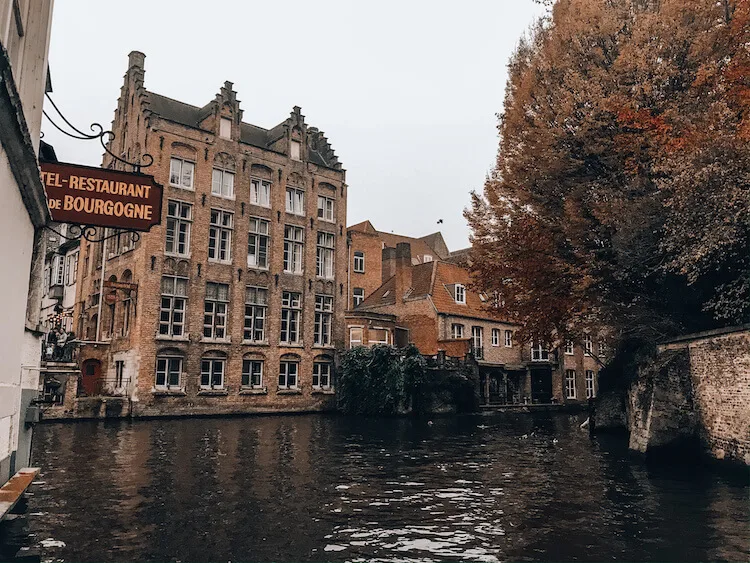 6. Canal Cruise.
If there is one thing you must do during your Bruges 1 day itinerary, it is to take a canal cruise. We visited with our Belgian friends Ron and Eline, and they insisted that it is something you have to do every time.
These little boats take off and you sail along the canal, past the swan-filled Minnewaterpark, along beautiful Belgian architecture, and even under some of Bruge's most famous bridges, like the Lovers Bridge.
I tell you, even on a foggy, overcast day, the canal cruise was absolutely stunning, especially as we went near sunset in November and the Christmas lights were starting to glow.
Hours and Price: Open Tuesday-Sunday from 10 am-6 pm. €12 for adults.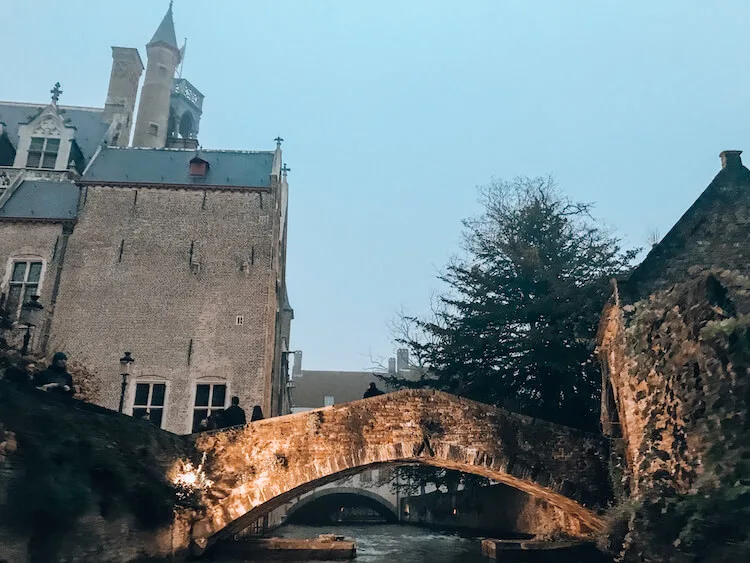 7. Wander the Canals and Lovers Bridge.
Once you finish your cruise, which only lasts about 30 minutes, wandering along the canals and stopping at Lovers Bridge for photos is a great addition to any Bruges day trip itinerary.
This beautiful bridge may look medieval but is really from the 19th century. Legend has it that if you walk across the bridge and kiss your loved one, it will become eternal love. So as a couples travel blog, we had to give it a try! We totally recommend this for lovers and those visiting Bruges on their honeymoon!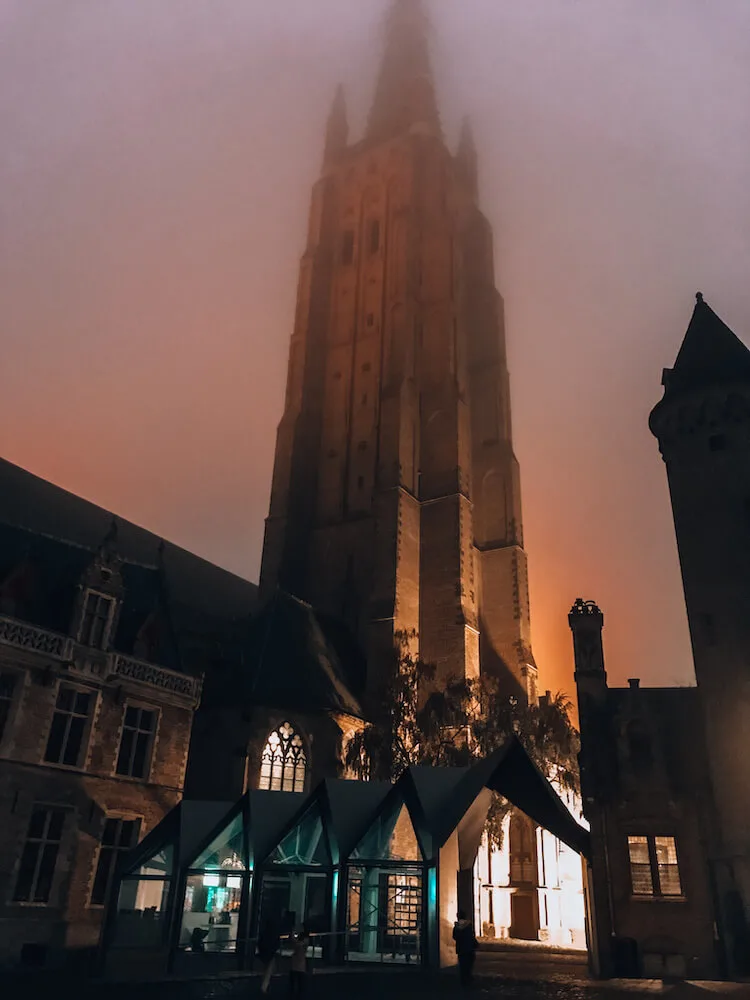 8. Church of Our Lady is a Perfect Stop on Your 1 Day in Bruges Itinerary
Across from Lovers Bridge is the Church of Our Lady. If you've got the time, feel free to go in and explore this lovely 13th-century-old church. It was closed by the time we got to it, but it was lovely to see from the outside as we wandered to a pub for a drink.
Hours and Price: Monday-Saturday 9:30 am-5 pm. Sundays 1:30-5 pm. €8 for adults to visit.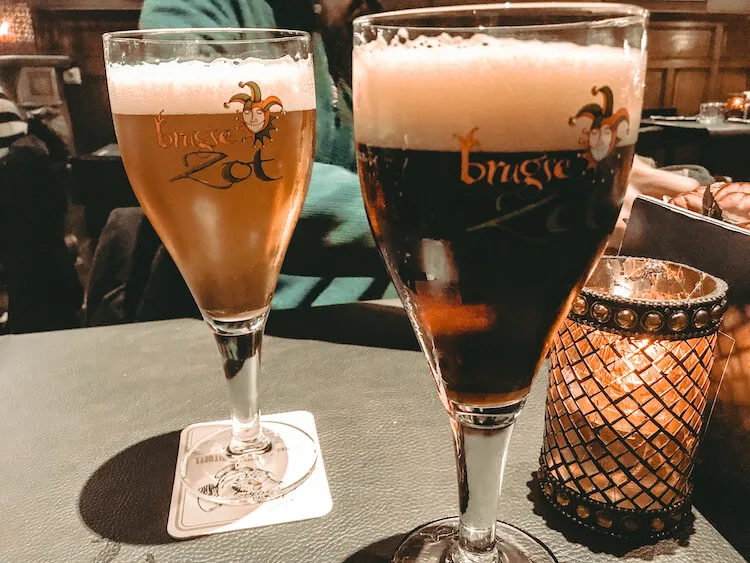 9. Head to a Brewery or Pub.
While your day may be winding down, I recommend checking out a brewery, like Bourgogne de Flanders, for their red beer at their industrial brewery in the heart of Bruges. And if you can't make it to a brewery, then I recommend going to a pub to taste some Belgian beer, like at 'T Schrijverke.
This quiet spot is perfect for sipping a Brugse Zot Blond or Bruin beer on tap and ordering some dinner. This may be one of the best things to do in Bruges at night!
These are all the perfect things to see in Bruges in one day. After this, if you don't plan on spending the night here, it is time to walk to the train or bus station and head back.
Trust me, it's hard to leave Bruges and we definitely want to go back. This beautiful medieval town is romantic and inspiring.
Bourgogne de Flanders Hours: Tuesday-Sunday 10:30 am-6:30 pm. Closed on Mondays.
'T Schrijverke Hours: Wednesday-Sunday 10:30 am-10 pm. Kitchen open 12-2:45 pm and 6-9:45 pm. Closed on Mondays and Tuesdays.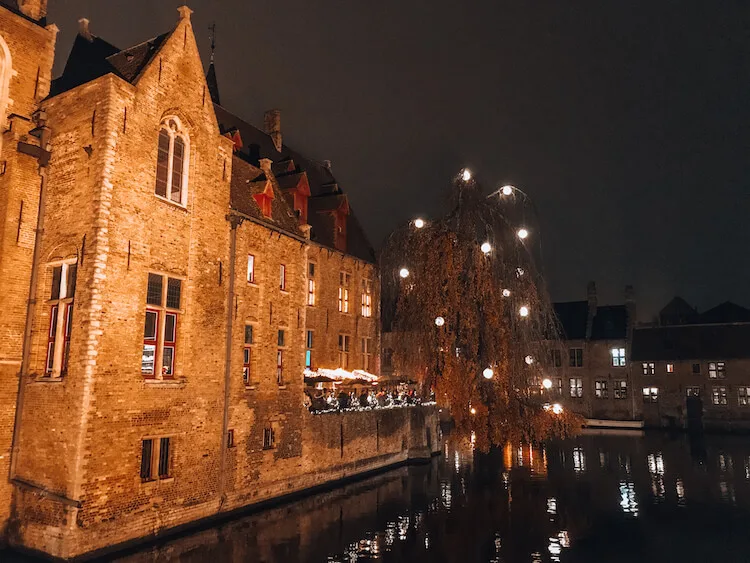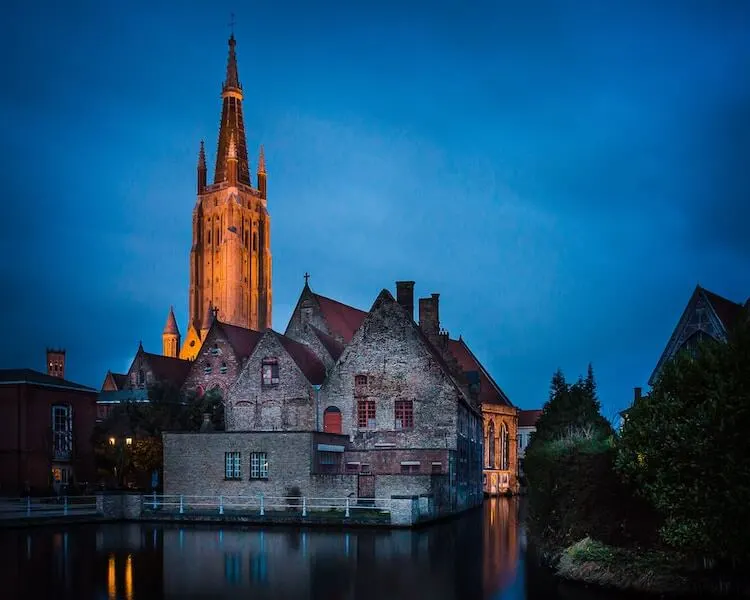 Where to Stay in Bruges
There are many hotels in Bruges to stay at if you decide to spend the night. There is also an option to stay at a VRBO. With places in the city center under $150 per night, it is a great way to base yourself for your 1 day in Bruges itinerary.
And if you'd prefer a hotel, check out these great options based on your budget.
Budget: Snuffel Hostel
With a fully equipped kitchen, cheap breakfast, clean dorms, and private rooms, and no curfew, this is a great spot to be close to everything but on a budget.
Read reviews on TripAdvisor and book here!
Mid-Range: Hotel Academie
Close to all of Bruges main attractions, you'll love the cozy rooms, bar/lounge, and even fitness center to work off all of those waffles!
Read reviews on TripAdvisor and book here!
Luxury: Hotel Dukes' Palace Bruges
I mean, how often can you stay in a palace in Belgium?! This was the former residence of the Burgundian aristocracy. With a lovely garden, terrace, and bar, you may want to book a few nights here to enjoy all of it AND Bruges. If you plan to splurge somewhere, this castle hotel may be it.
Read reviews on TripAdvisor and book here!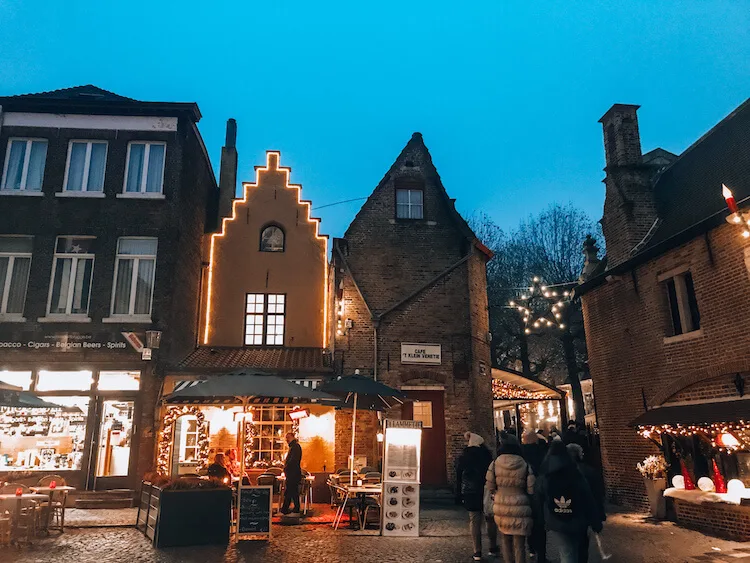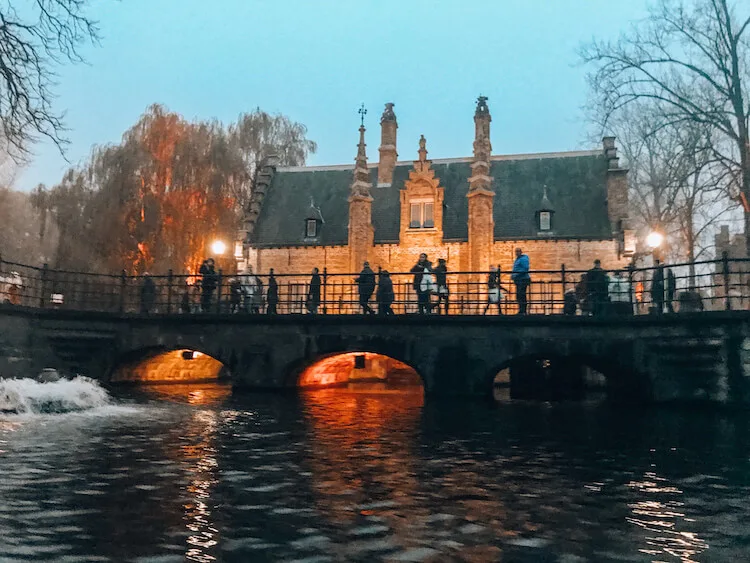 Getting There for Your One Day in Bruges, Belgium
The best way to get to Bruges, Belgium is by taking the train. From many major cities in Belgium, you can just walk up and see several trains to Bruges per day. During busier times, however, I recommend booking a train ticket ahead of time to ensure your spot and get an idea of when the train goes to Bruges.
We ended up visiting Bruges on a Sunday and got a train from Antwerp. Tickets are usually around $42 round-trip and take about 1.5 hours from Antwerp or 1 hour from Brussels.
You can also take a Flixbus to Bruges for around $20-30 round-trip and it takes about 2 hours to get there from Antwerp or 1.5 hours from Brussels.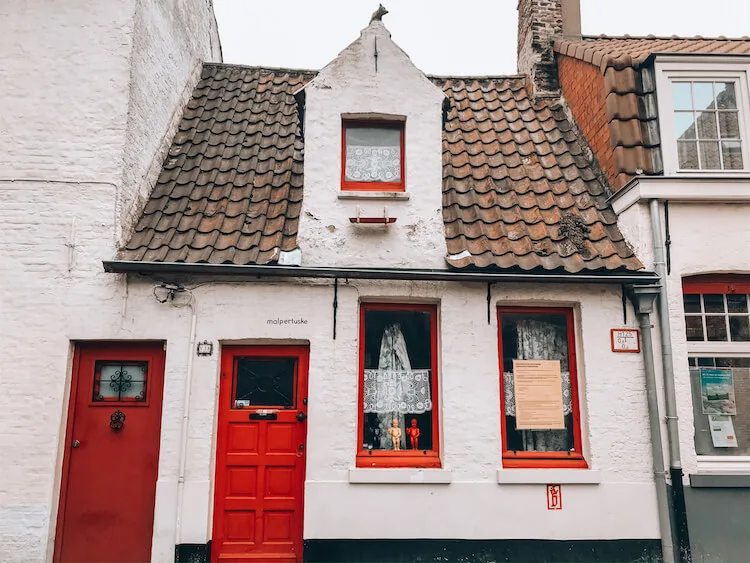 Then, from the bus stop and train station, you can just walk to the main part of Bruges pretty easily in about 20-25 minutes.
You could also take the option to drive to Bruges if you want more flexibility and are doing a road-trip around Belgium. We love checking Skyscanner for great rental car prices, and a drive from Antwerp or Brussels to Bruges is around 1.5 hours long.
And last, but not least, you could even do a day trip from Amsterdam to Bruges or a Bruges day tour from Paris if you'd like to! We found these fantastic day trip options that'll get you there and back to enjoy this lovely town.
Things to Know Before Visiting Bruges in a Day
Before your Bruges city break, here are some key facts to know before you go!
Belgium is on the Euro. Like many countries in Europe, Belgium is on the Euro, making it easy to not have to withdraw extra currency here. €1 is currently $1.07 USD, €0.68 is currently $1 CAD, €1.15 is around £1, and €0.60 is around $1 AUD.
Dutch is the language of Bruges, but Flemish is the common dialect. This is very similar to Dutch, so if you already speak that, then you should be in great shape! If not, knowing a few words like "hello," ("hey"), "goodbye," ("slapwel" or "vaarwel"), "thank you," ("dank je"), and "cheers," ("proost") is great. Google Translate doesn't have Flemish so even if you say some of these Dutch translations they'll usually understand. Also, like many places in Belgium and touristy places in general, most people will understand English.
Bruges is very walkable. Once you're in the main part of the city, you can walk around and enjoy the sites.
Beware of pickpockets. This isn't as big of an issue as bigger cities, but like in all touristy places, beware of pickpocketing. I carry an anti-theft purse with slash-resistant technology and RFID cardholder built-in for this reason.
Travel insurance is a good idea. Whether your bags get lost in transit or you need rental car coverage, World Nomads is our go-to for travel insurance.
Bruges is great to visit year-round! You'll find far fewer tourists in the winter (except around Christmas), and temperatures are perfect for a visit in summer. See fewer crowds in the spring and fall too! But spending 1 day in Bruges is a great idea whenever!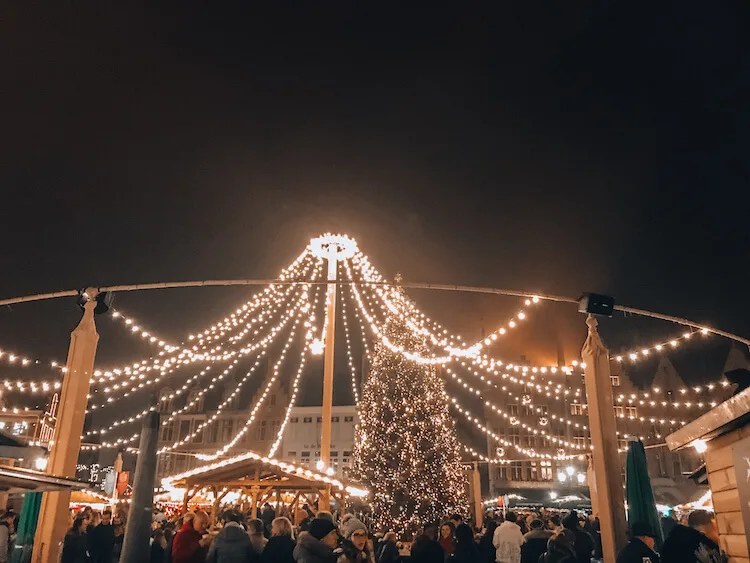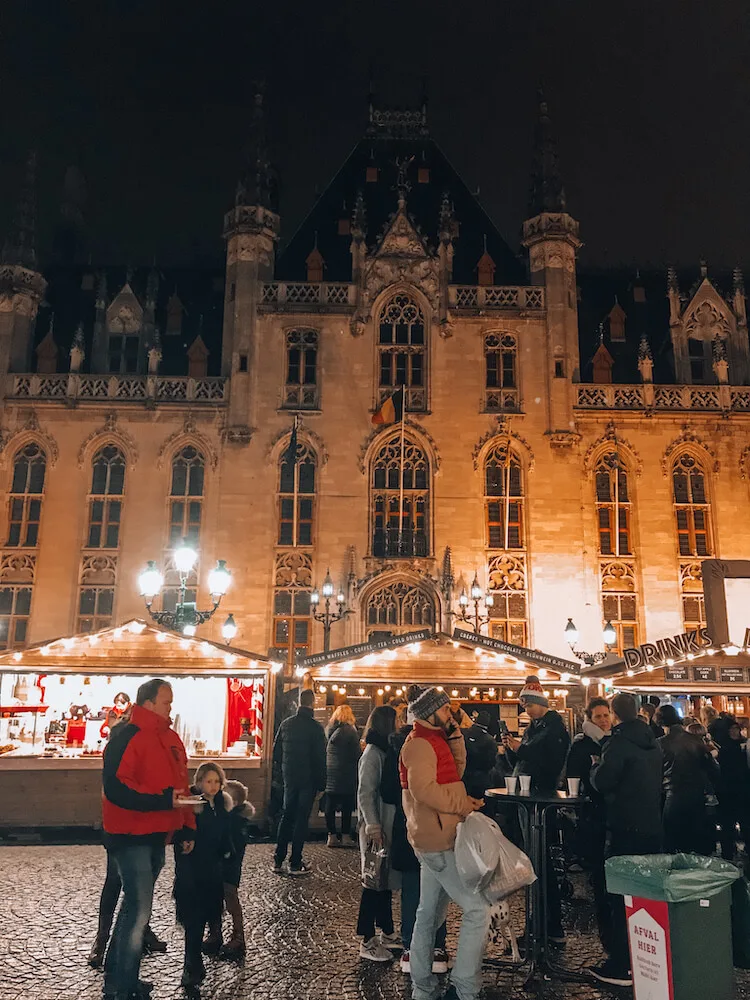 Tips for Visiting the Christmas Markets During Your 1 Day in Bruges Itinerary
If you plan to visit the Christmas markets in Bruges, here are some key things to know:
There are 3 main Christmas markets: Grote Markt, Simon Stevinplein, and Minnewater.
The Grote Markt is the largest one by far with several stands and a large tree! This is the place to grab a mulled wine with amaretto! It is super delicious.
Our favorite was the Simon Stevinplein market, not far away. It was much smaller, with a cozy spot to drink mulled wine at their outdoor bar with heat lamps. Plus, they have cones of cheese cubes. I had never seen that at a Christmas market and it was amazing! Lastly, you've got to try the waffle with Nutella!
The Minnewater market is mainly an ice rink.
Dates for the Bruges Winter Markets start in late November and go until January. The 2023 dates are November 24-January 7. They open at 11 am daily and close at 10 pm Sunday-Thursday and 7 pm on Friday-Saturday.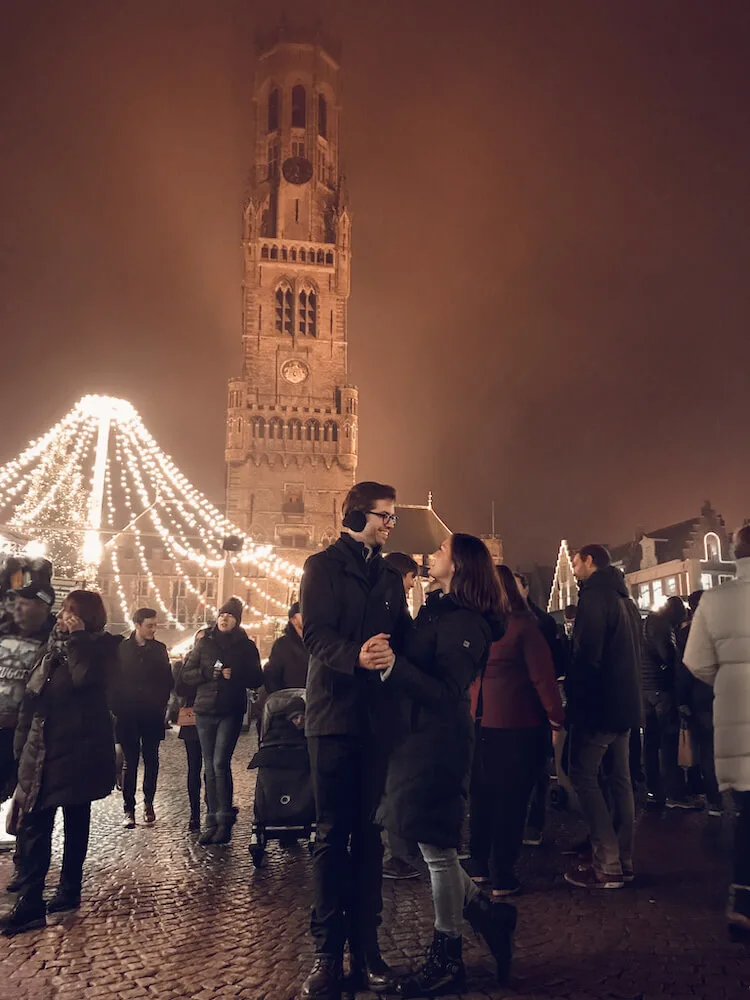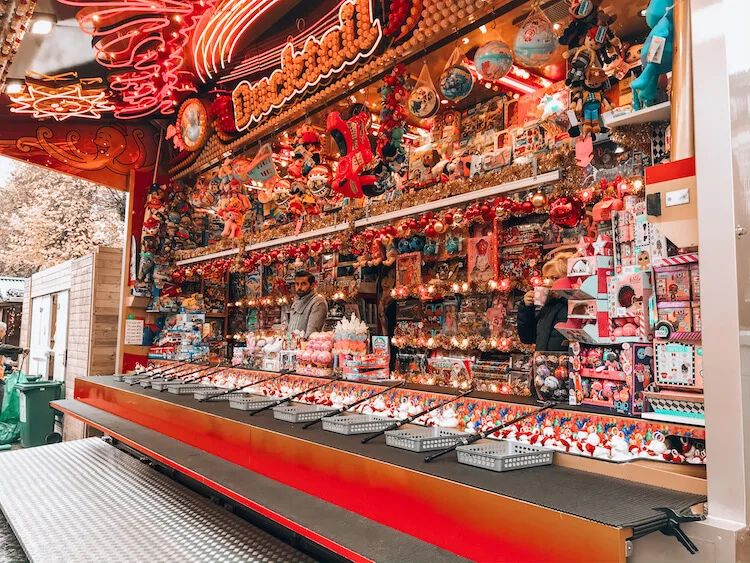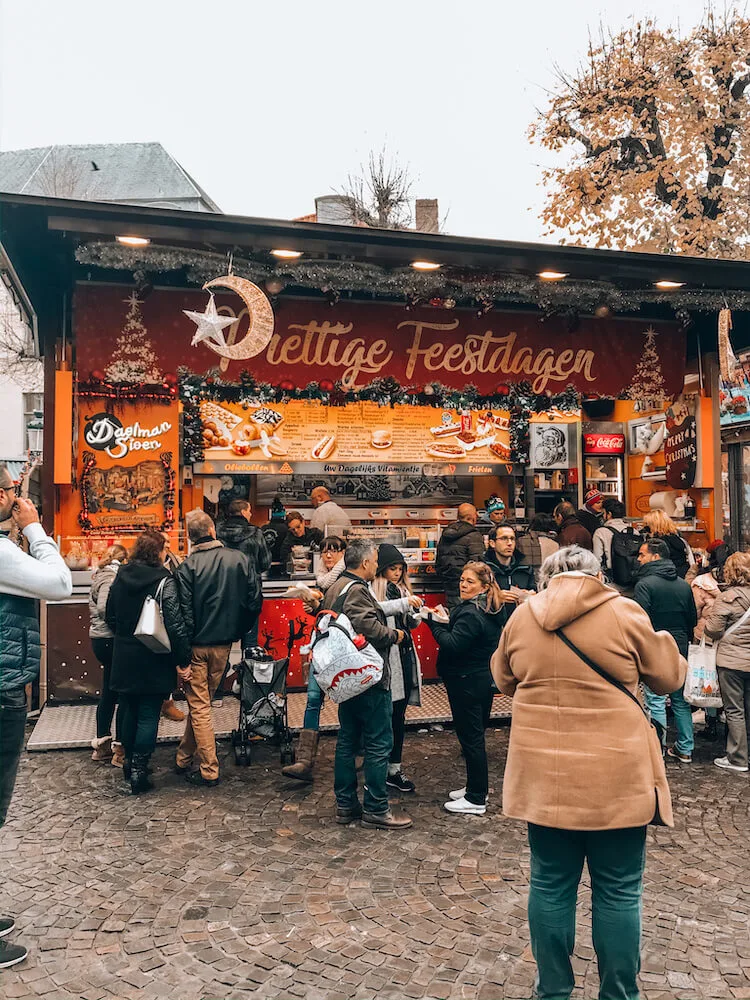 What to Bring for Your 1 Day in Bruges Itinerary
Depending on the time of year you visit, this can vary. Jeans, a cute top, some white tennis shoes for walking all day, and a light jacket are a good idea during the spring through autumn months. The summer does have warmer days, but the evenings can be chilly.
In the winter, I recommend these really cute sweaters that I wore with jeans, cute boots, and a heavy coat. Plus, a scarf and gloves are essential for chilly days too.
For men, I recommend some boots, jeans, and these wonderful sweaters that you can layer some long sleeve shirts under. Plus, gloves and a scarf are smart too in the winter. In the warmer months, jeans, a short sleeve shirt, and white sneakers are great.
PS- we have a full winter packing list for Europe too for more winter tips!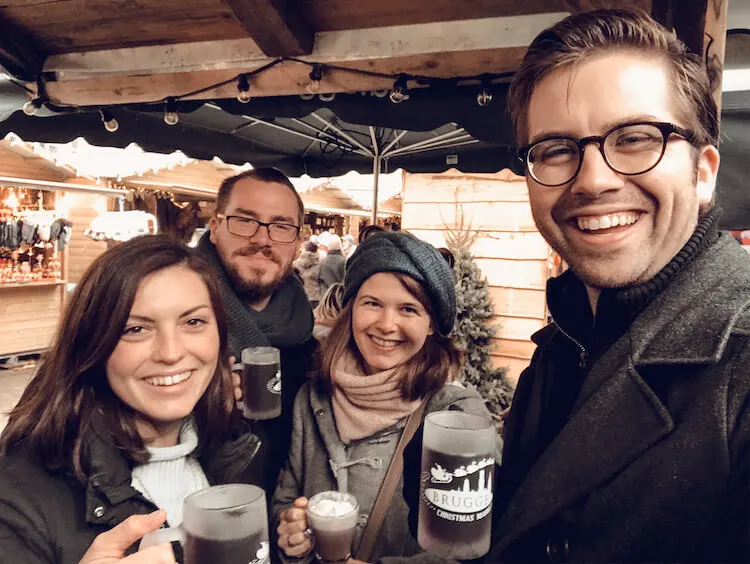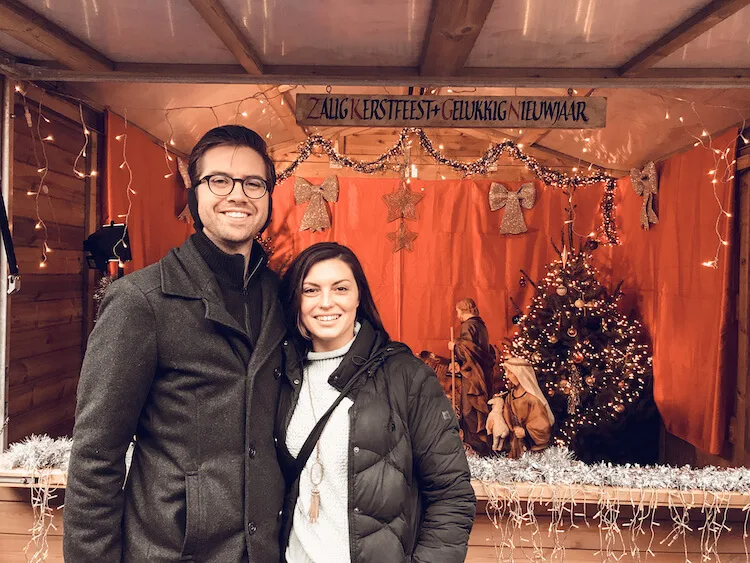 No matter the time of year, it can rain at any time. I recommend bringing a small umbrella to take with you on rainy days since you'll want to be outside and walking!
And for taking photos, I recommend a great camera for beginners like the Nikon Coolpix point-and-shoot. For those looking to up their photography game, I love our Olympus Camera.
This wraps up what to see in Bruges in a day! We hope you have the best time exploring this romantic city and enjoy your trip to Belgium!
Want more Belgium ideas? Check out how to spend 1 day in Brussels and the ultimate Belgium honeymoon guide!
Would you visit Bruges in one day? What would you like to see? Let us know in the comments!
Pin it here!