Some posts on this site contain affiliate links, meaning if you book or buy something through one of these links, I may earn a small commission (at no additional cost to you!). Read the full disclosure policy here.
---
Creating your own Europe winter packing list can seem daunting. And if you're only bringing a carry-on… it seems impossible!
I'll never forget my first trip to Europe in the winter. It was my first flight, my first time traveling without my parents, and my first time in Europe period. It was actually right around this time! On January 9, 2012, I landed in Paris and took the train to Grenoble where I would live for 5 months while studying abroad.
I remember packing right up to midnight the night before my flight worried I'd forget something. Lo and behold, I ended up packing two large suitcases (one mostly full of heels- what a laugh!). After dragging those things the length of France I decided to learn how to pack carry-on only. And now with Chris, that's the only way we travel!
So whether you are journeying to the delightful Christmas markets in Europe or you want to visit Europe during its least busy time of year, here is the ultimate packing list for Europe in winter…in just a carry-on!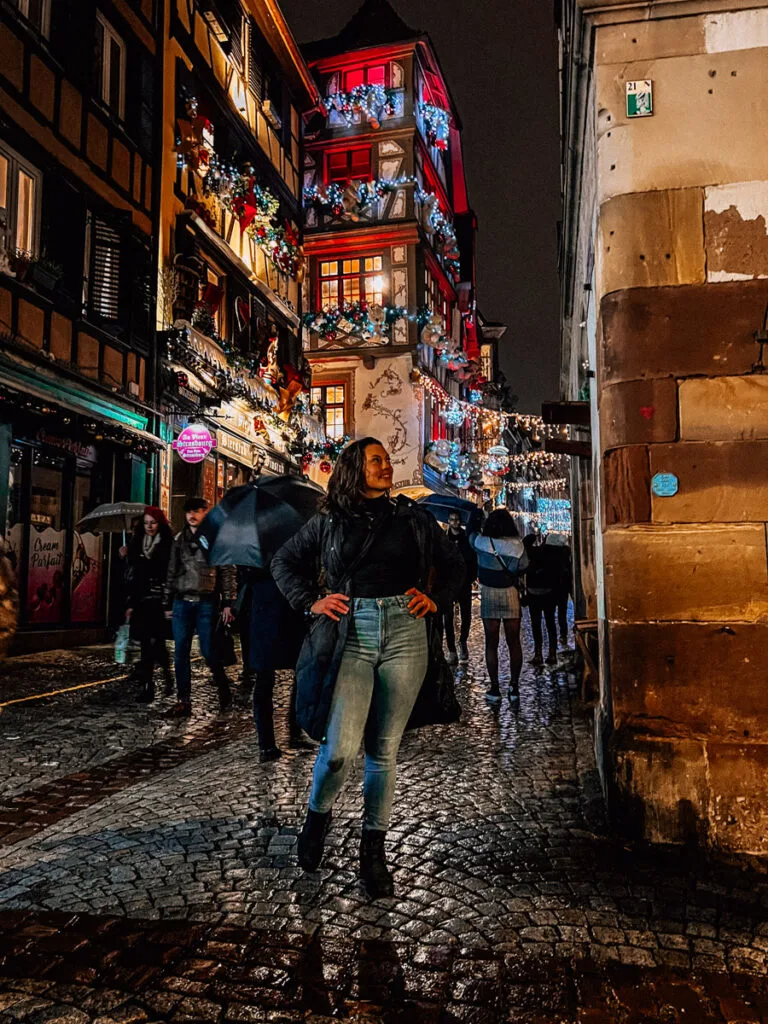 Ultimate Europe Winter Packing List
It's time to bundle up and get ready to pack it all in your carry-on with this awesome Europe packing list for winter! This is broken down into sections including toiletries, basics, shoes, clothes, and more! Also, it is broken down for men and women.
As a pro-tip for carry-on travel, you'll want to pack about a week's worth of clothing and do laundry if you plan to stay longer than that.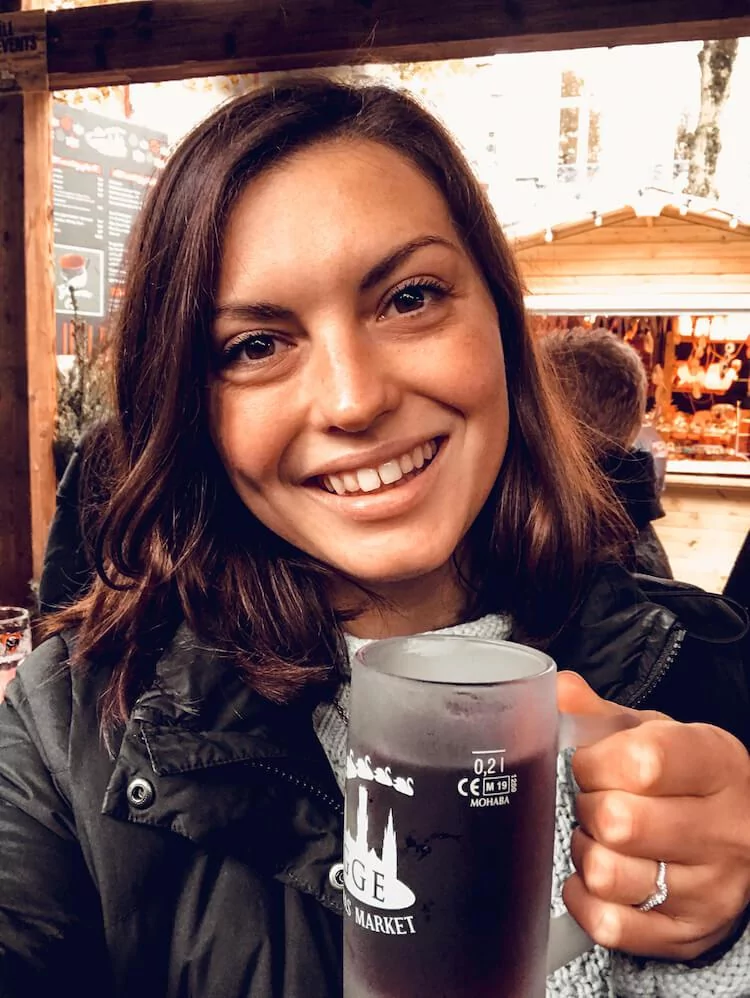 Travel Essentials for Europe in Winter: Basics
Let's start with the basics. No matter where you travel, you'll need your undergarments, pajamas, etc. So let's pack it up:
Women's Basics Packing List Europe in Winter:
2 bras.
7 pairs of underwear.
7 pairs of socks. Not just any socks. Thick, wool socks. Thin socks won't do much to keep your toes warm. I absolutely love these wool socks. And if you love fuzzy socks, these are great too!
2 pairs of pajamas. These are nice and cozy for those chilly nights!
1-2 white shirts to wear under sweaters.
1 bathing suit. I know this sounds weird, but if you're going to a city like Budapest that has amazing heated baths outside (such as Rudas Baths) you're going to want to pack a bathing suit! Or in general, I always pack a swimsuit just in case. Maybe you want to hit up a spa, there are bathhouses, etc.
1 pair of flip flops for visiting the bathhouses.
2-3 pairs of warm tights or long johns to wear under your jeans on chilly days.
1 big coat that goes at least to your thighs. Y'all, I'm not kidding- it can be cold here! Luckily, living in Cleveland, I've used my Northface jacket for years and love it! It kept me warm around Europe too!
A good quality scarf.
1 pair of gloves (I love my Nike running gloves that let me still use my phone).
Pair of earmuffs.
Any jewelry you want! I packed a couple of necklaces and wore my wedding ring.
1 dirty laundry bag.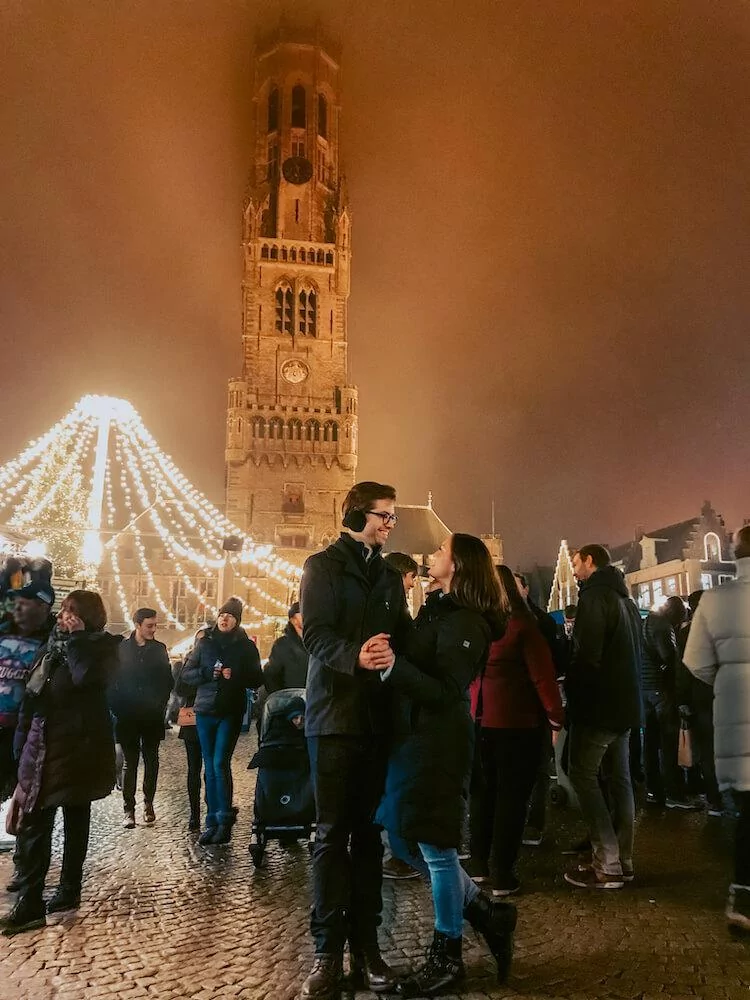 Men's Basics Packing List for Europe in Winter:
7 pairs of underwear.
7 pairs of nice wool socks.
2 pairs of pajamas.
7 undershirts.
1 pair of swim trunks for the bathhouses in Budapest/just in case you go to a spa, etc.
1 pair of flip flops (for the bathhouses).
2-3 pairs of long johns to wear under jeans during the cold winter days.
1 nice and warm jacket. Chris wore his wool peacoat that was nice and cozy.
1 scarf that'll keep you warm.
A pair of running or regular gloves.
1 pair of earmuffs.
Any jewelry you want. Chris had his watch and wedding band.
1 dirty laundry bag.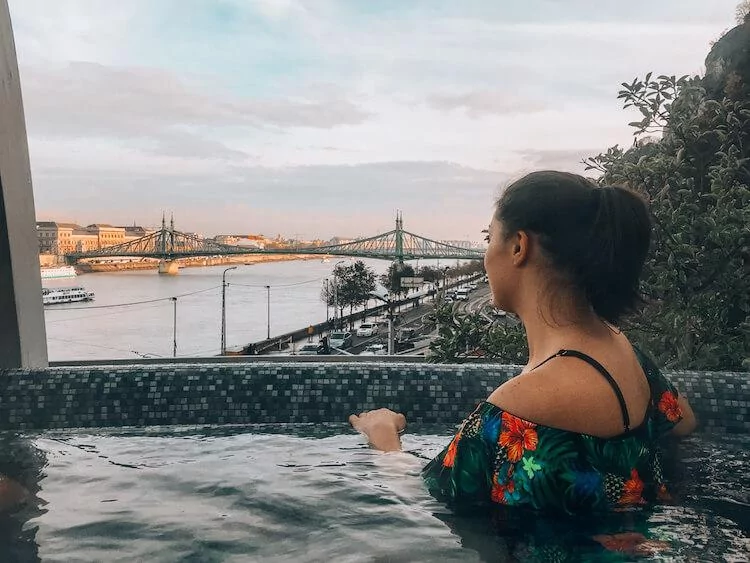 Best Boots for a European Winter
When it comes to what shoes to wear in Europe in winter, especially if you're traveling carry-on only, boots kind of reign supreme. First of all, winter clothes aren't exactly lightweight or store easily, meaning the space in your carry-on is pretty limited.
We always wear our bulkiest pair of shoes on the plane in order to combat this. And when it came time to pack for the Christmas markets, we opted to just wear our boots on the plane and throughout Europe!
I absolutely love my Timberland boots! They are super comfortable which is great for walking around all day, very warm, and waterproof so you can walk through snow and not get your feet wet. Seriously, these are some great quality boots for a winter vacation packing list!
Also, Dr. Marten's boots are a great boot option!
Chris wore these leather boots that are comfortable, water resistant, and good quality as well!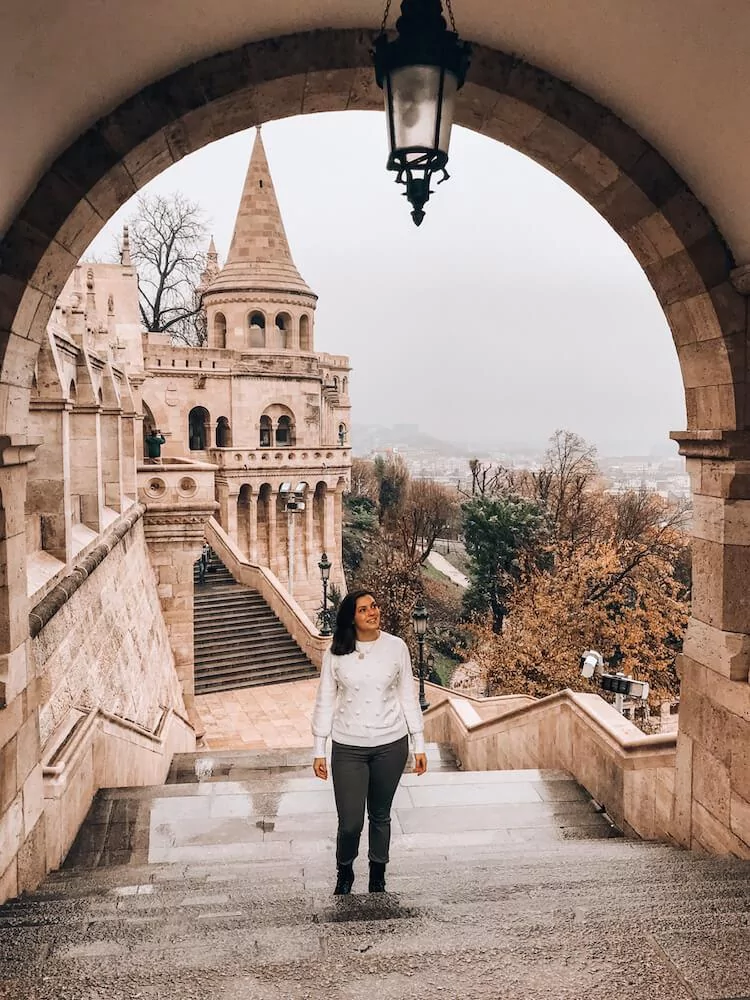 Packing List for Europe in Winter: Clothes
When it comes to packing for winter in Europe, clothes are easily the most important thing. You want to be warm and comfortable if you plan to explore cities all day in the winter. However, you want to actually look put together. And as you may have seen in my packing for Paris article, athletic gear isn't really the height of fashion in Europe.
Also, you need to be mindful of the amount of space each item takes up. That's why I recommend only packing a week's worth of clothing that you can mix and match and do laundry each week. If your trip is only a week long then perfect! But if it is longer like our last winter in Europe trip was, then a laundry run helps in order to pack carry-on only.
From cozy sweaters to stylish jeans, these are the best winter travel clothes for Europe!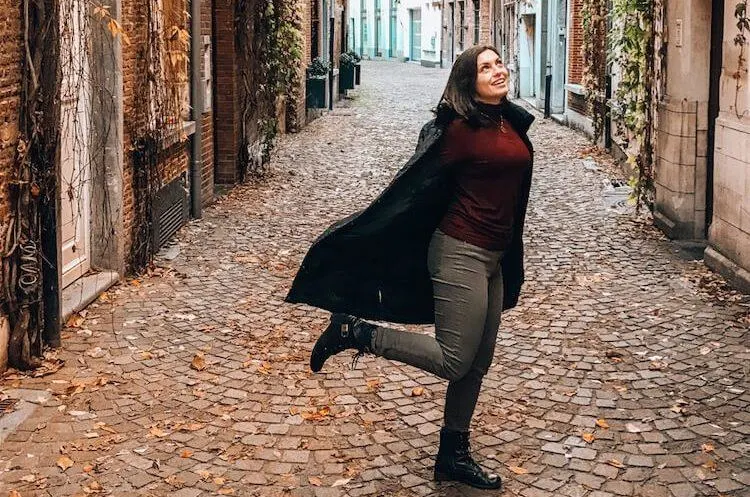 Women's Europe in Winter Packing List for Clothes:
Yes, this looks pretty small, but I made sure that my sweaters and jeans could be mixed and matched. This is essential as both jeans and sweaters take up a lot of space in a carry-on backpack! It worked out really well!
Men's Europe Winter Packing List for Clothes:
Again, making these mix and match is key to saving space in your carry-on.
Pro-Tip: Always pack a small umbrella for days that it is rainy or really snowy!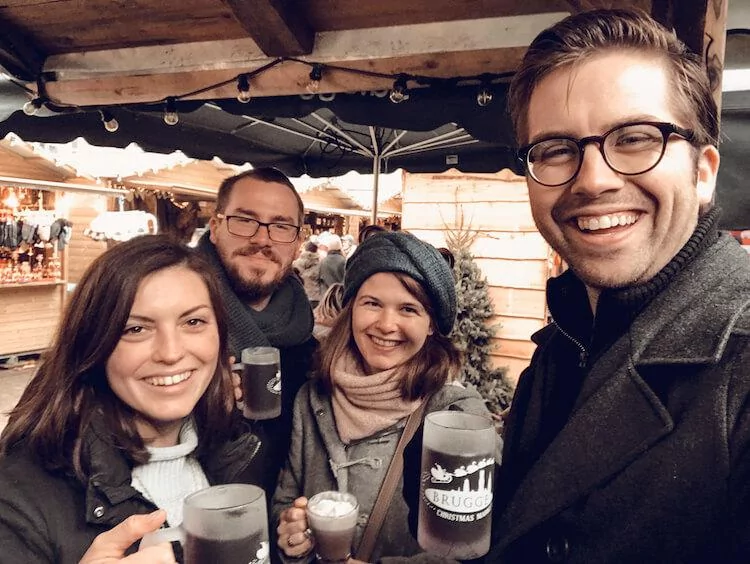 Packing List for Winter Travel in Europe: Toiletries
Now that you know what to wear in the winter in Europe, let's talk about toiletries you can't forget on your trip!
Shampoo, conditioner, and soap. Forget this if staying in hotels.
Face wash and

face lotion

.
Razor.
Deodorant.
Brush.
Hair products (be sure it's under 100 ml)!
Makeup or face products. Again, make sure it is carry-on sized.
Teeth stuff: floss, toothpaste, and toothbrush.
Condoms.
Face masks (nobody wants to catch a cold on the plane, right?).
A quick-dry towel that packs up easily like this one for the bathhouses.
In addition, I also pack my travel-safe straightener with me as well as period products. You don't want to spend time on your trip searching for pads and tampons.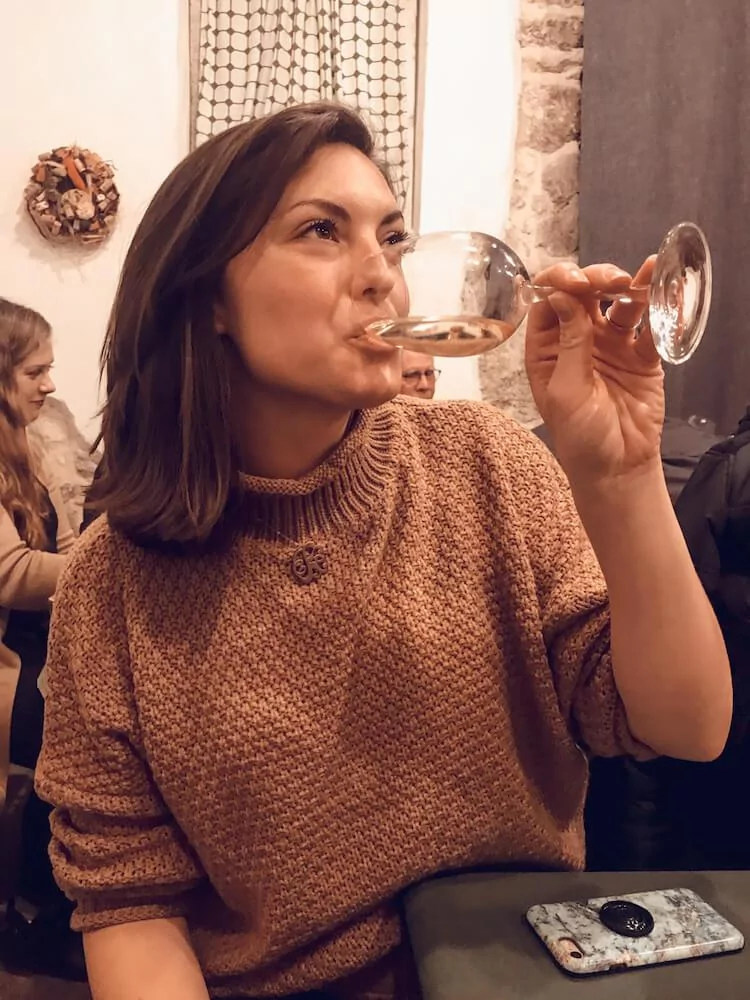 First Aid for a Winter Trip to Europe
Yes, you need to always pack a first-aid kit. Why? Because if you get a headache, allergies pop up, or you cut yourself, it helps to have stuff on hand instead of hunting down a pharmacy. Here is what to pack in your first aid kit!
Prescribed medications: always be sure to pack your prescribed medications and have the label showing on it or prescription with you!
Any vitamins you take.
OTC pain reliever/fever reducer.
Antacid.
Anti-diarrheal.
Laxative.
Allergy medicine.
Motion sickness medicine.
Cough drops.
Emergen-C tablets or other immune supplements.
Bandages.
Hydrocortisone cream.
Antiseptic wipes.
Tweezers.
Don't forget, winter in Europe is also cold and flu season so packing things to help with that is going to help you a lot. I got a nasty cold at the end of our Christmas market trip and was so thankful to have medicine already on me.
While the first-aid kit sounds like a lot of stuff, I usually have it packed away in a small makeup bag (you don't have to take a lot of each, just a little of everything).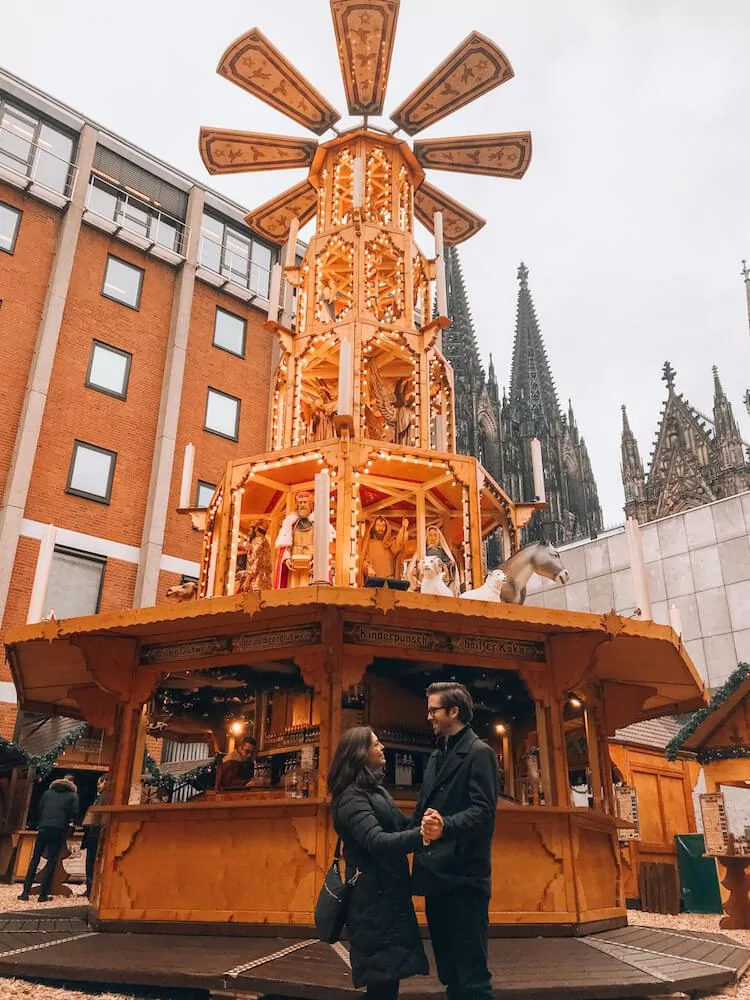 Winter Packing List for Europe: Gadgets and Packs!
It's time to talk gadgets and packs for your trip! From the perfect backpack to other things you're probably forgetting, these are essential for packing light for Europe in winter.
Camera, lenses, charger, and memory cards. Everyone has their own preference for a camera and some just use their phone. Honestly, this is what we did last time and it worked out great!
Tripod for taking photos. We love our phone tripod.
GoPro, charger, and memory cards- this is optional. We brought ours to film our family trip as Chris's family joined us!
Phone and charger- Camera phones like the iPhone 15 Pro are so great for taking photos!
Kindle and charger.
A beltbag to be handsfree while traveling around and keep stuff close at hand.

Lock for your backpack

if you choose to pack a backpack.

Packing cubes

to stay organized.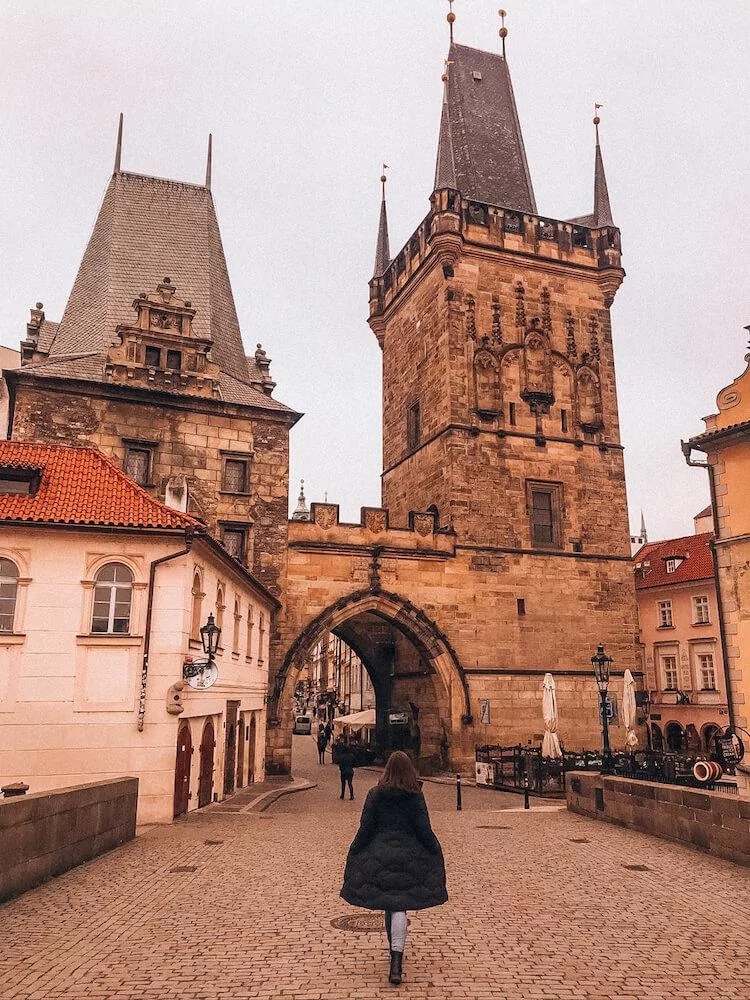 Packing For Europe in Winter: Documents
You know what to wear in Europe in winter as well as other important items to bring, but these are definitely super important to remember to pack along with you in your travels!
Passport. Make sure this has at least 6 months validity on it from the date you plan to return.
Visas. This is if you need it. Be sure to check both your government's travel website as well as the countries you're going to.
Travel insurance. We travel with World Nomads.
Copies of Passport, ID, travel insurance, tickets and confirmations, and itinerary.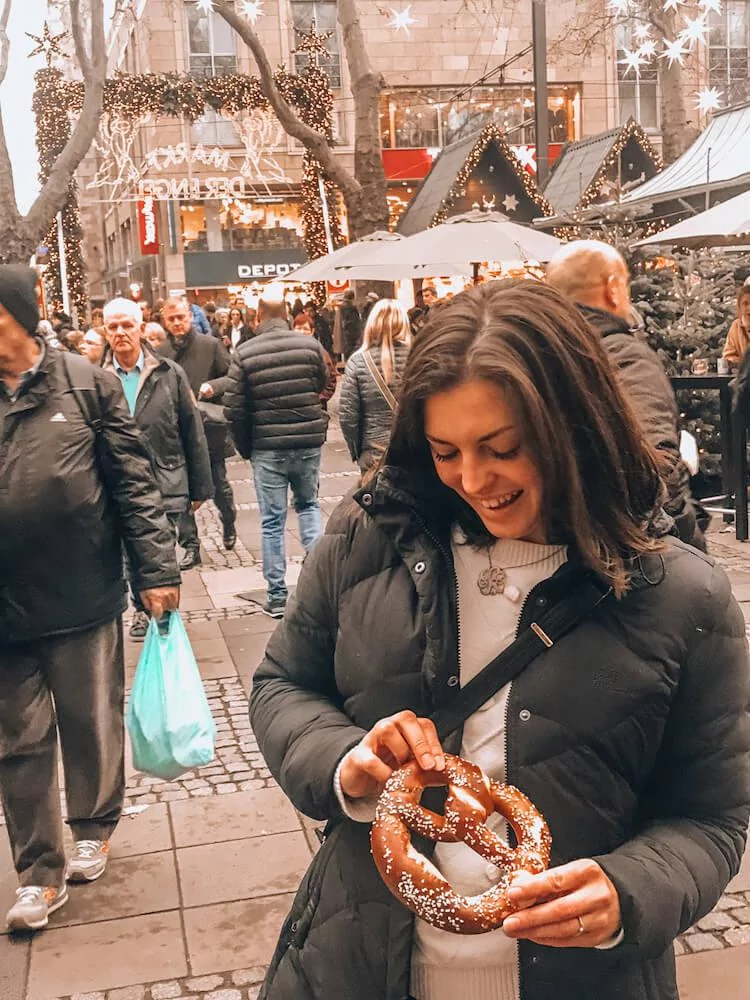 Europe Winter Packing List for Skiing:
Now if you are planning to come to Europe to hit the slopes and still want to travel carry-on only, then I recommend replacing the winter puffy coat with a ski jacket and also purchasing some snow gloves and ski goggles.
While common to rent in the US, in Europe you'll need to provide your own snow pants. I would recommend packing a few more pairs of leggings to wear under your snow pants as well as some sweat-wicking long-sleeve shirts. Be sure to bring your scarf and ear muffs to the slopes too! The remainder you can rent at a ski resort: skis, boots, ski poles, helmet, etc.
While this may be hard to fit into a carry-on, I would switch out a couple of sweaters and jeans for these items, especially if the main focus is to ski most of the time.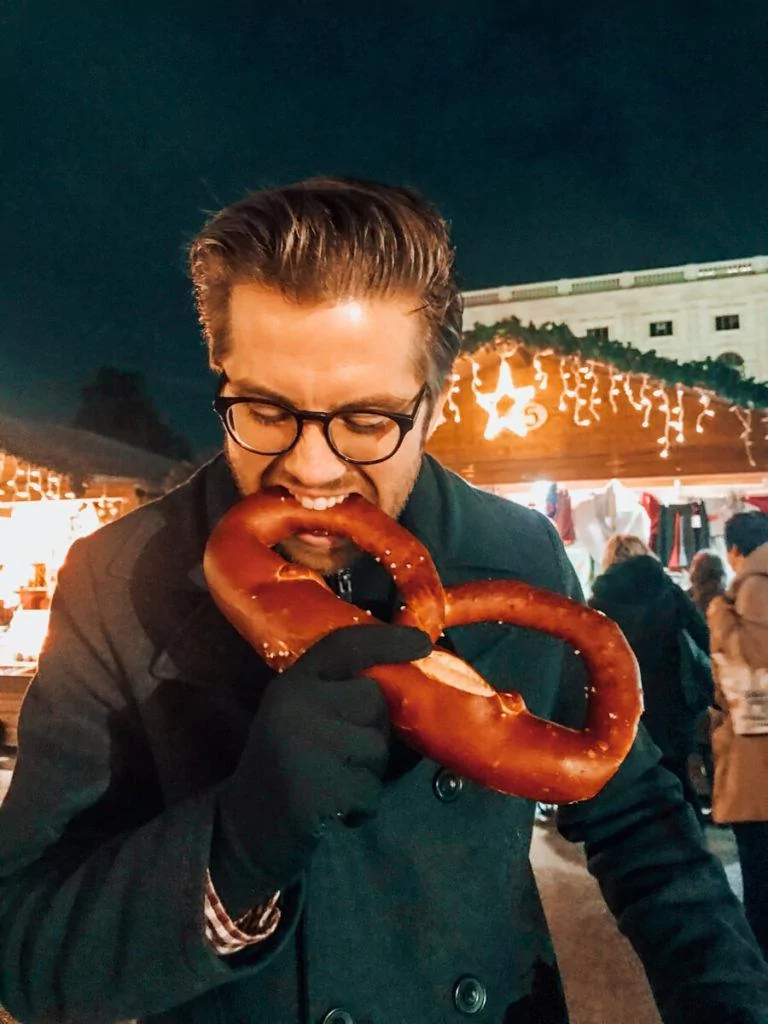 Europe in the winter is one of my favorite times to visit. From the dazzling Christmas markets to beautiful, snow fallen streets, the winter is truly lovely! Plus, January and February are some of the quietest times of year with far fewer people traveling than in summer in Europe. It is a fun season to be in Europe as you'll have crowded places almost to yourself.
I can't recommend visiting in the winter enough!
Would you visit Europe in the winter? Check out these other Europe in winter posts:
Want more packing guides? Check these posts out!
Pin it here!