Some posts on this site contain affiliate links, meaning if you book or buy something through one of these links, I may earn a small commission (at no additional cost to you!). Read the full disclosure policy here.
---
Imagine riding side by side on the back of a safari jeep and spotting a few lions lazily lounging in the heat of the day. Next, imagine wading hand in hand in sparkling blue water as you go for a swim in the Indian or Atlantic Ocean. African honeymoon destinations can offer this and more!
Africa is a gigantic continent with various languages, cultures, cuisines, attractions, and more. So choosing the perfect honeymoon places in Africa for your romantic getaway can seem almost impossible.
That is why I've compiled this list of 20 incredible romantic destinations in Africa that you'll want to add to your list for potential honeymoon ideas! From camping under the stars in the desert in Morocco to getting up close to gorillas in Uganda, these are hands-down incredible places to kick off married life.
20 Best African Honeymoon Destinations
To further break down the list of African honeymoon destinations, we're categorizing the list into 4 parts: best beach destinations, where to go on safari, exciting places, and romantic locales.
Best Honeymoon Destinations In Africa: Where To Go On Safari
Going on a safari is an incredible journey. You feel incredibly close to nature as you watch animals in their natural habitat and even spot them around your lodge!
The stars at night are like nothing you've ever seen before, and with few distractions during your downtime between game drives, you can easily find ways to connect with each other.
So where should you go for your safari honeymoon? Here are the top 5 spots!
1. Kruger National Park, South Africa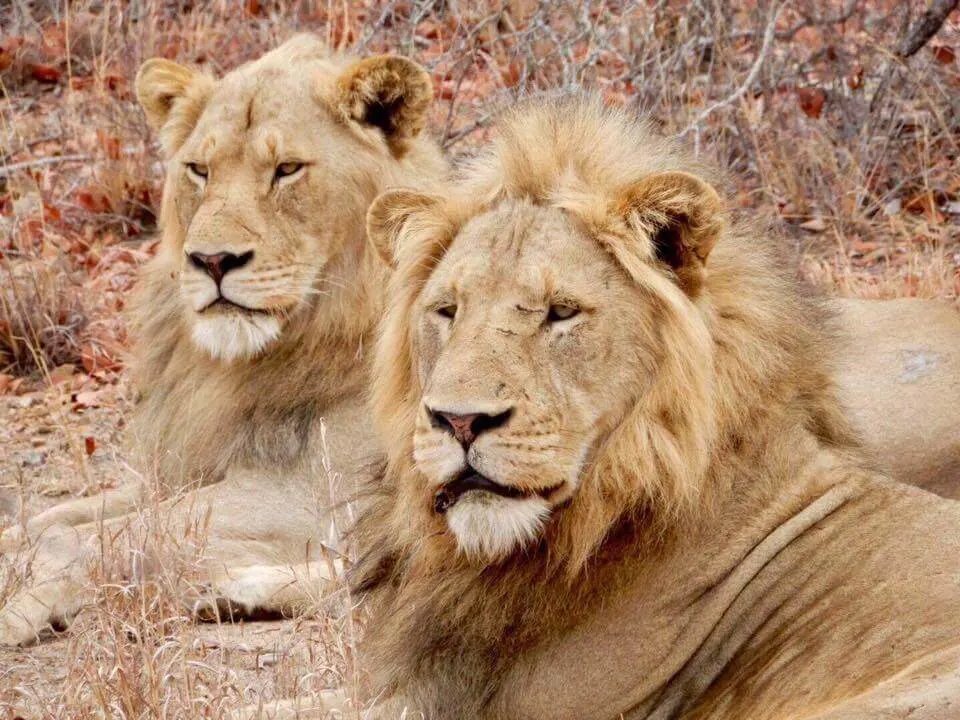 Kruger National Park is a good place to spot the Big 5 (lion, elephant, buffalo, leopard, and rhino) and there are so many lodging options in and around the park ranging from budget to luxury.
I find that South Africa, in general, has more affordable safari options and you get more for your money here versus other destinations where things can easily get pricey. So if you want a more luxurious safari without paying thousands of dollars a night, Kruger National Park and the surrounding area is a fantastic place!
Plus, you have a good chance of spotting the Big 5 as well as several other animals like zebras, hippos, wildebeest, giraffes, and hyenas.
As far as which lodge to choose, Simbavati River Lodge, located next to Kruger in the Timbavati Private Game Reserve, is idyllic with luxury safari tents complete with a shower, double vanity, outdoor shower, and a relaxing bed. Some tents even have a private plunge pool.
The lodge also has a swimming pool, spa, large viewing deck, and includes game drives!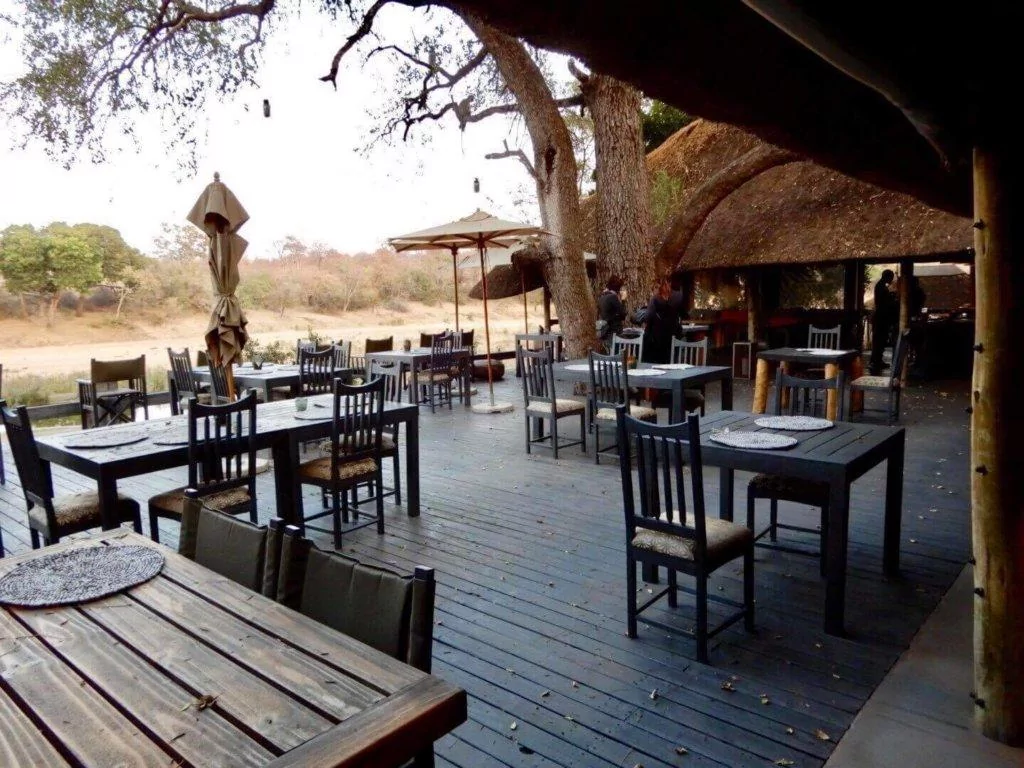 Things To Do In Kruger National Park:
Go on game drives (of course!)
Stargaze and spot the milky way at night
Take a day trip to visit Blyde River Canyon
Go for a bush walk (if permitted)
Stay in a luxury lodge and enjoy the pool and spa
Go bird watching!
2. Queen Elizabeth National Park, Uganda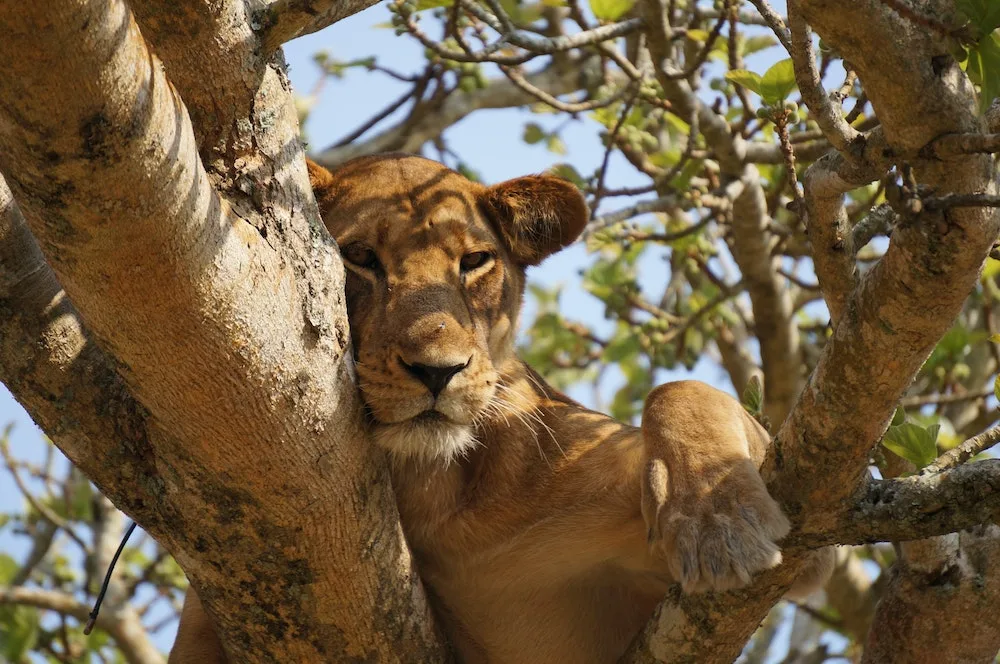 Perhaps you've heard of this safari destination, or perhaps not. This national park in Uganda is famous for a few things: tree-climbing lions, chimpanzee trekking, and cruising with hippos.
In the Ishasha sector of the park, you can perhaps spot lions hanging out in trees instead of on the ground, and it is a sight to see! This is a phenomenon that only happens in a couple of places in Africa, with this area being one of them.
There is also the chance to go chimpanzee trekking in Kyambura Gorge, and you can cruise along the Kazinga Channel for the chance to spot animals coming for a drink or see hippos and crocodiles swimming in the river.
Oh, and don't forget that you can go on game drives and spot other wildlife like warthogs, elephants, and buffalo!
A great place to stay, especially for those tree-climbing lions, is Ishasha Wilderness Camp. Located along the Ntungwe River, there are plenty of game-watching opportunities from the camp itself!
Plus, the tents have comfortable beds, a bathroom, and a seating area outside for game-watching during the day.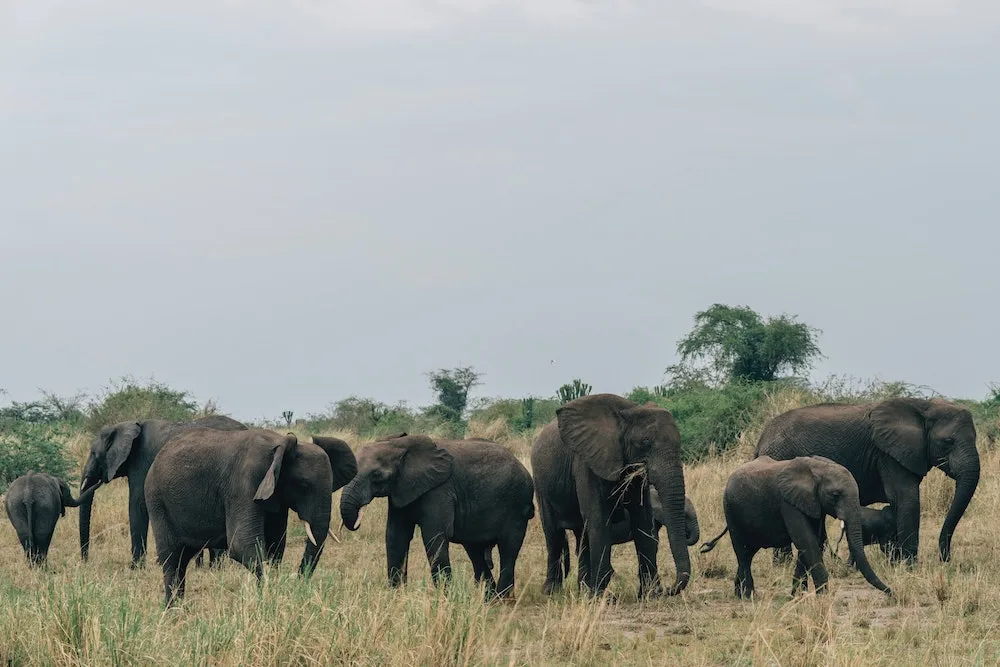 Things To Do In Queen Elizabeth National Park:
Game drives
Spot the tree climbing lions
Go on a chimpanzee trek
Cruise along the Kazinga Channel
Birdwatching
3. Masai Mara National Reserve, Kenya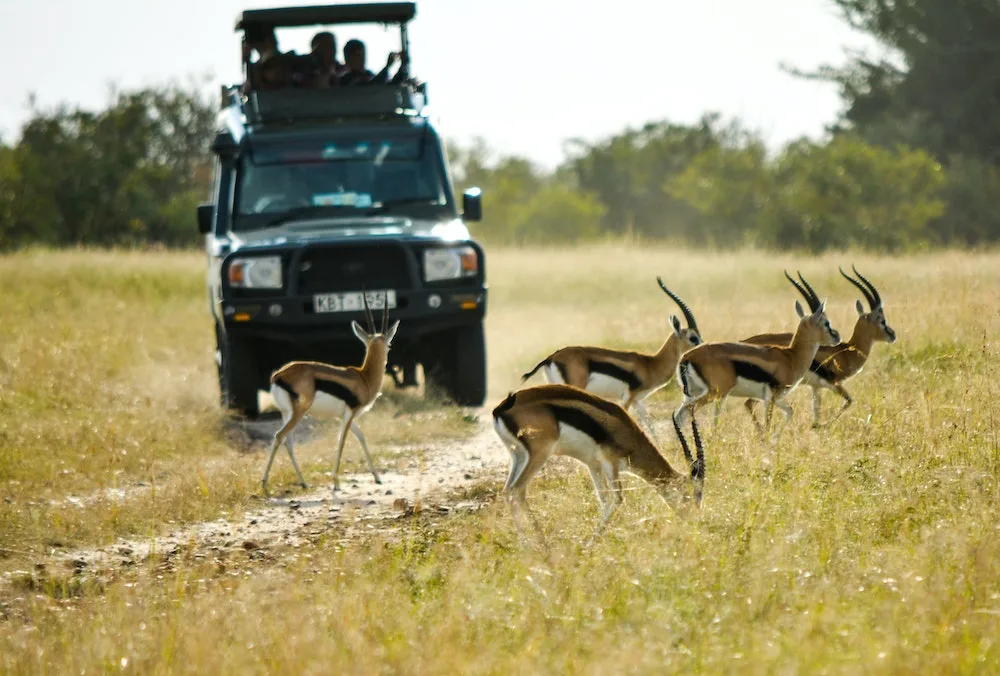 This is easily one of the more popular places to visit in Kenya and a great spot to honeymoon in Kenya.
All of the Big 5 live in the Masai Mara, there are plenty of safari lodgings available, and there are several activities to partake in throughout the park including hot air balloon rides, learning about the Maasai people, and more!
For a luxurious and romantic stay in the Masai Mara, opt for Ilkeliani Camp. This newly renovated place offers tent suites with incredible views perfect for game watching, stylish bathrooms, and plenty of space for relaxing.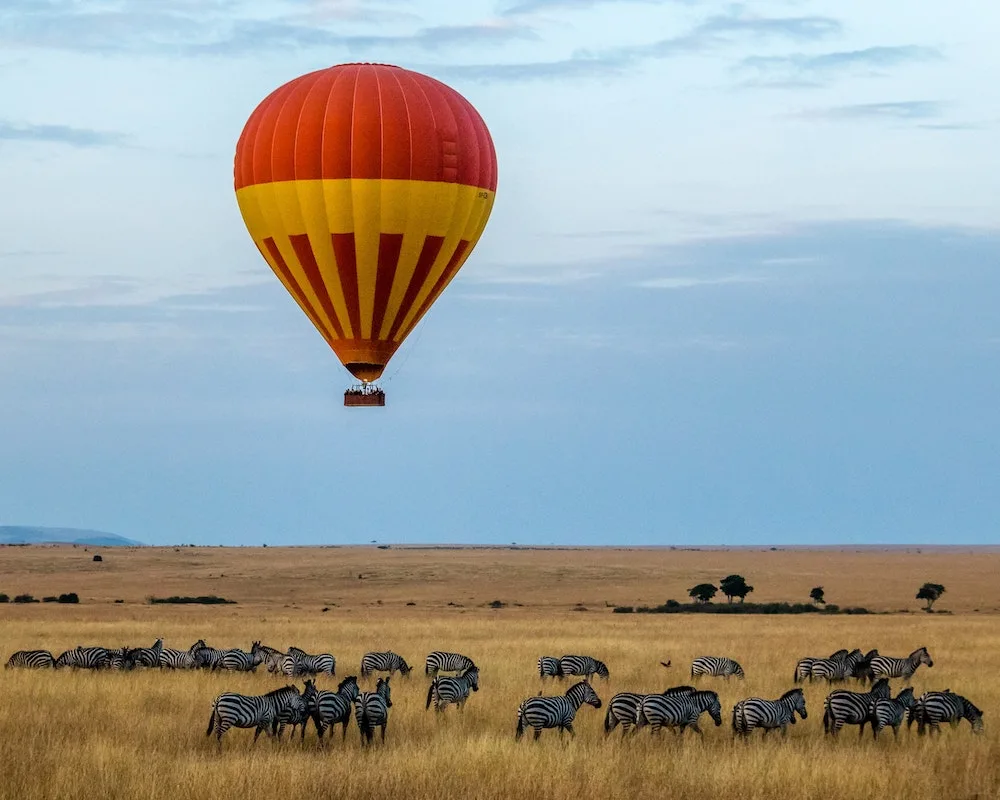 Things To Do In The Masai Mara:
Go on safari drives
Visit the Maasai and learn about their culture, use of medicinal plants, and their history
Take a hot air balloon ride over the reserve
Watch the Great Migration between July and October
Bird watch
Enjoy game viewing from your lodge
4. Okavango Delta, Botswana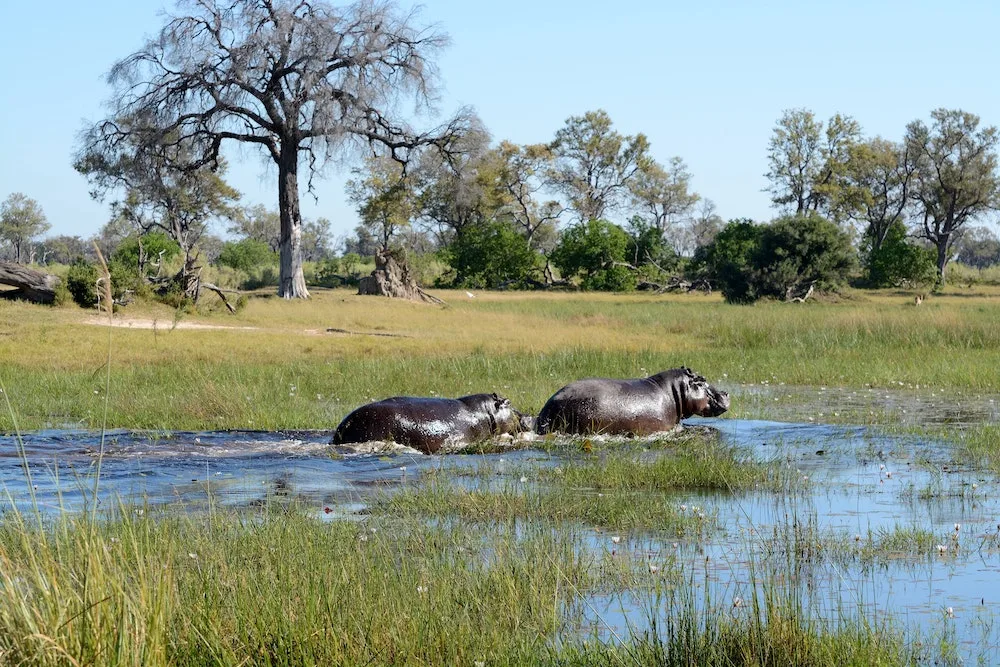 Botswana is a fantastic place to go on a safari honeymoon, especially if you are interested in a boat safari!
The Okavango Delta is full of abundant wildlife including elephants, buffalos, hippos, giraffes, wildebeest, lions, cheetahs, leopards, and more! This is a prime destination and a very romantic African honeymoon destination to choose from.
The only thing is, while you could find some deals for a safari here, Botswana is kind of known for being a pricey safari destination. The Botswana government is aiming for sustainability, meaning fewer lodges popping up and prices are high to keep those lodges running.
However, the wilderness and wildlife definitely make it worth it!
For a great place to stay in the Okavango Delta, the Mopiri Camp is perfect with luxury ensuite tents serving panoramic views of the water and a pool to relax in between exploring the wilderness!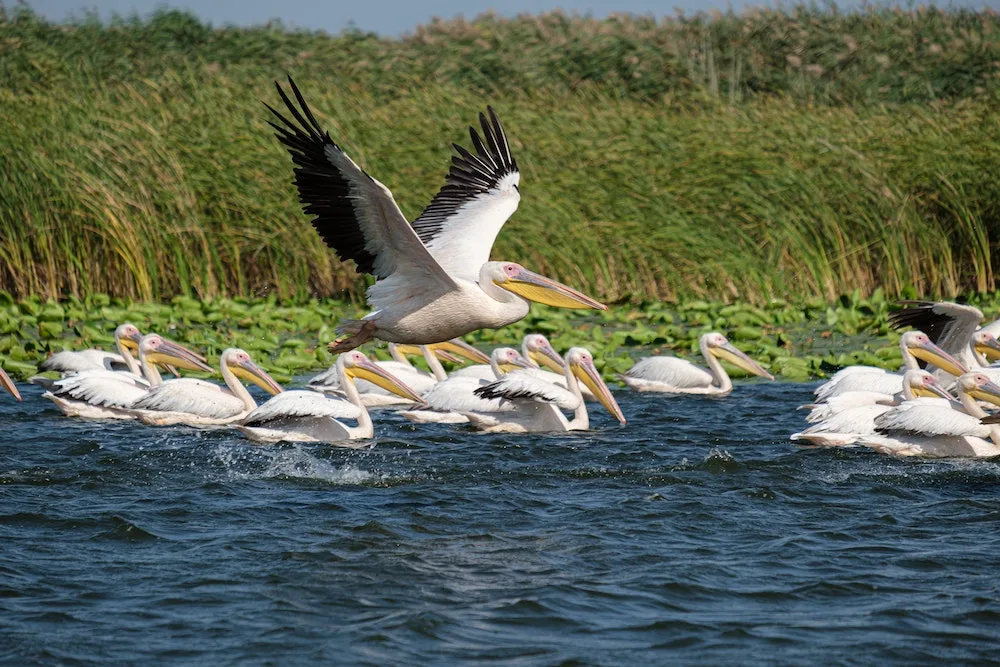 Things To Do In The Okavango Delta:
Mokoro-boat rowing
Boat Safaris
Bush walks
Fishing trips
Take a helicopter flight over the delta
5. Ngorongoro Crater, Tanzania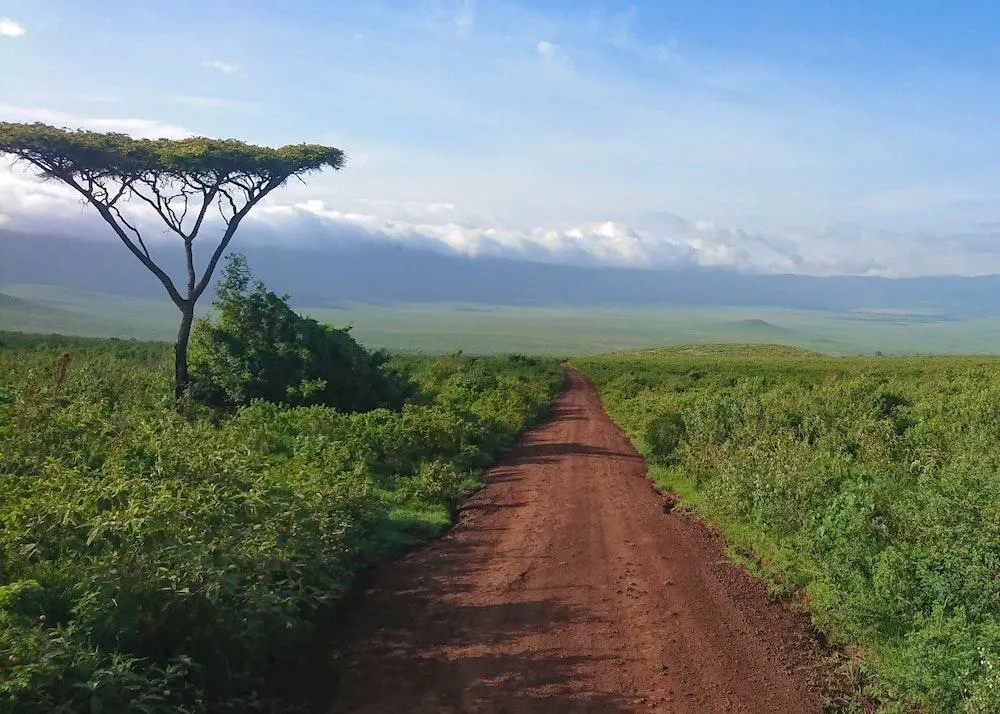 Tanzania has several safari destinations, making a trip to Tanzania on its own a great African honeymoon idea.
But, Ngorongoro Crater is a must-see! This crater is a volcanic caldera and is full of wildlife!
Not only can you see a lot of animals gathered together at a time (there are at least 25,000 large animals that live here!), but your chances of spotting the Big 5 or other wildlife are very good here.
Find a huge population of wildebeest, hyenas, zebras, gazelles, elephants, giraffes, lions, hippos, and more. You can even find flamingos at Lake Magadi.
For a place to stay at Ngorongoro Crater, I recommend a lodge overlooking the crater for incredible views, especially for your African honeymoon.
andBeyond Ngorongoro Crater Lodge fits the bill as it sits along the crater rim. They offer spacious suites that are meticulously decorated and uber-romantic. Plus, they offer a 50% discount for your partner for honeymooners!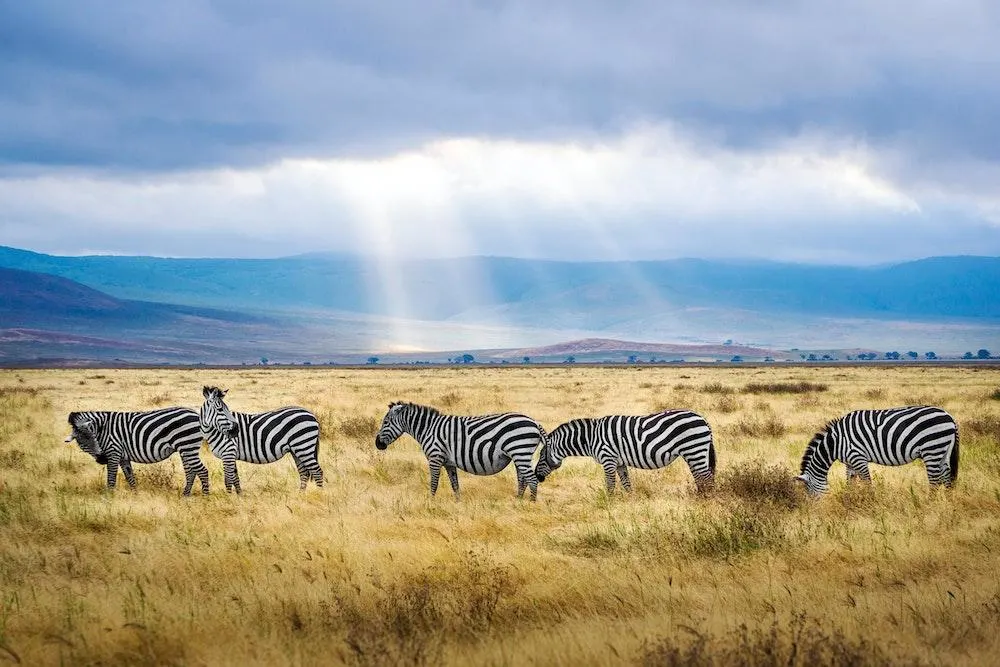 Things To Do In Ngorongoro Crater:
Game drives in the crater
Visit the Maasai and Hadzabe tribes
Go for walks and hikes as permitted
Take a hot air balloon ride
Visit Olduvai Gorge, known as the "Cradle of Mankind"
Spot flamingos and other birds at Lake Magadi
Best Honeymoon Places In Africa: Beaches
Look, we totally get it. After planning a wedding, going to the beach and completely relaxing is much-needed. Also, being on the continent of Africa, why not choose to go on a safari and then hit the beach to relax and unwind after the adrenaline rush of watching nature happen live.
Either way, Africa has some pretty incredible beach destinations that you're going to want to visit on your honeymoon.
6. Zanzibar, Tanzania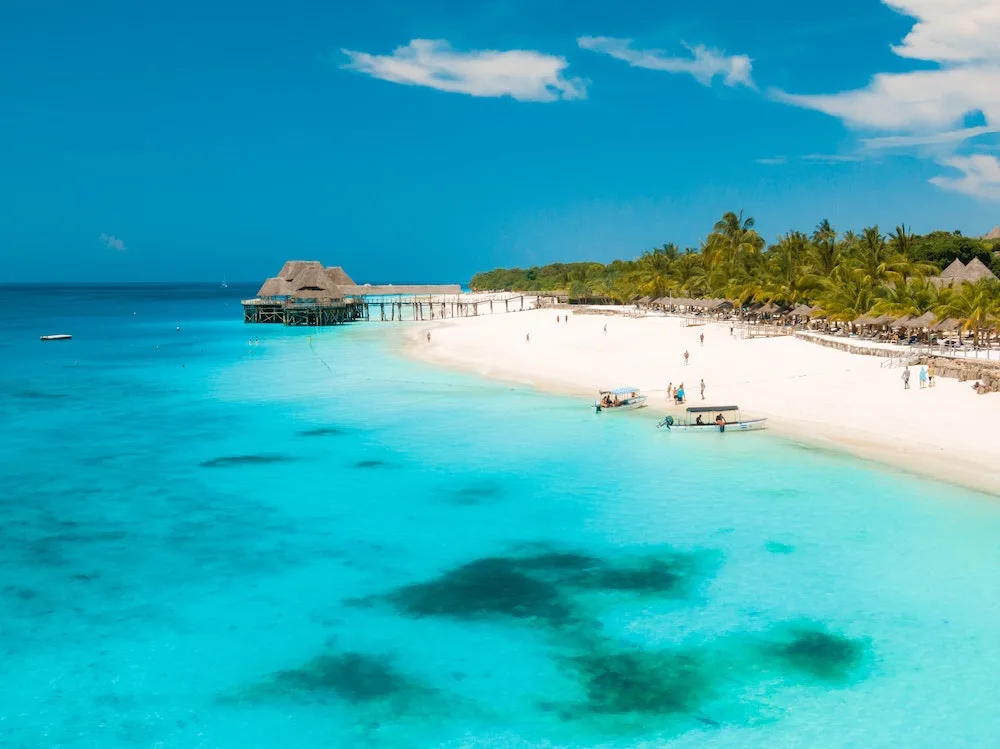 Perhaps you want to combine a trip to Zanzibar with a trip to Ngorongoro Crater or the Serengeti.
Picture a gorgeous island full of history and several beaches that are perfect for snorkeling and swimming. While of course there are great diving and snorkeling spots around the island, Zanzibar has a lengthy history and rich culture, making exploring the island a must too.
Aluna Nungwi is a great beach hotel to stay at that has its own private beach, 2 pools, and a bar and restaurant. It is a lovely place to stay and very affordable for a honeymoon in Zanzibar.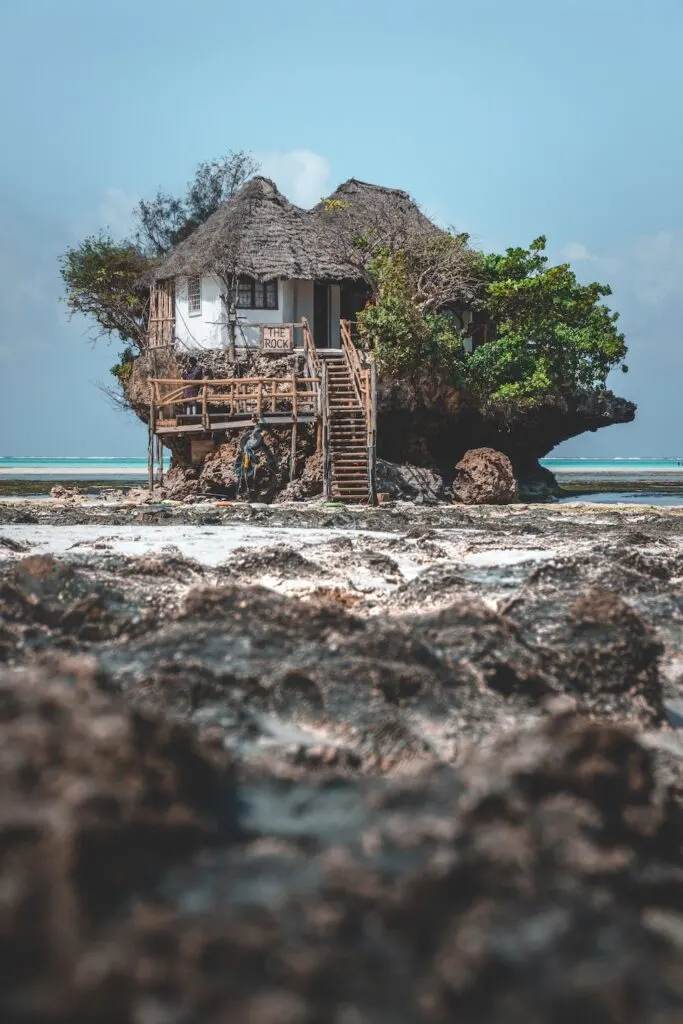 Things To Do In Zanzibar:
7. Mauritius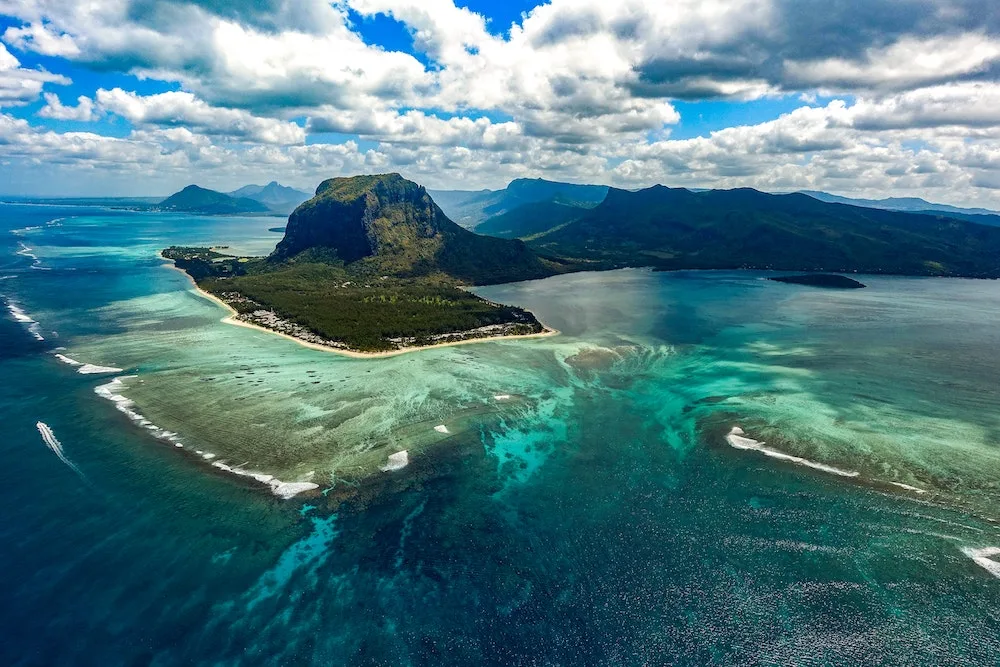 Ahh Mauritius, an iconic honeymoon destination in Africa. There are jaw-droppingly beautiful beaches, dense rainforests, staggering mountains, and so much more.
For the ultimate island paradise, Mauritius is definitely a honeymoon bucket list destination.
Constance Le Prince Maurice offers the overwater honeymoon bungalow of your dreams. Take in delightful ocean views from your balcony over the water, and enjoy tasty cuisine, a luscious spa, and more!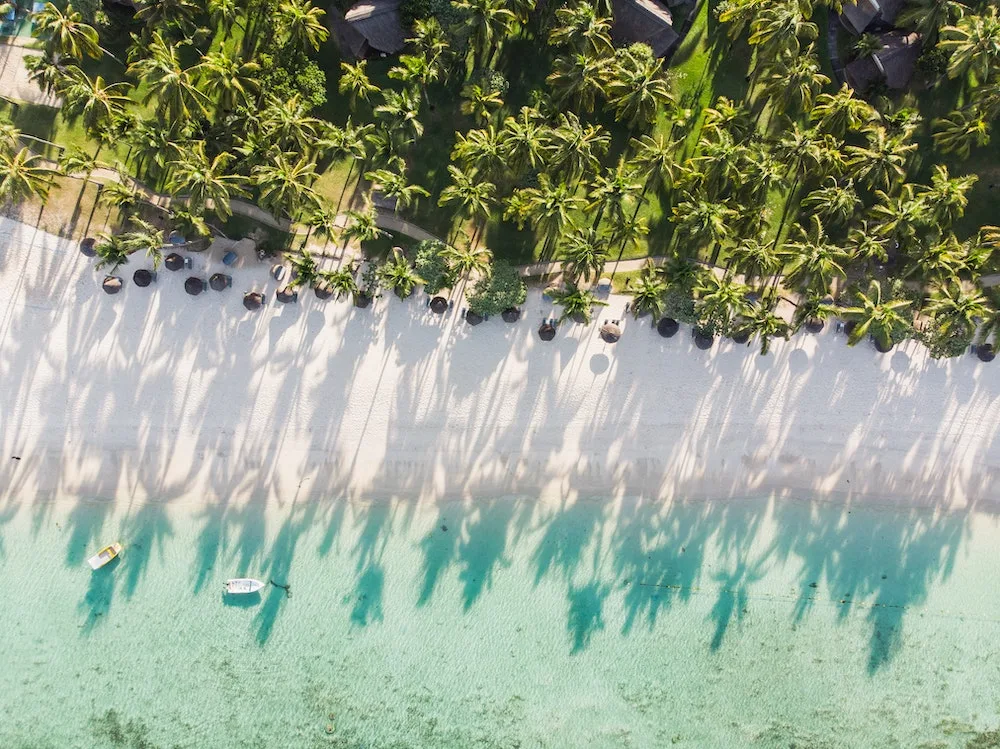 Things To Do In Mauritius:
Swim and relax on the beaches
Kayak in Tamarin Bay
Chase waterfalls at Chamarel Waterfall and Tamarind Falls
Visit the 7 Colored Earth sand dunes
8. Seychelles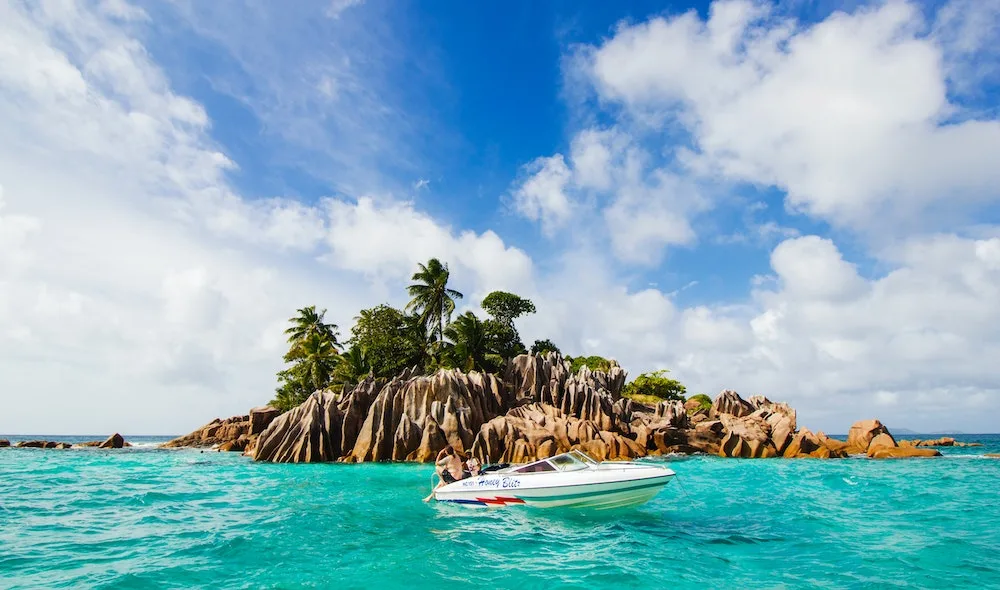 If it is good enough for Will and Kate, among many other celebrities, for their honeymoon, it is good enough for us, right?
Seychelles has been known as an A-lister honeymoon destination in Africa for years, and, honestly, it isn't a mystery as to why. With crystal-clear waters, dreamy, soft, sandy beaches, and various islands to explore, Seychelles are a perfect place to unwind post-wedding.
Constance Ephelia Mahe Seychelles is a dreamy eco-resort with amazing views and dreamy lagoons. Pamper yourself at the spa or lazily lounge on the beach all day. The choice is yours.
Or, to get the Seychelles experience and island-hop, why not take a luxury cruise?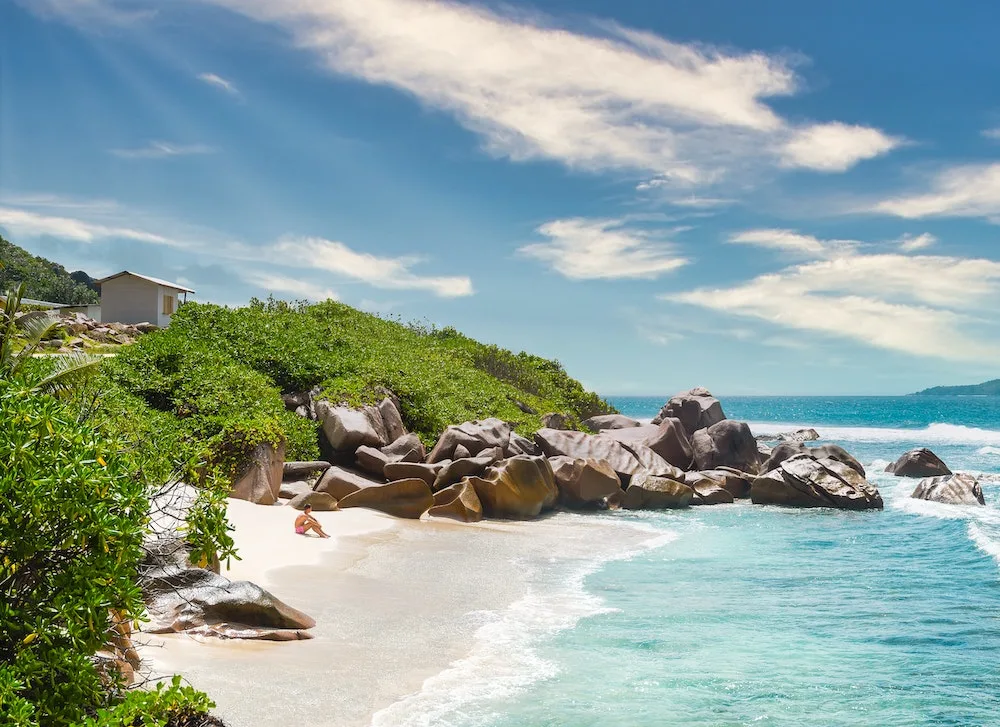 Things To Do In Seychelles:
Beach hop and relax all day by the water
Go for a hike
Visit Victoria Market on Mahe
9. Bazaruto Archipelago, Mozambique Honeymoon
With some of the best beaches in Africa, a trip to the Bazaruto Archipelago is a romantic start to newlywed life.
Aside from chilling beachside with a cocktail in hand, there is the chance to spot wildlife from the water! We're talking about dolphins, whale sharks, turtles, manta rays, and even more!
If you want to stay on the islands, Azura Benguerra Island is the dreamy escape you need. With luxury beachfront villas, pristine beaches, and an indulgent spa, you'll never want to come back home!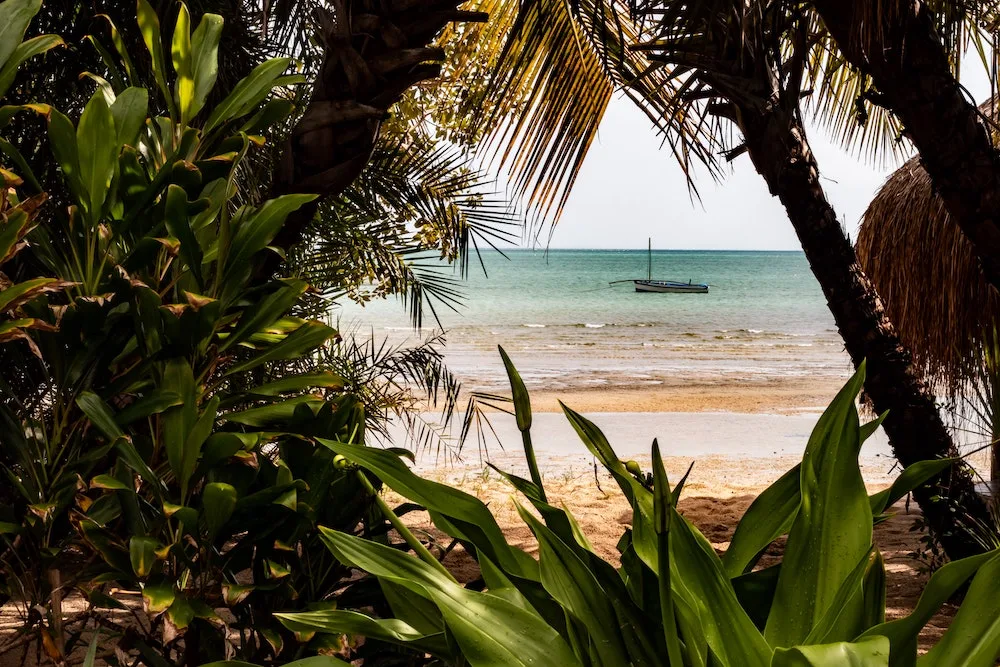 Things To Do On The Bazaruto Archipelago, Mozambique:
Island hop around the archipelago
Go deep sea fishing
Learn to scuba dive
Enjoy swimming over a coral reef and spotting various marine life
Ride around the island on a 4X4 vehicle
Relax by the beach
10. Red Sea, Egypt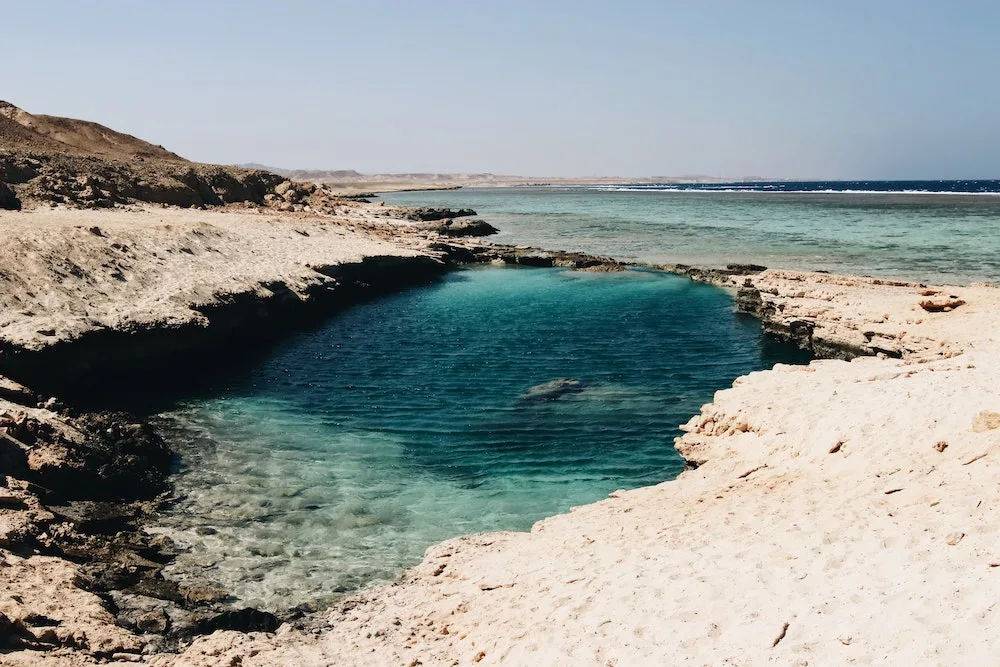 Don't worry, while there are a TON of great beach destinations around Africa, I certainly couldn't forget about the dreamy romantic beaches along the Red Sea in Egypt.
Golden beaches, crystal clear water, and ample marine life make the Red Sea in Egypt a delightful African honeymoon destination.
Plus, this area is teeming with history and rich culture, meaning you can relax by the beaches and also enjoy the cuisine, history, and more of the locale.
For great resorts, check out Hurghada along the Red Sea. Meraki Resort is the place to go for honeymooners. This adults-only resort offers everything from lounging on the beach or poolside to partying it up.
They also offer a honeymoon package including a candlelight dinner at the hotel, free in-room breakfast one morning, and spa discounts to make you feel pampered during your stay.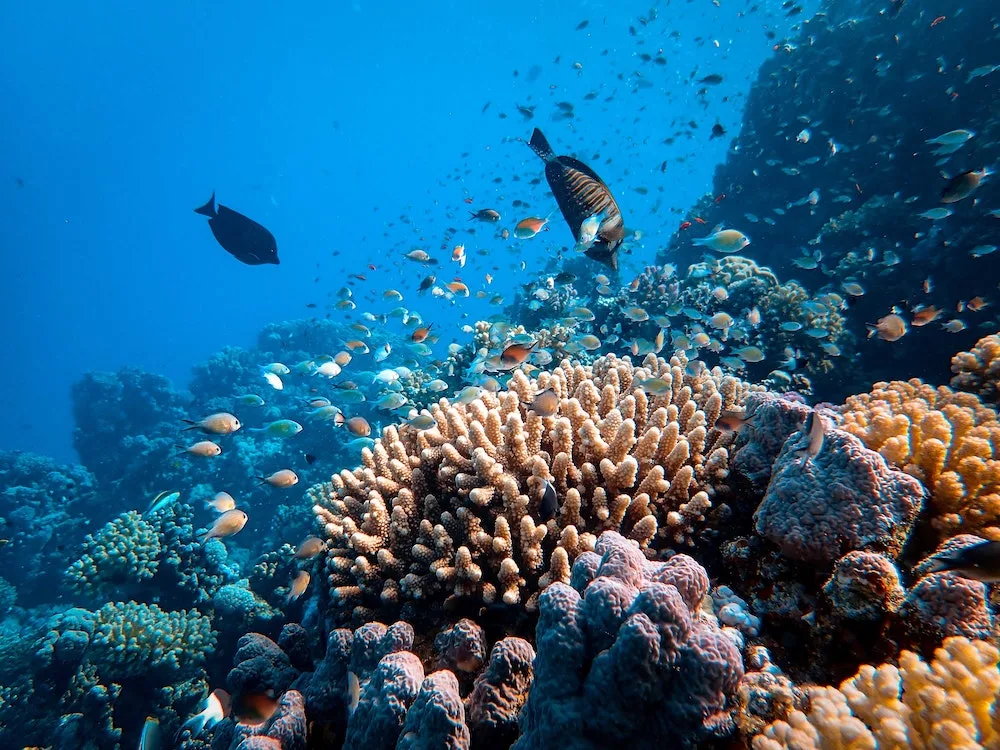 Things To Do On The Red Sea, Egypt:
Partake in all the water sports: kayaking, swimming, snorkeling, parasailing, and windsurfing
Learn to dive or go on some great dives
Visit St. Anthony's and St. Paul's Monasteries
Head to Ad Dahar Souq
Explore the desert
Top Romantic Spots For A Honeymoon In Africa
Okay, clearly all of the above are romantic spots. But some places are truly iconic. We're talking about luxury camping under the stars, exploring Africa's idyllic wine region, and even witnessing Africa's best waterfall.
These are the most romantic honeymoon destinations in Africa.
11. Victoria Falls, Zimbabwe & Zambia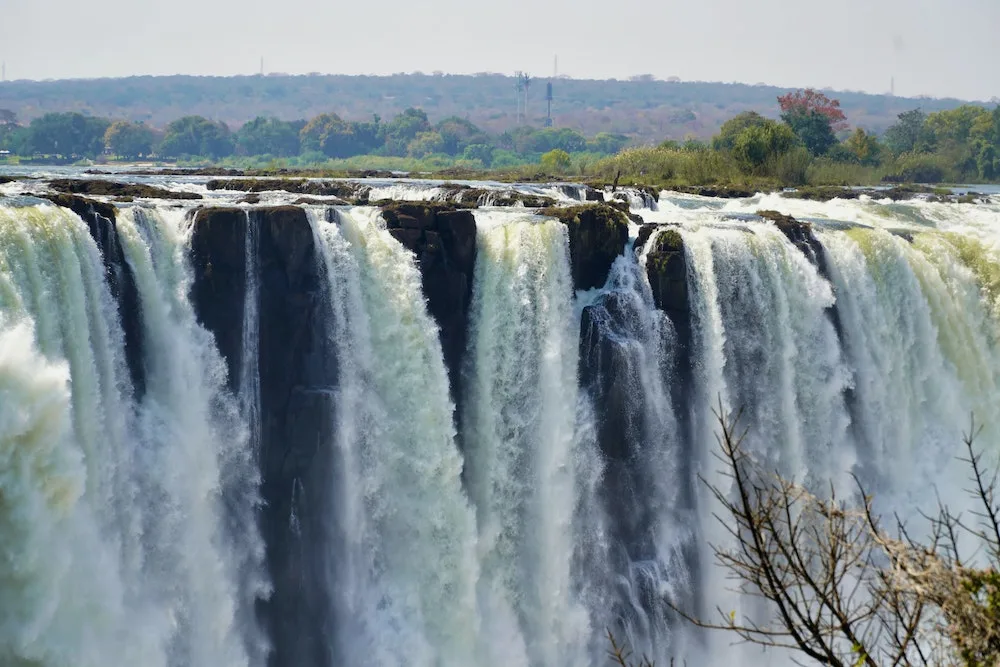 Victoria Falls is one of the most awe-inspiring wonders in Africa. It would make sense, then, to add it to a honeymoon, especially if you're a fan of waterfalls.
The falls border Zimbabwe and Zambia, and while both sides are great, the Zimbabwe side is preferable for most tourists thanks to the Victoria Falls town nearby and better viewpoints of the falls compared to the other side.
However, to get a full picture of this magnificent waterfall, visiting both sides is a great idea.
For a perfect place to stay on the Zimbabwe side, opt for Zambezi Sands. Not only can you arrange a visit to Victoria Falls from here, but you're in the Zambezi National Park, where you can go on game drives and spot wildlife!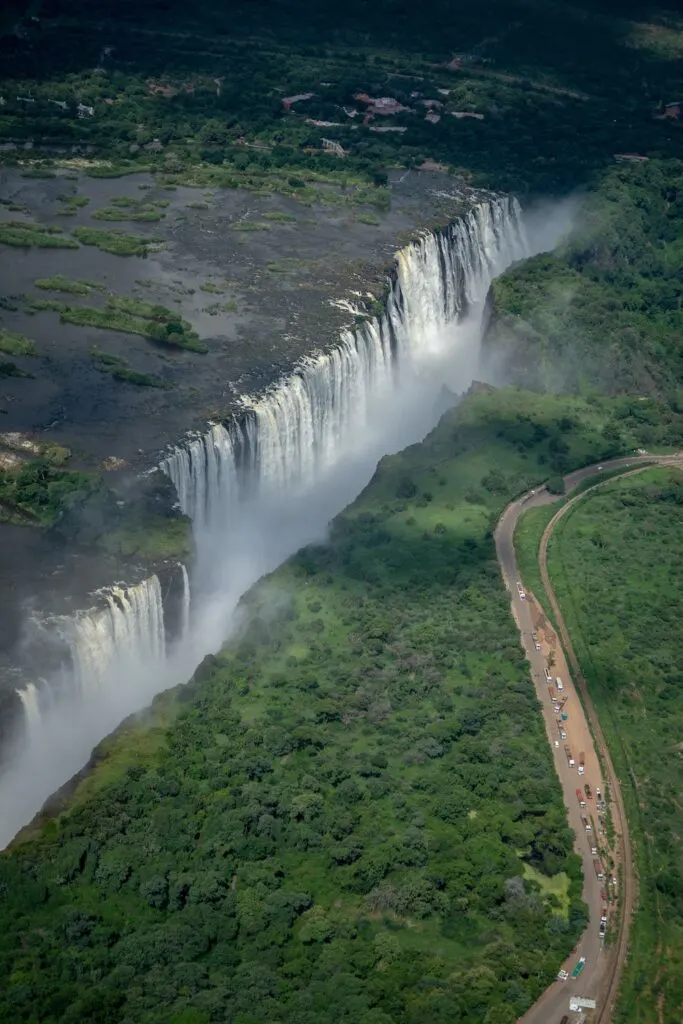 Things To Do Near Victoria Falls:
Visit the falls themselves and find your favorite viewpoint
Arrange a

visit to Devil's Pool

and get close to the edge of the falls!
Go white water rafting down the Zambezi River
Stay in Zambezi National Park and go on game drives, canoe trips, or go fishing
12. Erg Chebbi, Morocco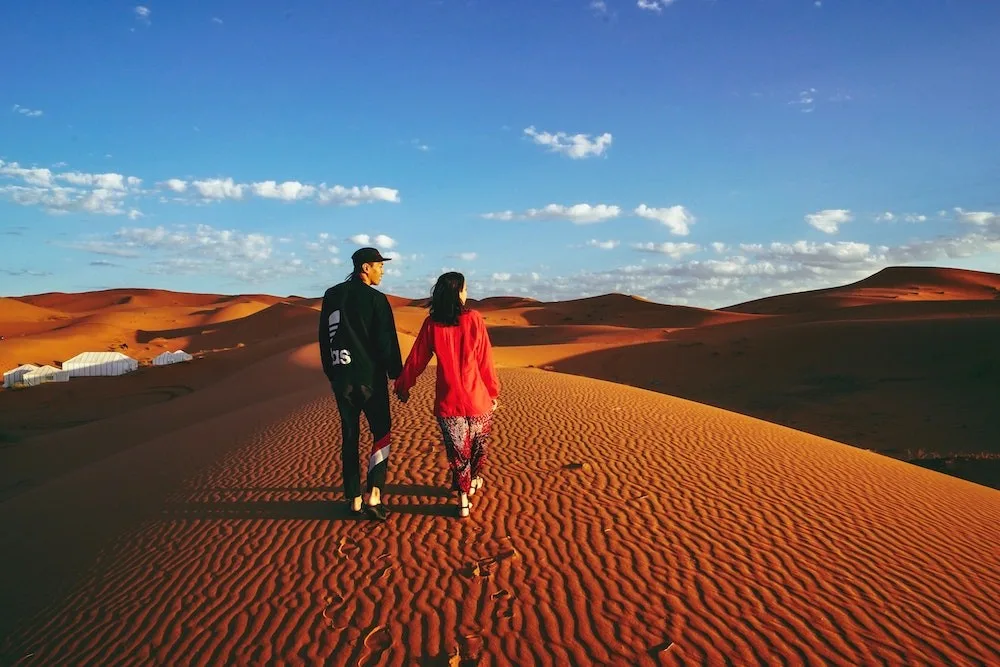 Romance is cuddling together and stargazing at the most magnificent night sky, right? At Erg Chebbi in Morocco, you're staying amongst the sand dunes in the desert, where you can ride camels along the dunes, catch a great sunset, and even stay in a luxury tent under the stars.
Desert Luxury Camp in Morocco is the best escape into the desert! They offer several luxury ensuite tents and can arrange activities like sand surfing, camel riding, visiting local villages to learn more about the culture, guided walks, and more.
Feel inspired by the peaceful sounds of a few nights in the desert together.
Things To Do In Erg Chebbi:
Camel riding through the desert
Sand surfing on the dunes
4X4 riding
Visiting local villages
Stargazing at night
Going for guided walks
13. Sossusvlei, Namibia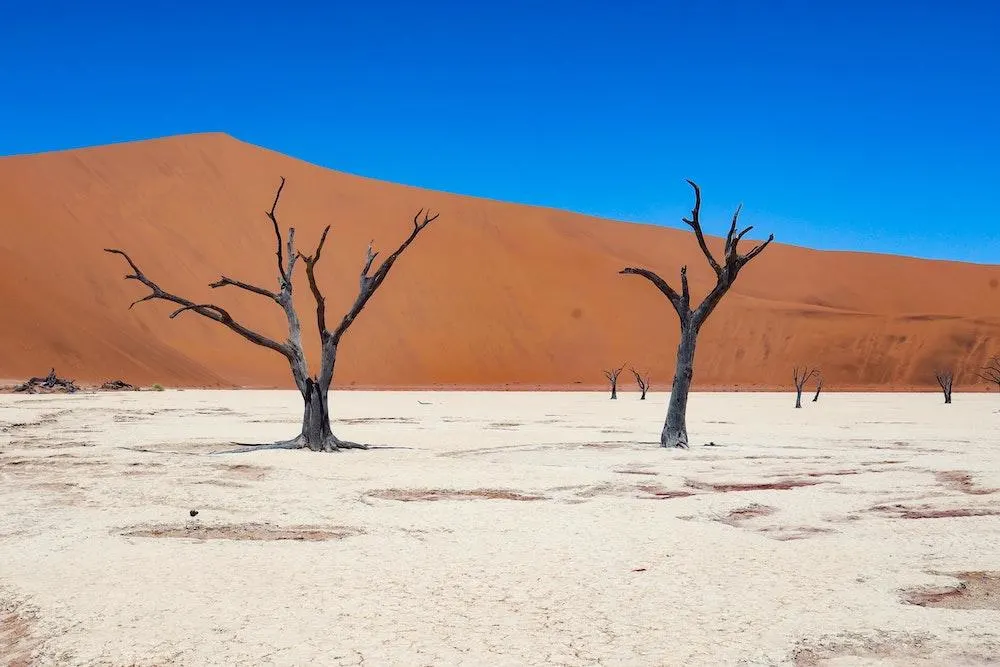 Located in the Namib-Naukluft National Park, this desert landscape is actually Namibia's most visited attraction. And it isn't difficult to see why.
Exploring incredible sand dunes, wildlife spotting, and stargazing is the name of the game here in Sossusvlei.
For a romantic place to stay within the park that's catered to stargazing opt for Little Kulala. The thatched hut suites are equipped with their own private plunge pools and a rooftop that makes stargazing a dream.
Things To Do In Sossusvlei:
Hike up Big Daddy Dune and Dune 45
Explore Deadvlei, an area with 900-year old dead camel thorn trees along the dry, cracked earth
Go quad biking around in the desert
Stargazing
Spot wildlife like hyenas, springbok, ostriches, and more!
Take a hot air balloon safari
Relaxing, why not grab a nice massage while chilling in the desert?
14. Cape Winelands, South Africa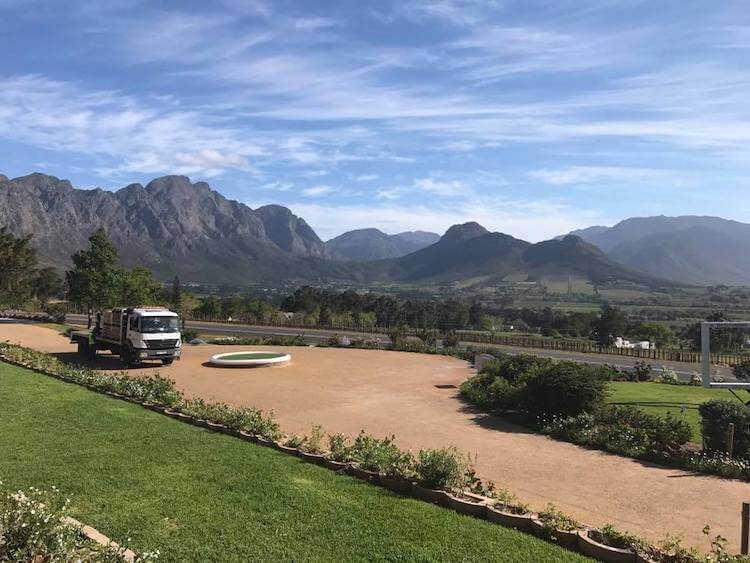 The Cape Winelands in South Africa make for an incredible honeymoon destination. If you have a 2 week South Africa honeymoon, then a stop here is a must!
The dramatic mountain landscape paired with the twisting vineyards make a stay here feel tranquil and romantic. There are plenty of wineries to visit in the Cape Winelands, especially around the towns of Stellenbosch, Franschhoek, and Paarl.
There are actually several hotels you can stay at that are on the vineyards themselves, including Babylonstoren. This hotel has rooms and cottages to enjoy, each with views of the vineyard and farm. You can hit up the spa, enjoy a delicious meal at one of their restaurants, and, of course, sample some delicious South African wine.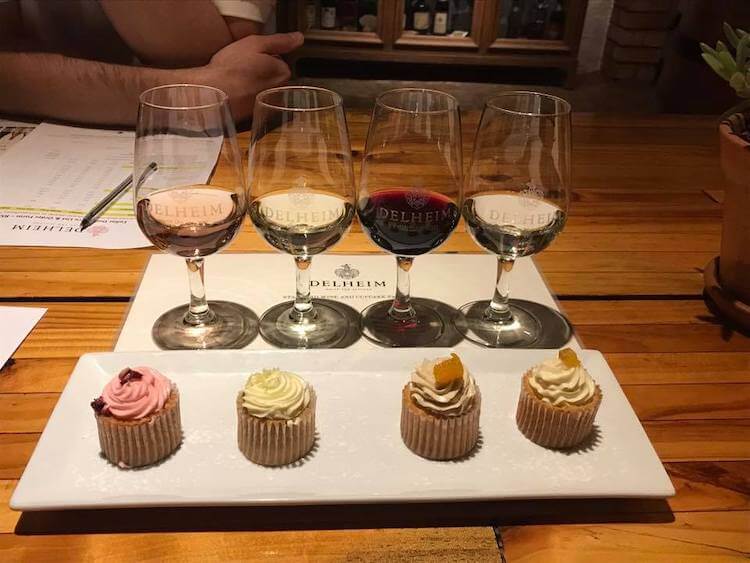 Things To Do In The Cape Winelands:
Drink wine, of course!

Take a wine tour or book a driver

if you want someone else to handle the driving.
Eat incredible food. Seriously, many wineries have fantastic restaurants to enjoy.
Explore the cute towns of Stellenbosch, Franschhoek, and Paarl
Take the Franschhoek Wine Tram tour
15. Cruise On The Nile, Egypt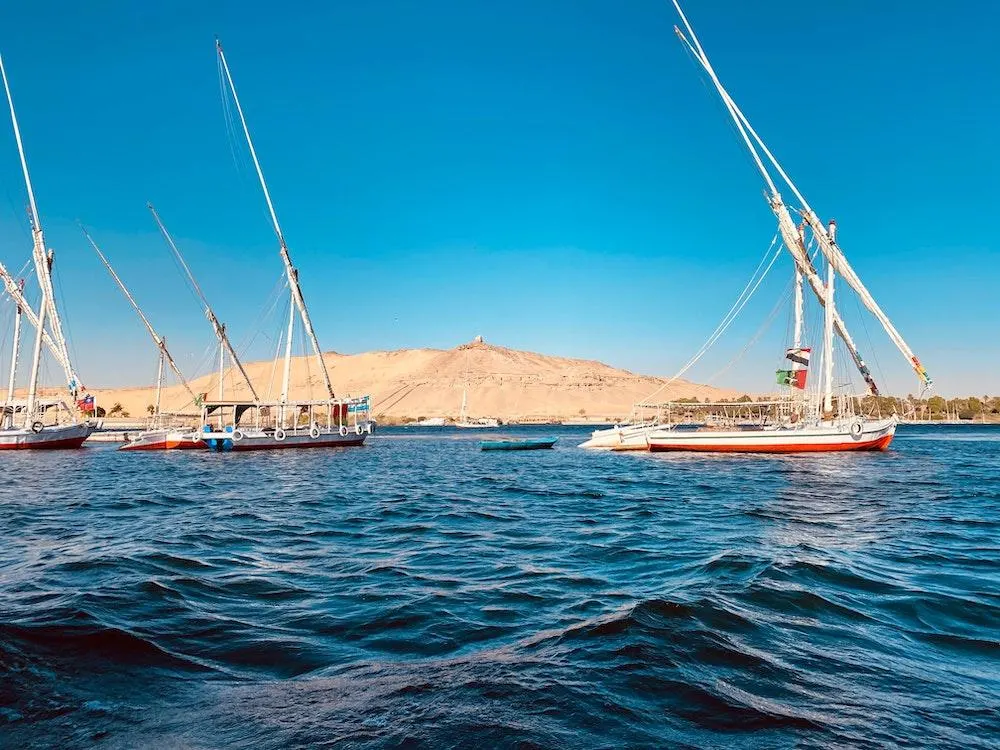 Cruise along the Nile River on a luxury cruise ship in Egypt. Take in the history at various stops along the way like the Valley of the Kings, Luxor Museum, and Temple of Edfu. Relax upon a ship complete with a sundeck and pool, spacious cabins, and a spa.
There are many great luxury cruises to choose from, so based on where you'd like to go and for how long, there are many cruise options!
Things To Do On A Nile Cruise:
Relax and get some sun
Alfresco dining on board
Spa treatments
Visiting various temples and ruins as well as museums to take in the history
Spot wildlife and crocodiles along the way
Most Exciting Places To Visit For An African Honeymoon
From bustling cities to exciting adventures, there are some pretty cool places to visit all across Africa for your ideal honeymoon.
16. Cape Town, South Africa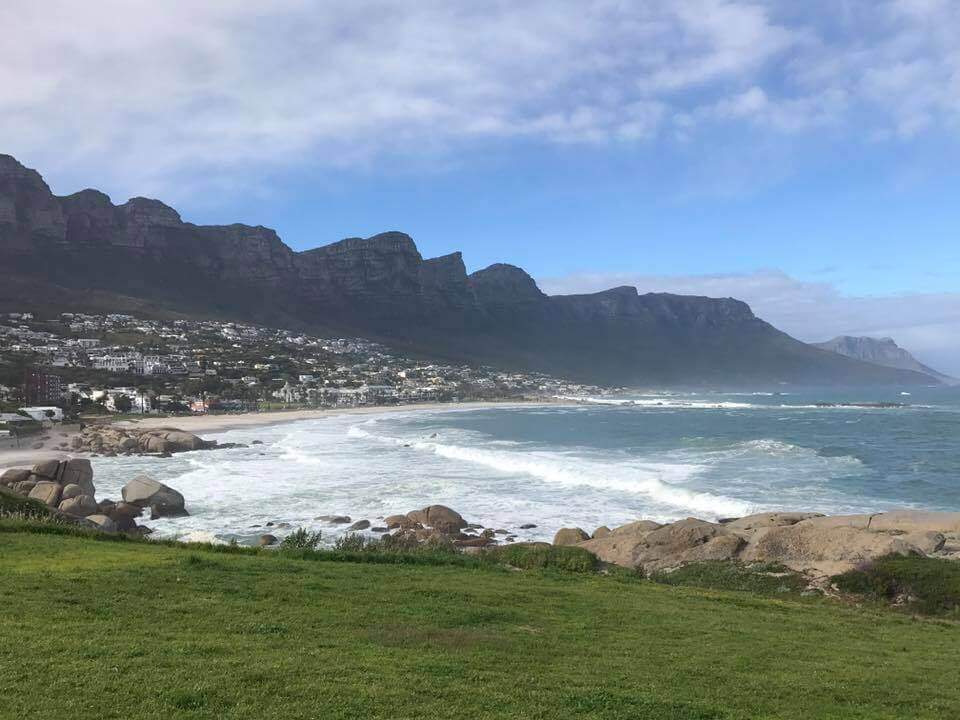 Planning a South African honeymoon isn't complete without adding on Cape Town. This exciting city has plenty to offer on its own from delicious food, breathtaking beaches, amazing markets, and more.
However, Cape Town is a great place to base yourself for exploring other places like the Cape of Good Hope, Boulders Beach, and even the Cape Winelands!
For a great place to stay during a 3 day Cape Town trip or so, The Treehouse Boutique Hotel is located along the waterfront and has a great pool, bright and airy rooms, and a spa.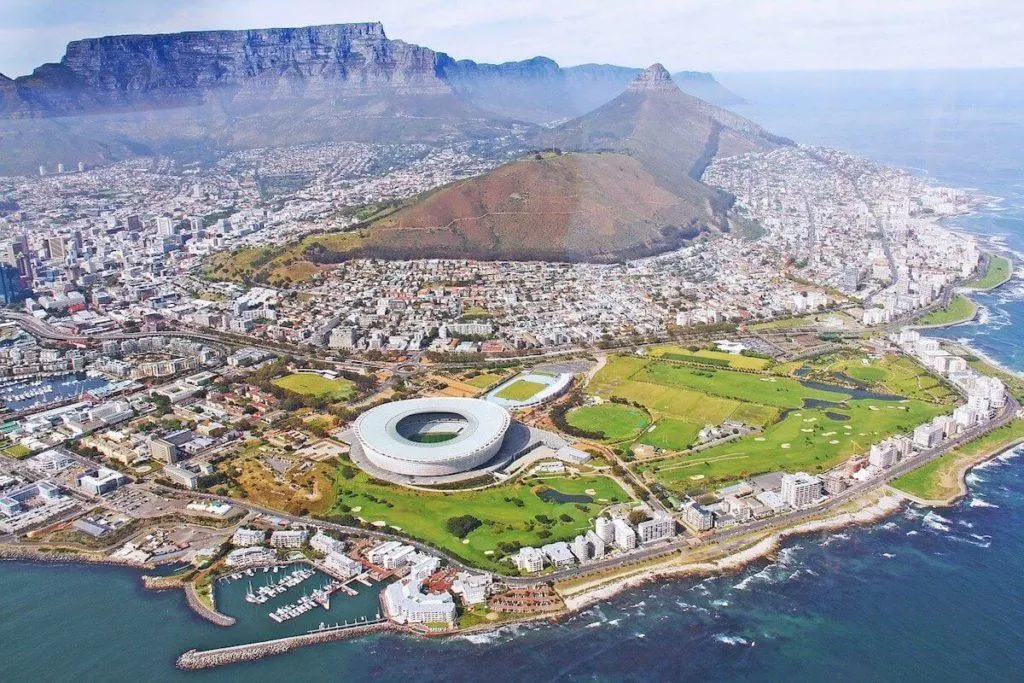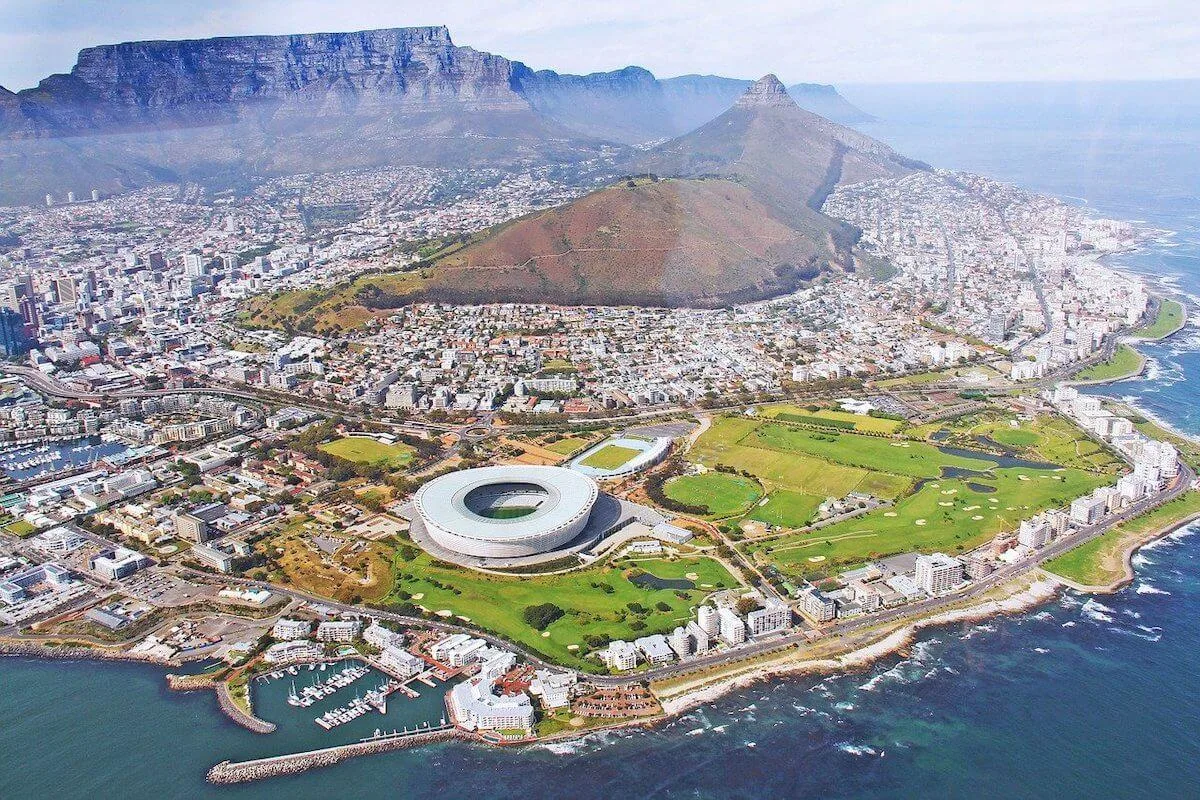 Things To Do In Cape Town:
Hike or take the cable car up Table Mountain
Hike up to catch a sunrise at Lion's Head
Explore Kirstenbosch Botanical Gardens
Shop at the Old Biscuit Mill
Visit the V&A Waterfront and enjoy the V&A Food Market
Visit the Bo-Kaap neighborhood
Take a day trip to Gansbaai for shark cage diving, the Cape of Good Hope, or the Winelands
17. Bwindi Impenetrable National Park, Uganda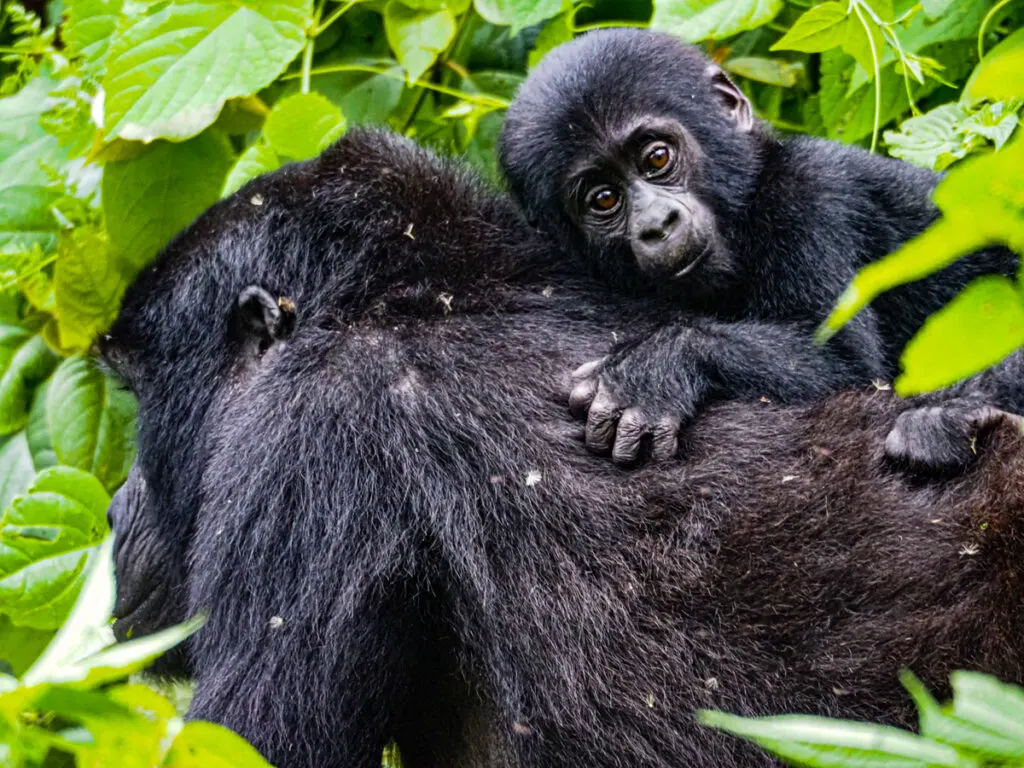 This UNESCO World Heritage Site is a great spot to visit on a honeymoon for one very exciting thing: gorilla tracking.
Bwindi is home to over 400 mountain gorillas and offers the unique opportunity to see them in action and observe their behavior.
There are definitely other great things to do in the area (as I'll list below), but this is a huge reason that people visit Bwindi. Just a warning though- it can be a strenuous trek to see the gorillas as you aren't hiking on one set trail the whole time!
Mahogany Springs Lodge faces Bwindi itself and offers sweeping panoramic views from your room. It is also really close to the gorilla track starting point. The little touches here make all the difference, and it is a great place to relax post-track.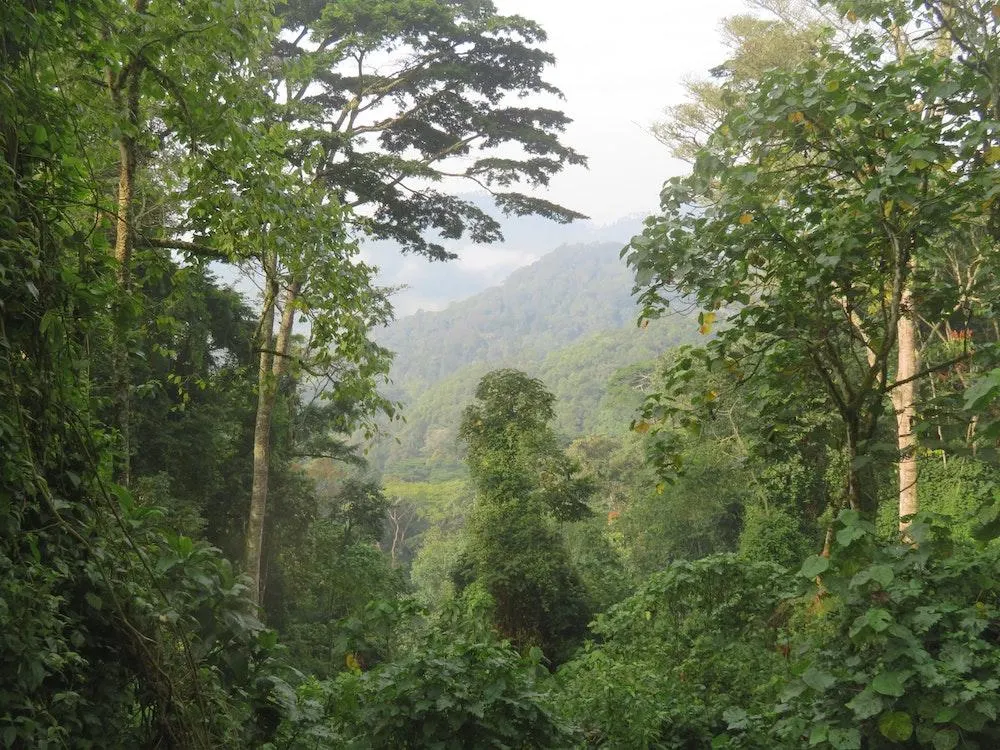 Things To Do In Bwindi Impenetrable National Park:
Gorilla tracking, obviously
Bird watching
Explore the beauty of the park including various waterfalls
Meet the Batwa tribe people living nearby
Take a community tour to learn about various plants used for medicinal purposes, brew alcohol from bananas, and more!
18. Marrakech, Morocco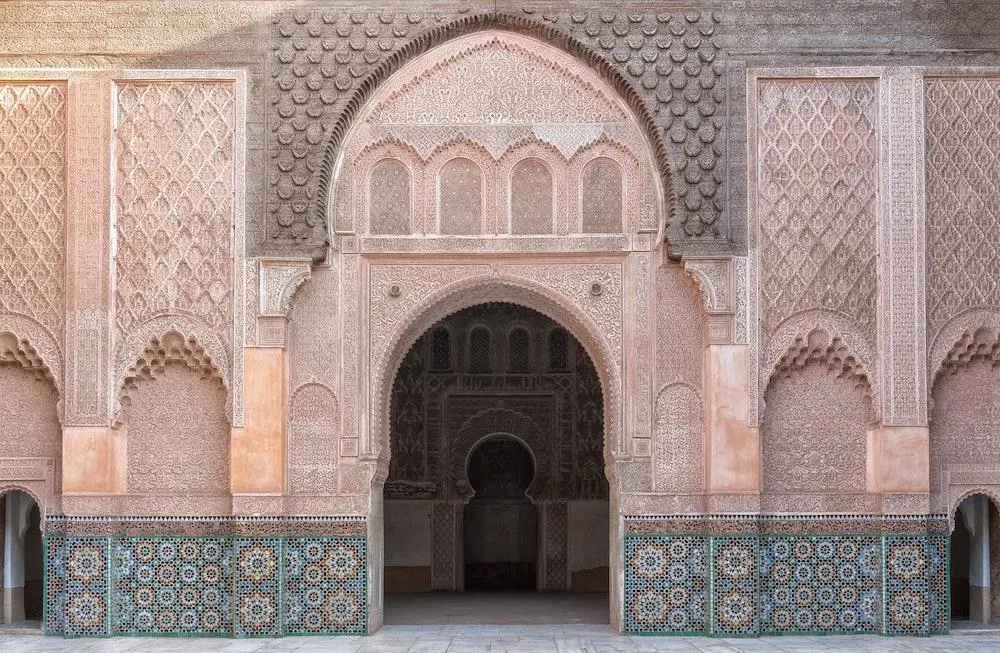 Marrakech is full of culture, wonder, and fascination. Some have called it an assault on the senses, including taste, smell, and sight. There is nothing quite like it, and it is a place that is perfect for a honeymoon if you want an exciting city experience in North Africa.
Of course, if you're in Marrakech, you must stay in a Riad. Riad Be Marrakech has a delightful inner courtyard with a pool, several intricately and traditionally designed rooms, and is in the perfect location for exploring.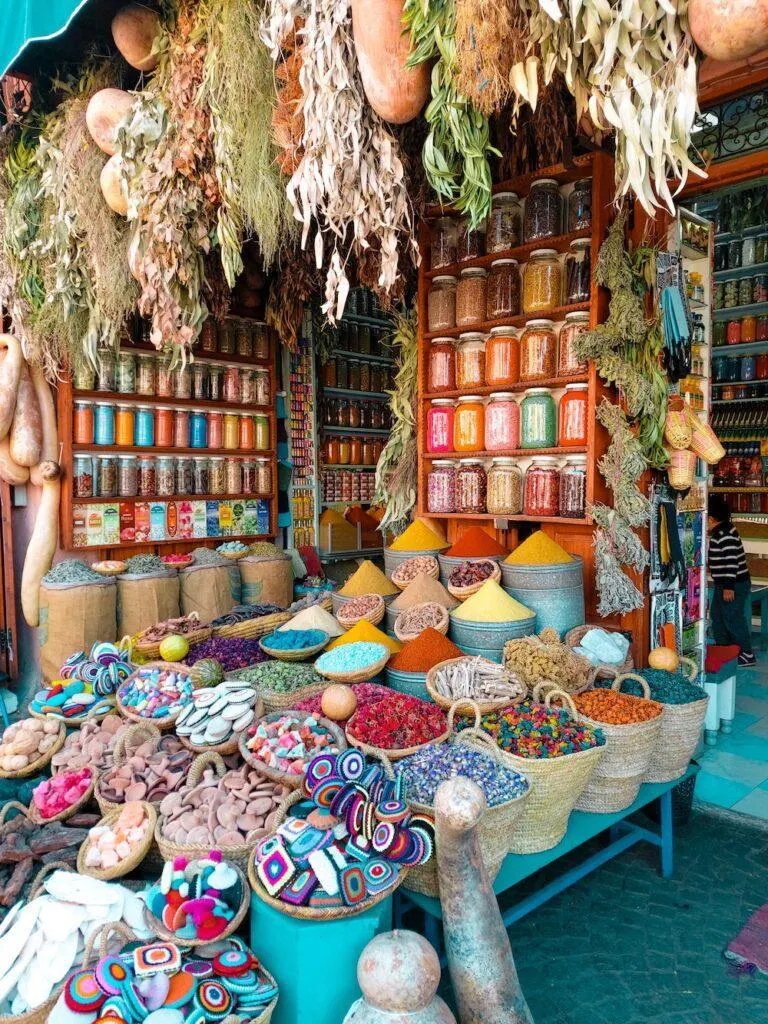 Things To Do In Marrakech:
Explore the Medina
Shop for spices, leather, and more at the souks
Visit Jardin Majorelle
Admire the architecture of Ben Youssef Madrassa and Bahia Palace
Take a day trip to the Atlas Mountains or Aït Benhaddou
19. Nairobi, Kenya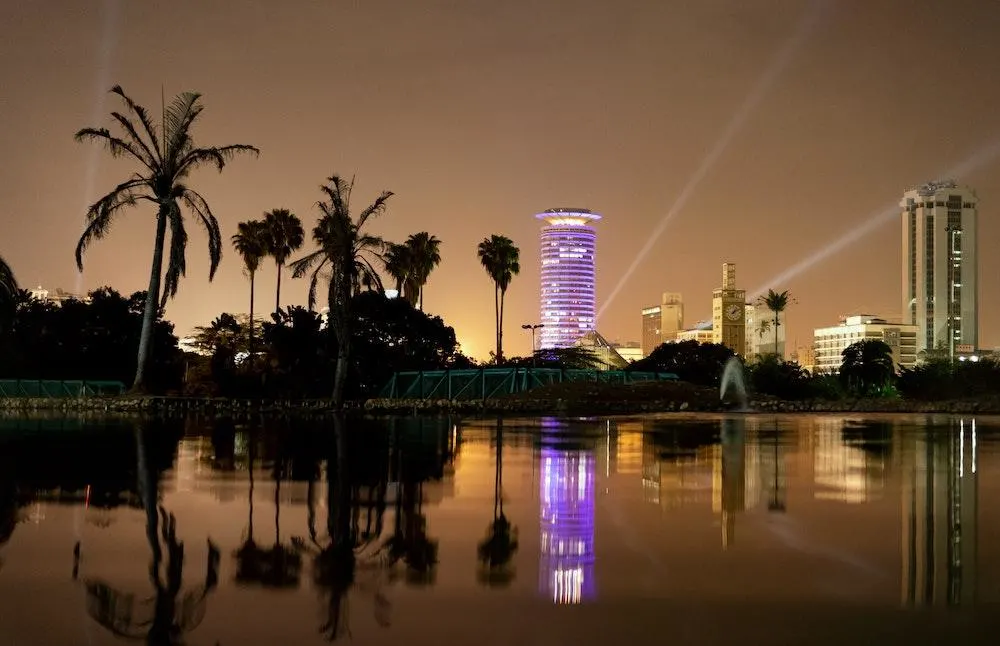 During a honeymoon in Kenya, chances are that you'll stop in Nairobi at some point. There is a lot to see and do during a stay in Nairobi, including visiting a national park and going on a safari…inside the city limits!
For a splurge and really cool stay in Nairobi, Giraffe Manor gives you an up-close and personal experience with Rothschild giraffes. Have breakfast with the giraffes and visit the Giraffe Centre as well.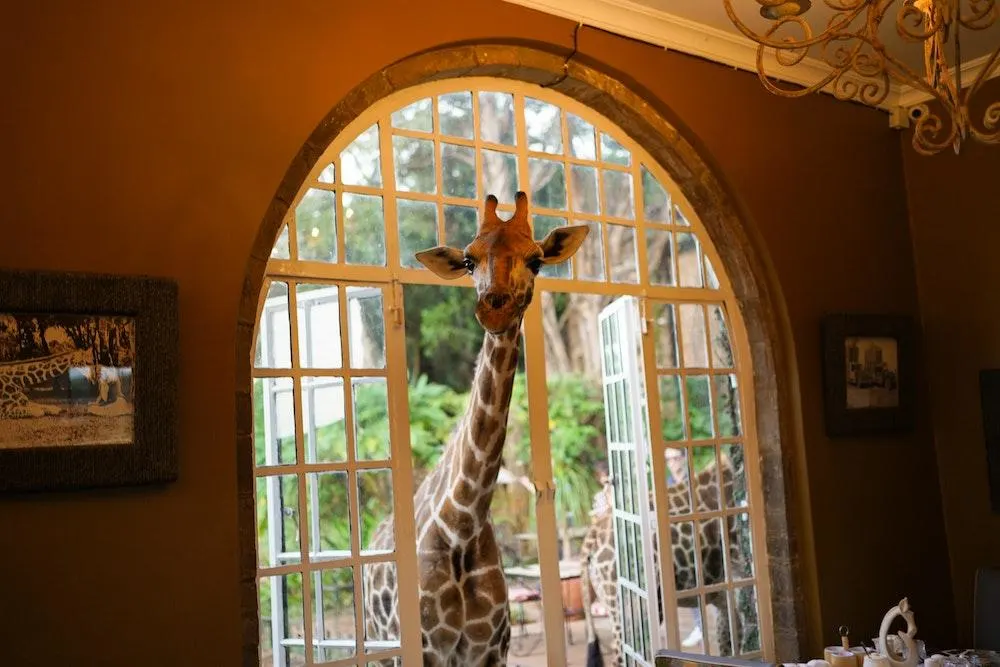 Things To Do In Nairobi:
Visit the Giraffe Centre (or stay at Giraffe Manor and visit!)
Get some nature in the city at Karura Forest and Nairobi Arboretum
Visit baby elephants at the Elephant Orphanage
Go shopping at K1 Market, Maasai Market, Village Market, and Two Rivers Mall
Visit the Tigoni Tea Farms outside the city
Spot wildlife at Nairobi National Park
20. Kibale National Park, Uganda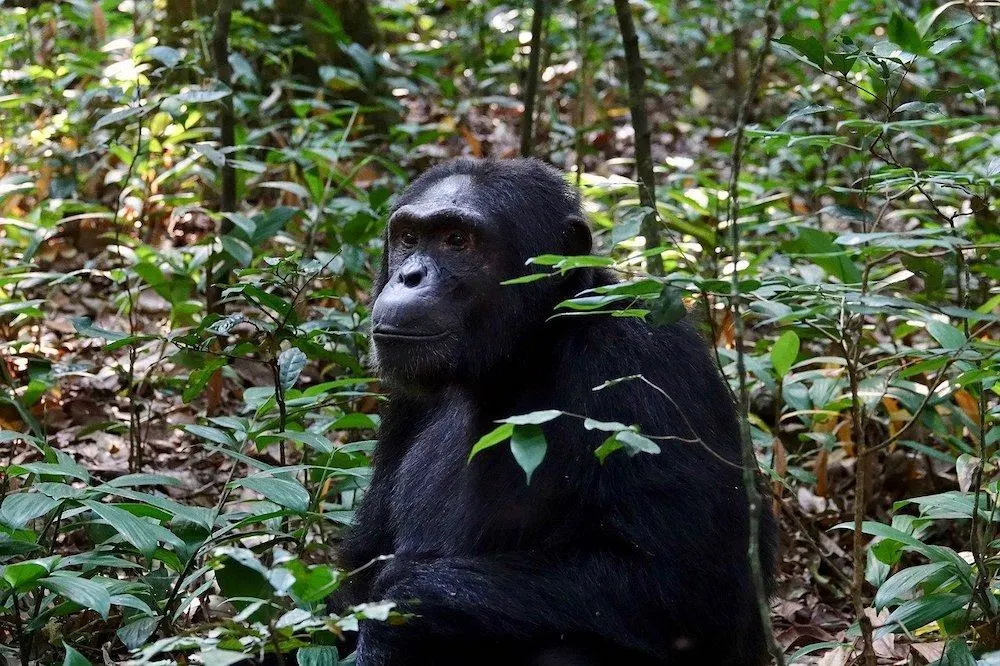 Another exciting destination for an African honeymoon in Uganda, Kibale has the densest population of primates throughout Africa! There are 13 species of primates and over 1,500 chimpanzees that reside in this national park, making it ideal for a trekking honeymoon destination.
Turaco Treetops Lodge is a great lodge to base yourself as you explore the national park. This place frequently sees various primates and the rooms have incredible views of the mountains.
Things To Do In Kibale National Park:
Go on a chimpanzee trek
Go on forest walks
Spot other monkeys and primates
Find some of the 375 bird species that live in the park
Explore the Bigodi Wetlands Sanctuary
Visit the amazing crater lakes
Whew, I know that was a ton of great options for your African honeymoon! I feel like I've only just scratched the surface here, as again, this is a large continent with 54 different countries.
But if you're searching for adventurous safari experiences, dreamy stargazing locales, and luscious beach destinations, you can't go wrong with this African honeymoon bucket list!
Where would you love to visit for your honeymoon in Africa?
Want more honeymoon ideas? Check these posts out:
Pin it here!