Some posts on this site contain affiliate links, meaning if you book or buy something through one of these links, I may earn a small commission (at no additional cost to you!). Read the full disclosure policy here.
---
Planning your Vietnam honeymoon may feel challenging at first, but have no fear; we have the ultimate Vietnam honeymoon guide for you.
Chris and I actually honeymooned in Vietnam during our 3-week Southeast Asia honeymoon. So when it comes to amazing Vietnam honeymoon destinations, we've got you covered.
Whether you want to eat your way around vibrant Hanoi or stare in awe at the karst mountains of Halong Bay, let's plan your luxury Vietnam honeymoon!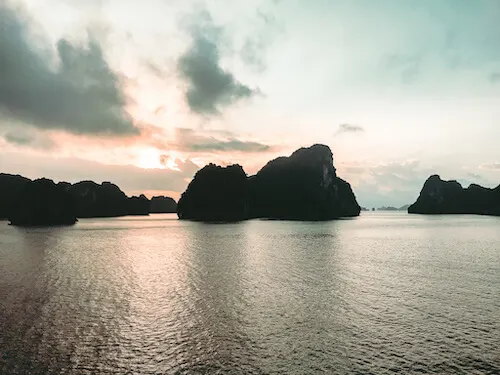 Ultimate Vietnam Honeymoon Guide: Best Honeymoon Destinations in Vietnam
To kick off your honeymoon to Vietnam guide, let's figure out where to go! I have 7 incredible Vietnam honeymoon ideas as well as the perfect romantic resorts!
1. Hanoi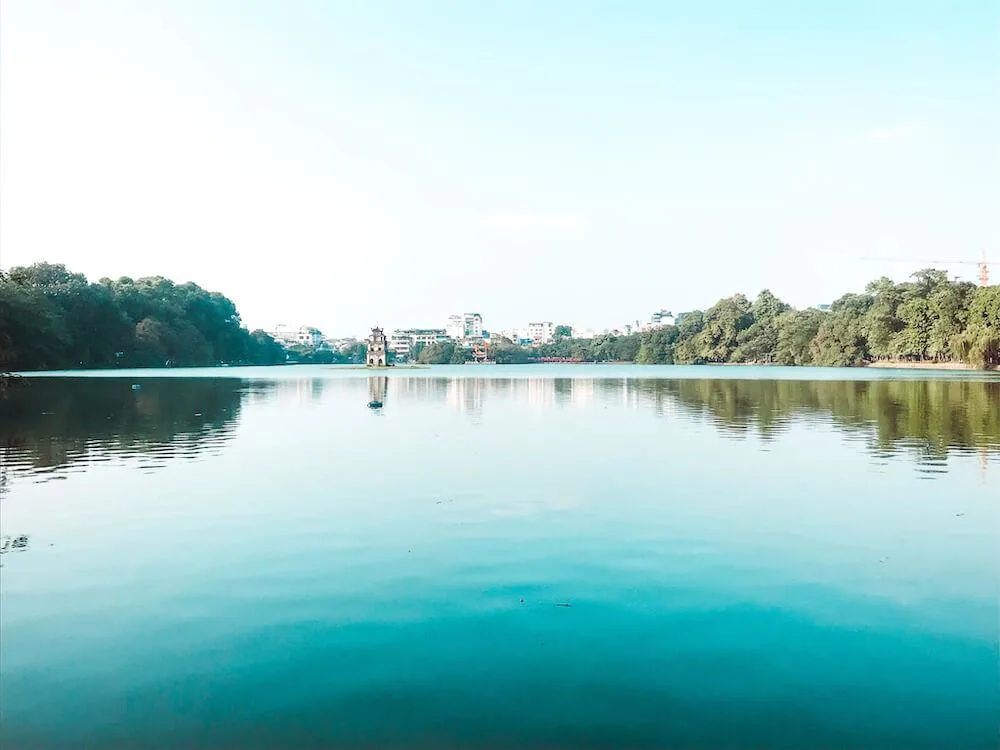 The capital of Vietnam is full of beautiful sites to see and romantic hotels to stay at. Most people will likely land here to start their Vietnam honeymoon trip, so why not spend a day or two getting acquainted with this place?
Some things you'll want to do on your honeymoon in Hanoi include going on a fantastic food tour, walking around Hoan Kiem Lake, exploring the Old Quarter of Vietnam, enjoying the Train Street and watching as the train squeezes through the tiny alley, and doing some local shopping.
For an epic food tour, check out Hanoi Street Food Tour. They have a fantastic walking tour where you get to try local favorites like bun cha, egg coffee, and more!
Honeymoon Hotels in Hanoi: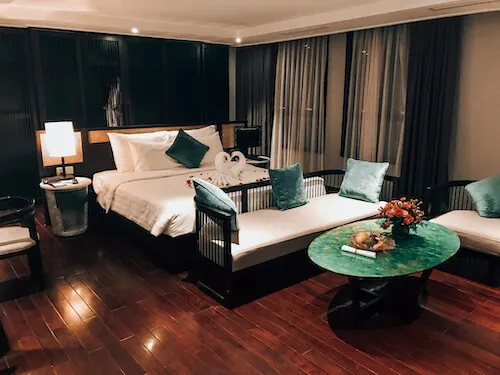 Chi Boutique Hotel– We loved this hotel! The prices are very reasonable, the rooms have lovely views, and the breakfast spread is amazing! Pair it with their rooftop bar and you've got a super romantic Vietnam honeymoon hotel.
Hotel de l'Opera Hanoi– This 5-star boutique hotel has charming rooms and suites and even a nice swimming pool to cool off in on warm days. Suites also get a free drink at the bar and a complimentary breakfast.
2. Sapa is One of the Best Vietnam Honeymoon Places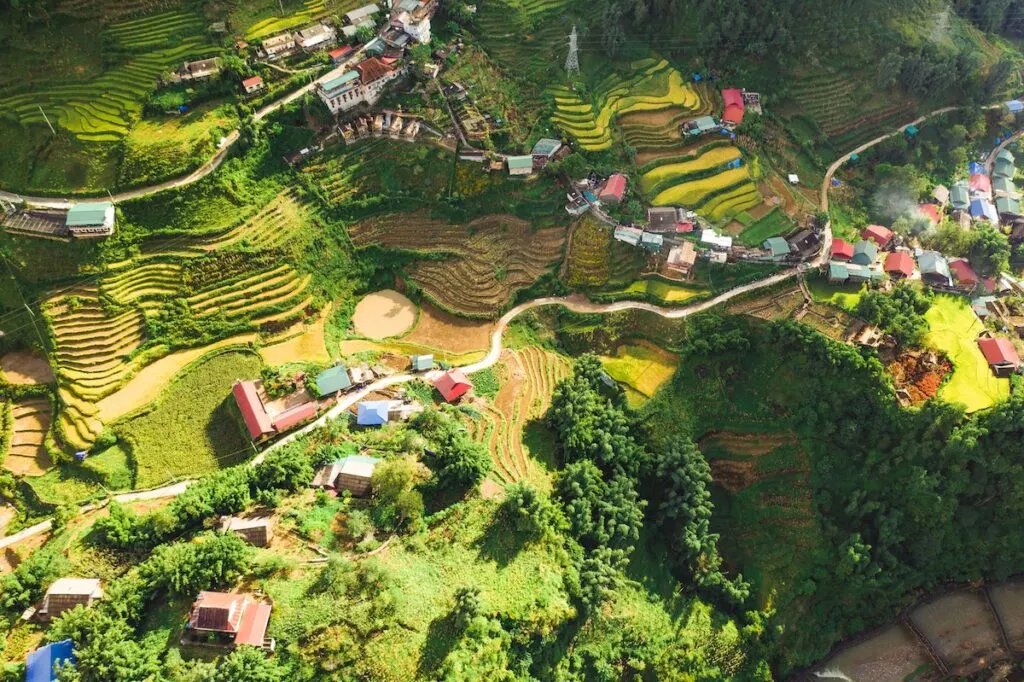 Also in the northern part of Vietnam is the magical Sapa. For those who love mountains, waterfalls, and charming villages, this is an iconic place to visit in Vietnam during your honeymoon.
Sapa is a great place to base yourself to explore Love Waterfall and Silver Waterfall, go trekking (the most popular thing to do in Sapa), visit the lovely Cat Cat village, ride the cable car to Fansipan, and try local ethnic foods.
For trekking in Sapa, you can book a group tour like with Intrepid Travel or take a 2-day trekking tour here. You can also book it in combination with a tour of Halong Bay (we'll discuss this further below).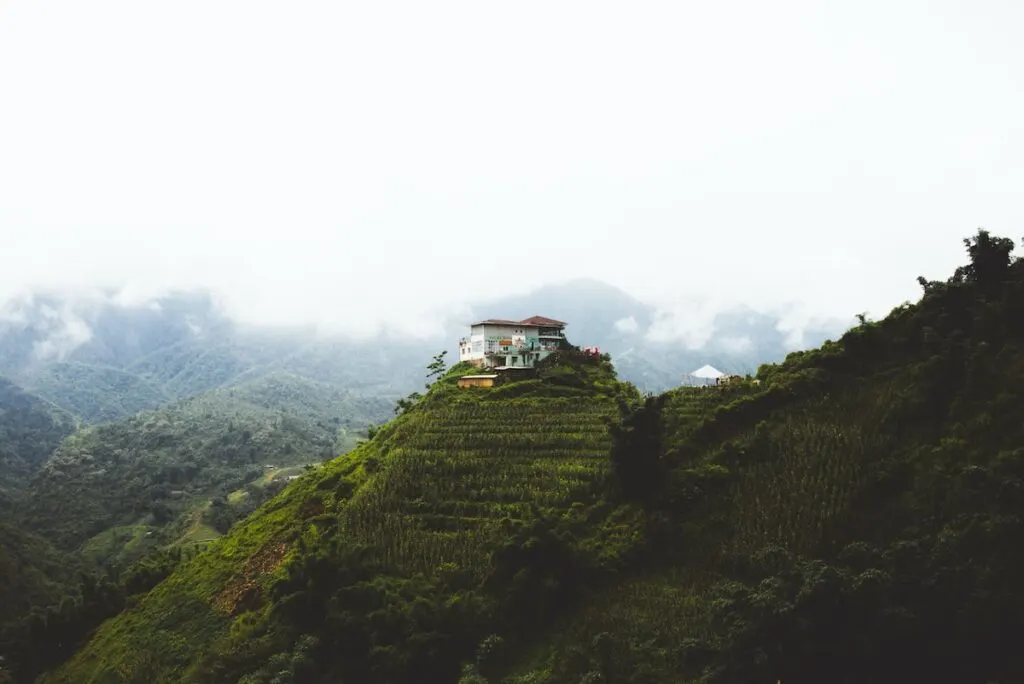 Sapa Honeymoon Hotels:
For those who want to plan their honeymoon to Vietnam themselves, here are some romantic hotels in Sapa.
Hôtel de la Coupole – MGallery: With stunning rooms and suites, you'll love the interior and exterior views of this place. Plus, there is a really incredible bar and restaurant on the property to unwind in after a day of exploring. Even the pool is stunning and super inviting for a dip.
Silk Path Grand Sapa Resort & Spa: Perched atop one of the hills in Sapa, you'll enjoy views of the surrounding mountains. It also has a stunning pool, luxurious spa, and delightful restaurant to pamper yourself after a day of adventure.
3. Halong Bay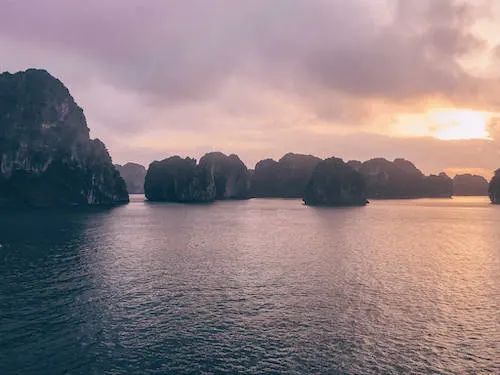 Halong Bay is a huge draw for honeymooners visiting Vietnam, and it isn't hard to see why. These lovely mountains jut out of the sea and are full of mystery. There is the chance to kayak around the mountains, visit a local fishing village, enjoy beaches, and even explore caves.
Halong Bay is quite popular, but for a lesser-visited place, opt for Bai Tu Long Bay instead. This place is in the northern part of Halong Bay and has way less boat traffic. Witness these mountains without other boats during the day, and only spot other vessels at night.
I also highly recommend spending more than a night in Bai Tu Long Bay as you get to see a lot more of the area and, truthfully, the sunrises and sunsets are epic. So, you'll want to experience those quite a bit.
Halong Bay Cruises:
Dragon Legend Cruise: This Halong Bay cruise company offers fantastic off-the-beaten-path cruises to Bai Tu Long Bay. We booked this 3-day/2 night cruise and thoroughly enjoyed it! The interiors look beautiful, and the rooms have lovely soaking tubs and views of the bay outside.
Plus, you can arrange to have them combine your cruise with a trip to Sapa as well! You'd just do 1 night in Bai Tu Long Bay though.
Signature Cruise: With luxurious amenities, a nice large soaking tub in the rooms, and lovely staterooms with a view, you'll fall in love with this cruise to Bai Tu Long Bay.
4. Hue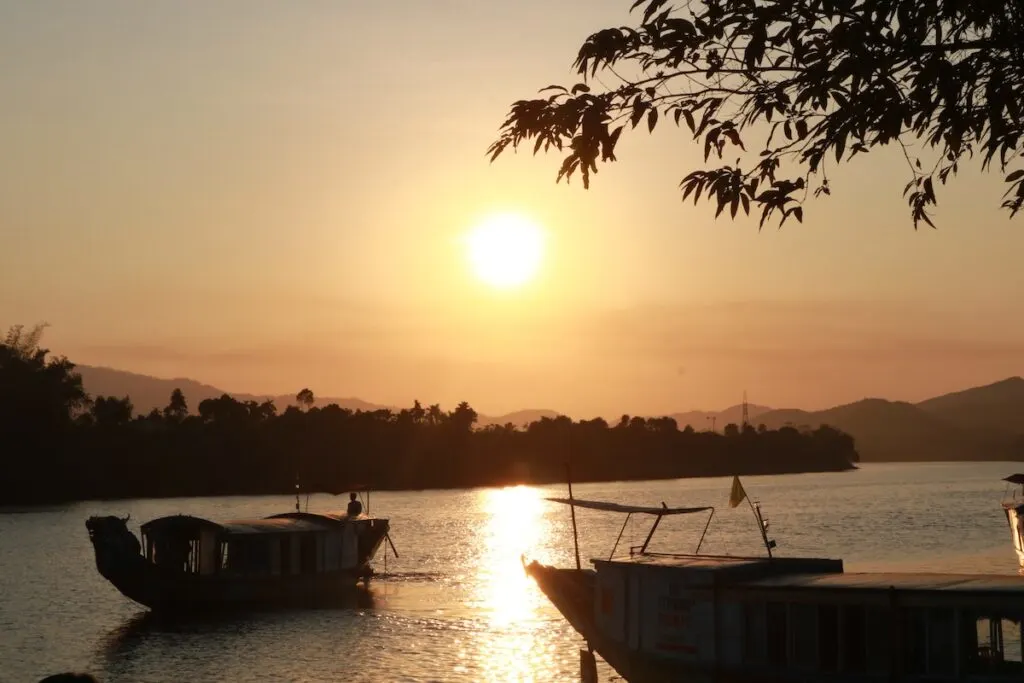 This centrally located city has quite a history, being the former seat of the Nguyen Dynasty emperors as well as the capital of Vietnam between 1802-1945. There is much to see during your honeymoon in Vietnam in Hue.
With its imperial palaces, lovely pagodas, and delightful cuisine (including Bun Bo Hue beef soup), you'll love this smaller Vietnamese city that isn't nearly as crowded to visit as Hanoi or Halong Bay.
If you want to enjoy some beach time during your visit to Hue, you can head to Thuận An Beach via taxi or motorbike.
With culture, history, and beaches, a trip to Hue is always worth it for your honeymoon.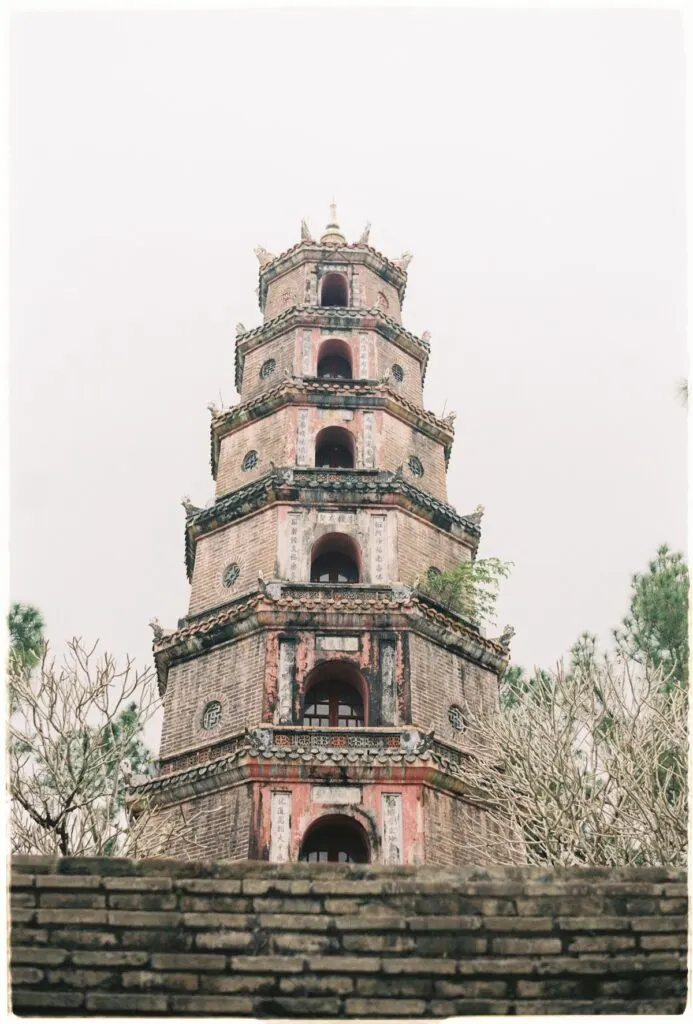 Hue Vietnam Honeymoon Resorts:
Azerai La Residence: This colonial mansion hotel sits along the Perfume River, and with terraces or balconies in every room, you can enjoy all the views of the river and sprawling estate. Plus, in between exploring Hue, you can enjoy their spa and pool.
Hotel Pilgrimage Village: If you're searching for a delightful Vietnam honeymoon package, this is the place. They have a package for honeymooners that includes pick up/drop off at the airport, a daily breakfast buffet, 2 cocktails at their bar, and 2 spa treatments. They also have both rooms and bungalows- some come with their own private pool!
5. Hoi An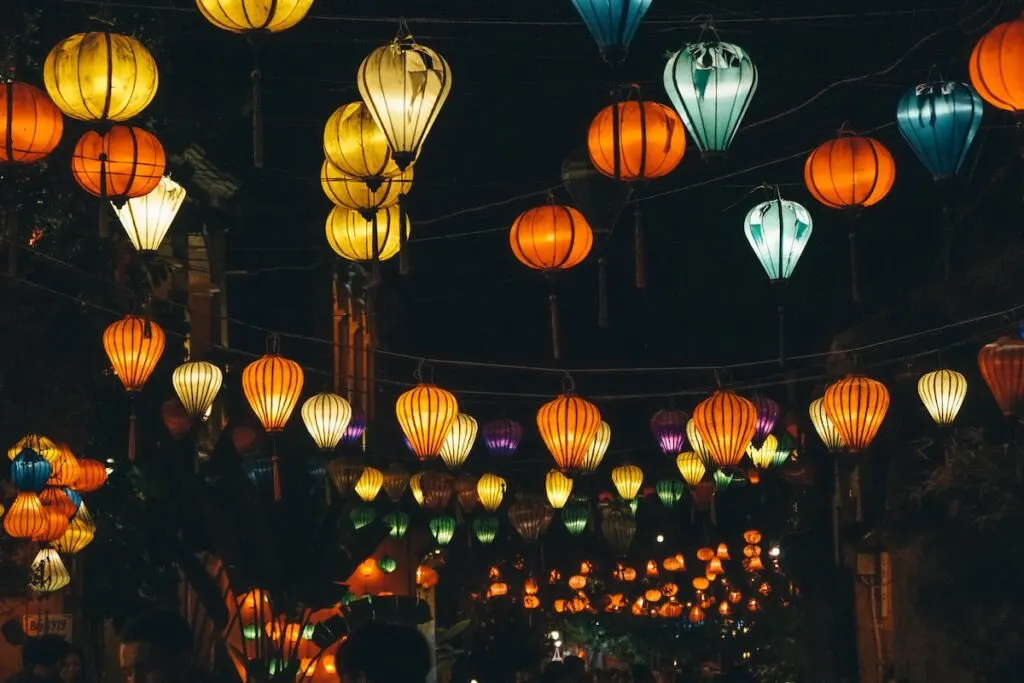 Hoi An is a popular spot for visitors to Vietnam, but it is a touristy spot for a reason! Enjoy the delightful Hoi An Night Market with its colorful lanterns before admiring views of the Thu Bon River. Go on a dreamy sunset river cruise or take a cooking class together.
Essentially, there are a lot of romantic things to do in Hoi An for honeymooners. As a bonus, there are other cool things to do in the area like visiting the nearby beaches, learning how to make lanterns, and even taking a ride in a basket boat.
Plus, for great day trips, you can visit nearby Da Nang, explore the ancient ruins of My Son Sanctuary, and even walk across the famous Golden Bridge (you know, the famous bridge with hands holding it up) in Ba Na Hills.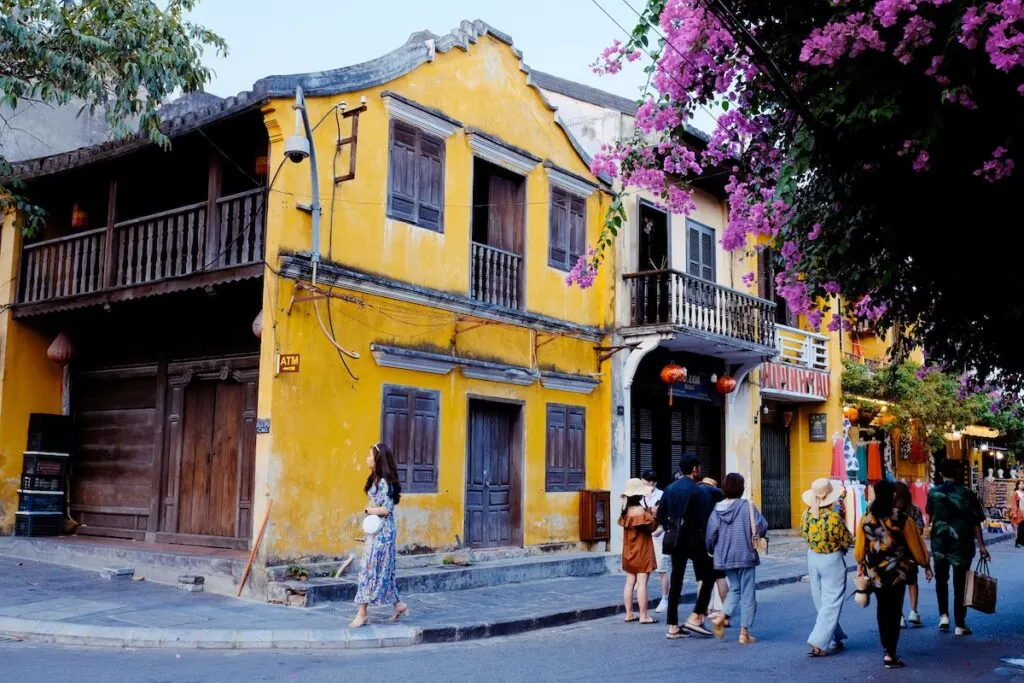 Honeymoon Hotels in Hoi An:
Palm Garden Beach Resort Hoi An: Located along the beach in Hoi An, you'll be within steps of the ocean from your room, suite, or beautiful villa. On top of that, they have a sprawling pool, several restaurants and bars on the property, and a spa for a perfect couples massage.
Four Seasons Resort The Nam Hai: For a 5-star honeymoon resort in Vietnam that is along the beach, this is a phenomenal place to be. Each room is its own private villa, with more premium villas coming with their own pool. And they even offer a romance package that consists of a barbeque dinner on Ha My Beach, cocktails for two or a couple's bath experience, round-trip air transfers, and daily breakfast.
6. Ho Chi Minh City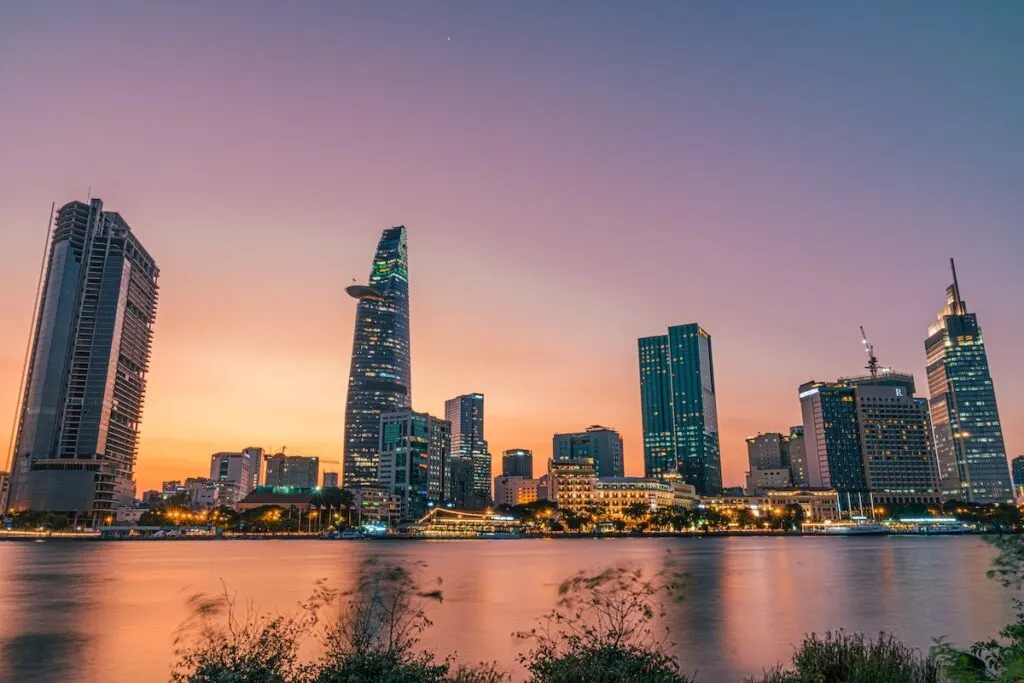 The largest city in Vietnam is definitely worth a stop on your Vietnam honeymoon itinerary. For starters, there are a ton of places to visit like the War Remnants Museum, Independence Palace, all the markets, and the Ho Chi Minh City Museum.
Plus, this city is known for its craft beer, coffee culture, and shopping. For the ultimate views of the city, head to The Saigon Skydeck at Bitexco Financial Tower.
Plus, if you want to go on a day trip, you can visit both the Cu Chu Tunnels and Mekong Delta together. Between its history and modern-day amenities, you'll love exploring the vibrant city of Ho Chi Minh.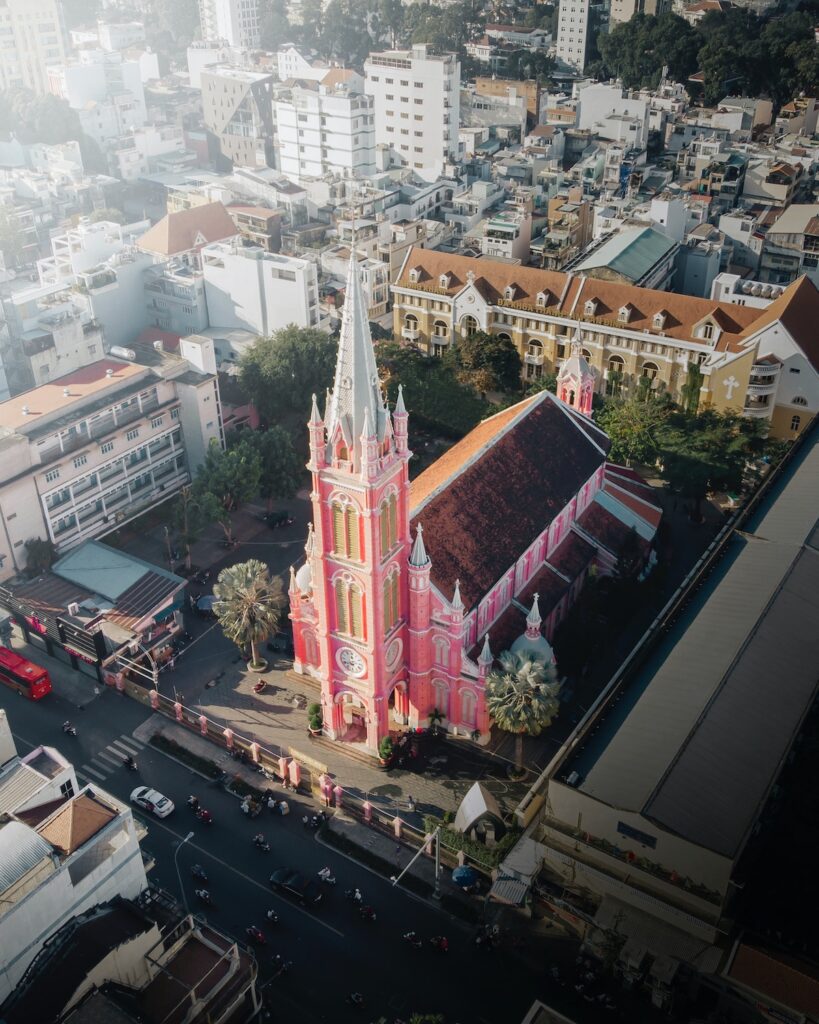 Best Ho Chi Minh City Honeymoon Hotels:
Mai Saigon: Feel as if you've entered an oasis at this luxury boutique hotel. Set along the Saigon River, this hotel is within minutes of downtown Ho Chi Minh City via taxi. Each room and suite has a balcony with river views, and you can unwind after visiting exciting downtown at the spa, restaurant, or cocktail bar.
Hotel des Arts Saigon: For those who prefer to be closer to the main attractions in Ho Chi Minh City, this hotel is where to stay. Only a few minutes away from the hotel are the Independence Palace, the cathedral, and more! Escape in this classically designed hotel with its city views and rooftop pool.
7. Phu Quoc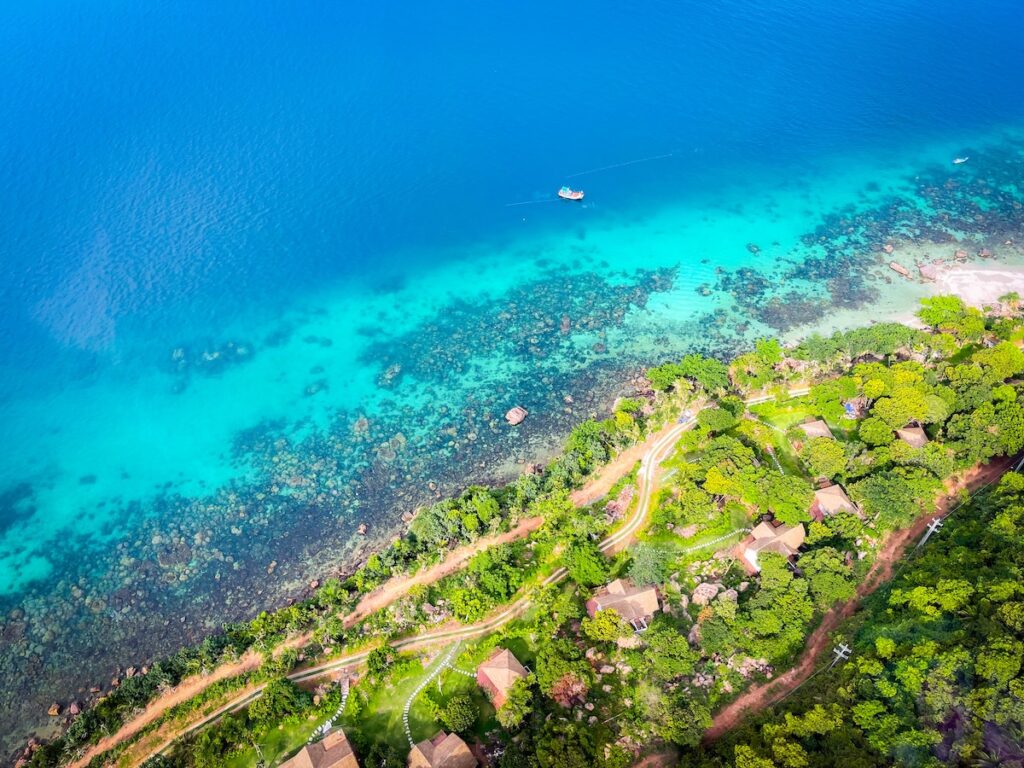 Last, but not least, on the list of honeymoon ideas in Vietnam is the island of Phu Quoc. Located in the southern part of Vietnam near the border of Cambodia, this island is well-known for its beautiful beaches, its lush jungle, and its charming fishing villages.
It is the perfect place to just relax on your Vietnam honeymoon. So, if you want to explore the exciting cities of Hanoi and Ho Chi Minh City and then chill at the end of your honeymoon, Phu Quoc truly makes the perfect island escape.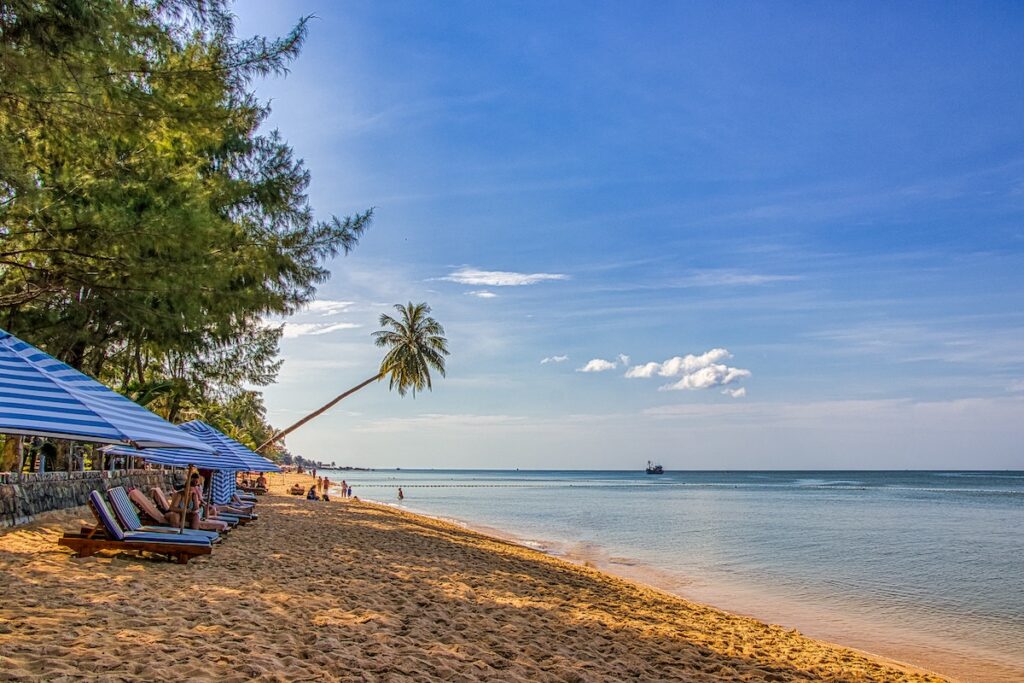 Vietnam Honeymoon Resorts in Phu Quoc:
InterContinental Phu Quoc Long Beach Resort: Between its location along the beach, the stunning pool, the island's highest sky bar, and the beachfront restaurants, you may never want to leave this stunning resort.
New World Phu Quoc Resort: This lovely beachside resort is comprised of luxurious villas with their own pools. Whether you want a tucked-away garden villa or to have beach access, you'll enjoy these gigantic villas that are affordable for a luxurious Vietnam honeymoon.
Best Vietnam Honeymoon Itinerary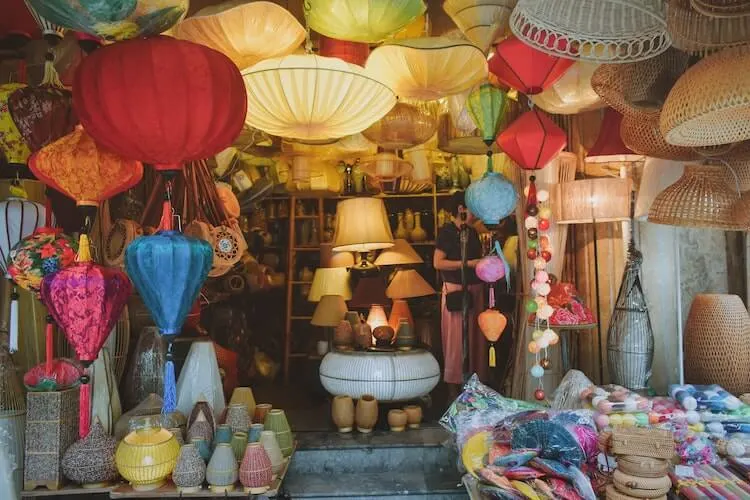 Now, all of these places sound incredible, and if you have 2+ weeks for your Vietnam honeymoon, then you could definitely see a lot of these spots. But if you have 7-10 days, here are a few honeymoon in Vietnam ideas:
Option 1: 7 Days in Vietnam- Northern Vietnam
2 days in Hanoi
3 days in Halong Bay
2 days in Sapa
Option 2: 7 Days in Vietnam- Well-Known Route
2 days in Hanoi
3 days in Hoi An or Hue (plus a day trip to Da Nang or Hue/Hoi An depending on where you're visiting)
2 days in Ho Chi Minh City
Option 3: 7 Days in Vietnam- Southern Vietnam
4 days in Ho Chi Minh City (with a day trip to the Mekong Delta and Cu Chi Tunnels)
3 days in Phu Quoc
Option 1: 10 Days in Vietnam- Popular Route
2 days in Hanoi
3 days in Halong Bay
2 days in Hoi An
3 days in Ho Chi Minh City (perhaps add a day trip to Mekong Delta/Cu Chi Tunnels)
Option 2: 10 Days in Vietnam Itinerary- Mountains to Sea
2 days in Hanoi
2 days in Halong Bay
3 days in Sapa
3 days in Hue or Hoi An
Option 3: 10 Days in Vietnam- Slow Paced
4 days in Ho Chi Minh City (with a day trip)
6 days relaxing at a resort in Phu Quoc
When to Visit Vietnam For Your Honeymoon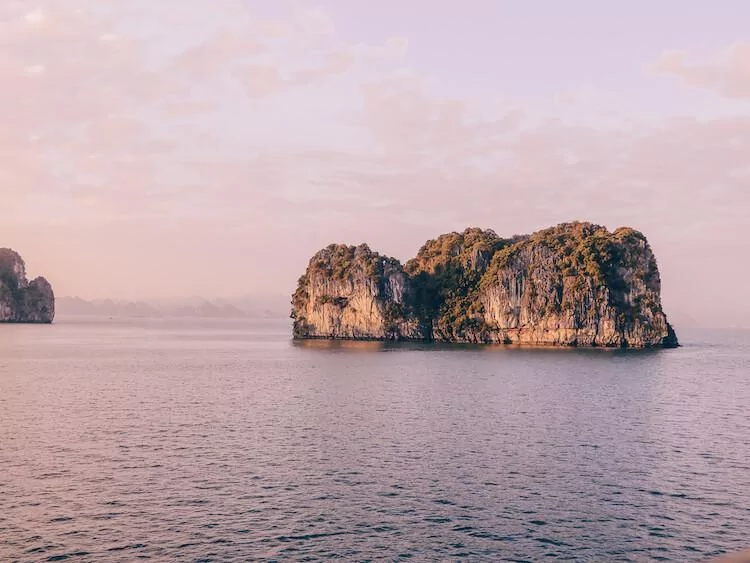 Okay, now that you know where to go on your honeymoon to Vietnam, as well as some itinerary ideas, let's talk about the best time to visit Vietnam.
However, this answer kind of depends on where you're going. The northern part of Vietnam (i.e. Hanoi, Sapa, Halong Bay) tends to have chilly winters, so December through February isn't a great time to visit if you want to enjoy warmer weather.
Conversely, May to August can get hot and humid. So spring and fall are the best times to visit northern Vietnam. This includes September-November and March-April. We visited in early November when we went to Vietnam and the weather was perfect during the day and not too chilly at night.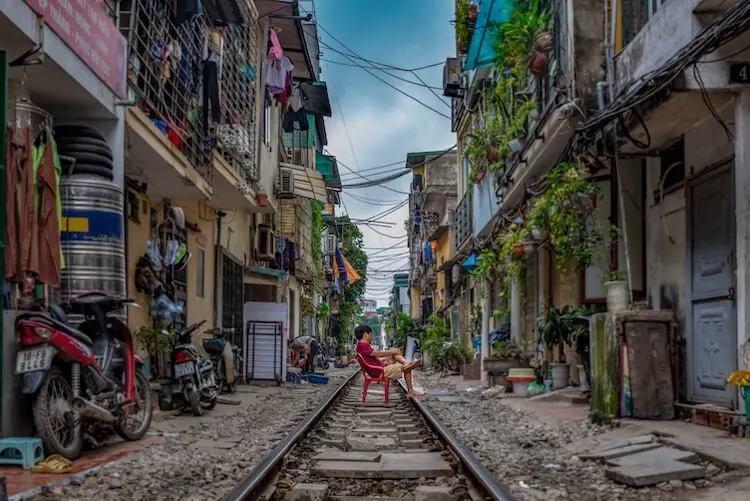 Central Vietnam (Hue and Hoi An) can get hit with typhoons during the rainy season, so avoiding that is a good idea if you want some beach time. The rainy season is between August through November usually, so planning your visit between February and August is a good idea.
Lastly, southern Vietnam (Ho Chi Minh City and Phu Quoc) is a great place to visit anytime, but the rainy season does tend to be around June through November. The dry season is between December through May. However, the rainy season doesn't mean rain constantly, but rather short bursts of rain. And note that March through May can have pretty hot temperatures.
If you're planning to travel all over the country, I'd plan something around springtime like in March-April for decent temperatures up north and better weather in central Vietnam and southern Vietnam.
That being said, the weather does do what it wants and global warming is certainly changing things. So be sure to check the weather ahead of time before you pack!
Speaking of packing, check out our Southeast Asia packing list here!
Is Vietnam Good to Visit For a Honeymoon?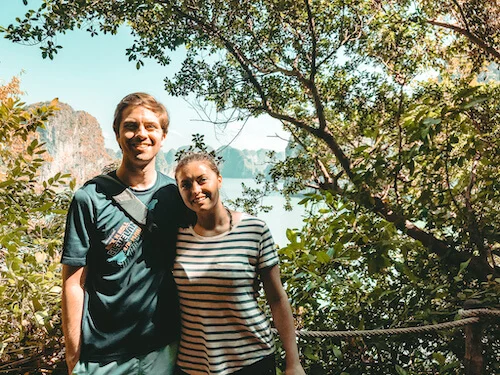 I'll answer this one with a resounding "absolutely!" We visited Vietnam during our honeymoon and it was incredibly romantic! Whether we strolled along Hoan Kiem lake in the late afternoon or watched the sunrise with a cup of Vietnamese coffee in Halong Bay, we loved every second of our honeymoon here.
Between its lovely beaches, exuberant cities, and fascinating geographical features, you'll love starting off married life together in this incredibly beautiful (and incredibly affordable) destination.
Want more honeymoon ideas? Check out these posts!
Pin it here!