Some posts on this site contain affiliate links, meaning if you book or buy something through one of these links, I may earn a small commission (at no additional cost to you!). Read the full disclosure policy here.
---
A 3-week Southeast Asia itinerary will awaken your senses. Before leaving your door in the morning, you will smell the pungent and delicious aromas of pho wafting down the streets in Hanoi, or perhaps the sweet scent of incense that surrounds the cities of Siem Reap or Chiang Mai.
Next, you will see a frenzy of excitement as you step outside and view the dazzling temples, colorful handcraft stores, or even the people going about their day while riding along on the back of a scooter.
You'll hear the buzzing of horns and tuk-tuks zooming past while you're enjoying the delightful tastes of delicate bahn mi or bold pad Thai. And once you've touched the ancient stone pillars of Angkor Wat or pet the rough trunk of an elephant, you'll know: Southeast Asia is a place truly like no other.
We spent three weeks traveling in Southeast Asia, and while we certainly didn't get to see it all, we would love to show you a perfect 3-week Southeast Asia itinerary that combines relaxation and adventure along with culture and fun. So allow this to be your Southeast Asia travel guide as you figure out how to see the highlights in just 3 weeks.
The Perfect Southeast Asia Itinerary for 3 Weeks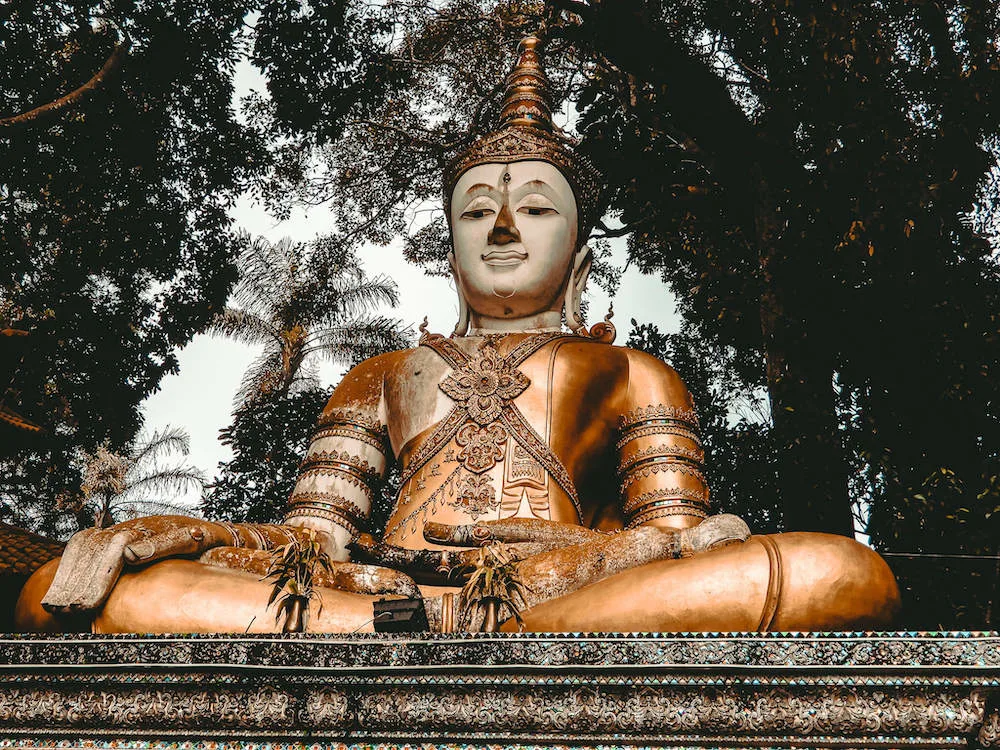 Days 1-2: Travel Days and Stopover on Your Way to Southeast Asia
When you're venturing to the other side of the world, you need to be aware that you are losing a whole day. Yes, an ENTIRE day. This is due to crossing the International Date Line. For example, we left on Friday, November 2 from Cleveland and arrived at our stopover location of Seoul on Sunday, November 4.
This is a big reason why I highly recommend going to Southeast Asia for at least 2-3 weeks if you can, as it is a hike to get over here.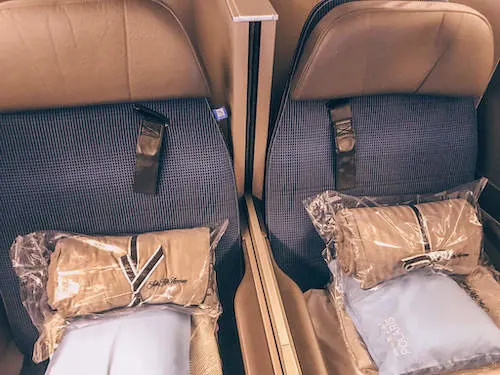 Now to break this time up, you could do like we did and have a stopover in one of the places you may have a layover on your way to Southeast Asia. As we were starting in Hanoi, we had a 16-hour layover in Seoul. We purposely chose a flight that included this long layover because we found out that Seoul Incheon Airport has free airport tours. This means if you've got a few hours free and want to see Seoul, they have free transit tours that make sure you're back in time for your flight.
There are many options for tours, but we chose the Traditional Sites Tour. We got to visit Gyeongbokgung Palace and the Insa-dong neighborhood before returning for our next flight to Hanoi. I highly recommend these tours if you're flying through and have the time! I also recommend doing this at the beginning of the trip versus the end.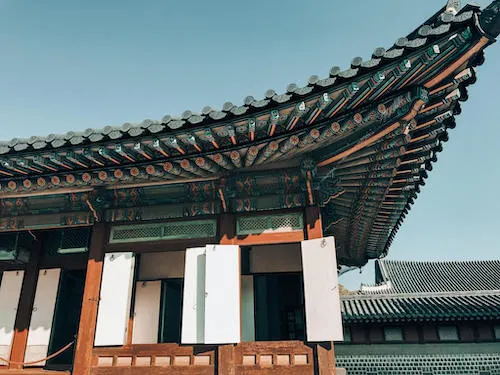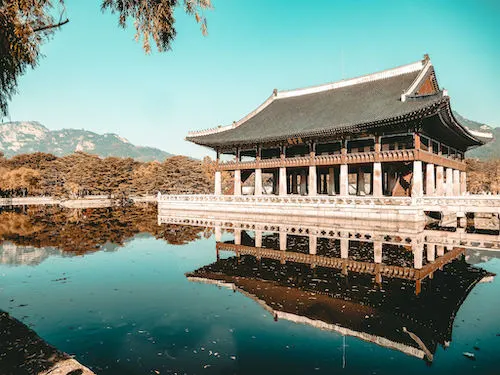 After our tour and layover, where we explored many lounges and met a helpful robot, we boarded our flight to Hanoi. We arrived in the evening, checked into our lovely hotel, Chi Boutique Hotel, and were ready for our Southeast Asia 3 week itinerary!
Where to Stay in Hanoi:
Budget: Hanoi Holiday Diamond Hotel
Check reviews and prices on TripAdvisor and book here!
Mid-Range: Chi Boutique Hotel
Check reviews and prices on TripAdvisor and book here!
Luxury: Hotel de L'Opera Hanoi
Check reviews and prices on TripAdvisor and book here!
Day 3 to Kick Off Your Southeast Asia Itinerary: Explore Hanoi's Old Quarter
Hanoi's Old Quarter is the most charming part of the city. I highly recommend staying here and exploring for at least a day or two. Some amazing things to do here are to visit the Catholic Church in the center, walk along Hoen Kiem Lake, take a food tour, like the amazing Hanoi Street Food Tour, get a thrill while crossing the street, head to a craft brewery, and basically wander the sidewalks and watch scooters zoom around.
A few places that we loved eating in Hanoi include Pho 10, Bahn Mi 25, and Noodles and Rolls. Also, be sure to try all the amazing food like bahn mi, pho, rice crepes with pork, bun cha (pork with noodles), and Vietnamese coffee with condensed milk. Then, end the day with a drink on the roof of the Chi Hotel before getting a good night's sleep for the next day's adventures.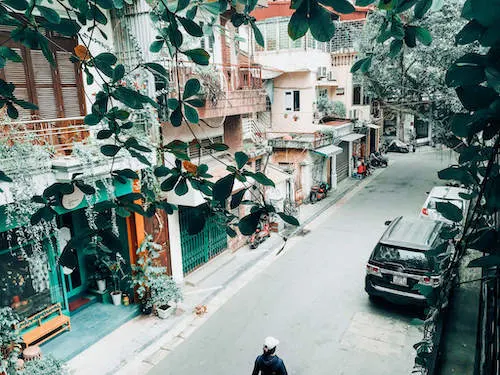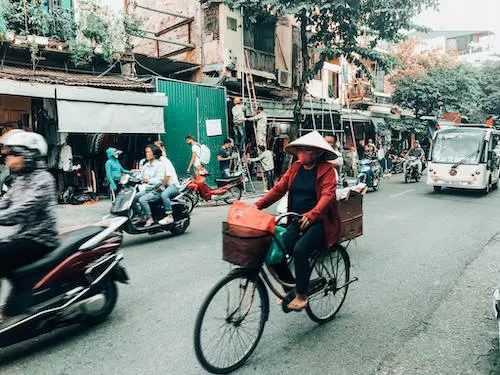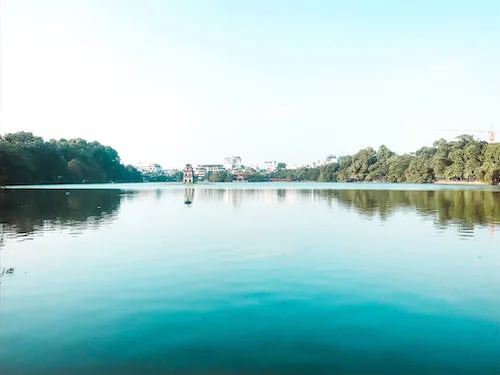 Days 4-6: 3 Day/2 Night Bai Tu Long Bay Cruise
A stay in the northern part of Vietnam, or a Southeast Asia trip in general, is not complete without seeing one of the most beautiful places on Earth: Halong Bay.
Now you probably noticed that I mention Bai Tu Long Bay for a cruise and not Halong Bay. This area is a part of Halong Bay, but it is way less touristy as it goes to the northern part of the bay versus going south. The whole time we were on this part of the bay, we only saw a handful of other boats, while we saw tons of ships heading the opposite direction as we left port.
If you're going to choose a cruise for Halong Bay, I highly recommend opting for Bai Tu Long Bay and going with the Dragon Legend Cruise by Indochina Junk. Some of the activities that we did include kayaking along the karst mountain formations, hanging out on a beautiful beach, exploring a cave, visiting a fishing village and pearl farm, Tai Chi on the upper deck of the boat, and ending our stay with a visit to a smaller village and watching a famous water puppet show on the way back to Hanoi.
The reason I also say to do 3 days and not just a day cruise or one overnight is that it is way more relaxing. It takes 3 or so hours to get to Halong Bay from Hanoi, so a day trip would include spending half of your day in the car, and overnight would be very rushed and you wouldn't get to see as much. Do yourself a favor and enjoy an extra night and make friends on board as well as connect with your love over a few pints of local beer. You'll thank me later.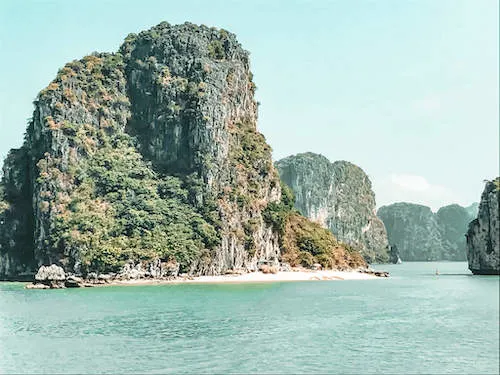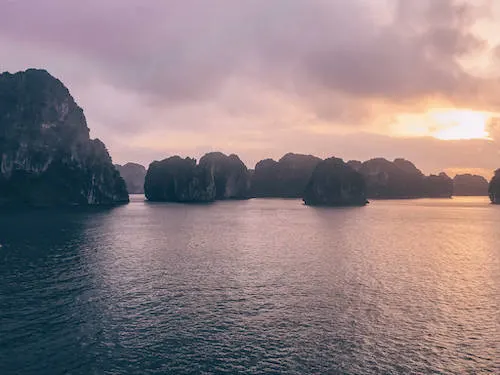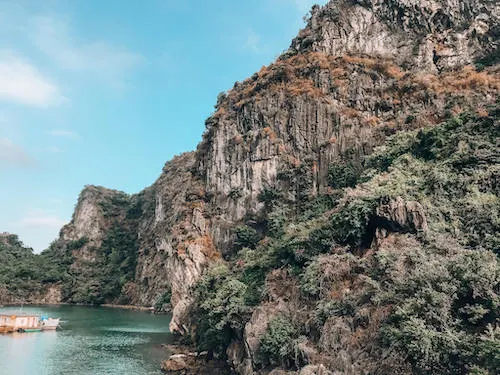 Day 7: Have Lunch Back in Hanoi and head to Siem Reap
As you're wrapping up week one of this Southeast Asia itinerary, it's time to enjoy one last meal in Hanoi. We recommend more pho, but with beers, an appetizer, and two entrees costing $6 total, you certainly could enjoy a feast no matter what you're eating.
Then, it's time to take a short flight to Siem Reap. Check-in to your hotel, we loved the Mane Boutique Hotel and Spa, and have dinner. The restaurant at our hotel was delicious and the best fish amok we had the whole trip!
Where to stay in Siem Reap:
Budget: Moon Residence & Spa
Check reviews and prices on TripAdvisor and book here!
Midrange: Hari Residence and Spa
Check reviews and prices on TripAdvisor and book here!
Luxury: Mane Boutique Hotel & Spa
Check reviews and prices on TripAdvisor and book here!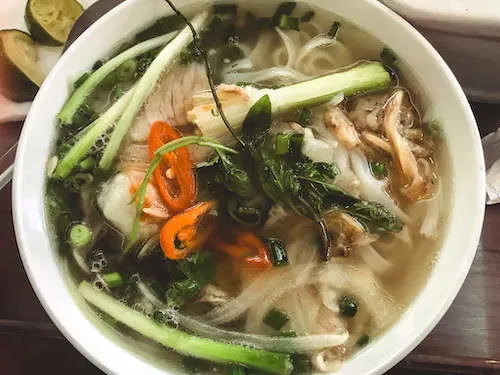 Pro-tip: Before going to Siem Reap, have a driver lined up for the temples. It makes things so much easier to get around, and we loved our driver, Bunthy! You can reach him at [email protected] and he provided unlimited water, an air-conditioned vehicle, and lots of great stories and information!
Days 8-9: Sunrise over Angkor Wat, Explore Temples, and Siem Reap
Get ready to get up early on day 8, but it will be totally worth it! We had a 3:30 am wake up call to get up and ready for the sunrise. After a short stop to purchase our 3-day passes (they only sell 1, 3, and 7-day passes), we headed to a great spot to view this enchanting display. We may have been tired, but we felt wide-awake once we saw the sun peeking out of the horizon over Angkor Wat. It truly is a sight to see.
After the mesmerizing display, you'll be exploring several temples including the Angkor Wat complex, Bayon Temple, Ta Prohm, the gates surrounding the temples, and so much more. Bunthy did a great job making sure we got lots of good photos and even showed us one of the more remote temples that nobody visits. At some temples, we had the whole place to ourselves!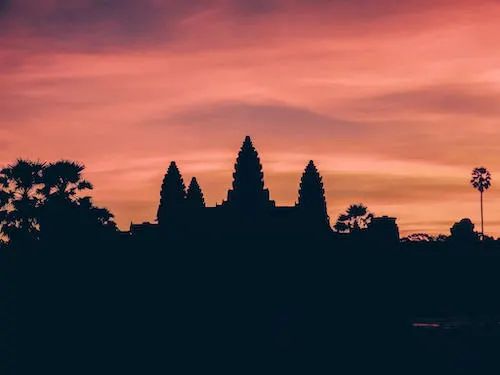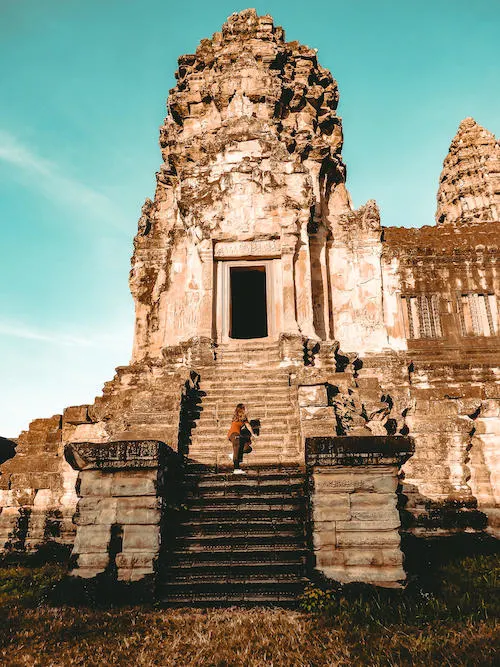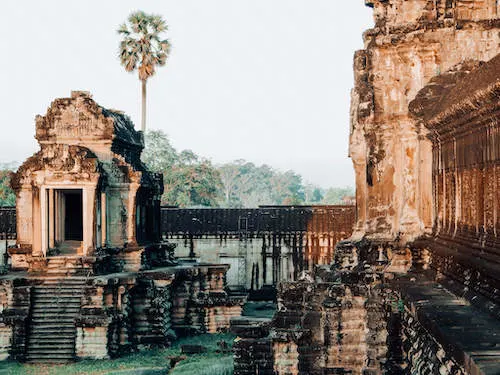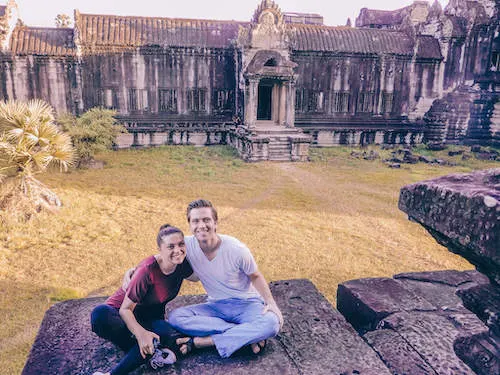 After such an early start to the day, I recommend heading back after lunch around 2 pm or so to swim, relax, and cool down. Our hotel included free foot massages, so we got those after all of the walking. I recommend having an early night so that you are energized for the following day of exploring.
For the second day of the temples, I recommend seeing the more remote ones. We visited Banteay Srei or the Lady Temple. It is known for its pinkish color and intricate designs. Then, we went to a temple further out, passing farms, mountains, and even wedding processions along the way.
We ended up at Bunthy's favorite temple, called Beng Mealea, which lies in ruins after hundreds of years of being left alone. It truly is a sight to see and far from the crowds, where you'll wander the unique ruins and witness strong, sturdy trees claiming the temple back to earth. It reminded me of the famous Ta Prohm temple, but much less touristy.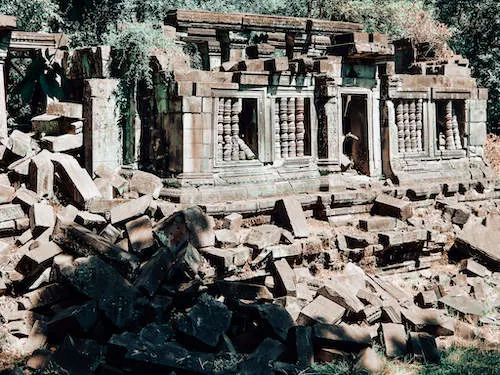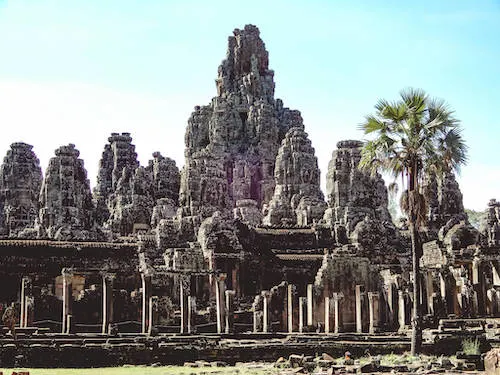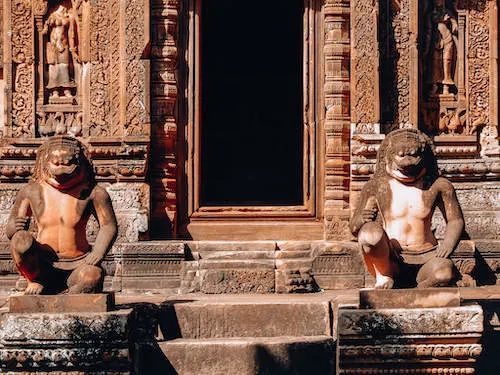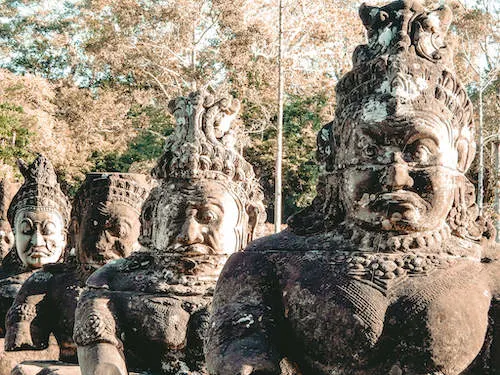 After visiting these temples, grab some lunch and head back into town to visit the famous street many travelers frequent: Pub Street.
As a couple over 30, we don't really rage into the wee hours of the night anymore, and we don't really love crowds. Pub Street is known for both. But the magical thing about going mid-day to early evening is that there are no crowds, drink specials are up, and you don't have to fight to find a tuk-tuk home.
So I recommend going there after you've cooled down from exploring the temples, have a few drinks or sample some local beer, get a fish pedicure, and shop around for souvenirs. It's a fun way to see the vibrant street before heading to a more local restaurant for dinner.
Days 10-14 of Your Southeast Asia Vacation Itinerary: Explore Chiang Mai and Day Trips
Today, you head to Chiang Mai in the northern part of Thailand for several days during your Southeast Asia itinerary in 3 weeks. Take a short flight from Siem Reap to Chiang Mai, and you'll be there in time to have dinner. We loved our hotel, the Akyra Manor Chiang Mai, and it was located in a great part of town.
Where to stay in Chiang Mai:
Budget: Varada Place
Check reviews and prices on TripAdvisor and book here!
Mid-Range: Gord Nuea Boutique House
Check reviews and prices on TripAdvisor and book here!
Luxury: Akyra Manor Chiang Mai
Check reviews and prices on TripAdvisor and book here!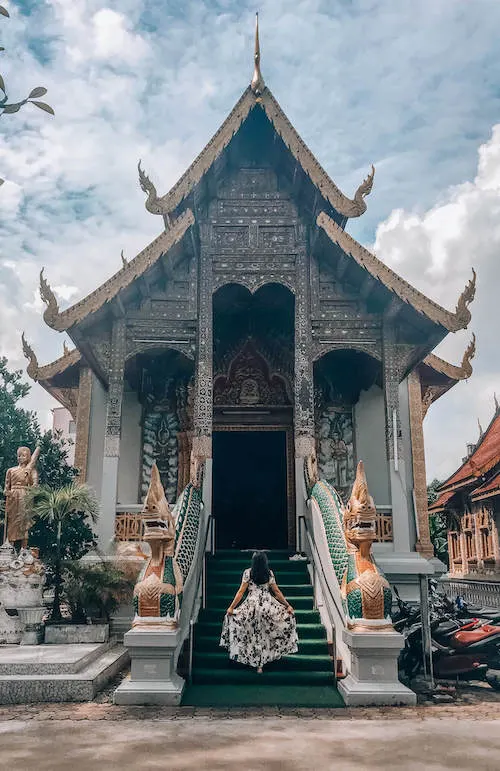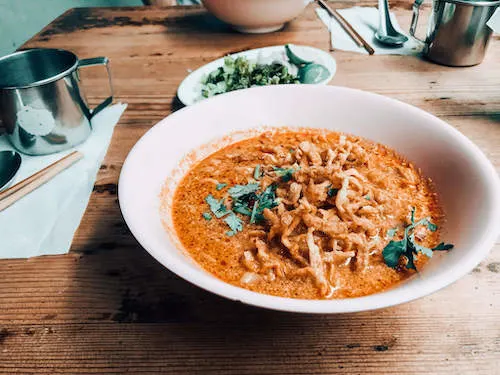 We absolutely loved our time in Chiang Mai. It is a lovely, vibrant city on its own, and I recommend exploring it for at least two full days. Visit the Old City and wander along the streets and into temples scattered throughout, eat khao soi (as much as you can get), check out the Niman neighborhood and peek into eclectic coffee shops. Then, you have two free days to choose some of these awesome day trips:
Elephant Nature Park is one of the best places I've ever been to. Nestled in the mountains and countryside about an hour outside of the city, this wonderful place, run by a woman with a big heart, has several rescued elephants, cats, dogs, cows, buffalo, chickens, and so much more. Take a day trip up here, choose one of their many programs, and fall in love with this beautiful place.
We chose the Care for Elephants program and we had an elephant to ourselves named Sai Thong to walk, feed, bathe, and care for during the day. She was a sweetheart and we fell in love. They are doing great things here, and you'll definitely want to be a part of it. This is truly an elephant sanctuary, where riding is strictly prohibited.
2. Take a Cooking Class
If you enjoy cooking, or you just want to learn more about Thai cuisine and how to make it yourself at home, we highly recommend taking a cooking class. There are so many options here in Chiang Mai, but we loved Thai Farm Cooking School. This was a whole day adventure (we were picked up at 8 am and arrived back at our hotel at 4 pm), but we got to visit a local market to get supplies, toured their awesome farm where much of the produce is grown, and we made so much food. We're talking curries, pad thai, stir fry, papaya salad, and dessert: bananas in coconut milk. It was all super delicious and cooking together is always a fun activity.
3. Ziplining
Love ziplining? Want to explore the jungles of Northern Thailand? Then I recommend taking this ziplining tour.
4. Doi Inthanon National Park
If you'd like to rent a scooter or car, you could drive up to this national park, explore the beautiful flora and fauna, and see several amazing waterfalls. For the best experience, go with a guide and visit both the park and a local hill tribe.
5. Bua Tong Waterfall (aka Sticky Waterfalls)
We wish we had time for this, but these falls are tiered waterfalls that are, well, sticky. No worries about slipping and sliding down the waterfall, as it's easy to climb and there is a fun pool at the bottom. Go on a tour and see a temple along the way!
6. Chiang Rai
If you're feeling really ambitious, you could make the long trek (a 3-hour drive to be exact) all the way up to Chiang Rai. This smaller and ancient town of Thailand is home to the famous White Temple (or Wat Rong Khun). This temple is a contemporary one, with recent day references and symbols.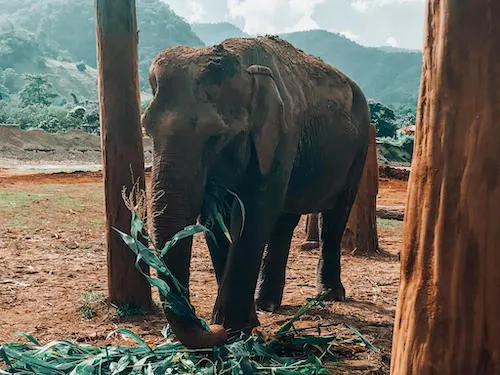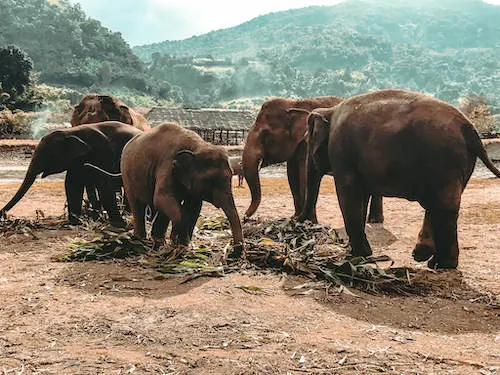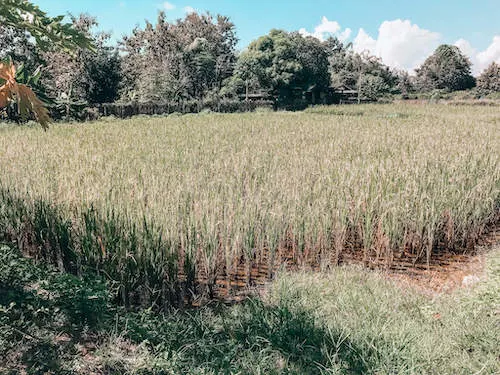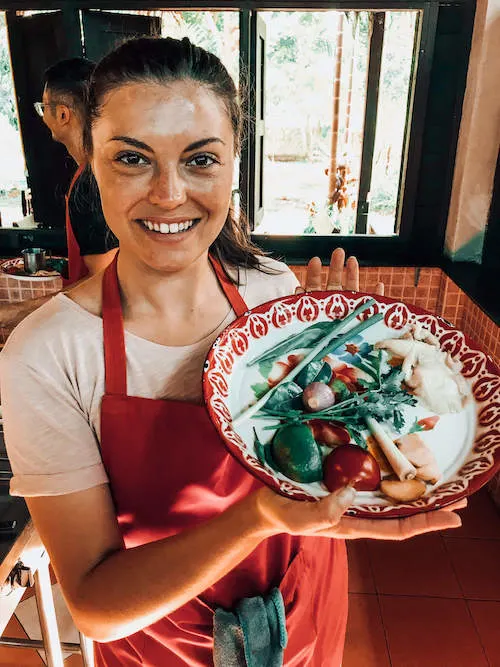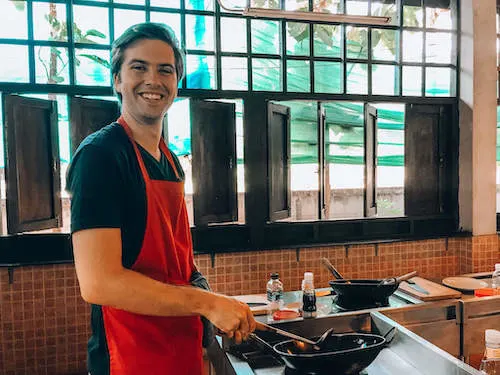 Days 15-19: Head to the Islands to Relax During Your Southeast Asia Itinerary in 3 Weeks
Okay, after all of that exploring, from temples to elephants, elaborate bays to buzzing cities, it's time to slow things down and visit the famous Thai islands. It is a welcome bit of relaxation during your three weeks in Southeast Asia. Here, you have enough time to enjoy one island for a few days, or a quick two island or beach tour. These days also include travel time, as some of the more remote islands take almost a whole day to get to and back. Some suggestions for places to go include:
1. Koh Lipe
Our favorite and the one we went to, Koh Lipe is very south, almost near the Malaysian border. This one is harder to get to (2-hour flight, 1.5-hour bus ride to the port, and 2-hour ferry), but it is worth it. Known as the Maldives of Thailand, I recommend spending the full time here exploring the coral reefs, swimming around, and kayaking to the nearby islands. You could also rent a boat to yourself and take a snorkel tour around the uninhabited islands. Pro-tip: Stay at Ten Moons on Sunrise beach for the softest sand and beach huts. Check reviews and prices on TripAdvisor and book here!
2. Phuket
Phuket is easy to get to thanks to the airport nearby, and it is a good jumping-off point to see the gorgeous Phi Phi islands. Spend a few days here swimming, snorkeling, and admiring the beautiful scenery complete with limestone formations jutting out of the water. The only issue here: crowds. This is the most popular beach destination in Thailand, so while there are places you can get away from the crowds, chances are you'll be sharing a lot of those lovely beaches.
3. Krabi
Okay, not an island, but also known for its gorgeous scenery. While still a popular place to visit, it is far less crowded than Phuket, and in a good spot for ferry hopping. Take a short flight to this airport and explore all the beaches it has to offer.
4. Koh Lanta
Just south of Krabi, and accessible by the ferry, is the large island of Koh Lanta. Much more off the tourist path than both Phuket and Krabi, this island is large enough that you could definitely get away from any crowds. Explore hidden coves, beaches, and jungles as you ride around on a scooter.
5. Koh Tao
Known for its diving; this island is stunning with gorgeous fish and coral reefs to explore. Fly into the Koh Samui airport and take the short ferry over to this lovely little island located in the Gulf of Thailand for a quiet, relaxing, or adventurous time diving or snorkeling.
6. Koh Pha Ngan
Also in the Gulf of Thailand, not far from Koh Tao, this island is known for its partying. The Full Moon parties started here, and it's a place where if you're looking to have a good time, it can be found here.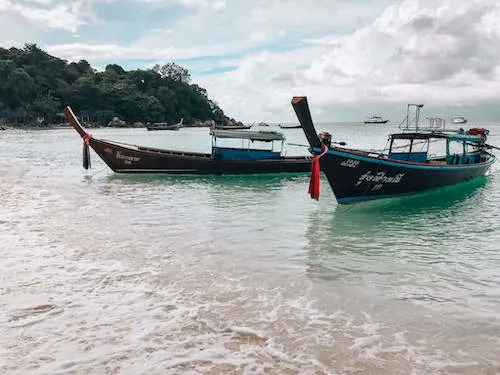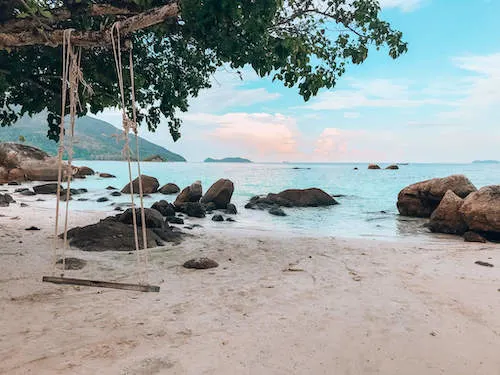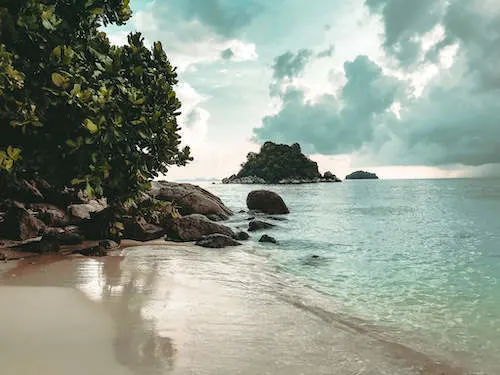 Days 19-20 of Your Southeast Asia Trip: Discover Bangkok or Skip it and Explore More Islands
While you could spend weeks and never scratch the surface of all that there is to do in Bangkok, I really only recommend a day or two. While we loved the charm of Hanoi, Bangkok felt like the opposite.
It is seedy. The traffic is terrible, and there are plenty of places to witness open prostitution, scammers trying to trick you (hint: don't trust an overly friendly person), and women literally grabbing your husband/boyfriend/friend and trying to drag them into a massage parlor. If you're into Vegas and all that, maybe this place is for you. But my honest advice is to spend a day or so, see the temples of Wat Pho and the Grand Palace, take a ferry along the canals or the Chao Praya River, and get out.
Yes, I'm glad we visited and saw it. But I'm definitely not itching to go back. If you do decide to visit, I recommend getting a guide and going on a tour or night market tour. Go with a local or someone who knows the place. I bet we would've enjoyed it more had we done that. If you decide to opt-out of Bangkok, I recommend visiting the ancient city of Ayutthaya instead nearby or just staying on the islands for a little longer.
Where to stay in Bangkok:
Budget: Tara Place
Check reviews and prices on TripAdvisor and book here!
Mid-Range: Sukhumvit 15 Bangkok
Check reviews and prices on TripAdvisor and book here!
Luxury: Chakrabongse Villas
Check reviews and prices on TripAdvisor and book here!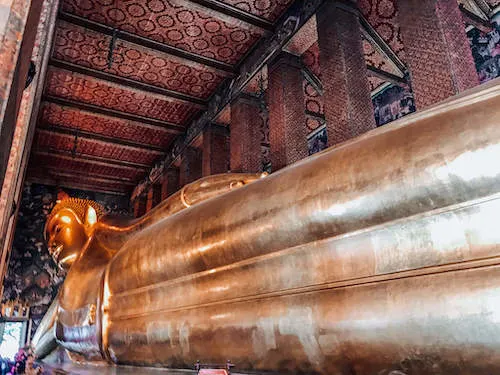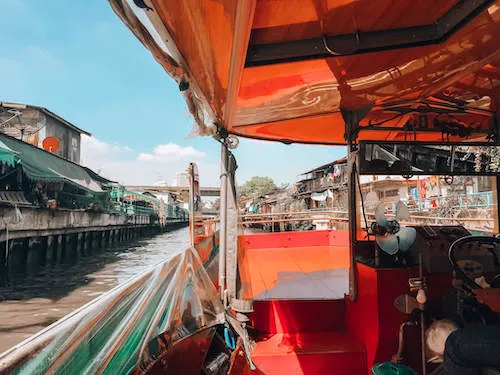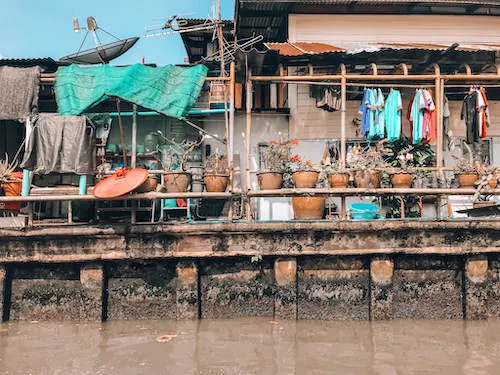 Day 21: Say Goodbye to your 3-Week Southeast Asia Itinerary as you Head Home
After your exciting time on the Southeast Asia route for 3 weeks, it is time to go home. Say goodbye to this lovely place, and dream of your return. We loved Southeast Asia so much, and it's only a matter of time until we come back to see more!
We hope you fall in love with this region as much as we did! I worked very hard creating a great itinerary to see as much as we could, but to also enjoy and appreciate all of the destinations. Yes, it is possible to see more countries in that amount of time, but we felt like we really connected with people, got to know these cities more, and had a mix of adventure and relaxation. We hope you enjoyed this Southeast Asia itinerary!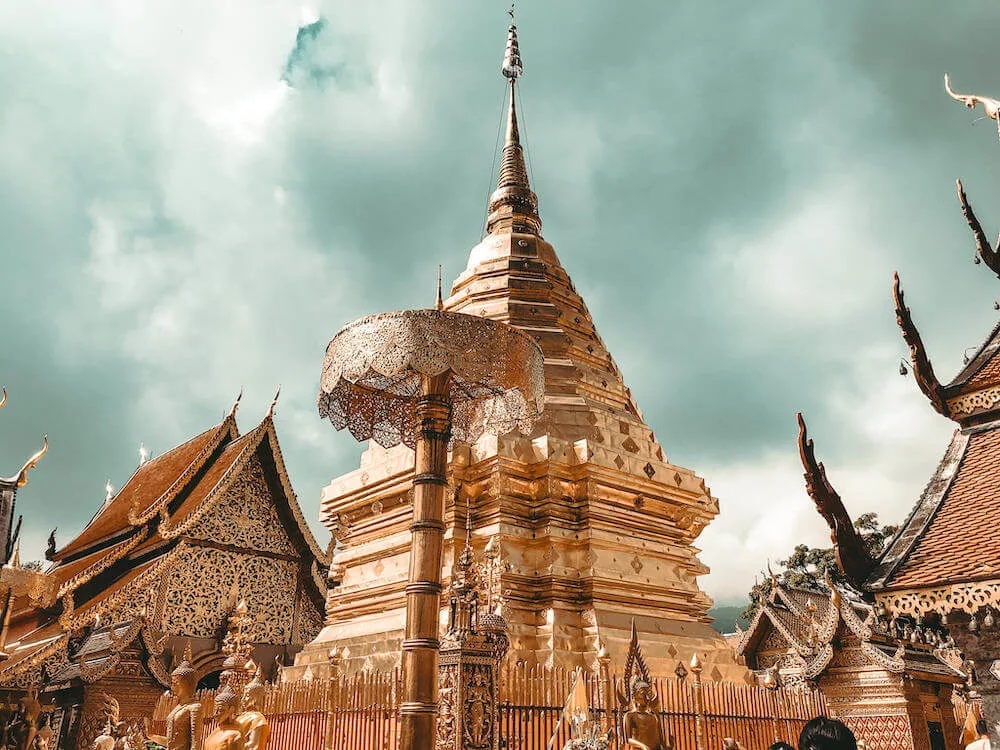 Pro-Tips for Traveling in Southeast Asia
Pack a first-aid kit. I recommend this for traveling anywhere, but having the basics like Tylenol, Immodium, Tums, Exlax, prescribed antibiotics, band-aids, etc. is a good idea.
Visit a travel clinic. Be sure that you are up to date on the correct vaccines for Southeast Asia and have the proper medicines to take with you like antimalarials. Check the CDC Travel page to see what you need.
Pack bug repellant and reef-safe sunscreen! We love Badger Balm as they are all-natural, actually work, and the Anti-Bug Balm is a balm and perfect for flying carry-on and the sunscreen smells great and is reef safe.
Bring appropriate clothing. You'll want your knees and shoulders covered while exploring the various temples to be respectful. And once you get off the beach, cover it up! We have a full packing guide for Southeast Asia for more details!
Get travel insurance. Whether you're wandering the Thai mountains with elephants or taking a crazy ferry ride to the islands, make sure you're covered for those accidents that could happen. We used World Nomads and use it for every big trip.
Find budget flights around Southeast Asia on

Skyscanner

. They include the discount airlines, so you know you're getting a great deal.
For other tips, check out our article all about 25 things to do know before traveling to Southeast Asia.
How Much to Budget for a Southeast Asia Trip for 3 Weeks
The good news about traveling to Southeast Asia is that it is incredibly affordable. We wrote an entire post about our budget for both Thailand as well as Southeast Asia in general. Be sure to check those out!
Also, a huge way that we saved money was by using miles and points to fly business class to Southeast Asia for only $60 per person!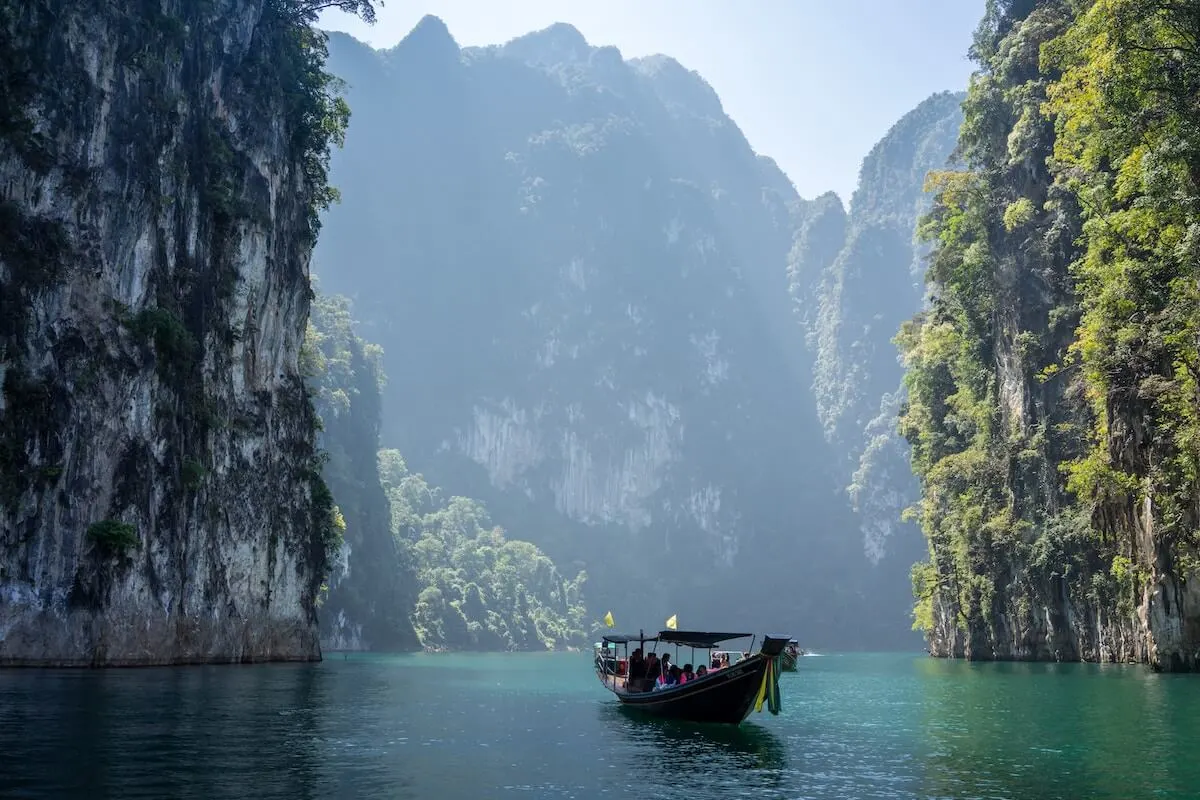 To Recap: Here is A Summary of the Perfect 3-Week Southeast Asia Itinerary
Days 1-2: Travel days plus a stopover in Seoul on the way to Hanoi
Day 3: Explore Hanoi, Vietnam's Old Quarter and take a food tour
Days 4-6: Enjoy the most amazing cruise to Bai Tu Long Bay
Days 7: Enjoy Hanoi in the morning and head to Siem Reap
Days 8-9: Watch the sunrise over Angkor Wat and explore hidden temples
Days 10-14: Explore Chiang Mai, Thailand and take a couple of day trips
Days 15-19: Choose an island or beach destination and relax/snorkel
Days 19-20: Finish your Southeast Asia itinerary with a stop in Bangkok (or skip it for more island time)
Day 21: Head home after this amazing Southeast Asia itinerary in 3 Weeks
Sick of reading me gush about spending 3 weeks in Southeast Asia? Take a listen to our Southeast Asia podcast episodes instead:
Have you been to Southeast Asia? Do you agree this is where to travel for 3 weeks in Southeast Asia? Are you planning to visit? Let us know what you think in the comments!
Love this post or want to save for later? Pin it here!