Some posts on this site contain affiliate links, meaning if you book or buy something through one of these links, I may earn a small commission (at no additional cost to you!). Read the full disclosure policy here.
---
Looking for the ultimate 2 weeks in South Africa? Planning a romantic South Africa honeymoon itinerary? We've got you!
From large metropolitan cities to completely remote, idyllic safaris, South Africa runs the gamut of adventure. Whether you're a fan of culture, history, or African animals, South Africa is the perfect place to be. It's a huge reason why we chose our first big international trip together to be this unbelievable place.
We managed to visit Johannesburg (Joburg as the locals call it), a safari game reserve, and even the Western Cape including Cape Town in just 2 weeks in South Africa! While we didn't see everything, we're proving to you that a 2 Week South Africa honeymoon itinerary is totally doable!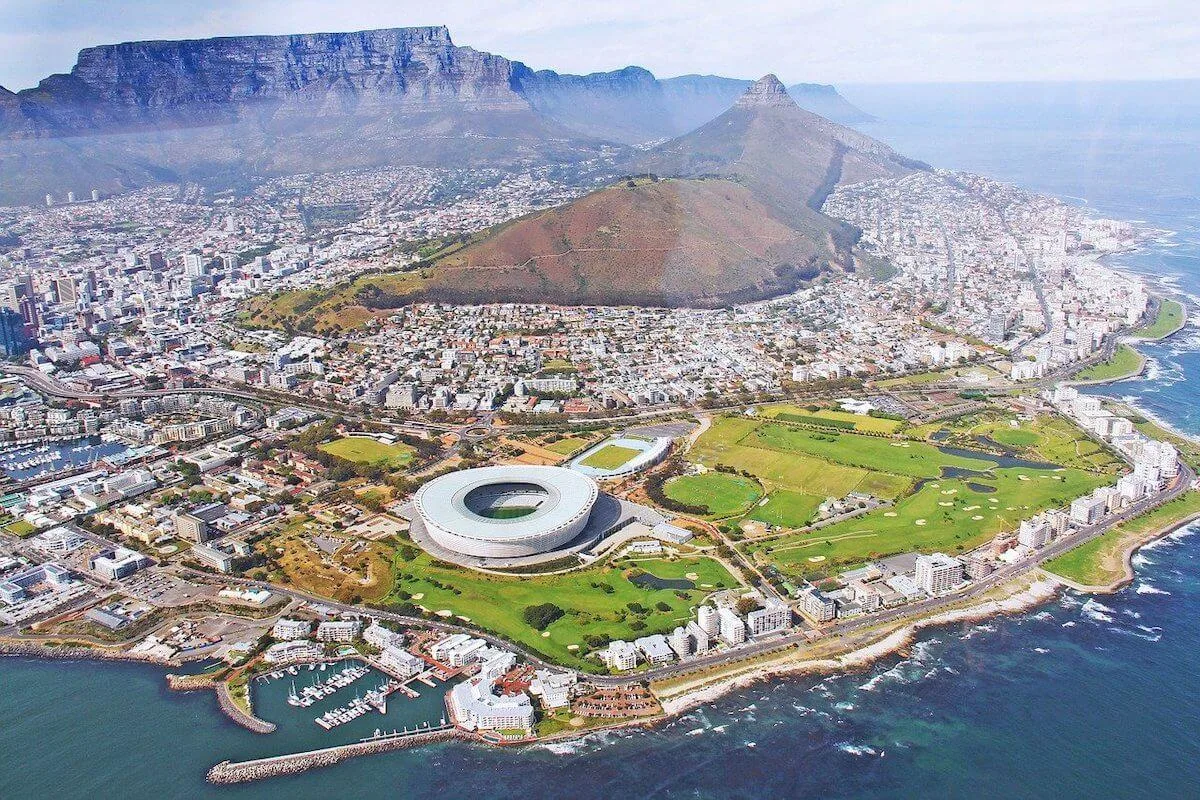 Ultimate South Africa Itinerary For 2 Weeks Overview
Here is a quick reference guide to the itinerary!
Day 1: Fly to Johannesburg
Days 2-3: Johannesburg
Days 4-8: Safari at Timbavati Game Reserve
Days 9-13: Cape Town, Winelands, and other day trips
Day 14: Head home
Day 1: Getting There for Your 2 Weeks in South Africa
Let's get this out of the way up front. There's no easy way to get to South Africa, especially from the U.S. It will take up at least a full day to get there with the time difference and the fact that you'll probably need to take two long-haul flights (unless you live in NYC or Atlanta, where they have direct flights to Johannesburg). But basically, be prepared to be airborne for at least 16 hours. This is why we recommend a South Africa Itinerary for 2 weeks, as you may as well spend more time there after all of that effort to get there!
If you're Europe-based, you will find that major airports do have direct flights (i.e. London, Rome, Paris, etc.). Again, it is a long flight, though (approximately 11 hours).
But no worries! The trip is so worth it that a day of travel really isn't a large price to pay for an amazing experience. And we definitely found Skyscanner helpful when searching for flights (and even snagged a round-trip flight from Cleveland to Johannesburg for only $850 per person)!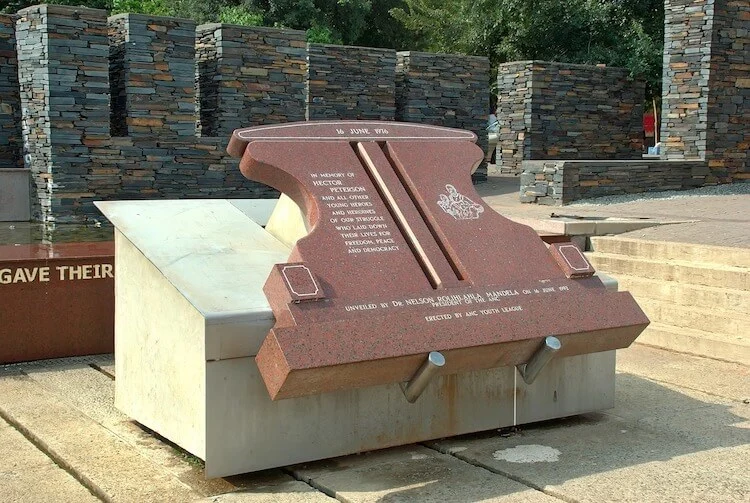 Day 2: Land in Johannesburg to Kick Off Your South Africa Honeymoon Itinerary
After arriving early to our amazing Joburg hotel, The Peech, we took a nice, long nap. Trust me, you'll be having an awesome adventure this whole trip, so take a little time to rest up after those flights. We took a 4-hour nap and then explored the suburb we were in, Sandton, and saw Melrose Arch. We even grabbed dinner at Mezepoli in the area and tried our first taste of South African wine. In short, it was amazing, and we continued to drink only South African wine the whole trip.
Where to Stay in Johannesburg:
I recommend staying in either the Rosebank or Melrose neighborhoods. These are known as some of the safest neighborhoods in Johannesburg, and both have a ton of things to do! Melrose has the Melrose Wild Bird Sanctuary, the mall at Melrose Arch, and Rosebank has a mall, craft markets, and many art galleries. As far as hotel ideas, these are perfect depending on your budget!
Budget: The Vantage
This is a lovely hotel located in the trendy Rosebank neighborhood. It is a great place to stay on a budget and is within walking distance to the Rosebank Mall.
Read reviews and book on TripAdvisor.
Mid-Range: Melrose Place Guest Lodge
Located in Melrose, you have perfect access to a couple of lovely parks, cafes, and even a 20-minute walk to Melrose Arch. With free breakfast, a pool, and delightful rooms, you'll have plenty of comfort during your stay.
Read reviews and book on TripAdvisor.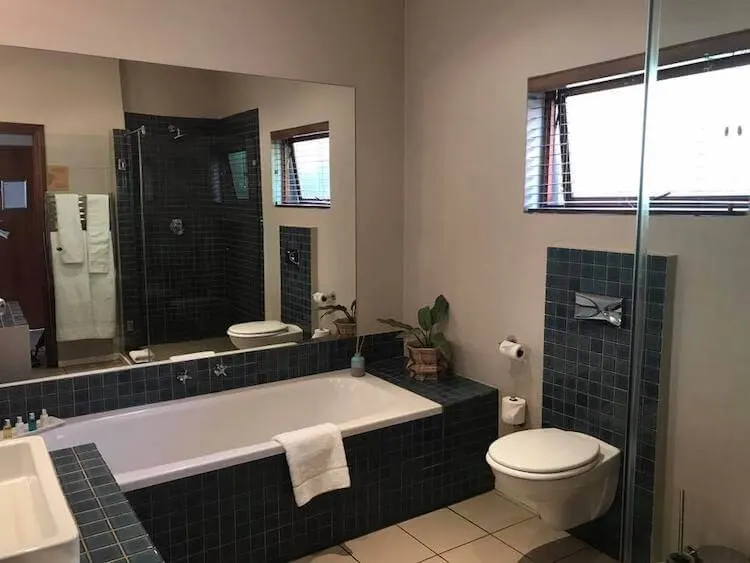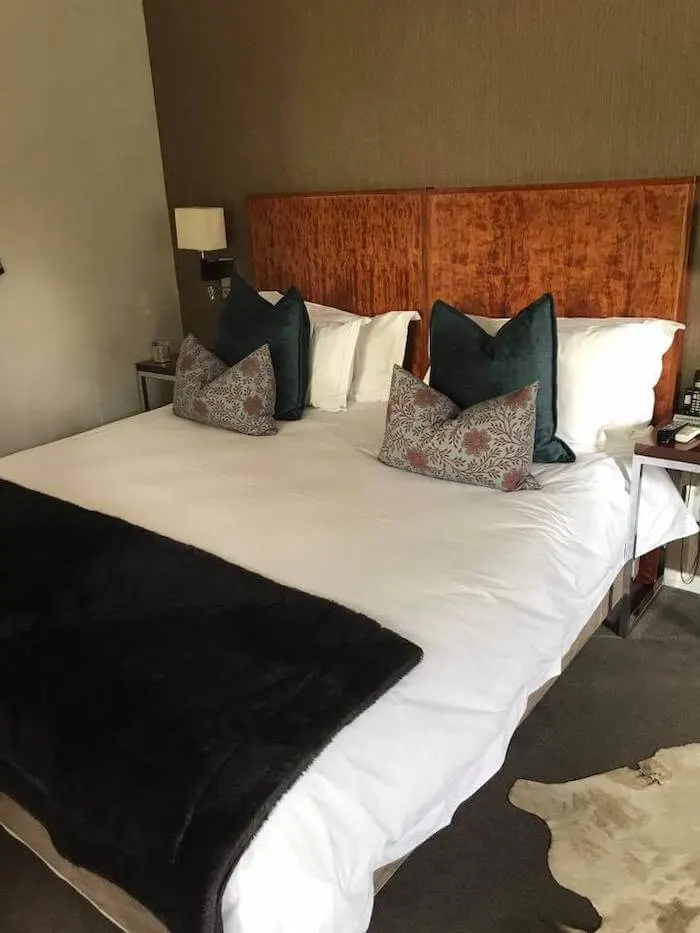 Luxury: The Peech
This is where we stayed during our 2 nights in Johannesburg, and we loved every minute. They have lovely guest rooms, the staff calls you by name, and you feel like you're in the lap of luxury. We enjoyed their extensive beer and wine menu, amazing food, and free breakfast. The rooms themselves were delightful with plenty of space, a large soaking tub, and great views over the garden and pool.
Read reviews and book on TripAdvisor.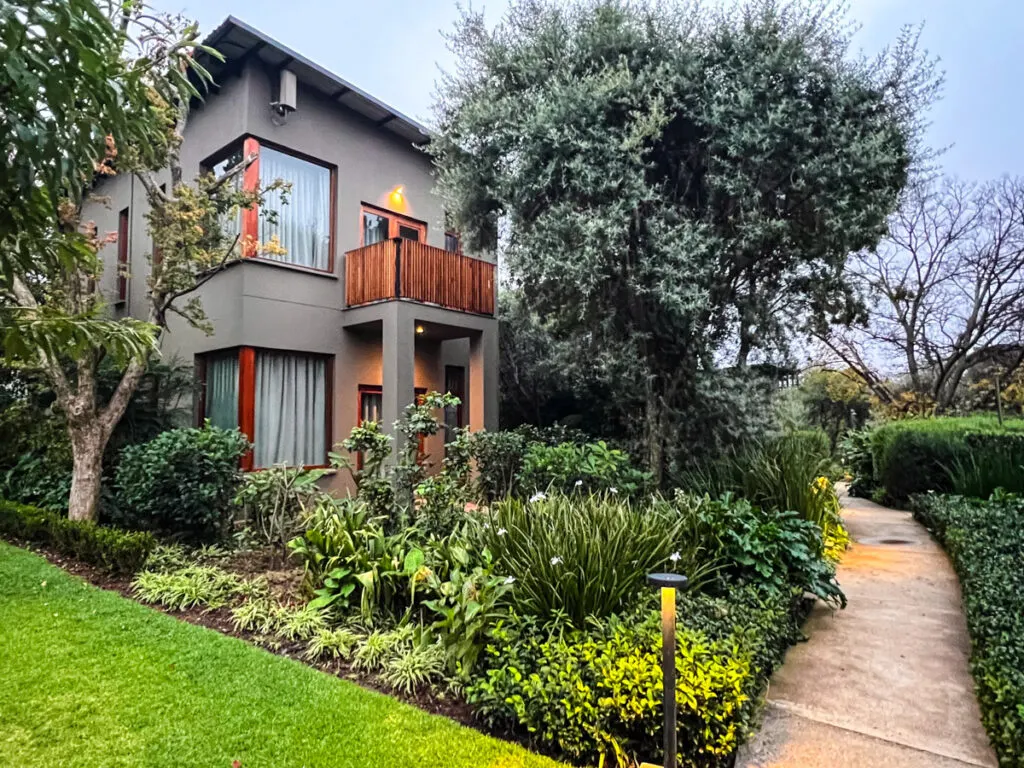 Day 3: Explore Johannesburg, Soweto, and the Apartheid Museum
When most people visit South Africa for 2 weeks, they typically only visit Cape Town and go on safari. Very few actually spend time in Joburg. It is such an important city in the country, that a trip to South Africa isn't complete without a visit.
Joburg is the heartbeat of South Africa, with culture and history flowing out of every inch of the city. My top recommendation is to visit Soweto (or South Western Townships) with a local guide and learn all about its history and culture, see where Nelson Mandela lived, and check out the statues for the ten pillars of their constitution as well as the student protest memorial of 1976.
Then, be sure to check out the Apartheid Museum. It shows the eye-opening effects of segregation, with each person receiving a card indicating whether they are white or non-white upon entry. This shows which entrance you may enter. You'll only be separated for a short while, but the museum shows many aspects of the Apartheid era and the suffering that occurred.
It also shows how they are moving forward into the future in South Africa. I highly recommend checking these out this day.
We ended up doing a fantastic tour with a local guide who was super informative, and the tour included visiting Soweto, the Apartheid Museum, and even the highlights of Johannesburg. For having just one full day in this city, I cannot recommend this tour enough. It really opened our eyes and gave us a huge education about South Africa's dark past and hope for the future.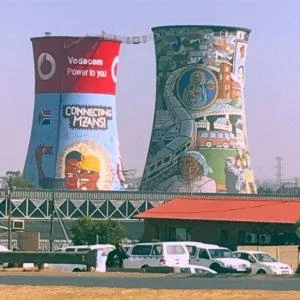 Days 4-8: Continue Your South Africa itinerary for 2 weeks at Timbavati Game Reserve
Next, it is time to kick off your safari honeymoon in one of the most romantic getaways in South Africa: Timbavati. Fly to Hoedspruit airport and you will be escorted to the Timbavati Game Reserve. I can go on and on about this reserve as well as the lodge we stayed in, Simbavati River Lodge.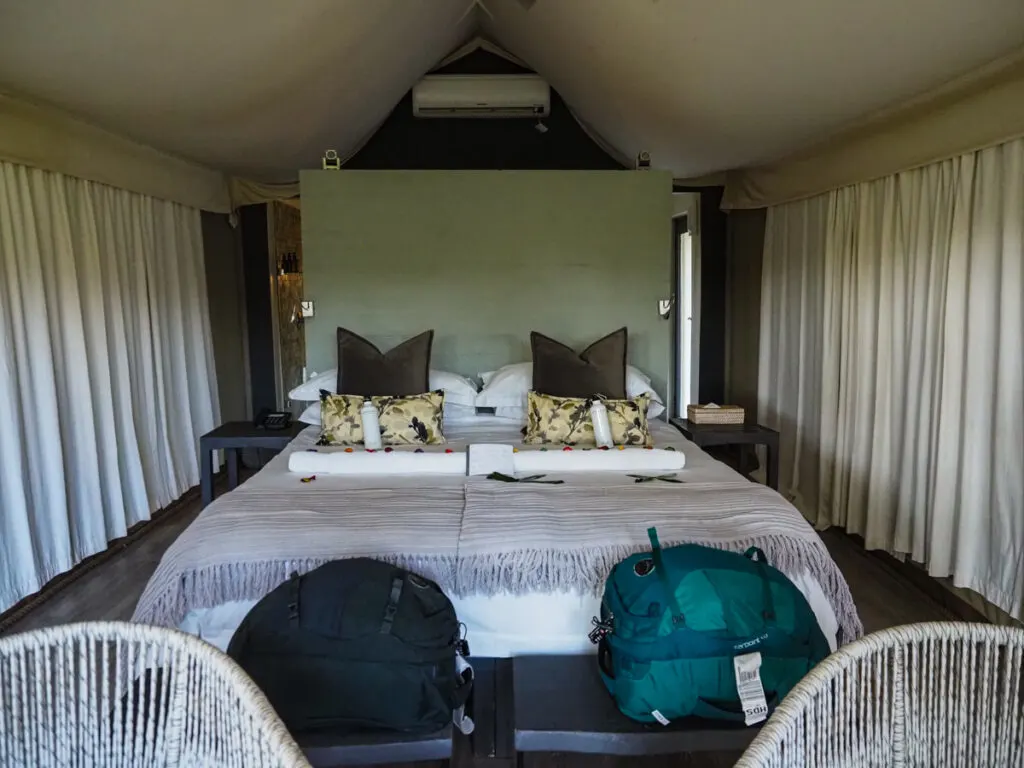 It seriously was incredible, with luxury tents (there were 2 showers: indoor and outdoor, plus plush bedding, and incredible views from our deck overlooking the river), butler service, 2 game drives per day, and tasty food each day. I even wrote a whole post about our love of safari here!
PS- Want to know how much an African safari costs? Find out here!
As you'll probably arrive mid-afternoon, you will be just in time for the evening game drive and then the next 4 days will consist of morning and evening game drives, where you'll perhaps see the Big 5 many times over.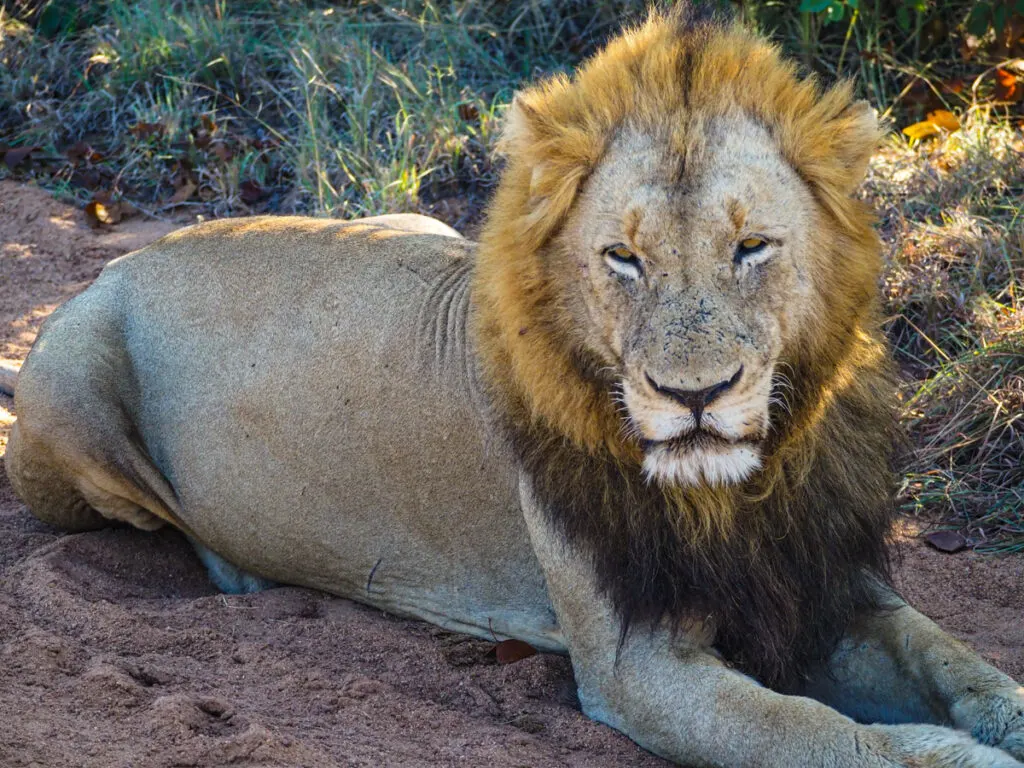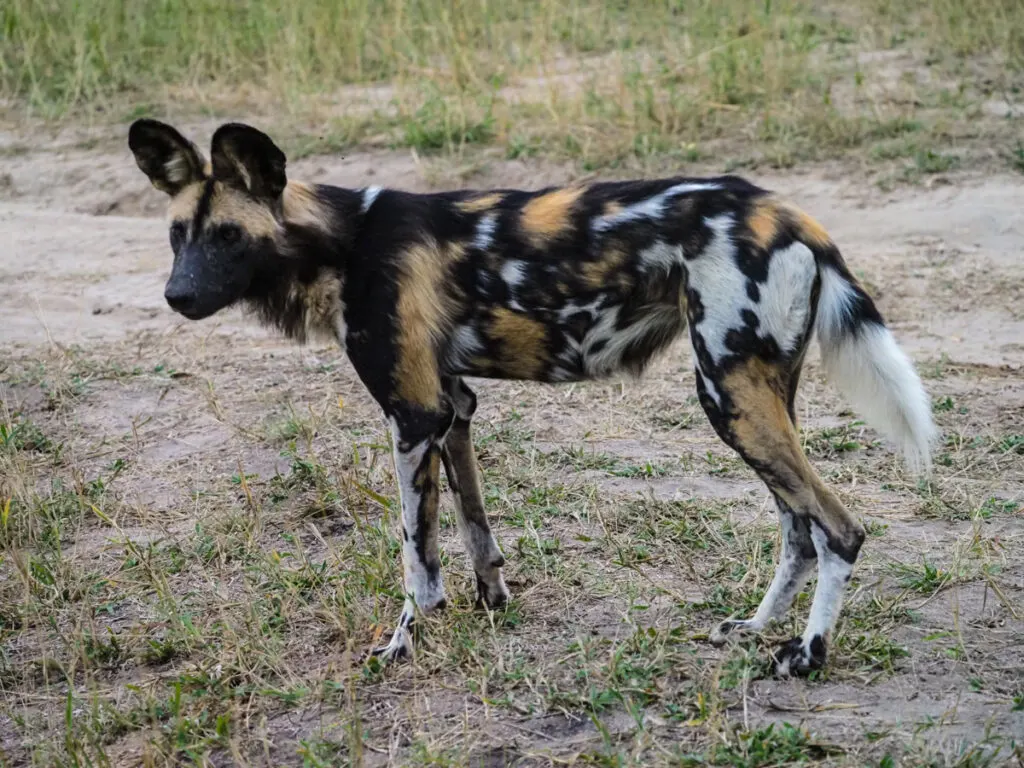 Between that, enjoy off-the-grid relaxation time where you can read on your deck and view the animals lazily eating grass near the old riverbed, get a massage, lounge by the pool, or nap in the open-air lodge or your luxury safari tent. Basically, it is the most relaxing adventure you'll have. And with hardly available wifi, you'll be connecting even more with each other and new friends.
After your morning drive on day 8, you'll be on your way to Cape Town for your next week of adventure!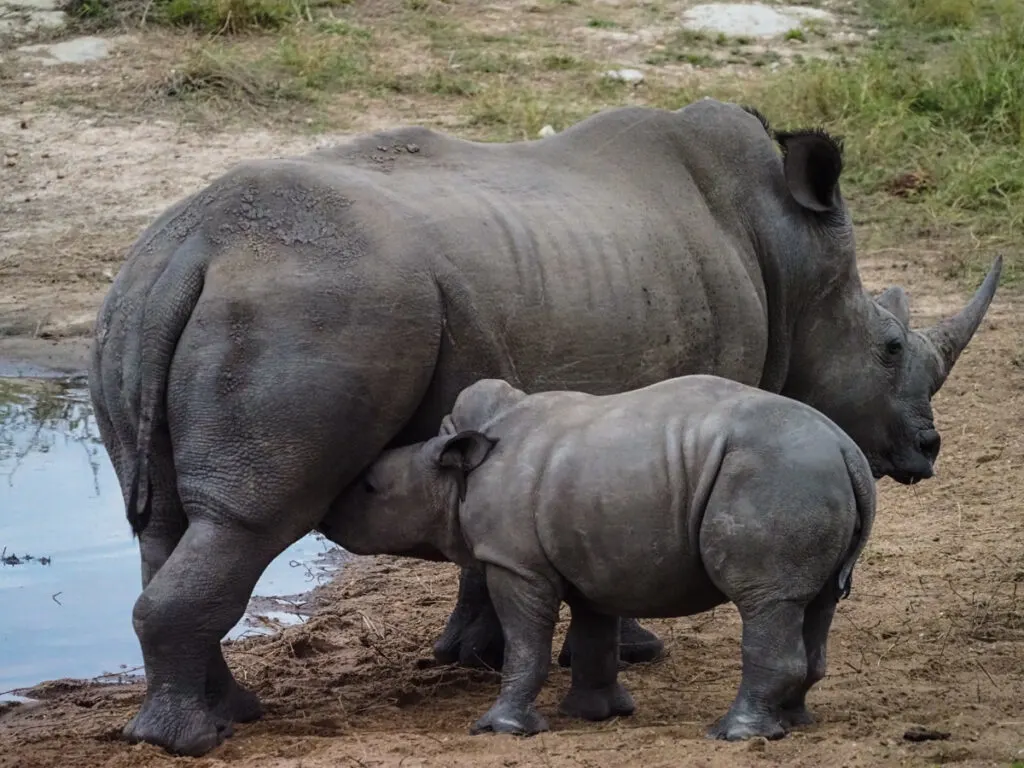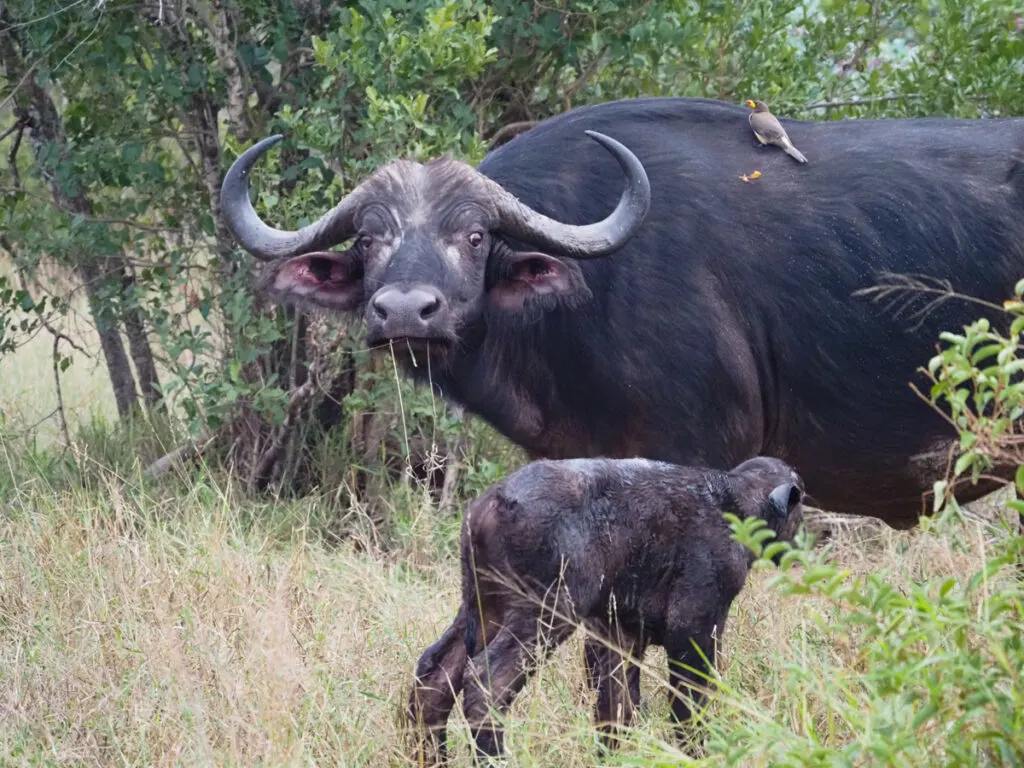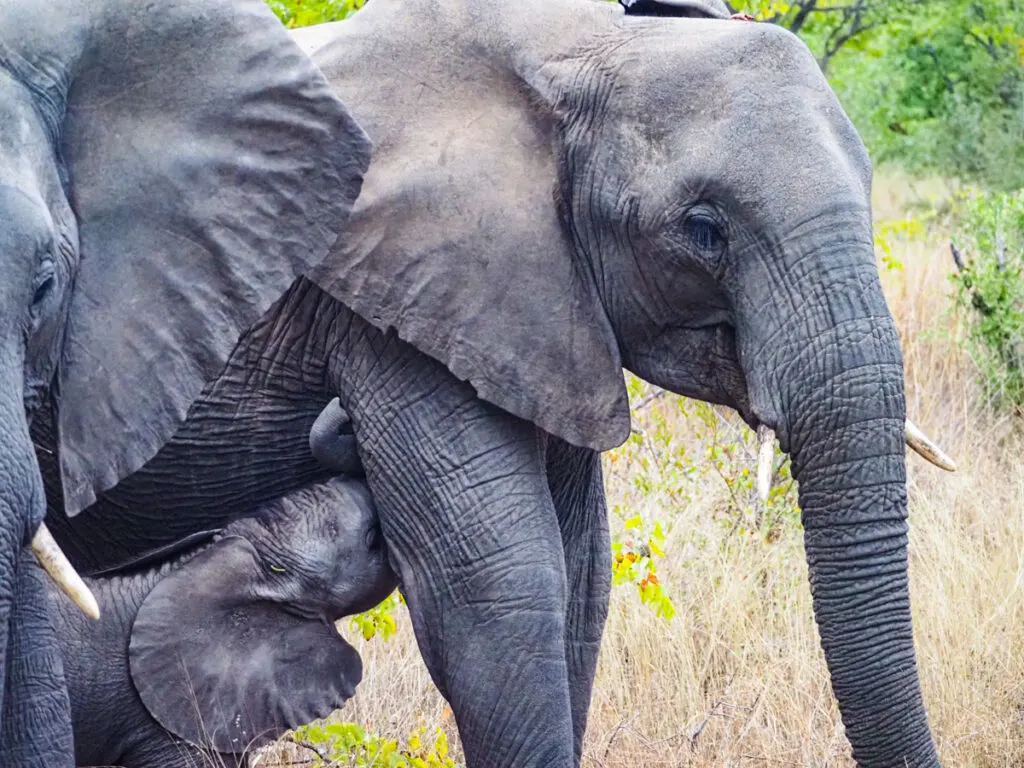 Check out our First Timer's Guide to a South Africa Safari episode here!
Days 9-13: Cape Town Honeymoon and Cape Peninsula
The reason why you want to be spending the bulk of your time in Cape Town during your South Africa honeymoon itinerary for 2 weeks is that there is so much to do in the area! The city itself is full of interesting museums, gardens, marketplaces, and of course, Table Mountain.
My top to-dos in Cape Town include Table Mountain, Old Biscuit Mill, Streetwire in Woodstock, V&A Waterfront, Robben Island, the food scene in the city bowl area, Bo-Kaap, and Camps Bay.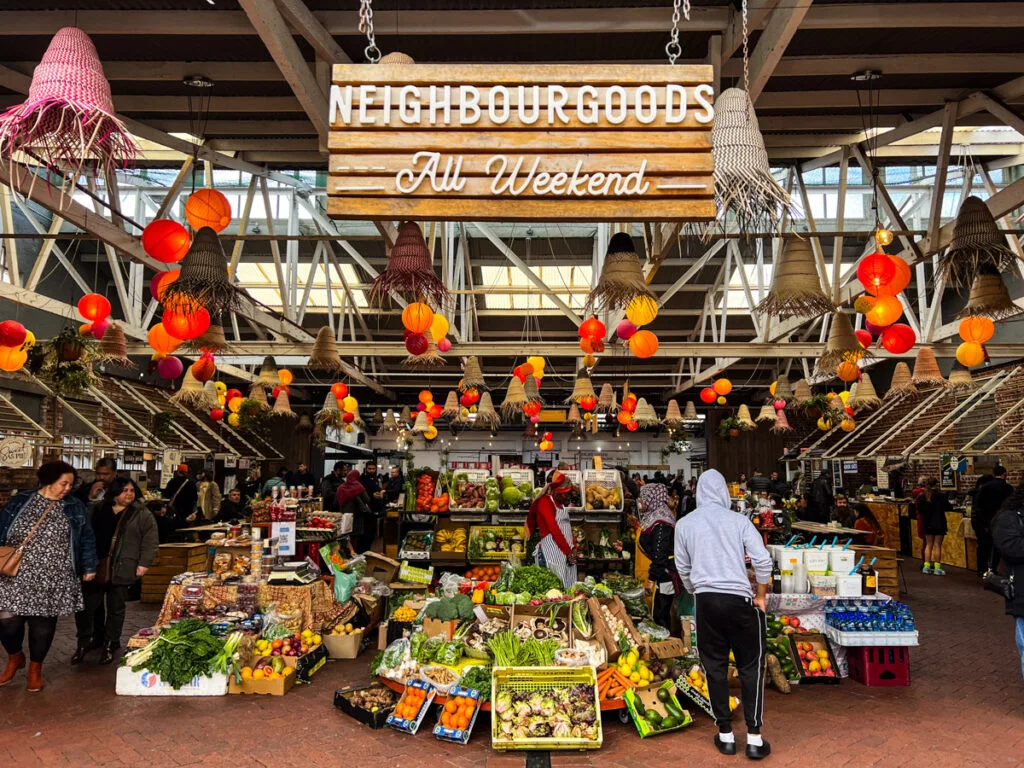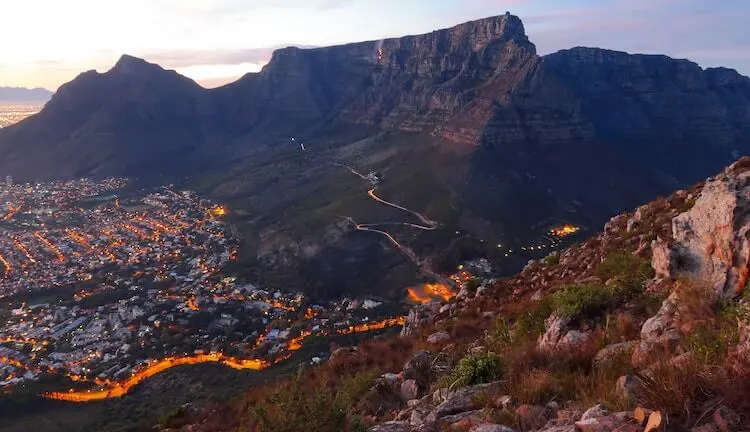 I highly recommend getting the Cape Town Official City Pass, which includes access to several attractions including the Hop-on/Hop-Off Bus tour, the cablecar to Table Mountain, a sunset cruise, and several museums in the area.
You can do these in a few days which leaves extra time for a couple of day trips like the following: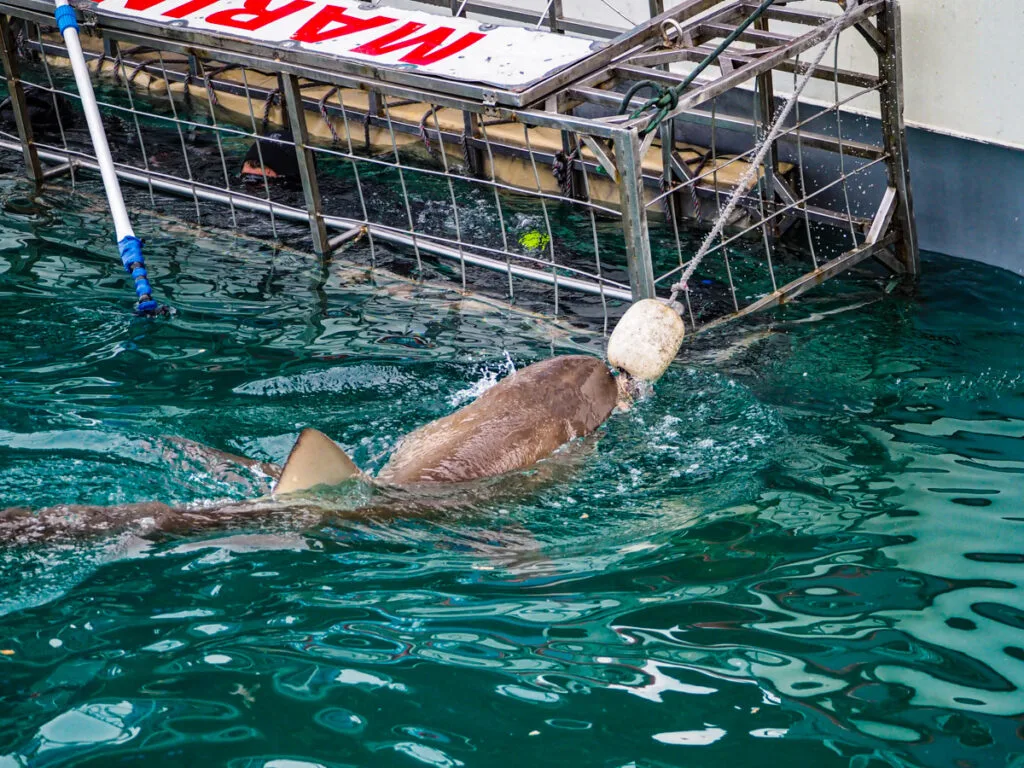 Great White Shark Cage Diving in Gansbaai:
While the pickup time is early with Ilios Travel, 3:50 am to be exact, you'll be driven two hours to Gansbaai to meet up with the marine biologist and crew at Marine Dynamics where they will outfit you with all you need, give you details, and then it's off to Shark Alley to see the sharks up close and personal.
It is a unique experience you will never forget, and you may even have a new respect for this often-misunderstood creature. Seriously, for the best eco-friendly shark cage diving experience, we definitely recommend booking Marine Dynamics.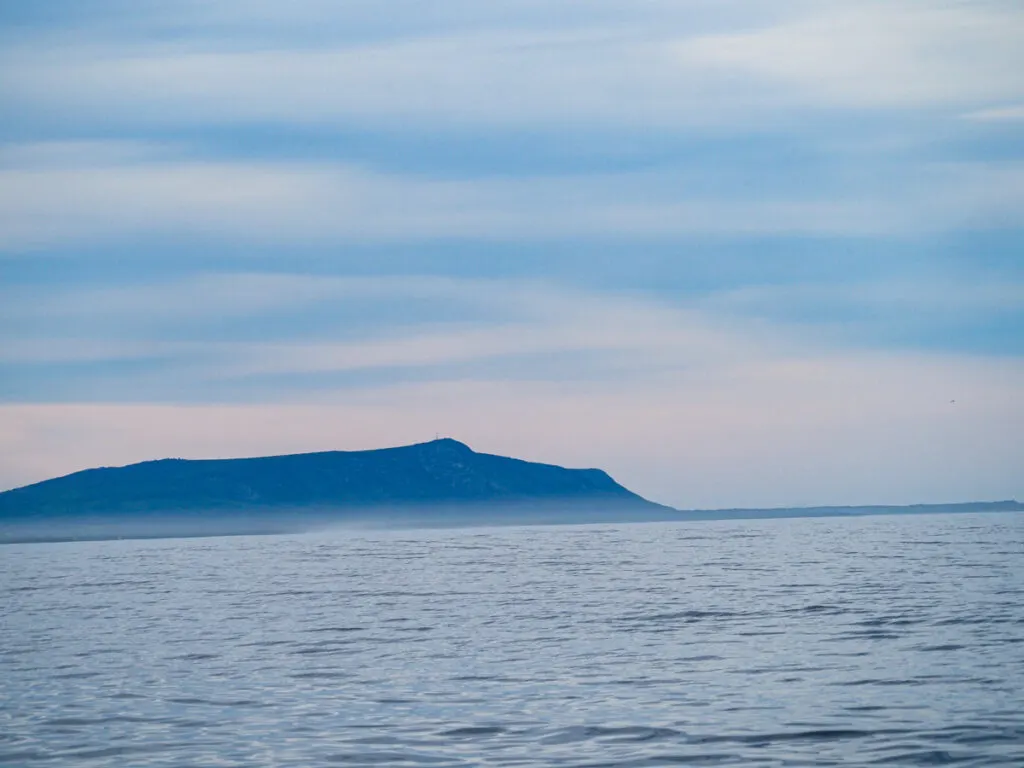 Marine Big 5 Tour:
Not into the idea of shark cage diving but want to see marine wildlife up close? Definitely opt for the Marine Big 5 tour instead. Also by Marine Dynamics, this tour departs from the same launching point as the shark cage dive, only this time, you try to find the Marine Big 5.
The Marine Big 5 includes sharks, whales, seals, dolphins, and penguins. On our last visit to South Africa, we managed to see 4 of the Big 5 including bronze whaler sharks, southern right and bryde's whales, penguins, and several seals.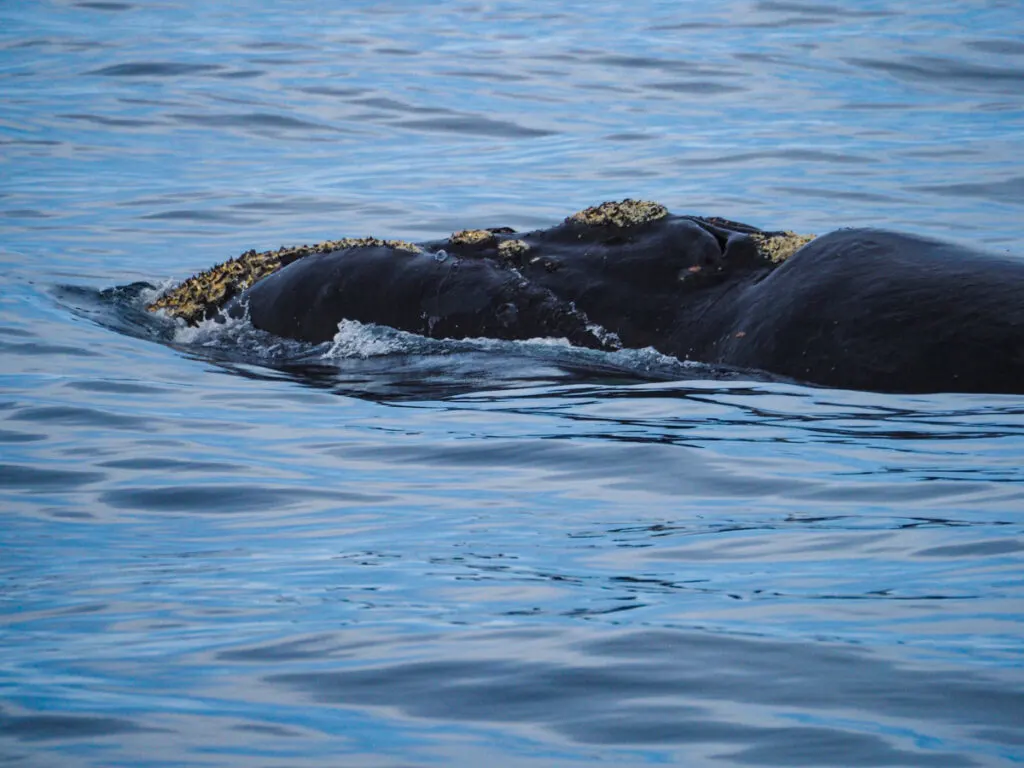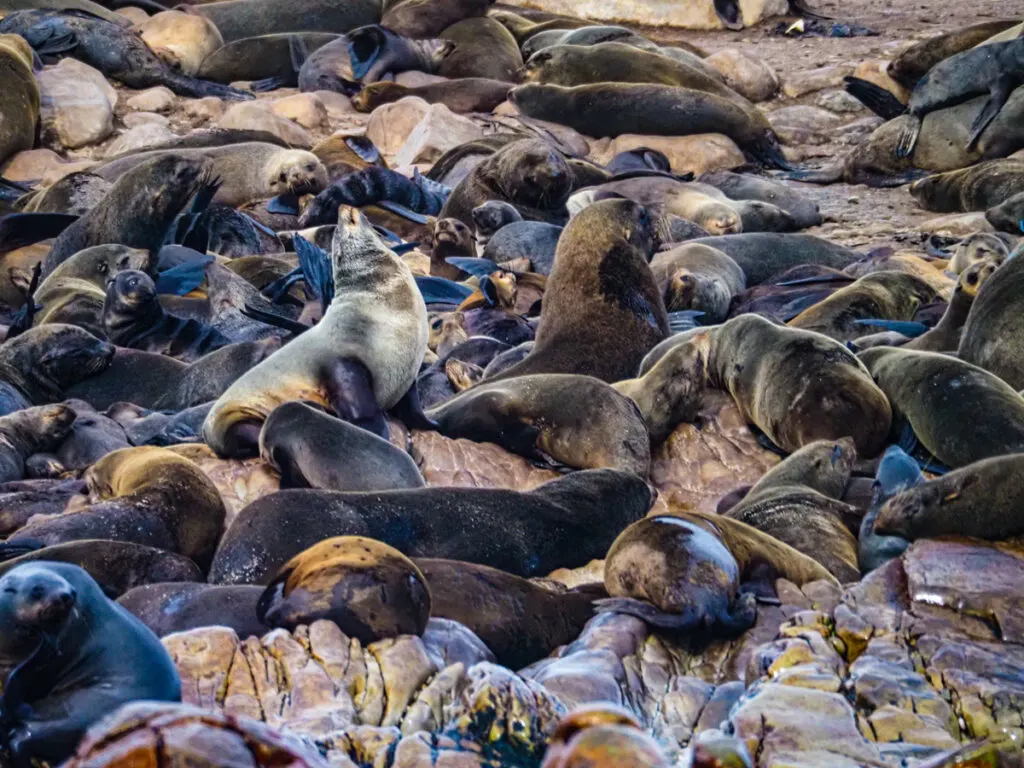 Cape Peninsula Tour
:
Explore the Cape Peninsula all the way down to the Cape of Good Hope. You'll start with a breathtaking view of Camps Bay, then, head off to Hout Bay where you can feed a seal with fish or check out the craft market at the docks.
Next, get a great view of the cape from Chapman's Peak before driving off to the Cape of Good Hope Reserve. After that, you'll enjoy a nice lunch after visiting the penguin colony on Boulder's Beach in Simon's Town. Don't forget to check out Kirstenbosch Gardens on the way back! It is truly stunning. This was definitely one of our favorite day trips from Cape Town. We definitely recommend this for your South Africa itinerary for 2 weeks.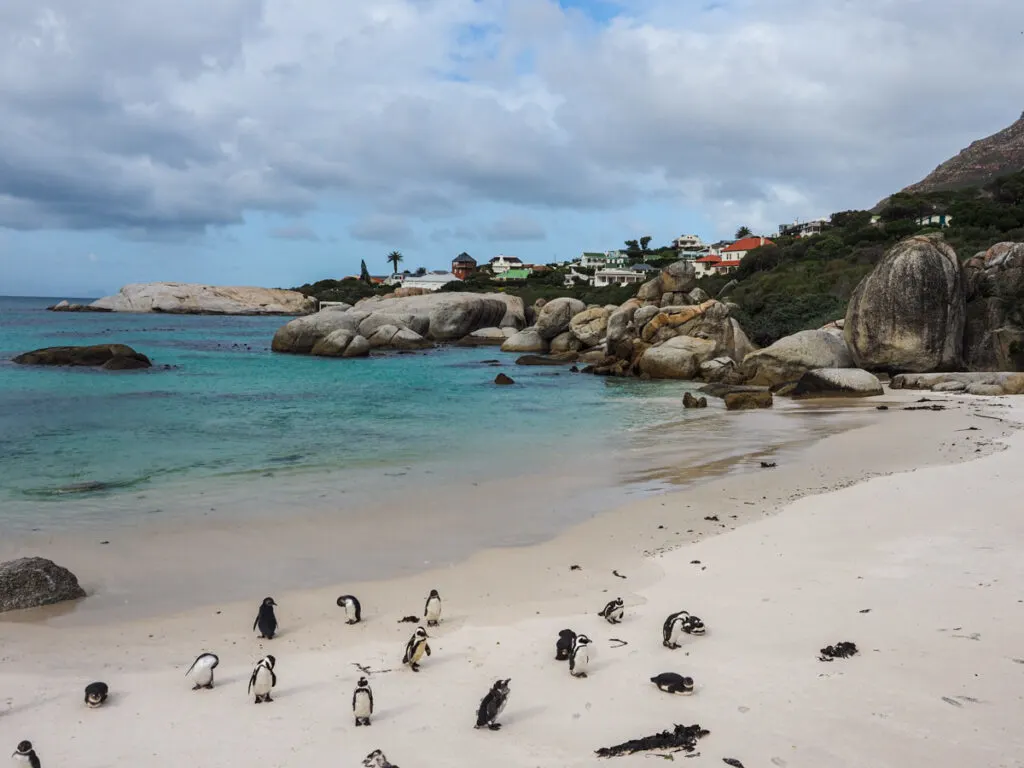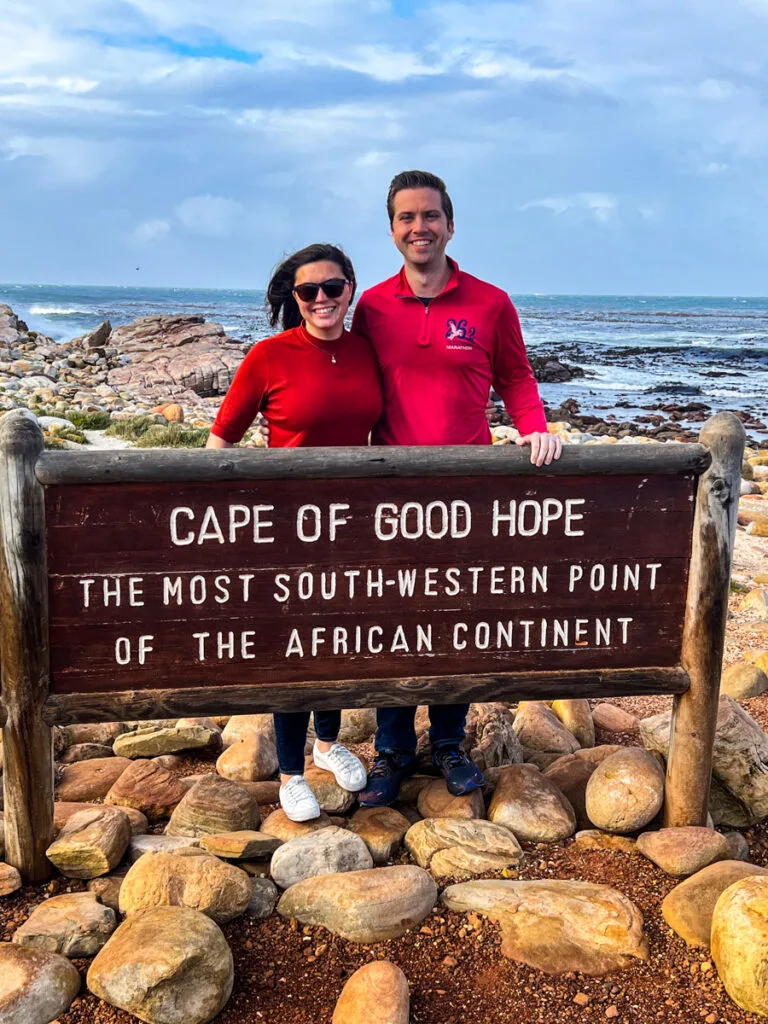 Winelands:
A trip to Cape Town requires a trip to the Winelands. As most of South Africa's wine is produced just outside of this city, a trip to the wineries is always worth it. Be sure to check out the towns of Stellenbosch, Paarl, and Franschhoek in between tasting unique wines such as Pinotage or Chenin Blanc at a few of the many wineries.
You'll also want to take photos, as the scenery is gorgeous! Think vineyards butting up against mountains and you get the idea. This is the perfect place in the cape for romance. And with tastings only $3-5 each, wine not?
Pro-Tip: Hire a driver (we loved Illios Travel) or go on this fantastic group tour to drink delicious wine without worrying about driving.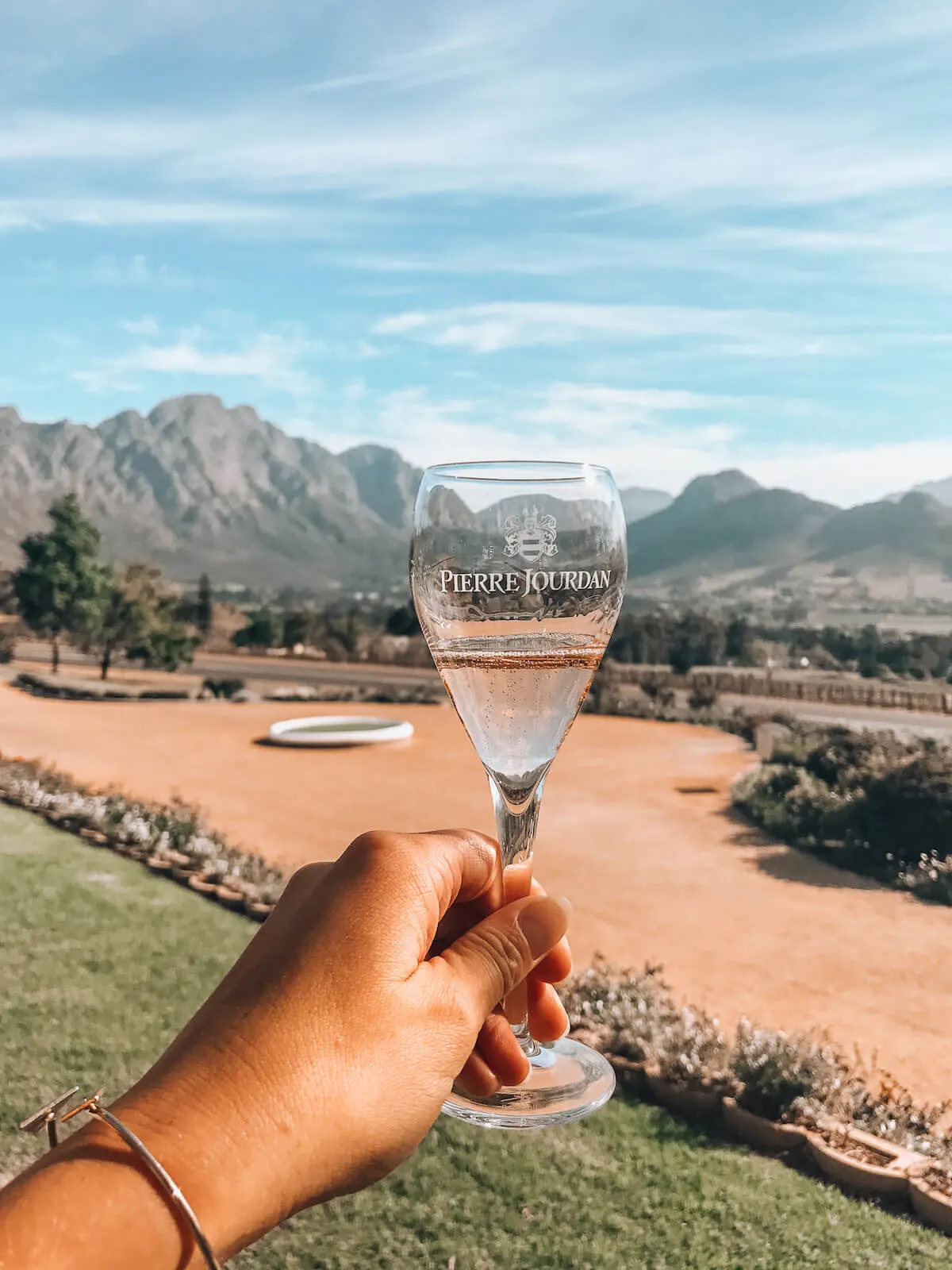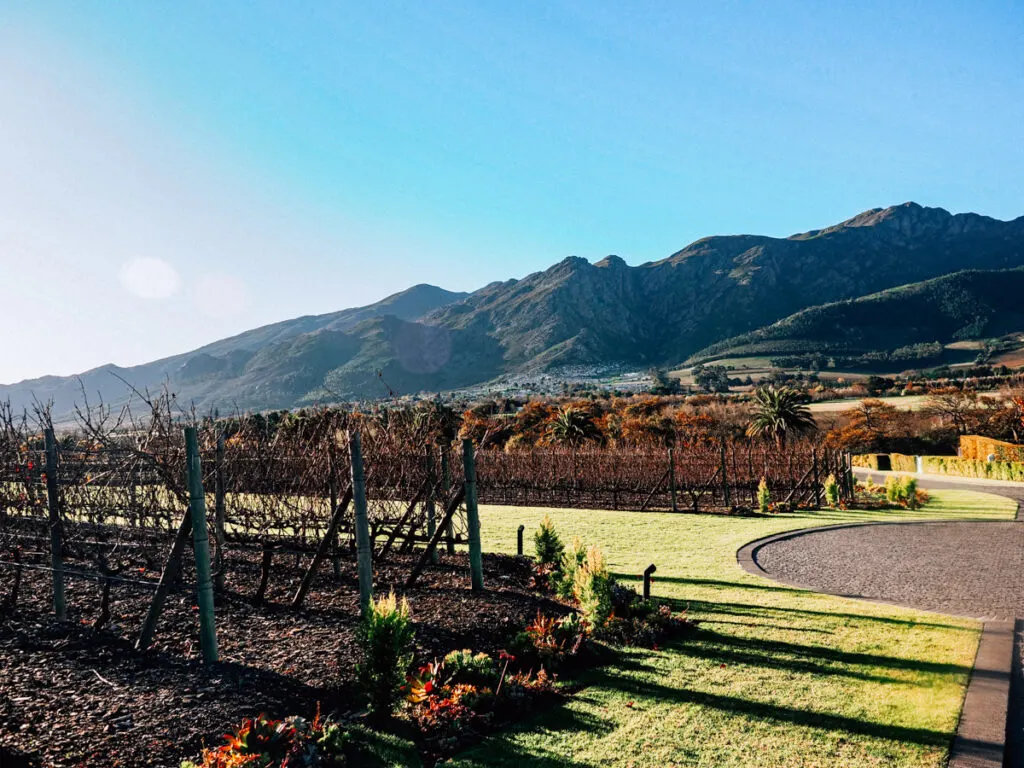 Where to Stay in Cape Town:
I recommend staying at the V&A Waterfront close to a lot of eateries and shops, or in a fun neighborhood near the beach like Camps Bay or Sea Point.
All these areas are much safer than in the city bowl area, and there is a lot to do between visiting the beach, shopping, going out to bars and restaurants, and more! Here are great ideas to suit your budget!
Budget: Blue Views Villas and Apartments
This is located in Camps Bay, overlooking the stunning oceanfront. You're also within walking distance to the beach and cute shops and restaurants in Camps Bay. You'll enjoy the pool with great ocean views, free parking, and gorgeously decorated apartments.
Read reviews and book on TripAdvisor.
Mid-Range: Radisson RED V&A Waterfront, Cape Town
Located along the V&A Waterfront, you're in a great place for exploring! The rooms here have great views, and you'll love the rooftop pool and bar to cool off on a warmer day in Cape Town.
Read reviews and book on TripAdvisor.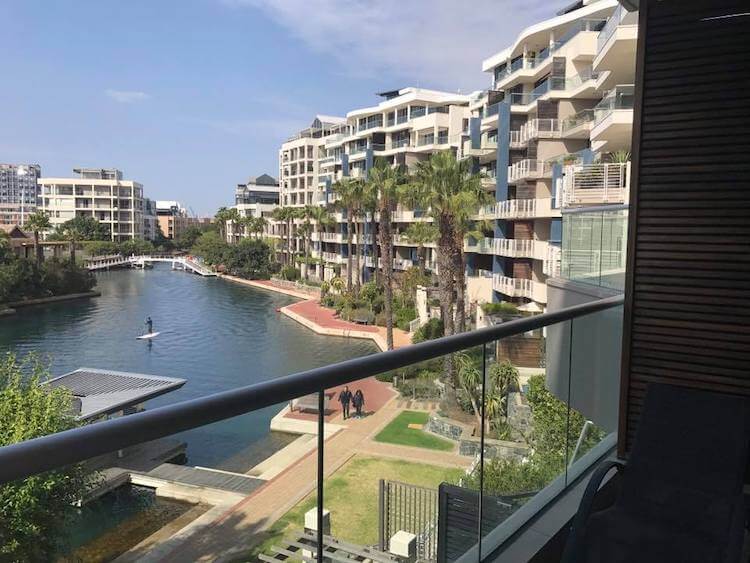 Luxury: The Silo Hotel
This hotel is pure luxury. Built in a renovated old grain siloh complex, it is also located on the V&A Waterfront, just above the Zeitz MOCAA contemporary art museum. With incredible views from the balcony of Table Mountain or the waterfront, you'll enjoy the rooftop pool, spa, wall-to-ceiling windows, luxurious bathrooms with lovely bathtubs, as well as the fantastic dining options. Yes, this place oozes luxury and you'll pay for it.
Read reviews and book on TripAdvisor.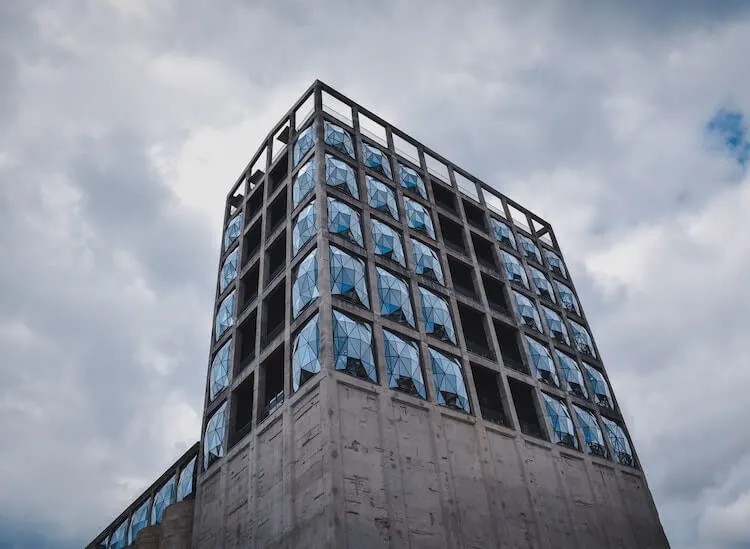 Day 14: Time to Head Home After Your Amazing South Africa Itinerary for 2 Weeks!
It is hard to believe that it's time to leave, but think of all of the adventures you've had in the last 14 days! After this amazing trip, you'll be on your way home where you have stunning photos and memories of the most fabulous 2 weeks in South Africa. It's more than possible to see the beauty of South Africa in just two weeks, and it is the perfect spot to honeymoon for animal enthusiasts and adventure couples alike.
Pro-tip: For the ultimate safari and South Africa honeymoon trip, opt to have Safari365 plan it! They have planned both our trips to South Africa and they craft the best personalized itineraries!
Things to Know Before Traveling to South Africa
Before you leave on your dream South Africa honeymoon itinerary or a romantic trip, here are some tips to know!
Do I Need a Visa for My 2 Week South Africa Honeymoon Itinerary?
This is a great question, and of course, this varies by country. For the US, you do not need a visa for up to 90 days if it is just for tourism. Just be sure that your passport will be valid for 6 months after you leave and that you have 2 blank pages for stamps. As this could change at any time, like any country, check here before going.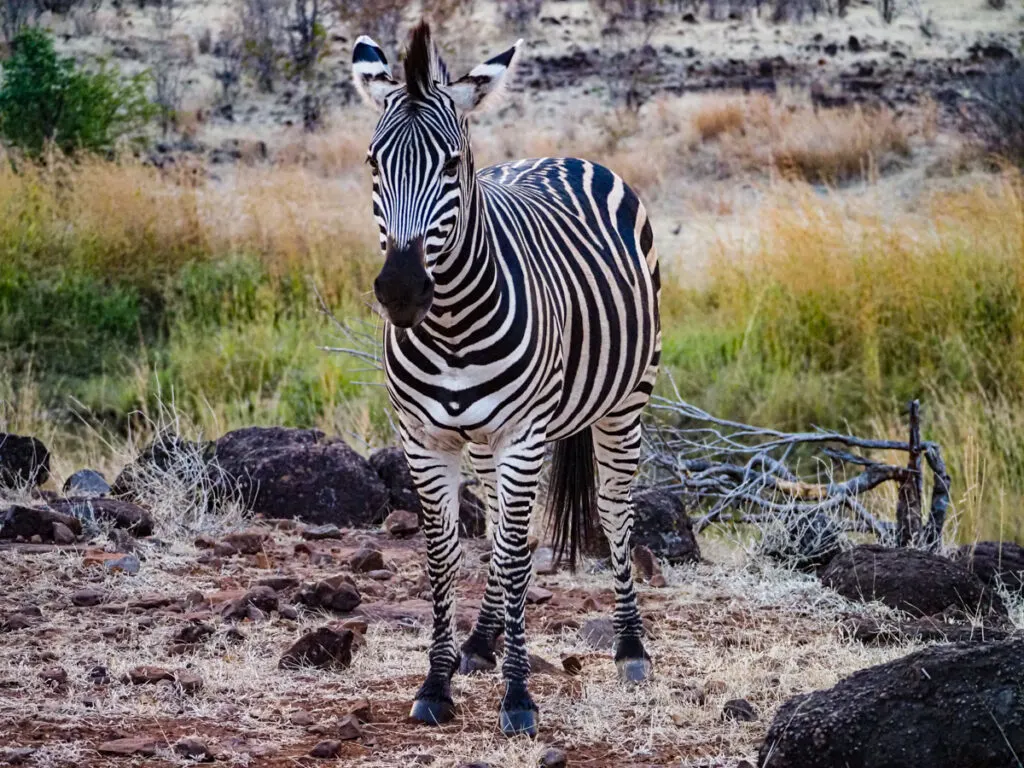 What Vaccines Do I Need for a South Africa Itinerary?
I highly recommend visiting with a travel clinic physician before leaving, especially if you're going on safari. Some vaccines are not readily available at your regular doctor's office. We just made sure our routine vaccines were up to date (Measles, mumps, and rubella, tetanus, polio, hepatitis B, and flu shot), then we also received the hepatitis A and typhoid vaccines. We were also prescribed antimalarials to take while on safari. Again, check with your medical professional and the CDC site (linked the exact page for South Africa here).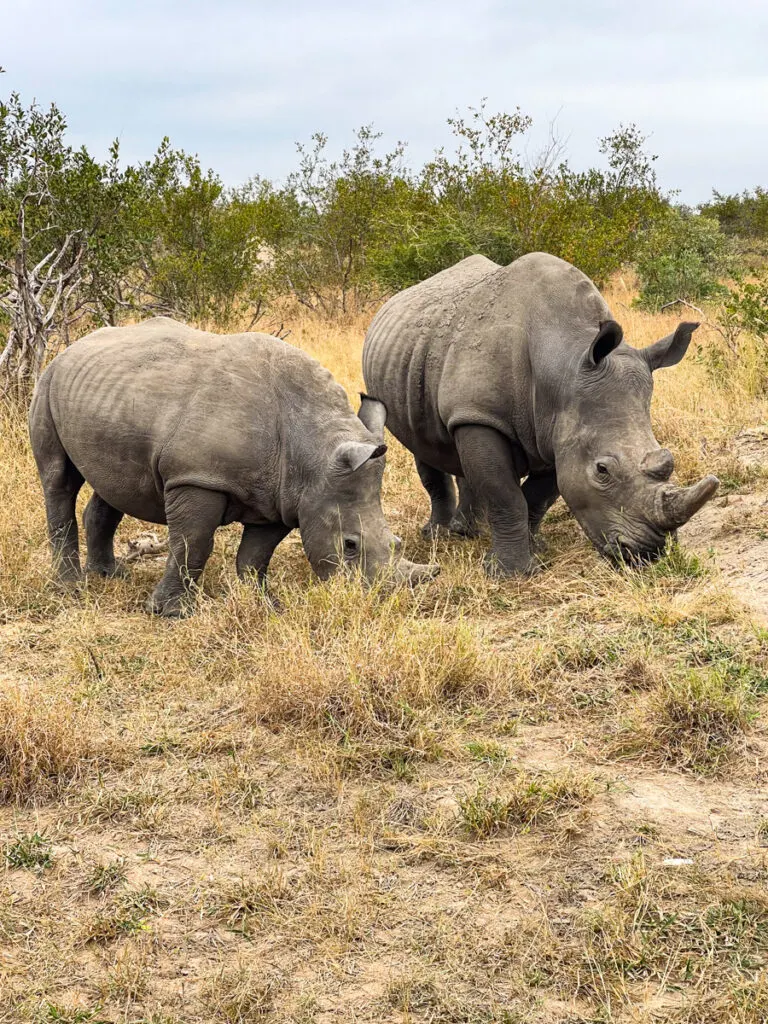 Do I Need Travel Insurance for My 2 Week South Africa Itinerary?
I highly recommend it, even if you are only going to spend 2 weeks in South Africa. Avoid potentially crippling debt if there is a medical emergency and/or you need to cancel your trip. As the saying goes, "If you can't afford travel insurance, you can't afford to travel." I love World Nomads as it is affordable (we paid around $140 per person for the Explorer Plan but the Standard Plan can be as little as $78 for 2 weeks in South Africa) and covers several types of activities, including trekking, safari, and even shark cage diving!
What do I Pack for a 2 Week South Africa Honeymoon Itinerary?
It can be incredibly challenging to pack for South Africa. With weight limits on your luggage for safari, needing clothes for safari, hiking, and clothes for city exploring, we definitely struggled- especially as we travel carry-on only! So here are our favorite items to pack for 2 weeks in South Africa in just a carry on: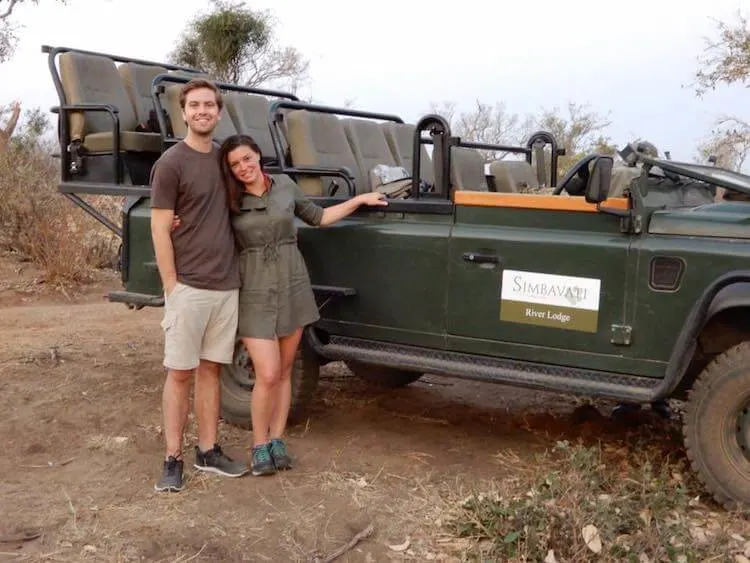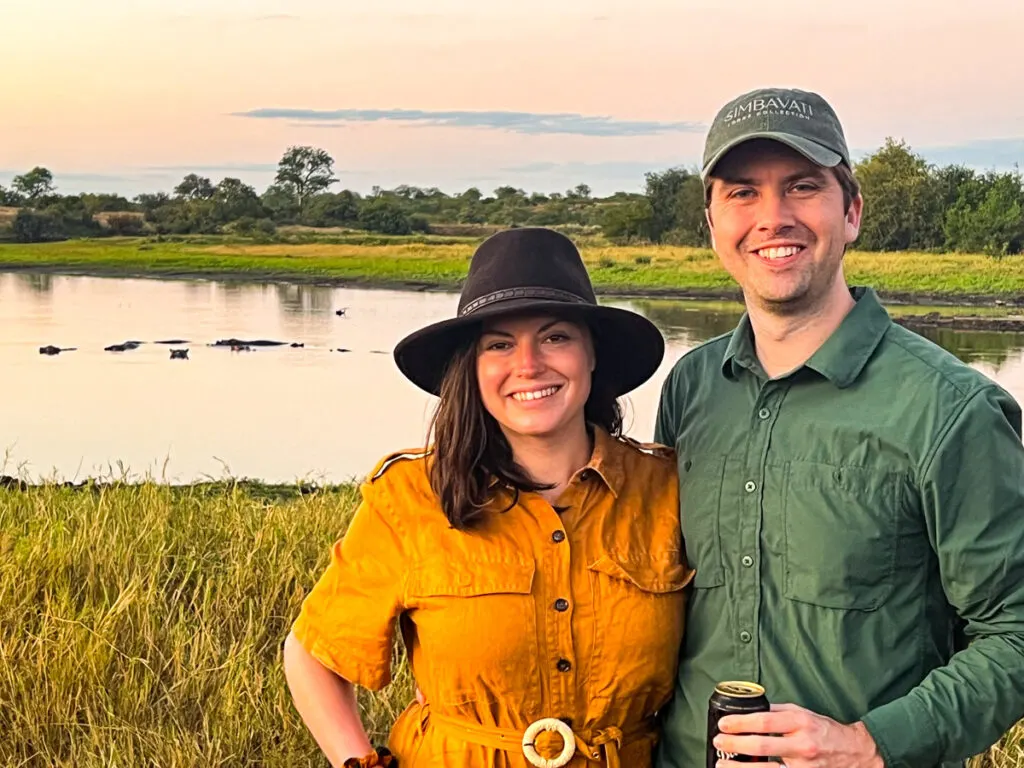 Women's Packing Guide for 2 Weeks in South Africa:
Let's start with shoes: I love my Ked's for exploring cities like Cape Town and Johannesburg, and cute sandals for sipping wine and taking photos in the Winelands. My Brooks running shoes doubled as a fantastic shoe for long safari drives and wandering along dusty paths.
As for bottoms, I packed 1 pair of jeans and 2 pairs of my favorite Lululemon leggings for hiking Table Mountain and going on a safari drive on chilly mornings. I did also have a good pair of zip-off hiking pants for when the mornings got warmer on safari. Also, stretchy, comfortable shorts are perfect for afternoon game drives in the heat, and I enjoy a good pair of jean shorts for warmer days in Cape Town.
I also loved bringing dresses, like this safari-inspired dress for a game drive and exploring Cape Town, and my favorite maxi dress for the Cape Winelands.
And don't forget tops! I love easy to mix and match tops like these solid-color earth-toned tops for safari game drives and doubled for exploring cities. But having a few cute tops and blouses for going out to dinner was nice too.
For chilly days, I love this olive jacket.
Don't forget to pack a swimsuit for the pool on those hot safari honeymoon days! I absolutely am obsessed with this one piece. Also, sunglasses are totally essential as the sun is bright, and if you're a hat person, who doesn't love a fun safari hat?
And in places like Cape Town or Johannesburg where pickpocketing can happen, I carried my favorite anti-theft crossbody bag to keep my things safe.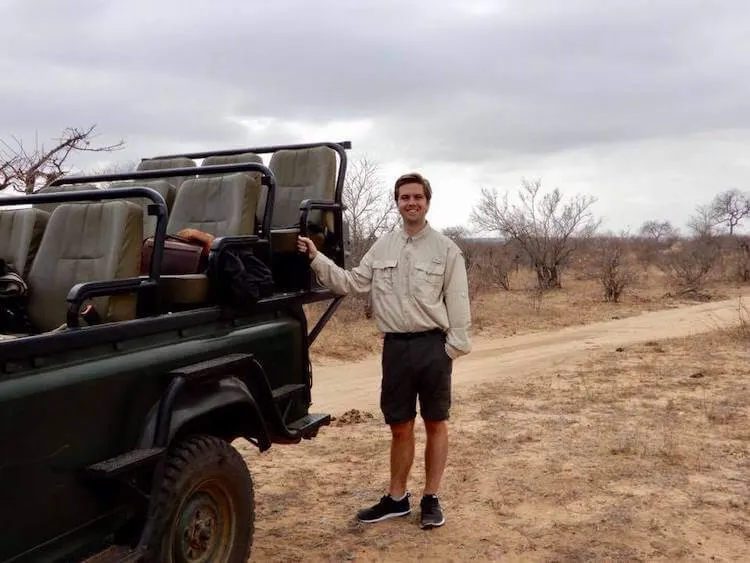 Men's Packing Guide for 2 Weeks in South Africa:
When I say Chris went nuts on his packing list for safari, I mean it. Not only did he rock the best hat, but he had plenty of great zip-off hiking pants and airy, long-sleeve shirts for the game drives. For cooling off in the pool, he definitely packed a pair of swim trunks!
He also wore his Brooks running shoes for safari and hiking and wore his loafers for city exploring. I also suggest packing a pair of jeans, a couple of pairs of shorts, some comfortable shirts for wandering around all day in Cape Town or Joburg and pack nicer polos or shirts for dinners out and the Winelands.
And don't forget a light jacket for cooler days!
Oh, and don't forget sunnies! To prevent pickpocketing, definitely opt for a money belt during your South Africa itinerary for 2 weeks.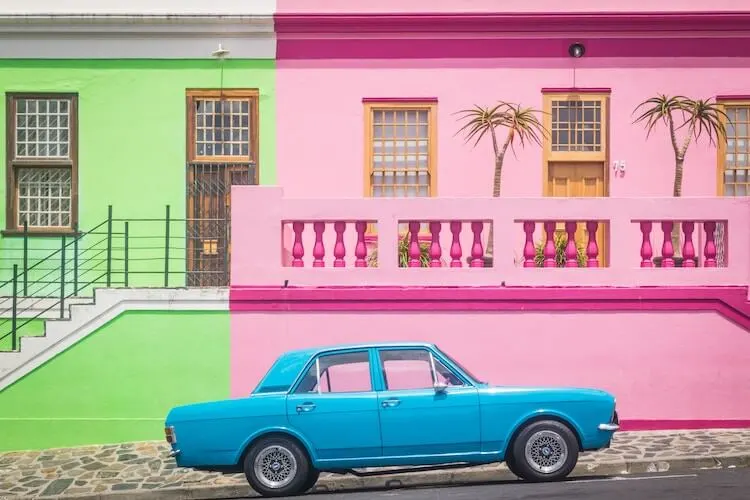 Other Essentials for a South Africa Two Week Itinerary:
I mean, you don't go all the way to South Africa and NOT take photos, right? If you love photography, I highly recommend the Olympic Mark III and pack a good zoom lens.
And for those wanting to film some incredible video footage on safari or shark cage diving, definitely opt for a great Go Pro.
Also, the sun is STRONG in South Africa (have I mentioned that)?! Definitely pack sunscreen. And, of course, to prevent bug bites from those pesky mosquitos, I love Badger Balm. I had a 100% DEET bug spray on the first day of safari and guess what? Got bit 3 times within walking out of my tent. I switched to a more natural product and no more bites. It's been Badger Balm ever since for us!
For charging your devices, be sure to get the right power adapter. As there are a few different potential plug types, I would be safe and bring this universal adapter.
And the last thing to pack for your safari part of your South Africa honeymoon itinerary: binoculars. We love our Bushnell Binoculars as it has a great zoom. There are things that may be further away, especially birds, that having binoculars is a great idea.
Have you been to South Africa? Where did you go? What would your ideal honeymoon itinerary look like? Let me know in the comments!
Want more honeymoon ideas? Check out these posts!
Pin it here!