Some posts on this site contain affiliate links, meaning if you book or buy something through one of these links, I may earn a small commission (at no additional cost to you!). Read the full disclosure policy here.
---
France is magical. Of course, when most people think of France, they think of Paris. And believe me, Paris is incredible no matter when you go. I've visited Paris in January, in the springtime, fall, and summer, and each time, I leave longing to return. But France is more than Paris! If you have 7 days in France, either for a fun trip or a honeymoon, you'll want to get out and explore all that this country has to offer!
And trust me, there is a LOT to see!
I lived in Grenoble during my semester abroad and barely scratched the surface of this country. I even visit several times a year for my new blog, France Voyager to see more. There are historic caves, D-Day beaches, exciting cities, tasty wine regions, adventurous mountains, and a glorious Mediterranean coastline. And no, with a France itinerary of 7 days, you probably won't see it all, but you can certainly check off a few of these items!
So check out the perfect way to see France in 1 week!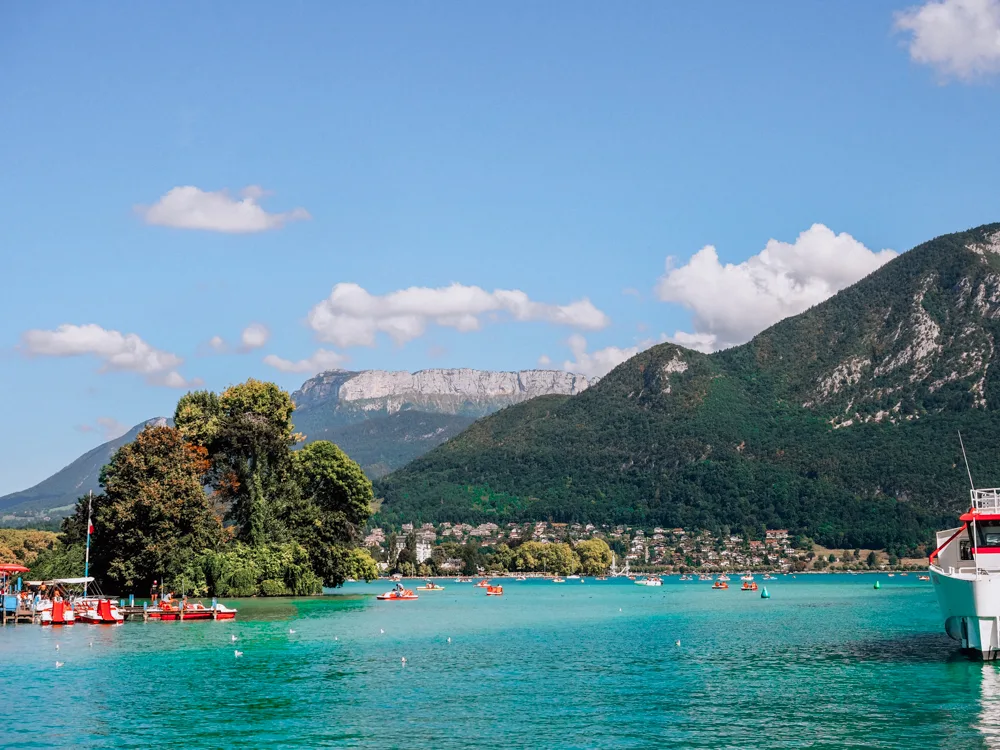 Check out our podcast episode all about Paris!
The Perfect France Itinerary in 7 Days
When it comes to planning the perfect France itinerary in 7 days, we've got you covered. I love France so much and feel that this is the perfect way to see it! From exciting cities to mountains, and even the beach, here is the France trip itinerary of your dreams.
Here is a quick look at the ultimate France in 7 days trip:
Day 1: Explore Paris including the Louvre, Musee d'Orsay, and the Eiffel Tower
Day 2: Musee Rodin, Musee de l'Orangerie, and a Food Tour
Day 3: Day trip from Paris of your choice
Day 4: Arrive and explore Lyon
Day 5: Visit Annecy
Days 6-7: Explore Nice including the beaches
For more information, keep reading below!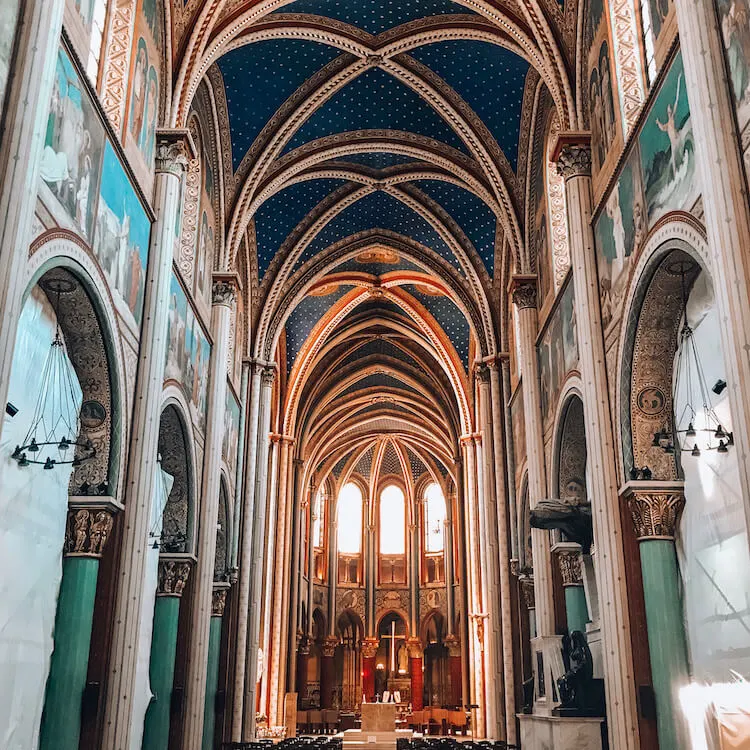 Day 1: Explore Paris including the Louvre, Musee d'Orsay, and the Eiffel Tower
As you'll likely be flying into Paris to start your tour around France, you may as well check out this eclectic world-renown city.
And the reason that it takes up almost half of your week in this France itinerary is that there is so much to do here! While I have a whole guide up about travel to Paris in 4 days as well as a podcast episode about travel to Paris, France, here are some key things you'll want to see and do during your short visit to Paris for your France trip itinerary.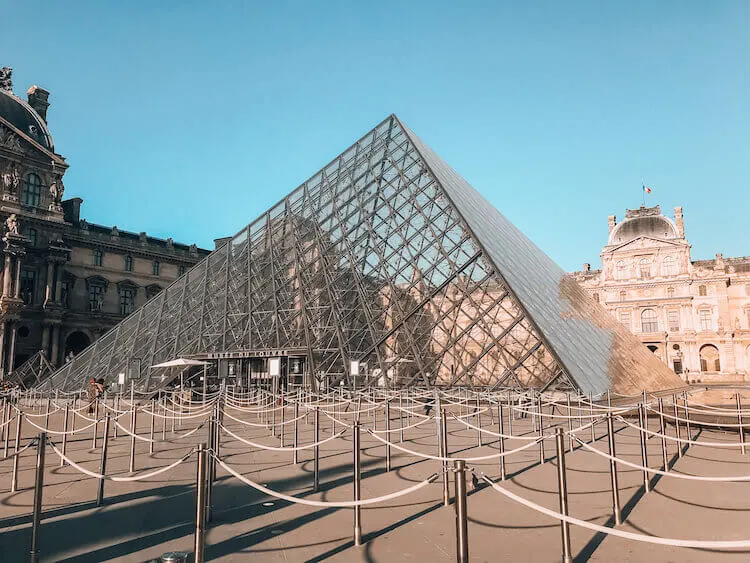 If you really only have 3 days staying in Paris, the first day has to be about seeing the main sites of course!
And by this, I recommend heading to the 1st arrondissement and visiting the main attractions. If this is your first time in Paris, you've got to check out the Louvre. The architecture alone will blow your mind, and even while I think the Mona Lisa is overrated and far too crowded, there are some truly magnificent pieces of art there that you'll love to check out!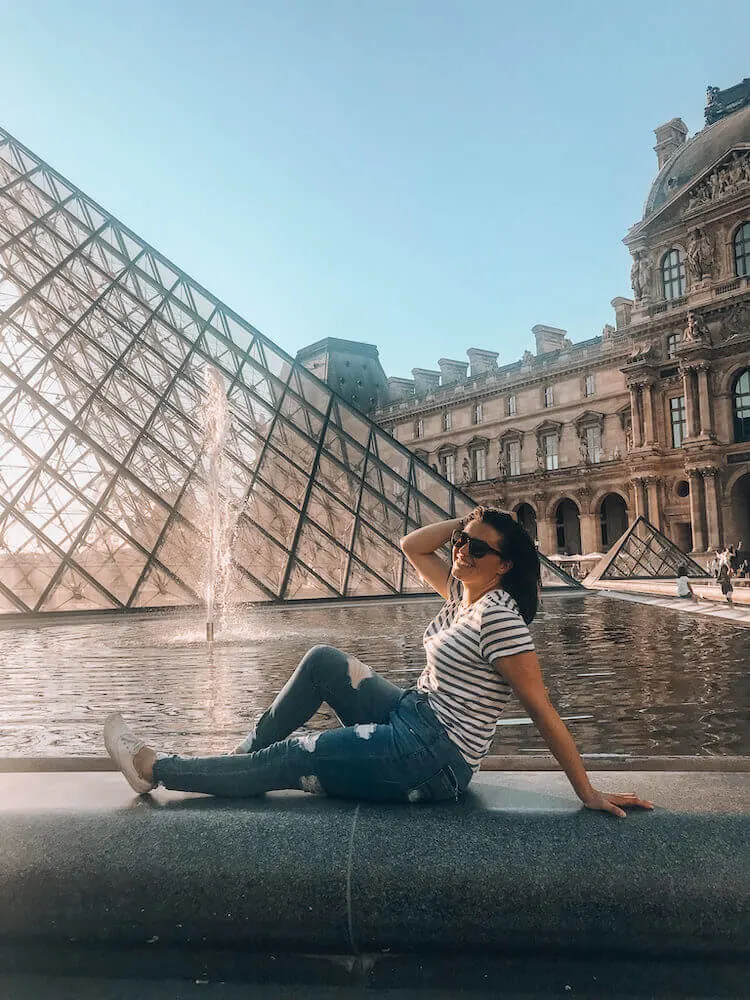 But definitely book your ticket ahead of time. Those lines can be no joke! Get a timed entry ticket instead and skip the lines to see everything. Also, go as soon as it opens to avoid the crazy mid-day crowds!
Next up, head to Palais Royal for an exciting photo opportunity with these columns!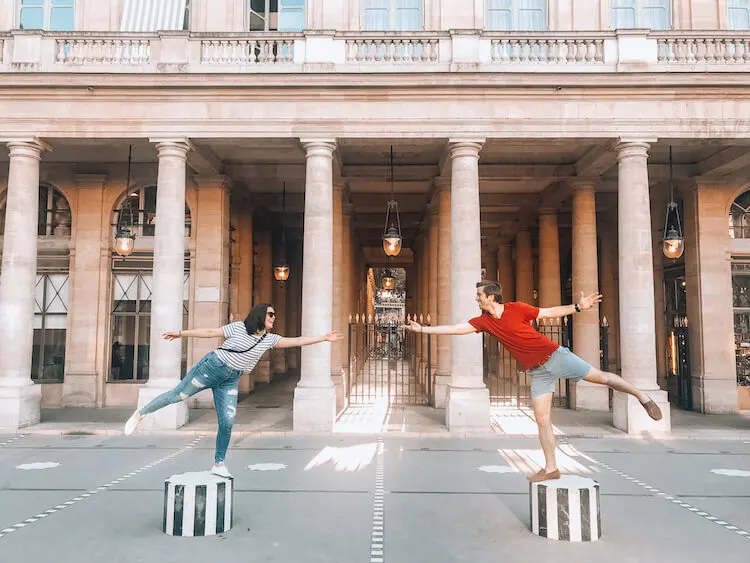 And for the stunning impressionist paintings of Monet and Degas head across the river to Museum D'Orsay. Another popular museum in Paris, D'Orsay may be a museum you'd like to purchase a ticket in advance for as well. But explore this old train station-turned museum filled with famous paintings like Van Gogh's Self Portrait, Bal du Moulin de la Galette by Renoir, and even The Cardplayers by Cezzane.
And after those two museums, things do start running together. So at this point, it is time to get some fresh air and wander along the Seine River to the Eiffel Tower.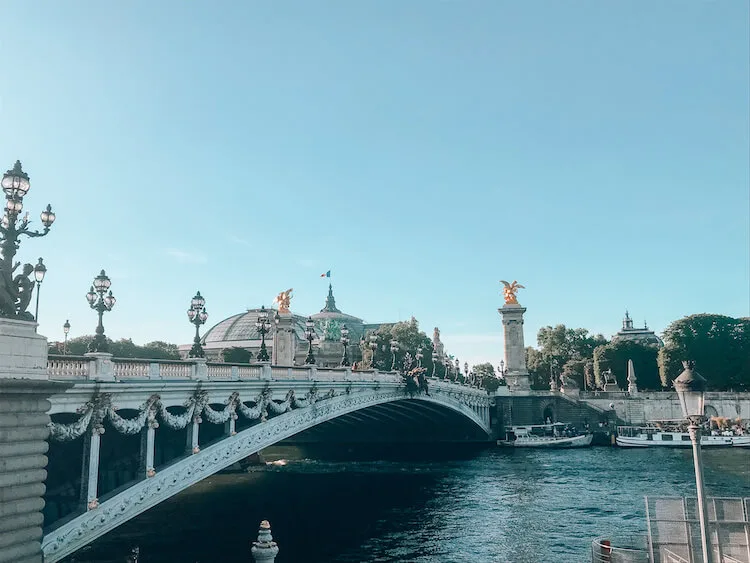 Okay, I've been to Paris several times and have never actually been up in the Eiffel Tower. I figure, doesn't the best view of Paris include the Eiffel Tower? But my parents went this past September and enjoyed the views from it, so if you've got the time and extra cash, why not?
For those who'd love a great view of Paris with the Eiffel Tower, head to Bar Perruche instead. The drinks are overpriced, but the views of the city are incredible!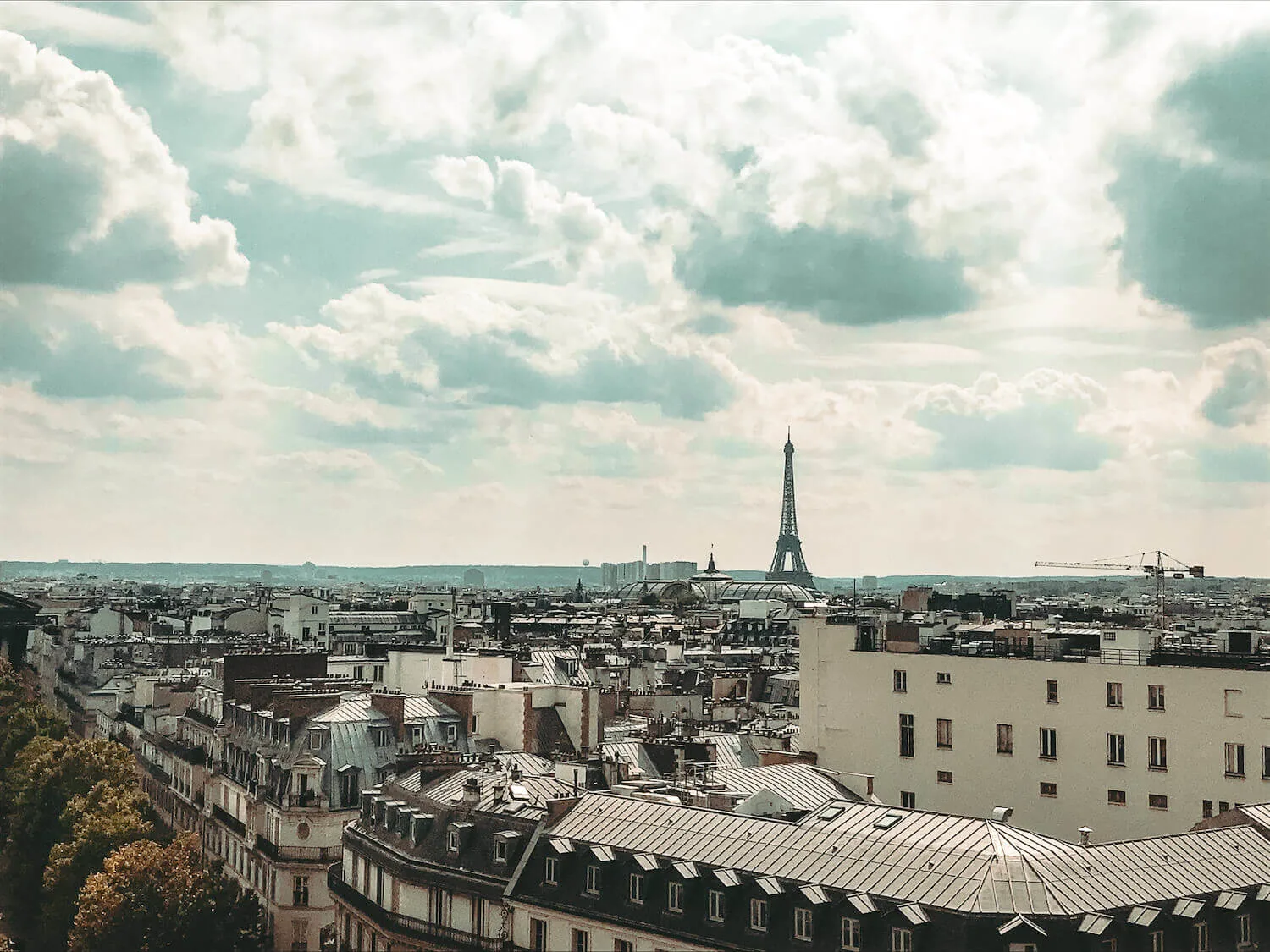 Hours & Admission for Places in Paris on Day 1:
Louvre Hours: Monday, Wednesday, Thursday, Saturday, and Sunday from 9 am-6 pm, and Friday 9 am-9:45 pm. Closed on Tuesdays.
Louvre Prices: €15 ($16.50) at the museum, $18 for a timed entry ticket from Get Your Guide.
D'Orsay Hours: Tuesday-Wednesday and Friday-Sunday 9:30 am-6 pm, Thursdays 9:30 am-9:45 pm. Closed on Mondays.
D'Orsay Prices: €14 ($15) at the museum, $18 to purchase a skip-the-line ticket on Get Your Guide. Check other rates on their website.
Eiffel Tower Hours: Open Daily. Mid June-early September Lift & Stairs 9 am-12:00 am, Rest of the Year Lift 9:30 am-11:45 pm, Stairs 9:30 am-6:30 pm.
Eiffel Tower Prices: Prices vary based upon which level you go on and whether you take the lift or stairs. Prices start at €11.30 ($12) Check all rates on their website.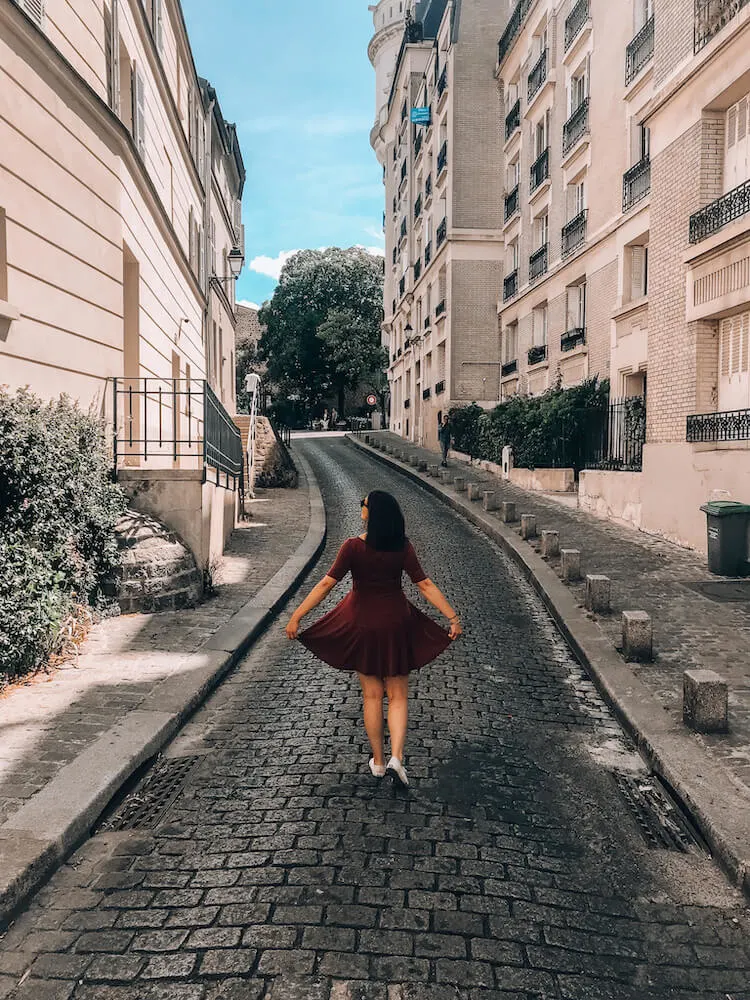 Day 2 of Your 7 Days in France Itinerary: Food and Smaller Museums
On your second day in Paris, I would recommend heading to a smaller museum (or two) like the Rodin Museum for fabulous gardens and sculptures or Museum L'Orangerie for the iconic Monet Water Lilies paintings.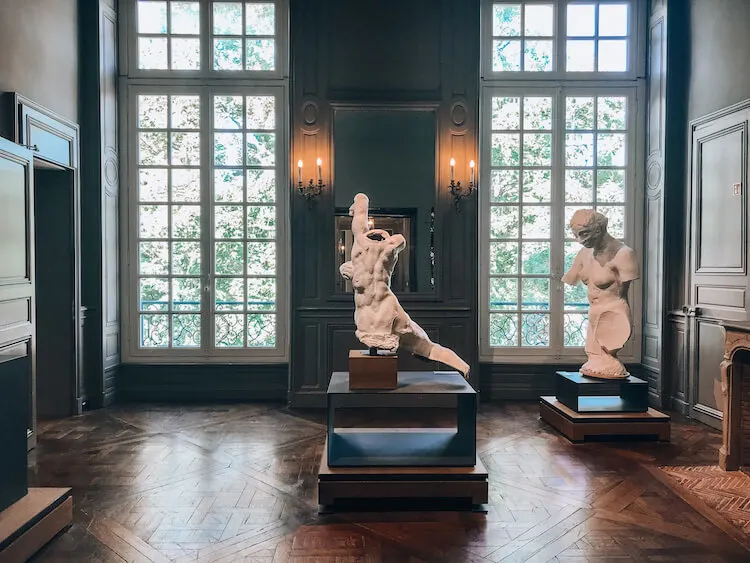 After those magical museums, wander past the Tuileries garden before starting a food tour!
Because, what better way to enjoy your 7-day tour of France than with some of France's best food?
We loved the Secret Food Tour of the Le Marias neighborhood, where we went to a local café for a coffee and croissant, a top boulangerie for baguettes, the most adorable covered market for cheese and wine, and so much more. I love food tours because it is basically a walking tour with food and booze.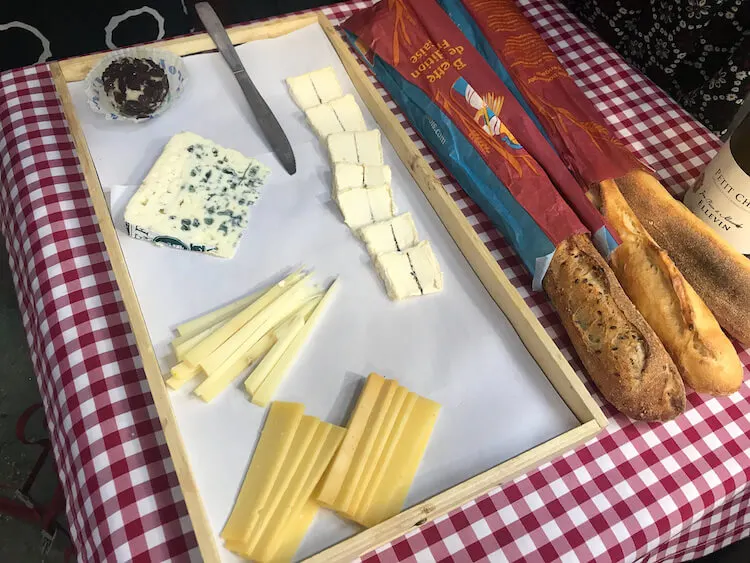 There is also a Montmartre neighborhood food tour too if you'd prefer to check out that neighborhood!
Hours and Admission for Day 2:
Rodin Museum Hours: Tuesday-Sunday 10 am-6:30 pm. Closed on Mondays.
Rodin Museum Prices: €13 ($14) for a ticket at the museum.
Museum L'Orangerie Hours: Wednesday-Monday 9 am-6 pm. Closed on Tuesdays.
Museum L'Orangerie Prices: €12.50 ($13.50) at the museum. Check their website for other reduced rates.
Food Tour Le Marias Times/Prices: It starts at various times and costs $121.
Montmartre Food Tour Times/Prices: It starts at various times and costs $121.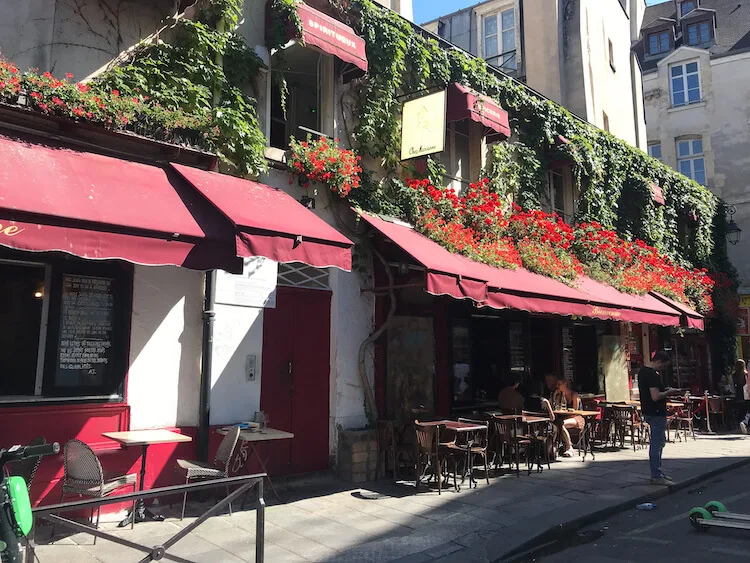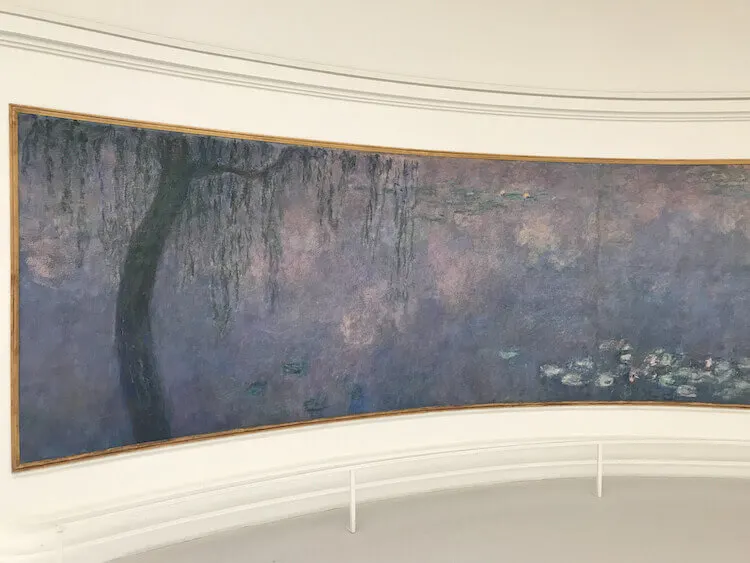 Day 3: Day Trip From Paris
Now that you've gotten a great feel of Paris, I highly suggest spending this day taking a day trip from the city!
There are seriously several day trip options from Paris, but I think the top three are:
I have a whole post about the day trip we took while we were in Paris to the Loire Valley, but I seriously cannot recommend this trip enough!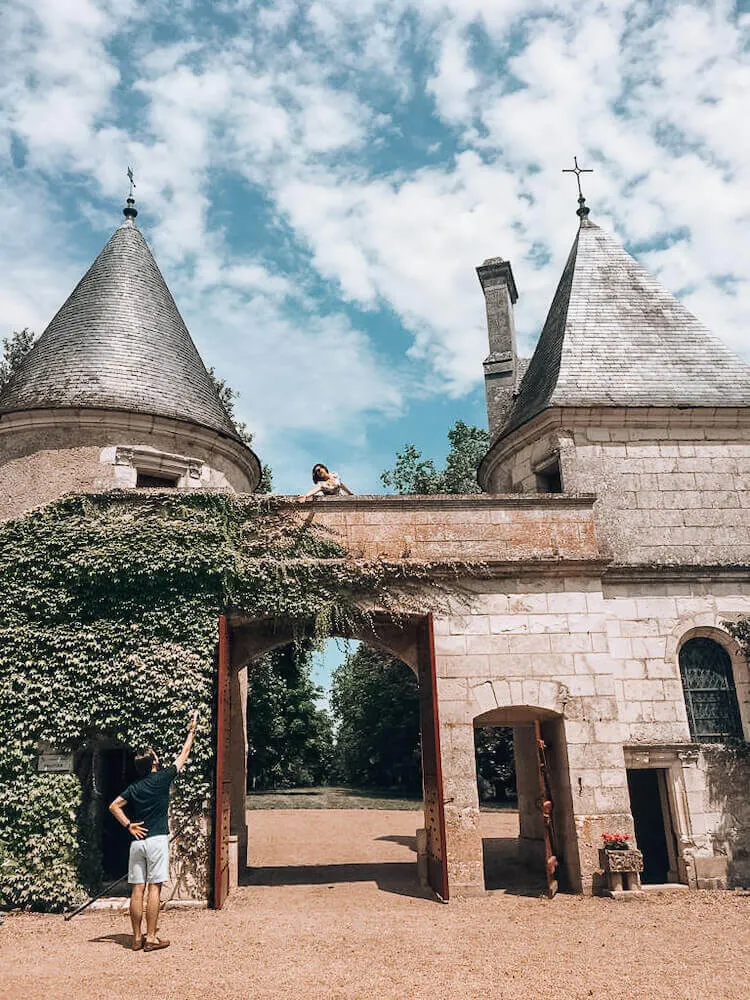 With visits to 2 dreamy castles, a wine tasting at a castle plus lunch in Blois, it was a great day trip to get a feel for the history, castles and even wine from this region of France. Here is the tour we took with Get Your Guide and we absolutely loved it! While pricier at about $162 per person, it includes the transfer from Paris, entrance to all the castles, a guide, and wine.
Another day trip includes a visit to the Palace of Versailles, prior home to the famous Marie Antoinette which has a ton of history! If you'd prefer to stay closer to Paris, this is a great option to book a tour of Versailles. The cost is $118 per person and is a bike tour which includes train tickets to Versailles, the bike, a guide, a garden ticket, entrance to the chateau itself as well as the Grand and Petit Trianons and Marie Antoinette's Hamlet.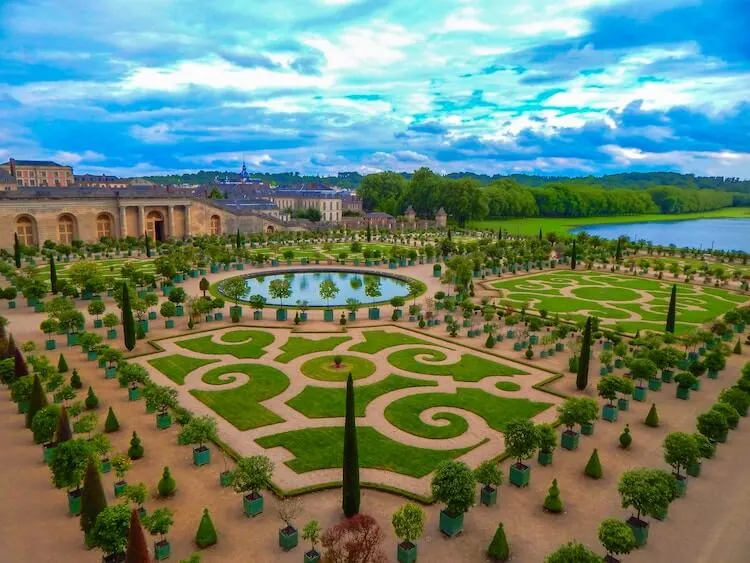 And of course, the iconic abbey on a hill, Mont St. Michel is mystifying. Explore the dreamy, winding streets and pathways, and enjoy this architectural marvel in the Normandy region of France. A day trip is $141 per person and is full of stunning views!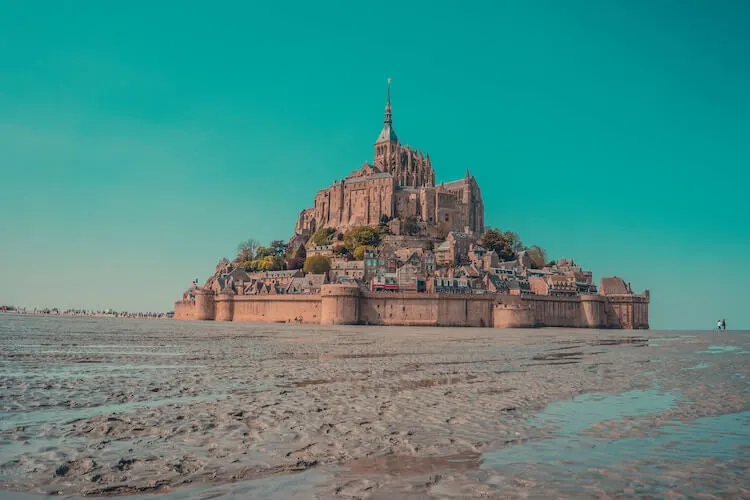 After your fabulous day trip, spend one last night in Paris before departing for the next part of your 7-day tour of France!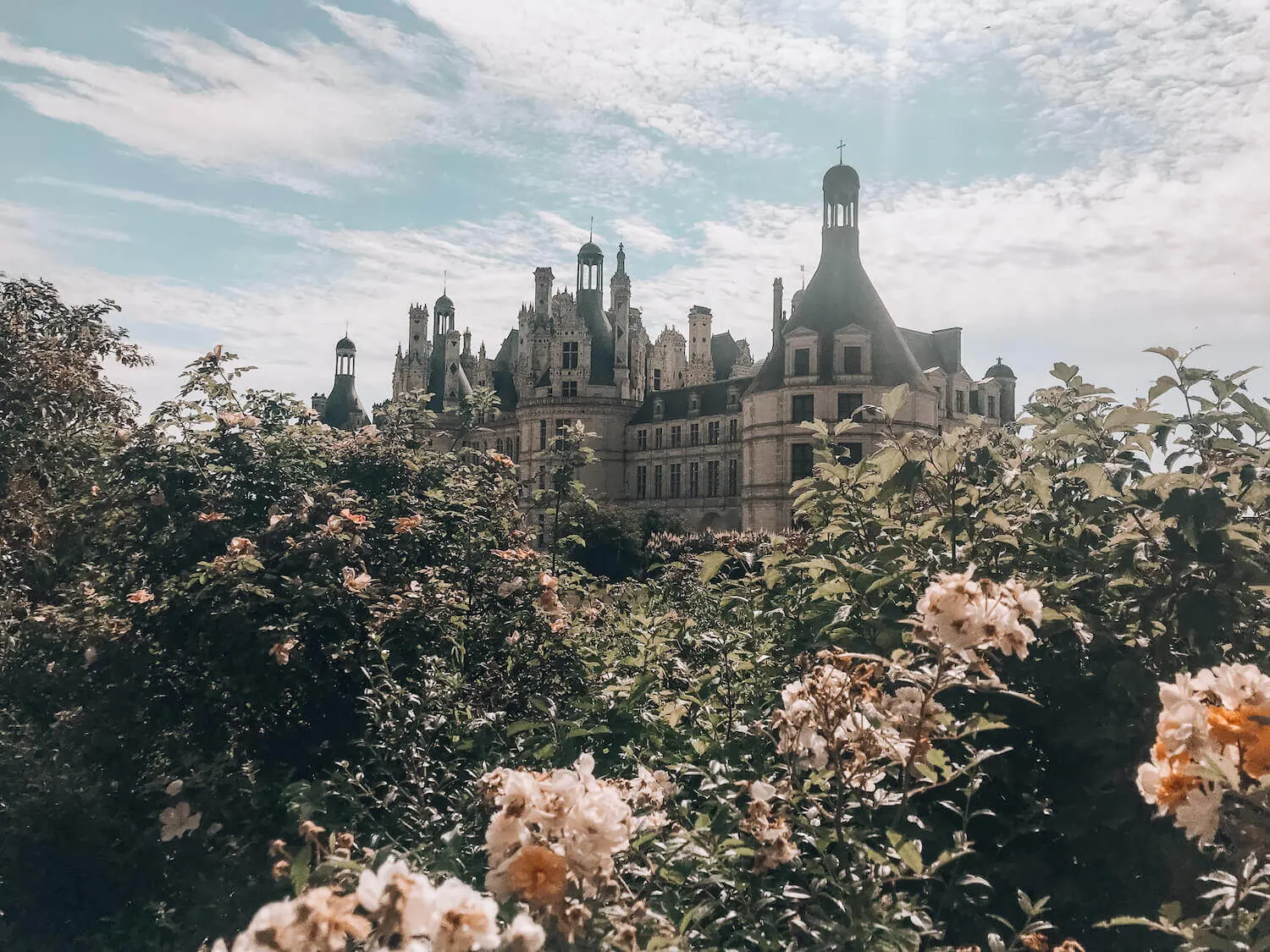 Where to Stay in Paris:
Budget: Hotel du Printemps
My parents stayed here in September and raved about it! While further from the downtown area, it is a short metro ride away and in a super local area. The boulangerie next door has delicious baguettes each morning, with a line out the door of locals I might add- so you know it's good! And they loved the restaurants in the area. The hotel itself has great service and comfortable rooms for your stay!
Read reviews on TripAdvisor and book here!
Mid-Range: Hotel des Artes-Montmartre
Located in Montmartre, you're in a delightful neighborhood at this hotel. The hotel also has great amenities like a gym, hammam, and a lovely bar/lounge.
Read reviews on TripAdvisor and book here!
Luxury: Grand Hotel du Palais Royal
As the name says, you'll be right next to Palais Royal and the Louvre in the 1st Arrondissement! Enjoy the Turkish bath, spa, fitness center at the hotel, and fall in love with the beautiful, light-filled rooms with a balcony.
Read reviews on TripAdvisor and book here!
Days 4 of Your France Itinerary: Lyon
When it comes to what to see in France in 7 days, Lyon is kind of under the radar. But that's why is it so special. As the capital city of France's Rhone-Alpes region and the gastronomic capital of France, it is a great place to base yourself for a couple of days!
To get to Lyon from Paris, you could rent a car, take the train, or fly.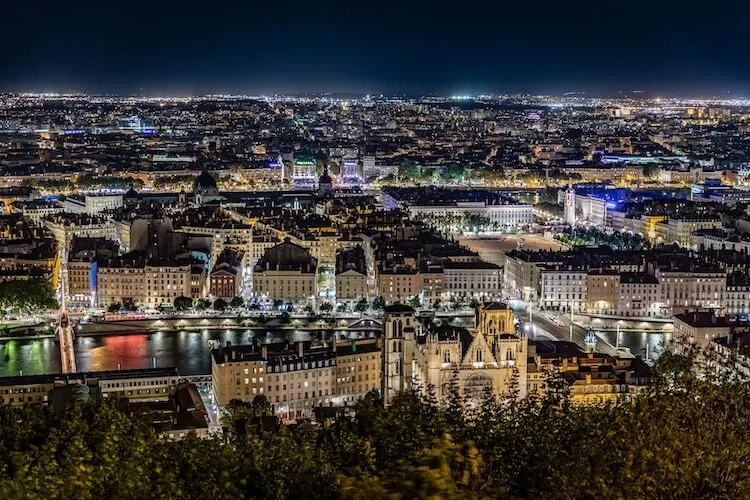 While I definitely think a France road trip is a great idea, if you only have 7 days in France, it may be a better idea to take the high-speed train or fly to these places, especially as it takes 5 hours to drive from Paris to Lyon.
On Skyscanner, flights from Paris to Lyon are about $100 per way or less and the flight time is about an hour.
But of course, once you factor in getting to the airport, going through security, getting from the airport in Lyon to downtown, etc. you're looking at a 4-hour commute.
So that also leaves us with the train! The TGV is France's high-speed train, and it is a great way to get around! For around $50 per way, you could zoom from downtown Paris to downtown Lyon in just under 2 hours! I love booking my train tickets around France on The Trainline for the best prices and schedules. Check train times and prices here!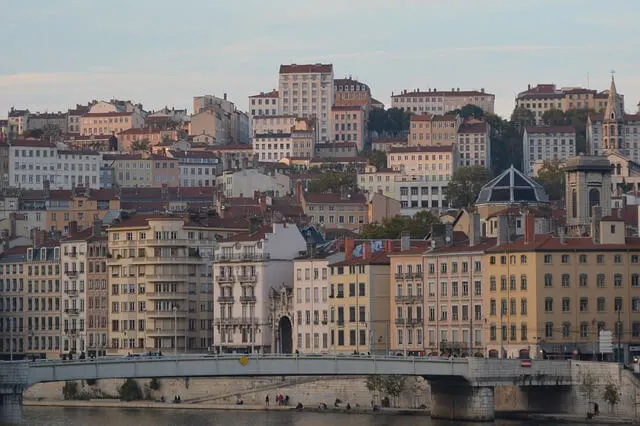 I recommend an early train ride to Lyon, which will get you there around 8:30 in the morning. Once you've dropped your bags off at your hotel, it is time to explore this lovely French city!
Start out in the Vieux-Lyon part of the city, with a history dating back to the 15th century, when the silk industry started and thrived for hundreds of years! This is also a UNESCO World Heritage Site.
There are plenty of historic churches, cathedrals, and even a street called Rue Juiverie that dates back to Roman times!
Be sure to check out the Lyon Cathedral (or St. Jean Cathedral), a gothic cathedral built between the 12-15th centuries, with an astounding astronomical clock.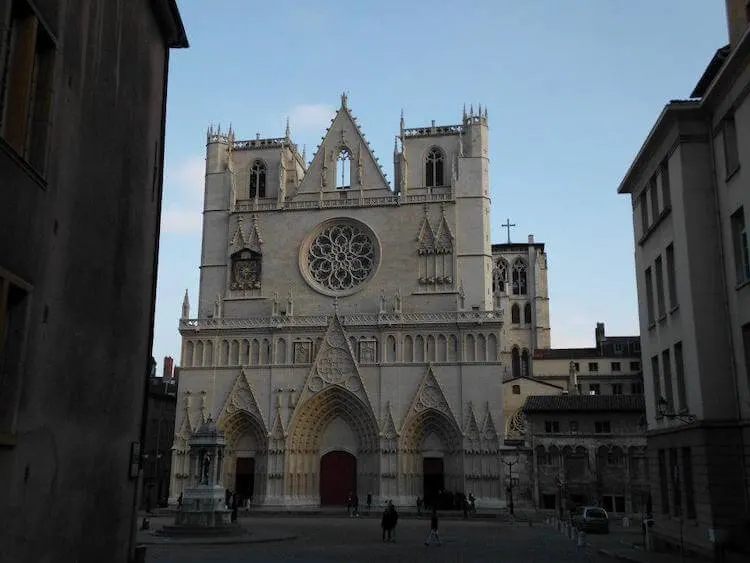 Then, head over to the Ancient Theatre of Fourviere. This Roman theatre was built over 2,000 years ago, making Lyon a fantastic place to view Roman ruins. Explore the ruins and museums during your time in Lyon.
But the best thing you can do in Lyon… is to eat! As the gastronomic capital of France, Lyon is famous for its cuisine. Pop in pastry shops, dine in cafes or take a guided food tour to experience the best food in Lyon.
Famous for food such as various sausages like Rosette Lyonnaise, Saucisson de Lyon, and Andouillette (a sausage made of tripe) as well as Coq au vin, Lyonnaise potatoes (pan-fried potatoes with onions and butter), eating your way around Lyon is the way to go to get the experience of French cuisine.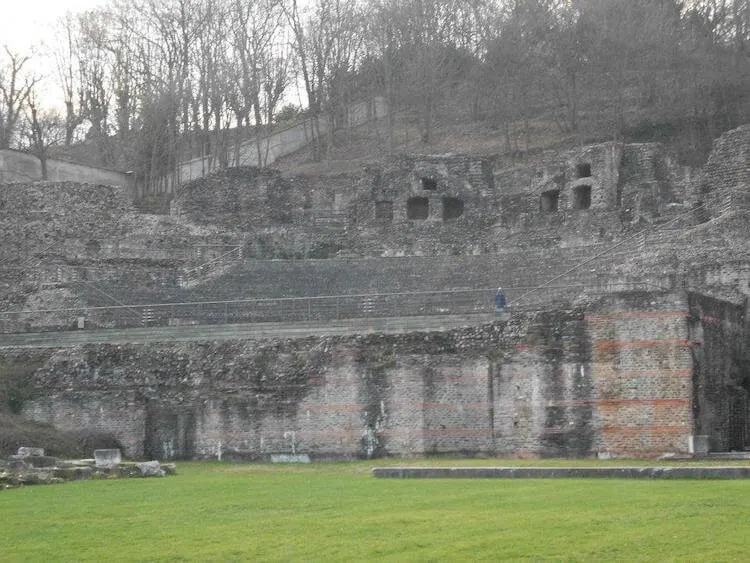 And to end the day in Lyon, you'll want to do a stunning river cruise with dinner. Enjoy the sunset or city lights from the water while learning about the history and viewing majestic landscapes.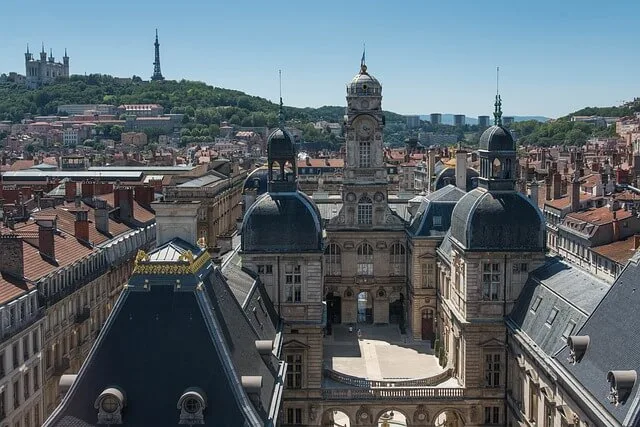 Hours and Admission for Lyon:
Lyon Cathedral Hours: Tuesday-Friday 8:30 am-7:30 pm, Saturday from 8:30 am-7 pm, and Sunday from 8 am-7 pm.
Lyon Cathedral Prices: Free
Ancient Theatre of Fourviere Hours: Museum: Tuesday-Friday 11 am-6 pm, Saturday-Sunday 10 am-6 pm. Theatre: May 2-September 30: 7 am-9 pm, October 1-April 30: 7 am-7 pm.
Ancient Theatre of Fourviere Prices: €4-7 ($4.50-8). Check the website for reduced admissions.
River Cruise Times/Prices: It starts at 8 pm and costs $81.
Food Tour Times/Prices: It starts at various times and costs $92.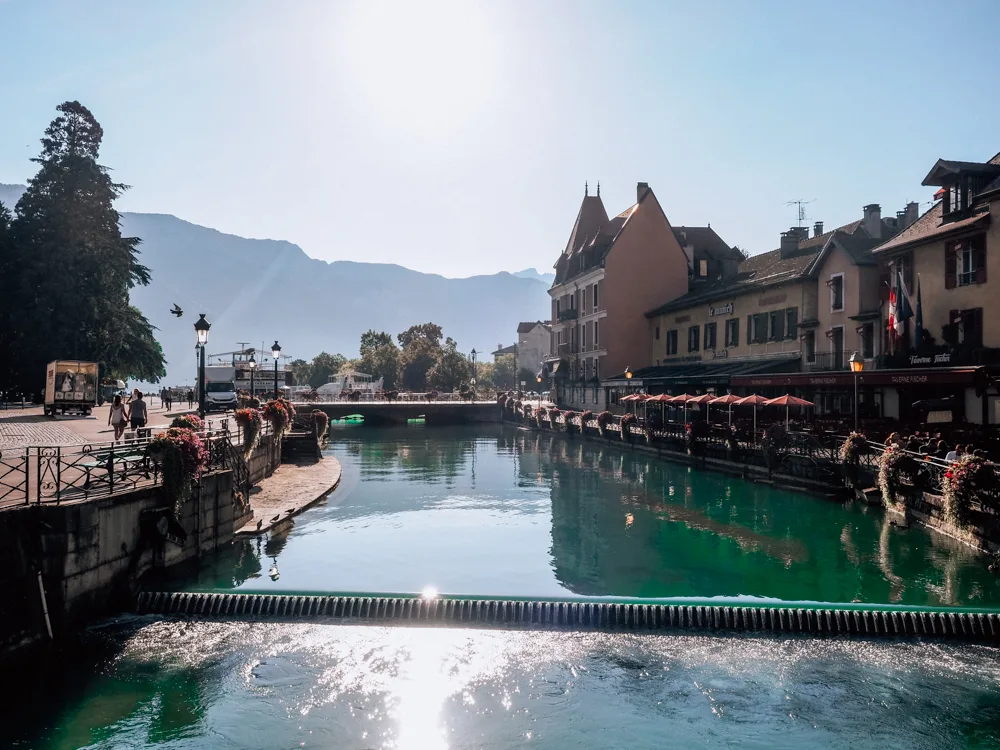 Day 5: Visit Annecy
Now that you've seen Lyon, I recommend using it as a base for a day trip this day. As the capital of the Rhone-Alpes region, you've seen the river…now it is time to see mountains!
And what better way to do that than heading to the cutest French alpine town: Annecy.
Annecy will steal your heart. When I lived in Grenoble, we would take the train here and wander around for hours. This adorable town is known as the "Venice of France" with cute canals. But the best part is wandering over to the alpine lake that is surrounded by stunning mountains.
Annecy is only a 2-hour train ride from Lyon, making it a great day trip option. For about $67 per person round-trip on The Trainline, you could take a train there in the morning, watching the beautiful mountains and lakes as you ride to Annecy, and take the train back in the evening.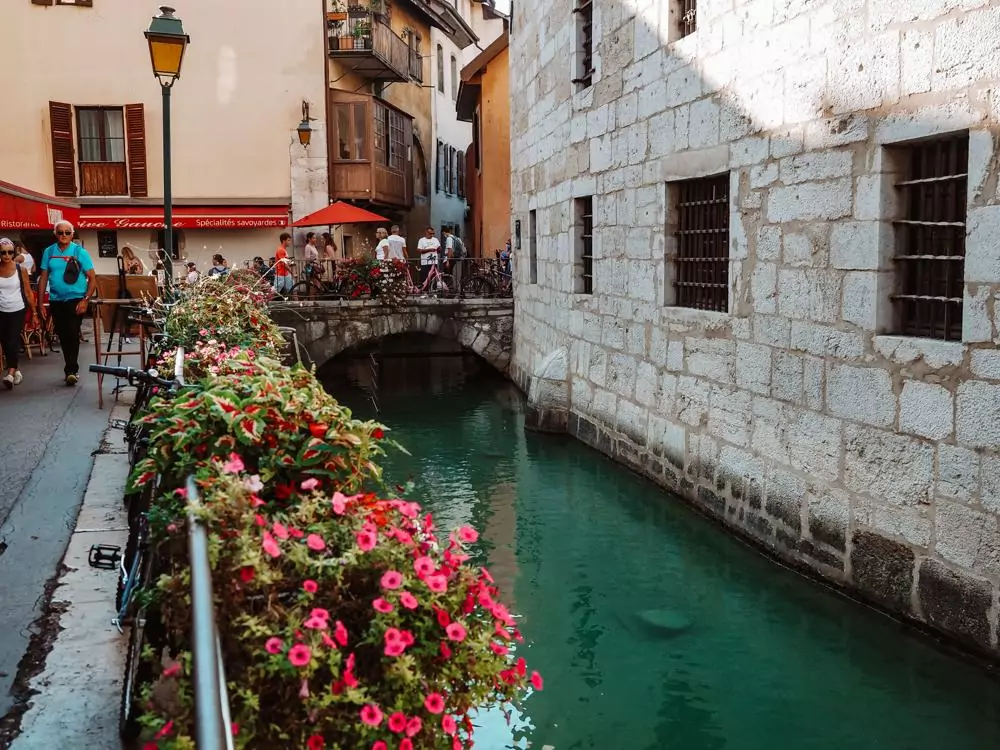 While you're there, check out the Annecy Castle Museum, which was once a residence for the Counts of Geneva in the 13th and 14th centuries.
Then, check out the best little place in Annecy: Palais de L'Isle. This tiny place was a former medieval castle and prison before becoming a small history and art museum. It is located in the middle of the Thiou canal too!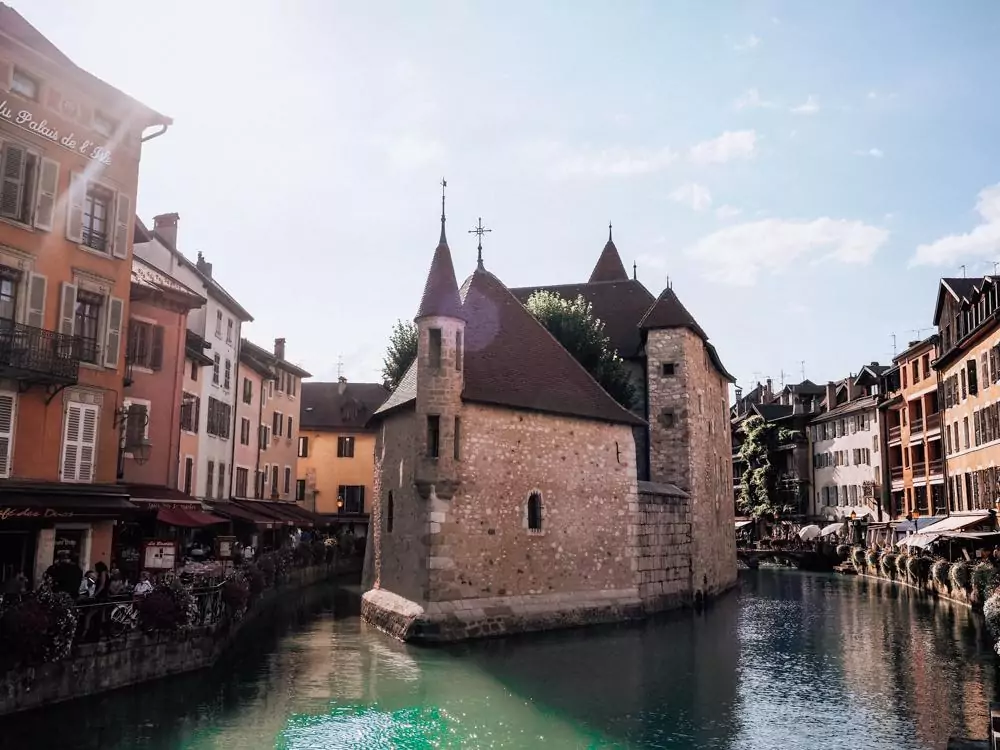 If you go in the spring or summer, definitely take a paddleboat out on the lake, bike around the lake, or stroll along the famous canals.
And if you're up for a hike, Mount Veyrier is a great hike that starts from the town of Annecy and ends with a fantastic view of the lake! It takes about a few hours to complete this hike.
Then, after all of the walking, you've earned some French hearty alpine food! Raclette (a semi-hard cheese that is placed under a heat lamp and then you scrape the melty cheese on potatoes, gherkins, etc.), Tartiflette (a tasty, cheesy potato dish with bacon, cream, onions, and wine), or my favorite, Fondue Savoyarde that you can dip bread in, are perfect foods to try here! Head to L'Etage for all of the above! Note that you'll likely have to go for lunch here as you'll need to get the evening train back to Lyon.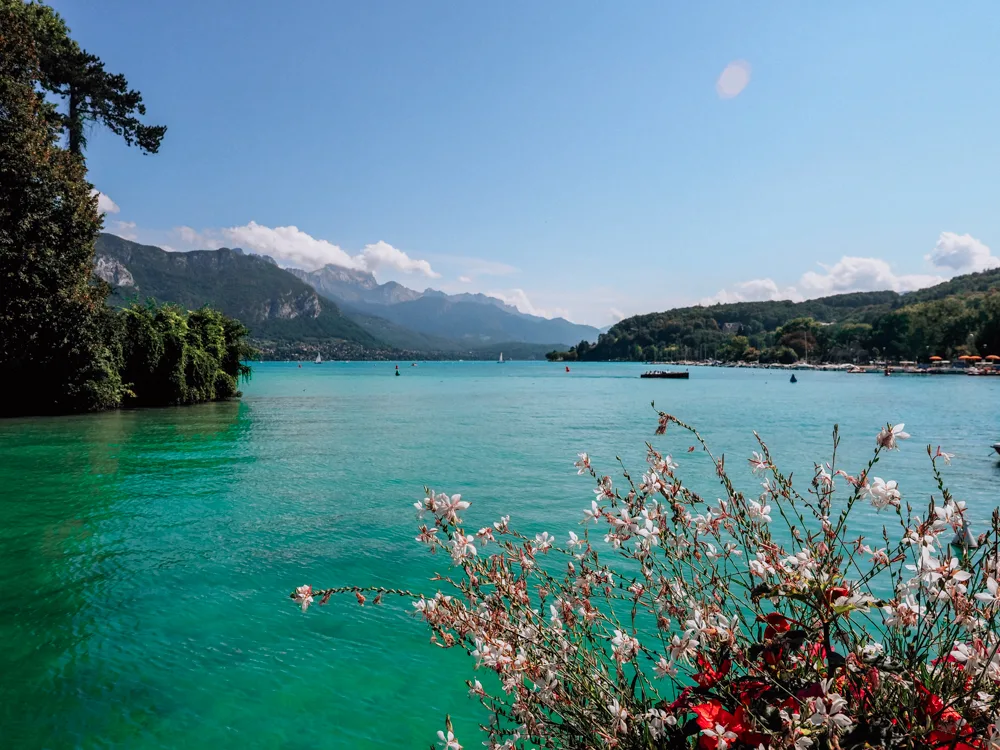 Once you've enjoyed your time in Annecy, it is time to wrap up your time in the Alps, head back to Lyon, and prepare for the last stop of your one week in France.
Hours and Admissions for Annecy:
Annecy Castle Museum Hours: June-September open daily 10:30 am-6 pm. October-May Wednesday-Monday 10 am-12 pm, 2-5 pm and closed on Tuesdays.
Annecy Castle Museum Prices: €5.60 ($6).
Palais de L'Isle Hours: June-September open daily 10:30 am-6 pm. October-May 10 am-12 pm, 2-5 pm and closed on Tuesdays.
Palais de L'Isle Prices: €3.90 ($4.25).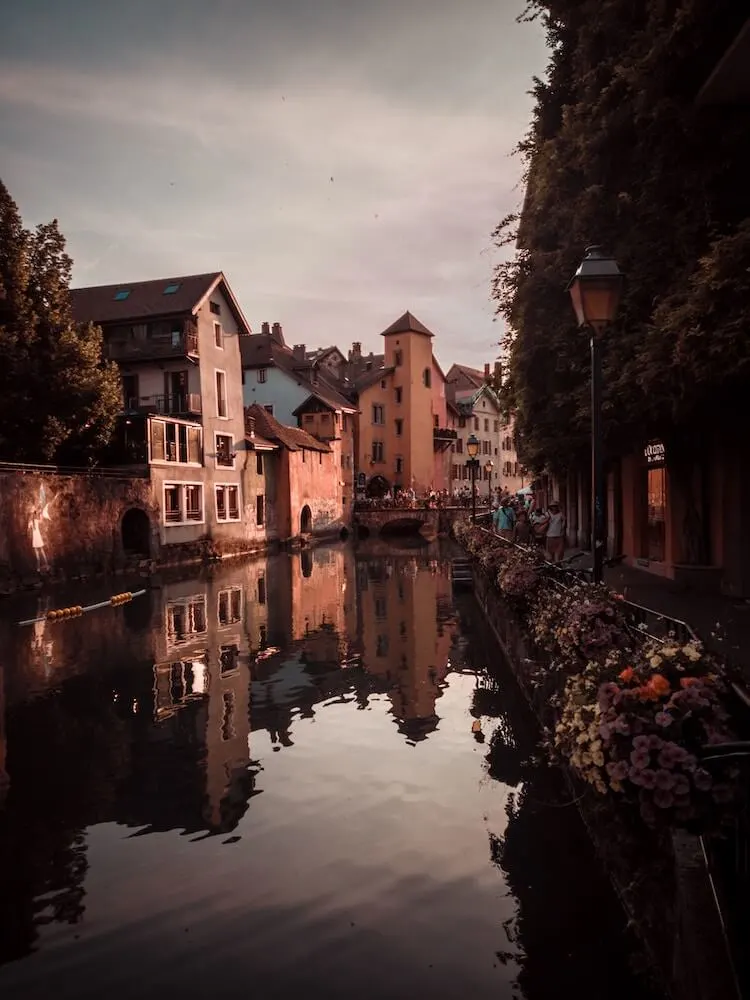 Where to Stay in Lyon:
Budget: Elysee Hotel
Located in a fantastic area with bars and restaurants, and across the bridge from Vieux-Lyon, you'll be perfectly comfortable at this hotel.
Read reviews on TripAdvisor and book here!
Mid-Range: Mercure Lyon Centre Beaux-Arts Hotel
Also across the river from the old part of the city, this hotel is perfect for sightseeing as well as dining out. With many gastronomy restaurants and shops around, you'll find so much to do in this area. The rooms are also gorgeously decorated with plenty of space to stretch out during your stay.
Read reviews on TripAdvisor and book here!
Luxury: Cour des Loges
Well, if there is one place to splurge during your 7 days in France, this is it. This hotel will put you back in time and fill you with wonder with its delightful furnishings, pool, and fantastic bar and lounge. They even have a Michelin-starred restaurant, bar and cigar room, hanging gardens, and more!
Read reviews on TripAdvisor and book here!
Days 6-7 of Your France Itinerary of 1 Week: Nice
Now that you've seen the bustling and romantic city of Paris, historic and tasty Lyon, and admired the lovely town of Annecy, it is time to wrap up your trip to France with some time at the beach!
I love Nice. I traveled there a few years ago and thoroughly enjoyed it. With its delightful beaches, tasty seafood, and, of course, rosé wine, what's not to love?
To get to Nice, take the morning train (around $40 and 4 hours long on Trainline) and arrive before lunchtime.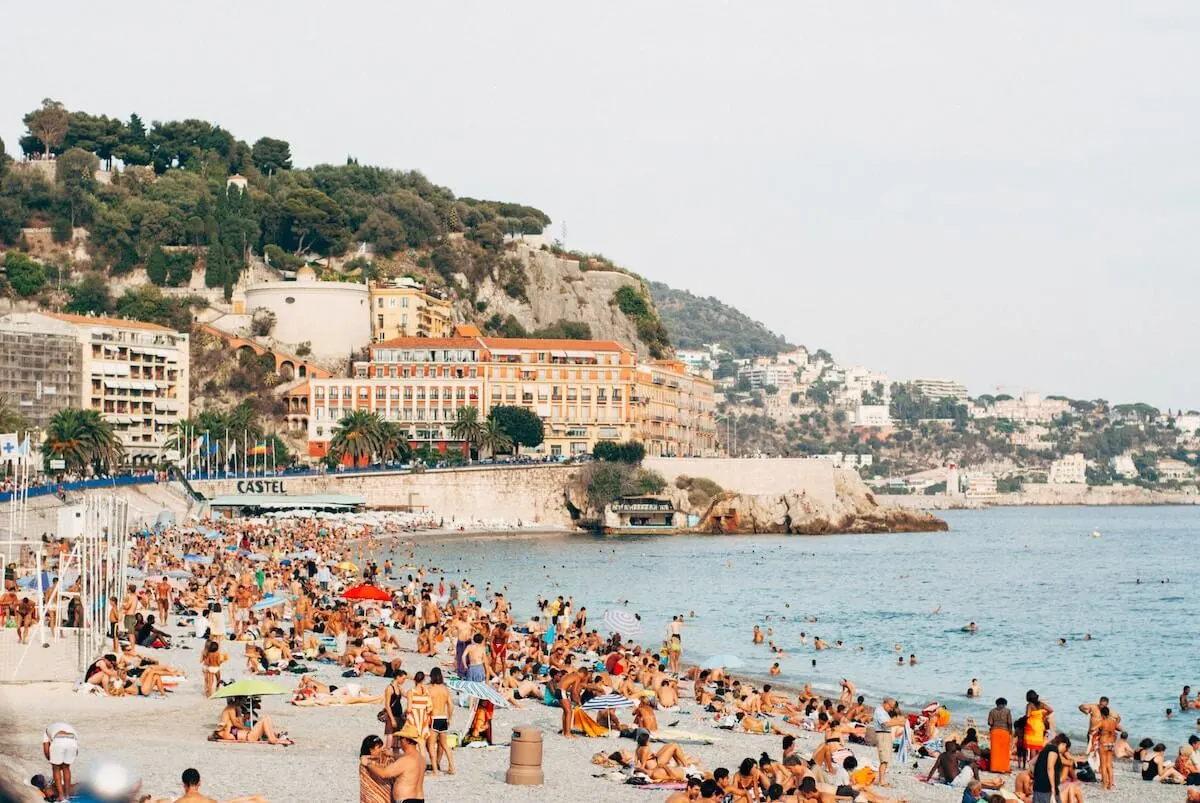 What to do in Nice
Since you really only have a day and a half in Nice, I would use this time for well-deserved rest and relaxation by the sea.
But a few things to do during your time in Nice would be to walk along the Mediterranean coast on Promenade des Anglais, explore shops and bakeries at Vielle Ville, purchase soap, lavender, or tasty treats like socca (chickpea flour crepe) at Cours Saleya Market, and definitely get a great viewpoint over the city and sea at Parc de la Colline du Chateau.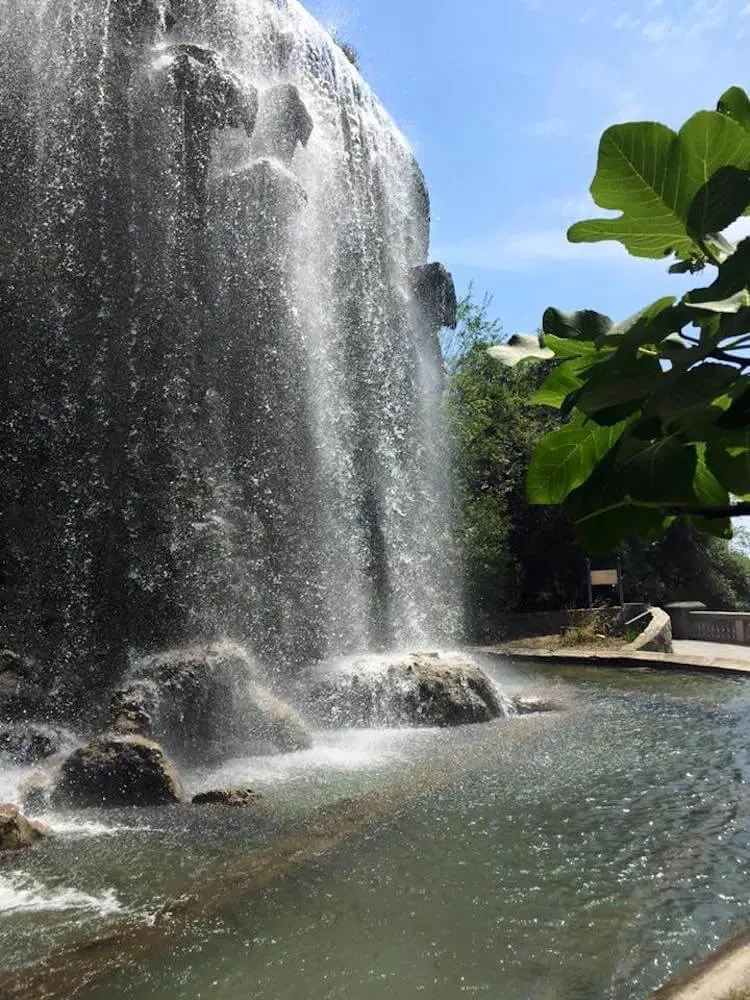 And while you're there, definitely sample some rosé at a café or two!
Most importantly, though, relax on the beach! Some of the best beaches in and around Nice include Villefranche-sur-Mer with smaller pebbles that almost resemble sand and is perfect for snorkeling, Blue Beach, which is perfect for parasailing and wakeboarding, and Opera Plage is probably the busiest but is the easiest to get to.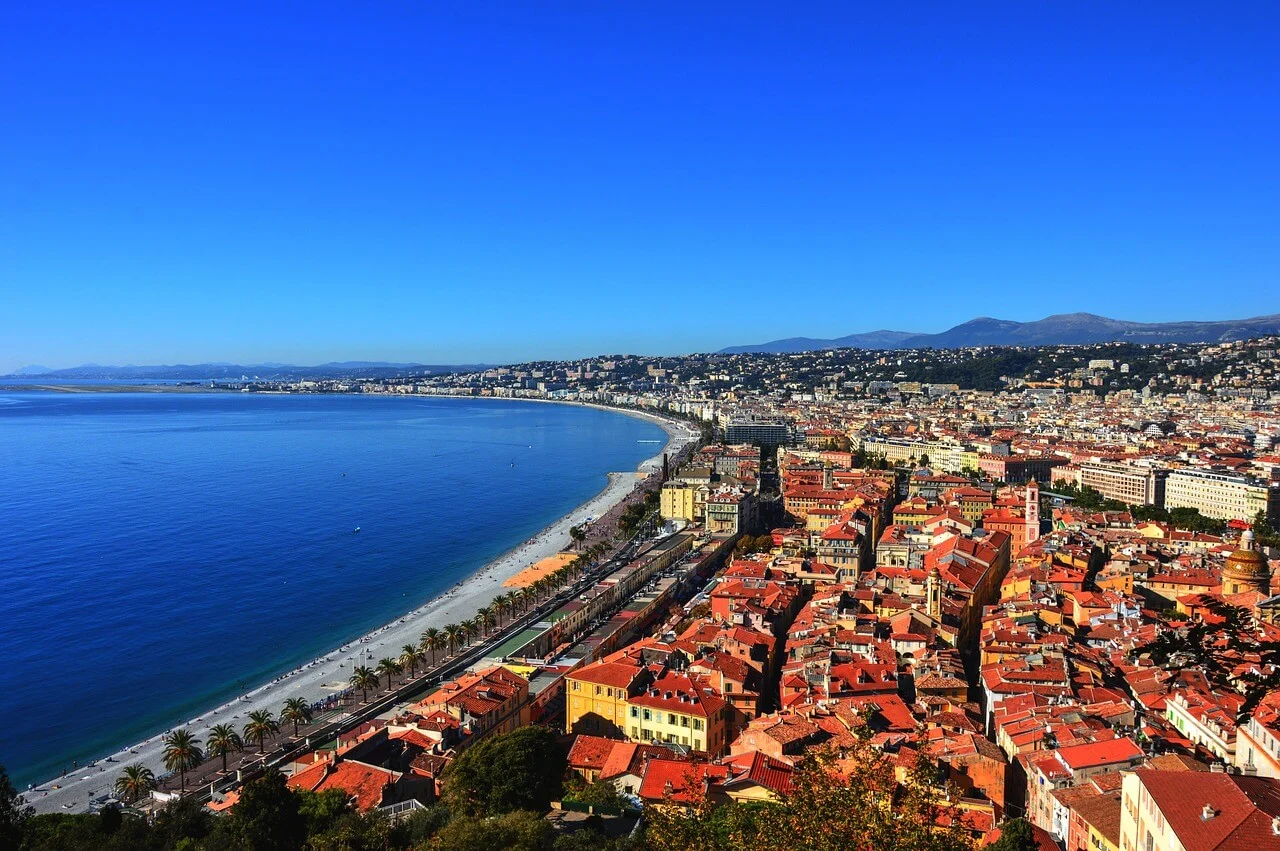 Where to stay in Nice:
Budget: Hotel du Centre
This brightly decorated hotel is located in the heart of the city, perfect for exploring! It also has fantastic views of the Notre Dame Basilica in Nice. Within walking distance of so many attractions and restaurants, it is a great spot to end your one week trip to France.
Read reviews on TripAdvisor and book here!
Mid-Range: Hotel de Petit Palais
Located within walking distance of many of Nice's top attractions, you'll love this romantic hotel. With a stunning pool, mini bar, and spacious and comfortable rooms, it is a great spot to feel like royalty in Nice.
Read reviews on TripAdvisor and book here!
Luxury: Hyatt Regency Nice Palais de la Mediterranee
I am a big fan of the Hyatt brand as a whole, so you know this hotel has to be nice. Located across from the beach and on the Promenade des Anglais, you'll love beautifully designed rooms, close proximity to attractions, the gorgeous sea view terrace and bar, and more!
Read reviews on TripAdvisor and book here!
So after your last day in Nice, take a short flight to Paris the following morning and head home. (Hint: book a flight to the same airport as your return flight home so you don't have to switch airports)! On Skyscanner, you can find flights for as little as $35!
And that wraps up your 7 days in France itinerary, with a visit to the romantic city of Paris, exploring castles and drinking wine in the Loire Valley, feasting in the gastronomic capital of Lyon, admiring the alpine region of France in Annecy, and lounging on the beaches of Nice! Talk about the best of France itinerary!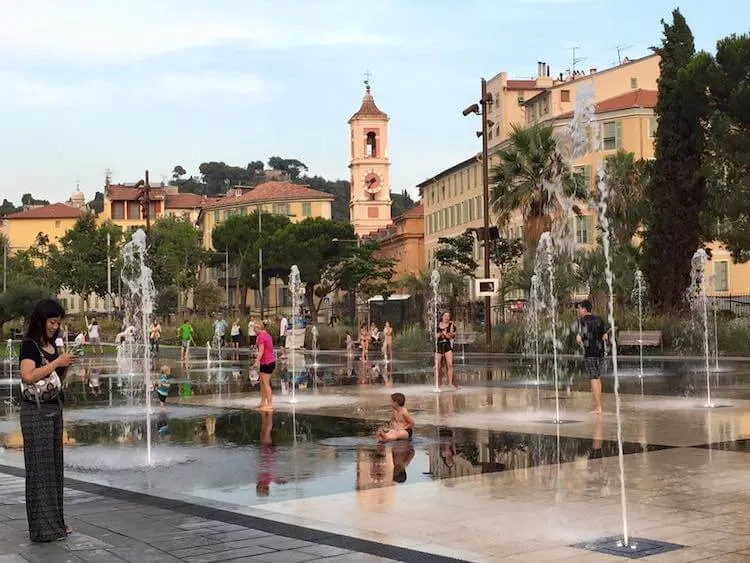 In just one week in France, you can cover so much that this delightful country has to offer!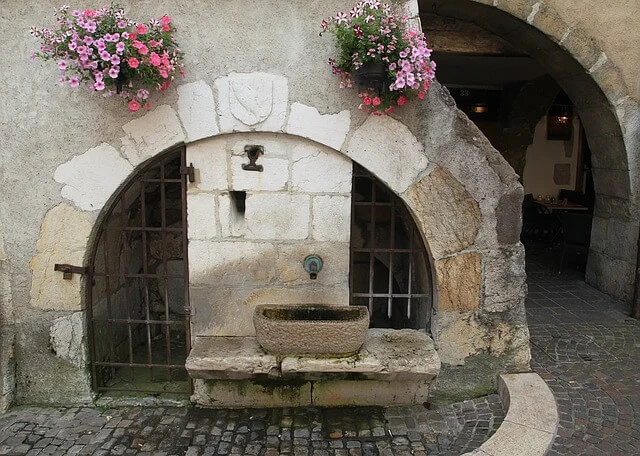 If You Have More Than A One Week Trip to France
If you have extra time, here are some great ideas for a France itinerary of 10 days! Other ideas include:
Stay in Normandy for a couple of days to see the D-Day Beaches, enjoy the beaches of Deauville, and explore.
Visit more wine regions in France like Burgundy, Champagne, etc.
Visit the Basque region of France near Spain or visit Strasbourg near the German border to see the differences in culture and dialect.
Go skiing (in the winter) or hiking (in the summer) in the French Alps at Chamonix.
Try your luck at gambling for a day or two in Monaco.
Explore the wild and wonderful coastline in Brittany.
Getting There for Your 7 Days in France
France is easy to get to, thanks to Paris being a hub for European travel. Chances are that if you're flying from outside of Europe into Paris, you'll be flying to Charles de Gaulle airport. For flights to Paris from around Europe, you'll probably end up flying into the Orly Airport. Both airports are about 30-45 minutes from downtown Paris by train.
For cheap flight prices to Paris, we love checking Skyscanner. They search through several airline sites to find the best deals on travel. You can also set price alerts to book when the price drops too! I've used Skyscanner for flying to Europe or anywhere else around the world and want to pay cash over miles.
While there are other airports around France, if you have a 7 day trip to France, I'd fly to Paris to start.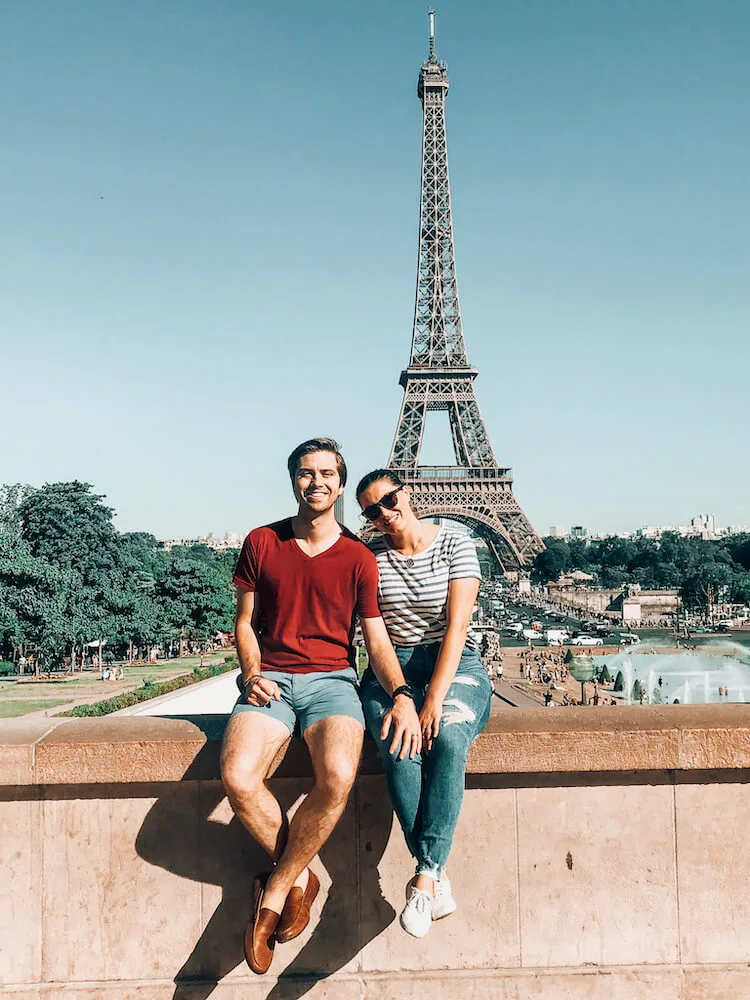 France is truly a gem. I fell in love with it back when I studied abroad in Grenoble, and while I enjoyed visiting the parts of France I have been to, I long to get back to explore even more. With diversity in landscapes, cuisines, and even climates, France is a place that calls me back time and again.
I hope you love your France itinerary in 7 days and come back for more too!
Would you visit France in 7 days? What would be your favorite place to visit in France? Let us know in the comments!
Read Next: 7 Day Italy Itinerary For Food & Wine Lovers
Pin it here!