Some posts on this site contain affiliate links, meaning if you book or buy something through one of these links, I may earn a small commission (at no additional cost to you!). Read the full disclosure policy here.
---
Belize is a small country with so much to offer! Mayan ruins, mesmerizing caves, the 2nd largest coral reef system in the world, stunning beaches, and more await you in this Central American country. So to help you see the most of it in a short amount of time, this is the ultimate Belize itinerary for 7 days that you'll love!
I'll be honest that when we were planning our summer trip with friends, we had a hard time choosing where to go. We hadn't even thought about spending one week in Belize until a friend of ours suggested it, and we're so glad she did!
Upon more research, we quickly knew we'd love this incredible country with ample opportunities for both much-needed relaxation and adventure.
So without further ado, let's talk about how you can make the most of your 7 days in Belize!
Belize Itinerary in 7 Days
Here is a quick intro to your 7 days in Belize:
Day 1: Arrive in Belize and Journey to Hopkins
Day 2: Xunantunich, Cave Tubing, and Blue Hole Swimming
Day 3: Beach Day in Hopkins
Day 4: Snorkeling or Diving on the Great Barrier Reef of Belize
Day 5: Ziplining, River Tubing, and a Cool Spot for Dinner
Day 6: Final Beach Day
Day 7: Head Home
This Belize vacation itinerary includes both a mix of beach days and relaxation as well as adventure so let's get started with the ultimate itinerary for Belize!
Day 1 of Your Belize 1 Week Itinerary: The Journey to Hopkins, Belize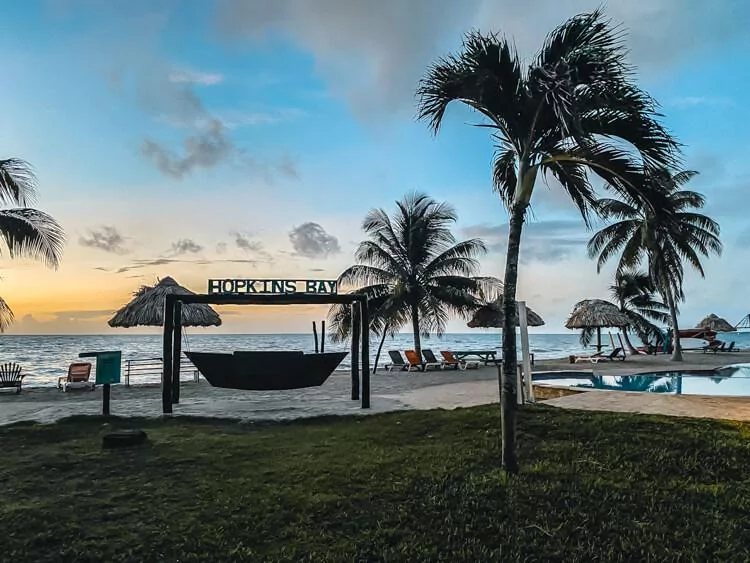 Something that surprised me about Belize was that it really isn't that far from the US. We woke up for an early morning flight from Chicago and had a layover in Dallas. From Dallas, it is only about a 2.5-hour flight!
Typically when you fly into Belize, you'll fly into Phillip S. W. Goldson International Airport near Belize City. This tiny airport is pretty easy to navigate, so you'll just depart the plane and go through customs, get your stamp, and you're ready to go!
For flights to Belize, we love checking deals on Skyscanner and booking when the price drops! You can also use points to get there too.
Many flights departing from the US tend to leave in the morning, meaning you'll arrive around early to mid-afternoon. This makes it easier to get to your destination in Belize, as you'll either need to take a shuttle to your hotel or fly to your destination.
Getting to Hopkins, Belize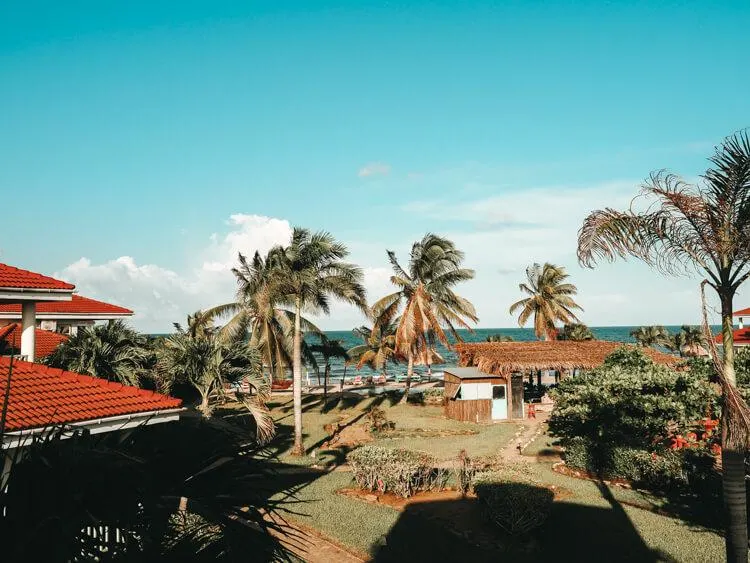 We ended up taking the resort's shuttle from the airport to the hotel we were staying at, Hopkins Bay Resort, which ended up being about a 3-hour bus ride. However, the ride goes quickly as you enjoy the stunning mountains and greenery around you! Plus, the driver will stop so you can pick up beer for the ride!
The shuttle can be arranged through the resort and is $150 per person round trip.
The other option is to take a short, 10-minute puddle-jumper flight into Dangriga airport and get the shuttle to your hotel. Then, it is about a 45-minute drive to the resort. This is $265 per person round trip.
Now that you're in Hopkins, it is time to check into your hotel! We highly recommend staying at Hopkins Bay Resort.
This place is located right on the beach and has 2 pools, a poolside bar, and a bar/grill next to the ocean. They also offer 1, 2, and 3 bedroom villas with views of the sea. It was absolutely lovely to stay here!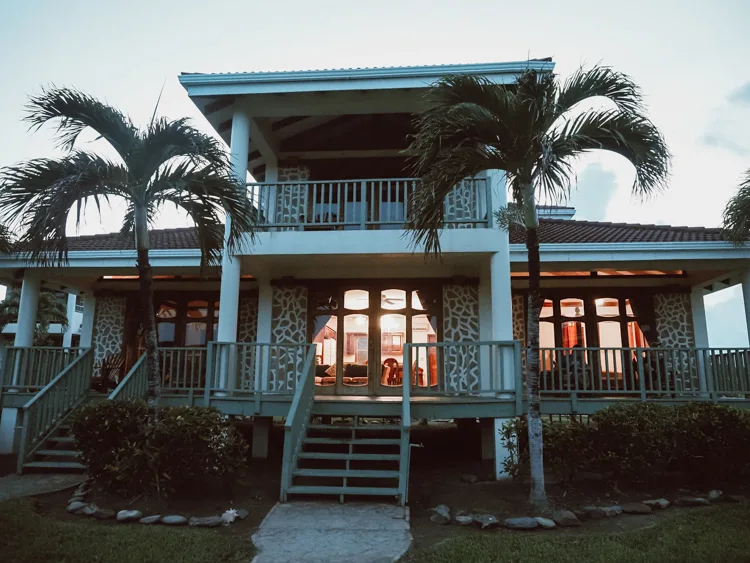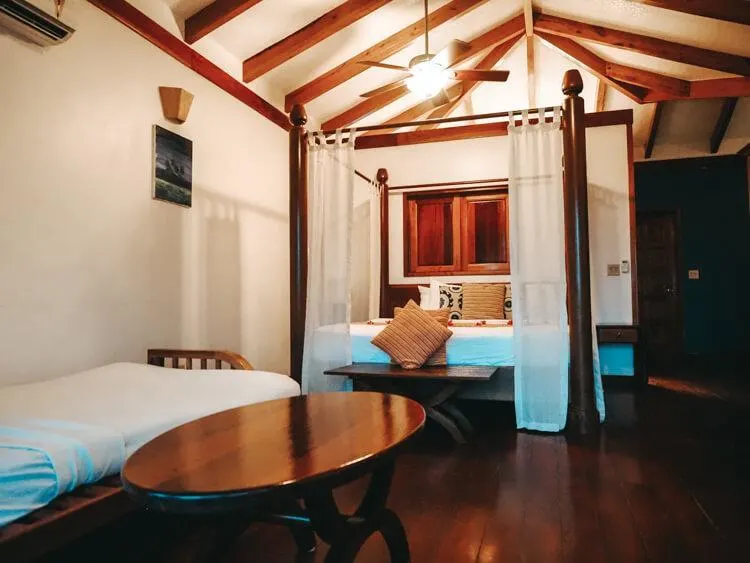 They also arrange tours around Belize for you making it super easy to plan your trip. Plus, they even have a shuttle service that'll drive you into downtown Hopkins and back so you can explore. Pretty much, they thought of everything and we felt so pampered and welcomed our entire trip!
Prices start at $170 per night. Book it here!
As you'll likely get to the resort around late afternoon to early evening, it is best to unwind at your villa and explore the resort. Then, grab a tasty dinner at Hopkins Bay Resort at the Rhum Shack before heading to bed (you'll have an exciting day tomorrow so rest up)!
We loved all the lobster dishes when we were there during the lobster season! However, get conch if that's available!
Why Hopkins, Belize For A Belize 1 Week Itinerary?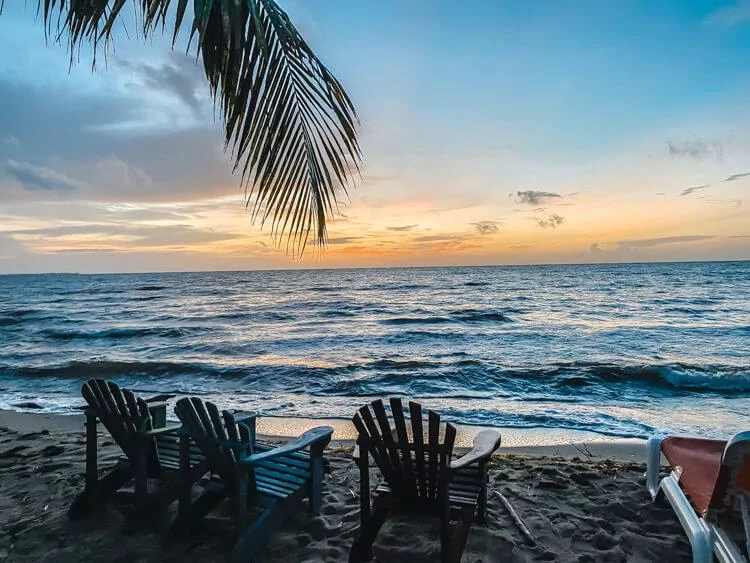 Many people who visit Belize actually tend to hop around to various places like San Ignacio in the jungle, San Pedro on Ambergris Caye, or Placencia to the south. So why do we recommend staying put in Hopkins?
First of all, Belize is a small country. So taking day trips is a convenient idea versus packing up and moving every couple of days. Our longest day trip ride was out near the Guatemalan border to see Mayan ruins and that was about 2 hours and 45 minutes away.
Secondly, Hopkins is in central Belize. So it is in a prime location for both relaxing on a beach day, and taking day trips to both places inland in the country as well as trips to snorkel and dive!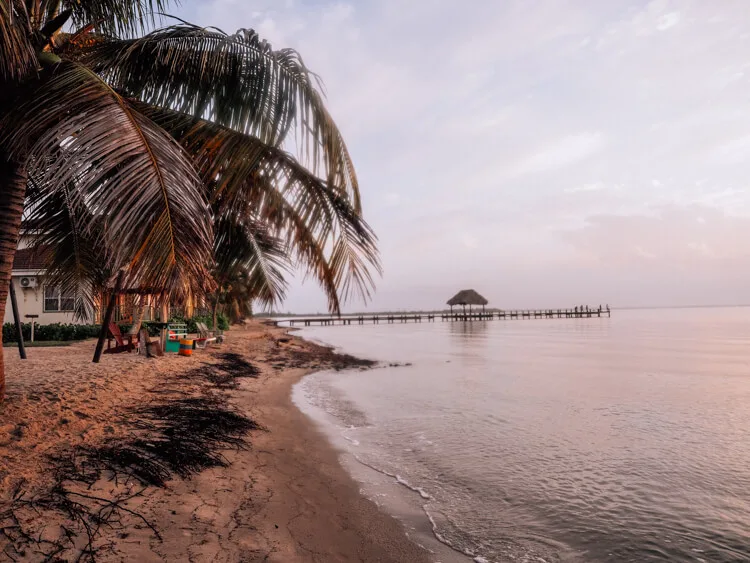 And lastly, Hopkins is known as the friendliest village in Belize and the #1 cultural destination in the country! Hopkins is home to a Garifuna community.
The Garifuna are a people who began in 1635 when a slave ship crashed off St. Vincent and the Africans on board became refugees and intermarried with the people there, thus creating the Garifuna.
They then fled to Honduras during colonization and ended up in Belize where many are still there today.
This community in Hopkins is truly rich in music, dance, art, and cuisine. The people of Hopkins are the nicest I've met in all of my travels, and we felt instantly welcomed!
The town has a population of 2,000 people, and it isn't nearly as touristy as other parts of Belize, making it ideal for a chill getaway!
Plus, our resort was so lovely that we were happy to enjoy staying in those villas for a week!
Day 2: Xunantunich, Cave Tubing, and Blue Hole Swimming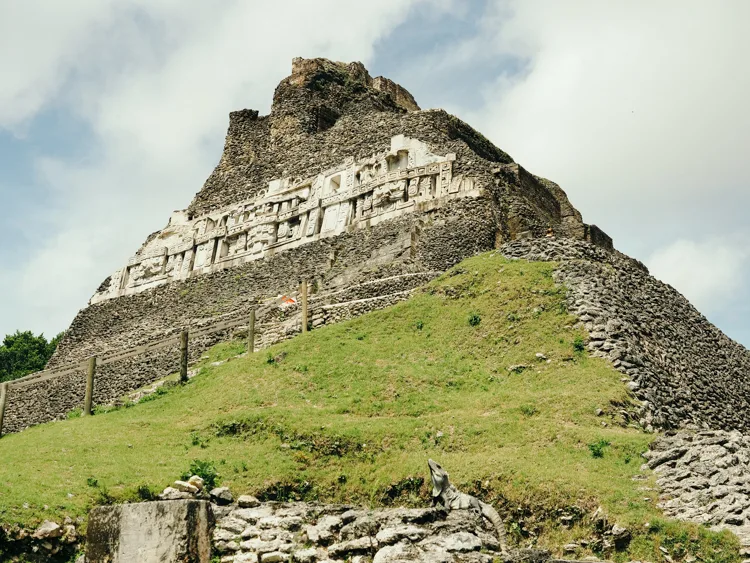 Today is a jam-packed day full of adventure, so be prepared!
We ended up booking a custom tour through Untame Belize which we highly recommend! Usually, this can be booked as either a tour with Xunantunich and Cave Tubing or Xunantunich and Blue Hole Swimming.
So if you want to take this day a little slower, you definitely can! However, with 5 full days in the country of Belize, we wanted to use this day and see a lot! We totally recommend it!
Pricing for the custom tour: $195 per person. The combo tour with just cave tubing or the tour with just the blue hole is about $185 per person.
Xunantunich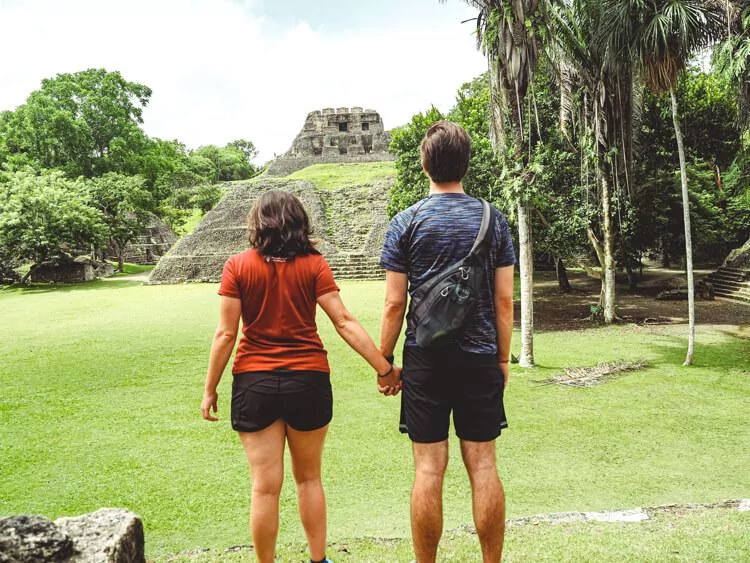 Start off the day with a 7:30 am pick-up from Hopkins Bay Resort before the almost 3-hour ride all the way to the west of Belize, only 0.6 miles from the Guatemalan border.
Upon arrival here, your guide will lead you around and tell you about the history of what was once one of the largest Mayan cities. Xunantunich means "Maiden of the Rock" and wasn't actually named this by the Mayans. Unfortunately, that name has been lost over time.
Wander the ruins of the area including a ball court, pyramids, palaces, and more lovely buildings. The most iconic part, though, is the 130-foot tall El Castillo. You can climb to the top and see Guatemala and the surrounding jungle!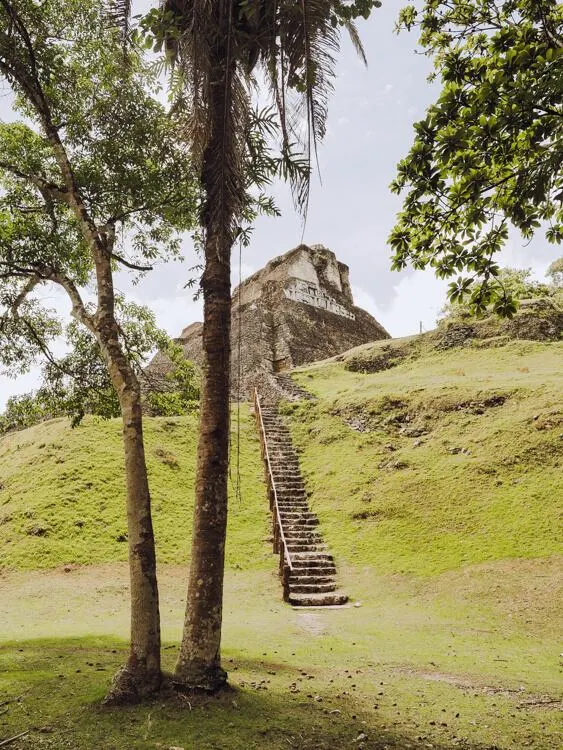 The guides with Untame Belize are incredible, and if you're lucky enough to get Wilson, he is a delight! He was super knowledgeable about Xunantunich and, being part Maya, had a large knowledge of Mayan history!
Cave Tubing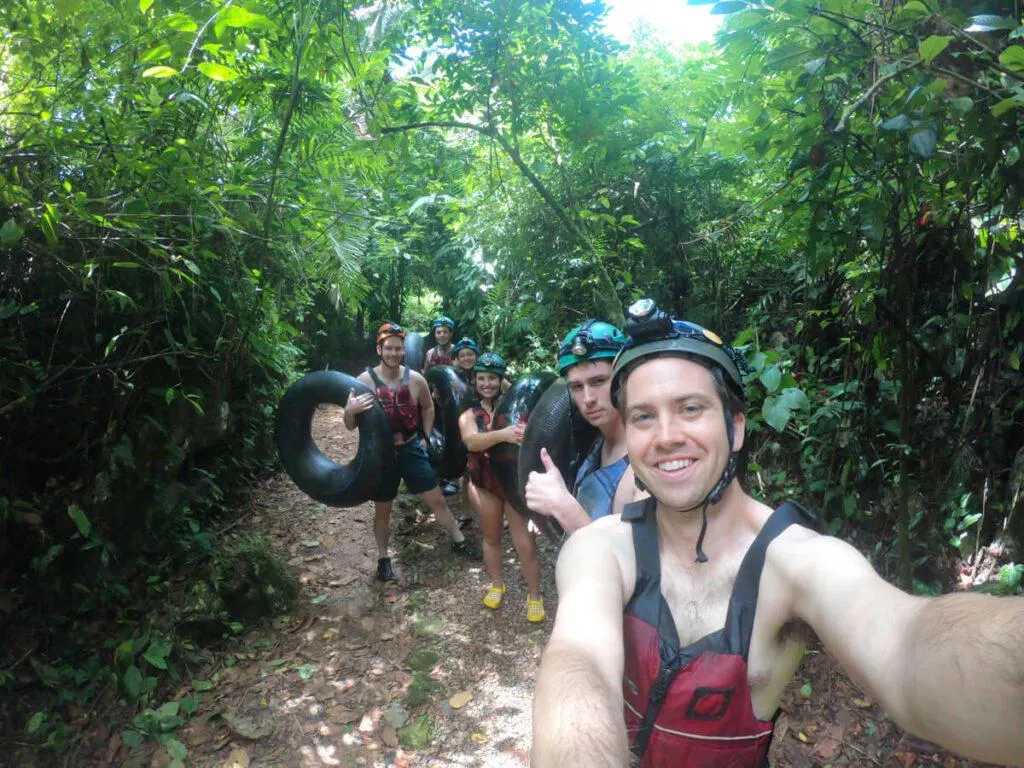 Next up is cave tubing in St. Herman's Blue Hole National Park. And if you've never heard of this, then you're in for a treat! Cave tubing is essentially what it means: you sit in a tube and glide on the water as the river inside of a cave takes you along.
But it is seriously cool! Spot waterfalls, stalactites and stalagmites, and some caves even have Mayan artifacts! We thoroughly enjoyed our ride inside of a cave and learned about the significance of the caves to the Mayan people of Belize.
The guides even have you turn off your headlight in the middle of the cave and you feel the complete darkness around you!
It seriously was one of our favorite things we did in Belize!
After that, your guide will take you to a restaurant for lunch that serves up some traditional Belizean food: beans and rice with chicken.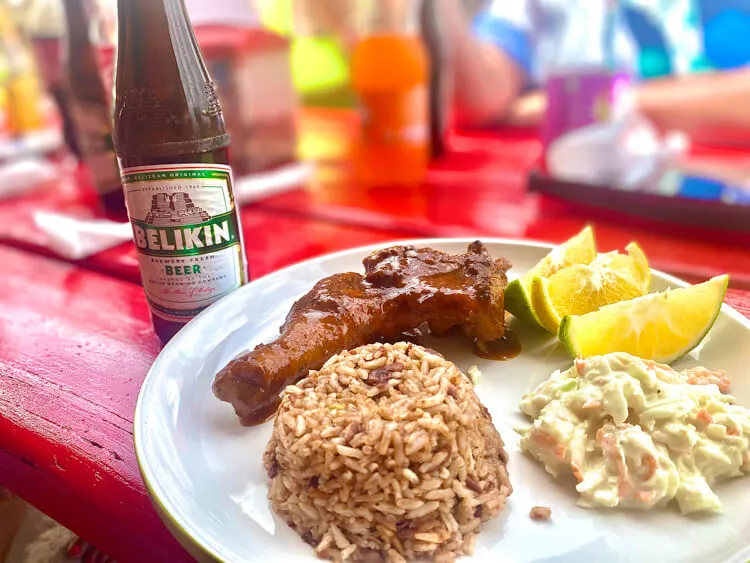 And trust me, you'll be eating a lot of beans and rice on this trip, but don't fret. While that doesn't sound terribly exciting, it is! They spice up the rice and it is super flavorful. You won't get sick of eating it at all during your Belize one week itinerary.
Blue Hole Swimming During Your Belize Trip Itinerary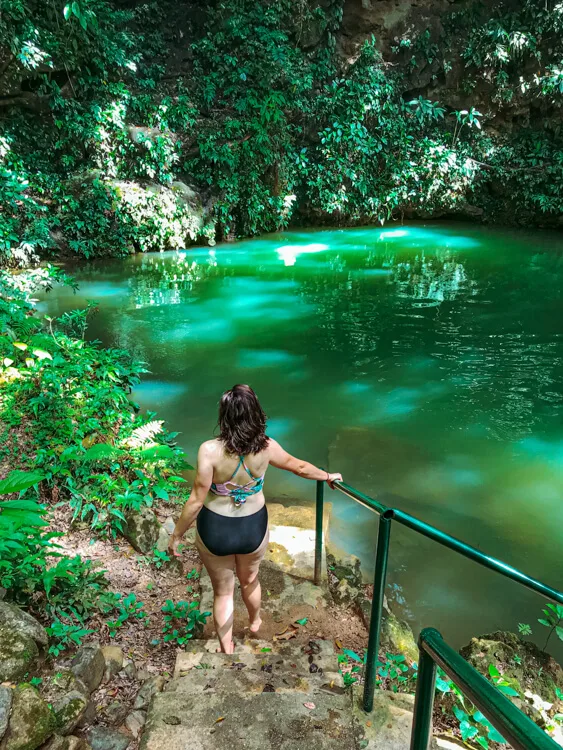 After lunch, you'll head back to St. Herman's Blue Hole National Park to swim in a blue hole! What is that exactly? If you've heard of cenotes in the Yucatan Peninsula, it is the same thing!
Formed by collapsed limestone caves, these sinkholes are full of water and are a great spot for a swim! So jump on in! Typically the water is clear, however, we visited during the rainy season and it had rained the night before, causing the water to be murky.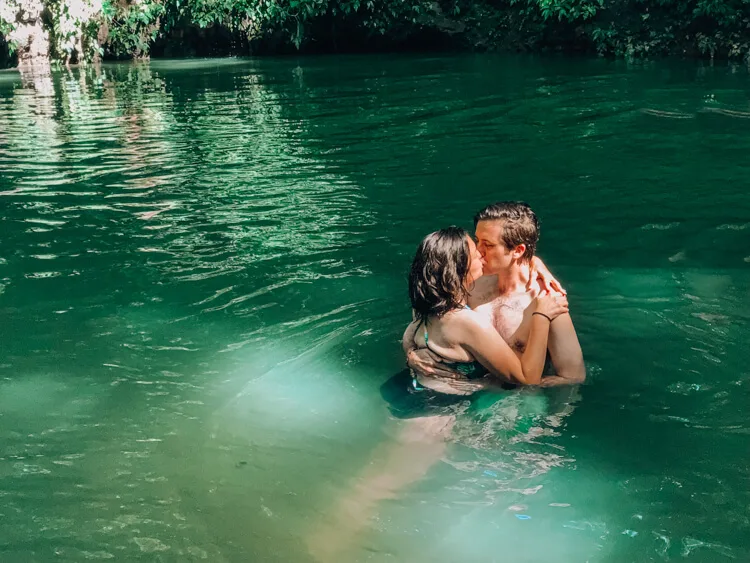 Regardless, it was a lot of fun enjoying the mountain surroundings as we cooled off after an action-packed day!
After a refreshing dip, you'll head back to Hopkins in time to get cleaned up for dinner!
Dinner at Driftwood Beach Bar & Pizza Shack
Hopkins is home to so many fantastic beachside bars and restaurants! This place is serving tasty beverages and pizzas beachside, so enjoy the sunset as you tuck into this filling meal after an adventurous day!
Day 3 of Your One Week Vacation in Belize: Beach Day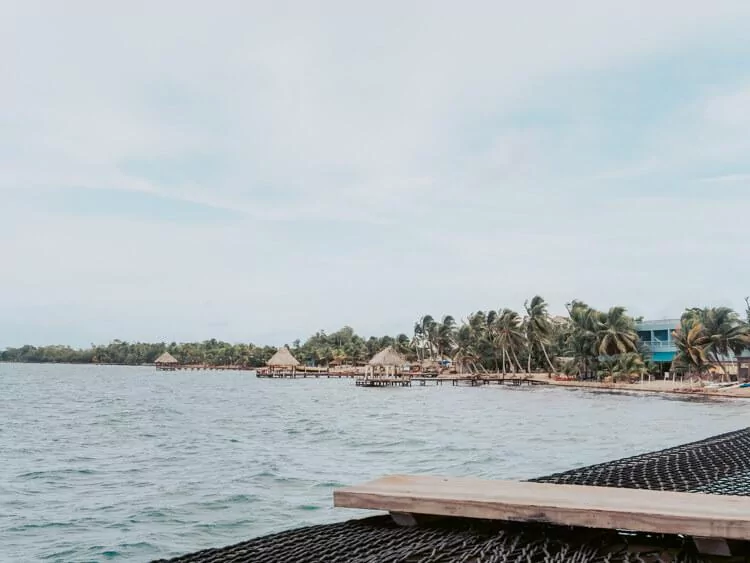 So far, you've made the long journey to Hopkins and then had a jam-packed day of sightseeing yesterday. So today is the perfect day to relax during your Belize itinerary.
Sleep in, or at least try to do as best as you can, because the sun rises between 5:20-6:30 am year-round! Have a tasty breakfast at the resort of stuffed fry jacks, a Belizean delicacy of a fry jack (a fried bread similar to a savory beignet) filled with eggs, veggies, and cheese. So good!
Then, enjoy the resort itself! There are free kayaks, stand-up paddleboards, and bike rentals for you to use as you wish! Kayaking is a lot of fun, as is chilling in a beach lounger and watching the waves roll in.
Definitely cool off in the pool that is right along the ocean too! Pair that with some tasty pina Coladas from the bar or a Belikin beer and you'll have a fantastic beach day!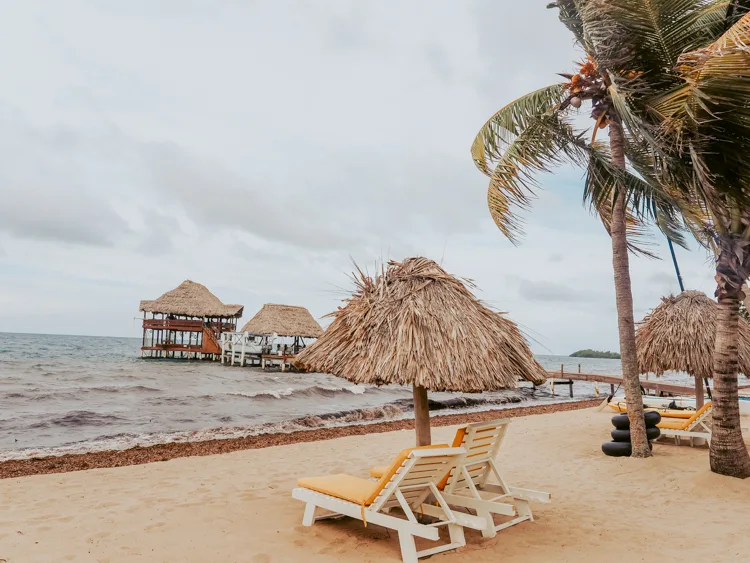 When you're ready to dry off, opt for some sand volleyball too or just hang out at the Rhum Shack in the swings!
Then, great cleaned off for happy hour and dinner in Hopkins!
Drinks and Dinner in Hopkins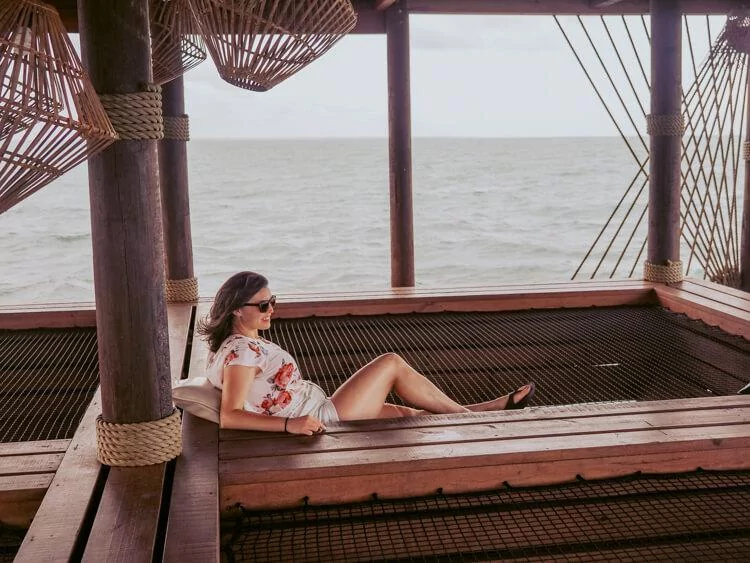 If there is one bar that you've got to visit while in Hopkins, it is Big Dock Ceviche Bar. While you can get an appetizer of ceviche, you'll definitely want to enjoy some of their drinks too!
The best part about this bar, however, is that it is on a dock and above the water! They even have nets that you would normally see on a catamaran that you can lounge on and admire the views of Hopkins and the Caribbean Sea.
It is pure bliss to enjoy during your time in Belize!
Follow up drinks with dinner at The Paddle House. This place has some great seafood! The fennel red snapper is a must-try, as is anything lobster if it is available!
After dinner and drinks, it is time to head back to the resort to hang out and head to bed for tomorrow's adventure!
Day 4: Snorkeling or Diving on the Great Barrier Reef of Belize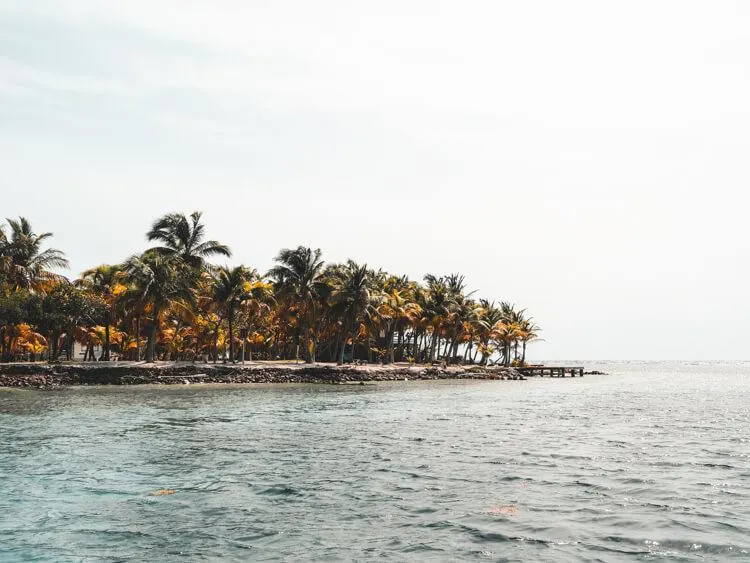 Did you know that Belize is home to the largest barrier reef system in the northern hemisphere (and the 2nd in the world after Australia)?! You'd be remiss during your time in Belize if you didn't at least come check it out!
Thankfully, Hopkins is a great place to stay if you're hoping to do this, as the boat launch is right outside of town! Also, this is a great tour that you can just book through the resort for $100 per person (including lunch) for snorkeling!
So on this day, you'll be picked up from Hopkins Bay, and you head to a dive shop to get fitted for your snorkeling gear. Then, you're off to the marina!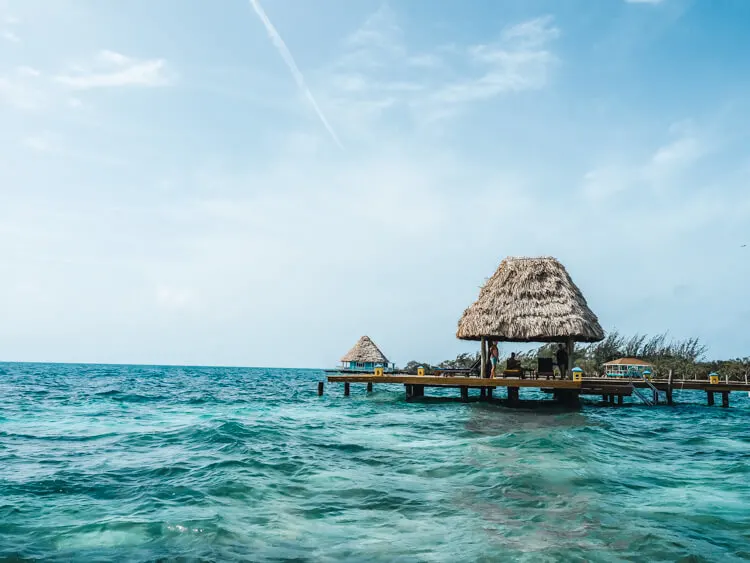 Hop on the boat and you're off to your first snorkel or dive spot! Jump off the boat and your guide will give you instructions and tips before he guides you while you swim or dive around the reef.
Spot incredible corals ranging from purple fan coral waving with the current to incredible brain coral! You'll also have the chance to see various colorful fish like parrotfish, blue tang, angelfish, and more!
And if you're lucky, you may even spot some rays, sea turtles, or nurse sharks! We ended up seeing a spotted eagle ray and a few stingrays–one was even 6 ft in diameter!
After your first snorkel, which is about 30 minutes or so, you'll hop back on the boat with the divers and have some lunch. Then, it is time for your second snorkel stop!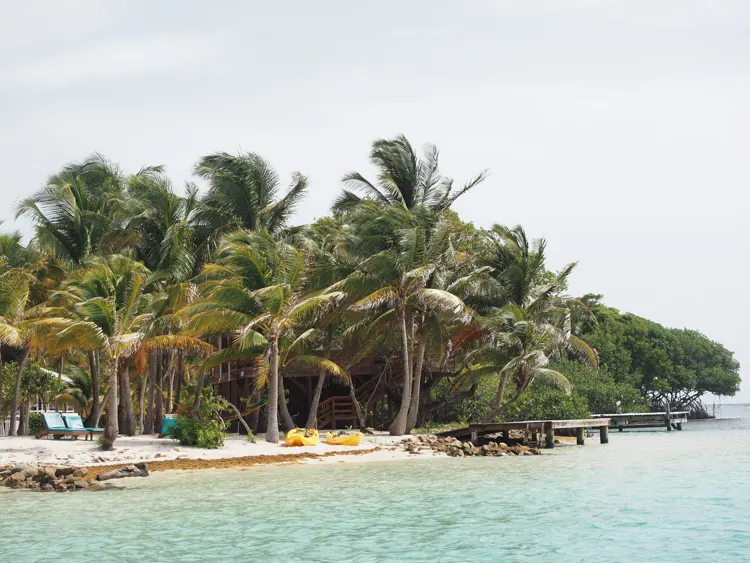 Both spots were very beautiful and our guide made us feel super safe and comfortable during our time snorkeling! We had an incredible time witnessing this barrier reef system and all of the life around it! This is perfect for honeymooners to Belize too!
Pro-tip: Pack a lot of reef-safe sunscreen for your time snorkeling, and apply it often! If you don't your back will easily burn as the sun is strong here!
After that, you'll head back to Hopkins to hang out and enjoy happy hour at the Rhum Shack where it is 2 for 1 drinks! If you haven't had their world's best pina colada, then it is definitely high time you tried it here!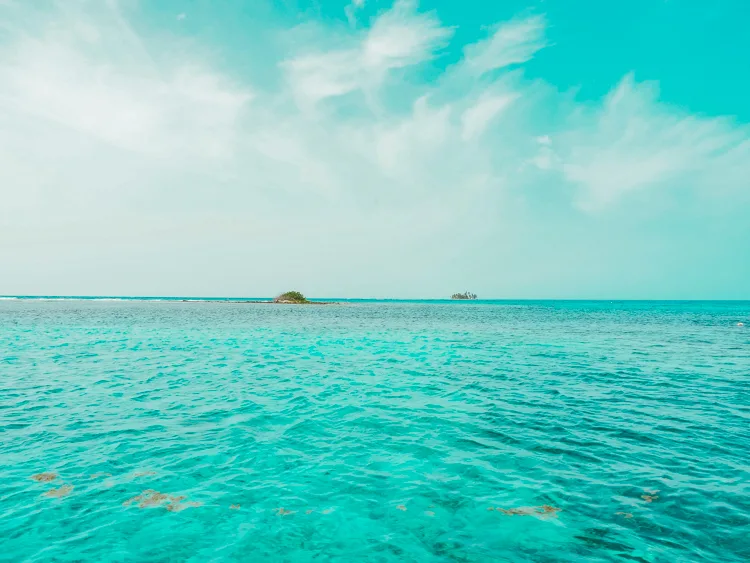 Interactive Dinner Back in Hopkins
It is time to catch the shuttle into downtown Hopkins and go to a fun restaurant called Love on the Rocks. This place has some great food all around, but the unique thing here is the chance to watch your food cook on volcanic stone!
They bring your meat of choice raw and it comes next to a small volcanic stone that your server will guide you in cooking and mixing in the various sauces. Then, you toast the rice and veggies too! It is a lot of fun!
I had the lobster which was phenomenal and one of our friends got two huge pork chops and devoured them. They were so good!
This is a long dinner, especially if you do the 4-course menu as we did, so you'll definitely get back a little later. Enjoy a slow dinner as you sip wine and watch your food be prepared before your eyes!
Day 5 of Your 1 Week in Belize: Ziplining, River Tubing, and a Cool Spot for Dinner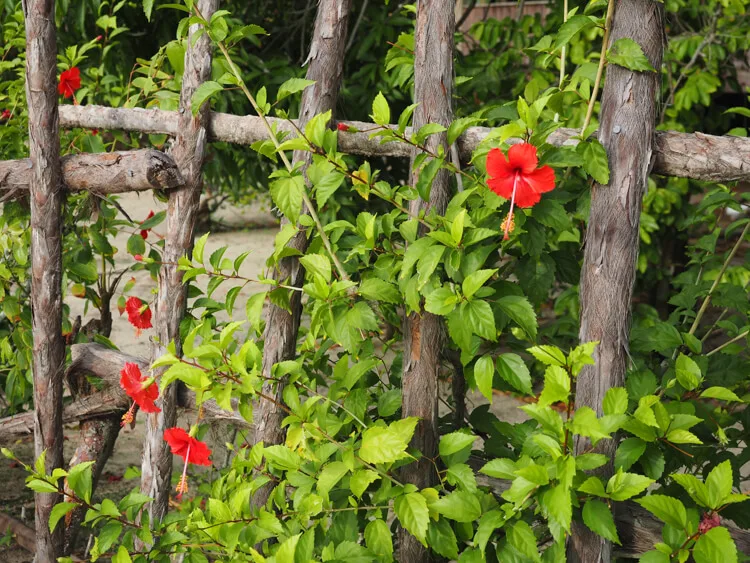 This is your last adventure day in Belize. And you'll want to do this one big with ziplining and river tubing!
Start your day walking to the tamale stand for a filling and scrumptious breakfast of chicken tamales, a staple breakfast food in Belize before you get your tour started.
Then, as you can book this through the resort for $195 per person including lunch, you'll be picked up for the short ride to Mayan World Adventure Park, where you will get fitted for ziplining first!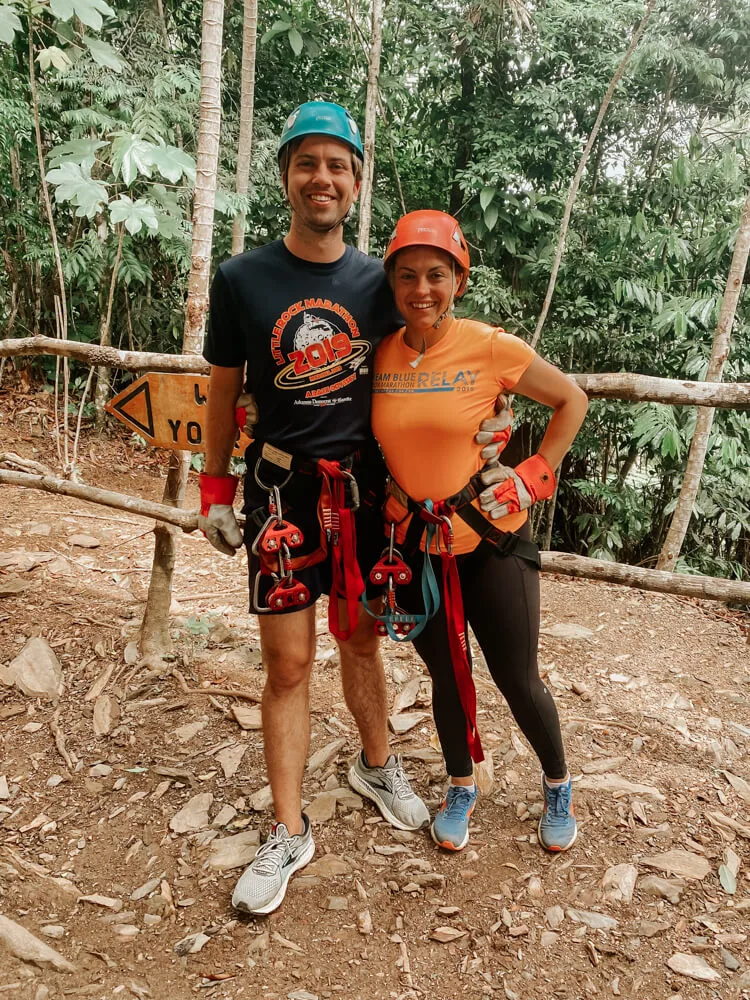 There are 7 ziplines total that you get to ride on and they pass between the mountains over the South Stann Creek River. The views are jaw-droppingly beautiful as you zip past the forest and over the river below!
Each line varies in length with the shortest being 300 feet and the longest being 1,500 feet. And if you've never ziplined before, this is a great place to start! They take safety very seriously so not only do they have two expert guides to assist everyone, but they have so many backups and holsters that you'll definitely feel safe when you're in the air.
River Tubing
After spending the morning zipping through the sky, it is time to cool off in the river below!
The guides will get you equipped with inner tubes and helmets before you sit back and enjoy the views from the South Stann Creek River. You may even have the chance to spot toucans, macaws, and other birds!
The best part of river tubing, though, is the class 2 rapids! While not crazy rapids by any means, they are so much fun to ride through on the inner tube before the lazy river part of the trip.
This wraps up the fun jungle adventures of your trip! Afterward, you'll stop for lunch before heading back to Hopkins.
As you'll return to Hopkins in the middle of the afternoon, why not hang out at the resort, go for a swim, or try your hand at stand-up paddleboarding before dinner?
And you better Belize that happy hour is a must!
Or if you wish to skip happy hour, why not arrange to have a Garifuna drum lesson at Lebeha? Contact them for a private lesson!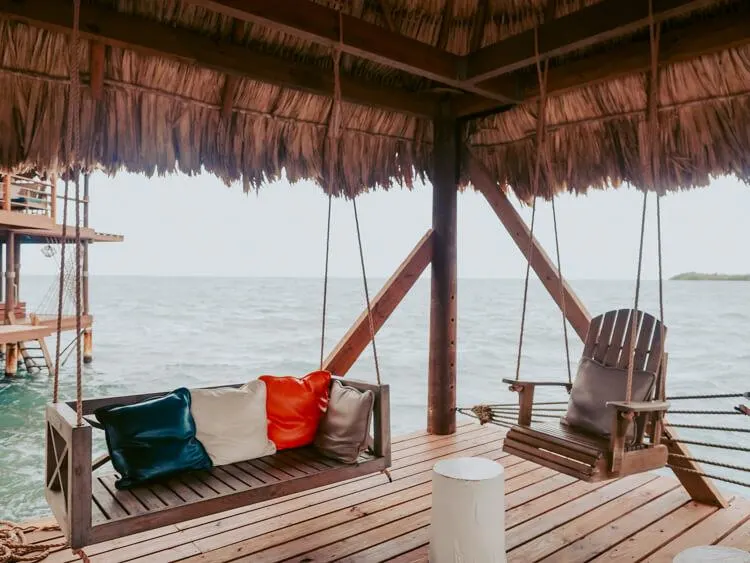 Dinner at Ella's Cool Spot
Catch a ride back into downtown Hopkins tonight to eat at one of the best restaurants: Ella's Cool Spot. This local spot is very popular, so make a reservation in advance!
Located right on the beach, this beach bar and restaurant has all the perfect vibes! We're talking hammocks to lie in, beach swings, a chill beach bar where you can order all kinds of drinks, and occasionally a Garifuna drum band playing live music!
Ella herself even walks around taking photos and videos for Instagram and chatting with all the guests! It is a family-run affair with cousins grilling up today's catch and more cousins serving patrons.
But seriously, today's catch is just that: the menu changes daily based on whatever they have!
We had fresh lobster ceviche, jerk lobster, and jerk red snapper served whole. This was easily the best seafood we had in Hopkins! It is such a great spot, and we spent a lot of time here enjoying the music and food!
Day 6: The Final Day of Your One Week in Belize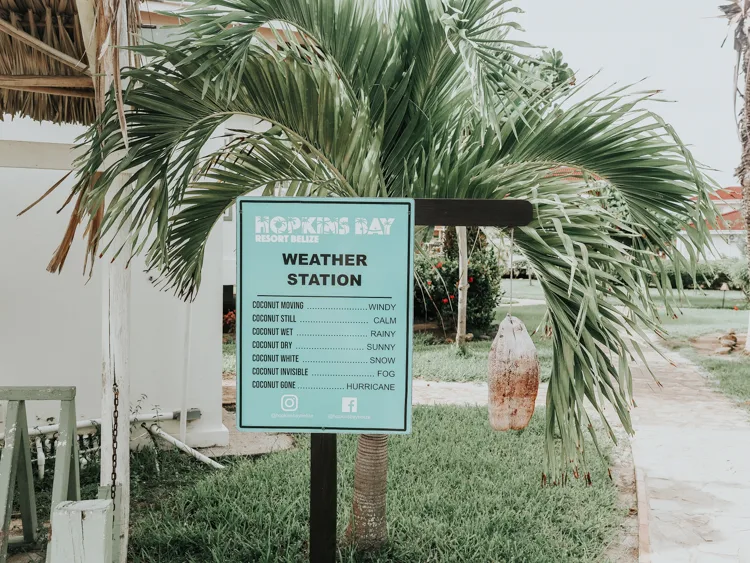 During your trip so far, you've seen Mayan ruins, cave and river tubed, swam in a blue hole, snorkeled, and ziplined! That's pretty exciting stuff for only a week in Belize!
So today is your final full day in Belize. This day is meant for relaxing. Book a spa treatment at Hopkins Bay if you wish. Go for a swim!
But definitely get up for sunrise over Hopkins. Wander out on the dock and take it all in! It is so gorgeous watching the sun come up over the Caribbean sea.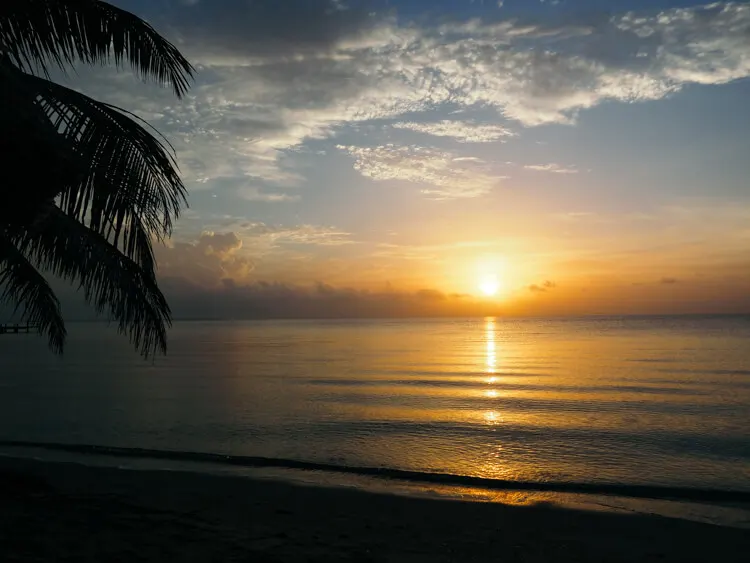 Lunch at the Best Spot in Hopkins
We ended up getting breakfast at the resort and swam, kayaked, and enjoyed lounging at the resort before a scrumptious lunch at Hopkin's best restaurant: M&L Juice & Snack Bar.
We found out about this place because we met M&L (Mike and Leticia) at Love on the Rocks! They told us about the restaurant that they started and invited us over for lunch. We happily accepted and got a ride over to their place from the resort.
We were greeted by Mike and Leticia as well as their adorable children before we were served an absolute feast! And it was the best food of our whole trip!
We had a tomato and cucumber salad to start, then the most amazing rice and beans with stewed chicken. And let me tell you the chicken was so good and the gravy on that chicken was so flavorful I could've drunk it on its own.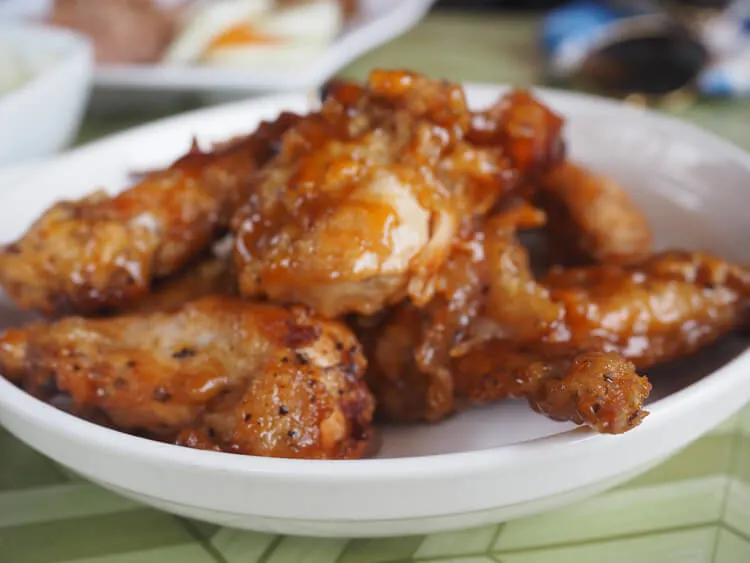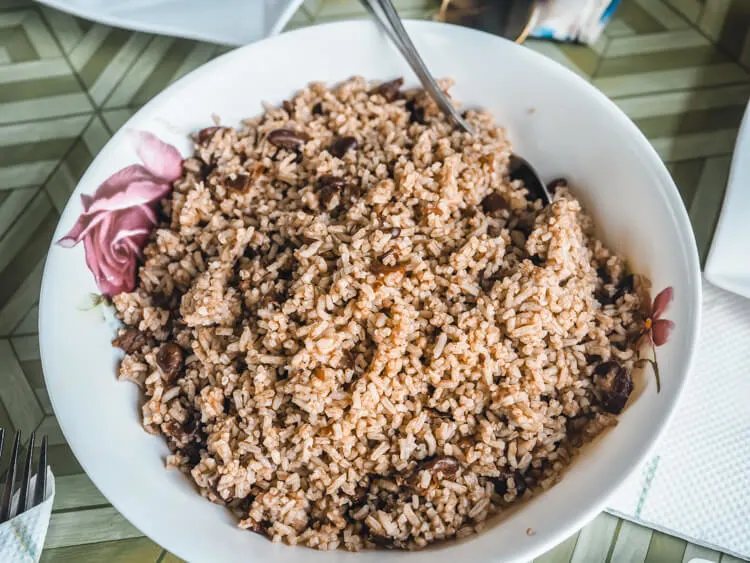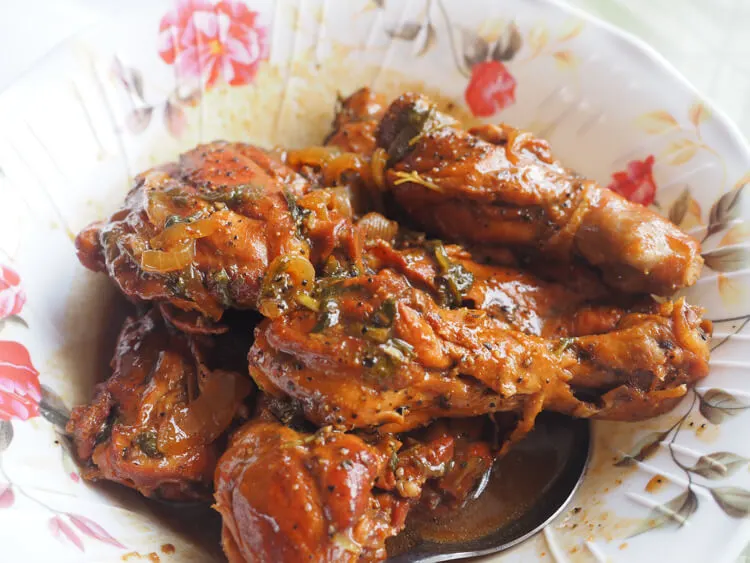 They also served us hot honey fried chicken and fresh lime juice that they made themselves! Then, to top it off, we were given a chocolate cake with ice cream. Seriously, the hospitality was absolutely incredible, and the food was amazing. I can't recommend this place enough!
M&L's is also known for its fresh juices, smoothies, and breakfasts! Just be sure to WhatsApp them at +501 620-3443 to snag a reservation. Trust me, it was so worth it. They were the kindest people and the food was the best thing we had in Belize!
Seriously, I kept eating and was so sad to stop (even though I was so full) because it was that good!
Grab a Souvenir to Remember Your Beize Itinerary in 7 Days
After that filling meal, walk it off by wandering over to Arts by Alex to pick up a souvenir from your time in Belize.
Alex makes wood carvings of various things ranging from animals like toucans to Mayan masks and even lovely bowls. His workshop has so many cool things that it is hard to pick just one!
We ended up getting a Mayan carving to hang on the wall and we love it! It is a unique piece hand-made in Hopkins!
Just be sure to bring cash as they don't take credit cards!
Beach Time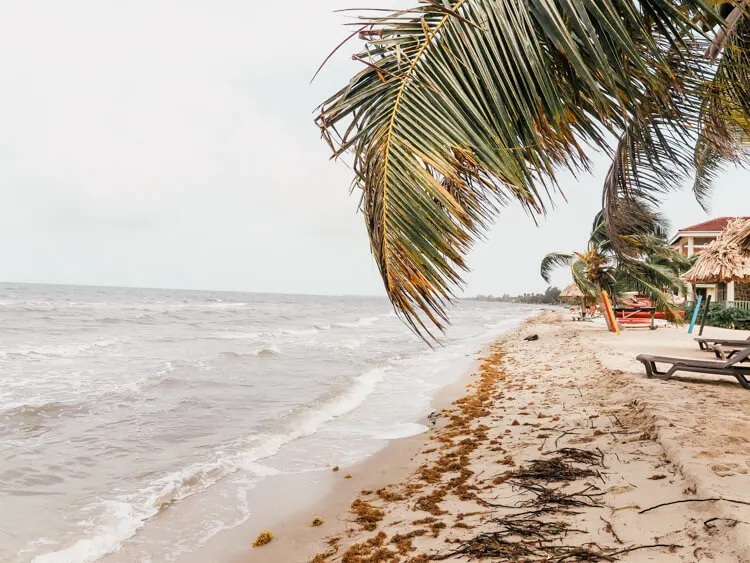 Honestly, what more reason do you need to chill on a beach other than being on vacation? By now it is mid-afternoon, so grab some beers at the local grocery store and sit back and relax by the beach!
We loved alternating between the beach and pool (which is literally next to the beach) as we sipped beers and reflected on our adventures in Belize. It was such a good time and we definitely earned a little relaxation at the end of our trip!
Take it easy tonight, as you'll likely need to get up semi-early to get the shuttle back to the airport tomorrow. If you still have an appetite after the large lunch, have one last farewell dinner at the Rhum Shack before you head to bed!
Day 7: Bye to Your 1 Week in Belize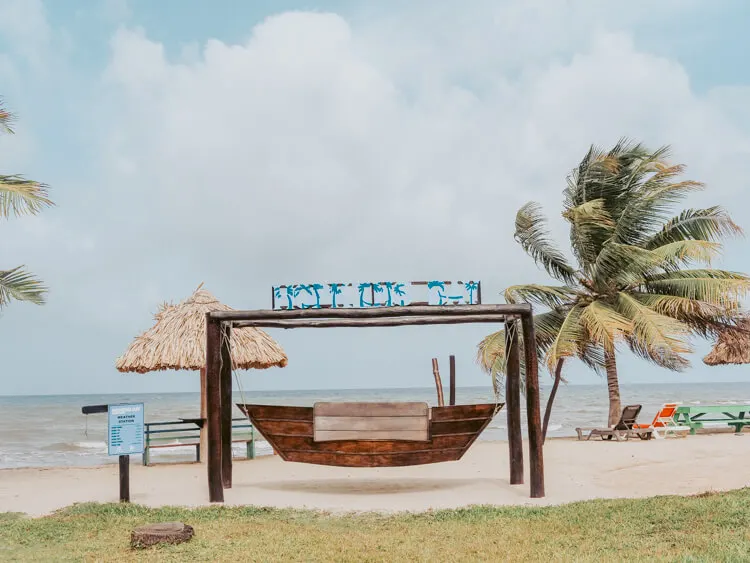 After a week of exciting and relaxing activities in your Belize itinerary, it is time to pack up and head back to the airport.
We didn't have to leave until 8:30 am, as our flight wasn't until 12:50 pm to get home. So we enjoyed one last Belizean breakfast with fry jacks, before packing up and hopping on our shuttle to the airport.
You also have the option, again, to fly from Dangriga back to Belize City too if you wish! But we didn't mind the shuttle.
From there, it is off to wherever you're heading to next in the world!
We were so sad to leave Belize behind. It was both wildly exciting and super relaxing. It was the perfect mix of mountains, beaches, history, culture, and everything we could've imagined. I can't believe how lovely this place truly was!
If You Have More Time in Belize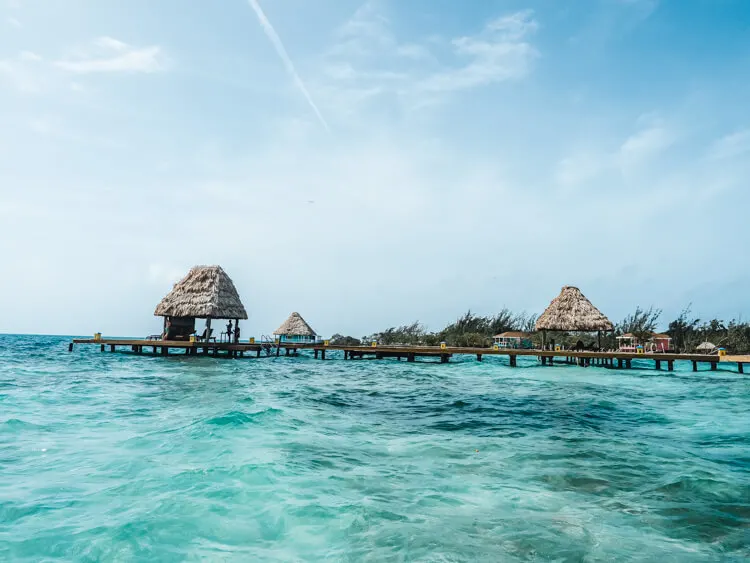 If you have more time during your Belize itinerary, consider spending a few extra days either visiting San Ignacio in the jungle near the Guatemalan border, Placencia also along the coast, or even San Pedro on Ambergris Caye for more beach time!
If you're planning to visit San Ignacio, definitely opt to visit the ATM Cave (Actun Tunichil Muknal). This cave is one of the most popular places to visit in Belize for its Mayan artifacts and skeletons.
You can also do this tour to the ATM Cave from Hopkins if you prefer to stay near the beach instead!
There is also the option to head into Guatemala from Belize and visit the famous Mayan ruins of Tikal as well! And while you're in San Ignacio, visit other Mayan ruins like Cahal Pech and El Pilar.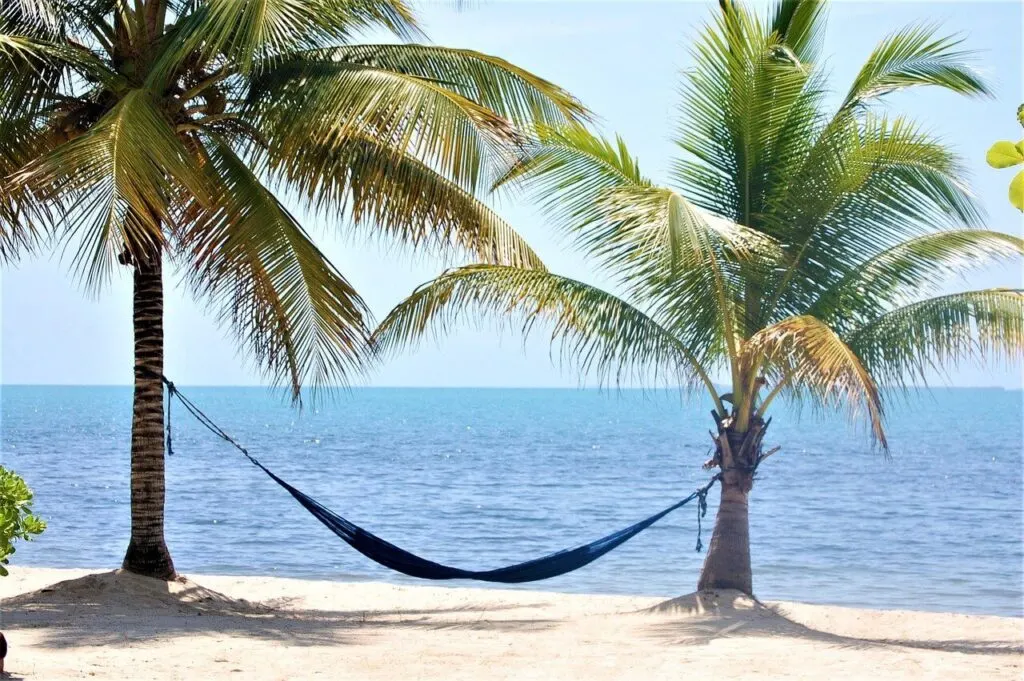 If you're dreaming of more beach time and crystal clear Caribbean water, then exploring more of the cayes and perhaps an atoll along the Caribbean coast is a phenomenal idea! The water is so beautiful, so visiting Caye Caulker, Tobacco Caye, and Turneffe Atoll are definitely great spots to visit on a longer Belize itinerary.
Lastly, there is also the option to stay in Hopkins and visit Cockscomb Basin Jaguar Preserve to take in the wildlife either on a day or night tour, or go on a Mayan cultural tour, or even a Garifuna cultural tour!
Seriously, the options are endless no matter how long your Belize itinerary is!
And if you want to explore more of Central America, be sure to stop by Costa Rica including the Osa Peninsula and La Fortuna!
Best Time to Visit For Your Belize Itinerary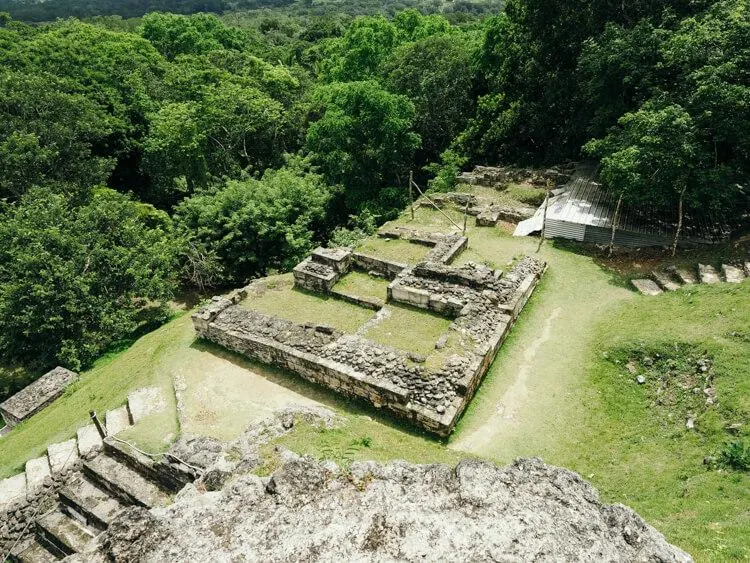 The best time to visit Belize for favorable weather has to be late November through mid-April. It is the dry season, and the temperatures are perfect, especially for those escaping chilly winters up north.
However, while the rainy season is June through mid-November, when we were in Hopkins in July, it really wasn't bad. In Hopkins, it typically rains at night or for a short period of time during the day and then it is back to being sunny.
We didn't have any rain in Hopkins during the day while we were there!
Plus, during the rainy season, there are fewer people and cheaper prices. It really is a great time to visit Hopkins!
What to Pack For Your Trip to Belize in 7 Days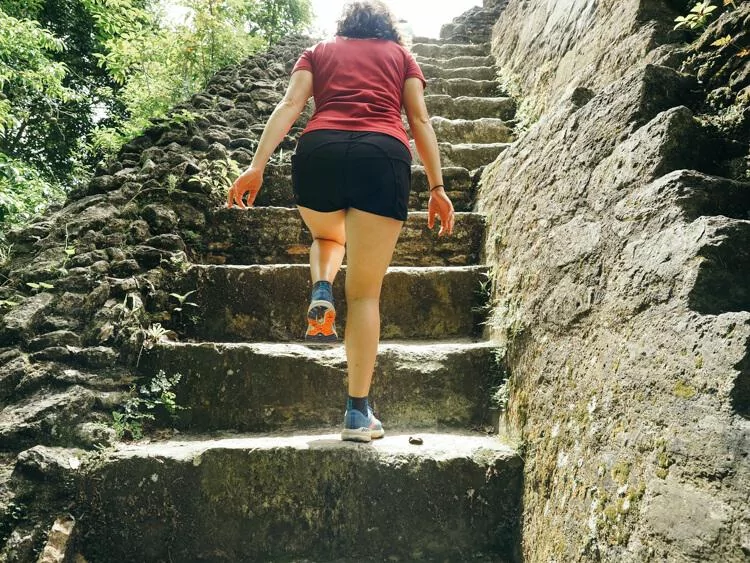 Belize is definitely a warmer place, so shorts and cooler clothing are a must. It is also a casual place. So no need to get too dressed up, and don't bother bringing high heels!
Instead, opt for comfortable shorts and casual shirts with flip flops for the most part. Don't forget some bathing suits for the beach and for snorkeling! I also packed a couple of casual jean shorts to go with some crop tops and some casual dresses for dinner.
For hiking, I just packed running shoes, leggings, and sweat-wicking t-shirts! And for river tubing, it isn't a bad idea to have some water shoes.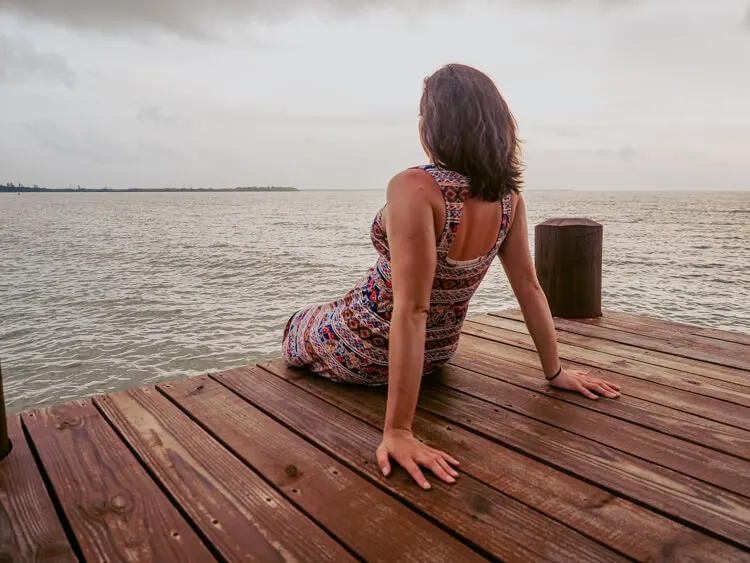 No matter what, though, always have sunscreen and bug spray! Reef-safe sunscreen is the way to go for snorkeling and beach days, and bug spray is essential to keep mosquitos at bay. We love Badger Balm to prevent mosquito bites and have used it all over the world!
And for people with thicker thighs like myself, body glide is always a good idea to prevent chafing.
To capture memories, we love our Olympus mirrorless camera with this lens! It's perfect for beginners too. And we loved the GoPro for capturing snorkel adventures and tubing!
Lastly, for packing your things, we love our Osprey backpacks and these packing cubes!
PS- For a more detailed packing list, check out our Belize Packing Guide!
Tips for Your Belize Itinerary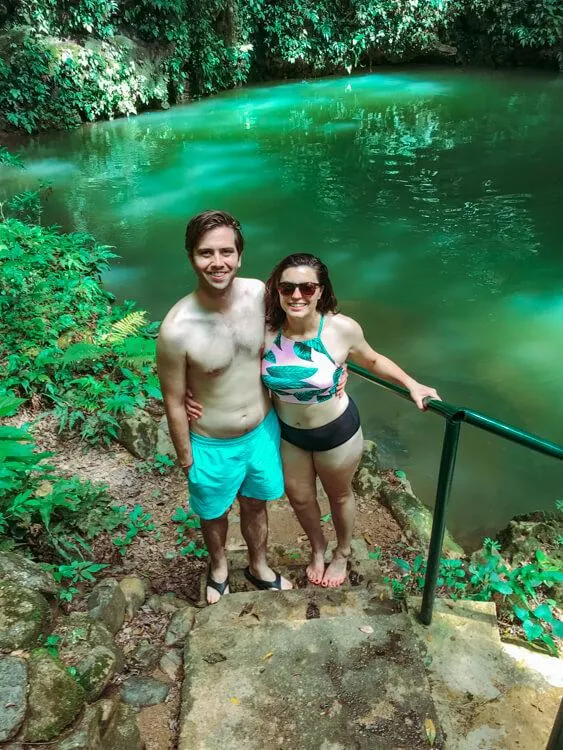 Here are some key facts to know before your one week vacation in Belize Itinerary:
You don't need a visa if coming from the US if your stay is less than 30 days. However, be sure to have proof of departure (i.e. a plane ticket home).
USD is pretty much accepted everywhere, and using cash is common. Some places take credit cards, but cash is a good idea to have on hand just in case. The Belizean dollar converts to $0.50 USD.
But Belizean Dollars are good to use too. We just got cash out at the ATM at the airport and in Hopkins to use for things.
English is the official language of Belize, as they were once colonized by the British until 1981. However, while most people do speak English, many also speak Spanish, Kriol, and many more languages!
Don't drink the tap water. Like many places around the world, drinking tap water isn't always safe, so use bottled water for drinking, brushing teeth, etc.
Definitely buy travel insurance. If your luggage gets lost, your stuff gets stolen, or you need medical care, having travel insurance is a must! We use World Nomads for our travel insurance needs.
Check out how much a Belize vacation could cost you here!
Belize is a country that we fell head over heels with. The culture, the food, and the amazing adventures all make this small but mighty country well worth a trip! We are already counting down the days until we can go back and see more of what this destination has to offer!
Would you go on this Belize itinerary in 7 days? What would you most like to do in Belize?
Read next: Couples Travel Bucket List, Costa Rica Honeymoon Guide, Top Costa Rica Honeymoon Resorts, Where to Honeymoon in February, How Much Does a Trip to Costa Rica Cost?, Ultimate St Lucia Itinerary, Best May Honeymoon Destinations, Ultimate St Lucia Packing List, Romantic Things to do in St Lucia, Top Caribbean Honeymoon Destinations, Ultimate 7-Day Puerto Rico Itinerary
Pin it here!