Some posts on this site contain affiliate links, meaning if you book or buy something through one of these links, I may earn a small commission (at no additional cost to you!). Read the full disclosure policy here.
---
A Puerto Rico itinerary in 7 days is a dream. You've got insanely delicious cuisine to enjoy, crystal clear Caribbean water butting up against several sandy beaches, and there are multiple bioluminescent bays to explore!
Seriously, spending 7 days in Puerto Rico is a great way to dip your toes into this amazing place and leave feeling like you've truly experienced the island.
But, being one of the largest islands in the Caribbean, it can be a challenge to figure out the best way to spend 7 days in Puerto Rico. That's where this itinerary comes in handy!
After enjoying some time in Puerto Rico in May, I've got the perfect 1 week Puerto Rico itinerary that you'll ever need. Whether you want to get adventurous or relax, this is what to do in a week in Puerto Rico.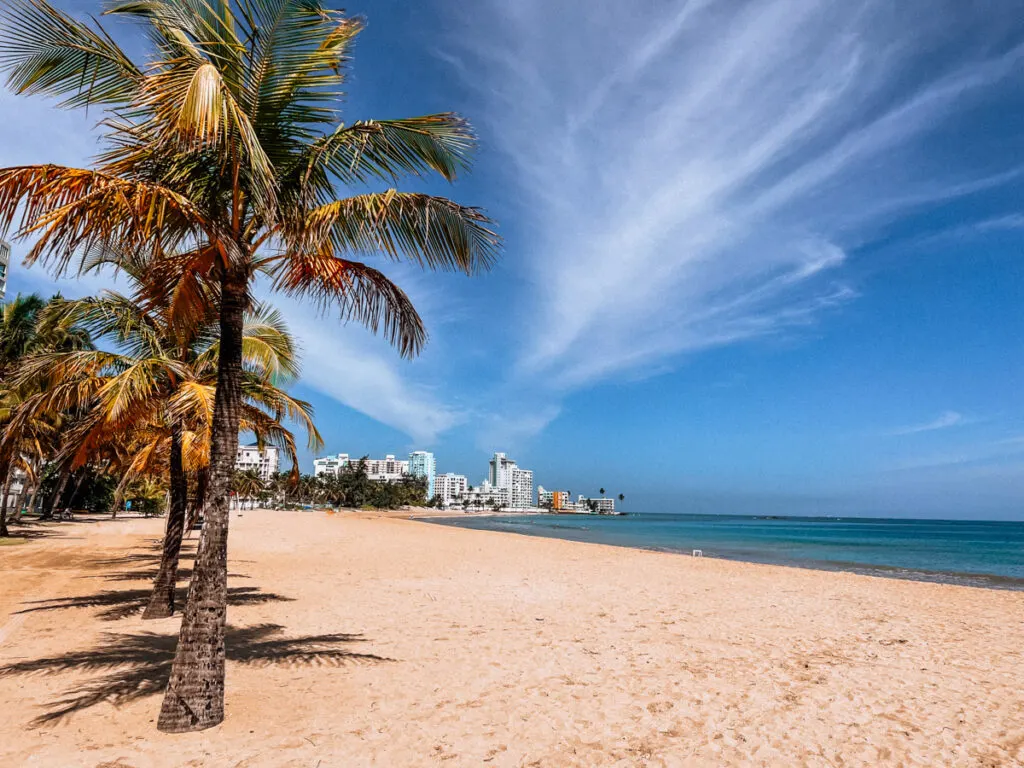 A Very Brief History of Puerto Rico
The first people to live in Puerto Rico were the Tainos. This indigenous group called the island Boriken, meaning "Land of the Valliant and Noble Lord." This is actually where the term "boriquas" comes from. This term refers to people who are from the island of Puerto Rico and is still used today.
Sadly, Christopher Columbus showed up in 1493, and the island's name was soon changed to Puerto Rico. It then became a big military outpost for Spain until they briefly gained independence before ultimately being ceded to the US after the Spanish-American war.
It is now currently a US territory, and you can visit many of these fortresses used by the Spanish.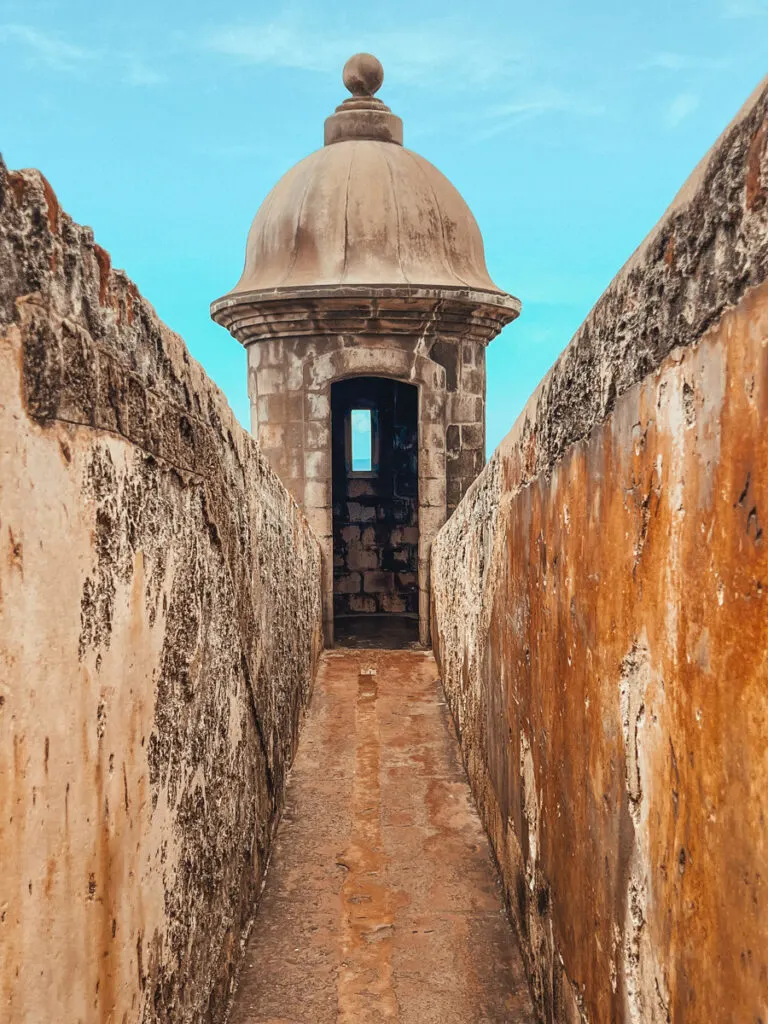 Only Puerto Rico Itinerary in 7 Days You'll Ever Need
Here is a quick reference on each day of your 1 week in Puerto Rico itinerary. For all the details, keep on reading below!
Day 1: Arrive and explore Old San Juan
Day 2: Day trip to El Yunque National Forest
Day 3: Fly into Vieques and go beach hopping
Day 4: Snorkel tour and bioluminescent bay tour in Vieques
Day 5: Fly back to San Juan and head to the southwest
Day 6: Chiliboats and bioluminescent bay snorkeling
Day 7: Surfing in Rincon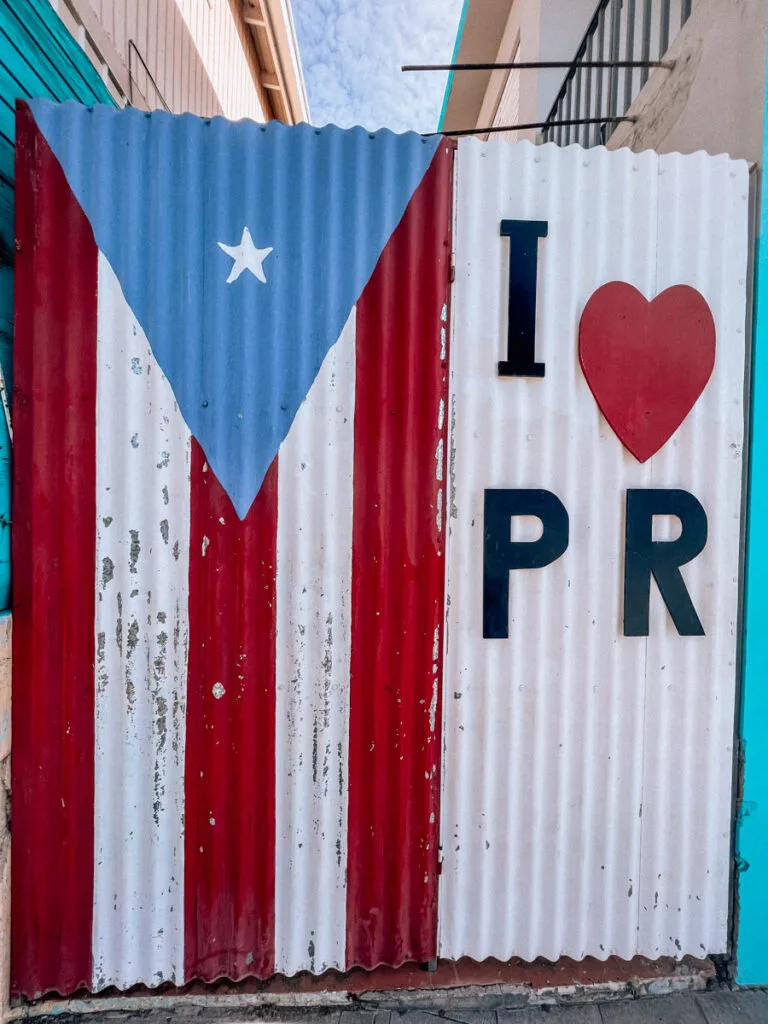 Puerto Rico 1 Week Itinerary
Now that you have a little Puerto Rico in 7 days sneak peek, here are all the details on the best way to explore this island.
Day 1: Arrive and Explore Old San Juan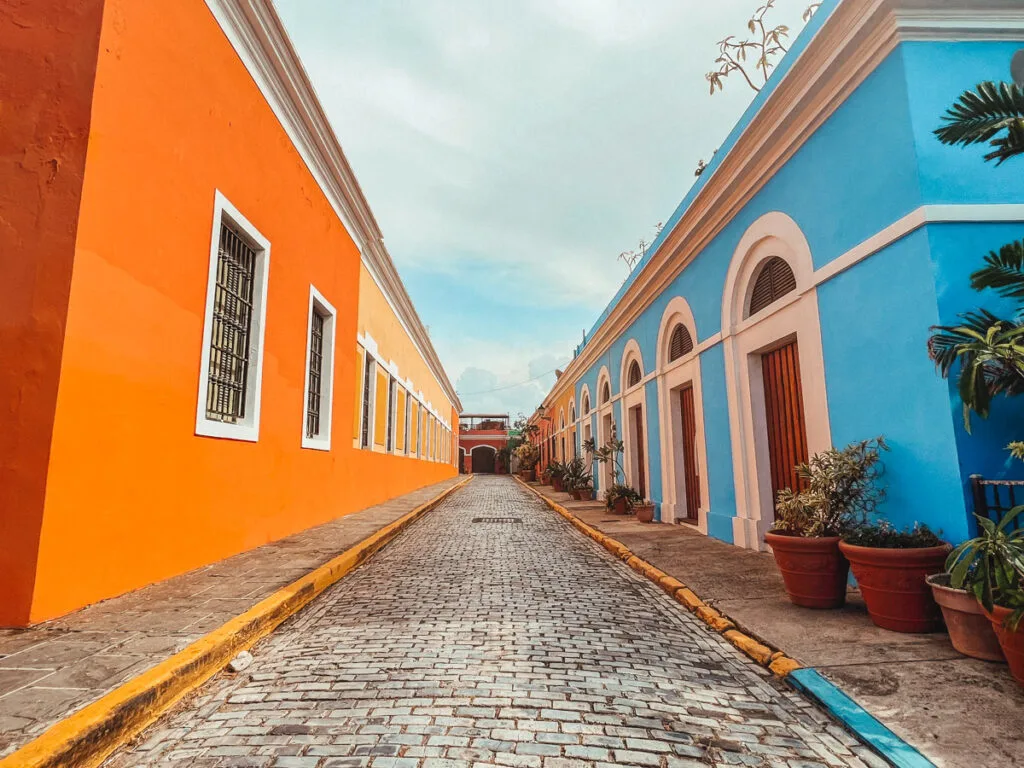 While it does seem strange to only be spending a day in San Juan, if you really want to see all that Puerto Rico has to offer, I actually recommend utilizing most of your time to visit outside of the main city and explore the beaches and cool landscapes around the island.
With that being said, San Juan has the main airport in which you'll fly into. Luckily, many flights tend to land in San Juan around late morning or early afternoon, meaning that you can enjoy the rest of the day exploring Old San Juan.
You'll want to base yourself in Old San Juan during the first couple of days here, as there is a lot to see and do in the area.
Start your Puerto Rico itinerary in 7 days strong with a visit to Castillo San Cristobal. This place is the largest fortress built in the Americas, and it was built to protect the city from attacks from the East.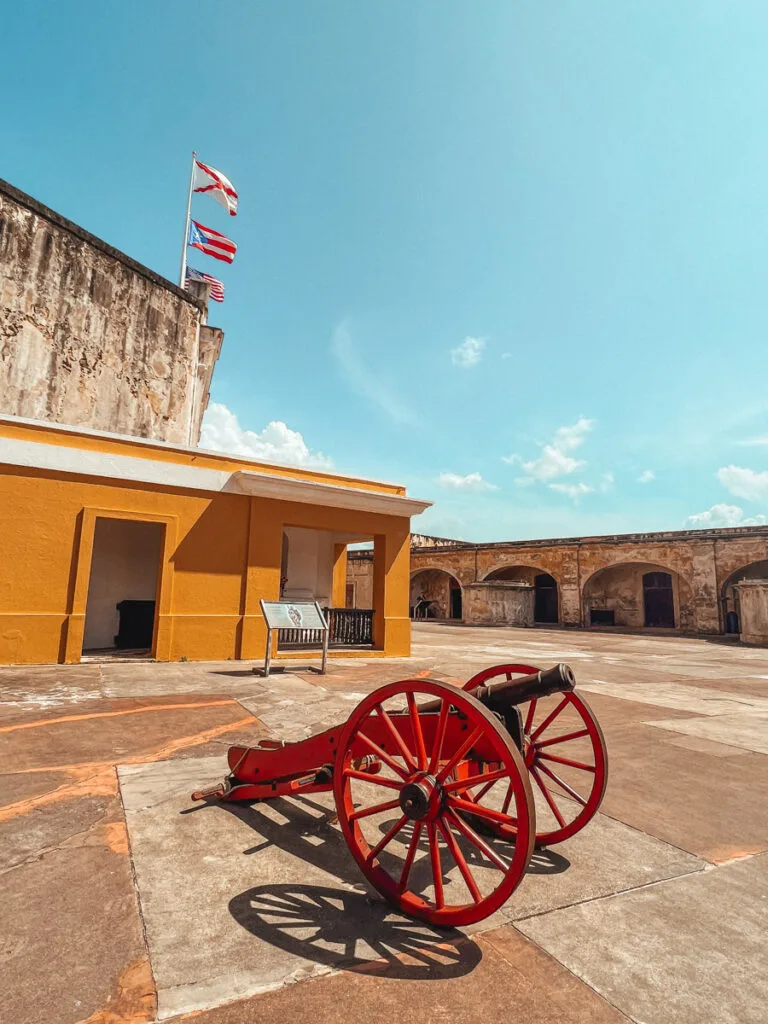 This massive fort is a good place to explore to learn more about the Military history of San Juan and Puerto Rico. There are also some great places to admire the views of the Caribbean.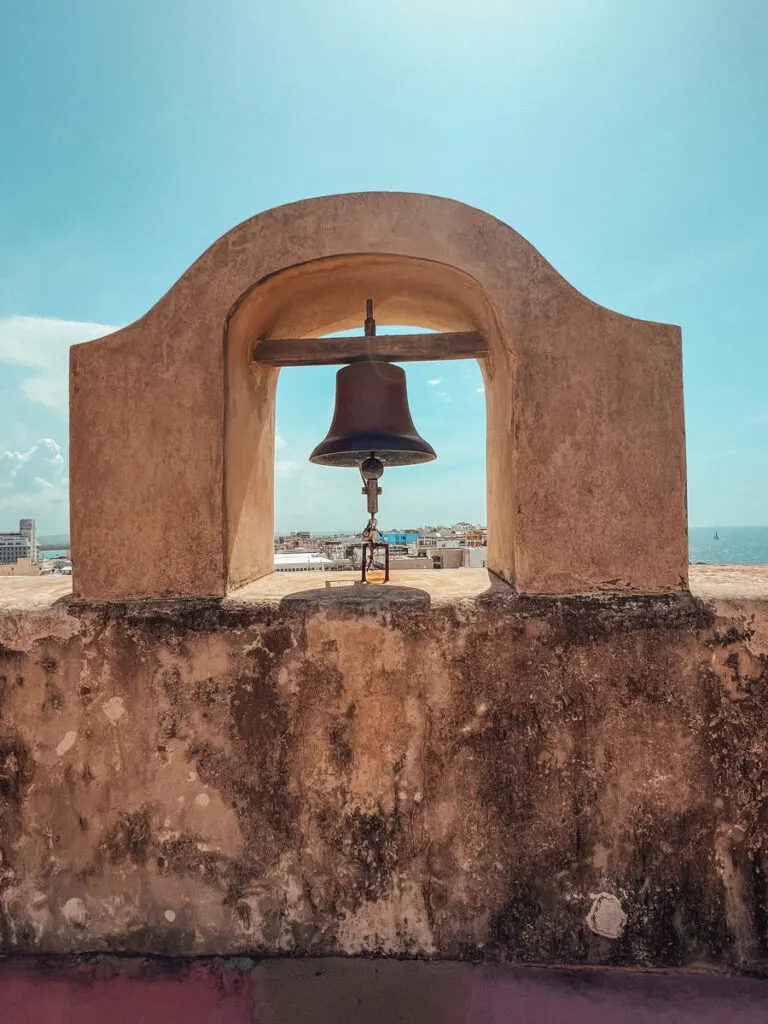 After visiting Castillo San Cristobal, I suggest walking over to Castillo San Felipe del Morro, a fortress built between the 16th and 18th centuries. This fortress expanded quite a bit over the years, but you can still visit a part of the original citadel through its tunnels.
Both of these are World Heritage Sites and worth a visit during your day in San Juan. I also recommend visiting these first thing, as they close at 5 pm.
The cost to visit both citadels is $10 and you can purchase your ticket at the entrance of either place.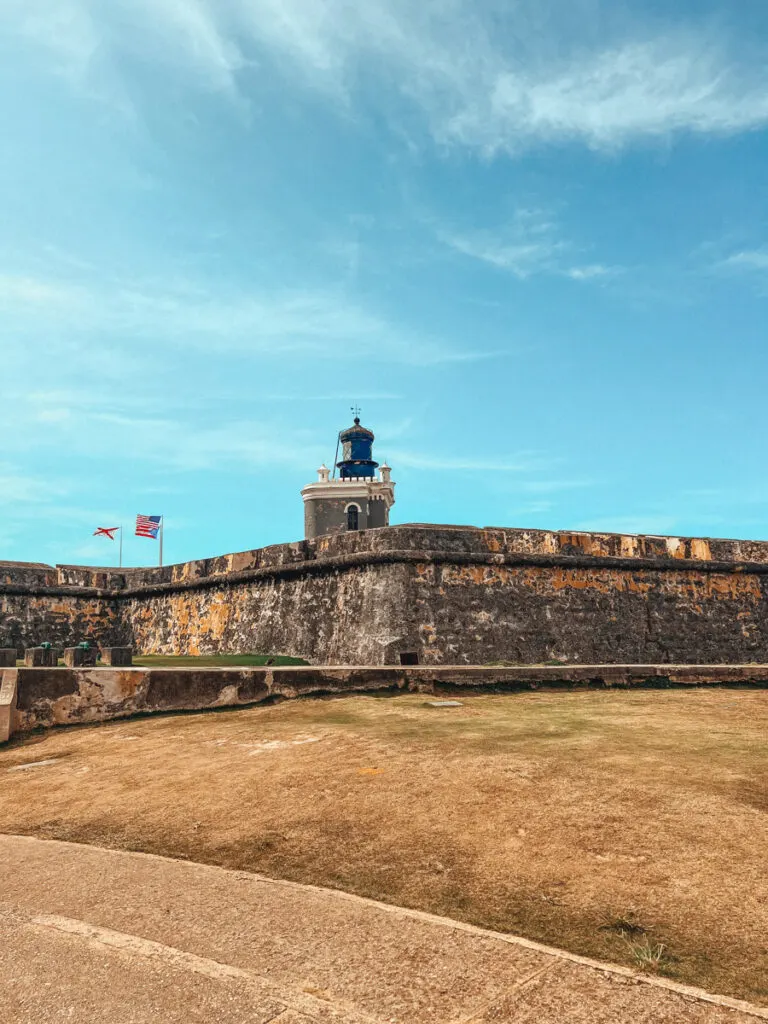 After exploring the two big forts around Old San Juan, I suggest then heading to Plaza Colon, one of the most important squares in the city. From there, you can wander around the colorful streets of Old San Juan, taking photos and enjoying the views.
Then, for dinner I recommend Deaverdura. This place is open from 11 am-9 pm on Monday, Tuesday, Thursday, Friday, and Saturday and from 11 am-8 pm on Wednesday. If you want some seriously delicious Puerto Rican and Caribbean food, this is the place.
Start out with fresh juice before tucking into their rice and beans with slow-cooked pork shoulder!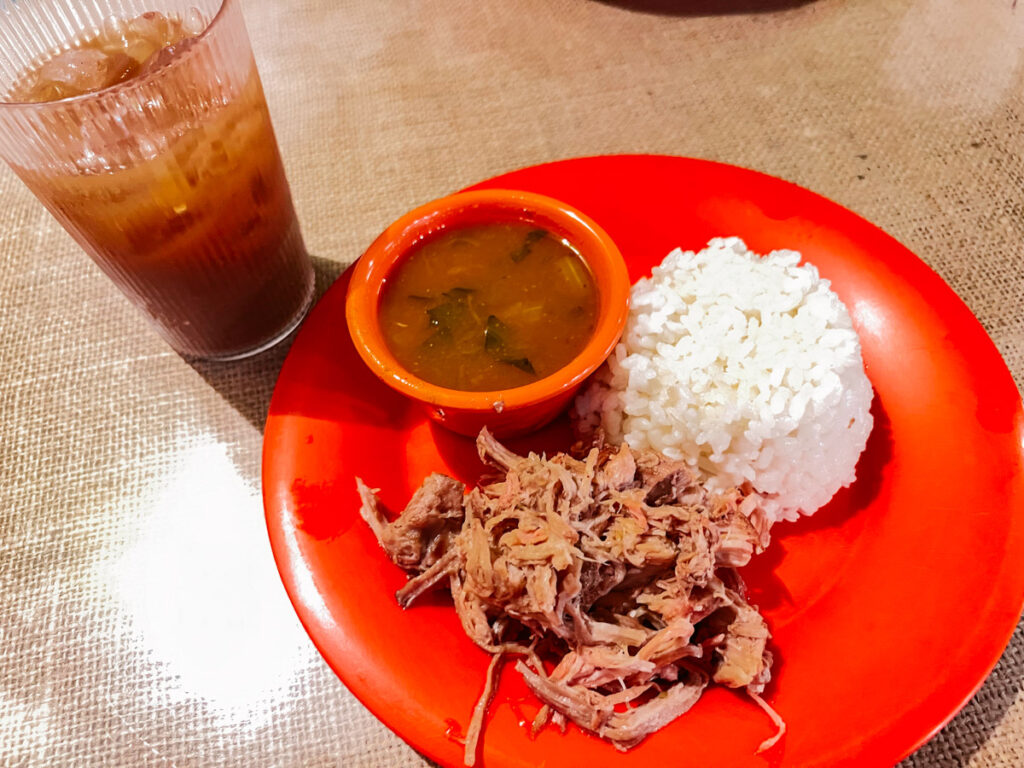 After that, it is definitely worth exploring the Old San Juan party street, known as Calle San Sebastian. My personal favorite bars include La Factoria with its hidden rooms (hint: follow the red doors!) as well as Cafetin with its $5 mojitos.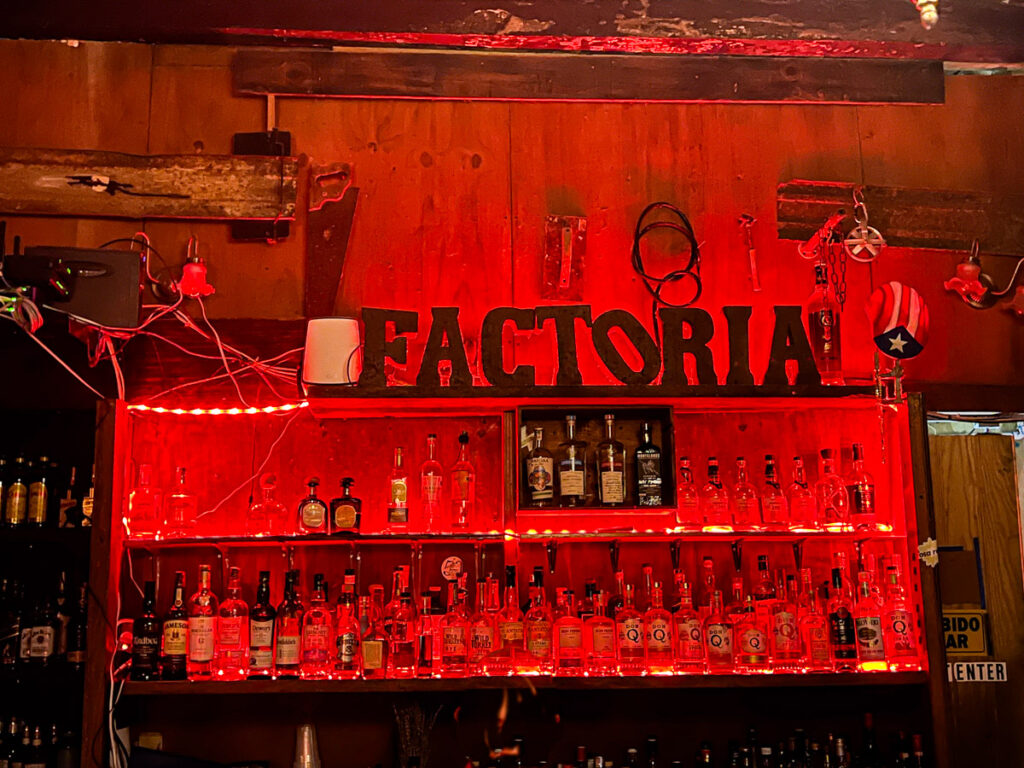 Or, if you want a bit more chill cocktail experience, head to the bar at Hotel El Convento. This place has some delightful cocktails in a more relaxed atmosphere.
Where to Stay in Old San Juan: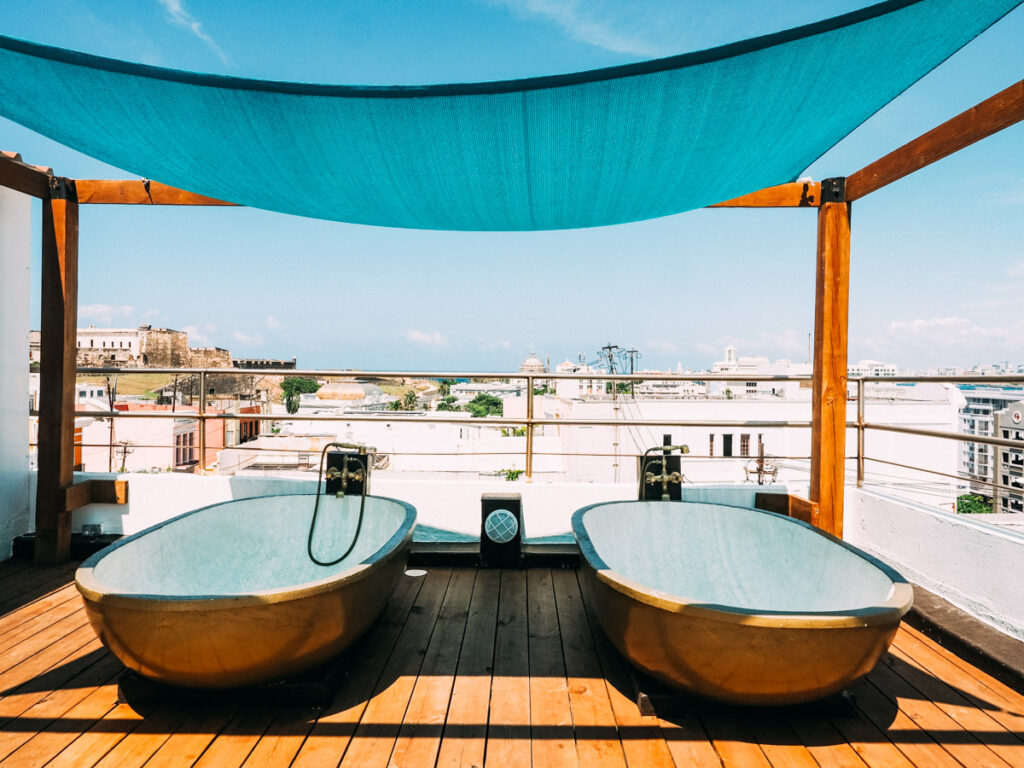 I recommend staying in the old city as you'll be spending your whole day here. Here are some options based on your budget.
Budget: Fortaleza Suites
Steps from Plaza Colon, you're within walking distance of many attractions in the area. It has all the comforts you need for a pleasant stay.
Mid-Range: CasaBlanca Hotel
This Moroccan-inspired hotel has comfortable rooms and great views from its rooftop terrace.
Luxury: Hotel El Convento
Located in a former convent, this lovely hotel has a great bar, restaurants, and beautiful architecture. It is also in the heart of it all in Old San Juan. They also have a pool and hot tub on their terrace with great views of the city and bay.
Day 2 of Your Puerto Rico Itinerary in 7 Days: Day Trip to El Yunque National Forest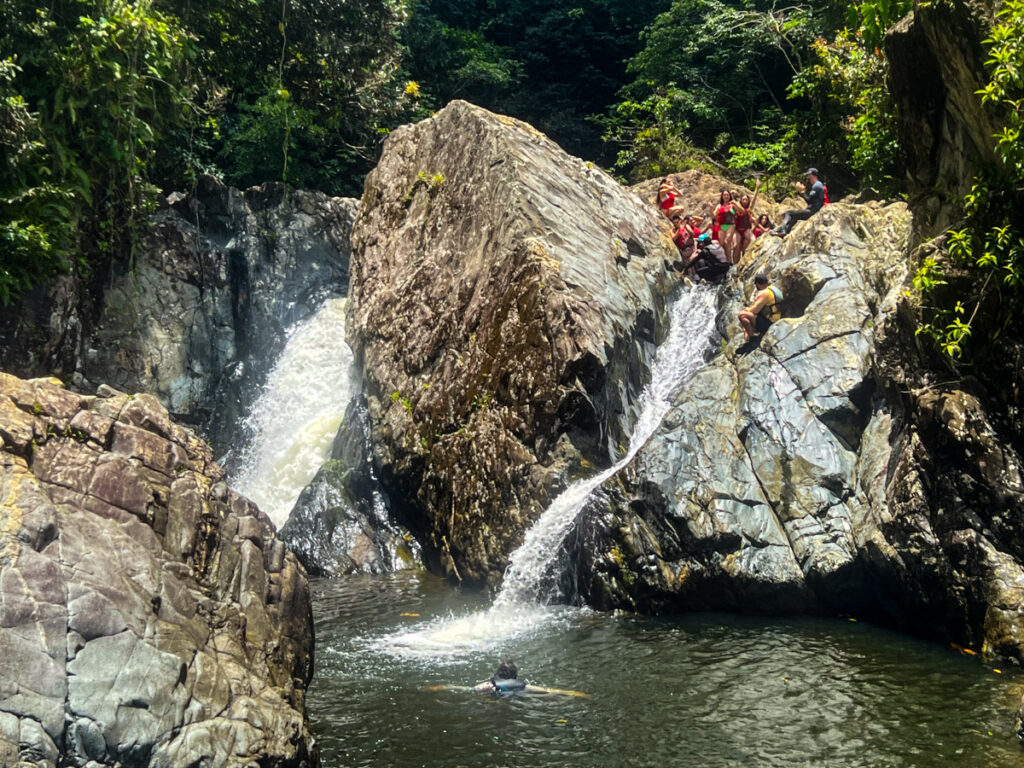 Located about an hour or so from San Juan, El Yunque National Forest is the only tropical rainforest in the US National Forest System.
This place is well known for its hiking, waterfalls, and more! It is definitely worth visiting on a day trip from San Juan.
This is the day trip that I took that was a bit more adventurous and honestly a ton of fun!
But before you get picked up, definitely grab a coffee at Cafe Cuatro Sombras. This place serves up local, Puerto Rican coffee and is a great way to start day 2 of your 7 days in Puerto Rico itinerary.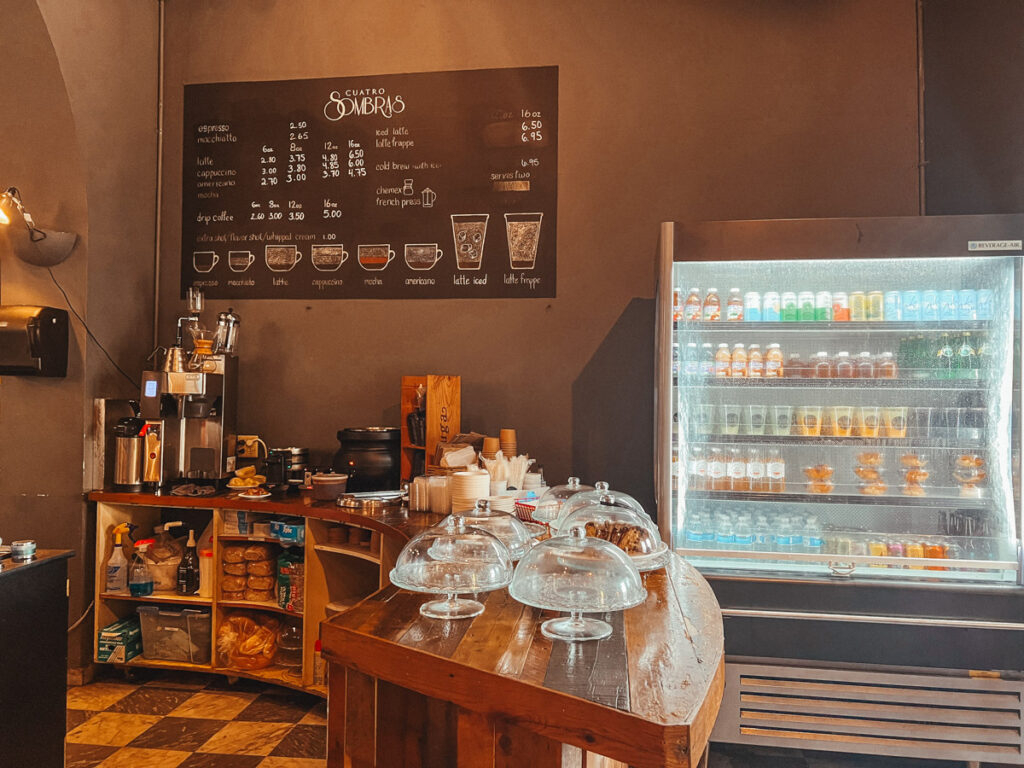 After coffee, get picked up at Plaza Colon to explore El Yunque. Go for a fun hiking adventure where you'll have a chance to go down a natural waterslide, jump off a cliff into the river, and even rope swing into the creek.
It is such a fun way to get to know the natural beauty of El Yunque. And, on the way back, you'll grab lunch at La Paquilla Beach, where there are ample food and drink stands.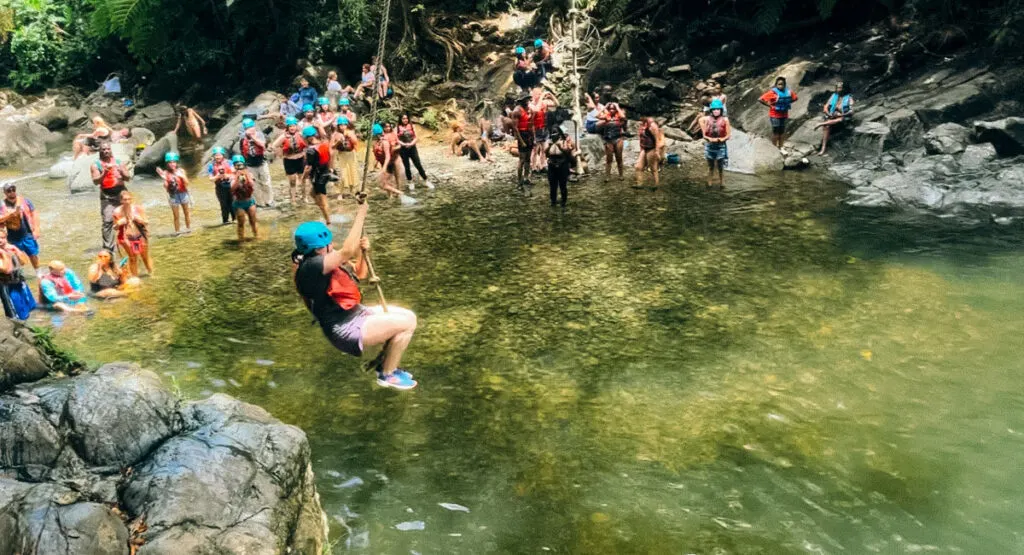 Spend some time lounging on the beach with a mojito in hand and then you're back off to San Juan.
Just be sure to wear things like a bathing suit, old clothes, water shoes or old tennis shoes without socks on, and pack sunscreen and a waterproof phone case!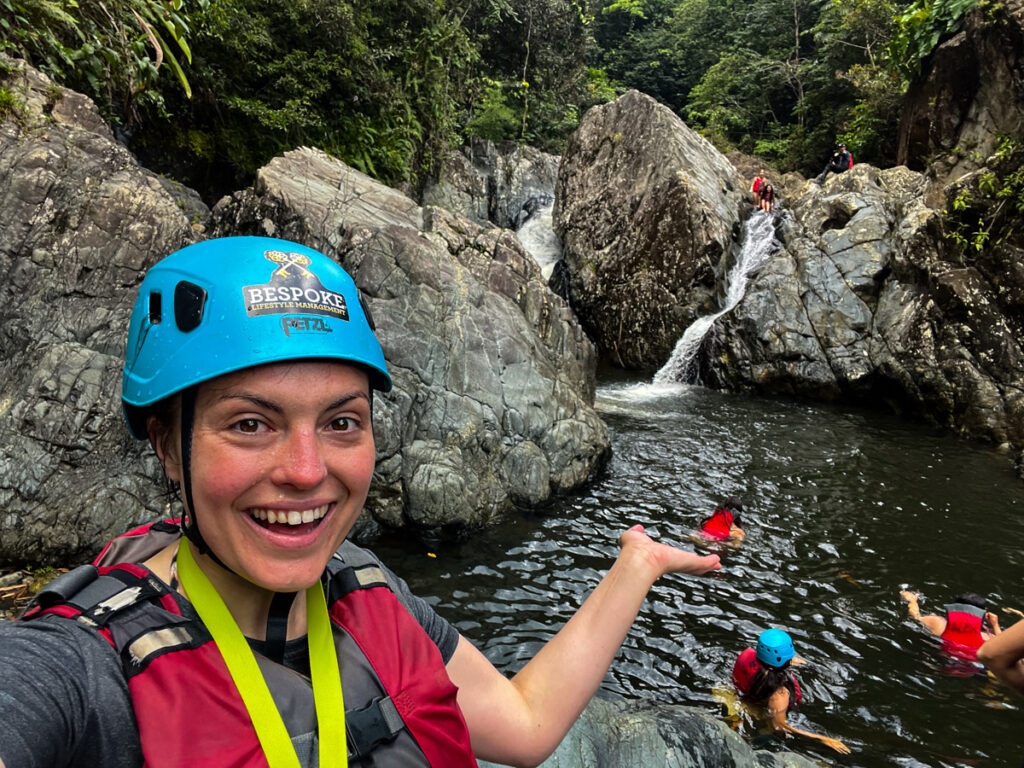 Once you're back in Old San Juan for the evening, I suggest getting dinner at T-Tuan Old San Juan for beautiful views while you eat Puerto Rican tapas and sip pina coladas.
Day 3: Fly Into Vieques and Go Beach-Hopping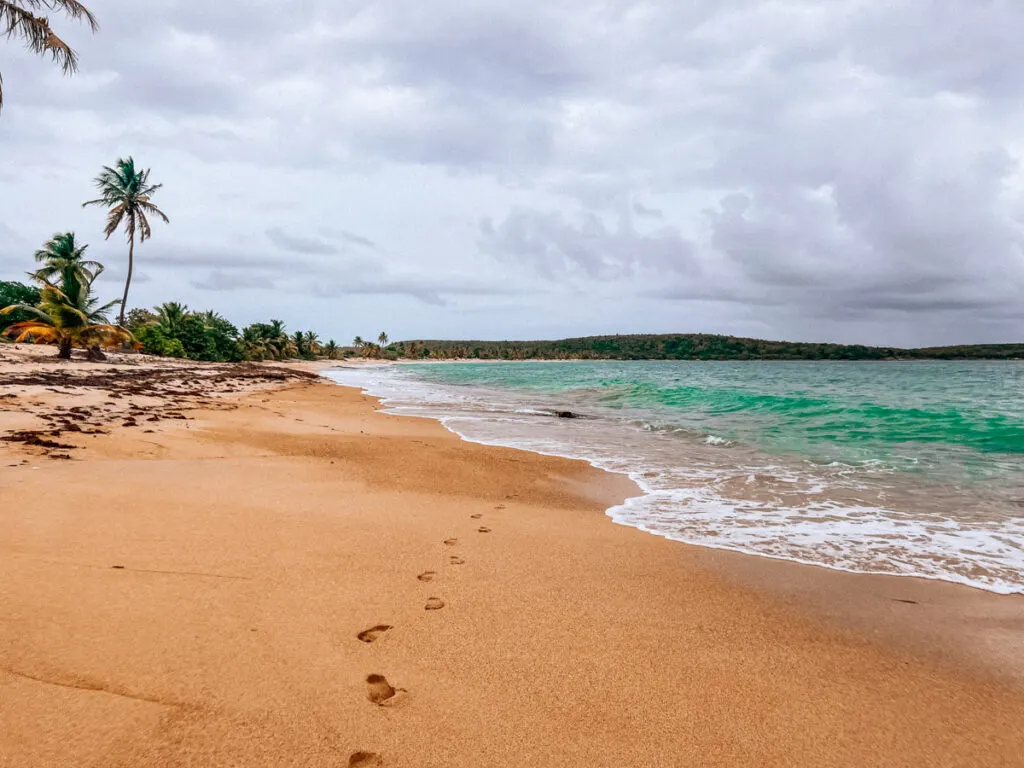 On the third day, you'll want to get up early to head to the island of Vieques. Yes, the island of Puerto Rico also has smaller islands you can visit!
Vieques is a stunning island off the coast of the main island of Puerto Rico. It was once occupied by the Navy but is now open for everyone to visit. It is also well-known for having the brightest bioluminescent bay in Puerto Rico!
So hop on a small plane; I flew Vieques Air Link for the 30-minute ride to the island. I suggest booking a cab ahead of time for Vieques as the airport is out of the way. Here are a few services:
741 Taxi: 787 741-TAXI (8294)
M&M Taxi: 939-208-1600
Yo Yo's Taxi: 787-585-9560
Once you get to your hotel, you can drop off your bags and start exploring!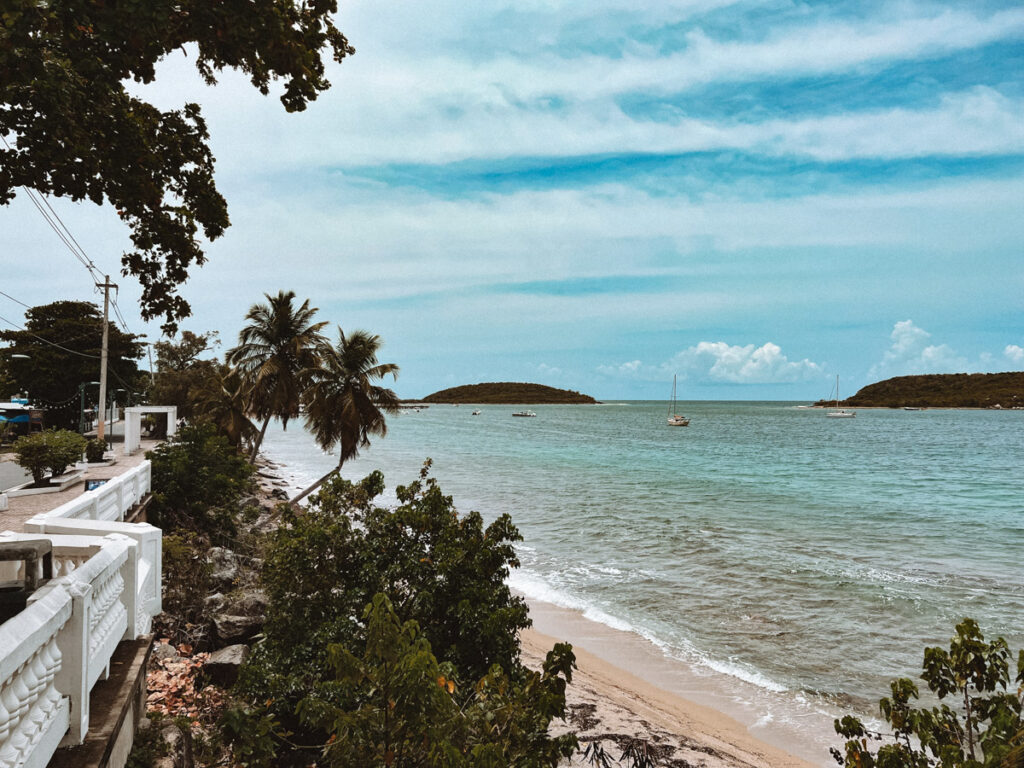 I suggest staying in Esperanza, as that is where most of the tours and hotels are located. There is a place called Fun Brothers where you can rent a golf cart for the day for $90. I suggest booking this in advance, and then picking it up when you get there.
Honestly, it was a lot of fun exploring the island via a golf cart! You take things slowly and enjoy all the sights around you including the horses running around the island.
Plus, as this island is too big to walk around in a day, having a vehicle is nice so you can check out beaches in the area.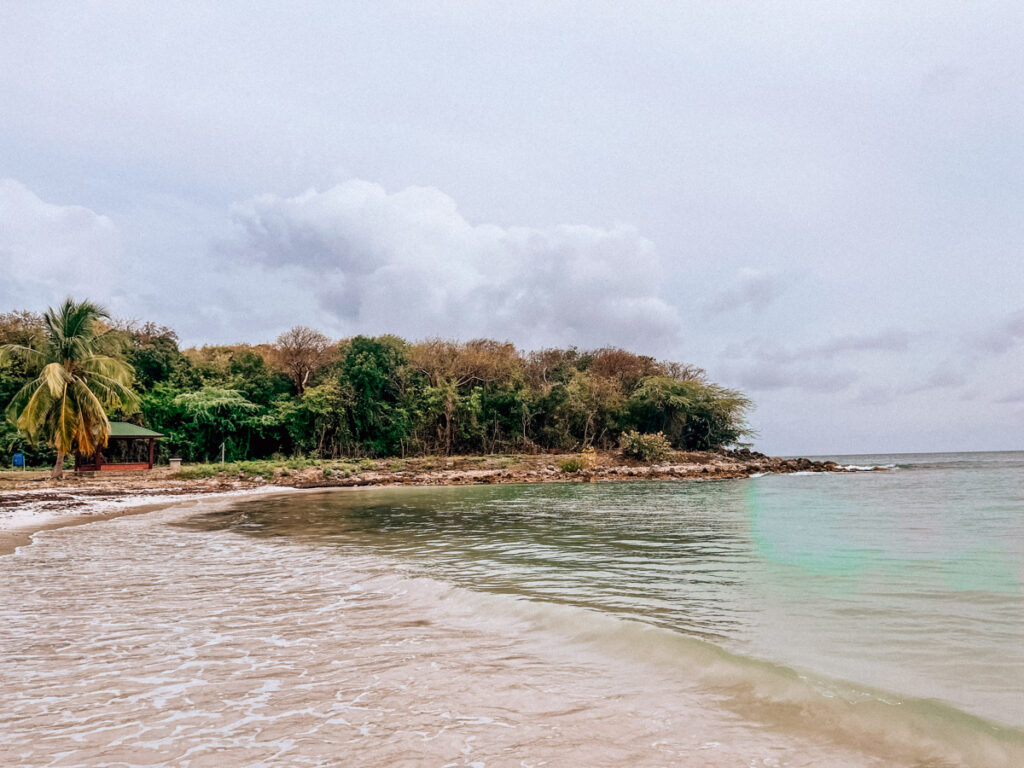 So spend the day driving around the island, stopping at places like Vieques Food Park and having the best mofongo with shrimp at Rincon del Sabor, visiting the 300+-year-old ceiba tree, snorkeling off the beach at El Gallito Beach (don't do this alone!), visiting the Vieques Wildlife Refuge and Caracas Beach, Sun Bay, and even Playa Negra (the black sand beach!).
I wanted to see it all so I did all of those things, but I suggest picking a few and really enjoying your time like the food park, ceiba tree, as well as El Gallito Beach and Sun Bay.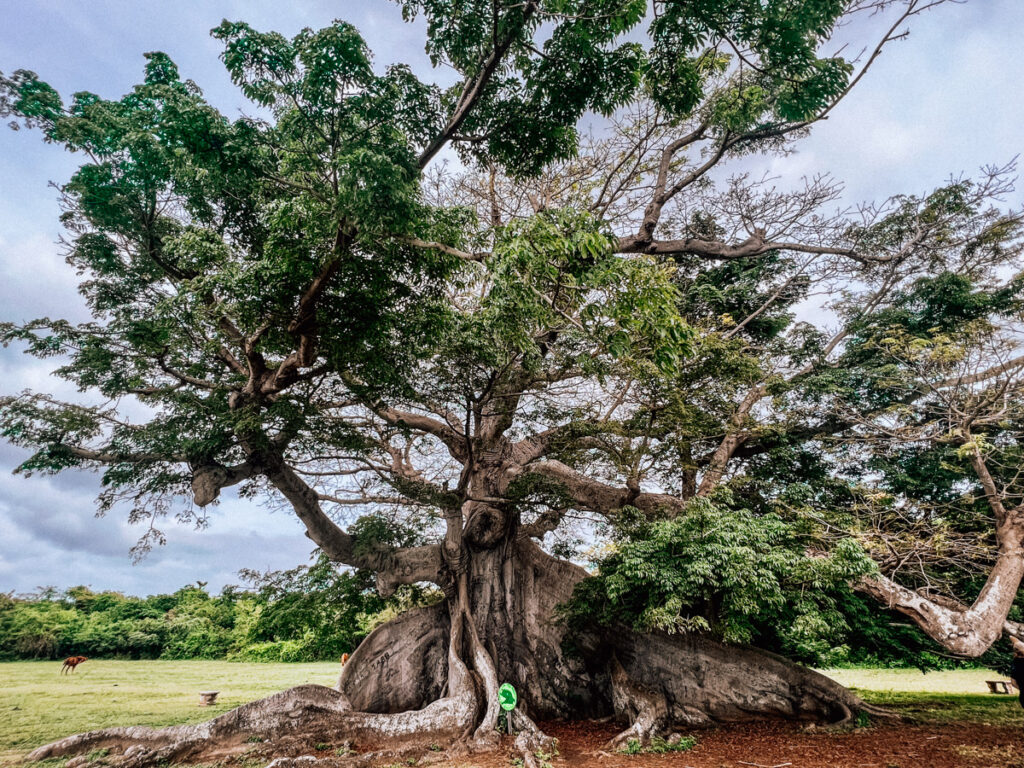 Then, in the evening, grab a nice plate of food at Lazy Jack's, a lively restaurant in Esperanza.
Where to Stay in Vieques: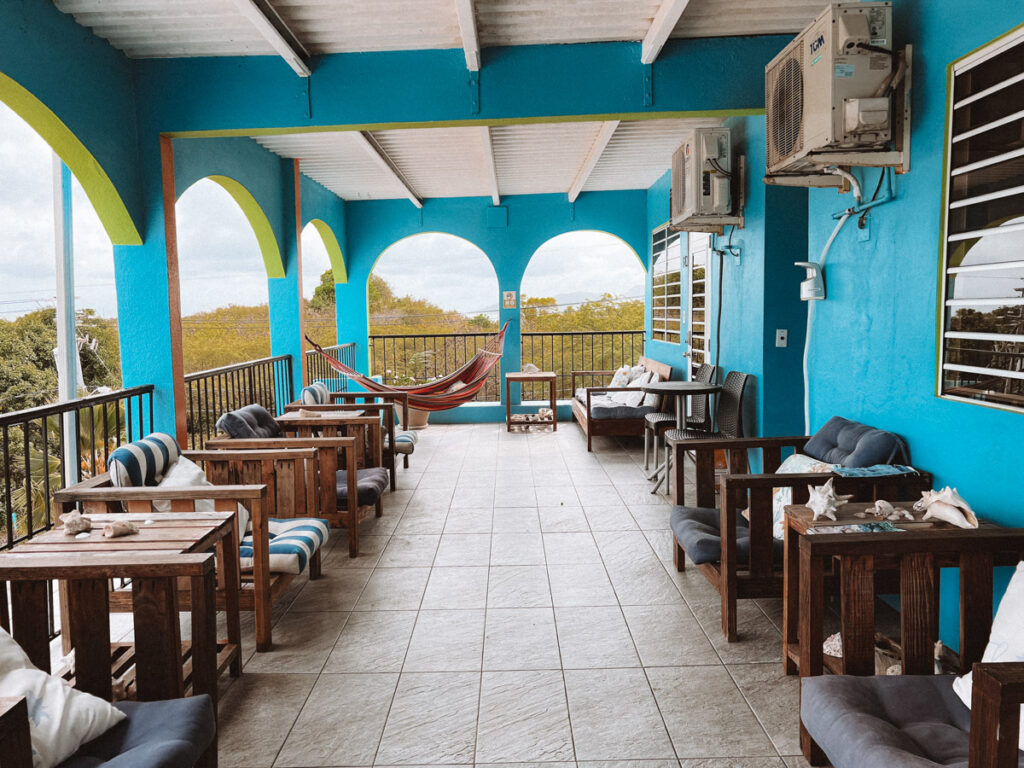 I talked about staying in and around Esperanza, so here are a few options:
Budget: Villa Coral Guesthouse
Located in Esperanza, and about a 15-minute walk to the beach, this is a great place to stay on a budget. It also includes parking and air conditioning for those warm Caribbean days.
Mid-Range: Vieques Guest House
This is where I stayed last time and loved it! From the friendly staff to the rooftop deck views of the sea, you can't go wrong with a stay here. Plus, it has free parking and a path to an off-the-beaten-path beach called El Cocal. They also provide things for rent such as coolers, beach chairs, and more!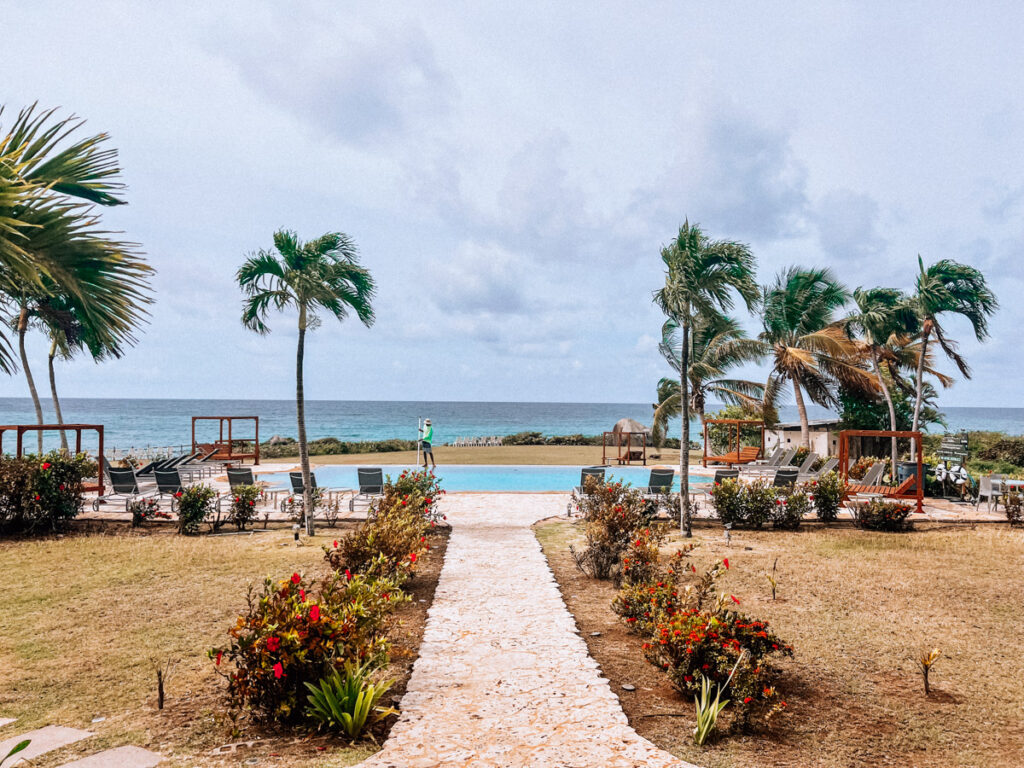 Luxury: Blue Horizon Boutique Resort
A bit outside of the city of Esperanza, this is a great place to stay for couples and those who want some peace and quiet. Located along the sea, this place has stunning rooms, a nice pool, and a delicious restaurant on site.
Day 4 of Your Puerto Rico Itinerary in 7 Days: Snorkel Tour and Bioluminescent Bay Tour in Vieques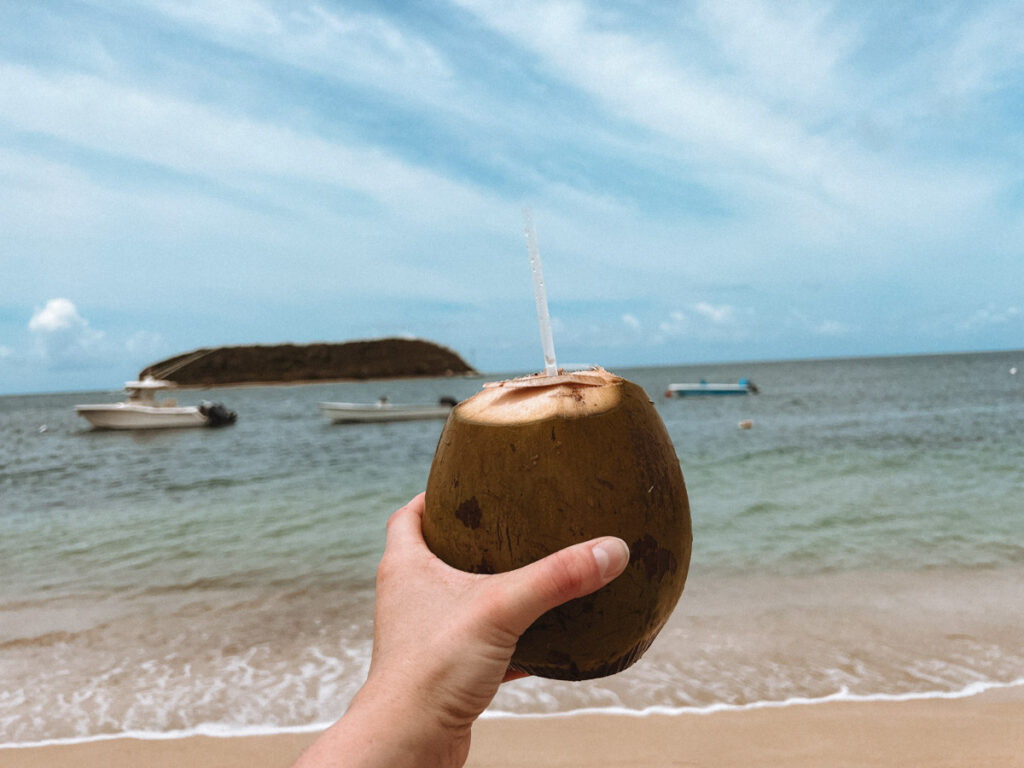 As this day is mostly full of some tours in between some relaxing beach time, and I suggest having an early flight back to the main island tomorrow, it is a good idea to return your golf cart rental this morning.
After dropping off your golf cart, it is time for a snorkeling tour! While I loved snorkeling at Gallito Beach on the first day, for even better snorkeling, it is a good idea to go with a local guide.
I suggest contacting Damien at Vieques Snorkel Tours for a tour. He really knows his stuff and can help you find some incredible wildlife while snorkeling.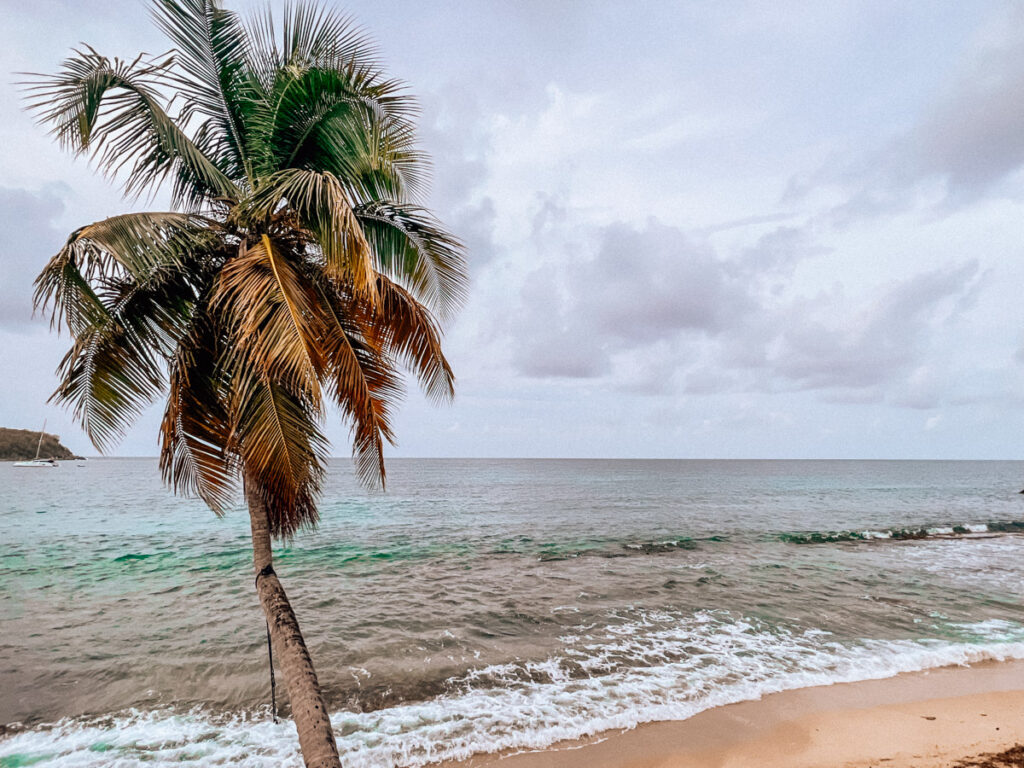 I recommend a private tour for a more personalized experience, but he also offers group tours starting at 9 am and 1 pm.
After having a lovely morning snorkeling amongst some incredible coral reefs and sea turtles, head back to your hotel and get ready to hit up the beach.
I spent the majority of my day after my tour at El Cocal. This beach is more off-the-beaten-path than nearby Esperanza Beach, meaning you may have the whole place to yourself for a while! Lounge around, spot horses on the beach, swing on the delightful beach swing, and perhaps even go for a swim!
Just note that it is pretty rocky and there is a smaller area that is best for swimming.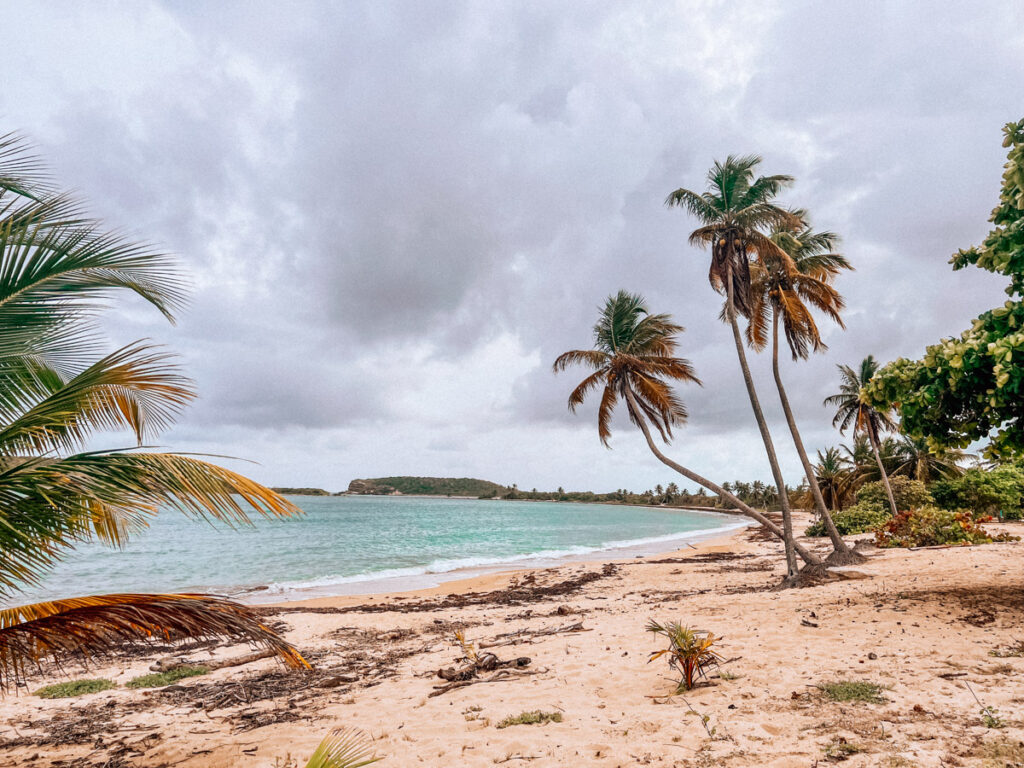 After an afternoon on the beach, it is time to head to your last tour on the island and that is to the bioluminescent bay!
Mosquito Bay is not only the brightest bio bay in Puerto Rico but in the entire world! And while you can't swim in it anymore, you can go on a kayak tour!
For the brightest views, be sure to head here around a new moon, but either way, it is stunning. I went with Blackbeard Sports. I highly recommend booking a tour with clear-bottom kayaks, as you'll want to see the amazing bioluminescence below as you paddle!
The bioluminescence is caused by microscopic plankton, called dinoflagellates, that light up when disturbed. And there is a huge concentration of them at Mosquito Bay!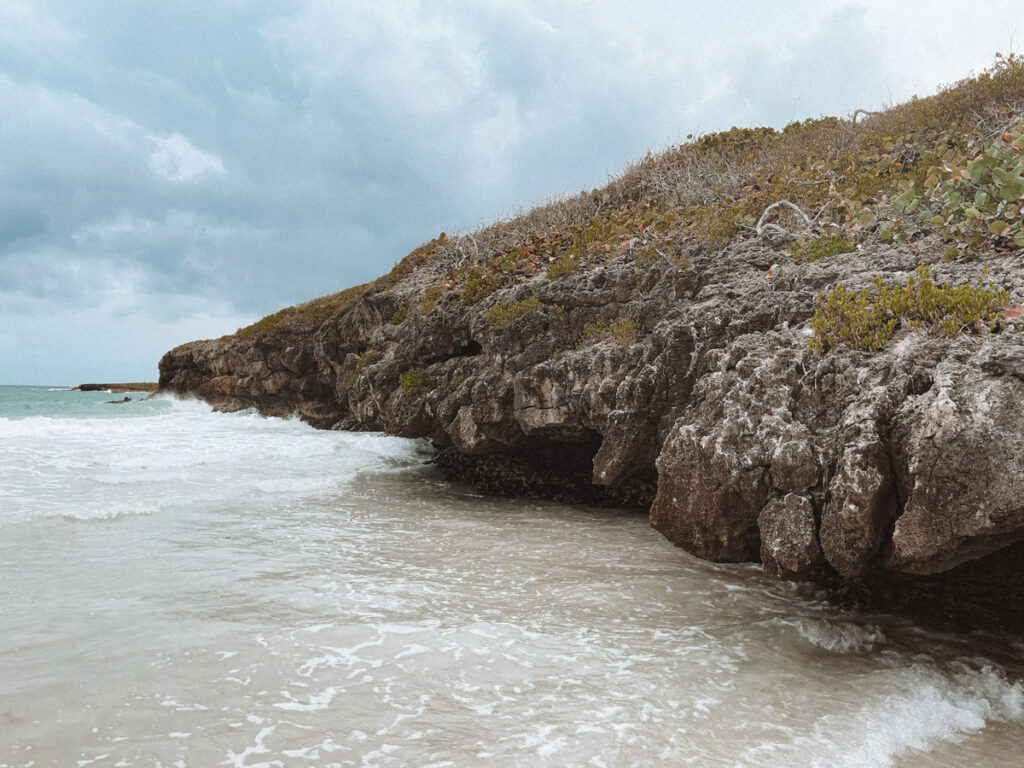 So enjoy the ride out to Mosquito Bay and hop in your kayak for an epic evening of playing in your kayak amongst the bright bioluminescent plankton!
Note: It really isn't worth trying to get photos or video, as it happens way too fast to be caught on camera. So just live in the moment and enjoy every second as you splash, paddle, and even put a foot in the bay to enjoy the light show!
Day 5: Fly Back to San Juan and Head to the Southwest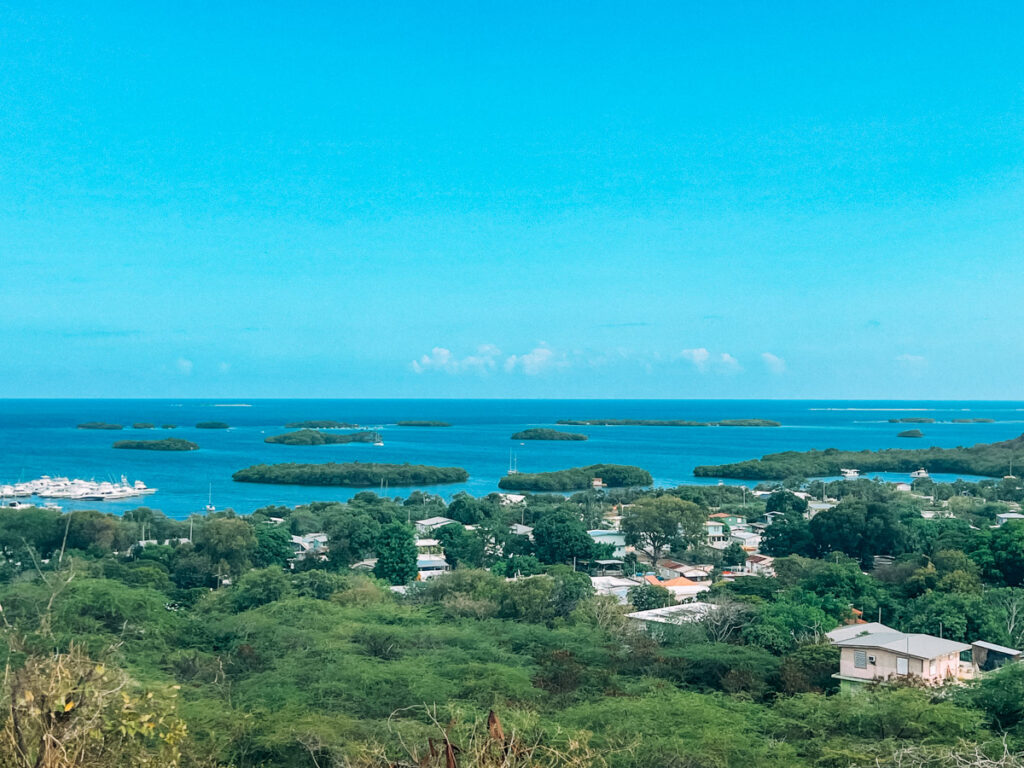 On day 5 of your Puerto Rico itinerary in a week, it is time to head back to the main island. I suggest booking an earlier flight out to San Juan. This 30-minute flight will get you back to San Juan, and you can then head to a rental car place and pick up a rental car.
As always, definitely book rental cars in advance, and I like checking Skyscanner for the best deals!
Once you have your car, it is easy to get around Puerto Rico, so in about 2.5 hours or so, you'll end up in La Parguera in the southwestern part of the island.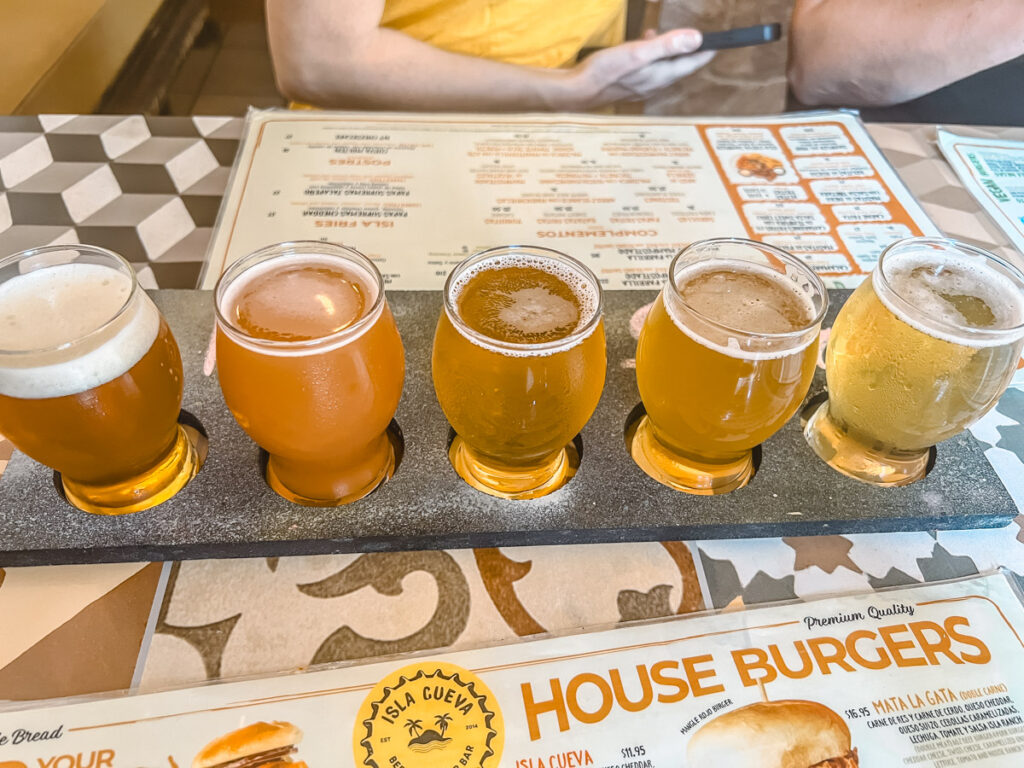 Once you're here, I suggest checking in to your hotel and relaxing by the pool for the rest of the day or perhaps grabbing beers at the Isla Cueva restaurant.
Then, for dinner, definitely head down to El Karakol for its famous sangrias, lobster mofongo, and a sampler of Puerto Rican foods.
Be sure to explore the main square while you're there, as there are a lot of fun bars and restaurants open during the weekends!
Where to Stay in La Parguera: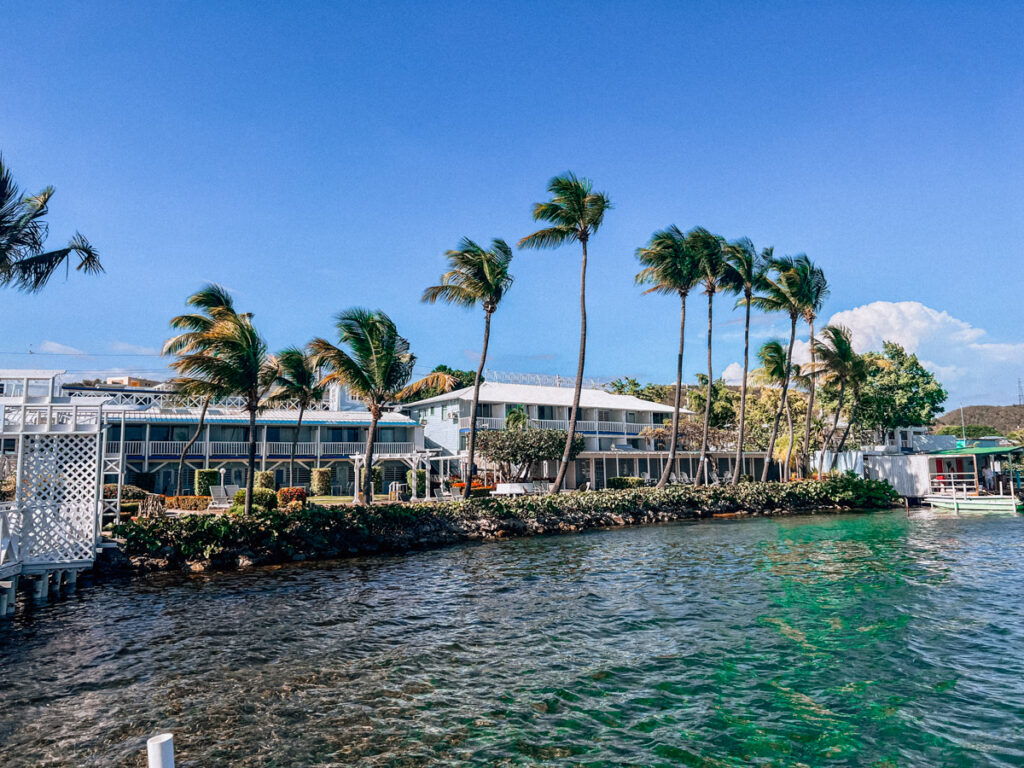 Budget: Turtle Bay Inn
This eco-friendly hotel is a bit outside of the main town, meaning it is a quiet place to relax. It also has a pool and comfortable rooms for your stay.
Mid-Range: Villa Parguera Hotel
This is where I stayed and it is along the sea, so you'll have great views from your patio or balcony! Rooms here are spacious, and there is a fun pool and poolside bar to enjoy during your stay.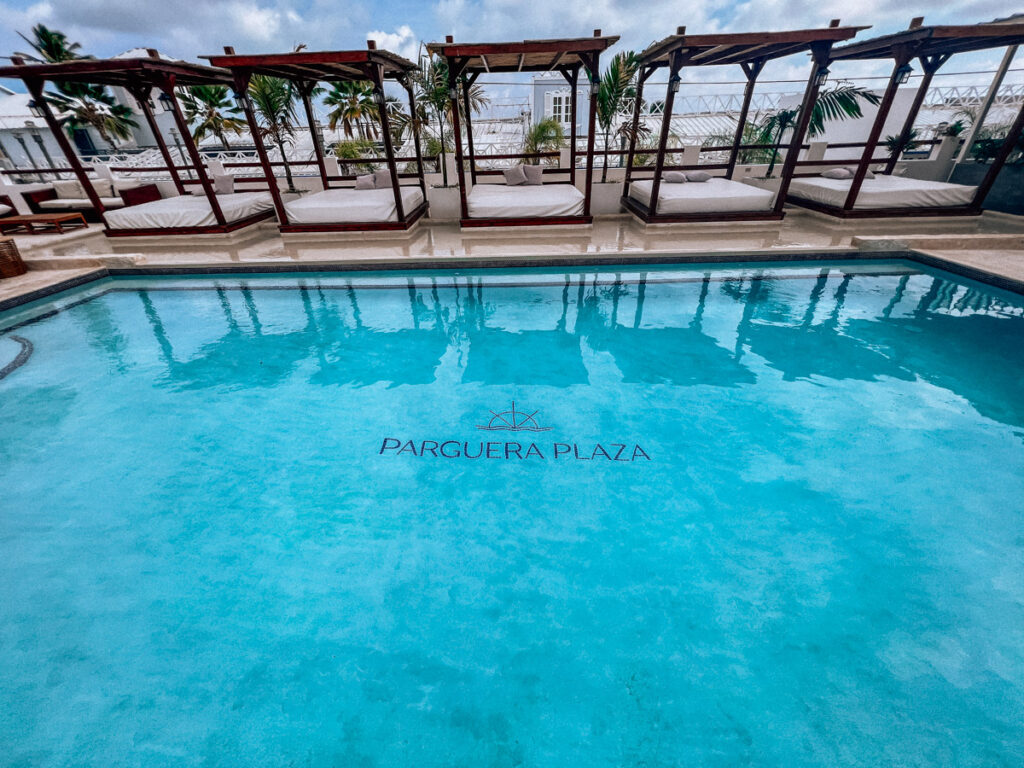 Luxury: Parguera Plaza Hotel
This boutique hotel is newly opened and is stunning! We got to tour the facilities while we were there and the pool looks incredible with its poolside cabanas. Plus, it has a great bar and restaurant, and the rooms are serene. It is also an adults-only hotel so it's perfect for honeymooners.
Day 6: Chiliboats and Bioluminescent Bay Snorkeling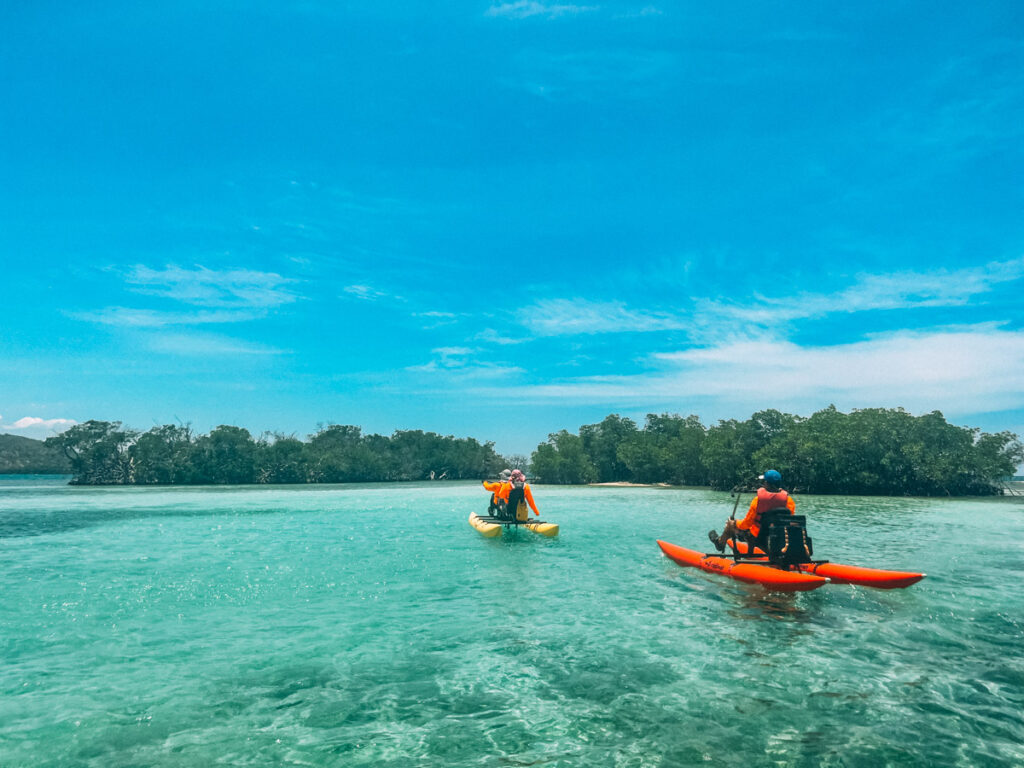 Today you'll have a couple of fun tours, but before that, you'll need coffee.
Head to M&M Bakery for a coffee and some traditional Puerto Rican pastries for breakfast before your day in the sun!
Warning: you'll definitely want to pack your sunscreen and a hat! The sun is strong and you'll need to reapply sunscreen at some point.
Okay, after breakfast, you'll walk to the dock to meet the Caribbean Chiliboats team. They'll get you set up with your own chiliboat, which is a fun waterbike where you'll be in a recumbent position as you bike along the water.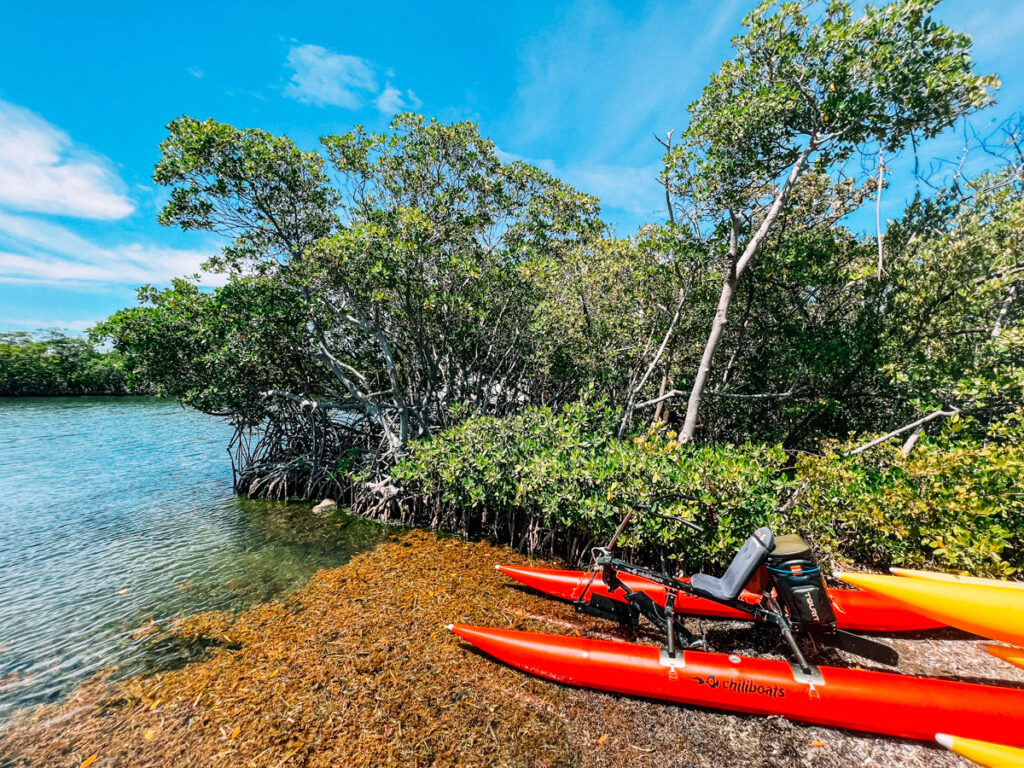 After everyone is set up, you'll be guided around the mangroves, canals, and keys in the area! It is such a fun way to spend a late morning/early afternoon! You even stop at Cayo Majimo and Cayo Caracoles for some fun time swimming before coming back to shore.
It is seriously fun to do, and I can't recommend Caribbean Chiliboats enough! They have tours that start at 8 am and 11 am. I recommend the 11 am tour.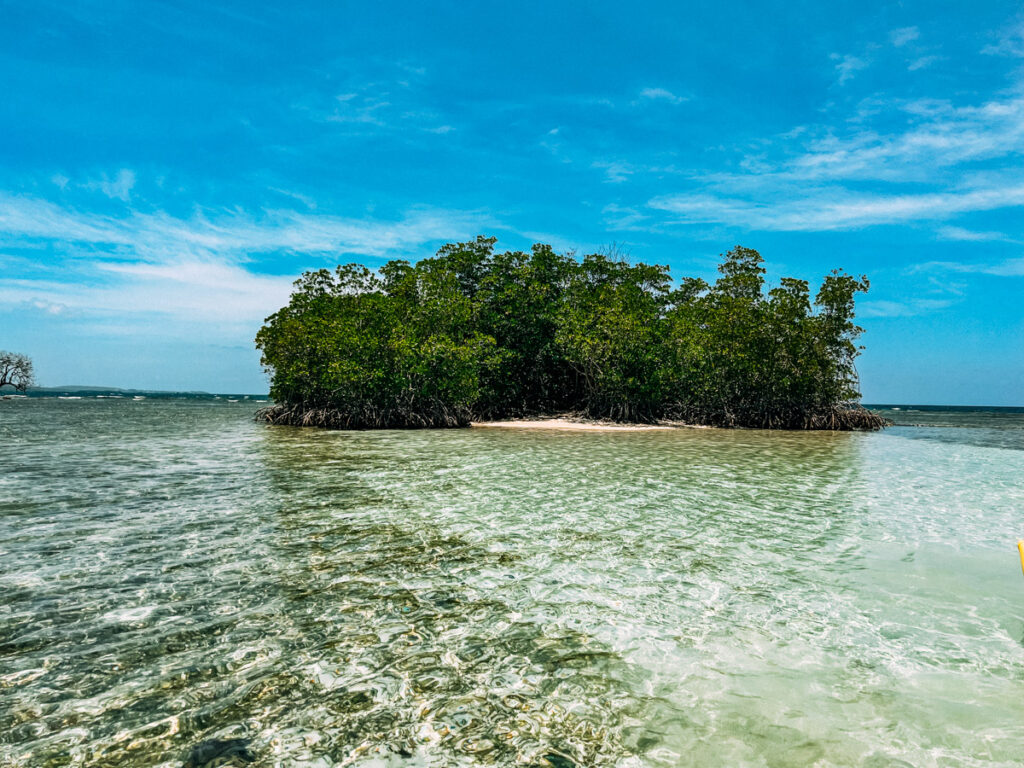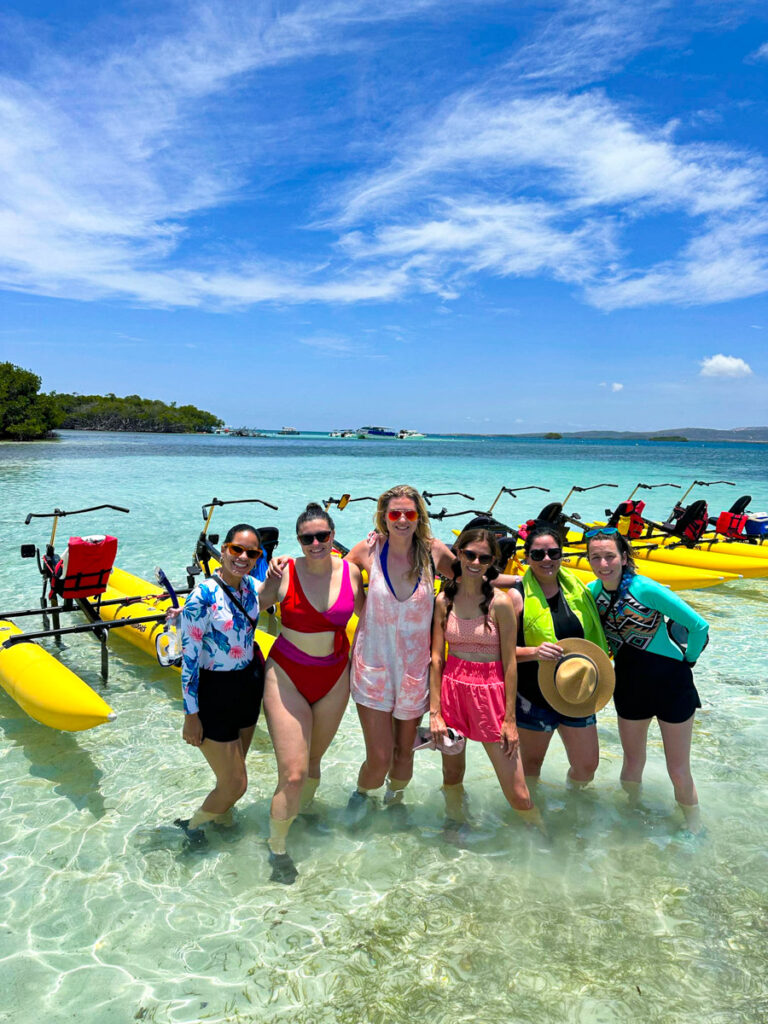 After an exciting late-morning adventure on the Chiliboats, it is time for a tasty lunch at Isla Cueva. This place has tons of great Puerto Rican beers to try, as well as freshly made burgers.
Spend some time here for lunch and then relax at the hotel/hotel pool for the rest of the afternoon. Honestly, it is so hot that it is a nice idea to just relax during the heat of the day.
Then, in the evening, you'll head over to Paradise Scuba & Snorkeling Center for an incredible sunset tour at 4 pm!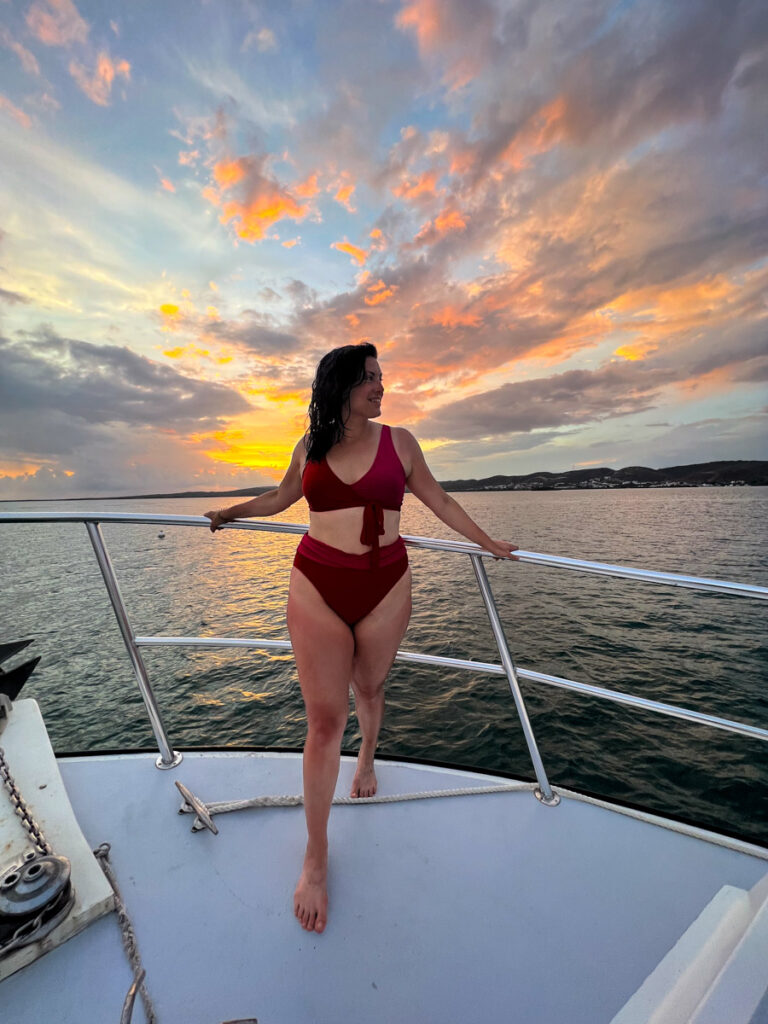 First, you'll enjoy some time snorkeling along the keys and watching the sunset before you head over to La Paguera Bio Bay.
It will be nice and dark at this point, which is perfect for the bio bay. This bio bay is definitely worth visiting as it is the only bio bay in Puerto Rico that you can still swim in! So during this tour, you'll put on your snorkeling gear and hop in the dark water.
While it is definitely dark, once you put your head underwater, you'll see the dazzling plankton lighting up along your arms! It isn't as bright as Mosquito Bay, but swimming in it certainly makes you feel magical!
It is such a great thing to do during your 7 days in Puerto Rico! I am so glad that I ended up visiting both here and Mosquito Bay as they were both so unique in their own ways!
After your enchanting swim amongst the bioluminescent plankton, head back into town for a scrumptious dinner at Plaza Parguera. The seafood here is super fresh and delicious.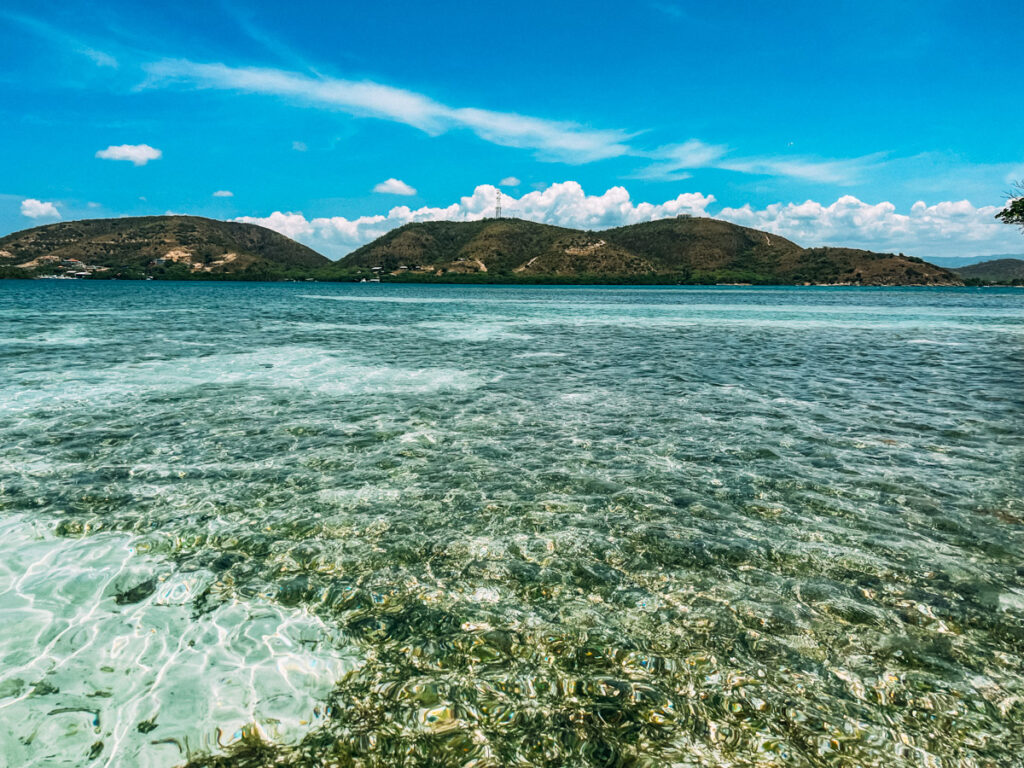 Day 7 of Your Puerto Rico Itinerary in 7 Days: Head to Rincon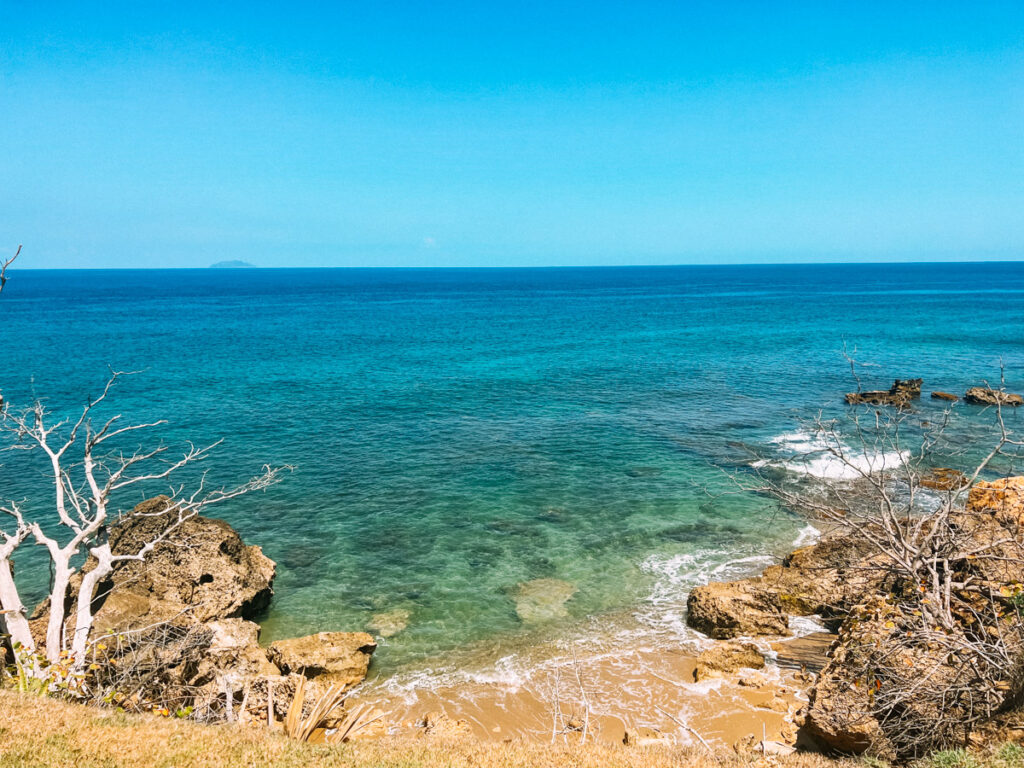 On your last day in Puerto Rico, I highly recommend driving a little over an hour up to Rincon. This area is well known for its stunning beaches and its surfing!
So drive up to Rincon, located in the western part of the island, and grab a quick coffee at La Cafetera before hitting up the beach.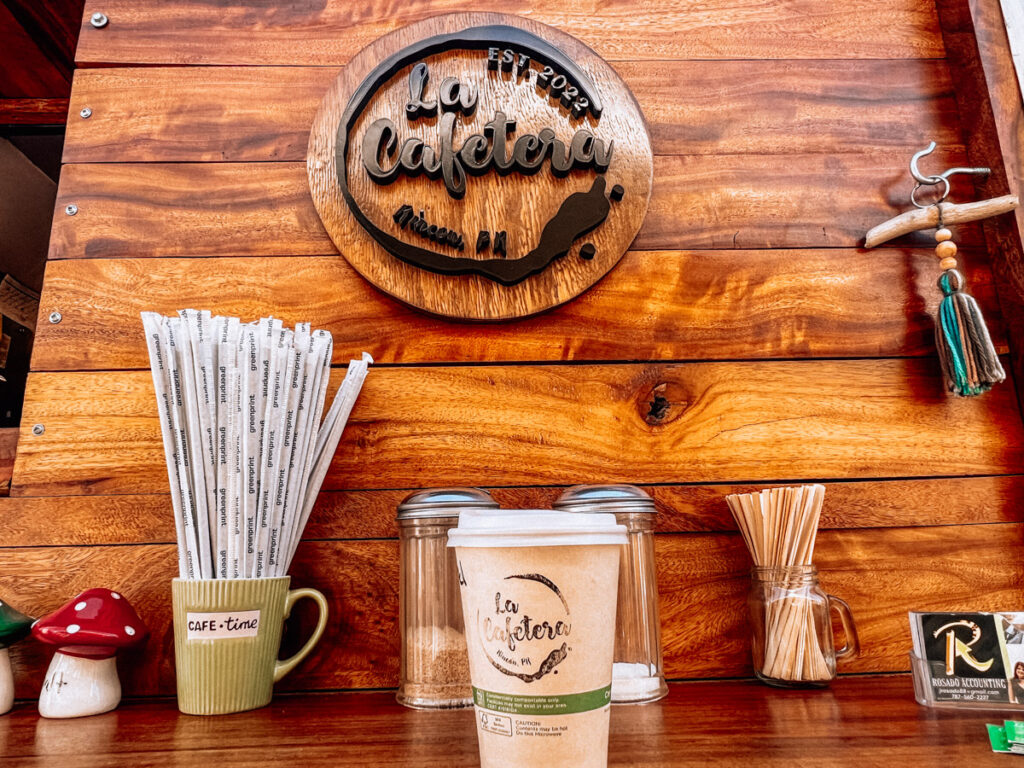 Here is where you'll take a lovely surf lesson at Playa Domes. We had a surf lesson with Ramse Morales, a former pro surfer, and he was fantastic!
He was very informative and helped us each step of the way, making us feel more comfortable and confident to catch a wave! In fact, each of us in the group stood up and surfed a little by the end!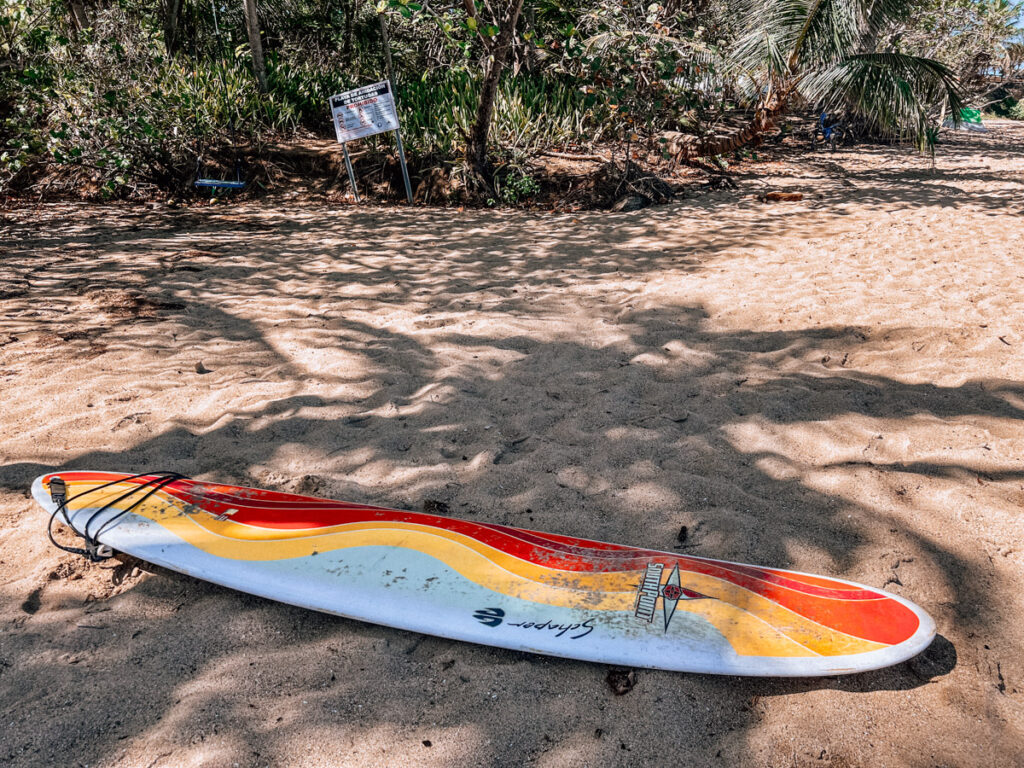 After surfing, it is time for lunch at the Tamboo Hotel. This restaurant overlooks the beach and has delicious coladas, tuna tartare, and ceviche.
Once you've finished with lunch, you can explore the area and stop at places like the Punta Higueras Lighthouse, or you can just enjoy the gorgeous beaches!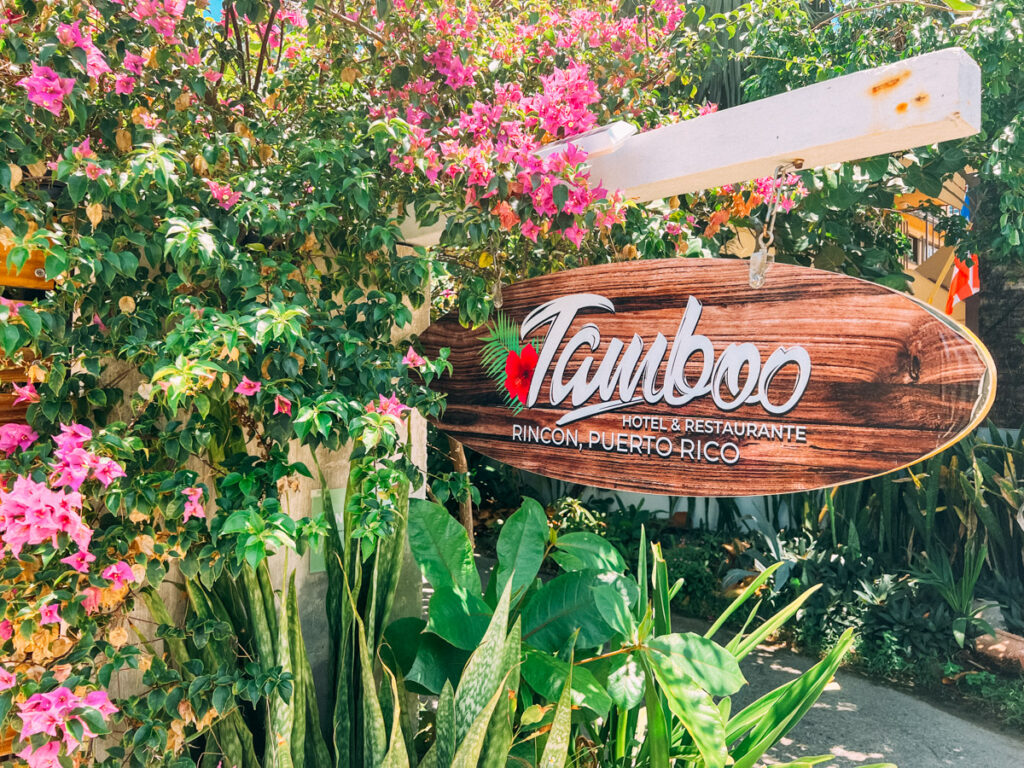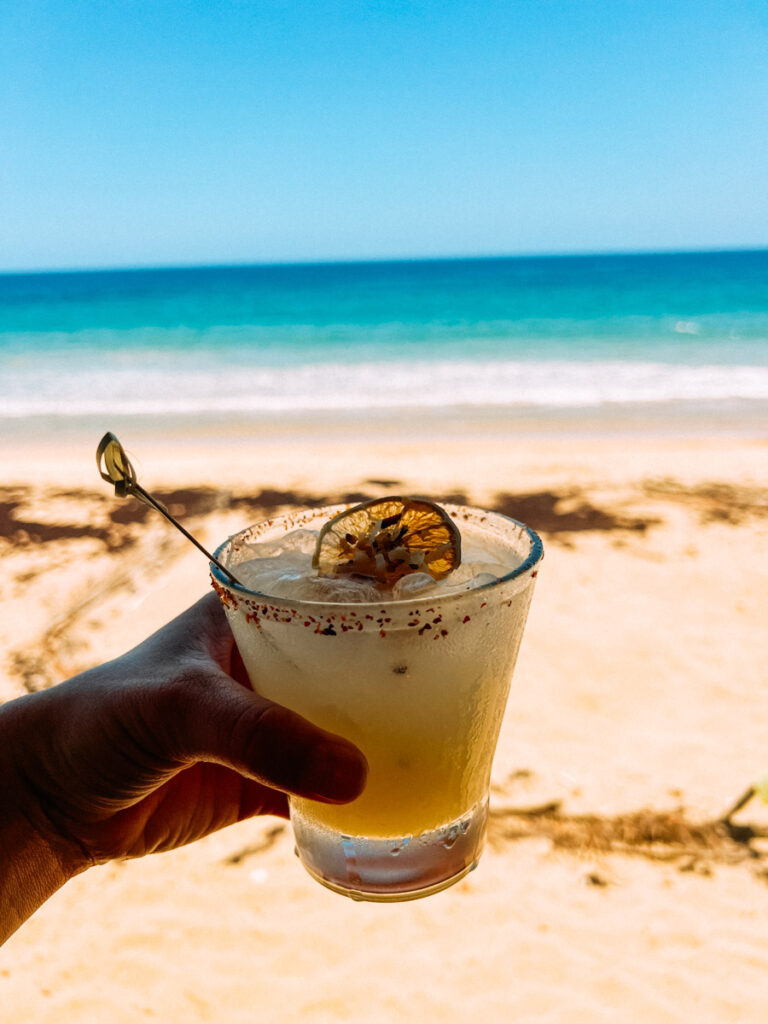 This is a fun way to wrap up your last day in Puerto Rico. From here, you can either spend the night (I suggest the Tamboo Hotel!), and head back to San Juan to catch an afternoon flight the following day, or you can head back to San Juan and relax at a place like Isla Verde Resort before flying home the following day.
This wraps up the ultimate Puerto Rico itinerary in 7 days! After visiting San Juan, Vieques, and the western part of the island, you'll leave with many memories and be longing to return.
If You Have More Time During Your Puerto Rico Itinerary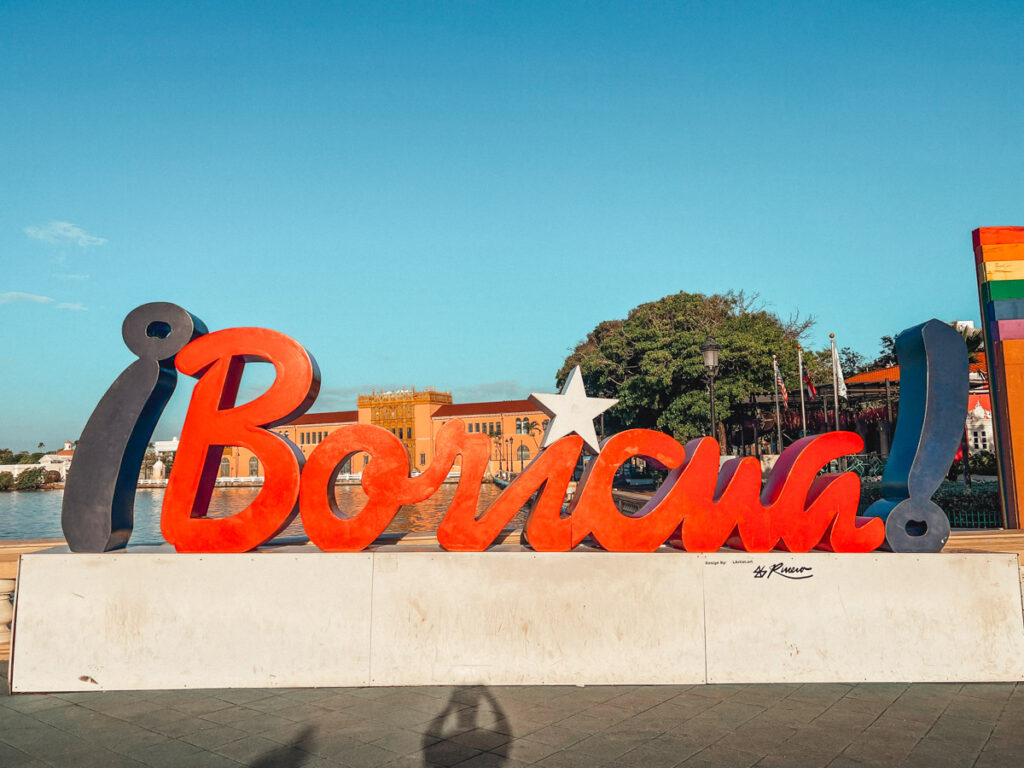 If you have even more time to visit Puerto Rico, I highly recommend checking out more of San Juan. This is a large city with many things to see and do!
I suggest taking a food tour of the Old City to learn more about the cuisine on the island and definitely hit up some cool museums like the Museum of San Juan, the Puerto Rico Art Museum, and even the Museum of the Americas.
I also suggest exploring the beaches around San Juan and perhaps staying at the iconic Caribe Hilton.
Aside from San Juan, you can explore the coffee farms in the central part of the island, explore Culebra, which is another smaller island, and you can even drive along the Pork Highway for some delicious pork.
There is also the option to slow it down and explore Vieques and the western part of the island further!
Best Time To Visit Puerto Rico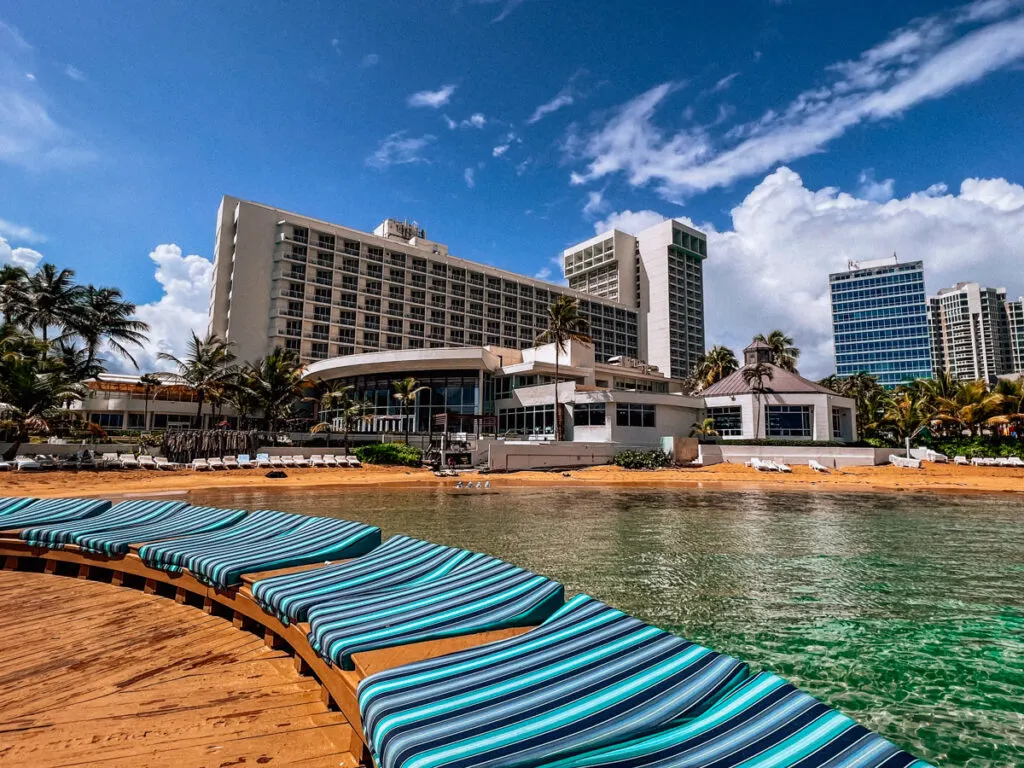 The winter and spring months are the best time to visit Puerto Rico. June through November fall in the hurricane season so the weather isn't always the best during this time of year.
December through May are the best times to visit Puerto Rico, but if you want to save some money, opt for the spring months of April and May instead of winter when many Americans head here to escape the cooler temperatures up north.
I visited in May and it was honestly perfect! There was a little bit of rain at night and a few showers during the day, but otherwise the weather was great for exploring for the most part!
Other Tips For Visiting Puerto Rico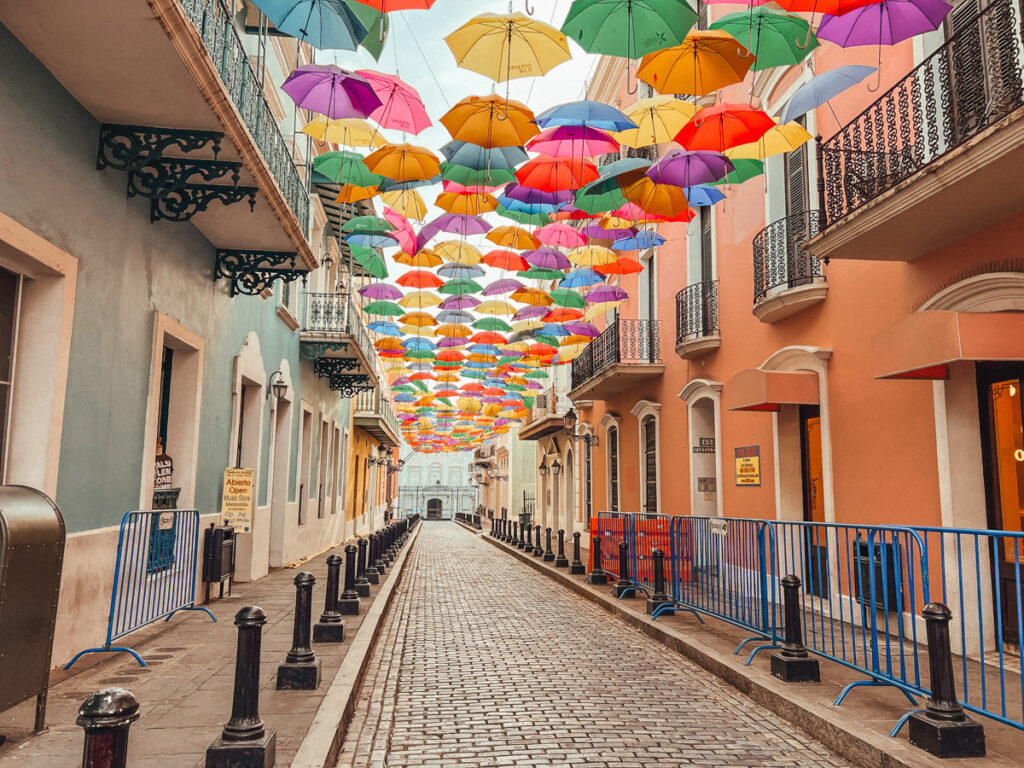 Here are a few more tips for your Puerto Rico itinerary in 7 days!
What to Pack: It is hot in Puerto Rico, so definitely pack shorts and cooler shirts. In the evenings, especially in the mountains, it can get slightly chilly, so a light jacket is good for that. Also, swimsuits, sunscreen, sandals, hiking shoes/tennis shoes, bug spray, and a couple of fun dresses are great things to bring as well.
No Passport is Needed for US Citizens! Something great about visiting Puerto Rico as an American citizen is that you don't need your passport, and you don't have to go through customs coming home. Just get on the plane and go! As Puerto Rico is a US territory, you just need your ID.
Cash and Credit Cards Needed. There were a few places in San Juan that only accepted credit cards or Apple Pay. So it helps to either have USD on you for more remote destinations as well as credit cards.
Spanish is the main language. Being a former Spanish territory, Spanish became the more popular language of the island. Many people do speak English though, especially in more touristy areas. But it helps to know a few words and phrases ahead of time.
Uber is popular in San Juan. You can use Uber while in San Juan, but if you plan to go to the islands, you'll need to contact a local taxi company. I also recommend renting a car for this itinerary, especially as you'll need it to get to the western part of the island.
This wraps up the only Puerto Rico itinerary in 7 days that you'll ever need! Whether you want to enjoy delicious cuisine, dive into history, go snorkeling, or explore the jungle, this 7 days in Puerto Rico plan has everything you need for the perfect getaway!
Would you like to have this epic Puerto Rico itinerary in 7 days?
Thank you to Discover Puerto Rico for hosting my stay in the Western part of Puerto Rico. As always, all opinions are my own.
Check out other Caribbean and Central American destinations!
Pin it here!