Some posts on this site contain affiliate links, meaning if you book or buy something through one of these links, I may earn a small commission (at no additional cost to you!). Read the full disclosure policy here.
---
Are you currently in the middle of planning your ultimate Costa Rica vacation and wondering to yourself, "How much does a Costa Rica trip cost?"
We've been there. Okay, maybe you aren't as crazy as I am and have a 20+ tab excel spreadsheet with various scenarios and trip ideas with detailed budgets for trips you may or may not take one day. Call it the former CPA in me, but I love a good trip budget.
And Costa Rica is no different. In fact, I made 3 tabs dedicated to our trip in 2021 to Costa Rica based on how long we'd go, where we'd go, etc. So when it comes to figuring out the perfect trip to Costa Rica price, believe me when I say I've got you covered.
Whether you are planning your epic Costa Rica honeymoon or you are planning your dream vacation to this diverse and beautiful country, this is the ultimate guide for a Costa Rica budget.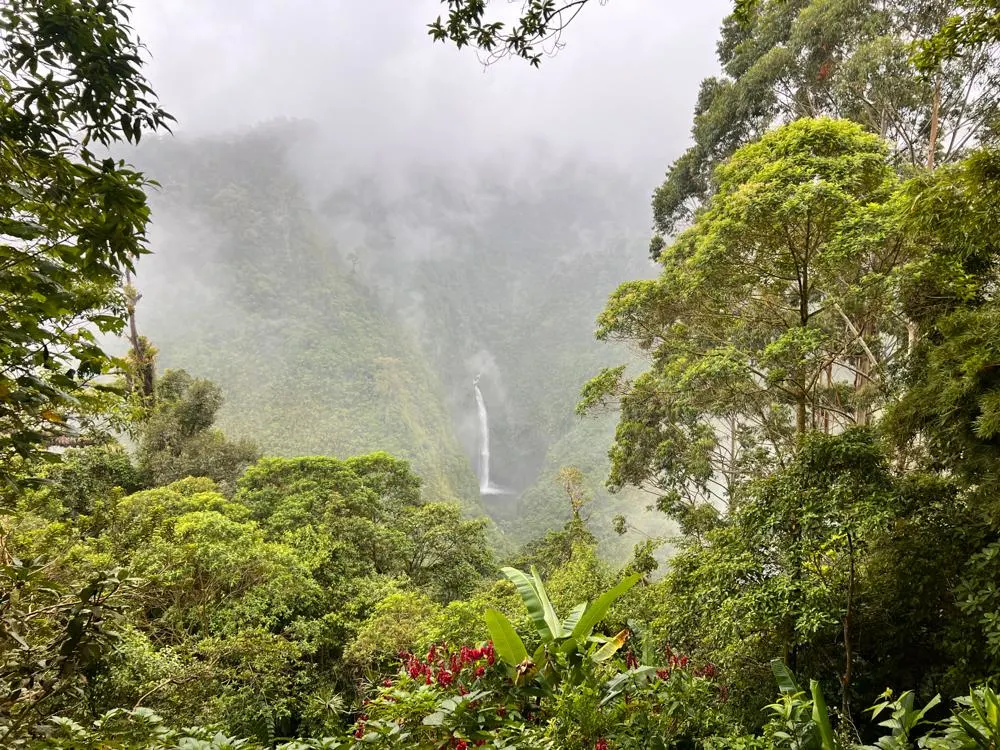 Cost of Trip to Costa Rica Factors
Let me start by saying that you could spend thousands of dollars on a trip to Costa Rica or you could make it a budget-friendly trip. It all depends on many factors:
Where You're Going: Super popular destinations like La Fortuna or Manuel Antonio National Park are going to have a bit higher costs when it comes to accommodations and things than more off-the-beaten-path places.
When You're Going: The time of year is a big thing to consider. Of course, you likely would want to visit with the best weather and the cheapest prices. However, those things tend to be a bit converse to each other. The best times to visit are typically the more expensive times. But shoulder season can be a good option here.
Currency: The current exchange rate for the Costa Rican Colon is 1 USD=595 CRC. Note that in many places they will prefer credit cards over cash and vice versa. So make sure you have a credit card that doesn't charge foreign transaction fees. And many places even take USD as well as colones, so carrying both is a good idea.
Miles and Points: If you have miles and points to spare, this will dramatically bring down your costs of flights and hotels to almost nothing! This obviously makes your trip even less expensive.
These will all make a difference, along with some key factors below, on your Costa Rica travel cost.
Cost of Costa Rica Round-trip Flights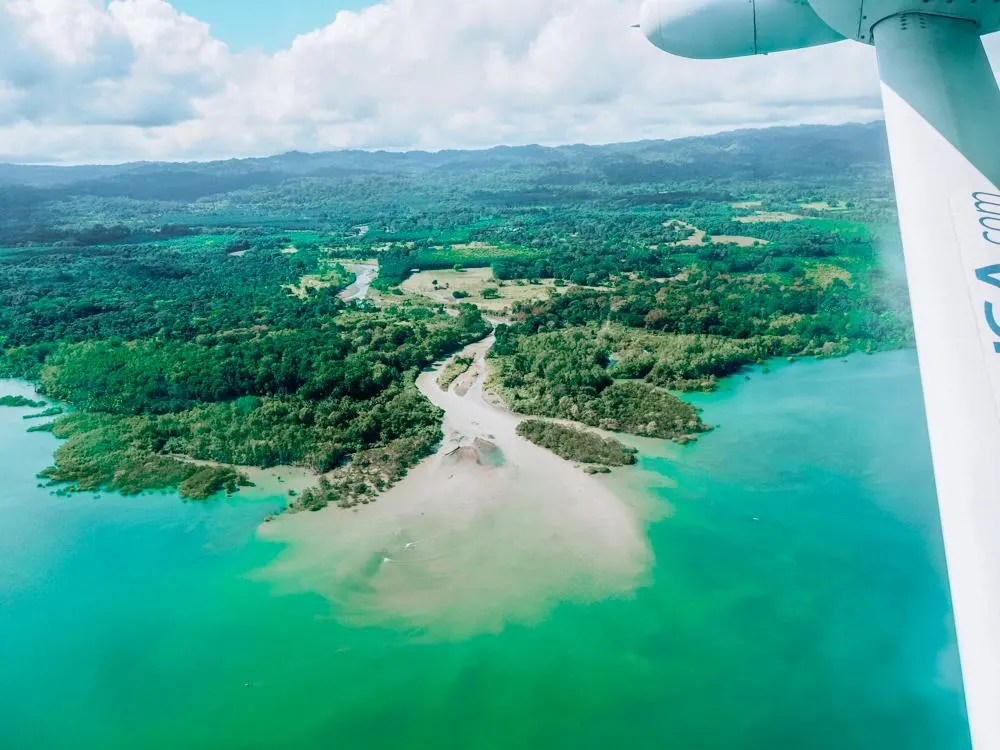 First and foremost for your Costa Rica vacation cost is budgeting for flights. Getting to Costa Rica is pretty easy and sometimes inexpensive from the US. Obviously, this depends on where you're coming from.
However, from larger cities like NYC and Miami to San Jose, you can expect to pay as low as $275 per person for a budget airline flight and closer to $900 per person for a business class flight round-trip.
From smaller US cities, that cost is closer to $450 per person for economy and $1,000+ for business class.
I love checking flights on Skyscanner to find the best deals!
Remember, if you have miles and points, you can bring your flight costs to almost zero! You just have to pay taxes and fees!
Costa Rica Vacation Cost of Flights: Between $275-450 per person for economy class and $900-1,000 per person for business class flights round-trip. This totals $550-900 per couple for a round-trip flight and $1,800-2,000 per couple for a business class round-trip flight.
Cost to Vacation in Costa Rica Factor: How to Get Around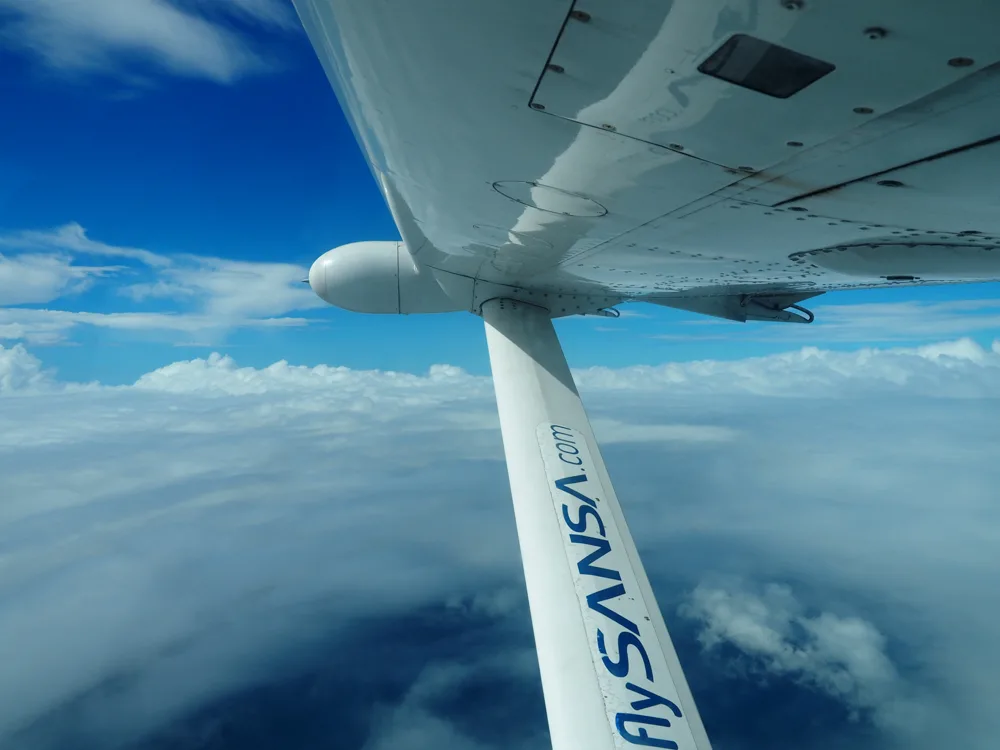 There are a lot of different ways to get around Costa Rica. In fact, a lot of travelers to Costa Rica opt to rent a car to get around to various destinations. This can start at about $30-40 per day based on the transmission you choose.
This doesn't include other things like gas, extra insurance, etc. So those will factor into your personal budget as well.
There is also the option to fly between destinations thanks to Sansa Airlines. These small planes hold about 12 people and fly to many popular spots in Costa Rica including San Jose, Limon, Nosara, Tamarindo, La Fortuna, Quepos, and more.
These flights aren't terribly priced either at about $100-200 per person each way. For example, we didn't rent a car during our 10 days in Costa Rica and spent about $155 per person per way to go from San Jose to Puerto Jimenez.
You can even take a shuttle to various places around the country which varies in price based on where you're going. But from San Jose to a place like La Fortuna, you can pay around $54 per person for a shared shuttle or $180 for a private shuttle.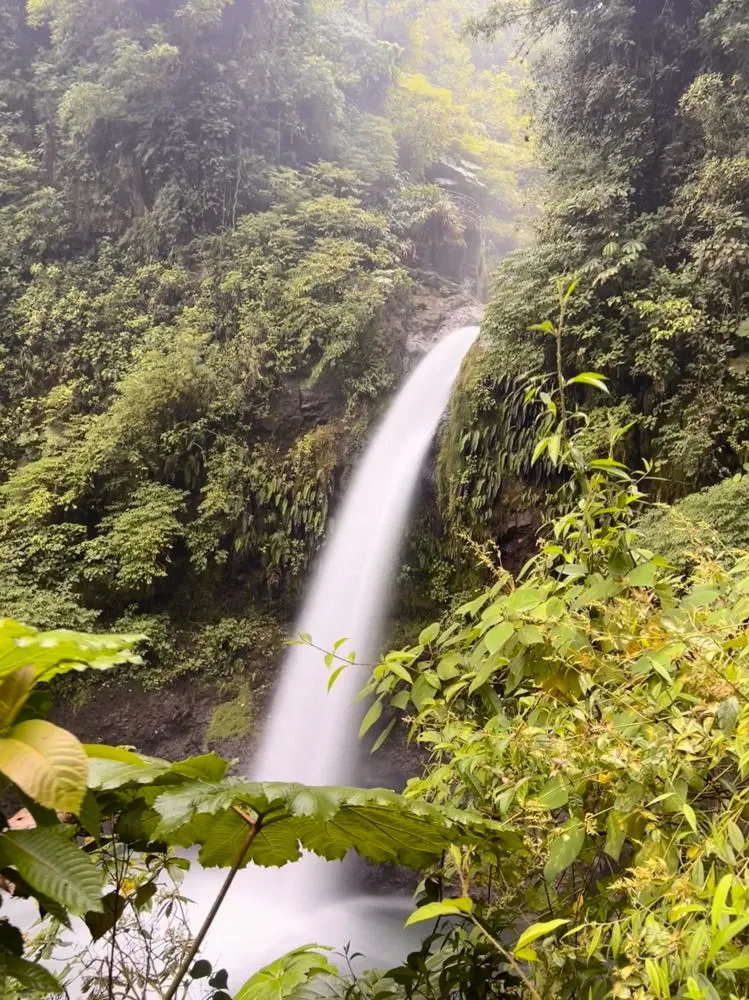 Lastly, did you know that you can use guided tours as transportation to/from destinations? We went on a tour of La Fortuna from San Jose as a day trip and they asked us if we wanted to come back to San Jose or just be dropped off at a hotel in La Fortuna.
So with the price of your guided tour, you can use it as transportation with sights along the way!
Costa Rica Travel Costs of Getting Around: This can vary a ton based on where you're going and how you choose to get there, but somewhere between $210-280 for a rental car for a week (not including gas, parking, etc.) or about $150-300 per person for flights and/or shuttles for a week-long trip is a good estimate. For a couple, expect to pay between $300-600 per week for flights and/or shuttles.
Cost of Hotels in Costa Rica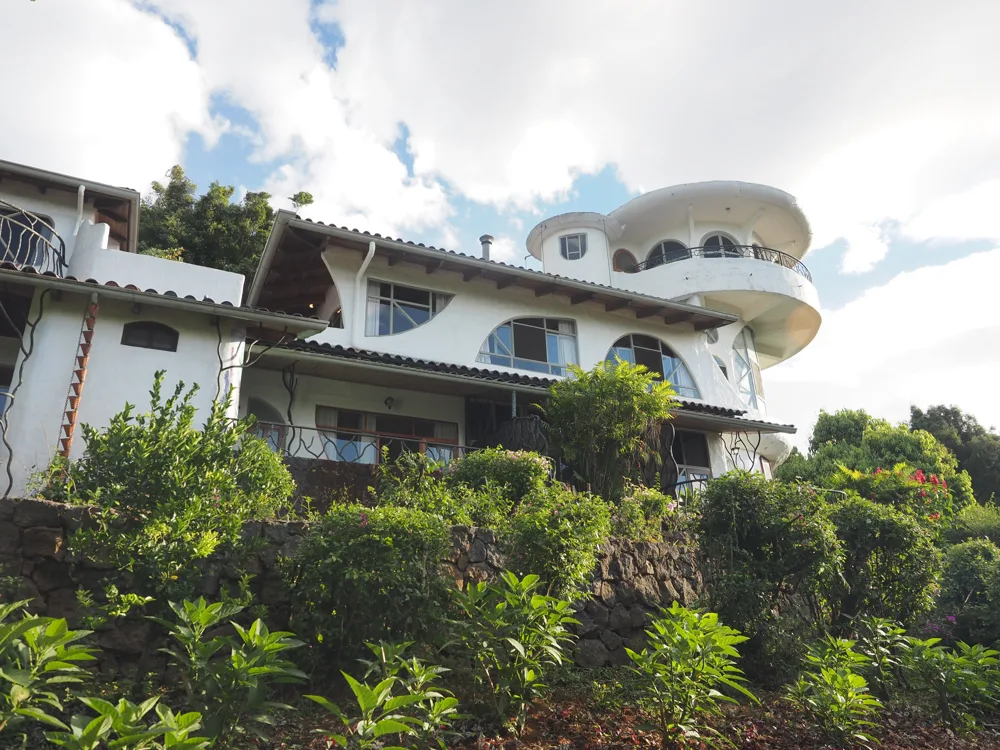 Now this one can vary considerably again based on when and where you visit. But also there are many budget-friendly options as well as luxurious resorts.
For popular spots like Tamarindo or La Fortuna, you can find hotels like Ten North Tamarindo Beach Hotel or Hotel Secreto La Fortuna for around $125 a night or less.
For mid-range hotels, you can pay around $175 a night for places like Casa Luna Hotel in La Fortuna or even The Falls Resort at Manuel Antonio.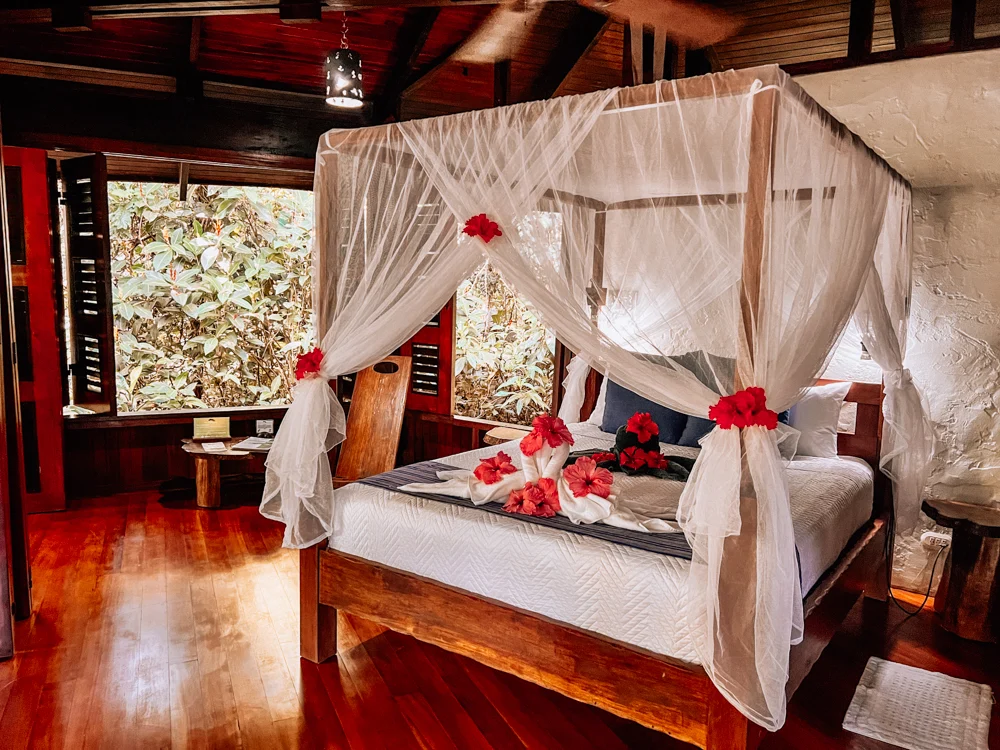 Then, of course, if you choose more luxurious hotels or in more remote locations like Makanda by the Sea in Manuel Antonio or Playa Nicuesa Rainforest Lodge in the Osa Peninsula and expect to pay closer to $550-650 per night.
Cost of Hotels For Trip to Costa Rica: Between $125-650 per night, or $875-4,550 for a week.
Costa Rica Travel Budget For Activities and Day Trips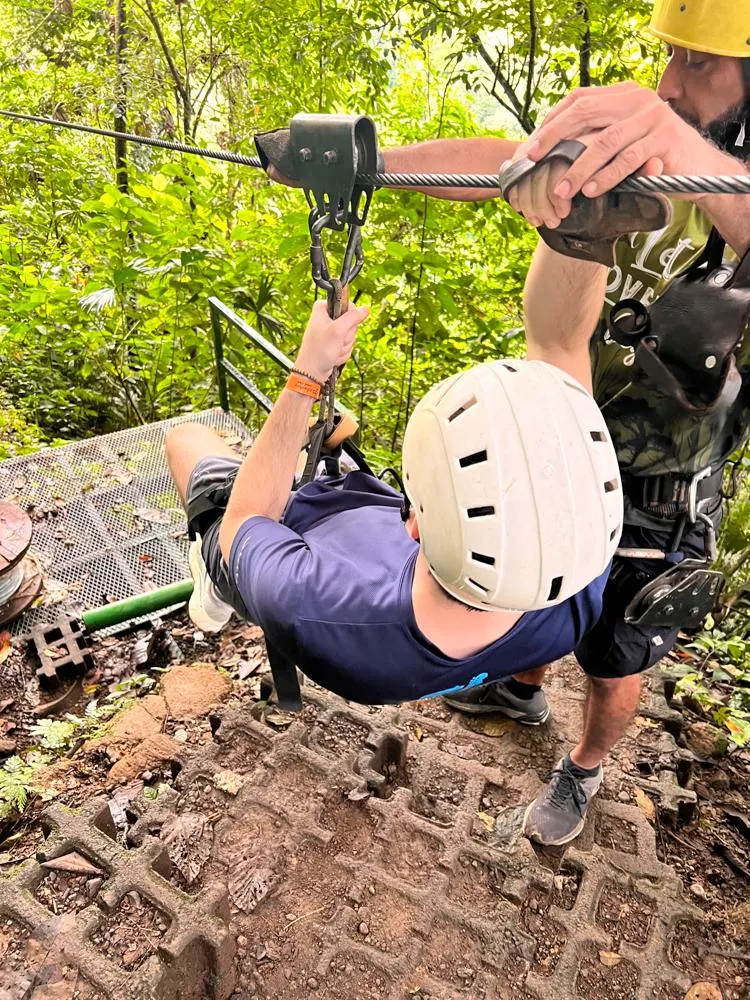 This can vary considerably based on what your interests are and where you go in Costa Rica, but some popular activities include things like ziplining, day/night tours in the rainforest, waterfall tours, or surfing lessons.
A ziplining tour in La Fortuna costs around $65 per person, rainforest tours are about $59 in places like Manuel Antonio National Park, and a waterfall/jungle/volcano tour from La Fortuna costs about $88 per person.
If you want to learn to surf in places like Tamarindo, that is about $50 for a lesson.
Then, if you want to take a day trip like from San Jose to La Fortuna for hot springs, ziplining, and to see the volcano, that is around $169 per person.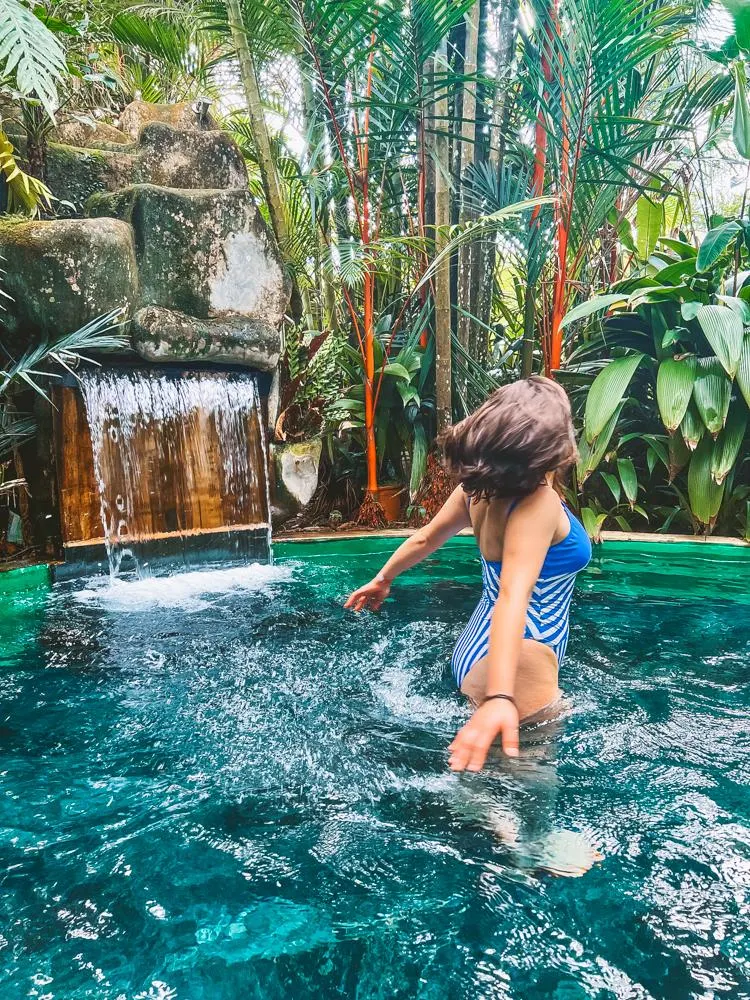 Us, we ended up doing the day trip to La Fortuna from San Jose, as well as a volcano tour, coffee tour, and bird-watching tour while staying at Finca Rosa Blanca in the Central Valley. So we spent closer to $700 for all of the activities that we partook in during our trip.
Note that activities were covered at Playa Nicuesa Rainforest Lodge because we booked the Rainforest package so that was included in the cost of our stay.
So what would an average cost of a trip to Costa Rica be for activities/day trips? I'd say around $350 per person, or $700 for a couple if you plan to do a big day trip and some smaller activities.
Cost of Food and Drinks During Your Costa Rica Trip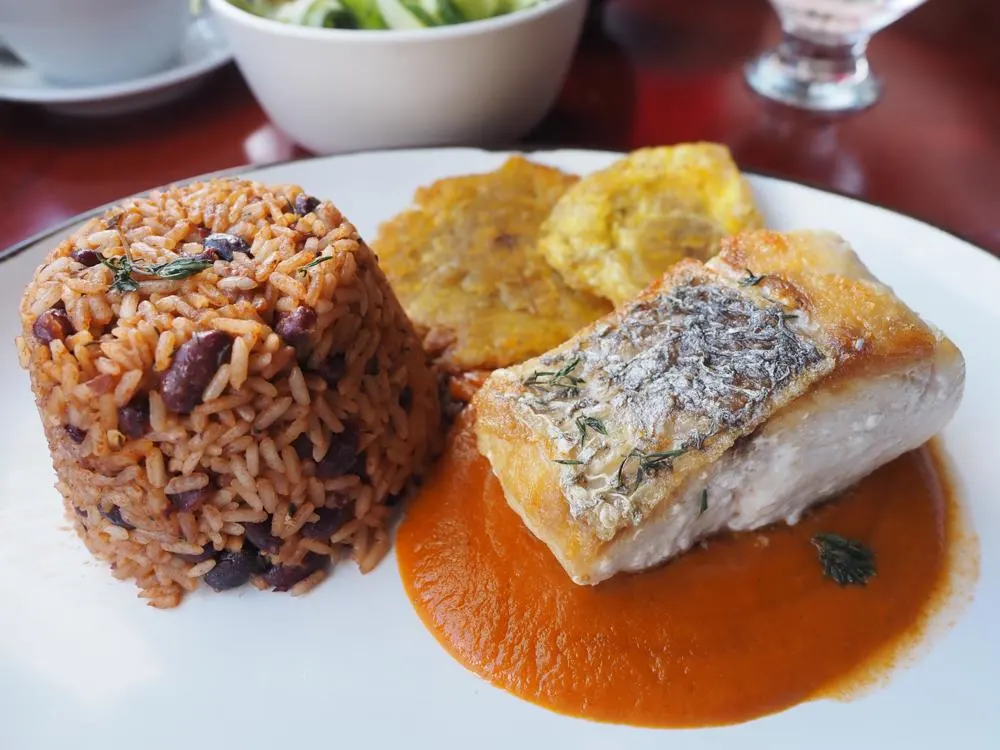 Luckily, food and drinks are fairly inexpensive in Costa Rica! Enjoy delicious cuisine including amazing coffee, scrumptious gallo pinto, casado, or sopa negra for super reasonable prices.
In fact, for budget travelers, you could likely pay only about $25 per person, per day on food and a drink or two. For mid-range travelers, about $50 per person, per day is good, and for luxury travelers, $100 per person, per day is where to aim.
So how much would you pay for a week? For budget travelers, aim for $175-200 per person, or $350-400 for a couple. For mid-range travelers, $350 per person or $700 for 2. And for luxury travelers, budget around $700 per person, or $1,400 for 2 people for a week.
Other Costs of Vacationing in Costa Rica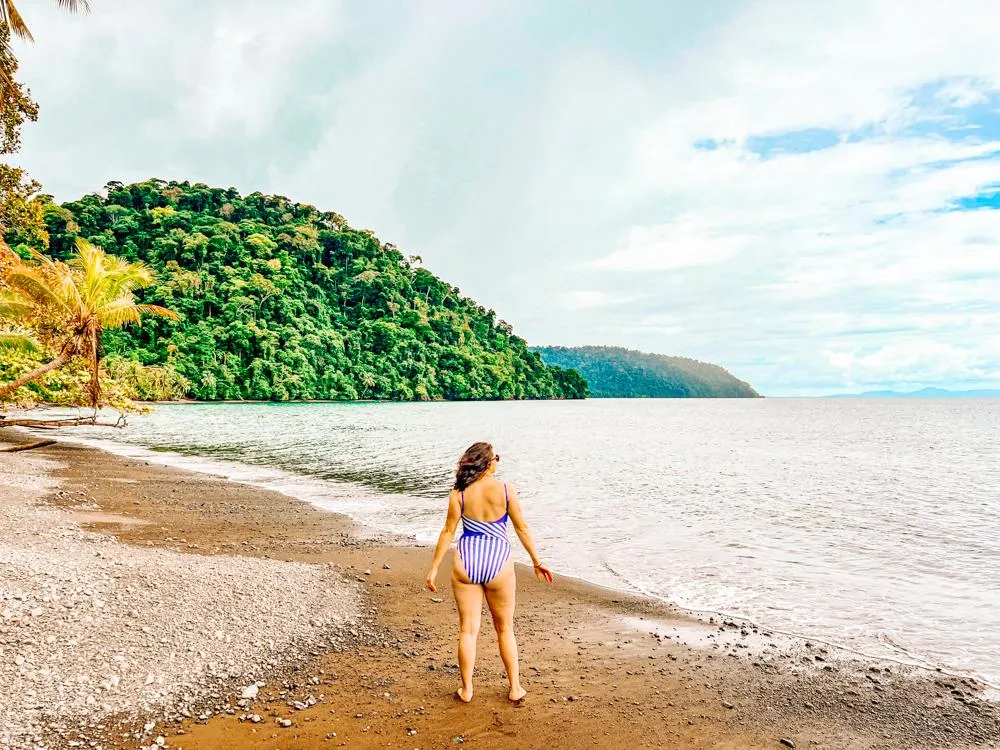 Before you pack your bags, here are some other costs to factor into your budget for Costa Rica.
Travel insurance. This is a great idea to have in case of injury, lost luggage, and more. We usually go with

World Nomads

and it is about $75 per person for a week. This does vary based on your circumstances.
Tipping. Tipping is always a good idea for restaurants, hotels, tours, etc. It is similar to the US tipping culture so 15-20% is normal for restaurants. Sometimes restaurants include a service charge of 10% on the bill already, but leaving a little extra is nice. For tours, 10-15% of the tour cost is good, and $5 is good for drivers and hotel staff per drive/night. For a week, this could add up to around $250-300 for a couple.
Souvenirs. If you love souvenirs from your travels, be sure to save around $100 for that depending on what you want to buy.
Extra. I always budget a little extra just in case if we need it. Usually, that is about $50-200.
How Much Does a Costa Rica Trip Cost?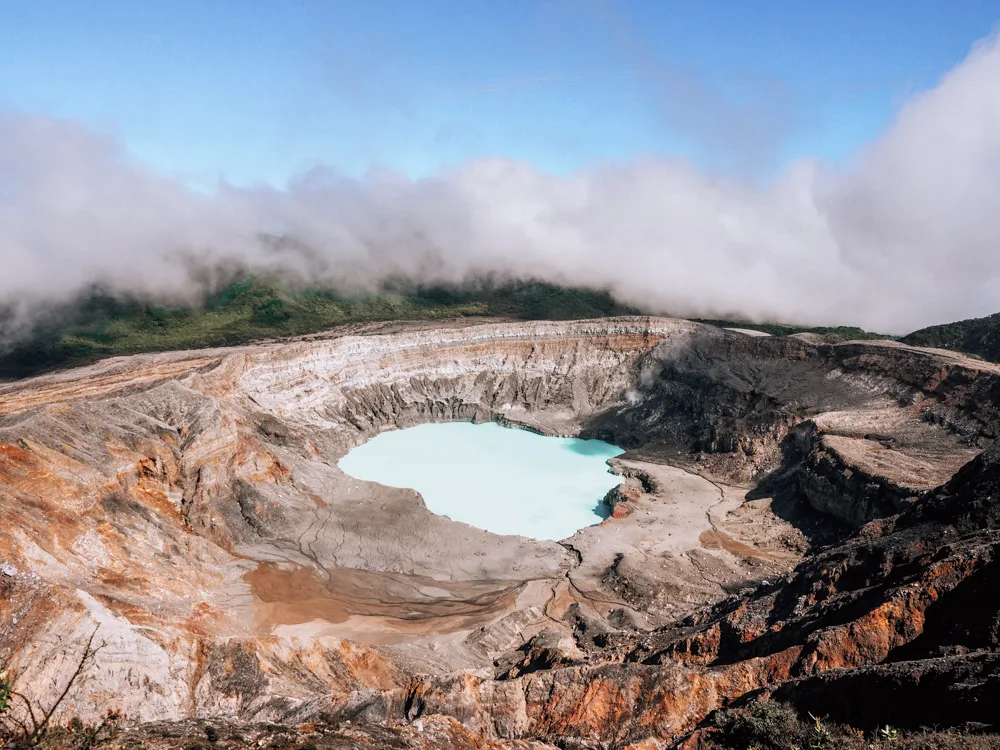 Based on the above information, for budget travelers, a good trip cost to aim for is around $2,185 for a week for one person or $3,285 for a couple. This includes a rental car, round-trip flights to Costa Rica, activities, food, etc.
For the average cost to travel to Costa Rica for mid-range travelers for a week, aim for about $3,025 for one person, or $4,725 for a couple. This includes flights, getting around, activities, food, etc.
And for luxury travelers traveling to Costa Rica for a week, plan to budget about $7,375+ for a single person or $9,900+ for a week in Costa Rica.
This, of course, depends completely on where you travel, when you go, etc. but these are just averages based on your travel style!
How Much Did We Spend During Our Trip to Costa Rica?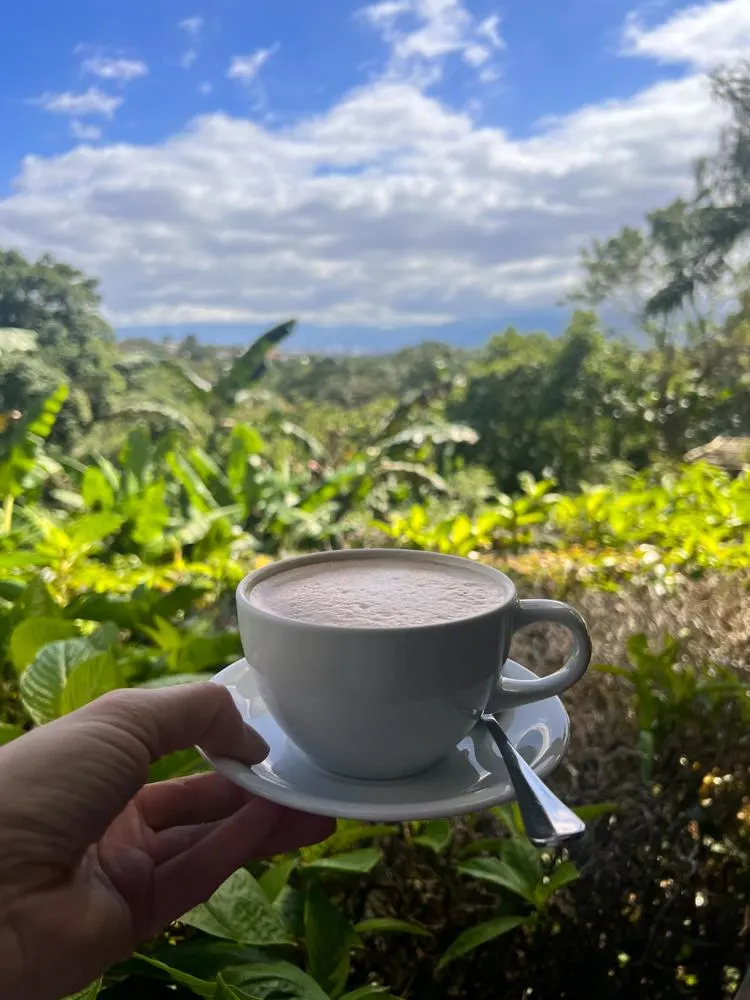 We ended up spending 10 days in Costa Rica and stayed in nicer hotels, and went on a few excursions like a coffee tour, volcano tour, and day trip to La Fortuna.
We also like to eat and drink well during our travels and always enjoy a nice massage/pampering moment. We're mid-range travelers for the most part, but we splurge when it feels right.
That being said, we spent right around $5,110 for 10 days in Costa Rica or about $3,600 for 7 days. We landed in the budget/mid-range because we used points to fly to Costa Rica, making our flight cost almost nothing.
Then, we splurged on some hotels, enjoyed our tours, traveled during shoulder season, and found some pretty good deals. It also helps that we stayed at Playa Nicuesa Rainforest Lodge with the Rainforest Package where all meals and daily activities were included, which helped our costs.
Overall, Costa Rica can easily be done for under $5,000 for a couple and that is with some splurging and saving!
Would you visit Costa Rica? What is your travel style?
Want more Central America and Caribbean travel ideas? Check out these posts!
Pin it here!