Some posts on this site contain affiliate links, meaning if you book or buy something through one of these links, I may earn a small commission (at no additional cost to you!). Read the full disclosure policy here.
---
Traveling from San Jose to La Fortuna is a pretty easy process, even without a car!
La Fortuna is a popular stop on many Costa Rican itineraries, especially for its ziplining, the famed volcano, Arenal, the hot springs, and more.
So after landing in San Jose, it makes sense that one would want to find a way to visit La Fortuna.
We also wanted to visit during our time in the country, but as we only had 10 days and also wanted to see the Osa Peninsula and stay on a coffee farm, we made it into a day trip!
While you could definitely do that too, here are the ways to get to La Fortuna, including a fantastic day trip idea!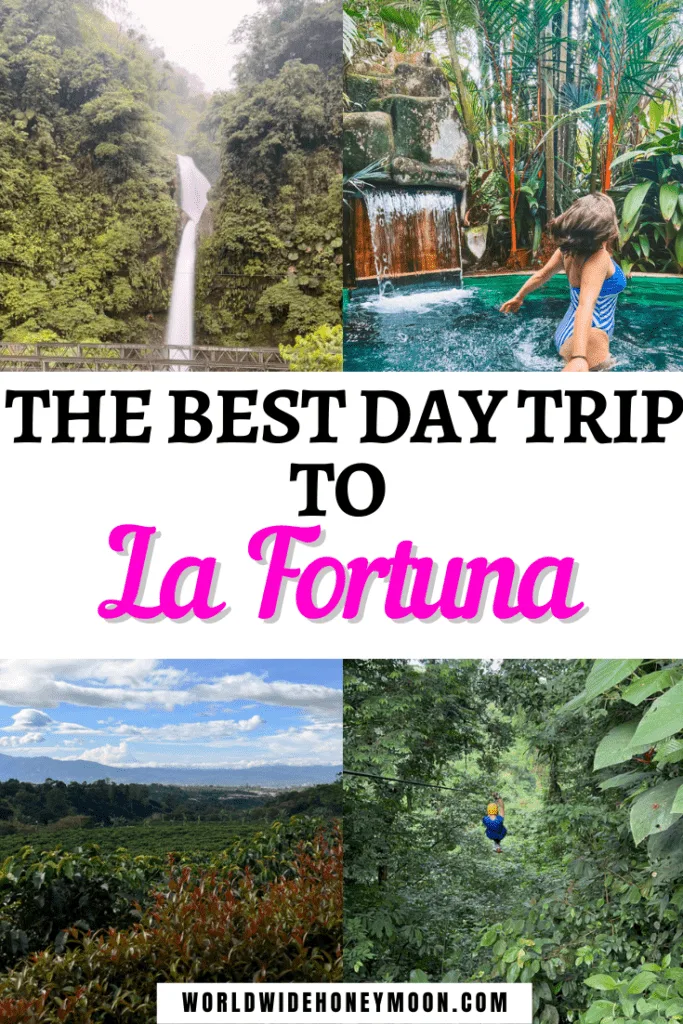 PS- Check out our podcast episode all about a day trip to La Fortuna!
How to Get From San Jose to La Fortuna
There are a couple of ways to get to La Fortuna: with a car or without a car. So let's talk about it!
1. Driving from San Jose to La Fortuna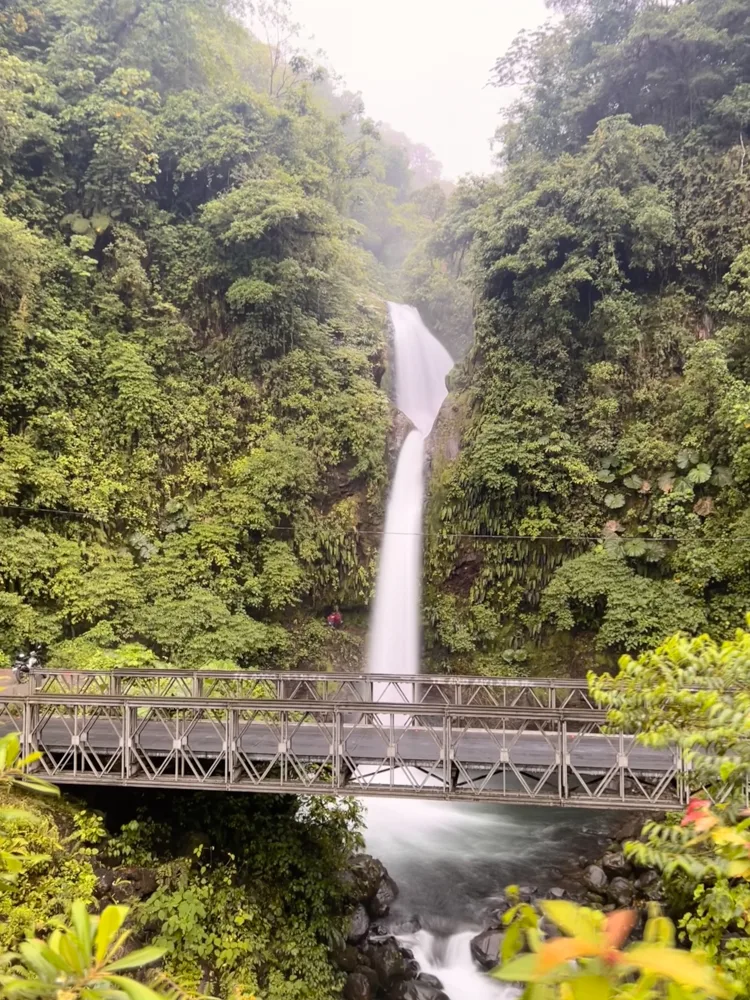 Perhaps you want to land at the airport and go there straight away. Or you could be staying in downtown San Jose and are renting a car.
PS- San Jose's airport isn't actually in San Jose, it's in Alajuela. Either way, though, renting a car is a fairly easy process. Make reservations online and pick it up!
Sixt has great deals online, and you can rent a car for a week for about $65 per day.
Do you need a 4×4 car to drive from San Jose to La Fortuna? The roads are paved so no need for a 4×4 unless you plan to do more adventurous things during your trip!
Depending on traffic (and yes, traffic can be horrendous around San Jose), it should take around 3.5 hours to get to La Fortuna.
From the San Jose airport, it is about 2.5-3 hours away from La Fortuna.
Also, factor in that you may want to make a few stops along the way for things like waterfalls, a coffee farm, etc!
If you do choose to drive, locals and tourists alike prefer to use Waze for navigation. It helps check the traffic conditions and works better there, so be sure to download it ahead of time!
2. San Jose to La Fortuna Shuttle
If you prefer not to do the driving, then you can also get a shuttle. A shared shuttle from San Jose to La Fortuna starts at around $71 per person. You'll meet at the meet-up point and be driven to La Fortuna. Book it here!
If you prefer a private shuttle, it'll cost around $195 for the group. Book it here!
Drive times can be a little longer in the shuttle, so expect it to take around 4 hours doing this.
3. Fly to La Fortuna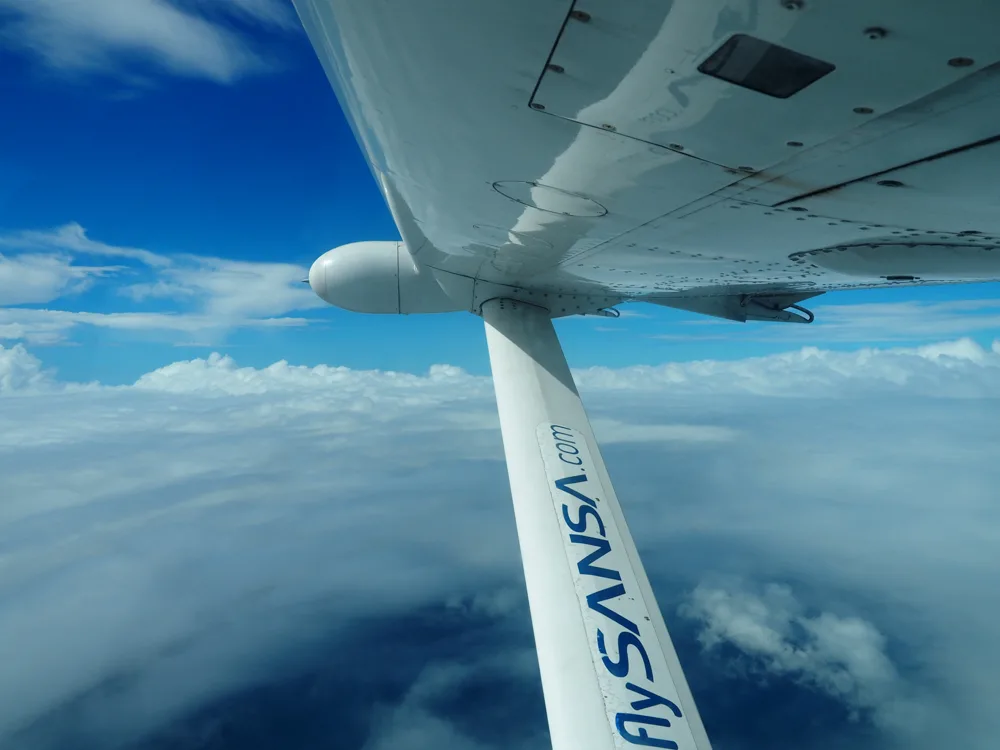 If you don't want to drive, then why not fly? Airlines like Sansa Air fly from San Jose to La Fortuna, making it a great option if you want to get there faster.
The flight time is only 30 minutes, but most flights there may have a stopover on the way. So it'll likely take about an hour and 15 minutes to get there from San Jose with a stop.
Also, bear in mind that these are tiny planes. We're talking about 15 seats and the pilots are right there. Yes, you'll feel the turbulence a bit more than a larger plane, but you'll be flying lower so you'll have incredible views along the way!
If you don't mind that and trust me, there are days when the weather is great, and there is no choppiness at all, it is fun! We ended up flying Sansa Air on the way to the Osa Peninsula and it was quite a view!
Flights are about $120 each way. Also, keep in mind that the San Jose domestic terminal is in another building than the international terminal.
Also know that you can only bring 30lbs of checked luggage and 10lbs of hand baggage plus a personal item. We ended up checking in our normal carry-on Osprey backpacks and I carried my anti-theft purse and day hiking backpack together onboard.
4. Take a Day Trip to La Fortuna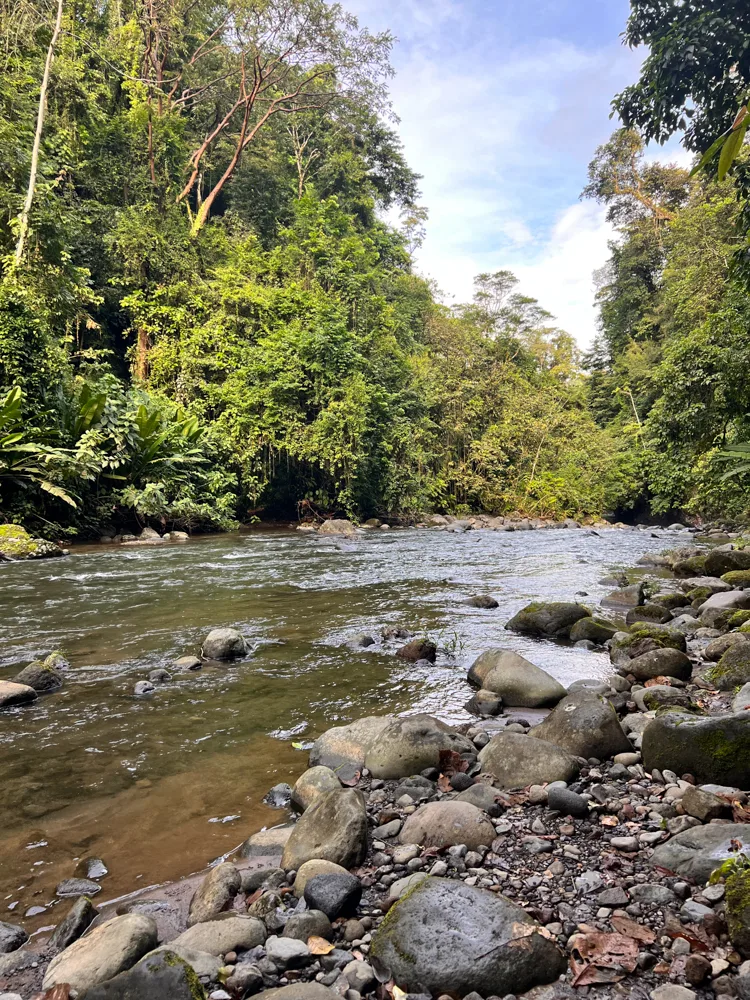 Lastly, if you don't have a lot of time to spend in La Fortuna itself, why not take a day trip to get the most of it?
OR did you know that many Costa Rican tour companies actually ask if you prefer to be dropped off at another location after the tour versus coming back? That means that if you wanted to use a day trip as a way to sightsee on the way to La Fortuna, you could!
The tour will drop you off in La Fortuna and then head back to San Jose with the other guests.
We ended up just doing a day trip and coming back to San Jose, but staying behind is an option!
This is the day trip that we took during our time in Costa Rica! And if you prefer to take a day trip, as we did, we have all the details below!
San Jose to La Fortuna Day Trip Itinerary
Now that we know about transportation from San Jose to La Fortuna, let's talk about the best San Jose to La Fortuna day trip!
Okay, prepare for an early wake-up call this day, especially if you are staying in downtown San Jose as we were. We were picked up bright and early at 6 am to begin the long day. So it could be helpful to grab a cup of coffee to go!
If you're staying near the airport, 7 am may be your pick-up time, but the tour group will let you know their arrival time beforehand.
After pick up and introductions with your driver and guide (we had Yordan who was the best!), you'll begin to travel from San Jose to La Fortuna!
Stop 1: Coffee Farm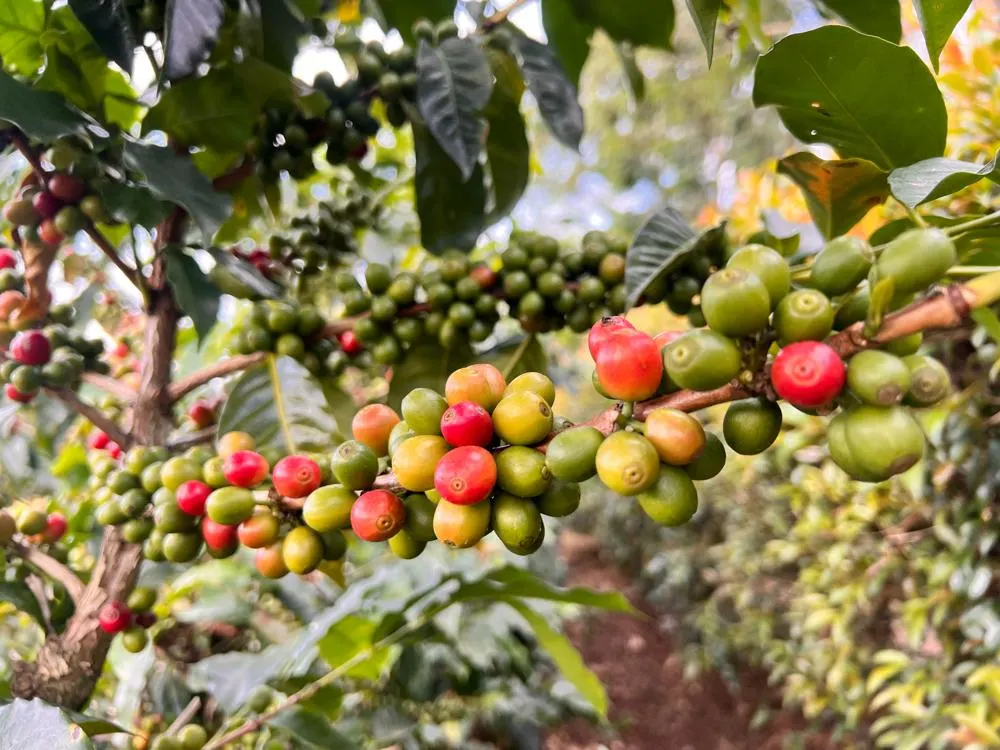 This couldn't come at a better time, as coffee #1 from the hotel could be wearing off by then and/or you really need a pick me up.
They stop at Cafe Tres Generaciones where you'll get a brief introduction to Costa Rican coffee and how it is grown, as well as a sample of some local Costa Rican fruit.
Then, you'll have time to get a coffee and a snack before continuing on.
Stop 2: Waterfalls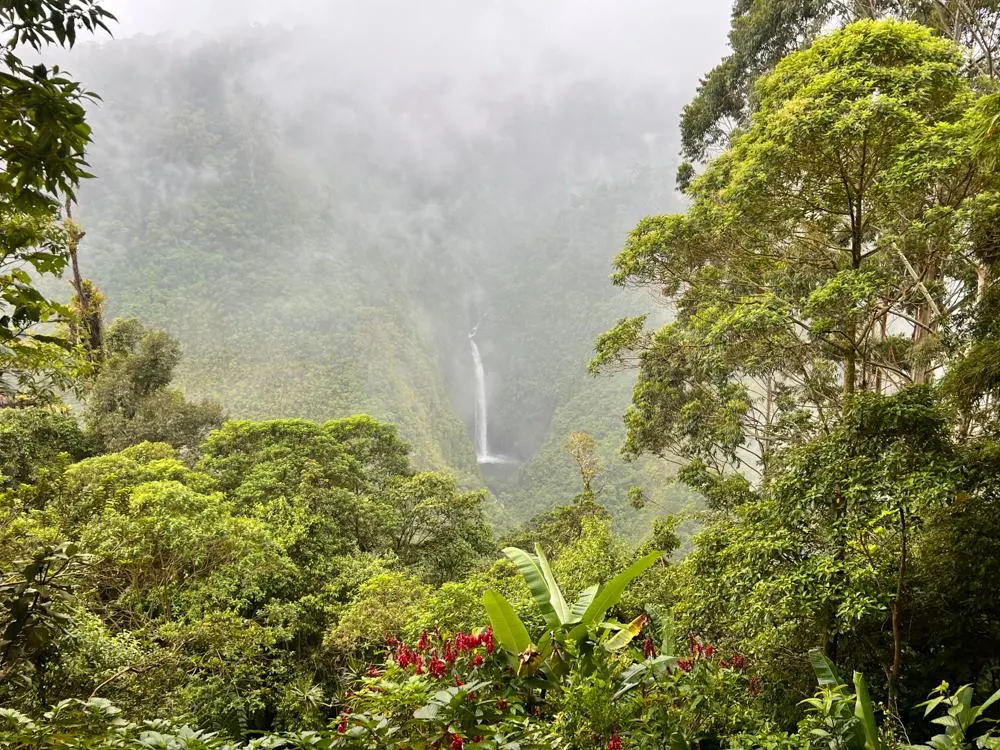 There are waterfalls all over Costa Rica, even right next to the road! During the tour, you'll stop first at La Paz waterfall for a few photos as it is right off the road on your way to Arenal Volcano!
Then, you'll keep on going until you reach a cafe set in the mountain with stunning views of the San Fernando waterfall.
Admire several birds in the forest canopy as well as the bustling cascade as you enjoy traditional Costa Rican coffee and snacks like empanadas and a cheese tortilla with sour cream.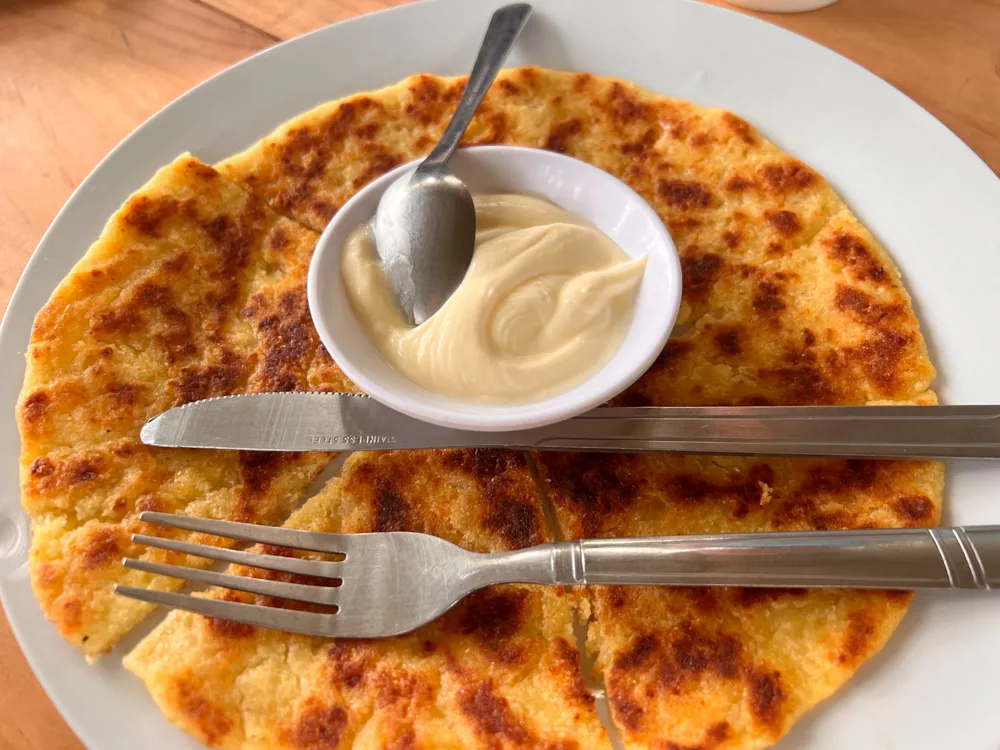 If you're a bit coffee'd out, then they also give you hot chocolate and juices.
Stop 3 While Getting From San Jose to La Fortuna: La Fortuna and Lunch
Then, you're back in the car until you reach La Fortuna. There you'll have a delicious lunch at a local restaurant, which is included in your tour!
Plus, they have traditional food like casado!
Stop 4: La Fortuna Ziplining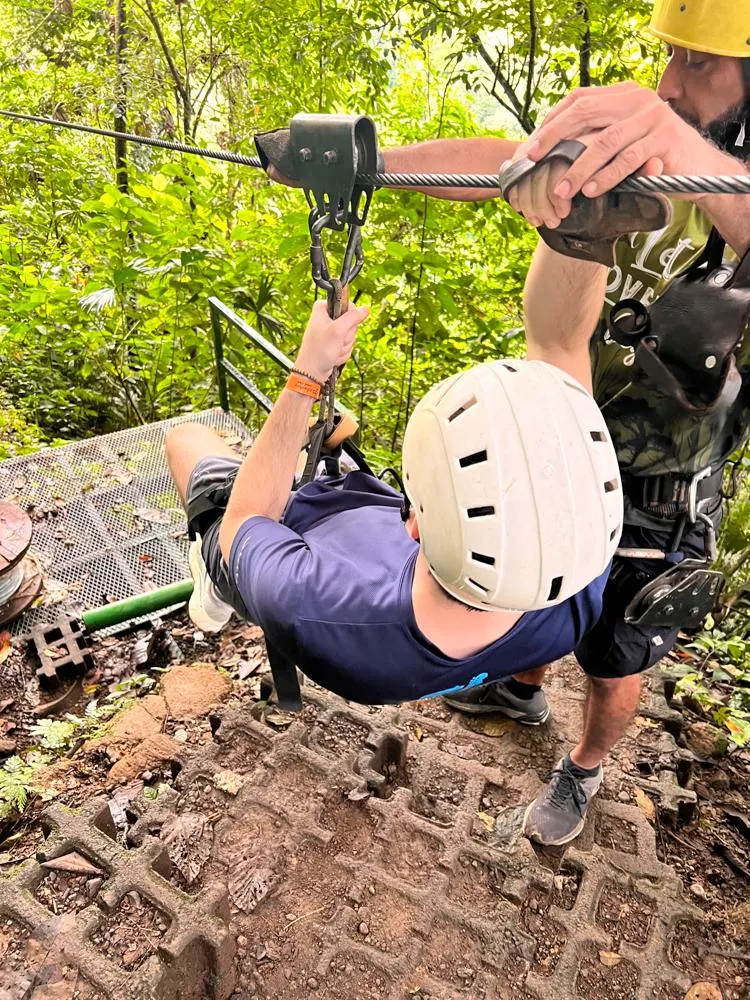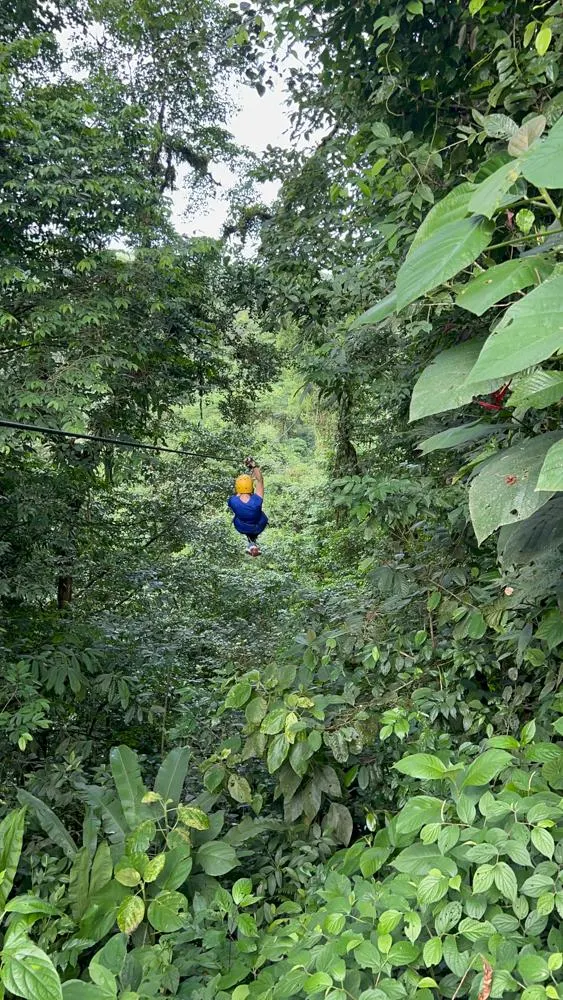 Now that you're actually in La Fortuna, it is time to go ziplining! You'll do this at the Go Adventure Arenal Park. This takes about 2 hours and you'll be given a demonstration before you leap off and start zooming along the canopy!
There are 10 cables and 14 platforms, so you'll be able to see quite a big of the jungle as you zip around. We spotted a howler monkey, several bird species, and even saw a Fer-de-lance snake.
These ziplines actually went pretty fast so enjoy the rush of wind as you admire the canopy and mountain views all around you!
Plus, in the end, you'll repel down to a river! It was definitely exciting!
Stop 5: Relax at a hot spring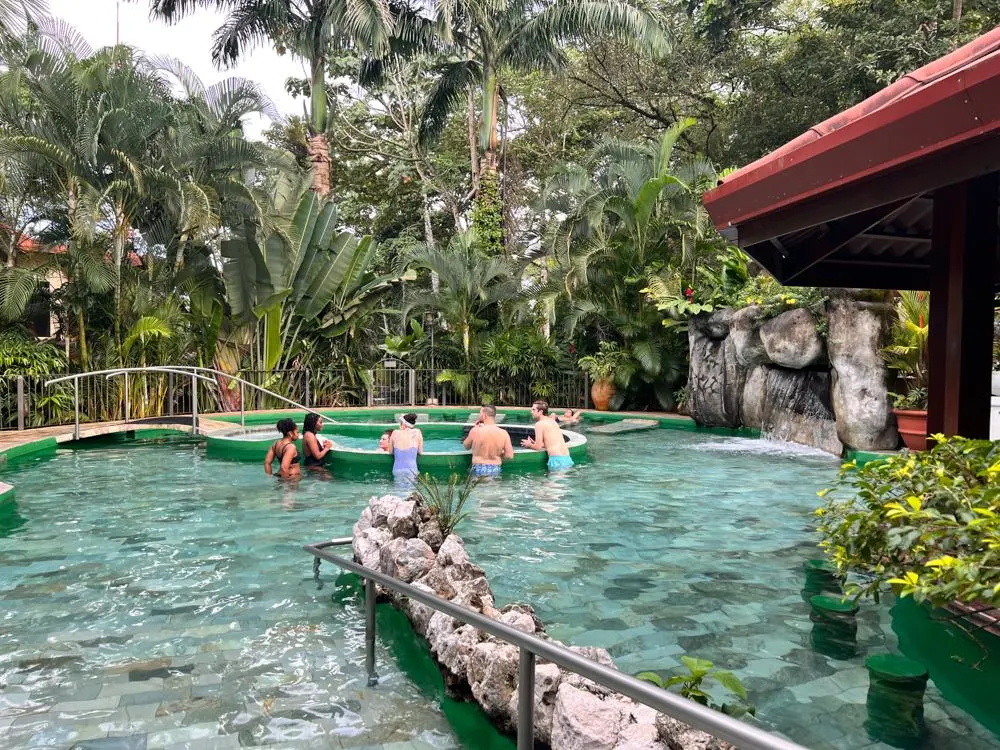 After the adrenaline rush of ziplining and rappelling, you'll wrap up your time in La Fortuna by visiting Paradise Hot Springs. This place has multiple pools that are fed by natural hot springs. The pools all vary in temperature from chilly to very warm.
So take your time exploring the pools, maybe grab a drink at the poolside bar, or just chat with new friends you've made on the tour as you admire the sunset over the Arenal Volcano in the background of the springs.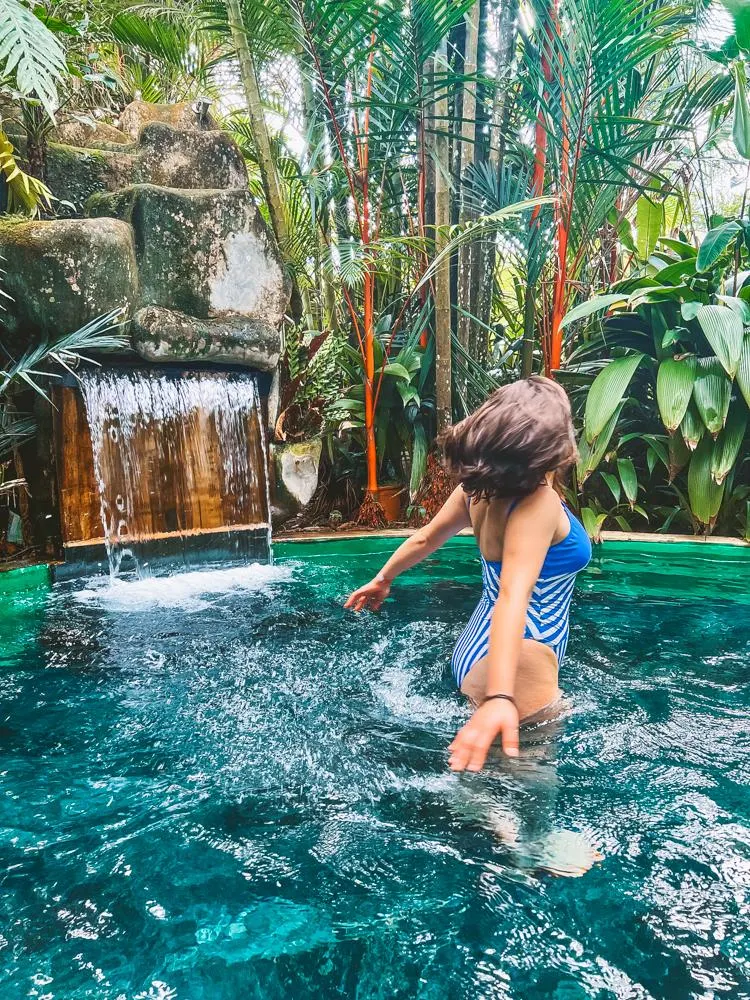 Either way, this was a great way to wrap up the day in La Fortuna.
Now, as I've said before, you can request to be dropped off at your La Fortuna hotel should you wish from here or go back to San Jose.
From here, we started the 3-hour journey back to San Jose where we stopped for dinner on the way. We ended up getting back to our hotel in downtown San Jose around 10 pm.
It was such a fun day and a great experience, and we were so excited to share it together.
Here is the exact day trip we booked!
PS- This is a great gift idea! Thanks to Tinggly, we were given their Time Together gift box and were able to use that to book this experience! Their gift boxes can be used to book experiences in over 100 countries!
San Jose to La Fortuna Costa Rica Day Trip Details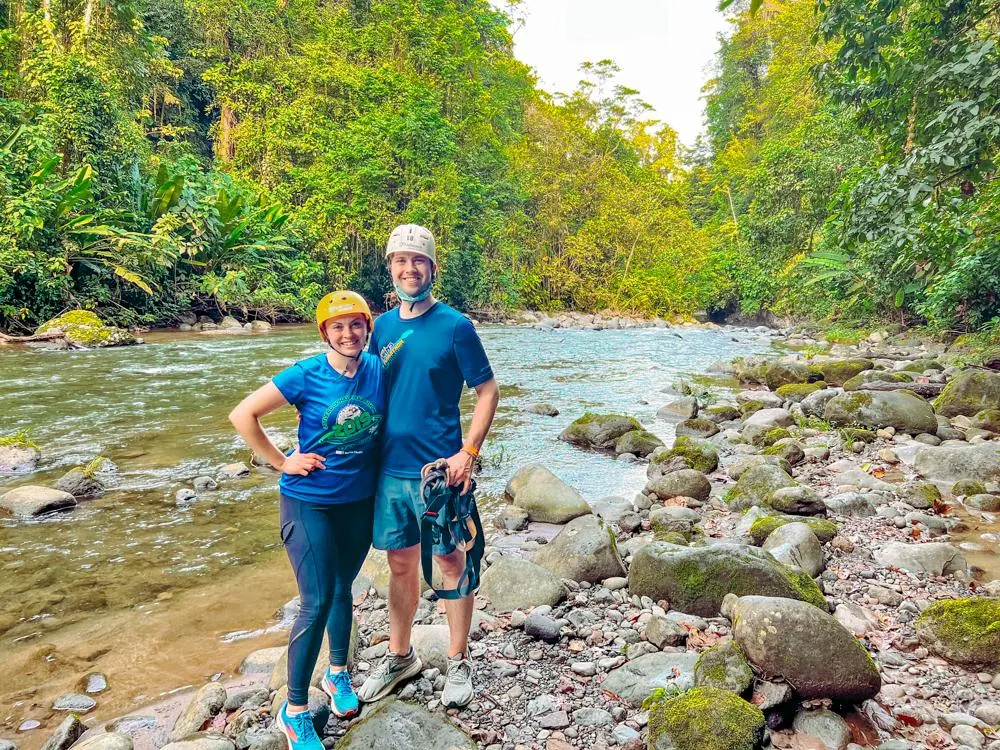 If you would like to go on this day trip, here are some details you'll need to know:
Price: $165 per person and includes all meals, transportation, guide, entrance fees to ziplining and the hot springs, and a mini coffee tour. The only things not included are personal purchases and tipping. It is a great deal for a quick day trip to La Fortuna from San Jose!
Trip Length: We were picked up at 6 am and dropped off around 10 pm, so be prepared for a long day of around 16 hours.
What to bring: Be sure to pack comfortable shoes, a change of clothes, bathing suit, sandals, sunscreen, bug repellant, a raincoat, water bottle, some cash, and copies of your passport. We just brought our small hiking daypack to carry everything.
Where to Stay in La Fortuna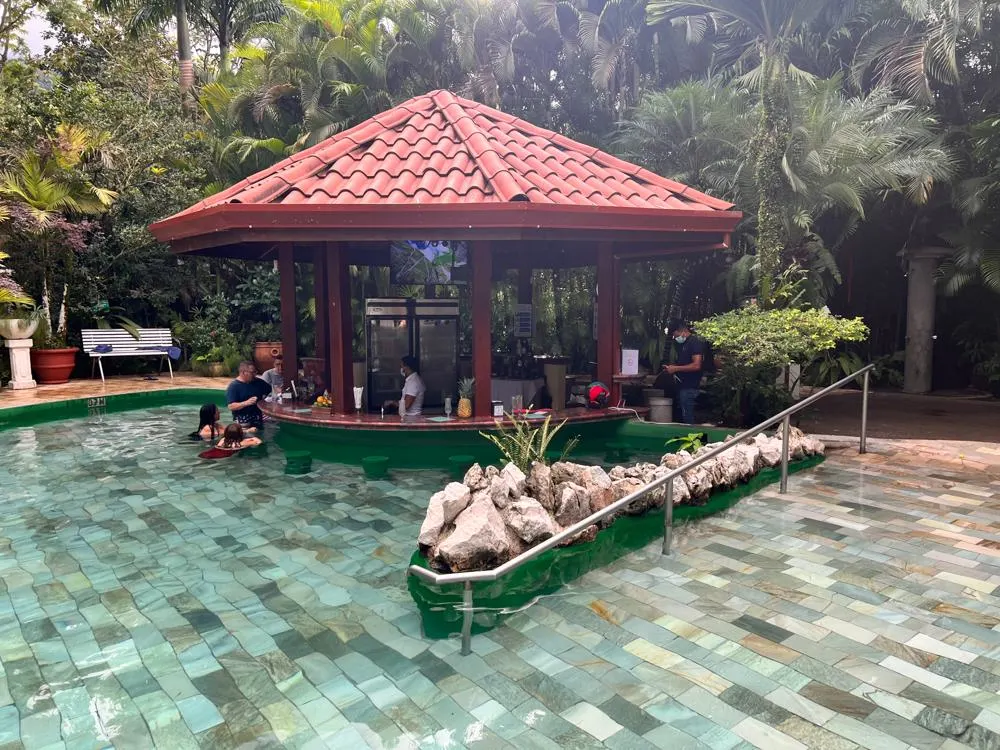 If you plan to stay in La Fortuna and around Arenal, then here are some great hotel options.
Budget: Hotel Secreto La Fortuna
Not only do you have incredible views of Arenal Volcano, but you also have free parking, A/C, and a pool. The rooms are nice and comfortable too. Plus, you are within walking distance of many restaurants and attractions in La Fortuna. You also can't beat the deal! It starts at $65 per night.
Mid-Range: Paradise Hot Springs Thermal Resort
If you plan to take the day trip we mentioned anyway, why not just stay at the resort where you visit the hot springs?
The views are great, you get free breakfast and access to all the hot springs, plus there is a spa for massages.
Prices start at $160 per night.
Luxury: Tabacon Thermal Resort
This hotel is tucked away in the rainforest at the base of the volcano. Plus, you'll get free access to the thermal river and springs.
There is also a spa, restaurant, and lovely rooms making you feel ultra-luxurious. Prices start at $320 per night.
Traveling from San Jose to La Fortuna is always a journey! We hope you enjoy your time traveling around Costa Rica!
How would you like to go to La Fortuna?
Want more Central America content? Check out these posts:
Thank you Tinggly for sponsoring this post and giving us the gift box to book this trip. As always all opinions are our own.
Pin it here!