Some posts on this site contain affiliate links, meaning if you book or buy something through one of these links, I may earn a small commission (at no additional cost to you!). Read the full disclosure policy here.
---
There are so many incredible things to do in Hopkins, Belize! Located along the central coast of Belize, this is the perfect place to base yourself to explore this exciting country!
In fact, that is what we did on our week-long trip to Belize! We based ourselves in Hopkins at Hopkins Bay Resort the whole trip and arranged day trips in between spending days exploring this fun town.
So what is there to do in Hopkins village in Belize? Let's get into it.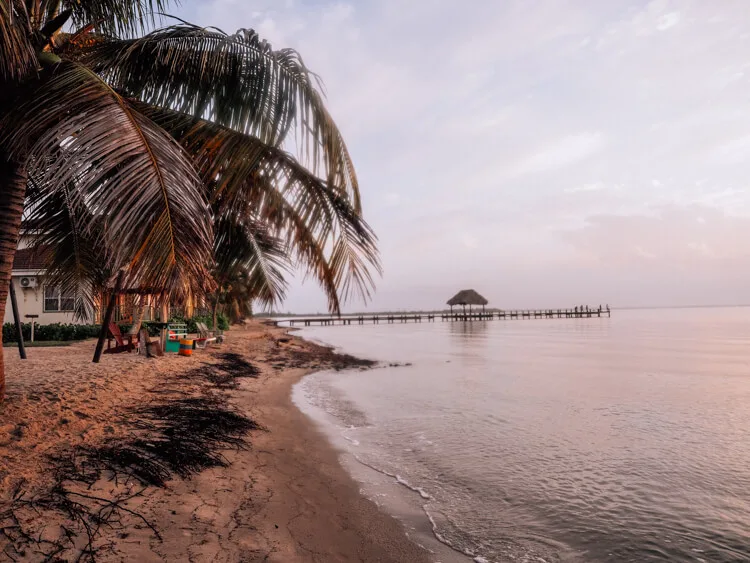 11 Best Things to do in Hopkins, Belize
From the local culture to incredible snorkeling, this is what to do in and around Hopkins, Belize!
1. Enjoy the Local Garifuna Music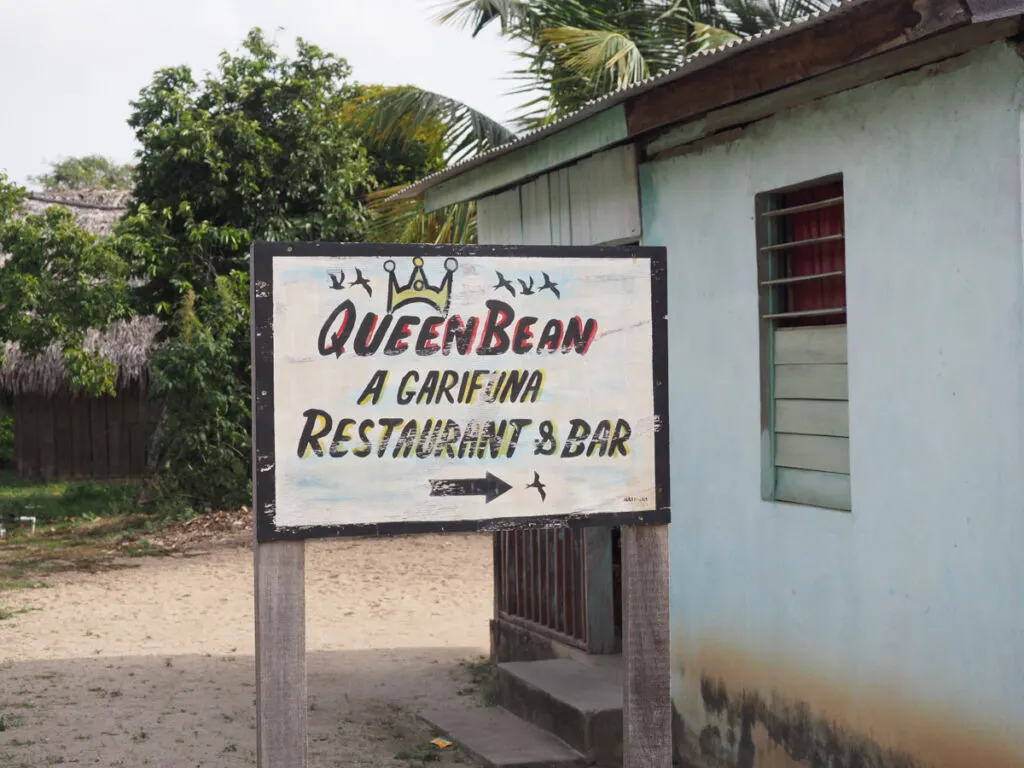 Did you know that Hopkins is the #1 cultural destination in the country? That is because it is home to the Garifuna community. The Garifuna are a people who began in 1635 after a slave ship crashed off the coast of St. Vincent.
The Africans on board became refugees and mixed with the local population, creating a community of their own, of which many ended up in Belize.
The Garifuna have a rich culture of music, cuisine, and art. So if you're searching for things to do in Hopkins, you definitely want to enjoy some local music.
You can find bands playing at various local spots like Ella's Cool Spot, or you can even book a drumming session to learn how to play! Lebeha Drummers teach drumming lessons as well as just rock out so you can also just enjoy the vibes!
2. Eat the Local Cuisine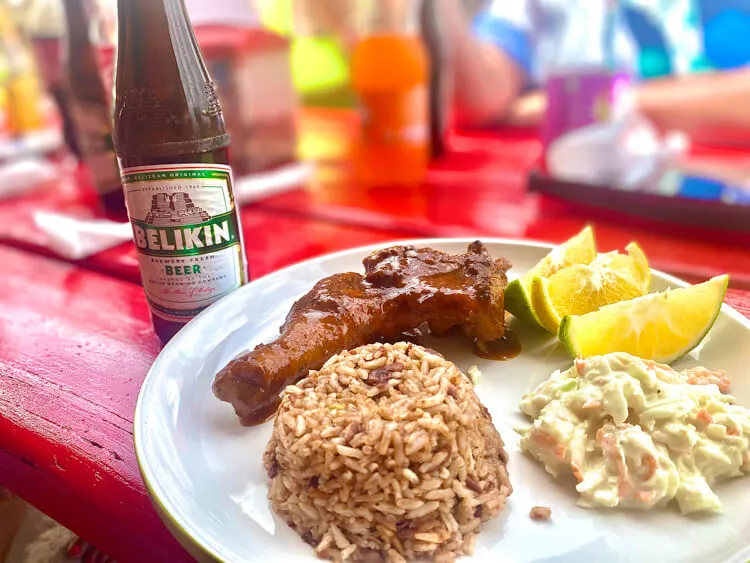 The food in Hopkins is incredible, especially if you're lucky enough to visit during lobster or conch season. There are plenty of restaurants with tasty seafood to enjoy like the higher-end Love on the Rocks to the family-run Ella's Cool Spot.
Seriously, we loved Ella's Cool Spot. It is located along the beach and you can enjoy tasty cocktails and have a fresh catch of the day surrounded by locals and tourists alike.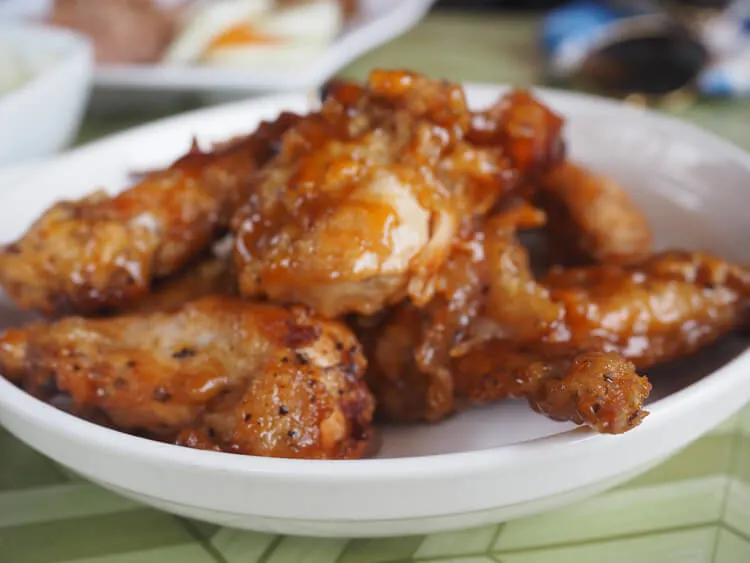 Also, if you want a really tasty treat, be sure to head to M&L's Juice & Snack Bar for some incredible juice. You can also taste local Garifuna cuisine like darasa (green banana tamales), sere (fish stew with a coconut base), etc.
While you're there, be sure to also enjoy some Belizian specialties like their super flavorful beans and rice as well as fry jacks!
3. Enjoy Drinks at an Overwater Bar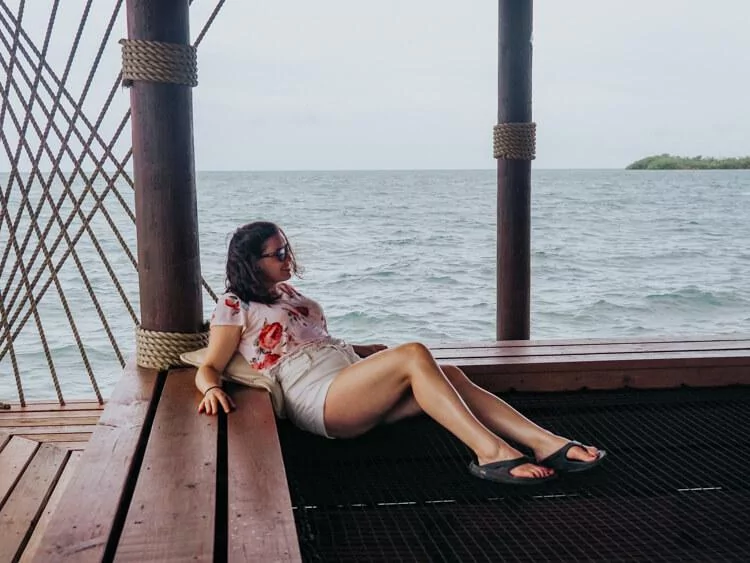 Enjoy tasty cocktails and ceviche at Big Dock Ceviche Bar. This place is over the water with plenty of seating on both floors.
Enjoy views of the sea as you sip your frozen concoctions after a day at the beach.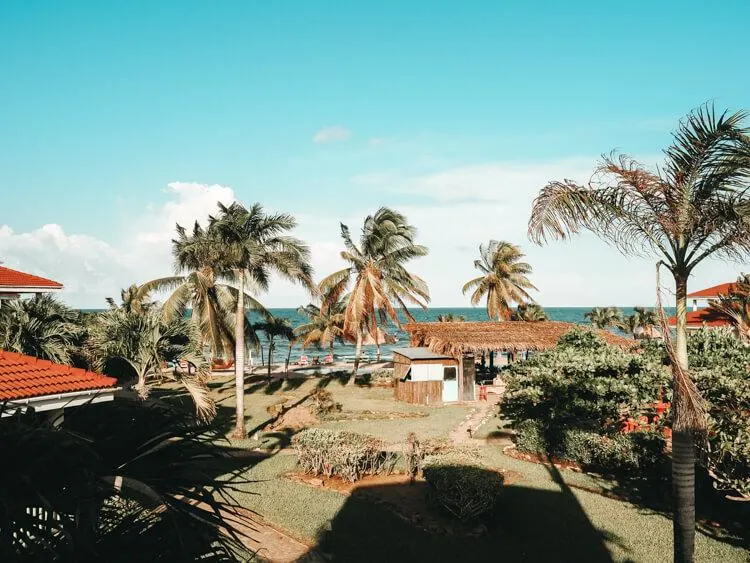 4. Immerse Yourself in the Garifuna Culture with a Culinary Adventure
Learn all about Garifuna cuisine and how it is prepared on a unique Garifuna Cultural and Culinary Adventure tour. Your resort can arrange this for you, especially if you're staying at a place like Hopkins Bay Resort, or you can book it through Palmento Grove Garifuna Eco Cultural & Fishing Institute.
The hosts will teach you about the Garifuna culture, dress, and cuisine. Then, you'll get to enjoy the food and even learn how to use the drums!
5. Stay at an Idyllic Beachside Hotel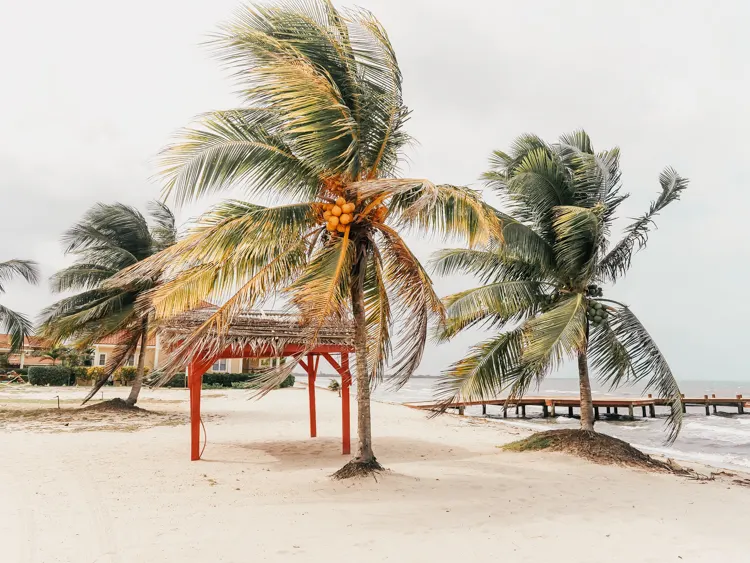 Staying beachside is a must if you're visiting Hopkins. This village isn't very big, but it is nice to stay at a dreamy hotel where you can enjoy the views, sand, and sun while you're there.
We stayed at Hopkins Bay Resort along the beach and thoroughly enjoyed it. They have a great bar and restaurant on the resort with tasty food options, and the pina coladas are amazing. We rented out a villa with lovely views, and the resort also has 2 pools in front of the beach, a spa, and plenty of games, kayaks, and paddle boards to keep you entertained.
Some other great beachside resorts to stay at in Hopkins include Beaches and Dreams and Belizean Dreams Resort.
6. Snorkeling or Scuba Diving at the Belize Barrier Reef is One of the Best Things to do in Hopkins, Belize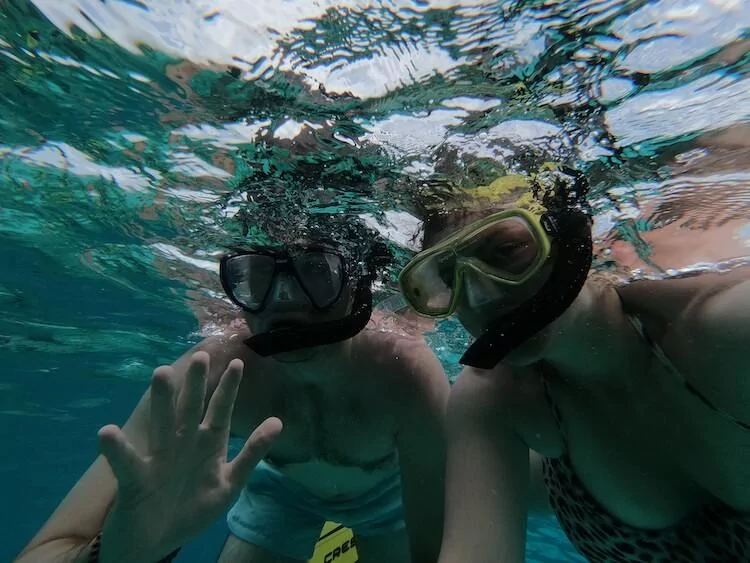 Did you know that Belize is home to the second-largest coral reef system in the world? So if you're a snorkeling enthusiast or diver, this is a thing to do while in Hopkins, Belize.
Head to Belize Underwater for tours that include snorkeling or scuba diving out in this reef system. Spot sea turtles, sting rays, colorful fish, vibrant corals, and perhaps a shark during your time snorkeling or scuba diving.
And with the coral reef system being close to Hopkins, this is a great place to base yourself for these underwater adventures.
7. Fishing Experiences
Are you a big fan of fishing, especially in the delightful Caribbean Sea? Then be sure to book a fishing tour at Noawel's Tours. Here you can book adventures like snorkeling and island hopping as well as reef fishing, fly fishing, and even a Catch and Cook fishing tour where you catch your own lunch.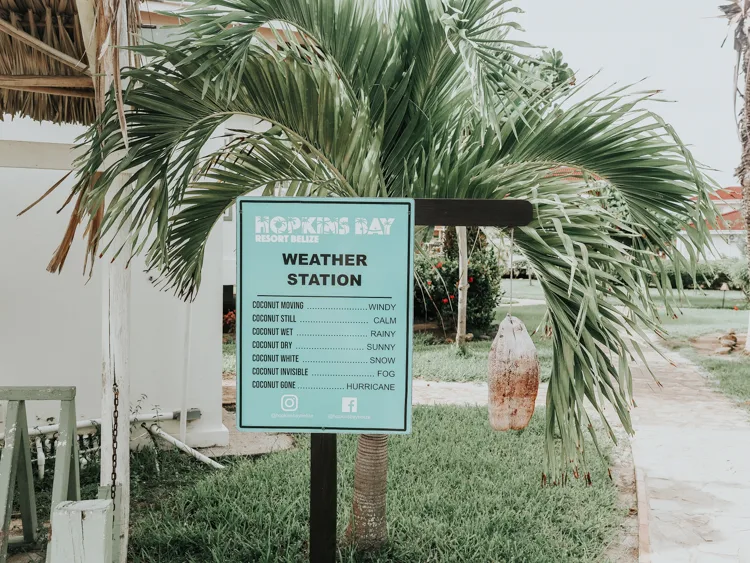 8. Bike Around Hopkins
If you stay at a place like Hopkins Bay Resort, then they have free bike rentals you can use to pedal your way around the town. There are a couple of bike rental shops too like Tina's Bicycle Rentals and even motorbike rentals at Motorbike Rentals & Alternate Adventures.
Either way, grab a bike and ride around the area, stopping at shops, the beach, and restaurants along the way.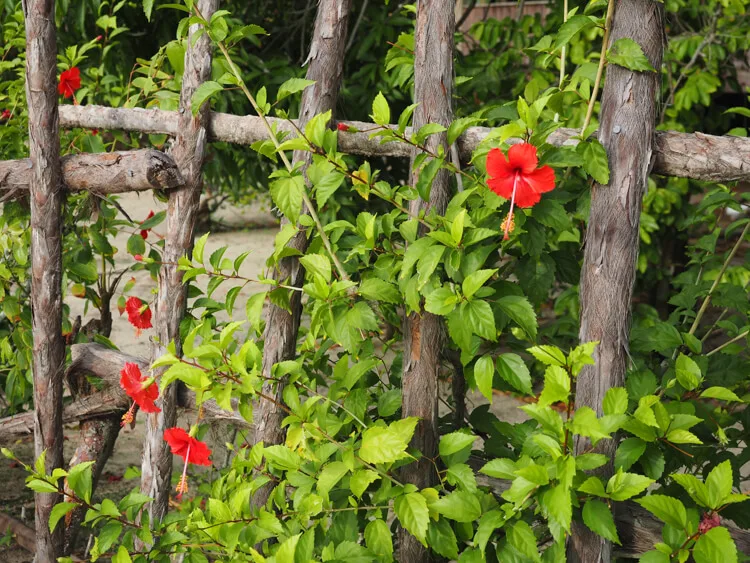 9. Pick Up an Artisanal Souvenir
If you're a person who loves collecting souvenirs from their travels, definitely pick up a keepsake by a local artisan. We stopped by Arts by Alex when we were in Hopkins and ended up getting a wood carving that Alex even engraved for us.
He also sells handmade jewelry, decorative bowls, and other items. You can also visit Hopkins Market Artisan Food & Craft for more handcrafted products like hot sauces, beauty products, and local cashews.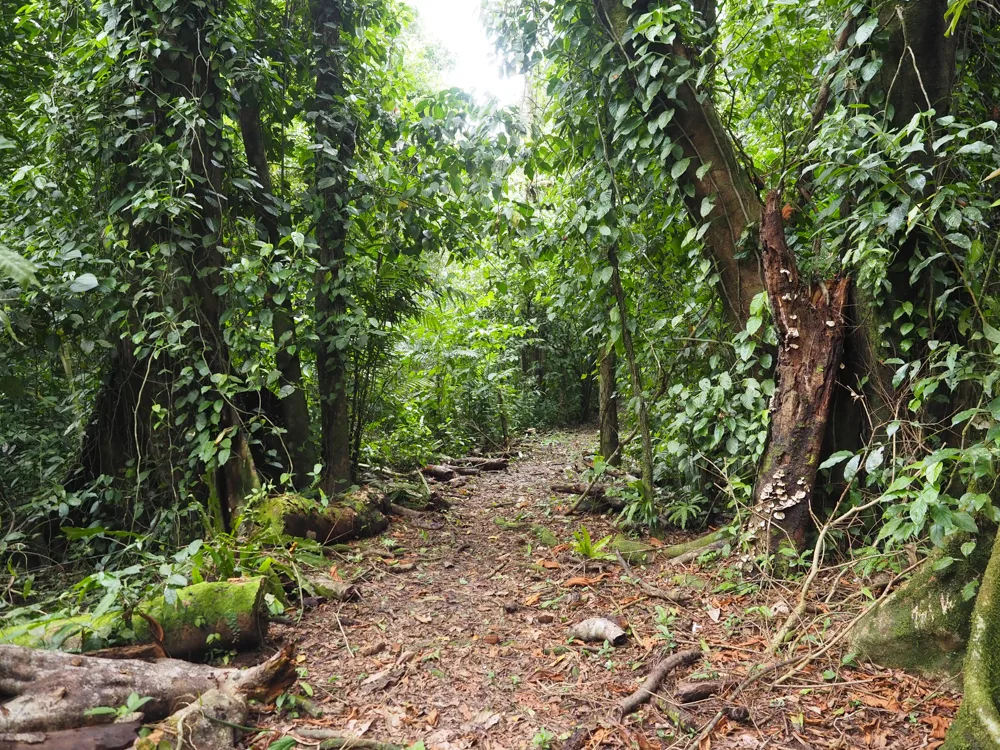 10. Visit Cockscomb Basin Wildlife Sanctuary
Just outside of Hopkins is the Cockscomb Basin Wildlife Sanctuary. It is along the hills of the Maya Mountains, and it is the place to potentially spot a jaguar. This reserve is home to not only jaguars, but puma, margay, jaguarundi, and ocelots. Aside from the big cats, the reserve is home to tapir and over 290 different species of birds.
You can book adventures here and get to do things like explore the flora and fauna with a naturalist or even go on a night hike to perhaps see these animals in action.
11. Enjoy Some Day Trips From Hopkins Belize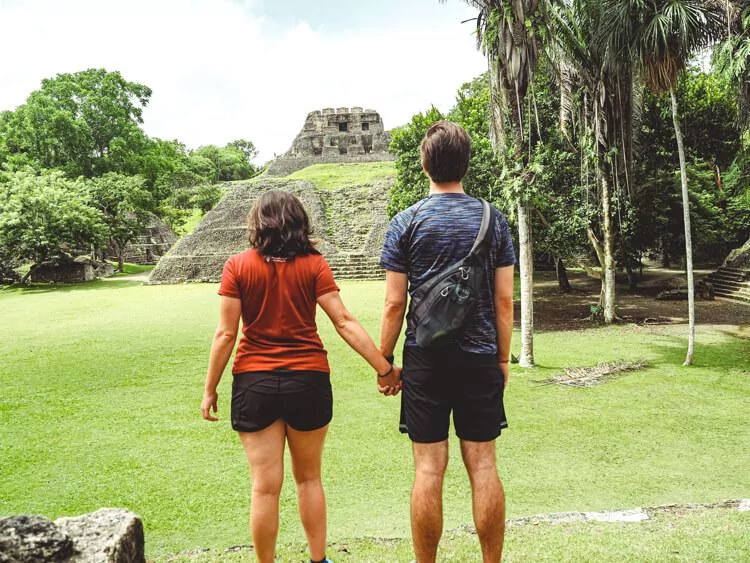 Last of the Hopkins, Belize things to do is to take a day trip. As I've said before, Hopkins is in a great location to base yourself for exploring. You can pretty much take a day trip to anywhere in Belize from Hopkins.
So why not choose an epic day trip to enjoy during your stay? Some great ideas include a visit to the epic Mayan ruins of Xunantunich to learn more about the history of Mayans in the area, explore the Inland Blue Hole at St Herman's Blue Hole National Park, go on a chocolate tour, and you can also zipline and river tube along South Stann Creek River.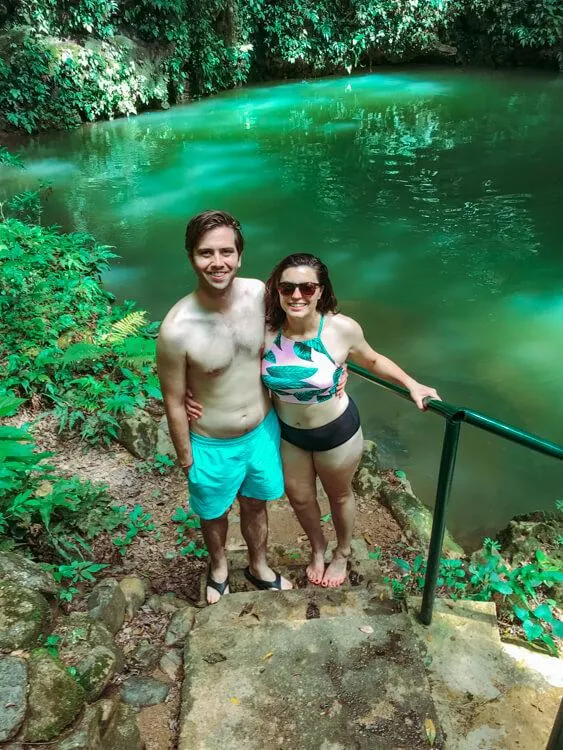 For an epic bucket list-worthy experience in Belize, opt to visit the Actun Tunichil Muknal (ATM) Cave. This is a famous archaeological site, with skeletal remains, pottery, etc. from the Mayans. This is an adventurous day trip with a lot of wading, climbing, etc.
And, another super incredible thing to do in Belize is to go cave tubing. This is where you get to tube down a river inside of a cave! Everyone gets to turn off their headlights at some point for complete darkness in the cave. It was a really epic thing that we did last time we were in Belize.
You can book this through your resort if you wish! We also booked one of our tours with Untame Belize.
In short, there really isn't a shortage of amazing things to do in Hopkins and day trips from there for your epic time in Belize.
Getting to Hopkins Belize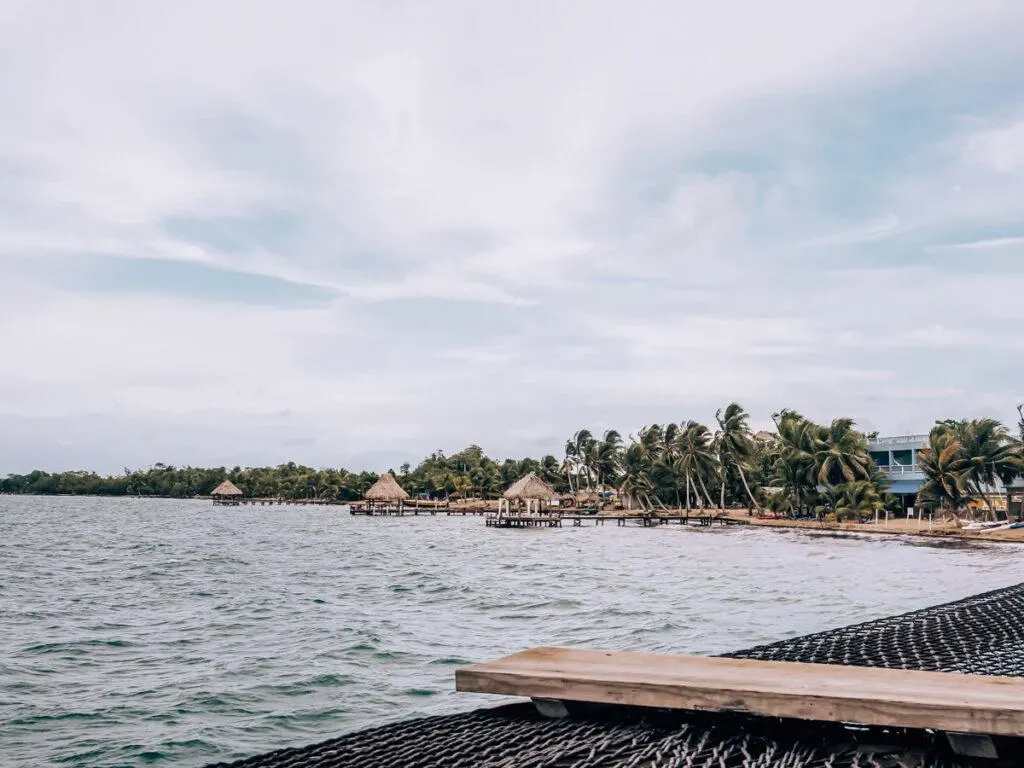 To get to Hopkins, Belize, you're going to have to fly into Belize's international airport: Philip S. W. Goldson International Airport. You can sometimes find some really great round-trip deals from the US. I like to check Skyscanner for flight prices.
Once you land at the airport, you have a couple of options. The first is to arrange a shuttle to take you to your resort. You can do that through Viator or through your resort directly. The shuttle drive from the airport to Hopkins is around 3 hours long and costs around $150-180 per person round trip.
You can also take a 10-minute small plane into Dangriga airport and a shuttle to the hotel. The hotel can arrange this as well and it costs $265 per person round trip.
Best Time to Visit Belize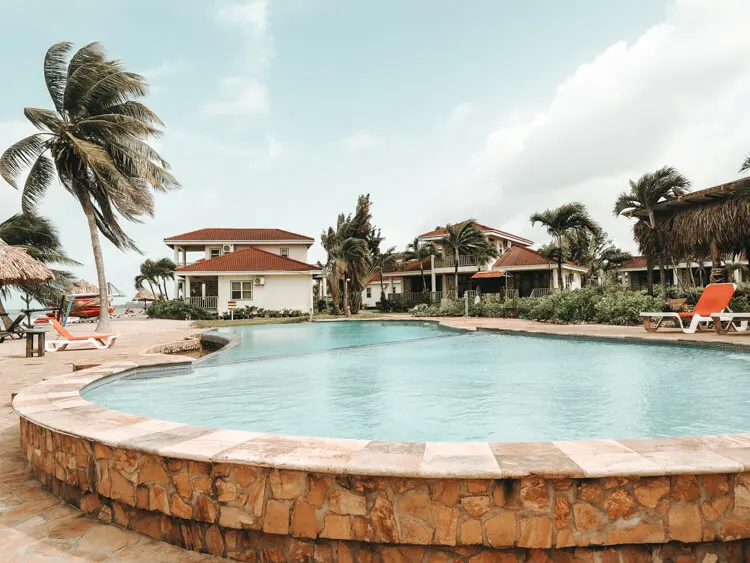 The best time to visit Belize for good weather is between late November through mid-April. This is the dry season, and it is a great time to escape chilly winters in the US.
The rainy season is between June through mid-November, but keep in mind that the rainy season doesn't mean all-day everyday rain. We visited in July and it only rained at night a couple of times and a few short rain showers during the day.
The rainy season is also less busy so you can find pretty good hotel deals!
Other Things to Note Before Visiting Hopkins Belize
Looking for travel insurance? Check out World Nomads.
Here is our packing guide for Belize! Don't forget things like bug repellent and sunscreen!
USD is pretty much accepted everywhere. Cash is king, and USD works just fine in most places. You can also use Belizean Dollars as well.
Want more Central America and Caribbean travel ideas? Check out these posts!
Pin it here!