Some posts on this site contain affiliate links, meaning if you book or buy something through one of these links, I may earn a small commission (at no additional cost to you!). Read the full disclosure policy here.
---
Let's talk about the best 10 days in Costa Rica itinerary, and nope, you don't need a car for this one!
Costa Rica is incredible. There, I've said it. It is about a 5-hour plane ride from the US (obviously depending on where you're coming from), it has a mix of luscious green mountains and tropical beaches, and don't even get me started on the vast biodiversity this small country holds!
Honestly, I can't believe out of all the places we've traveled, this is our first time in Costa Rica. Trust me, it won't be our last if we can help it.
But when we were planning our trip, we wanted to create a unique Costa Rica itinerary that involved plenty of adventure, relaxation, wildlife spotting, and coffee, lots of coffee.
Now that I'm back in the US and taking a break after being wayyy too caffeinated in this lush Central American country, it is time to show you how to plan the best Costa Rica itinerary in 10 days!
Check out our podcast episode all about 10 days in Costa Rica here!
The Best 10 Days in Costa Rica Itinerary (Without a Car)!
No car, no problem, here is the best way to get off-the-beaten-path and enjoy a 10 day trip to Costa Rica!
Day 1 of the Perfect Costa Rica Trip Itinerary: Getting There and San Jose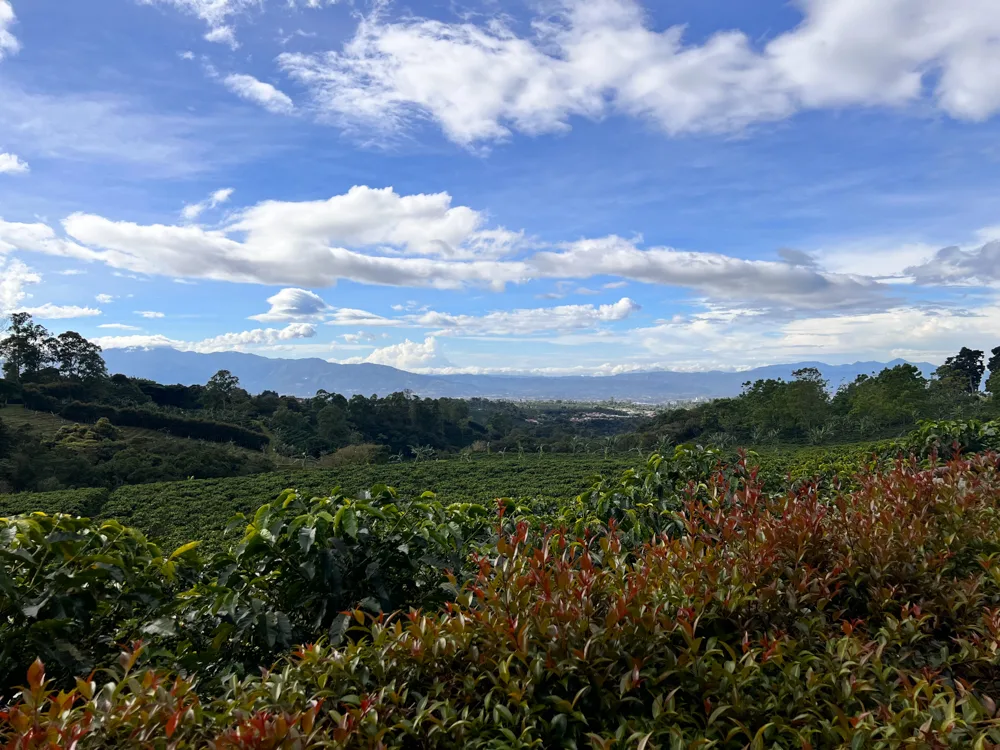 First things first, you have to get to Costa Rica. While Costa Rica has 2 international airports (San Jose Juan Santamaria International Airport and Liberia Daniel Oduber International Airport), most people tend to fly into San Jose.
Several airlines like Delta, United, and American all fly here as well as more low-cost carriers like JetBlue, Southwest, Spirit, and Frontier. Even other carriers across the globe like Lufthansa, Avianca, and Air Canada make the journey here.
This means that flight deals can be quite good! Thanks to Skyscanner, you can find prices as low as $200 round-trip from larger US cities to $450 round-trip from smaller cities.
Or, if you've got points as we did, you can go that route! Flying from Cleveland, we used 65,600 JetBlue points and $173 in taxes and we had a round-trip flight booked!
Explore San Jose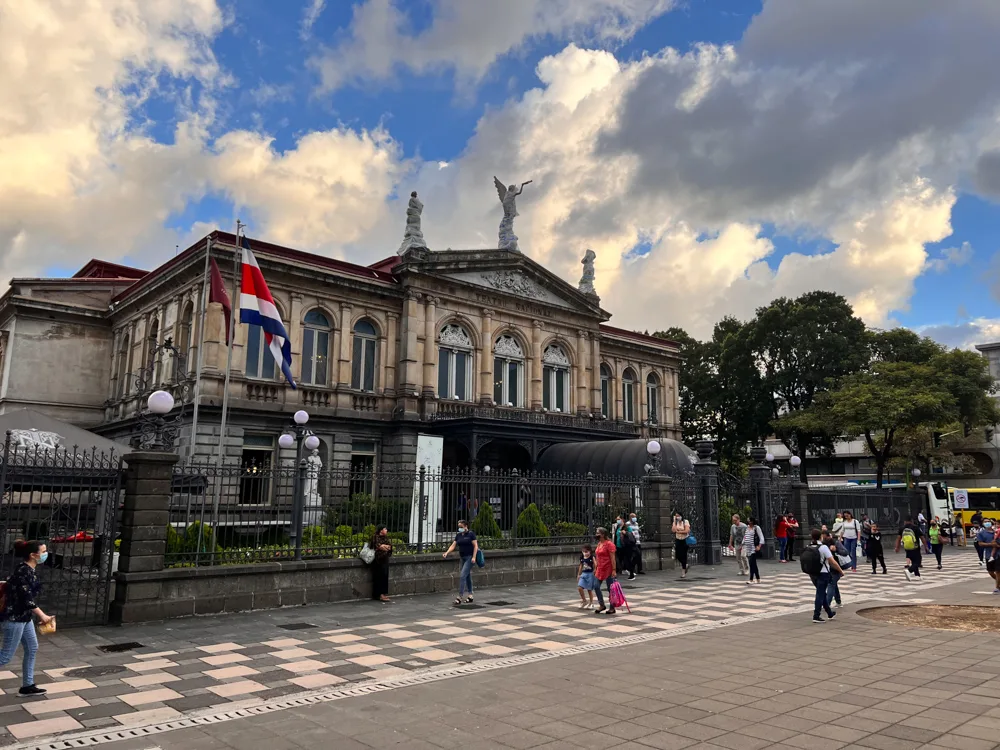 Now that you know how to get to Costa Rica, as you'll likely be landing near San Jose, why not explore and stay downtown?
Look, we're doing a more off-the-beaten-path ten days in Costa Rica, and while many tourists skip the capital of Costa Rica, we found beauty in this city that certainly makes spending a day here worth it.
Start by checking into your hotel in downtown San Jose. For us, we fell in love with Hotel Presidente. The rooms were spacious, the views overlooking the mountains and downtown San Jose were incredible, and you can't beat the rooftop bar! Prices start at $100 per night.
Check out reviews of Hotel Presidente and book here!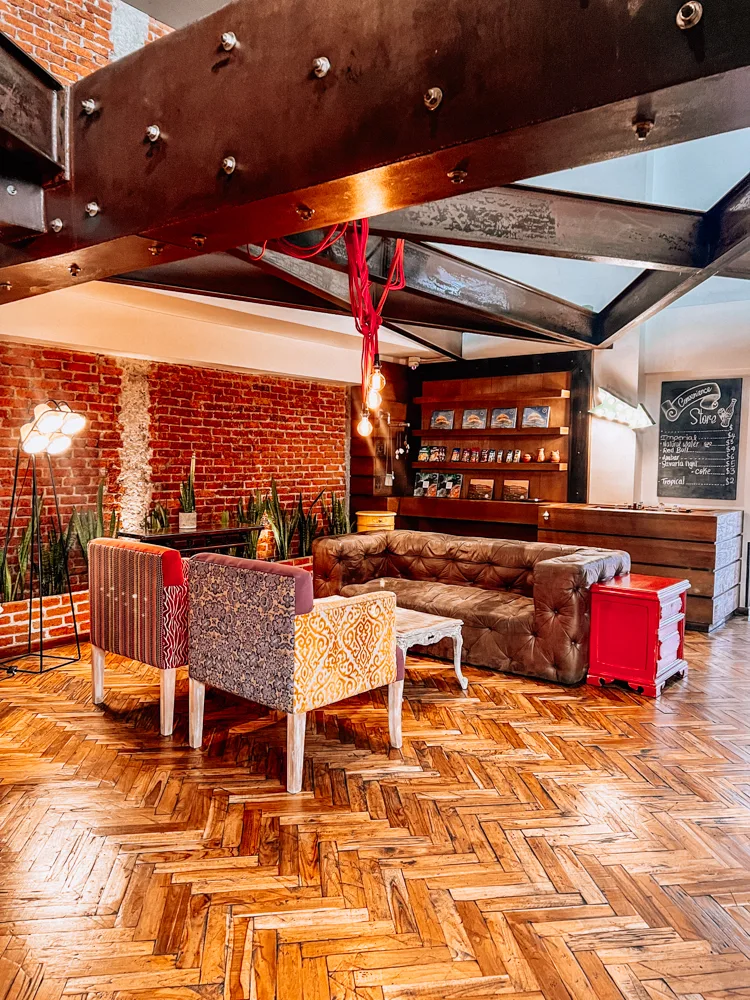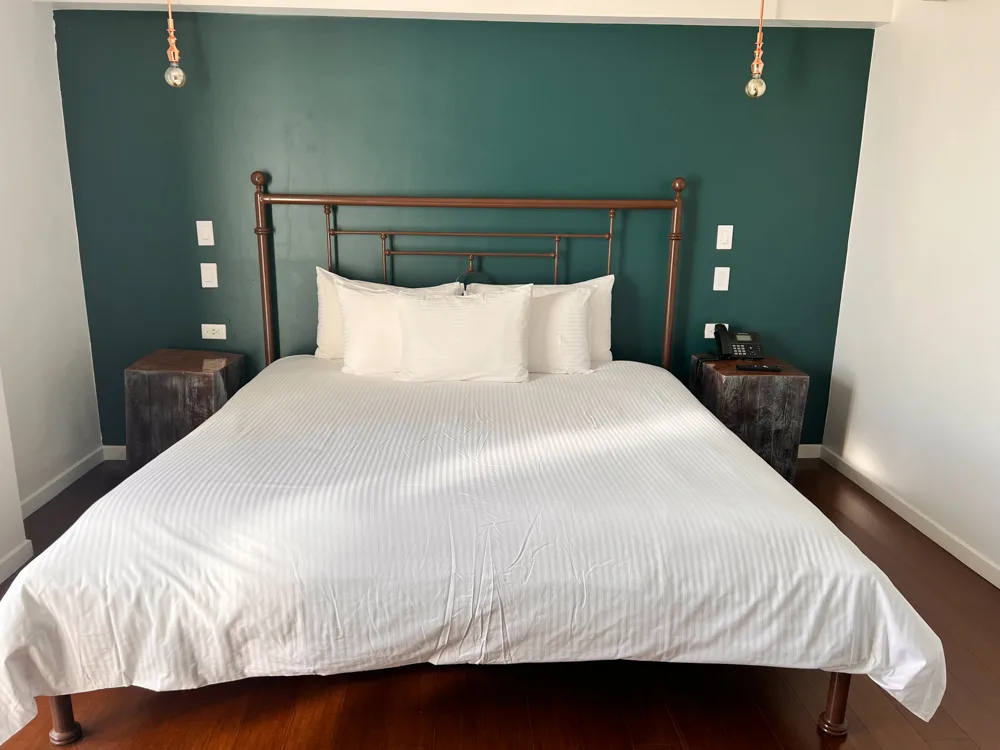 Plus, you're within walking distance to many attractions in San Jose!
Depending on when you land, which could even be before noon, you can explore the city for the rest of the day.
One must-visit is the Central Market. Try some traditional Costa Rican foods at the market and some of the best fruits! And if you want to go on ahead and purchase a few souvenirs, this is a good place to do it.
The National Theatre is another great place to check out, especially for its stately marble statues and lavish furnishings. It is about $6.50 to check it out.
And if you want to dive into local cuisine and culture, why not check out this food and culture night tour? It starts at 4 pm and lasts for 4 hours, with stops at many historical and cultural parts of the city and a local spot for dinner.
Again, these stops are all based upon when you land and what you feel up to. We flew in on a Friday after Thanksgiving and many other Americans had the same idea. So, unfortunately for us, we had a longer wait time to get through customs.
So while we wandered past the National Theatre and downtown San Jose, popping into bakeries and things, we called it an early night after our early morning wake-up call and had a delectable dinner at our hotel's rooftop bar, Azotea Calle 7.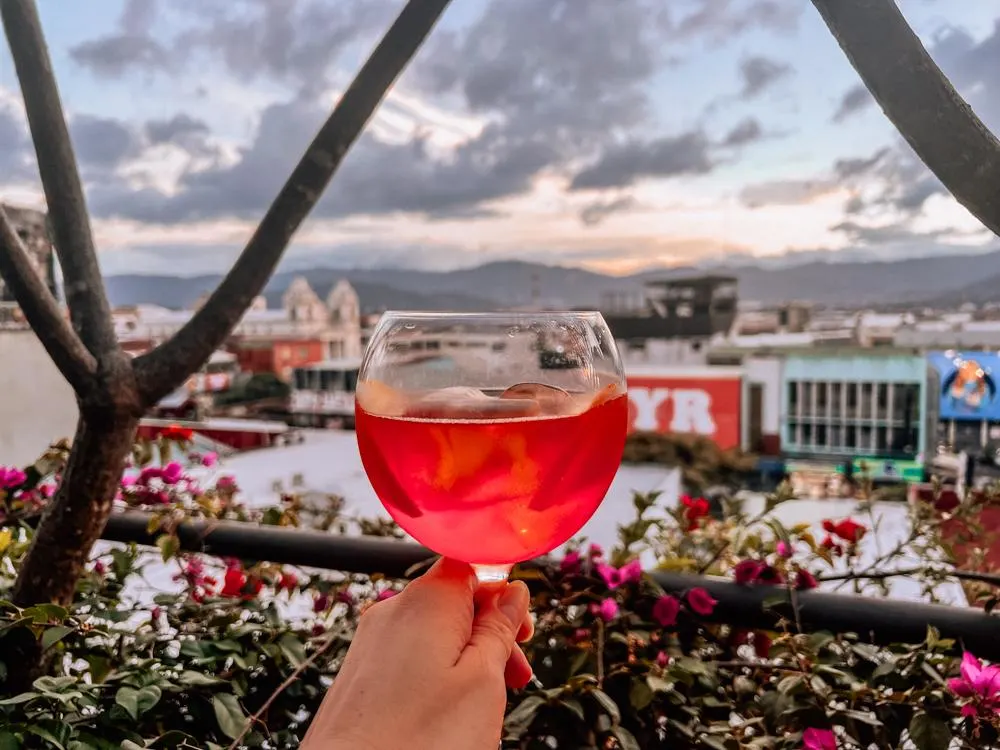 Between the tasty cocktails and local beers, we tucked into small plates consisting of a tostone sandwich, black bean dip, croquettes, empanadas, and churros. We highly recommend having dinner here if you can! But make a reservation- it's a popular restaurant!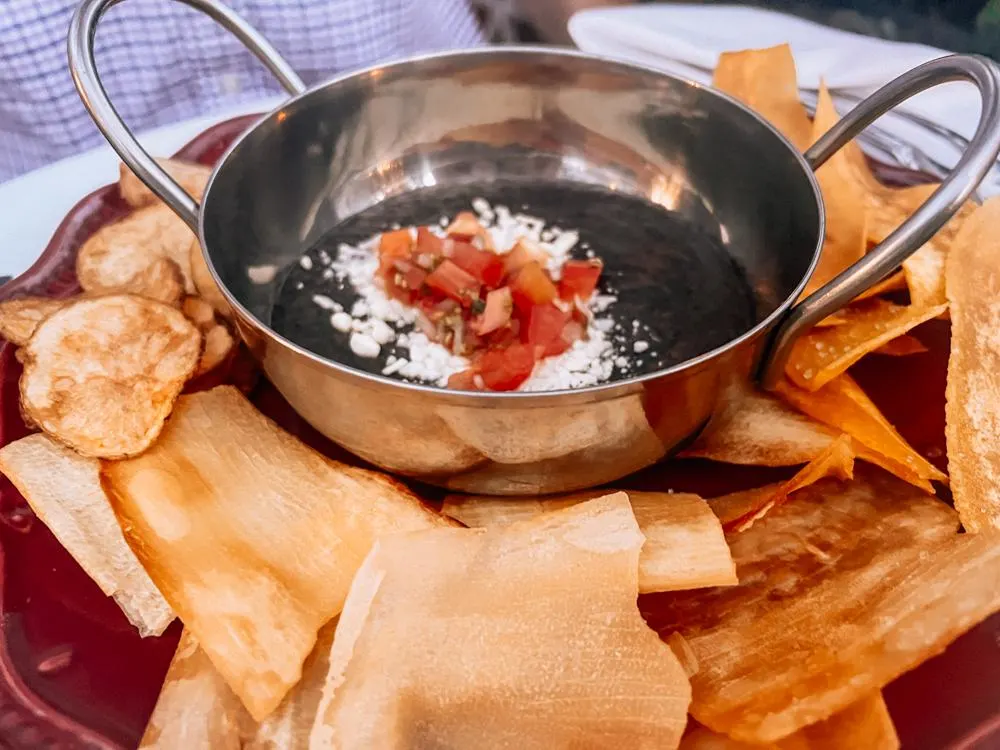 After that, head to bed for the adventure-packed following day!
Day 2 of Your Costa Rica Without a Car Itinerary: Day Trip to La Fortuna
Again, this isn't your typical 10 days in Costa Rica. This unique first-time Costa Rica itinerary is meant to take you to lesser-explored places, including destinations where you'll feel you may have the place all to yourself!
So while many people stay in La Fortuna for several days on their Costa Rica trip, we're just doing this in a day.
Why? Because tomorrow you're heading to one of the more remote and wild places in the country! But, because La Fortuna is a must-see place, and this day trip includes waterfalls, hot springs, zip-lining, and more, you can't pass it up!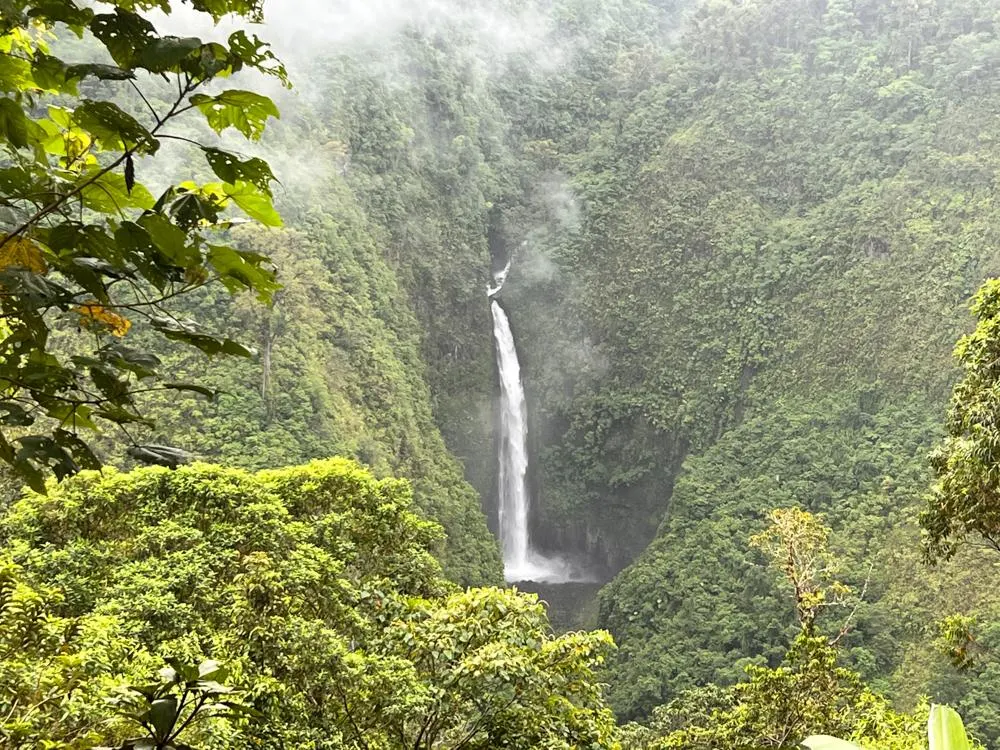 Start with an early wake-up as you will be picked up closer to 6 am. Snag a cup of coffee to go from Hotel Presidente and then hop on your tour shuttle for a day of adventure!
Coffee and Waterfalls
Starting off the tour is coffee, blessed coffee. Because when you have to get picked up at 6 am, a coffee or two is much needed. So you stop at Cafe Tres Generaciones, a coffee farm with a cafe area boasting views of the Central Valley and the farm itself.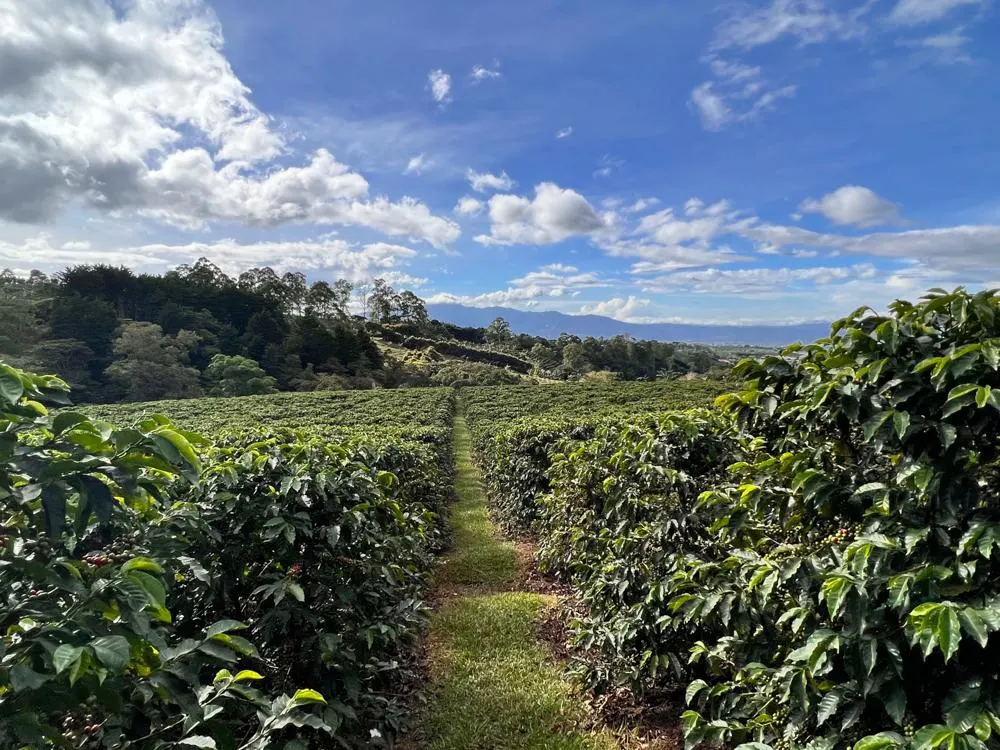 Learn a bit about coffee making before grabbing a latte to go as you're off to check out a couple of waterfalls.
La Paz waterfall is just off the road, so they pull over in a spot for you to admire and snap some photos of the cascade. Then, you get to see another towering waterfall (called San Fernando) from a distance as you stop at a restaurant for traditional Costa Rican snacks like empanadas and a tortilla with cheese and sour cream.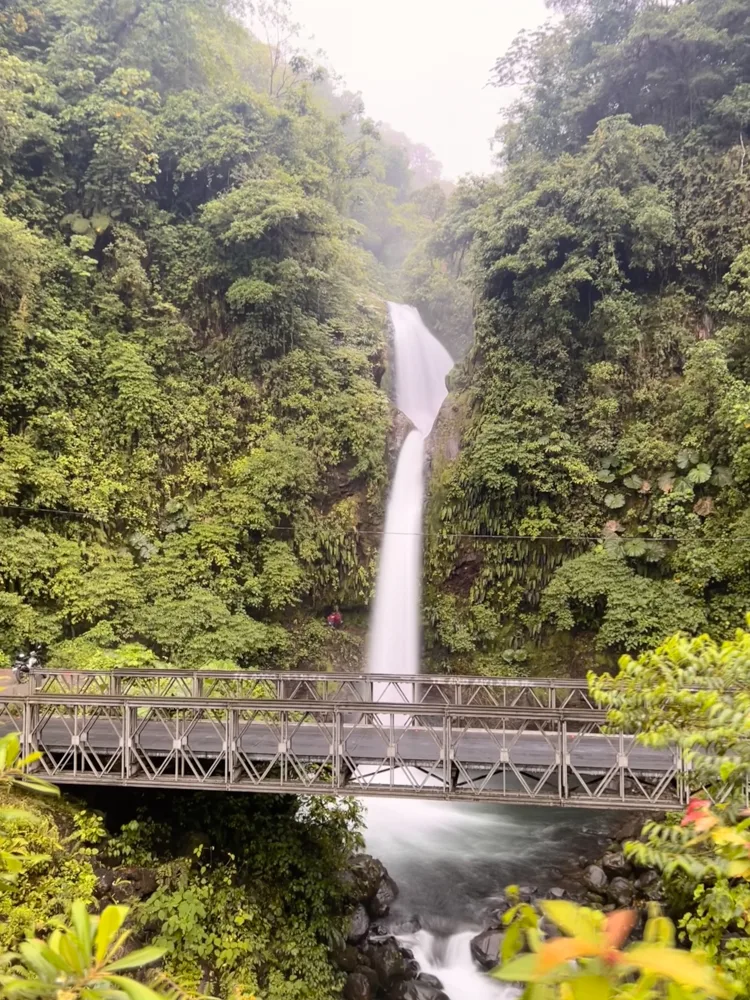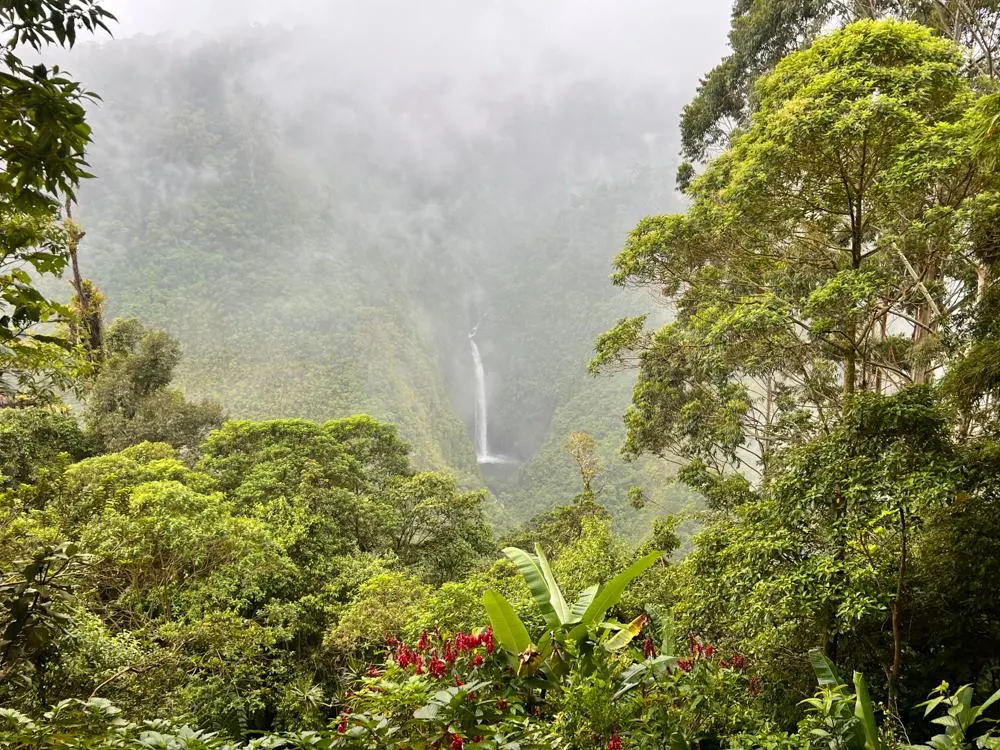 There are several incredible birds to see while you're there, and you can fuel up with more coffee or a warm hot chocolate.
La Fortuna
Then, at last, after a lengthy drive of about 3 hours from San Jose, made a little longer with the fun stops, you end up in La Fortuna!
After a nice traditional lunch of casado (rice and beans with meat), you're off on an adventure to go ziplining!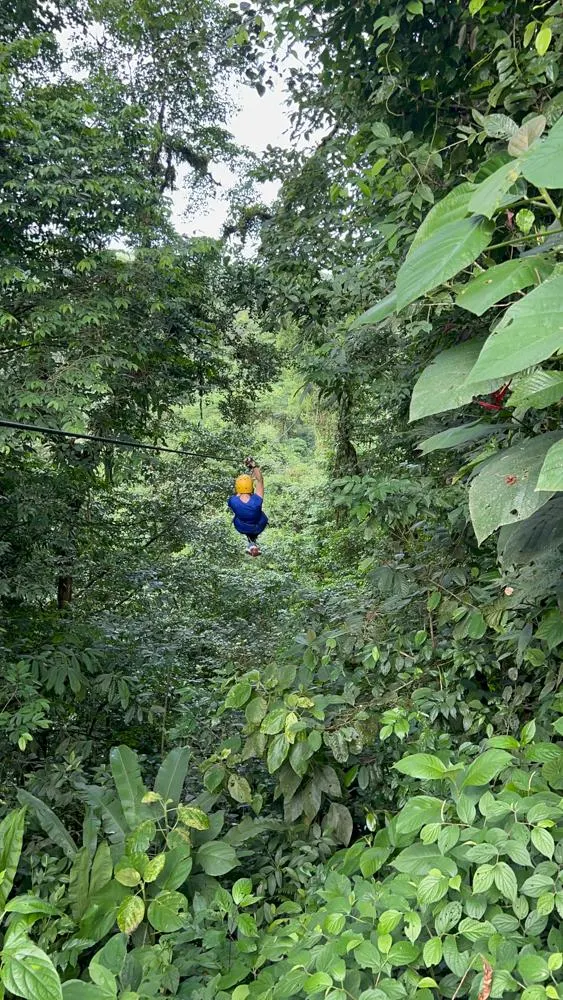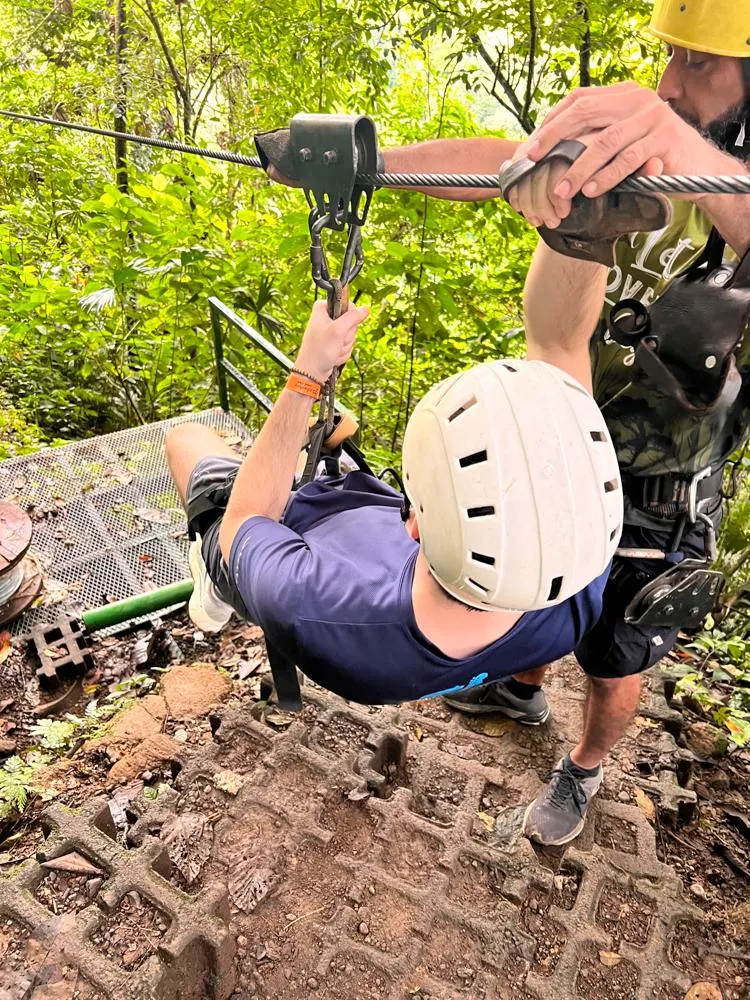 Zip-around in the jungle and spot incredible birds and perhaps a howler monkey or snake during your time in the canopy!
After several lines of ziplining of various speeds and lengths, you'll find yourself strapped up and repelling down a cliff to a river. It was super exciting and adrenaline-pumping, which is what Costa Rica is all about!
Luckily, after that, you're taken to Paradise Hot Springs for an afternoon and early evening of relaxing in natural thermal springs in a luxurious setting. Wade in pools of varying temperatures and ease those sore muscles from ziplining.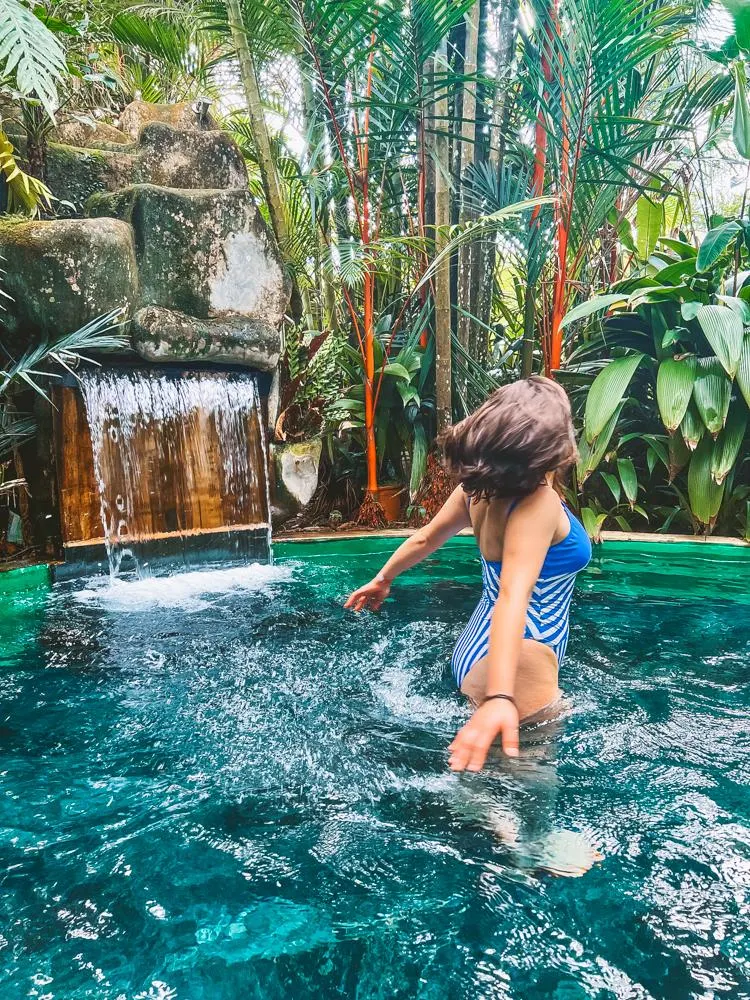 Snag a beer or two at the swim-up bar and just relax, admiring Arenal Volcano nearby! Then, after a couple of hours of relaxation and amazing views, you head back to San Jose with a dinner stop along the way.
This is a jam-packed day for sure, but you get to see Arenal Volcano, visit a hot spring, zipline, and just enjoy a quick trip to La Fortuna! If you're as short on time during your 10 days in Costa Rica as we were, it was well worth it!
Day 3: Fly to the Osa Peninsula
Today is the day you'll fly Sansa Air. There is nothing wrong with Sansa Air. In fact, it is how many people go traveling in Costa Rica without a car. And to be honest, getting to the Osa Peninsula is no easy feat without flying. That's what makes it less visited too!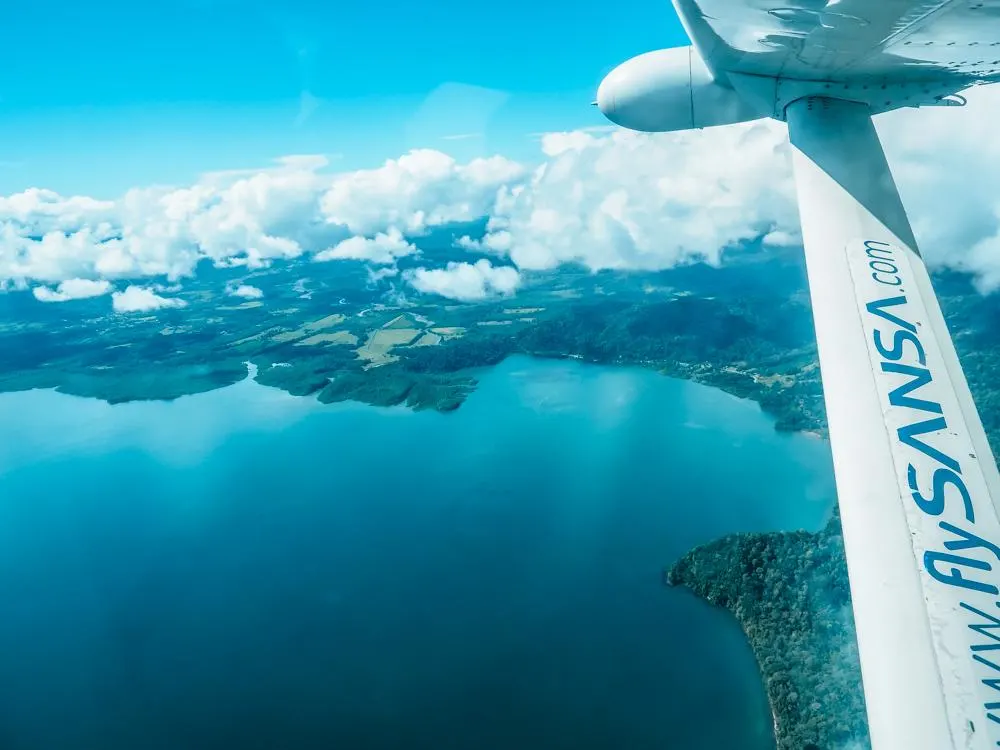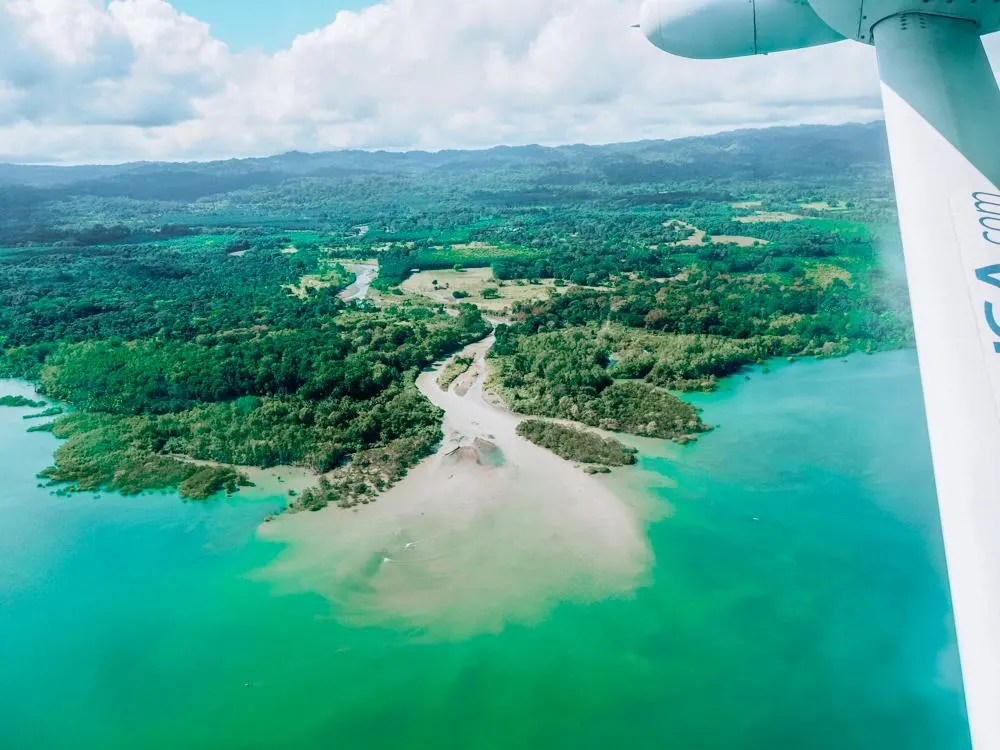 And being a nervous flyer myself, I was even more nervous to step onto a tiny 15-seat plane where the pilots were right in front of me. Turns out, it was completely fine! The pilots were chatting, drinking their coffees, and enjoying breakfast mid-flight.
And after my nerves had settled, I even enjoyed taking photos and videos of the mountains and the sea as we landed. The quick 45-minute flight from San Jose will leave you in a tiny town called Puerto Jimenez where your next accommodation will pick you up!
So hop on the boat and cross the Golfo Dulce (or Sweet Gulf in English), and you'll be at your home for the next 4 nights: Playa Nicuesa Rainforest Lodge.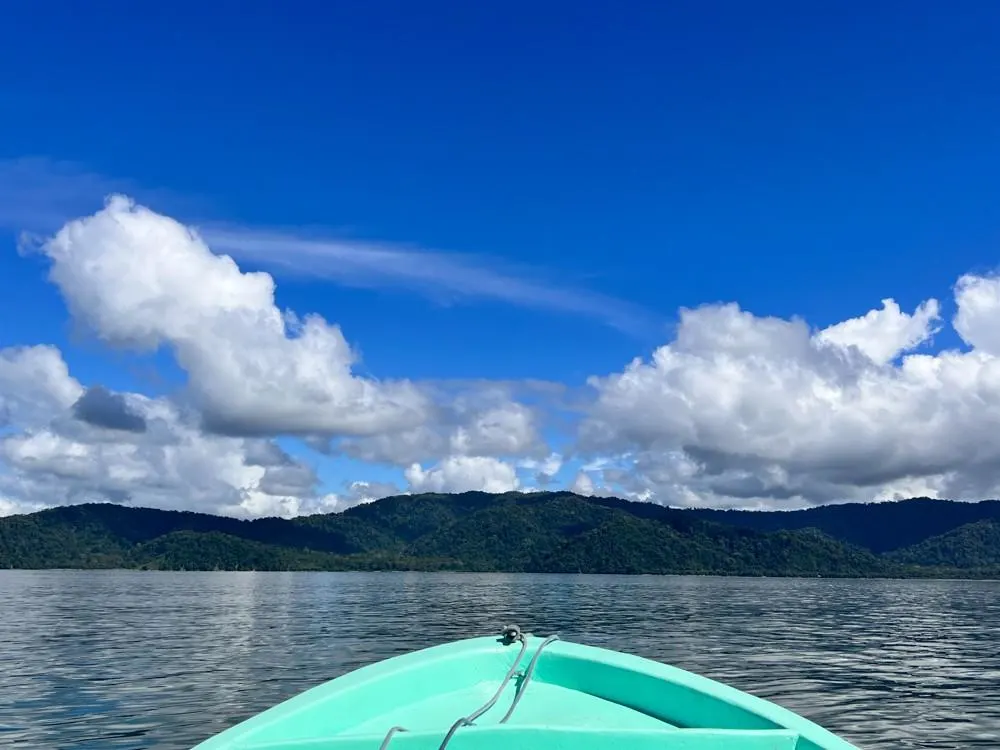 Why the Osa Peninsula and Golfo Dulce?
Costa Rica is known for its wildlife and beaches. Luckily, the Osa Peninsula and Golfo Dulce have those in spades, and it is far more remote and less crowded than other famous destinations like Tamarindo, Manuel Antonio, etc.
Nothing against those destinations, they are popular for a reason! And trust me, I'd love to see them one day!
But when you have the chance to see where 2.5% of the biodiversity of the entire planet resides in this small area of land that is the Osa Peninsula and Golfo Dulce including Piedras Blancas and Corcovado National Parks, you need to go!
I mean, the Golfo Dulce is known as the world's nursery as many scalloped hammerhead sharks and humpback whales give birth in these protected waters!
Okay, enough about why you should definitely make this a stop on your Costa Rica 10 day itinerary, here are more details about the lodge and this day!
Playa Nicuesa Rainforest Lodge
Guys, I could go on and on about this lodge. We've stayed in a rainforest before (the Peruvian Amazon!) and fell in love with Tambopata Research Center. The wildlife in the rainforest is just incredible.
But this lodge in particular not only has a dreamy main lodge with a dining room in the canopy overlooking the Gulfo Dulce, but they have private open-air cabins for guests, a private beach where you can swim, sunbathe, snorkel, kayak, and more, and they arrange for multiple different tours!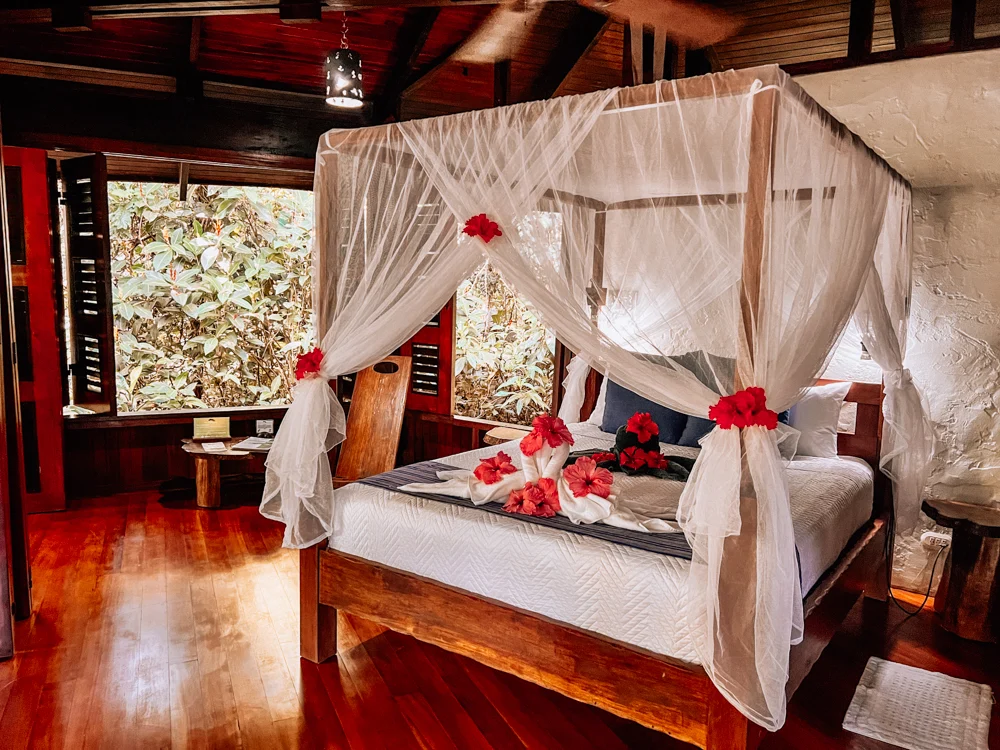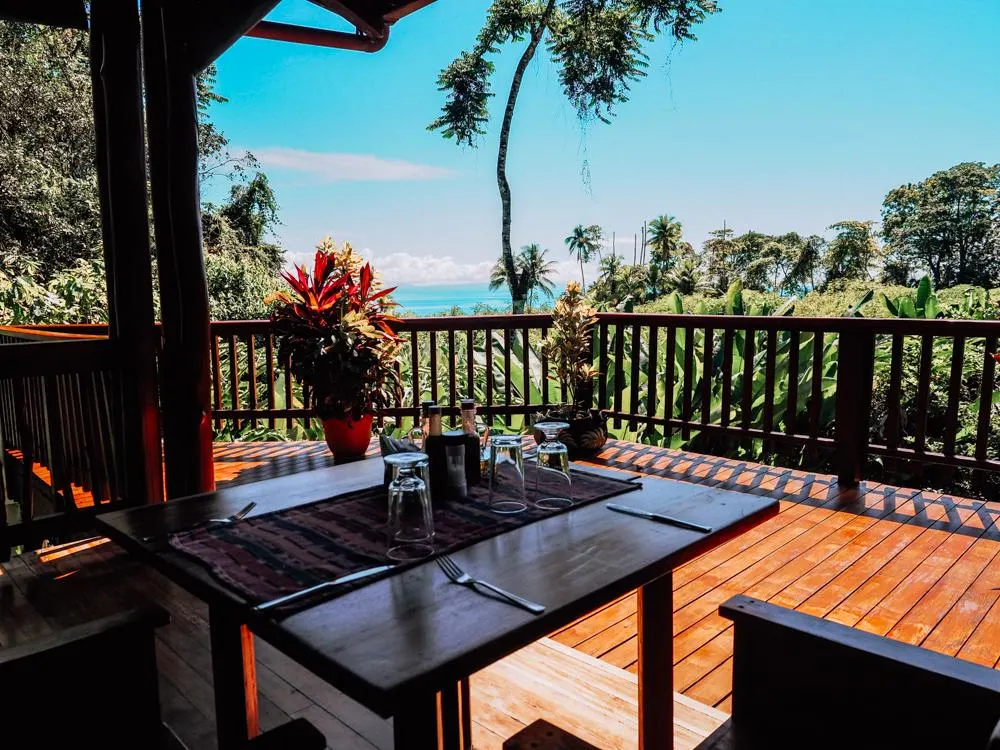 The food is all included, and if you get the Rainforest Package (which I highly recommend), you get a free tour each day led by local guides. Aside from that, there are plenty of self-guided hiking trails you can enjoy too!
Oh, and did I mention the open-air cabins?! Yes, I've never taken a nap so deeply in my life. I fell asleep one lazy afternoon to the sounds of the rainforest and felt so relaxed. It was a dream.
Prices start at $430 per night for 2 guests in a room.
The Rainforest Package starts at $810 per person for 3 nights in a double room. Trust me, it is worth it with guided daily tours, plus the hiking trails, beach equipment, and food included.
Read more about Playa Nicuesa Rainforest Lodge here and book!
Settle in and Explore
Okay, now that I've talked way too much about this lodge (sorry, we just fell in love with it!), it is time to settle into your cabin after a welcome drink and introduction.
They also give you a booklet of several tours to choose from and a map of the self-guided hiking trails.
So relax in your cabin for a bit as you flip through the tour options, which they'll ask you about later in the evening. Then, head out for a self-guided hike up to the canopy platform and potentially spot wildlife!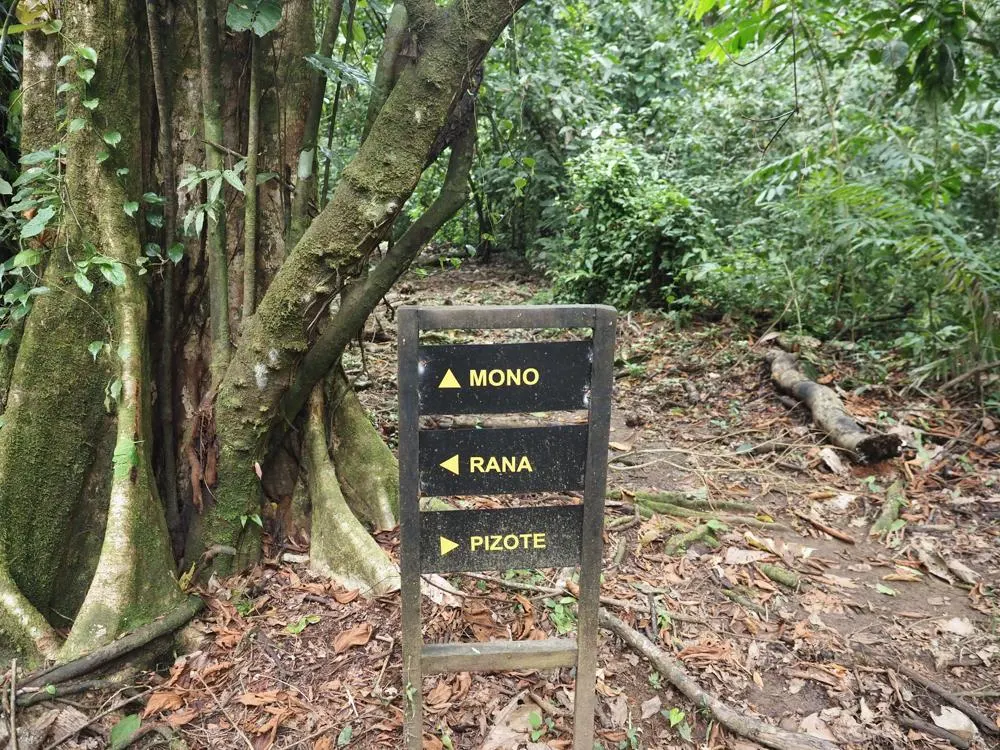 On our first self-guided hike, we saw several great curassows, a howler monkey, loads of toucans, and even some adorable agouti! And don't forget the interesting bugs like leaf cutter ants and a few spiders here and there. It was incredible!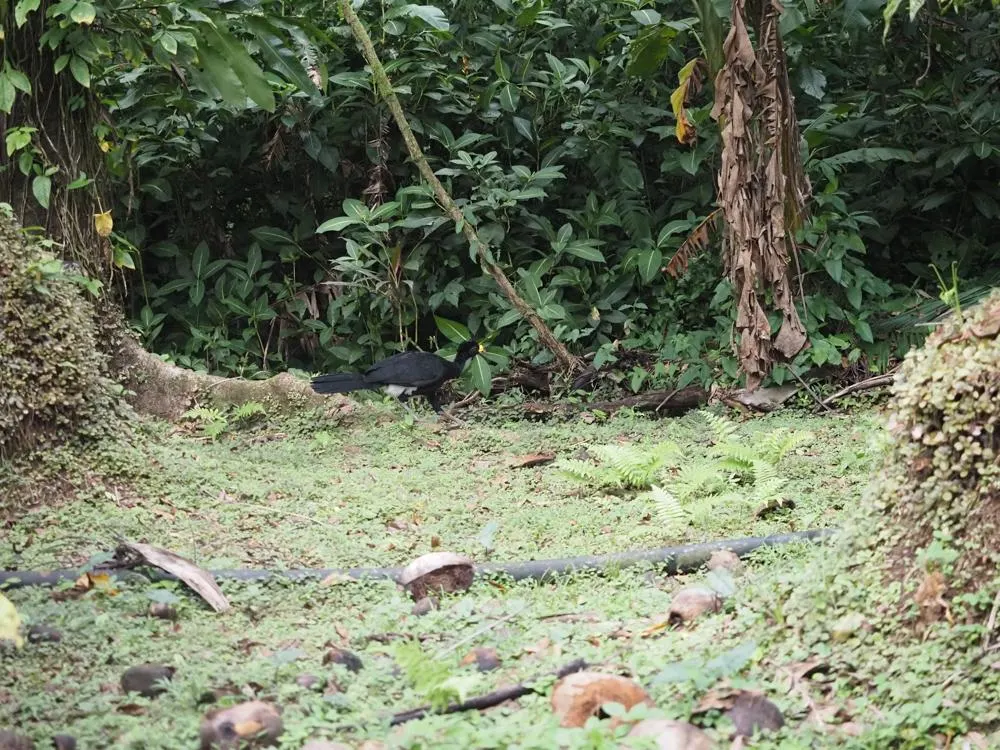 Then, it is time to chill out, maybe check out the beach if it isn't raining (you are in a rainforest after all), and grab a delectable dinner and drinks!
If you wish, you can sign up for your first guided tour that evening: a night hike!
Explore with an expert guide as you spot frogs, spiders, insects, lizards, and perhaps a snake! Night hikes are always a fun way to see wildlife as many rainforest creatures are nocturnal.
After that, it is time to head to bed as you're lulled to sleep by the calming noises of the rainforest.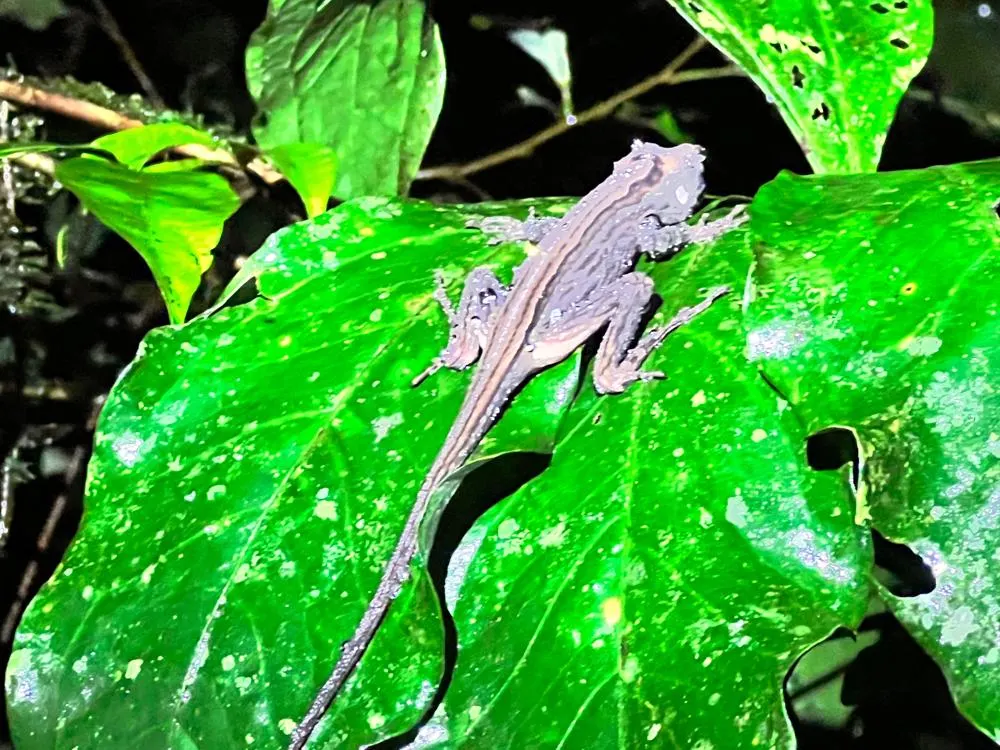 Day 4: Tour the Gulfo Dulce and Hike
The evening before, the people at the lodge will ask what you're interested in doing the following day. They also offer advice based on what you're interested in. You can also do as much or as little as you like, but they are super helpful in aiding your tour choices.

Then, they'll sign you up for it, give you meet-up time, and most of the time it ends up being a private tour!
This day is perfect for the Gulfo Dolce tour. This normally includes cruising around the gulf, learning more about the wildlife there, and wildlife spotting. When the water is clear, you even get to go snorkeling!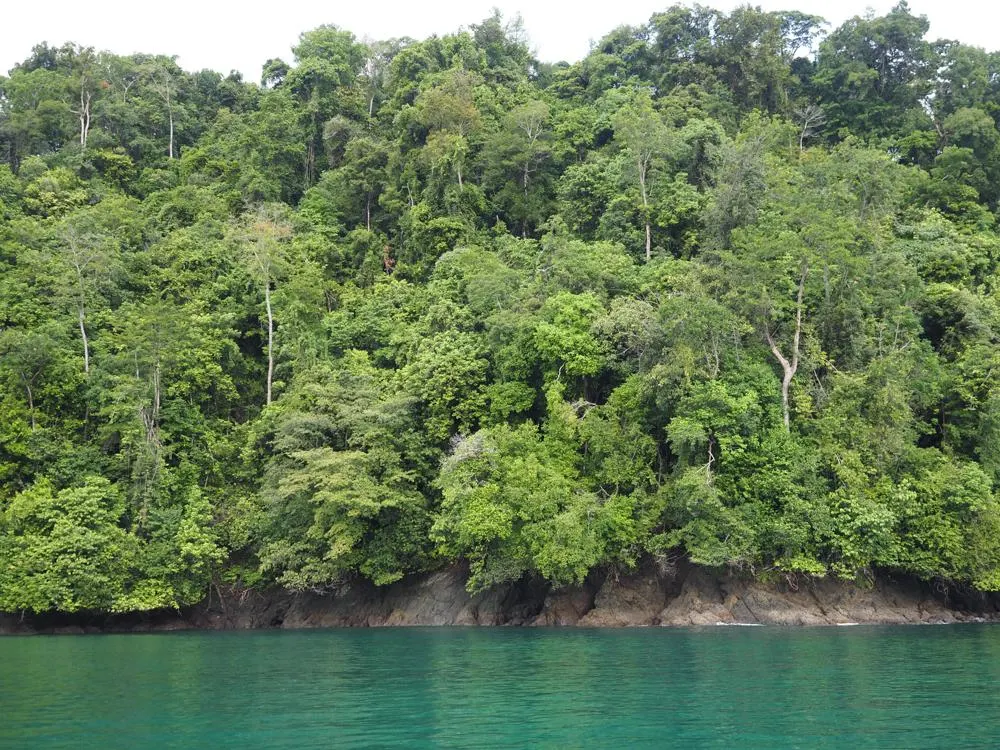 We traveled there during shoulder season, meaning rain was still pretty common, especially in the afternoons. As such, the water wasn't super clear as it normally is for snorkeling. But, we still saw a ton of great stuff!
The bird watching was incredible! We spotted several scarlet macaws in the trees along the gulf, as well as toucans and pelicans.
Then, in the water, we saw a sea turtle, several fish, and 2 species of dolphins that are year-round residents to the Gulfo Dolce: spotted and bottlenose.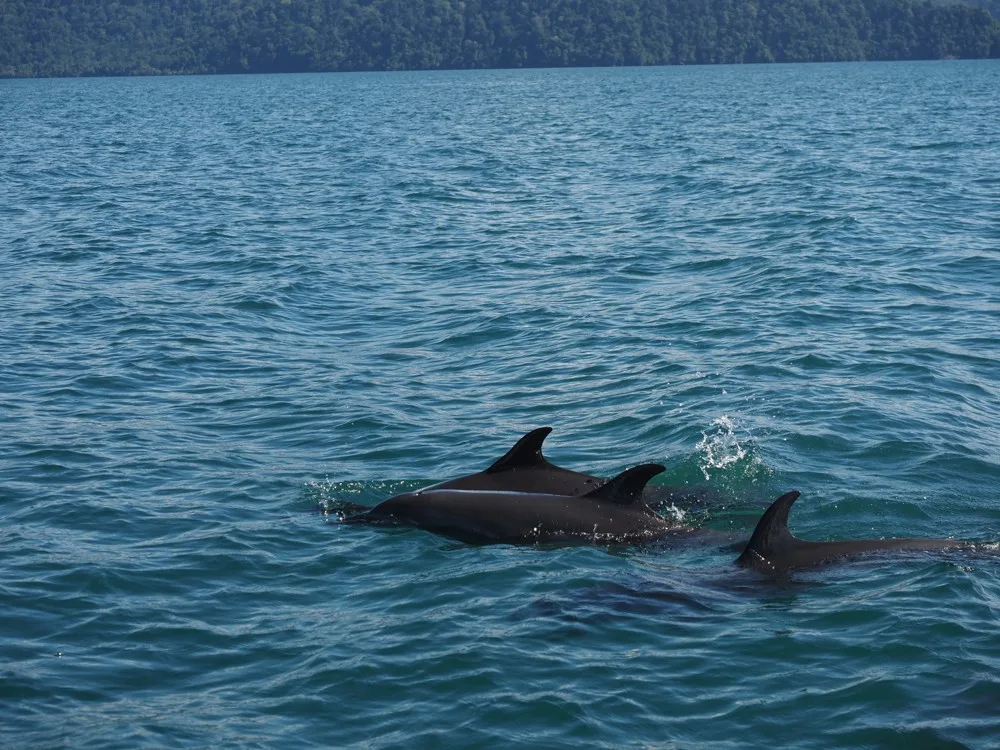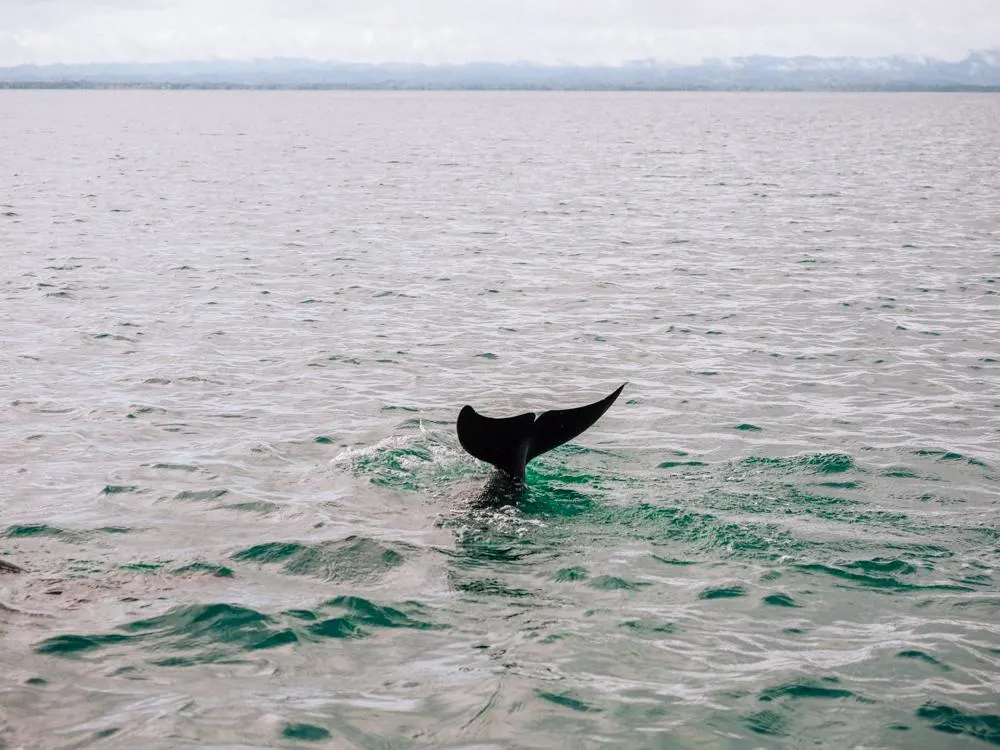 The bottlenose dolphins came right up to the boat and swam around us! And later on, we saw hundreds of spotted dolphins! We were surrounded! Some even played in the boat's wake and one leaped into the air several feet!
Guys, it was incredible. And if you want the chance to snorkel, come in the dry season from December-April when rains are less frequent and mostly occur in the evenings. For humpback whale spotting, come in July-September!
This is a morning tour, so afterward, you head back to the lodge for a scrumptious, healthy lunch and the afternoon to yourselves!
We ended up doing some more hiking on a smaller trail to see more birds and then lounged on the beach. I mean, this is a beachy destination so why not? We literally had the beach to ourselves which was incredible!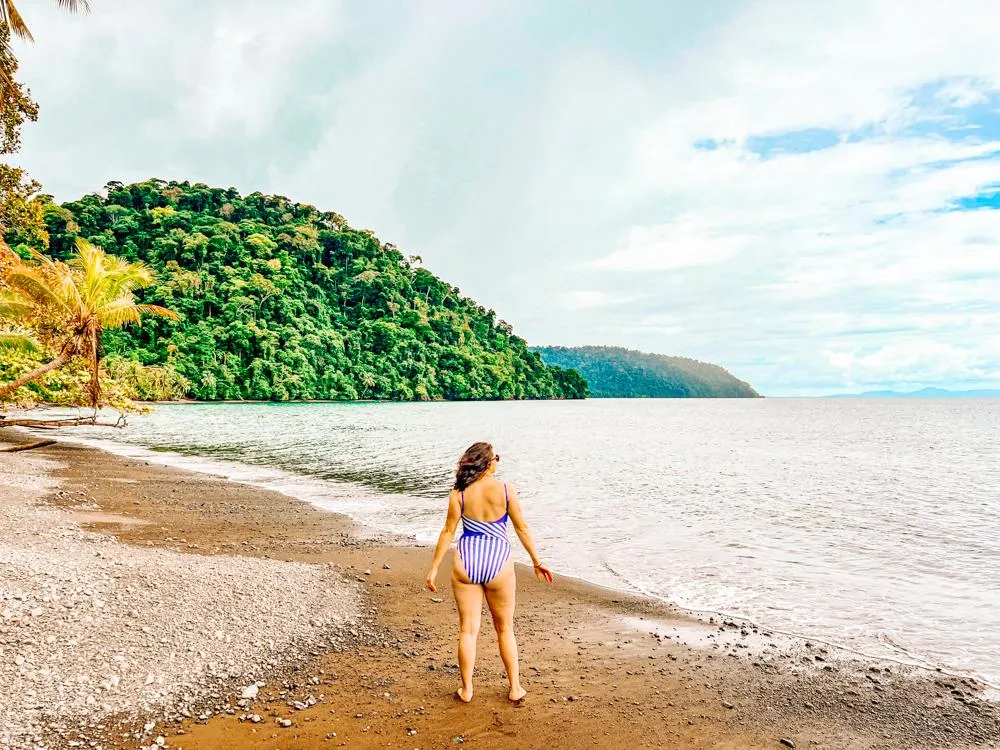 The lodge itself also has a bar and plenty of games that make for a fun evening of hanging out with other guests and enjoying time together!
Day 5 of the Best Costa Rica Itinerary in 10 Days: Waterfall Hike, Beach Time, and Yoga
Wake up to the sounds of howler monkeys and macaws as the sun rises in the morning before your next day of adventure!
After breakfast, you'll head out for a 6-mile hike with a guide as you spot wildlife while adventuring through a dry riverbed until you get to the waterfall.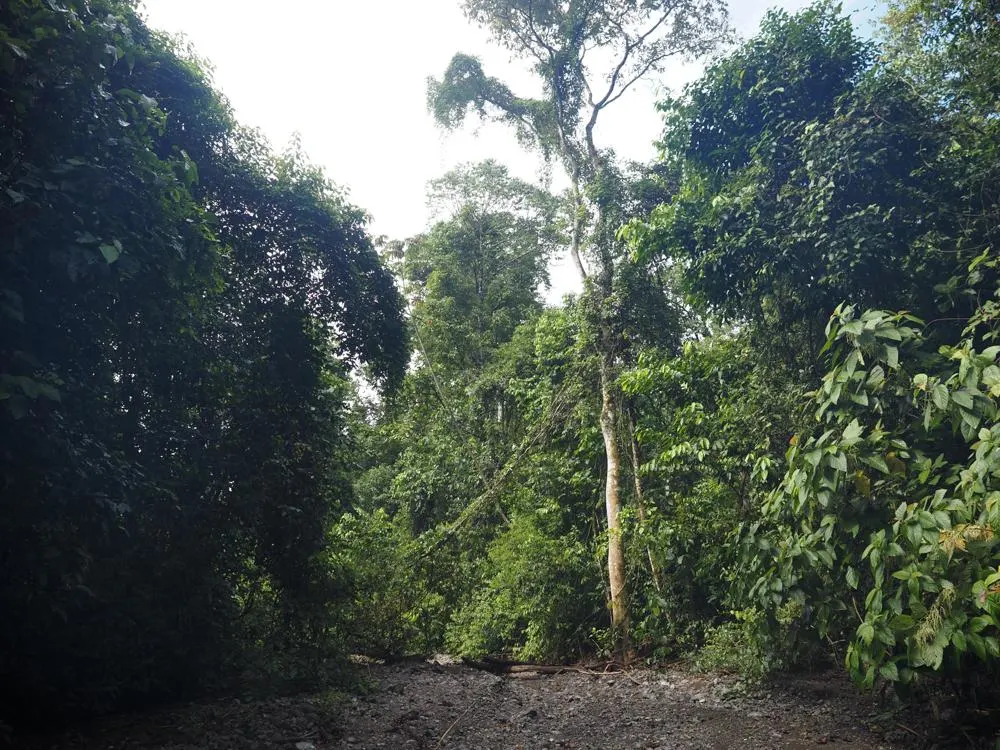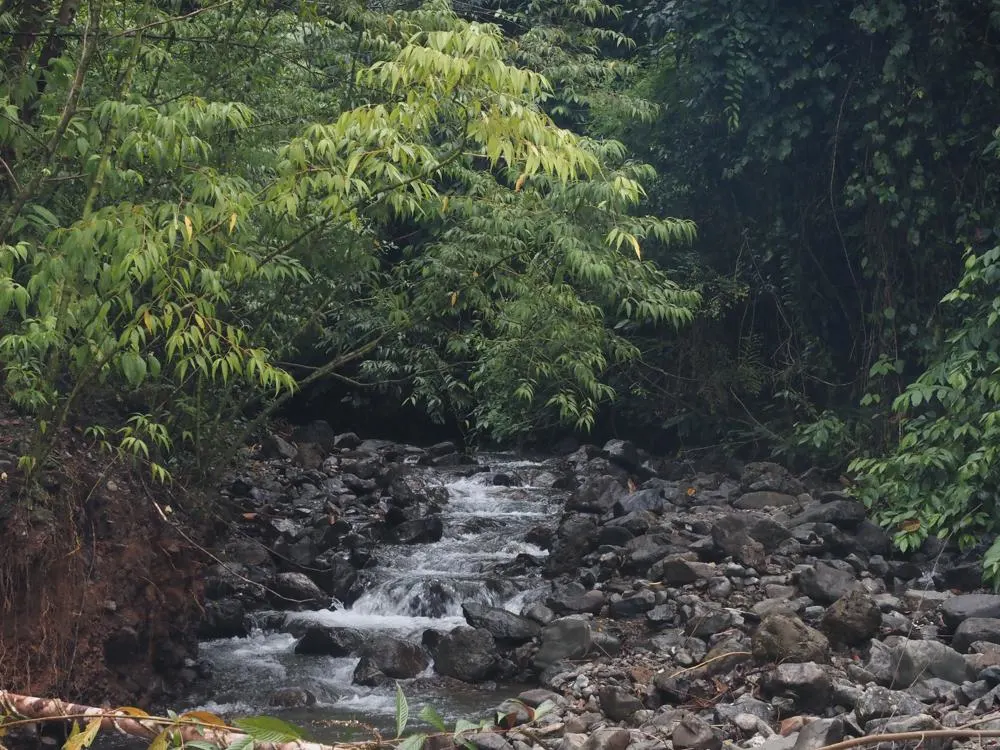 It is hot in the rainforest in Costa Rica, so you'll be immediately relieved when the guide tells you to jump into the waterfall pool! It is so refreshing and fun to enjoy a dip in a natural pool. Splash around and cool off at the waterfall before hiking back down.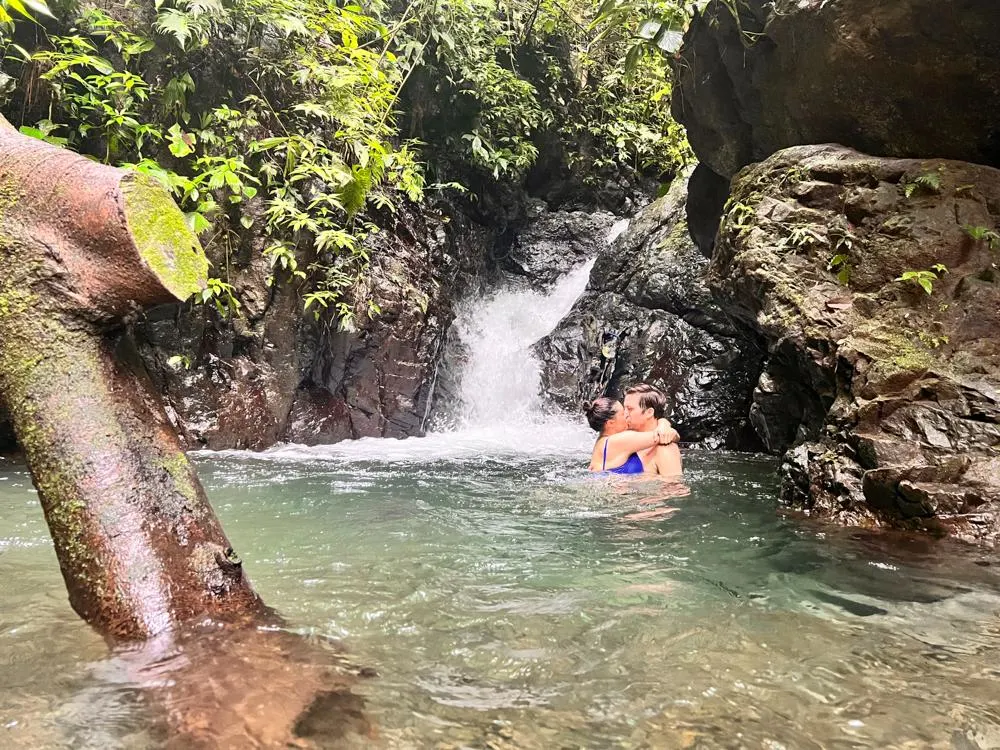 The guides here are incredible and are great at finding various bird species and animals. We saw several toucans, macaws, and more birds using the scope the guide brought, and we even heard the call of white capuchin monkeys!
Our guide started calling to them and they came closer! We saw several of them running in the trees above us!
We even saw puma and ocelot tracks but unfortunately lost them once we got to the dry riverbed. Next time, though! It isn't uncommon to see puma in this area.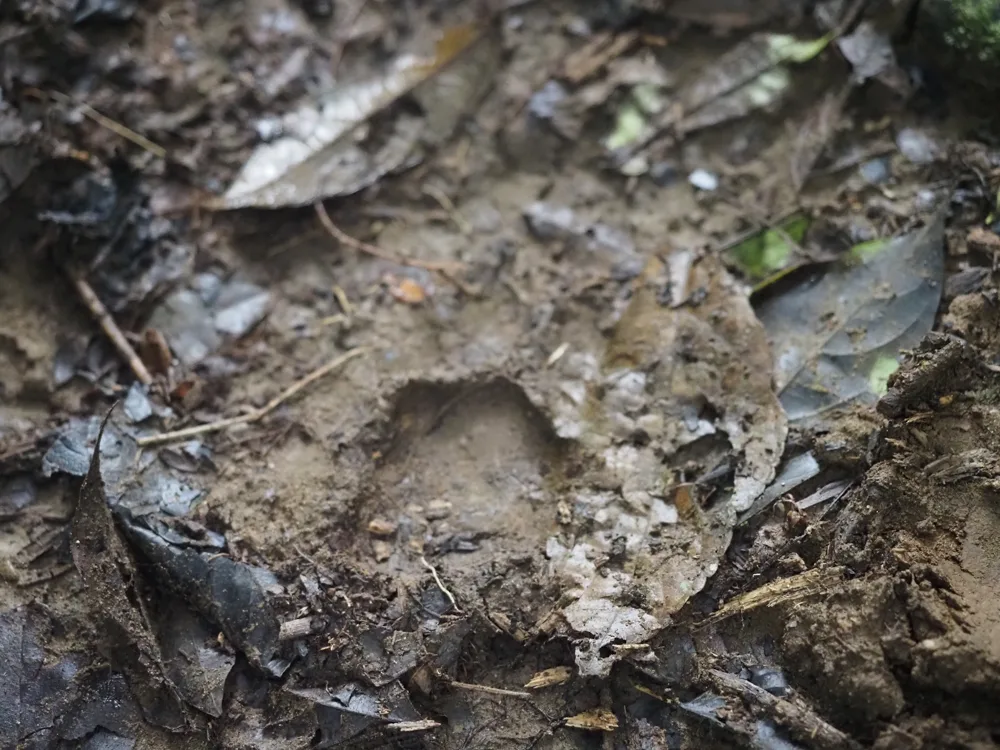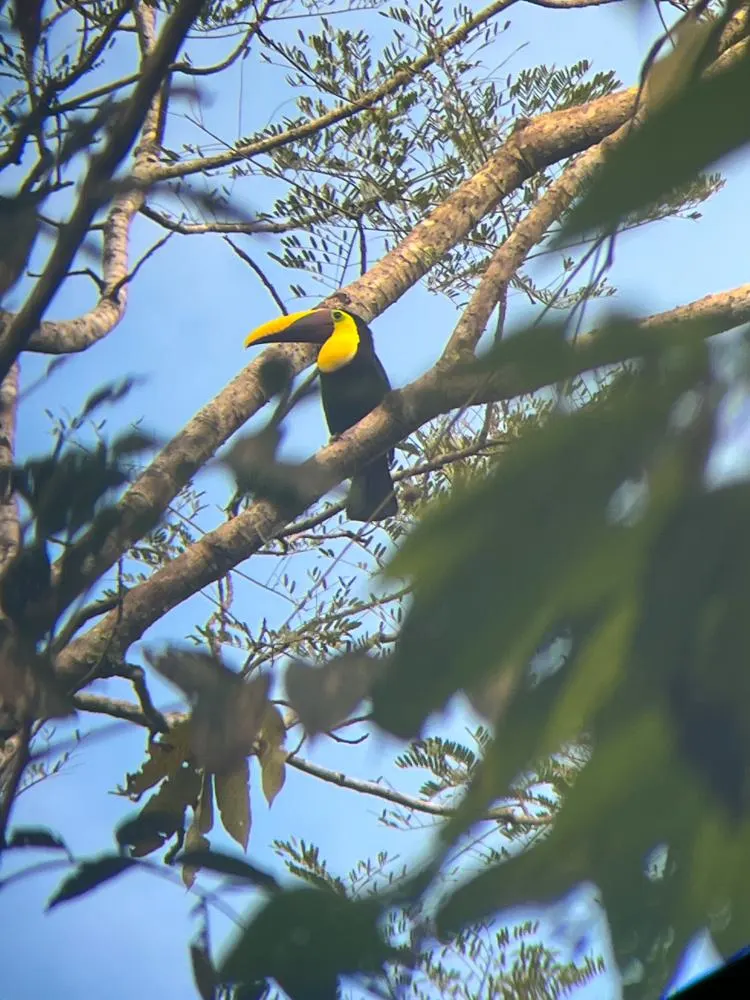 Then, after this fun and longer hike, you can partake in lunch and beach time, which we thoroughly enjoyed!
We even decided to sign up for the quick sustainability tour that is free during your visit. We learned about the eco-lodge and how they use solar power and hydroelectricity to make electricity for the property.
We also saw the composting area, where they organize recycling, the gardens where they grow some of their own herbs and veggies, and even the solar drying room for laundry!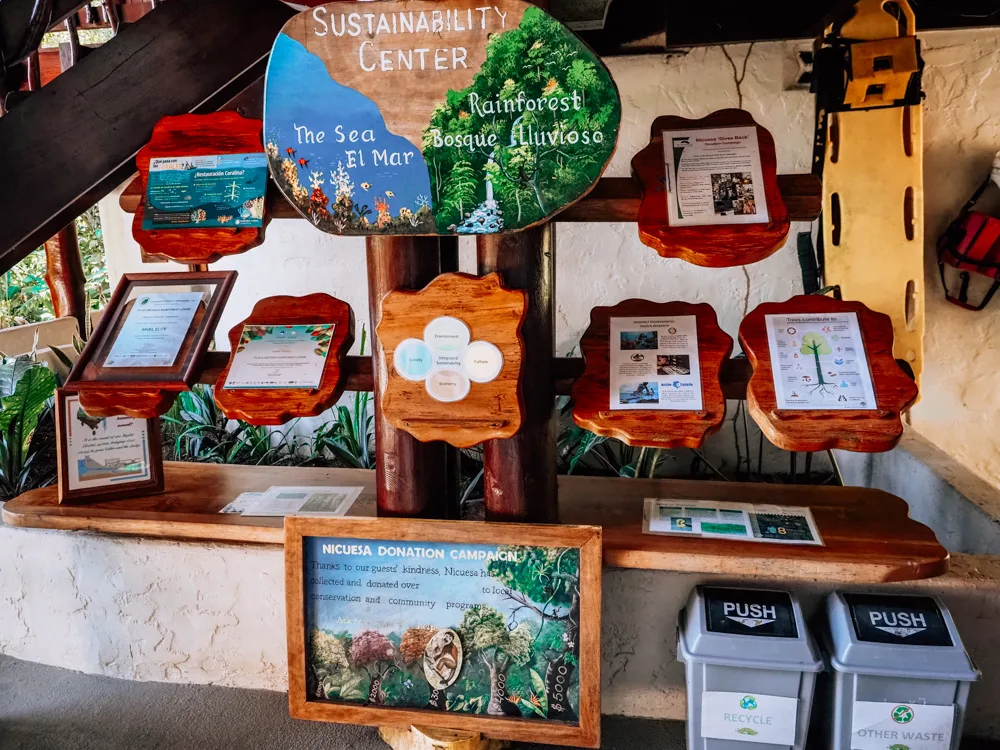 After that, yoga is a fun way to wrap up the afternoon. And with a yoga studio on the beach and a professional instructor, you'll feel relaxed after your hour-long session. You could also get a beach-side massage if that's more your speed!
Then, it's time for dinner and drinks before bed!
Day 6 of this Amazing Costa Rica Vacation Itinerary: Choose Your Own Adventure in the Morning and Make Chocolate!
While I highly recommend the waterfall hike and Gulfo Dulce tours above, there are several options for morning tours that you could choose from!
This morning, we opted to arrange a visit off of the property to a wildlife sanctuary. This place is known for rehabilitating and releasing animals back into the wild and does a great job of it!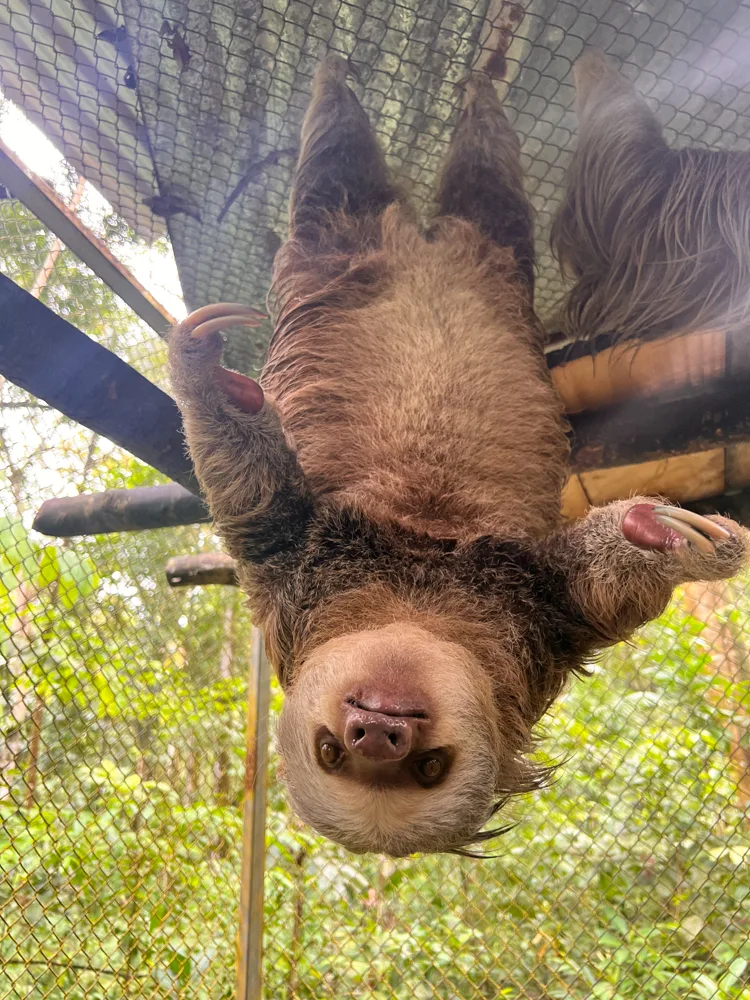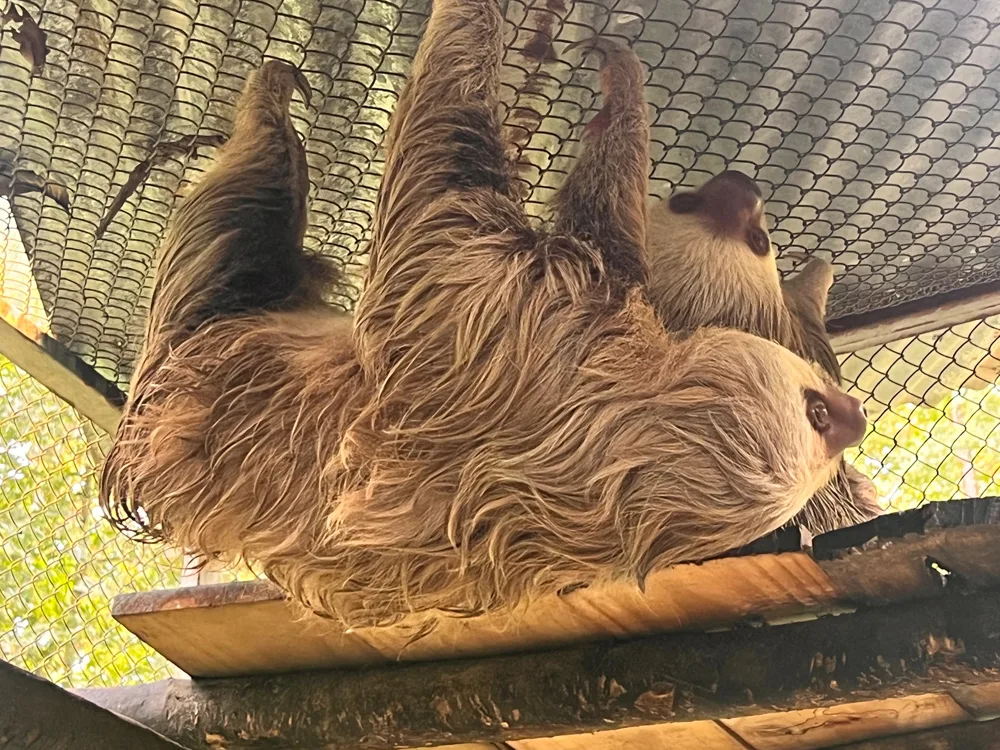 While you don't get to see any of the animals they rehabilitate for release, you do get to see the resident animals that weren't able to be released either because they have permanent disabilities or wouldn't survive in the wild.
It is a great sanctuary doing awesome things. So this is a great morning tour option.
You could also do the popular River Tour which consists of exploring Rio Esquinas and the mangroves either by boat or kayak as you spot the wildlife in the area.
There is also early morning bird watching, self-guided hiking, and, of course, just laying in your hammock or chilling by the beach!
Lunch and Chocolate!
After we got back, it was time for lunch, where we were visited by one pesky green parrot who wanted everyone's meal, and then we had our last tour: learning how chocolate is made!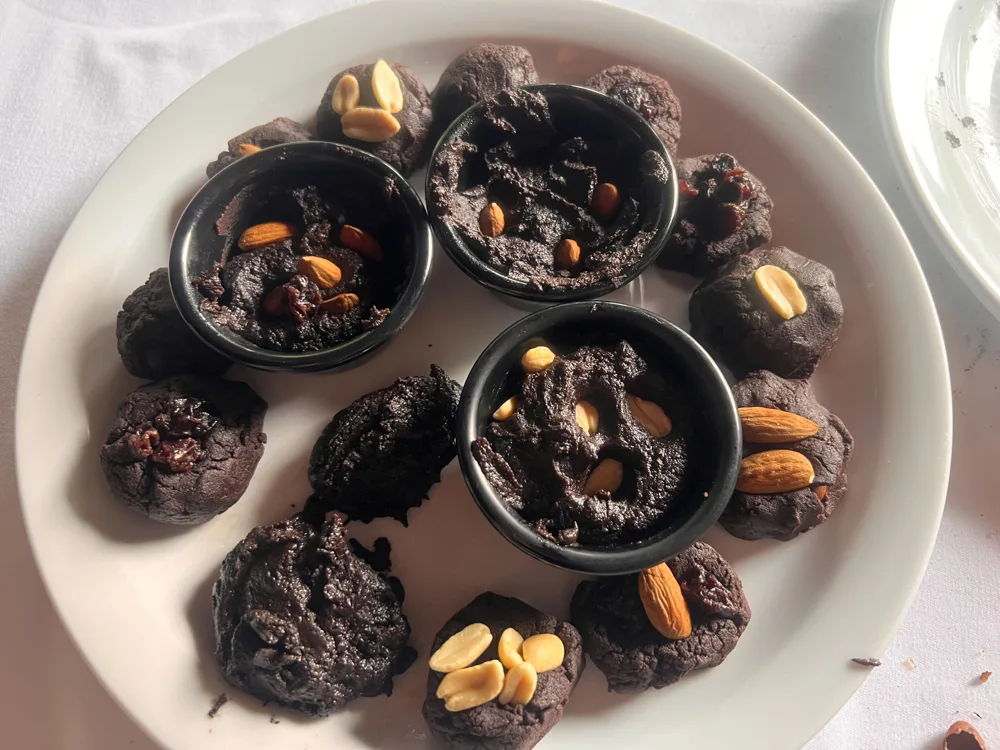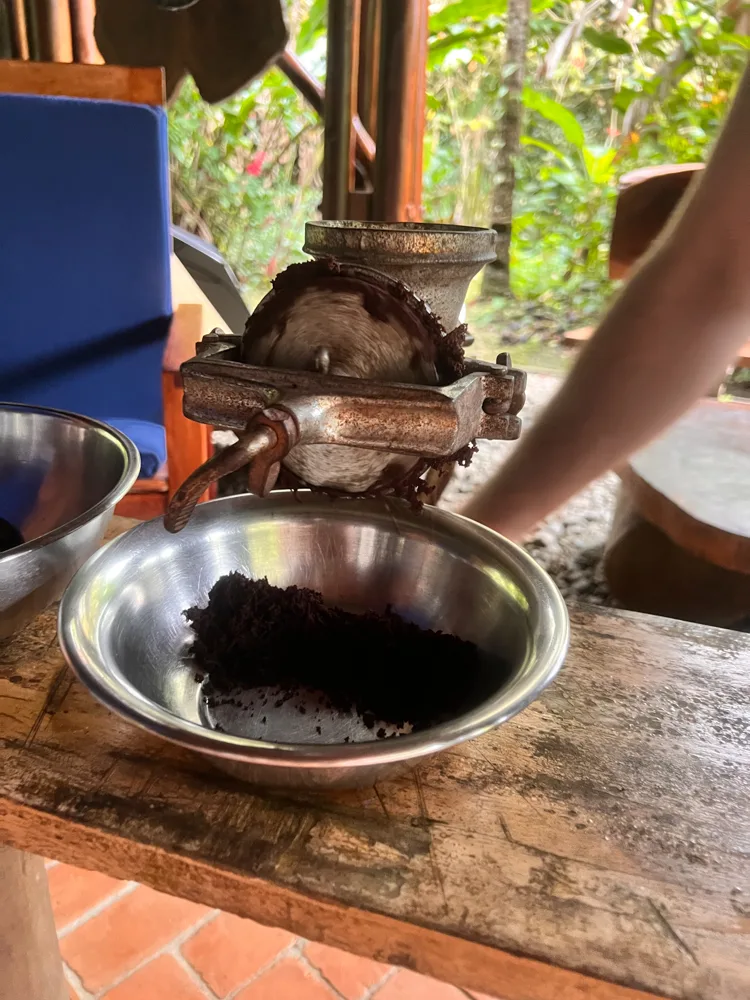 This short 1-hour long activity is led by a guide as you roast your own cacao beans, peel them, grind them up, and then cook them with ingredients like sugar and milk powder. Then you can shape them into balls and top them with various toppings like nuts or raisins.
Voila! You've got chocolate! It was a fun way to learn how one of my favorite treats is made and you get to enjoy the fruit of your labors once the chocolate cools after dinner!
Beach Time
To wrap up your last afternoon at Playa Nicuesa Rainforest Lodge, enjoy the beach! We spent hours just frolicking in the water, walking along the beach as far as we could, and reading a book. It was a great way to end the last day here.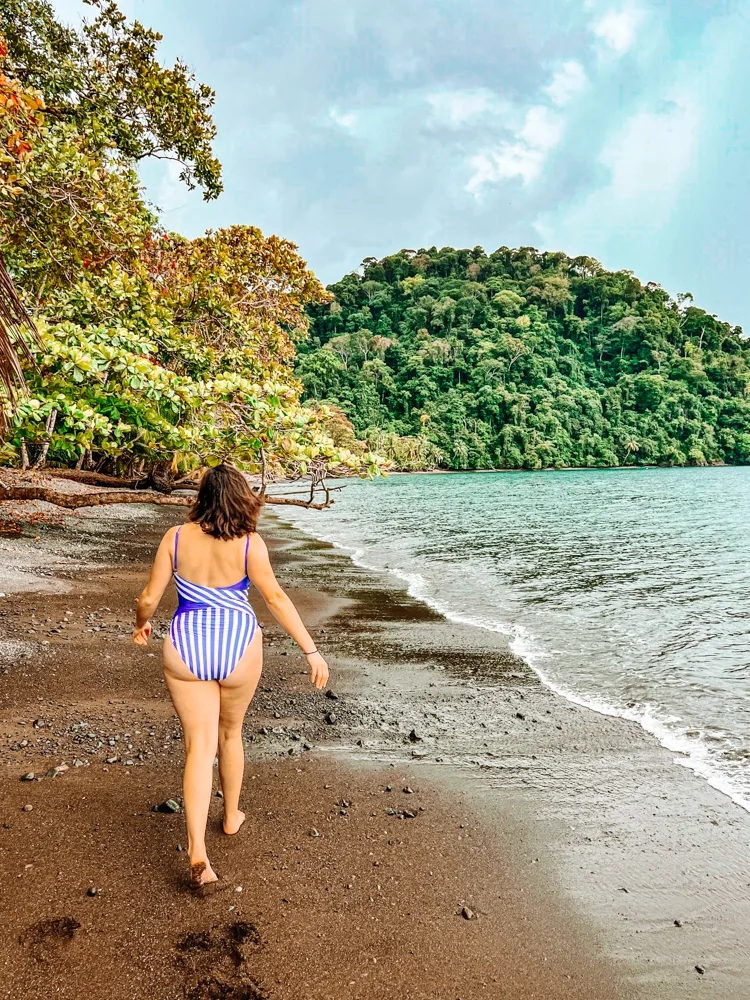 Then, after dinner and those delicious chocolates you made earlier, it is time for your last evening in paradise. The Osa Peninsula stole our hearts and we know it will steal yours too.
Day 7: Wrap Up Your Time in the Osa Peninsula and Head to a Coffee Farm
You may have a flight later that morning, but that doesn't mean you can't enjoy your last moments in the rainforest!
Get up early this day for a breathtaking sunrise over the gulf! Watch as the pinks, purples, and blues mingle as the sun slowly rises and birds start making their calls.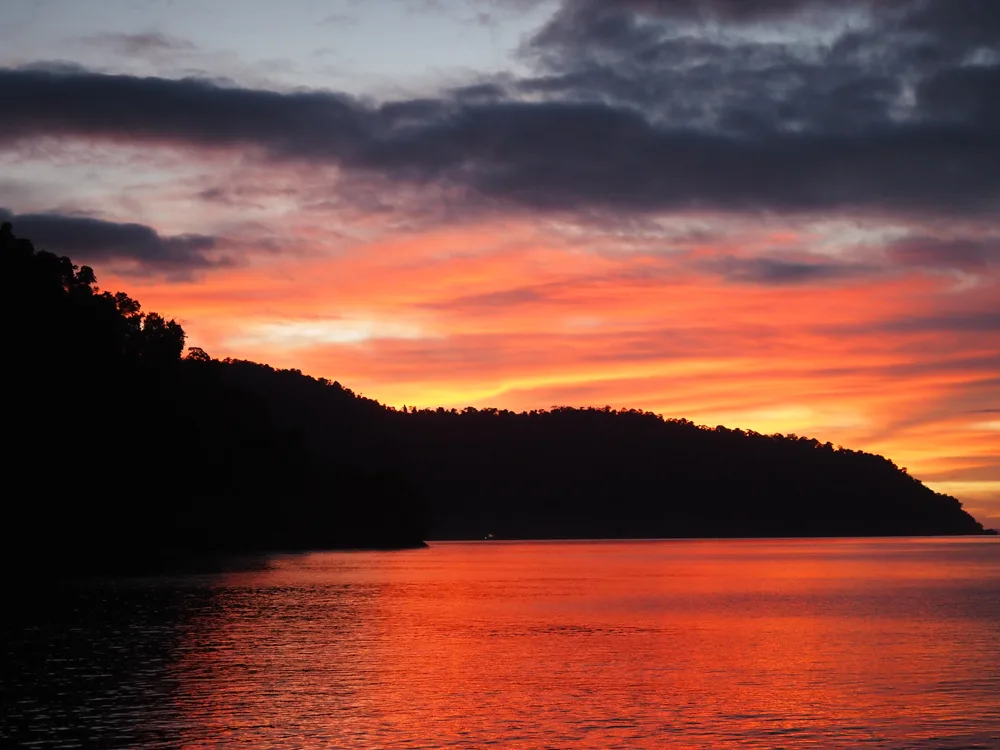 Watch the macaws and toucans fly past as the world wakes up. It was one of the most beautiful sunrises we've seen!
Then, you can head back to your cabin to relax and pack before breakfast.
If you're lucky, you may see several macaws in the trees while you're dining! Then, it is time to get back on the boat, cross the Gulfo Dulce, and return to San Jose.
But, if you're lucky again, you may be given a send-off by dolphins! We saw hundreds of spotted dolphins around us again as we made our way back to Puerto Jimenez! We also saw a sea turtle at the port. What a send-off indeed.
Flight Back to San Jose and Coffee Farm
It is time to hop back on the tiny plane for another 45-minute flight to San Jose.
After another scenic and hopefully not too bumpy flight, arrange for the hotel to get you from the airport (that'll just make life easier)!
Then, it's off to the Central Valley in search of COFFEE!!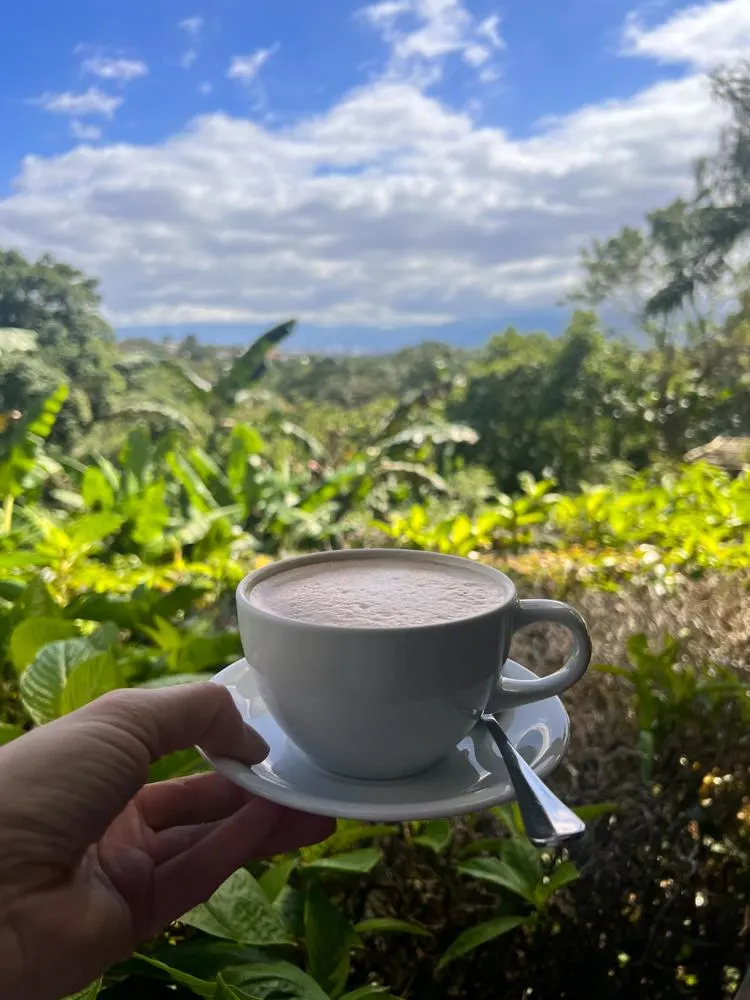 Guys, coffee is kind of a big deal in Costa Rica. The economy was built on coffee! In fact, coffee production started as early as 1779 in Costa Rica. The government even gave farmers plots of land to harvest coffee.
Soon enough, it became the nation's largest crop! While it isn't Costa Rica's largest income source anymore (that belongs to tourism), it is still up there for being a smaller country that only produces 1% of the world's coffee.
Luckily for us, that 1% is some pretty darn good coffee. So while many people skip the Central Valley, a popular coffee destination in Costa Rica, we say it's totally necessary to add to a Costa Rica vacation itinerary, especially for lovers of caffeine.
Finca Rosa Blanca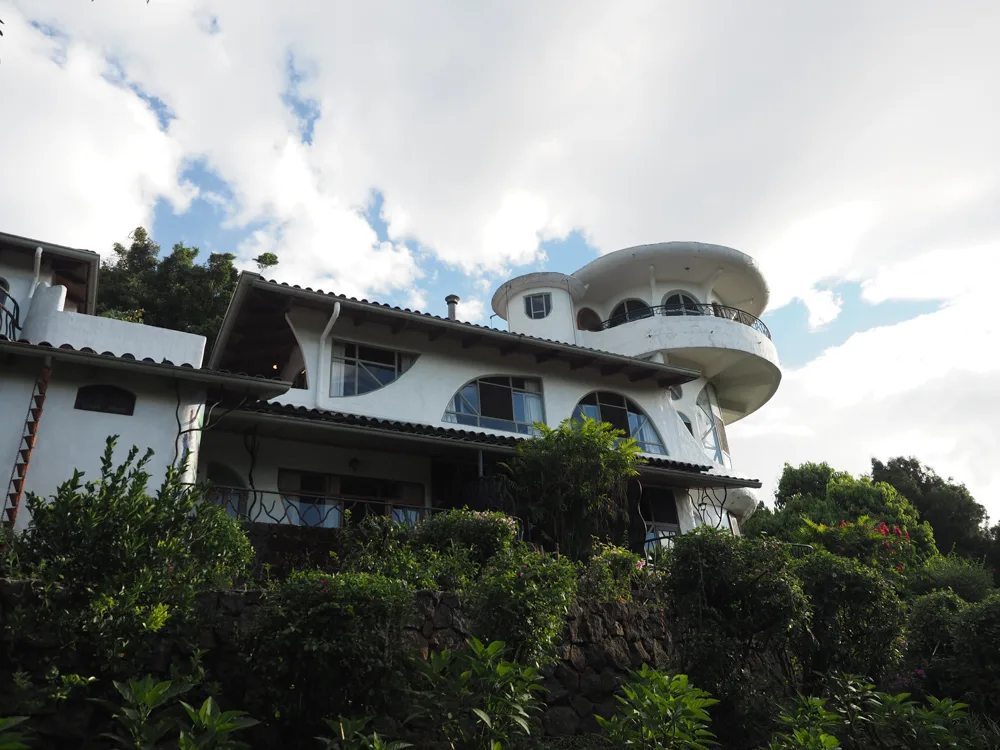 If you know us, you know that we love a good boutique hotel or lodge. And one that is set in the mountains of the Central Valley, on a coffee farm, and named a Unique Lodge of the World by National Geographic, you can't go wrong.
So book your last few nights in Costa Rica at Finca Rosa Blanca (we highly recommend the El Valle and El Ranchito rooms) and relax, rejuvenate, explore the surrounding area, and drink lots of coffee.
Prices start at $280 per night and include breakfast.
Read reviews and book Finca Rosa Blanca here!
Upon arriving at Finca Rosa Blanca, you'll be given a welcome drink and shown to your room. As we got in around lunchtime, we decided to enjoy some freshly curated meals at their restaurant El Tigre Vestido plus a latte made with their own coffee, of course.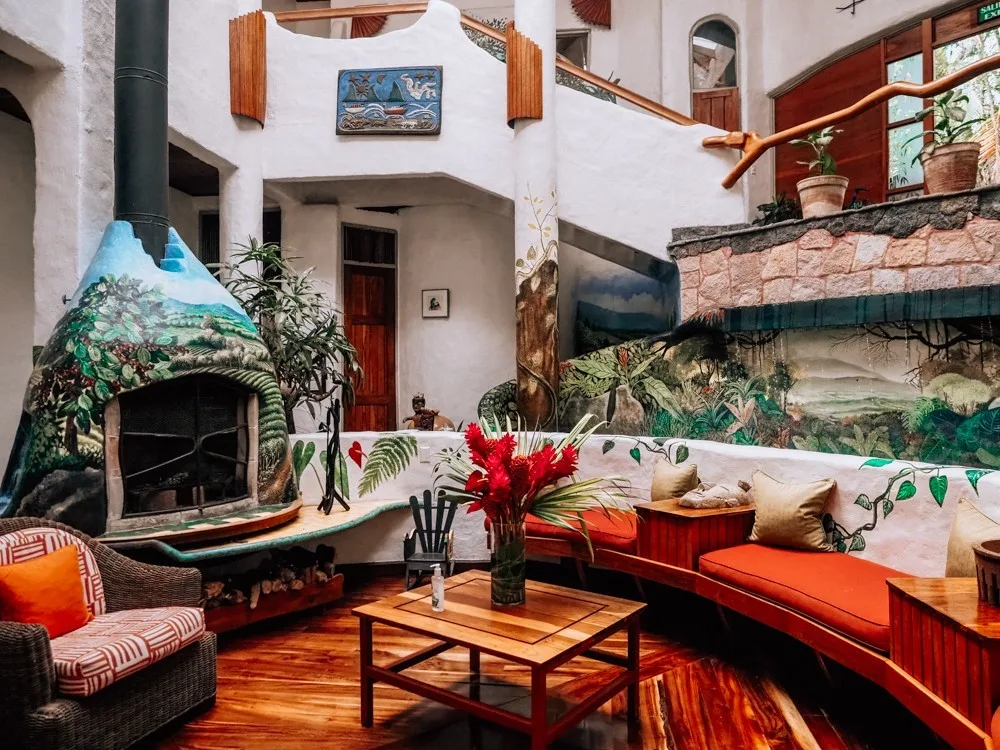 Then, we relaxed. We enjoyed the amazing infinity pool and hot tub and drank some delightful coffee in our room. That evening, we booked the Coffee Connoisseurs Tasting Menu which includes 5 delectable courses with coffee.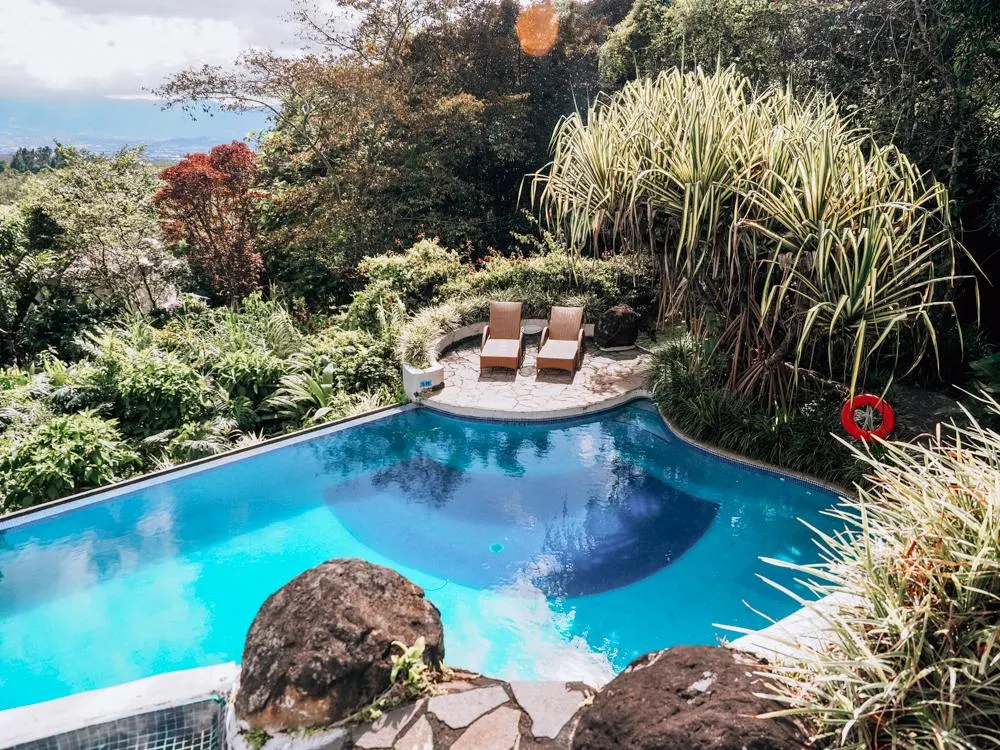 It could be a coffee liqueur over ice cream or pork with coffee gravy. Paired with some lovely South American wines, and it was a great introduction to Finca Rosa Blanca.
Day 8: Coffee, Birds, and Massages
Wake up bright and early in the mountains of the Central Valley as you embark on a day all about coffee and birds.
At 6 am, you can join Ulises for a 2-hour birding tour for the chance to spot some of the 130+ species of birds that frequent the property. Explore the vast farm searching for hummingbirds, warblers, flycatchers, and maybe a hawk.
Ulises has a wealth of information about the birds of the area, so listening to him talk about the birds and showing them through the scope makes for a great morning!
Then, it is time to sit down for breakfast where you can enjoy a French press, fresh orange juice, and tasty Costa Rican foods like Gallo pinto.
After breakfast, it is time for the 9 am coffee tour! If this feels too fast-paced, you can certainly book the afternoon coffee tour instead!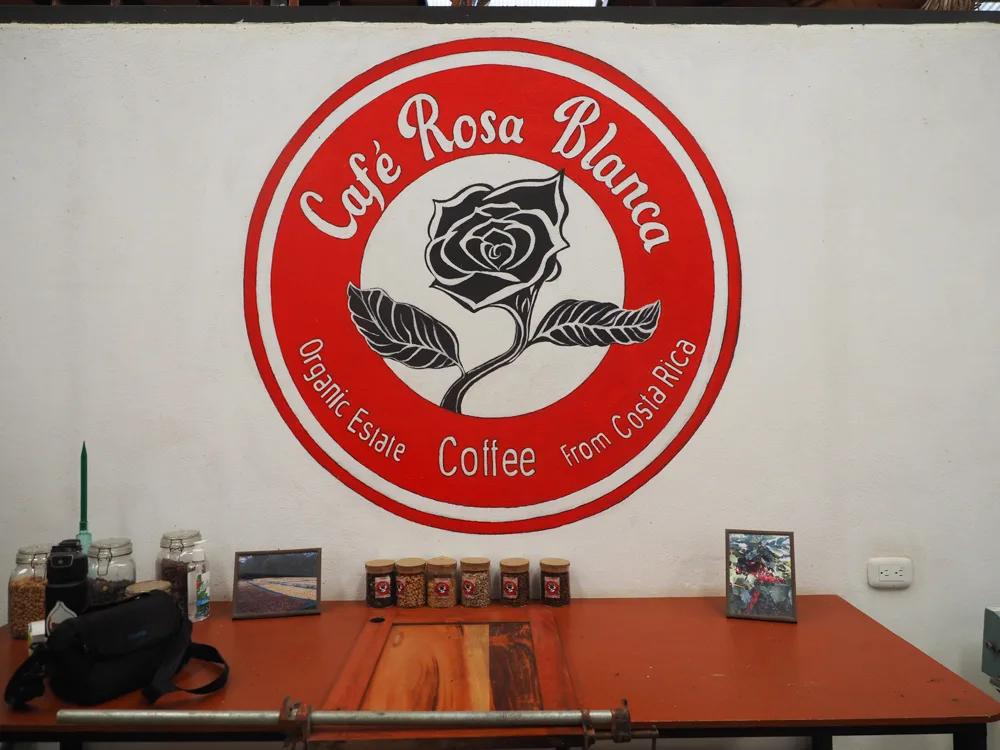 We just decided to hop on the morning coffee tour and we learned so much about coffee production in Costa Rica!
Plus, we discovered the various types of coffee beans, why Costa Rica uses Arabica, and the two types of coffee farming: shade and traditional. Finca Rosa Blanca does shade farming, and it was incredible to learn about how they incorporate various shade trees and plants that each serve a purpose for the production of their coffee!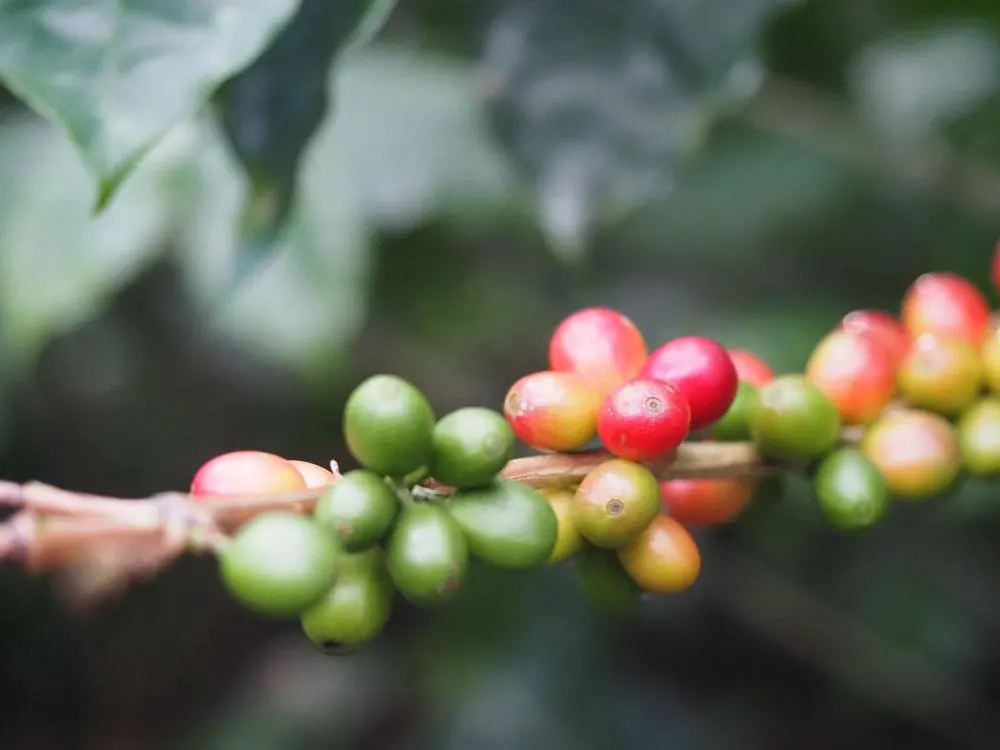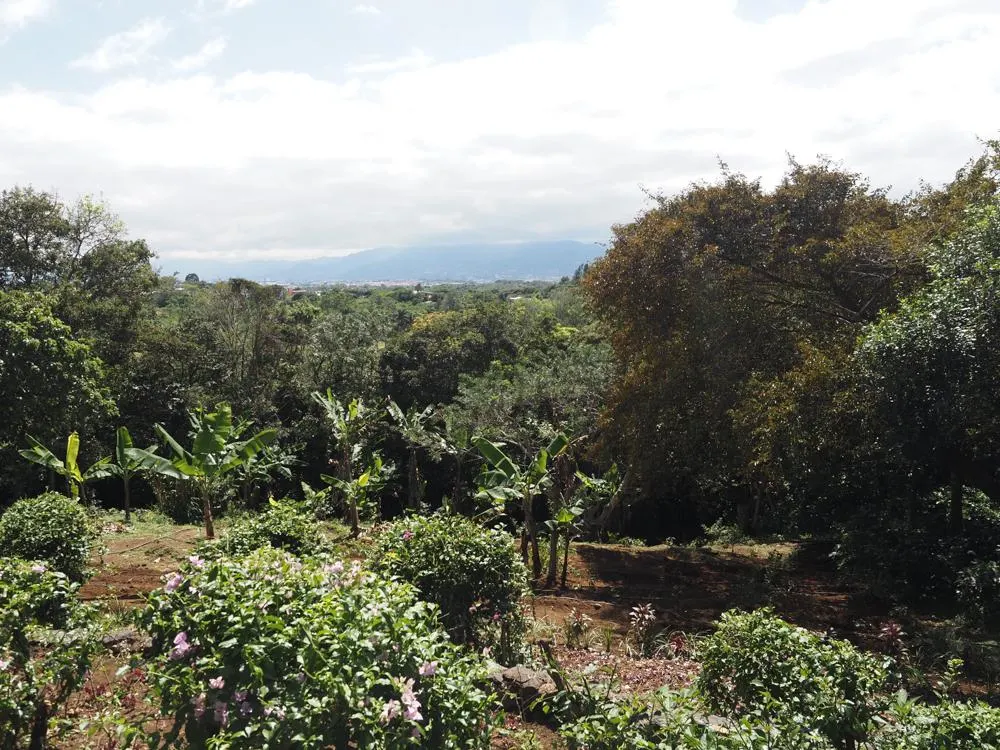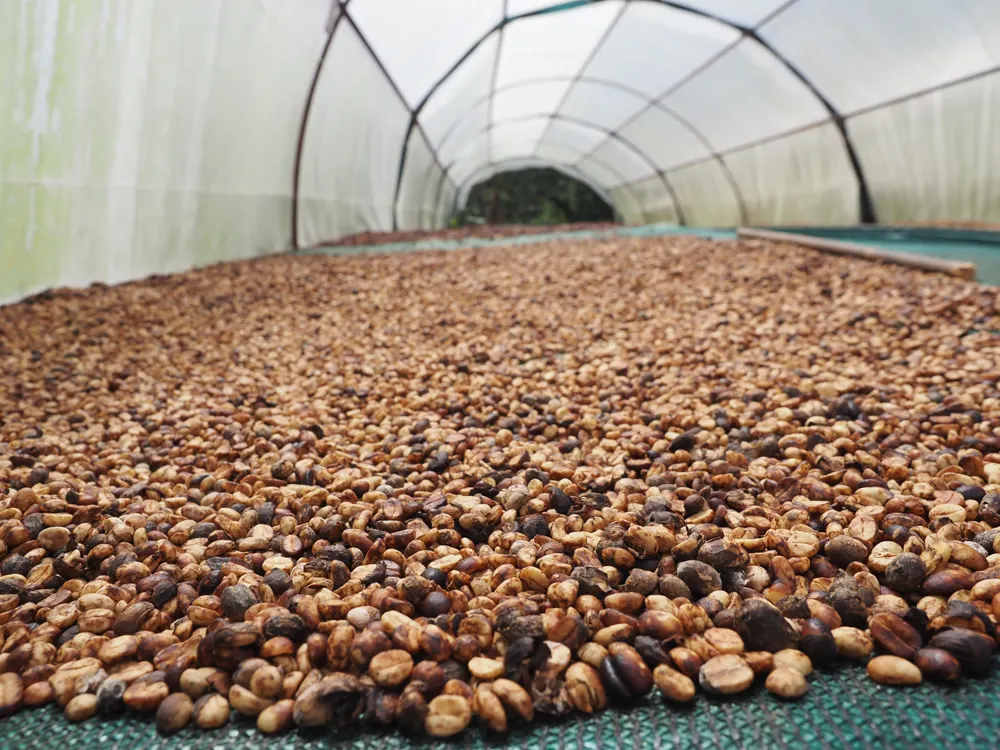 Then, after a tour and visit to the drying and storage areas, you'll get to taste the coffee! Before 2020, they used to do cupping tours where you tried various types of coffee grown on the farm. Now, for sanitary purposes, they are just giving you coffee at the restaurant to enjoy.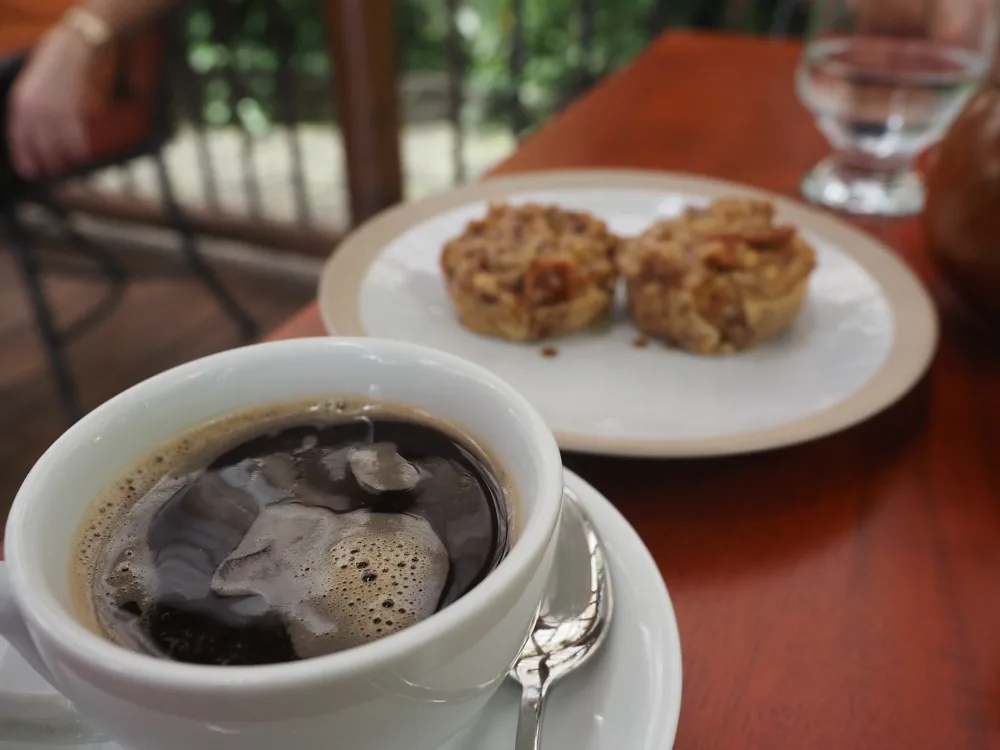 Relax and Coffee Detox
Post coffee tour and coffee, unwind by the pool for the afternoon, and then enjoy a fun coffee treat: the Coffee Detox massage!
This package at Finca Rosa Blanca includes a Swedish massage, coffee scrub, and facial. Then, to wrap it up, you get a free espresso martini at the bar!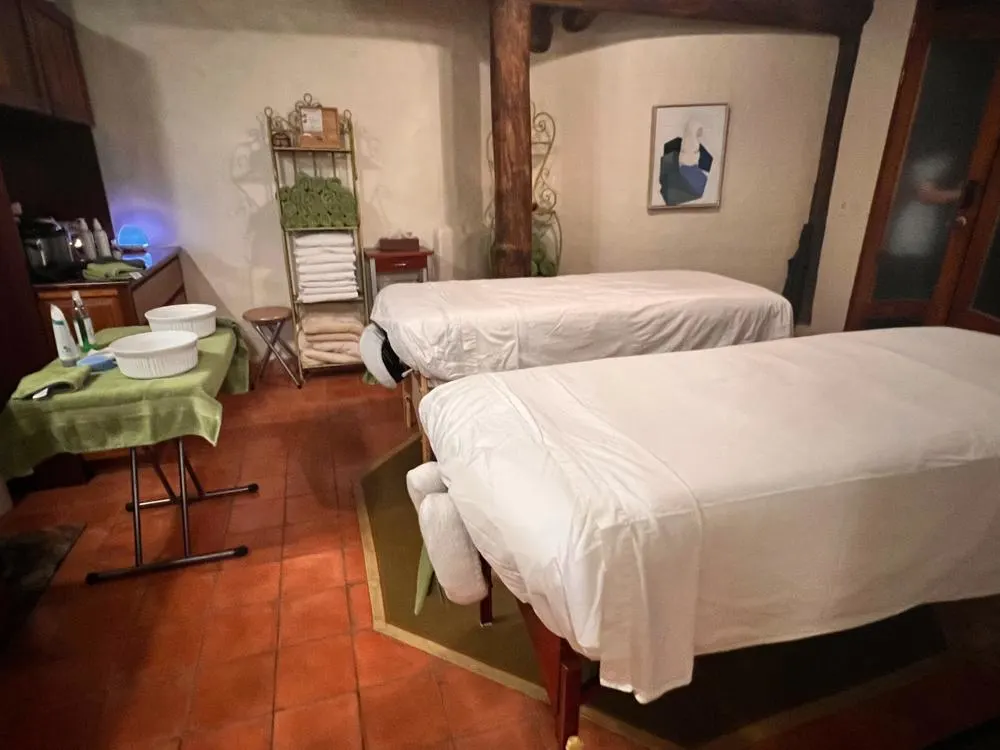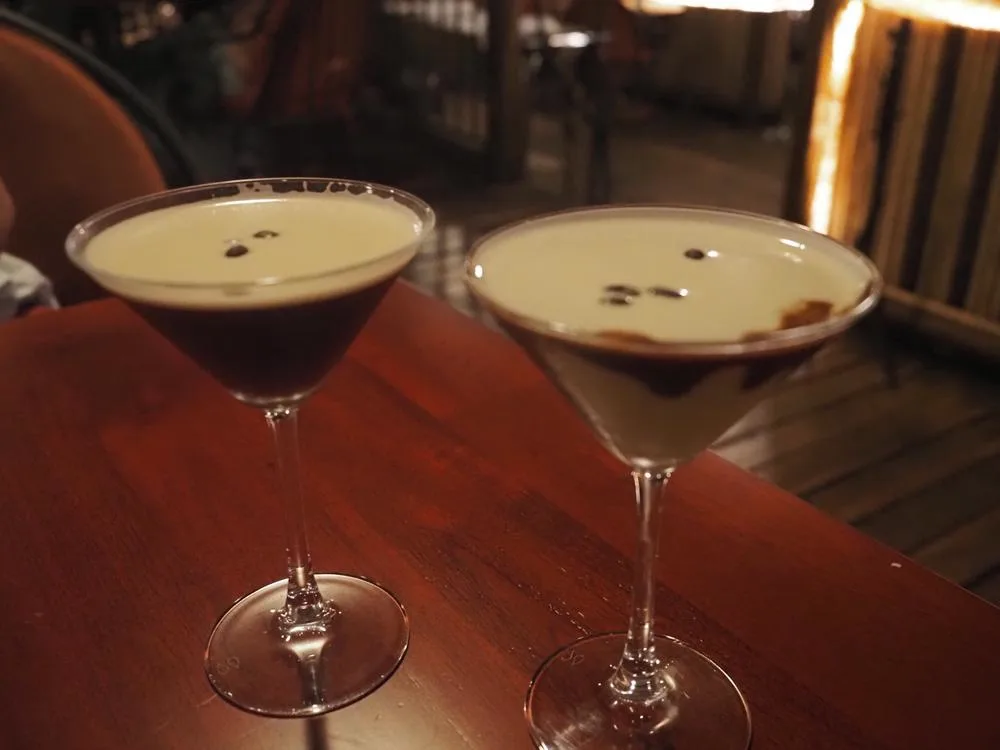 Can you tell we were embracing that coffee lifestyle? Y'all it was worth it and so fun!
After another great dinner at the hotel restaurant, head to bed for your last full day in Costa Rica!
Day 9 of the Costa Rica Trip Itinerary: Visit a Volcano
Luckily, this tour isn't nearly as early as the day before, so enjoy a leisurely breakfast before taking the tour over to Poas Volcano National Park!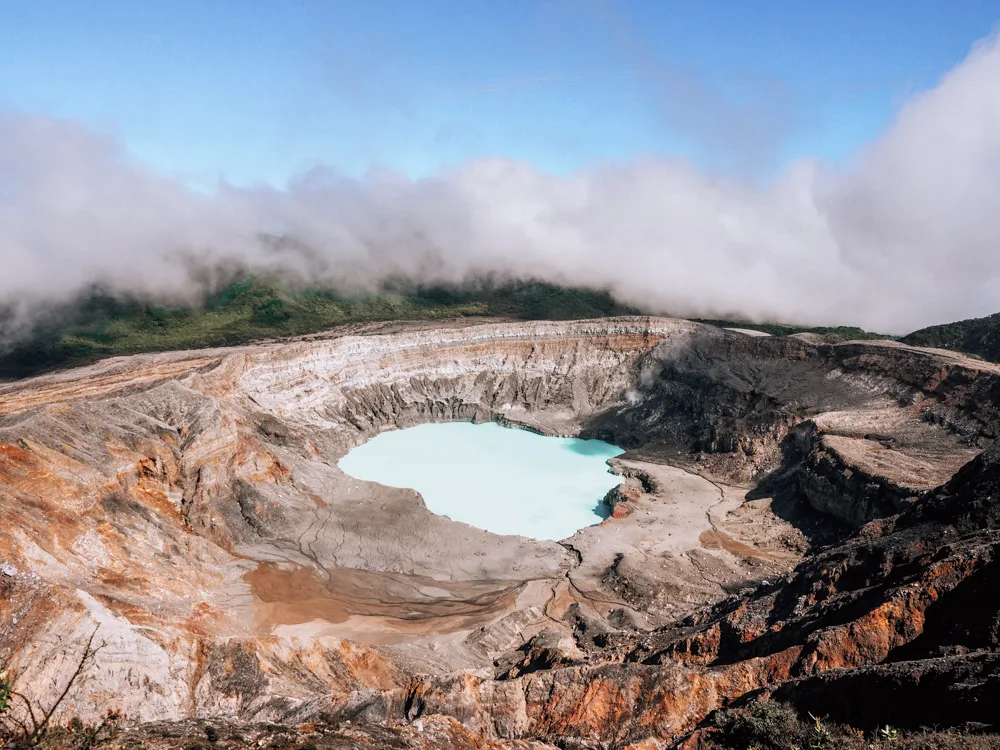 The morning consists of driving up further into the mountains, and spotting coffee, and then strawberry farms as you wind your way up to Poas Volcano National Park.
Poas Volcano is a stratovolcano and is quite active, with its last eruption being on September 30, 2019. The biggest eruption in recent years was in April 2017 where evacuations were needed.
So, after a brief safety introduction at the front office, plus a helmet, you'll walk up to the viewing platform. Then, you'll see it: a blue/green slightly bubbling lake with gas vents on the side with steam coming up.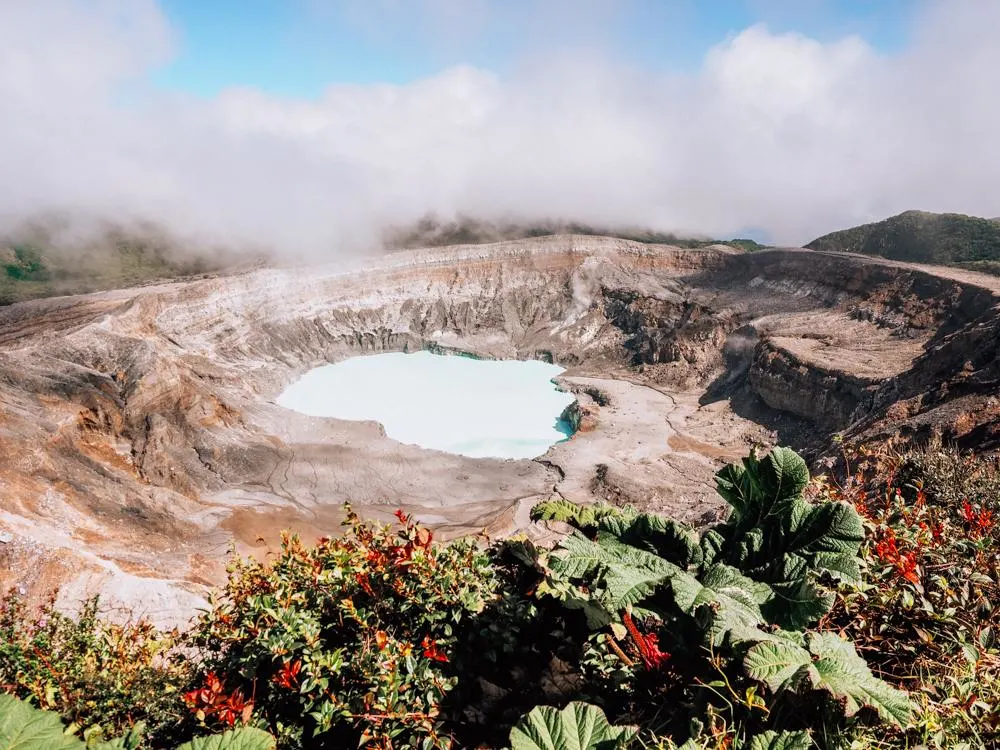 They have alarms if the gases are too much, but most of the time, it is perfectly safe to hang out on the platform. They allow 20 minutes to enjoy your time there, then you head back to the entrance.
Now, when we went, the trails to the lake and through the cloud forest were closed. But you can hike along those during your half-day trip if they are open!
Relax and Get a Massage
It's your last day in Costa Rica, and after the adventures in La Fortuna and the Osa Peninsula, why not chill out and enjoy the farm? There are several hiking trails to walk along, you can visit the resident hens, you can lounge by the glamorous pool and hot tub, or you can just admire the views from your room as you sip coffee from the French press there.
We ended up walking into town nearby and purchasing some souvenirs and snacks. Then, we lounged and hung out by the pool.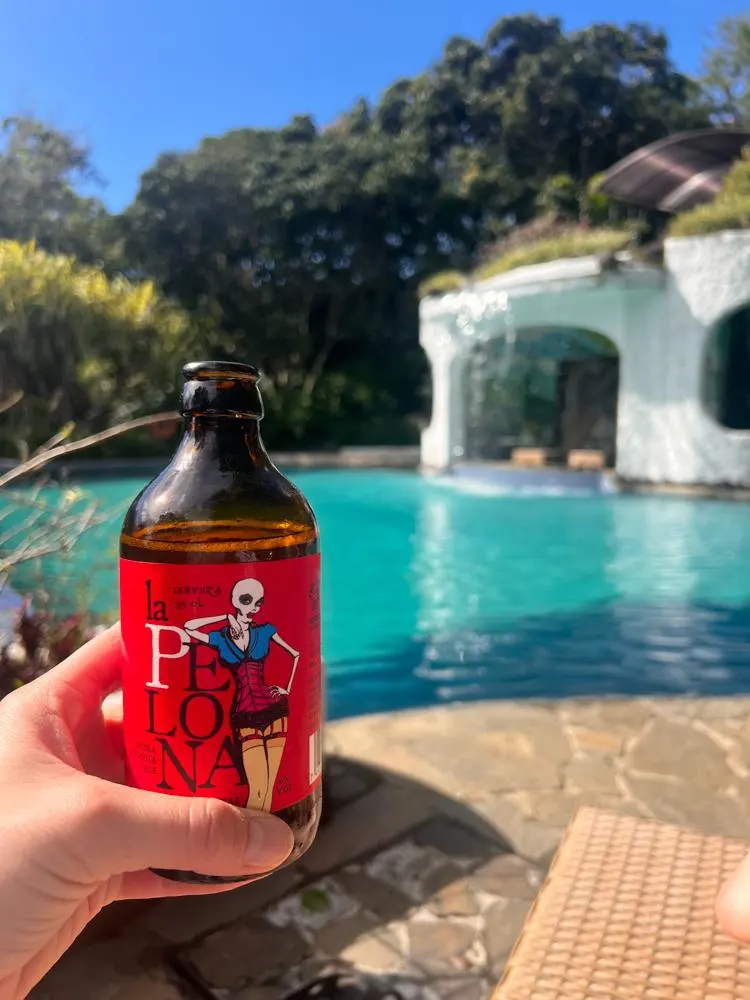 But at the end of the day, the massage was incredible and a great last evening send-off from Costa Rica. Then, it was time for dinner and drinks at the restaurant before bed.
Day 10: Say Goodbye to Costa Rica
Your Costa Rica itinerary in 10 days is coming to an end. It is time to enjoy your last breakfast, sip your last incredible sips of Costa Rican coffee, and perhaps purchase some beans to take home.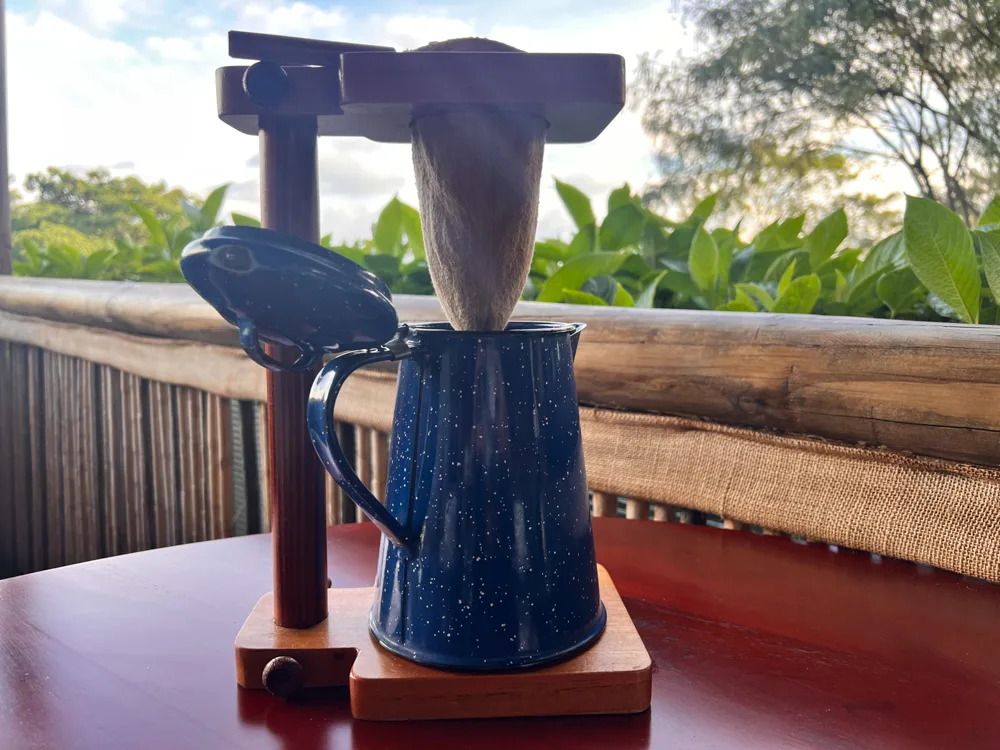 Then, you'll hop on your shuttle to the airport from the hotel and leave this incredible country behind.
After 10 days of hiking, adventure, beach time, relaxation, coffee, and wildlife, you really saw quite a bit of Costa Rica!
While packed with adventure, there is definitely relaxation built-in, making this a great Costa Rica honeymoon itinerary or just a fun trip for anyone!
If You Have More Time in Costa Rica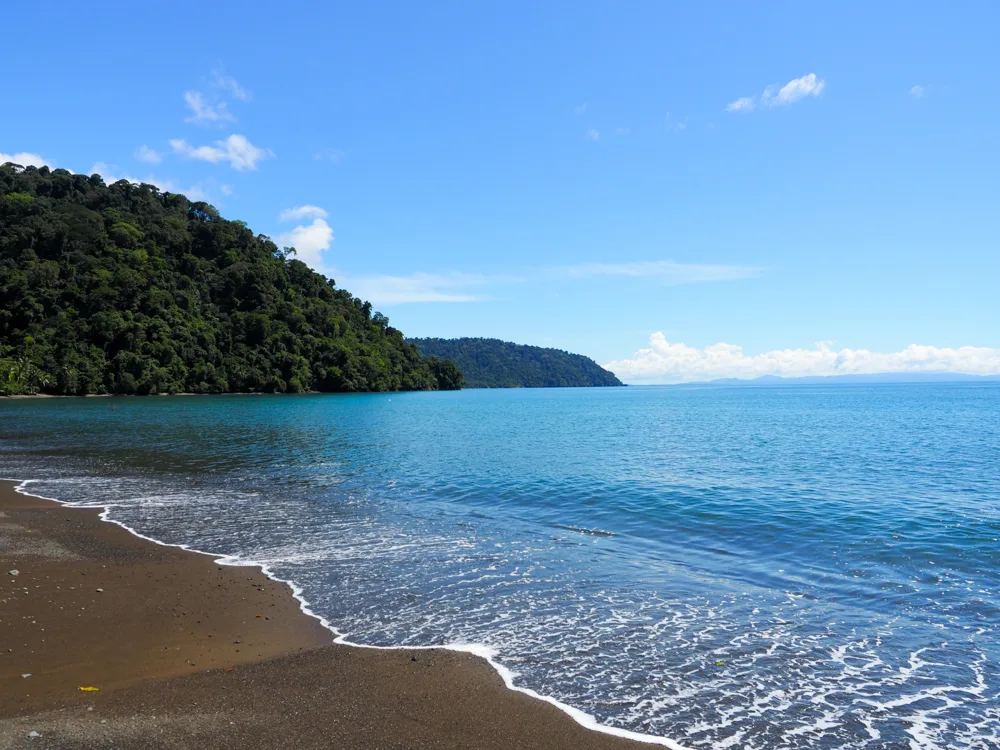 If you have more than a 10 day Costa Rica travel itinerary, there are SO many options for how to spend your time! You could add on more time in the Osa Peninsula, including staying on the other side and visiting Corcovado National Park!
Or, you could spend a few days in La Fortuna, head to Monteverde, or get in more beach time in places like Uvita, Quepos/Manuel Antonio National Park, Tamarindo, Santa Teresa, or even hang out on the Caribbean side like in Puerto Viejo.
Honestly, the options are endless! If I had more time, I'd definitely extend my stay in the Osa Peninsula and add on Corcovado National Park for wildlife, and then perhaps spend a couple of days in Monteverde!
Best Time to Visit Costa Rica During a Costa Rica Itinerary in 10 Days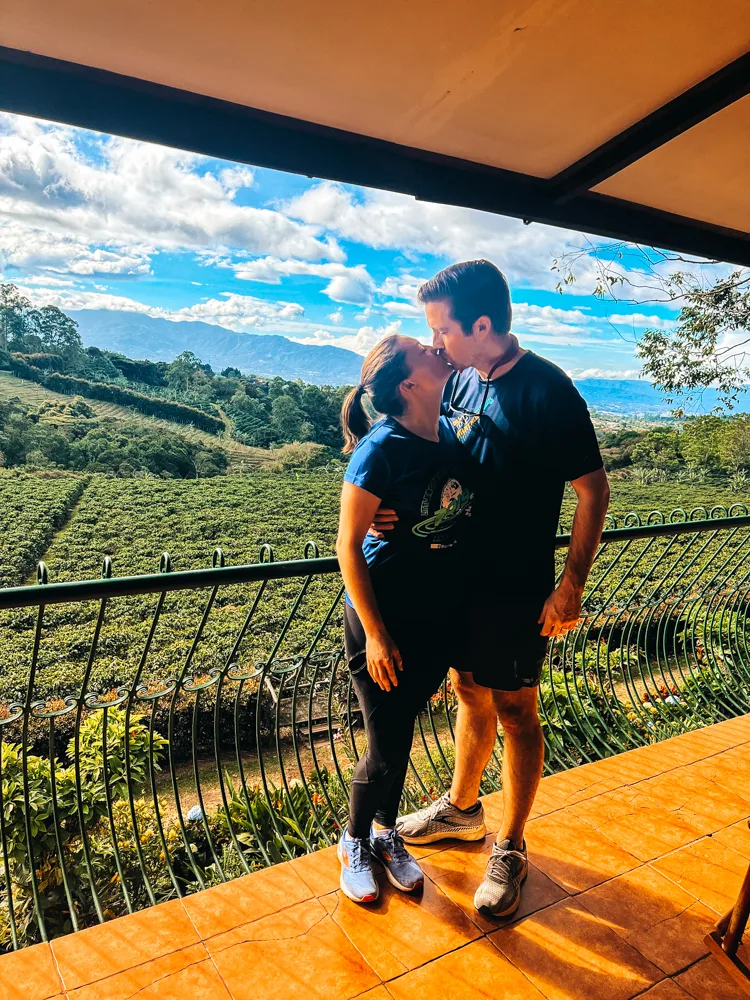 Costa Rica has two seasons: wet and dry. The dry season predominantly occurs from mid-December through April. This will mean less rainfall, but this is the busiest time of year to visit.
Therefore, expect prices to increase during this time. Conversely, prices tend to decrease during the rainy season.
The wet season is May-November with a mini-dry season from July through mid-August. So you can sometimes get good deals and weather if you sneak in a visit during the mini-dry season.
However, some places have ideal times to visit based on what you want to do. For instance, if you want to see humpback whales in the Golfo Dulce, then July-September is best. It will be in the rainy season, but if you're lucky you may hit the mini-dry season too.
Also, note that the rainy season doesn't always mean rain all day. It just means you'll likely have evening and afternoon rains but clear mornings. It really just depends. So don't completely write off the rainy season or even shoulder season!
Other Tips For Your Costa Rica Travel Itinerary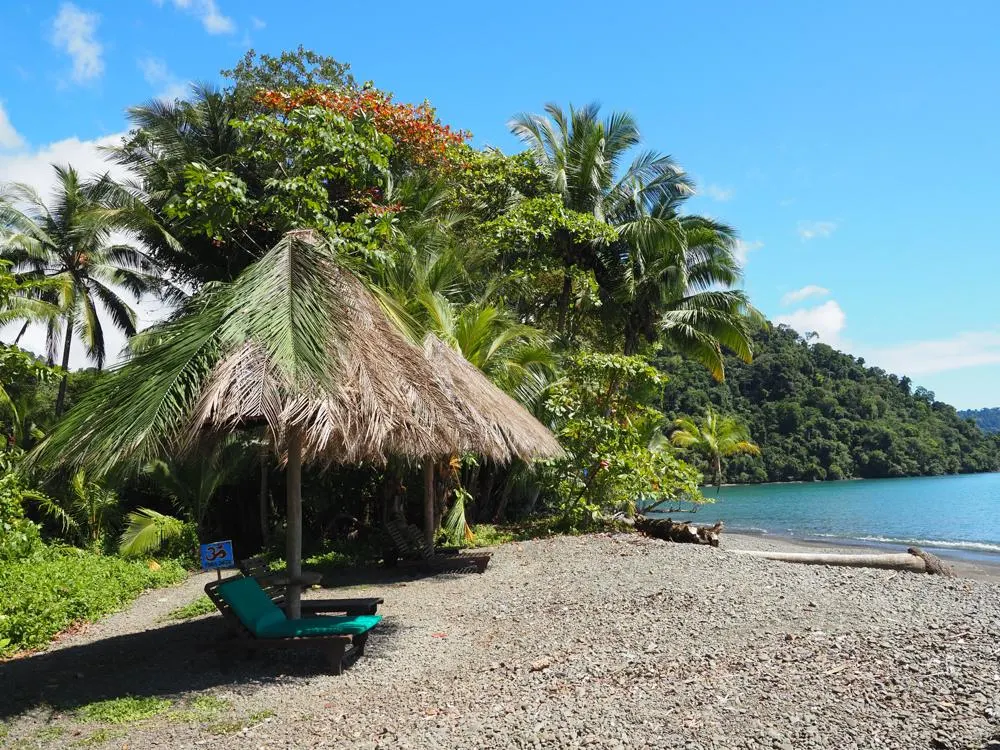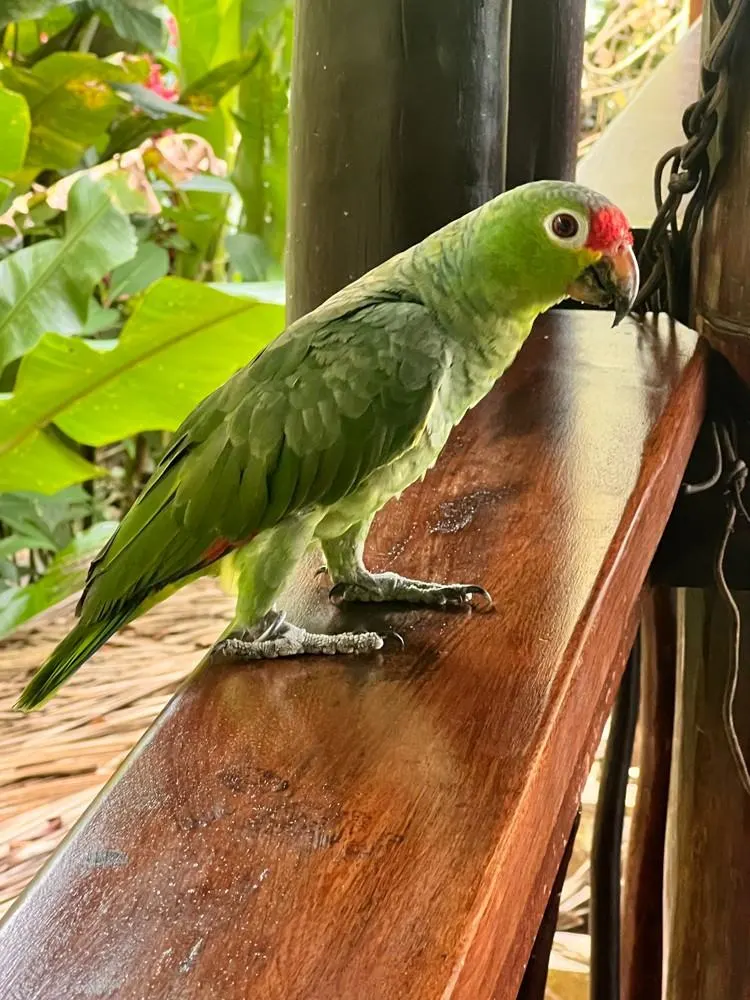 You may not need a visa. As a US citizen, you don't need a visa to get into Costa Rica for stays less than 90 days. You must have a valid passport that will not expire during the duration of your visit. You also need proof of exit (i.e. your return ticket). As always, check here for more information.
Currency. The currency of Costa Rica is the colon. It is about 640 colons per $1 USD. However, USD is accepted pretty much everywhere and you have the option to withdraw that from ATMs as well. No need to exchange currency.
Credit cards are king. Most places accept (and sometimes only accept) credit cards. So if you have a no FX fee card like the Chase Sapphire Preferred or Capital One Venture X, you can use that easily throughout the country! It never hurts to carry some cash for random roadside purchases and such, but credit cards are preferred at many businesses.
Language. The official language of Costa Rica is Spanish. So it always helps to learn a few words like hello, goodbye, thank you, please, etc.
Tap water. In cities like San Jose and more developed areas, tap water is generally safe to drink. Whereas in the Osa Peninsula and more remote parts of the country, it isn't. Either way, ALWAYS ask the hotel staff whether the tap water is safe to drink. You can also use things like a LifeStraw or Steripen to sanitize your water for drinking.
Driving in Costa Rica. While many visitors choose to drive, this itinerary isn't meant for driving. However, if you wish to rent a car while there, Waze is the preferred GPS choice for visitors and locals alike!
What to pack: I will be making a whole packing list for Costa Rica, but always be sure to have hiking boots and socks for hiking in places like the Osa Peninsula, bathing suits, a light rain jacket for hiking in the rain and for windy places like Poas Volcano, and sunscreen. Also, bug repellant is a good idea, particularly in the Osa Peninsula.
Plus, a mix of hiking pants and sweat-wicking shirts is a great idea. Shorts and t-shirts are great for relaxing too. Also, be sure to pack a camera and binoculars to spot animals far away.
Oh, and for carrying your things, we love our Osprey backpacks and these packing cubes!
Travel insurance. We go with World Nomads which covers medical expenses, lost or stolen items, flight cancellations and delays, and more. We don't travel internationally without it. Get a quote here!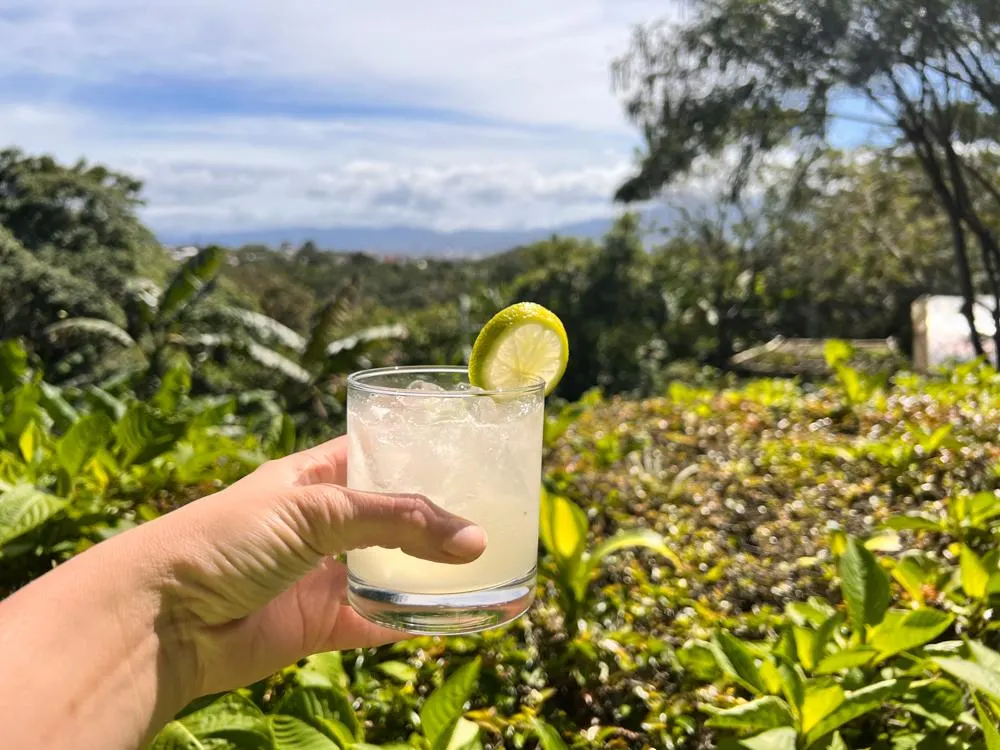 That is it for the most unique and best Costa Rica itinerary in 10 days! With a mix of the best of Costa Rica from coffee to wildlife, beach time, and adventure, you can enjoy the most of this amazing Central American country in just 10 days!
Have you been to Costa Rica before? Where are your favorite places to visit?
Want more Central American/Caribbean travel ideas? Check these posts out:
Thank you to Playa Nicuesa Rainforest Lodge for hosting us and Tinggly for hosting our day trip to La Fortuna. We sought these brands out for these excursions prior to the trip and are so glad to work with them! As always, all opinions are our own.
Pin it here!