Some posts on this site contain affiliate links, meaning if you book or buy something through one of these links, I may earn a small commission (at no additional cost to you!). Read the full disclosure policy here.
---
Spending 5 days in St Lucia is a dream. With its lovely Caribbean beaches, incredible waterfalls, and even a drive-in volcano, a visit to this stunning island will leave you with so many great memories. So whether you have 5 or 7 days to spare, this is the ultimate St Lucia itinerary to help you plan your trip!
This little island nation packs a punch when it comes to sightseeing. While you could certainly park it in a beach lounger for your entire St Lucia trip, there are SO many great things to do here. From snorkeling among coral reefs to hiking the pitons, you'll fall in love with St Lucia during your honeymoon or romantic getaway!
Without further ado, let's get into the best trip to St Lucia itinerary.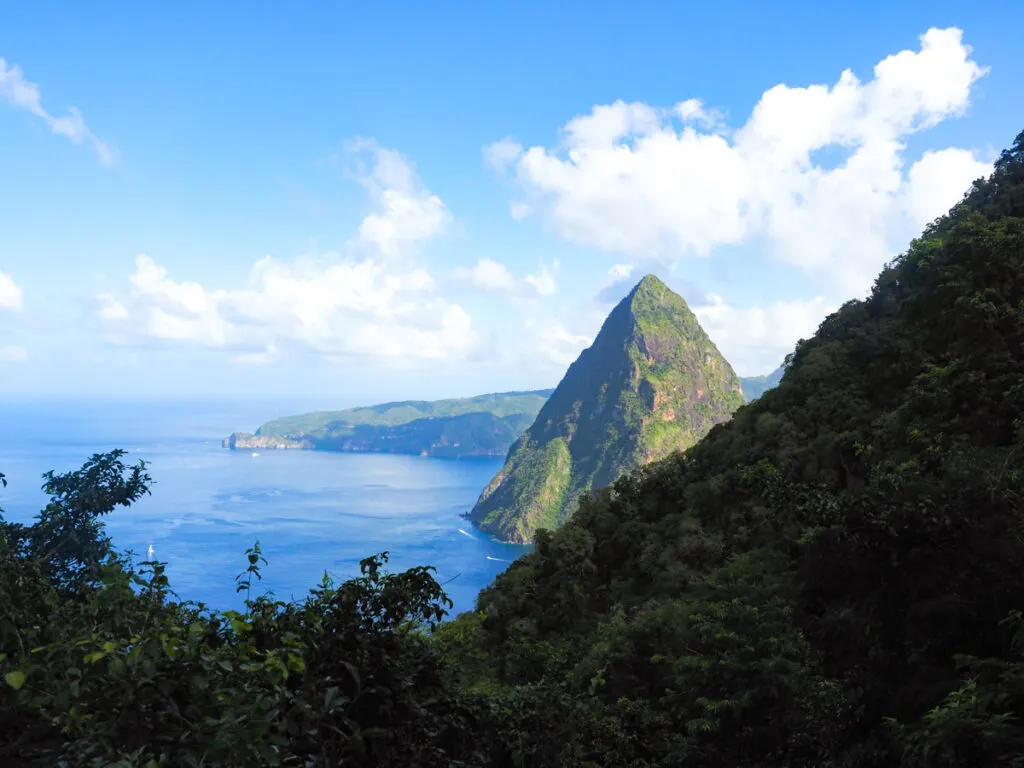 5 Days in St Lucia Itinerary Overview
Here is a quick overview of how to spend 5 days in Saint Lucia. For a 7-day St Lucia itinerary, see further details below on how to best use your time.
Day 1: Arrive & Transfer to Soufriere
Check-in to your hotel in Soufriere
Watch the sunset from the hotel
Dinner at hotel
Day 2: Hike Gros Piton
Breakfast at hotel
Gros Piton hike
Enjoy a late lunch at the hotel
Relax at the pool
Day 3: Volcano, Mud Bath, Waterfalls, and Beaches
Explore the drive-in volcano at Sulphur Springs
Take a mud bath
Explore Toraille and Diamond Waterfalls
Snorkel at Malgretoute or Sugar Beach
Final dinner in Soufriere
Day 4 of Your St Lucia Itinerary: Transfer to Vieux Fort
Head to an all-inclusive resort in Vieux Fort
Rent a pool or beach cabana for the day
Explore the resort and enjoy the amenities
Dinner at your resort
Day 5: Last Day at All-Inclusive
Beach day
Dinner at resort
For more details including other ideas for 7 days in St Lucia, keep on reading below.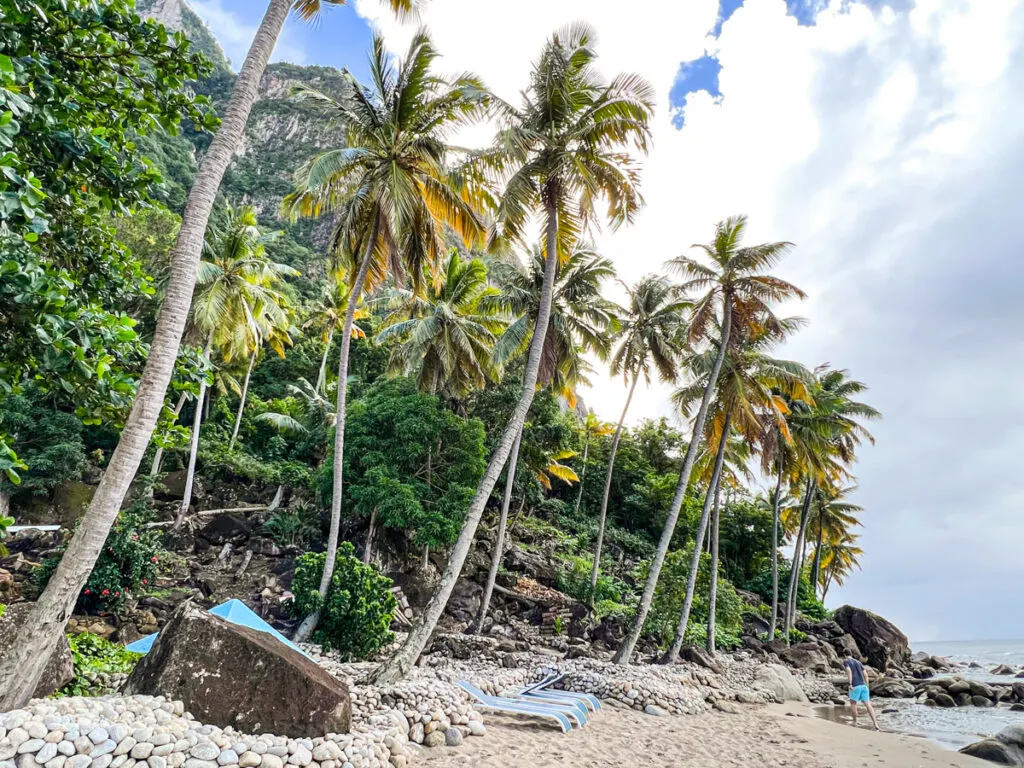 Saint Lucia Itinerary in 5 Days
Let's dive into the perfect St Lucia plan to make your trip memorable!
Day 1: Arrive & Transfer to Soufriere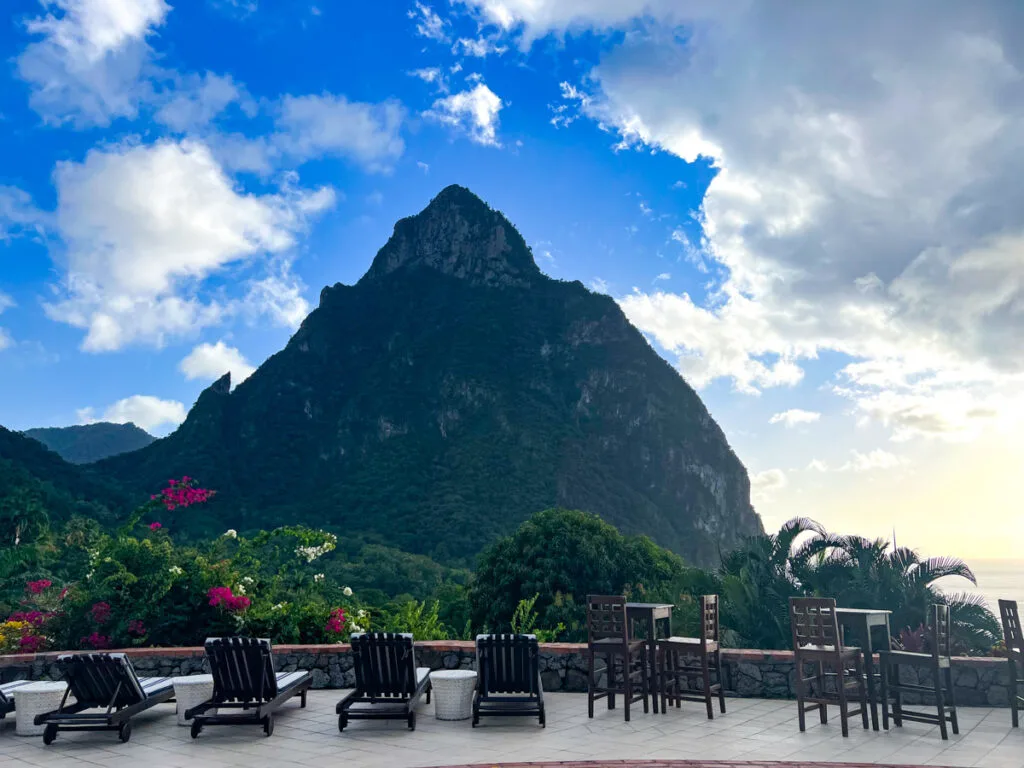 On day 1, you'll be arriving on the beautiful island of St Lucia! There are actually two main airports on the island. One is in the north, George F. L. Charles Airport, which is near Castries, and the other one is in the south in Vieux Fort: Hewanorra International Airport.
Most international visitors will be arriving at the one in the south as that is the largest airport on the island. And for the best flight prices, check out Skyscanner!
From there, I recommend having a hotel booked in Soufriere located on the southwest side of the island. You can arrange your transfer with your hotel, where they will pick you up once you've exited the airport.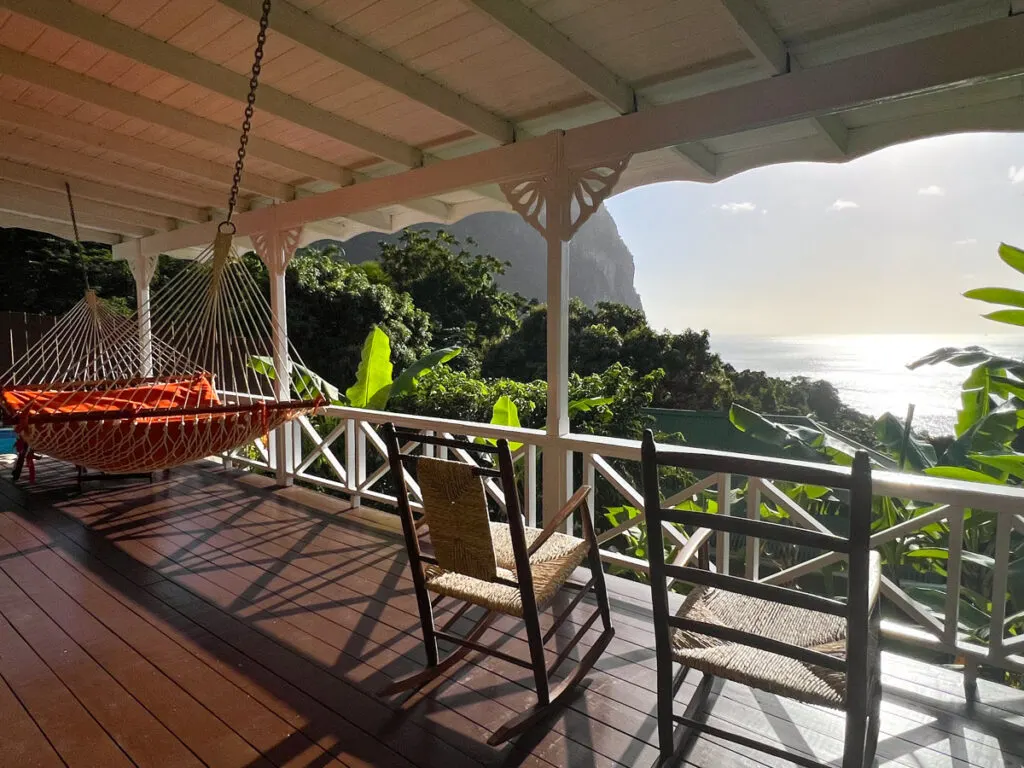 Now, I know many itineraries will have you staying in Castries on the northern part of the island for a good portion of the trip. I totally recommend Castries, and I think it's great if you have a couple of extra days (see the 7-day itinerary below). However, Soufriere is honestly our favorite part of the island.
For starters, it is in the mountains, meaning many resorts in the area have stunning jaw-dropping views of the Gros or Petit Pitons from your room!
Second, many of the best things to do in St Lucia are located around Soufriere. You've got the pitons, great beaches, the town of Soufriere to check out, waterfalls, as well as the iconic Sulphur Springs.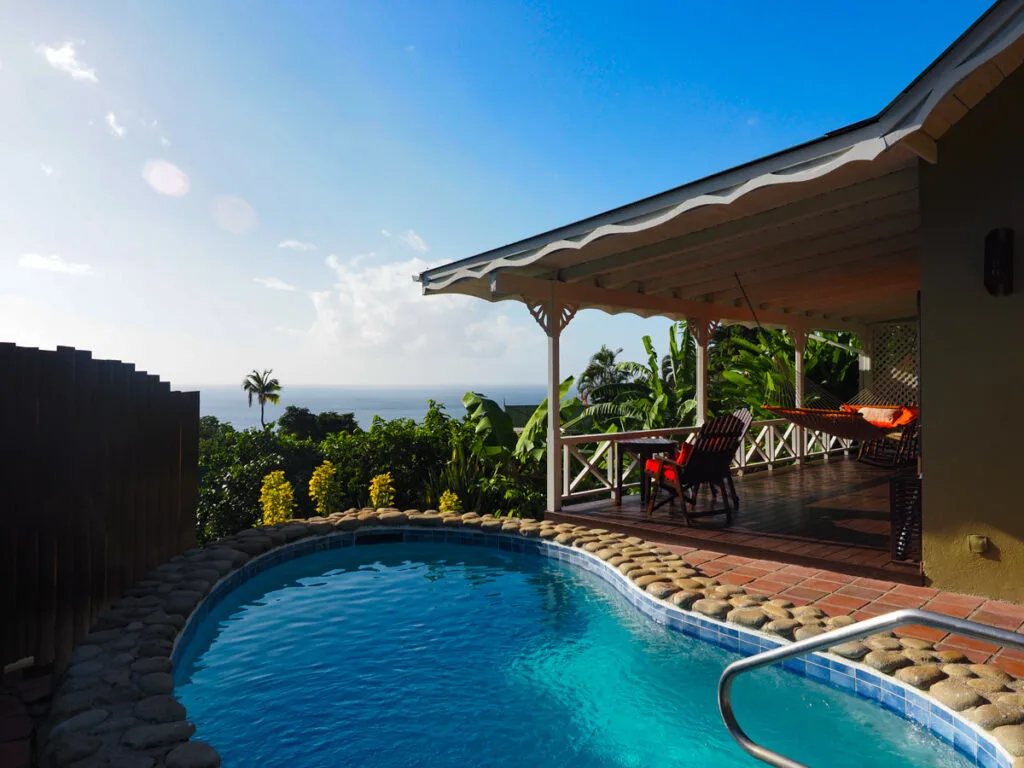 So, for the first 3 days in St Lucia, you'll be staying in Soufriere to enjoy what this area has to offer.
As far as where to stay in Soufriere, I highly recommend Stonefield Villa Resort. This locally owned and run resort sits in the mountains with an epic view of the Petit Piton! Every room here is actually a private villa, complete with its own private plunge pool and patio.
Plus, there is a romantic outdoor private shower too. We ended up booking the all-inclusive package which included our villa plus breakfast, 2-course lunches, 3-course dinners, and beer/wine by the glass/cocktails. The best part was that it was only around $550 per night!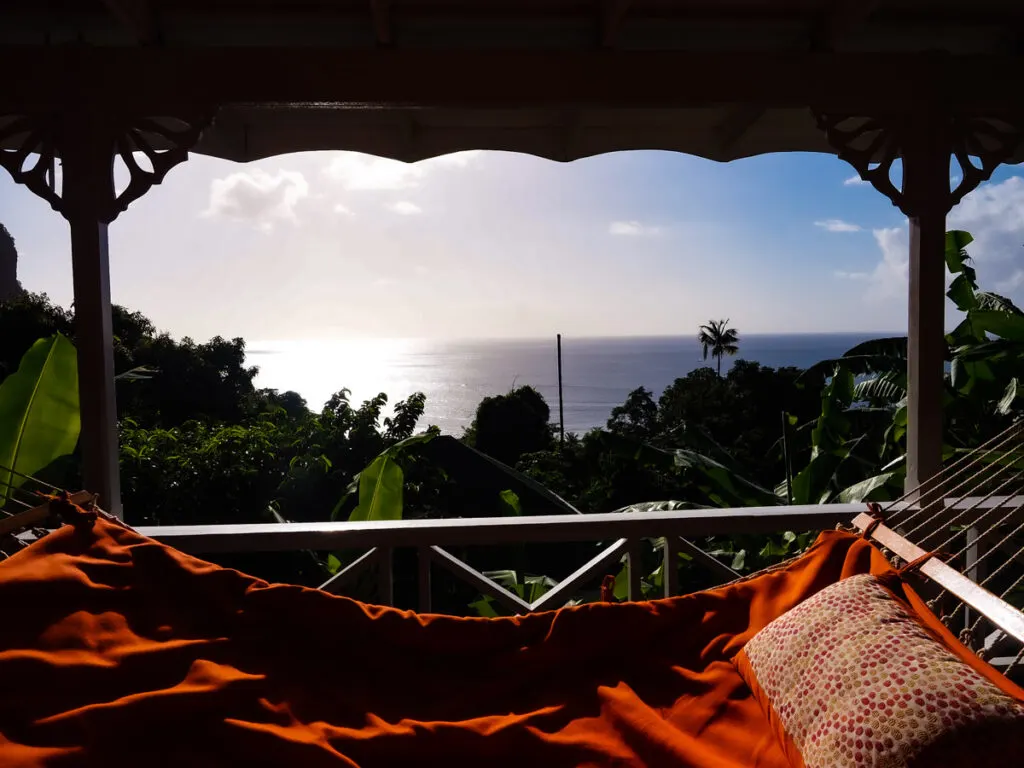 Seriously, for an all-inclusive package and your own private plunge pool villa, it is a steal. And the oceanview villa we had even had views of the Petit Piton. We caught the most beautiful sunsets from our hammock at our place!
The resort also can arrange many activities, which we'll discuss for days 2 and 3, and they have a free shuttle to the nearby beach. And if you want to go to the beach outside of the shuttle times, they can arrange a taxi too.
Okay, enough gushing about Stonefield (we seriously enjoyed our stay here- and no this isn't sponsored!). But, once you arrive at the resort, it is already likely late afternoon. So why not get into the relaxed atmosphere in St Lucia by having a few Piton beers by your own plunge pool?
Relax, swim, and watch the sunset before heading to dinner at the resort. There is a variety of choices at the resort for food, and you can even try some local dishes too!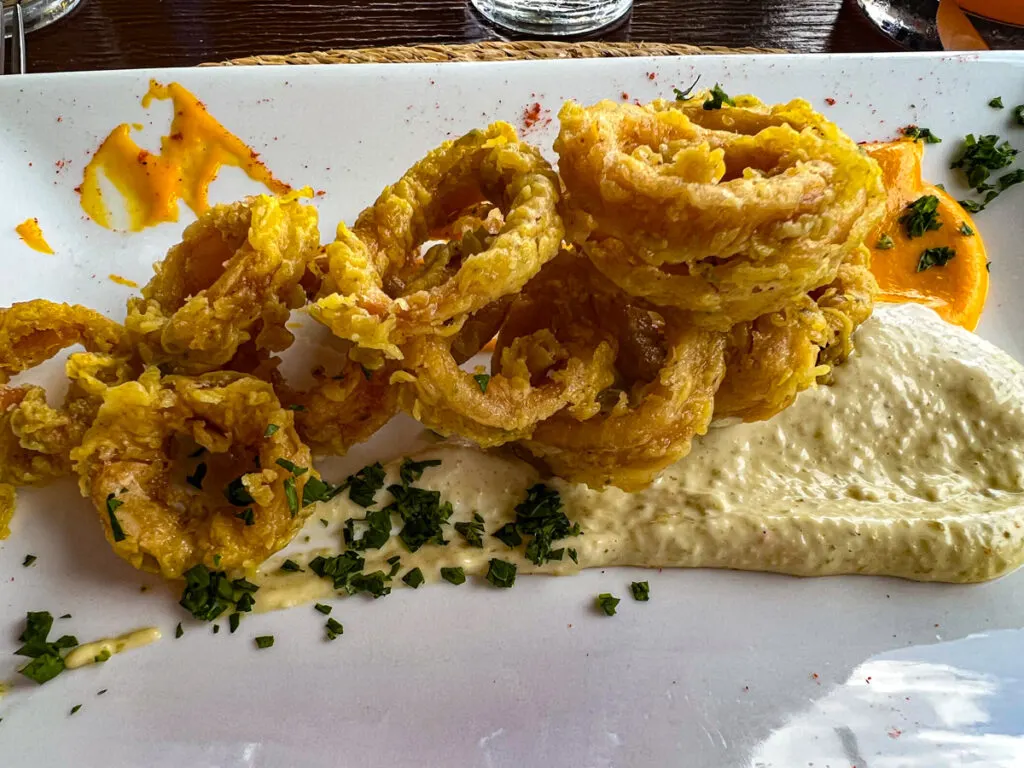 Enjoy dinner and then get to bed, as tomorrow will be a big day!
Day 2: Hike Gros Piton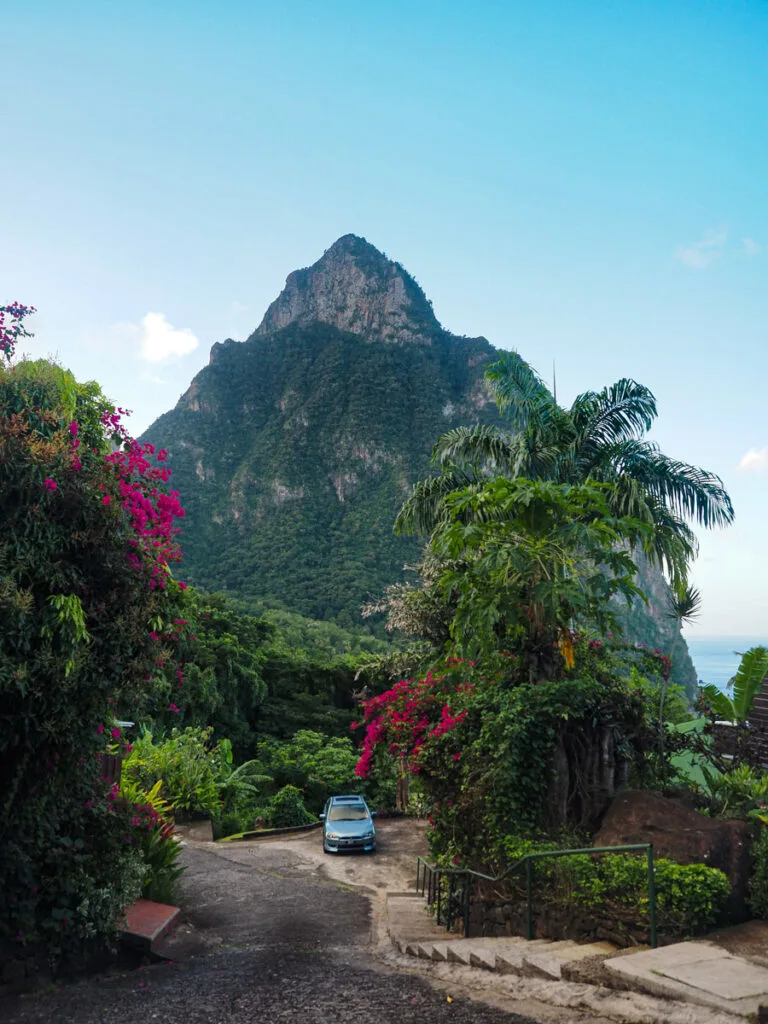 I'll be honest Chris and I love a good mix of relaxation and activities while on a beachy vacation. If you've seen our Belize or even Costa Rica itineraries, you know we love a relaxing beach day as much as we thoroughly enjoy getting adventurous.
So while you could certainly just hang out at this resort, book a snorkeling tour, and get the beach shuttle every day and have a great time, I highly recommend exploring more of this mountainous island too.
Get up early this day and have breakfast when it begins so you can get right to your Gros Piton tour. We ended up arranging this through the resort ahead of time, so just email Stonefield and tell them which tours you're interested in. They have a few on their website too that they recommend!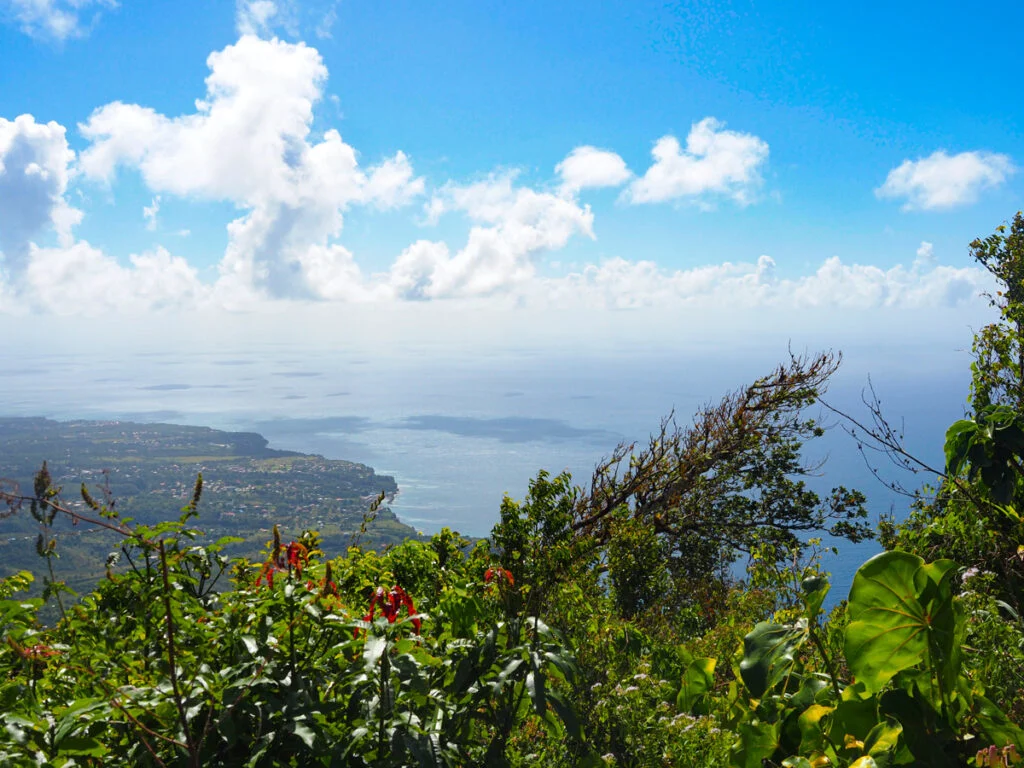 The taxi that Stonefield will have arranged will pick you up and take you to the starting point of the Gros Piton hike.
So why did we choose to do this hike and recommend it? Honestly, we love a bit of a challenge, and the larger of the two pitons definitely is a challenge to climb. Also, this hike does have some amazing views along the way!
Once you get to the starting point, you'll be assigned to a guide, as it is required to hike with a guide at Gros Piton, and they'll explain everything about the hike.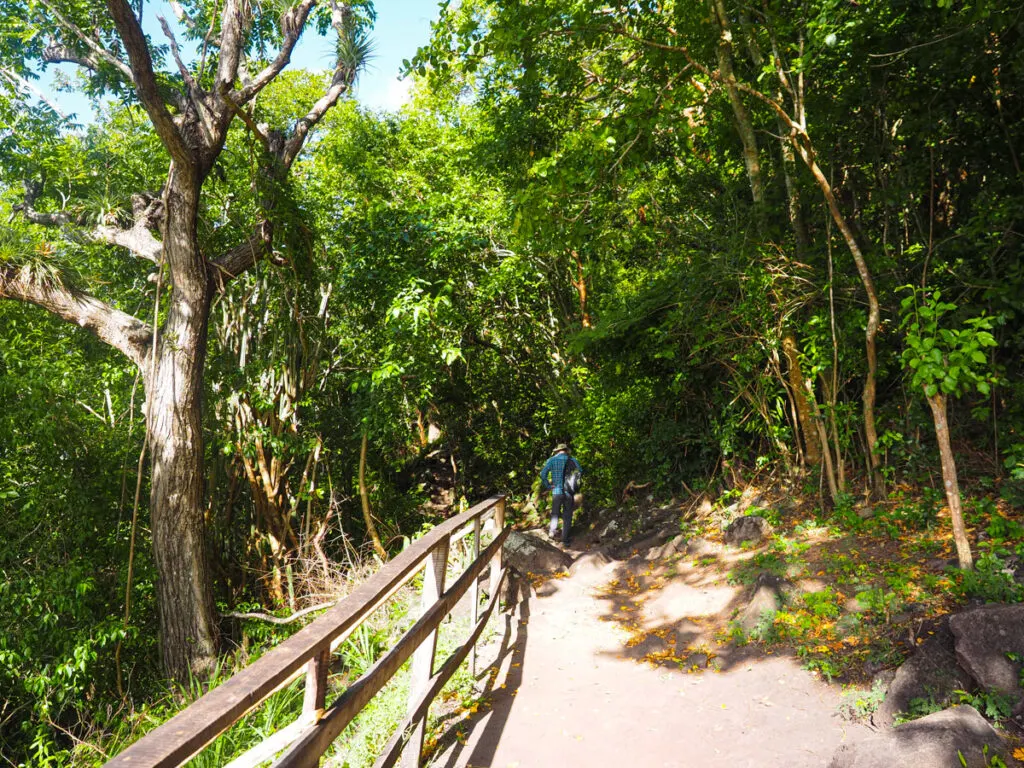 There is also a place to buy last-minute water and rent a hiking pole before you begin. I ended up renting a pole for $5 because the hike is quite steep, so it helped a lot while coming back down the mountain. Also, I recommend having at least 2 liters of water for the hike. It isn't a bad idea to carry a hiking backpack with a 3L water bladder and some snacks.
Anyway, now that you're prepped for your hike, you begin! The first quarter of the hike isn't too bad. It is a steady incline as you pass a village and start climbing the mountain. At the end of the first quarter, there is a bench to rest at with amazing views of a village and the sea below.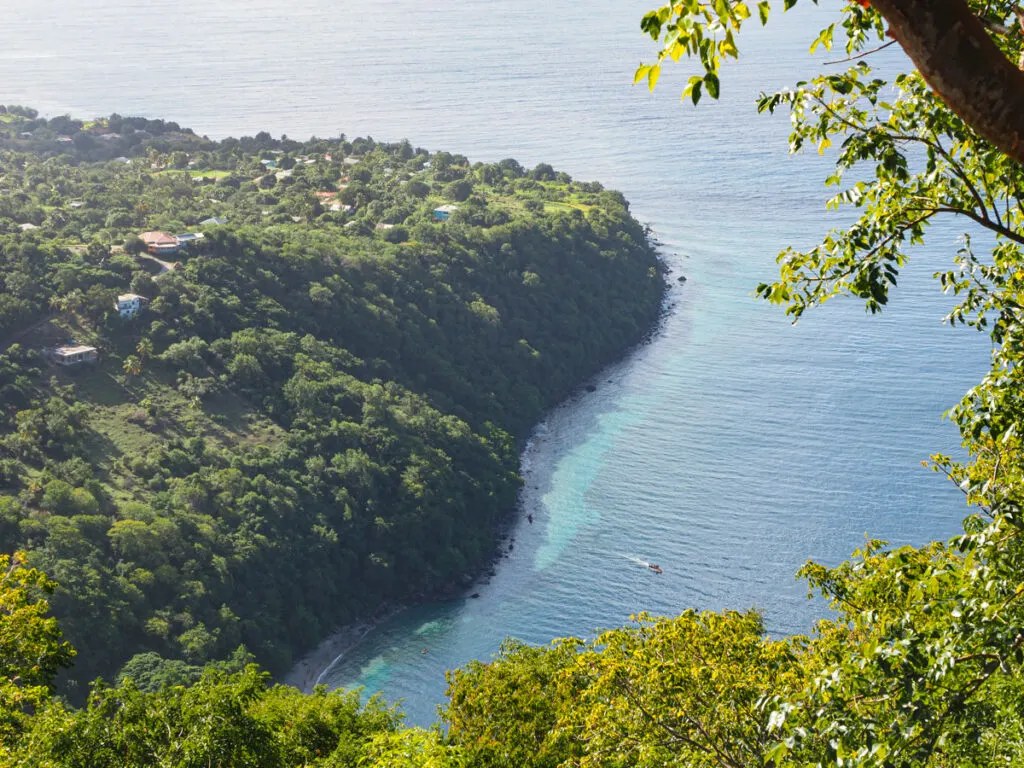 But get ready, as the next two-quarters of the hike are going to be much more challenging. You'll follow your guide as you make some steep ascents to the halfway point. This is honestly the best view of the whole trail, so if you don't want to continue, this is a great place to turn around.
The halfway point has the most beautiful views of the Caribbean and the Petit Piton in the distance, making it a perfect photo opportunity.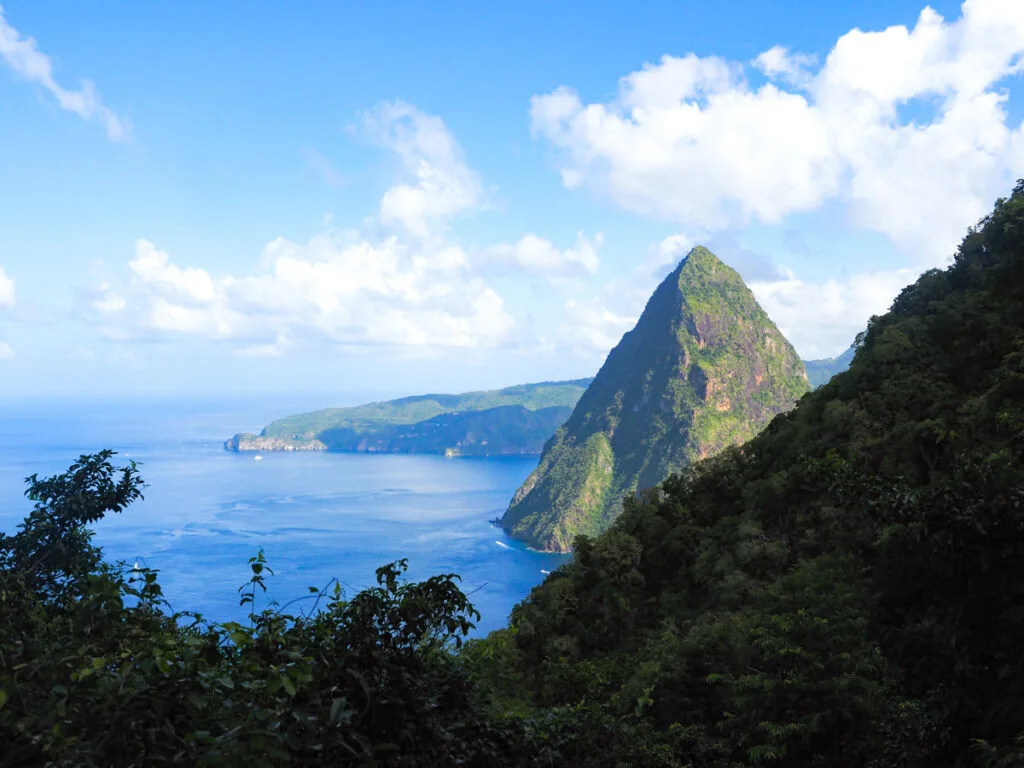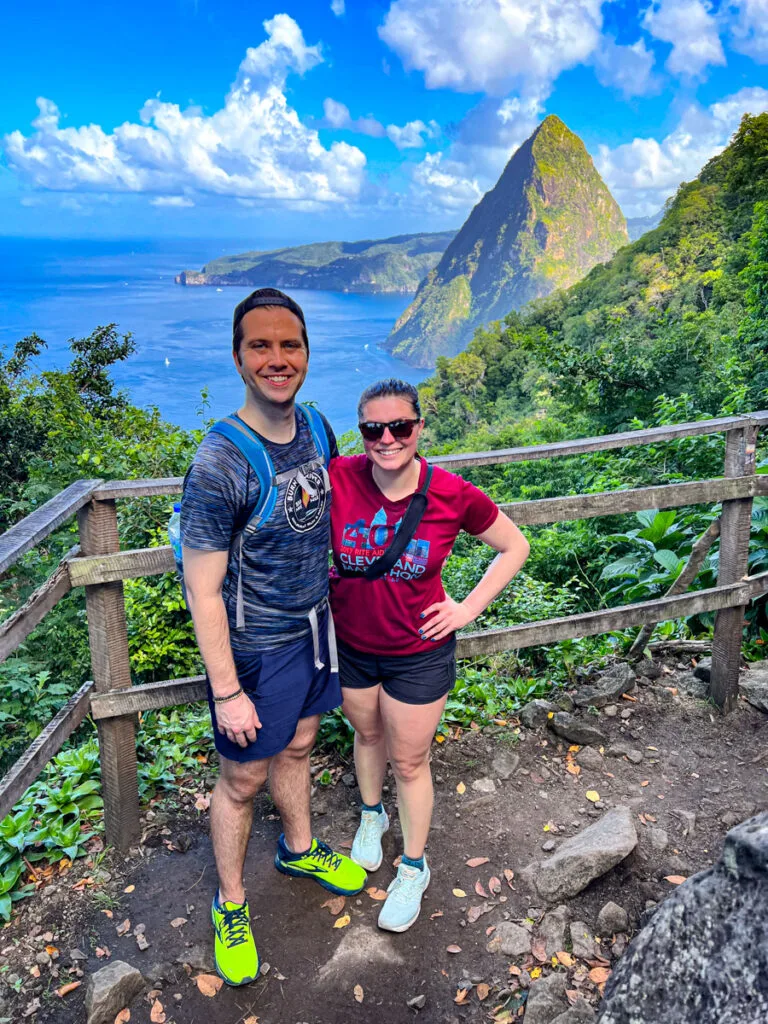 And for those who love the challenge, you can keep on going for the last half of the hike. I'll be honest the third quarter of the hike was the most challenging. You'll likely be grabbing a few tree roots, making a few stops to catch your breath/wipe the sweat off your face, etc.
That's why it is a good idea to do this earlier in the day because it gets pretty hot in Saint Lucia!
But, after making it to the three-quarter's stop, which is just a bench with a big mango tree in front, you'll begin the last push to the top.
And, while challenging, it is worth making it to the top! The views were incredible! You see a ton of the island, other mountains, and the sea, and, on really clear days, you can even spot other Caribbean islands in the distance!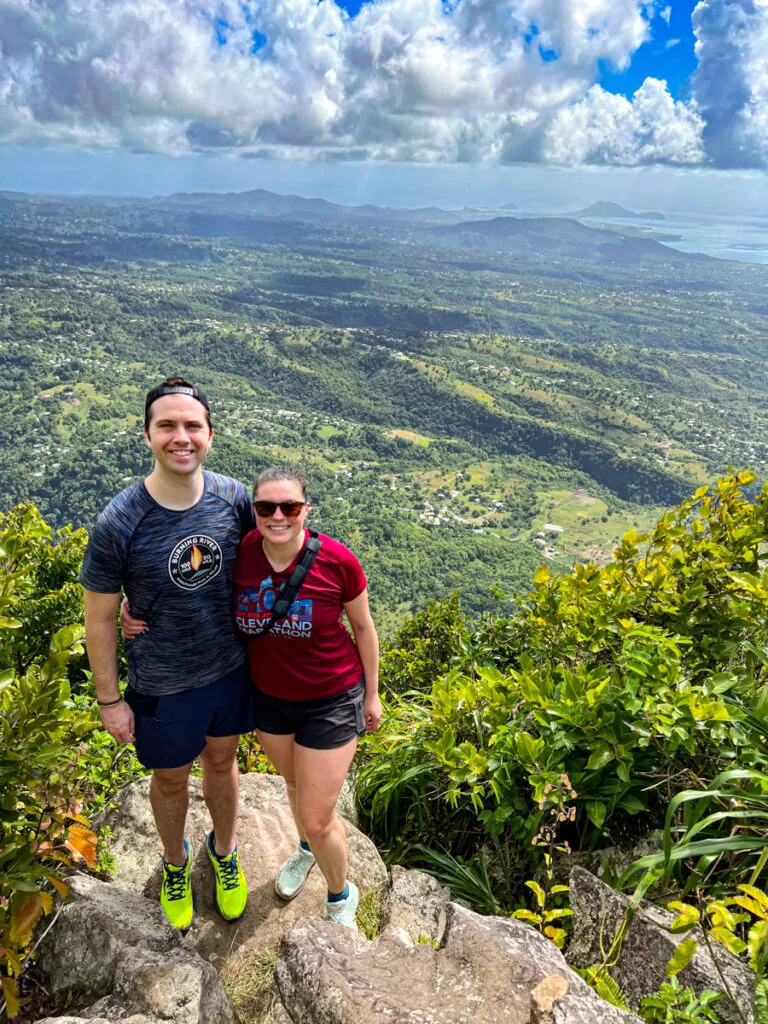 This is a great place to rest for a bit, snap a lot of photos, and have a snack. You may even see a mongoose or two at the top!
Then, it takes a bit to get down because it is a steep, rocky trail. But overall, expect the hike to take between 3.5-5 hours depending on your fitness level and the number of stops.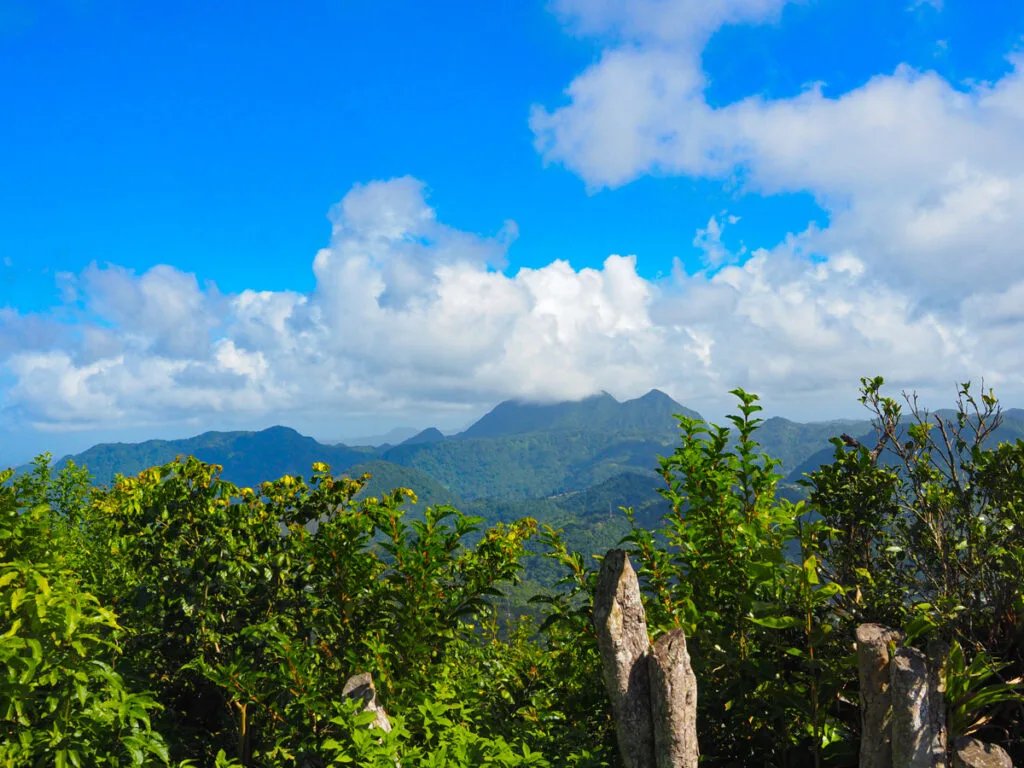 So you'll arrive back to Stonefield in time for a late lunch and a shower, which you'll definitely need after that hike.
And after that hike, you can either relax at your villa and enjoy your pool, have a few drinks at the bar, or even book a massage to reward yourself! You deserve it!
Then have dinner at the hotel before your last day in Soufriere.
Day 3: Volcano, Mud Bath, Waterfalls, and Beaches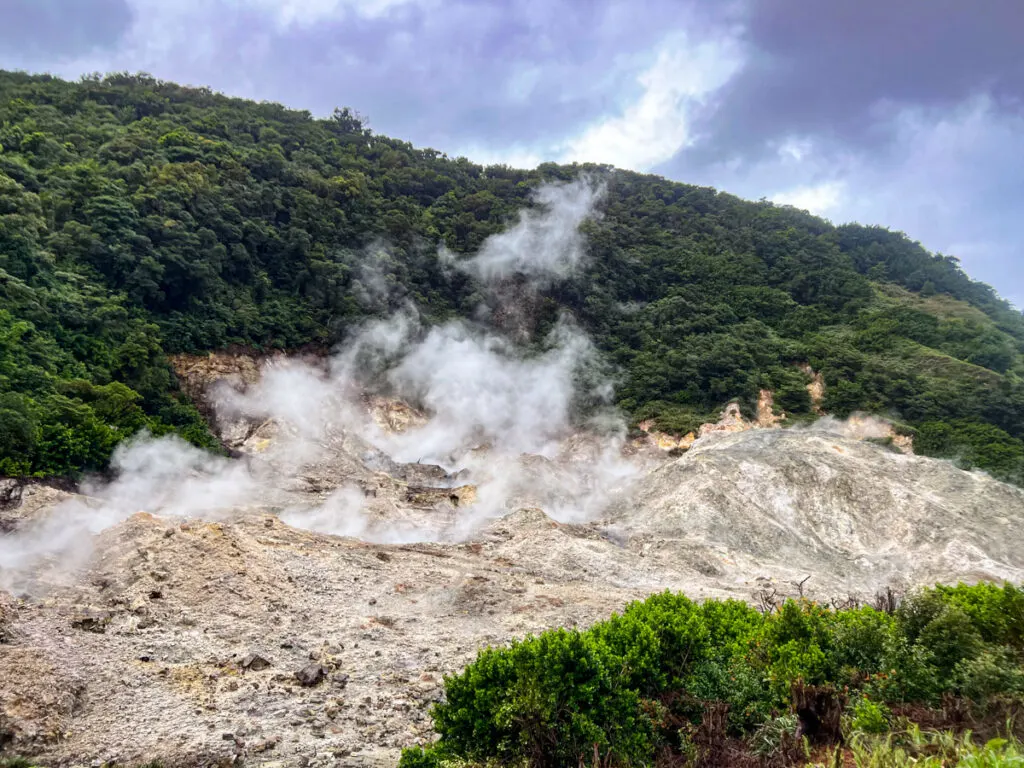 On day 3, it is time to get dirty! No, seriously, you'll be taking a mud bath.
But first, is breakfast. Being a locally owned resort, you know they have some local specialties on their menu. So definitely order the St Lucian Breakfast with fried fish cakes, a cucumber salad, and cocoa tea (their version of spiced hot chocolate that is too good).
After breakfast, you'll be picked up from the hotel and hopefully arrive at Sulphur Springs before the big tourist groups come in.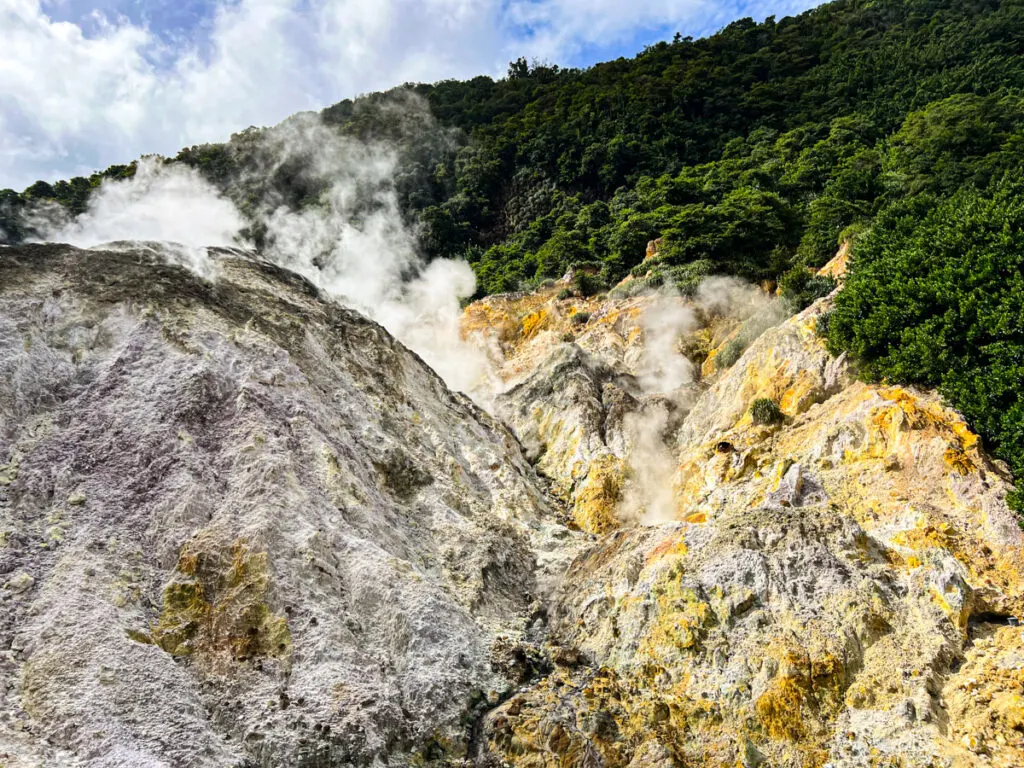 Sulphur Springs is home to the only drive-in volcano in the world! There is a literal parking lot right next to the volcano area. This isn't a volcano that spews out magma, but rather it is a dormant volcano that now produces steam from various vents.
You'll get to take a short tour with a guide, where you'll see the steam and bubbling mud in the volcano. You'll also probably smell that sulfur smell too while walking around.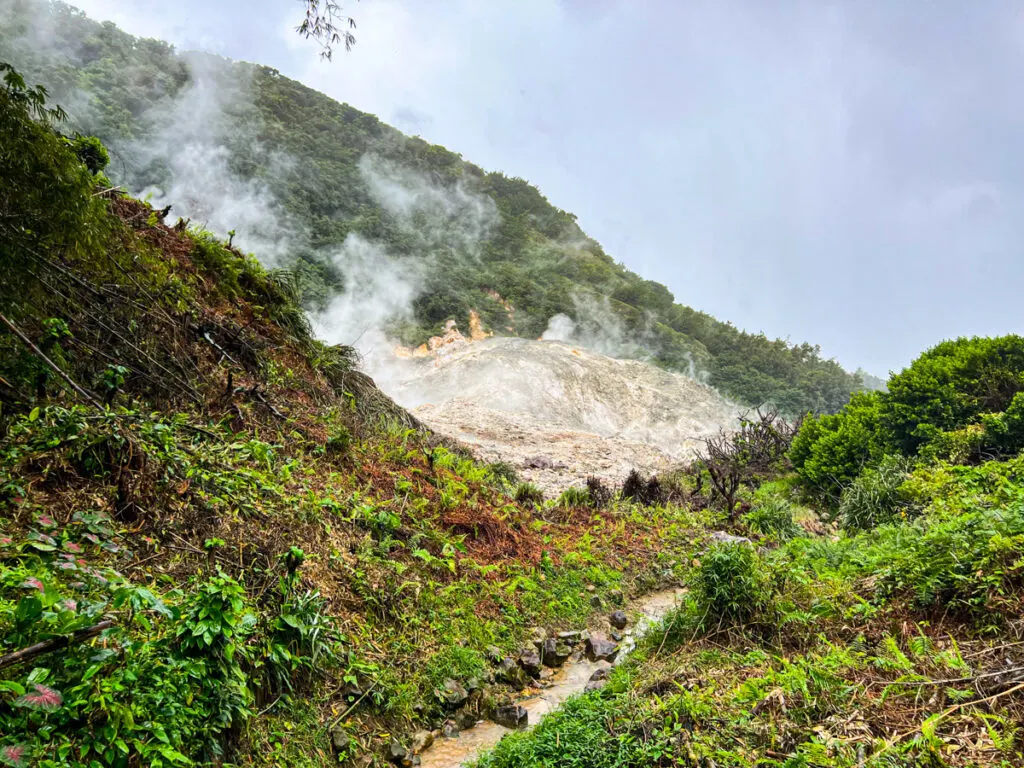 After the quick volcano tour, you'll head over to the mud baths. There is a changing room and place to put your stuff before you slather mud all over your skin and let it sit for a while. After the mud has dried, you'll take a dip in the hot springs to wash off.
It felt like doing a full-body mask and our skin felt so soft afterward. It is a really unique experience to do in Saint Lucia, and we highly recommend it!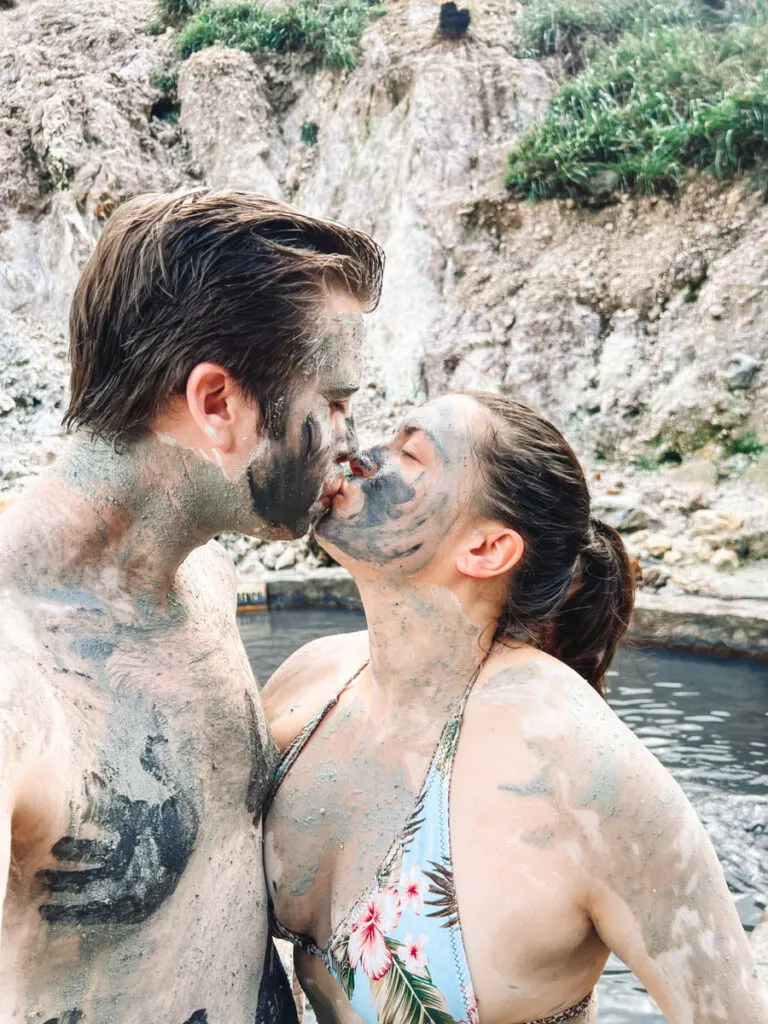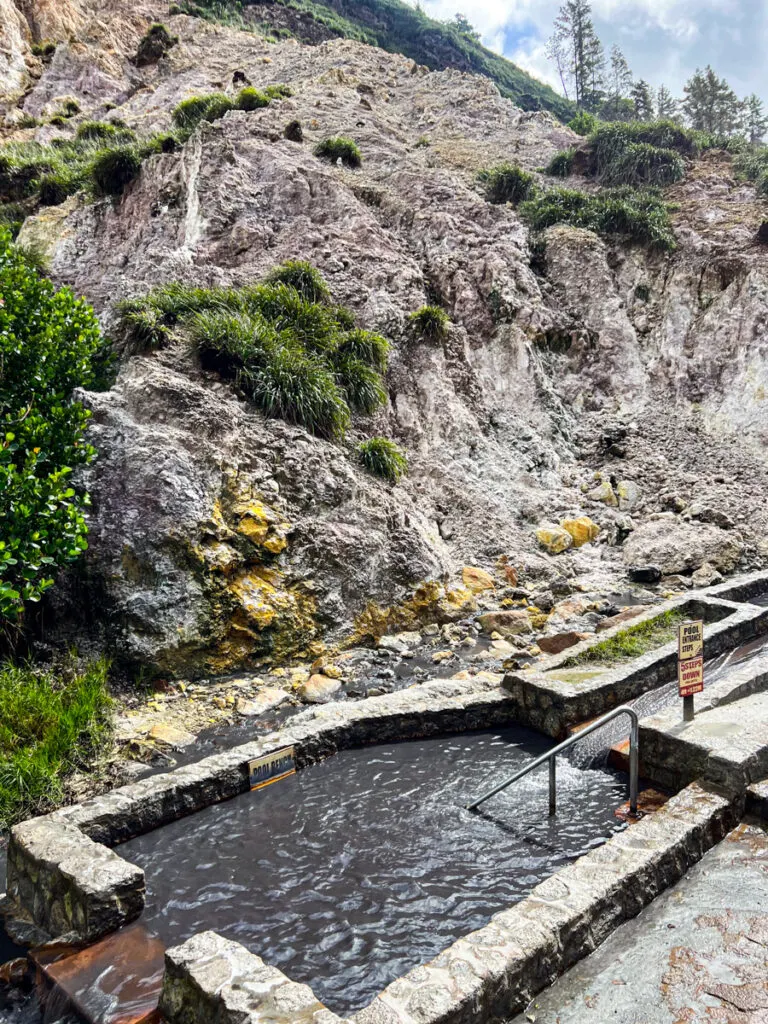 Now, after your relaxing soak in the hot springs, you'll head to Toraille Falls. Stay in your bathing suit, as you can get in the water and play in the waterfall! If you're lucky, you may even have the waterfall to yourself if you get there early enough!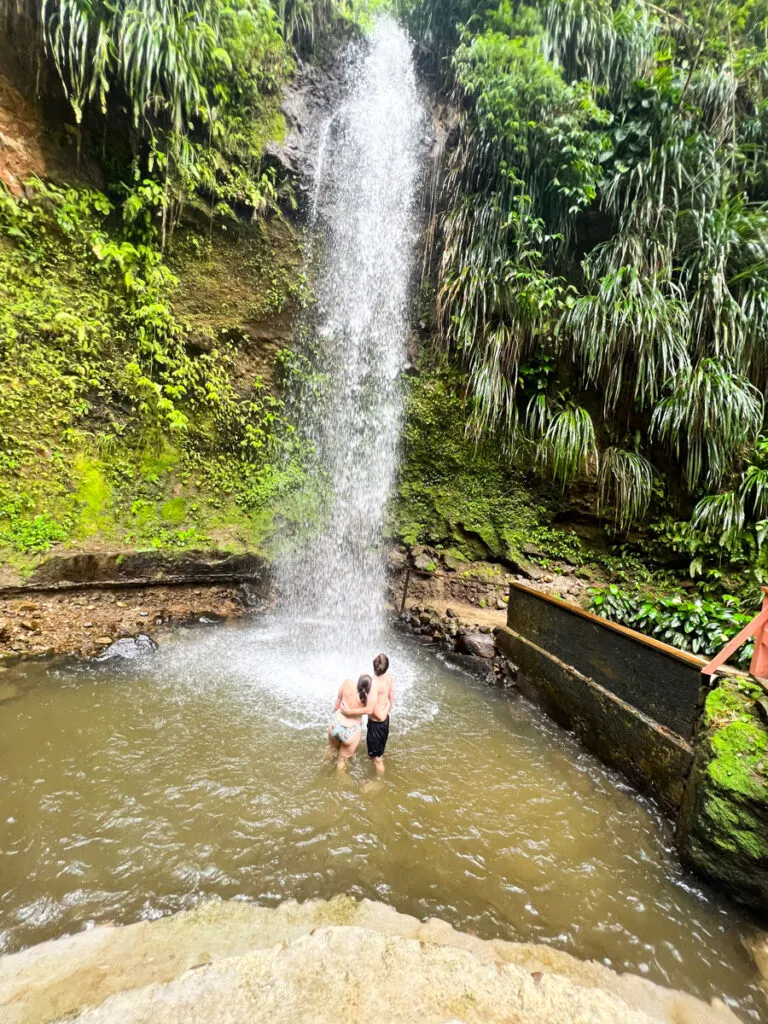 And finally, you'll stop by the Diamond Falls Botanical Gardens where you'll admire the many beautiful gardens and the mineral-rich Diamond Falls.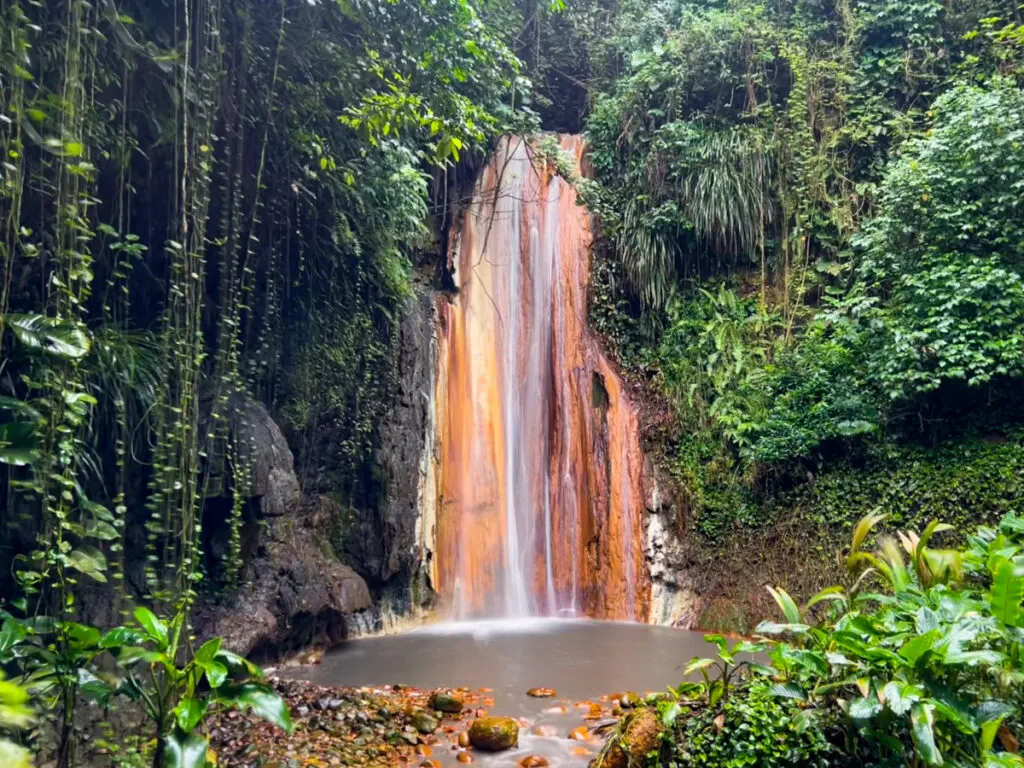 After all of this, you'll be back by lunchtime at Stonefield.
Once you've finished lunch, it is time to grab a taxi from the hotel down to the beach! There are a couple of options; you can take a taxi to either Sugar Beach or Malgretoute Beach.
Sugar Beach is well-known for its fantastic snorkeling and beautiful beach in general. The Anse Piton Marine Reserve is located here, so you will see so many fish!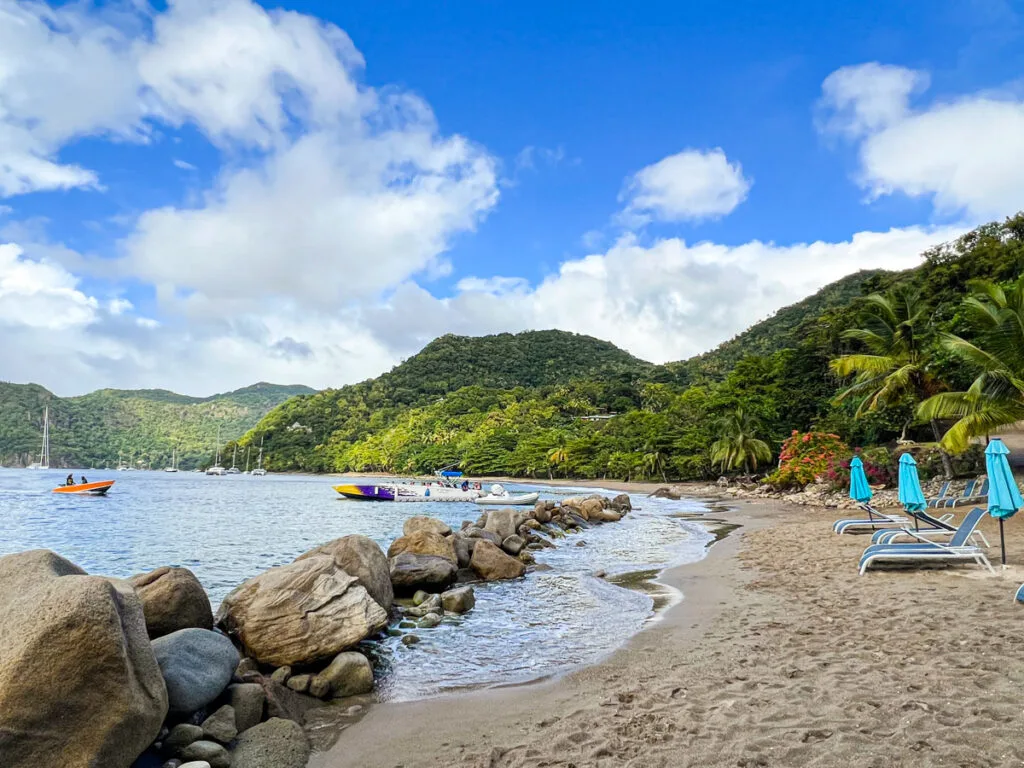 You can also head to Malgretoute Beach, which is far less crowded. While the snorkeling isn't as crazy as Sugar Beach, there is still a lot of fish, and we even saw a sea snake!
The beach here also has a little hotel where you can order drinks and snacks on the beach and they'll charge it to your stay at Stonefield which is nice.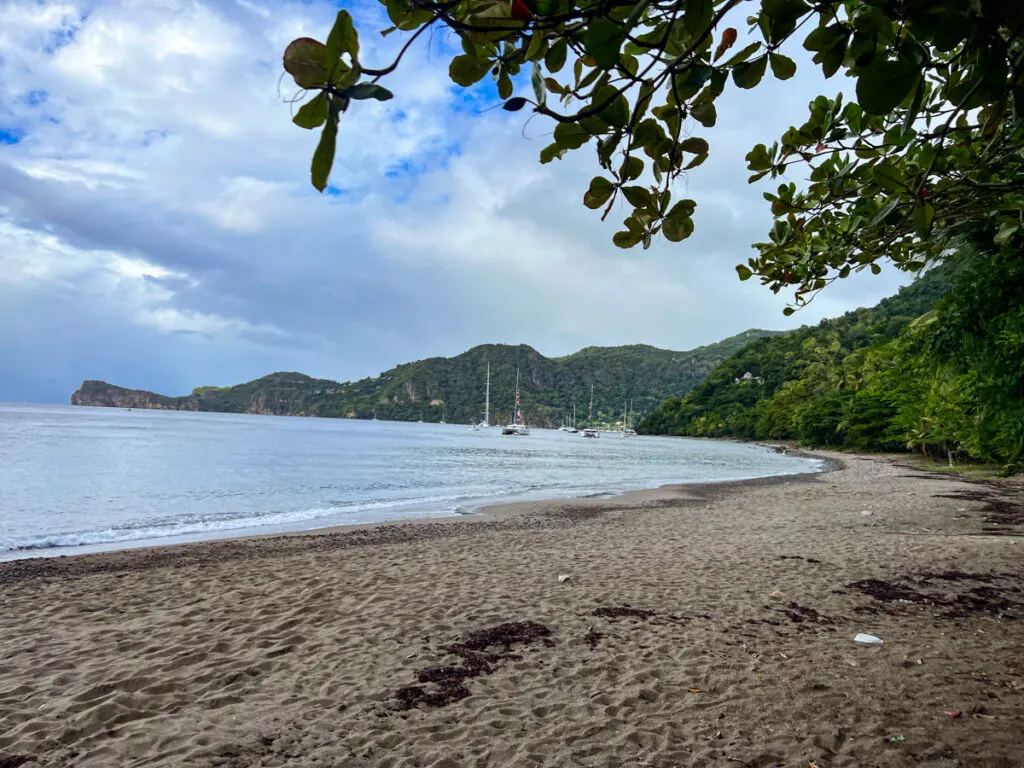 Another option is to see both via a water taxi. You can arrange this with Stonefield or the hotel at Malgretoute Beach. You'll get the water taxi from Malgretoute, then you can take it over to Sugar Beach, and then Stonefield will have you picked up from Sugar Beach.
We arranged this, but the weather got pretty bad, so we ended up just snorkeling at Malgretoute Beach and then going back to Stonefield. But this is a great option if the weather is nice!
After all that beach time and snorkeling, you will head back to clean up before your last dinner at Stonefield.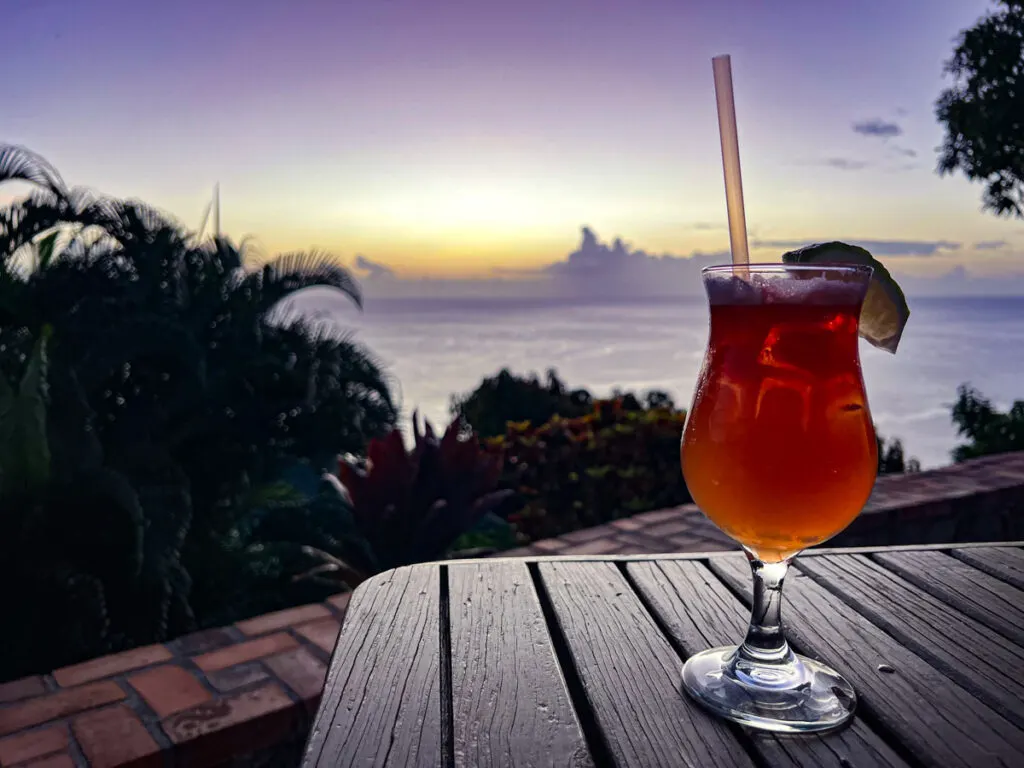 Day 4 of Your St Lucia Itinerary: Transfer to Serenity at Coconut Bay in Vieux Fort
For the last 2 days on the island, I highly recommend Serenity at Coconut Bay! This place is a bit of a splurge, but Serenity is an adults-only couples-only resort. Plus, every room is a suite that includes butler service, has its own private plunge pool, and is fully stocked with drinks.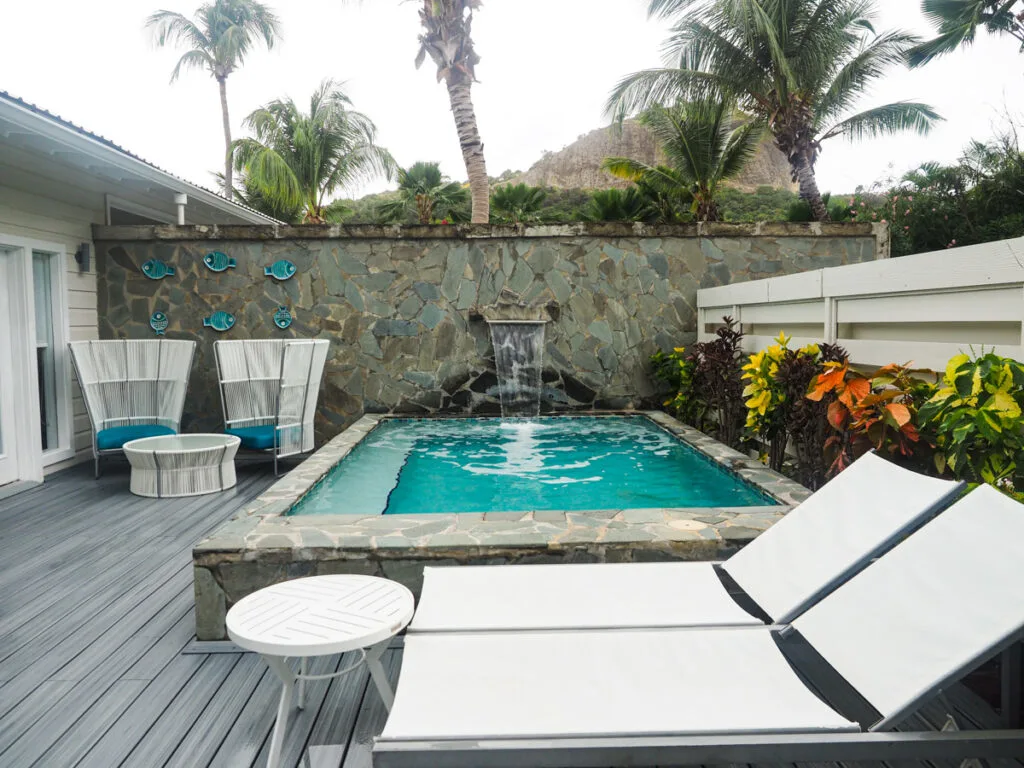 Serenity at Coconut Bay is an all-inclusive resort, meaning from the time you arrive, all your food, drinks, tips, 24/7 room service, etc. are included. The only things that cost extra are spa treatments, cabana rentals, and any personal purchases.
So you may as well get here in the morning to enjoy all this resort has to offer for a couple of days!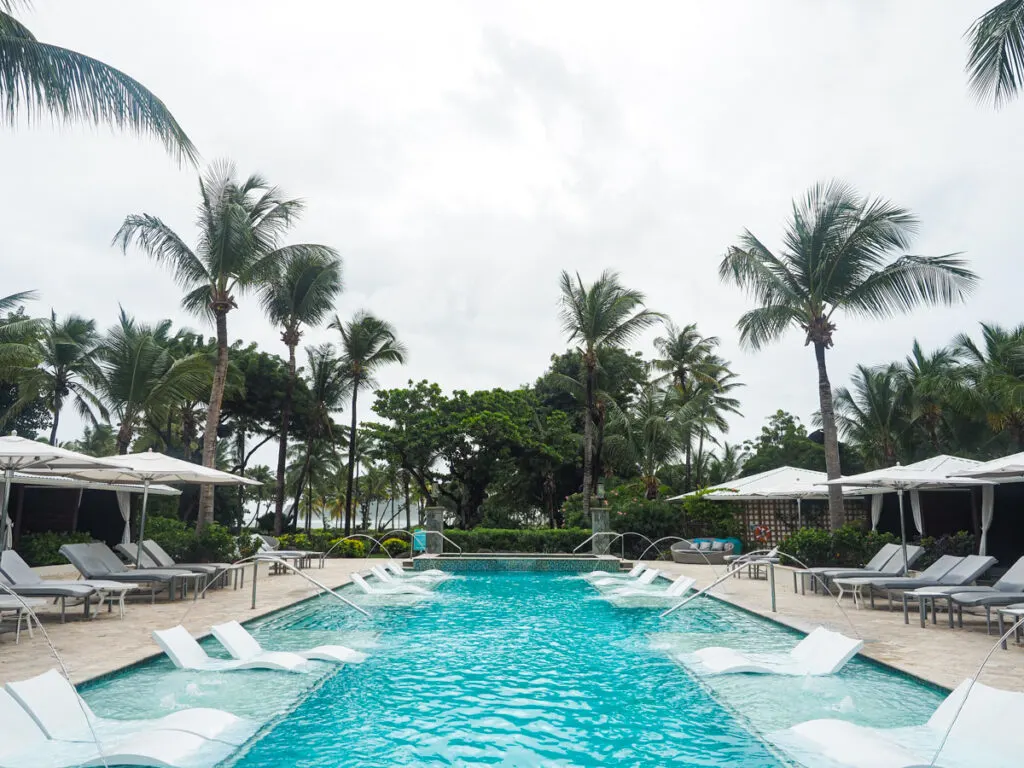 Aside from Serenity at Coconut Bay, you have access to all of the Coconut Bay resort across the street as well. There are several pools, bars, and restaurants over there, and a huge beach area.
We ended up renting a pool cabana on our first day to celebrate my birthday! You can either rent a pool or beach cabana and it includes butler service and great views of the beach or pool. We enjoyed a lazy morning and early afternoon of lounging in the pool loungers, taking a dip in the hot tub, and snacking/drinking in our cabana.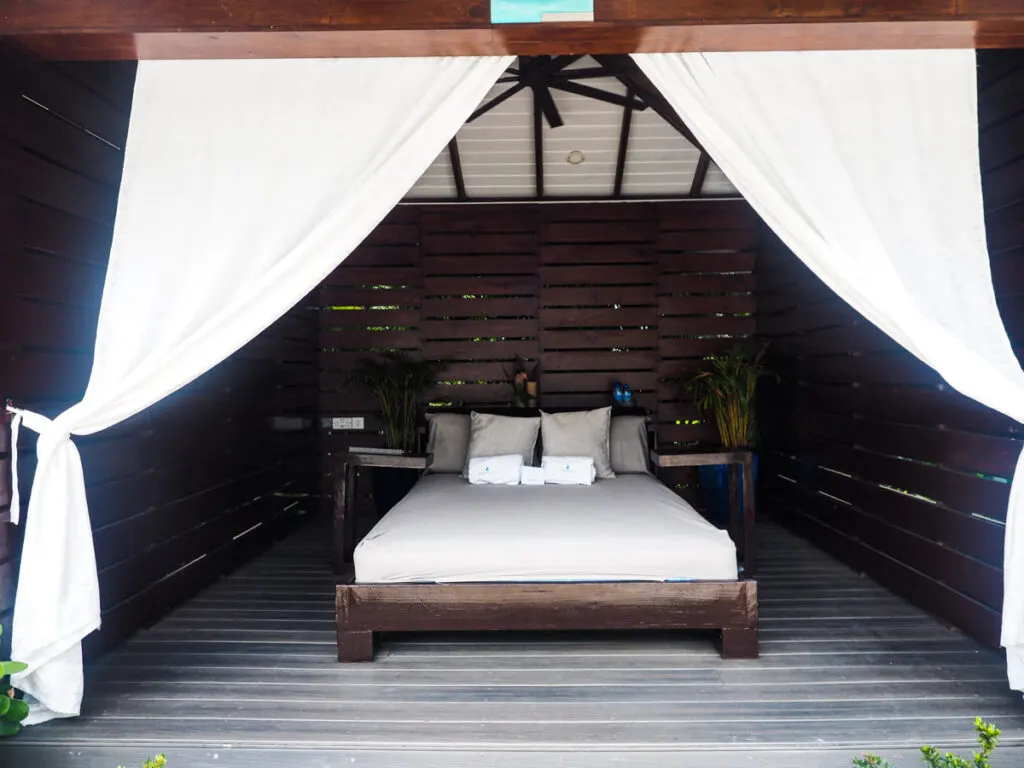 Then, when our suite was ready, we were taken to our big suite which included its own private plunge pool, outdoor shower, and outdoor wet bar. Then, the inside has a jacuzzi tub, shower area, and large bed.
So, once you're settled in your room, you can have drinks at your own pool or head back to hang out at the resort pool for the rest of the day. It may also be a great time to have a late afternoon oceanside couples massage at the spa too!
To wrap up your first day at Serenity, definitely have dinner at The Greathouse, the restaurant at Serenity at Coconut Bay. While I've heard that many all-inclusive resorts don't have that great of food, I will say that The Greathouse has a delicious menu! We had fantastic octopus and blackened snapper.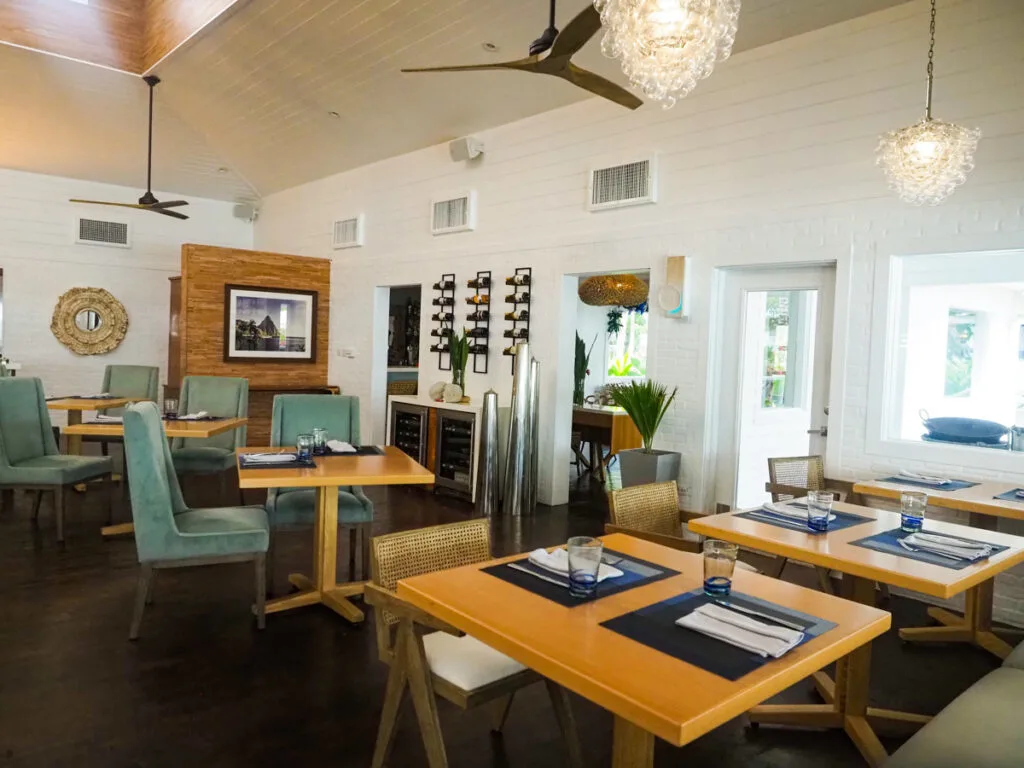 Then, to top it off, there was a delightful tiramisu for dessert and even a French cheese cart! Highly recommend!
Also, the resort puts on various things each night of the week for guests to enjoy. This particular evening was a chocolate and Champagne tasting, which was fantastic.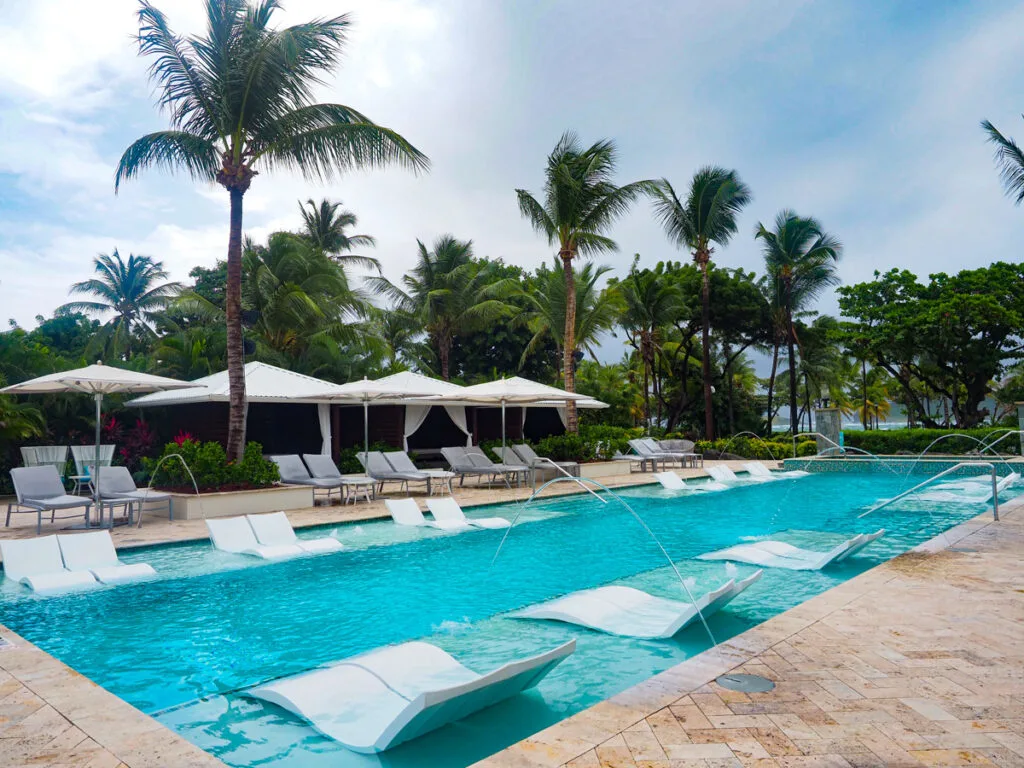 And, if you want, you can party it up by the pool bar and sing karaoke well into the evening! If you're hungry after all that partying, you can order late-night room service. We may have done this on my birthday and it was definitely fun.
Day 5: Beach and Relax Day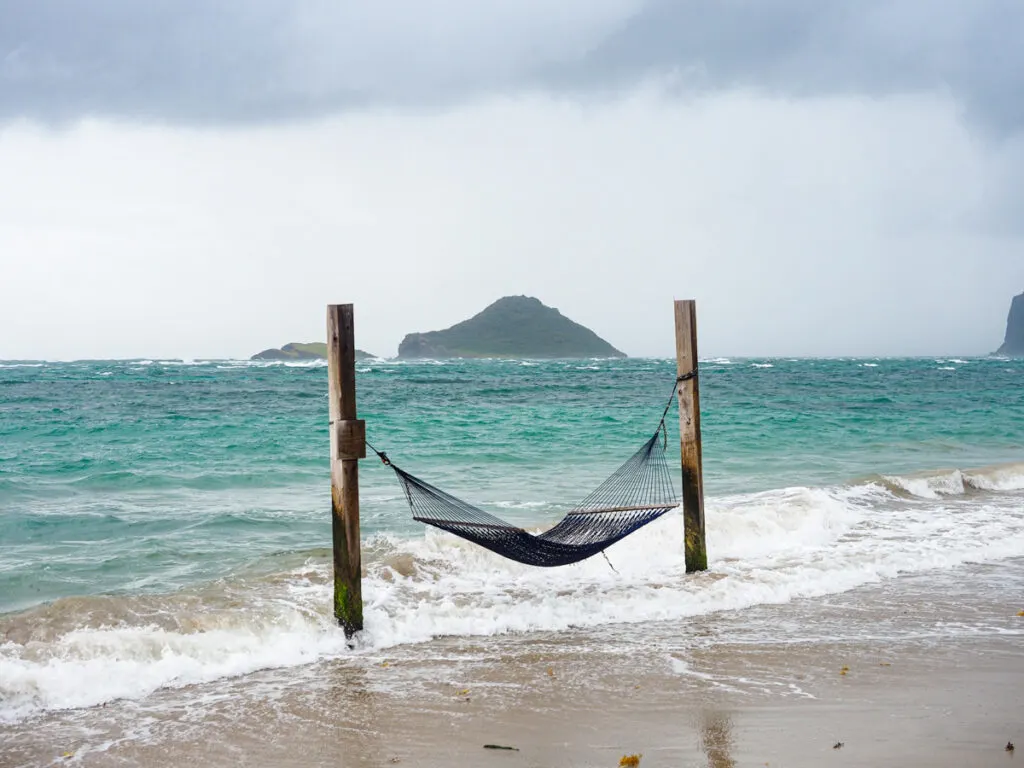 By now in this 5-day St Lucia itinerary, you've seen and done a lot of great things around the island. You've snorkeled and seen fish, you've taken a mud bath, and you've burned off energy hiking up Gros Piton.
Now, it is time to really relax. That was why we booked Serenity for the end of our trip. Have your butler pack you a cooler full of drinks and take you over to the beach. You can lounge in a lounge chair, hammock, or even an ocean hammock as you lazily get some sun and sand.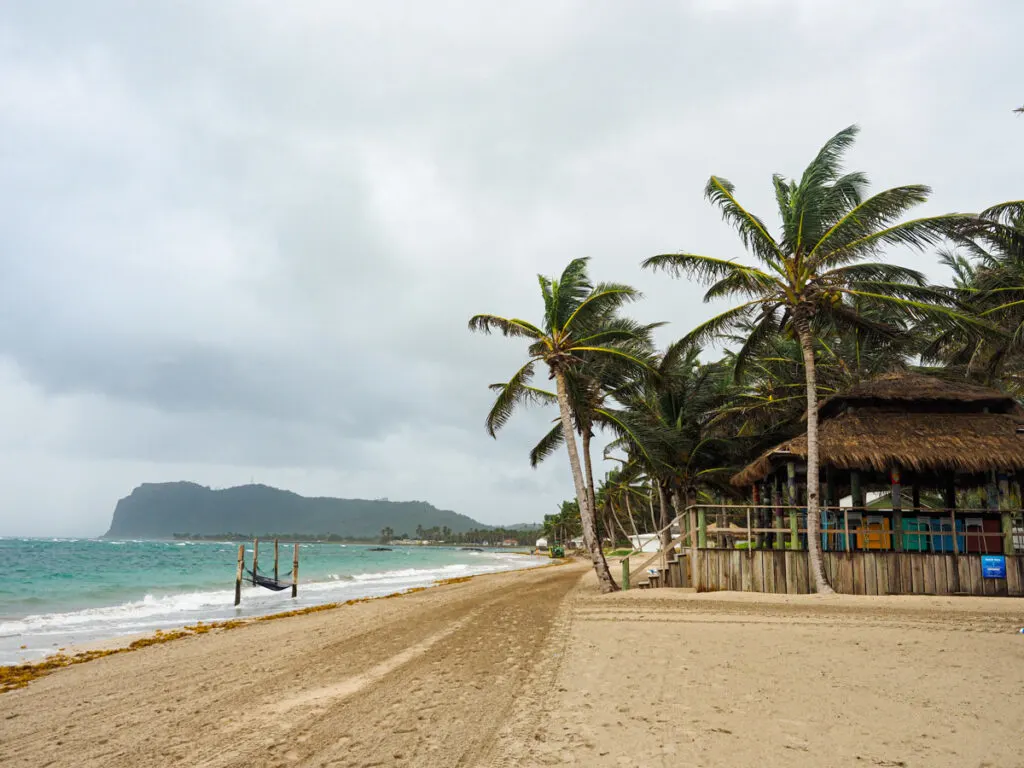 I will warn you that the beaches on this part of the island are on the Atlantic coast, meaning the waves will be a bit choppier and it isn't as clear as on the Caribbean side. However, if you want to try kite surfing, there is a shop on the beach to do it.
But this soft, sandy beach is delightful for a lazy day. There is also a little bar and burger shack that makes a great fish burger for lunch.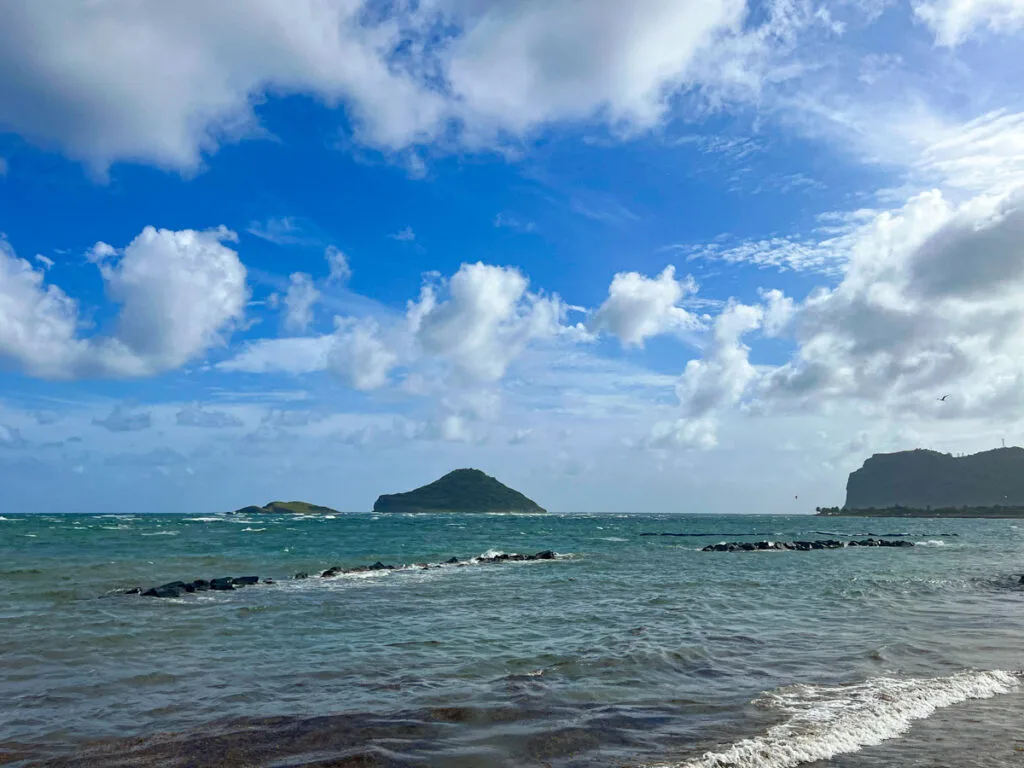 Once you're finished with the beach, head over to Coconut Bay to enjoy the lazy river and jerk chicken shack before relaxing in your own suite before dinner.
Then, enjoy one last dinner at The Greathouse and perhaps enjoy the last of your time at your suite by the pool or jacuzzi to wrap up your time in St Lucia.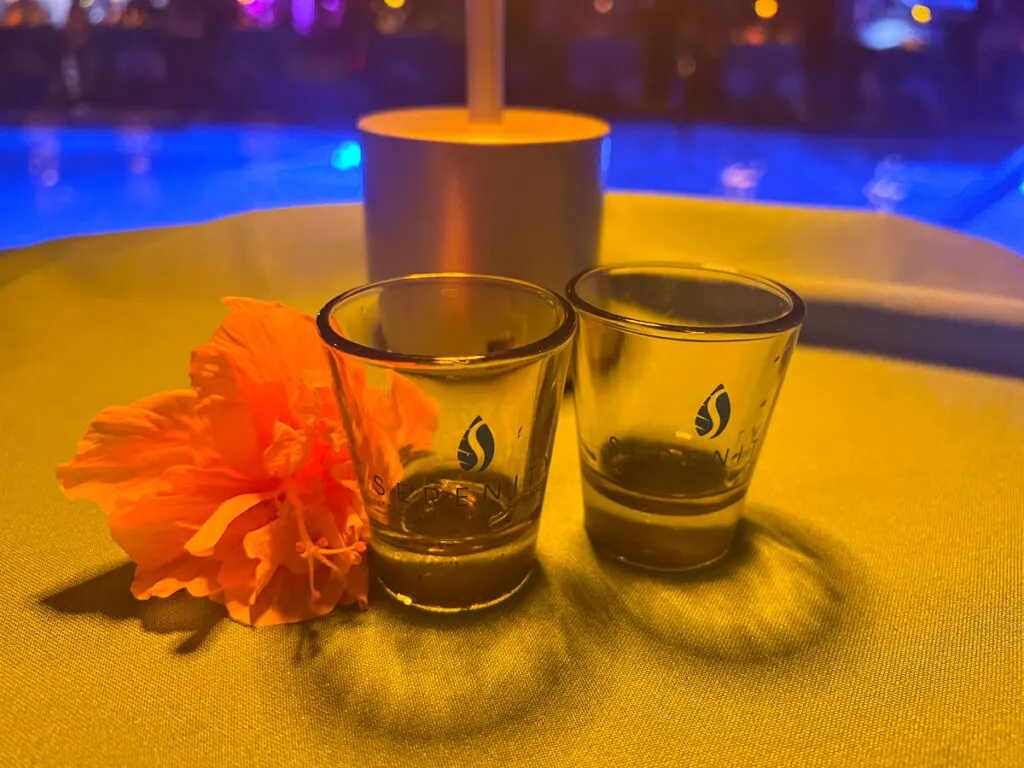 Luckily, being in the southern part of the island, the main airport is nearby to catch your flight home the following day.
One Week in St Lucia Itinerary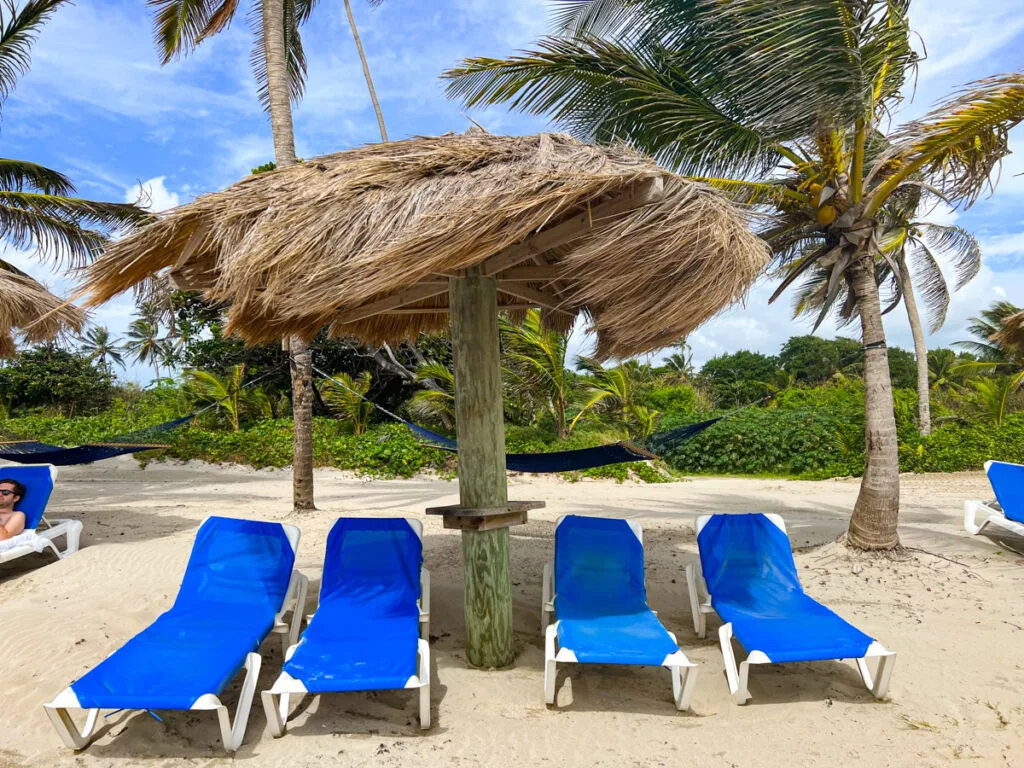 Okay, we've discussed how to spend 5 days in Saint Lucia, but what about if you have more time? If you are lucky enough to have a whole 7 days in St Lucia, then I highly recommend going to Castries between Stonefield and Serenity. So here is your itinerary:
Days 1-3: Soufriere and Stonefield Villa Resort
Days 4-5: Northern part of the island/Castries
Days 6-7: Serenity at Coconut Bay in Vieux Fort
Now you could book an all-inclusive resort like any of the Sandals resorts in the northern part of St Lucia during days 4-5. Sandals Regency La Toc and Sandals Halcyon Beach are near Castries, while Sandals Grande St. Lucian is near Pigeon Island National Park near Gros Islet.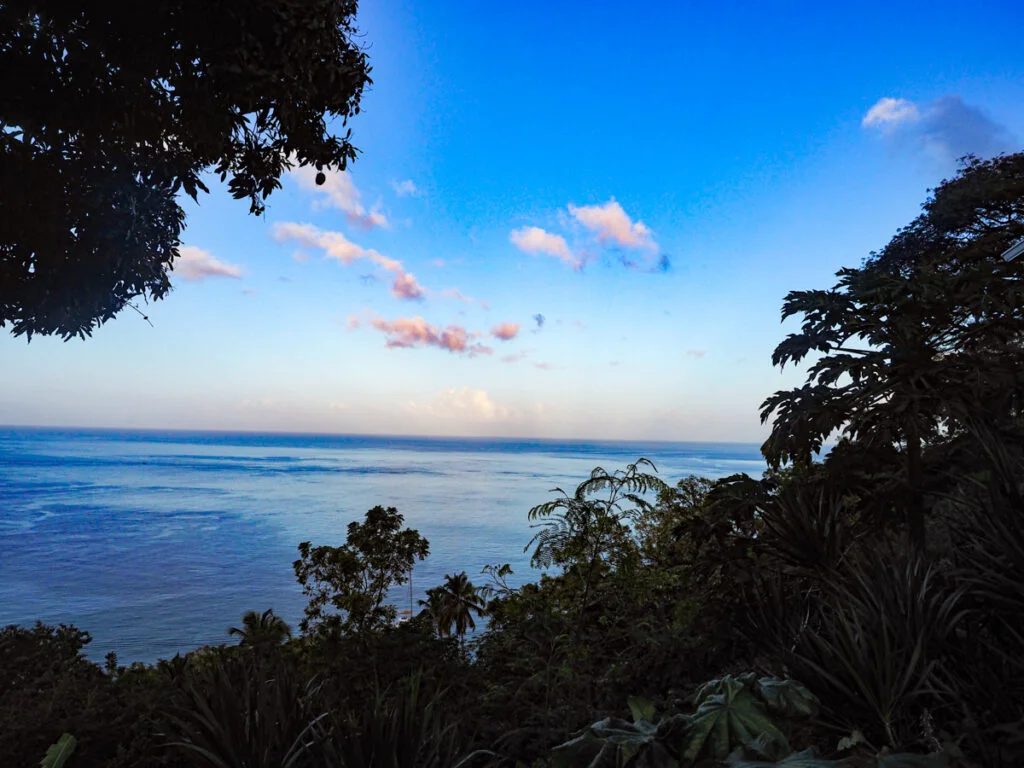 These are great places if you want to enjoy an all-inclusive resort and have those iconic Caribbean blue beaches. This is also a great place to explore Castries and perhaps hike around Pigeon Island National Park.
All of these resorts are adults-only, which is great if this is a St Lucia honeymoon itinerary! You can also book some activities from the resort like the aerial rainforest tram ride, snorkeling, and more!
Then, you'll take transportation all the way down to Serenity at Coconut Bay to wrap up your week in Saint Lucia before flying home.
If you're flying home from the northern airport instead of the southern airport, then I'd actually visit Castries last. But, as most people fly through the southern airport (UVF), this is a great one-week trip to Saint Lucia that includes the highlights and relaxation time!
When to Visit Saint Lucia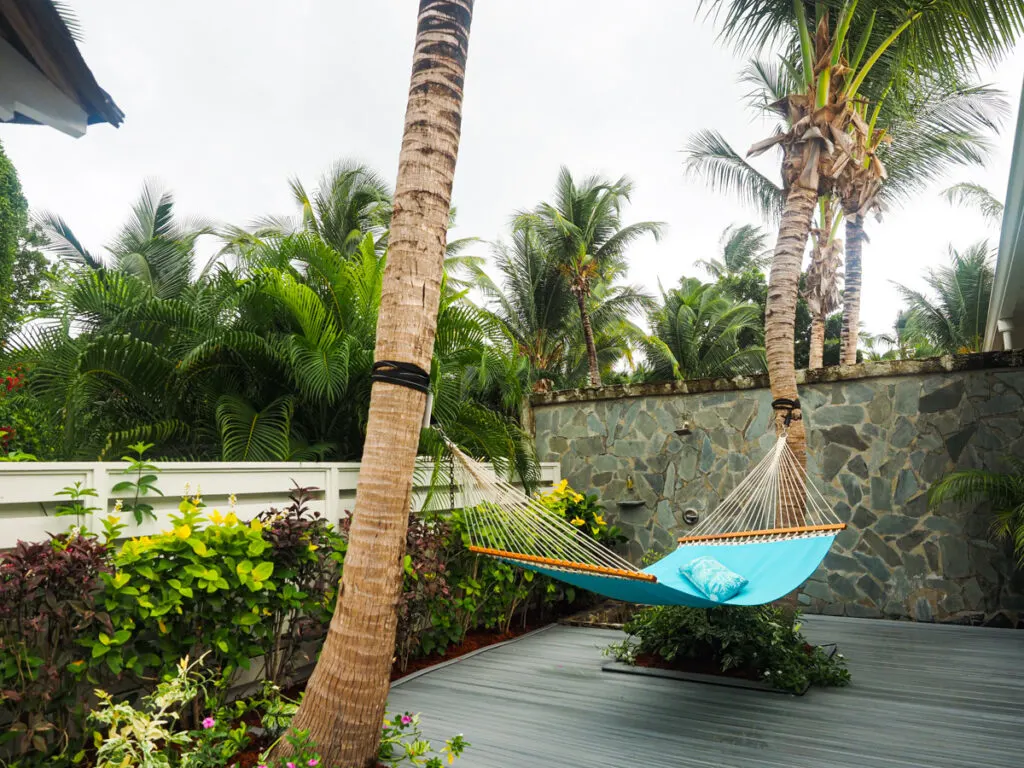 Like most Caribbean islands, Saint Lucia has a rainy season and a drier season. Usually, December through April is the drier season in Saint Lucia. Now that doesn't mean it won't rain, but it shouldn't rain quite as much.
Then, the rainy season is around May through November. However, global warming is certainly making the weather patterns change a bit. We visited in early January after New Year's and it rained off and on quite a bit during our trip. We had a couple of dry days, but mostly intermittent clouds and sprinkles.
It didn't stop us from enjoying our trip, but if you want to go with less rain, I'd opt for between February and April as the perfect time to visit St Lucia.
It is definitely a busier and slightly more expensive time to visit, but you'll lessen your chances of rain, and even save cash by avoiding the holiday travelers in December/early January.
Getting to St Lucia and Around the Island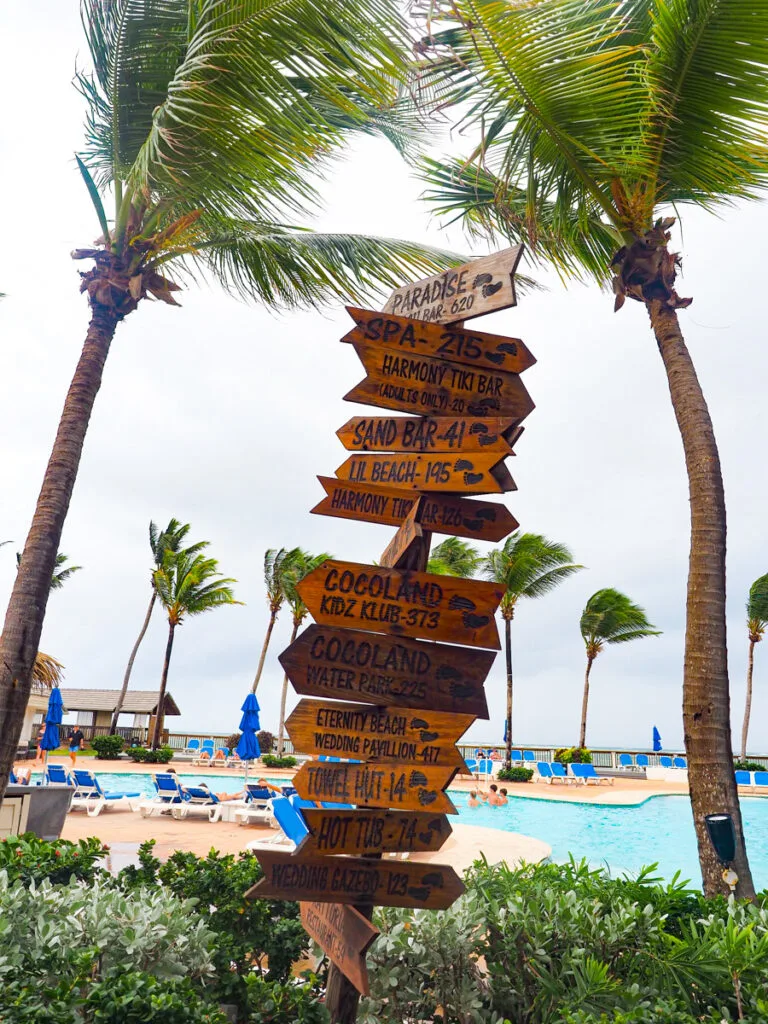 I've explained getting to St Lucia above, where you'll likely fly from the US to the UVF airport in the southern part of the island. From there, I highly recommend contacting your resort to arrange transportation to/from your hotels.
As far as driving around, note that Saint Lucia drives on the left side of the road. So if that is intimidating, or you don't want to drive, then just opt for arranging taxis through your hotel. We found that to be the most reliable method.
But, if you want to have your own car for exploring, you can certainly also rent a car!
Other Things to Note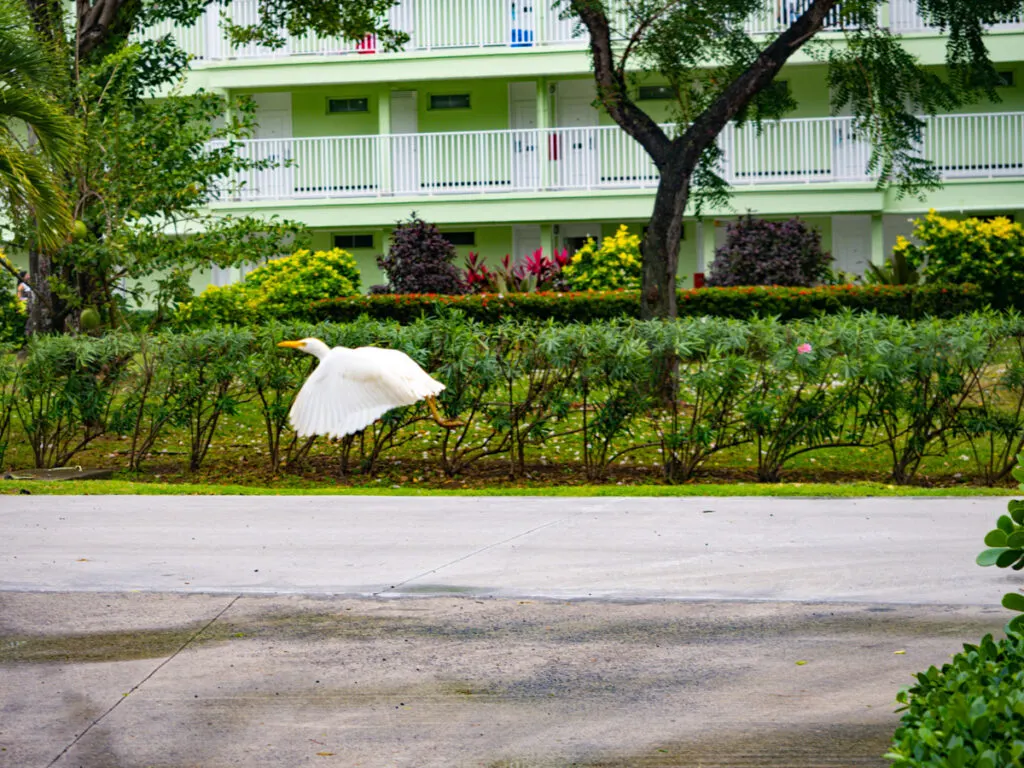 To wrap up your St Lucia itinerary, here are a few things to note:
USD or the Eastern Caribbean Dollar is accepted as cash. You can take out either at an ATM at the airport.
Check to see if tipping is included at your resort! Some resorts do not include that as part of the all-inclusive plan (like Stonefield), whereas other resorts do (like Serenity). Here is what to budget for your St Lucia trip!
English is widely spoken. In fact, it is the official language of St Lucia. However, you'll hear Saint Lucian French Creole widely spoken amongst locals.
Sunscreen and bug spray are a must. The Caribbean sun is strong! So if you visit, definitely pack sunscreen. Make sure to pack

reef-safe sunscreen

too if you plan to swim in the sea! Also, don't forget the mosquito repellent. We love Badger Balm! Check out our full packing list here!
From the mountains to the beaches, Saint Lucia is an idyllic destination for couples. We hope you thoroughly enjoy this itinerary for one of the Caribbean's most romantic and beautiful islands!
Would you visit Saint Lucia? What would you most like to do?
PS- Check out the top May honeymoon destinations, the best November Honeymoon Destinations, and our Ultimate 7-Day Puerto Rico Itinerary!
Pin it here!