Some posts on this site contain affiliate links, meaning if you book or buy something through one of these links, I may earn a small commission (at no additional cost to you!). Read the full disclosure policy here.
---
I've said it once, and I'll say it again: November is one of my favorite months to travel! In general, the weather begins clearing up around the Caribbean and Central America, Europe is at one of its least busy times of the year, Southeast Asia is finally in its dry season, and honestly, the list is endless. That means there are several enchanting November honeymoon destinations to choose from!
I also look fondly upon November because this is when we went on our honeymoon. Regardless, while this month may not seem as sexy as July or May, November honeymoon locations are abundant and so fun!
So, let's talk about the best places for a honeymoon in November!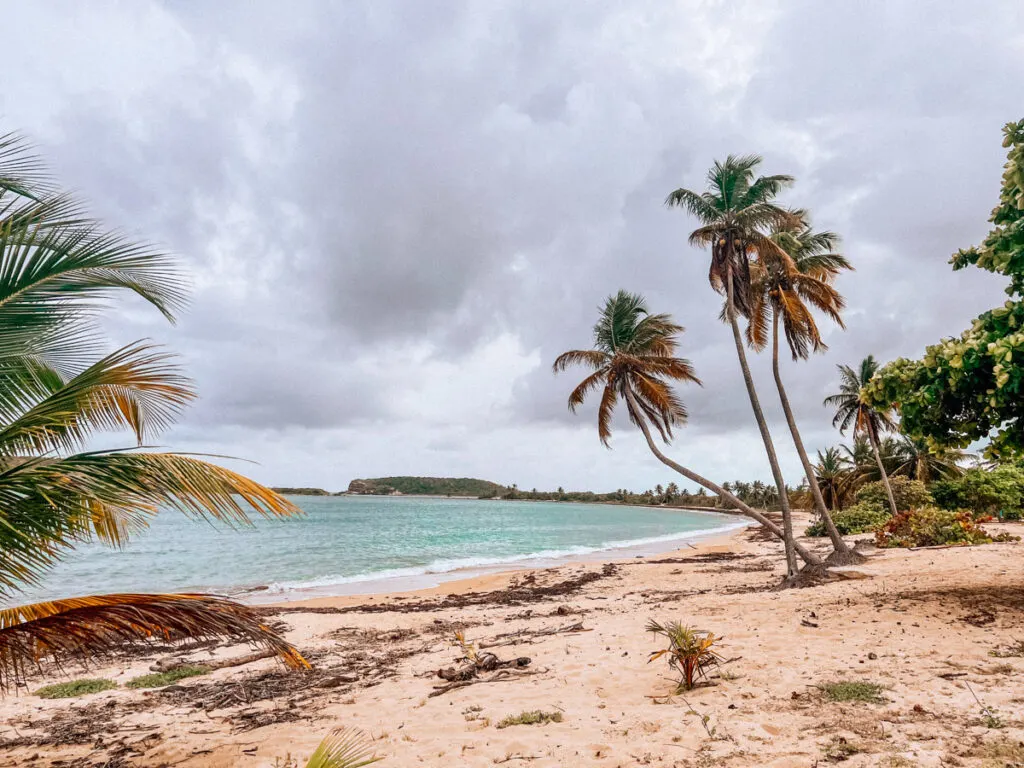 25 Best November Honeymoon Destinations
To keep this list a bit organized, we have it broken down into categories like best honeymoon destinations in November for the USA, Asia honeymoon ideas in November, where to go in Europe in November, adventurous honeymoons, and beachy locales.
List of the Best November Honeymoon Spots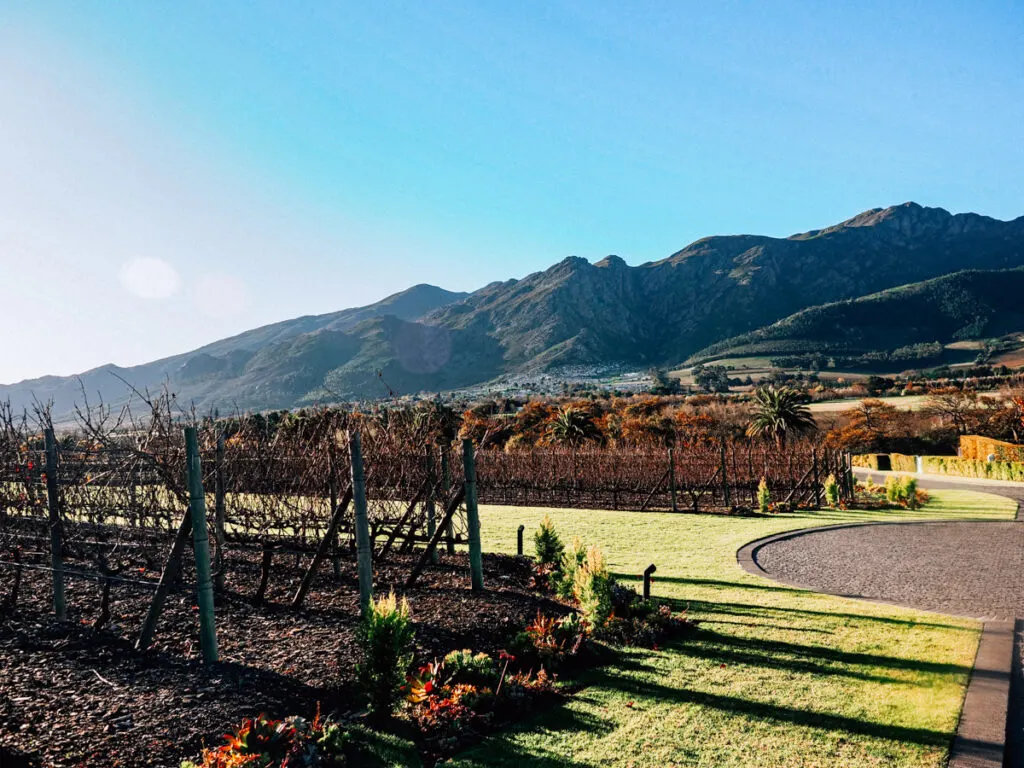 Here is a quick list of the best November honeymoon ideas. For more information, including a great hotel or resort for your stay, keep on reading!
Key West, Florida
Puerto Rico
St Lucia
Rio de Janeiro, Brazil
Dubai, UAE
Koh Lipe, Thailand
Savannah, Georgia
Asheville, North Carolina
Joshua Tree National Park, California
Bend, Oregon
New York City, New York
Walt Disney World, Orlando, Florida
Halong Bay, Vietnam
Siem Reap, Cambodia
Chiang Mai, Thailand
Seoul, South Korea
Provence, France
Vienna, Austria
Budapest, Hungary
Alsace Region, France
London, United Kingdom
New Zealand
Australia
Morocco
South Africa
Top Beach November Honeymoon Ideas
Dreaming of a relaxing beach vacation? Hoping to go snorkeling together or perhaps indulge in a cocktail by the pool? Look no further than these romantic destinations in November.
1. Key West, Florida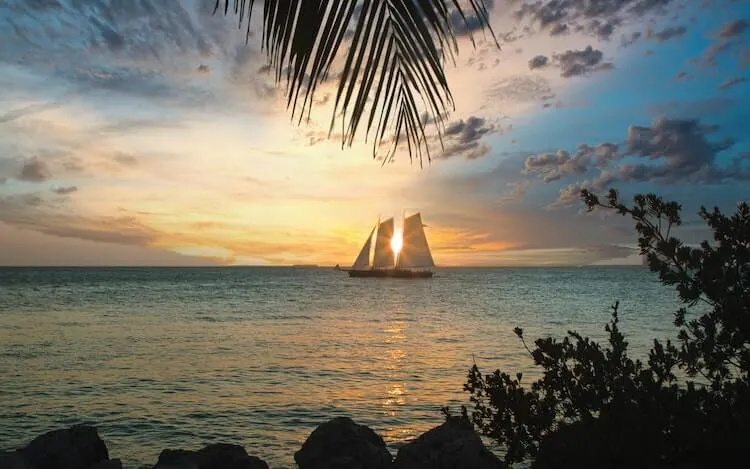 If you wish to enjoy the warm weather and sandy beaches of the Caribbean but don't want to leave the continental US, then Key West is an idyllic fall honeymoon destination for you!
Relax at Fort Zachary Taylor State Park Beach, party it up on Duval Street, and visit the Southernmost Point of the Continental US. There is plenty to do on this fun island, and you don't need to feel rushed at all.
Enjoy the relaxing pace of this romantic getaway during your honeymoon. The Southernmost House Hotel is the perfect place to base yourself for your November honeymoon here.
2. Puerto Rico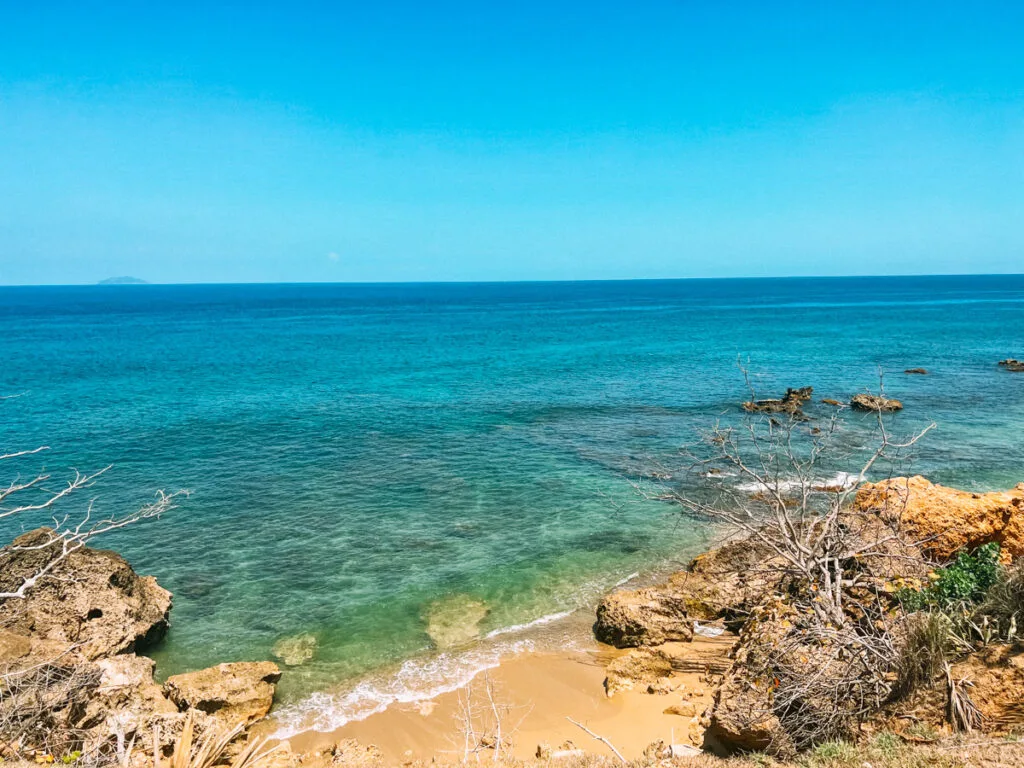 Ever since I visited Puerto Rico in May, I have been addicted. This island is fantastic with its incredible beaches, rich culture, amazing food, and more.
Start out in San Juan for a few days to enjoy its beaches, Old San Juan, and culture before continuing to the charming island of Vieques. Then, perhaps head to the western part of the island for its exciting beaches. Rincon is perfect for this!
I have a whole Puerto Rico itinerary for you to check out as well as the best honeymoon resorts in Puerto Rico to have the top romantic experience here.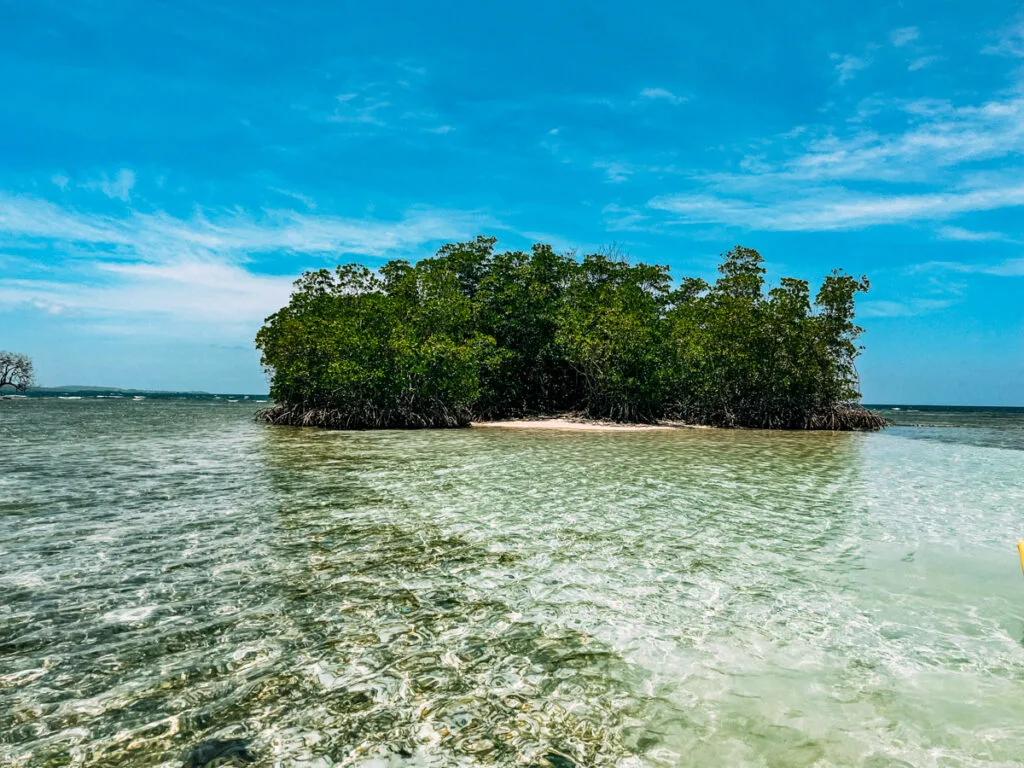 While in Puerto Rico, you also have to visit at least 1 of their 3 bioluminescent bays! The one on Vieques is the most vibrant, but the one in La Parguera allows you to swim amongst the bioluminescent plankton- a romantic experience indeed!
For a charming place to stay, opt for the gorgeous Parguera Plaza Hotel in La Parguera. This place has stunning rooms, a great restaurant, and an incredible pool with cabanas for the ultimate relaxation. Plus, it is close to the launch point for the Bio Bay snorkel tour and the nearby cayes for swimming.
3. St Lucia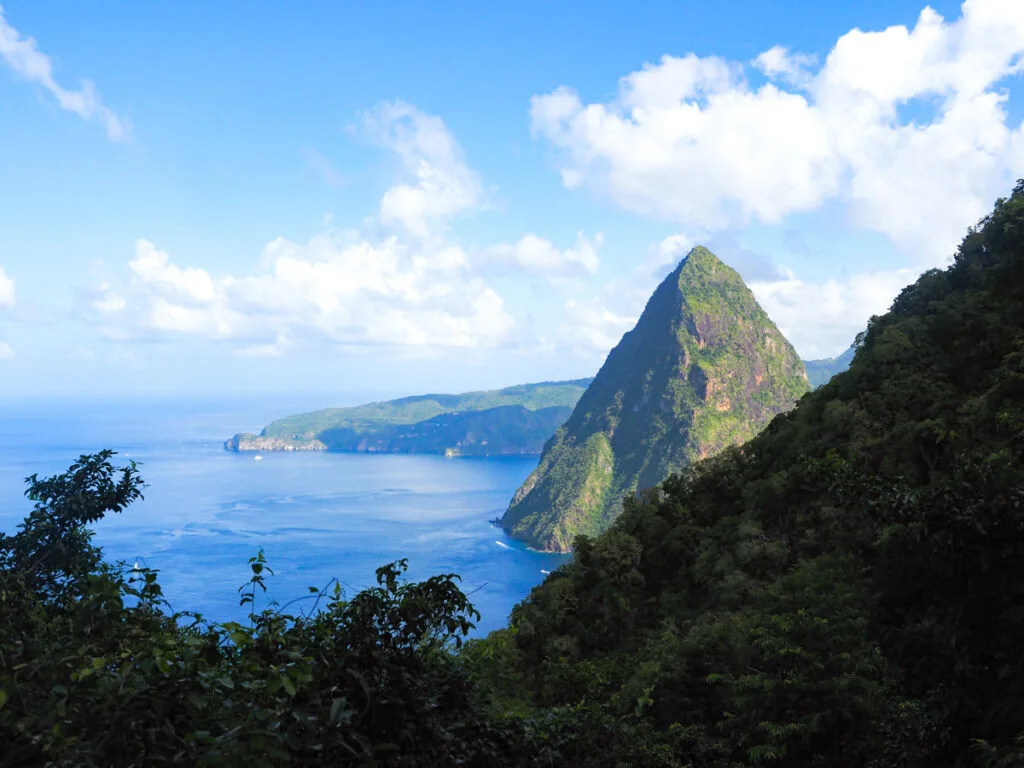 St Lucia is such a romantic beach destination. Known as one of the best honeymoon places in the Caribbean, St Lucia has it all from mountains to beaches and all things in between.
I highly recommend spending at least 5-7 days in St Lucia to explore both the Caribbean and the mountains. Go hiking up Gros Piton, enjoy sunshine and snorkeling at Sugar Beach, and perhaps catch a sunset tour of the island with bubbly.
For November honeymoon packages, you're in luck in St Lucia. This island nation offers many all-inclusive honeymoon resorts for you to choose from, including 3 Sandals resorts.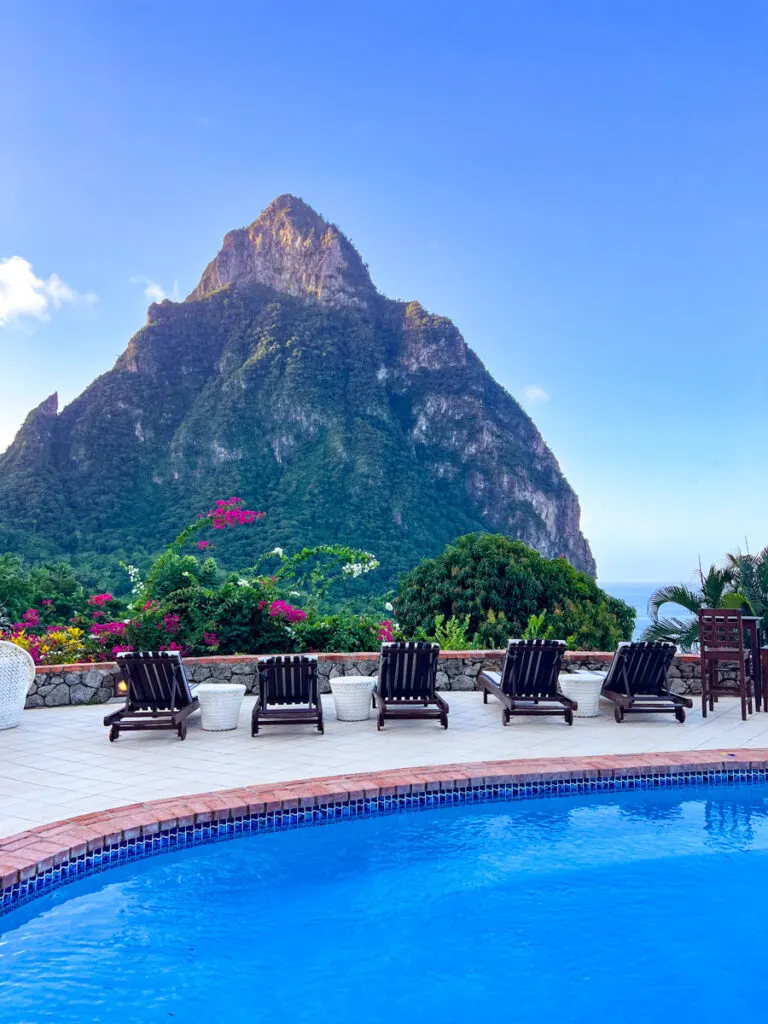 But, I absolutely fell in love with and recommend Stonefield Villa Resort. This place is in the mountains with amazing views of the sea and Gros Piton. You can book their all-inclusive package which includes food and most drinks, and they offer a complimentary shuttle service to the beach every day.
Also, your package includes a villa with a view, and the best part is your villa has its own private plunge pool. Sip local beers together as you admire the Gros Piton and sea from your own pool. Pure bliss.
Check out how much to budget for your St Lucia trip as well as the ultimate St Lucia packing list!
4. Rio de Janeiro, Brazil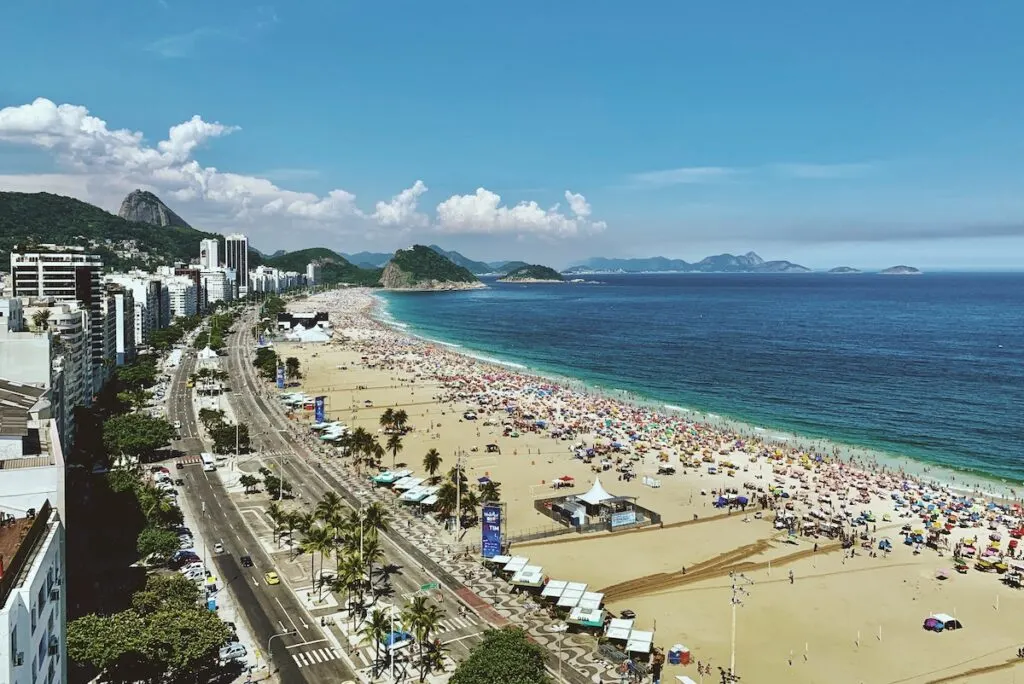 This place is very popular for both New Year's Eve and Carnival, but November is a fantastic time to visit as well for your honeymoon!
November is a lovely time to honeymoon in Brazil in general, but if you want to enjoy the beach, definitely head to the scenic Copacabana beach.
November is during their summer season, so you'll be able to enjoy plenty of surf and sand. Aside from the beach, you can enjoy scenic hikes around the city, visiting Tijuca National Park (a manmade tropical park in the city), learning to Samba, and more!
For a great hotel, opt for the JW Marriott Hotel Rio de Janeiro. This 5-star hotel offers incredible views of the beach and surrounding city, a rooftop pool, a great spa, and more for the perfect stay!
5. Dubai, UAE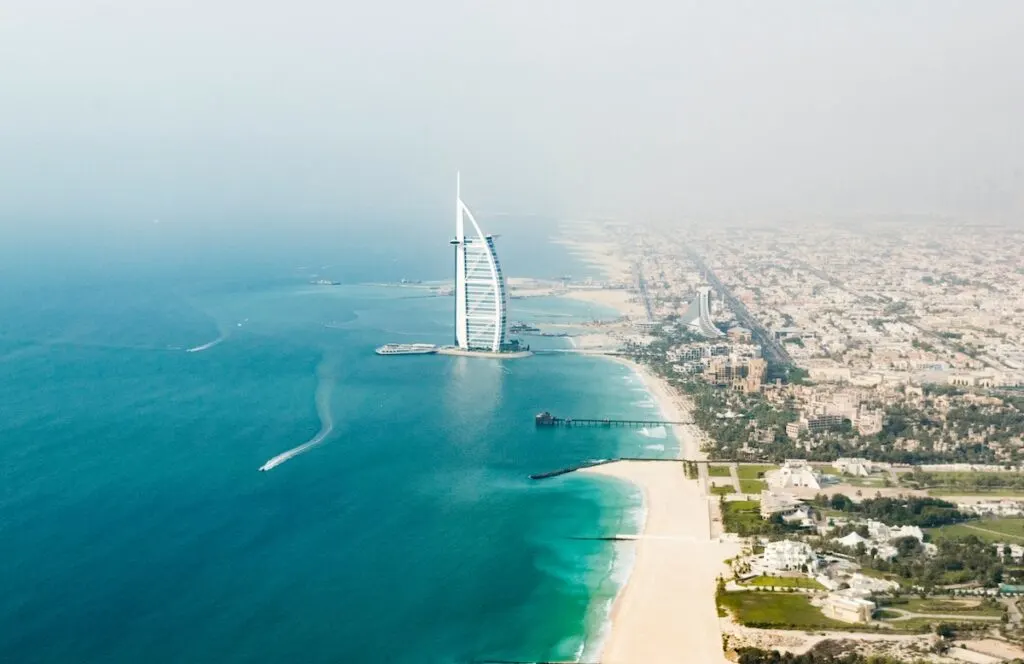 After the oppressive heat of the summertime finally starts to cool down, November becomes a much more pleasant time to visit.
Don't get me wrong, this place is still very warm during this time of year, but you'll find it more manageable for exploring the lovely beaches and city.
Visit the world's tallest building, Burj Khalifa, go on a snorkel tour either in the ocean or in the Lost Chambers Aquarium, and enjoy the beautiful city as you wander around on your romantic November getaway.
And if you want to shop, well, this luxurious city is the place to be. For an iconic and luxe hotel stay, opt for the astounding 7-star Burj Al Arab Hotel.
6. Koh Lipe, Thailand is One of the Best Places for a Honeymoon in November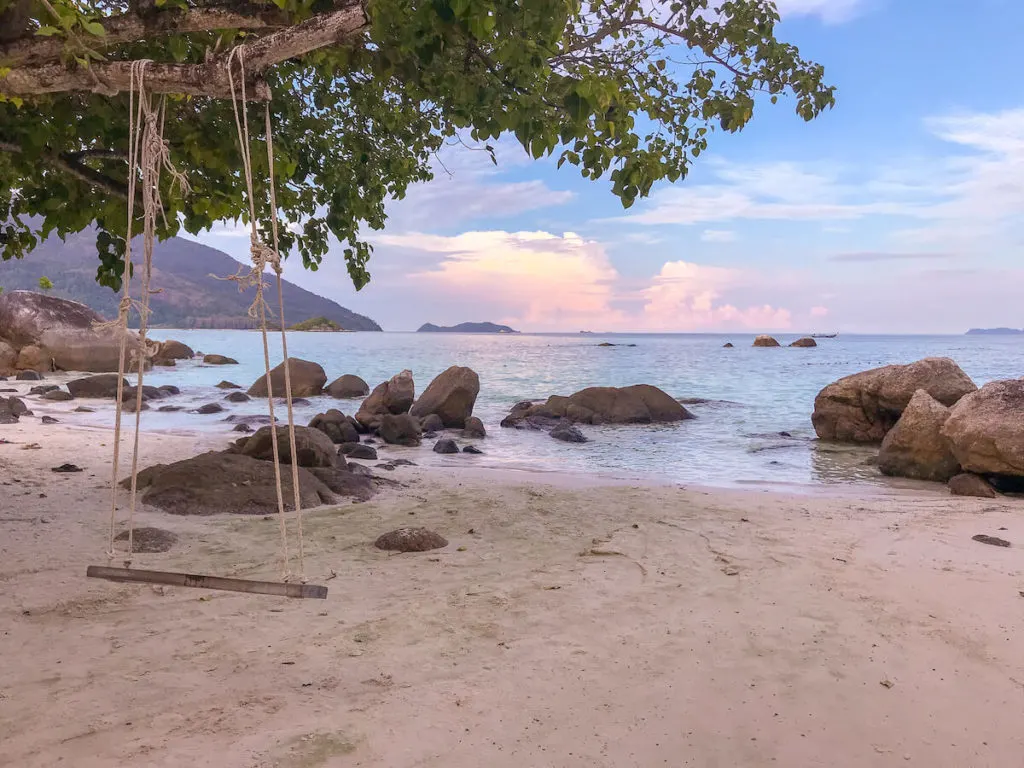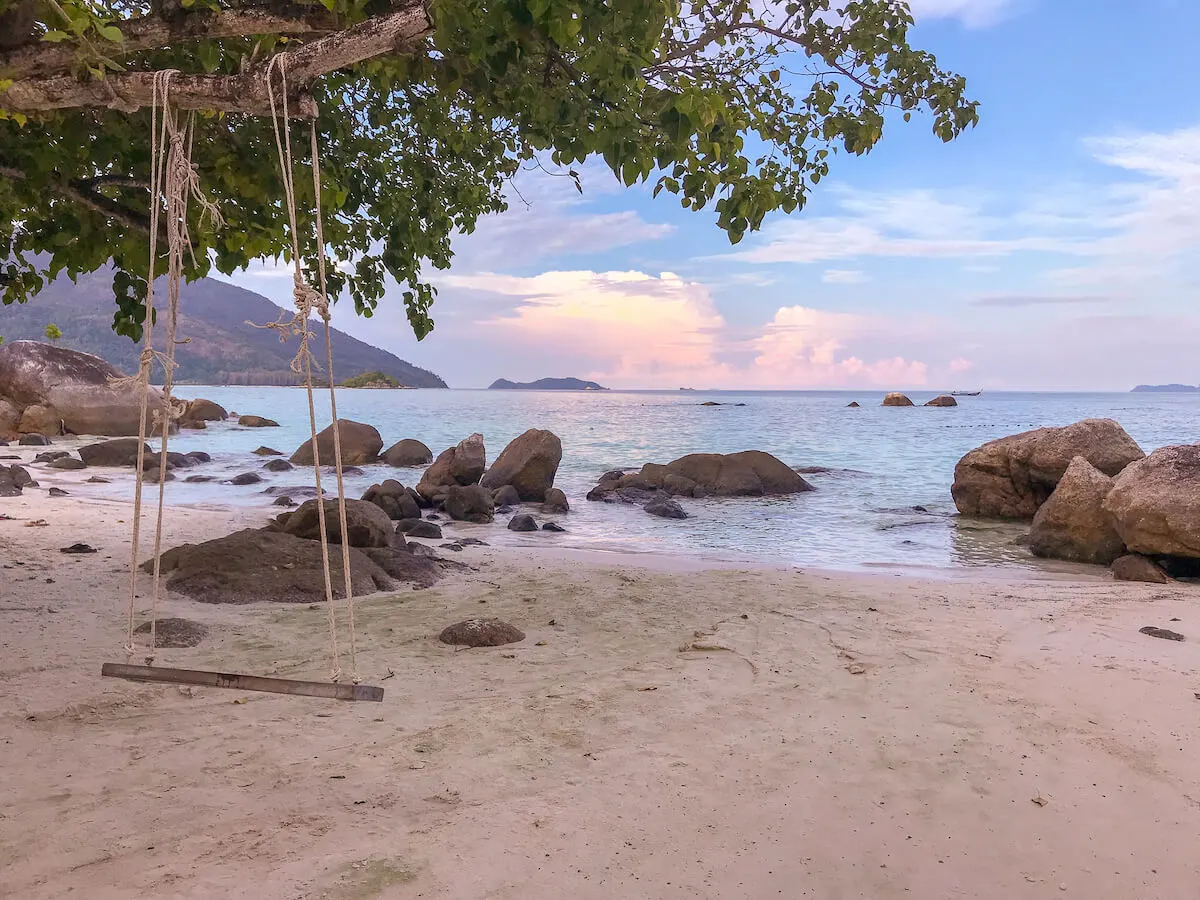 I may be biased because Koh Lipe was where we visited during our honeymoon in November! We fell head over heels for this amazing little island paradise off the west coast of Thailand.
This island has many lush beaches, amazing restaurants, kind people, and some of the best snorkeling I've ever experienced.
Seriously, you can rent a boat and captain for the day to take you out snorkeling and there are some of the best-looking reefs I've ever seen!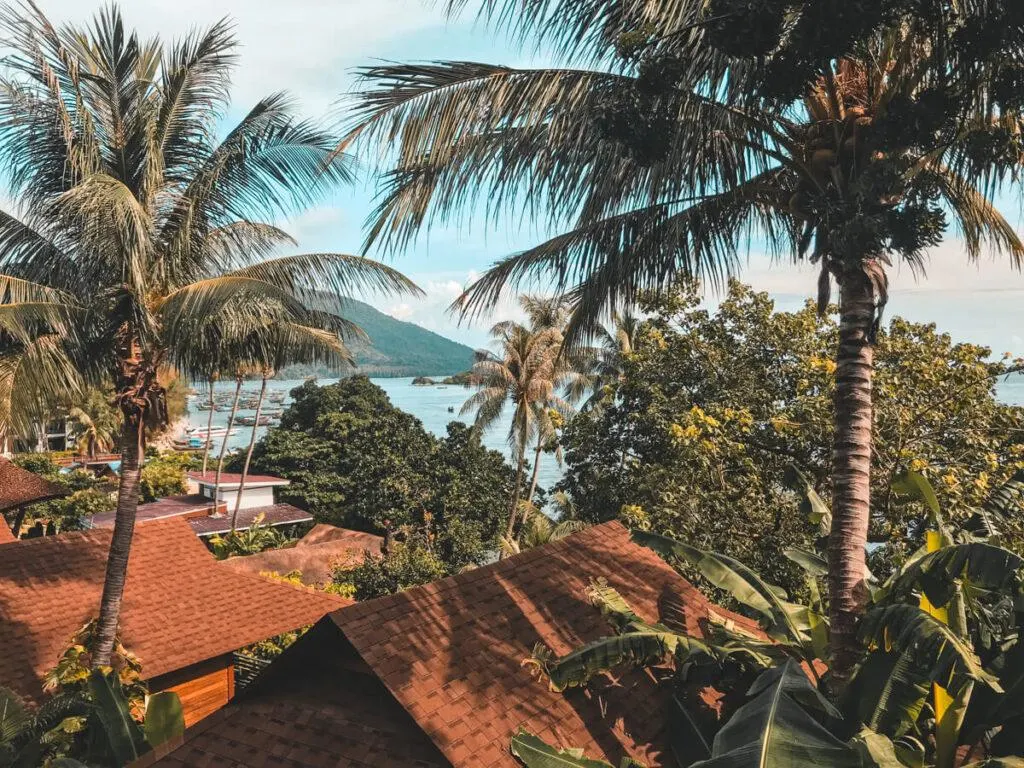 As a bonus, if you're staying on Sunrise Beach, you can snorkel and find a lot of fish and creatures just offshore.
For a relaxing honeymoon, opt for a villa on the beach at Ten Moons Lipe. This place is a little more secluded than the other hotels in the area, and you have the best beach area. Plus, the little beach bungalow is perfect for running from your bed to the ocean in the morning!
Best November Honeymoon Destinations in the USA
Want to stay stateside or want to visit the US for your romantic break? Look no further than these best places for a honeymoon in November in the USA.
7. Savannah, Georgia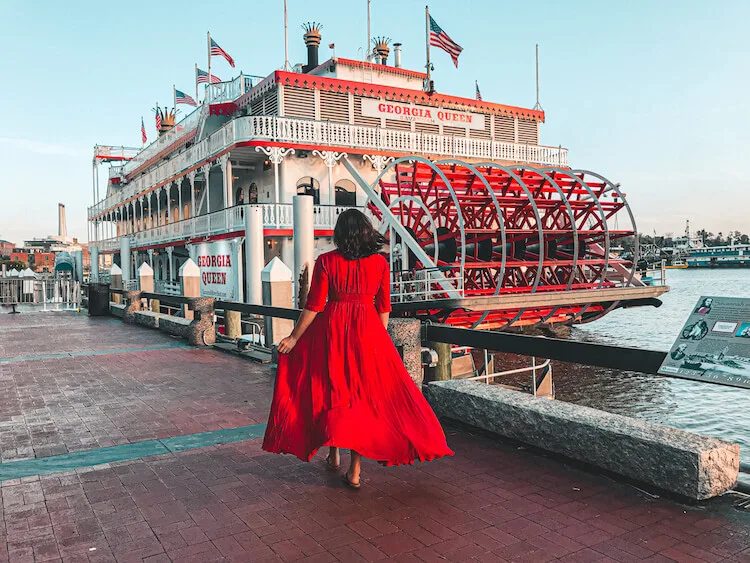 Mid-to-late November in Savannah sees far fewer crowds than during the spring and early autumn months. So this means you'll enjoy this city when it is pleasantly cool and starting to be decorated for Christmas.
Extend spooky season after Halloween in Savannah as you embark on ghost tours in the off-season. Dine at fantastic restaurants like The Grey, wander around the iconic city squares, stroll through Forsyth Park, and perhaps head to Tybee Island for some long walks on the beach together.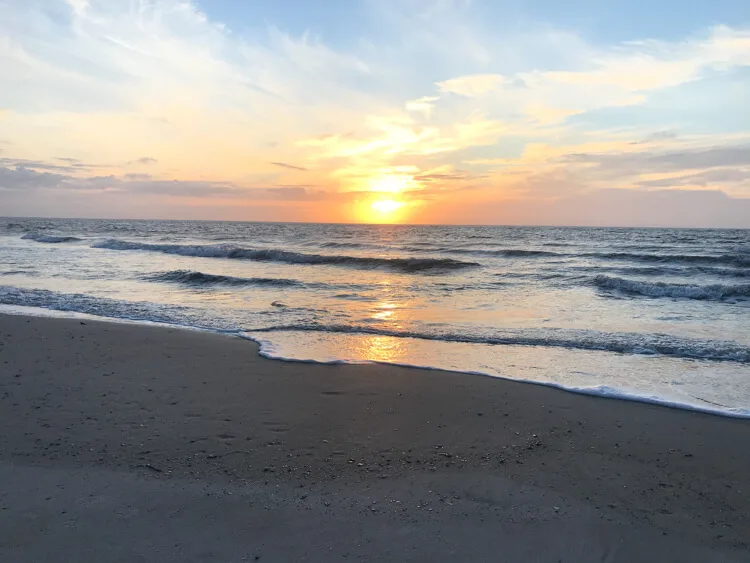 For a lovely hotel stay during your Savannah honeymoon, opt for the Kehoe House. This adults-only hotel is along the beautiful Columbia Square and offers an amazing gourmet breakfast, afternoon wine and hors d'oeuvres, and cookies at bedtime.
There are ample romantic things to do in Savannah for your amazing November honeymoon!
8. Asheville, North Carolina is One of the Best Places to Honeymoon in November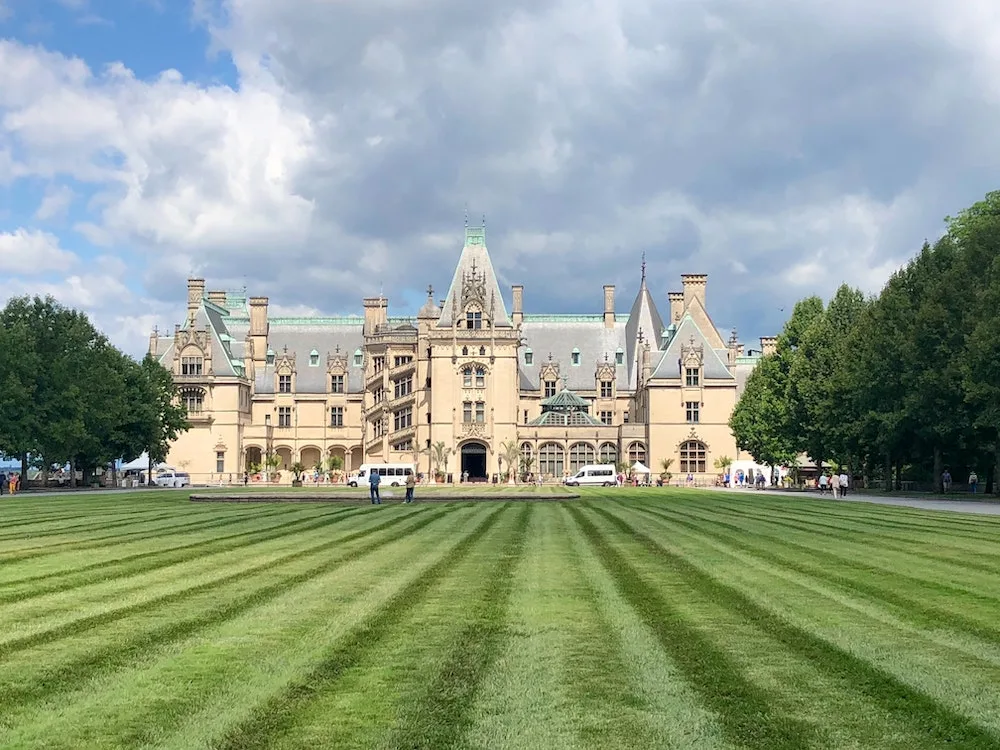 Want to catch the tail end of autumn and its stunning leaves, go for fun hikes together, visit a historical mansion, and enjoy both fantastic dining and great craft beer? Then Asheville, North Carolina is the place for you!
Asheville is such a fun city to explore for any weekend getaway, but for a honeymoon, you'll definitely want to enjoy some great restaurants together like Curate, sip craft beers, and explore the sprawling Biltmore Estate.
And for a place to pamper yourself on your honeymoon, you'll love the Omni Grove Park Inn. This place has amazing views of the surrounding mountains and city, plus offers things like beautiful rooms, a spa, several pools, and several restaurants and bars to choose from!
If you prefer a romantic rental, these are great options too!
9. Joshua Tree National Park, California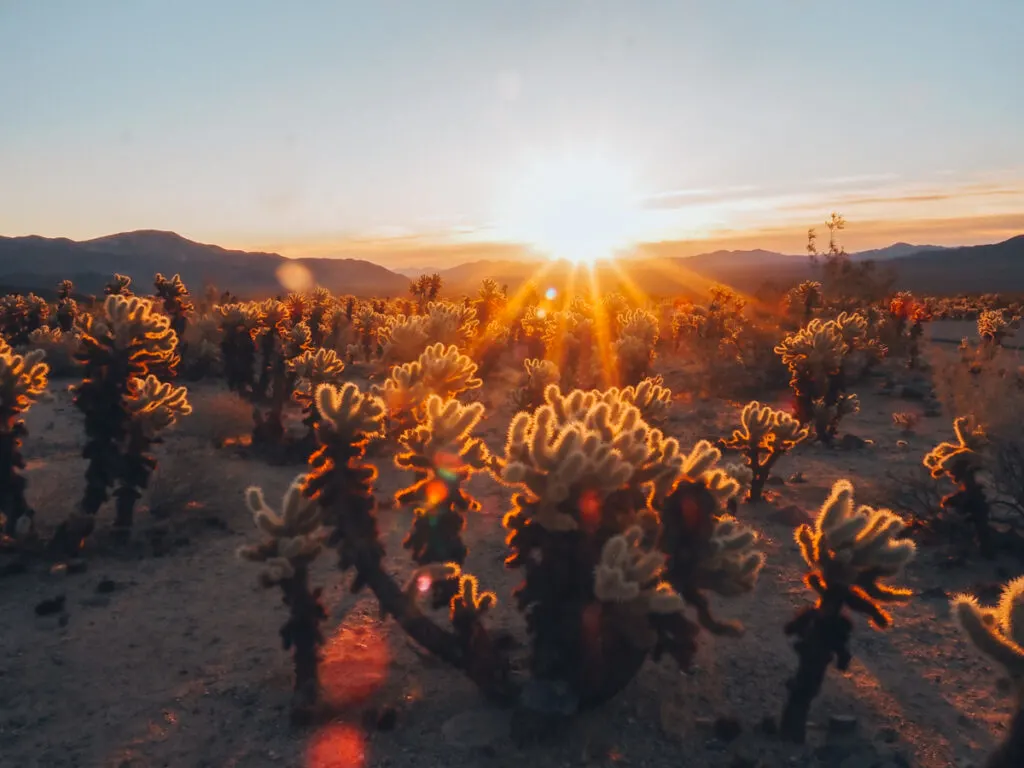 For those who are fans of the idea of visiting national parks for their honeymoon, Joshua Tree is a great place to be.
Some romantic things to do in Joshua Tree include getting up early for the sunrise at the Cholla Cactus Garden, exploring the beautiful desert and rock formations (including a heart-shaped rock!) around the park, and ending with a sunset at Keys View.
Joshua Tree National Park is even more stunning after the sun goes down as it is an International Dark Sky Park, meaning the stars are vibrant here!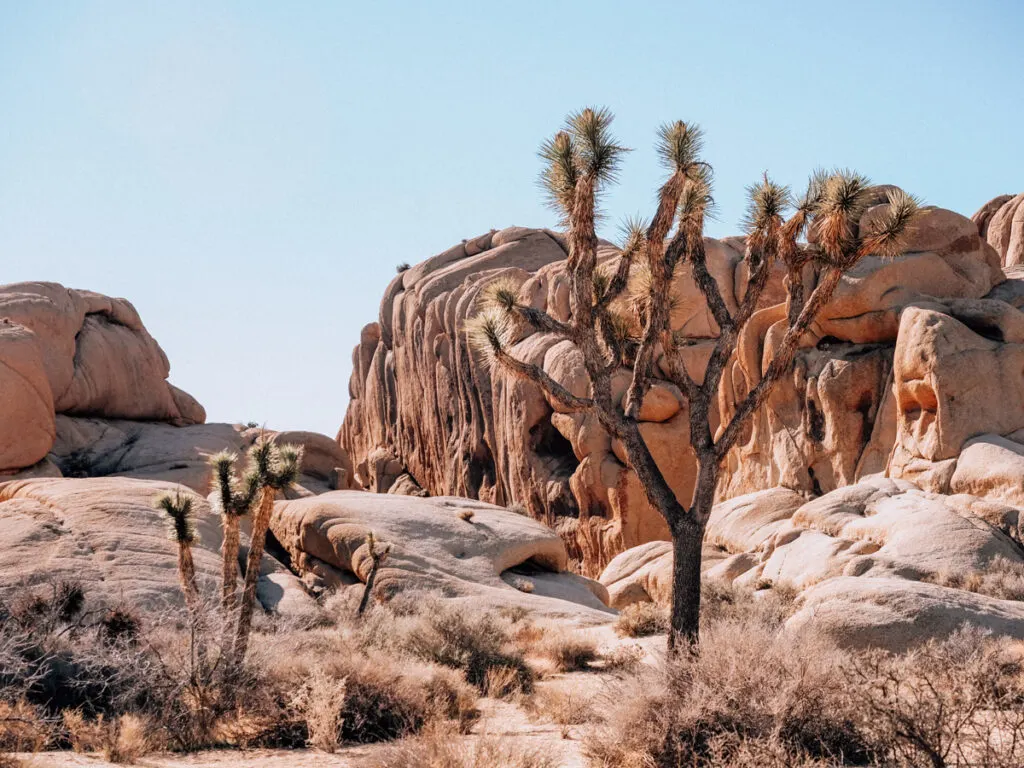 And for relaxation, head to the hot springs at Desert Hot Springs!
For a romantic break in November, there are plenty of charming rentals with hot tubs, beautiful views, etc. I love this one that is surrounded by boulders and has epic views!
10. Bend, Oregon is One of the Best Fall Honeymoon Destinations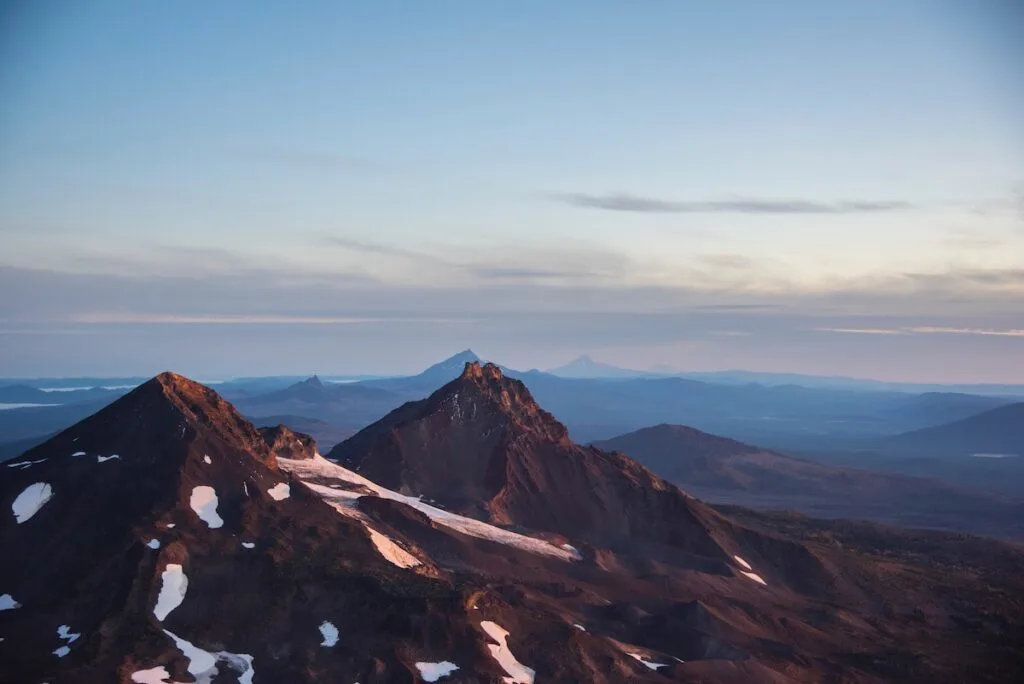 Bend in Oregon is a stunningly romantic November honeymoon destination. Between the chill in the air, the snow-capped mountains, and the anticipation of a fresh blanket of snow on the ground, you'll love cuddling together with a cup of hot coffee in the morning or a crisp brew in the afternoon.
While you may need some tire chains for potentially icy roads, the end of the month typically brings on the opening of Mt Bachelor for skiing and the chance to go snowshoeing.
And craft beer-loving couples will geek out as November is a huge beer month in Bend. The Bend Ale Trail Month brings with many great events for beer drinkers.
For a dreamy resort, opt for Sunriver Resort. This hotel is surrounded by nature and offers things like 10 restaurants, pools for every season, and a spa, and it is only 15 miles from Bend. Get away from it all but still be able to enjoy the town of Bend during your November honeymoon.
11. New York City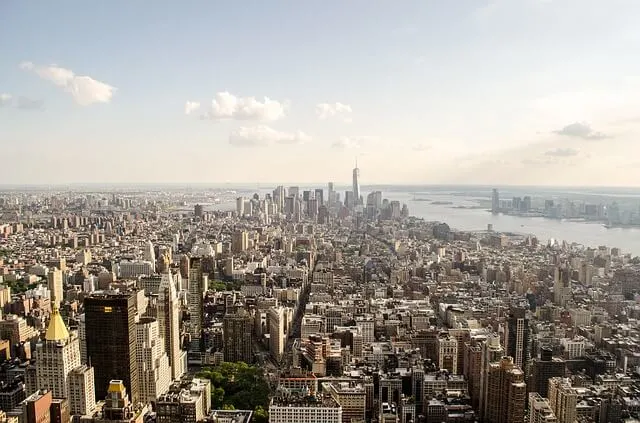 With the last few autumn leaves falling in the city, you know that all of the epic holiday events and decorations are about to start!
Get your holiday shopping done in the city together on your honeymoon in between exploring the amazing museums, delectable restaurants, fun cocktail bars, and eclectic neighborhoods and boroughs of the Big Apple.
Plus, enjoy all the holiday concerts, displays, shows, markets, and even the Rockefeller Center tree lighting during November.
For a romantic place to stay in NYC, opt for the Greenwich Hotel. This 5-star luxe hotel and spa has its own restaurant, drawing room, and courtyard for tranquility amidst the big city.
12. Walt Disney World, Orlando, Florida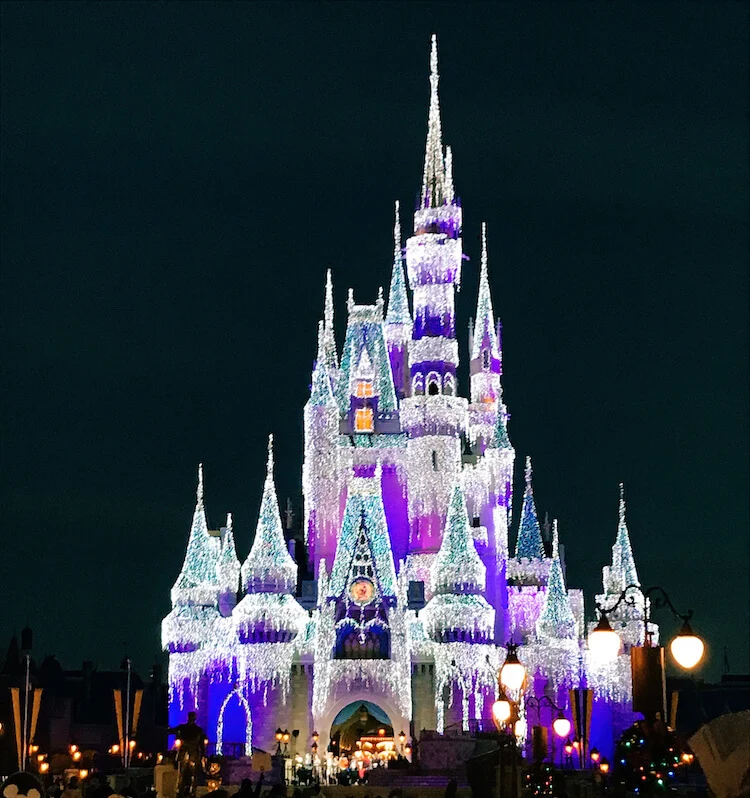 Planning a Disney honeymoon? November is a great time to go! Outside of the week of Thanksgiving, November is a really good time to visit Disney.
For starters, the summertime crowds are gone as many children are back in school, and the weather has thankfully cooled down from the way too hot and humid weather.
This month also starts the holiday season at Disney, meaning decorations and events will be happening most of the month! And, you can still enjoy Epcot's International Food & Wine Festival at the beginning of the month.
For a romantic place to stay at Disney, opt for the Grand Floridian Resort. This is on the Monorail and has an amazing pool, spa, and rooms to suit your needs for the perfect November honeymoon.
Best International Honeymoon Destinations in November in Asia
Chris and I spent our honeymoon exploring Southeast Asia for 3 weeks in November 2018. It was such an incredible trip, that of course I have many recommendations for places to visit for a honeymoon in November!
13. Halong Bay, Vietnam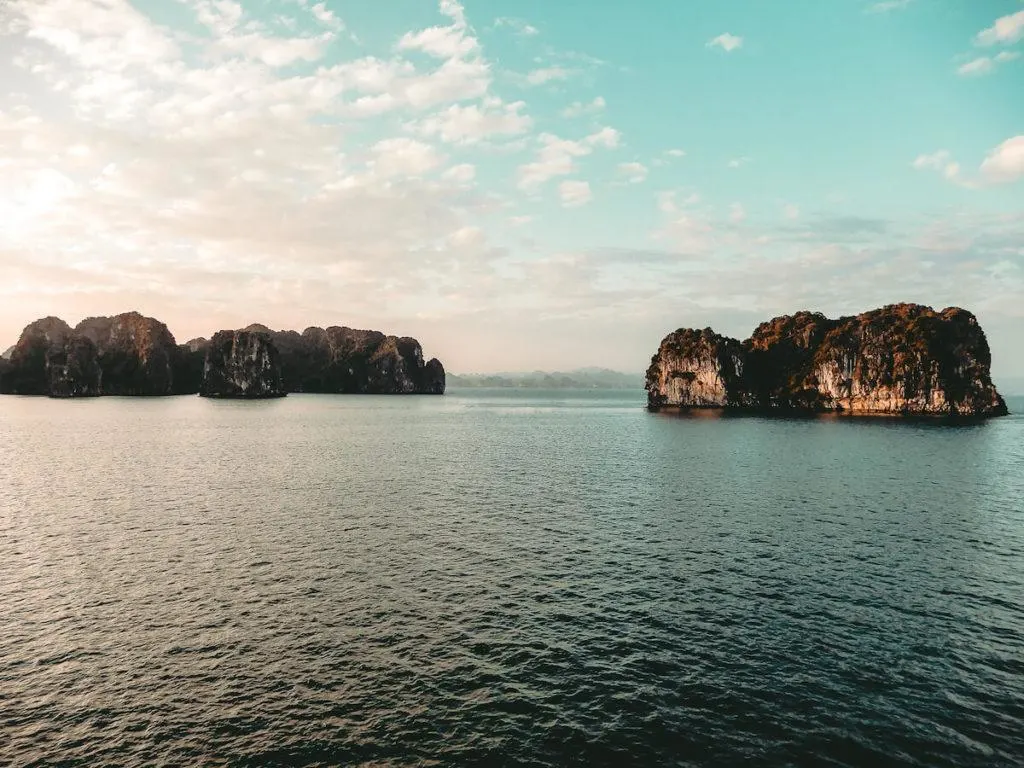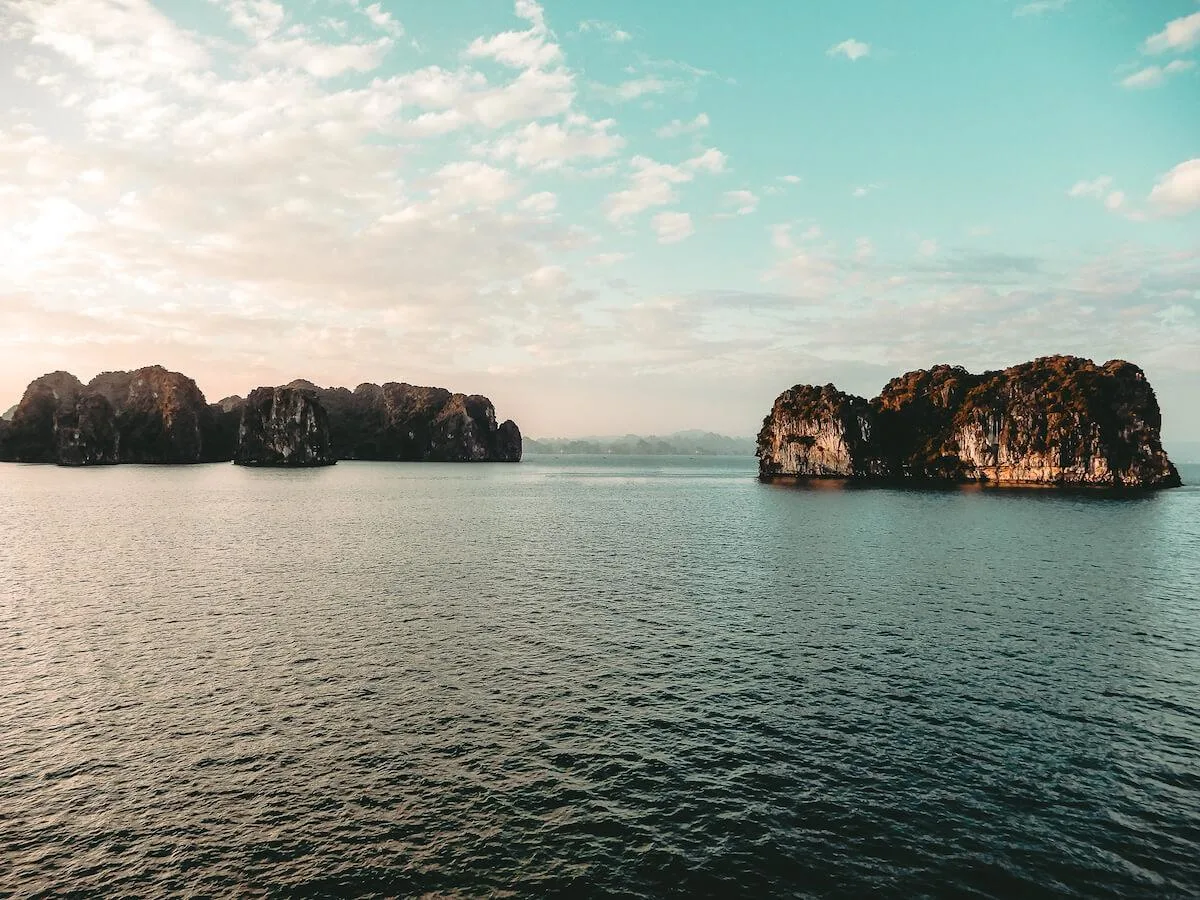 Stunning sunrises and sunsets, amazing mountains jutting out of the water, and mysterious caves all comprise a honeymoon visit to Halong Bay in Vietnam.
Halong Bay, or more precisely, Bai Tu Long Bay in the northern part of the bay, was where we spent part of our honeymoon. And November is a lovely time to go.
The weather is dryer and cooler than the summertime months, and you'll love using the time to enjoy the breathtaking scenery and even kayaking around the mountains!
Plus, you even get a chance to visit a local fishing village and go squid fishing off the boat if you like! We loved our time on the Dragon Legend Cruise by Indochina Junk. This boat only allows 48 guests at a time and with November being shoulder season, it likely won't be full.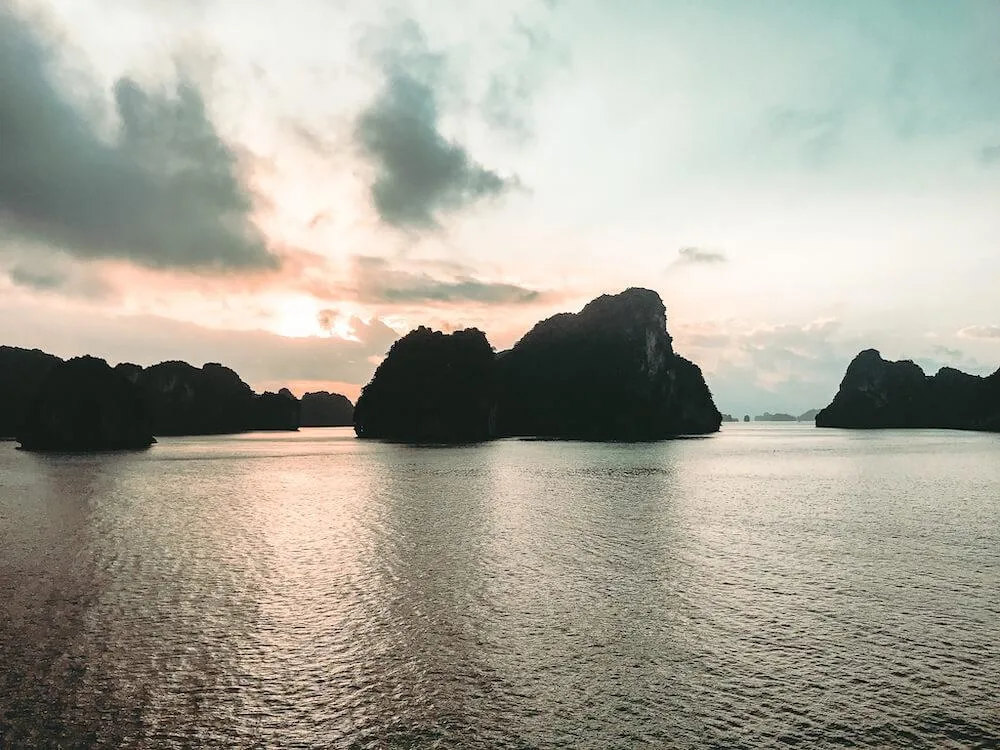 So you get to enjoy this experience with few others, making it even more romantic!
Another great part about cruising in Bai Tu Long Bay is there are far fewer boats in this part of the bay. This means you may not see another boat until nightfall when they all dock closer together.
Truly one of the most beautiful places I've been to, I highly recommend it as one of the best fall honeymoon destinations!
14. Siem Reap, Cambodia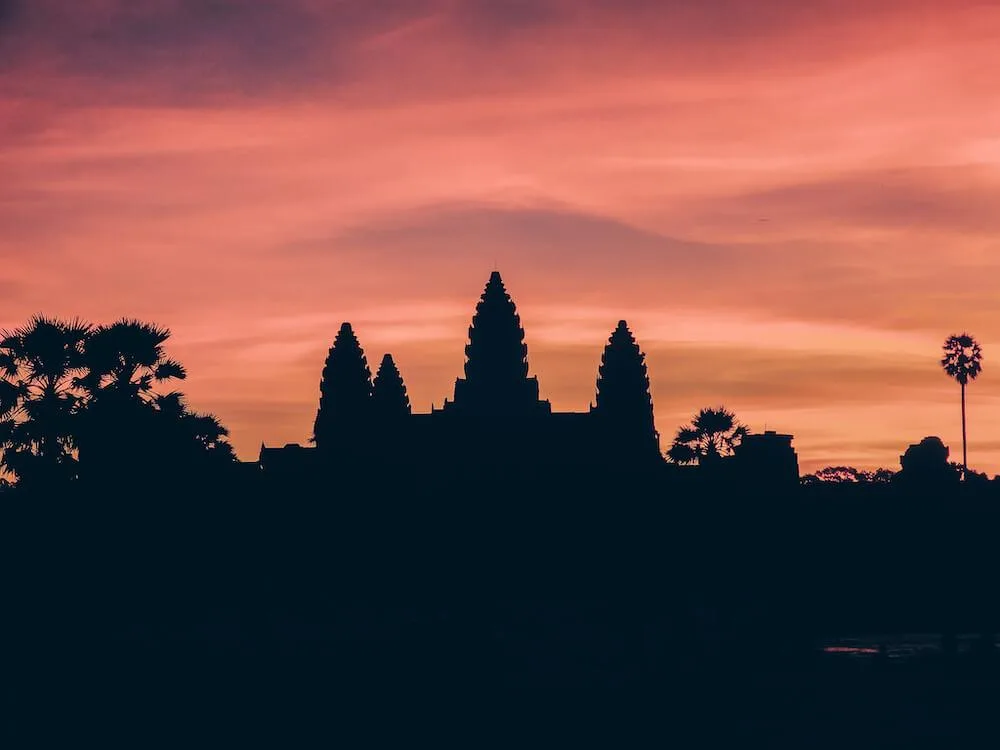 Another charming destination in Southeast Asia, November is a lovely time to visit Siem Reap.
The dry season is beginning and the temperatures have slightly cooled after the hot and wet summer. So this is the perfect time of year to explore the town of Siem Reap and, of course, visit Angkor Wat.
Catch the sunrise at Angkor Wat before exploring the giant temple complex. Visit smaller, lesser-visited temples where nature is slowly claiming the buildings back to earth.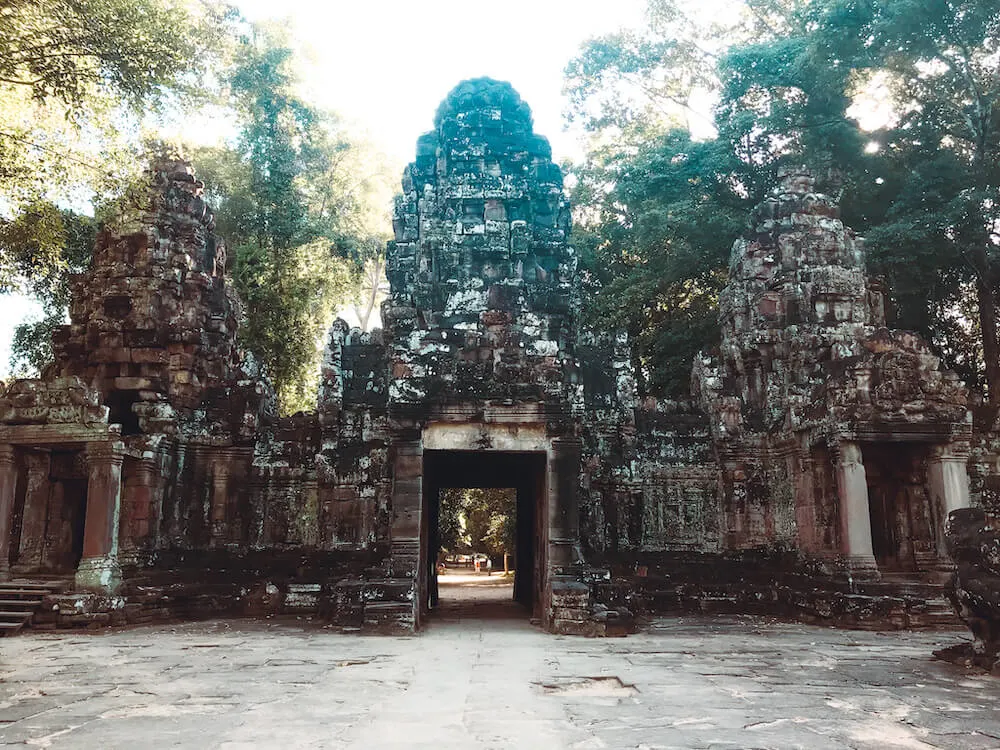 And even go further away to see the Lady Temple (Banteay Srei) and Beng Mealea. Beng Mealea is like Ta Prohm but far less crowded and more peaceful.
Definitely make time for relaxation, whether that is grabbing drinks on Pub Street or getting a much-needed massage at your hotel after exploring the temples.
I loved the Mane Boutique Hotel with its vintage decor and beautiful rooms. This place also offered massages, had an incredible pool to cool off in on hot days, and even served a charming afternoon tea.
15. Chiang Mai, Thailand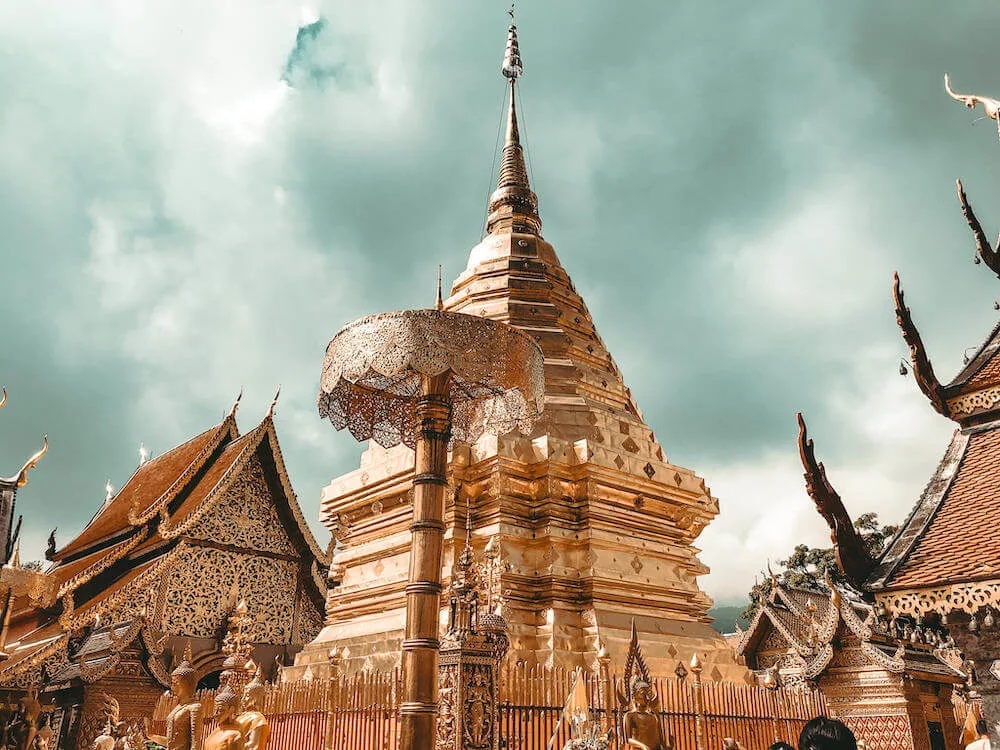 Chiang Mai is easily one of my favorite Southeast Asian cities to visit. For starters, it is far less congested and busy than Bangkok, and it is a pretty walkable place.
So you can enjoy walking around the Old City, visiting various temples, shopping at the Chiang Mai Night Bazaar or Sunday Walking Street Market, catching a ride up to Doi Suthep, and enjoying all the amazing food!
Seriously, I loved trying Khao Soi here! Chiang Mai is also a great place to take day trips whether you want to learn how to cook Thai food together or visit Elephant Nature Park to take care of elephants for the day.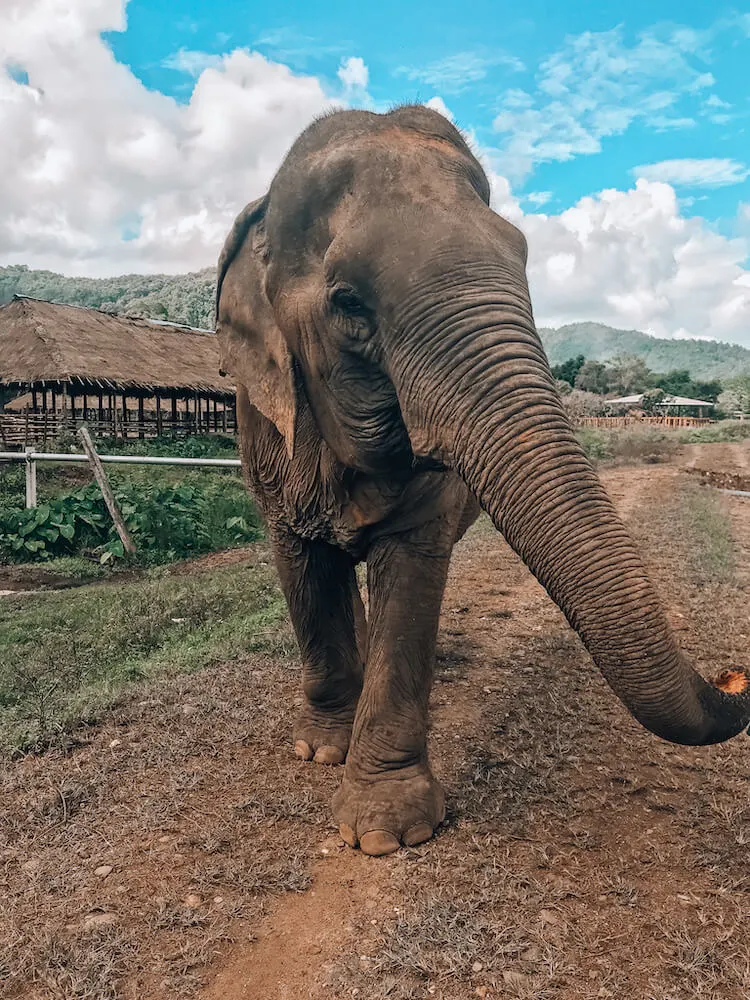 And to cool off, definitely opt for a hotel with a pool for those hot and sunny November days! We loved Akyra Manor Chiang Mai. This place has luxurious rooms, a large soaking tub on the balcony, a pillow and pillow spray menu, and a really amazing rooftop pool with views of the mountains!
PS- Check out our Thailand honeymoon cost article as well as an itinerary and packing list!
16. Seoul, South Korea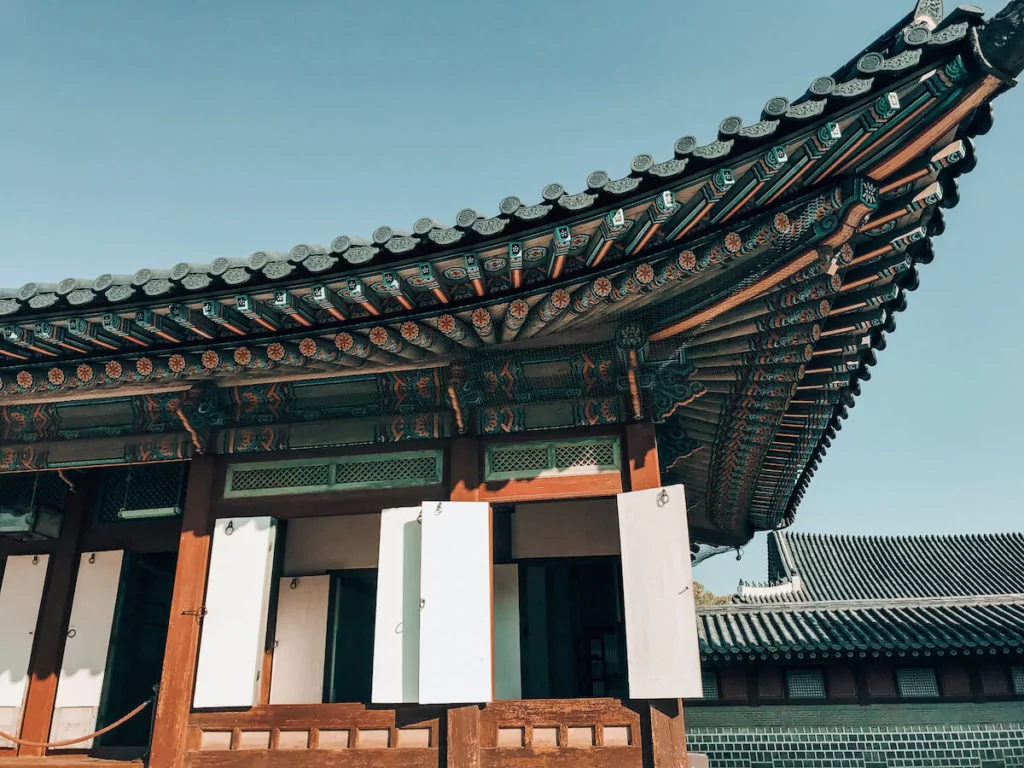 Okay, while a lot of Southeast Asia is in its dry season making it a great time to visit, there are certainly more places to go in this part of the world for your amazing international honeymoon destination in November.
Seoul is one of those places. This city mixes the new and old perfectly as you can be in the midst of visiting the iconic Gyeongbokgung Palace and turn around and see the skyscrapers of the new city.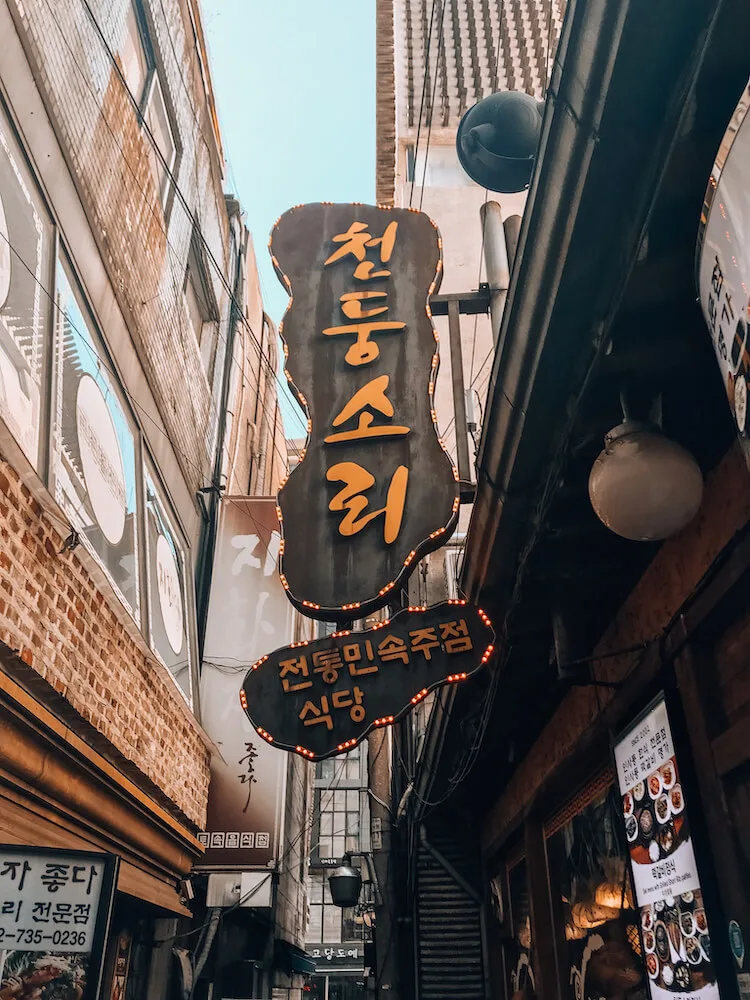 Visit traditional spots like Bukchon Hanok Village, head to many great markets, and explore the amazing malls and neighborhoods for great shopping and dining.
Seoul is a fast-paced city with so much style and entertainment, making it idyllic for your November honeymoon! Oh, and I can't forget to mention the autumn leaves you can spot in the parks around the city!
For a romantic honeymoon hotel in Seoul, check out the Banyan Tree Club & Spa Seoul. This place has beautiful rooms and suites- some with their own pools! Plus they have a fantastic spa and many restaurants/bars to choose from.
Where to Honeymoon in November in Europe
For those who don't mind a bit more chillier weather, Europe offers plenty of romance in the month of November.
Aside from it being the off-season for travel in many places here, you'll find great hotel deals and fewer crowds this time of year.
17. Provence, France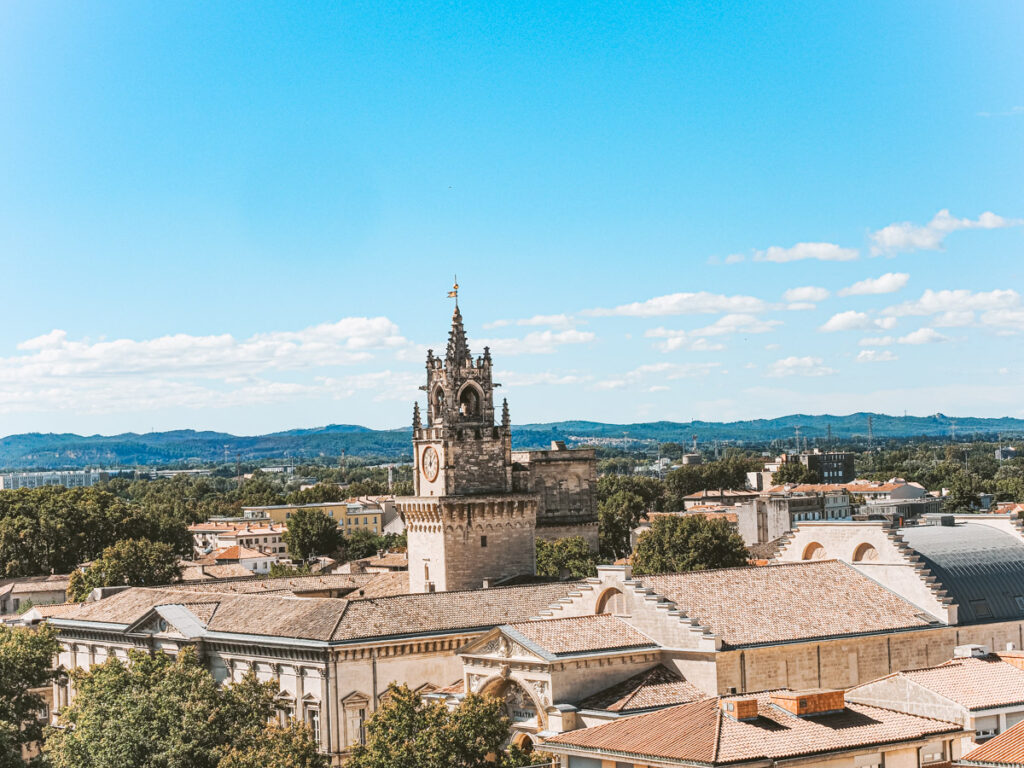 Provence is a super popular place for travelers in the summertime, but did you know that originally it was known as a winter destination?
The temperatures have certainly cooled by November, but not to the extent of many more northern places. This means you can comfortably explore without getting too cold in both the beautiful cities and small villages of Provence.
Enjoy visiting weekly markets, many charming towns, and even bask in the sunshine! I particularly enjoyed visiting the Luberon villages in the off-season. While the lavender fields may not be in bloom, there is a chance you'll catch some stunning fall foliage this time of year!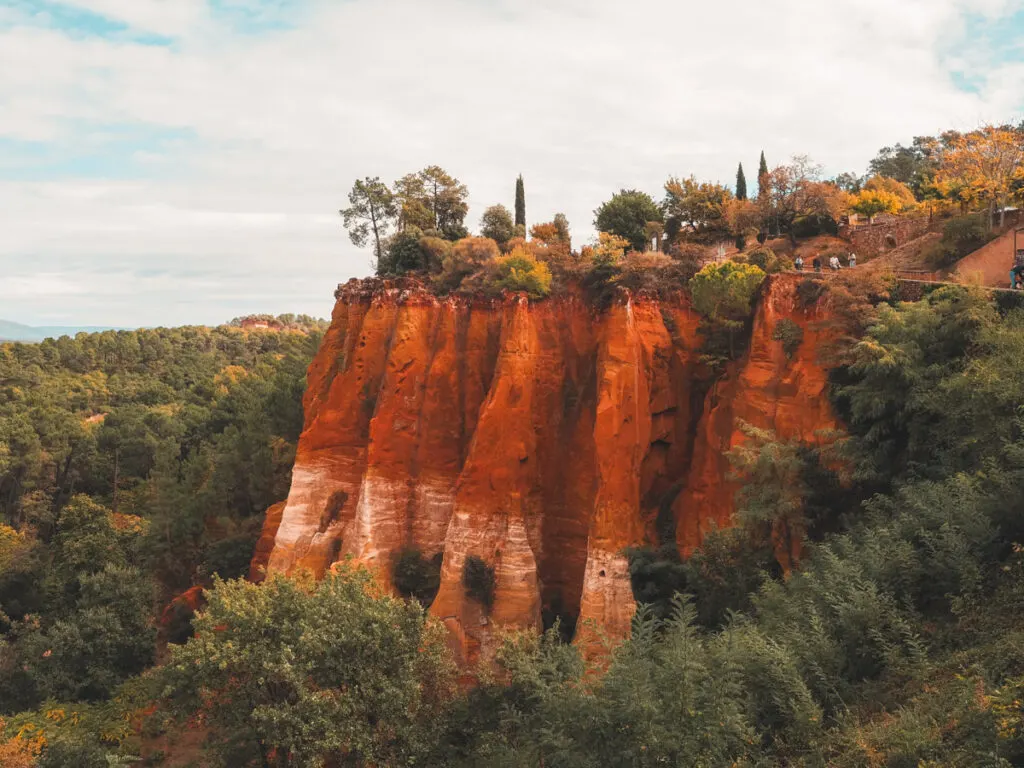 Also, visiting places like Aix-en-Provence and Avignon is really lovely to see regardless of the time of year. You'll love wandering around and admiring the architecture and art of the city.
And you have to splurge on a nice hotel with a great view if you're here in the off-season. Hotel La Mirande in Avignon is a stunning place to stay and is right next to the Pope's Palace. If you'd prefer to stick to the French Riviera, the Hyatt Regency Nice Palais de la Mediterranee is perfect with its fantastic views of the beach and closeness to the Promenade des Anglais.
18. Vienna, Austria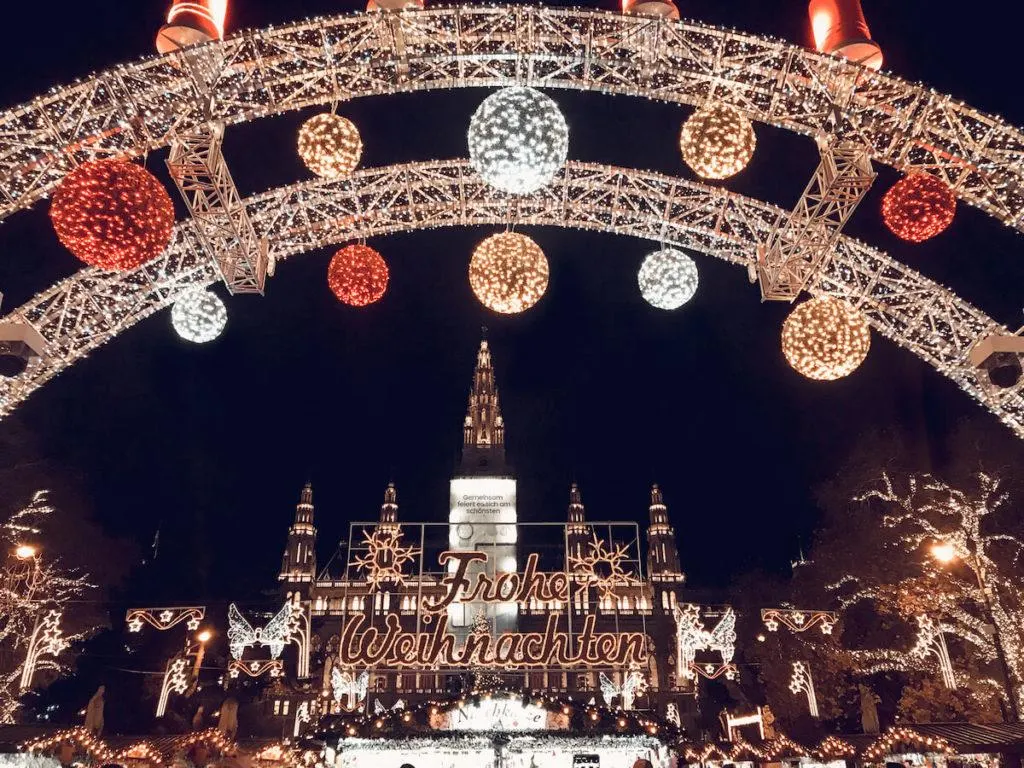 Want to get a head start on the holiday season? Then you'll definitely want to head to Vienna! This place is opulent and stunning, especially this time of year. And the Christmas markets start fairly early in the season compared to other cities.
Most of the markets are open by the middle of the month, meaning you can enjoy mulled wine, pretzels, and treats in between exploring the many palaces and museums in the city. And, for a cozy experience, you'll definitely want to grab coffee and breakfast or have an indulgent dessert at one of the famous cafes.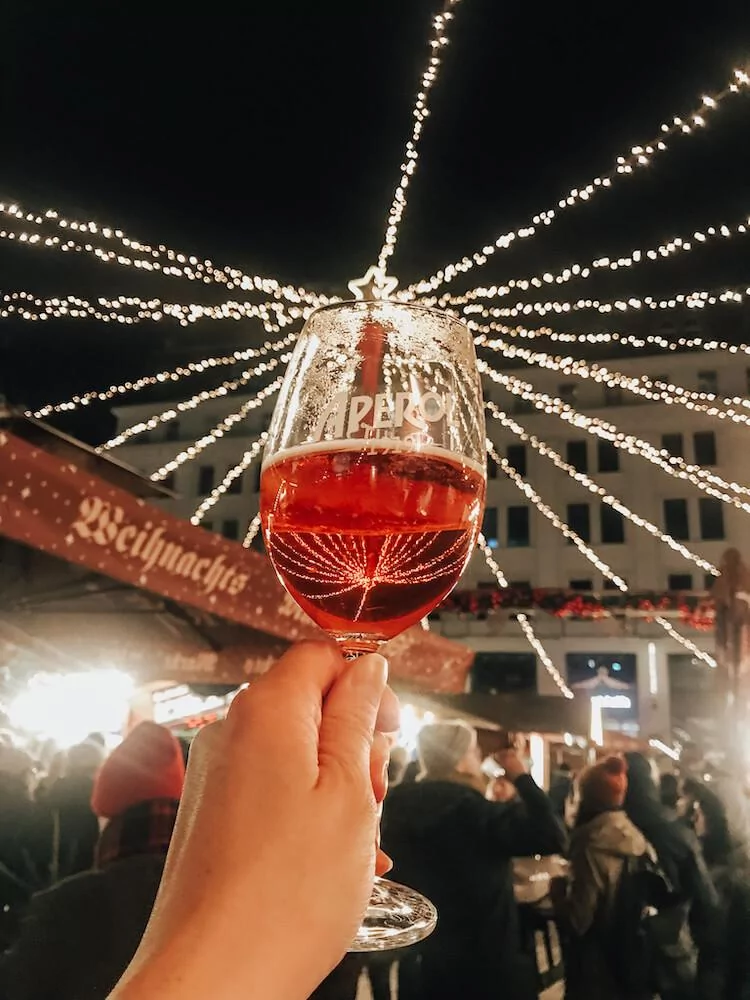 When it comes to where to stay in Vienna, you'll love the Steigenberger Hotel Herrenhof. This place is in a great location for exploring and shopping! And this hotel is absolutely stunning with its bar and restaurant, spa, and spacious rooms.
19. Budapest, Hungary is One of the Best November Honeymoon Destinations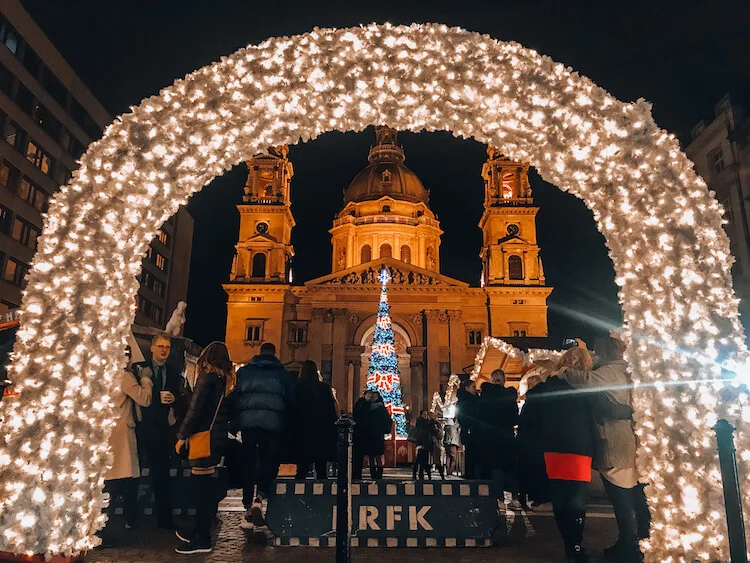 This city is such an exciting place to honeymoon. Between its edgy ruin bars, eclectic eateries, the stunning Parliament and Fisherman's Bastion, AND its incredible bathhouses, there is no shortage of ways to spend your honeymoon in Budapest.
Spend your mornings exploring the city from both sides of the river and your evenings either taking a cruise on the Danube River to see the city lit up at night or perhaps watching the sunset from the rooftop hot tub at Rudas Baths.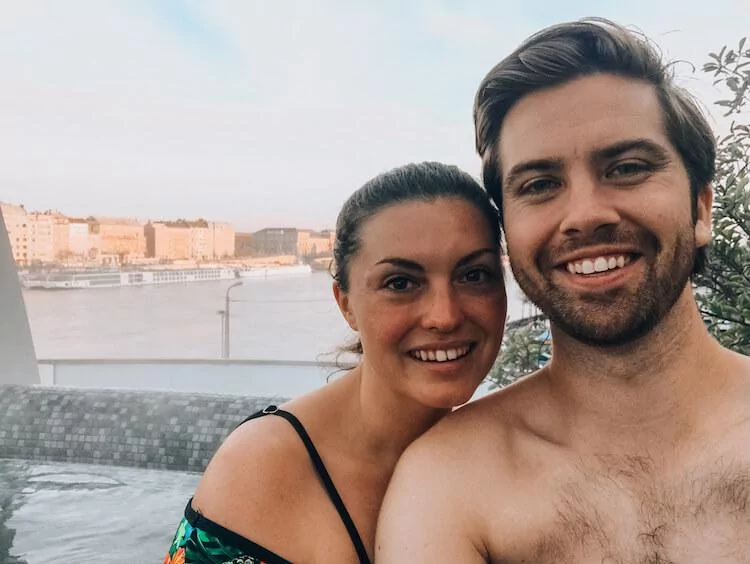 Oh, and Budapest also has markets that open up right around mid to late November, meaning you can catch all the delicious treats and crafted goods here!
Definitely try the chimney cakes and langos!
For a romantic getaway, stay at the Aria Hotel Budapest. This 5-star hotel is in a great location plus offers free breakfast and afternoon wine and cheese, a rooftop garden with amazing views, a pool, and a spa with relaxing baths.
20. Alsace Region, France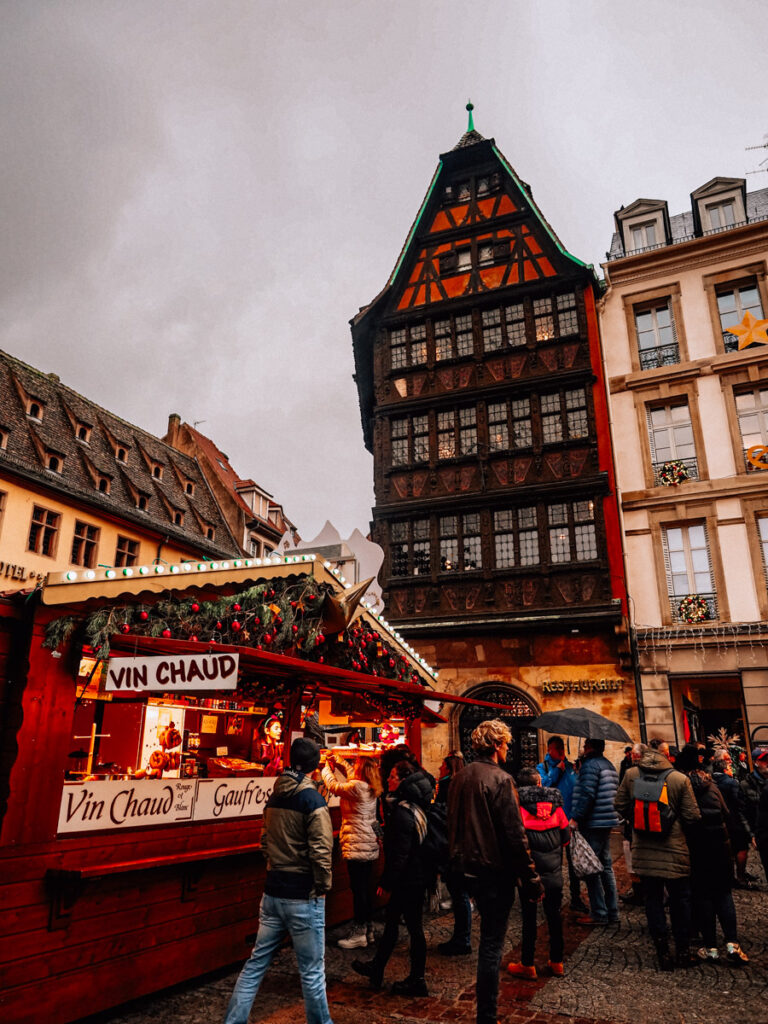 If you're searching for the best places for a honeymoon in late November, then you'll definitely want to head to the Alsace Region in France. This place is home to Strasbourg, aka the Capital of Christmas!
So if you want to get into the holiday spirit, you'll love the chance to visit this town, Colmar, and the other towns in this region to enjoy all the local crafts and food/drinks on offer. You can explore the beautiful wine towns of the region as well as enjoy local hearty foods like tarte flambee and muster tartiflette.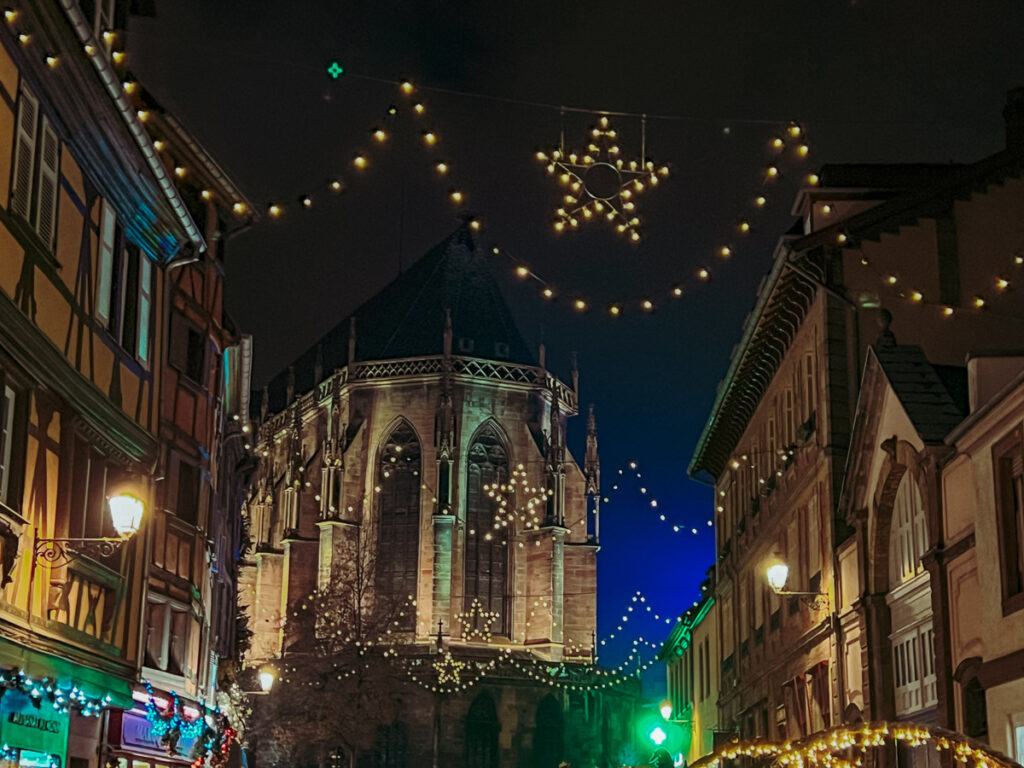 This region is incredibly romantic with its villages, vineyards, and adorable Christmas markets! Plus, the cities of the Alsace go all out for Christmas! The buildings are even dressed head to toe in holiday decorations from teddy bears to wreaths and all things in between!
For a lovely stay in Strasbourg, opt for the Hannong Hotel & Wine Bar. This place is in a convenient spot for exploring, plus they have rooms with lovely views, a nice terrace, and a fun breakfast spot in the morning/wine bar in the evening.
21. London, United Kingdom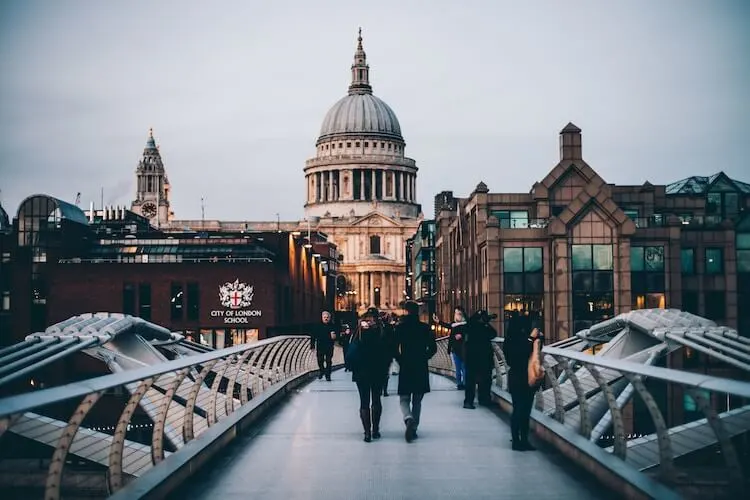 Visiting London in November may sound cold and dreary, but the shorter days bring the holiday markets from mid-November onwards.
So walk around admiring Christmas lights together, pop into cozy pubs on chilly days, and indulge in some mulled wine at the markets.
Plus, there are tons of great things to see and do year-round in London! Whether you want to visit historical landmarks like the Tower of London or Westminster Abbey or you wish to eat your way around the city, you'll love visiting London in November.
For an uber-luxe and romantic honeymoon in London, definitely check out the Lanesborough. This hotel has stunning rooms, a club and spa, a fantastic restaurant, one of the city's best cocktail bars, and an afternoon tea service.
Adventurous November Honeymoon Destinations
For those who prefer to get a little adventurous, camp under the stars, go on safari, or perhaps go diving, these are the best November honeymoon ideas for you!
22. New Zealand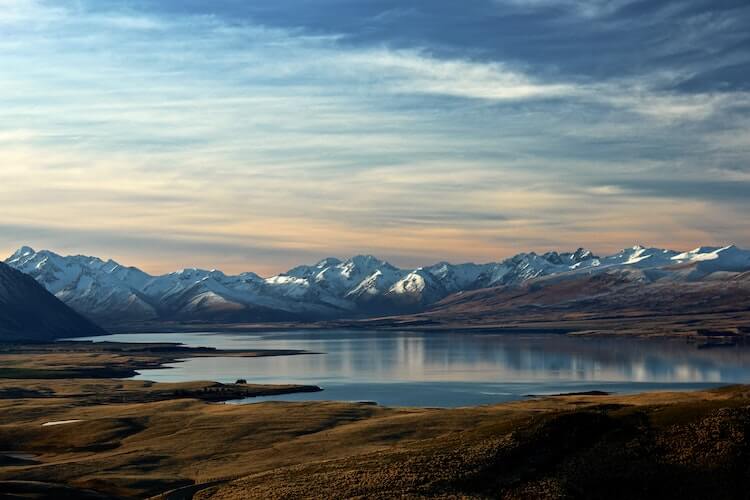 Home to the adventure capital of the world, Queenstown, you'll definitely want to visit this place for epic activities such as white water rafting, jet boating, parasailing, hiking, canyoning, paragliding, sky diving, bungee jumping, zip-lining, and more!
Plus, there are many epic hikes around New Zealand to enjoy, and you'll love having a chance to visit the stunning Rotorua on the North Island for its nearby geothermal geysers and mud pools. And for those who love bioluminescent things, you'll love the chance to go rafting in the Waitomo Caves for the amazing glowworms.
For a romantic stay, opt for the Matakauri Lodge in Queenstown. This place overlooks Lake Wakatipu and has epic views of the surrounding area. Plus, it offers rooms and suites with fantastic views as well as a spa for relaxing post adventures.
23. Australia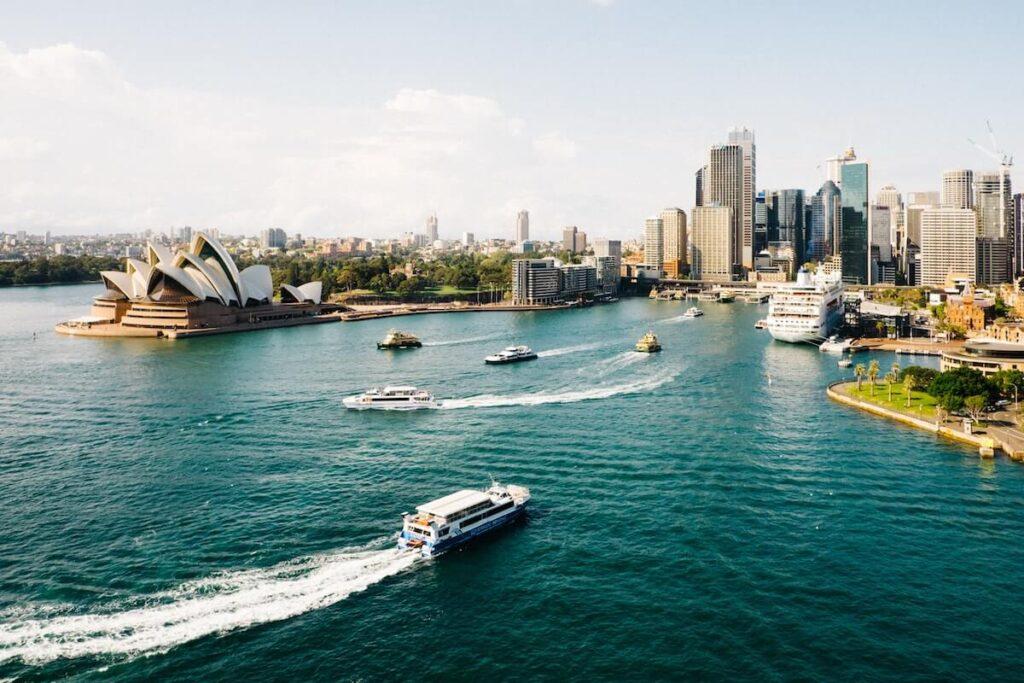 Between diving at the Great Barrier Reef, exploring the Daintree Rainforest, and visiting the Outback, you'll love all the adventures that Australia offers.
In between these epic places, you'll want to explore the beautiful city of Sydney, go wine tasting in Barossa Valley, and drive the Great Ocean Road together. Australia, as well as New Zealand above, are in their summertime season so you can enjoy the lovely weather that comes this time of year.
For a romantic place to stay in Sydney, check out the Park Hyatt Sydney. Between its views of the Sydney Opera House and its wealth of amenities, you'll find it hard to leave!
24. Morocco is One of the Best November Honeymoon Destinations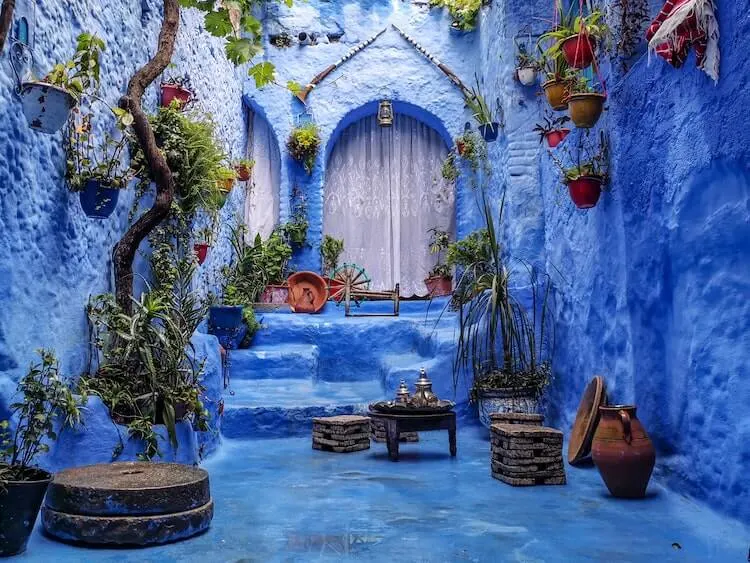 Morocco is a great place to visit for comfortable weather in November. The temperature finally cools down from the very warm summers, but it isn't quite as cold at night as winter. So this is a great time of year to visit the exciting cities of Marrakesh and Fes, explore the famous blue city of Chefchauen, and even spend the night in the Sahara Desert!
Enjoy the art, culture, and food of this incredible country in between visiting the High Atlas Mountains and beautiful beaches.
For a romantic stay in Marrakesh, check out La Mamounia. This is a traditional riad and 5-star hotel with stunning architecture and decor, relaxing hammams, lovely tea rooms, and breathtaking rooms and suites.
25. South Africa is One of the Best November Honeymoon Destinations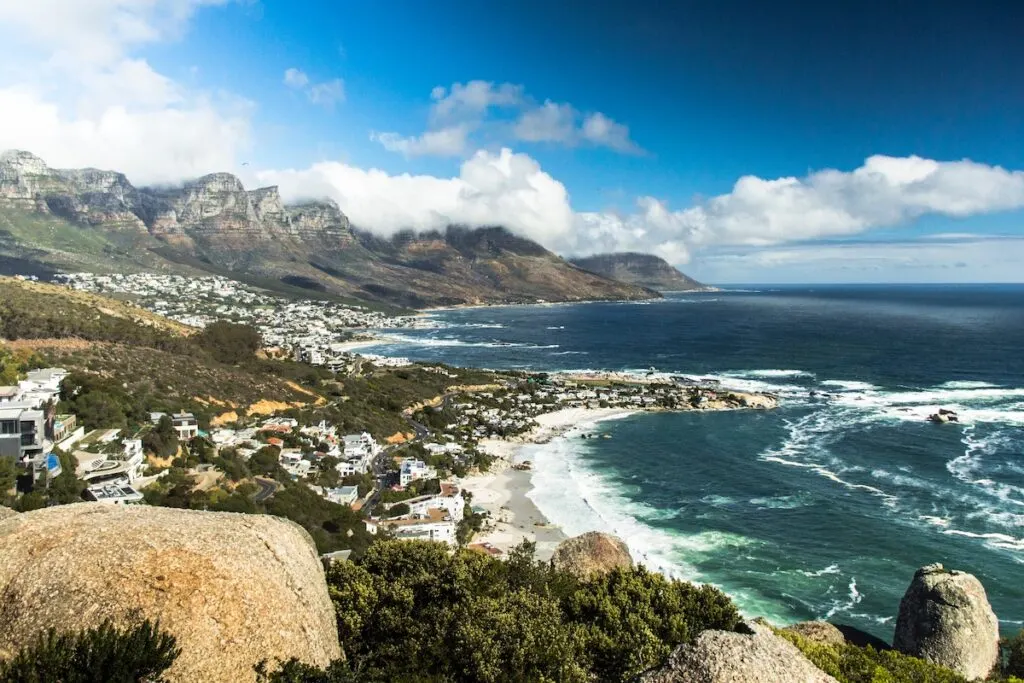 South Africa is one of the best destinations for November. This is a great time to visit for driving the Garden Route, enjoying beach towns like Hermanus, and even exploring the city of Cape Town.
While this time of year brings rain to Kruger National Park, there are also a lot of baby animals being born, the area is greener, and birdwatching is good. This is also a great time to visit for both safari and beach holidays or safari and city holidays in South Africa.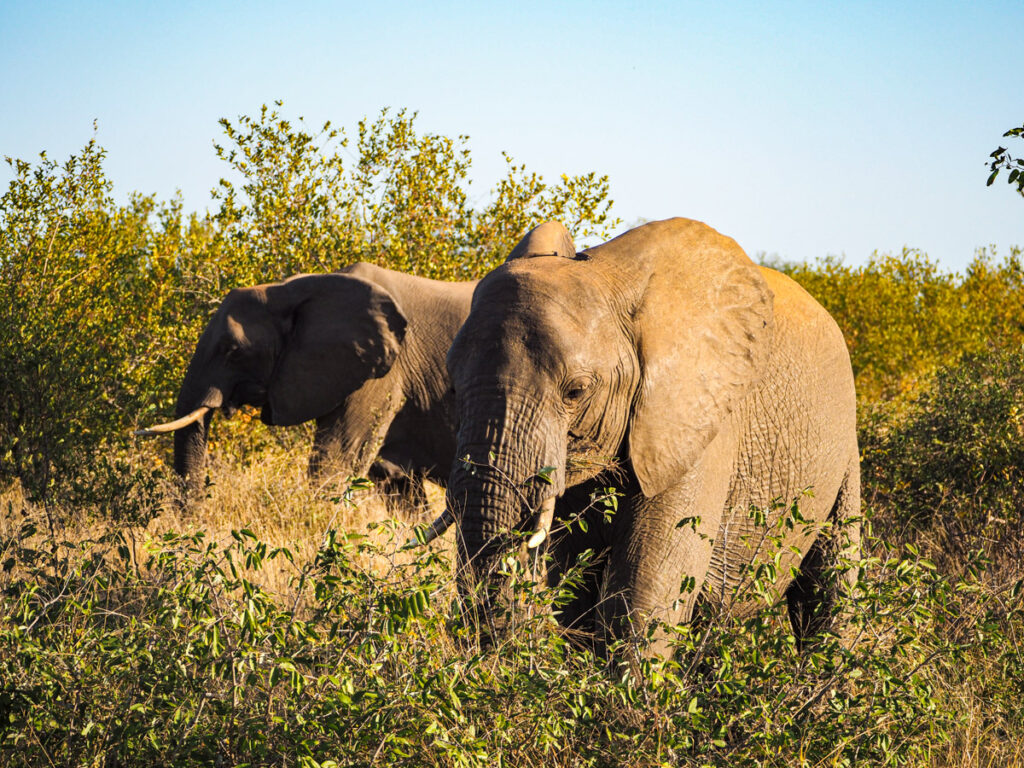 Plus, the weather is much more pleasant and warm for a lovely getaway to the Cape Winelands!
And November is before the busier holiday season which brings in a lot more travelers and increases prices. So combine a trip to Kruger National Park for a safari with some time in Cape Town and the Winelands for the ultimate South Africa honeymoon itinerary!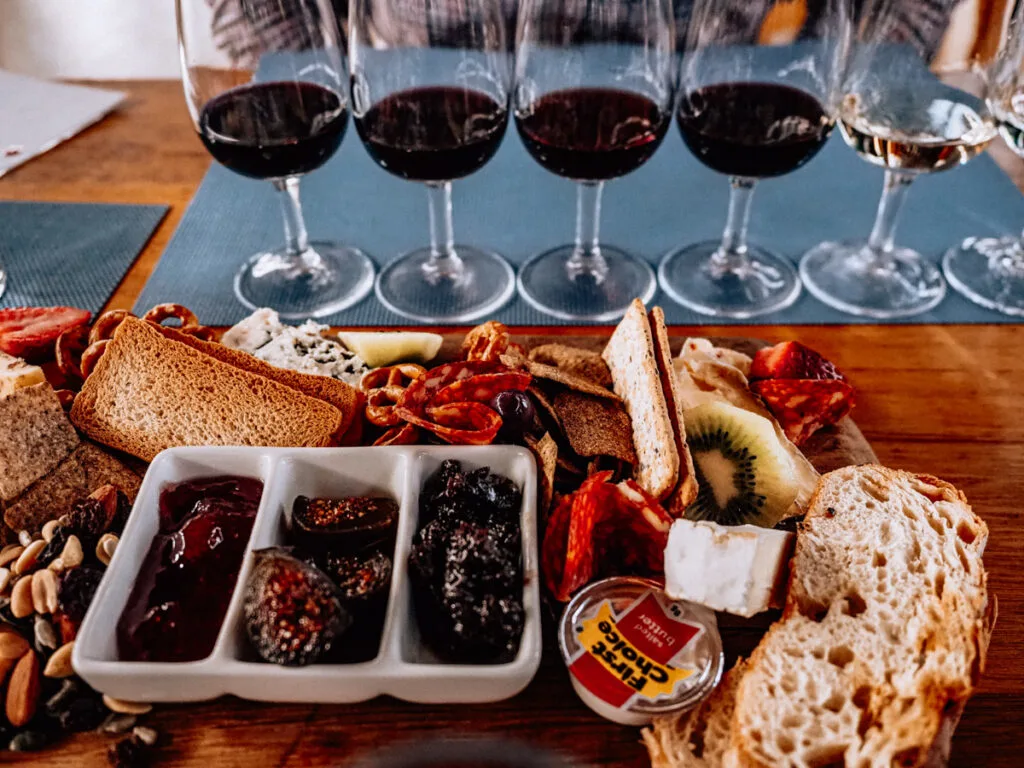 For a romantic stay in South Africa, opt for Simbavati River Lodge for your safari! This place has luxury glamping tents with their own viewing decks!
PS- Find out how much a South Africa trip costs, top things to do in Cape Town for couples, and a 10-day South Africa itinerary.
These are hands down the best travel destinations for your November honeymoon! Whether you want to get adventurous, relax on a beach, explore the US, or go abroad, these are the 25 best November honeymoon destinations for you!
Want more honeymoon ideas? Check out these posts!
Pin it here!