Some posts on this site contain affiliate links, meaning if you book or buy something through one of these links, I may earn a small commission (at no additional cost to you!). Read the full disclosure policy here.
---
A Tybee Island romantic getaway is always a good idea for couples!
This small island in Georgia is made for relaxation with soft, sandy beaches, a laid back atmosphere, and charming, colorful beach houses. So a chance to get away with your love here for even just a weekend is a fabulous idea!
I had the best time exploring Tybee Island in the early summer and completely fell in love with this place! So I'm here to let you in on how to plan the perfect Tybee Island vacation and have the best time possible!
So whether you are planning a Tybee Island honeymoon or looking for romantic getaways in Georgia, this is the ultimate Tybee Island romantic getaway guide to help you plan your trip!
PS-Check out our podcast episode about Tybee Island too!
The Ultimate Tybee Island Romantic Getaway Guide
From where to stay to the top things to do on Tybee Island, we've got all the details you need! But first, we need to talk about logistics.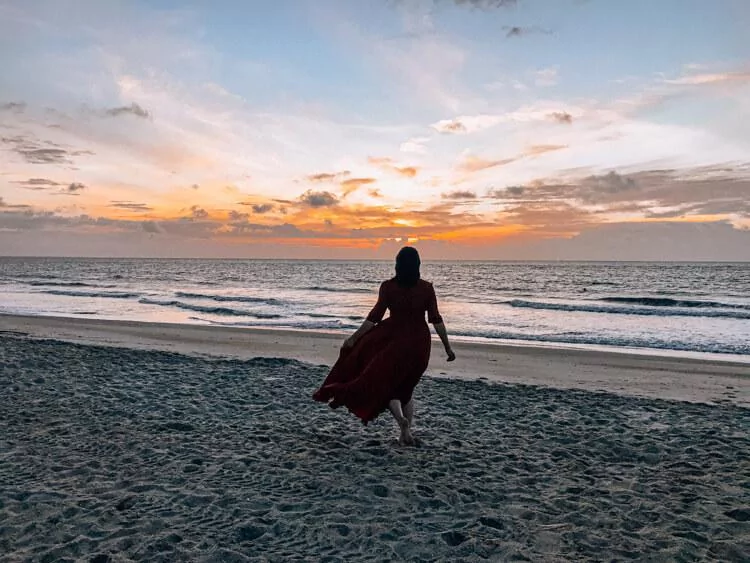 How to Get to Tybee Island
Tybee Island is fairly easy to get to thanks to the nearby airport. The Savannah/Hilton Head Airport is about 40 minutes from the island, and many airlines fly there including Delta, United, and American Airlines as well as discount airlines like Allegiant.
I managed to snag round-trip flights to Savannah for only $163 on Allegiant thanks to Skyscanner. So checking there for deals is a great place to start.
Once you've landed at the airport, however, now you need to get to Tybee Island itself. Luckily, Uber and Lyft are available from the airport and they'll take you to Tybee for about $45 for a one-way trip.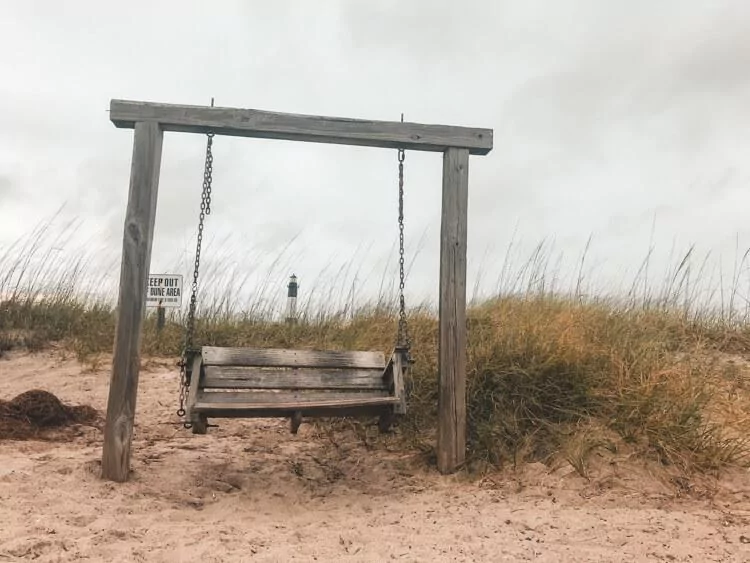 If you prefer to drive, you can rent a car from the airport as well. I love checking Rentalcars.com for good rental car prices. Or, if you live within a day's drive or so, then you can drive to Tybee Island.
Just note that once you get to Tybee, you pretty much have to pay to park anywhere other than your hotel. So be sure to factor that into your trip budget!
Note that to get either to Savannah or back to the airport from Tybee, Ubers and Lyfts aren't readily available on the island. My hotel told me about Islands Taxi and I was able to schedule a ride with them to take me into Savannah for the next part of my trip. The phone number to reach them is 912-786-8688. The price for the taxi ride to Savannah was about $68.
Getting Around Tybee Island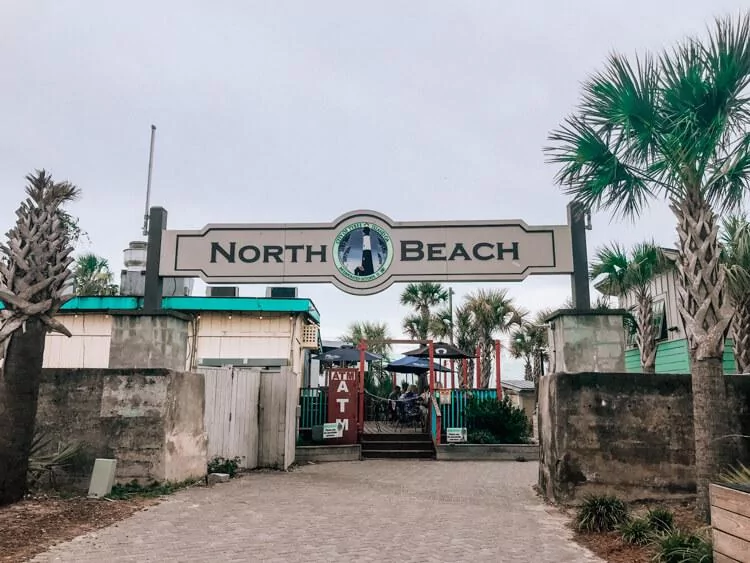 Once you're on Tybee Island, getting around is easy! There are plenty of places you can walk to, depending on where you're staying. So if you're just here to be a beach bum and relax, that is a great option.
There is also the option to rent a golf cart from Tybee Golf Carts. Prices start around $100 per day for a 4-person cart. However, the longer you rent it, the cheaper it is. For example, for stays between 2-4 days, it is around $75 per day.
And if you want to save a bit of money, then renting a bike is a great idea too! For about $16 a day, you can rent a bike from Tim's Bike and Beach Gear. As the island is pretty small, a bike is all you really need to get around!
Lastly, if you have a car with you, driving is an option too.
When to Visit For a Tybee Island Romantic Getaway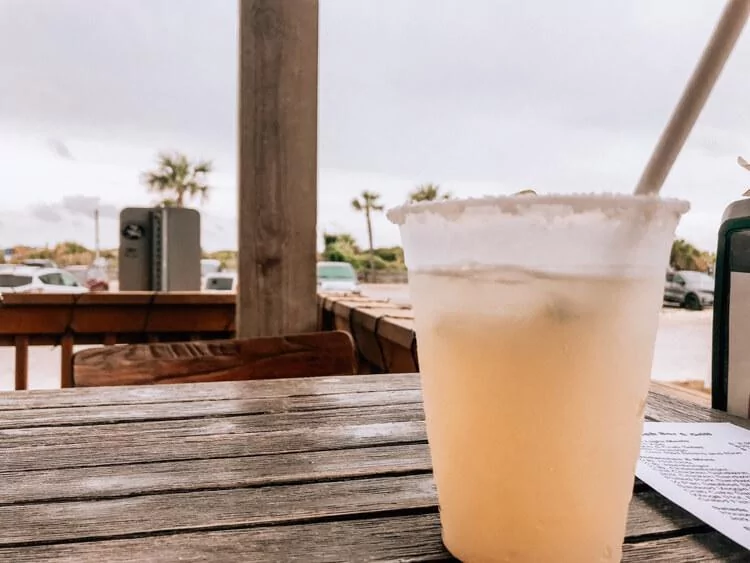 While Tybee Island is a lovely place to visit between April through October, it is definitely at its most busy and at its hottest in July and August.
If you want to beat the extreme heat and crowds, then visiting between April through early June and September through early November is ideal. The temperatures are much more comfortable, especially in the spring and autumn months and the crowds are far fewer.
Essentially, avoiding peak summer break times is a good idea, especially if this is a romantic getaway to Tybee Island!
Where to Stay For Your Tybee Island, Georgia Vacation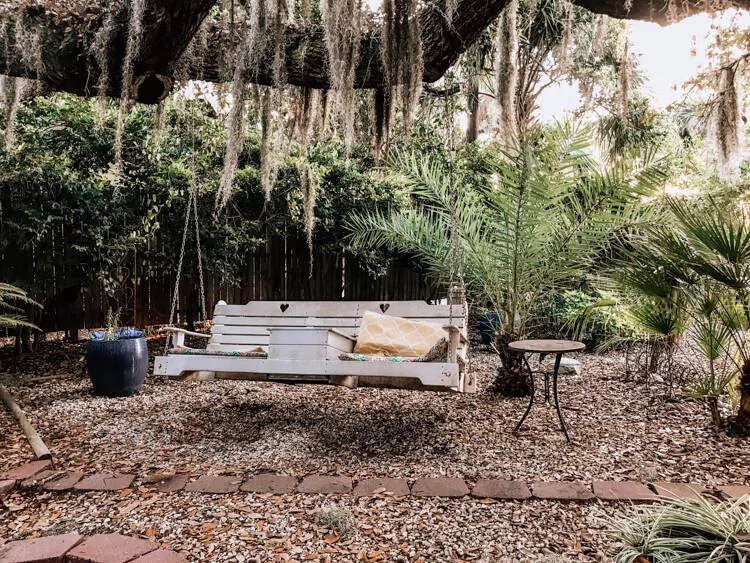 There are plenty of places to stay from VRBOs on Tybee Island to hotels. It all really depends on the type of vacation you plan to have as well as your budget.
If you want to save a bit of money, then VRBO Tybee Island is a great idea. There are apartments that start at $90 per night and cottages under for $200. Here are a few favorites of mine:
Beach Chic Apartment on a Budget
This place is perfect for a budget Tybee Island romantic getaway as it starts at $90 per night! The apartment is beach-themed and has a lovely deck to enjoy in the mornings with your coffee before a day on the beach!
The Most Adorable Cottage on Tybee
This place was even featured on Coastal Living Magazine! With bright and airy rooms, a 5-minute walk to the beach, and a gorgeous porch, this place will be hard to leave after a stay on Tybee. Prices start around $190 per night.
Colorful Apartment in the Heart of the Action
This lovely place is pet friendly and within walking distance to the beach as well as plenty of bars and restaurants in the area. If you're willing to splurge and want to be in the thick of things, this is the place for you! Prices start around $225 per night.
If you prefer a hotel, and you want a swoon-worthy place to stay, then hands-down the Tybee Island Inn Bed and Breakfast is the best place to stay on Tybee Island for a romantic getaway.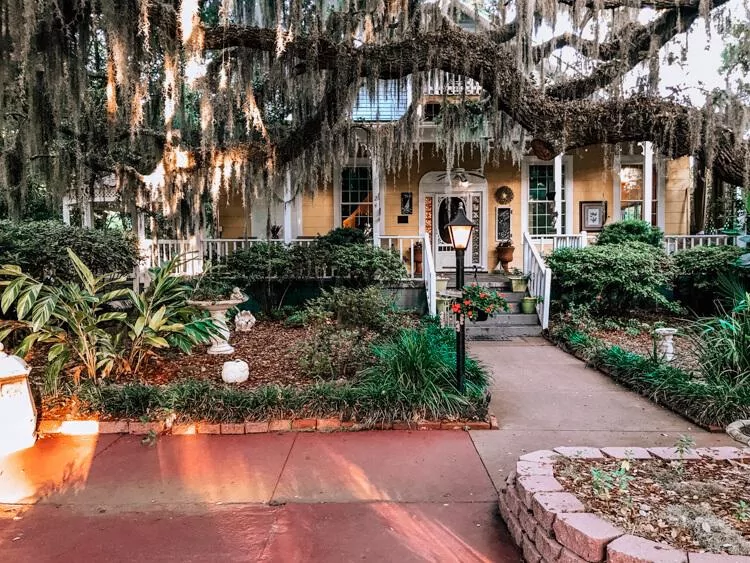 This is where I stayed on my last visit, and it definitely made my trip! First of all, this adorable B&B sits back off the road and in front is a glorious courtyard featuring a fountain and a massive tree with Spanish moss dangling off of it. There is also the most charming bench swing under the tree, perfect for evenings cuddling together.
The rooms are idyllic and each offers their own lovely charm. I stayed in the Captain's Quarters that featured a giant copper soaking tub, perfect for couples!
And the breakfast is absolutely excellent and made fresh each morning by Lee, the hotel manager. Seriously, I would visit Tybee Island in a heartbeat just to stay here again! Prices start at around $239 per night.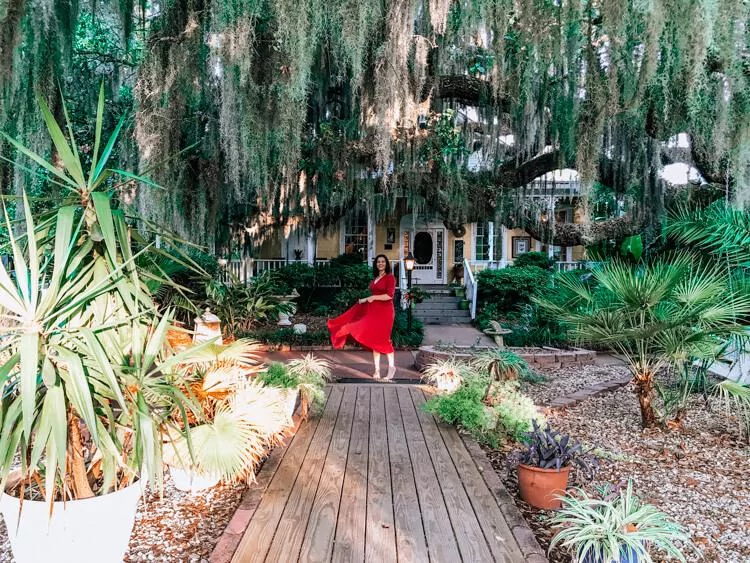 Best Things to do on Tybee Island
Alright, now it is time to find the most romantic things to do on Tybee Island as well as other fun stuff!
1. The Ultimate Tybee Island Romantic Getaway Requires Beach Time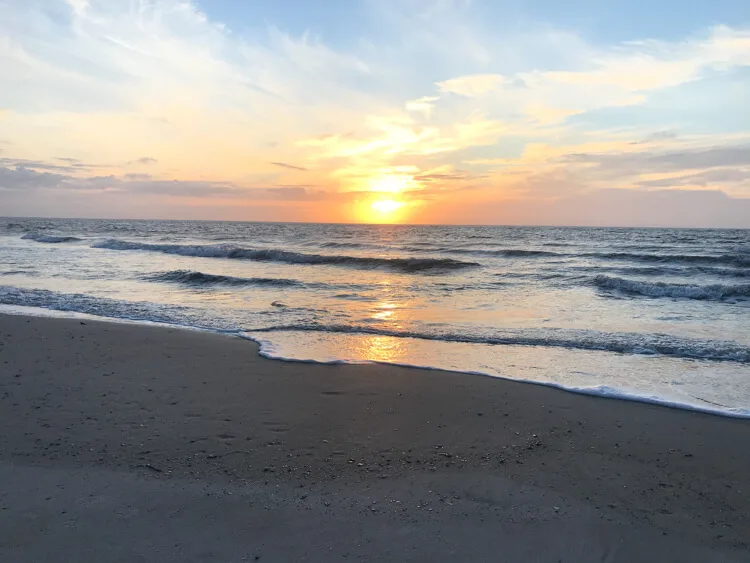 First and foremost, Tybee Island is a place to relax and enjoy! Don't try to overdo it and fill up your days. After all, it's an island- so hit up the beach!
Personally, I loved the northern part of the island and North Beach the best. As Tybee Island Inn was only a quarter-mile walk from North Beach, and they have all the beach-going fixings like a beach bag, towel, umbrella, and chair that you can borrow at no charge, I happily grabbed those and spent some time on the beach.
It wasn't crowded at all in early June when I visited, especially North Beach!
However, Mid Beach and South Beach are definitely just as nice, but expect more people on South Beach as there are a lot more condos and hotels down there!
So relax in the sand, play some games together, or frolic in the ocean!
No matter what you do, though, catching a sunrise on the beach is a must! The sunrises here are truly vibrant and beautiful over the ocean, so getting up early is well worth it to enjoy this beautiful sight together!
2. Water Sports on Tybee Island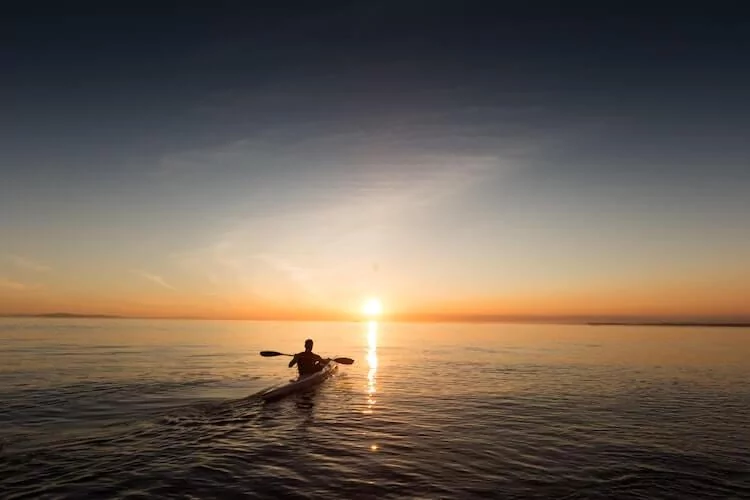 Whether you love to SUP or kayak together, that can easily be arranged if sitting on the beach all day isn't your thing!
At North Island Kayak you can rent kayaks, paddle boards, and surf boards and reservations can be made by calling 912-786-4000.
Tybee Jet Ski and Watersports offers jet ski rentals as well as kayaks. Plus, they even offer kayak tours including a dolphin bay tour and driftwood beach tour.
And lastly, Sea Kayak Georgia offers tours and classes, so if you've never been on a stand up paddleboard or kayak, this is a great way to learn!
3. Tybee Surf Lessons
If you want to get a little adventurous, why not learn to surf? Tybee Surf Lessons is the place to go if you want to ride the waves. This can definitely be a fun thing to do on Tybee Island for couples who love trying new stuff together!
4. Tybee Island Light & Museum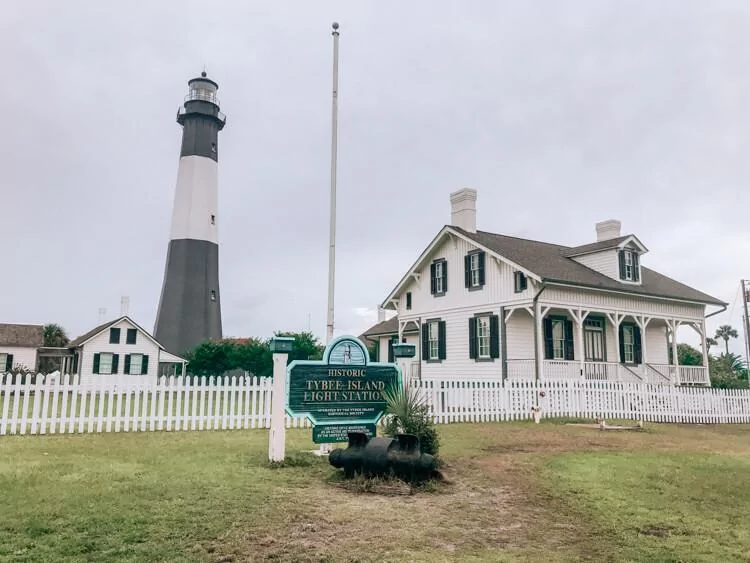 Visit Georgia's tallest and oldest lighthouse! Dating back to 1736, you can actually go up in the lighthouse and get amazing views over Tybee Island and the ocean! There is also Fort Screven across the street to visit too!
Oh, and on Mondays from March through November from 4-7 pm, the lighthouse has a farmer's market next to it! Enjoy live music and tasty treats as you admire the views!
5. Biking Around is Definitely One of the Most Romantic Things to do on Tybee Island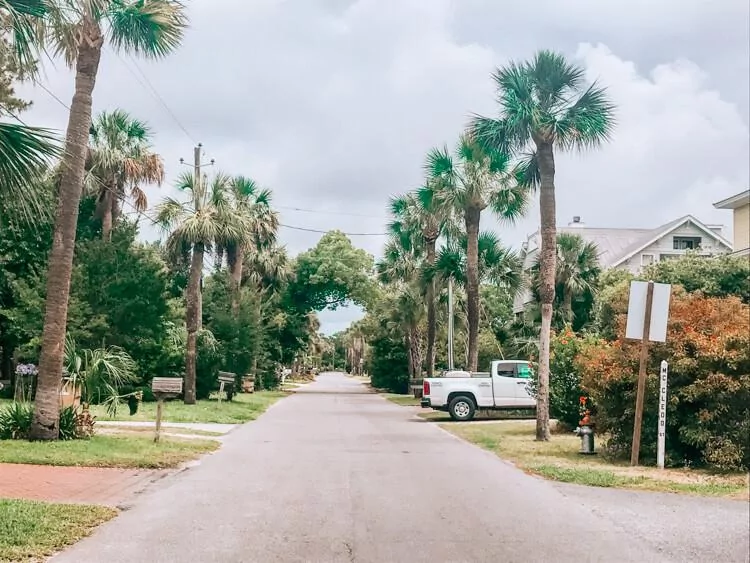 Like I mentioned before, renting a bike is a cheap and fun way to see the island! Bike past the marshes, beaches, and colorful beach cottages together and stop in various eateries and cool spots!
Just spending a day exploring by bike will definitely be enough time to see most of the island!
6. Admire the Views From the Piers
The Back River Fishing Pier and the Tybee Beach Pier are great places to wander around and enjoy the scenery! Whether you're coming for an epic sunrise or just want to walk along the beach together, the piers are a great place to go!
7. Bar Hopping Around the Island Is a Fun Thing to do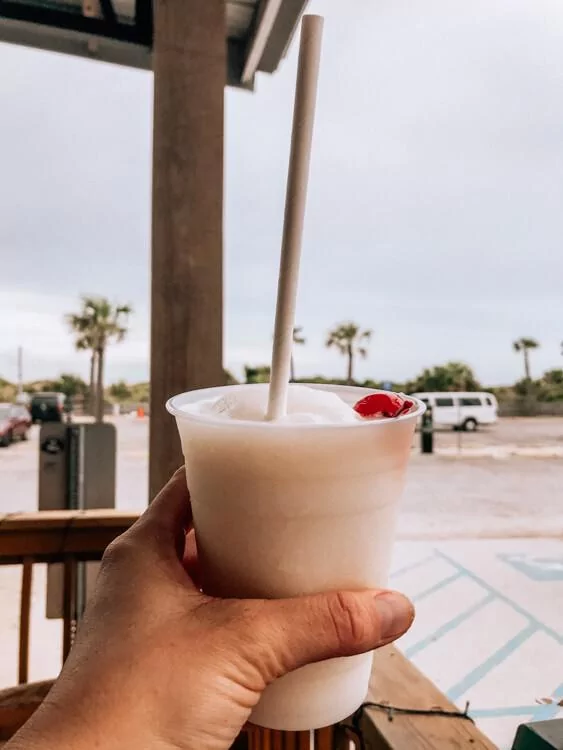 Just want to create your own bar crawl and taste the various pina coladas and daiquiris on the island? Then check out places like Tybee Time for their daiquiri menu, North Beach Bar and Grill for some fantastic pina coladas, Sting Ray's for a great margarita, and Rock House if you want to continue the party into the night for some karaoke and dancing!
Oh, and if just sitting at a bar isn't your thing, Tybee Island allows alcohol in open containers. So you can take your pina colada for a stroll!
8. Take a Day Trip to Savannah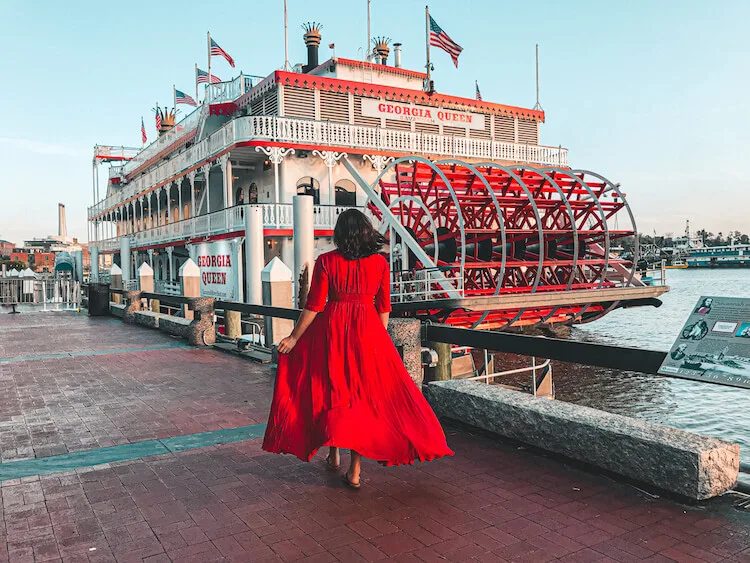 While I highly recommend spending a couple of days in Savannah, if you mostly want to stick to the calming shores of Tybee Island but want to see Savannah, then definitely head into town for a day!
There is plenty to see and do here, but a food tour is a great way to experience Savannah, as is exploring the many squares and delicious restaurants in the city!
Where to Eat During Your Tybee Island Romantic Getaway
After exploring during your Tybee Island weekend getaway, we need to talk about where to eat! Here are some great spots to enjoy during your time on Tybee!
1. North Beach Bar and Grill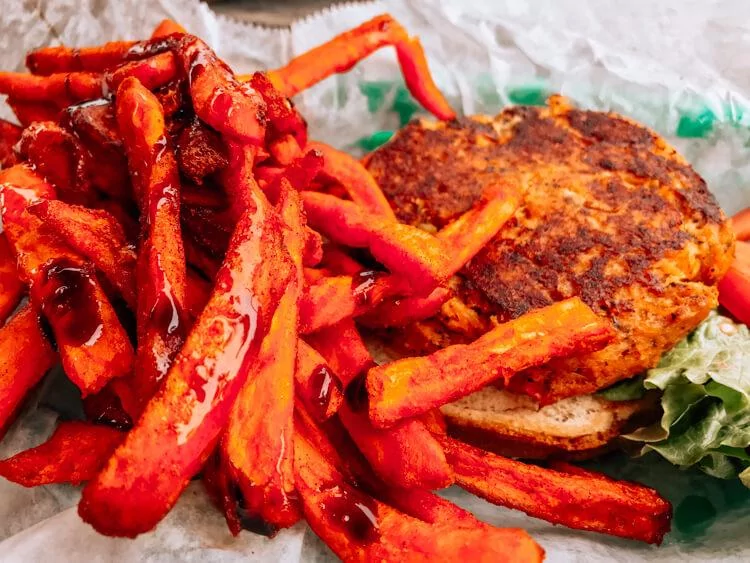 For a place by the beach that serves up some good crabcakes and great pina coladas, this is the place to go! I really enjoyed the vibes here and the outdoor dining facing the dunes was fantastic!
2. Tybee Island Farmer's Market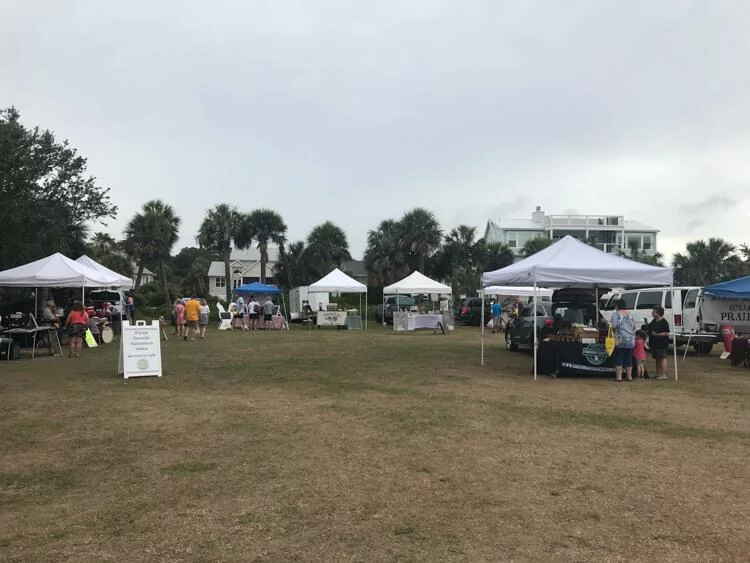 I know it is only open on Mondays from 4-7 pm, but if you're here at that time, I highly recommend visiting this place at the base of the Tybee Island Light! Such good food and drink options here! I loved the key lime popsicle and the cheese and guava empanadas!
3. Huc-A-Poos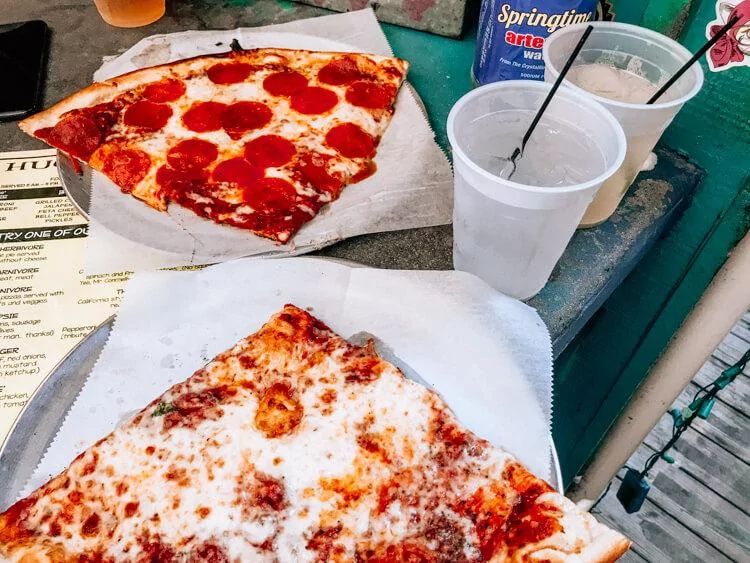 When a server at another restaurant recommends this place, on top of many other frequent visitors of Tybee Island, then you've got to go!
Huc-A-Poos serves up huge pizzas as well as pizza by the slice. The atmosphere is great too with live music and a nice bar area to grab a cocktail while you wait on your pizza. There are also a lot of shops in the area.
Those in the know definitely head here. I loved the thin crust New York-style pizza this place offers!
4. Salt Island Fish & Beer
I mean, the name speaks for itself. If you are searching for some tasty seafood dishes and a refreshing beer to wash it down with, this is the place!
If you're on an island, having seafood is the way to go! The shrimp and grits and mussels are always a good go-to!
5. AJ's Dockside Restaurant
Craving some crab legs or a po boy? This is the perfect spot to fill up! Plus, it is located on a dock with fantastic water views!
6. The Crab Shack
The famous crab shack is a bit further off the drag than many restaurants on Tybee, but well worth the stop! Whether you want tons of peel and eat shrimp or loads of crab, this is the best place to go for seafood!
7. Cafe on 80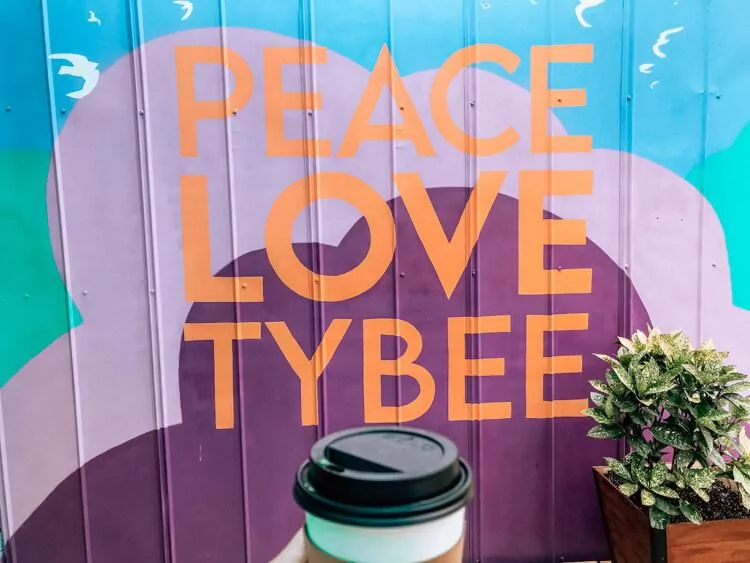 For a good breakfast or lunch, Cafe on 80 is a lovely spot! Whether you want biscuits or a delicious Reuben sandwich, this little cafe is definitely a great place to fuel up after a morning on the beach!
8. Java & Juice
Last, but not least, for breakfast, this place has all kinds of specialty coffee drinks, juices, and breakfast specials like their butter croissant sandwiches and French toast casserole!
What to Pack for a Tybee Island Romantic Getaway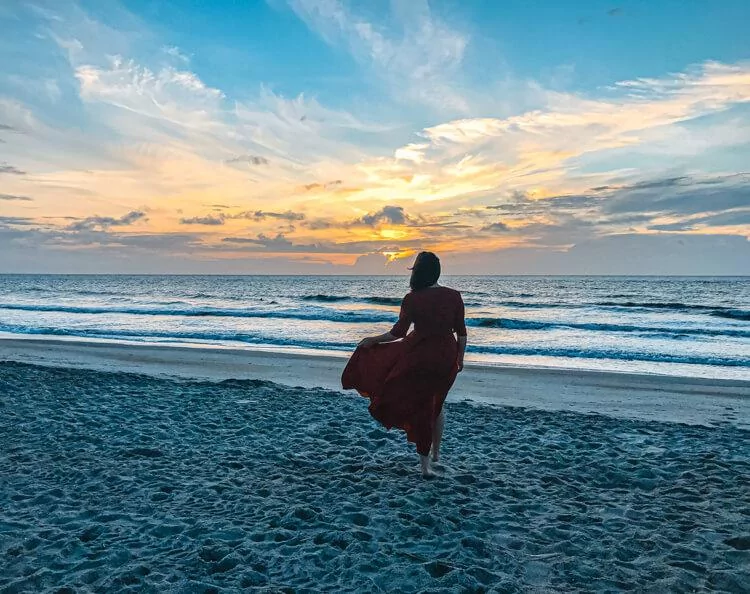 Luckily, Tybee Island is a pretty relaxed place, so no need to pack anything too fancy! When I wasn't on the beach, some shorts and a t-shirt or cute top and these awesome comfy athletic shorts were perfect.
I also packed one flowy dress for taking photos on the beach, but other than that, this island is super casual.
I love Oofos sandals that are super comfortable and great for the beach. I also love this swimsuit and wear it all the time!
Of course, you'll need sunscreen, and definitely some bug repellent! The mosquitos here can be relentless. Badger Balm is my favorite all-natural bug repellent that I've used all over the world from Southeast Asia to the Amazon Rainforest and it works like a charm!
While my hotel let me borrow a beach towel, if you need a towel, I recommend these quick-dry towels that fit into a carry-on super easily!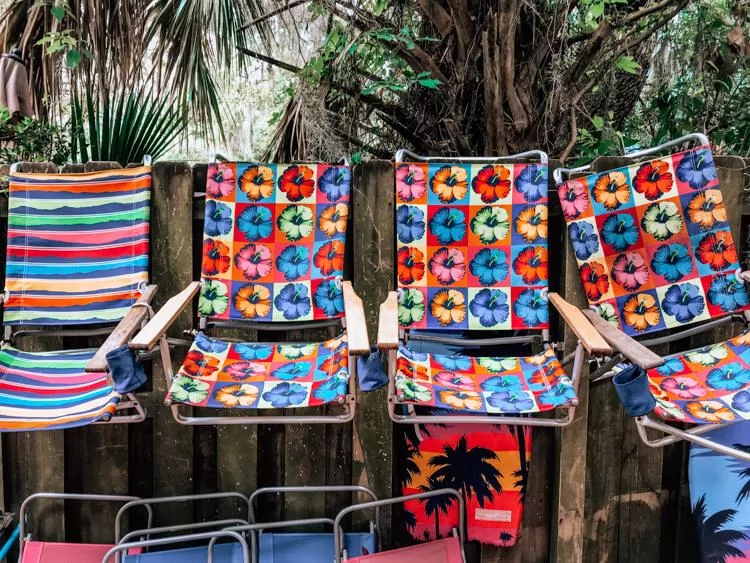 For taking photos, be sure to pack a great camera or your phone with this tripod definitely do the trick too for taking couples photos!
And if you're a carry-on traveler like me, I love this Osprey backpack and packing cubes to stay organized!
You don't need to pack too much here, especially if this is a relaxing beach vacation!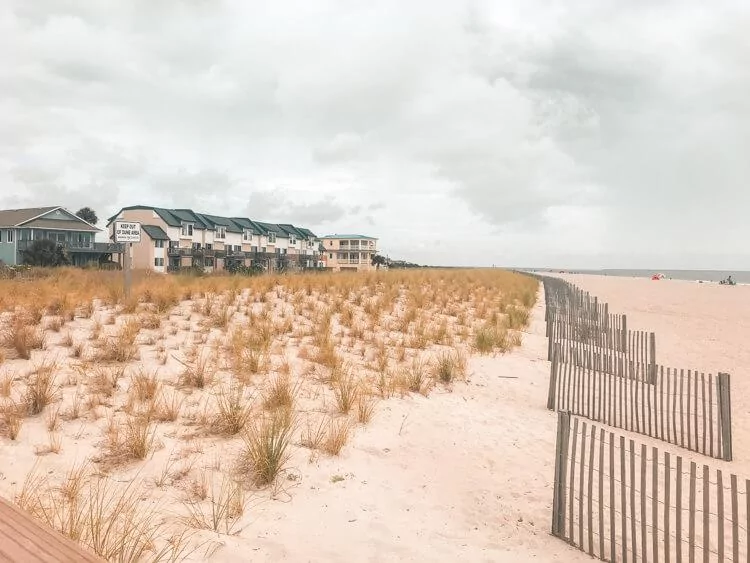 The Perfect Tybee Island Weekend Getaway Budget
Let's talk about the perfect budget for Tybee Island! First of all, you'll need to budget to get there.
The most common way to get there is flying, and with discount airlines, you can easily find flights for under $200 round trip per person!
Then for transportation, it was about $45 to get there from the airport and $68 to get to Savannah. So budgeting $130 for taxis is great if you aren't driving. If you're driving, then budget around $100 for parking and gas. Obviously, gas costs will vary if you're driving to Tybee depending on how far you're coming from so be sure to add that in your budget.
For getting around the island, be sure to budget either $16 per person per day for a bike rental or $75-100 per day for golf cart rentals should you choose that option.
When it comes to lodging costs, a nightly budget of $100-250 is appropriate depending on your preferences.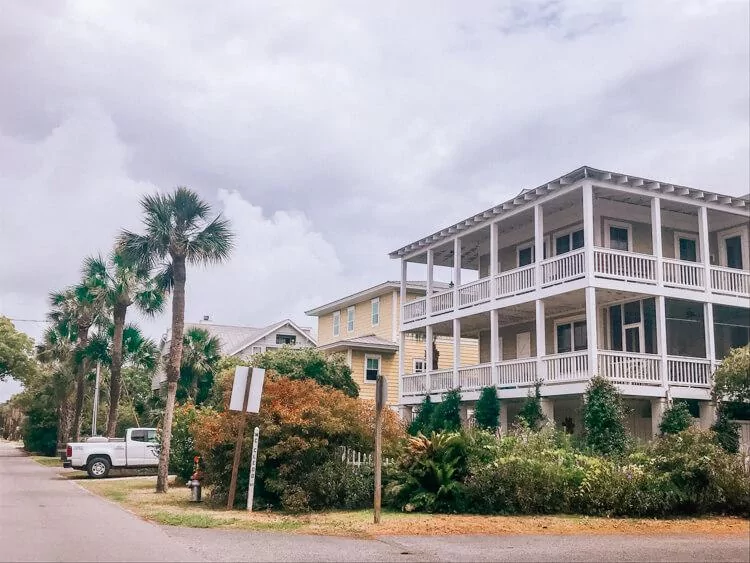 While there are a lot of free things to do on the island like hanging out at the beach and going to the farmer's market, be sure to budget accordingly if you want to rent a kayak or SUP or do surf lessons.
Private surf lessons for two people is about $160 whereas a tandem kayak rental is $48 for a half day.
Lastly, eating and drinking for a weekend on Tybee will probably run you about $100 a day for two people.
So for the perfect romantic weekend on Tybee Island, budget about $1,100 on the lower end or $1,600 on the higher end for 2 people depending on lodging, dining, and whether you choose to bike or rent a golf cart. This includes flights, hotels, food, and everything!
To make it even cheaper, if you like travel hacking, then you can get your flights for a really great price and save even more money! We're talking less than $700 for two people if you're using miles to get you to Savannah!
Either way, this is a great weekend getaway spot that can be very affordable!
A Tybee Island romantic getaway is always a good idea! Whether you are hoping to add this destination to your US bucket list or you are planning a Tybee Island honeymoon, use this guide to get the absolute most out of your trip!
Would you love to have a Tybee Island, Georgia vacation? Let us know in the comments!
Want more US honeymoon-worthy content? Check these out!
Pin it here!