Some posts on this site contain affiliate links, meaning if you book or buy something through one of these links, I may earn a small commission (at no additional cost to you!). Read the full disclosure policy here.
---
A Glacier National Park honeymoon is a perfect mix of romance, adventure, beautiful scenery, and fun experiences! For couples who love national parks, Glacier National Park may just be the ideal place to go on a honeymoon.
Personally, it is our favorite national park that we've been to so far, and with so many cozy cabins nearby, gorgeous views, and cool activities, we think it's the best national park for a honeymoon!
So if you're planning your honeymoon to Glacier, let's dive into all the details to plan the perfect romantic getaway.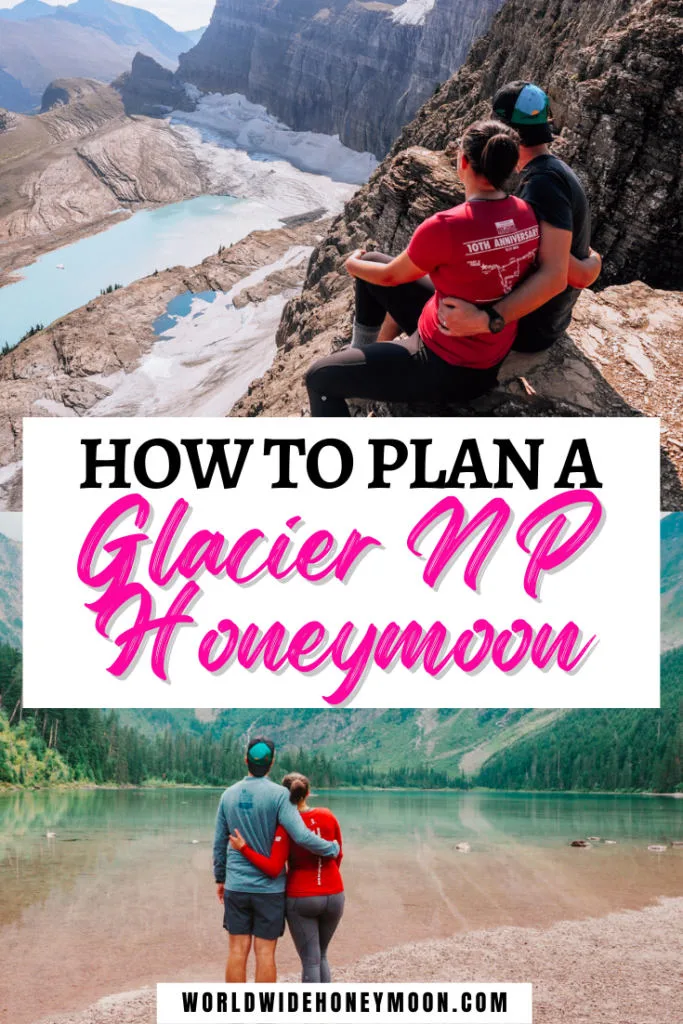 Ultimate Glacier National Park Honeymoon Guide
To break down this honeymoon guide to Glacier, we're going to talk about things to do, where to stay, when to visit, how long to go, and other tips.
Best Things To Do For A Glacier National Park Honeymoon
Glacier National Park is a large park full of exciting adventures to be had. Whether you want a laid-back, relaxing vacation or a full-on adventurous honeymoon, this is what to do in Glacier National Park.
1. Go Hiking!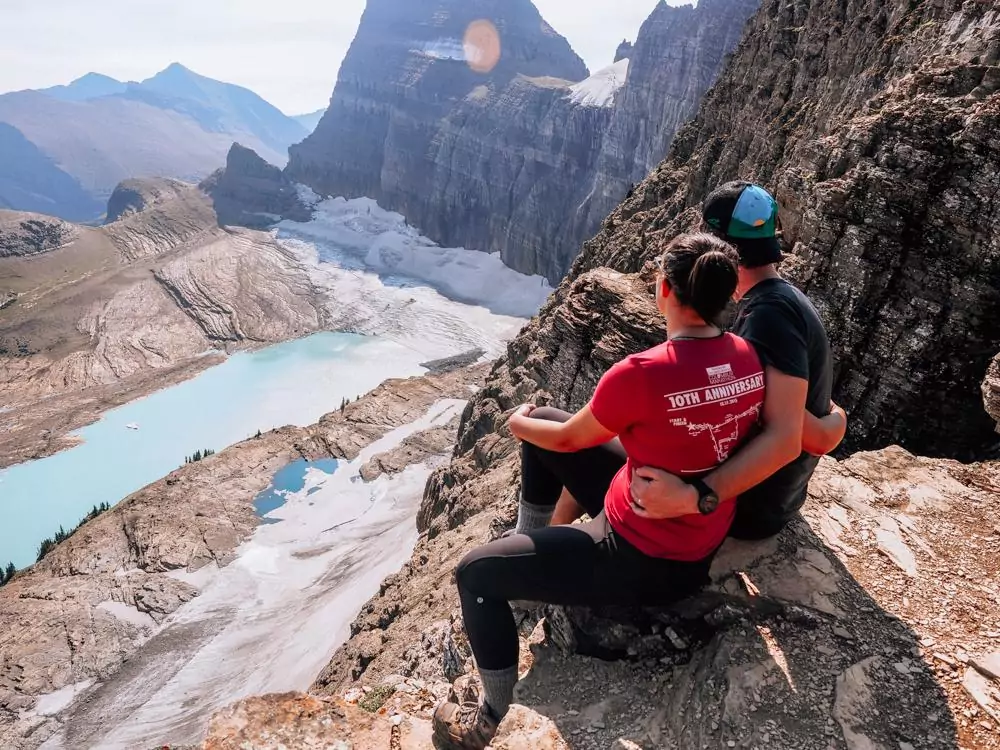 This may seem like an obvious choice, and likely a major reason to choose Glacier National Park, or any national park for that matter, as a honeymoon destination. With over 700 miles of trails in Glacier, you're truly spoiled for choice!
A top hike that you'll want to go on includes the Grinnell Glacier hike to get up close and personal to one of the most iconic glaciers in the park. Plus, the hike includes wandering past a couple of lakes and the opportunity to spot incredible wildlife!
Avalanche Lake via Trail of the Cedars is a great, easier hike with incredible views of Avalanche Lake as well as the mountains and waterfall on the other side of it.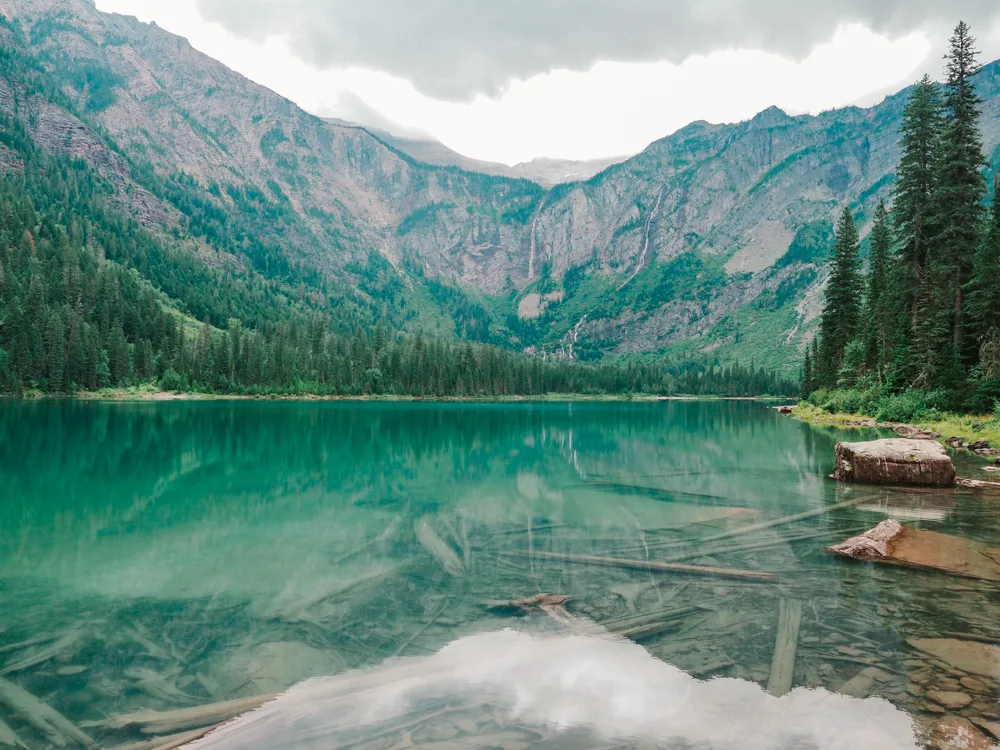 The Highline Trail is definitely a great choice, especially if you add on the hike to Glacier Overlook. It is a tough day hike, so pack plenty of water and snacks, but the views over the Garden Wall of Grinnell Glacier below make it well worth the effort.
For a chance to potentially spot wildlife, including grizzly bears, check out the Hidden Lake Overlook trail!
2. Chase Waterfalls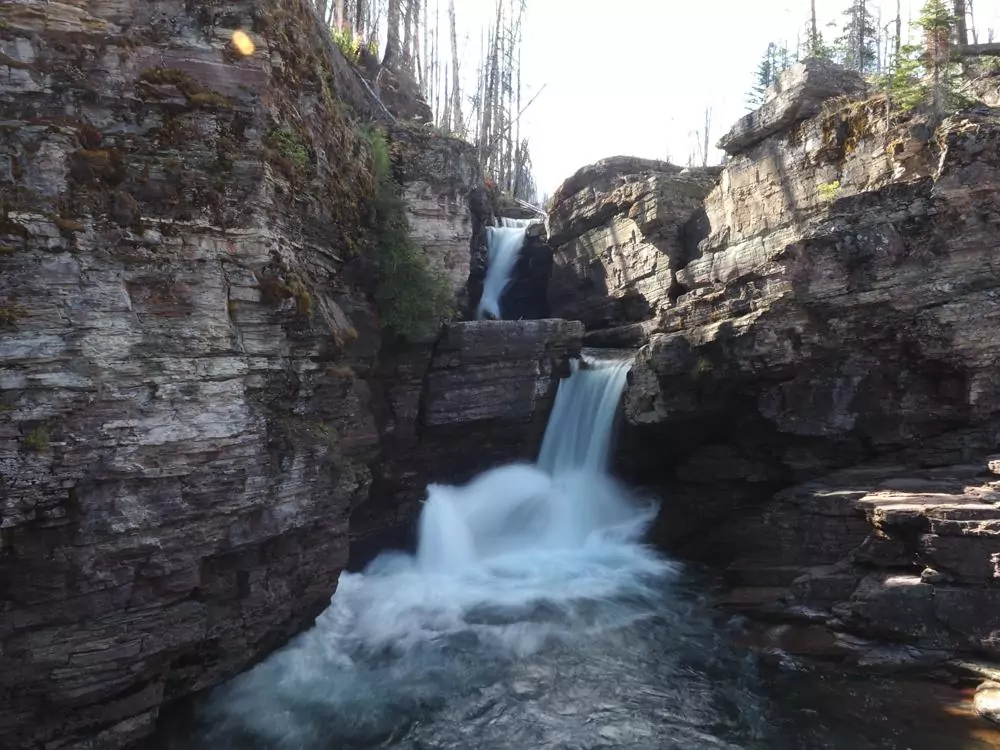 Who doesn't love to chase a waterfall or two? Glacier National Park is full of dreamy cascades that are perfect for a romantic honeymoon.
St. Mary Falls is a moderate hike on the eastern part of the park that will leave you breathless by its beauty.
Rockwell Falls is another great hike to enjoy in the Two Medicine part of the park. You can even add on Aster Falls for another 0.2 miles of hiking on this trail. Both are stunning waterfalls to enjoy.
And for zero hiking, McDonald Falls is right off of the Going-to-the-Sun Road and is a bustling cascade.
3. Drive Going-To-The-Sun Road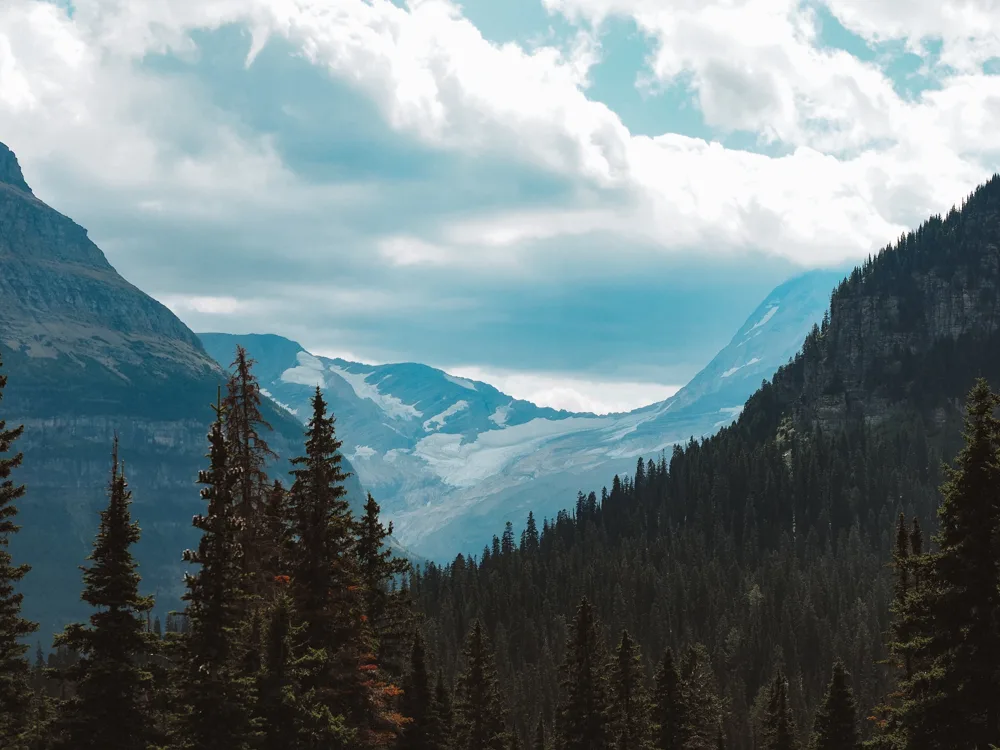 Going-to-the-Sun Road is the most iconic road through the whole park. It goes from west to east in Glacier National Park and has several sights to see from a glacier to several lakes!
You could spend an entire day just going from one side of the park to the other using this road. Start on the west part of the park and enjoy stops at McDonald Falls, Jackson Glacier, the Weeping Wall, and the Wild Goose Island Overlook.
You can also use this day to do some hikes along the way like Avalanche Lake via Trail of the Cedars, Hidden Lake Overlook, and St. Mary Falls as we did during our week-long Glacier National Park trip!
No matter where you stop on the road, however, the mountain views are jaw-droppingly beautiful, especially when you get near Logan Pass!
PS- If you want to drive the full length of Going-to-the-Sun Road you'll need to visit during the summer months in July-early September. There are frequent road closures due to snow outside of that time frame. To keep up with current closures, as it could change abruptly, check out the NPS website here.
4. Ride In A Classic Red Jammer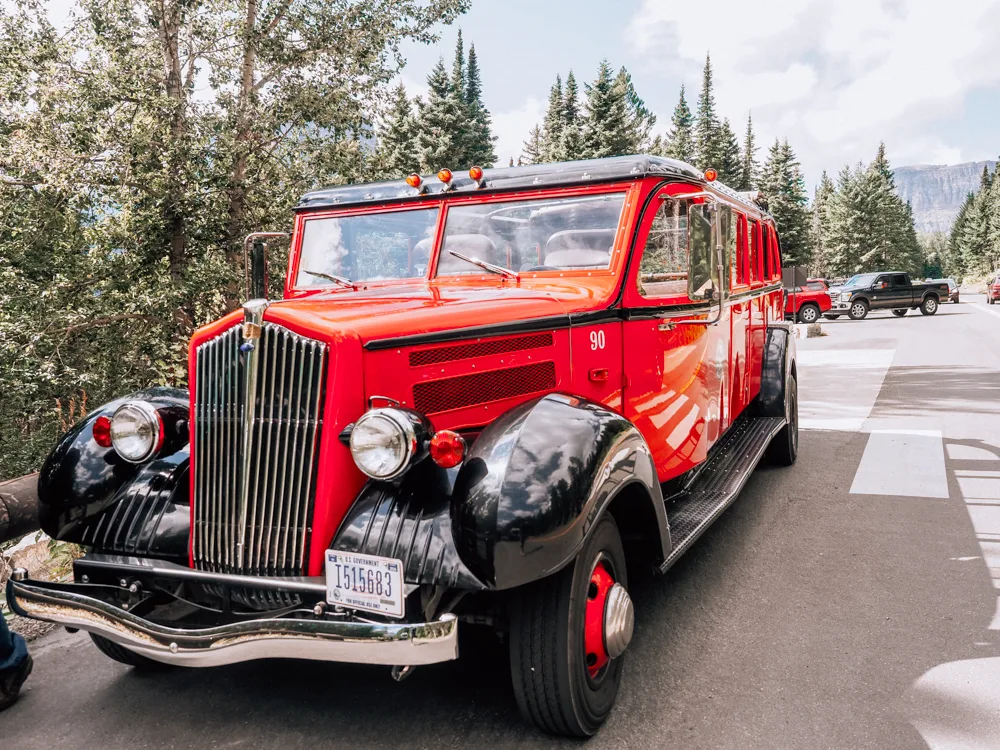 While driving around Glacier is a treat, so is sitting back and enjoying the ride in a classic Red Jammer Bus tour!
Take a tour and ride around with the top down as you hear about the history and fun facts about this national park.
5. Go White Water Rafting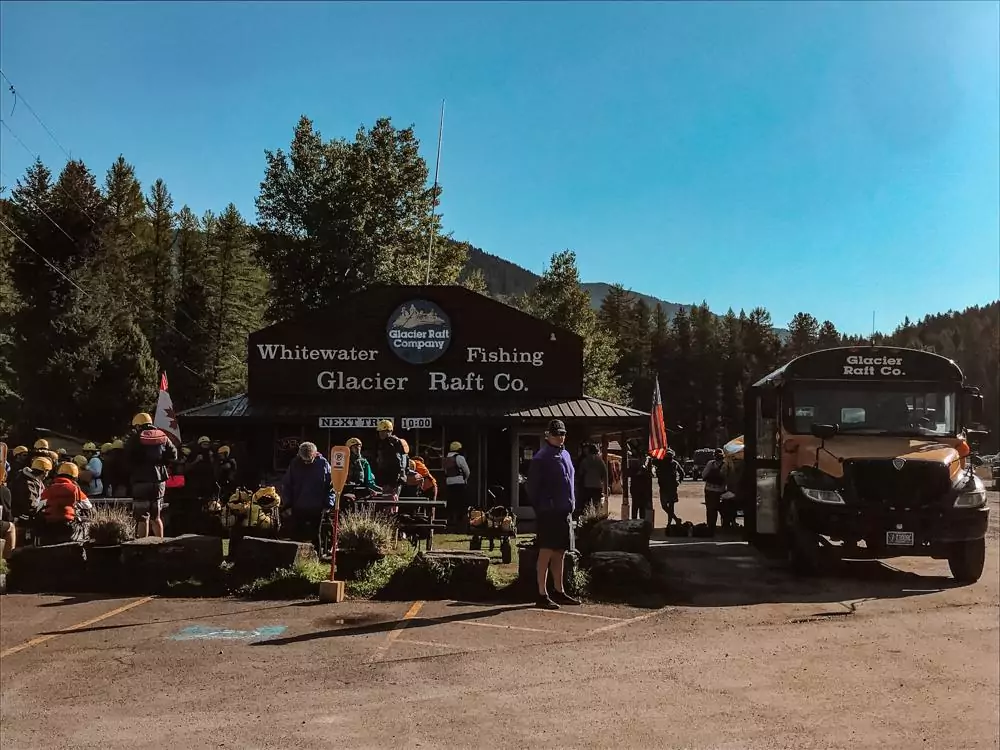 For the truly adventurous, why not go white water rafting in Glacier National Park during your honeymoon?
We really enjoyed this half-day rafting trip as we glided down the Flathead River. We were even allowed to hop in at the end in a calmer section of the river and swim in glacially-fed water! It was an experience that I highly recommend!
Seriously, though, the views from the river are absolutely breathtaking, and nothing gets the adrenaline pumping quite like trying to stay upright in a rapid. But don't worry, these rapids are about a class 3 so nothing too crazy!
6. Kayak On Lake McDonald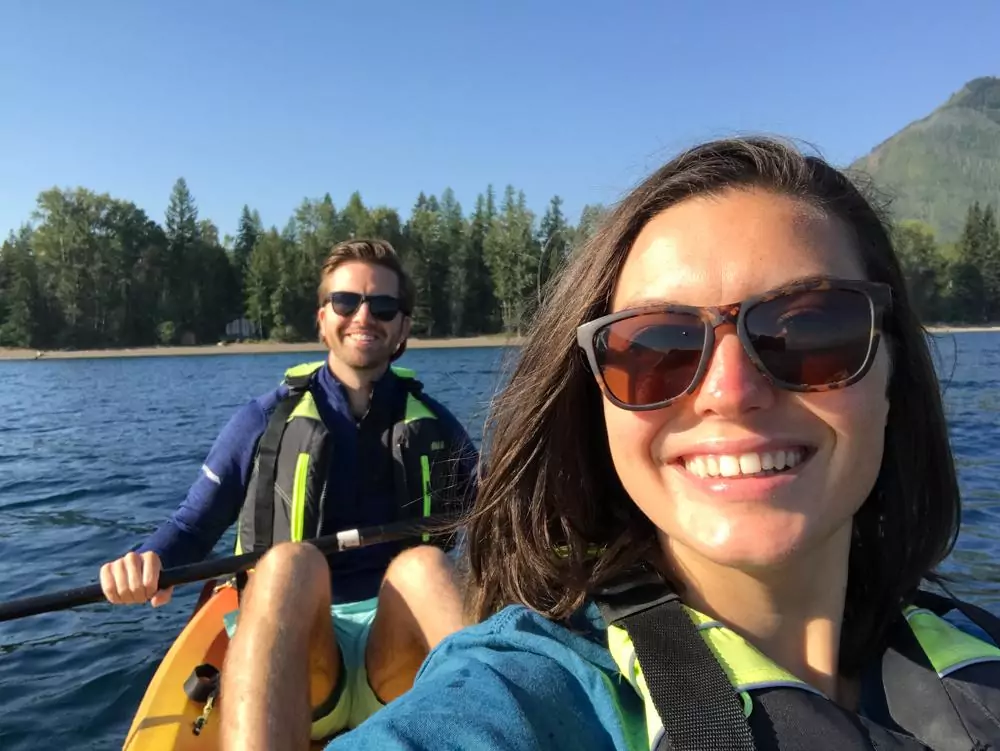 Lake McDonald is one of the best lakes around Glacier National Park. You can easily rent a kayak for a few hours and enjoy it. Find hidden coves and caves, admire the clear water and colorful rocks, and make stops along the various beaches.
I recommend renting a kayak for 4 hours as 2 hours isn't enough time and more than that is too much. It was $76 for a 4-hour tandem kayak rental with Glacier Outfitters!
7. Beach Hop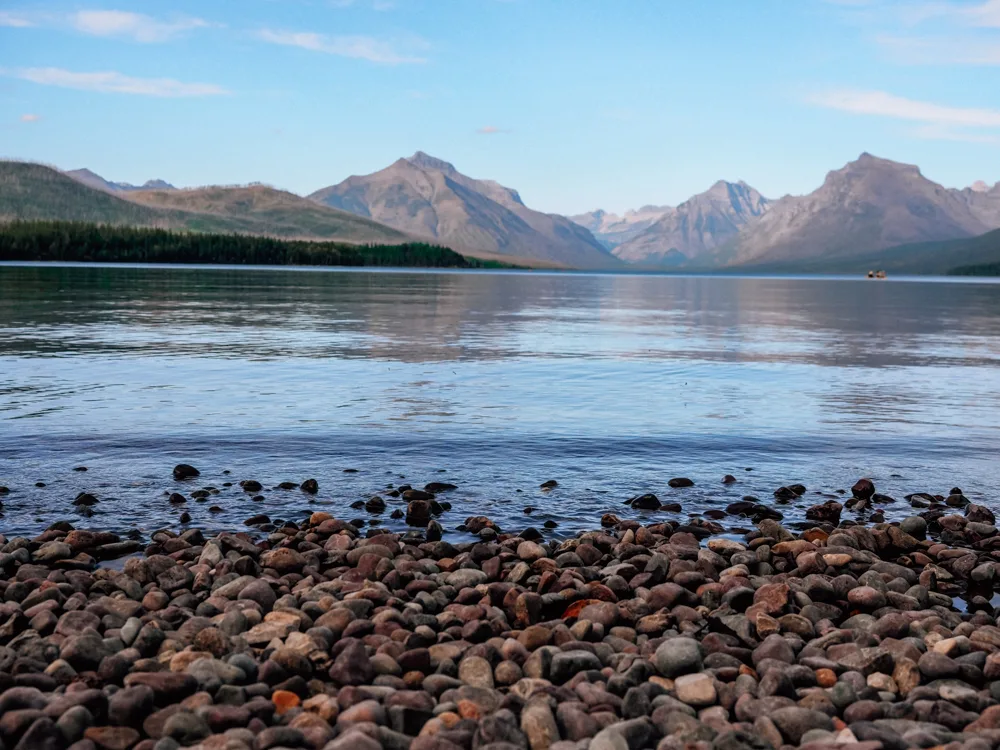 There are plenty of lakes in Glacier National Park and with that comes several beaches. On a warm sunny day, why not explore and go for a swim along these beaches?
Lake McDonald is of course a popular place for swimming. However, be sure to check out lakes like both of the Two Medicine Lakes or even Bowman Lake.
8. Visit Canada And Waterton Lakes National Park
Did you know that Glacier National Park extends into Canada into the smaller Waterton Lakes National Park?
Go visit for a day or two for epic hikes, lovely lakes, and gorgeous scenery.
9. Stargaze At Night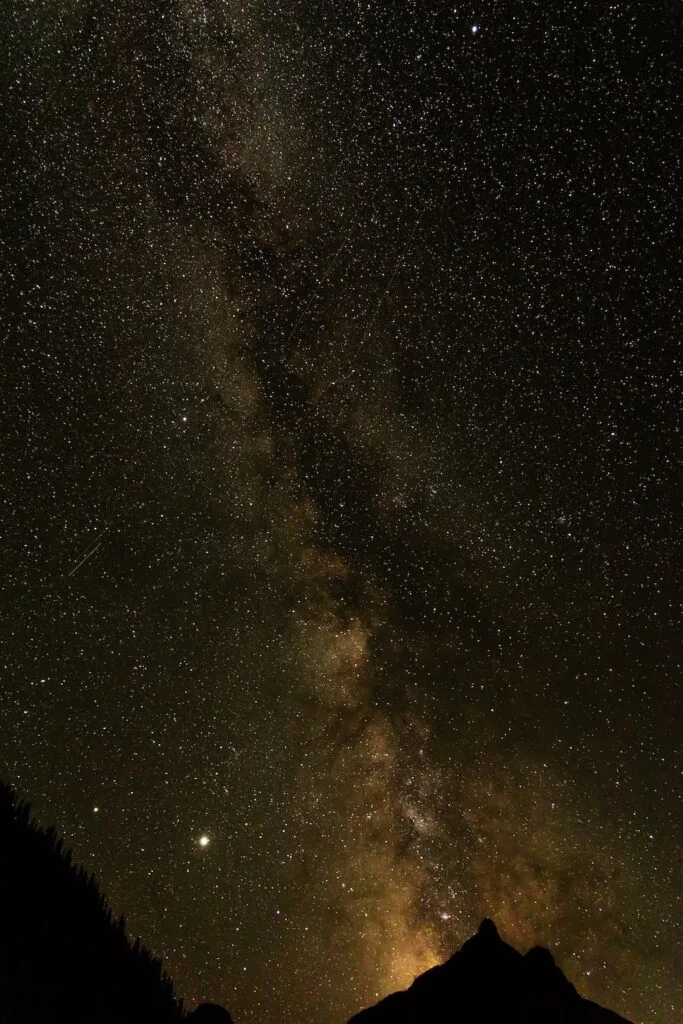 Did you know that Glacier National Park is an international dark sky park? This means that when the sun has set, you'll have a chance to witness some incredible stargazing!
Whether you want to bring a telescope or just enjoy the views of the Milky Way with the naked eye, there are plenty of spots within the park that get so dark that the night sky truly shines.
10. Stay in a Dreamy Lodge During Your Glacier National Park Honeymoon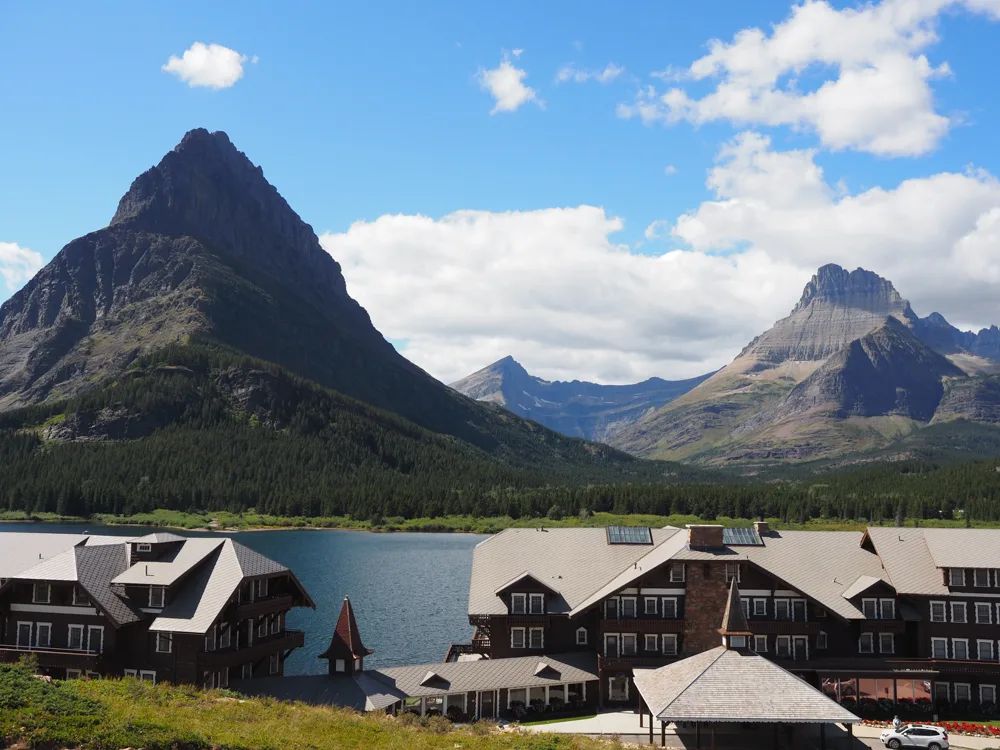 If you want to really enjoy all that Glacier National Park has to offer, staying in the park is a great idea. There are quite a few lodges to choose from, but for a honeymoon trip, Lake McDonald Lodge and Many Glacier Hotel are the perfect chalet-themed lodges of your dreams.
Enjoy stunning lake and mountain views from your room as you cozy up post-hike.
Where To Stay In Glacier National Park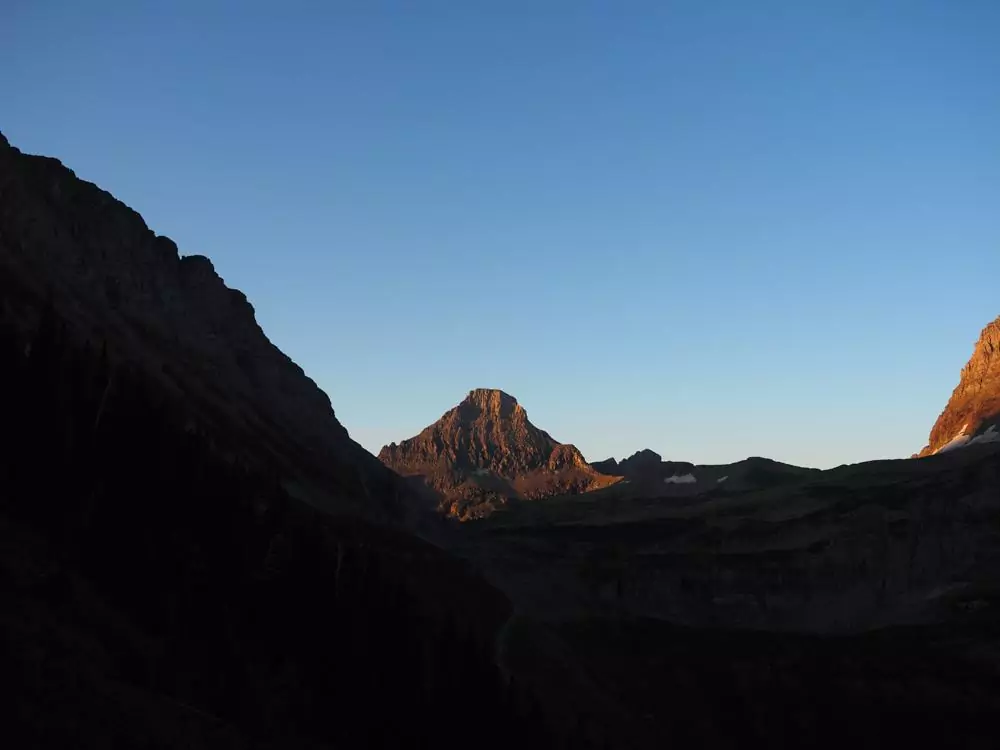 There are so many places to stay in and around Glacier National Park. However, for a honeymoon or romantic getaway in Glacier National Park, I have options for both inside and outside of the area.
Depending on the length of your stay, I actually recommend spending about half your time in the western part of the park and half of your time on the eastern part. As both have plenty of things to offer, visiting both sides is a great idea.
The western part of the park is great for several hiking trails and plenty of water adventures like paddleboarding, kayaking, rafting, etc. There are also more hotel and dining options over there.
The eastern part of the park is a bit more remote but there are great areas to explore including Two Medicine and St. Mary.
I mentioned Lake McDonald Lodge and Many Glacier Hotel above, which I highly recommend for those wishing to stay within the park, as these make for perfect Glacier National Park honeymoon resorts. However, be sure to book early for the best prices and to reserve your spot!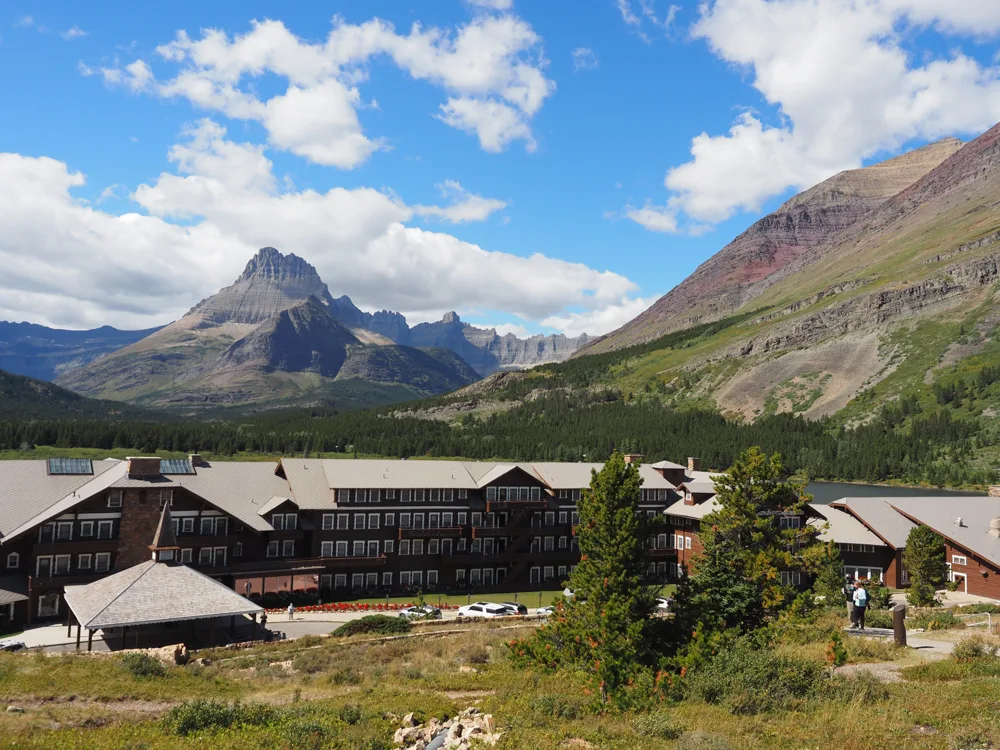 Prices for these lodges can be as low as $120 or as high as $500+ per night. So be sure to plan in advance!
Book Lake McDonald Lodge here!
On our most recent visit, we ended up staying in Airbnbs on both the west and east sides of the park and really enjoyed it. We loved the cabins we stayed in, and they both had a full kitchen, washer and dryer (so important for hiking), and comfy rooms.
We loved our west side cabin located near Columbia Falls, Montana, and this one in East Glacier.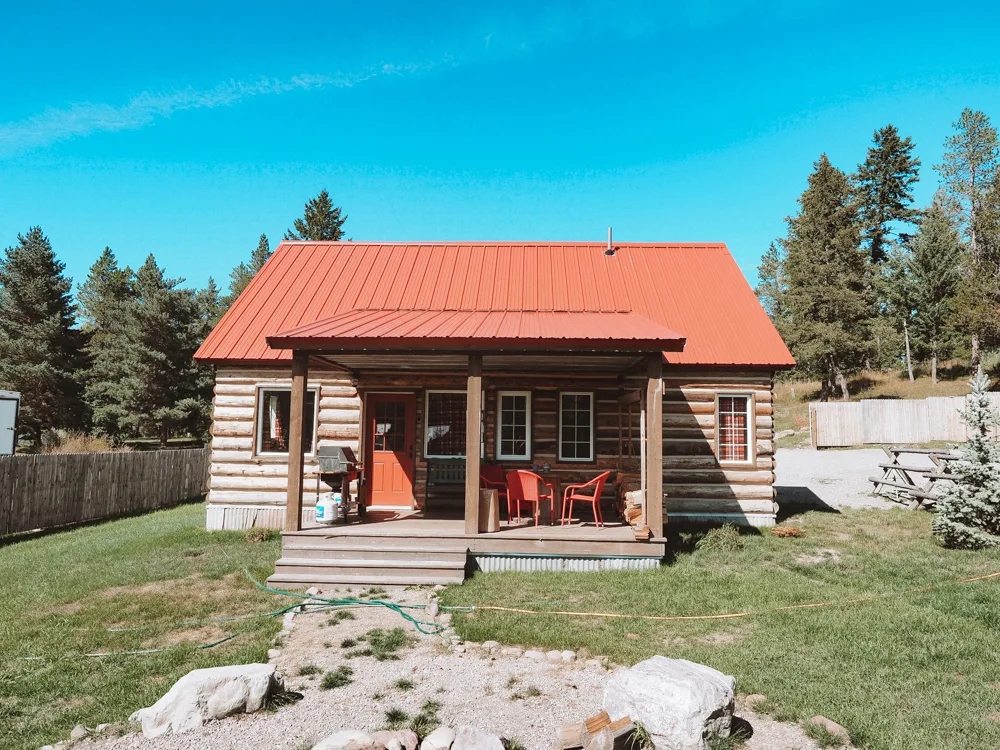 VRBO also has great options for either side of the park when it comes to Glacier National Park honeymoon cabins! Check out VRBO deals here!
For those who want to stay outside the park but in a lodge or hotel, check out The Lodge at Whitefish Lake near the western part of the park for great lake views and cozy lodge vibes. Prices start at $140 per night.
On the eastern part of the park, the Summit Mountain Lodge has incredible mountain views, is perfect for sunset watching, and even has moose in the area you may spot! Plus, the steakhouse on site is a delightful place for dinner. Prices start at $169 per night.
Best Time To Visit Glacier National Park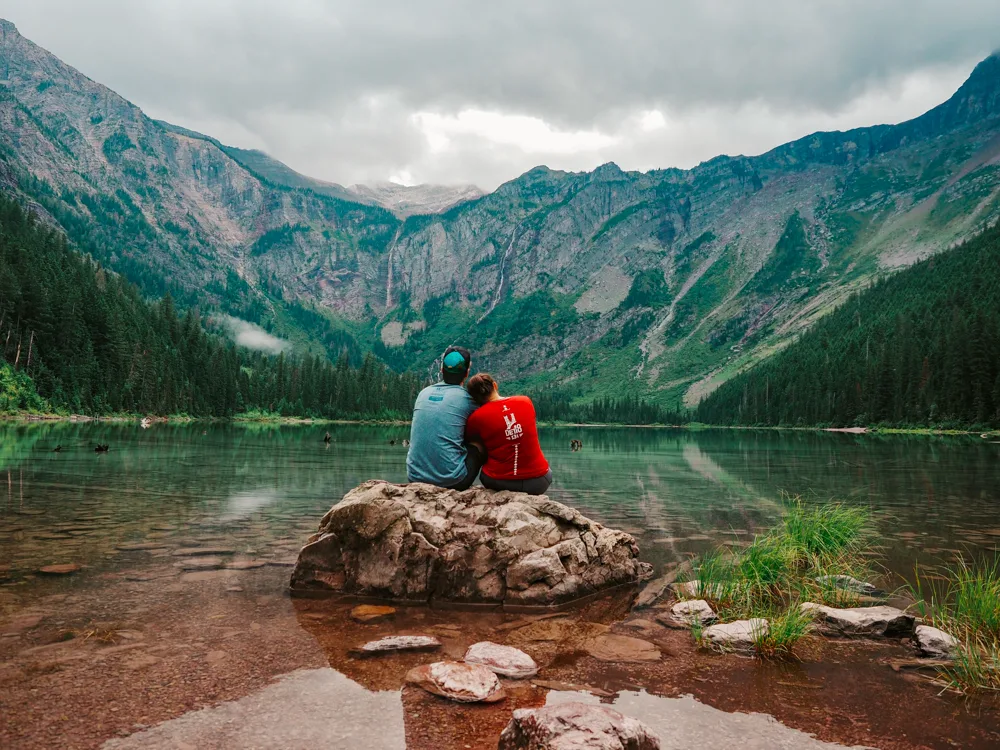 When it comes to the best time to visit Glacier National Park, it really depends on your preference. If you want the best weather and most roads and trails to be open, then summer is your best bet. July through early September bring warmer days and fewer closures. However, it is easily the busiest time of year.
The fall can be gorgeous and cooler but be prepared for some road closures, and many lodges and things within the park close by mid-September. There will, however, be fewer people in the park.
The winter will definitely be the least busy time to visit, and many parts of the park can be hard to reach. However, if you prefer to cross country ski or snowshoe, this is a great time to go. Plus, there are plenty of slopes to ski on in nearby Whitefish.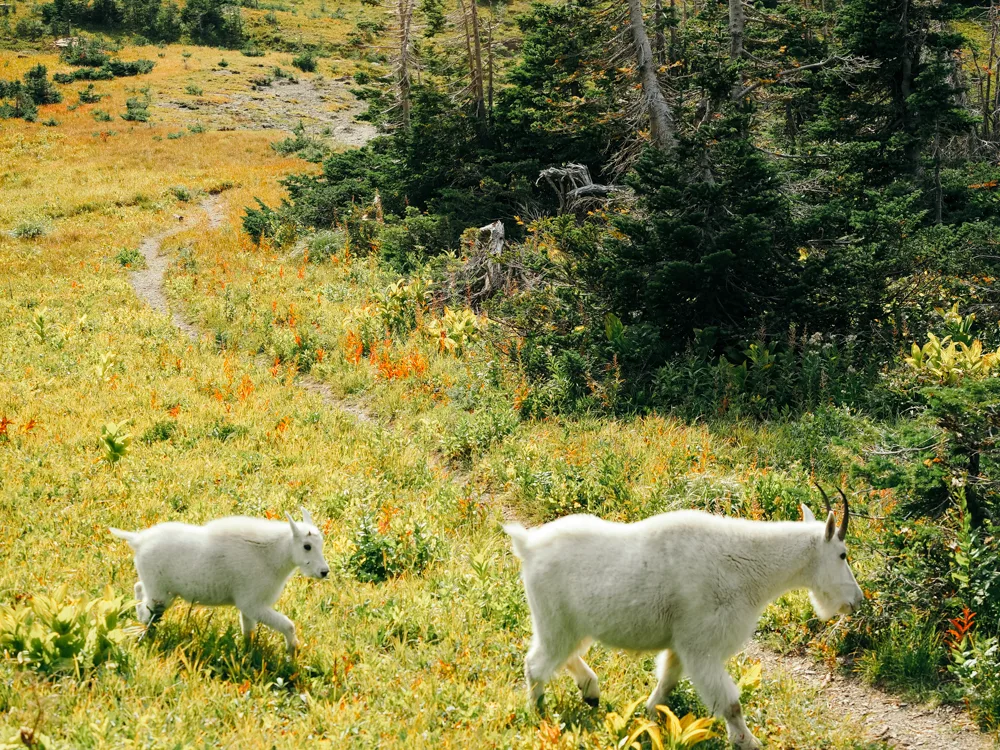 The spring will bring some warmer temps but be prepared for snow and road closures. It can be a great time for wildflower spotting and wildlife watching, but it is best to be flexible any time you travel outside of the busy tourist season due to weather and closures.
In my opinion, visiting around late August/early September is a great idea. Sure, there will be some crowds, but with most schools back in session, you'll have fewer people, and the weather is still good for hiking.
How Long To Honeymoon In Glacier National Park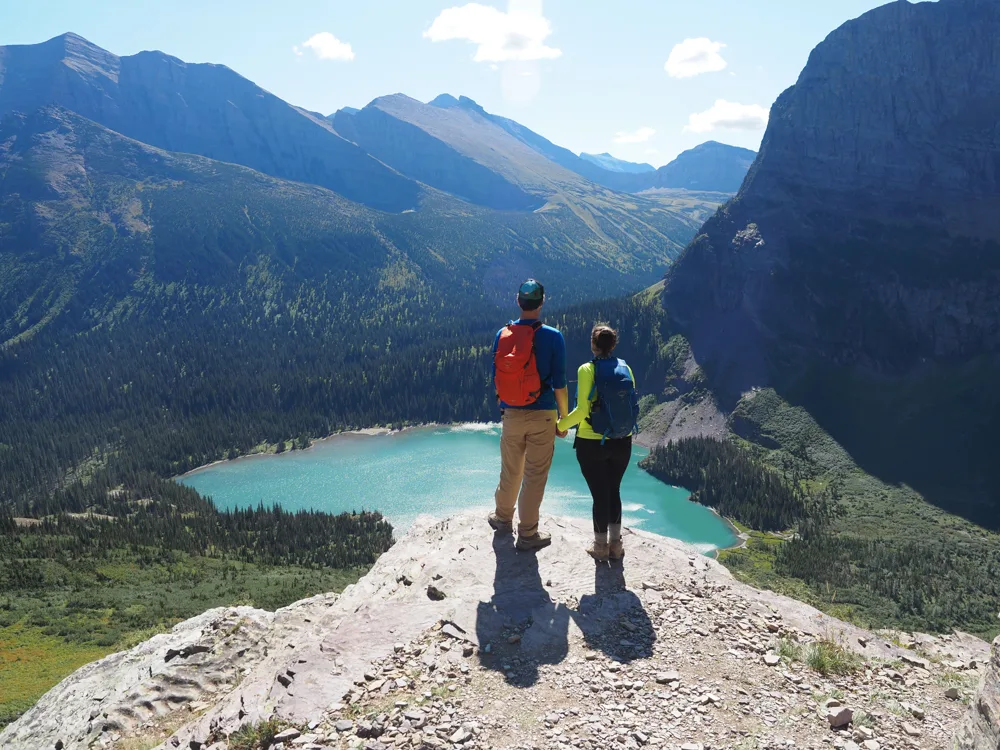 How long should you plan for your Glacier National Park honeymoon? I recommend 7 days if you can. Now, you can see and do a lot in Glacier in just a long weekend trip, but 7 days will allow you to get the most out of your stay and admire various parts of the park.
We did a full week-long Glacier trip and thoroughly enjoyed it! Plus, it is your honeymoon, so why not get away for a week?
Other Tips For Planning A Honeymoon To Glacier National Park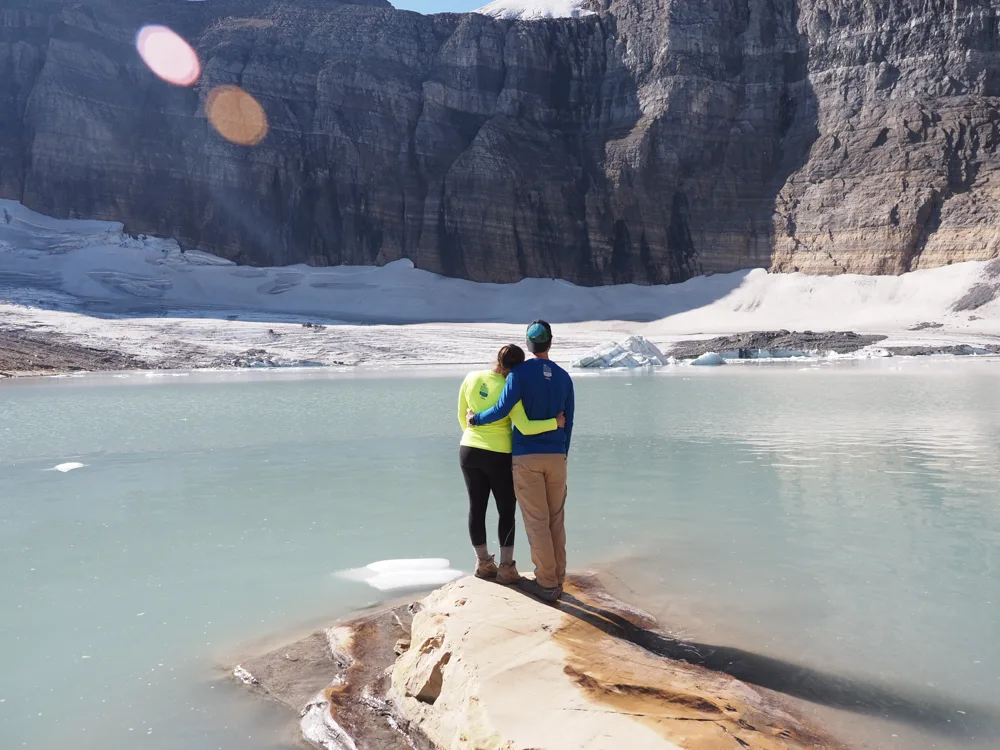 Before your romantic getaway to Glacier National Park, you'll want to know these tips:
How to get there. The closest airport to Glacier is the Glacier Park International Airport in Kalispell, Montana. It is only about 30 minutes from the western entrance. However, Missoula is another popular option that is 2.5 hours away from the park. Check Skyscanner for the best prices and set an alert to book when prices drop!
How much should you budget for your trip? We have a whole guide on how much to budget for Glacier National Park with every detail you could think of, so be sure to check that!
Looking for the perfect itinerary? We also have a 7-day Glacier National Park itinerary to check out. There are even tips for stays of 1, 3 and 5 days plus extra things to do if you have more time!
What to pack. I plan to make a whole packing guide for Glacier, but for hikes, definitely pack layers. There were days where it was chilly in the morning and really hot by afternoon with no forest cover. So bring sunscreen, bug spray, and many layers to combat the temperature changes, sun, and bugs. Also, pack plenty of water and snacks for day hikes. Layers are also key outside of hiking whether you're just stargazing or walking along the lakes.
Glacier National Park is an idyllic place for the adventurous couple on a honeymoon getaway. Its remoteness and charm will have you falling in love with the destination and dreaming of your return. We hope this guide helps you in planning your adventure there!
Would you honeymoon at Glacier National Park, Montana?
Want more honeymoon content? Check out these posts!
Pin it here!