Some posts on this site contain affiliate links, meaning if you book or buy something through one of these links, I may earn a small commission (at no additional cost to you!). Read the full disclosure policy here.
---
A Vermont honeymoon is idyllic. This small northeastern state is full of romance no matter the time of year. Whether you both dream of skiing down pristine peaks, hiking amongst gorgeous fall foliage, or enjoying the lovely lakes and mountain views on a warm summer evening, there are ample romantic getaways in Vermont!
Last fall, Chris and I went on a fall road trip through Vermont and fell head over heels in love with the Green Mountain State. Each town was charming, and every road seemed to lead over lovely creeks and rivers as well as iconic covered bridges. And don't even get me started on the mountain views!
If you're planning a honeymoon in Vermont, you're in for a real treat. It is definitely one of the best US honeymoon destinations! So let this be your ultimate Vermont honeymoon guide including Vermont honeymoon ideas, when to visit, romantic things to do in Vermont, and more!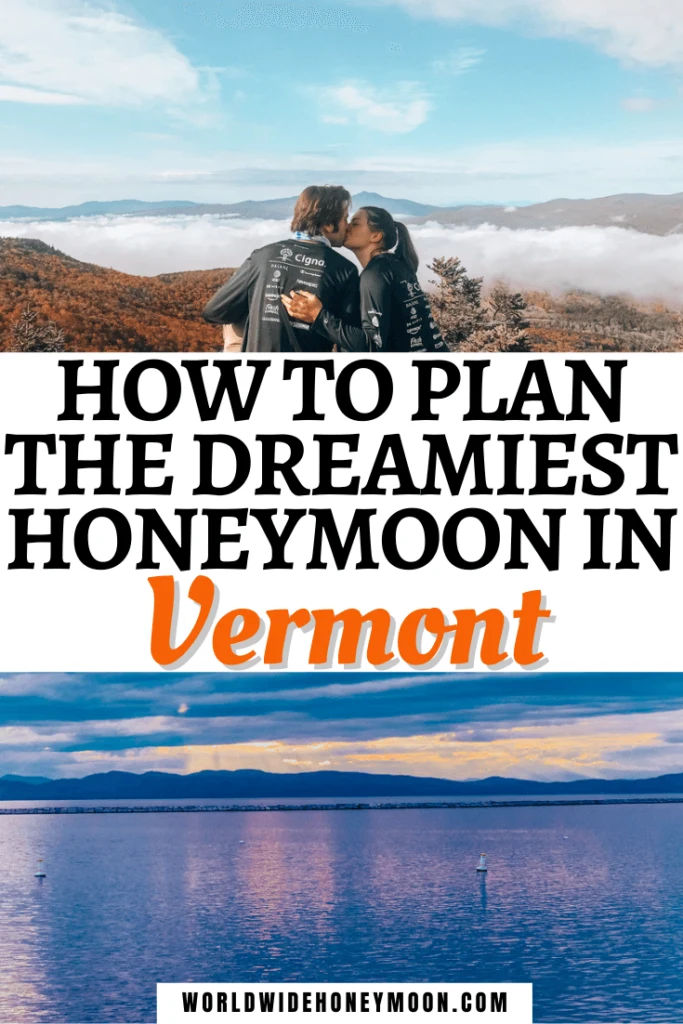 Ultimate Vermont Honeymoon Guide
To kick off our Vermont honeymoon guide, let's talk about some amazing places for romantic Vermont vacations!
Vermont Honeymoon Ideas
Whether you are into charming towns or lovely mountains, these are some fantastic places to visit during your Vermont honeymoon.
1. Stowe, Vermont Honeymoon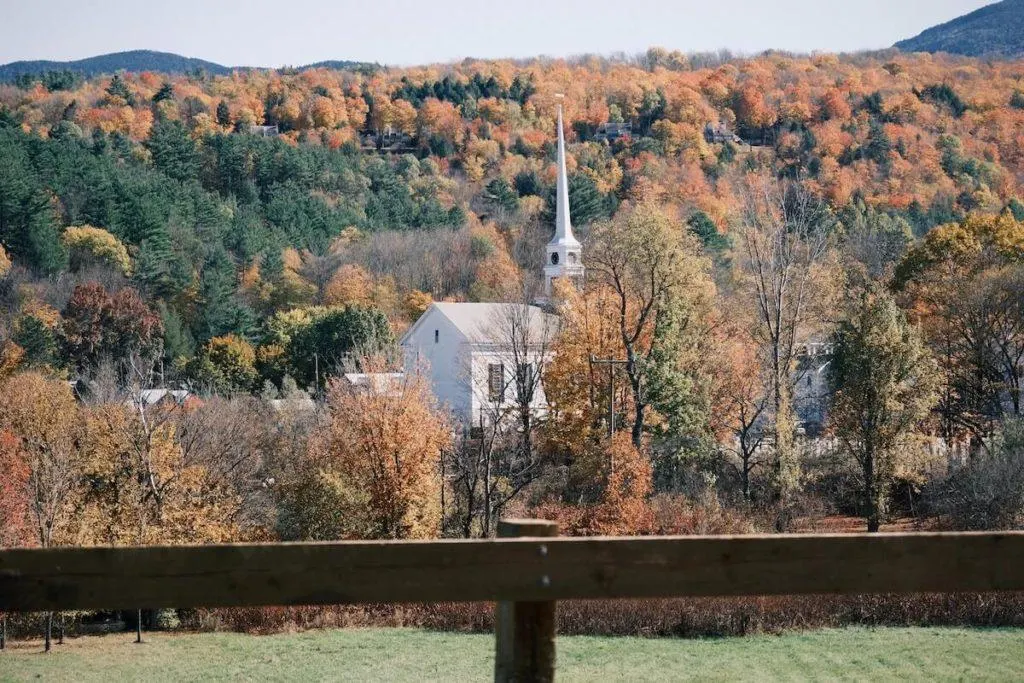 Of all the places we visited on our Vermont road trip, Stowe was the best. This small town is absolutely stunning and has it all: mountain views, charming places to stay, an adorable downtown, and even incredible breweries!
A stay in Stowe during a Vermont honeymoon is an easy decision!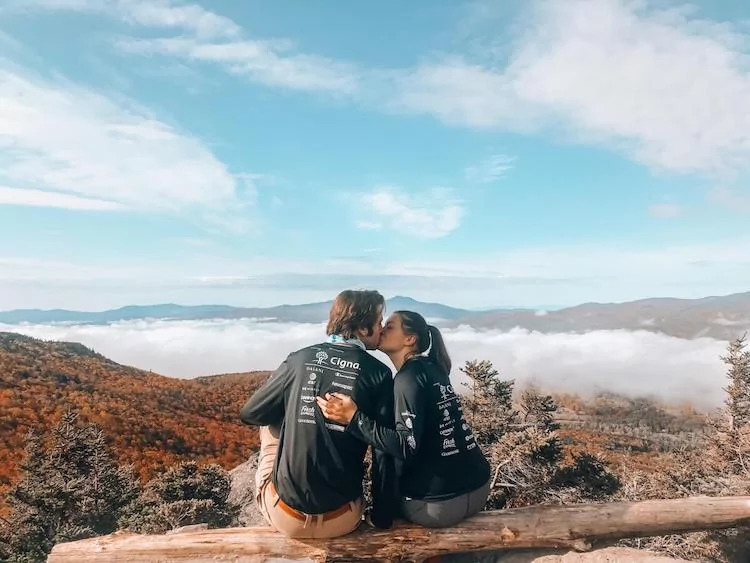 Things to do During a Stowe Vermont Honeymoon:
Drive through Smugglers Notch for stunning mountain views
Hike up to Sterling Pond, Stowe Pinnacle, or check out these other great hikes!
Be ski bunnies for a long weekend if you're visiting in the winter
Enjoy the mountain views while you have dinner or explore the trails at the Trapp Family Lodge
Have a romantic dinner at Cork, a lovely wine bar downtown
Treat yourselves to some tasty beverages at The Alchemist Brewery, Idletyme Brewing Company, and Stowe Cider
Explore covered bridges like the Gold Brook Covered Bridge or Red Covered Bridge
Head to Waterbury to enjoy apple cider donuts from Cold Hollow Cider Mill
For the adventurous: hike Mount Mansfield
Where to Stay in Stowe:
As this town is quite popular for lovers and adventurers alike, there are ample places to stay. However, for a Stowe honeymoon, here are some favorites:
Just minutes from downtown Stowe, this charming inn and restaurant is one of the best places to stay! They offer free breakfast, and they have their own trails for snowshoeing and hiking! Prices start at $170 per night.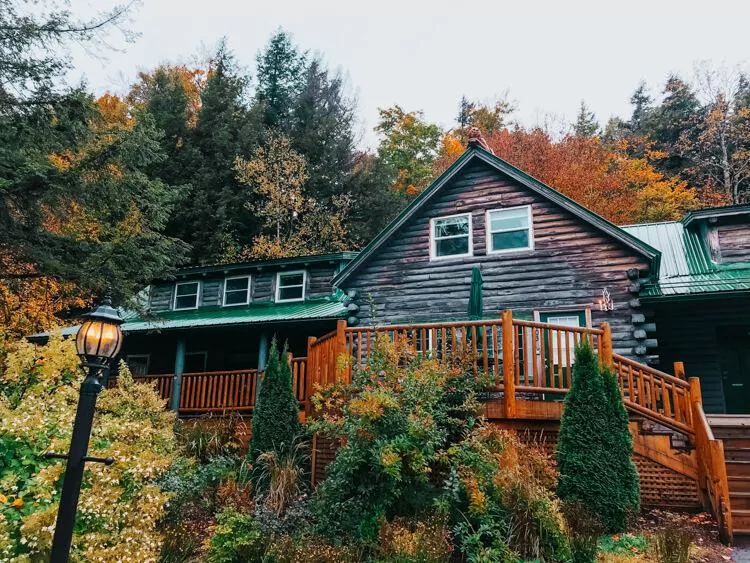 This place is an Airbnb lodge and where we stayed on our recent trip. Aside from having all the ski lodge vibes in your own 2-story unit with a kitchen, there is a working sugar shack on the property where the owner, Tom, will allow you to explore, sample, and purchase maple syrup there! Plus, he lights a fire at night for guests to enjoy and the place is just rustic and enjoyable all around! Prices start at $190 per night.
This iconic lodge is a great place to visit whether you plan to stay there or not. Surrounded by mountain views, a sunset drink or dinner here is a must while in Stowe. This lodge is Austrian-inspired and even built by the famous von Trapp family! Seriously, if you're willing to splurge a bit, this is definitely one of the best Vermont honeymoon resorts! Prices start at $220 per night.
When to Visit Stowe: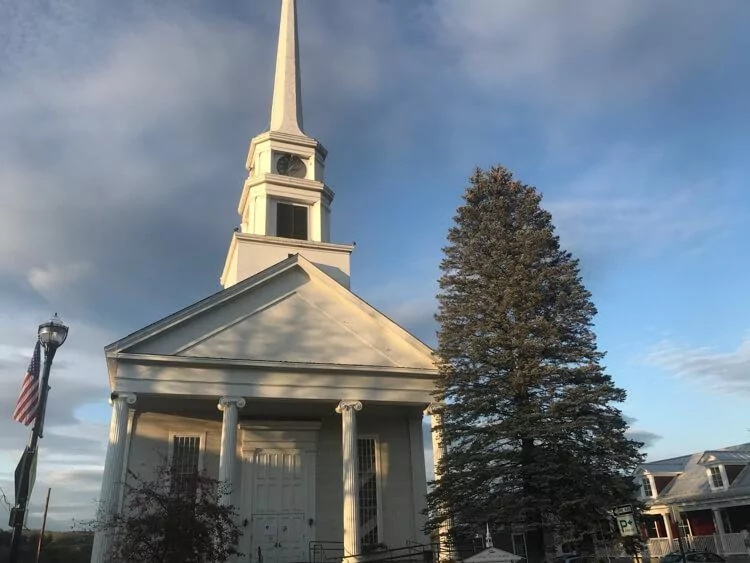 Stowe is one of those Vermont destinations that you could definitely visit year-round. If you are here to ski together, then definitely come in the winter. However, it will be more expensive at this time. I also recommend staying at a ski-in/ski-out lodge for convenience if you're visiting the slopes.
If you're dreaming of fall foliage, obviously peak foliage can change each year, but late September through mid-October is a good time to visit for some fall foliage views and hiking. Be sure to check fall foliage reports here!
And, of course, summer will be a bit cheaper than winter and also offer great hiking opportunities!
Note that Smugglers Notch along Route 108 does close during the winter months so if you want to enjoy that area, then visiting before the snow starts is key.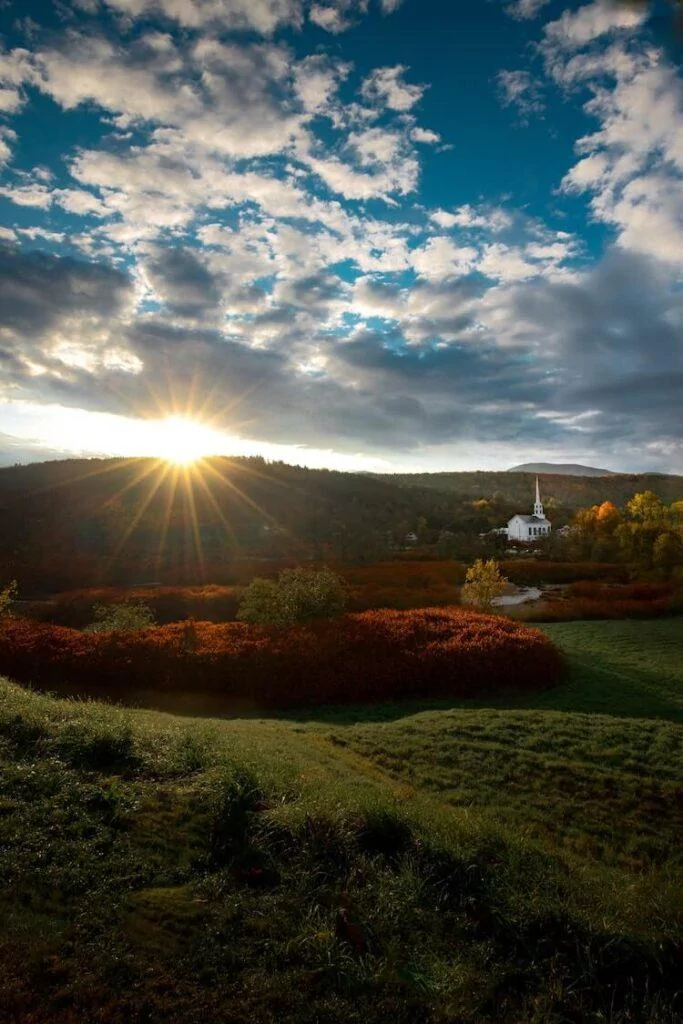 Ideal Trip Length for Stowe:
While you could easily spend a full week in Stowe to take things slow and enjoy it, 3-4 days is perfect if you're coming for a Vermont mini-moon trip! In that amount of time, you'll definitely be able to enjoy most of the sights here!
2. Burlington Vermont Honeymoon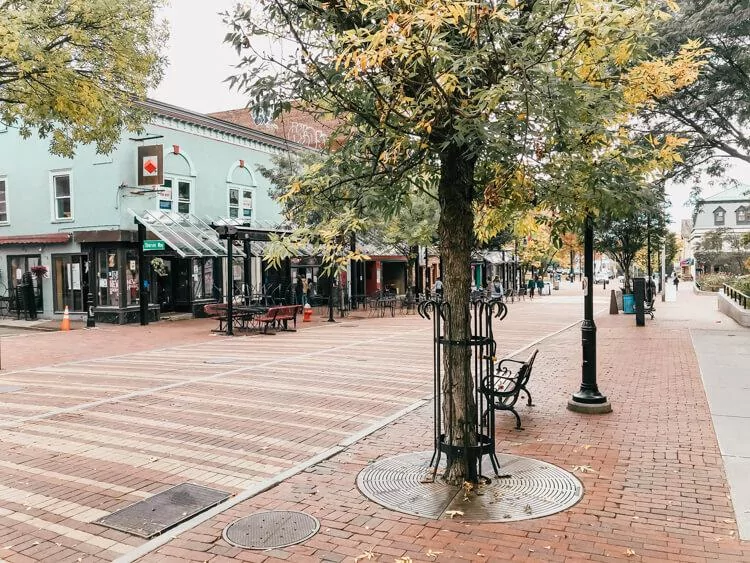 Vermont's largest city is another great romantic getaway in Vermont! With the always stunning Lake Champlain, great shops, and little eateries everywhere, this is a fabulous little getaway in Vermont for your honeymoon.
Things to do in Burlington, Vermont:
Stroll along Lake Champlain and enjoy a maple creemee, Vermont's spin on soft-serve ice cream
Drive the Lake Champlain byway
Head to Shelburne Orchards to pick apples in the fall
Sip wine at Shelburne Vineyards
Explore the Ethan Allen Homestead
Walk along Church Street and pop into the many boutiques along the way
Grab ice cream at Ben and Jerry's
Definitely head back to Lake Champlain for a sunset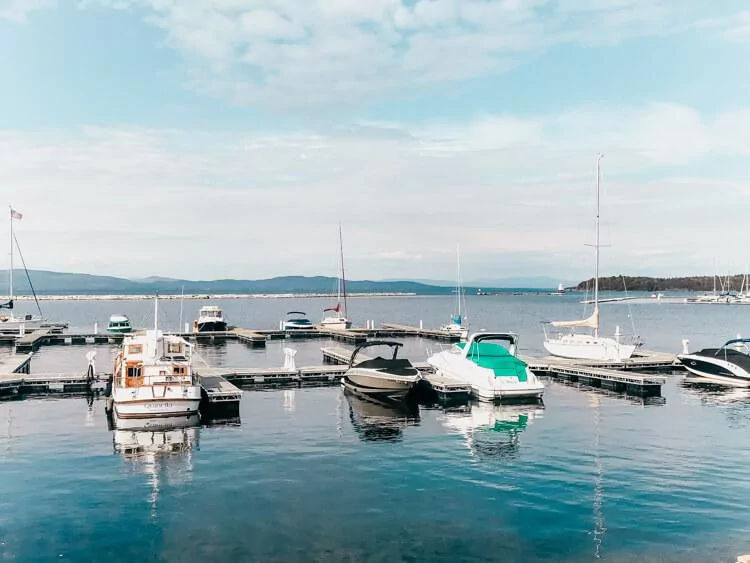 Where to Stay in Burlington, Vermont:
This city definitely has plenty of options for accommodations, but here are a few favorites for your honeymoon.
This VRBO is chic with turn-of-the-century features and decor. It is also in a lovely location to enjoy the best of Burlington's bars and restaurants. Get cozy and enjoy your Vermont honeymoon here! Prices start at $316 per night.
254 South Union Street Guest House
Vermont is well-known for its adorable guest houses, and Burlington is no exception. This little place has all the comforts of home and is centrally located so you can wander around the town on foot. Prices start at $219 per night.
This perfectly located hotel has views of Lake Champlain, a bar and lounge, and comfortable rooms to make your stay memorable! Prices start at $389 per night.
When to Visit Burlington: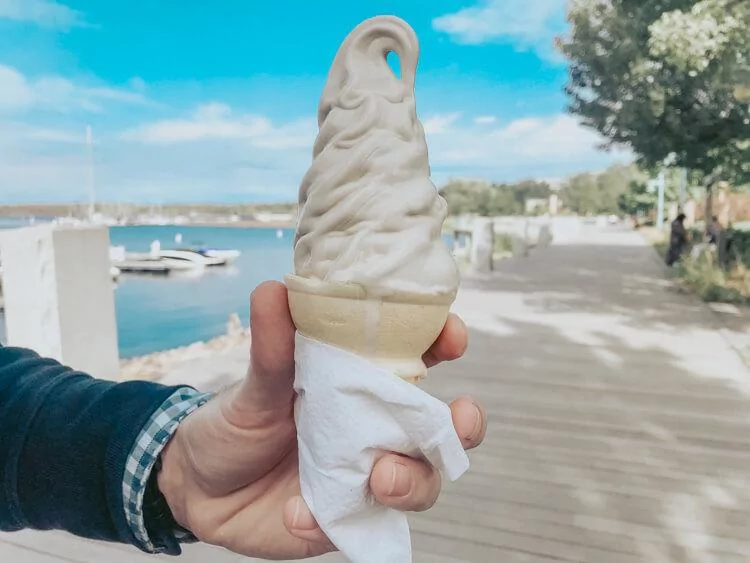 This city is a great place to visit from late spring through the fall. Winter here can definitely be chilly, and, while there are ski resorts outside of town, if you want to enjoy the city itself, winter maybe isn't the best time to visit.
However, the fall was a great time to go for good weather and fall foliage in the surrounding area!
Ideal Trip Length for Burlington: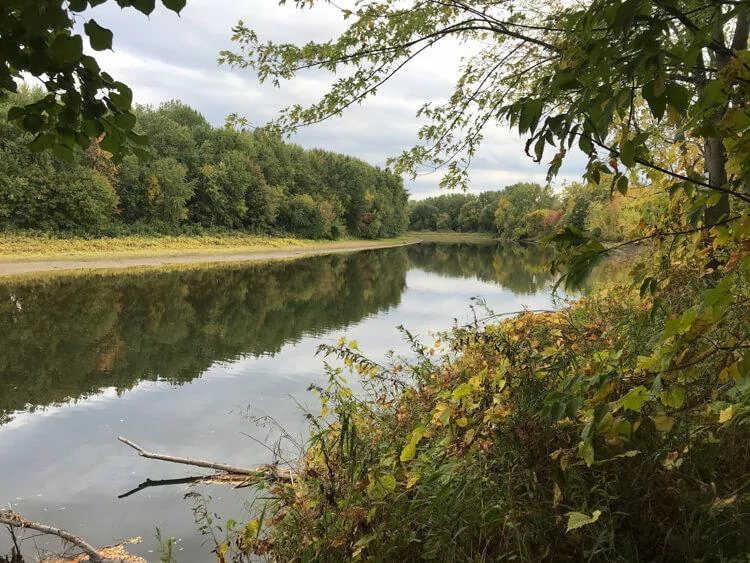 While we did this as a day trip from Stowe, which you could easily do, a couple of days here is plenty to get a feel for Vermont's largest city! There are great views to enjoy and if the weather is nice then getting out on the lake is fun!
3. Northeast Kingdom Honeymoon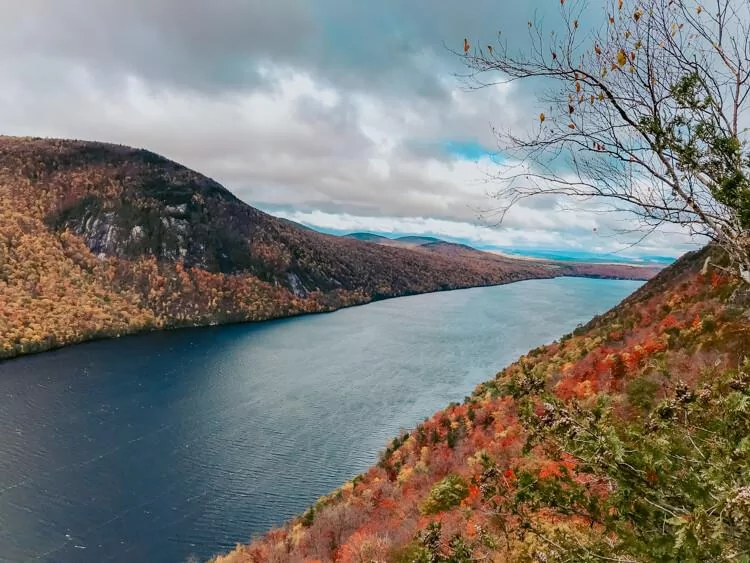 If you haven't heard of the Northeast Kingdom in Vermont, then this is your sign to go! This place is much less frequented than other parts of Vermont, and the mountains are still just as charming!
If you both are outdoorsy people who love hiking, biking, skiing, and more, then a Northeast Kingdom honeymoon is 100% for you! We loved visiting this sliver of Vermont (appropriately named as it is in the northeastern part of the state) and highly recommend it!
Plus, there are some great Vermont honeymoon cabins to enjoy here!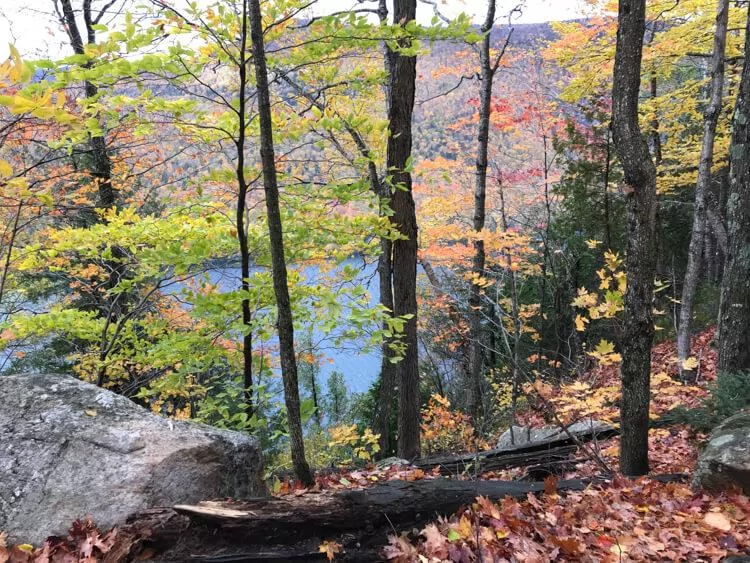 Things to do in the Northeast Kingdom:
Hike or mountain bike along the Kingdom Trails in East Burke
Go searching for moose around Island Pond!
Hike up Mt Pisgah for amazing lake views
Swim or have a picnic at Lake Willoughby, known as America's Lake Lucerne
Enjoy fall foliage in the autumn months on the many hiking trails
Stop at the Dog Chapel in St. Johnsbury
In the winter, go skiing at Burke Mountain
Where to Stay in the Northeast Kingdom: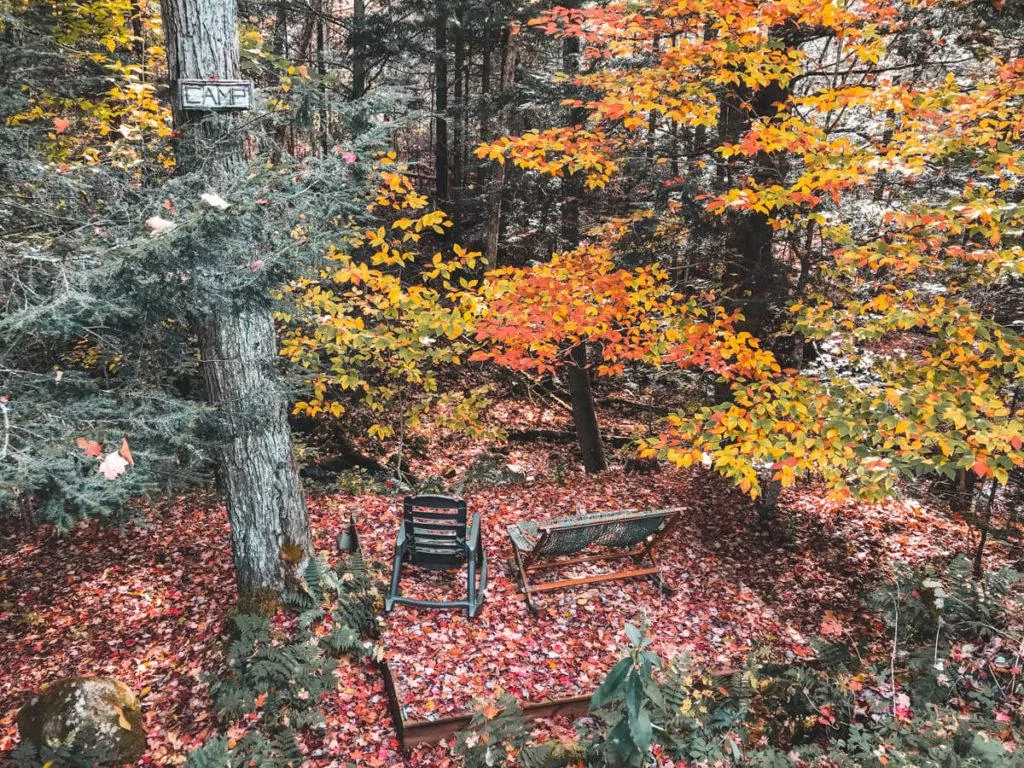 Accommodations are a bit more scarce on this side of the state, especially as it isn't nearly as touristy at Stowe, Burlington, or other famous fall and winter spots. However, you can definitely find some charming and romantic Vermont honeymoon cabins and unique stays to enjoy!
This wooden cabin offers mountain views, a great fire pit, and access to the Kingdom Trails! Sip coffee on the deck and relax as you watch a new day begin. You may even have the chance to spot wildlife! Prices start at $283 per night.
If you're here for ski season, then you'll love this condo. There is a community hot tub and pool, and direct access to ski lifts and trails. This place also has a lovely fireplace and modern kitchen to cozy up and make a meal after a day out on the slopes. Prices start at $278 per night.
This isn't your average barn! This property offers breathtaking views of the mountains and all the comfortable amenities you'd like. Plus, while it is private, you're so close to many amazing places within the Northeast Kingdom! Prices start at $241 per night.
When to Visit the Northeast Kingdom: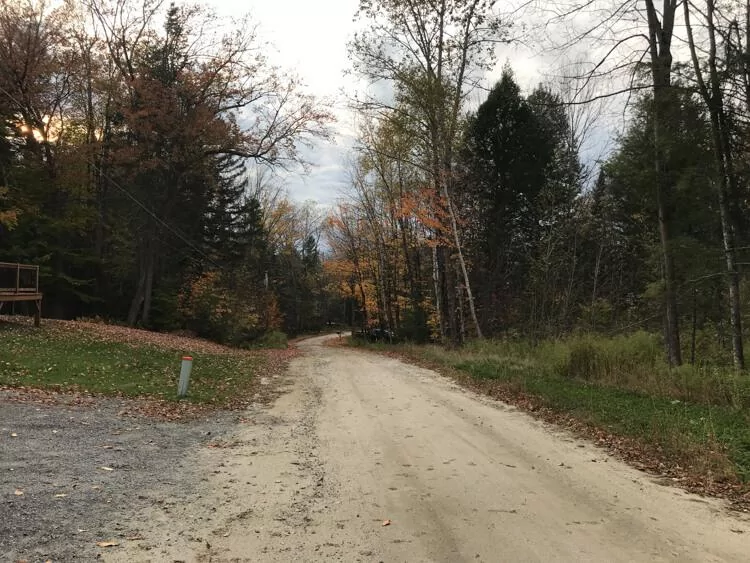 This definitely depends on your preference, but if you are into hiking and mountain biking, then the summer and fall months are ideal.
For skiing, snowmobiling, snowboarding, and other winter activities, then the winter is perfect. Just be sure to rent or drive a 4-wheel or all-wheel drive vehicle if visiting in the winter.
Ideal Trip Length:
For the Northeast Kingdom, you could easily spend a week! However, a few days is again a great amount of time to get in a lot of these activities!
4. Woodstock, Vermont Honeymoon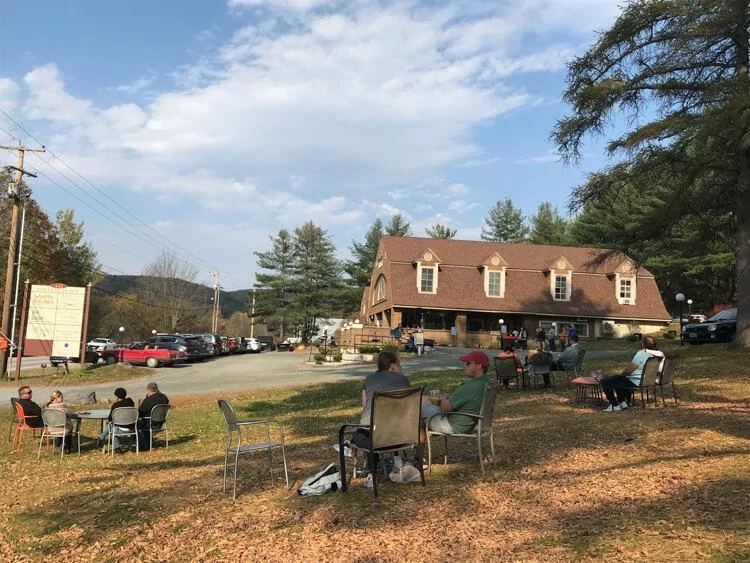 Woodstock is a dream in the fall. With lovely farms outside of the city, charming town squares/parks, and so many restaurants and boutiques, this quintessential Vermont town is a popular place for good reason!
Things to do in Woodstock, Vermont:
Visit Quechee Gorge just outside of the city (known as Vermont's grand canyon)
Take photos at Taftsville Covered Bridge
Visit Sugarbush Farm for maple syrup and cheese
Explore the working dairy farm of Billings Farm & Museum
Find Vermont food and drink classics at the Woodstock Farmers Market
Spot the Woodstock Town Crier
Shop around Woodstock, especially at Vermont Flannel
Grab snacks and enjoy live music at Worthy Kitchen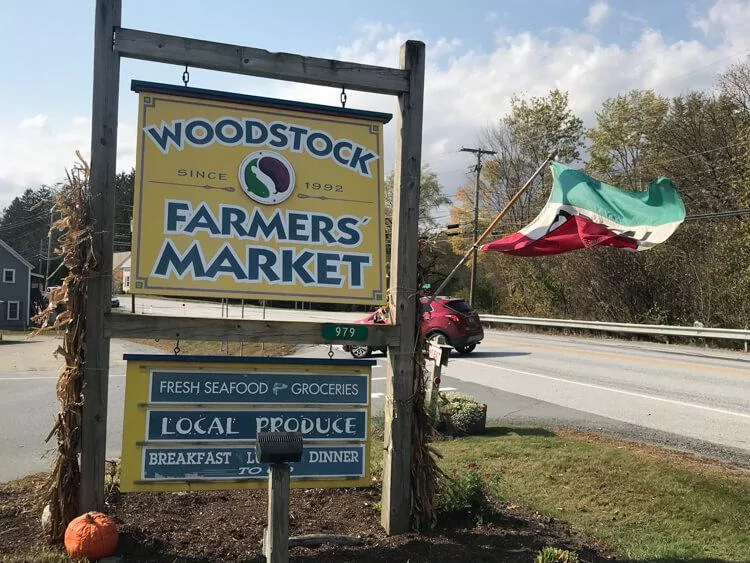 Where to Stay in Woodstock, Vermont:
This is seriously bed and breakfast central, so staying in an adorable B&B is idyllic for your Vermont honeymoon! Here are a few popular choices.
Located right in Woodstock and along the Ottauquechee River, you'll have so many lovely places to relax and enjoy after exploring the town. They even have a heated outdoor pool, beautiful gardens, and stunning rooms that'll make your stay super comfortable. Prices start at $218 per night.
Feel absolutely pampered at this inn that has a spa, fitness center, pool, game room, bar/lounge, and spacious rooms overlooking the river! Enjoy mountain or river views all around you as you relax and enjoy married life together here. Prices start at $309 per night.
Embrace the laid-back atmosphere of this place with 3 acres of land to wander around, suites with fireplaces, seasonal farm-to-table breakfasts, and a mix of modern and antique decor. All of this is within a quick drive from the heart of Woodstock! Prices start at $339 per night.
When to Visit Woodstock, Vermont: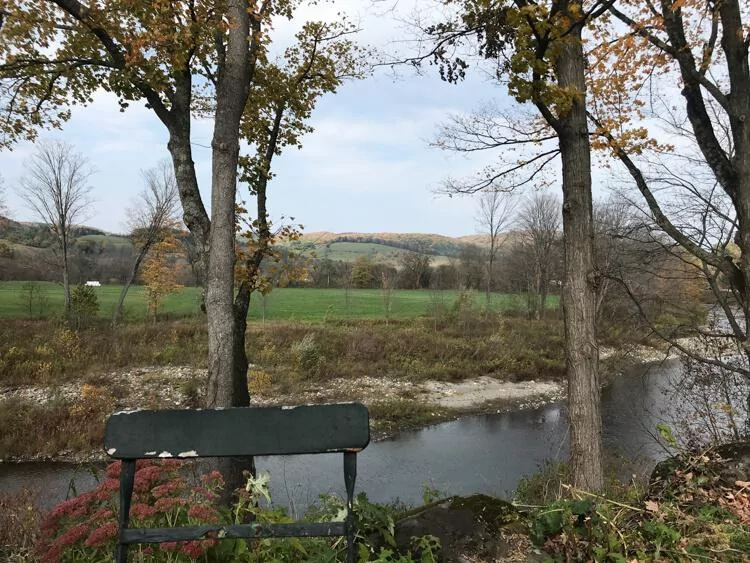 When it comes to Vermont honeymoon ideas, it is a great idea to visit Woodstock in the summer or fall. Fall is definitely the ideal time to go, with fall foliage decorating the town and surrounding area! However, weekends here in the fall can be crowded. So if you can, visit mid-week for fewer crowds.
Ideal Trip Length:
With so much to do in Woodstock and the surrounding area, 3-4 days is a perfect amount of time. However, if you're short on time or are doing this as part of a Vermont or New England honeymoon road trip, then a day trip here works too!
5. Killington Vermont Honeymoon Idea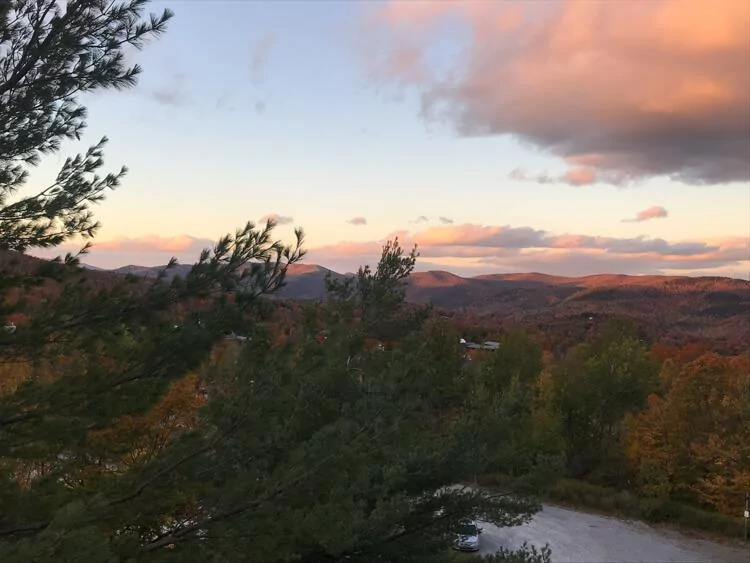 Killington is definitely a popular winter destination in Vermont. So if you are here for the winter activities and apres-ski, this is the place to go! However, Killington is definitely worth a visit outside of this time of year and offers a lot of hiking opportunities and mountain views!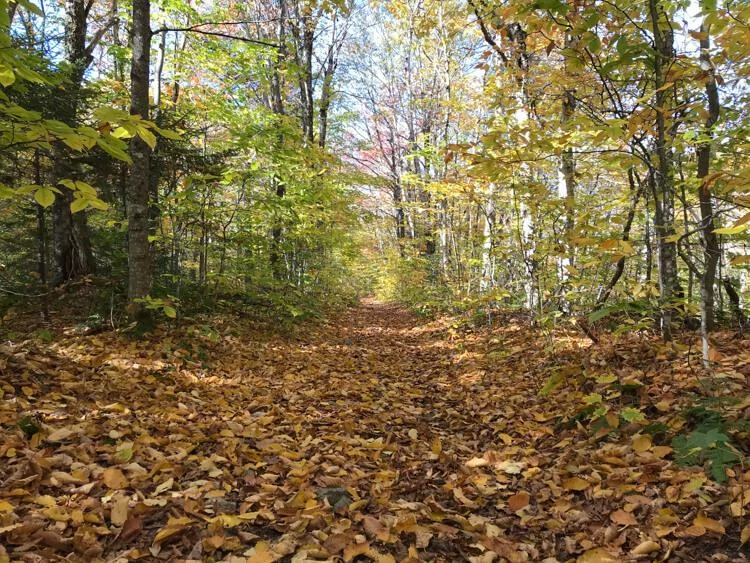 Things to do in Killington, Vermont:
Go skiing in the winter
Try your hand at snowmobiling in the winter
Hike Mount Killington in the summer and fall
Go golfing at Green Mountain Golf Course
Soak in all the mountain views
Hike the many trails in the area including parts of the the Long Trail and other spots in Green Mountain National Forest
Take a day trip to Rutland for its art including sculptures and murals
Refresh yourself after a day outside at Long Trail Brewing Company nearby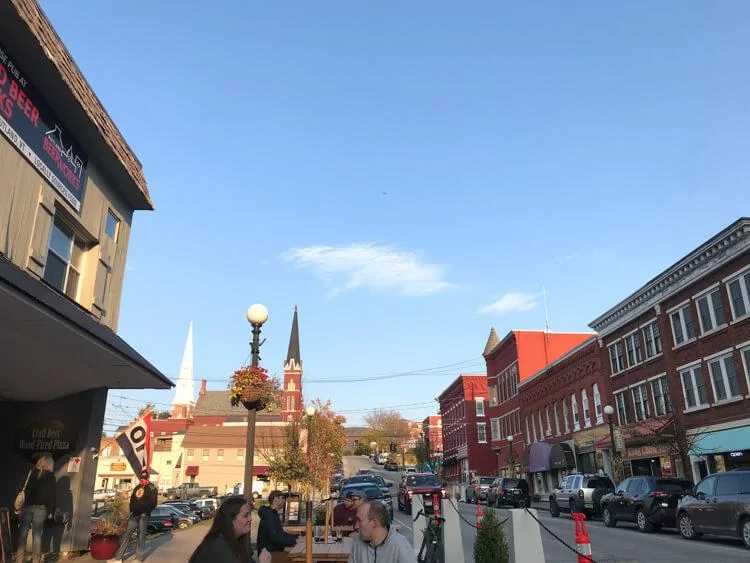 Where to Stay in Killington:
From hotels to VRBOs, there are plenty of great spots to stay in Killington!
Condo Overlooking the Mountains
We loved this condo building during our stay in Killington during the fall! From the balcony and large windows, we thoroughly enjoyed the mountain views! We were also lucky enough to hit peak foliage here too which helped. But the views here are lovely year-round and there is a full kitchen and comfy room here too! Prices start at $116 per night.
This historic inn has been serving guests since 1938! Enjoy the rustic rooms as well as the pub serving up Guinness and Long Trail Ale on tap, live Irish music on Friday and Saturday nights, and casual fine dining at Rosemary's Restaurant. This place is perfect after a day of skiing or hiking in Killington. Prices start at $100 per night.
Located along the Appalachian Trail and Kent Pond, you'll have stunning views at this gorgeous lodge. The rooms are spacious and bright, and you can enjoy many things right at the hotel including snowshoeing, hiking, boating, fishing, and even petting adorable farm animals! Prices start at $239 per night.
When to Visit Killington:
While it is a popular winter destination, summer and fall are perfect for hiking, golfing, and exploring the surrounding nature here! I highly recommend the fall, especially in October for amazing fall foliage views of the mountains!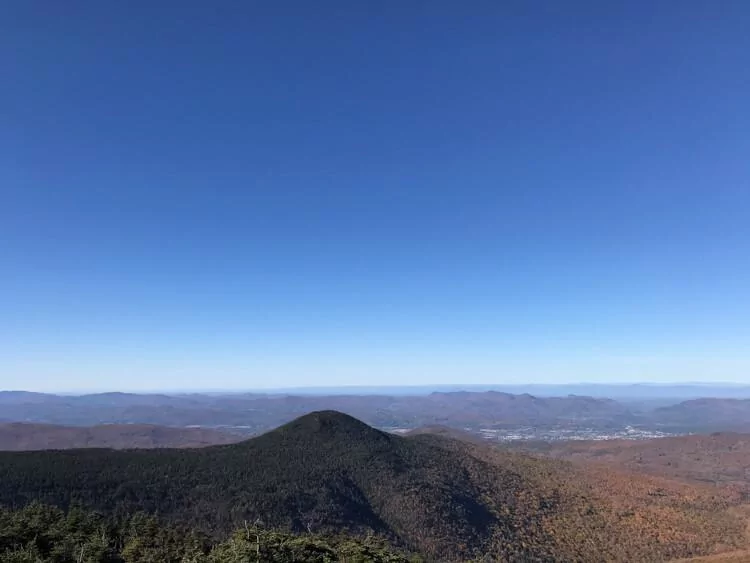 Ideal Trip Length:
A week here is plenty of time to enjoy the surrounding area and maybe take some day trips to Rutland or Woodstock. However, a few days is good too for a feel of the place if this is a Vermont mini-moon.
While there are plenty of idyllic places to visit on a trip to Vermont, these are definitely some favorites that I highly recommend! If you're searching for perfect Vermont romantic getaways and rentals, definitely check out these top 10 vacation rentals in Vermont!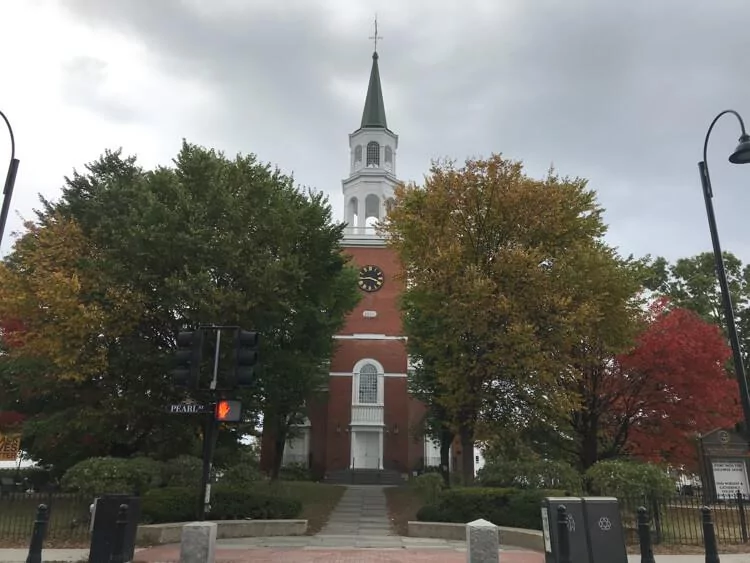 Vermont Honeymoon Budget
A Vermont honeymoon budget can certainly vary from person to person based on the time of year you visit, activities, personal preferences on accommodations, etc. However, here is a good idea of how much a trip to Vermont costs for a honeymoon.
Transportation:
This will vary based on if you're flying, taking the train, or driving to Vermont. For us, we drove 10 hours from our hometown of Cleveland to Stowe to begin our road trip. However, you could also fly into Burlington and rent a car.
If you can, I highly recommend driving here, unless you are coming from across the country because flights to Burlington can be expensive. However, I have found flights as low as $350 per person from some places and even up to $600+ per person. If you have points to use, this would be a good time to use them!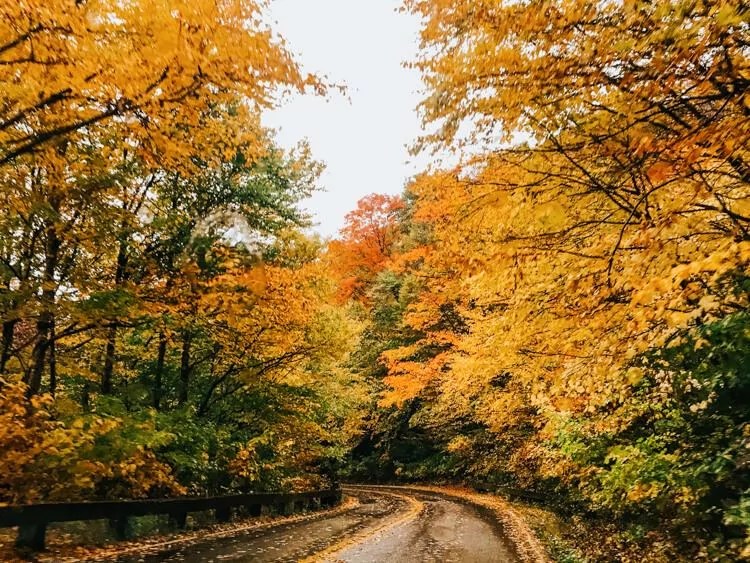 Airlines like United, Delta, JetBlue, and American Airlines fly to Burlington.
If you're driving, luckily, the state is fairly small, so you won't need to fill up constantly. If you're here for a week, budget around $200 or so depending on how much driving you plan to do in Vermont itself. Obviously, if you're coming from out of state, budget for the gas to get to Vermont and back too.
Vermont Honeymoon Transportation Budget: $200-1,200 for a couple depending on how you choose to get here.
Accommodations: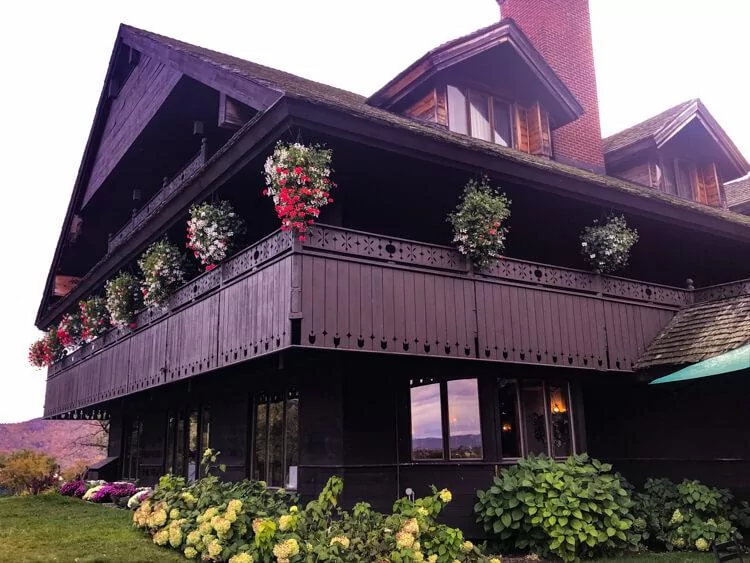 As you saw in the hotel and rental suggestions above, prices can range from $100-$350+ per night. This will vary depending on the time of year you visit too. So if you're coming during peak season (winter in some places like Stowe and Killington or fall in places like Woodstock) expect to pay on the higher end.
However, in the off-season, you may pay lower!
Vermont Honeymoon Accommodations Cost: $700-$2,450+ for a week in Vermont depending on travel style and time of year you visit. Again, you can definitely save money on rentals instead of hotels as well!
Food & Drink: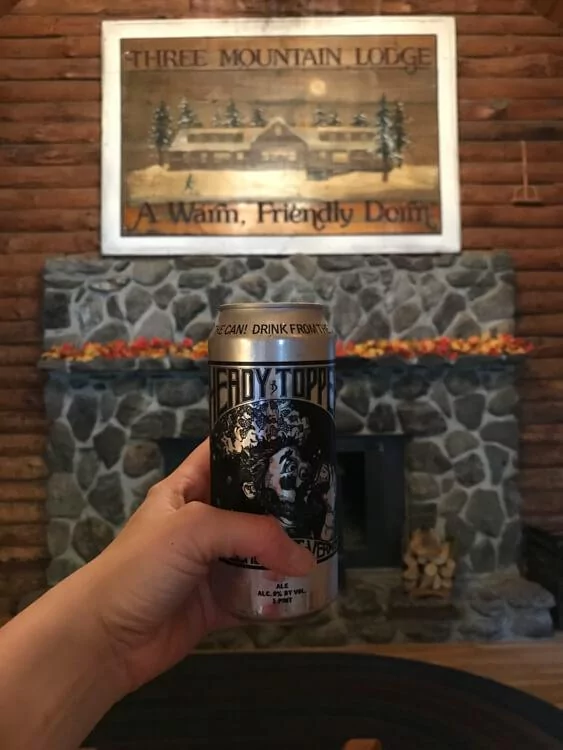 This is always variable based on how often you plan to eat out versus cooking, if you prefer nicer meals, etc. When we visited Vermont, we spent around $135 per day for eating and drinking as we did eat dinner out a lot, splurged a couple of times, and definitely wanted to try out the breweries in the area!
However, if you plan to cook a lot, $75 per day or less is good too!
Vermont Honeymoon Eating and Drinking Budget: $525-$945 for a week in Vermont.
Activities: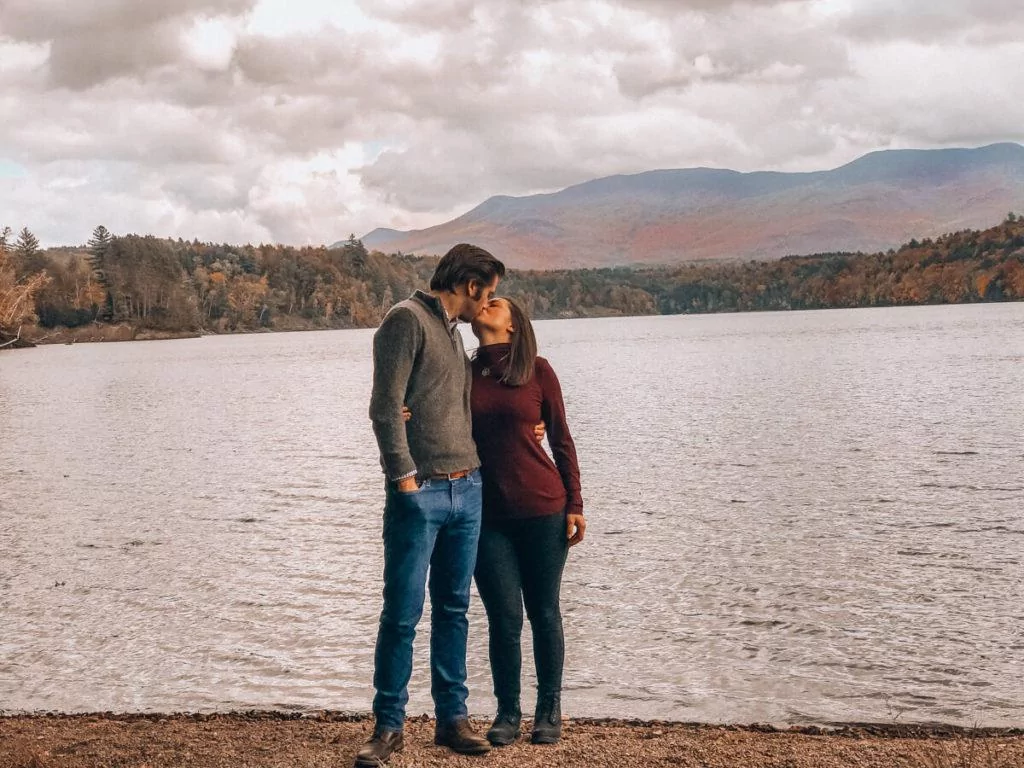 If you plan to go skiing and need to rent supplies, definitely add more money into the budget for Vermont. However, if you're like us and came during the autumn, mostly hiked, and visited a few farms, the costs will actually be pretty low.
If you are planning to ski or snowboard, you can get day passes for as little as $67. However, you'll also need to budget for rentals if you don't have those too.
Note that some resorts will give you discounts too if you're staying with them!
Activities in Vermont Budget: $300-1,000 for a week depending on what you're doing.
Total Vermont Honeymoon Budget:
$1,725 is perfect if you're on a budget for a week in Vermont. However, the prices can range up to $5,595 if you're living a bit more luxuriously.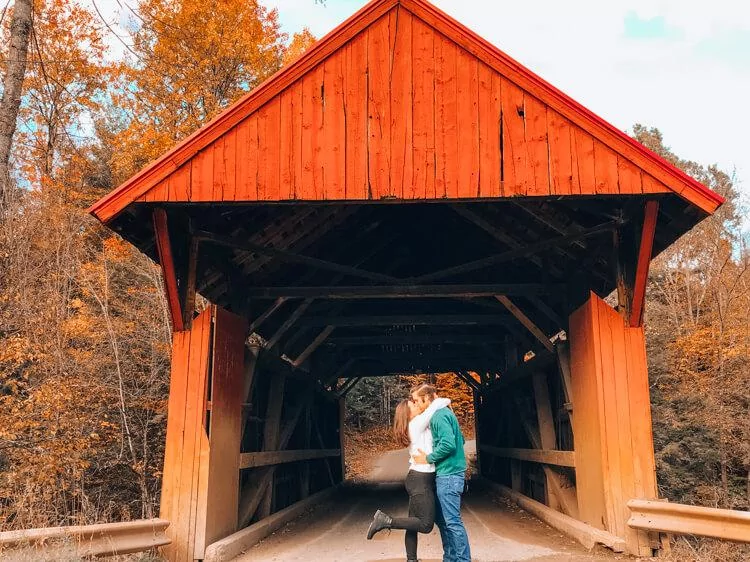 We ended up spending somewhere in the middle at around $3,700 during our time there as we did mid-range to luxury rentals, drove around, splurged on some meals, and did some activities while there like visiting farms and such.
Vermont may be a small state, but it is truly one of a kind. We were so lucky to have spent a week here exploring the ins and outs of the place and enjoying all of the gorgeous views. If you're planning a Vermont honeymoon trip, then you're in luck, as you won't be disappointed by one of America's most beautiful and adventurous destinations!
Would you plan a Vermont honeymoon? What Vermont honeymoon ideas do you have?
Want more US Honeymoon Ideas? Check out these posts!
Pin it here!