Some posts on this site contain affiliate links, meaning if you book or buy something through one of these links, I may earn a small commission (at no additional cost to you!). Read the full disclosure policy here.
---
There is nothing like staying in charming Vermont Airbnbs and VRBOs. Whether they are a beautiful Stowe Airbnb cabin or a lovely Airbnb Vermont treehouse, these are the best places to stay during a vacation to the Green Mountain State!
Chris and I visited Vermont back in October and stayed in vacation rentals throughout our trip. Each one was incredibly lovely, and it made our experience even better as we road-tripped around Vermont in 10 days!
If you are planning a lovely trip to the great state of Vermont, then these are the best Vermont Airbnbs and VRBOs that you'll want to book ASAP!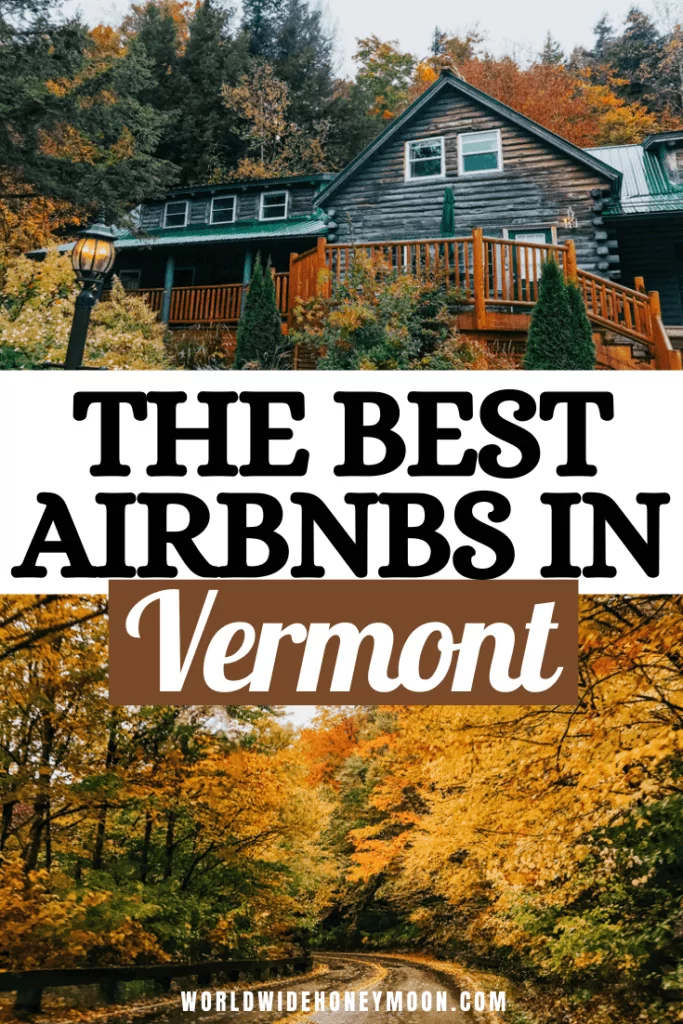 The Most Charming Vermont Airbnbs & VRBOs
We know you'll fall in love with these VRBOs and Airbnbs in Vermont just like we did! So without further ado, here are the most romantic cabins in Vermont and other charming vacation rentals for your getaway or Vermont honeymoon.
This Cozy Lodge with a Sugar Shack Makes for a Romantic Stowe Airbnb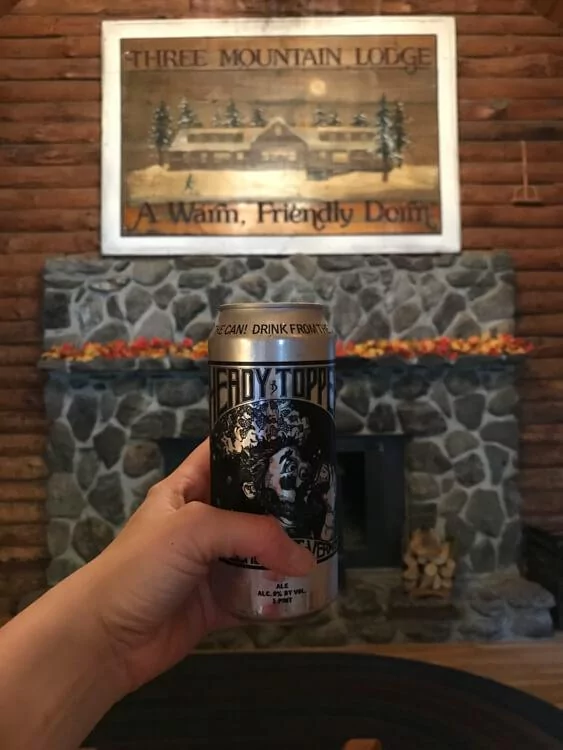 This lodge certainly was a warm welcome as far as Stowe Airbnbs go. Located just north of Stowe in Jeffersonville, this lodge has quite a few rooms with their own patio and lots of space. We ended up spending several nights here during our most recent trip to Vermont and loved this big suite at the lodge.
Not only is it super charming and decorated like a ski chalet, but the owner, Tom is very nice and attentive. He builds a fire every night for guests to enjoy and has his sugar shack on the property where you can arrange a maple syrup tasting and purchase some of the delicious syrup.
Plus, this place is located within a few minute's drive from many ski resorts and hiking trails in the area. One of my favorite things about this lodge is that you drive through Smugglers Notch to get there. In the fall, this curvy mountain road is bursting with color!
If you're looking for romantic Airbnbs in Stowe, then this Airbnb lodge is perfect!
Ski-In/Ski-Out in This Lovely Airbnb in Stowe, VT
Mountain lodges in Vermont are always lovely regardless of when you visit. But if you want to visit in the winter, then a ski-in/ski-out lodge is convenient and so nice! This lodge has that and more!
This apartment at the lodge offers stunning views over the mountains, and the lodge itself has a spa, heated outdoor pool, and hot tubs! The room itself has a kitchenette, balcony, and gas fireplace that is perfect for warming up after a chilly Vermont fall day or an afternoon on the slopes!
The lodge is also about 15 minutes from downtown Stowe meaning you can enjoy all that the area has to offer from delightful breweries to the quaint buildings across the charming town.
Check prices and book on here!
---
Check out more on Vermont:
---
Fall in Love With this Romantic Retreat!
Secluded, romantic, and scenic all describe this VRBO in the middle of Vermont. This is located on 10 acres of land and you can go for hikes along the Long Trail nearby or cozy up and watch movies.
Snuggle up on chilly evenings by the classic-looking wood-burning stove or enjoy the views over the back deck from the hot tub. If you just want to kick back and relax, this place has everything you need including a kitchen, TV, and that glorious patio with the hot tub.
For the ultimate romantic cabin in Vermont experience, this treehouse-esque place has to be it!
This Treehouse Airbnb in Vermont near Waterbury Will Blow You Away
This Airbnb Vermont treehouse is full of delights! Cross the wooden bridge before entering this treehouse Airbnb complete with rustic decor! Located near Camels Hump State Park, you can enjoy the sounds of nature in this treehouse bungalow in Vermont.
Go hiking at many trails nearby, or go exploring the towns in the area before making a meal or enjoying the views from your charming Vermont Treehouse!
And if you're craving some of those famous apple cider donuts from Cold Hollow Cider Mill, then you're in luck! This Airbnb is near Waterbury, VT!
This VRBO/Airbnb in Killington VT is Perfect for Leaf Peeping
I mean we know how beautiful Vermont in the fall is. There is definitely something about mountains covered in bright fall foliage! So when it comes to finding the perfect Vermont Airbnb for the fall, this takes the cake.
We stayed at this condo building at the end of our Vermont trip and loved this place. It is complete with sweeping views of the mountains. We also hit peak foliage in Killington, making this Airbnb in Killington have amazing views!
The condo is conveniently located close to many ski resorts, restaurants, and bars. It also has a fireplace, full kitchen, and lots of space to relax and enjoy the giant windows with that view!
Looking for Unique Vermont Airbnbs? Check Out This Yurt!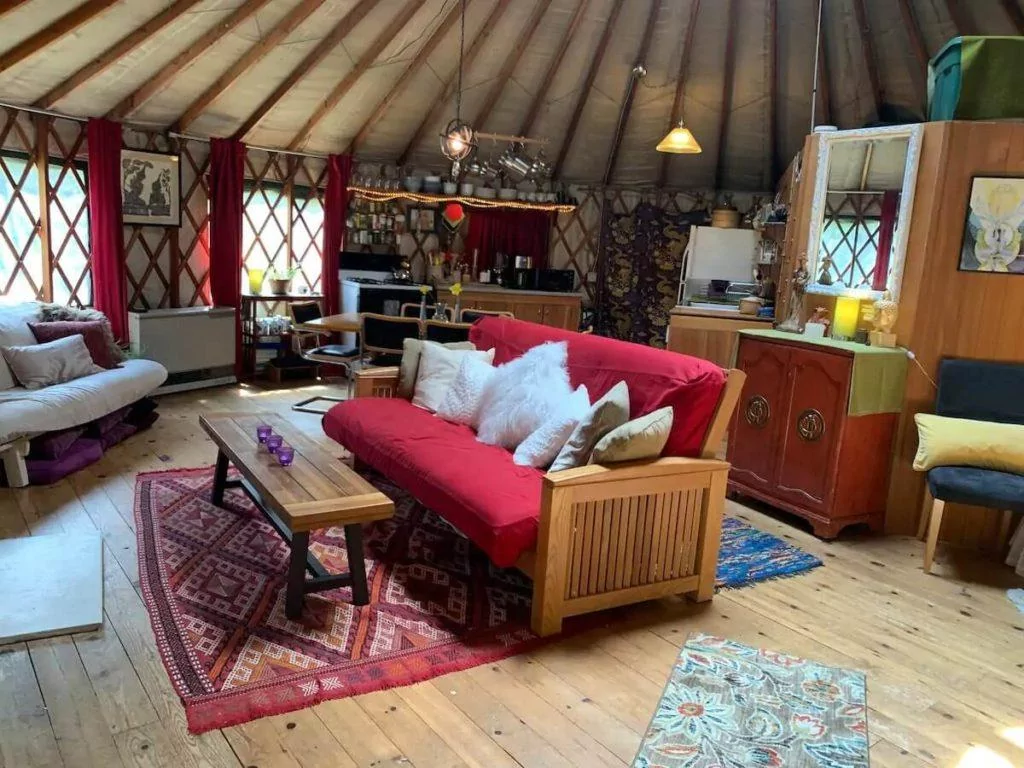 Yurts are all the rage right now, and who doesn't love unique Vermont Airbnbs?! Aside from the rustic and beautiful treehouse above, you'll definitely want to stay in this quirky and fun yurt.
Enjoy the full kitchen, bathroom, and warm, cozy vibes of this adorable and large yurt in the woods of Vermont. As a bonus, this yurt is not far from some great breweries including Harpoon Brewery and River Roost. It also is super close to Hartland's Trail system for hiking and cross-country skiing as well as several areas to swim, canoe, kayak, and more.
This Airbnb is also located near the lovely Woodstock, Vermont as well as Quechee Gorge.
This VRBO/Airbnb Vermont Cabin is Perfect for Animal Spotting!
This cabin is located within the Northeast Kingdom in Vermont and perfect for animal spotting. With a new and comfortable interior, you'll enjoy an ample amount of entertainment inside as well as outside.
Outside the cabin, you can hear moose calls and you can relax either on the porch or by the fire! This is certainly one of those romantic cabins in Vermont with the sounds of nature outside. It also is great for hiking as it is near plenty of the Northeast Kingdom Trails as well as Burke Mountain.
And for stunning views over "America's Lake Lucerne" AKA Lake Willoughby, this is just a short drive from there and to the Mt Pisgah trail that overlooks it.
---
Looking for places to stay around the world? Check these out!
---
This Burlington Airbnb/VRBO is the Perfect Blast From the Past
It is no wonder why many people flock to the lovely city of Burlington. As Vermont's largest city with stunning views over Lake Champlain and close proximity to many fun activities like apple picking or drinking wine in nearby Shelburne or wandering around the Ethan Allen Homestead, this place is ideal for a long weekend getaway.
If you're looking for charming Burlington Airbnbs and VRBOs, then look no further. This place is throwback glam complete with turn-of-the-century features and chic accents. This charming place is steps from many of Burlington's best bars and restaurants.
A Grist Mill Overlooking a River is One of the Most Unique Vermont Airbnbs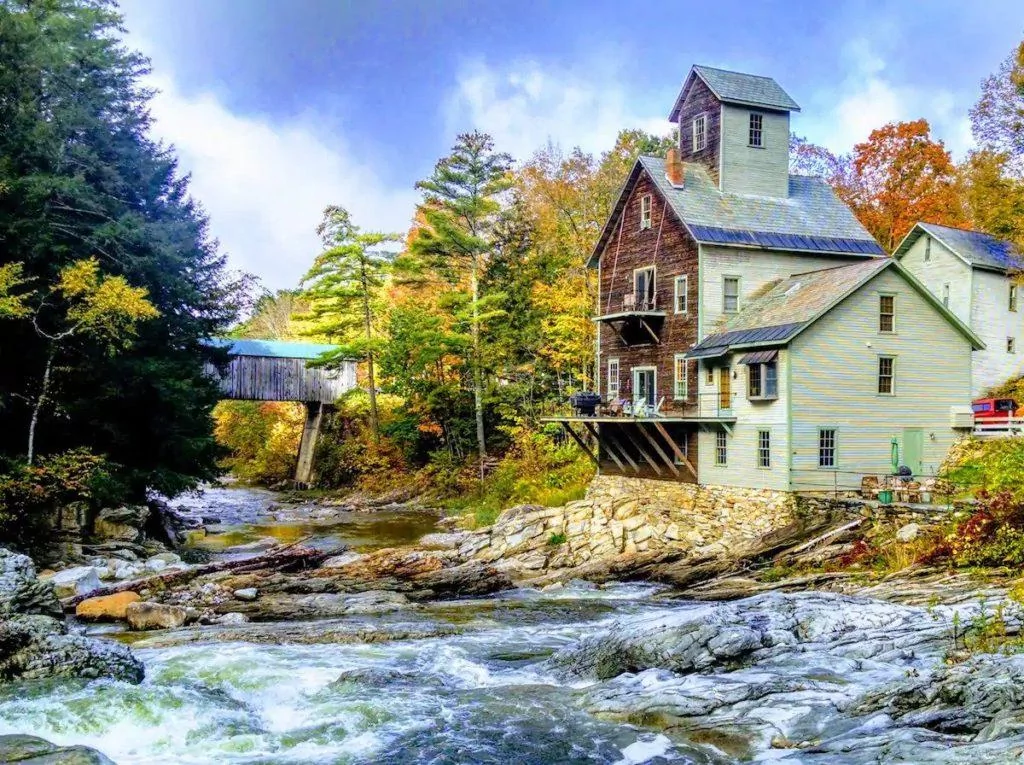 Vermont is full of covered bridges, rivers, historic buildings, and waterfalls. But what if you could stay in a place with all of that?! This is definitely one of the most unique Vermont Airbnbs, if not one of the most unique Airbnbs ever.
You can rent this place for the ultimate Vermont romantic getaway with views overlooking the river, a private beach, a gorgeous covered bridge, private decks, and the chance to sit on float tubes on Vermont's warmest river. It is also not far from Killington and Okemo, so you're close to several hiking trails and skiing!
The interior has remnants of its past as a working mill to enjoy as well as all the comforts of home. Enjoy the freshly made breakfast they offer each morning as well as the really neat antiques all over the place! This is such a fun Vermont Airbnb to rent that you'll never want to leave!
This VRBO/Airbnb in Brattleboro VT is Full of Views
Last, but not least, I had to include a charming Vermont Airbnb/VRBO in Brattleboro VT! This delightful cabin is all about the views. Whether you're here for the snow in winter or hiking in summer, this romantic cabin in Vermont has sweeping views over the mountains. The hosts also have snowshoes you can borrow for snowshoeing in the woods.
This is also close to the beautiful town of Brattleboro as well as Mount Snow. The cabin is built in an open-concept and newly renovated meaning you'll have lots of natural light streaming in during the day, a cozy bathtub for relaxing in the evenings, and a fantastic kitchen space.
Seriously… you may never want to leave this Airbnb cabin.
Vermont Airbnbs and VRBOs are pretty adorable everywhere you turn. With awe-inspiring natural scenery throughout the whole state as well as charming villages, it is no wonder everyone wants to visit the Green Mountain State and stay in either dreamy cabins in Vermont or unique treehouses. Enjoy the crisp air, fallen leaves in the autumn, or fresh powder in the winter as you partake in a delightful vacation to Vermont that you'll never forget.
Would you visit Vermont? Which Airbnb in Vermont is your favorite?
PS- For more US Airbnb and VRBO stays, check out these in Cincinnati, Asheville, and the Great Smoky Mountains!
Pin it here!