Some posts on this site contain affiliate links, meaning if you book or buy something through one of these links, I may earn a small commission (at no additional cost to you!). This includes (but is not limited to) Airbnb, TripAdvisor, World Nomads, etc. Read the full disclosure policy here.
---
Asheville is such a fun town to visit any time of year! With delicious cuisine, world-class craft breweries within steps of each other, and, of course, The Biltmore, it is no wonder why many love spending a long weekend in Asheville. So if you are looking for the best Airbnbs in Asheville, NC to make your stay incredible, you've come to the right place!
I always love a good visit to Asheville, and while there are some great hotels, who doesn't love a charming Airbnb? These 8 best Airbnbs in Asheville, NC are absolutely incredible including apartments that are within steps of the city's main attractions and even a farm stay and treehouse! Because who wants a hotel when they can enjoy the charms and lively character of these incredible Asheville Airbnbs!
So whether you're traveling to Asheville for a romantic getaway or friend trip, these are hands down the best Airbnbs in Asheville you'll want to book ASAP.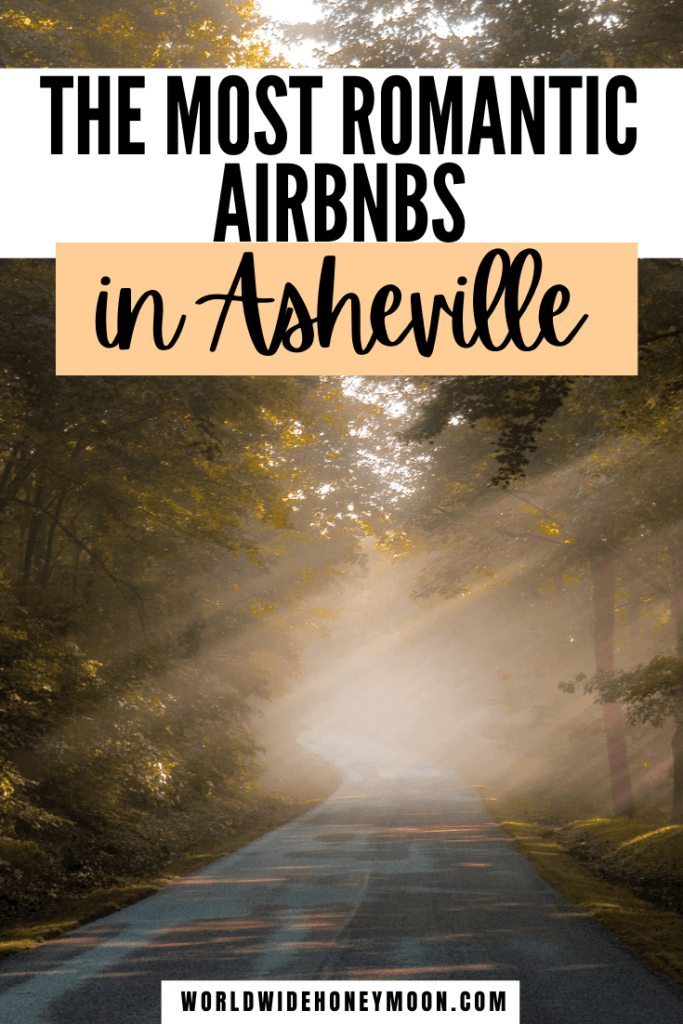 Best Airbnbs in Asheville, NC
No need to spend hours researching to find the perfect Airbnb in Asheville, these are our favorites that we know you'll love too!
This Cozy Farm Stay is the Perfect Escape for an Airbnb in Asheville, NC
First of all, how cute is this place?! Located only 15 minutes from the city center, you've got this charming Asheville Airbnb complete with a cozy fireplace, rustic brick walls, a bright and airy bedroom, and, honestly, I could go on and on.
This place is the perfect romantic Asheville, NC Airbnb! Made to accommodate 2 people, it is an Airbnb Plus property so attention to detail is key. With all of the comforts of home and away from the hustle and bustle of downtown Asheville, you'll get the best of both worlds in this charming farmhouse stay.
It is also right next to the Blue Ridge Parkway so be prepared for some scenic drives and mountain views nearby!
Enjoy Mountain Views in this Asheville Airbnb Treehouse
Treehouse cabins are hitting their stride right now, and this place definitely kicks your old childhood treehouse to the curb. With views overlooking the Blue Ridge Mountains and only 15 minutes north of downtown Asheville, you can enjoy the fun that is brewery hopping during the day and a vibrant sunset over the mountains in the evenings.
Another Airbnb Plus property, expect amazing attention to detail, fantastic amenities, comfortable bedding, and superb hospitality. This place accommodates up to 4 people so it is perfect as a romantic getaway for two, a fun couples' trip, or a much-needed friends jaunt!
While the exterior is well worth the stay alone, the interior is full of charm including lots of beautiful pops of color and light! This one of a kind Asheville Airbnb treehouse definitely books up fast so be sure to book early!
This Walkable Asheville Airbnb Cottage Has Great Views
This beautiful cottage not only has great views of downtown, but it is super walkable! Located only about 5-10 minutes from downtown on foot, this is the perfect location to enjoy your time wandering in downtown Asheville while having peaceful sleep at night.
This downtown Asheville Airbnb has a comfortable Tempurpedic bed, a fully stocked kitchenette to make coffee and tea as well as a microwave and fridge. Plus, they provide complimentary snacks, water, and a free local beer to enjoy!
With room to accommodate 4 guests, this is a great friend's weekend trip or you can keep it as a couple's fun getaway in downtown Asheville.
---
Check out other great places to stay around the world!
---
This Charming Apartment is Perfect For Exploring
This adorable Asheville, NC Airbnb is in the perfect location for exploring! Located in the neighborhood of Kenilworth, it is less than 10 minutes' driving from downtown Asheville, the Biltmore Estate, and Blue Ridge Parkway.
This place contains a kitchenette complete with a mini-fridge, microwave, dishwasher, and a coffee maker. Plus the TV and the king-size bed will make you feel super comfortable during your stay in Asheville.
This place accommodates 2 people so this is another great spot for a couple's romantic getaway where you can get out and have convenient access to all the attractions in the area.
This Asheville Airbnb in Downtown is Super Chic
Where old meets new and antiques mingle with pops of color you'll find this downtown Asheville Airbnb. This is such a stylish place to stay at, but it is also super convenient as it is within walking distance of the bars and restaurants all over downtown Asheville!
This Airbnb Plus property has a full kitchen for making your own meals (or heating up some seriously tasty Asheville eats), a king-size bed, a smart tv, a delightful rain shower in the bathroom, and basically, will have you feeling super relaxed and comfortable during your stay in downtown Asheville.
Made for 2 people, this is a fantastic spot to explore the charms of the area whether on a honeymoon getaway or just as a fun romantic trip.
Check Out This Downtown Asheville Airbnb Studio Apartment
Located just off Lexington Ave, you are smack dab in the middle of Asheville's downtown scene including coffee shops, breweries, restaurants, boutiques, and more! This downtown Asheville Airbnb with a view offers plenty of natural light, a washer/dryer, a full kitchen, wifi, and a TV to keep you comfortable during your stay in between exploring the city.
If you are coming here to dive into the quirkiness and amazing vibes that this city has to offer, then a stay at this Airbnb is perfect! Made for 2 people, this is another great couple's getaway Airbnb in Asheville. Also, note that a 3-night stay is required if booking over a federal holiday with no checking out on the holiday.
---
Check out these destinations nearby:
---
This Place With a View Features Local Art and Is Definitely One of the Best Airbnbs in Asheville, NC
Sometimes you just want to be close to the action of downtown, but also far enough away to get a good night's sleep. This place is perfect for that. And, as a bonus, it is on a hill offering fantastic views and lots of local art!
This studio apartment for 2 is within walking distance of the famous Omni Grove Park Inn, which is perfect for a romantic date night meal or drinks. It also has plenty of great restaurants nearby as well as coffee. And if you want to explore the downtown bars and restaurants, it is less than a 10-minute drive.
Easily one of the most charming Airbnbs in Asheville, you'll fall in love with the bright and airy vibes along with the beautiful artwork featured throughout. There is also a kitchenette, a lovely bathroom featuring a walk-in shower and heated towel rack, and a laundry room. There is also a little patio with a fire pit to enjoy some local beer after a day of exploring.
This Cozy and Modern Apartment is Delightful
Last, but not least on our list of best Airbnbs in Asheville, NC is this modern hideaway. This 2 person apartment is in the historic Montford neighborhood of Asheville, with lots of privacy but within walking distance to downtown.
This bright and airy apartment is full of amenities like a memory foam bed, TV, coffee/tea, fridge, microwave, and free parking. Enjoy all the attention to detail during your romantic getaway trip to Asheville.
Asheville, NC is seriously one of my favorite cities in the US to visit for a long weekend getaway. The breweries here are fantastic and within strolling distance of each other, there are plenty of great places to find adventure from hiking to kayaking and more, and the beauty of The Biltmore Estate is next to none as far as homes in the US go.
So whether you want to get away with friends or with that special someone, Asheville is kind of the perfect place. And with the best Airbnbs in Asheville, NC to choose from here, you'll be comfortable and in perfect locales for your getaway.
Would you visit Asheville? Where else in the US do you love as a fun weekend getaway?
Pin it here!