Some posts on this site contain affiliate links, meaning if you book or buy something through one of these links, I may earn a small commission (at no additional cost to you!). Read the full disclosure policy here.
---
Dreaming of a perfect 3-day Smoky Mountains itinerary?
Imagine mist rising from the mountains as far as the eye can see as you peer out across valleys and tall treelines. The Smoky Mountains are truly incredible, and it is easy to see why it is the United State's most visited national park. While this place is huge and spans from Tennessee into North Carolina, if you're short on time, we've got the perfect adventurous 3 day Great Smoky Mountains itinerary for you!
For the best 3 day trip to the Smoky Mountains, we've got every detail you need including where to eat, the best Smoky Mountain hiking trails, and more!
Before we dive in, here is what to expect in this Great Smoky Mountains itinerary post:
Perfect 3 days in the Smoky Mountains guide
What to do if you have more time in the Smokies
Where to stay in the Smoky Mountains
How to get to the Great Smoky Mountains National Park and getting around
What to pack for your Smoky Mountains trip
Expert tips for visiting the Smokies
The Perfect 3 Day Great Smoky Mountains Itinerary & The Best Things to do in Smoky Mountains, TN
If you're wondering whether 3 days in the Great Smoky Mountains is enough, we're here to tell you that 100% you can get a lot of great sights from mountain views to waterfalls in this shorter trip. Perfect for a Tennessee honeymoon or adventurous getaway, the Great Smoky Mountains National Park is an incredible place to visit!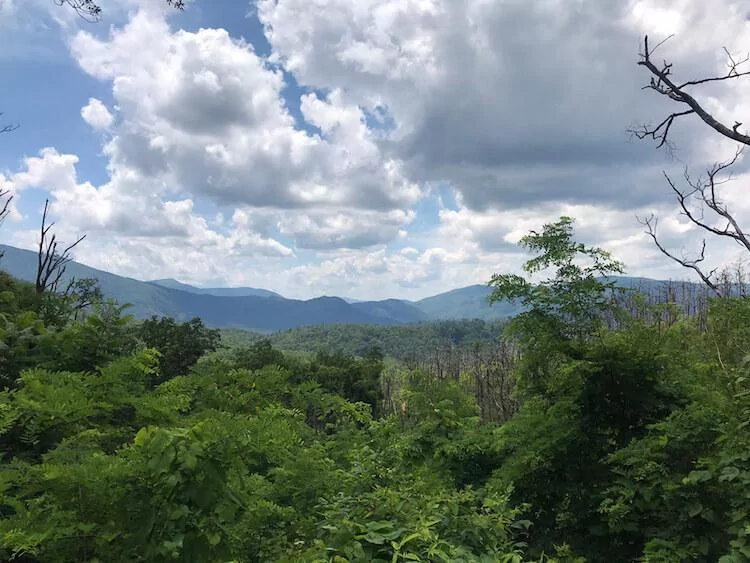 Day 1 of Your Smoky Mountains Itinerary: Chase Waterfalls
I recommend getting here the night before in order to have 3 full days in Gatlinburg and the Smoky Mountains! So on this day, you're going to hike to a couple of great waterfalls in the Smoky Mountains.
First up: Ramsey Cascades!
This is not only the tallest waterfall in the Smokies at 100 feet high, but it is quite a popular spot to visit. So my best advice for seeing it before the crowds is to get up early! This hike is about 4 miles each way and could take between 5-7 hours.
Get up early and hit the trails around 7 am, giving you plenty of time to get there ahead of the crowds. This more strenuous hike starts at the Ramsey Cascades Trailhead at the Greenbrier park entrance and continues to the falls. You'll end up with an elevation gain of 2,375 feet by the time you've completed your hike!
On this trail, expect to see Little Pigeon River, and in the spring months, you'll be dazzled at all of the wildflowers!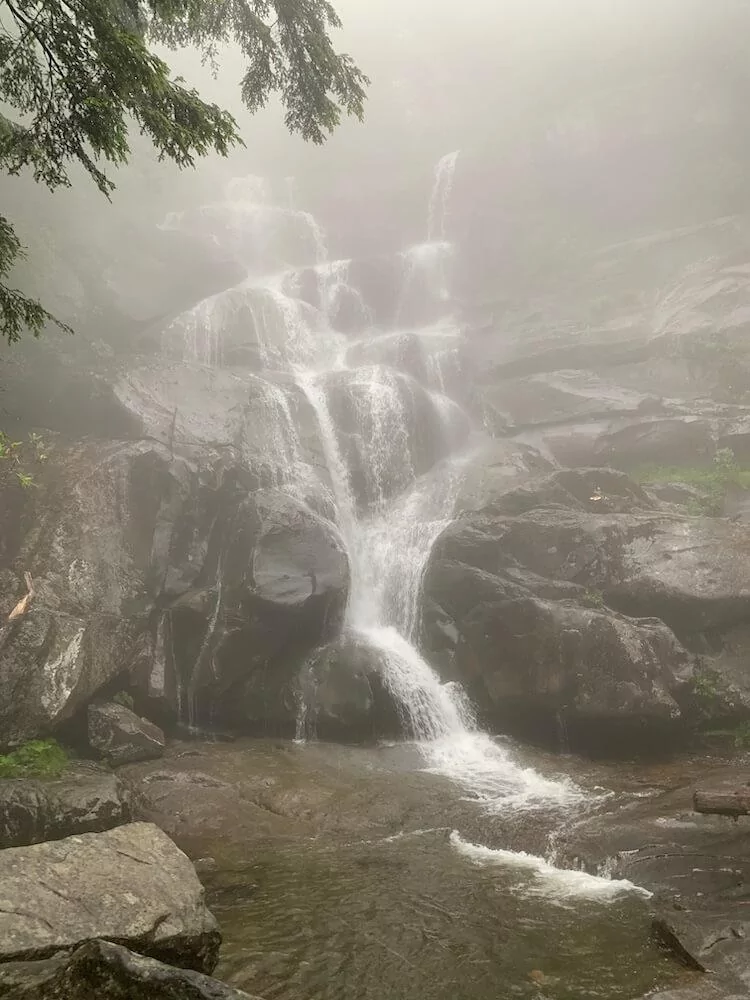 Of course, the most significant place on this trail is the Ramsey Cascades themselves. This giant waterfall is absolutely stunning.
You'll likely spend a little bit of time photographing and enjoying the falls before coming back the way you came. If you start around 7 am, you'll likely finish between noon or 1 pm.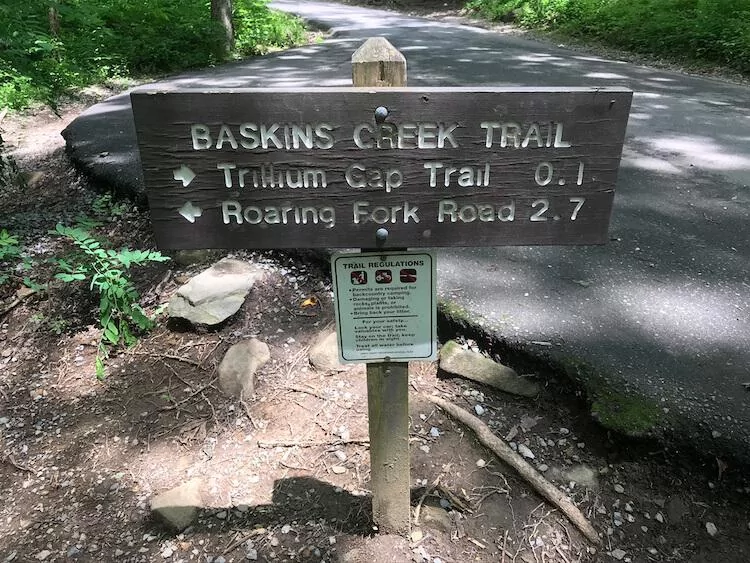 If you're feeling extra ambitious this day, I totally recommend adding another waterfall to your Smoky Mountains itinerary. We ended up heavily researching in our Moon Travel Guide for the Smoky Mountains and found this hike.
This hike is far less strenuous than the Ramsey Cascades Trail, as you gain an elevation of 950 feet and the distance is only about 3.2 miles round-trip. Plan to spend between 3-3.5 hours hiking this beauty!
This smaller waterfall is only 30 feet tall, but in this sometimes busy national park, this hidden waterfall is a great opportunity to have a place to yourself while hiking the Smokies!
Start this hike at the Roaring Fork Motor Nature Trail, where you'll see beautiful views of the surrounding mountains in the beginning before descending toward Baskins Creek. Cross the little creek and you'll go uphill before taking another final steep downhill into Baskins Creek Falls.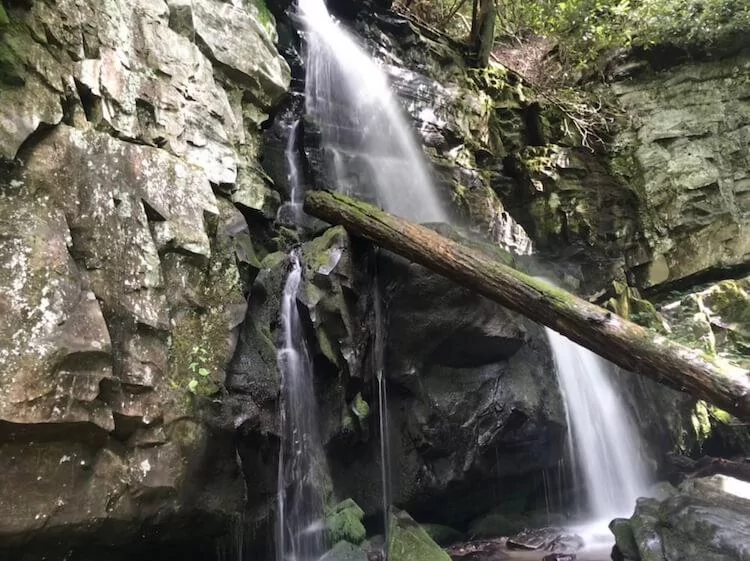 This place was absolutely incredible, and we had it completely to ourselves! Spend some time enjoying cool waterfalls, taking photos, and maybe hanging out on the giant rock next to the falls before turning around and heading back to the car.
You'll pass a sign for a cemetery up a hill and I recommend taking a look. The headstones are well over 100 years old, and the views are stunning.
Just as a heads-up, it is a pretty easy downhill on the way there, but be prepared for steep inclines coming back! This hidden gem hike was a great find, especially as we only saw one other family the entire time on our hike.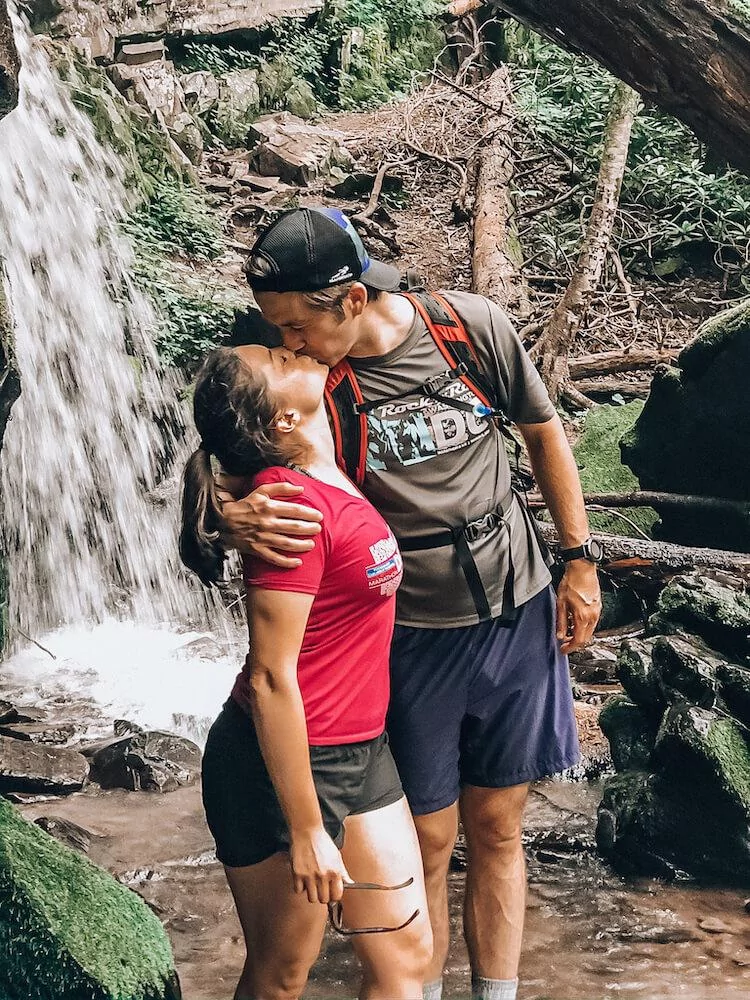 After a full day of exploring fantastic waterfalls in the Smoky Mountains, it is time to relax back at your accommodations! I 100% recommend a cabin with a hot tub to soak any achy muscles post-hike. This is an incredible cabin in Pigeon Forge!
For dinner, I highly recommend the Local Goat in Pigeon Forge. We loved their burgers and fried green tomatoes! Their portobello burger and Schrute plant-based burger were fantastic vegetarian options!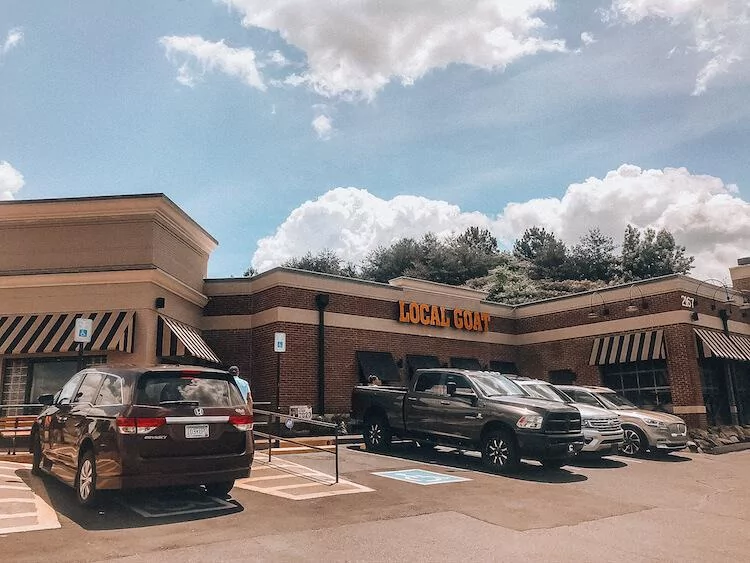 In my opinion, the best Gatlinburg weekend itinerary has to include some fantastic hiking in one of the most beautiful places in the world, right? So today is meant for a much more difficult hike, but so worth it for the views!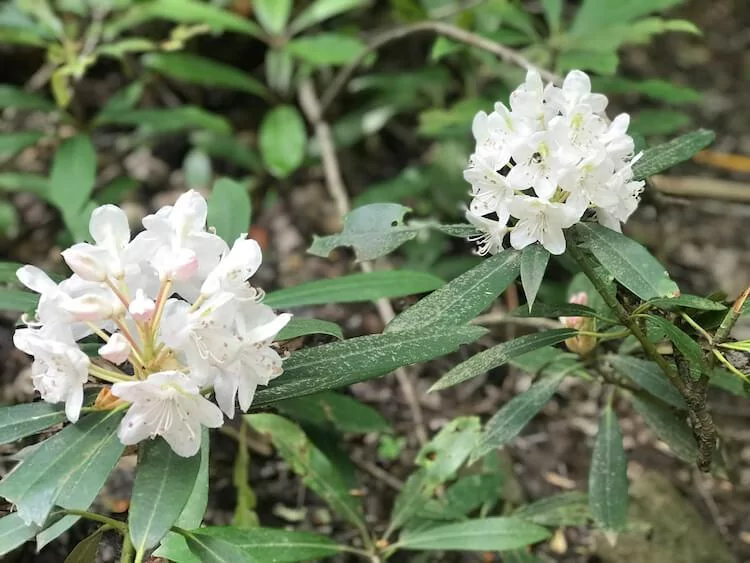 Hiking Up Mt. Cammerer
Plan to be up nice and early this day to beat the heat and very few crowds. We found this in the Hidden Gems section of the Great Smoky Mountains National Park Moon Travel Guide and it truly was a fantastic find!
Today is the perfect day to go on one of the best hikes in the Smoky Mountains: Mt. Cammerer.
This very strenuous hike is NOT for the faint of heart. This 11.2-mile trail round-trip has a gain of 2,740 feet and most of it is during the first 3 miles.
Those first 3 miles are relentless as you climb steep switchbacks up the mountain. I feel like it was just as much of a victory getting past the first 3 miles as it was getting to the top! Plan to spend about 7-8 hours hiking this trail.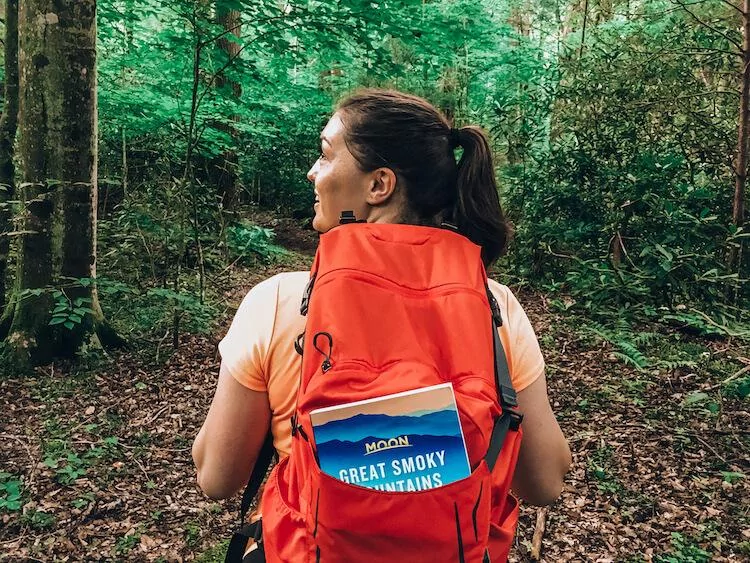 Get here around 7 am and you'll want to take the Low Gap Trail, right after the Cosby Campground amphitheater. You'll cross a creek and continue on up the mountain until you finally hit around 3 miles, where you'll run into the Appalachian Trail (or AT as the locals call it!).
Take a left here toward Mt Cammerer. You'll hike the AT for about 2.1 miles before you hit the Mount Cammerer Trail. This is about a 0.6-mile hike until you reach the rocky top of this mountain.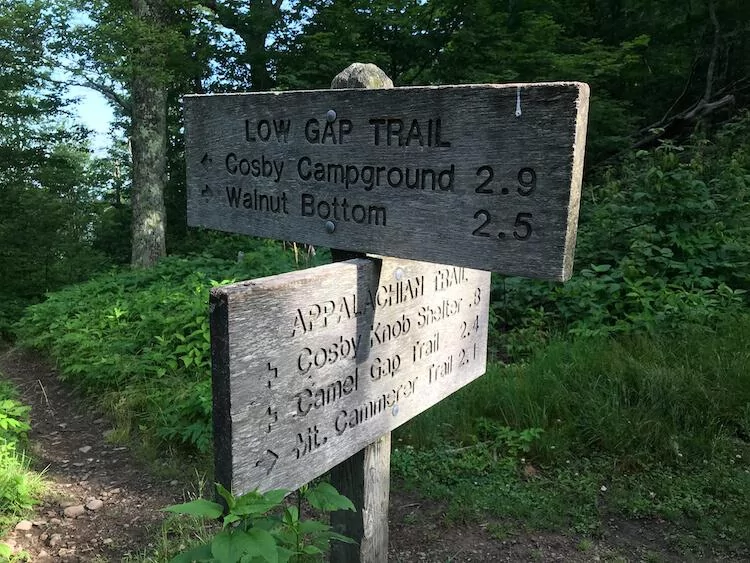 But oh my goodness, while the hike was incredibly difficult at times, the views make it 1,000% worth it! 360º views of the Great Smoky Mountains and we had the entire place to ourselves for quite some time!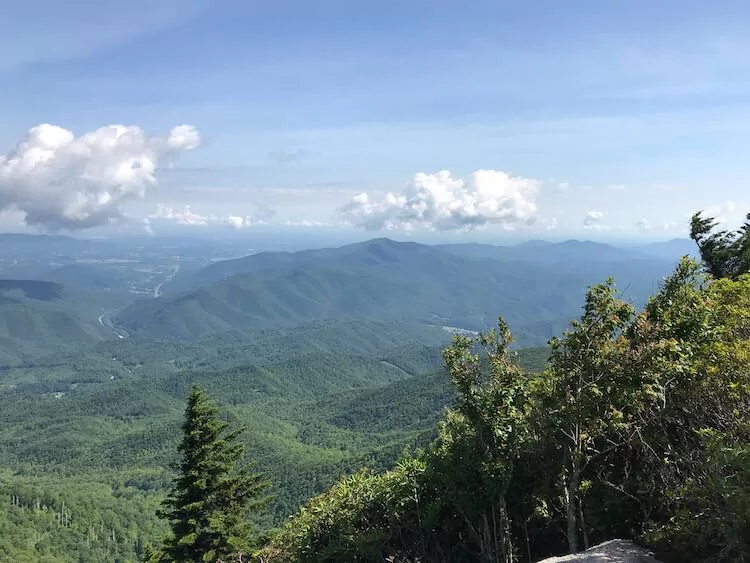 We packed a picnic lunch of Cliff Bars, trail mix, and PB&Js as we hung out at the top, gaping in awe of the beautiful scenery before heading back down the trail from which we came.
As a bonus, there is also the old stone fire tower from the 1930s at the top as well! This old lookout tower was built to scan the horizon for forest fires. This place was well-used until the 1960s, when new methods to detect fires were implemented. By the 1980s, it was in disrepair.
However, they have since renovated the old tower to look as it did back in the 1940s, meaning you can climb the steps up and enjoy sweeping views of the mountains without a soul in sight!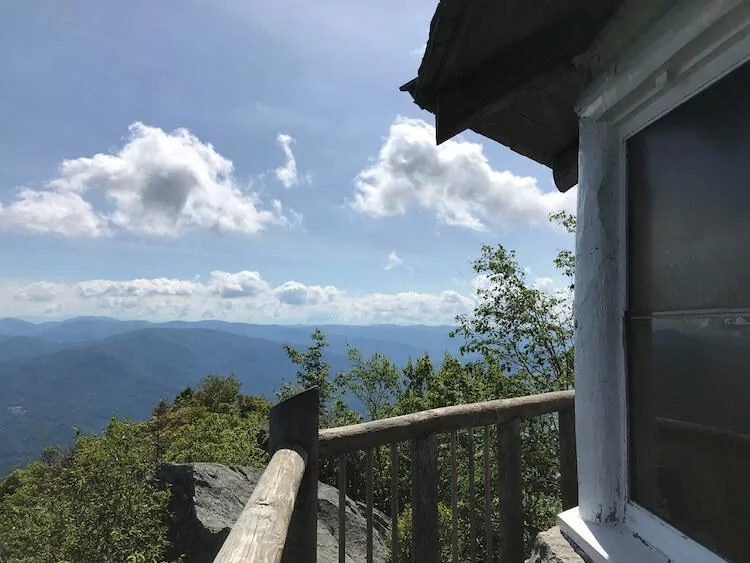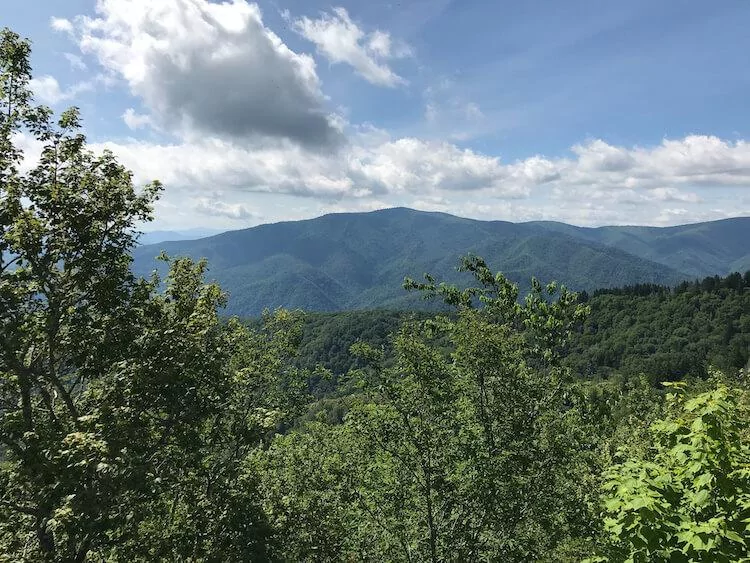 This seriously ended up being our favorite hike the entire time during our visit! We saw less than 10 people during our time climbing there and back, and there were fantastic views!
Time to #Treatyourself With Some Local Brews and Dones
After that hard work, it is time to celebrate! And what kind of Smoky Mountains vacation would it be if you don't try out some of the local fare?
Whether you're spending 3 days in Gatlinburg or 3 days in Pigeon Forge, you've got to try a local brewery. We loved Gatlinburg Brewing Company right in the heart of downtown Gatlinburg.
We snagged a growler of their Breakfast Juice NEIPA to enjoy in our cabin. Also, when we went, they were selling a black saison called Comeback>Setback that is crafted by the women brewers of Knoxville!
Also, after a strenuous hike, it's time to fuel up with a donut (or two) at Mad Dog Creamery and Donuts. The lemon blueberry cake donut and the banana pudding donut were just what I needed after a long day on the trails!
If you're staying in any Great Smoky Mountains National Park cabins, I recommend making a nice spaghetti dinner and enjoying the beer you just purchased as you'll probably call it an early night for the following day.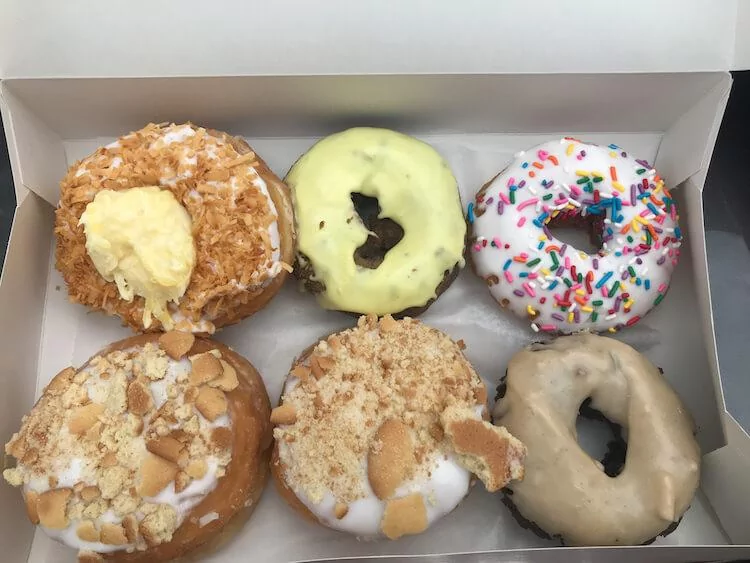 Day 3 of Your Adventurous Great Smoky Mountains Itinerary: Mount LeConte and Southern Food
Today will involve another strenuous hike and plenty of time to celebrate at your cabin afterward!
Hike Mount LeConte from Alum Cave Bluffs
While there are many trails that go up to Mount LeConte, there are two main trails that are the shortest distance: Alum Cave and Rainbow Falls. As there are waterfalls earlier on in this Smoky Mountains itinerary, a hike up to a cave sounds like an exciting new adventure on this trip.
This hike is about 10 miles round-trip and has an elevation gain of 2,560 feet. While this is a pretty strenuous hike in some places, it is nowhere near as difficult as Mt. Cammerer was. Plan to spend about 5-7 hours hiking up here.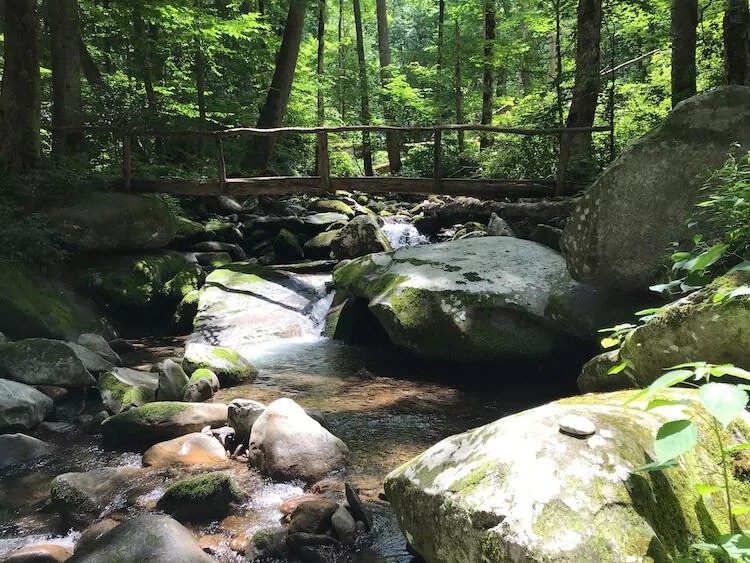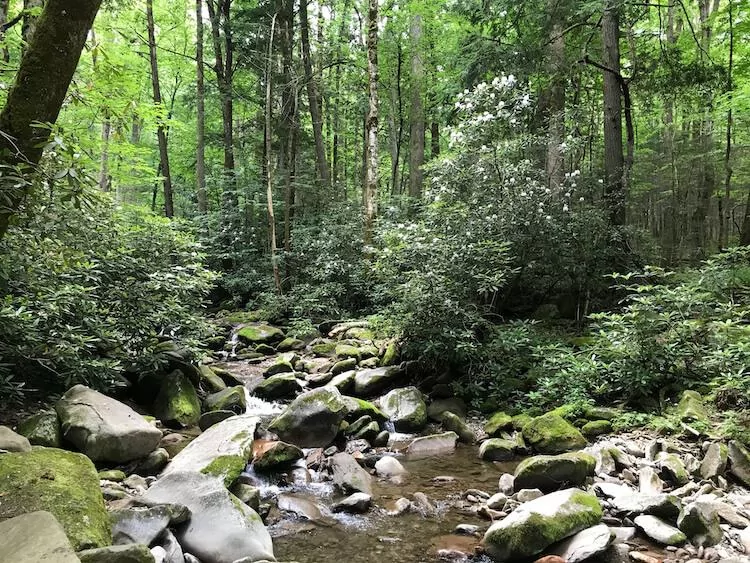 Start at the Alum Cave Trailhead and be here early! We arrived around 6:30 am and there were plenty of cars already parked in the lot. This is a more popular hike, as there are plenty of things to see along the way. If you start early, though, you'll likely have most of the trail to yourself on the climb up.
The first part of the trail is pretty flat as you hike along Alum Cave Creek where you'll spot many beautiful rhododendrons until you climb the stairs through Arch Rock. From here you'll pick up elevation.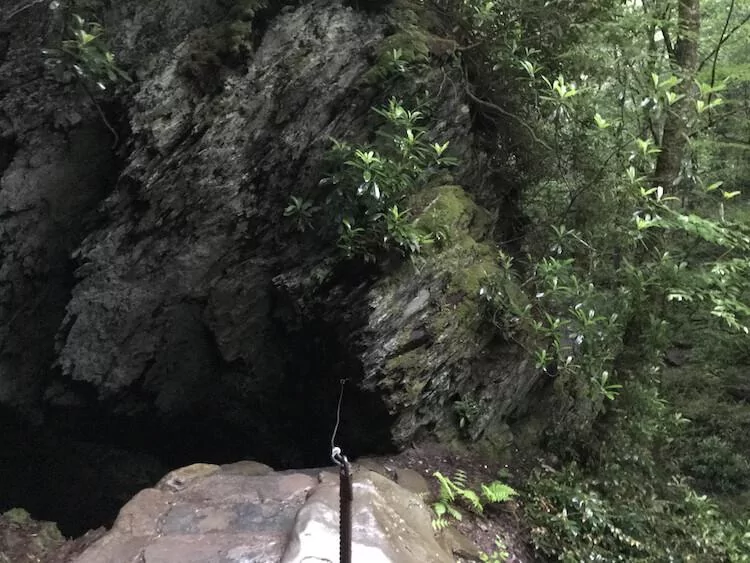 As you keep climbing you'll also reach Inspiration Point, a gorgeous spot where you'll have a chance to see many beautiful mountains and valleys.
Then, as you get to the halfway point, you'll see the beautiful Alum Cave Bluffs. This is where many hikers end up before turning around, which is why this trail can be popular.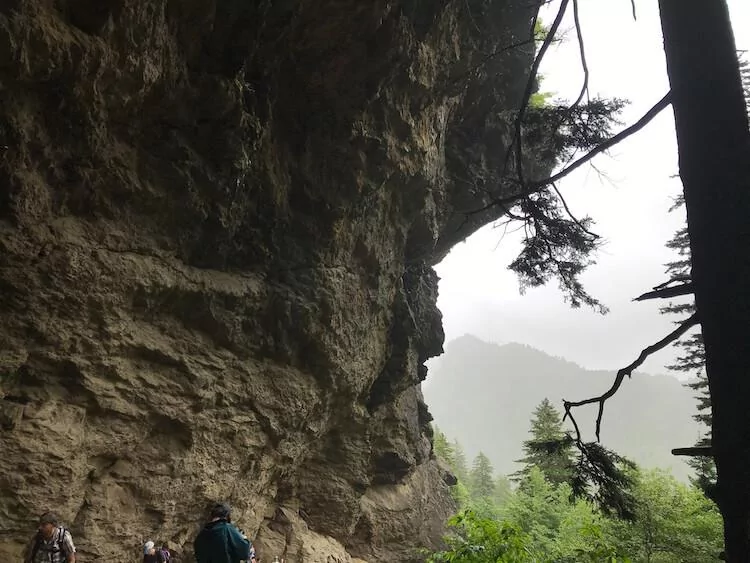 However, if you prefer to continue the trail, it gets much steeper and more treacherous. Expect to hang onto steel cables on tight paths. Then, you'll merge onto the Rainbow Falls Trail which leads to Mount LeConte.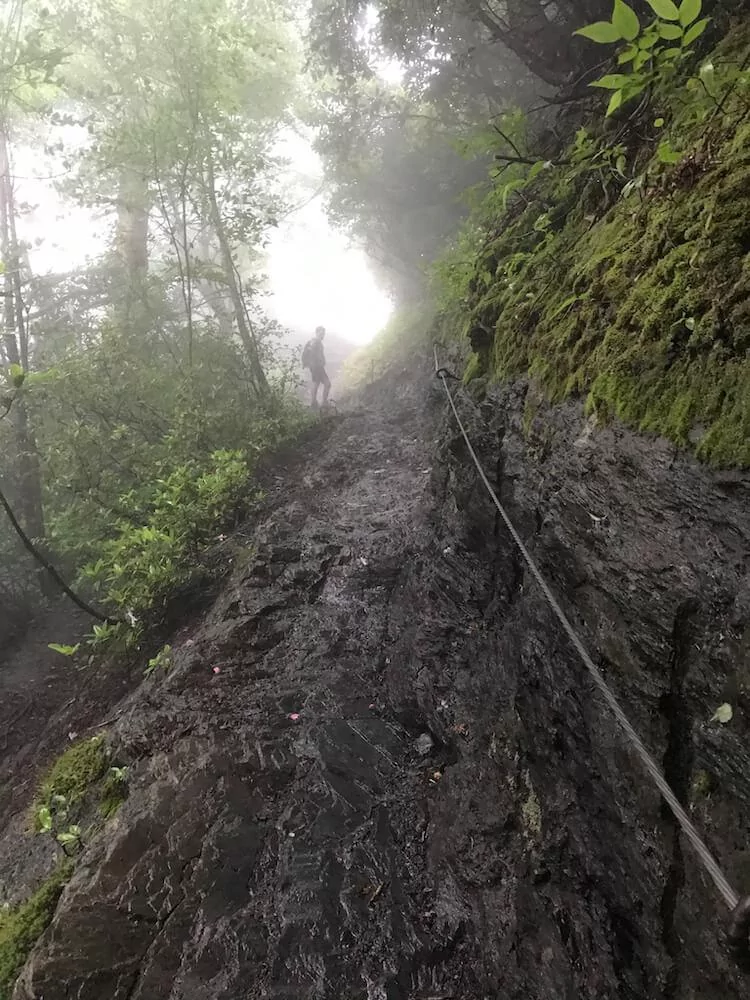 The views along the way are really fantastic, as are the views from the top. You can enjoy the top, maybe grab a souvenir t-shirt from Mount LeConte Lodge, or book ahead and spend the night up here if you wish! The people up here raved about the sunrises and sunsets! If you are short on time during your 3 day Smoky Mountain vacation itinerary, then hike back down the way you came.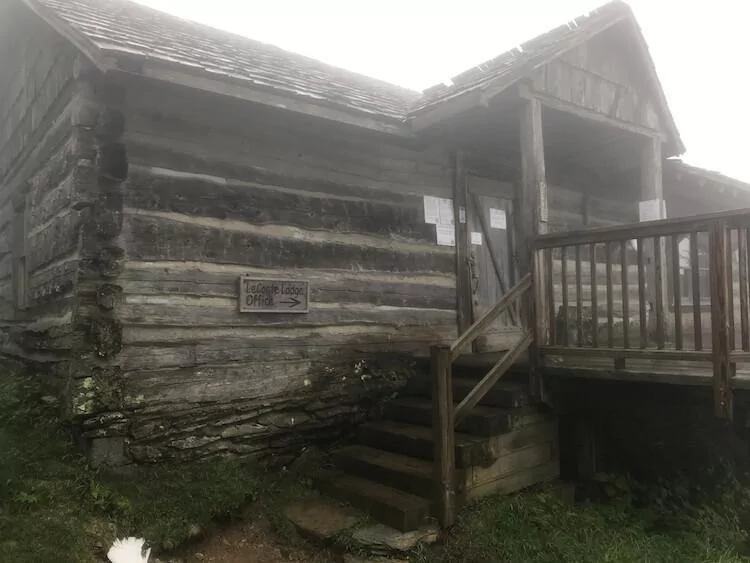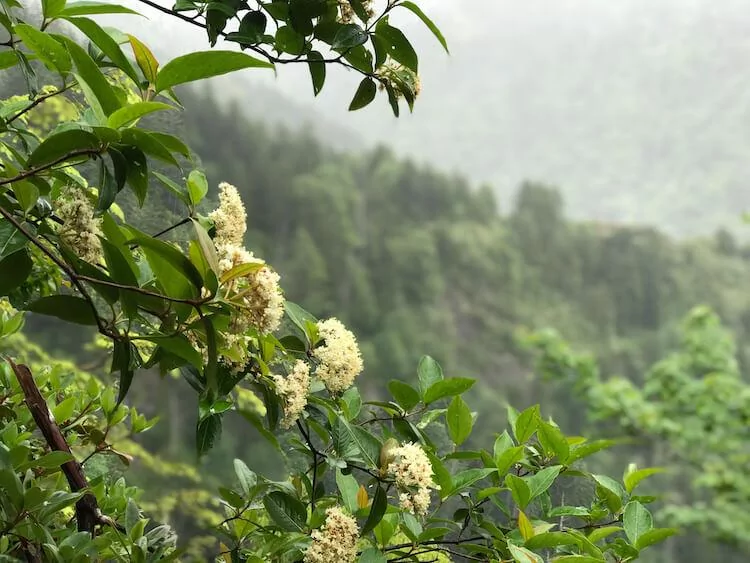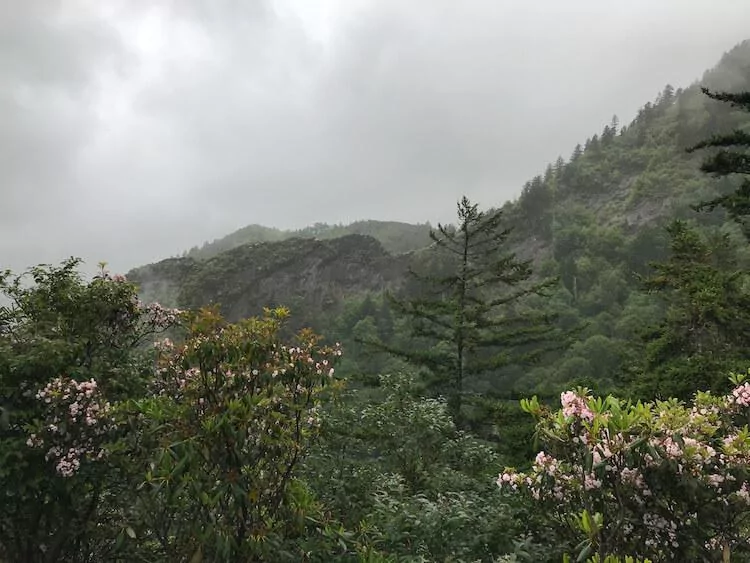 During our hike, it was super foggy and then started pouring rain! So we bought fresh shirts up there out of necessity but they are really cool.
And we also didn't get any of the fantastic views that you'd imagine. But the rain stopped and the fog started clearing on the way down, so we got to see the gorgeous views on the trails!
The only downside to this trial, however, is that even if you get here early, you'll run into many crowds on the way down, especially as you get closer to the Alum Cave Bluffs.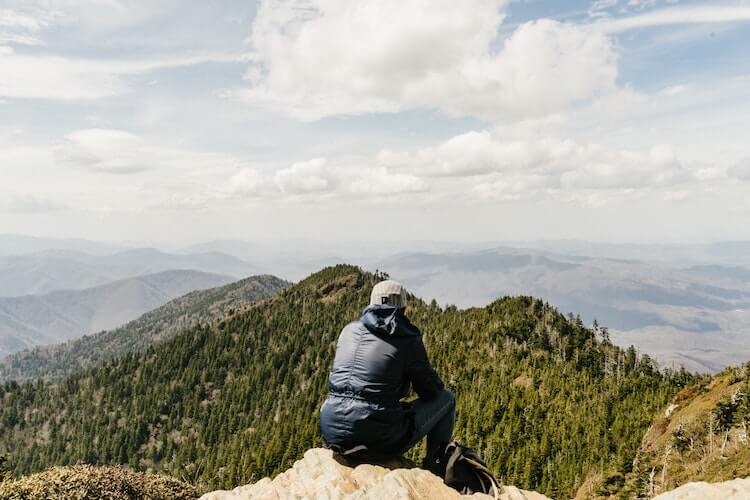 Moonshine and a Hearty Dinner
You've spent a long weekend during your Smoky Mountain road trip itinerary hiking, and it is time to reward yourself! After a quick shower, stop by Ole Smoky Moonshine in Gatlinburg ("The Holler" location) to take a tour of the distillery and purchase some moonshine.
We enjoyed some apple pie flavored moonshine and picked up a bottle for future cocktails!
And for dinner, it is time to enjoy some fantastic southern cuisine. The Old Mill Restaurant is one of my favorite spots in Pigeon Forge. With river views and filling, comfort food, you'll want to come hungry after that hike!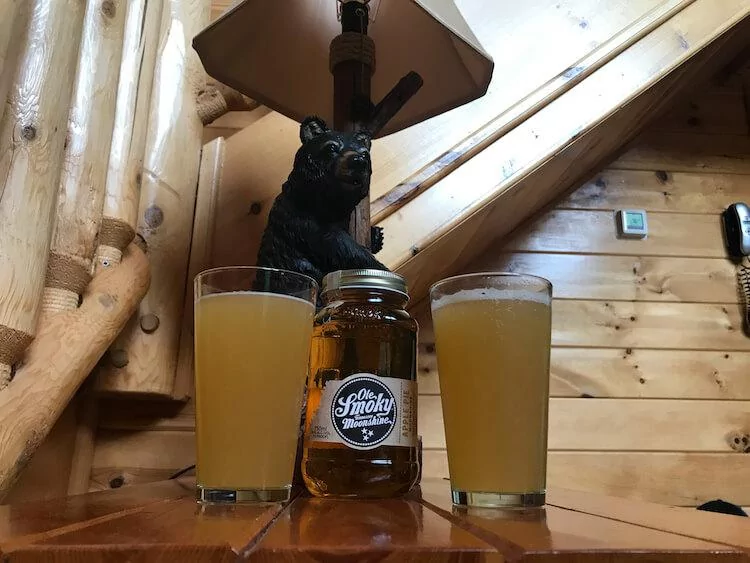 This spot serves up southern classics like fried chicken, southern fried country ham, chicken and dumplings, southern BBQ plate, and the tastiest catfish and trout. Be sure to get it with corn fritters and corn chowder (comes with many entrees)!
If this place is busy, then I recommend their sister restaurant, Pottery House Cafe. We got this on our last visit, and they had delicious southern food just like the Old Mill! I loved the catfish and shrimp combo with cheese grits, mashed potatoes, and baked apples. Don't forget to order a hoe cake (a jalapeno cornbread pancake)!
After an exciting 3 day Smoky Mountains trip itinerary, it is time to pack up and head home the following day. This Great Smoky Mountains itinerary is definitely jam-packed with adventure, but definitely make time for some great food and cool stuff like breweries to reward those challenging hikes!
Pro-tip: Don't forget to pick up a souvenir and get your National Parks Passport stamped at the Sugarlands Visitor Center on the way home!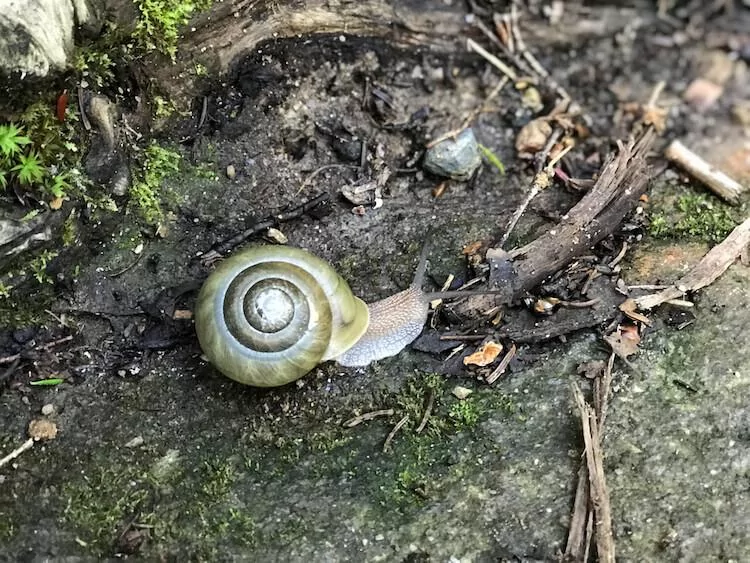 3-Day Gatlinburg Itinerary Recap:
Here is a quick version of the above itinerary as a reference:
Day 1: Chase Waterfalls

Hike to Ramsey Cascades
Explore Baskins Creek Falls
Dinner at the Local Goat

Day 2: Climb a Mountain

Hike to Mt Cammerer
Enjoy Mad Dog Creamery and Donuts plus Gatlinburg Brewing Company beers
Have dinner at your accomodations if you have a cabin

Day 3: Last Hike and Local Favorite

Hike to Mt LeConte
Get your National Parks passport stamped at Sugarlands Visitor Center
Sip Ole Smoky Moonshine
Dinner at the Old Mill
If You Have 4 Days in the Smoky Mountains or More
If you have the time for a 4 day Great Smoky Mountains itinerary or even more time, here are some great ideas:
Cades Cove: This is hands down the most popular loop that you can do by car or on foot in the Smoky Mountains. This is about 11 miles long and could take several hours depending on traffic. You could definitely spot black bears up here too!
However, there are plenty of places to stop along the route including the old Methodist Church, Cable Mill Area (which is an actual working mill), log houses, and even Abrams Falls Trail.
This trail is about 5 miles round-trip and not too difficult, but will add upwards of 3 hours to your time. This well-worn trail is easy to spot off of Cades Cove. Many people have spotted bears and other wildlife along the trail as well!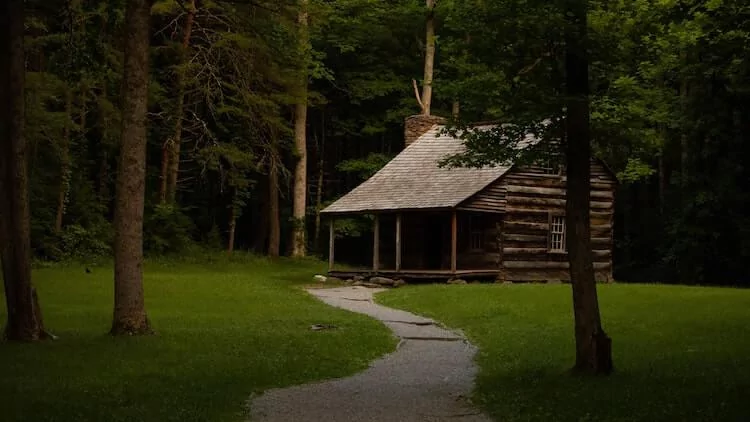 If a long and strenuous hike to Mount LeConte isn't for you, I'd recommend spending this day hiking or driving along Cades Cove instead. You're likely to spot wildlife along the whole area.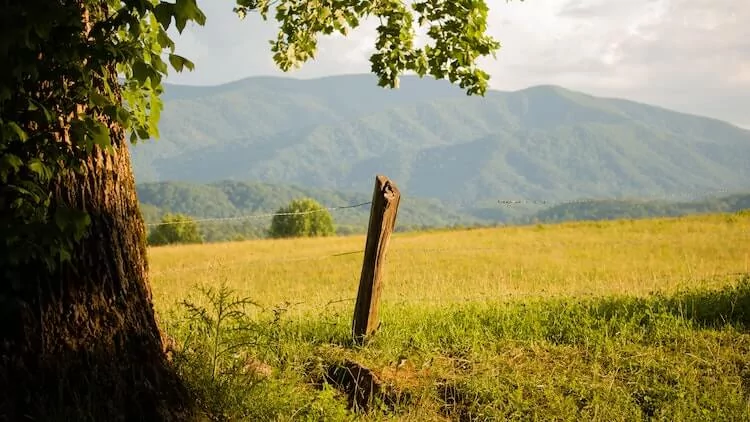 Note: Cades Cove is closed off to vehicles every Wednesday and Saturday until 10 am throughout the summer. This makes it perfect for getting a head start if you plan to hike it!
Clingman's Dome: The Smoky Mountains highest peak at 6,643 feet is a great thing to see! You could drive most of the way and go up the 360º observatory to get some amazing views over the park.
Dollywood: If you've got little kids or want to spend time at an amusement park, check out the famous Dollywood!
Spend more time exploring Gatlinburg or Pigeon Forge: Both of these cities have tons of tourist attractions from Hillbilly Golf (an uphill putt putt golf course) to several dinner theatres like the Hatfield McCoy Dinner Feud. Honestly, I think most of the attractions in the area can be tourist traps, so do your research before going!
Visit the North Carolina part of the Smokies! Check out the North Carolina part of the Smokies with plenty of trails, lesser-known spots, and Cherokee cultural sights!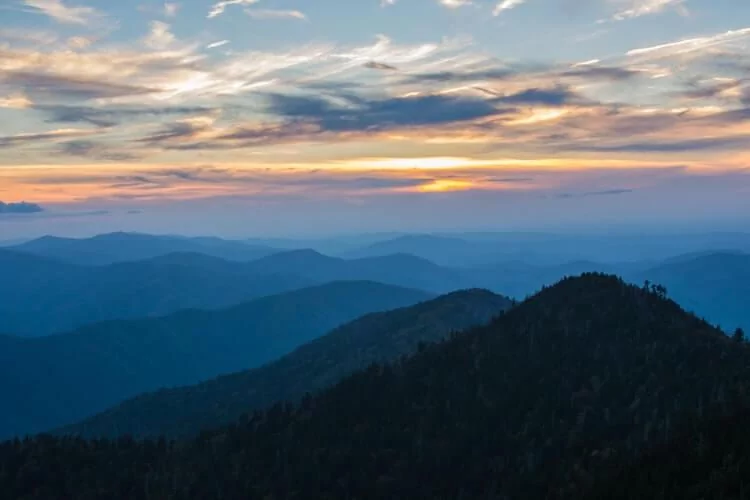 Where to Stay During Your Great Smoky Mountains Road Trip Itinerary
I've been visiting the Great Smoky Mountains National Park ever since I was a small child. We've done it all: campgrounds, hotels, and even cabin rentals.
As far as where to stay, Gatlinburg and Pigeon Forge are the larger cities in the area with ample hotels and cabins. While I wouldn't spend too much time in these cities as they have quite a few gimmicky things, there are some great attractions including distilleries, breweries, and tasty restaurants there to check out.
There is also the option to go camping at a campground within the park!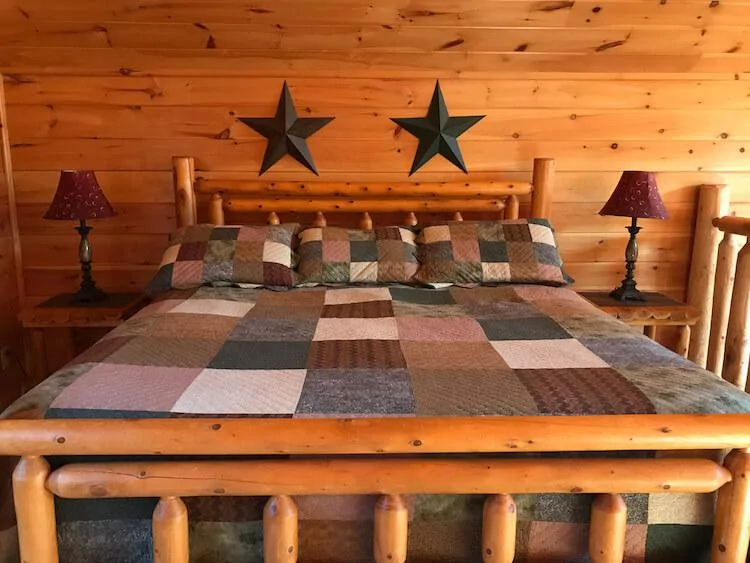 I'll highlight a few favorites of each of these options so you can choose based on your budget and preferences for the perfect Great Smoky Mountains itinerary!
Located right next to the Low Gap Trailhead for the Mount Cammerer Hike, this will give you a little more time to sleep rather than getting up extra early to get out there by 7 am.
This is also a quieter campground with fewer crowds, meaning you'll have plenty of peace and quiet to yourselves (and the opportunity to maybe spot wildlife!). Each spot has a fire ring and picnic table. There are restrooms. You can camp here with a tent or RV, however, there isn't any electricity or showers. The price is $17.50 per night.
More popular and close to the Cades Cove Loop, you get flushing toilets and drinking water here. They also accommodate tents and RVs and cost $25 per night. Again, no electricity or showers here, but for a cheap place to camp near some great attractions in the Smokies, this is the spot.
Lodge: LeConte Lodge
Only reachable via hiking, this lodge sits on Mount LeConte and has fantastic views overlooking the Great Smoky Mountains! It is also the only lodge in the park!
Prices start at $162 per adult ($88.50 for children ages 4-12) and include lodging and meals (dinner and breakfast).
Personally, I love a good cabin rental with a cute black bear theme and a relaxing hot tub to soak any achy muscles in. There are many throughout both the Gatlinburg and Pigeon Forge areas to choose from too! And today, you can rent them easily on VRBO.
My advice is to get one further up in the hills for privacy and peace and quiet. I really enjoy this one with a hot tub and fantastic back deck, pool table, and a full kitchen for cooking meals. It is a great place to relax after a day of hiking and costs about $150 per night. Check it out and book the cabin here! If you want more options, check out our guide to the best cabins and unique stays in the Smokies!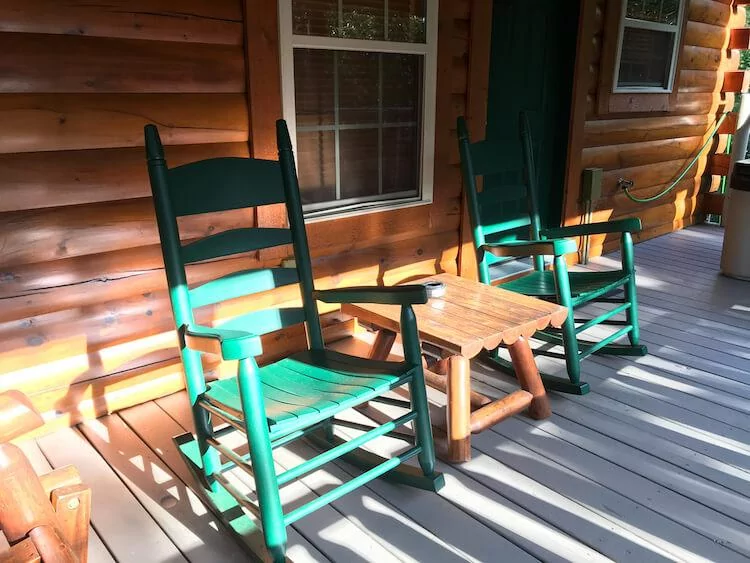 Hotels:
If you'd prefer the comforts of a hotel, here are a few based on your budget to check out!
Budget: Clarion Pointe Downtown Gatlinburg
Just outside the downtown area of Gatlinburg, you're within walking distance to Gatlinburg Brewing Company and many bars and restaurants. This place is also newly renovated with comfortable rooms perfect for relaxing in after a day of hiking. With a price point under $100 per night, it is a super affordable stay for a Great Smoky Mountains and Gatlinburg itinerary.
Read reviews on TripAdvisor and book here!
Mid-Range: Greystone Lodge on the River
Located on the Little Pigeon River, many rooms have great views of the river with large balconies! This place also has a pool, free parking, and is close to many attractions in downtown Gatlinburg. This hotel is also located near a Gatlinburg Trolley stop, perfect for getting around without a car. Prices start around $150 per night.
Read reviews on TripAdvisor and book here!
Luxury: Berry Springs Lodge
This lodge is a lovely bed and breakfast just outside of Pigeon Forge. It has sweeping views of the mountains as well as quaint and romantic rooms. Basically, if you want a lovely place to stay away from the hustle and bustle of the city, this is perfect for your Smoky Mountains trip. Prices start at $225 per night.
Read reviews on TripAdvisor and book here!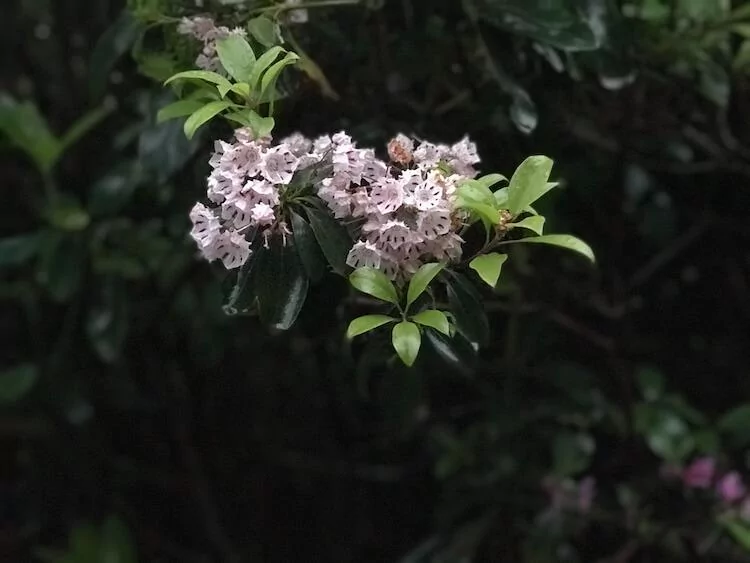 Getting Around the Great Smoky Mountains During Your Trip
If you are flying here, the closest airports to the Smokies include Knoxville McGee Tyson Airport (about 1 hour from the Smokies entrance near Gatlinburg), Asheville Regional Airport (1.5 hours from Gatlinburg), Charlotte Douglas International Airport (3 hours from Gatlinburg), and Greenville-Spartanburg International Airport (2.5 hours from Gatlinburg).
You could also drive here. From our home in Cleveland, it was about a 9-hour drive through Ohio and Kentucky into Tennessee. If you live within a day's drive from here, it is a fun road trip to the park!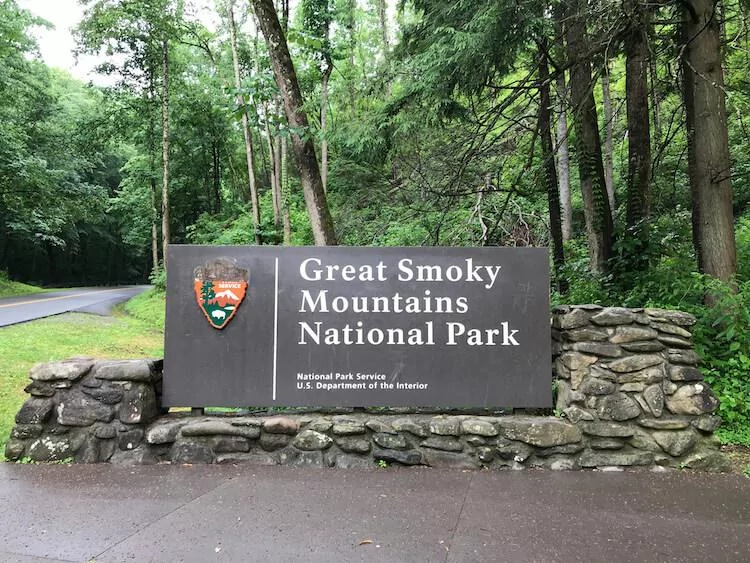 Once you're at the Great Smoky Mountains National Park, I highly recommend driving. While you could take the Gatlinburg Trolley around Gatlinburg, it doesn't really get far into the national park.
If you plan to rent a car, I love checking Rentalcars.com! No need to get a 4-wheel drive car. We got around just fine with our front-wheel-drive car as the roads are paved.
What to Pack for a Weekend in the Great Smoky Mountains National Park
When it comes to packing for the Smoky Mountains itinerary, this entirely depends on what you plan to do. If you're sticking to this itinerary, then you'll definitely want to pack for a day hike! Here are a few key things to bring: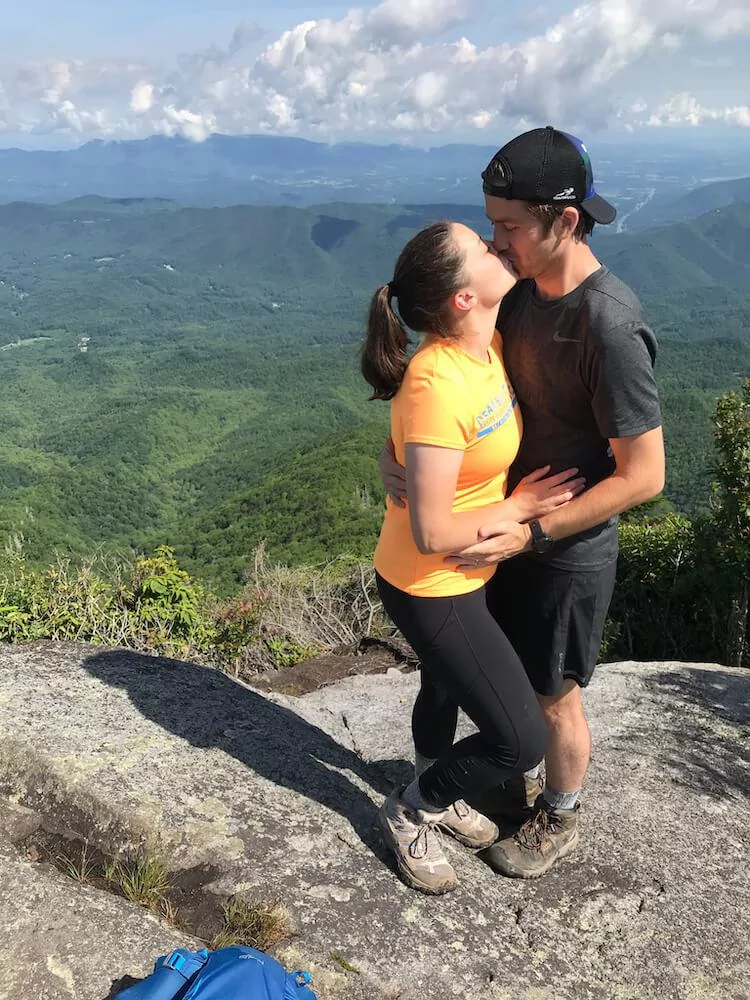 In the Day Pack:

Day Pack (We love our Osprey Hikelite)
Plenty of water (I recommend this bladder that holds 3L of water and a Lifestraw water bottle!)
Snacks
First Aid Kit
Compass and Map
Extra pair of hiking socks
Toilet paper and PiBella (Female Urinary Device). Take any trash with you! I always carry a few baggies to put my trash in.
Tick Key (To pick off any ticks)
Sunscreen
Bug Spray
Towel to wipe sweat
Binoculars to spot wildlife
Poncho or rain jacket if it gets rainy
Small utility knife
Mace
Flashlight or headlamp and backup batteries
Moon Travel Guide for all the details!
Essentials: Chapstick, phone, hand sanitizer, sunglasses

Hiking Outfits:

1 Pair hiking boots (I love my Merrell Moabs and Chris has Keens)
4 pairs running leggings or shorts
4 sports bras
4 sweat-wicking shirts
As far as what to pack for after hiking, be sure to bring clothes to sleep in, casual outfits for exploring the towns, and swimwear for the hot tub or pool. I also recommend packing a small umbrella in case of rain!
We packed our clothes in our favorite travel backpack, Osprey Farpoint 40. It had plenty of room for our essentials.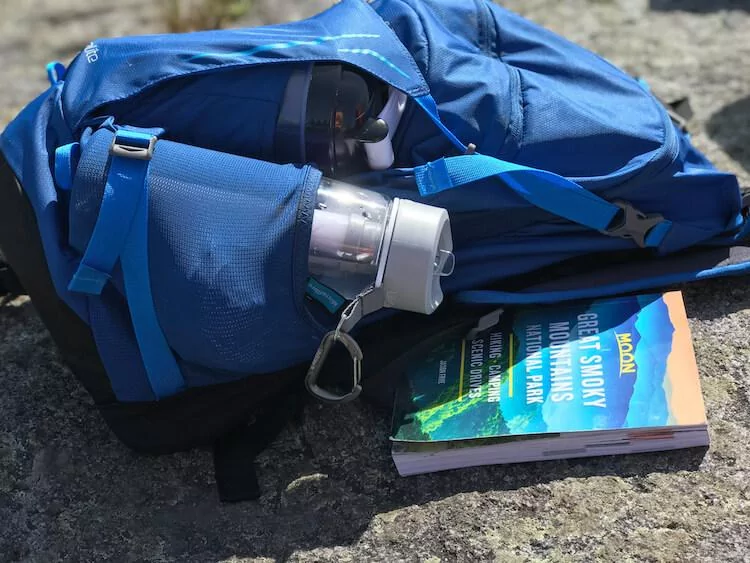 Tips for Visiting the Great Smoky Mountains
Before your 3 days in the Smoky Mountains, here are some top things to know!
Best Time to Visit the Smoky Mountains: A Great Smoky Mountains itinerary is lovely at any time of year. However, there are better times to visit than others. Here is a breakdown by season:

Winter: It can be cold and snowy here, and some trails and roads may be closed. However, if you are really careful while hiking, you'll be met with crowd-free trails and beautiful sites. Hotels and cabins will be much more affordable too! Also, you'll enjoy the Winterfest Celebration in Pigeon Forge!
Spring: This shoulder season is perfect for fewer crowds, cozy nights by the fire in a cabin, and plenty of wildflowers! This is a sweet spot to avoid many of the summer and fall crowds.
Summer: This is the busiest time of year in the Smoky Mountains due to many families traveling during summer break. Trails can get quite crowded, but you can certainly enjoy off-the-beaten-path hikes too. Prices are higher, but there are beautiful flowers along the trails. It can also be very hot, so bring plenty of water!
Fall: Another slightly busier time (especially in October), the weather is cooler and prime for hiking, and there are some crowds. Enjoy the lovely fall colors and crisp air. This is the perfect time of year for hiking!
Budget Time and Money for a Trip to the Great Smoky Mountains.
While it took us 9 hours to get down to the Smoky Mountains, we also drove quite a bit throughout the park. There certainly are areas that are easily accessible from Gatlinburg, but some trails can be quite far from the cities.
For example, the start of the Mount Cammerer hike is about 45 minutes from downtown Pigeon Forge. Also, Cades Cove is about an hour from Gatlinburg.
Be sure to budget for filling up your tank at some point during your visit.
Also, budget your time wisely! Even if a hike is 7 hours long, factor in the time it takes to get there and back, plus time to shower and cool off before exploring. That's why these days aren't jam-packed with sightseeing, as a day hike could very well take up most of the day.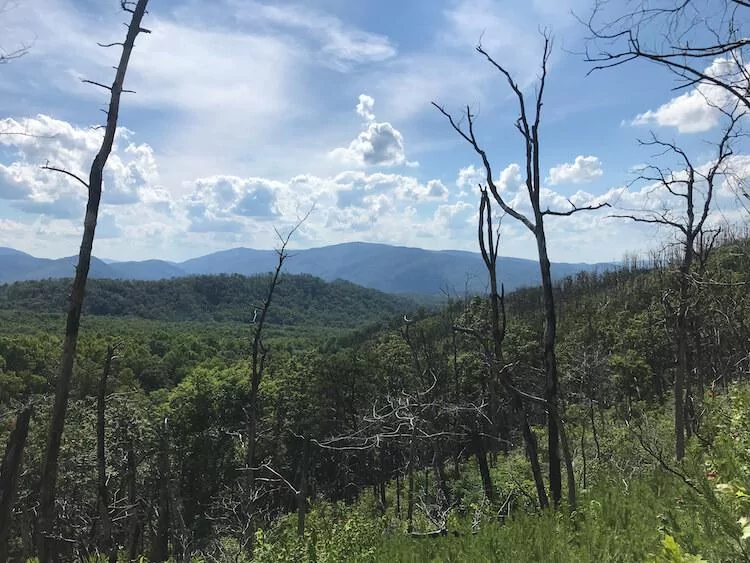 Leave No Trace.
As always, leave no trace. Take a bag for trash and keep it in your backpack during the hike. Pick up any food and trash you have after a snack or anything. Also, pick up any trash you see along the trails.
This is a beautiful national park, and let's keep it that way. Also, store your food properly to not attract wildlife.
Do NOT Disturb Wildlife.
Bears, coyotes, deer, etc. are wild animals and the Great Smoky Mountains is NOT a petting zoo. Keep a distance of at least 50 yards and do not approach or attempt to feed them. Many animals who eat human food or trash won't live as long, and it makes them think of humans as a food source. Just don't do it.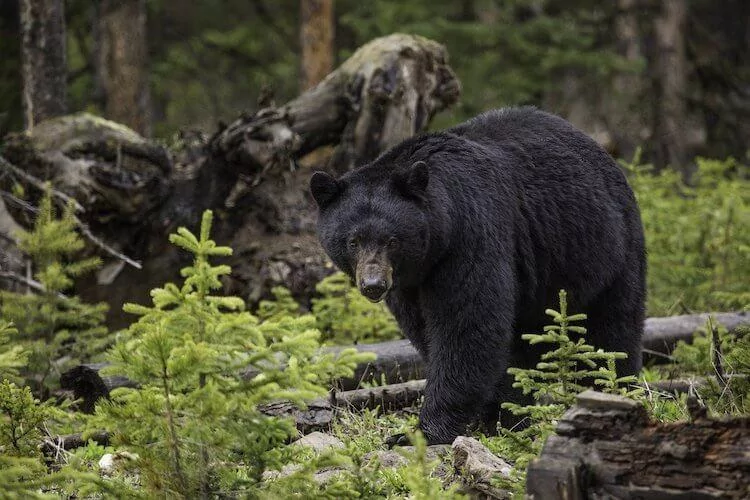 If you see a black bear, slowly back away, but never turn your back on it and don't run away. Chances are they won't approach, but if they start, make loud noises and try to intimidate them. Black bears are the kind you're supposed to fight back if they attack. However, this is very unlikely as long as you're smart about keeping a distance.
Check the National Park Website for more information and updates on park closures including campgrounds, roads, and trails. You don't want your Smoky Mountains itinerary ruined with park closures!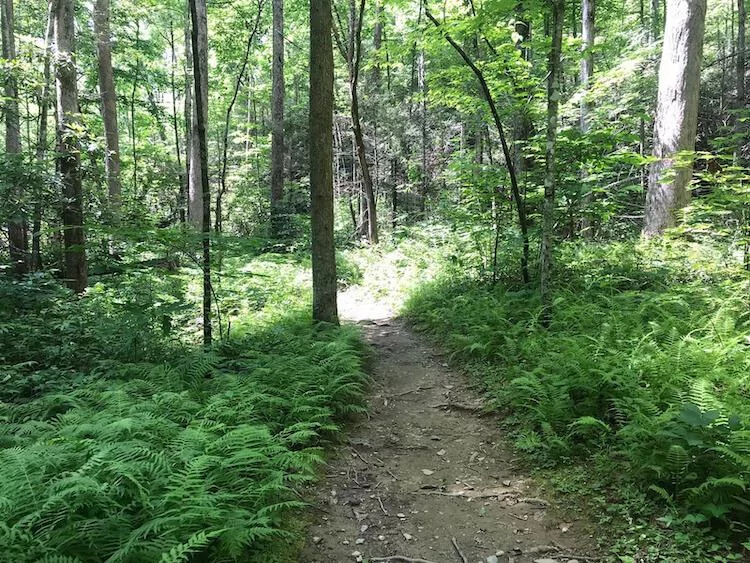 Getting Up Early is Key.
I know getting up early isn't always fun, but it is SO worth it to avoid the crowds on busier trails and to hike in the cool of the morning. During our time in the Smoky Mountains, we got up between 4:45-5:30 am for our longer day hikes to ensure some uninterrupted views. It sucks, but you can take a nap when you get back and it's worth it to have the trails to yourself.
7. We Highly Recommend the Great Smoky Mountains National Park Moon Travel Guide!
When I first opened the Great Smoky Mountains National Park Moon Travel Guide, I saw the Hidden Gems Section. This was the reason we found the Mount Cammerer hike and it turned out to be our favorite thing we did! This guide was also SUPER helpful and was really detailed on hikes that we took, where to eat and drink, and so much more.
They have sections about the park itself as well as Gatlinburg and Pigeon Forge tips, and North Carolina getaways. It is the most comprehensive book and I can't recommend it enough. If you're planning a trip to the Smoky Mountains, get this guidebook written by a local.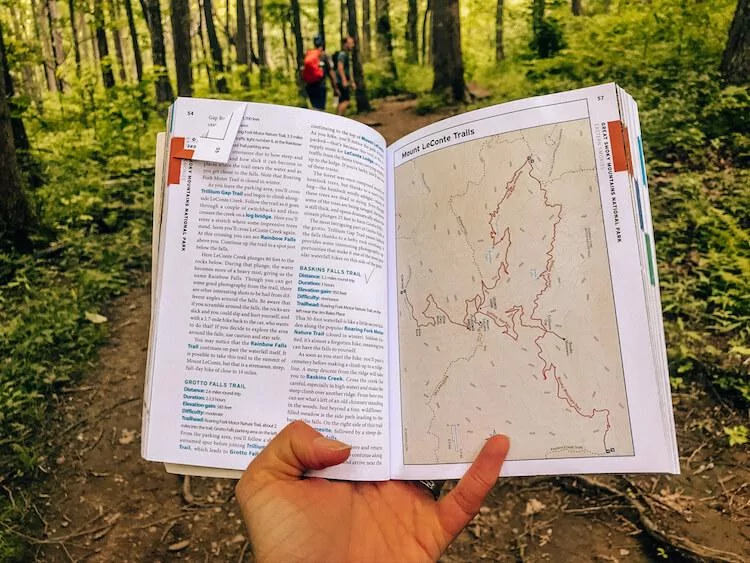 8. Traveling Far? Travel Insurance is There.
Especially if you're traveling internationally, we use World Nomads. It covers a range of activities and has easy-to-understand policies.
We hope you enjoy this in-depth and super adventurous Great Smoky Mountains itinerary for a weekend. For anyone who loves hiking and beautiful views, this is perfect to get a good taste of the waterfalls, mountain peaks, and cave bluffs in the area.
What would you like to do during your weekend in the Smoky Mountains? Let us know in the comments!
*This post was sponsored by Moon Travel Guides. All opinions are our own.
Want more USA travel inspiration? Check these posts out!
Pin it here!