Some posts on this site contain affiliate links, meaning if you book or buy something through one of these links, I may earn a small commission (at no additional cost to you!). Read the full disclosure policy here.
---
Imagine strolling along cobblestone streets, nibbling fresh cheese, and watching passerby at a chic café, all while listening to the romantic sounds of the French language. No, you're not in Paris; you're in Quebec City! And a 2 days in Quebec City itinerary is the perfect chance to see and do all the main highlights in this lovely town.
Quebec City, the second-largest city in the Quebec Province in Canada, is located along the Saint Lawrence River, a few hours northeast of Montreal. It has stolen my heart and may just be one of my favorite French-speaking cities in the world! And the best part about it? It's much closer and easier to get to than France!
This city can be summed up in two perfect words: charming & quaint. From the French colonial architecture to the friendly, lovely locals, you may find yourself making excuses to come back soon.
So let's chat all about things to do, places to see, and where to stay during your time in this gorgeous town! Here is your guide to a fantastic 2 days in Quebec City itinerary!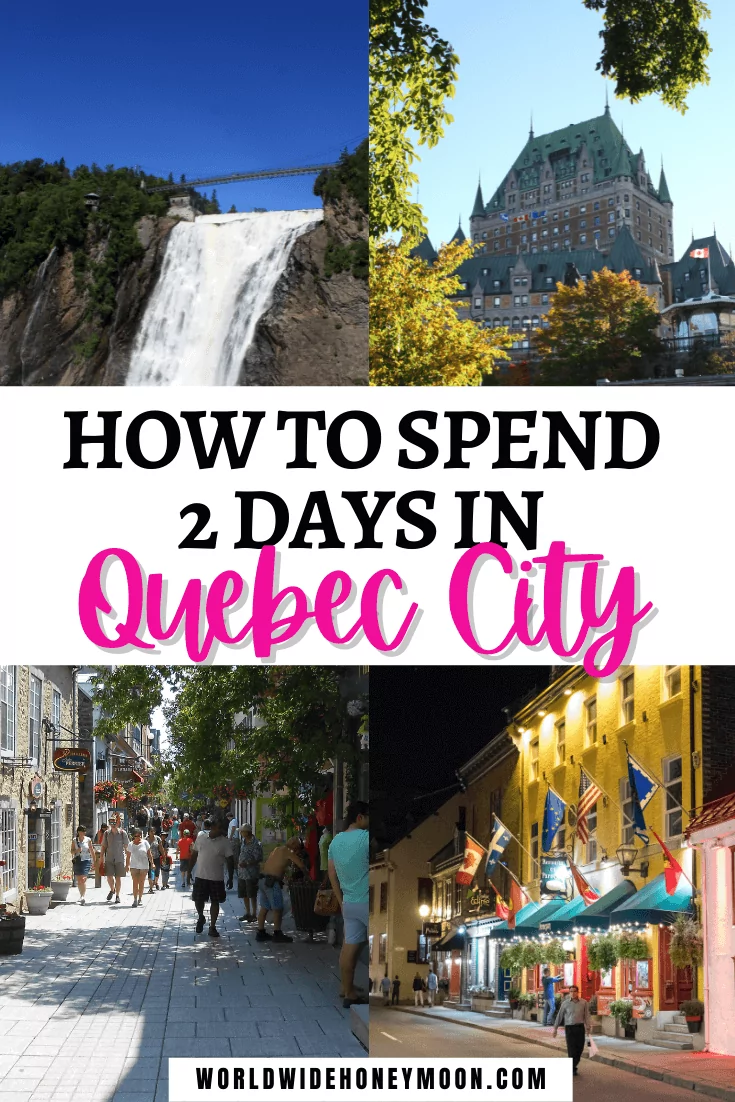 When to Visit for an Amazing 2 Days in Quebec City
Winter: Let's face it: the more north you go in the winter, the worse the weather will probably be. But hear me out! While yes, Quebec is cold; it fights winter like no other, warming everyone's spirits during the annual Winter Carnival.
Celebrated around the same time as Mardi Gras, it is a time of partying, ice palaces, night parades, ice canoe races, and so much more! Dress warmly, grab some hot cocoa, and watch this city come to life during the coldest time of year! And don't forget the holidays! Quebec City has lovely Christmas markets to explore!
Winter temperatures range from highs of 18 to 23ºF (-8 to -5ºC) and lows of 1 to 8ºF (-17 to -13ºC) with January being super chilly and the lower end of that average and December being on the higher end.
Spring: I went this time of year in May and while it did rain more, it is pleasant and everyone is out and about! Also, hiking and walking around the city are nice without ice and snow.
Temperatures range from highs of 32 to 62ºF (0 to 17ºC) and lows of 15 to 40ºF (-9 to 4ºC) in the spring with March being on the cooler end and May starting to warm up.
Summer: This is a great time to visit because of 1) the northern parts of the world tend to not get super hot and humid and 2) there are so many great activities to do in the summer! From visiting waterfalls to kayaking on the Saint Lawrence River, you'll find a wide array of outdoor things to do.
Temperatures range from highs of 72 to 76ºF (22 to 24ºC) and lows of 50 to 55ºF (10 to 13ºC) in the summer with June being on the cooler end and July being warmer.
Fall: The best reason to visit in the fall? All the colors! People think Maine is the place for fall foliage, but Quebec, just north of Maine, will easily give it a run for its money.
Temperatures range from highs of 37 to 64ºF (3 to 18ºC) and lows of 25 to 45ºF (-4 to 7ºC) in the fall with November being on the cooler end and September being warmer.
Basically, you can visit this city at any time of year and have fun!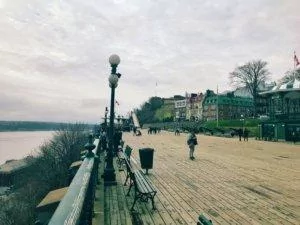 How to Get to Quebec City
Quebec is actually pretty easy to get to, thanks to many flights with Air Canada. You can also fly to Montreal and take the train. Trains are available from Toronto too.
The train from Montreal to Quebec City is about 3.5 hours and costs about $44, and the train from Toronto to Quebec City is about 9.5 hours long and costs about $190 for a round-trip ticket. I found prices and train times on Wanderu.
There is also the option to drive from Montreal or Toronto. The drive is around 3 hours from Montreal or 8 hours from Toronto. When it comes to finding a rental car, I love checking Rentalcars.com for the best prices!
I ended up finding a good price on Skyscanner for the weekend I wanted to go and jumped on it! It wasn't a direct flight from Cleveland, but I had a little layover in Toronto and took a teeny plane into Quebec City.

Top Places to Stay in Quebec City For Your 2 Day Itinerary for Quebec City
Budget: Au Petit Hotel is small and quaint, tucked into a side street in Old Quebec. It is within walking distance to almost everything in the old city, and it is adorable! Check it out starting at $70 a night.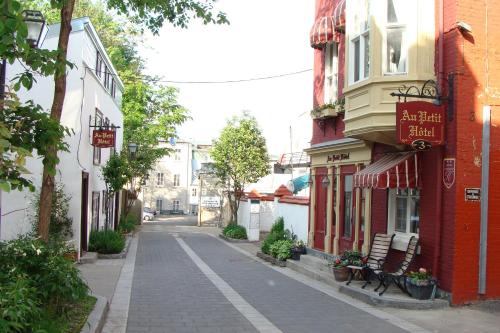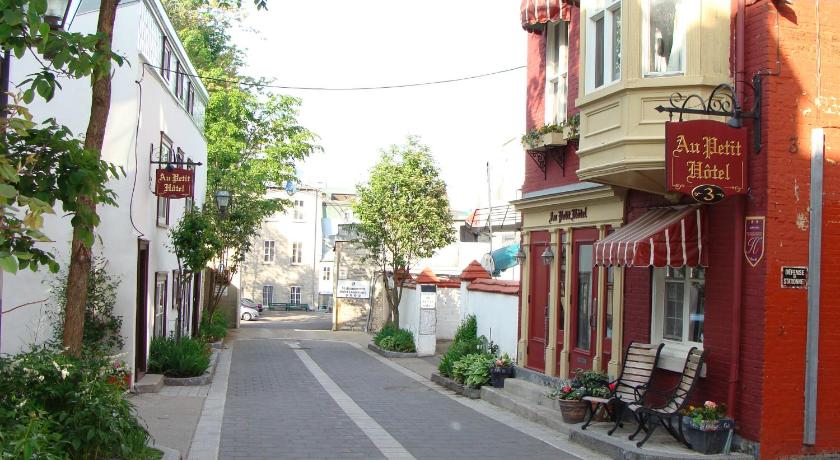 Mid-Range: Hotel Champlain is located in Old Quebec as well. The rooms are a bit more spacious, and it is within walking distance of the main sites and attractions in this area. For $140 a night, it's a great deal!
Luxury: If you're thinking luxury, look no further than the most photographed hotel in the world: Chateau Frontenac. The prices are around $400 a night. While not bad for a more luxurious hotel, you definitely are paying for the stunning views. The rooms are even quaint with a modern twist, and there are so many nooks and crannies to explore around the hotel!
Book it here!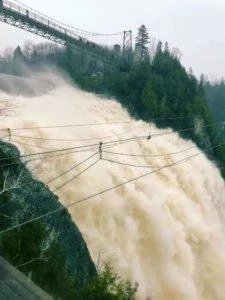 Things to Do in Quebec City
You could spend several days exploring this stunning city, but here are a few key things you need to see:
Chateau Frontenac: If you're not staying here already, it is definitely worth making a trip to the most photographed hotel in the world. It looks as if it is part-castle, part mega-mansion, and part je ne sais quoi. Even next to the Chateau there is a gorgeous walking path that you can wander and view the river and bits of history from this old hotel on display.
Explore the streets of the old city: this part of town will take you back in time to when French settlers were exploring Canada. Then, pop into a café and feel like you've been teleported to a Parisian side-street, only your meal will probably consist of heartier food (think poutine or meat pie) rather than a delicate crêpe. Lastly, check out the cute boutiques and buy some Canadian souvenirs.
Visit Montmorency Falls: If you've been to Niagra Falls, this is nothing like it! Trust me, I have never been this up close to such a strong and powerful waterfall. The height alone was pretty terrifying, and maybe it was just the fact that we went on a particularly rainy day, but this thing has power. We walked on the bridge over the falls and I felt the sturdy and cemented bridge quiver from rushes of wind coming off of the falls. It was seriously the most amazing thing to behold! It was even worth going in the pouring rain. And as far as getting there, you could certainly Uber, but I love this bike tour that even includes a ticket for the falls!
Take the ferry to Levis: Take a short ferry trip to see the city from the river!
Take some tours: I went to Quebec City as part of the Women in Travel Summit and they arranged several tours for us to take. I'm so glad I went on one, but I wish I got to see more! First off, everyone raved around the Island of Orleans tour where they sampled several eats and boozes from the region. There were also architecture tours as well as regular Quebec City walking tours (I LOVE this Old City walking tour). I always enjoy taking tours and seeing all a city has to offer. Then, you can go back to your favorite spots later.
Take a peek at the trendy Saint Roch neighborhood: I went here as part of the Saint Roch food tour and I'm so glad I did! It's in the lower part of town and was once a run-down part of the city. Now, the place is booming with restaurants and bars and all kinds of things to do! We walked past a gorgeous old church and sampled amazing foods from traditional poutine to bold ceviche. We even tasted Quebec-made cheese! In short, this neighborhood is worth a visit during your time in Quebec.
Crime Walking Tour: Quebec is a cheery and relatively safe city these days, but it has a darker past. Take a tour through the crimes and arrests that took place long ago. It is the thing to do around Halloween or those who are into true crime like myself.
Party it up! This city has many great bars and while the prices at the Frontenac may be pricey, and most of the old town in general, take a few steps past the old city walls and find yourself sampling fantastic local beers at only $4 a pint. We really enjoyed Bar Le Sacrilege (for all the delicious local brews) and Pub St-Patrick (for the general ambiance and kick-ass fiddler).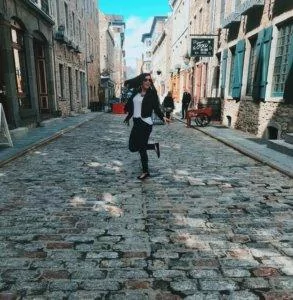 Places to Eat in Quebec City
Okay, guys, Quebec is nothing if not a foodie's place. So let's break down where you should chow down.
Chez Ashton: Okay, this is definitely a chain poutine spot, but it's really good! Their potatoes and cheese are local, and it's made fresh that morning. So at least it's better than McDonald's? Anyway, it's a staple of Quebec and totally worth trying. I had many locals refer me here for good poutine. Go to the one in Saint Roch for the best!

Le Chic Shack

: This little gem in the old city serves fresh burgers and fries as well as, of course, incredible poutine. They even have vegan poutine! Pair it with some raspberry soda and it is sublime.
Bleu Marine: This mouthwatering restaurant is just outside the old city and has the most delectable food.
Fromagerie des Grondines Cheese Shop: Yes it is a shop for all the ooey-gooey cheese you could want, but they also serve up tasty grilled cheese with artichokes and Canadian bacon. Drool. This beauty is located in Saint Roch.
Noctem Artisan Brasseurs: Aside from the amazing ceviche and beer, the owners are huge cat lovers with cat flags and such everywhere. Definitely, a cool bar to visit in the Saint Roch neighborhood. And the fact that I'm a huge cat lover always makes this a bonus in my book.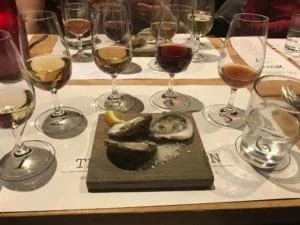 The Perfect 2 Days in Quebec City Itinerary
When it comes to the perfect Quebec City itinerary, these are definitely the things you'll want to do!
Day 1 of Your Quebec City Itinerary: Explore the Old City
To start off your 2 days in Quebec City, you'll want to check out the charming Old City and maybe take a few tours around.
Wake up to see the sunrise along the Saint Lawrence River.
Admire, and maybe take a peek inside, the world's most famous hotel: Chateau Frontenac!
If you've got time, head out to the Island of Orleans for their fantastic food and wine tour. Opt for the 9 am tour.
Explore the Old City, especially the ever-so-charming Rue du Champlain. If you'd prefer to take a tour, this is an amazing tour of Quebec's Old City to really become acquainted with it. Hop on the 3 pm tour.
Grab dinner at Bleu Marine for a delectable taste of Quebec City's best food.
If you're still thirsty, take a pub crawl or find some great pubs (like those above) to pop in around the Old City! For those who are not into partying, take the thrilling crime tour!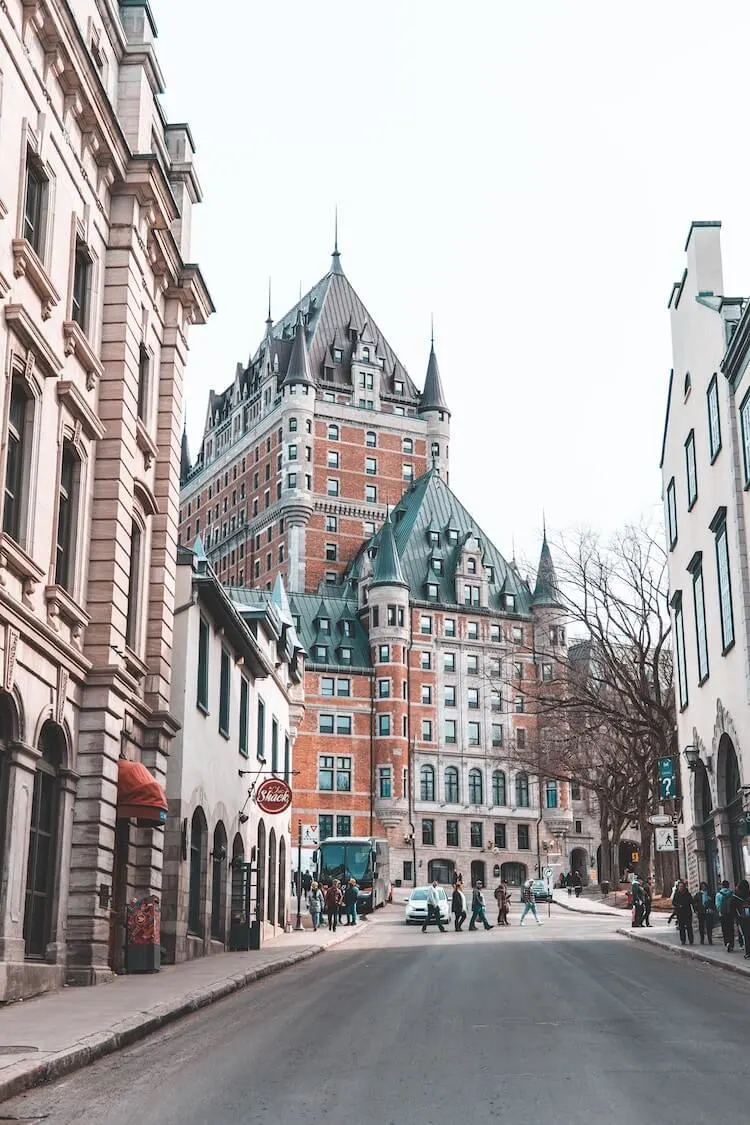 Day 2 of Your 2 Days in Quebec City: Visit Montmorency Falls and Take a Food Tour
You've explored the charms of the Old City in Quebec City, and now it is time to branch out!
Grab a fantastic cup of coffee and breakfast pastry at Café La Maison Smith Notre Dame in the Old City.
Head to Saint Roch for the incredible food tour at 11 am!
Visit Montmorency Falls. It was so cool to feel how powerful the falls were! You can walk across the bridge, view from the platform, or even take a cable car ride to the top!
Wind down with a lovely dinner at Le Chic Shak for casual burgers and poutine or Chez Ashton to wrap up your perfect 2 days in Quebec City itinerary.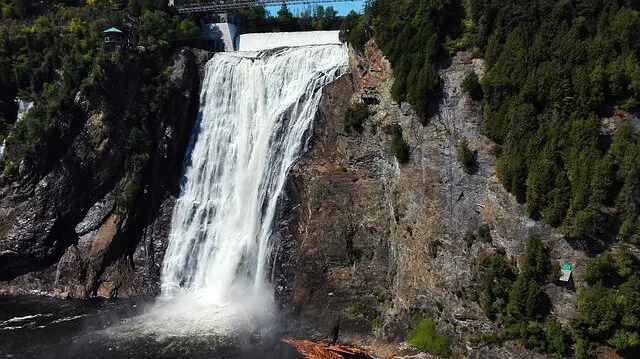 If You Have More Than a 2 Days in Quebec City Itinerary
If you have more than a weekend in Quebec City, I would get out of town even further on some fantastic day trips from Quebec City! Go on a Quebec Maritime excursion and have the most memorable experience on a whale-watching tour!
That's right, you'll be picked up and dropped off in Quebec City, but you'll get to explore Quebec Maritime as you get on a boat and watch beluga whales!
If I had more time in Quebec City, I would've certainly have chosen this amazing tour from Get Your Guide that includes transportation and super-knowledgeable English-speaking guides to see the whales!
You can also take a trip down to Montreal for the day to explore more of the Quebec Provence and find the most fun things to do in Montreal!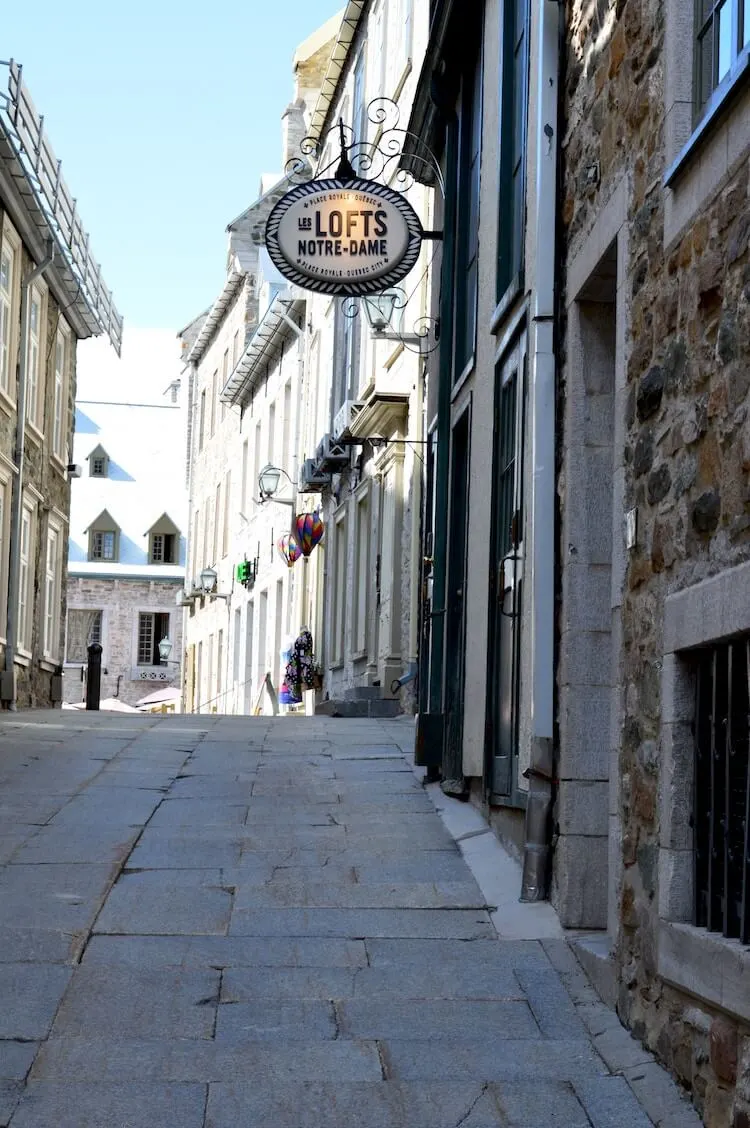 Things to Know Before You Go to Quebec City for 2 Days
There are a lot of things that may surprise you about this lovely city in Canada, so I'm here to break down what you should know before you go!
The Canadian dollar is used here, which is currently worth $0.81 per CAD$1. This means that if you're coming from the US, you'll be saving quite a bit of money on the exchange rate!
Quebec as a whole speaks French. Of course, in larger cities like Montreal and Quebec City, you'll find people who speak English, but it always helps to know a few words of French like "Hello" ("Bonjour"), "Thank You" ("Merci"), "Yes/No" ("Oui/Non"), and knowing how to order food helps too (i.e. "Je voudrais" is the polite way to order in French meaning "I would like").
Dress Warmly! If you're not coming in the peak of summer, it can be rather chilly in Quebec City as it is pretty far north. Always pack a jack, scarf, and warm boots if you decide to visit outside of summer. I made sure to pack my favorite scarf and trench coat to stay warm and dry during a chilly May.
Eat lots of poutine. It was invented in Quebec and is super tasty. There are plenty of places to get it here too!
Quebec City is the small North American city you never really knew about but now need to visit. When I first booked my ticket, I wasn't sure what to expect. I'm thankful to say that it blew away any expectations. So get prepared to eat and drink well in this magical French Canadian town!
Have you been to Quebec City? What are your thoughts on this 2 days in Quebec City itinerary? Let me know in the comments!
Love this post? Or just want to read later? Pin it here!