Some posts on this site contain affiliate links, meaning if you book or buy something through one of these links, I may earn a small commission (at no additional cost to you!). Read the full disclosure policy here.
---
Dreaming of the best European honeymoon destinations?
A honeymoon in Europe can be pretty idyllic. With romantic cities, gorgeous beaches, and many charming destinations in between, it can be hard to narrow down the perfect places to honeymoon. So we came up with the 29 best honeymoon destinations in Europe that you'll want to book as soon as you can!
I've spent a lot of time exploring Europe via backpacking several times, living in France for a period of time, and visiting with my husband, Chris, frequently. If you plan to choose a European honeymoon destination, we've got you covered.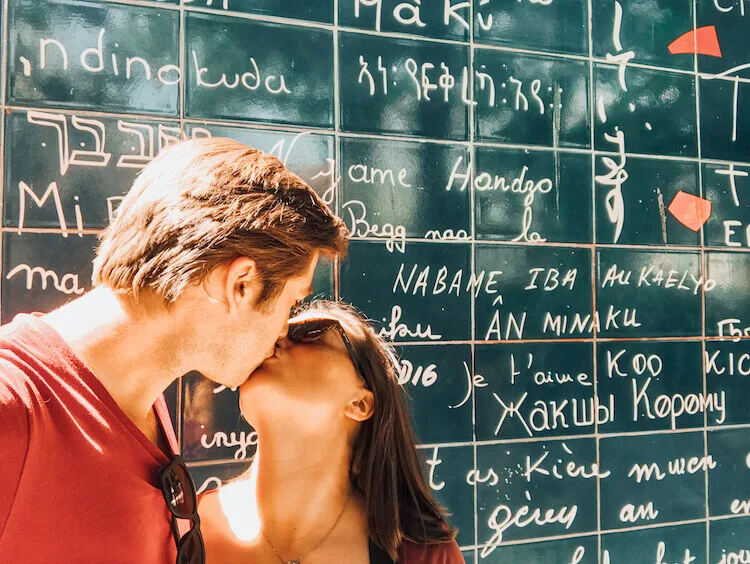 Best Honeymoon Destinations in Europe
To narrow down your options for the best honeymoon places in Europe, we're breaking it down by categories like budget, beaches, cities, and more! Let's plan the best honeymoon in Europe!
Romantic Cities in Europe
When it comes to brainstorming European honeymoon ideas, many cities probably come to mind. After all, Europe is known as a place to go city-hopping!
Of course, some are more popular than others, but we've got a surprise or two in store. So let's dive into the most charming and romantic cities to include on your list of honeymoon locations in Europe.
1. Paris, France is One of the Best European Honeymoon Destinations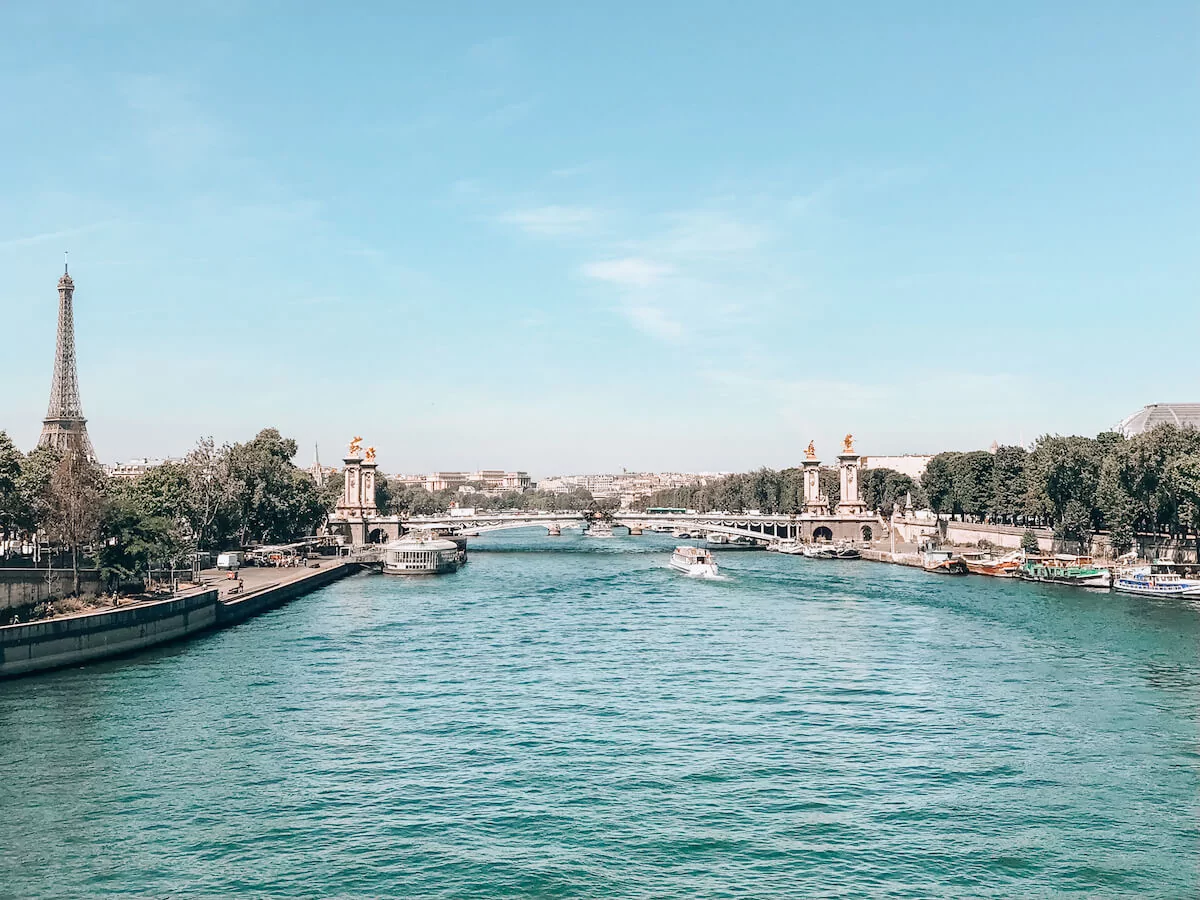 I know that Paris being on this list is a total cliche, but there is a reason that this city is among the top honeymoon destinations in Europe. From the city lights twinkling at night to the sprawling gardens, art museums, and dreamy sidewalk cafes, Paris oozes romance at every turn.
If your honeymoon to Europe is your first time in this part of the world, then a stop in Paris is a must. For a luxurious honeymoon-worthy splurge, stay at the Grand Hotel Du Palais Royal for a treat that is within walking distance of many lovely attractions.
If you are returning to Paris again, whether for 4 days in Paris or more, be sure to check out our neighborhood guide for details on the best spots to stay for honeymooners!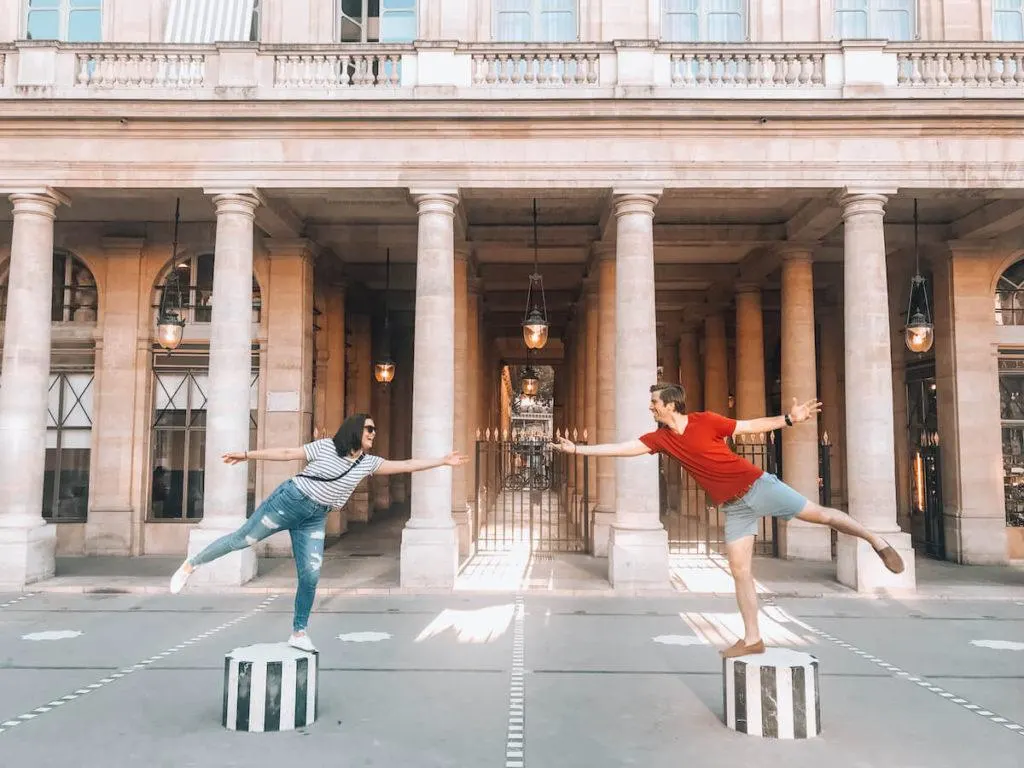 What to do on your Paris honeymoon:
Hold hands while walking along the Seine River

Watch the sunset and see the Eiffel Tower sparkle at night

Get a drink at Perruche Bar above the Printemps shopping center for the best views of the city

Explore less popular but equally stunning art museums like the Rodin Museum and Museum L'Orangerie

Make reservations for a wine bar

like Juveniles
Go on a food tour of the Le Marais neighborhood

Take a

day trip to the Loire Valley

for castles, wine, and delicious food
2. Porto, Portugal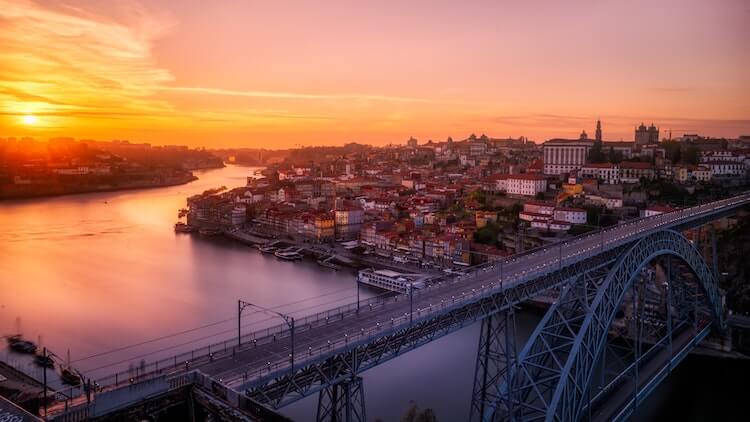 Dramatic scenery, a beautiful river, and charming cobblestone streets will leave you breathless in Porto. If you are looking for one of the most romantic places in Europe for a honeymoon, this hits the spot.
In particular, you'll want to take a day trip to the Douro Valley to see the vineyards as they cascade over the hillsides of the river valley. For a delightful apartment, be sure to check out Casas do Porto-Ribeira Apartments.
What to do on your Porto honeymoon:
Take in sunset views over the river

Head to the beach for some much-needed sunshine

Take a day trip to the Douro Valley to enjoy some port wine

Enjoy the architecture and tilework of this medieval city
3. Venice, Italy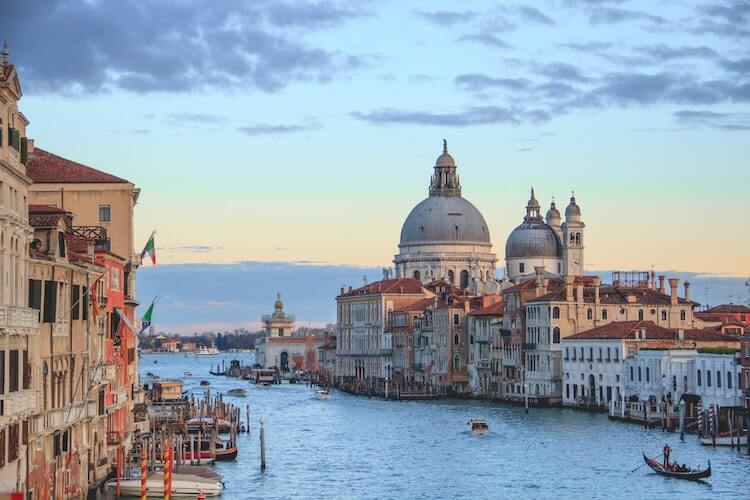 Touristy? Yes. Romantic? Definitely! There is a reason that some places are more popular than others when it comes to European honeymoon destination ideas. So if you have Venice on your list, you'll definitely have a romantic honeymoon, and you can easily avoid other crowds simply by wandering off the main tourist drag.
What is the most romantic thing to do in Venice? Take a gondola ride through the canals! And for a charming hotel with even better views, opt for Hotel Moresco for the perfect honeymoon getaway.
What to do on your Venice honeymoon:
Visit St. Mark's Square and Basilica

Stroll along the canals and visit the Grand Canal

Listen to opera at Teatro La Fenice

Admire Doge's Palace

Take a day trip

out to the colorful islands of Murano and Burano
4. Amsterdam, The Netherlands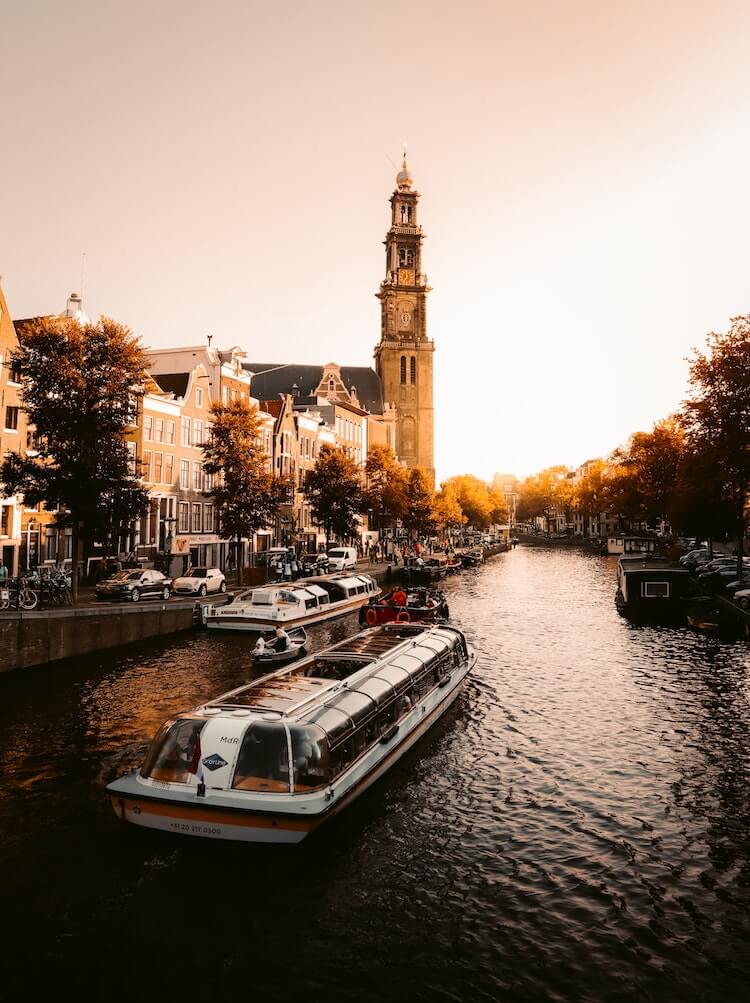 What is it about canals that automatically make a place more beautiful? Amsterdam is not only a place to party, but it gushes romance with beautiful architecture, gorgeous canals that sparkle at night, and, if you time it right, you're close to some of the most beautiful tulip fields in the world!
If you plan to hit up some honeymoon spots in Europe, be sure to add Amsterdam to the shortlist. When you aren't taking in the sights of this city, be sure to settle in at Ambassade Hotel located right on the canals!
What to do on your Amsterdam honeymoon:
Take a

canal cruise

In the spring, be sure to check out Keukenhof for the tulips

Eat all the fries with sauce

Go on a

bike tour

to the countryside

Take in the art scene at the Van Gogh Museum and

Rijksmuseum

Learn about

WW2 history

and visit the Anne Frank House
5. Bruges, Belgium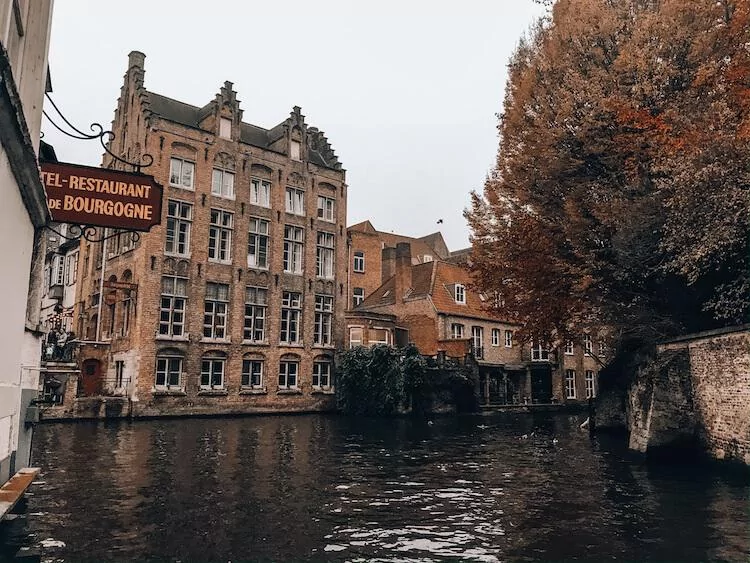 We were fortunate to spend a day in Bruges in November of 2019 just in time for their magical Christmas markets. We both agreed that we wish we had more time there! It is the perfect honeymoon in Europe as this medieval city is full of chocolate and waffle shops, fantastic breweries, and iconic bridges.
Make sure to stop at Lover's Bridge. Legend has it that if you walk across and kiss your paramour, you'll be together forever.
And for a truly unique hotel experience, stay at Hotel Dukes' Palace Bruges. It was the former residence of the Burgundian aristocracy!
What to do on your Bruges honeymoon:
Visit Grote Markt

Eat all the waffles and chocolate

Visit a pub or brewery for some

authentic Belgian beer

Go on a canal cruise

Cross Lover's Bridge
6. Annecy, France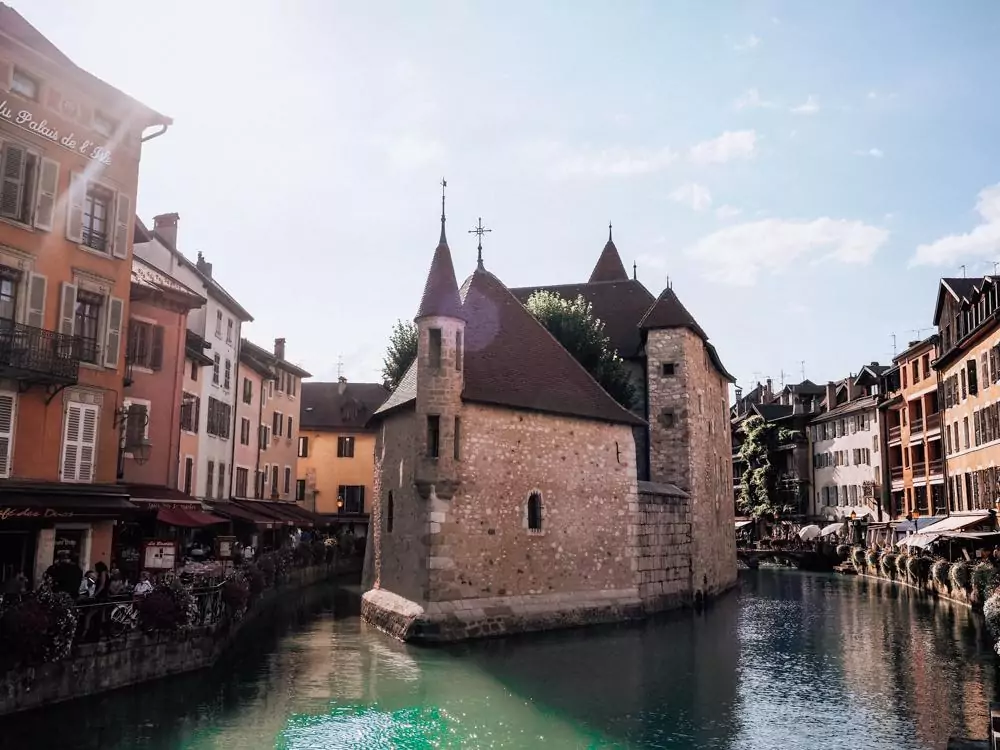 This small French town may be one of my favorite places (I even include it as a must-stop during a 7 day France itinerary)! When I lived in Grenoble, France, this was one of the best day trips to take for a good reason: this mountain town will make your jaw drop with its beauty.
This gorgeous small alpine village between Lyon and Geneva is idyllic for its lovely canals leading to the most beautiful lake with mountains on the other side.
A visit to the "Venice of France" is a must for romance seekers and mountain lovers. If you visit in the summer, though, be sure to enjoy some hiking and go for a swim in the lake!
And as a honeymoon splurge with a view, opt for Hotel du Palais de L'Isle.
What to do on your Annecy honeymoon:
Enjoy tasty alpine cuisine like raclette

Admire the canals in the city

Stroll along the lake or go for a swim

Visit the farmer's market for tasty treats and souvenirs on Tuesdays, Fridays, and Sundays
7. Vienna, Austria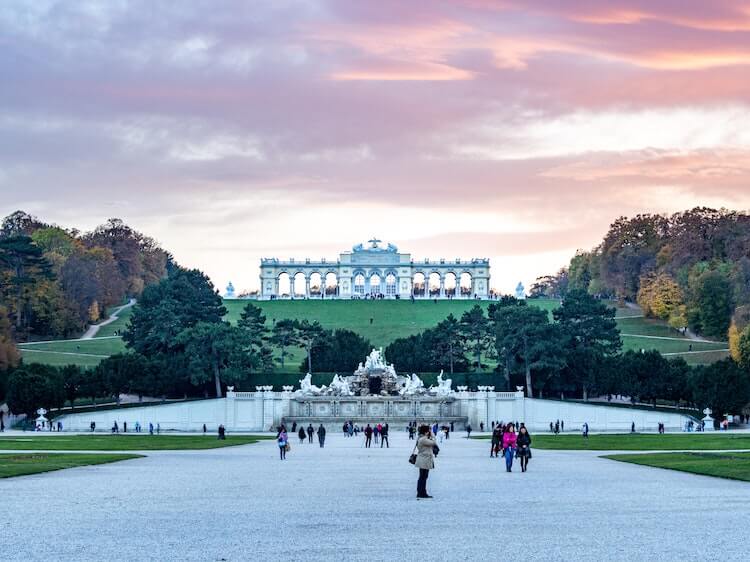 Vienna may not show up on many romantic honeymoon destinations in Europe lists, but if you plan to go on your honeymoon around the holiday season, Vienna needs to be on your radar.
Of course, it is a lovely spot to visit year-round, but the holidays are when Vienna truly shines brightly. Decorated all around with light fixtures, you'll enjoy some of the best Christmas markets in Europe at markets like Vienna Christmas World on Rathausplatz, Am Hof Christmas Market, and the Christmas Village at Maria-Theresien-Platz.
Whether you plan to spend a week or 2 days in Vienna, we highly recommend a stay at the Steigenberger Hotel Herrenhof as it is centrally located around many Christmas markets and the nearby Hofburg Palace.
What to do on your Vienna honeymoon:
All the Christmas markets

! Seriously, they're everywhere and truly magical

Visit the

Spanish Riding School

for their performance of the Lipizzaner stallions

Embrace cafe culture at opulent cafes such as Cafe Demel or Cafe Central (go early!)

Explore the massive Schonbrunn Palace

Wander inside the Innere Stadt and enjoy the lights
8. Copenhagen, Denmark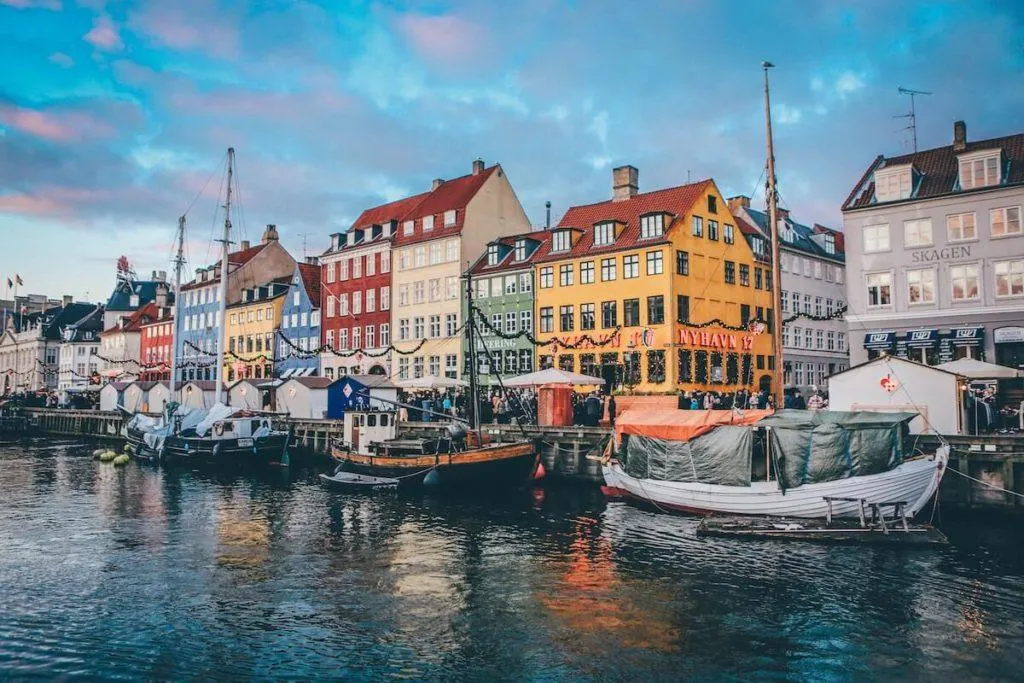 Copenhagen is definitely an incredible European honeymoon destination! For starters, the views are so lovely, especially the canals. Whether you visit during the summertime for longer days and lovely weather or around the holidays for dreamy Christmas markets, a honeymoon in Copenhagen is sure to please!
Another reason to visit Copenhagen is the astounding culinary scene! While the world's best restaurant, Noma, is no longer open, there are ample delightful restaurants with alums from there to check out. Just be sure to book reservations in advance for that romantic dinner.
71 Nyhavn Hotel is a lovely spot to stay for couples in the heart of the city!
Things to do in Copenhagen for a honeymoon:
Visit the Little Mermaid Statue and Kastellet fortress
Go on a Copenhagen canal tour
Visit Nyhavn with colorful townhouses and lovely boats
Take a tasty food tour of Copenhagen
Explore the quirky autonomous district of Freetown Christiania
Enjoy the culinary scene
9. Rome, Italy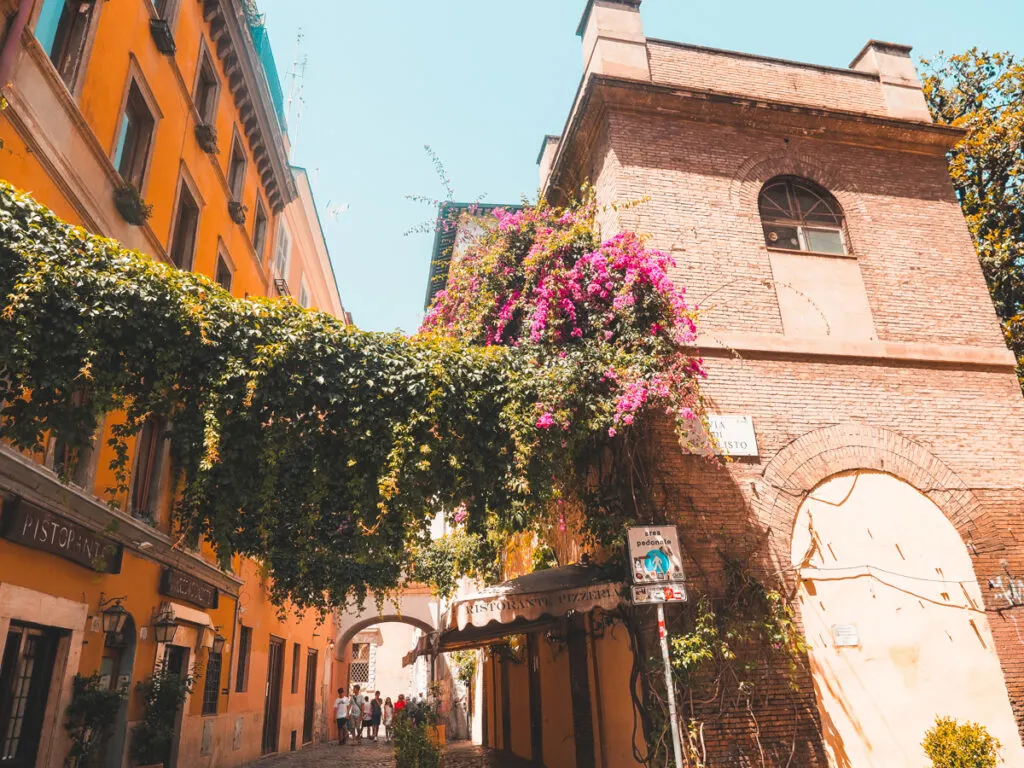 Not exactly off the beaten path, but there is a reason Rome makes the list for many honeymooners. There is history, dreamy cobblestone streets, gorgeous tucked-away neighborhoods, and, of course, all the delightful cuisine.
Rome is a place unlike any other. You can walk along the streets and find old ruins as well as chat about the day's adventures over cocktails at a chic rooftop bar like Terraza Les Etoiles.
Whether you're starting your Italian honeymoon trip or wrapping it up, Rome is always a must-see place.
For a romantic place to stay, check out Hotel Artemide.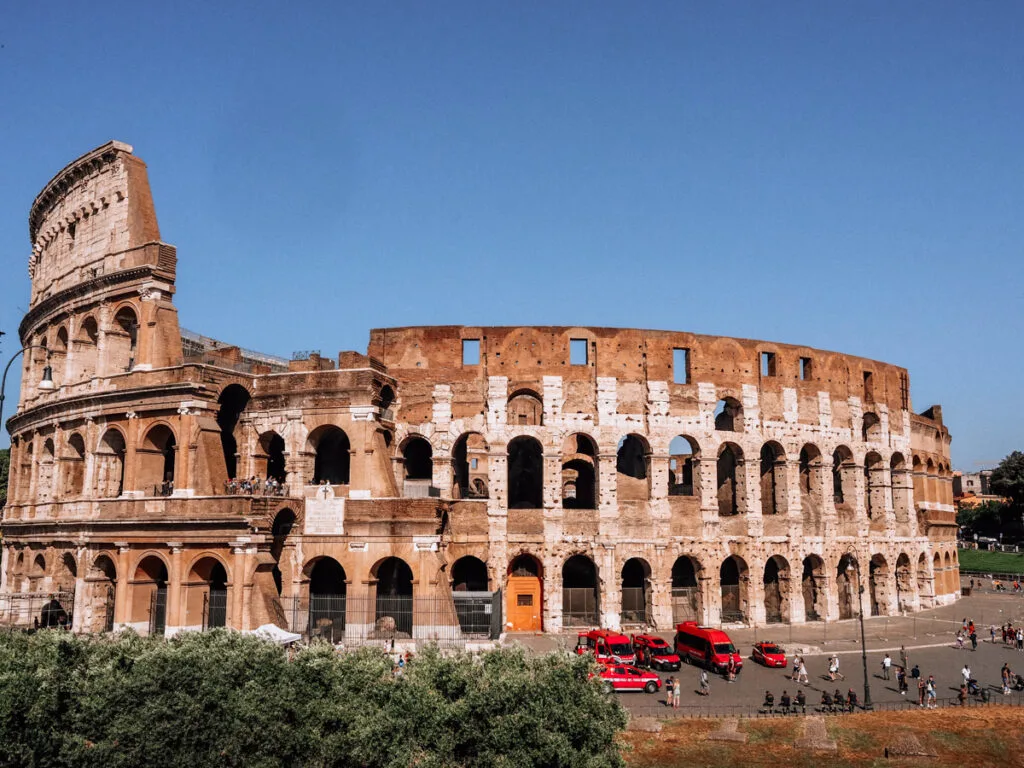 What to do for your Rome Honeymoon:
Go on a guided tour of the Colosseum
Enjoy Italian wine and cuisine on a food tour
See the Sistine Chapel in the morning and have a guided tour of the Vatican museums
Eat at some delectable restaurants like Roma Sparita
Stroll along the Tiber River at sunset
Have coffee the Italian way: standing up at the bar
Toss a coin in the Trevi Fountain…then go around the corner to see the City of Water Roman ruins
Explore the Pantheon, Spanish Steps, Villa Borghese, and Piazza Navona
Take a day trip to the Amalfi Cost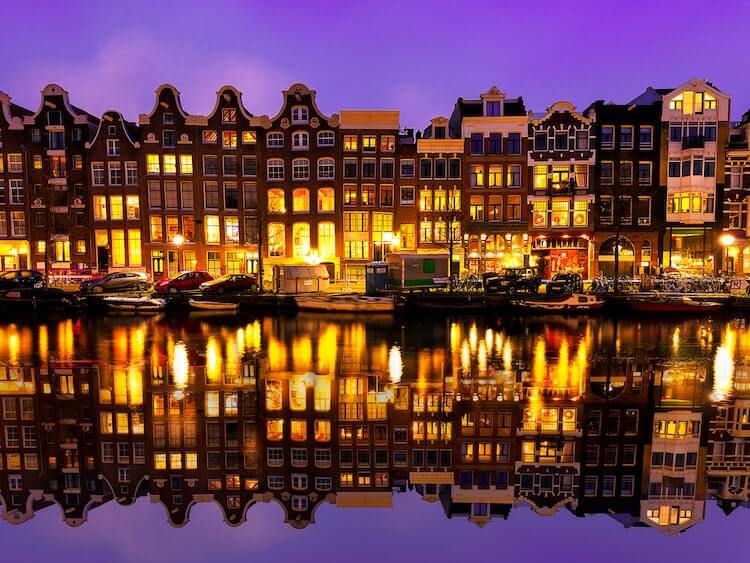 Cheap Honeymoon Destinations in Europe
The words "cheap" and "romantic honeymoon destinations in Europe" don't typically go together, but yes, it is possible to stay on budget and have a fabulous time in Europe on your honeymoon!
10. Prague, Czech Republic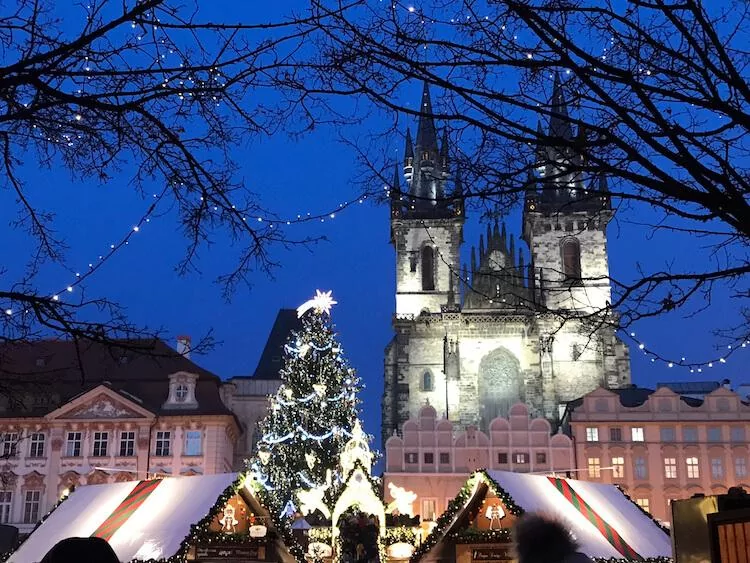 After visiting Prague in winter and summer, it is hard to choose the best time to go. Honestly, the city is perfect year-round with beautiful medieval cathedrals, town squares, and streets that will leave you enchanted.
We spent a couple of days in Prague in November of 2019 and between the Czech beer, the incredible Old Town Square, and the delightful food tour, we can say it was a favorite spot to visit!
For a romantic stay with a rooftop balcony view of the Lesser Town Tower, we loved Hotel Pod Vezi!
What to do on your Prague honeymoon:
Take a food tour! Seriously, we loved

this one

for all the hidden foodie gems

Rent a bathtub for two at a beer spa

Explore Charles Bridge, Old Town Square, and Lennon Wall in the morning

Take a

tour of the Jewish Quarter

Drink like a local at Lokal
11. Seville, Spain is One of the Best European Honeymoon Destinations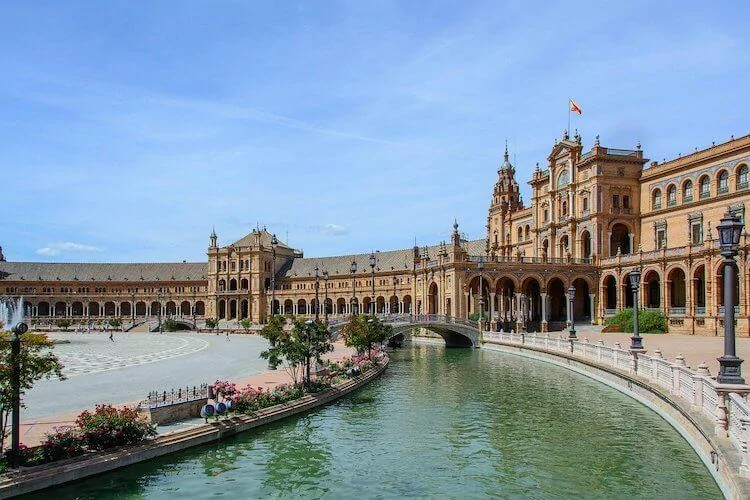 Seville is a city like no other. Full of history, Moorish architecture, and flamenco dancing, you'll likely never want to leave. Whether you prefer eating tapas and dancing the night away or taking a tandem bike through the Parque de Maria Luisa, there is no shortage of romance in this Andalusian town.
For affordable opulence, be sure to stay at Aguilas5 Sevilla Suites!
What to do on your Seville honeymoon:
Stroll through (and get Instagram-worthy photos) at Plaza de Espana

Visit the Royal Alcazar of Seville

Hold hands while wandering along the Guadalquivir river and visit Torre del Oro

Take a day trip to see the Alhambra palace

Learn the art of flamenco dancing and feast on tapas like patatas bravas, Spanish omelettes, and more
12. Athens, Greece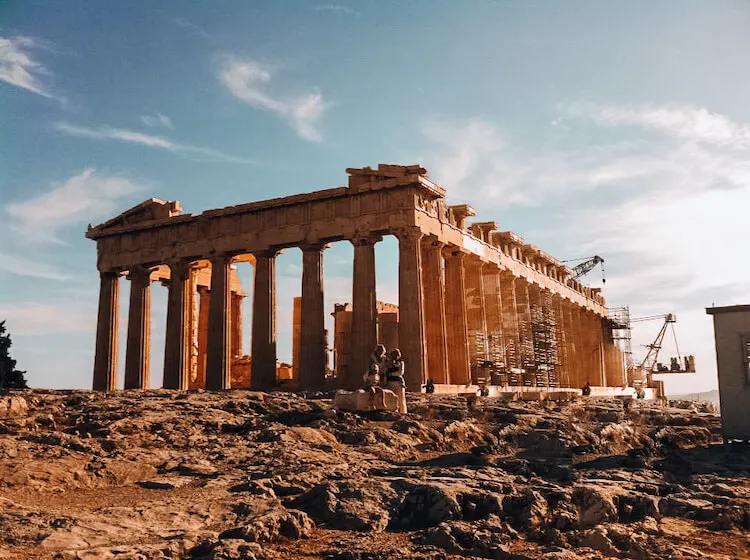 Ancient history, art, markets, and beautiful views of the Acropolis await you in Athens. While the Greek islands get most of the attention, Athens is a place worth visiting on a Greek itinerary for its unique historical sites and affordability!
Feast on Greek food, hike up the Acropolis and wander the Plaka neighborhood for a romantic time in Greece.
Hotel tip: definitely get a hotel with a rooftop view of the Acropolis! It is so pretty at night. If you're on a budget then the Attalos Hotel, near the historic Plaka neighborhood, is perfect and wallet-friendly!
What to do on your Athens honeymoon:
Take a walking tour

of the main sites of Athens including the Olympic stadium, Hadrian's Gate, Plaka neighborhood, and the Ancient Agora

Hike up to the Acropolis

Eat souvlaki, tzatziki, and saganaki

Stay at (or visit) the Syntagma neighborhood
13. Budapest, Hungary
I love to visit Budapest time and again for its unique bathhouses, delightful food, and quirky ruin pubs and tea shops. This perfectly affordable city is ideal for any list of the best honeymoon destinations in Europe!
We totally recommend having a more local experience by staying at an Airbnb in the Jewish Quarter. Here is the exact one we stayed at in an older building full of charm!
What to do on your Budapest honeymoon:
Visit

Rudas Baths

and enjoy their rooftop hot tub overlooking the Danube

Take morning photos and get great views of the Parliament Building from Fisherman's Bastion

Watch the sunset on an evening Danube cruise

Enjoy Sirius Tea House for a quirky spot to drink tea

Visit multiple ruin pubs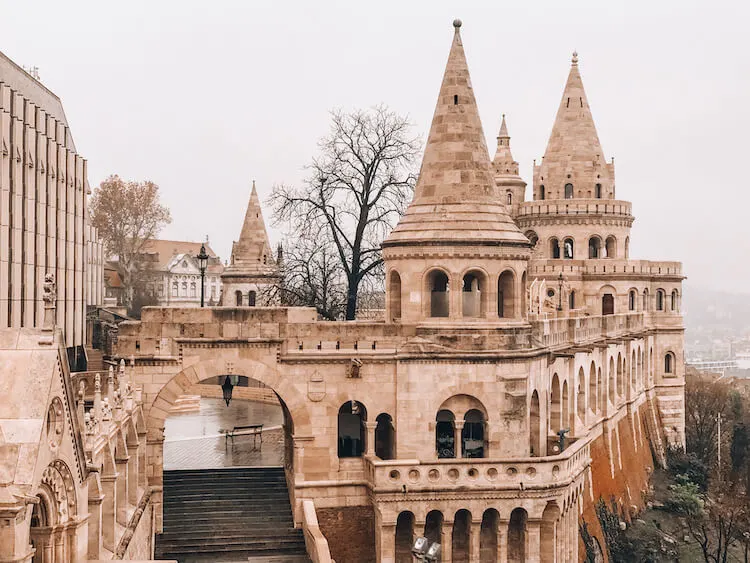 The Most Adventurous European Honeymoon Destination Ideas
If an adventurous honeymoon in Europe is your goal, then look no further than these amazing destinations for two across Europe!
14. Tromso, Norway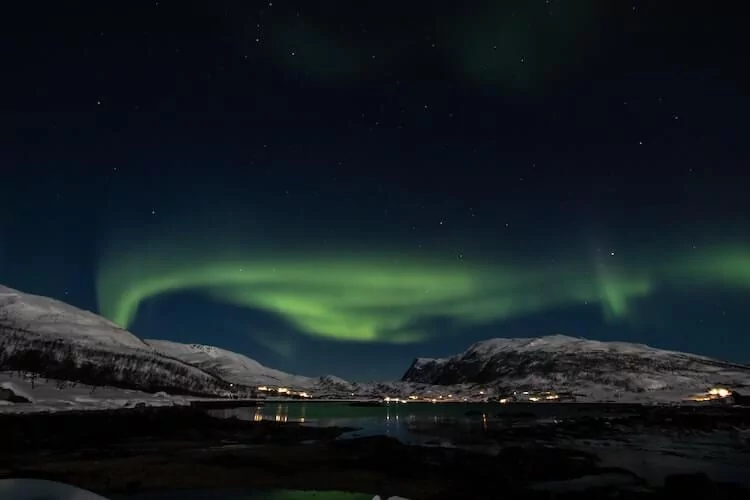 Watch the northern lights, stay in an ice hotel, or perhaps hike or cruise along the fjords. These are all incredibly adventurous, and romantic things to do in Tromso.
Stay at Tomso Ice Domes for the night for the ultimate bucket list experience! Then, be sure to stay at the luxurious Scandic Ishavshotel in the heart of Tromso.
What to do on your Tromso honeymoon:
Go dog or reindeer sledding

Explore the Tromso harbor

Visit the fjords

Book a tour to get out and

see the northern lights
15. Interlaken, Switzerland is One of the Most Adventurous European Honeymoon Destinations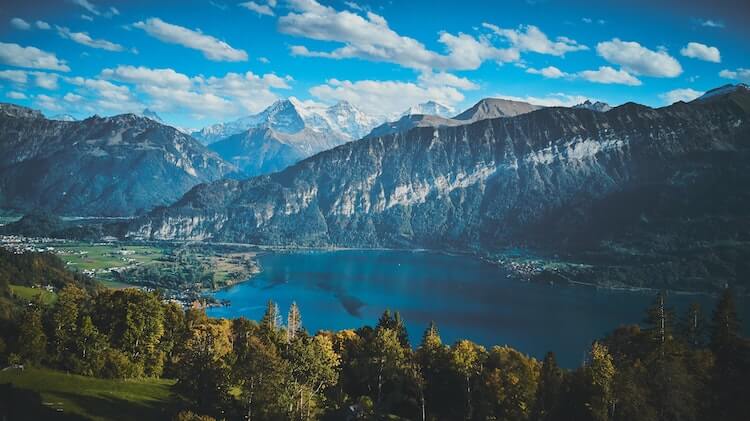 With a combination of alpine lakes and majestic mountains, this adventure spot in Europe is perfect to visit any time of the year. Paragliding, skydiving, and canyon swinging are just some of the adventures you can have in and around this Swiss town.
Between adrenaline rushing adventures, enjoy a refreshing stay at Salzano Hotel for amazing mountain views in this Swiss chalet.
What to do on your Interlaken honeymoon:
Go bungee jumping or skydiving

Check out a ski resort for a combination of thrill-inducing slopes and fun apres-ski

Take in the beautiful views of the alpine lakes

Visit the top of Europe on the Jungfraujoch
16. Cappadocia, Turkey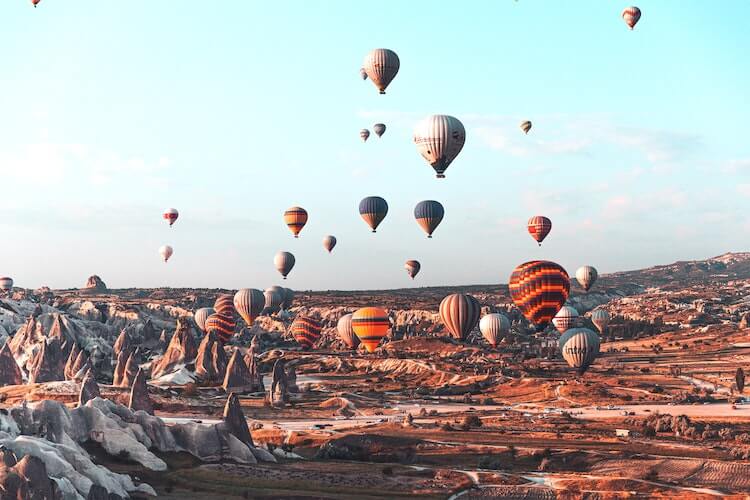 This destination has been getting more and more popular over the years and it is no wonder why. Dreamy sunrises and sunsets over conical caves make one want to book a flight to Turkey ASAP.
For the best experience, stay at a cave hotel like Cappadocia Cave Suites for amazing views, and the opportunity to sleep in a cave! Pretty cool, right?
What to do on your Cappadocia honeymoon:
Book a sunrise air balloon ride over the caves

Visit the Fairy Chimneys and Pigeon Valley

Ski or hike and see a volcano at Mount Erciyes

Explore the Derinkuyu Underground City

Catch both a sunrise and sunset over these caves
17. Isle of Skye, United Kingdom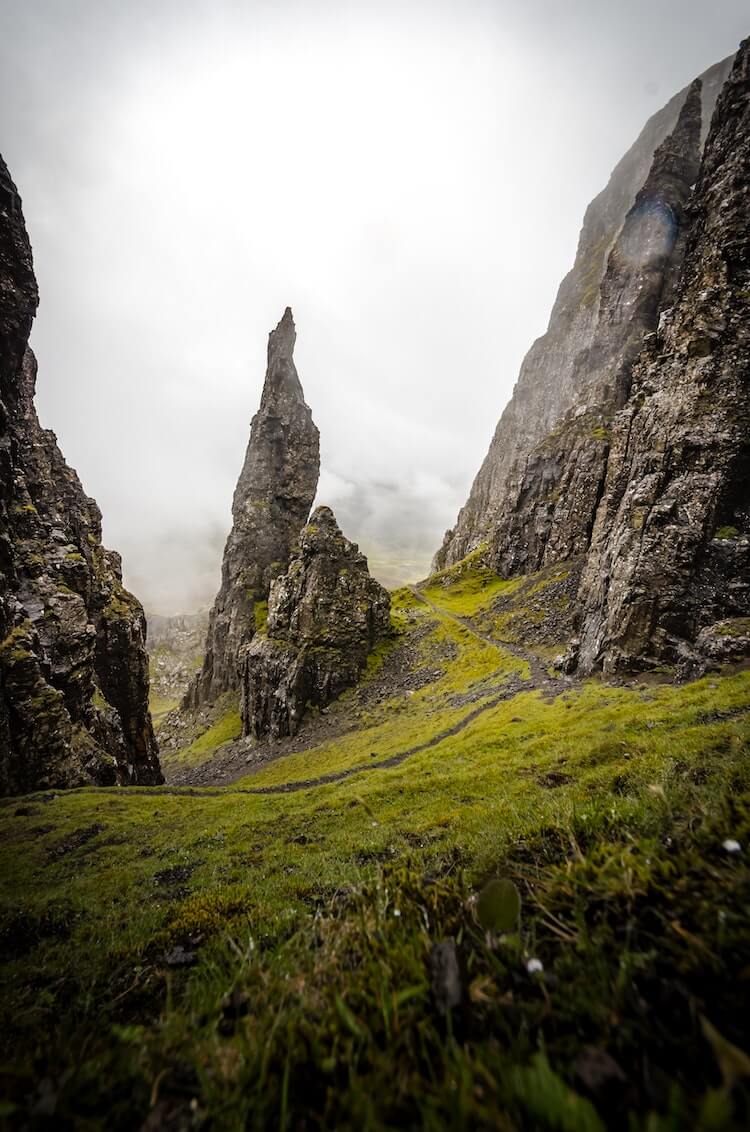 Hiking, crystal clear waters, castles, and legends surround you on a trip to the Isle of Skye in Scotland.
Be sure to hit up some popular spots like the Fairy Glen, Fairy Pools, Neist Point Lighthouse, Dunvegan Castle, and try some whisky at Talisker Distillery.
For the dreamiest place to stay for your time on the Isle of Skye, opt for Arthouse B&B. This charming bed and breakfast is located further off the beaten path, but you'll wake up to some stunning views of the rolling hills on the Isle of Skye.
What to do on your Isle of Skye honeymoon:
Taste some Scottish whisky at Talisker Distillery

Enjoy incredible views on various hikes like Old Man of Storr and the Quiraing

Stop at a white sand beach like Coral Beach for a picnic

Believe in magic at the Fairy Pools

Go sea kayaking and maybe spot a whale
18. Iceland Road Trip: Best European Honeymoon Destinations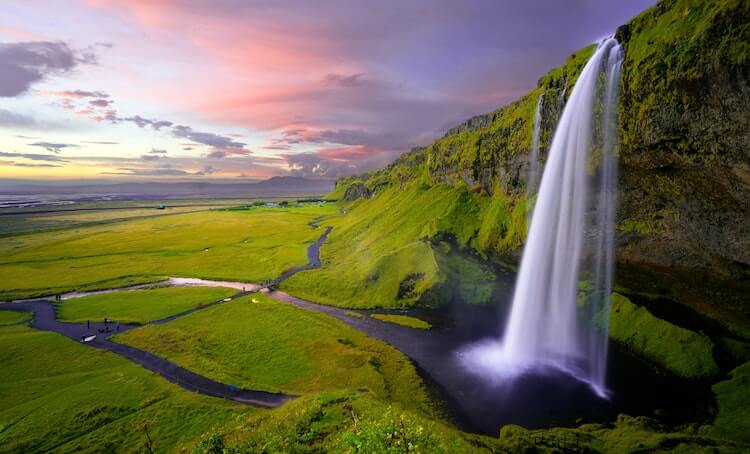 Chase waterfalls, sit in hot springs, and spot the northern lights (depending on when you visit) on the perfect Iceland road trip.
There are two big routes to take in Iceland for a road trip: Golden Circle for shorter trips and to stay in the southern part of the country or Ring Road for the full Iceland loop. If you don't have a long honeymoon in Europe, then a short visit to the Golden Circle will definitely satisfy your need for adventure. But if you've got the time, and are visiting Iceland in the summer, then the full Ring Road is a great option!
If you want to potentially catch some northern lights from your bed be sure to book a stay at the Panorama Glass Lodge for great views and an outdoor hot tub.
What to do on your Iceland honeymoon:
Visit Kirkjufell (the arrowhead mountain in Game of Thrones)

Spot waterfalls

Visit diamond beach for black sand and huge ice chunks

Soak in some hot springs and get a spa treatment at the Blue Lagoon

Go glacier hiking and ice climbing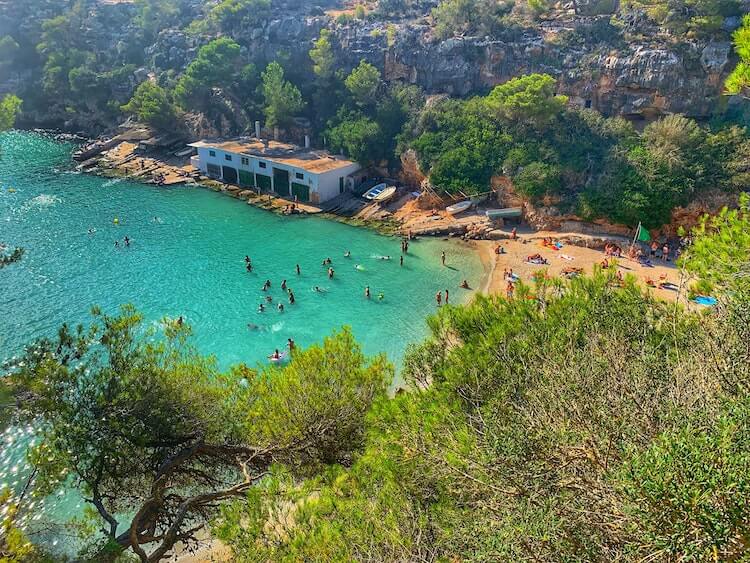 Beach Honeymoons in Europe
Some of the best romantic destinations in Europe are lovely beaches. Whether you plan to visit the Mediterranean or the Atlantic Ocean, these perfect beach honeymoon destinations in Europe are sure to please.
19. Mallorca, Spain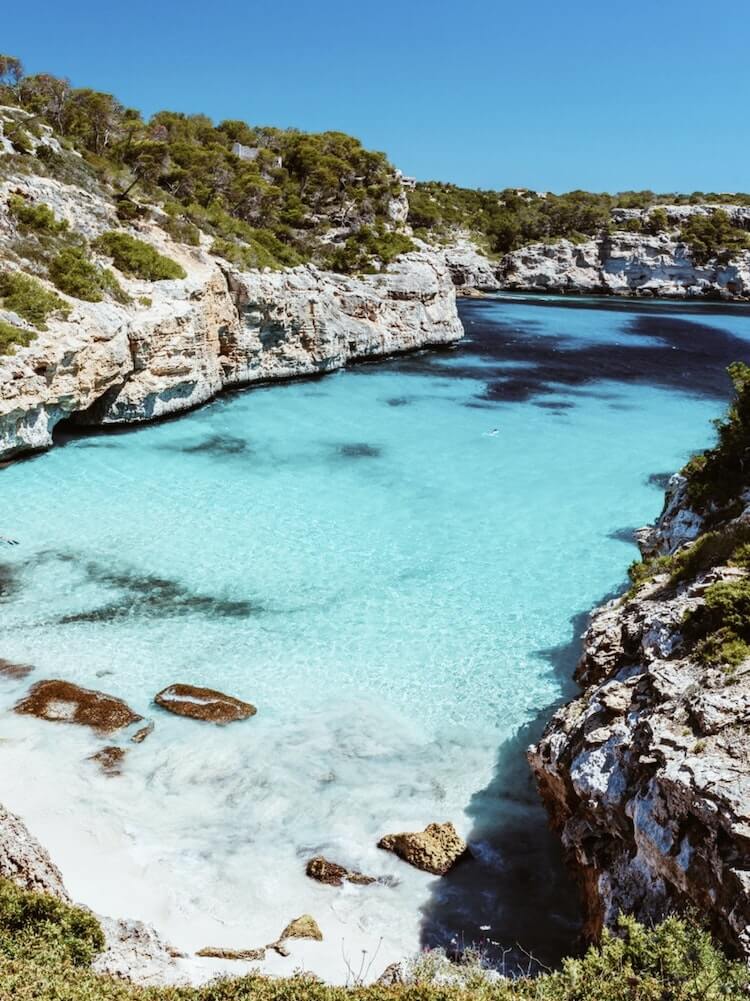 If you want beaches, what better place than an island known for its beaches? This island is full of fabulous spots, luxurious resorts, and plenty of charm, making it one of the best places to visit in Europe for a honeymoon.
Pro-tip: Visiting in May or September is a great way to save money and still have warmer weather! Summer is a busy time to visit this island.
For a great hotel on the beach, check out the Boutique Hotel Calatrava for stunning sea views and luxurious rooms.
Best beaches on Mallorca:
Es Calo des Moro Beach for the picture-perfect privately owned beach

Cala Mesquida Beach for a long beach to stretch out and play in the water

Cala Pi Beach for cliffs and a beach bar

Cala Formentor Beach for crystal clear water
20. Algarve, Portugal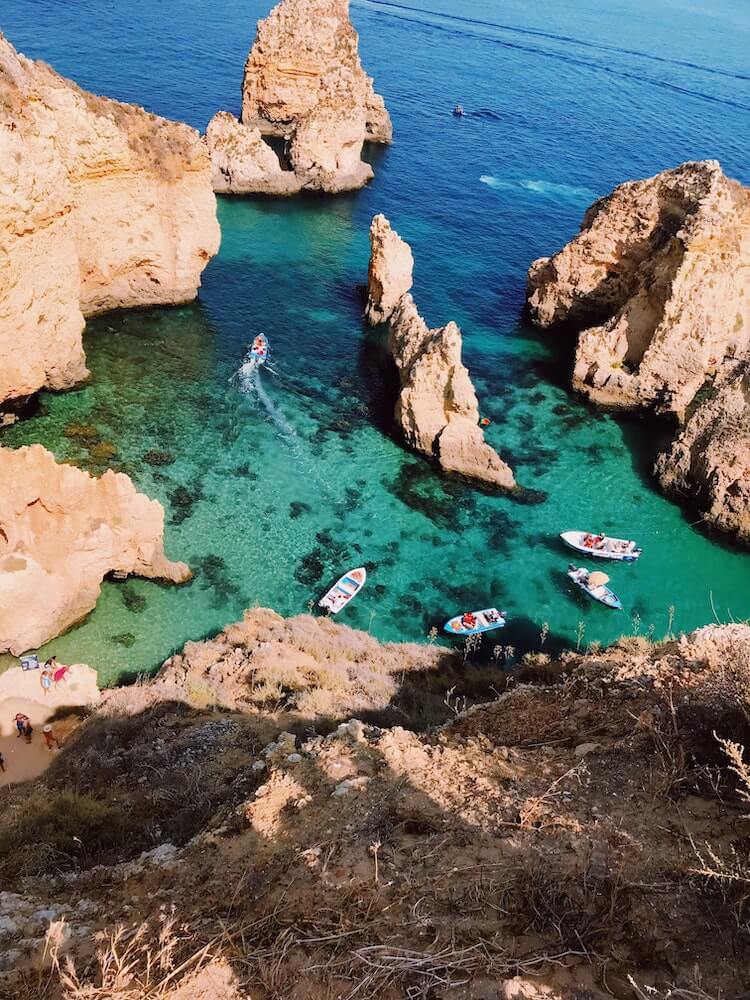 Beautiful coastlines, dramatic rock formations, and clear ocean water define the Algarve coastal region in Portugal. If a Portugal honeymoon is on your radar, spend a couple of days in Lisbon before exploring the Algarve and then going on to Porto.
This is hands-down one of the best European honeymoon destinations!
There are many towns to stay in to enjoy the seaside bliss of the Algarve. I recommend the Carvi Beach Hotel near Lagos to stay within steps of one of the Algarve's best beaches: Praia Dona Ana.
Best beaches in the Algarve:
Praia Dona Ana for steep cliffs and picturesque views

Praia Do Camilo for a smaller, quieter version of Praia Dona Ana

Praia da Marinha for iconic rock formations

Praia da Arrifana for surfing
21. Sicily, Italy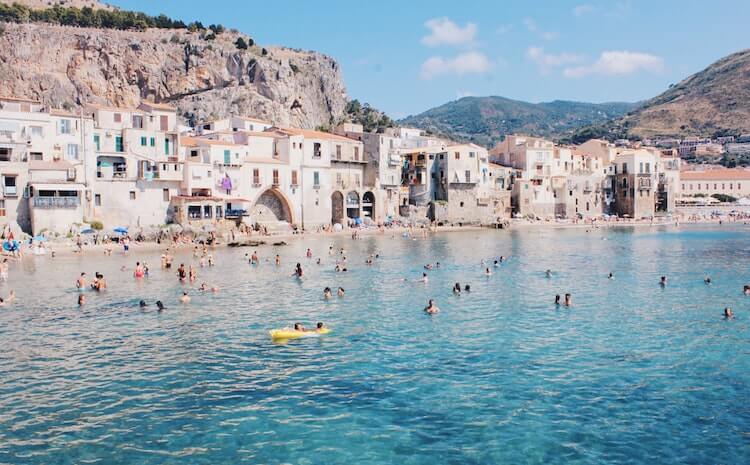 Italy isn't short on places for the perfect beach vacation. The island of Capri is stunning with beautiful coves, Tuscany has its fair share of less touristy beach gems, and who could forget the Cinque Terre or spots along the Amalfi Coast like Positano or Ravello.
Sicily, though, is the perfect island escape from the hustle and bustle of life. Plus, you'll never be short on delicious Sicilian cuisine like arancini, cassata, and fresh seafood.
If a European beach honeymoon is your jam, then a hotel like Hotel Mira Spiaggia is perfect for sea views at Riserva Dello Zingaro.
Best beaches on Sicily:
Riserva Dello Zingaro for a natural reserve and many coves to discover along the coastal path

Calamosche for a "natural pool" that is perfect for snorkeling

Lungomare di Cefalù for a beautiful sandy beach off of a charming fishing village

Cala Rossa for turquoise waters and smooth pebbles for sunbathing
22. Santorini, Greece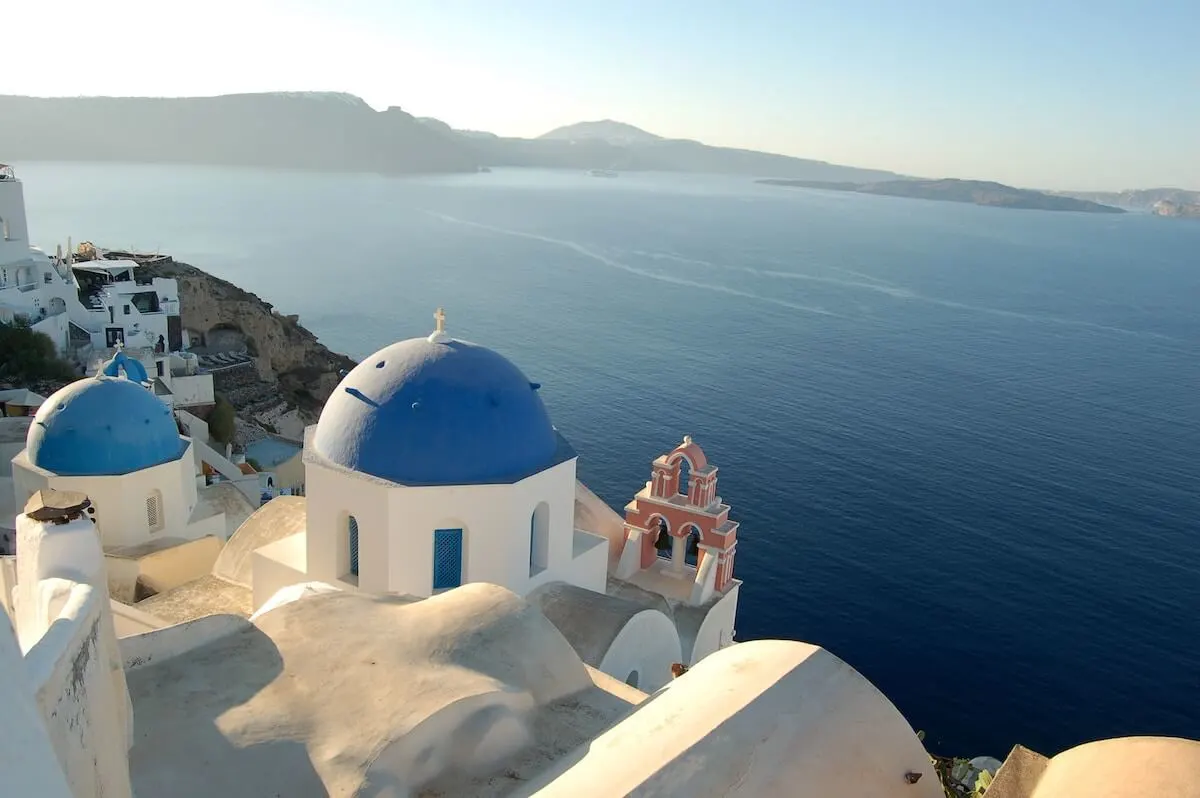 Greece is typically on the list of best honeymoon destinations in Europe, and mostly for its stunning beaches and islands. Santorini is no exception to that list.
While the beaches here aren't the best in Europe, the red and black sand beaches are beautiful, as is the volcano in the middle of the caldera. The island itself is truly noteworthy for its sunsets.
Stay in the town of Oia in a white cave hotel that overlooks the sea for a lux splurge that is honeymoon-worthy. Andronis Boutique Hotel may be pricey, but it has everything you need to create a memorable romantic getaway in Europe. And to save a bit of money, we mention a fabulous and affordable Airbnb with iconic views in this article!
Best beaches in Santorini:
Perissa/Perivolos beaches for black sand and best swimming

Red Beach for gorgeous water and red sand

Ammoudi Bay for a great swimming spot in clear water but it isn't actually a beach

White Beach for white cliffs and remote access
23. Antibes, France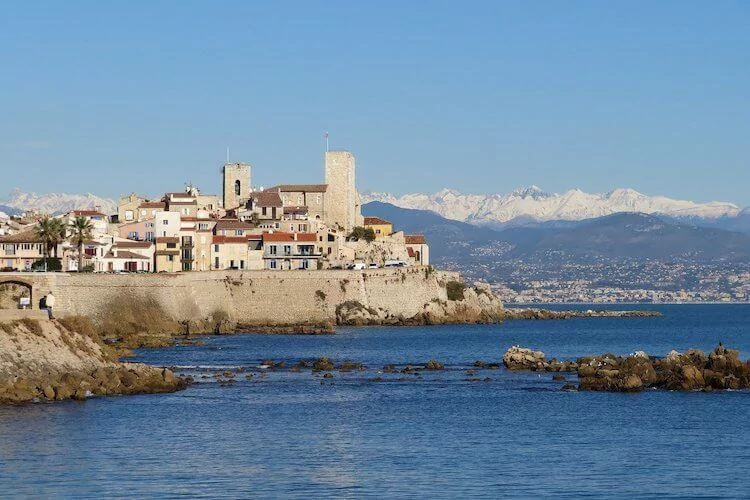 While Nice and Cannes offer a beautiful glimpse into the Cote d'Azur, Antibes is well-known for its sandy beaches. With gorgeous sunsets, hidden coves, and beach clubs galore, you'll enjoy this perfect honeymoon spot in Europe.
For a romantic visit, stay at Hotel Belles Rives for sweeping views of the Mediterranean and even a private beach!
Best beaches in Antibes:
Plage du Ponteil for beautiful views of the city and a lovely promenade

Plage de la Gravette is perfect for a swim close by the old town

Cap d'Antibes beaches have hidden coves perfect for getting away from the crowds

Plage de la Gallice for a peaceful beach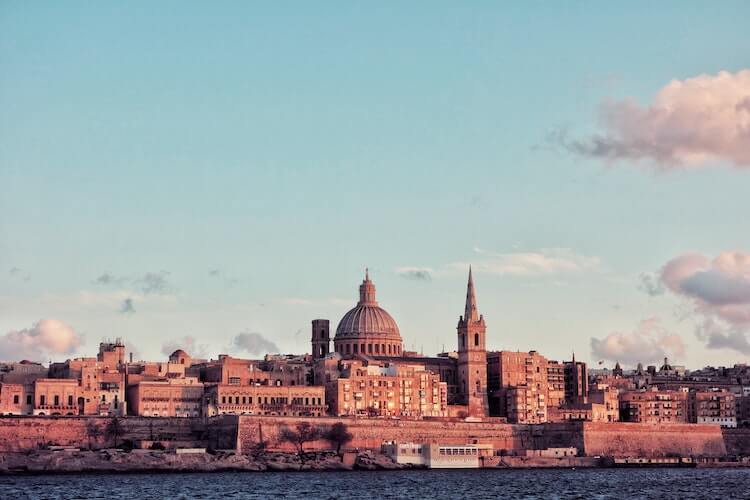 Off-The-Beaten-Path Honeymoon Spots in Europe
For the adventurous and those who have traveled extensively and want to venture to less popular spots, then look no further than the best romantic destinations in Europe that are off the beaten path.
24. Malta is One of the Best European Honeymoon Destinations That is a Hidden Gem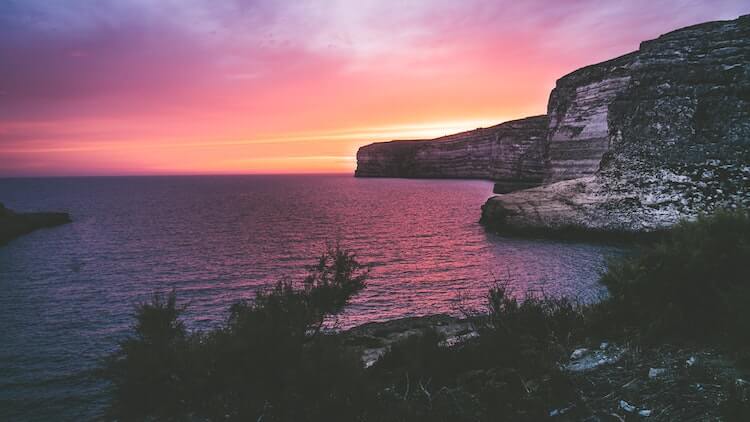 This small island nation in the middle of the Mediterranean sea is a perfect honeymoon destination that you've probably never even thought about. With gorgeous tucked away beaches, exciting towns, and even a few Game of Thrones filming locations, you'll fall in love with the beauty of Malta.
While a visit to the capital city of Valletta is a must, as is the fortified city of Mdina, personally, Gozo island is my favorite spot. Take the ferry over from the main island and spend a few days in Gozo. As for the perfect hotel, opt for the Kempinski Hotel San Lawrenz not far from many great attractions in the area.
What to do on your Malta honeymoon:
Explore the ruins of the Azure Window on Gozo and swim in the inland sea

Find hidden beaches along the coastline in Gozo

Discover Megalithic temples around the islands

Swim in Malta's Blue Lagoon

Spot Game of Thrones filming locations in Mdina

View colorful boats in Valletta
25. Provence, France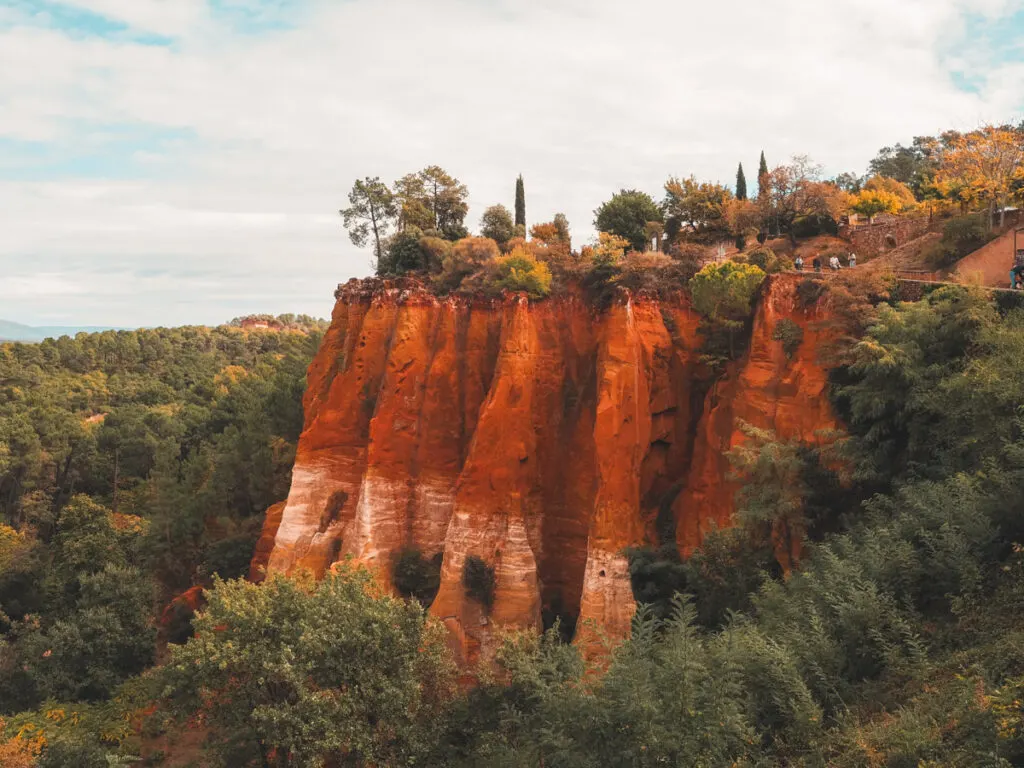 As we mentioned above, there are plenty of great beach towns in the Provence area in France, but there are so many other amazing areas to explore that aren't on everyone's radar. From flower-filled fields to beautiful gorges, Provence is the perfect honeymoon destination in Europe!
While Antibes, Nice, and Cannes are part of Provence, I recommend staying in Avignon and road-tripping around this part of France to go deeper than the beach. For the most charming honeymoon getaway to Provence, stay at La Mirande Hotel for star treatment and very French rooms.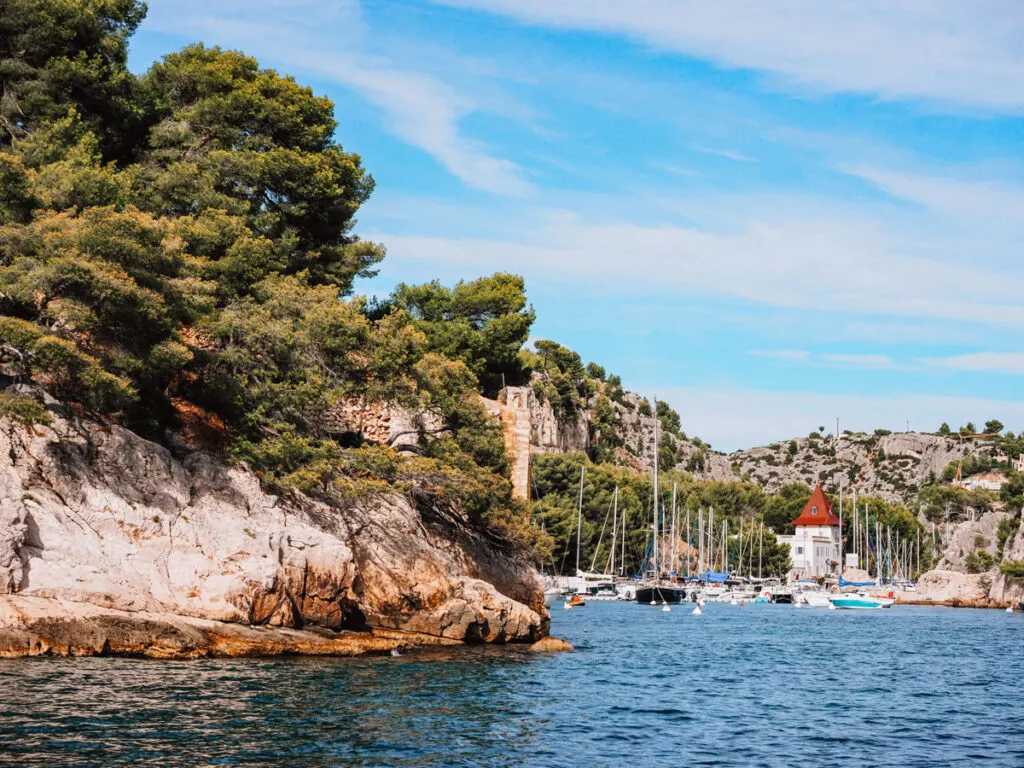 What to do on your Provence honeymoon:
Visit the Pont du Gard Aqueduct

Explore lavender and sunflower fields

Take a

wine tour

Boat down the Gorge du Verdon

Visit hilltop villages in the

Luberon region

If you want some beach time, head to the French Riviera too!
26. Slovenia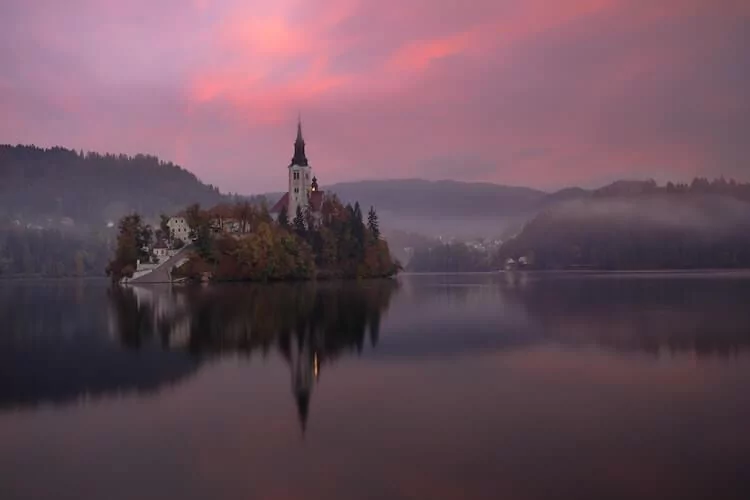 This up and coming traveler hotspot is still slightly off the beaten path from other well-known central European destinations. And in Slovenia, you've got adventure from skiing to visiting beautiful alpine lakes (like the famous Lake Bled).
An easy place to base yourself is in the capital city of Ljubljana at Hotel Cubo.
What to do on your Slovenia honeymoon:
Explore the charms and quirkiness of Ljubljana

Hike and swim at Lake Bled and perhaps see the church in the middle of the lake

Trek along Vintgar Gorge

Ski in the alps at Kranjska Gora

Take a visit to a wine region or two

Enjoy the lesser-known Lake Bohinj
27. Lapland, Finland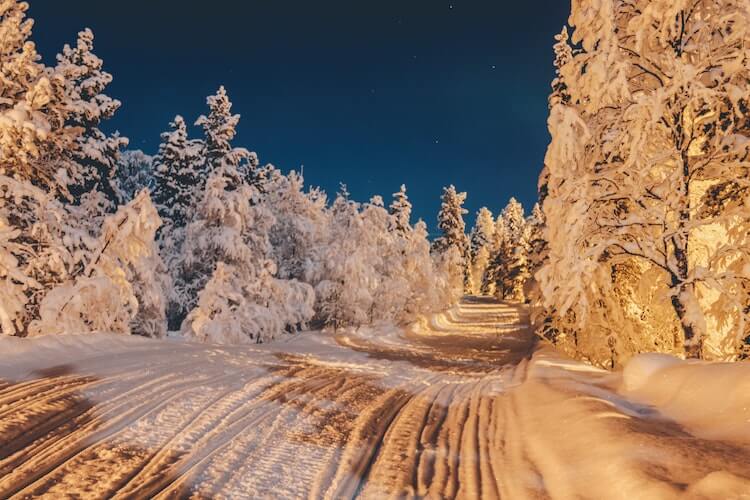 Ah, you cannot forget this paradise up north. You've probably heard of it more recently, thanks to it being featured on the Bachelor, but it is still just as breathtaking as ever.
With so many winter wonderland activities, a stay in this part of the world is perfect for a winter honeymoon destination in Europe. Stay at Kakslauttanen Arctic Resort for those clear igloos perfect for stargazing or catching the northern lights.
What to do on your Lapland honeymoon:
Participate in fun winter activities like snowmobiling, snowshoeing, and dog sledding

Pay a visit to Santa

Watch the northern lights

Participate in a true sauna experience
28. Puglia, Italy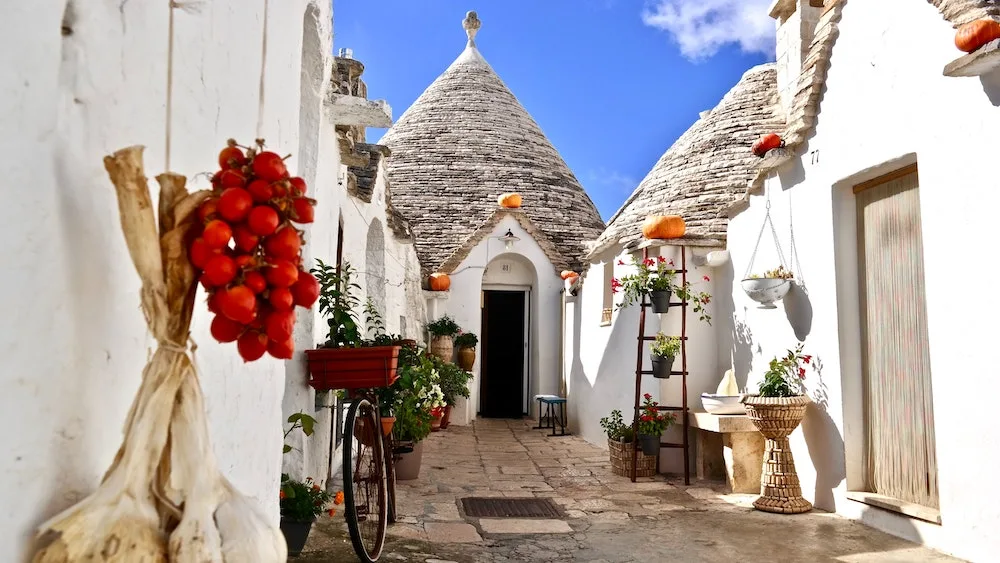 This little hidden gem of Italy is one of the best European honeymoon destinations. With charming white-washed buildings, stunning landscapes, and even delectable wine, a honeymoon in Puglia will not disappoint.
Located in the heel part of Italy in the south, you can expect plenty of beaches and a laid-back atmosphere!
For a romantic adventure, stay at Dimora Talenti in Polignano a Mare. It is along the coast and the town is uber-charming!
What to do on your Puglia honeymoon:
Explore the Castellana Caves in Bari
Walk the streets of Old Town of Gallipoli
Admire the astounding Castel del Monte in Andria
Drive the romantic Gargano coast
Swim in Poetry Cave (it's a natural pool!)

Take a walking tour of charming

Alberobello, known for its traditional, circular buildings with a conical roof
29. Piedmont in Italy is One of the Best European Honeymoon Destinations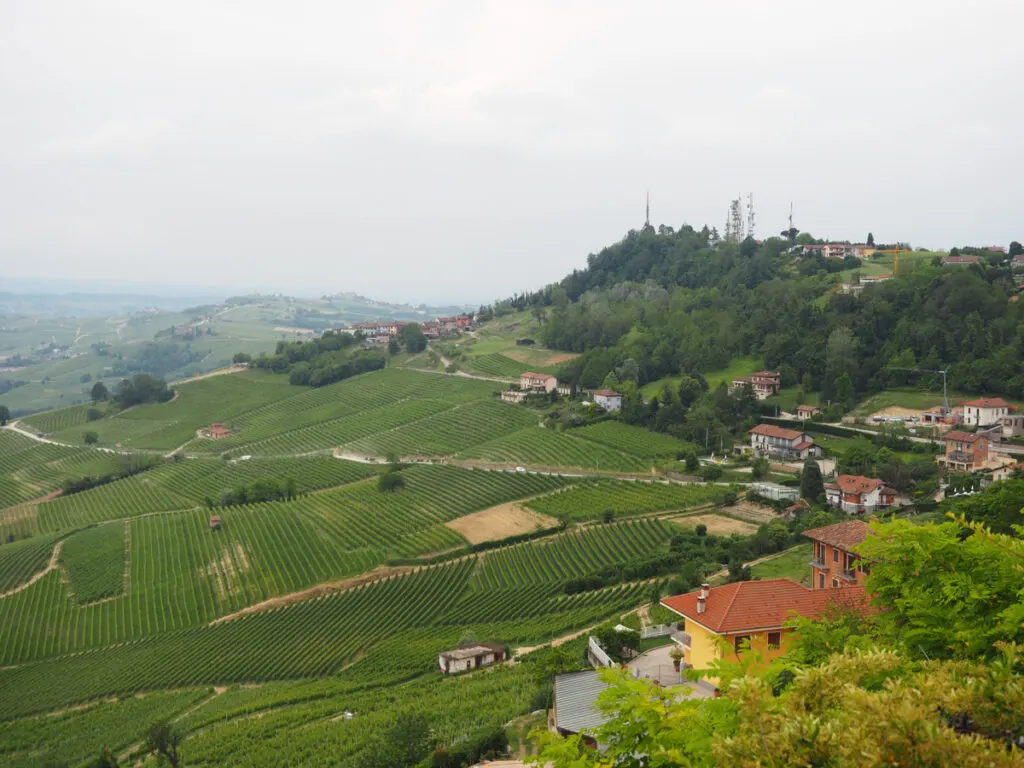 The lovely region of Piedmont in Italy isn't nearly as popular as say, Rome or Florence, but for wine and food lovers, it should not be overlooked for your delightful European honeymoon.
This region is known for the likes of Barbaresco and Barolo wines, dreamy castles (including a castle hotel!), and white truffles.
You could visit in the autumn months to admire the vineyards change color and go truffle hunting. Or you can visit in late spring for few others as you embark on hearty wine tastings and incredible hospitality.
Stay in a romantic castle hotel at Castello Di Guarene with views of the stunning countryside!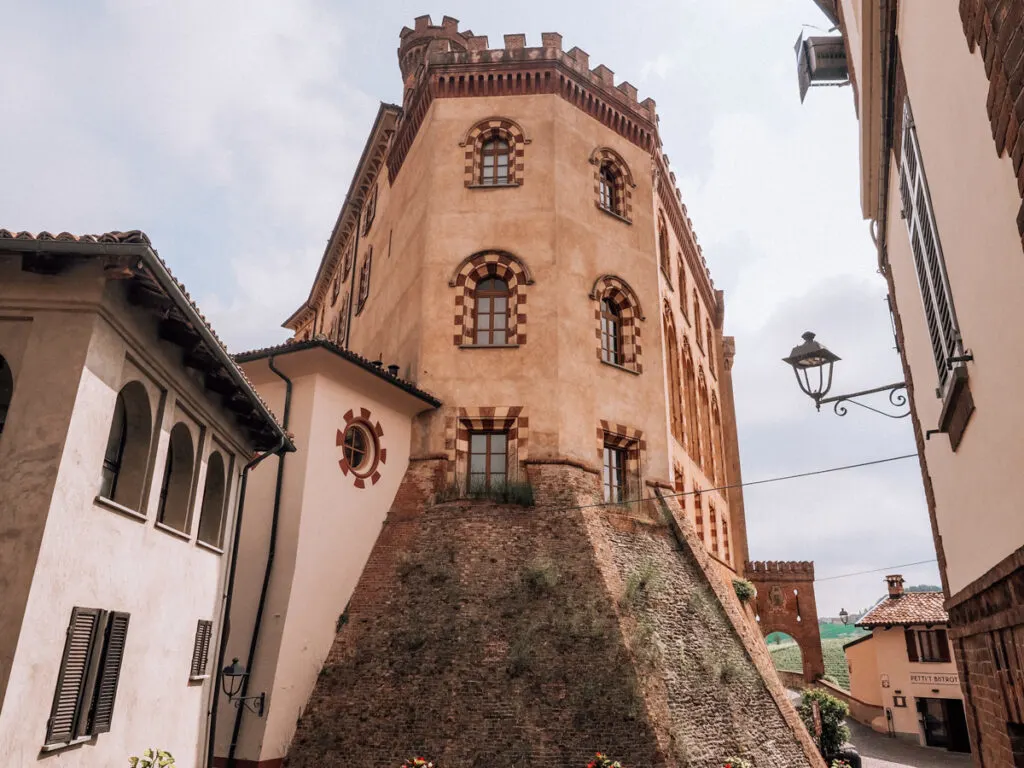 What to do in Piedmont for your honeymoon:
Arrange a wine tour with your own private guide with Alba Wine Tours
Partake in truffle hunting during the season
Eat at delicious restaurants like Ventuno.1 and Iride Agriturismo
Explore charming towns in the region
These are definitely the best honeymoon destinations in Europe that you'll want to consider as you plan your perfect romantic getaway post-wedding. After all, life is an adventure or nothing at all, right?
Where would you like to visit on this list of romantic honeymoon destinations in Europe?
For more honeymoon inspiration:
Pin it here!