Some posts on this site contain affiliate links, meaning if you book or buy something through one of these links, I may earn a small commission (at no additional cost to you!). Read the full disclosure policy here.
---
A Thailand honeymoon itinerary is the perfect mix of relaxation, adventure, food, culture, and romance. It's no wonder why it is one of The Knot's top destinations for honeymoons. From exploring the sandy beaches and dazzling coral reefs just off the islands to wandering the temples in the northern part of Thailand, a honeymoon here is the perfect start to married life.
We spent a large chunk of our three-week-long Southeast Asia honeymoon in Thailand. After a quick trip to Vietnam and Cambodia, we slowed down to explore Thailand for about 10 days. That's why we wanted to share this ultimate Thailand honeymoon guide to help you have the best trip!
So How Do You Plan the Perfect Thailand Honeymoon Itinerary?
We're here to show you everything you need to know to have an amazing honeymoon in Thailand. From where to stay, most romantic things to do, places to visit in Thailand for your honeymoon, prices, what to expect, and more; let's plan the perfect getaway!
Perfect Thailand Honeymoon Itinerary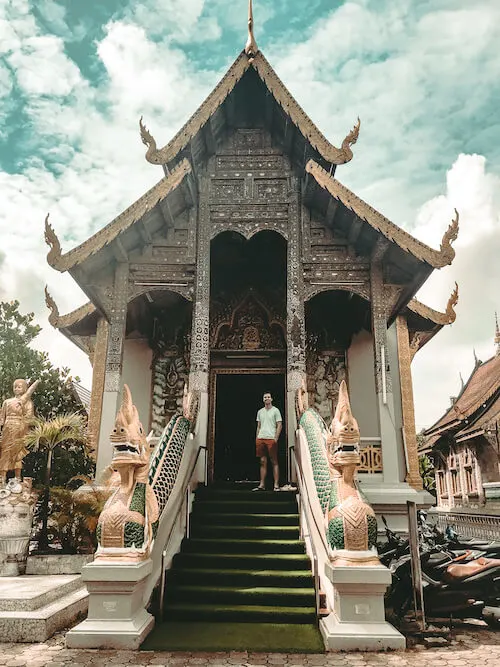 Days 1-2: Travel Days
If you're coming from the US, expect to take a couple of days to get there, thanks to losing a day in transit. As it is your honeymoon, I would always recommend going in business class if you can, especially if you've got the status or miles to use!
Days 3-4: Bangkok, Thailand
You'll probably be landing in Bangkok, as that is the largest city with the biggest airport. So to start this Thailand honeymoon guide, I recommend that you spend a day or two getting acquainted with this city!
Where to stay: Sukhumvit Area
Stay in the Sukhumvit Area, as it is further away from the backpackers, close to ferry transportation, making visiting the temples easier, and it is near great restaurants, bars, and even a few markets!
We recommend Maitria Mode Sukhumvit 15 or Sofitel Bangkok Sukhumvit for great rooftop bars, gorgeous swimming pools, and a great location!
Things to do in Bangkok:
See the Grand Palace, Wat Pho, and Temple of the Emerald Buddha
Visit the bustling Chinatown on Yaowarat Road
Head to a puppy, kitty, or unicorn café for a coffee
Get a couple's massage
Grab afternoon tea at the Author's Lounge at the Mandarin Oriental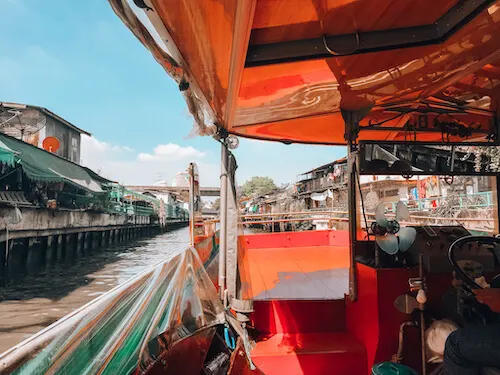 Days 5-7 of the Ultimate Thailand Honeymoon Guide: Chiang Mai, Thailand
Head into the north of Thailand and discover Chiang Mai. Charming, less crowded, and with stunning mountain views, it is the perfect place to escape to after a day or two in Bangkok. From delicious food to amazing scenery in the mountains, this city is a fantastic place to base yourself for many day trips.
Where to stay: Old City or Nimman Area
The Old City in the center of town is where all the action happens. There are plenty of guesthouses and you're within walking distance to many restaurants and idyllic temples. It is also close to the Night Bazaar and Saturday Night Market.
Some great hotels in this area include 99 the Heritage Hotel or Thai Akara Lanna Boutique Hotel.
As for the Nimman area, you're in for coffee shops, one of the best khao soi places (Koh Soi Mae Sai), and an overall trendy area within walking distance to the Old City. This is a big area for ex-pats to live in, so expect some cheaper costs than the Old City but lots of great bars and restaurants.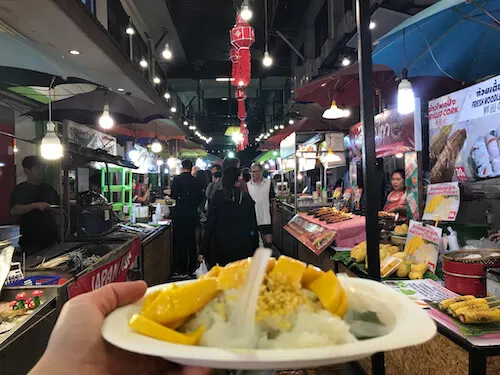 A hotel we loved here was the Akyra Manor Chiang Mai. With large suites and huge outdoor balcony bathtubs to make-your-own cocktails in the evening, a pillow menu, and a gorgeous, rooftop bar overlooking the mountains, it was the perfect place to stay. It definitely is a romantic hotel.
Things to do in Chiang Mai During Your Thailand Honeymoon Itinerary:
Explore the Old City including various temples and the Three Kings Monument
Saturday Night Market
Night Bazaar
Shop at boutiques in Nimman
Eat all the Khao Soi
Get a ride to Doi Suthep and see the temple high in the mountains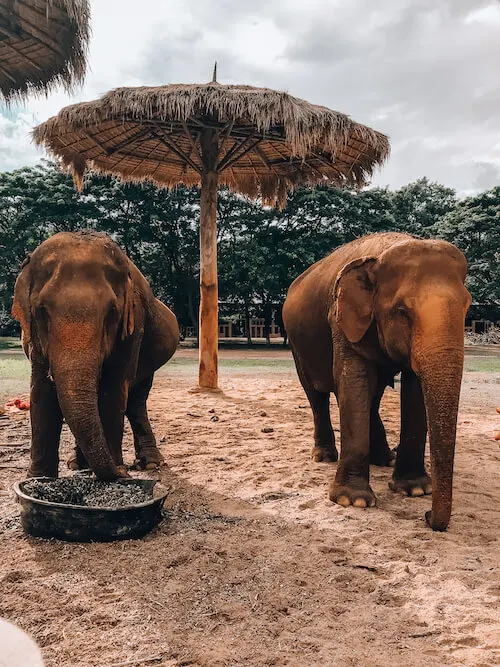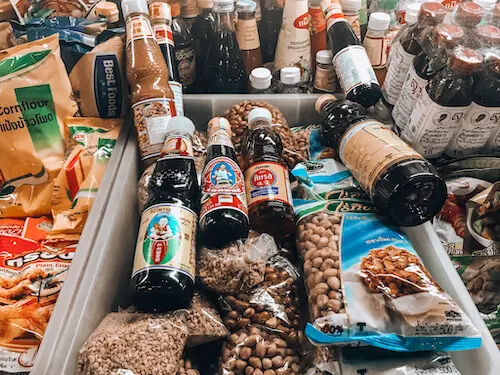 Perfect Day Trips from Chiang Mai:
Thai Farm Cooking School
Scooter Rental Tour
Opt for a whole day in Doi Inthanon National Park and explore the multi-level waterfalls
Huay Tung Tao Lake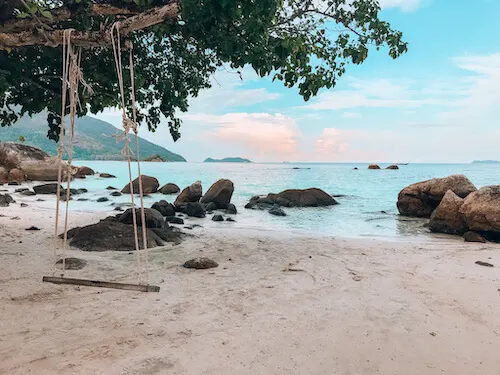 Days 8-10: The Best Thailand Beaches for Your Thailand Honeymoon Itinerary
I put together a great resource for finding the perfect Thai beach for your honeymoon. Here are some great options to choose from if you've only got a few days (you can combine some if you've got more days).
Thailand Honeymoon Guide: Andaman Sea
1. Koh Lipe
This is the island we went to and absolutely fell in love with! Often called the "Maldives of Thailand" this island is harder to get to, but well worth the flight, shuttle, and ferry ride. The water is crystal clear and you can snorkel right off the beach!
You can also rent a boat to take you around the other uninhabited islands and snorkel and swim near those. Of course, there are also great diving opportunities, especially at Castaway Resort. You can also hike around the island, watch the sunrise on Sunrise Beach, sunset on Sunset Beach, or just be lazy and relax!
Where to stay: Ten Moons Lipe or Castaway Resort Koh Lipe
2. Koh Lanta
This large island never runs short of things to do! You can go sea kayaking and find hidden caves, visit a lighthouse, check out the various beaches, and because this island is so large, you may get a beach to yourself!
There is also the option of renting a motorbike and exploring both the interior and exterior of the island, finding more caves and waterfalls, and there are also plenty of snorkeling and diving opportunities around.
Where to stay: Avani Plus Koh Lanta Krabi Resort or Lanta Castaway Beach Resort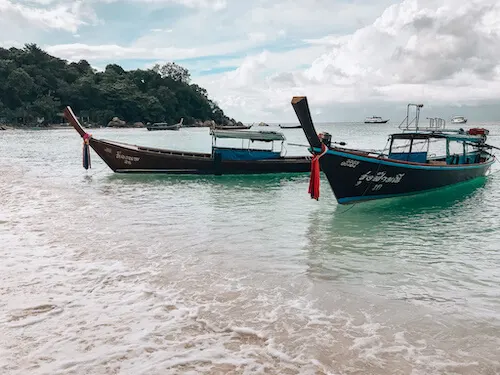 3. Phuket
Phuket is a city all its own with an airport. It's easy to get to, which is perfect if you're short on time. Some great things to do around here are:
Take a cooking class, explore the Old City, visit an elephant sanctuary, visit Phang Nga Bay which is full of caves and lagoons, check out the monkeys at Monkey Hill, and, of course, visit one of many beaches!
Where to Stay: Beyond Resort Kata or Chanalai Romantica Resort
4. Phi Phi Islands:
Made super famous by The Beach, these islands are stunning with many coves and beaches to explore. Go diving in the coral reefs, shark watching, take in the Phi Phi View Point, and admire the lovely place that has inspired many a traveler.
Where to stay: Zeavola Resort & Spa
5. Railay Beach, Krabi
Known for its closeness to Koh Phi Phi and Phuket, this is a great addition to any island-hopping itinerary. This place is known for its gorgeous limestone cliffs, snorkeling, and kayaking. Krabi is also easily reachable thanks to the nearby airport.
Where to Stay: Avatar Railay Krabi or Bhu Nga Thani Resort & Spa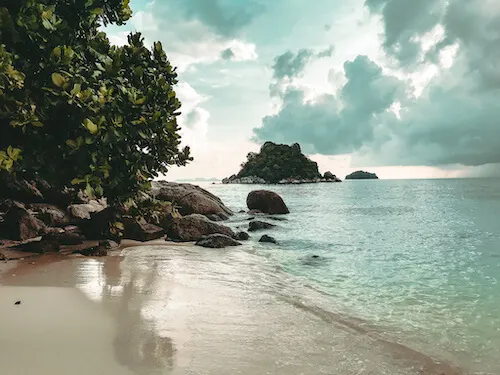 Thailand Honeymoon Guide: Gulf of Thailand
1. Koh Tao
Located in the Gulf of Thailand, Koh Tao is well known for diving. With several coral reefs, you'd be remiss if you didn't take the time to snorkel or dive here. You can also rent a motorbike and explore the island, and if you're in the partying mood, be sure to check out Sairee Beach.
Where to Stay: Jamahkiri Resort & Spa or The Tarna Align Resort
2. Koh Samui
With its own airport, and a great jumping point to visiting Koh Tao and Koh Pha Ngan, this place has so much to do. This island has shopping, markets, multiple beaches, temples, waterfalls, parks, spas, and more to explore.
Where to Stay: Centara Grand Beach Resort Samui or Mercure Samui Chaweng Tana Hotel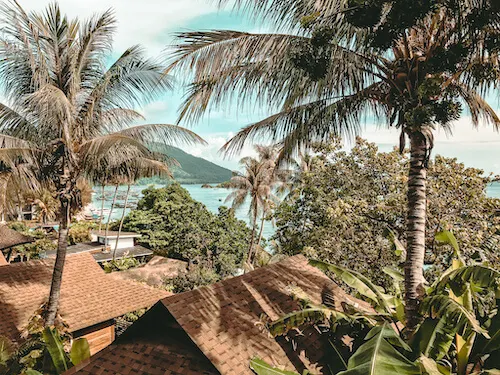 3. Koh Pha Ngan
This place is known for its Full Moon Parties. So if you are a partying couple and want to rage from dusk until dawn, this is the place to check out. But there is more than partying on this island. Check out the Ang Thong National Marine Park and rent a boat around it. Take a dive tour. Go trekking around the island, or even find your inner peace post-wedding at a yoga resort.
Where to stay: Kupu Kupu Phangan Beach Villas & Spa by l'Occitane or Panviman Resort Koh Pha Ngan
Day 11 of Your Thailand Honeymoon Itinerary: Head Home
Nobody wants the honeymoon to end, but now is the time to head back to Bangkok and return home. However, if you've got a few extra days, here are some great additions to your trip.
If You've Got a Few Extra Days on Your Honeymoon in Thailand
Extra Time in the North: Visit Pai and/or Chiang Rai
A smaller version of Chiang Mai, Pai lies in the mountains and has gorgeous waterfalls, hot springs, and Pai Canyon (Thailand's Grand Canyon).
Chiang Rai is home to the famous White Temple that features modern-day references including Michael Jackson, the Matrix, and even Harry Potter.
Extra Time in the South: Go Island Hopping!
Depending on which side of Thailand you are on, you could easily go island hopping from places like Phuket to Koh Phi Phi, to Krabi, down to Koh Lanta, and even Koh Lipe.
In the Gulf of Thailand, it is easy to fly into Koh Samui, then hop to Koh Tao and Koh Pha Ngan.
If you'd like to dive into more history, visit the ancient city of Ayutthaya, not too far from Bangkok. This was the former capital of the Kingdom of Siam, so learn about the history and see the many temples in and around this city.
Fly into the Surat Thani airport or Phuket airport and take a taxi to this dazzling and enormous national park. Stay in an overwater bungalow over the lake in the park, go trekking and perhaps see a tiger, or even canoe around the stunning lake. While not a super popular place to visit on the Thailand tourism route, it is a great place to relax, explore, and be off-the-beaten-path.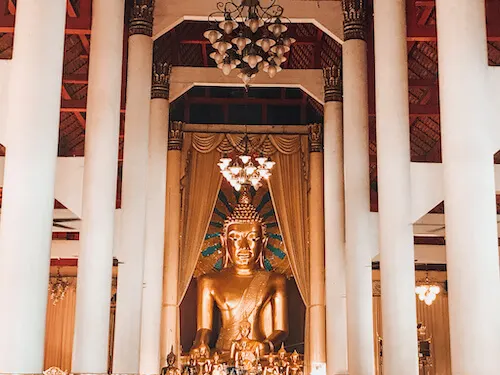 The Perfect Time for a Thailand Honeymoon Itinerary
While this largely depends on where you're going, generally, November through April is the best time to visit, with December through January being the high season. Here are the main spot's best times to go:
Bangkok: November through April.
Chiang Mai: November through January. Avoid Feburary through April due to field burnings in the countryside.
Andaman Coast: December through March.
Gulf of Thailand: February through September.
However, you'll find some great deals by going in the "Green Season," that is, their rainy season. It does not rain all the time non-stop, and you'll definitely have sunny days during your trip too. If you're willing to risk some more rain, you could go during this time, but if you want the least amount of rain, sticking to the dry season is best.
We went to Koh Lipe at the end of the rainy season in November, and while we had some rain, it lasted for maybe an hour or two in the morning and then it was back to being sunny the rest of the day!
This place is certainly a great country to visit in December!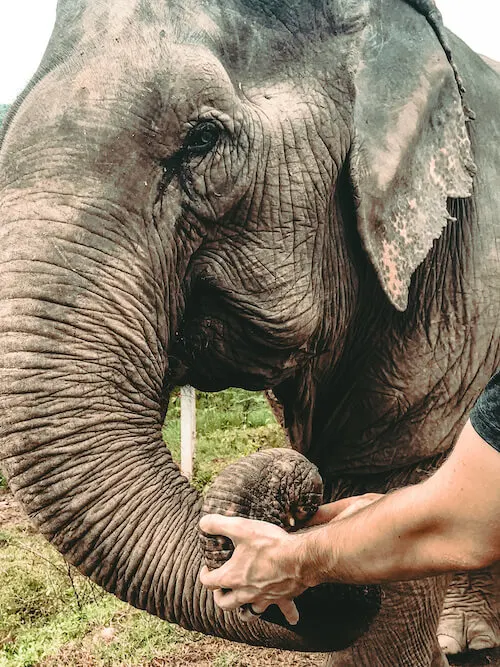 Thailand Honeymoon Tips
Before you leave on your Thailand honeymoon, you'll want to keep a few things in mind like what to pack, if you need a visa, and any vaccines you'll need.
Do I need a visa to visit Thailand?
This depends on the country, but for the US, for stays less than 30 days, you do not need a visa to visit. You should, however, have space for a stamp, and have at least 6 months of validity on your passport.
As always, be sure to check your government's websites prior to departing on your trip.
Here are the US requirements.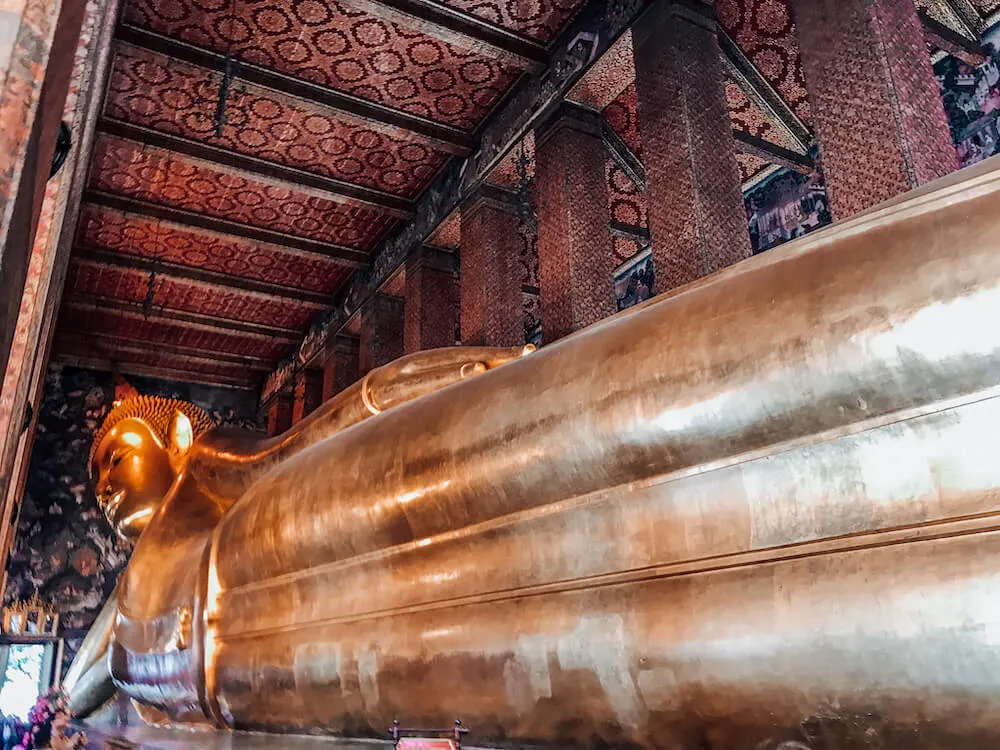 What Vaccines Do I Need to Visit?
According to the CDC, be sure you're up to date with your routine vaccines, including a flu shot. In addition, they recommend that most travelers receive Hepatitis A and Typhoid vaccines.
Some recommended vaccines include Hepatitis B (a routine vaccine in the US), Japanese Encephalitis (for rural areas or staying longer than a month), Rabies (for children, those traveling very remotely, and/or working extensively with animals), and Yellow Fever (if coming from a country where this is present). Typically, you will also receive antimalarials as well.
Be sure to check the CDC website and talk with a local travel clinic for up to date information based on your travel needs.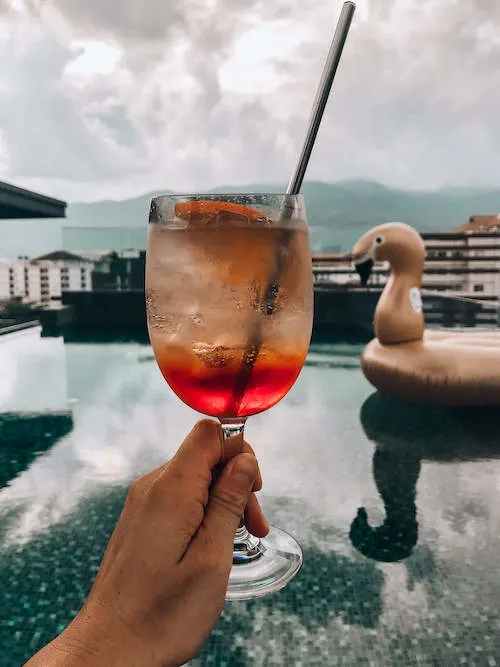 What to Pack For Your Romantic Honeymoon in Thailand
While dependent on each area you go to, here are a few key pieces to pack (We also have an in-depth Southeast Asia packing guide!):
Cities:
Comfortable walking shoes
A scarf or something to cover shoulders at temples
Linen pants/trousers for men for temples
Long, breezy sundress for women for temples
Normal clothing to keep cool
Extra deodorant or

Body Glide

to prevent any chafing!
Light jacket or umbrella for rain
Country-side:
Appropriate shoes for hiking
Longer pants and sleeves that keep you cool but prevent bug bites
Beaches:
Appropriate swimsuit
Cover-ups for when not at the beach
Shorts and t-shirts, skirts and/or sundresses for women
Sandals
Everywhere: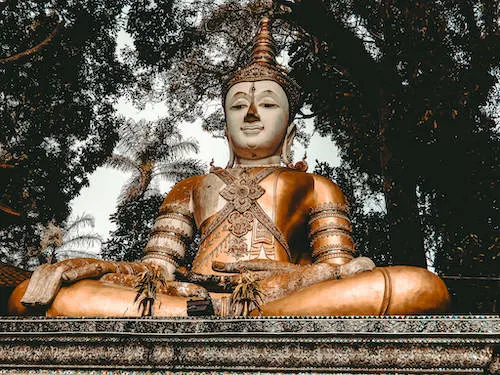 Do You Need Travel Insurance?
We always use travel insurance when traveling internationally in case one of us gets sick, we have to cancel, our luggage gets lost, etc. It is always a great idea to have travel insurance. We use World Nomads, one of the most trusted travel insurance options out there.
Budget for a Thailand Honeymoon Itinerary
Here are some of the key things to budget for when visiting Thailand (Hint: Here is a more in-depth Thailand Honeymoon Budget here and one for 3 weeks in Southeast Asia here):
1. Flights:
While we paid for our flights using miles and $60 each, budget around $1,500-$2,000 (maybe less if you find a great deal) for round-trip flights from the US to Bangkok. Also, for flights around the country, around $250 is a good estimate, using Air Asia flights.
2. Hotels:
For hotels around Thailand, you should budget between $800-$2,000 for 10 days to 2 weeks. We stayed in 4 & 5-star boutique hotels and ended up spending around $1,900 on our accommodation for 11 nights ($100-200 a night). However, for 3-star hotels and smaller, guesthouses, around $50-75 a night is doable.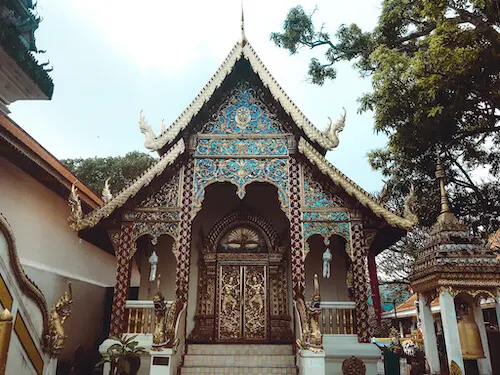 3. Food & Beverage:
For 10 days, eating a combination of street food, sit down restaurants, and a few nicer places, we only ended up spending $400, including alcohol! Luckily, with beers sometimes costing $2-3 and bowls of khao soi or pad thai only $1-3, it's easy to eat well. Also, getting a hotel with a free breakfast helps keep the costs down on food too! Basically, $400-$1,000 for 10 days to two weeks is perfect for a food and beverage budget. This greatly depends on how much you'll be drinking, and if you're wanting to splurge a bit.
4. Activities:
For activities like snorkel tours, cooking classes, visiting an elephant sanctuary, beach massages, etc., I would say to budget between $700-$1,000 for 10 days to two weeks.
In total: On the lower end of $3,650 to the higher end of $6,250 is perfect depending on the length, travel style, etc. of your honeymoon in Thailand.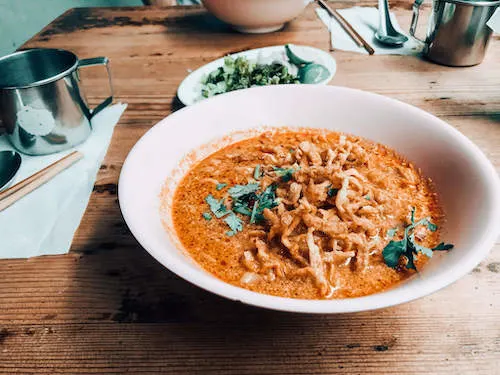 Overall, a honeymoon in Thailand is the perfect mix of adventure and romance. I can't recommend visiting this amazing country enough and taking in all that it has to offer. And with this complete Thailand honeymoon guide with all the Thailand honeymoon ideas, you now know all there is to know about getting there, costs, what to pack, when to go, and more!
Have you been to Thailand? What are your thoughts on this Thailand honeymoon itinerary? Let us know in the comments!
Want more honeymoon inspiration? Check these posts out!
Pin it here!