Some posts on this site contain affiliate links, meaning if you book or buy something through one of these links, I may earn a small commission (at no additional cost to you!). Read the full disclosure policy here.
---
A California honeymoon is nothing short of idyllic. There are stunning beaches, amazing vineyards, and ample national parks. In short, you'll never run out of honeymoon ideas in California!
Seriously- there is something for everyone! If you want to enjoy a relaxing getaway along the coast, you can do that. If you want to city hop, you can do that. Or if you want to be immersed in nature, whether it be mountains, lakes, or a desert, you can do that.
That's why when it comes to the best honeymoon places in California, we've got you covered. We have 25 of the best honeymoon destinations in California from north to south to help you plan the ultimate romantic getaway.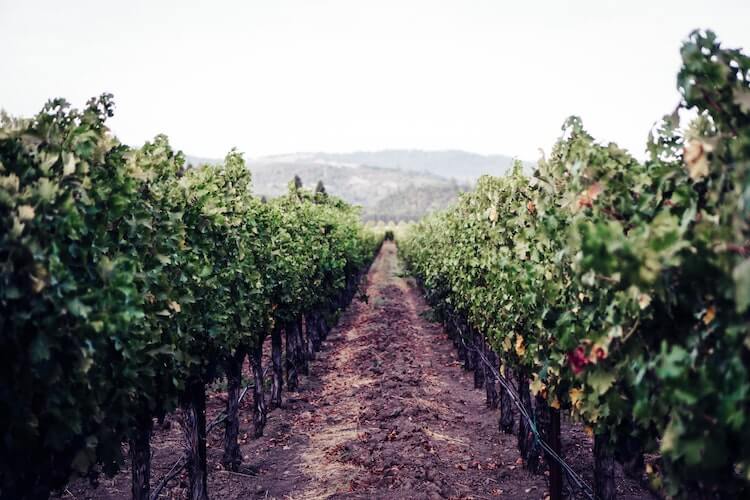 25 Best Honeymoon Ideas in California
For a quick guide to the best honeymoon spots in California, here they are listed:
Napa Valley
Santa Rosa
Temecula
Paso Robles
Solvang & the Santa Ynez Valley
Death Valley National Park
Joshua Tree National Park
Yosemite National Park
Redwoods
Sequoia & Kings Canyon
Lake Arrowhead
Mammoth Lakes
Lake Tahoe
Los Angeles
San Diego
San Franciso
Santa Barbara
Disneyland
San Luis Obispo
Monterey & Big Sur Honeymoon
Point Reyes
Mendocino
Laguna Beach
Catalina Island
Palm Springs
This is quite the list of honeymoon places in California! For all the details, be sure to check the best honeymoon ideas in California below!
1. Napa Valley Honeymoon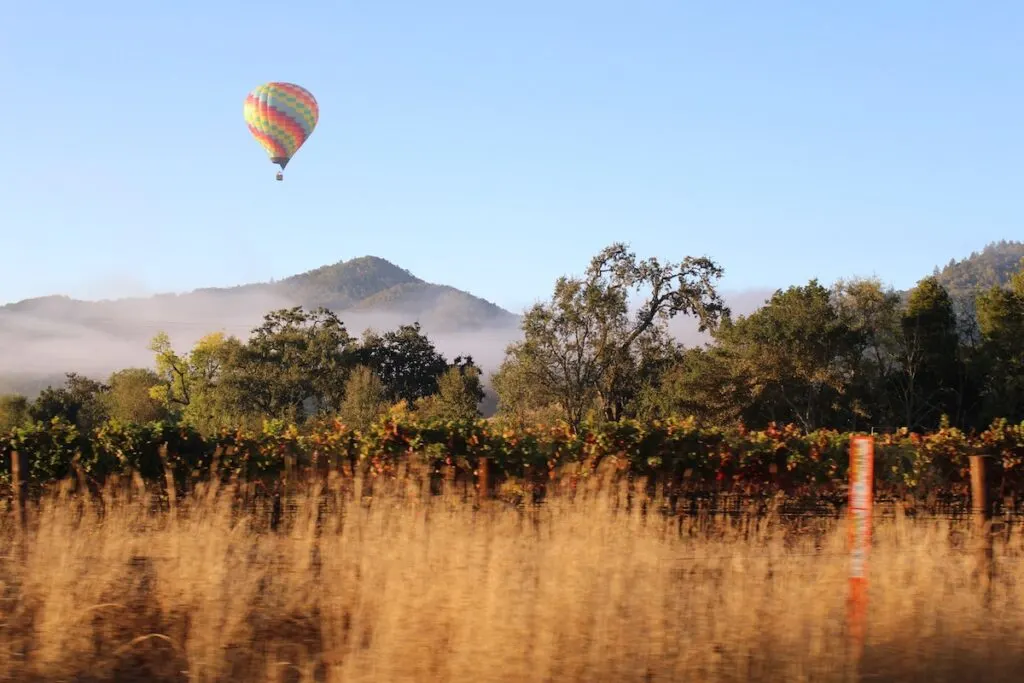 Easily one of the most popular California honeymoon destinations, Napa Valley is full of beauty. For starters, you have world-renown wineries to enjoy together. On top of that, there are ample romantic things to do including going on a hot air balloon ride over the vineyards, dining at the famous Michelin-star restaurant French Laundry, or even biking along the vineyards for the active couple.
For a relaxing and fun honeymoon in California, you can't go wrong with Napa Valley. For a lovely honeymoon-worthy stay in Wine Country, opt for Auberge du Soleil. This adults-only hotel is perfect for lovers.
2. Santa Rosa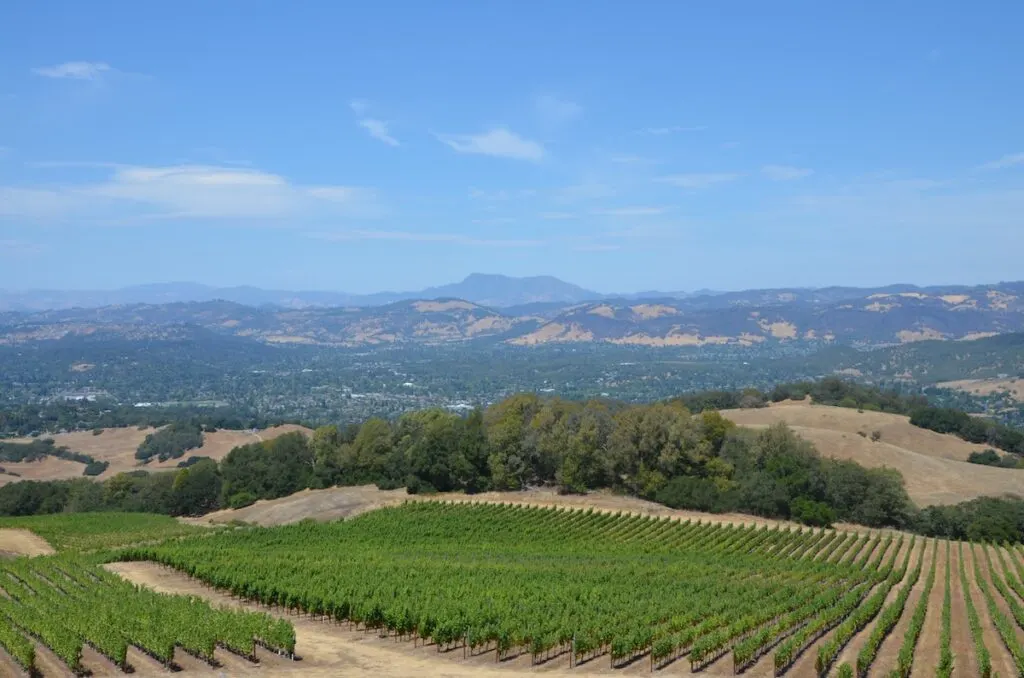 Santa Rosa is a city located in the county of Sonoma, California. It is situated in the North Bay region of the San Francisco Bay Area. Santa Rosa is known for its wine production, and many vineyards are located in and around the city.
The city also has a strong arts culture, with several theaters and galleries. There are many things to do in Santa Rosa, making it one of the best honeymoon destinations in California.
Some of the most romantic things to do in Santa Rosa include visiting the wineries, taking a hot air balloon ride with Sonoma Ballooning, and picnicking in Trione-Annadel State Park.
For nature-related adventures, you can go hiking at Sugarloaf Ridge State Park or the Armstrong Redwoods Reserve. You could also visit Serengeti Wildlife Preserve for an African Safari experience right in California. You'll be able to see wildlife such as tigers, giraffes, and other animals.
There are also various historical activities to do in Santa Rosa including touring the Charles M. Schulz Museum, visiting the Jack London House, or taking a stroll in the historical downtown square.
For accommodation, there are many romantic hotels and bed & breakfasts in Santa Rosa. One of the best places is the Flamingo Resort for a luxurious stay or Hotel La Rose for a more boutique experience right in the heart of downtown Santa Rosa.
All in all, Santa Rosa is one of the best honeymoon destinations in California because of its wine production, arts, culture, and many romantic things to do. It is the perfect place for a couples' getaway.
Recommended by Pafoua from Her Wanderful World.
3. Temecula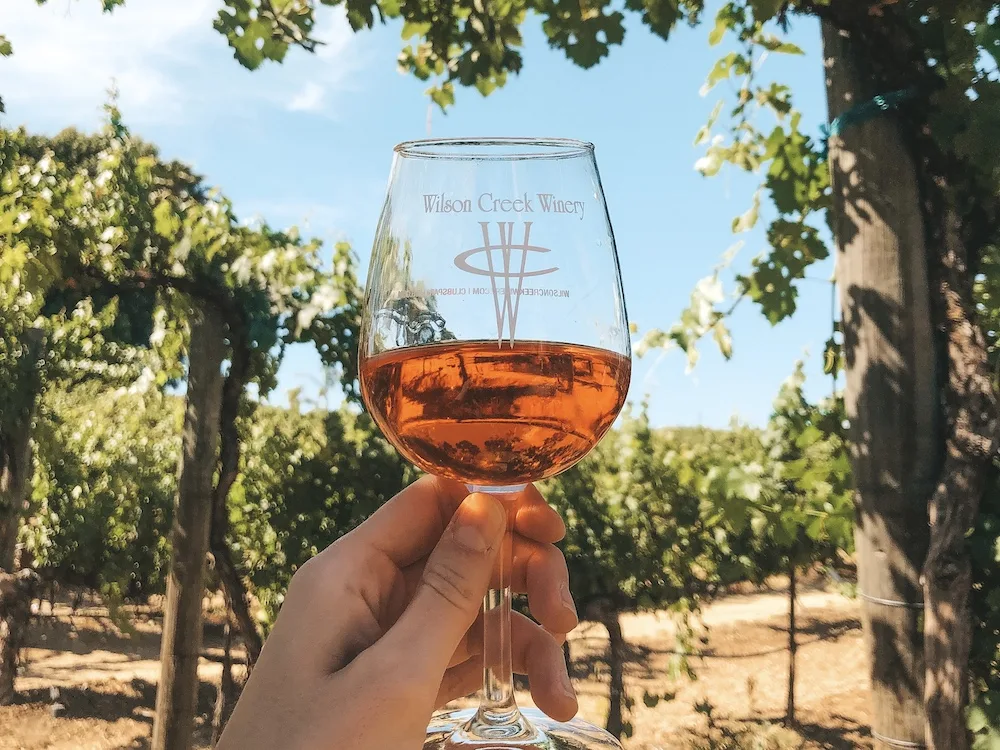 Temecula, California, is one of the best (and most underrated!) honeymoon ideas in California. This quaint, southern town is located just a one-hour drive from San Diego and oozes romance and charm!
During your honeymoon, you can't miss the chance to explore the best wineries in Temecula. Temecula is Southern California's Wine Country and is home to more than 50 wineries, with new vineyards and tasting rooms appearing in the region each year! Wilson Creek Winery and Leoness Cellars are two notable wineries to visit during your honeymoon.
You shouldn't miss the chance to go on a romantic hot air balloon ride over the vineyards for a once-in-a-lifetime experience. But if you'd like to keep your feet planted firmly on the ground, you can also go on a horseback riding tour through the vineyards. And although Temecula is a beautiful location to visit year-round, if you're visiting during the summer, don't miss the chance to go blueberry picking (and eating!) at Temecula Berry Co.
When you're hungry, head down to Old Town Temecula to explore the local eateries and unique restaurants that offer the perfect venue for a romantic dinner. 1909 Temecula and Public House are perfect for brunch on the weekends, and The Goat & Vine is a must-visit location for dinner. However, get your name on the waitlist early—tables at this sought-after restaurant will get snatched up quickly!
Book a romantic bungalow at Carter Estate Winery & Resort to stay in the heart of Temecula's wine country. Your room includes a bottle of wine, complimentary breakfast for two, and a private patio with incredible views of the vineyards.
Recommended by Brittany from Travel by Brit.
4. Paso Robles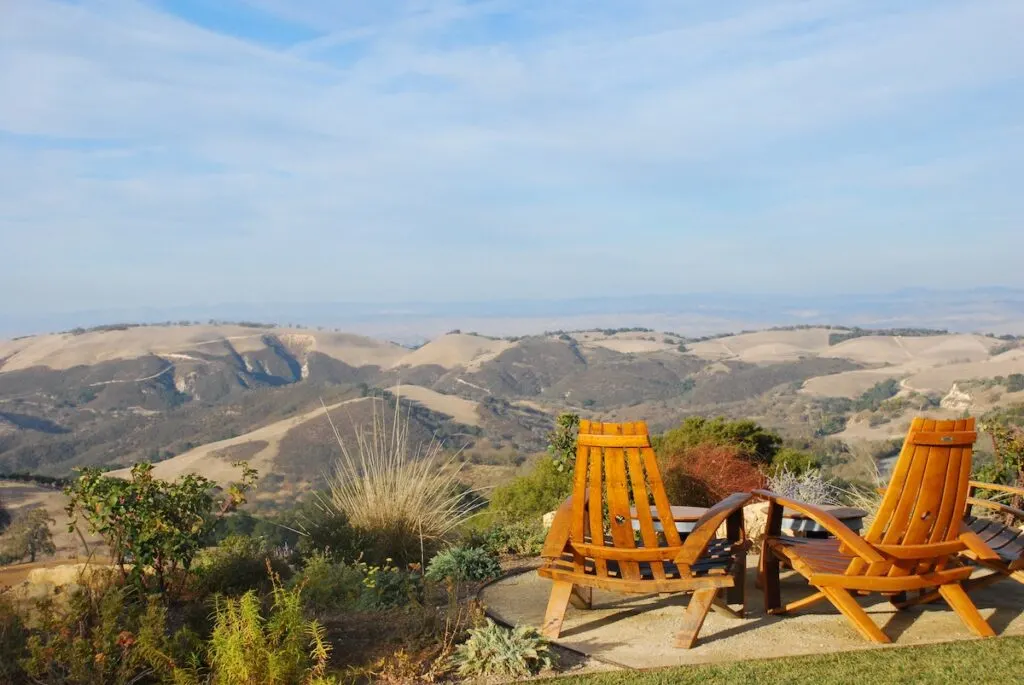 California is loaded with incredible destinations to visit. However, if you are looking for a unique and romantic location to spend your honeymoon, Paso Robles may be the place for you.
Paso Robles is situated on California's Central Coast, located an equidistant from Los Angeles and San Francisco. Paso Robles is well known for producing world-class wine, its charming downtown, and its overall laid-back vibe.
An intimate getaway of wine tasting in Paso Robles makes for the perfect honeymoon destination. The area is less expensive and has fewer tourists than other wine regions in California. Relax with a glass of award-winning wine at Daou Vineyards, and soak in the panoramic views of the rolling hills of vineyards.
After a day of wine tasting at some of the many wineries in Paso Robles, be sure to stop downtown for drinks and dinner. Visit The Alchemists' Garden for one of their innovative drink concoctions. Afterward, enjoy a delicious meal at Thomas Hill Organics Bistro & Wine Bar, a California cuisine farm-to-table restaurant.
Paso Robles has so much more to offer than just wine, such as the experience at the Field of Light at Sensorio. The Field of Light is a magical outdoor exhibit of glowing fiber-optic lights.
During your time in Paso Robles, Allegretto Vineyard Resort is a great option for couples looking for a romantic and intimate stay. Allegretto Resort is a Tuscan-inspired resort with 20 acres of beautiful vineyards. The luxury resort offers amenities like a spa, wine tastings and tours, a pool, and an onsite restaurant.
The gorgeous setting, the incredible wine, and the relaxed atmosphere are some of the many reasons you will not regret a honeymoon to Paso Robles, California.
Recommended by Alisha from Travel Today Work Tomorrow.
5. Solvang & the Santa Ynez Valley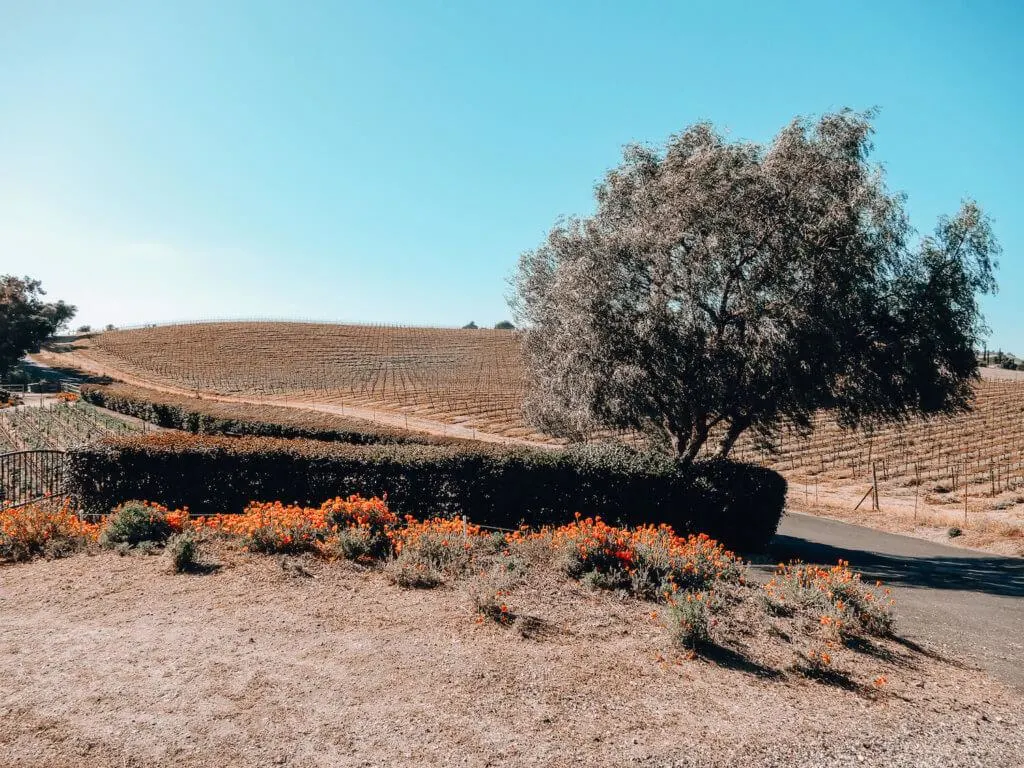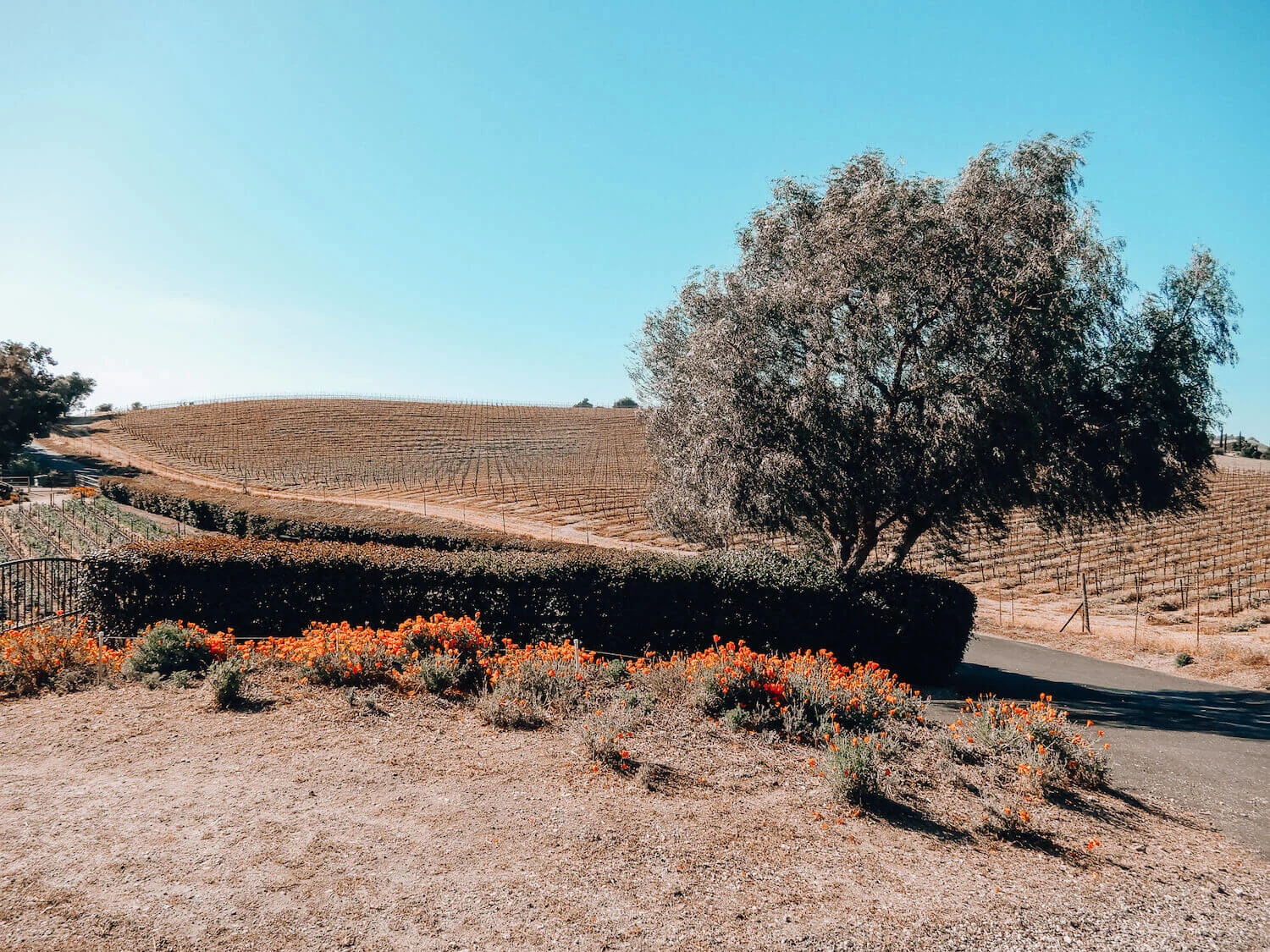 If there is one charming honeymoon idea in California, it is Solvang. Located in the heart of the Santa Ynez Valley, this place is perfect for wine lovers and lovers of adorable towns.
Solvang is unique in that it looks like a Danish village, complete with windmills, pastry shops, and incredible Danish-inspired architecture. There are ample things to do in the Solvang including shopping at adorable antique stores, grabbing an aforementioned pastry at one of many bakeries, going olive oil tasting at various shops, taking a hike at nearby Nojoqui Falls and Gaviota State Park, and, of course, wine tasting.
Not only can you go wine tasting in the town itself, but there are plenty of places in the Santa Ynez Valley known for their wine.
This part of the state is well-known for its Pinot Noir, Syrah, and Chardonnay. Some wineries to try include Carharrt Vineyard, Sanger Family of Wines, and Sunstone Vineyards & Winery. All of these wineries offer incredible tastings at a much more reasonable price than many other places in California.
For a romantic place to stay in Solvang, check out The Landsby. This hotel has a delicious restaurant called Mad & Vin, a cocktail bar, and a Danish-inspired design.
Solvang and the Santa Ynez Valley definitely make for a charming California honeymoon idea!
6. Death Valley National Park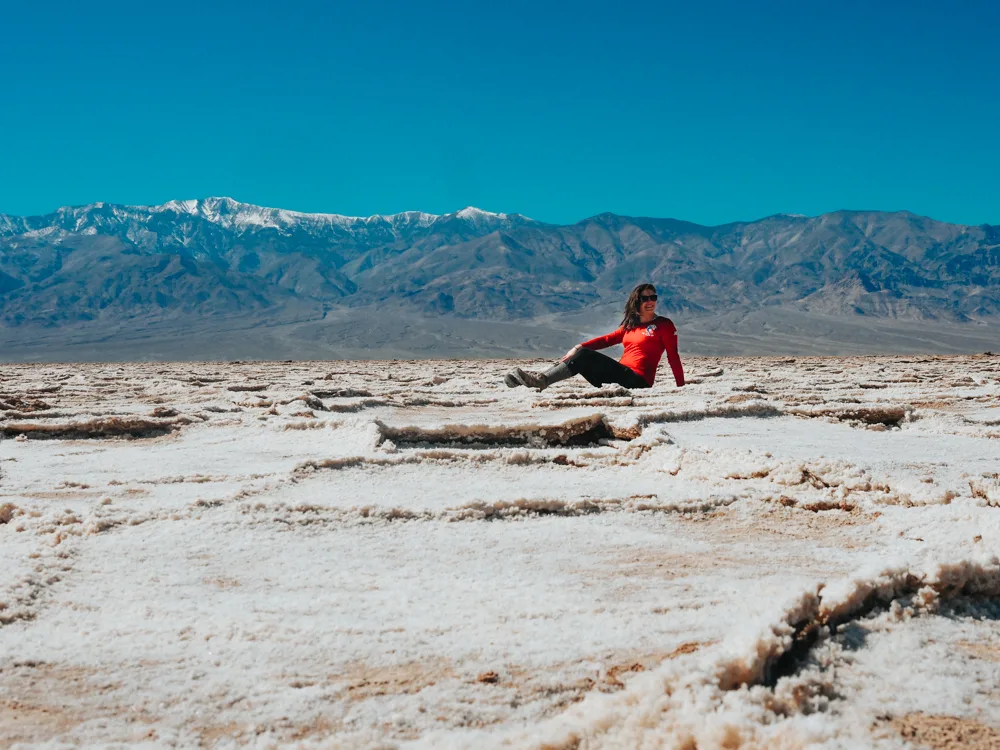 Now let's talk about some incredible national parks in California for your honeymoon! Death Valley National Park is located in the northern Mojave Desert and borders the Great Basin Desert. This eastern California national park is the hottest, driest, and lowest place in North America.
Now, this isn't exactly a luxury honeymoon destination in California, but for the adventurous, this is an incredible place. Full of beauty from Badwater Basin to Artist's Palette, a honeymooning couple could enjoy all the stunning viewpoints in the park.
Some must-sees during a Death Valley honeymoon include Badwater Basin and Artist's Palette (as mentioned above) plus the Mesquite Sand Dunes, Golden Canyon, Devil's Golf Course, Zabriskie Point, Dante's View, and visiting the Furnace Creek Visitor Center to see the temperature.
Be sure to visit when it is cooler, as the summer temperatures can be dangerous!
For a place to stay in Death Valley, check out the Inn at Death Valley. Death Valley can also make a fun addition to a road trip honeymoon!
For an affordable honeymoon destination in California, opt for Death Valley!
7. Joshua Tree National Park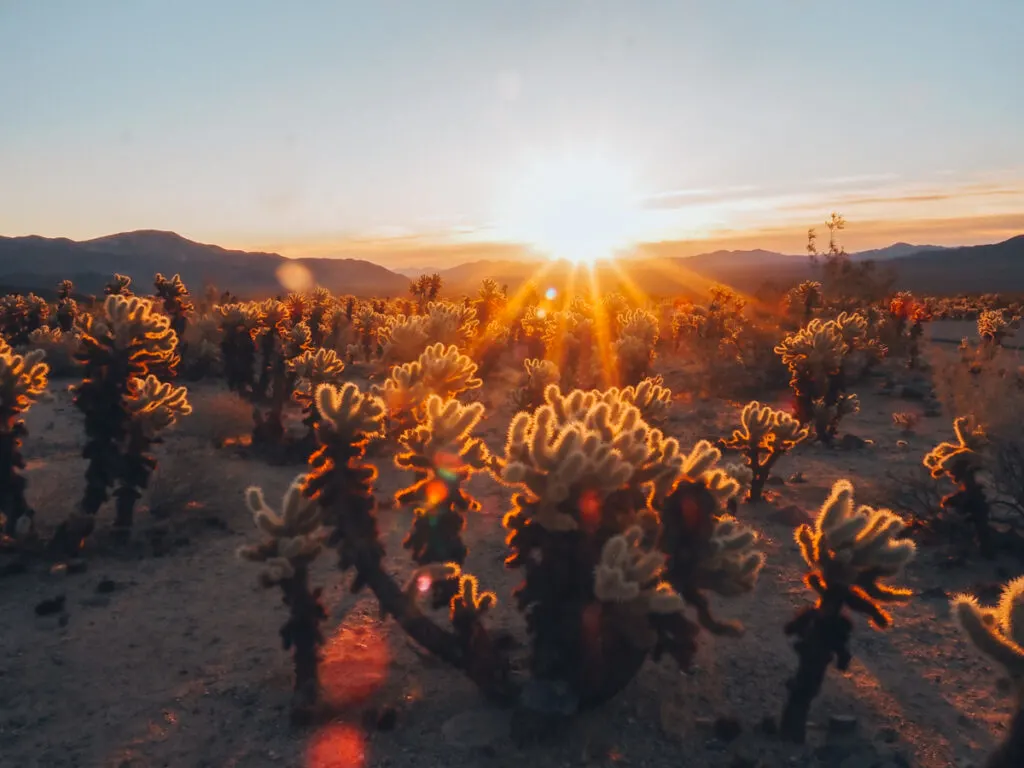 For another desert honeymoon idea in California, check out Joshua Tree National Park. This warm spot is super romantic from staying in unique Airbnbs to catching the most gorgeous sunrise amongst cacti.
Some things you must do in Joshua Tree include catching a vibrant sunrise over the Cholla Cactus Garden, exploring all the rock formations like Skull Rock, Split Rock, and Heart Rock, spotting all the fun Joshua trees, going up to Keys View, and admiring the night sky in this International Dark Sky Park.
Near Joshua Tree, you also have the chance to go to hot springs in Desert Hot Springs, get couples massages, and even go horseback riding together.
This beautiful national park and surrounding area make for a lovely honeymoon in California! For a romantic place to stay, this Airbnb has all the fun desert-chic vibes plus has a private patio with a hot tub, grill, and fire pit. They also include a bottle of wine and free local coffee during your stay.
8. Yosemite National Park is One of the Best Honeymoon Ideas in California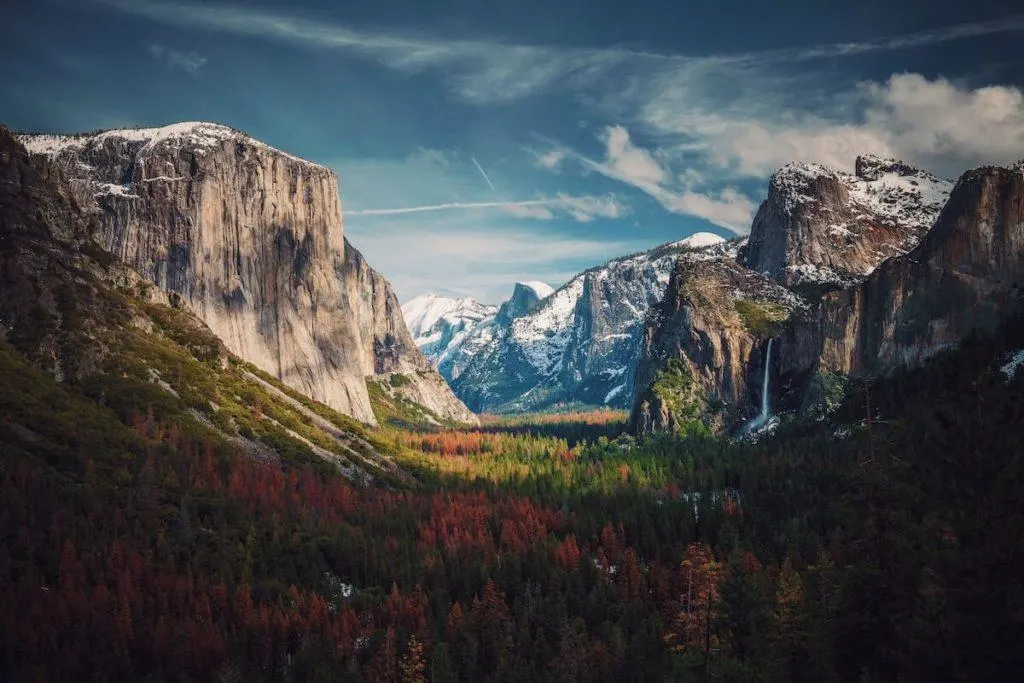 Yosemite is not only a very popular national park, but it is one of the best national park honeymoon destinations! This place has it all including beautiful waterfalls, gorgeous peaks, and challenging hikes.
For adventurous honeymooners, this is one of the best honeymoon locations in California! Some things to do here include admiring Half Dome (or hiking it!), admiring Bridalveil Fall, visiting Mariposa Grove for Giant Sequoia, trekking El Capitan, and enjoying the scenery around Half Dome, Yosemite Valley, and Yosemite Falls at Glacier Point.
As far as where to stay for this top honeymoon destination in California, opt for Rush Creek Lodge & Spa at Yosemite. This place has fantastic packages like the Staycation Trip Package which includes lodging in a king-room in the lodge or a Hillside Villa, dinner for 1-2 evenings, daily breakfast, trail lunches for one day, one complimentary beverage per person, a welcome gift bag, and evening activities like fireside smores, games, and more.
Yosemite is easily one of the best honeymoon ideas in California!
9. Redwoods is One of the Best Honeymoon Ideas in California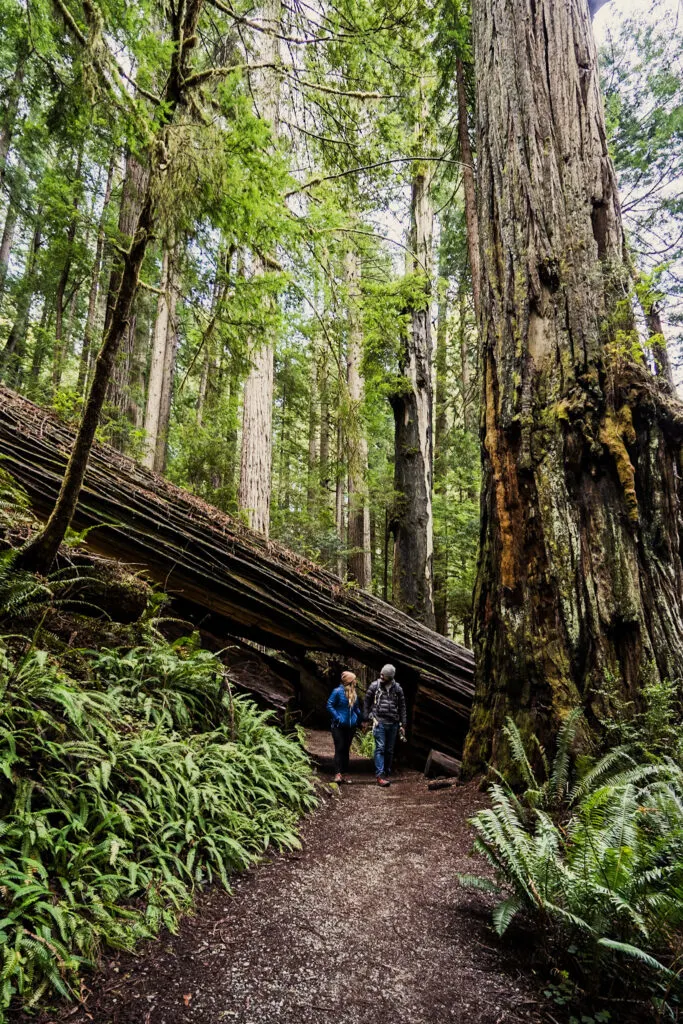 With a craggy coastline, towering ancient trees, and lush forests, the Redwoods State and National Parks and the other incredible neighboring parks, like Humboldt Redwoods, are the perfect honeymoon destination in California for a couple that's all about outdoor adventure.
There are so many stunning hikes in the Redwoods that you can explore together and stare up in wonder at the tallest trees on the planet. For example, consider hiking through the fecund Fern Canyon, which is so lush and prehistoric-looking it was used as a filming location for Jurassic Park: A Lost World, or the Karl Knapp Trail, where you can walk, hand-in-hand, through two tunnels carved into massive fallen trees.
Go on a scenic drive along the 31-mile Avenue of Giants in Humboldt Redwoods State Park under a canopy of 300-foot tall trees- and be sure to grab a kitschy photo of one of the trees you can drive through, like the Chandelier Tree. And while most visitors flock to this area to stare in wonder at the ancient Redwoods, the wild and untamed beauty of the northern California coastline can't be overstated.
There are few things more romantic than watching the sunset together from Wedding Rock in Sue-Meg State Park. Besides all of the awe-inducing natural beauty around you, one of the benefits of the Redwoods is its relatively remote location. It is a fair distance from any large city. Other than the summertime, it's usually pretty quiet here, allowing you to celebrate your newfound marriage without battling the crowds.
As a home base, cozy up in a rustic beachside bed and breakfast, like the Lost Whale Inn Oceanfront Bed and Breakfast, where you can sip coffee together while overlooking the ocean and plan your day's epic adventures!
Recommended by Jessica from Uprooted Traveler.
10. Sequoia & Kings Canyon are Idyllic Honeymoon Ideas in California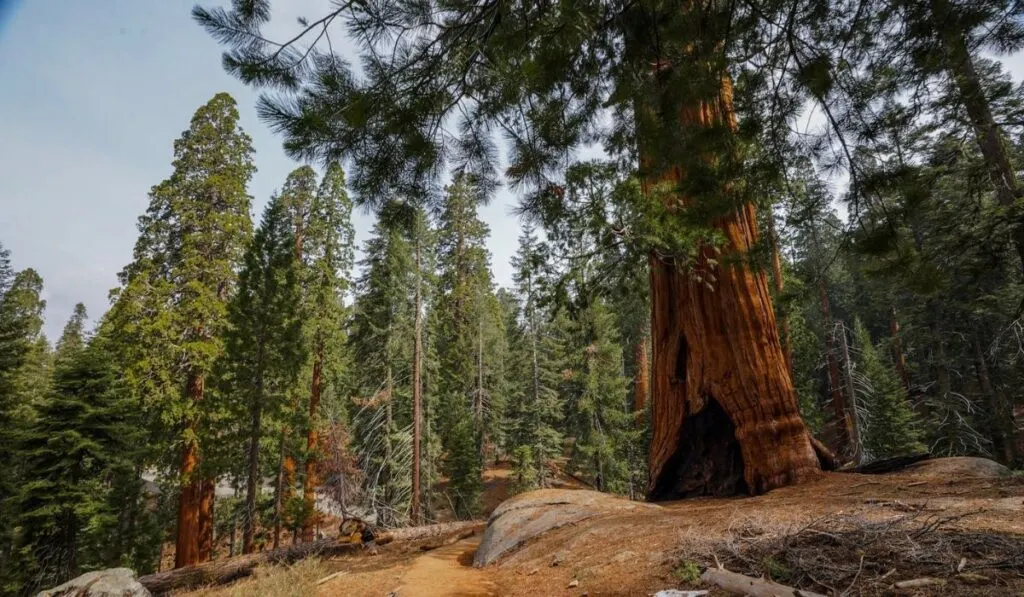 If you are looking for a quiet, outdoorsy, and nature-filled honeymoon, then Sequoia and Kings Canyon National Parks may be for you! Here you get the best mix of small-town vibes and incredible nature in one small area.
Located at the south end of the Sierra Nevada Mountains, Sequoia National Park and the Kings Canyon National Park feature towering sequoia trees, pristine lakes, many miles of wilderness, and awe-inspiring hiking opportunities. Though technically two separate national parks, Sequoia and Kings Canyon are typically lumped together – the same admission fee will get you into both parks; the same road will lead from one to the other, and the National Park Service of Sequoia cares for them both.
So what can you expect if you choose to honeymoon here?
There are so many things to do in Sequoia National Park. Visit the General Sherman Tree – the largest tree by volume in the world. Only when you look back at your photos will you truly understand how small you are next to it! Hike the Congress trail to see clusters of mighty sequoias or the Lakes Trail for epic views. Visit Crystal Cave to explore the park underground.
In King's Canyon, drive the scenic highway. Visit General Grant, another notable tree that is one of the tallest in existence. Learn about the history of the parks, including how settlers used the land and fallen trees as shelters. Sequoia definitely gets more attention than Kings Canyon, but King's Canyon is definitely worth the trip.
In the small surrounding town of Three Rivers, honeymooners will find cozy hotels, cabins, and lodges as well as local eateries, pretty scenery, and nothing but wilderness. Sequoia and King's Canyon is the perfect honeymoon destination for anyone wanting to get out of the big city and relax in small-town life for a while.
Recommended by Monica from This Rare Earth.
11. Lake Arrowhead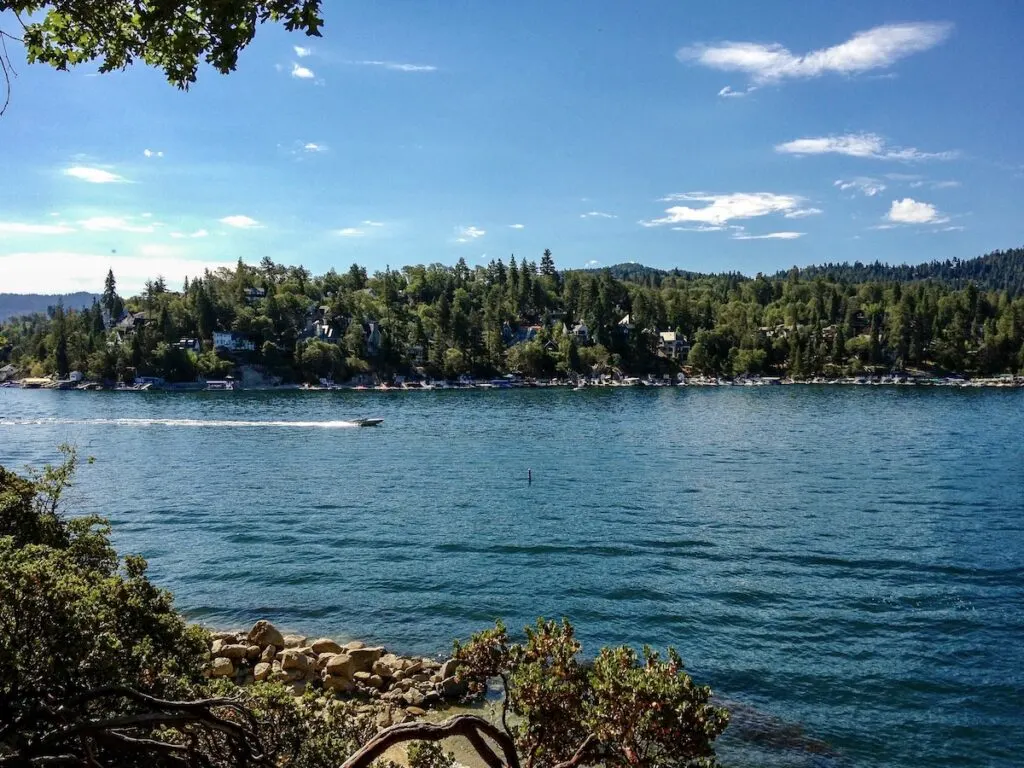 If you're looking for a unique place to go for your California honeymoon, there's nowhere better than Lake Arrowhead, California. This beautiful spot in the San Bernardino Mountains is the perfect place to escape the hustle and bustle of the city and focus on being newlyweds.
It's also great if you are spending your honeymoon in Los Angeles or San Diego and want to plan an extra romantic few days away from it all.
City life drops away as you head up the scenic drive to Southern California's best-kept secret. Pull off the road for a romantic moment as you see stunning views of the valley below. It only gets better from there as you arrive at the sparkling blue lake surrounded by tall pines, tons of fresh air, and snow if it's winter.
There are plenty of romantic things to do in Lake Arrowhead, starting with a leisurely stroll through one of the many scenic hiking trails like the Heart Rock trail. Have a romantic dinner under twinkling lights at Puglia Italian restaurant or sip on some wine while overlooking the lake at The Grapevine.
A cruise on the Arrowhead Queen is a fun outing where you can check out the sprawling lake homes, some of which are owned by celebrities. Or just find a spot to enjoy a romantic picnic lunch.
Head back to your vacation rental for an evening by a cozy fire. Take a moment to enjoy the star-filled sky with your love. In summer, music fills the air at night whether you go to the concerts in the village or just listen to them from a private spot nearby. No matter what you do, you're sure to create lasting memories with your loved one in Lake Arrowhead.
Recommended by Jenifer from The Evolista.
12. Mammoth Lakes is One of the Best Honeymoon Destinations in California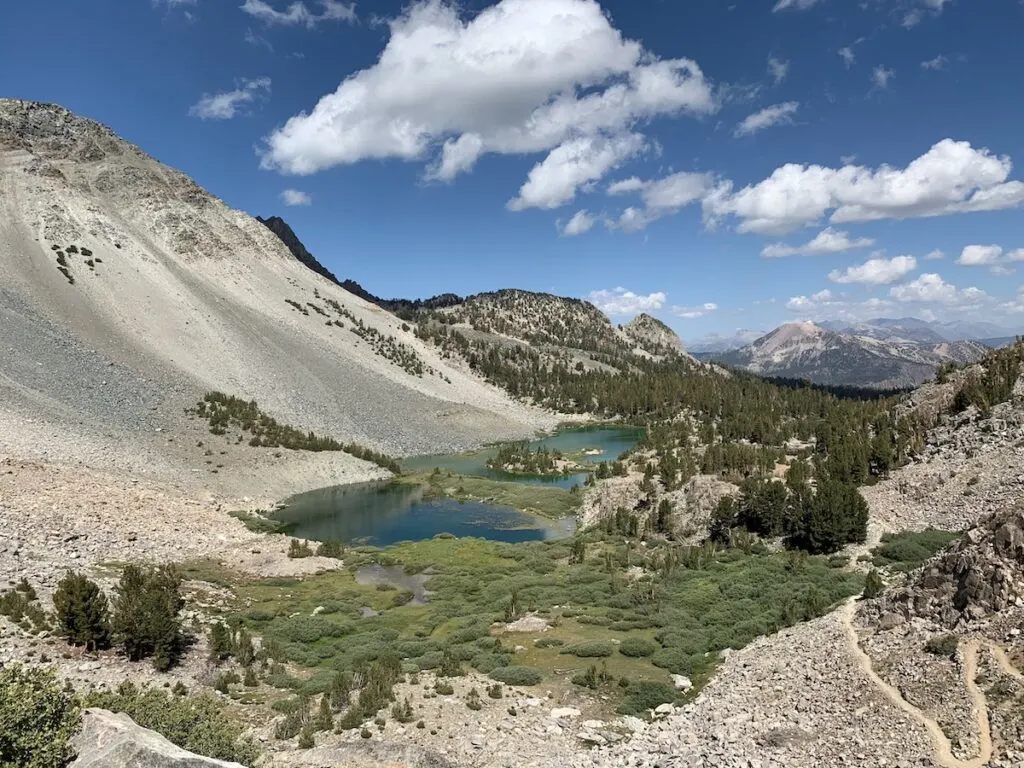 For an outdoor adventure honeymoon idea in California, make your way to the mountain town of Mammoth Lakes. Located in the Eastern Sierras, Mammoth offers lots of lakes, gorgeous sunset viewpoints, and several hot springs to get close and cozy in.
With all the things to do in Mammoth Lakes, you can make your honeymoon a jam-packed adventure or just relax and take in the stunning views all around town.
Make sure to spend a night in Mammoth and drive to Minaret vista to catch the sunset. Cuddle up with your sweetheart as the sky changes colors over the Minaret mountain range in the distance. For more romantic views, take a gondola ride up Mammoth Mountain and soak in the scenery.
If your honeymoon wouldn't be complete without a trip to the beach, visit June Lake where you can swim, sunbathe, and enjoy the sand between your toes. You can also kayak through the tufa rock formations in Mono Lake or hike around the spectacular Convict Lake.
Finally, sneak away to one of the many hot springs near Mammoth Lakes. Pulkey's Pool is a small, clothing-optional hot spring that will definitely heat up your honeymoon, or check out Shepherd Hot Springs to soak in the shadow of the Sierra Nevadas.
You'll find lots of romantic lodging options in Mammoth Lakes, from upscale mountain lodges like the Mammoth Mountain Inn or the Westin Monache Resort to cozy bed & breakfasts like the Cinnamon Bear Inn. You could also stay at a secluded cabin at Mammoth Mountain Chalets.
Recommended by Allison from She Dreams of Alpine.
13. Lake Tahoe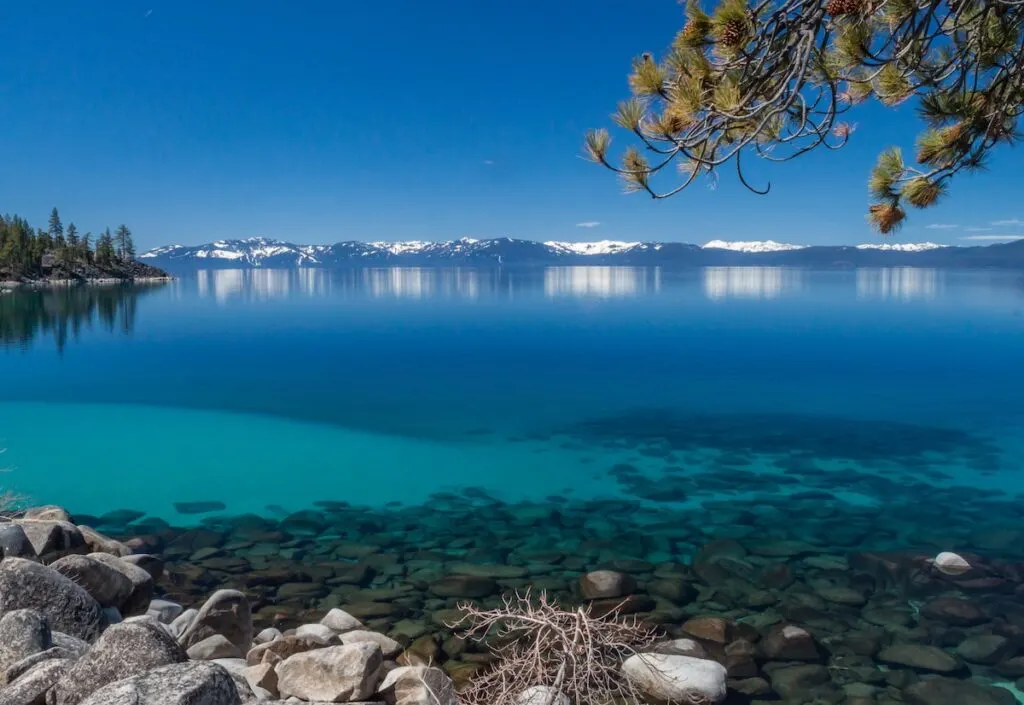 A lake hidden in the mountains, Lake Tahoe is one of the best honeymoon ideas in California. Lake Tahoe is the largest alpine lake on the North American continent.
From the amazing views during your hike to Emerald Bay to relaxing on a South Lake Tahoe beach to the luxury of one-of-a-kind accommodations, you are sure to have the time of your life on your honeymoon.
Lake Tahoe has so many activities for a new couple that you would never run out of things to do together.
You can watch a beautiful sunset while the snow-capped mountains reflect the light of the setting sun making it look like an orange ball. You can also visit any one of several luxurious spas in the area and get pampered with massages and other spa treatments.
Book a couples massage at the Spa at Squaw Creek. During the summer, couples can take cruises at Emerald Bay or Zephyr Cove. Take a gondola ride at the Heavenly Village. Looking for hotel accommodations? Stay at the Hyatt Regency Lake Tahoe Resort Spa And Casino.
This 4-star hotel offers a variety of dining options inside the hotel – perfect if you'd like to order room service for you and your partner. Relax in the waters within the hotel at either of the two hot tubs or the heated swimming pool.
With its sapphire blue water and scenic views, Lake Tahoe is a popular vacation spot for couples from all over the world.
Recommended by Rasika from Bae Area and Beyond.
14. Los Angeles Makes For One of the Best Honeymoon Ideas in California
There's no place like Los Angeles for a honeymoon! The City of Angels is home to some of the most iconic landmarks and attractions in the world, making it the perfect place to start your new life together.
From strolling along Rodeo Drive to taking in a show at the Hollywood Bowl, there's something for everyone in LA. And with its endless sunny days and gorgeous beaches, it's no wonder that so many couples choose LA as their California honeymoon destination.
There's no shortage of romantic things to do in Los Angeles. You can go for an early morning stroll on Venice Beach, soak up the views of the city from Griffith Observatory, or watch the sunset together from the iconic Santa Monica Pier.
If you're looking for something a little more active, you can go hiking in the Hollywood Hills or explore the city's many famous museums. In case you have more than a few days in LA, you can even take a day trip to Malibu, Santa Barbara, or explore Joshua Tree National Park.
When it comes to the best places to stay in Los Angeles for a honeymoon, there are plenty of amazing hotels to choose from. If you want to be in the heart of the action, consider staying at the Hollywood Roosevelt or The Beverly Hills Hotel. For something a little more low-key, check out the beachfront hotels in Santa Monica or Venice Beach.
No matter what your interests are, LA is sure to impress. Your California honeymoon will be truly unforgettable when you spend it in Los Angeles!
Recommended by Krisztina from She Wanders Abroad.
15. San Diego Makes For One of the Best Honeymoon Ideas in California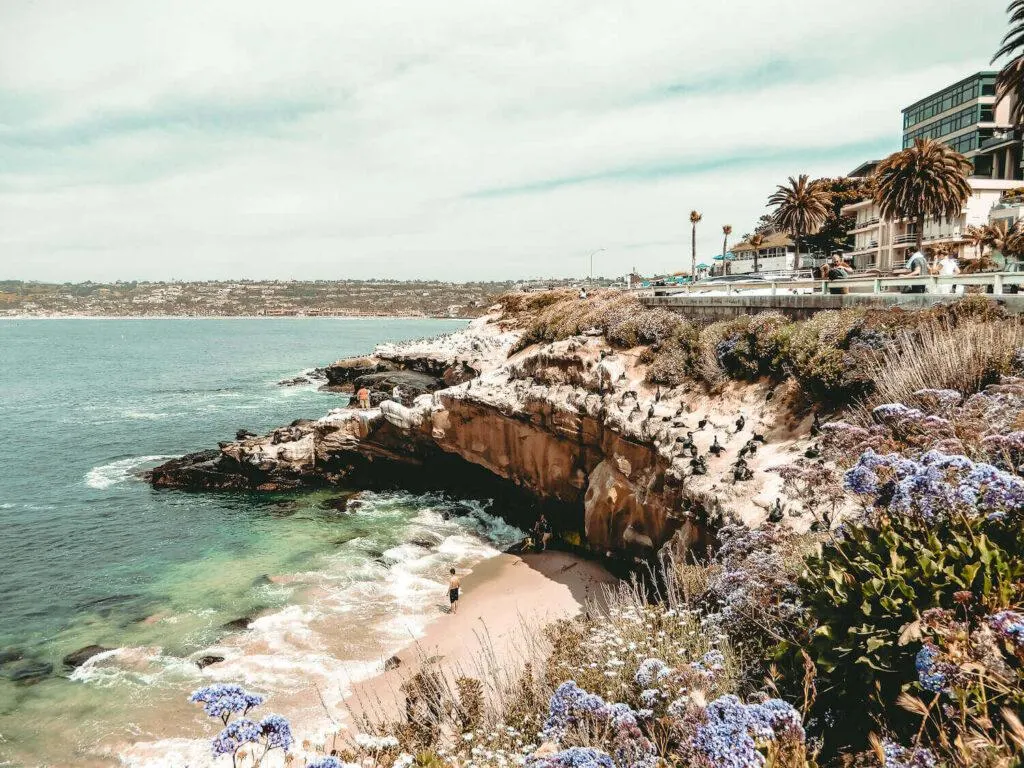 A San Diego honeymoon is an incredible idea! From the stunning beaches to exciting attractions throughout the city, you can't go wrong with time spent in this honeymoon spot in Southern California.
Explore the beautiful La Jolla Cove during your time in San Diego, walking along the coastal path, and admiring the various sea lions and seals. Then, be sure to check out the ample beaches including Pacific Beach, Coronado Beach, and Ocean Beach City Beach.
After exploring the coast, it is time to enjoy downtown San Diego including exploring Balboa Park. Visit the various gardens, museums, and, of course, the San Diego Zoo.
Be sure to also enjoy the amazing tacos and breweries in the area! And for a romantic place to stay during your San Diego honeymoon, opt for the Fairmont Grand Del Mar. This place has been rated as the #1 luxury hotel in California!
16. San Francisco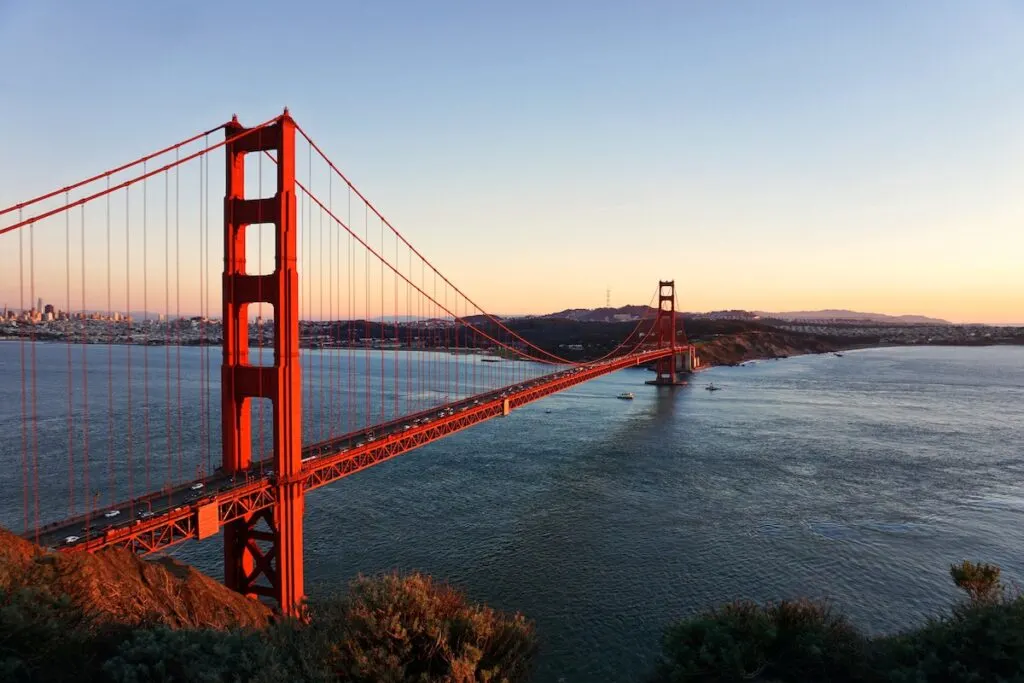 San Francisco is one of the most romantic cities in the world, making it the perfect destination for a California honeymoon. The city by the bay offers a unique blend of picturesque views, history, culture, and natural beauty for couples.
Start your honeymoon trip with a stroll through Golden Gate Park, where you can admire the city's iconic bridge and take in the stunning views of San Francisco Bay. Then head to Chinatown for a delicious dim sum lunch before exploring the city's world-renowned museums.
Take a tour of the notorious Alcatraz Island or rent a bike to see the beautiful redwoods in Muir Woods National Monument. For a truly romantic experience, spend an evening watching the sunset from Twin Peaks.
Looking to indulge? Enjoy a leisurely brunch in the Mission District and dance the night away in the neighborhood's bars. Or go wine tasting in the famous Napa Valley and find a secluded spot to share a bottle or two!
Of course, the San Francisco itinerary would not be complete without enjoying the city's renowned food scene. San Francisco is a food lover's paradise and has everything from haute cuisine to food trucks. Be sure to try some clam chowder in a bread bowl, mission-style burritos, and Ghirardelli chocolate!
If you're looking to explore all that San Francisco has to offer, consider staying in Union Square. This central location puts you within walking distance of Chinatown, North Beach, and all of the city's best shopping and dining.
San Francisco is easily one of the best honeymoon ideas in California!
Submitted by Kay from Dotted Globe.
17. Santa Barbara is One of the Top Honeymoon Destinations in California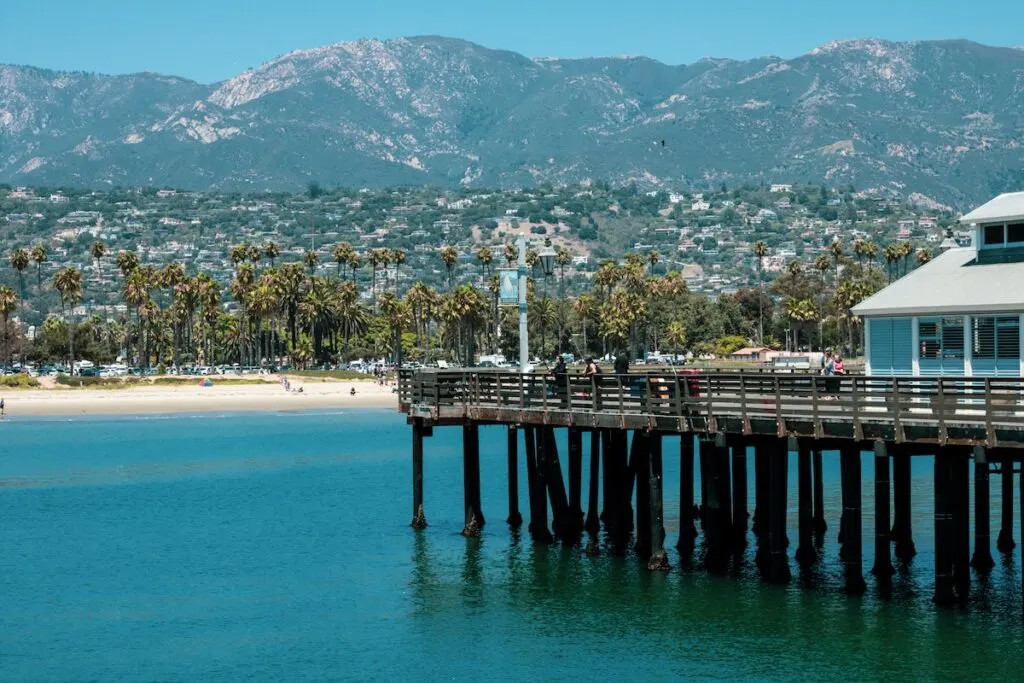 Santa Barbara is often referred to as the American Riviera and is an incredible place for a romantic honeymoon along the central coast of California. The Mediterranean-style architecture will make you feel like you're worlds away, and you'll find it easy to relax at the beautiful beaches, indulge in amazing restaurants, and take romantic strolls under twinkle lights that line the streets at night.
For a romantic afternoon, be sure to visit the Underground Salt Cave, where you can indulge in a couples massage, and then relax together in rooms aglow with amber light during a cave meditation session.
After your spa experience, follow the Urban Wine Trail downtown for some wine tastings. Or better yet, take a day trip through wine country in Santa Ynez, which is less than an hour's drive from Santa Barbara.
End your days with a romantic walk along the beach or Cabrillo Bike Path at sunset. One of the best sunsets in the area is at Arroyo Beach, and if you time it right, you can enjoy a casual dinner while the sun goes down at The Boathouse restaurant, which is right on the beach. You can also catch the sunset from the Cabrillo Bike Path, which runs parallel to the ocean, and is only a short walk from downtown.
In the evenings, one of the most romantic dining experiences will be at La Arcada, which is a courtyard that has tiled walkways, fountains, twinkle lights, and restaurants with al fresco dining.
For the ultimate honeymoon experience, consider staying at the Four Seasons Biltmore in Santa Barbara, which is across the street from the best beach in the area, Butterfly Beach. The Biltmore has everything on-site that you could think of for a perfect honeymoon including a spa, restaurants, and pools, and is impeccably landscaped to transport you to a tropical-inspired oasis.
Recommended by Samantha from New England Wanderlust.
18. Disneyland is Definitely One of the Best California Honeymoon Ideas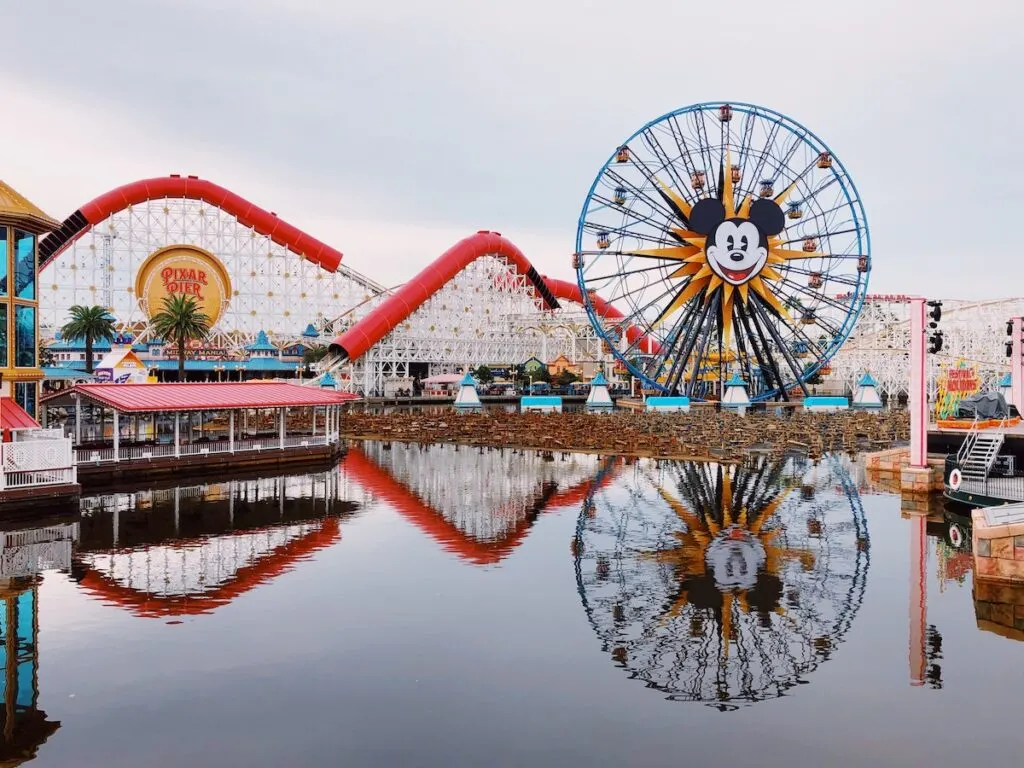 When people think of the best honeymoon destinations in California, Disneyland is rarely their first thought. However, if you are a fun-spirited couple who has a love for amusement park rides, fairy tales, and happiness, then Disneyland would be the perfect spot to bond as a newlywed couple.
Located in Anaheim, California, Disneyland is only 33 miles from the Los Angeles International Airport. Depending on traffic, this could take you from 30 minutes to an hour to reach.
Disneyland is actually made up of two parks – Disneyland and Disney California Adventure Park. They are right next to each other. However, each of them offers very different experiences.
Generally speaking, Disneyland offers shows and rides based upon traditional Disney characters and movies, like Cinderella or Toy Story. Meanwhile, Disney California Adventure is newer and focuses on more recent Disney movies and characters like the Avengers and Guardians of the Galaxy.
However, there are exceptions. Both parks are constantly renovating and evolving. For example, Disneyland recently opened a whole new section with rides and experiences dedicated to Star Wars. If either or both of you are fans of Star Wars (and who isn't???), then this would be the ultimate fantasy destination.
No matter what your age, Disneyland can make you feel like a little child again when you see the fun and exciting worlds they have created. That is not to say that the rides are only designed for young children.
Many are thrilling and will take your breath away as well. For those looking for romance, there are plenty of opportunities to cuddle up on scary or thrilling rides, or bundle up together and watch the nightly fireworks. In addition, there are several quiet on-site sit-down restaurants with excellent food and an impressive cocktail and wine list.
As for hotels, you have countless options. You can splurge and stay in the five-star Disney's Grand Californian which allows you to exit the hotel right into the Park. If you want a reasonably priced but high-quality hotel, consider the nearby Hyatt Regency Orange County.
Recommended by Nicole from Go Far Grow Close.
19. San Luis Obispo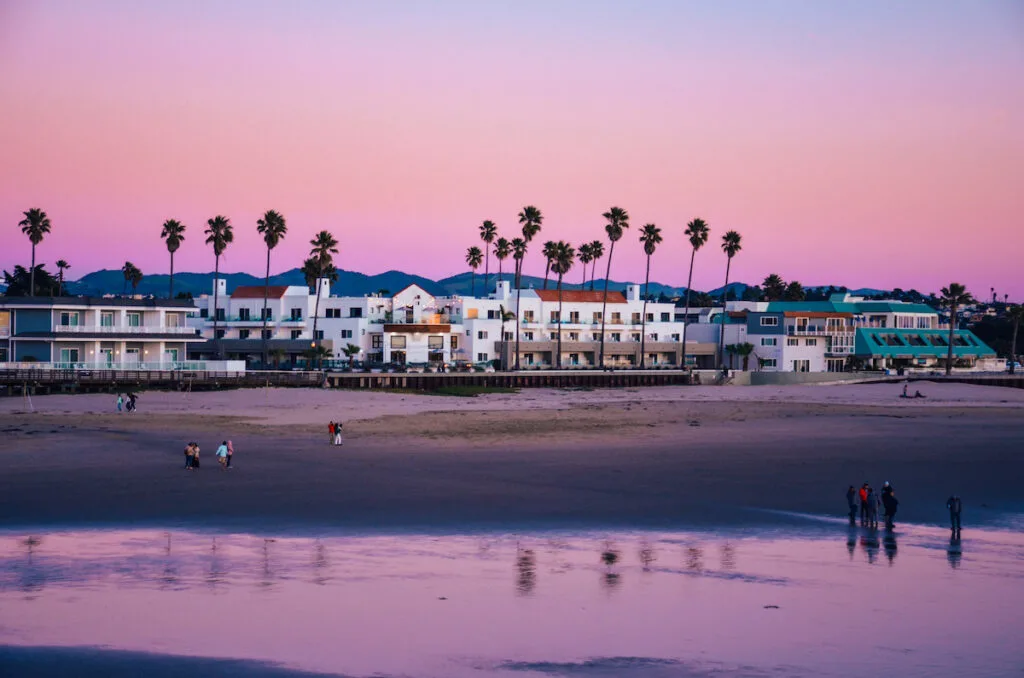 Located between Los Angeles and San Francisco, San Luis Obispo is a hidden gem along the Central California Coast that makes for a perfect honeymoon stop thanks to many outdoor opportunities and plenty of culture.
Start your honeymoon adventure with a tour of San Luis Obispo where you can find Bubblegum Alley, a funky art project in the heart of the city, learn about the history of the area at Mission San Luis Obispo de Tolosa, and grab delicious fresh produce at the farmer's market.
San Luis Obispo is located close to some of the best beaches in Central California. After enjoying downtown San Luis Obispo head to Pismo Beach or Shell Beach for a relaxed day along the sandy shores!
The area also boasts some incredible hikes. San Luis Obispo is surrounded by the Nine Sisters, a chain of dormant volcanoes that offer a great opportunity for hiking and mountain biking.
One of the most iconic nine sisters is the Morro Rock, a spectacular rock formation along the Pacific Coast in the town of Morro Bay.
For a day trip, head to Paso Robles, a charming town in the heart of Central California's wine country where you can sample local wine amid the green rolling hills. This is one of the most romantic things to do in San Luis Obispo thanks to plenty of nature and fewer visitors compared to some of the most popular wine destinations in California.
For an unforgettable honeymoon stay, book Madonna Inn, one of the most iconic hotels in San Luis Obispo that has become famous for its whimsical designs, delicious champagne cakes, and fascinating history.
Recommended by Daria from The Discovery Nut.
20. Monterey & Big Sur Honeymoon Ideas in California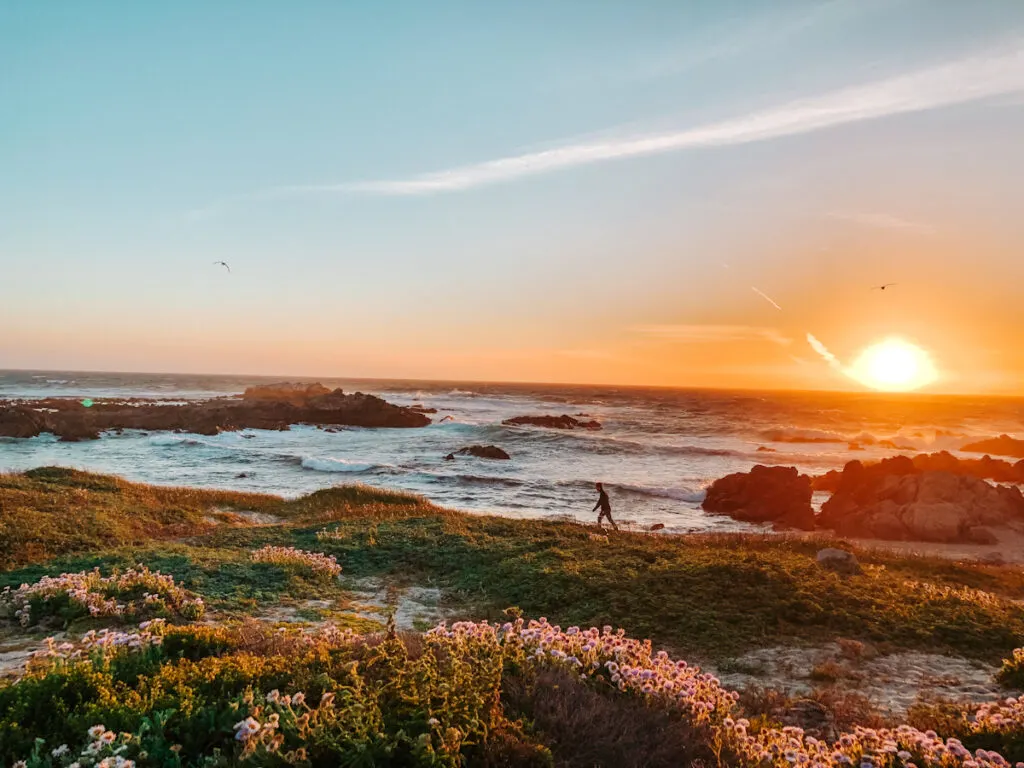 If you are planning a honeymoon on the Central Coast of California, look no further than the majestic Monterey and Big Sur. A perfect mix of stunning nature, epic adventure, and luxurious city life awaits you.
Monterey is a perfect-sized town with a mix of old-fashioned charm and contemporary luxury.
There is a range of accommodations to fit your style from boutique B&Bs in renovated Victorian mansions (Old Monterey Inn or Seven Gables Inn), to 5-star resorts like Casa Palmero at Pebble Beach or Carmel Valley Ranch Resort.
Check out the world-class Monterey Aquarium and Cannery Row. Then, rent kayaks and explore the bay.
Monterey is filled with quaint, historic architecture and restaurants featuring some of the best wines in the world. Pierce Ranch Vineyards Tasting Room is a favorite!
Rent a car to explore the spectacular coastline of Big Sur. See the lighthouse in Pacific Grove. Grab a picnic and head down the breathtaking 17-mile drive or hike around Point Lobos State Natural Reserve to China Cove. You'll spot dozens of sunbathing (and noisy) sea lions, adorable sea otters, and black cormorants roosting.
Drive further south toward Big Sur, winding along one of the most legendary highways (Highway 1) offering epic views. Choose from many beautiful hikes along Highway 1. One of our favorites is the short McWay Waterfall Trail and the nearby Ewoldsen Trail through the redwoods.
After a long day of hiking, stop at Nepenthe restaurant for stunning views right before sunset. You may even spot whales! Watch the stars and enjoy the fire there. Soak in the hot tubs at Esalen Institute Hot Springs, Big Sur.
If you're looking for the perfect honeymoon filled with epic nature, adventure, luxury, and delicious food and wine come to Monterey and Big Sur!
Recommended by Cassie & Nate from Native Nomads.
21. Point Reyes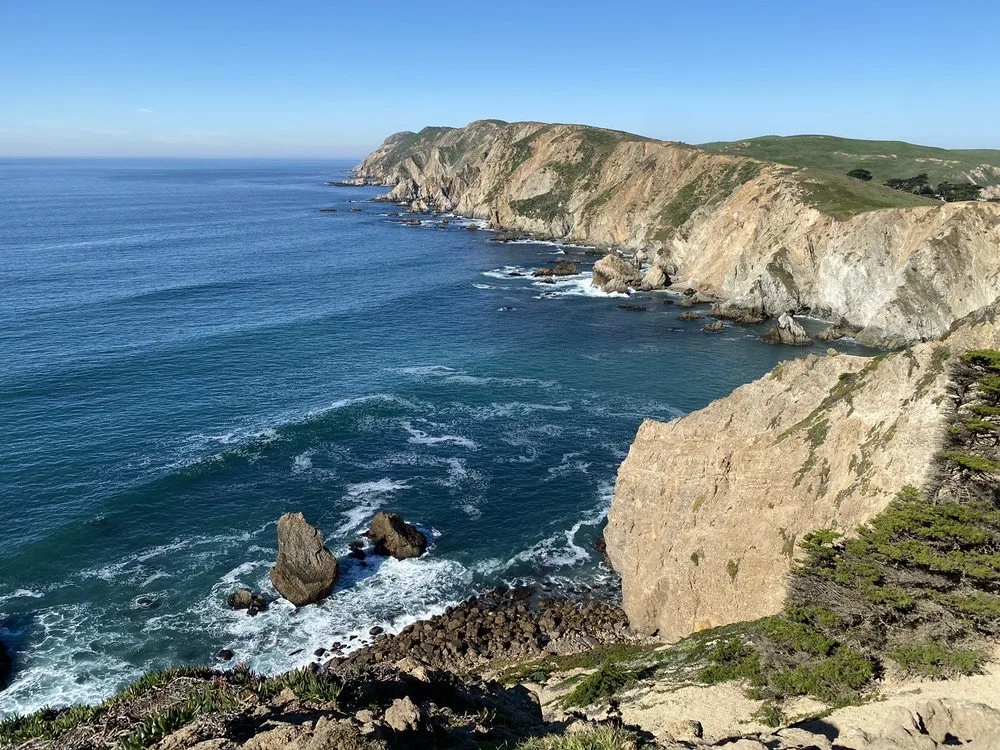 Located just one hour north of San Francisco, Point Reyes National Seashore is a hidden gem in California that offers visitors amazing scenic views of shorelines, coastal bluffs, picturesque hikes, colorful wildflowers, and a wide array of outdoor activities.
The quiet trails, less crowded beaches, relaxing weather, and surrounding scenic views make it one of the best northern California honeymoon destinations.
The best time to visit Point Reyes is September to November when the fog is less and the sky remains clear and sunny. If you want to see the migration of the Grey Whale, Mid-January to April is the best time to visit.
Exploring the hiking trails is one of the best things to do in Point Reyes for couples. While Estero Trail is the easiest walk through coastal grassland, the 1.6-mile round trip of Chimney Rock Trail offers the best coastal views and amazing scenery.
Lupines, California poppies, paintbrushes, iris, goldfields, and monkeyflower – you can enjoy the abundance of these wildflowers on this trail from the month of April to August.
Couples should not miss the Cypress Tree Tunnel in Point Reyes. These trees were planted in 1930 along the road toward the historic Maritime Radio Receiving Station. As no parking is allowed along the tree tunnel, you can take amazing pictures in this most photographed spot.
It is recommended to come here in the morning when the sunlight streams through the branches of the trees for the best photo op.
The Point Reyes Lighthouse is another hotspot in the Point Reyes area. This lighthouse was built in 1870, but now it is fully automated and still working. You have to climb down 313 steps to access this beautiful lighthouse. The observation deck is located at the top from where you can take amazing shots of the lighthouse. You can watch migrating whales from the top if you are lucky.
You can stay at Nick's Cove if you plan to stay overnight at Point Reyes. It is located along Tomales Bay in Marshall and offers free WiFi and all the basic amenities.
Recommended by Trijit from Budget Travel Buff.
22. Mendocino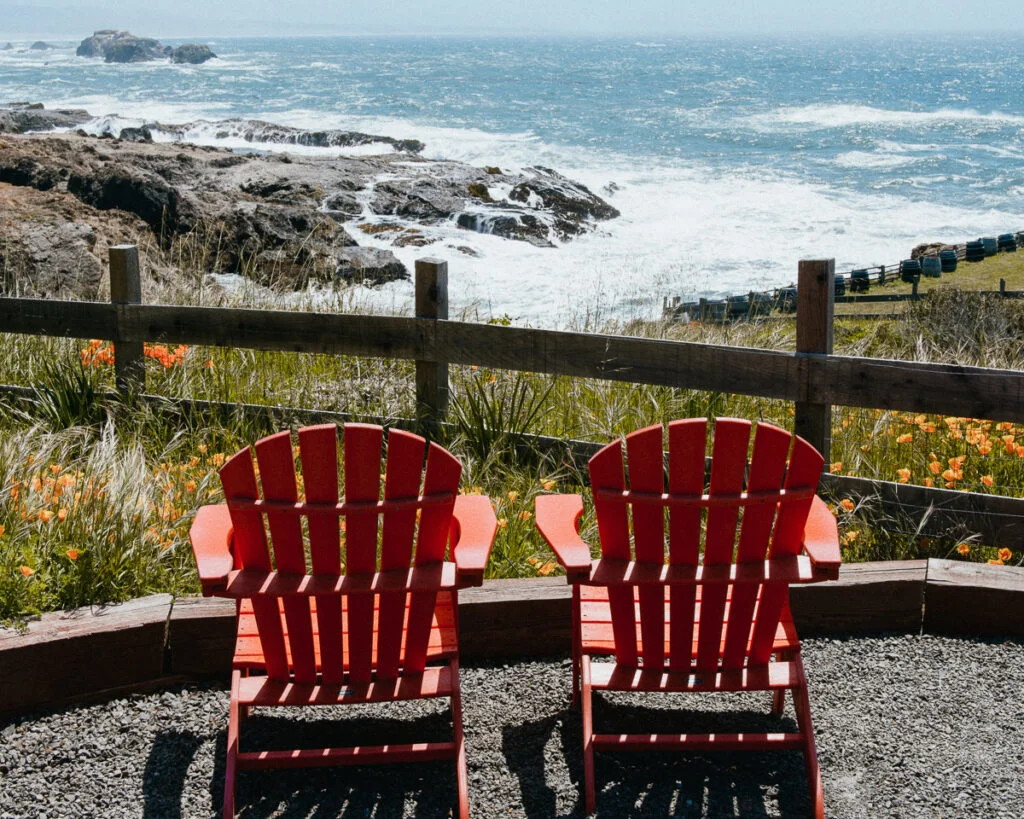 A honeymoon on the Mendocino Coastline is the perfect location to enjoy a mixture of romance, adventure, and relaxation. Nestle into one of the charming local inn's with your sweetie and enjoy the slower-paced life that the North Coast has to offer for honeymooners.
Mendocino is one of the best places to visit in California for a honeymoon because it has the best of both worlds for nature-loving couples, with both the ocean and the forest available to explore. The town itself is small, and removed from the rest of the world, giving couples some much-needed privacy.
Popular activities for couples include exploring wine country, visiting State Parks, horseback riding on the beach, and riding the Skunk Train through the forest. An all-time favorite is a visit to the Pacific Star Winery, which resides on a coastal bluff and is easily one of the most stunning and romantic wineries in California!
Couples can find smaller luxury resorts with stunning ocean views to call home such as Albion River Inn, Heritage House Resort, and Brewery Gulch Inn. Most Inns & BnBs in Mendocino are very cozy and homey and have on-site dining.
After a day of being in nature, couples can explore the food and wine scene of Mendocino, which is actually quite refined and elegant, so bring a nice outfit to enjoy a romantic dinner together.
Recommended by Britt from Britts Bella Vita.
23. Laguna Beach is One of the Best Honeymoon Locations in California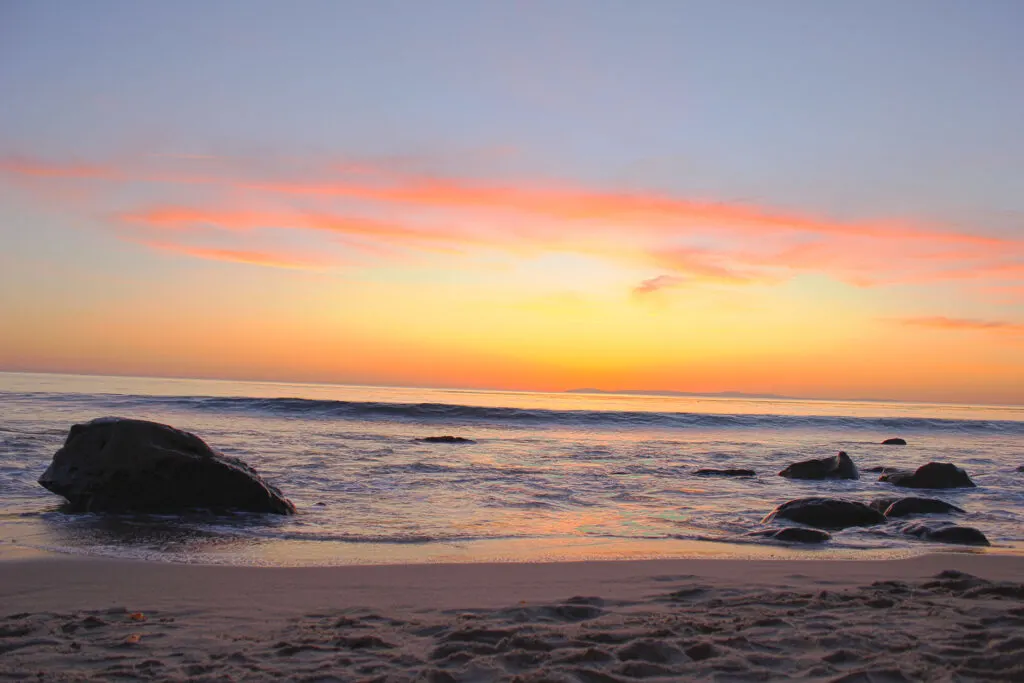 Once the wedding is over, many couples look forward to celebrating their newlywed status on their honeymoon. That's why picking the perfect honeymoon location in California is so crucial.
It's a spot that will forever be engrained in your hearts. Laguna Beach is one of the best honeymoon places in California. From iconic hotels to beautiful beaches and beachside dining, you're sure to keep the flame burning in Laguna Beach.
The Montage Resort is one of the most beautiful resorts anywhere in the world. Why not start your life together at the perfect hotel?
This beachfront sanctuary provides stunning views of two outdoor pool decks and the California coast. It's the ideal place to watch the sunset or relax with a couples massage in the 20,000-square-foot spa.
Main Beach Park offers a beautiful spot for photos at the famous lifeguard tower or on the boardwalk, and it's a short walk to unique restaurants and shops. From Main Beach, make your way to The Deck on Laguna Beach.
The location, the sounds, the presentation, the service, the pairings, and the flavor all come together to create the ultimate dining experience. The Deck is a unique oceanfront dining experience that specializes in fresh seafood and creative cocktails served just a few feet from the sand.
As an extra special treat, if your honeymoon is in July or August, you can experience the Sawdust Art Festival, one of the country's top festivals.
The outdoor village located in the heart of Laguna Canyon invites visitors to shop unique artwork in a wide range of media, and enjoy live music on three stages, roaming entertainment, daily art demonstrations, and a variety of food and drink offerings.
Laguna Beach's breathtaking vistas and soft ocean breeze provide a romantic honeymoon setting you will cherish for a lifetime.
Recommended by Lesley from Bucket List Publications.
24. Best Honeymoon Spots in California: Catalina Island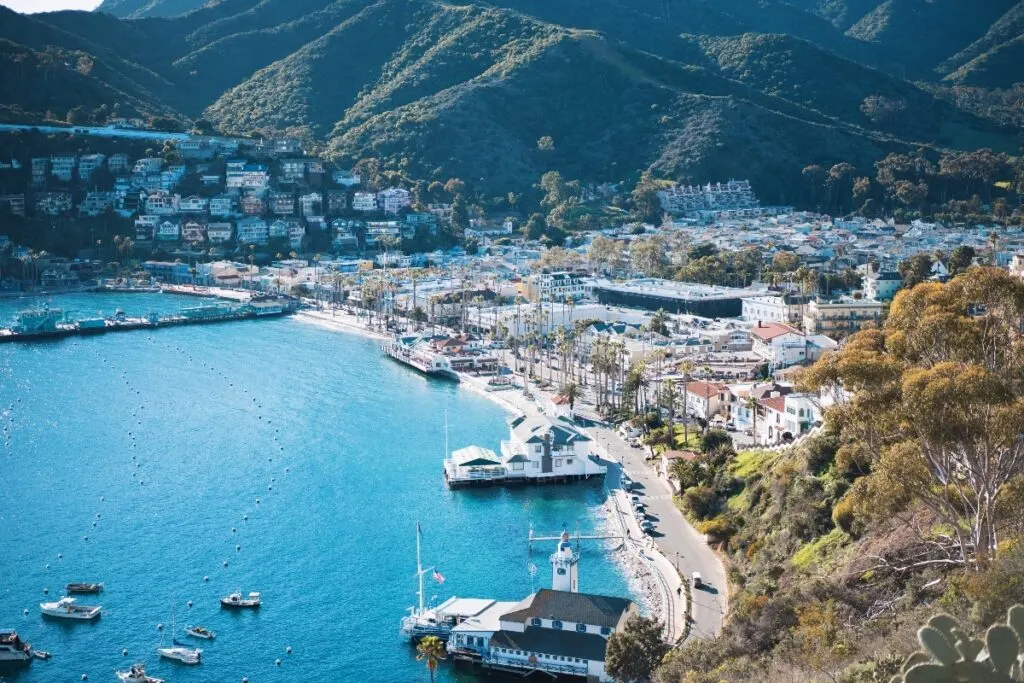 Being on Catalina Island feels like you're in an entirely separate, secluded location from California and makes for the perfect romantic honeymoon getaway. With gorgeous beaches and stunning nature, exquisite dining options, and plenty of couple's activities and adventures, you can't go wrong with a honeymoon on this island.
Whether you arrive by boat or by helicopter, your honeymoon will be incredible from the very start.
Known as the "Island of Romance", the main town of Avalon has a unique Mediterranean romantic charm to it. Avalon features several intimate restaurants to dine in (often with ocean views) such as Bluewater Avalon or The Harbor Reef.
The waterfront hotels of Hotel Atwater, Pavilion Hotel, and Hotel Metropole all offer romance honeymoon packages with various offerings from a helicopter tour of the island to champagne gift baskets and breakfast in bed. All three hotels have exceptional service and nearby attractions, so enjoy a toast before exploring the island!
Romantic activities on Catalina Island include getting a couple's massage at the Island Breeze Spa, taking a bike ride around the island to soak in nature, or cozying up together in a Cabana at Descanso Beach. There are some fantastic golf courses on the island, or you can take some time to explore the art, museums, and shopping.
For more adventurous couples, there is no shortage of ocean activities to try such as snorkeling, ocean kayaking, jet-skiing, or scuba diving. Or, if you prefer to stay on land, parasailing and ziplining are great options too.
Recommended by Janelle from Make The Trip Matter.
25. Palm Springs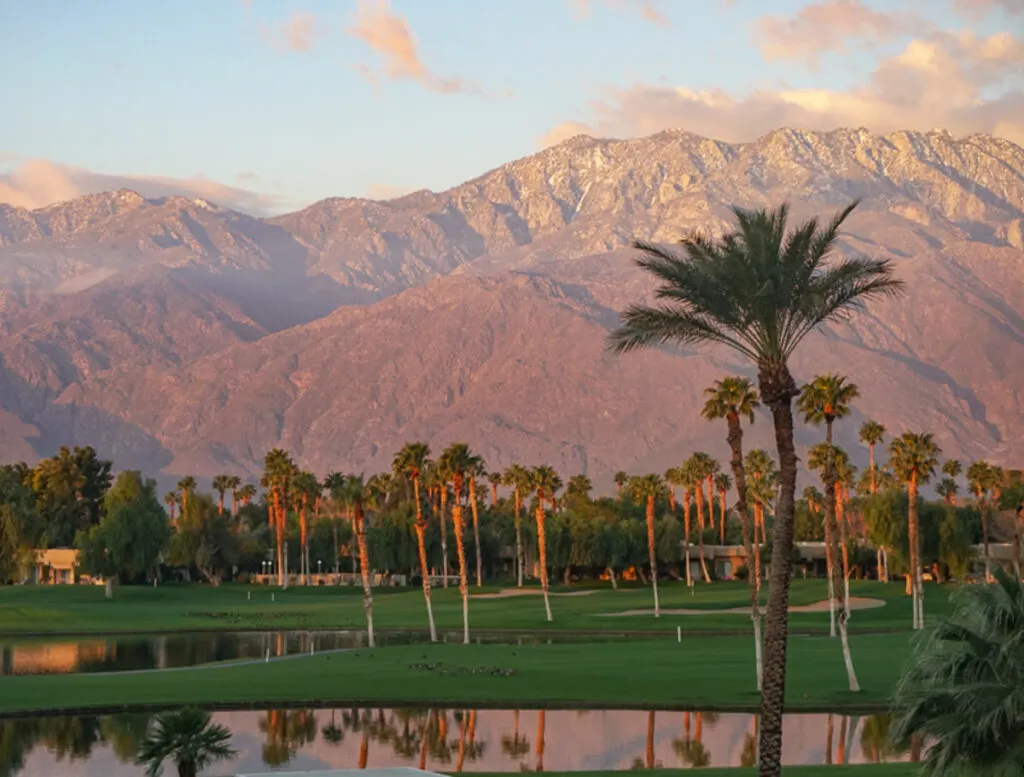 Considering a California honeymoon? Palm Springs is in Southern California and is considered the gateway to the California desert, making it a wonderful honeymoon destination. Its stunning resorts, many with luxurious pools, decadent spas, and an on-point dining scene make Palm Springs the perfect romantic getaway.
Among the many things to do in Palm Springs, simply relaxing in a world-class resort should be paramount. La Quinta Resort & Club, in the Greater Palm Springs area, offers more than three dozen pools, including suites with private pools and spas. What could be more dreamy on your California honeymoon?
Plan a pampering couples spa day. Many resort spas offer day treatments including the Yacht Club Spa at Parker Hotel right in downtown Palm Springs.
Take the aerial tramway to the top of Mount Jacinto for sensational views over the desert floor. If you want to be active on your honeymoon, consider a hike in one of the nearby oases. Or do the scenic Palms To Pines drive. In nearby Rancho Mirage, a stroll through Sunnyland Gardens makes for a pleasant excursion.
Palm Canyon Drive in downtown Palm Springs is great to spend the evenings. The road makes for a lively walk, with the palm trees on either side twinkling with lights.
There are numerous quality restaurants in downtown Palm Springs, but Workshop Kitchen + Bar is a must-visit. They offer farm-to-fork California cuisine, and every mouthful will make you sigh in bliss. Make reservations well ahead of time!
Recommended by Dhara from Roadtripping California.
These are easily the best honeymoon ideas in Calfornia, ranging from deserts to beaches to national parks and even exciting cities! Which romantic honeymoon destinations in California would you most like to visit?
Want more honeymoon ideas? Check these posts out!
Pin it here!