Some posts on this site contain affiliate links, meaning if you book or buy something through one of these links, I may earn a small commission (at no additional cost to you!). Read the full disclosure policy here.
---
A national park honeymoon is truly a unique idea for lovers of nature and adventure alike!
Picture waking up to jaw-droppingly beautiful mountain views, cuddling under dark night skies where the stars shine brighter, and unique wildlife spotting that you just can't get anywhere else. A national park honeymoon offers this and so much more!
National parks definitely make the list for amazing US honeymoon destinations, but this list is all about our great parks here in the US and why you should choose them specifically for your honeymoon!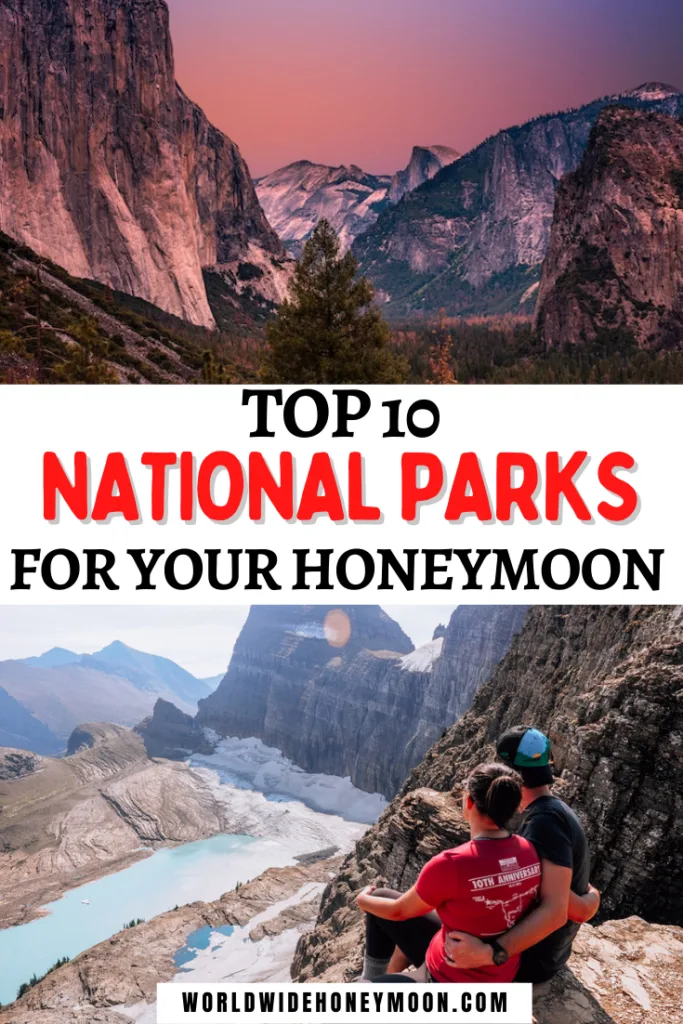 10 Most Romantic National Park Honeymoon Destinations
Whether you want to go on adventurous hikes, see incredible wildlife, or even see stunning views, these are the 10 most romantic national parks for your honeymoon!
1. A Yellowstone Honeymoon is Super Dreamy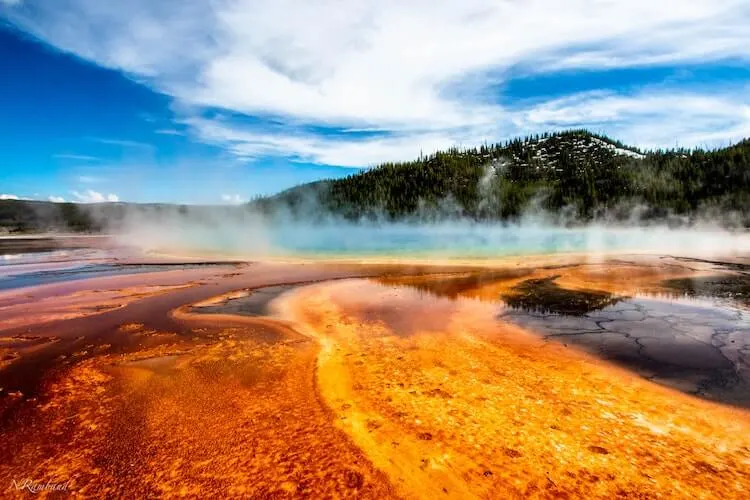 Yellowstone National Park is one of a kind. Aside from being the oldest US National Park, it is completely otherworldly and has so much to offer.
We're talking geysers, hot springs, waterfalls, and so much wildlife that are some amazing things to see just in this national park alone.
Seriously, you could spend an entire week here and not see everything. Also, as a bonus, Grand Tetons National Park isn't too far, meaning you could tack that on for even more honeymoon ideas in national parks!
Some things you'll definitely want to see during your Yellowstone honeymoon:
Watch Old Faithful erupt around every 90 minutes
Stand in awe of the Grand Prismatic Spring
Wander around the Upper Geyser Basin for even more geysers
Admire the Grand Canyon of the Yellowstone
Spot bison and other animals in Hayden and Lamar Valleys
Feel as if you're in another world at Mammoth Hot Springs
Warm up in the Boiling River
Get out on Yellowstone Lake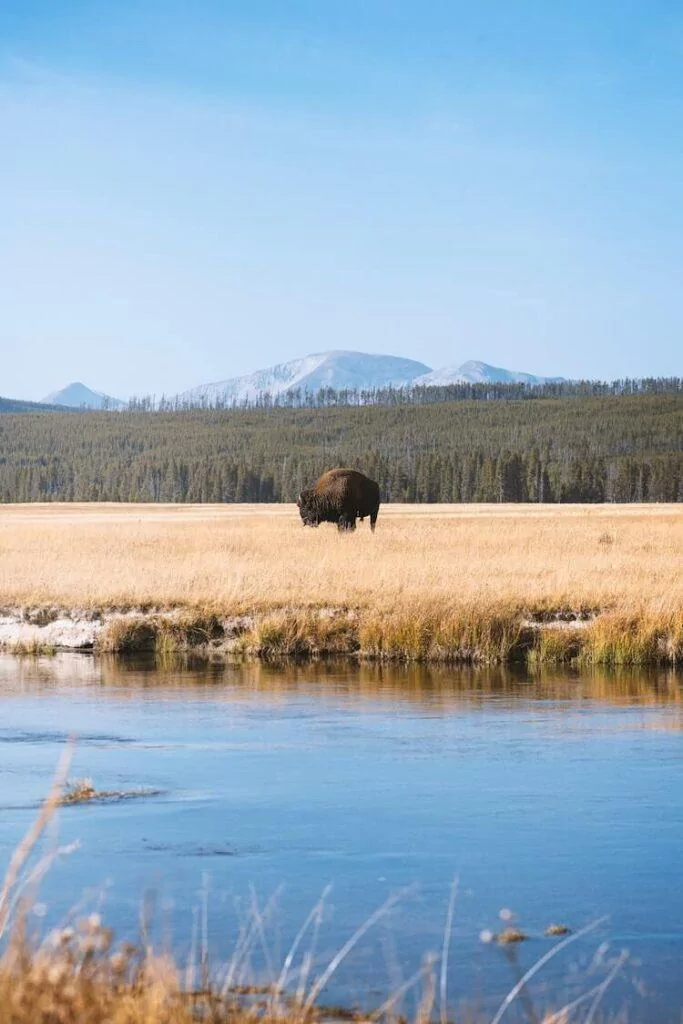 Best Time to Visit Yellowstone for a National Park Honeymoon:
September and early October are great times to visit Yellowstone national park for decent weather, great wildlife watching, and fewer crowds.
The summer is easily the most popular time of year to visit, especially with families. While summer and early fall are both great times for good weather and wildlife, early fall is definitely better for fewer people.
Winter and spring can be quite cold and some roads and things will be closed, so while this will be some of the least busy times of year to visit, you'll need to be flexible in your travel plans.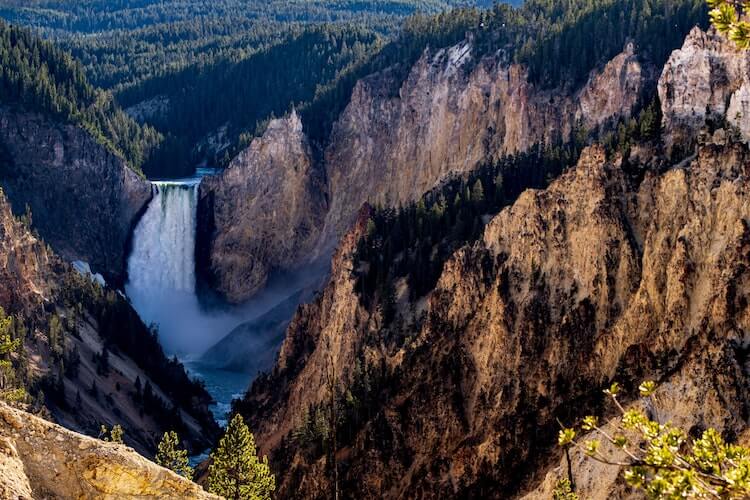 Where to Stay in Yellowstone National Park:
This is entirely up to your budget, but there are ample places to stay in and around the park! Old Faithful Inn is a great spot to stay within the park itself.
To save a bit of cash, I actually recommend staying in a VRBO just outside the park. If you plan to stay in Yellowstone National Park for more than a few days, consider a couple of places outside the park so that you can be closer to various attractions.
This dreamy cabin in West Yellowstone is only 7 miles from the west entrance to the park and this house is in a great location in Gardiner, Montana, near the north entrance to the park.
If you prefer a hotel outside of the park, Yellowstone Park Hotel is perfect for being near the west entrance and The Roosevelt Hotel is in Gardiner in the north!
2. Grand Canyon Honeymoon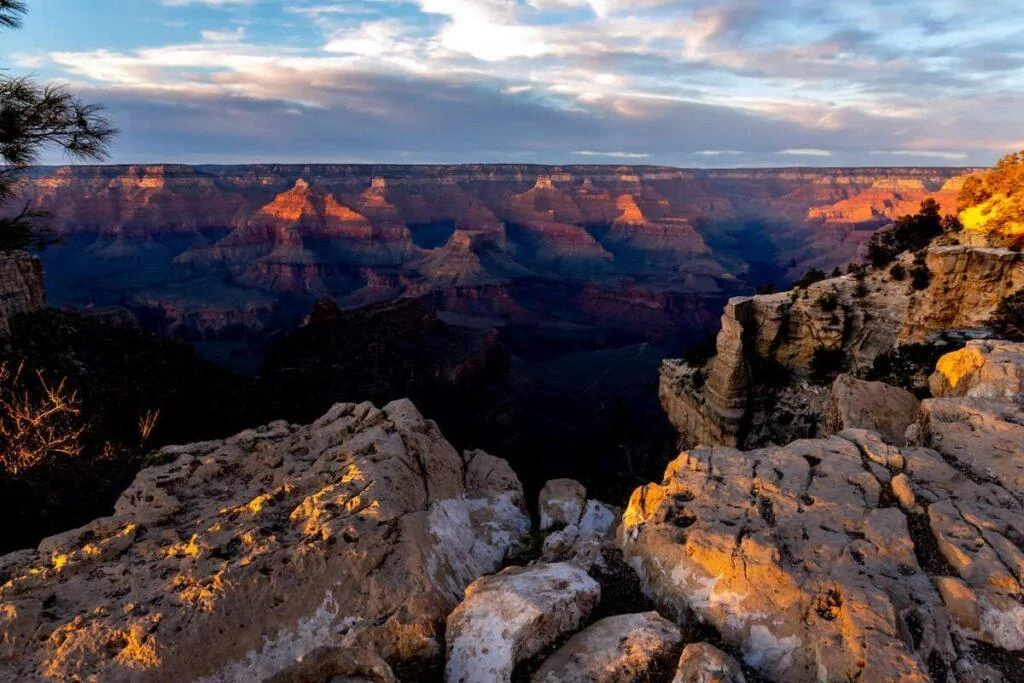 Whether you want to add this to a honeymoon trip to Vegas or you have always dreamed of seeing the Grand Canyon, a honeymoon trip here is ideal.
The views are not only jaw-droppingly beautiful, but they'll make for incredible photos and memories to share together!
This is also a fantastic national park honeymoon destination for adventure seekers whether you prefer to raft on the river or go hiking!
Things to do During Your Grand Canyon honeymoon:
Admire the views from the North and South Rim
Snap photos together at Horseshoe Bend
Take a ride on the Grand Canyon Railway
Walk the Grand Canyon Skywalk
Hit up some of the best hiking trails in the Grand Canyon
Watch an iconic Grand Canyon sunset
Bike the South Rim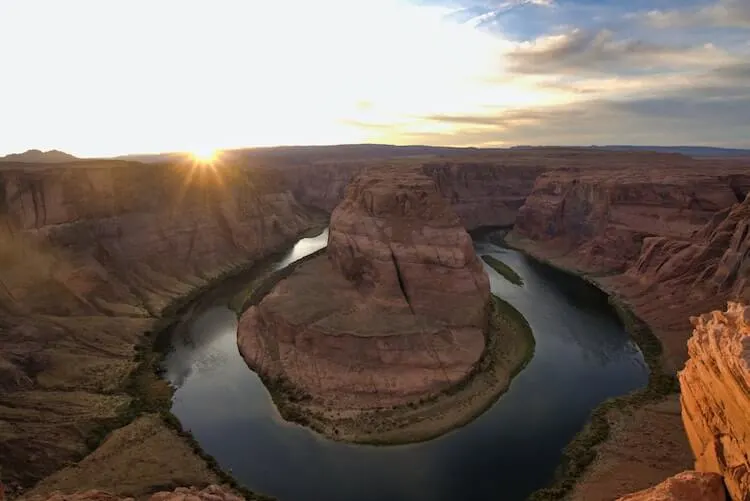 Best Time to Visit the Grand Canyon for Your National Park Honeymoon:
As the North Rim shuts down in the winter months, if you are planning a honeymoon in the Grand Canyon, I don't recommend that time of year.
For good weather and not so crazy crowds, April through May and September and October are ideal times to go. The summer months can be rainy, hot, and full of crowds as families take their vacations during this time.
Where to Stay in Grand Canyon National Park:
If you want amazing views and to stay on the edge of the canyon, opt for the El Tovar Hotel. This is located on the South Rim.
The North Rim also has places to stay including the Grand Canyon Lodge North Rim where you can stay in the lodge or rent cabins!
If you prefer to stay outside of the park and in some luxury, The Grand Hotel at the Grand Canyon located in Tusayan is a lovely spot for couples.
3. Everglades and Dry Tortugas National Park Honeymoon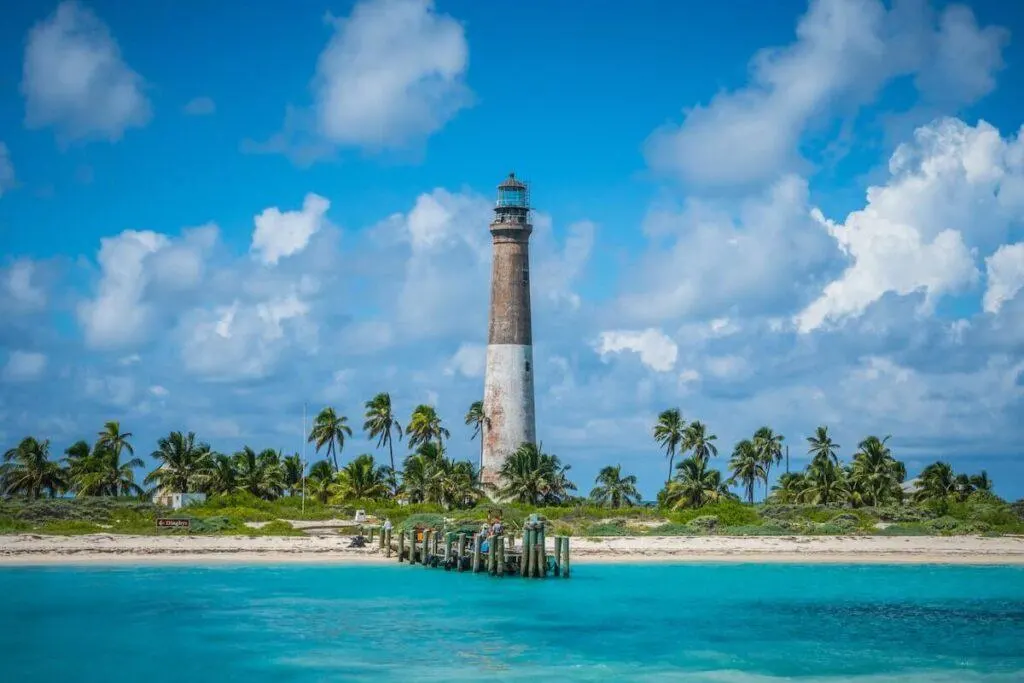 Look, I know these are different national parks, but as they can both be visited on a honeymoon in Florida, I say why not include them together?
Why? Because 1 day is pretty much all you need for the Dry Tortugas. So stay in Key West for a few days and take a catamaran day trip out there before making your way back to the mainland and explore the Everglades!
This combo of national park honeymoon destinations will make for an unforgettable trip!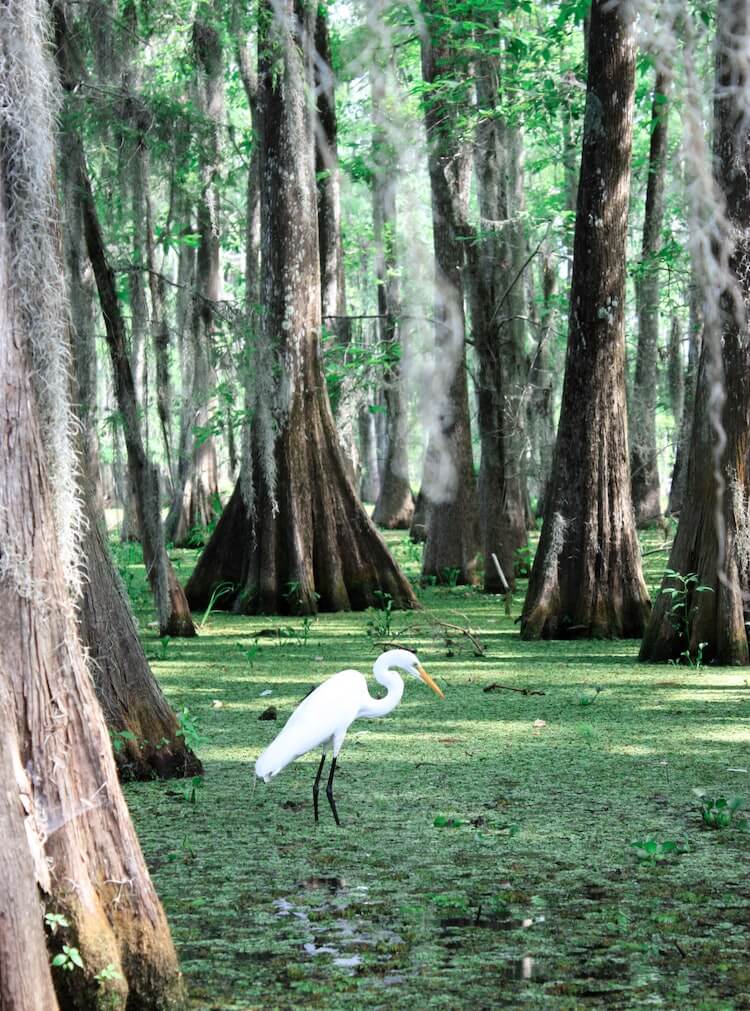 Things to do in the Everglades and Dry Tortugas:
Take a catamaran to the Dry Tortugas on this awesome day trip from Key West and go snorkeling there!
If you're really ambitious, head to Biscayne National Park as well for a day to go kayaking and snorkeling on a tour
Go kayaking or canoeing in Everglades National Park
Take a boat ride to spot wildlife in the Everglades
Go hiking on trails throughout the park like Pinelands Trail, West Lake Trail, and Anhinga Trail in the Everglades
Best Time to Visit the Everglades and Dry Tortugas:
Like the rest of the national parks, the summer months can be quite crowded during summer vacations. However, the best time to actually visit is December through April!
So if you're searching for December honeymoon destinations, a stay in southern Florida and visiting these national parks is a great idea! Just bear in mind that the holiday season can get busy with families traveling.
But traveling outside of hurricane season and when the weather is much more bearable makes December through April a great time to visit.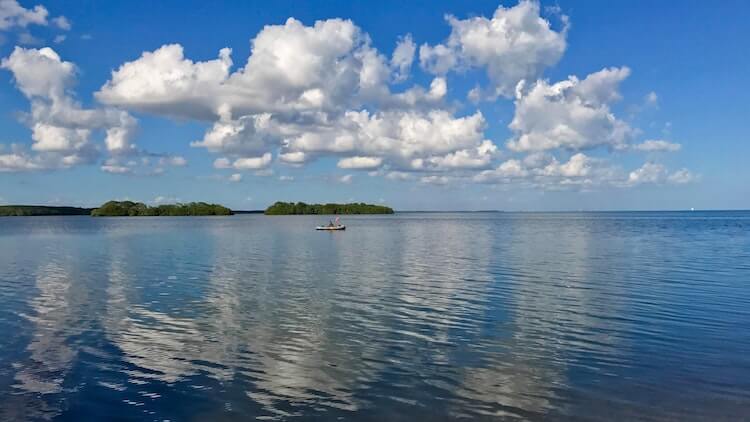 Where to Stay Near the Everglades and Dry Tortugas:
I mentioned before that a stay in Key West is a great idea for a jumping-off point to see the Dry Tortugas. The Southernmost House is a perfect spot for a Key West Honeymoon for its charm and great views!
If you want to add on a visit to Biscayne National Park, then Miami is a great place to stay to be able to reach the Dante Fascell Visitor Center before exploring by boat or taking a snorkel tour. Mr. C Miami-Coconut Grove is a lovely spot to stay!
And for exploring the Everglades, Miami is also an option for your stay. But if you want to be closer to the park, the Hilton Garden Inn Homestead is near the park and very comfortable.
4. Yosemite Honeymoon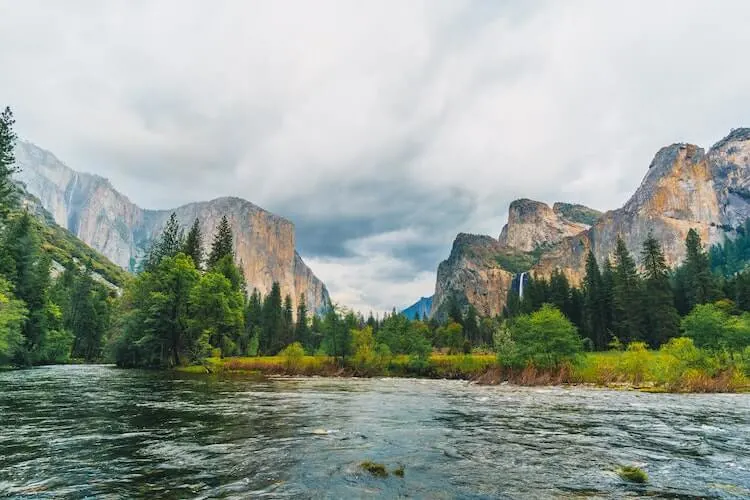 For lovers of hiking, chasing waterfalls, and incredible viewpoints, then a honeymoon in Yosemite National Park in California makes for a romantic start to married life!
California is certainly a popular destination for a US honeymoon, whether that includes a California road trip or a stay in exciting cities like San Diego or cute towns like Solvang. However, there is something about getting in touch with nature in Yosemite.
Fall in love with this unique national park during your honeymoon!
Things to do in Yosemite for a Honeymoon:
Admire Half Dome, or better yet, get a permit to hike it!
Enjoy the scenery around Half Dome, Yosemite Valley, and Yosemite Falls at Glacier Point
Be enchanted by Bridalveil Fall
Visit Mariposa Grove for Giant Sequoia
Trek El Capitan for an intense day hike
Take in the scenery at Tunnel View
Enjoy hikes to Mirror Lake, Vernal Falls, and Cathedral Lakes
Best Time to Go on a Yosemite Honeymoon:
Yosemite has closures in the winter, and if you want good weather, then June through September are great times to visit.
However, like many other national parks in the country, July and August can be very busy months to go with many people taking their summer vacations and families out of school. So to beat the crowds and have good weather, early June and September are fantastic times to visit!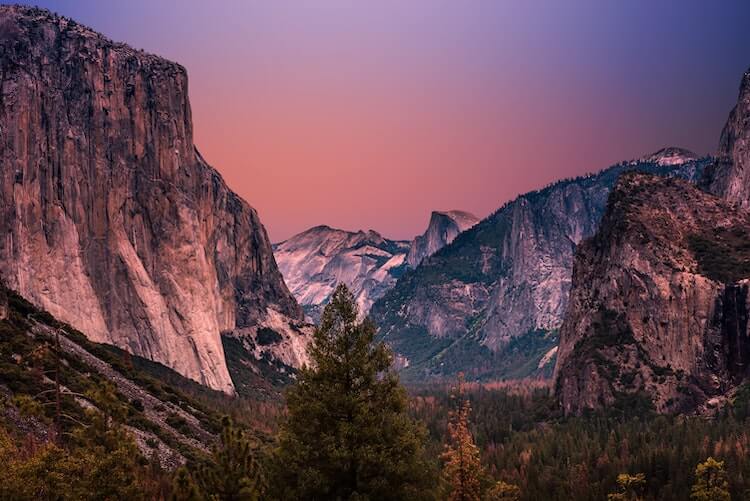 Where to Stay in Yosemite National Park:
Close to major attractions, The Ahwahnee is the place to relax after a day of exploring with its heated swimming pool and afternoon tea.
Yosemite Valley Lodge offers incredible views of Yosemite Falls from the hotel which is awesome, and there are also plenty of incredible VRBOs to rent nearby!
5. Acadia National Park Honeymoon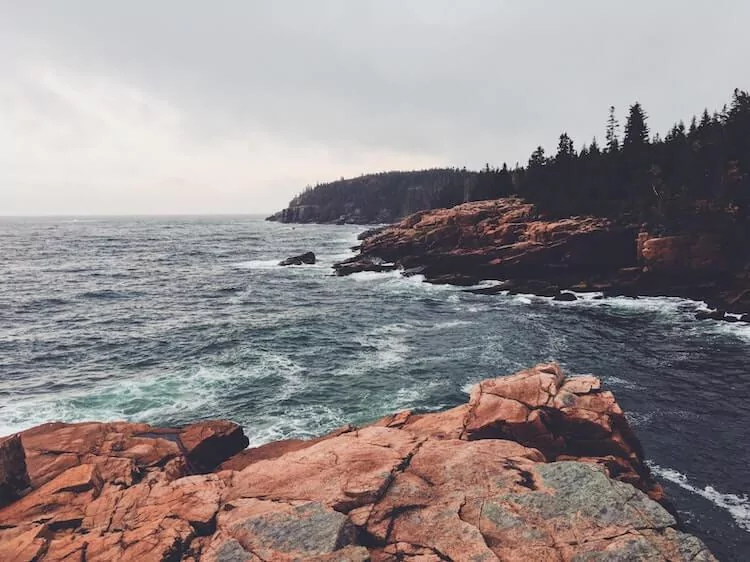 Acadia National Park is full of wonder and delight. With dramatic shorelines, beautiful drives, and lovely mountains, this national park is a great spot to visit in the summer and fall months.
For some crisp evenings and dark sky watching, this is the perfect place for a dreamy honeymoon in a national park!
So if you want to honeymoon in Maine and enjoy a few days in Portland before continuing up to Acadia, these are some great things to do in the national park.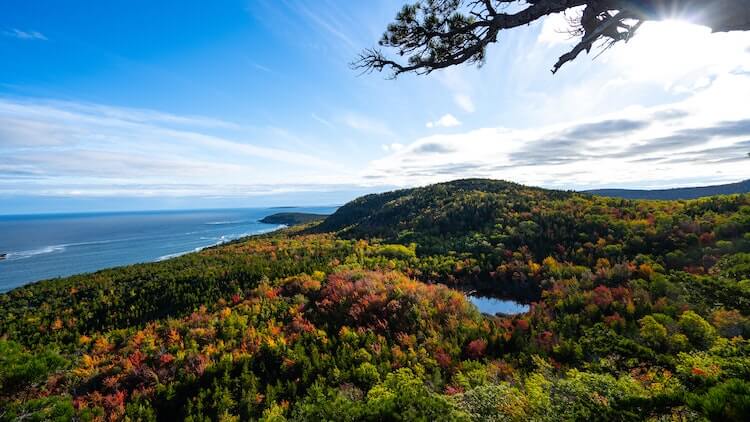 Things to do in Acadia National Park:
Admire a sunrise from Cadillac Mountain
Stare in awe at Thunder Hole as the waves crash in
Take a boat tour of the coast
Explore Bar Harbor
Take a telescope and watch the night sky
Go hiking along popular trails
Admire the fall foliage in the autumn months during your hikes
Best Time to Visit Acadia National Park:
Maine doesn't typically start warming up until June, so expect to see crowds in the national park in the summer. Also, as Maine is a popular autumn destination for fall foliage, there will be people all the way until October too.
If you want fewer crowds, visiting in June and September is a good idea, before the July and August summer crowds visit but also before the leaf peepers take over in late September and early October.
However, if you want to visit during peak foliage, then be prepared for busier trails or get up early to enjoy the park!
Where to Stay in Acadia National Park:
Bar Harbor is a great place to base yourself for an Acadia National Park honeymoon.
Bar Harbor Inn and Spa is a dreamy and romantic place to stay that features beautiful views of Frenchman Bay. Thornhedge Inn has quaint rooms and is in a perfect spot to explore Bar Harbor as well.
Asticou Inn, located in Northeast Harbor, is a bit more off-the-beaten-path than the places in Bar Harbor, but no less charming for a visit to Acadia as well!
6. Zion National Park Honeymoon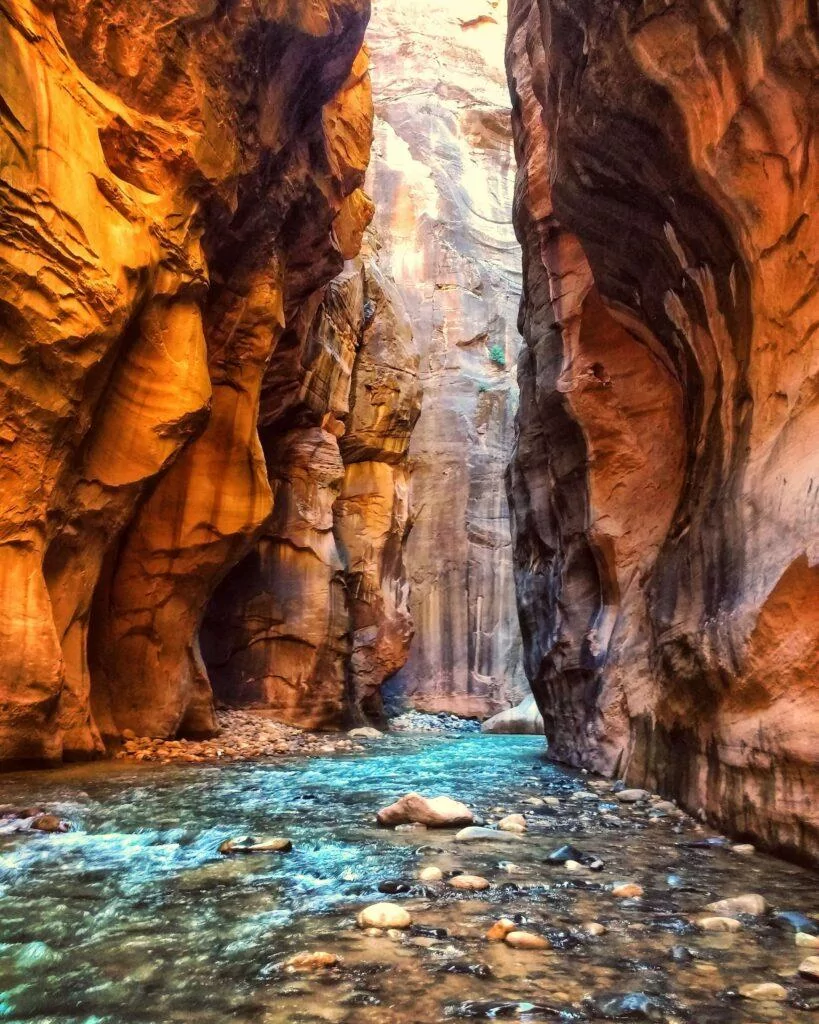 I couldn't write a list of national park honeymoon destinations and not include anything from Utah, right?
With the Mighty 5 national parks, you could easily make this a national park honeymoon road trip! However, if you only have time for one, then Zion is a great national park for a honeymoon.
From the famous Narrows hike to the many other glorious viewpoints throughout the park, a honeymoon here is definitely for those who love a bit of adventure!
Things to do in Zion National Park:
If rock climbing is your thing, this is a great place to do it!
Snag a permit to hike The Narrows
Hike Angel's Landing
Explore the trails around Zion Canyon, Kolob Canyon, Kolob Terrace, East Rim, and the Southwest Desert…seriously, there are so many hiking trails
Visit the Pine Creek Gorge Slot Canyon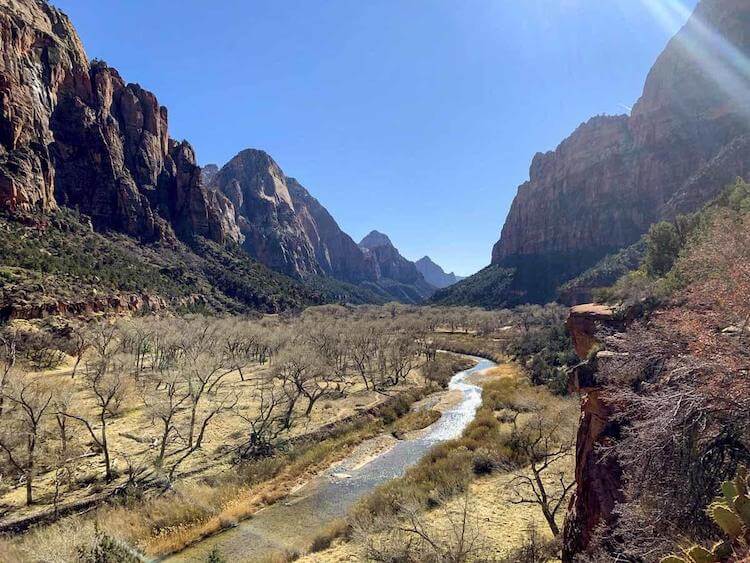 Best Time to Visit Zion National Park:
May through November is best for a visit to Zion National Park. However, to avoid the crowds, May and June and September and October are lovely times to head into the park.
Because of the increased levels of the river in the spring, hiking the Narrows isn't a good idea at that time. Neither is hiking it in the fall and winter months as it can be cold. So summer is a better time of year to visit if you want to do that.
July and August are definitely more crowded and can be very hot. So avoiding the hottest months of the year is a good idea.
Overall, May and September seem to be better months to enjoy Zion National Park for hiking and avoiding the more intense heat and crowds in July and August. Just be mindful, that yes, even those months can be unbearably hot. So be prepared and hike earlier in the day with loads of water.
Where to Stay in Zion National Park:
The only in-park lodging is Zion National Park Lodge. This place has stunning views of the park and is obviously in an optimal location for exploring during your time there!
Desert Pearl Inn is a great choice outside of the park with lovely views, is next to the Virgin River, and is less than a mile from the park.
Lastly, Springhill Suites by Marriott Springdale Zion offers a lovely pool, spacious rooms, and views of Zion Canyon.
7. Glacier National Park Honeymoon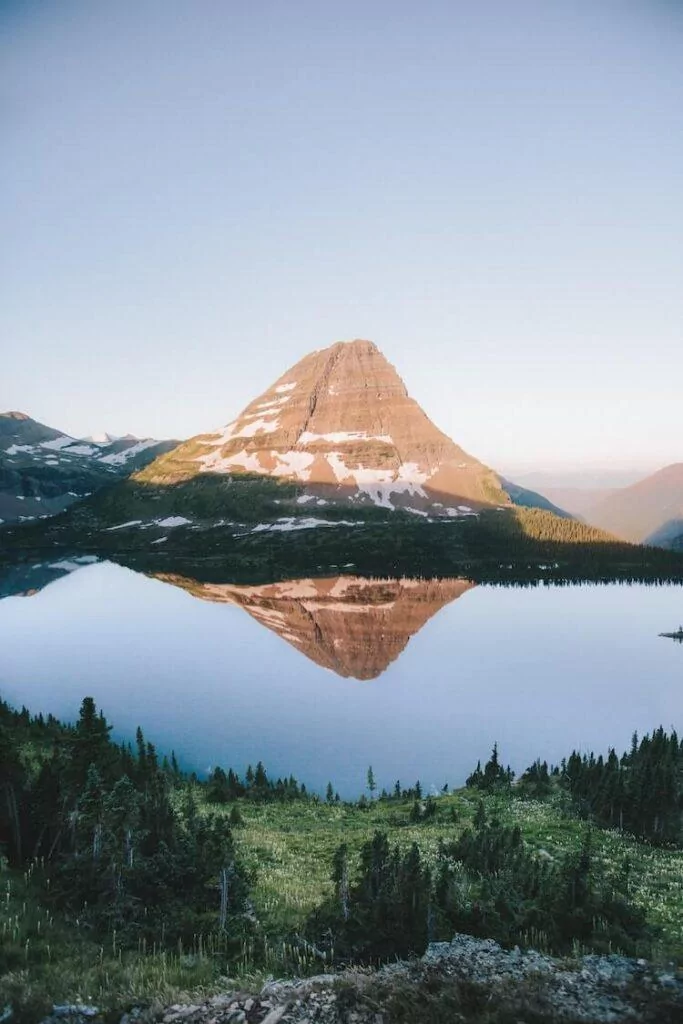 A Glacier National Park honeymoon will easily keep you occupied! This national park is large and expands all the way into Canada where it is known as Waterton Lakes National Park!
A full week is a good amount of time to spend in Glacier, but you could hit up many of the highlights in a few days if needed.
Full of glacial lakes, mountains, and wildlife, a stay in Glacier will surely make your honeymoon full of adventure and romance!
Things to do in Glacier National Park:
Drive the famous Going-to-the-Sun-Road. Be sure to book a reservation for it if traveling in the summer of 2021!
Watch the sunset at Lake McDonald
Sit under the stars at this International Dark Sky Park
Visit many of the lakes including Lake McDonald, Avalanche Lake, Saint Mary Lake, Two Medicine Lake, Bowman Lake, and more
Go on some incredible hikes like the Highline Trail, Hidden Lake Overlook, and St. Mary and Virginia Falls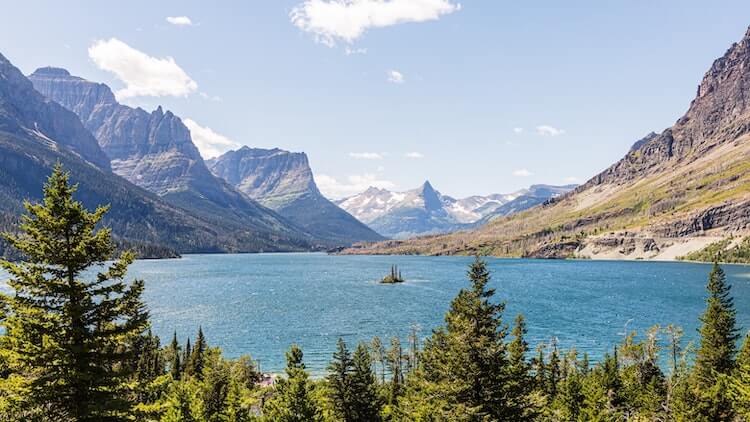 Best Time to Visit Glacier National Park:
With many roads and trails closed in the winter months, I wouldn't recommend that time of year. And, as it is in the mountains and further north, it isn't uncommon for snow to still fall in June and in September!
So Glacier National Park is best visited during mid-June through mid-September for the best weather. However, you'll have more crowds in, you guessed it, July and August. Plan for late June or late August/early September for your Glacier National Park honeymoon for the winning combination of better weather and fewer crowds than peak times.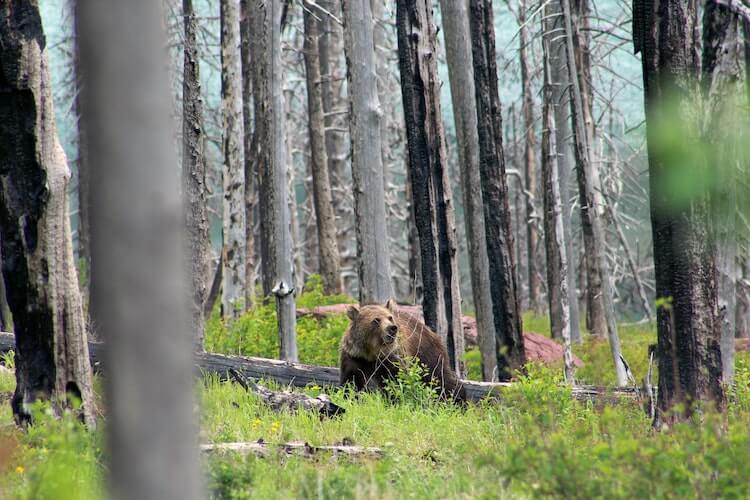 Where to Stay in Glacier National Park:
Lake McDonald Lodge is definitely a popular place to stay in the park and offers stunning mountain and lake views!
Many Glacier Hotel is the largest hotel in the park and also offers amazing views and it looks like a charming alpine lodge.
Honestly, though, as these rooms book up fast, just booking a VRBO or Airbnb just outside the park in West Glacier or Hungry Horse to the western part of the park and St Mary to the east is your best bet!
This adorable cabin is perfect for your stay near Hungry Horse!
8. Hawai'i Volcanoes National Park Honeymoon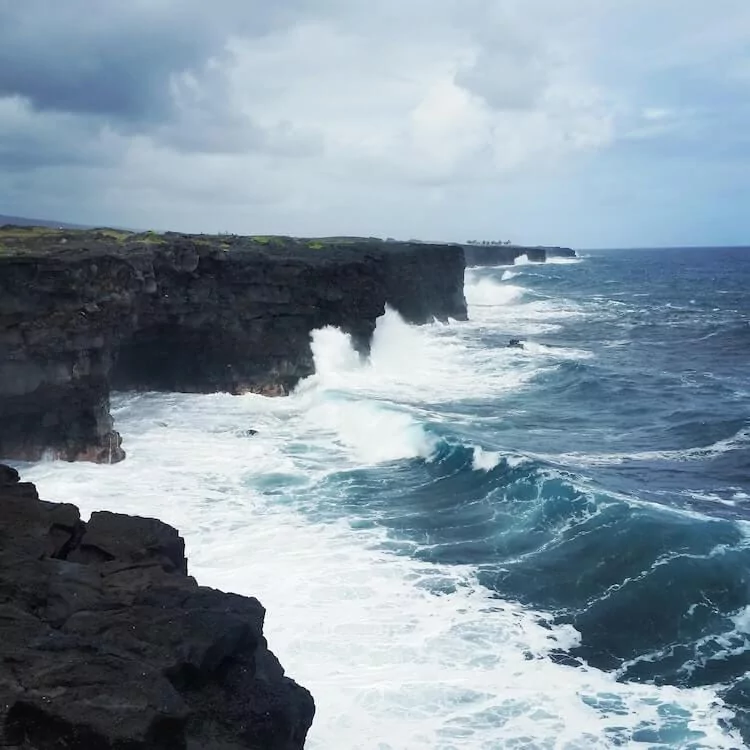 Located on the Island of Hawai'i, or the Big Island, Hawai'i Volcanoes National Park is certainly a bucket list destination!
With 150 miles of hiking trails, plus craters, a tropical rainforest, and volcanoes, you could spend quite a bit of time exploring this epic national park during a Hawai'i honeymoon.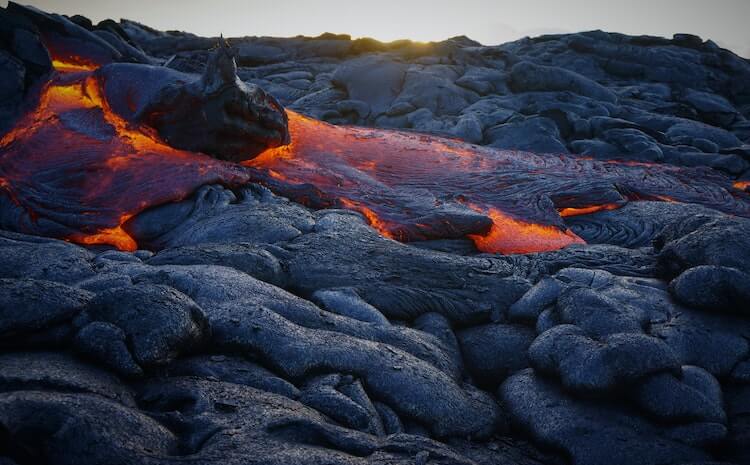 Things to do in Hawai'i Volcanoes National Park:
Walk through a real lava tube at Thurston Lava Tube
Drive the epic Crater Rim Drive
Enjoy breathtaking views from Kilauea Iki Overlook
Take look at Keanakako'i Crater
Take a stroll along Devastation Trail and see life slowly returning to this one destroyed land due to the 1959 eruption
Admire the ancient Pu'u Loa Petroglyphs
Be awe-inspired by the magnificent Holei Sea Arch
Best Time to Visit Hawai'i Volcanoes National Park:
This is definitely a place you could visit year-round, but if you prefer to avoid the wet season, then you may not want to visit during November through March. However, this is prime time for surfing and whale watching. It is also very busy during this time as many people from the mainland come here to escape the cold winters.
Outside of the rainy season, July and August again are pretty crowded, so avoiding those times is a good idea.
Spring and fall are good times to visit for better weather and fewer crowds during your time at Hawai'i Volcanoes National Park.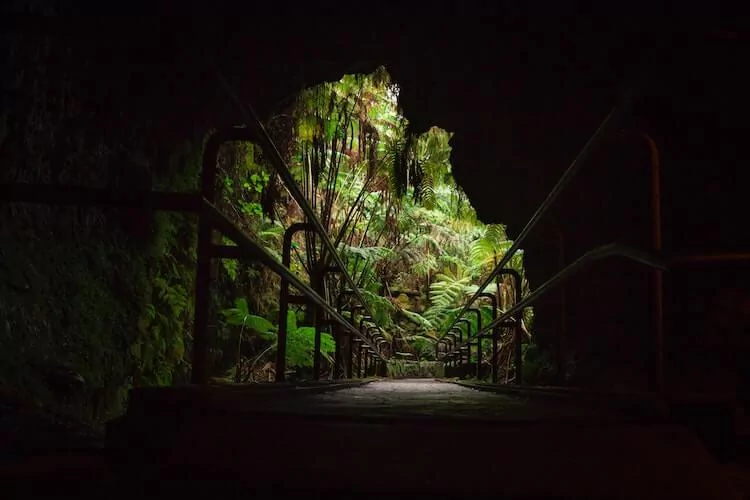 Where to Stay Near Hawai'i Volcanoes National Park:
The towns of Hilo and Kona are great spots to base yourself near Hawai'i Volcanoes National Park if you plan to see and do more than the national park.
If you prefer to stay in the park itself, Volcano House, located on the edge of Kilauea volcano crater is a lovely place to stay with 33 guest rooms, 10 cabins, and 16 campsites.
The Inn at Kulaniapia Falls is only 15 minutes from Hilo and feels like you're in another world completely. Enjoy farm-to-table meals and stunning rooms and cabins that overlook Kulaniapia Falls.
Volcano Rainforest Retreat is another place to get off the grid and enjoy the nature and beauty of Hawai'i around you.
9. Great Smoky Mountains National Park Honeymoon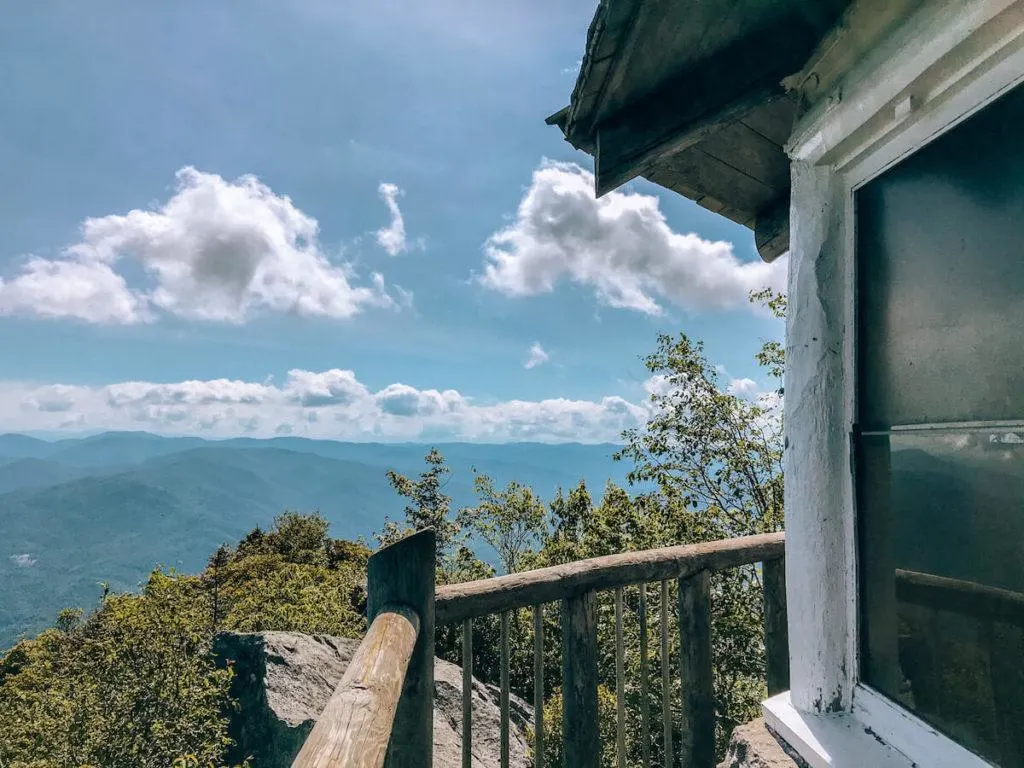 The Great Smoky Mountains National Park is a fantastic place to enjoy a honeymoon! Whether you're searching for Tennessee honeymoon spots or you plan to enjoy scenic hikes (and perhaps spot a black bear!) the Great Smoky Mountains National Park is a fun place for all!
The nation's most visited national park may be crowded in some parts, but as it is so large, you'll find plenty of trails without the crowds. This park has many gems including off-the-beaten-path trails, several beautiful waterfalls, and even a firefly show in the summer!
Whether you have a few days in the Smokies or a full week or more, there is plenty to keep you busy!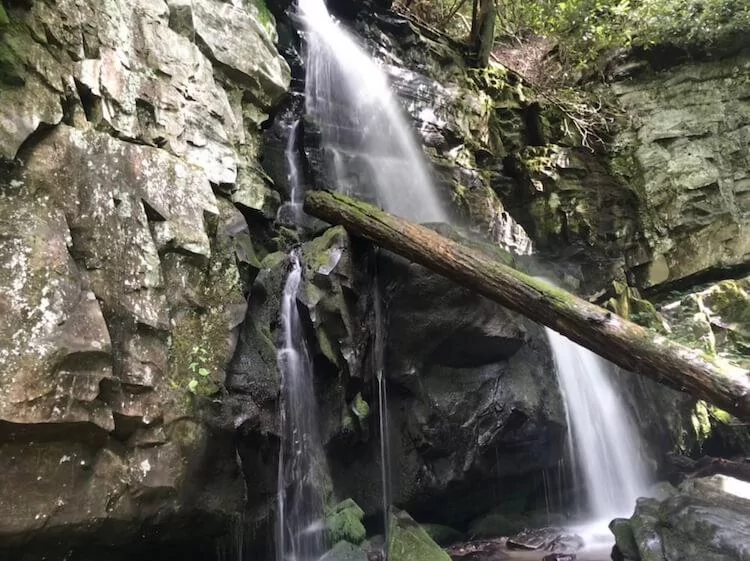 Things to do in the Great Smoky Mountains on a Honeymoon:
Get adventurous on these incredible hikes in the Smokies like Baskin Creek Falls, Mt. Cammerer, Mt. LeConte, and Ramsey Cascades
Enter the Firefly Lottery in the summer to try and see these insects light up the sky!
Enjoy both the Tennessee and North Carolina sides of the park (PS- the North Carolina side is far less crowded!)
Drive, hike, or bike Cades Cove
Head into Gatlinburg, Pigeon Forge, and Sevierville for other attractions like Dollywood and Ripley's Believe It Or Not
Head to Gatlinburg SkyLife Park for scenic mountain views without the hike
Best Time to Visit the Smoky Mountains:
There really isn't a bad time to visit the Smokies. I even have a whole guide to help you decide when to visit!
However, after having visited the Smokies at various times throughout my life, the autumn months are definitely the best. Yes, there will be crowds for fall foliage, but the weather is perfect for hiking and there are fewer bugs.
Plus, there are several harvest festivals and the foliage can't be beat!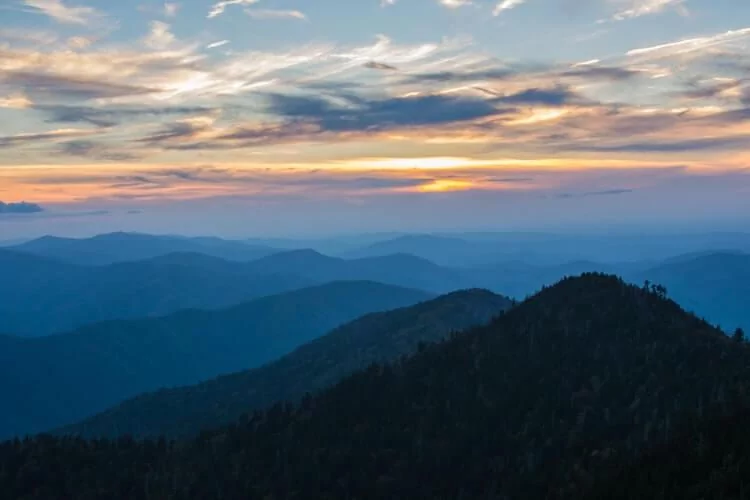 Where to Stay in the Smoky Mountains:
There are so many options for where to stay in the Smokies, and if you prefer a hotel, then The Lodge at Buckberry Creek is super close to the park and offers stunning views of the mountains!
I, for one, highly recommend renting a cozy cabin in the woods. I have a whole guide about the best cabins in the Smokies, but I love this one with incredible views of the mountains and a hot tub on the balcony!
10. Denali National Park Honeymoon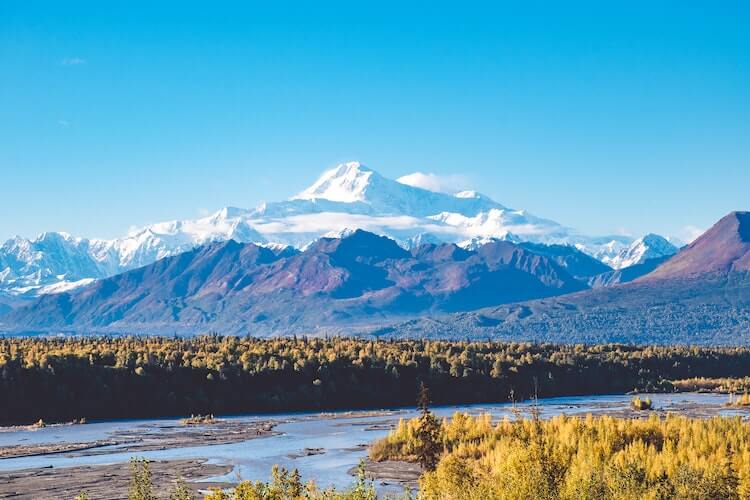 Last, not certainly not least, Denali National Park makes for an ideal honeymoon!
The largest national park on this list, and the 3rd largest national park in the US (hint: the largest national parks are almost all in Alaska), makes for a great stop on either an Alaska honeymoon road trip or on its own!
Admire the nation's largest peak, Mt. Denali, spot wildlife ranging from grizzly bears to moose, and fall in love with the breathtaking scenery in this treasured national park.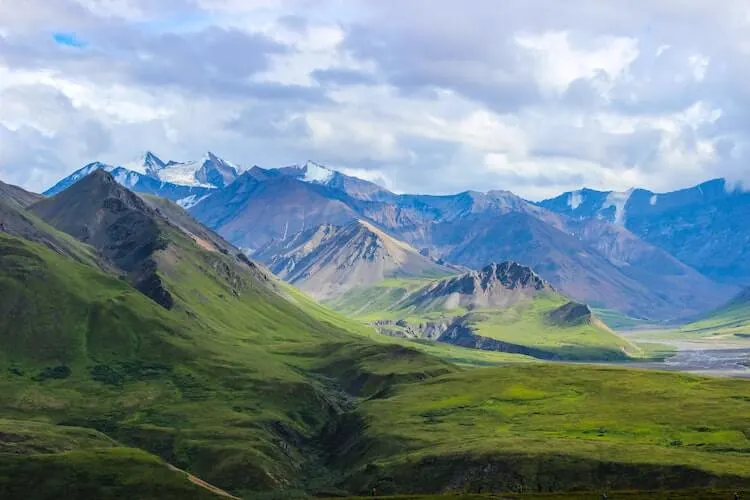 Things to do in Denali National Park:
Go dog sledding in the park thanks to the kennel and working sled dogs on site
Search for wildlife ranging from caribou and bighorn sheep to grizzly bears and wolves
Go on a flightseeing tour to get a bird's eye view of Denali and spot glaciers!
Take a hike, whether you go on a shorter, marked trail near the park entrance or even try off-trail hiking (just be prepared)
Take a bus tour of Denali
Go cycling along the Park Road
Best Time to Visit Denali National Park:
As the lodges and tours mainly operate throughout the summer months, and it is easier to get to this park in the summer, this time of year is definitely more ideal.
July and August are again popular times to visit, but late May through mid-September can be lovely times to go as well before lodges and tours stop running.
If you want to avoid some crowds, then June and early September are ideal times to go, with September giving you some opportunity to spot fall foliage and some snow on the peaks!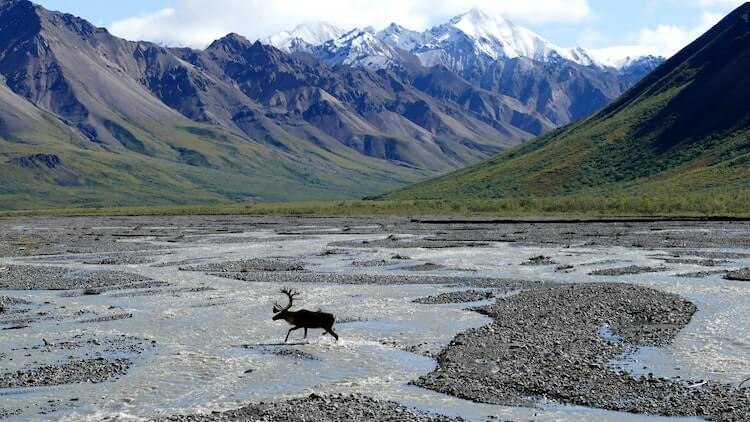 Where to Stay Near Denali National Park:
Lodging can be expensive in Denali National Park, but if you're willing to splurge, Denali Backcountry Lodge sounds rustic but isn't roughing it. They offer 42 private cabins that are cozy and delightful, and they serve fresh Alaskan cuisine for guests!
If you want to save some cash, then staying outside of the park is a good idea. Denali Park Village has several rooms and cabins you can enjoy with views of a spruce forest and the rushing Nenana River.
McKinley Chalet Resort is another great place to stay outside the park and is only 1 mile from the entrance. Enjoy views of Nenana River from this Swiss-inspired chalet.
These are hands down the best national park honeymoon destinations that you'll want to add to your shortlist while planning your wedding. If you're an adventurous loving couple who loves to get into nature, then a national park honeymoon is definitely the way to go!
Which destination would you most like to visit?
Want more honeymoon content? Check these spots out!
Pin it here!