Some posts on this site contain affiliate links, meaning if you book or buy something through one of these links, I may earn a small commission (at no additional cost to you!). Read the full disclosure policy here.
---
A Seattle 3 day itinerary is the perfect amount of time to see the best of this Pacific Northwest city! Seattle is full of adventure from day trips to national parks to exploring the best coffee shops and breweries.
During my trip to Seattle, I absolutely fell in love with the city. I visited during the month of June and actually felt motivated to get up super early to run along the Puget Sound, grab a coffee to start my day, and wander around as the city slowly woke up.
I know…as someone who isn't a morning person, it was an odd feeling. But Seattle has that effect on you.
To make the most of your 3 days in Seattle itinerary, I've got all the expert tips and details to craft the perfect Seattle weekend trip!
Here is a recap of what you'll find in this post:
The Best Seattle Itinerary in 3 Days
With islands, quirky sights, and more, this is hands down the ultimate three days in Seattle itinerary.
Day 1 of Your Three Days in Seattle
To kick off your long weekend trip to Seattle, it's all about seeing some of the most popular sights the city has to offer. We're talking about coffee, a famed market, and the iconic Space Needle.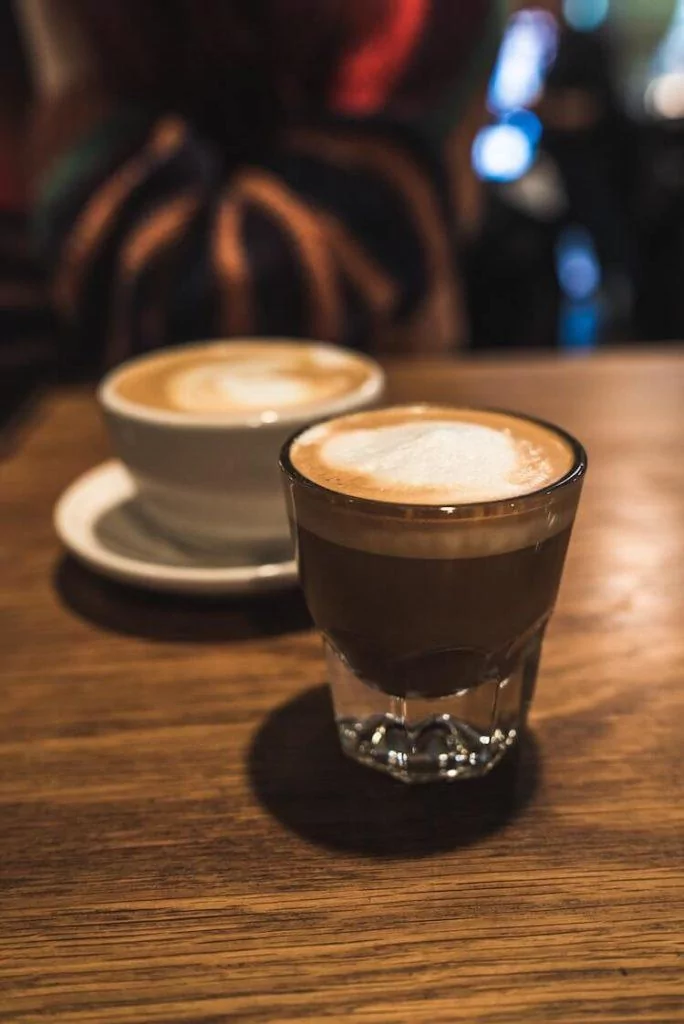 Coffee & Breakfast
Start off your morning with an amazing breakfast at Biscuit Bitch. Okay, I know that biscuits sound more like a southern staple than pacific northwest, but this place is incredible! And that's coming from a southerner.
Grab one of their many biscuit sandwiches such as the Bitchwitch egg and cheese, the Bitchwitch Veggie, the Canadian Bitch (with maple peanut butter and bacon), or even the sweeter Nutty Bitch (with Nutella and banana).
Then head over to Pioneer Square for some famous Seattle coffee. We're not talking about Starbucks here. A place I really enjoyed during my visit to Seattle was Cherry Street Coffee House at their Pioneer Square location. If you go, definitely get a dirty chai latte and thank me later.
Both the coffee and biscuit should fuel you up for the day of sightseeing ahead of you!
Biscuit Bitch Address: 1901 1st Ave, Seattle, WA (in Pike Place Market)
Biscuit Bitch Hours: Daily 8 am-1 pm.
Cherry Street Coffee House Address: 700 1st Ave, Seattle WA
Cherry Street Coffee House Hours: Monday-Friday 7 am-3 pm, Saturday & Sunday 8 am-3 pm.
Pioneer Square and Underground Tour
Pioneer Square is Seattle's first neighborhood dating back to 1852 and well worth your time to visit. Witness Seattle's early history at the small Pioneer Park that has the pergola, a water fountain with a bust of Chief Seattle, as well as a Tlingit totem pole.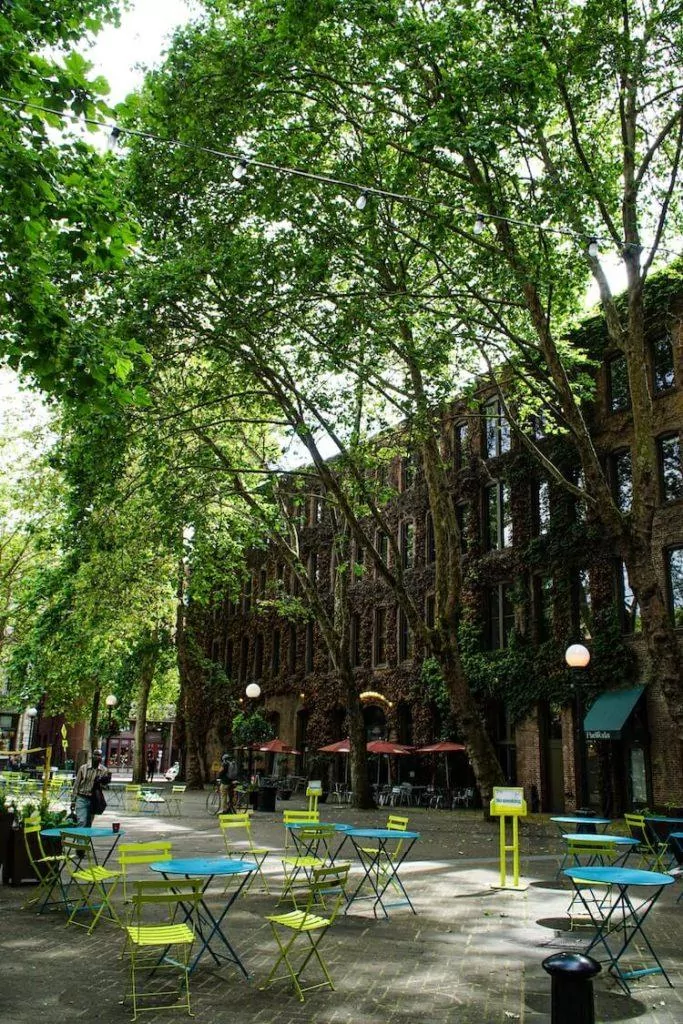 Then, pick up a Trail to Treasure map and learn about the Klondike Gold Rush and even more history of the area as you walk along to the exhibits throughout. Be sure to check out the Klondike Gold Rush National Historical Park and museum while exploring this trail.
There are a few other small parks to enjoy in the area like the City Hall Park, Occidental Square Park with its beautiful wood carvings, totem poles, and shade trees, and Waterfall Garden Park with a hidden 22-foot waterfall.
After taking in the history of Pioneer Square, be sure to check out its modern-day charms from the several murals to its thriving art scene. If you happen to be in Seattle on the first Thursday of the month, you can even enjoy the Art Walk!
This area is fantastic for shopping, art, and history. So it is a must-see during your trip to Seattle.
However, after exploring above ground in Pioneer Square, I recommend doing a tour underground. Get a more detailed history of Seattle including the 1890's architecture, hear stories underneath of Pioneer Square, learn about Seattle's role in the Yukon Gold Rush, the history of Skid Row, and learn about the Coast Salish, a group of indigenous peoples that first resided here.
The great thing about this Seattle Subterranean Walking Tour is that it covers both ground level and underneath of Pioneer Square. So you can get a good feel for the place and its history on this tour. After that, you can explore more of the art galleries and boutique shops before wandering over to the next spot!
Pioneer Square Hours: Most parks are open daily 6 am-10 pm. Waterfall Garden Park is open daily 8 am-3:45 pm. Klondike Gold Rush National Historical Park is open daily from 10 am-5 pm.
Seattle Subterranean Walking Tour Starting Point: 102 Cherry St, Seattle, WA
Pike Place Market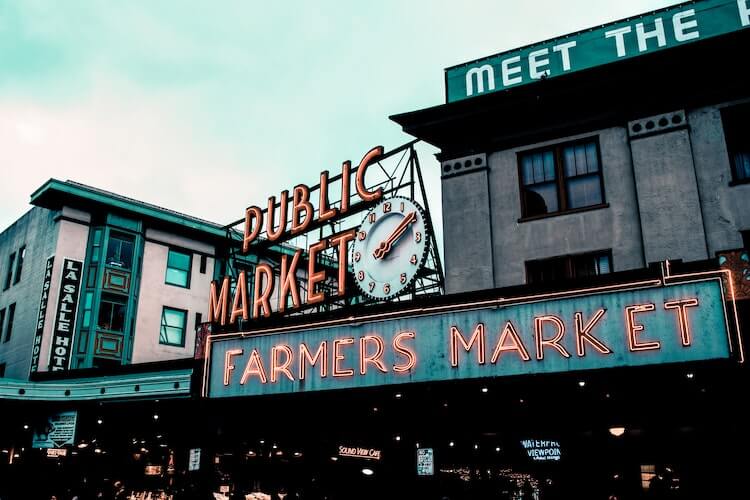 Pike Place Market is iconic. If you've ever watched The Real World: Seattle, or any travel show that ventures to the Emerald City, you'll see the men tossing a fish amongst applause from shoppers.
But Pike Place Market is so much more than that! Sure, there is the fish throwing, but there are SO many things to see and do at this market. First of all, you're going to want to get lunch here. While there are plenty of options, hands-down you've got to eat at Market Grill.
They specialize in fish sandwiches on the grill and it is amazing! I loved my grilled salmon sandwich with crusty, chewy bread, and paired with a warm bowl of clam chowder. I can't wait to get back to Seattle and have more of it. It was SO good.
Then you'll want to snag some dessert. Cobb's Popcorn has tasty caramel corn, and mini donuts at Daily Dozen Doughnut Company are sure to please.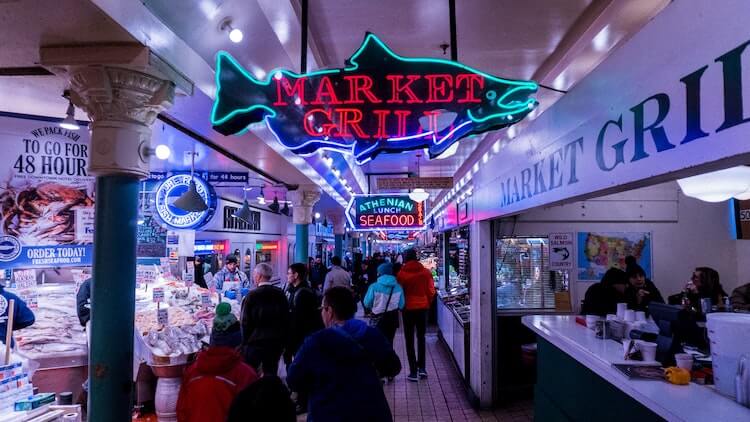 After a full meal, I recommend walking it off around the Farmer's Market. If fresh Washington cherries are available for sale, that is an absolute must to buy. Check out the incredible fruit, veggies, and gorgeous flowers on offer at the market here.
Peruse the Crafts Market for an incredible souvenir. Take a photo with Rachel the Piggy Bank, and delight in the street performers all around as well.
And lastly, you've got to at least spot the original Starbucks. If there is one thing that is kind of overrated at Pike Place Market, it is this place. It is not so much a cafe than a place to quickly snap a photo and grab a souvenir or cup of coffee and leave. It is tiny and super crowded. But coffee lovers definitely need to check it out.
Once you've finished exploring the incredible Pike Place Market, you've got to wander down to the famed Gum Wall.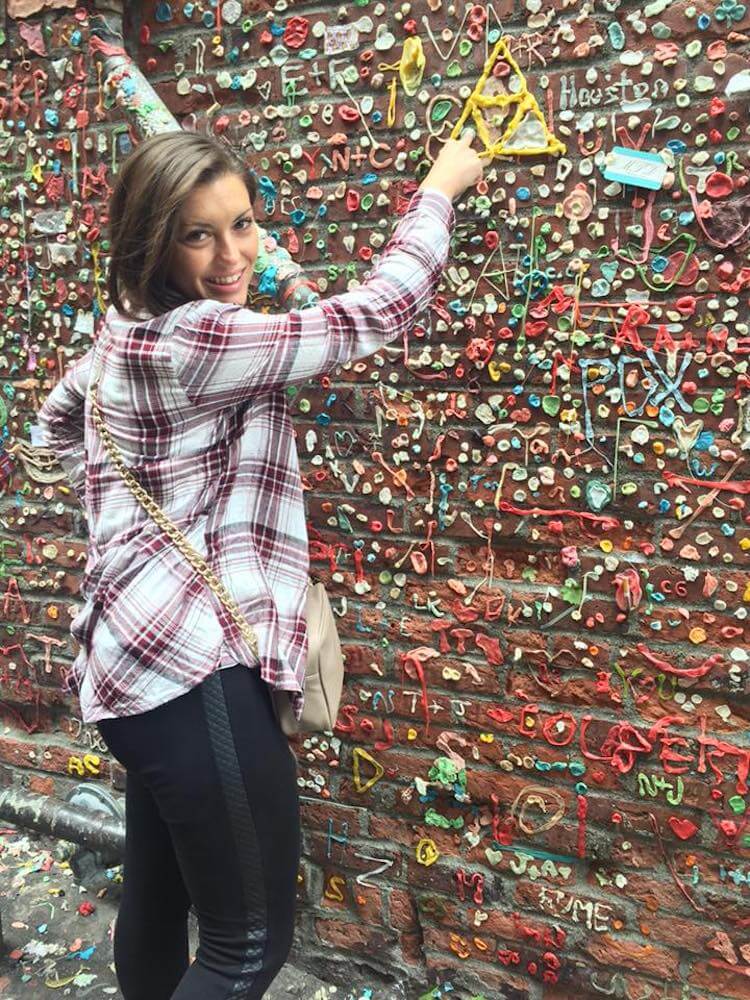 Yes, it is full of gum. Yes, it is kind of gross when you think about it. But yes, you HAVE to leave your own stamp (aka piece of gum) on the wall too. It's tradition, right?
And if exploring this massive market complex is overwhelming on your own, there is a fantastic market tour you can take too with a chef!
Pike Place Market Address: 85 Pike St, Seattle, WA
Pike Place Market Hours: General hours are daily from 9 am-5 pm, with many restaurants remaining open well after this time. Fresh produce, seafood stands, and breakfast starts at 7 am, farm tables open from 9 am-4 pm, and the craft stands open from 11 am-4 pm.
Gum Wall Address: 1428 Post Alley, Seattle, WA
Space Needle & Chihuly Garden and Glass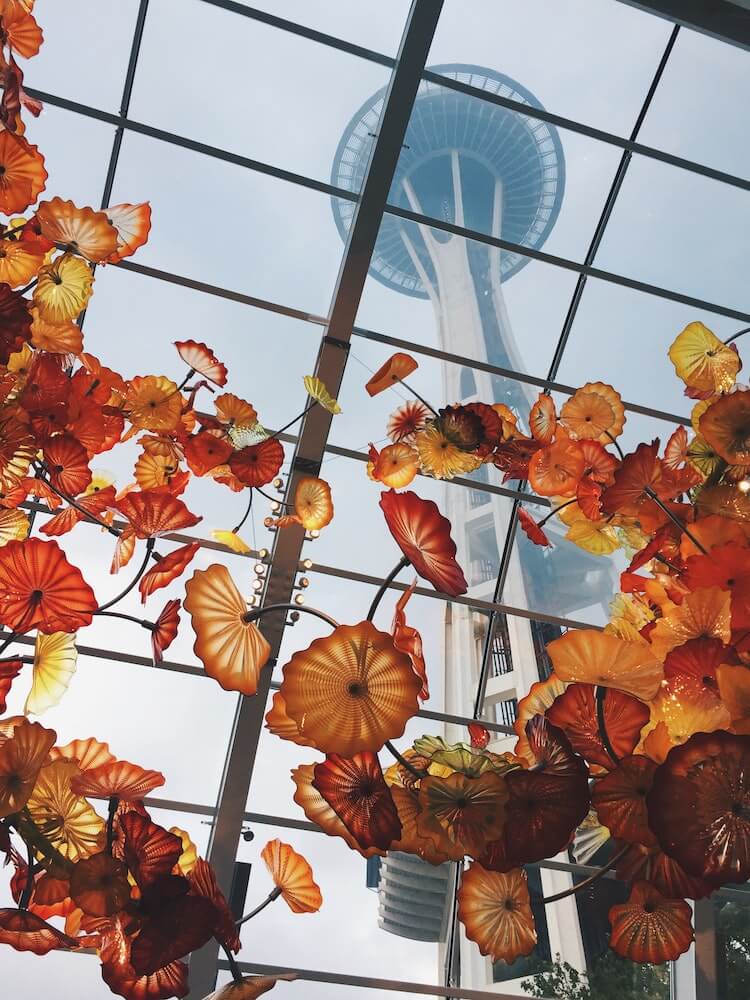 It has been a pretty exciting first half of the day, and now the adventure continues at Seattle's most famous landmark: the Space Needle.
Built for the 1962 World's Fair, whose theme was "The Age of Space" this futuristic galactic-themed tower was built to reflect the ambitions about space travel.
Now the 602-foot tower offers the most incredible 360º views of downtown Seattle and the surrounding nature. On a clear day, expect to see Mount Rainier, Puget Sound, and so much more. It is absolutely incredible to go up to the top and enjoy the views.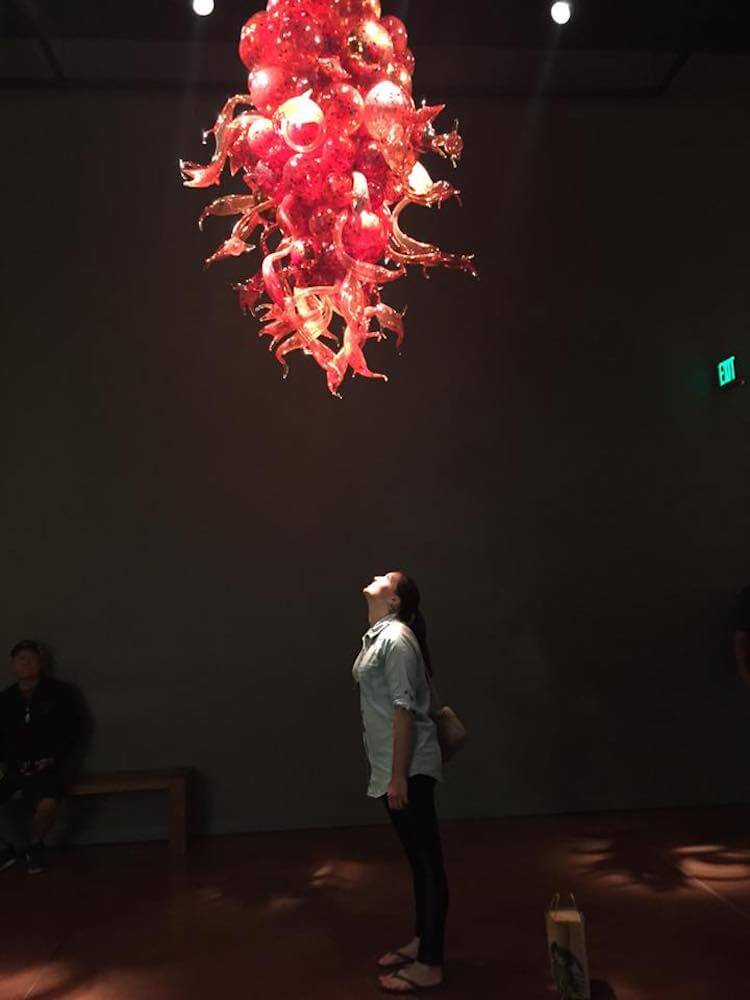 After getting a stunning bird's eye view of Seattle, it is time to head next door to check out one of the best art museums: Chihuly Garden and Glass!
The famed Washington artist Dale Chihuly is a wizard with glass sculptures. His art can be viewed at many museums around the world, but to see a lot of it in one place, Chihuly Garden and Glass is where to go!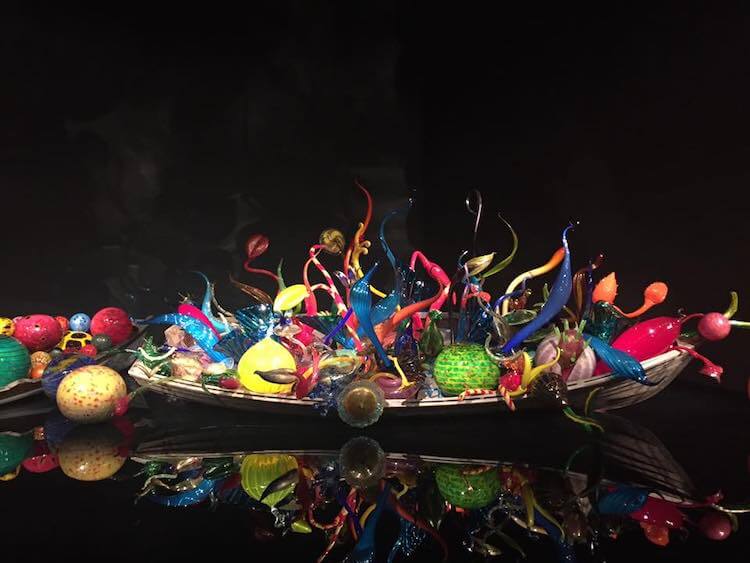 Colorful glass flowers, orbs, and other installations comprise this museum as you wind your way around gardens and dim-lit rooms full of his vibrant work. This is an incredible museum to visit whether you enjoy visiting art museums or not!
Space Needle Address: 400 Broad St, Seattle, WA
Space Needle Hours: Open daily from 10 am-7 pm.
Chihuly Garden and Glass Address: 305 Harrison St, Seattle, WA
Chihuly Garden and Glass Hours: Daily 10 am-5 pm.
More Coffee and Some Pho
You began the day with coffee…so why not end it that way? If you're able to have coffee and still sleep, I highly recommend visiting Starbucks Reserve & Roastery next on your Seattle itinerary.
While the original Starbucks is overrated, this place is amazing! It's not just where you'll grab a cup of Pike Place Roast and go about your day. This place has all the coffee you can't get at your typical Starbucks.
I recommend doing a coffee flight. They have the Origin Flight, Cold Brew Flight, Espresso Flight, and the Brew Comparison Flight. It is a relaxing and delicious way to wind down your first day in Seattle.
And to complete your day, get some incredible pho at Pho Than Brothers. They have tons of beef pho options and a fantastic vegetarian pho as well. Feel warm and cozy after a large bowl of this delicious soup.
Starbucks Reserve and Roastery Address: 1124 Pike St, Seattle, WA
Starbucks Reserve and Roastery Hours: Daily 7 am-8 pm.
Pho Than Brothers Address: 527 Broadway E, Seattle, WA
Pho Than Brothers Hours: 11 am-9 pm.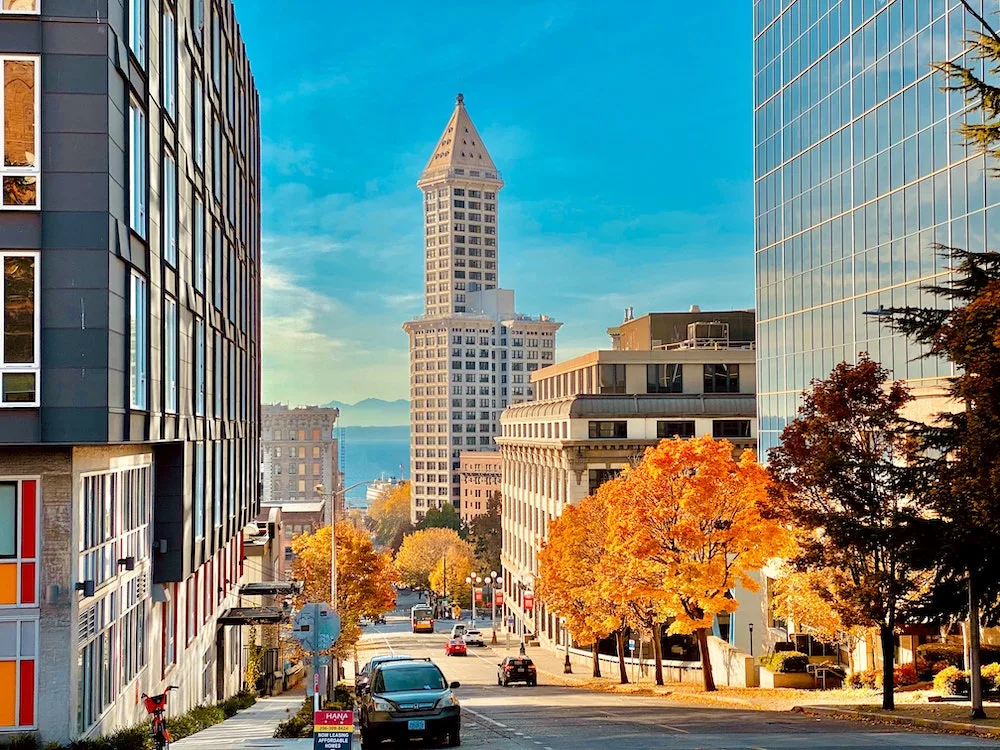 Day 2 of the Best Trip to Seattle Itinerary
After a fun-filled first day checking out the main sights of Seattle, it is time to explore an island and a fun neighborhood outside of downtown.
Coffee + Breakfast
I mean…when in Seattle coffee is a must, no? Start your morning off grabbing coffee at Elm Coffee Roasters.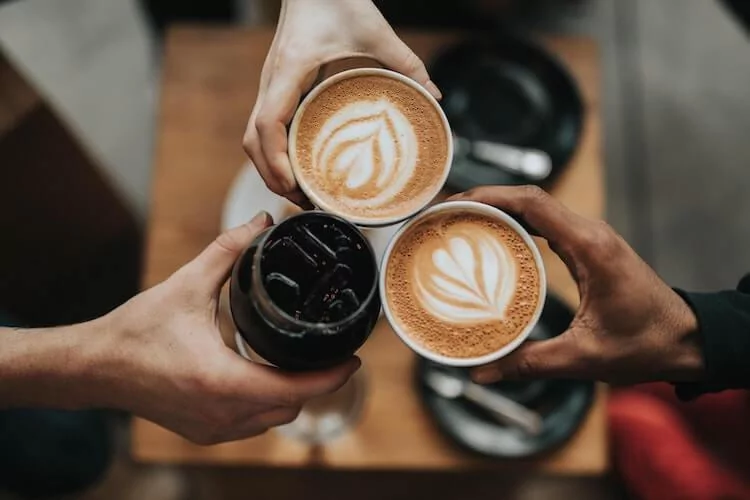 After coffee, head over to Portage Bay Cafe for brunch. With a nice list of eggs benedicts ranging from the classic to Dungeness crab cake benedict, you'll love the options here. Plus, they've got pancakes and a delicious mole verde burrito. The huge menu will certainly keep you full for another day of wandering around Seattle.
Elm Coffee Roasters Address: 240 2nd Avenue South Seattle, WA
Elm Coffee Roasters Hours: Monday, Wednesday-Saturday 8 am-3 pm. Closed on Tuesdays and Sundays.
Portage Bay Cafe Address: 391 Terry Ave N, Seattle, WA
Portage Bay Cafe Hours: 8 am-1 pm weekdays, 8 am-2 pm weekends.
Seattle Waterfront and Bainbridge Island
The Puget Sound is truly beautiful. From the water to the mountain views in the background, a fantastic way to take it all in is to walk along the waterfront! You can start from the Olympic Sculpture Park and walk down Elliott Bay Trail/Alaskan Way Road down toward the piers.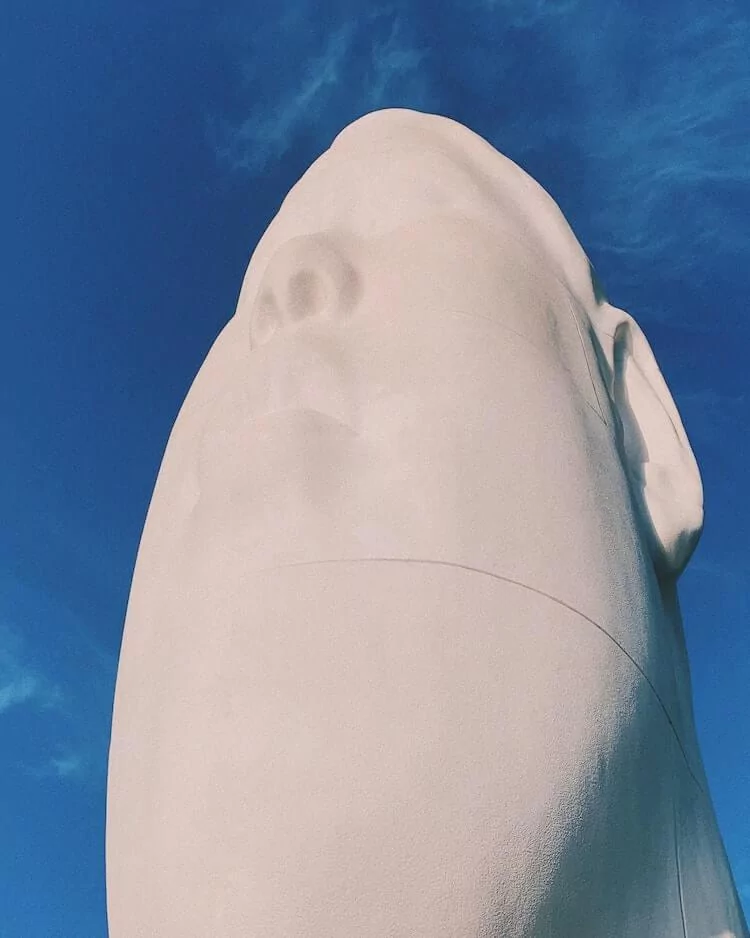 Continue down to the Seattle Ferry Terminal and catch the ferry to Bainbridge Island. Check here for ferry times and prices.
The 35-minute ferry ride provides beautiful views over Puget Sound, and Bainbridge Island is the perfect place to escape the hustle and bustle of downtown Seattle.
With wineries, gardens, cafes, parks, and more, there are ample things to keep you busy during a visit to Bainbridge Island.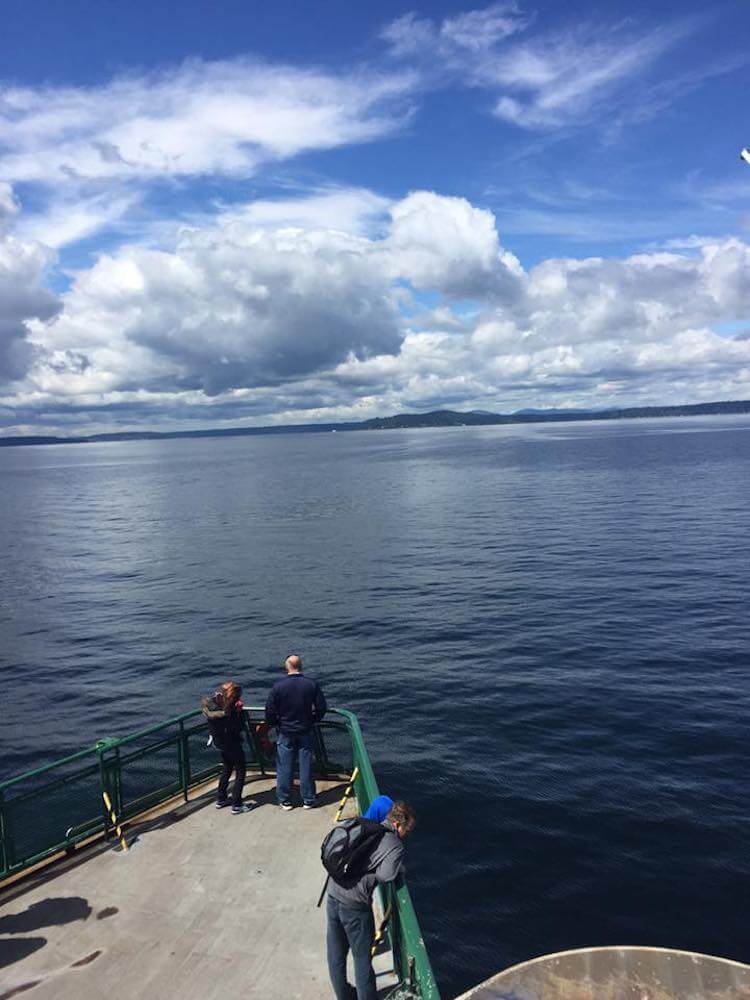 While you could spend several days exploring this beautiful island, if you only have a long weekend in Seattle, I recommend checking out just a few things within this half-day trip.
First up is kayaking on the Puget Sound. It is so serene and peaceful. And after some time kayaking on the water, I recommend renting a bike and biking around to a winery or two like Eleven Winery, Eagle Harbor Wine Company, and Bainbridge Vineyards.
For the ambitious bikers, head up north to explore the gorgeous Bloedel Reserve. Rated one of the top 10 best botanical gardens in North America, the flowers, reflecting pool, and more make it well worth a visit.
And if you don't want to bike up there, you can snag an Uber or public transport up north to the reserve as well.
Also, to make things even easier, here is an incredible tour that'll show you the main spots and history of Bainbridge Island from Seattle.
After that, it is time to head back to Seattle!
Olympic Sculpture Park Address: 2901 Western Ave, Seattle, WA
Seattle Ferry Terminal Address: 801 Alaskan Way, Seattle, WA
Bloedel Reserve Address: 7571 NE Dolphin Dr, Bainbridge Island, WA
Bloedel Reserve Hours: Open Tuesdays-Sundays and closed on Mondays and holidays. Summer hours are 10 am-6 pm (10 am-5 pm on Tuesday and Wednesday), fall hours are 10 am-5 pm, and winter hours are 10 am-4 pm.
Explore Gas Works Park & Fremont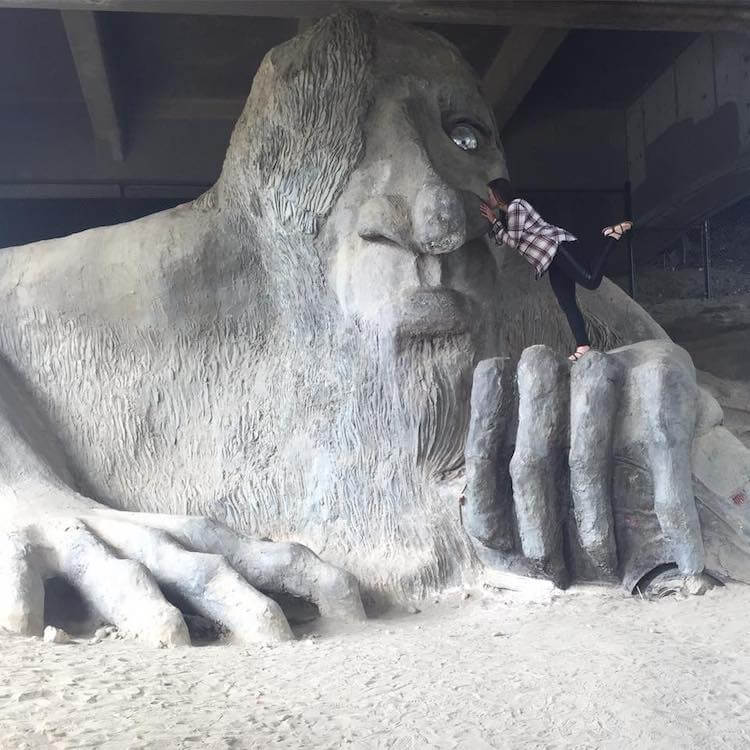 After an exciting afternoon on Bainbridge Island, it is time to explore the incredible Fremont neighborhood of Seattle.
Start out exploring Gas Works Park, a park on the former site of the Seattle Gas Light Company that has an industrial feel and overlooks Lake Union. It is a great spot to enjoy the scenery before strolling over to Fremont.
If there is one thing you've got to see in Fremont, it is the Fremont Troll. I recall seeing this troll during the movie 10 Things I Hate About You and knew I wanted to visit it in person. This giant troll is located underneath the bridge under Aurora Ave North (or "Troll Ave").
It is clutching a Volkswagen Beetle and was inspired by the "troll under the bridge" that is famous in Scandinavian legends. The Fremont Troll is iconic in Seattle and a must-see during your time there. Grab some photos of the troll before getting dinner.
A short walk from the troll is an incredible Turkish restaurant: Cafe Turko. This is a fantastic spot for vegans and meat-eaters alike. With several Turkish pides with meat or veggie fillings, falafel, doner kebab pita sandwiches, and tons of great appetizers like hummus and stuffed grape leaves, there isn't a bad option at this place.
Pair it with a nice mint tea or Turkish coffee to complete your meal!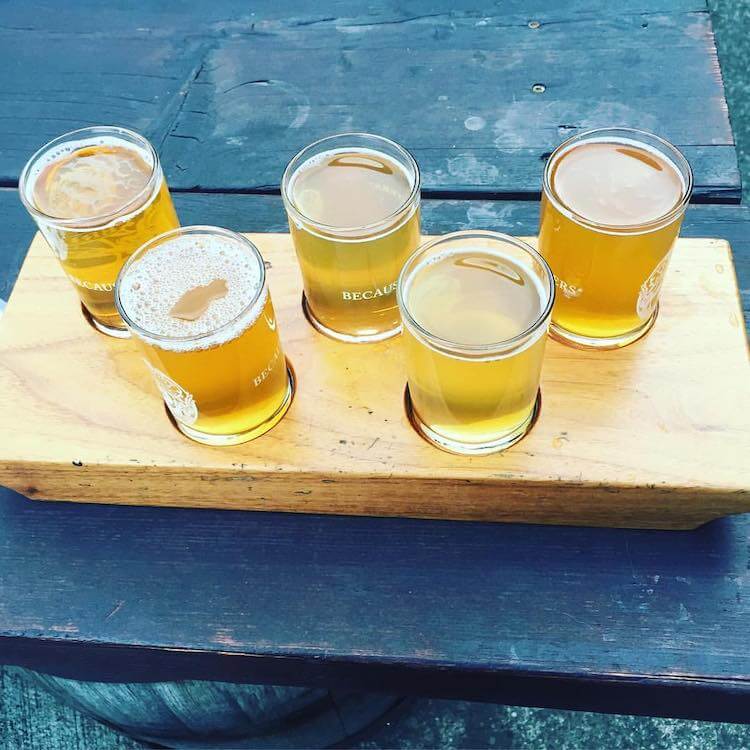 Lastly, while you're in the area, walk on down to Fremont Brewing Urban Beer Garden for another of Seattle's great beverages: beer!
Sample a flight of beer or enjoy a glass of their year-round selections like Sky Kraken Hazy Pale Ale, or their seasonals on tap like Space Danger IPA or Summer American Pale Ale.
Gas Works Park Address: 2101 N Northlake Way, Seattle, WA
Gas Works Park Hours: Daily 6 am-10 pm.
Fremont Troll Address: N 36th St, Seattle, WA
Cafe Turko Address: 750 N 34th St, Seattle, WA
Cafe Turko Hours: Wednesday-Sunday 11 am-9 pm.
Fremont Brewing Address: 1050 N 34th St, Seattle, WA
Fremont Brewing Hours: Daily 11 am-9 pm.
Day 3 of an Incredible Long Weekend Trip to Seattle
On your last of 3 days in Seattle, it is time for a full-day trip. As there are a few national parks near Seattle, you'd be remiss if you didn't try to visit one while you're in the area. However, as they are a couple of hours away, it is something that takes most of the day to visit.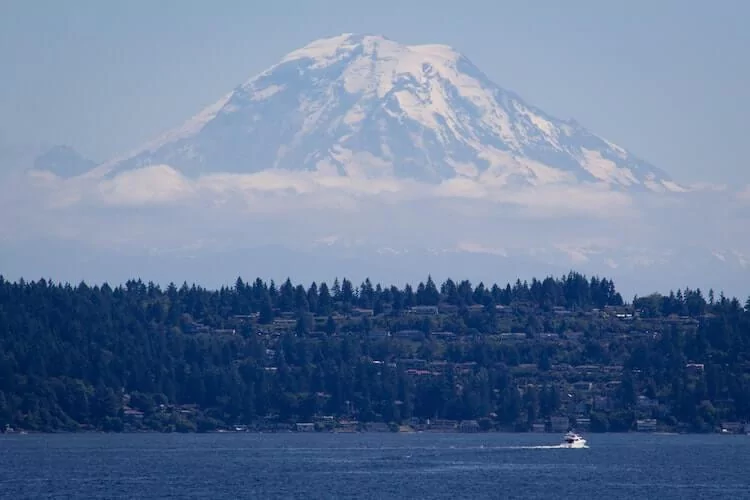 I ended up visiting Mount Rainier National Park on a tour and it was absolutely incredible!
You'll be picked up from your hotel early. This 10-hour tour includes a visit to waterfalls (like Christine and Nerada Falls), lookout points, and you get some time to explore around Paradise. There is a lot to see and do around the park, and this tour made me feel like I saw so much great stuff!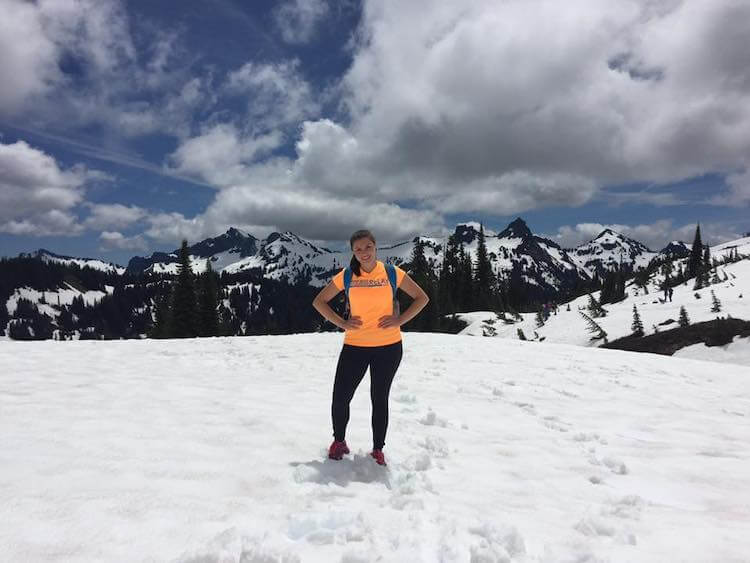 After that incredible day of hiking and exploring Mount Rainier National Park, it is time for your last delicious dinner. I recommend Elliott's Oyster House to end the trip with a bang! Being on the water, seafood is divine in Seattle. Elliott's Oyster House is no exception. Split some incredible oysters before tasting fresh Alaskan king salmon and tasty crab legs.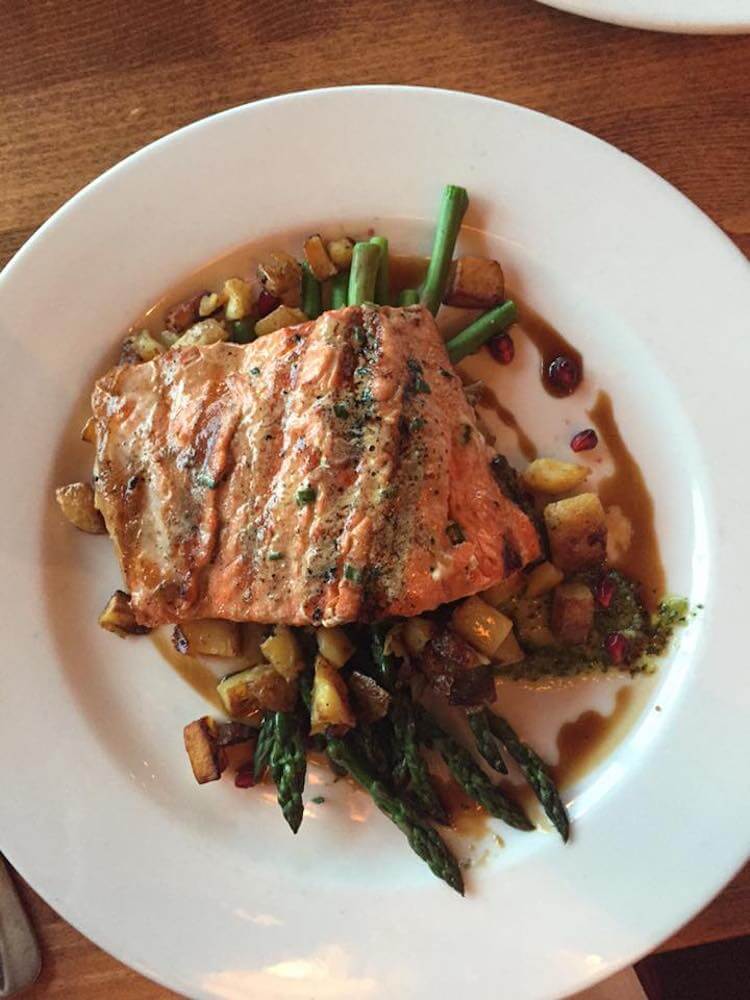 It isn't the cheapest meal to end the trip on, but it is certainly worth the splurge.
And to finish your time in Seattle, I recommend checking out some breweries! I love the Capitol Hill area of Seattle with great breweries like Elysian Capitol Hill Brewing, Optimism Brewing Company, and Redhook Brewlab. In Belltown (in downtown Seattle) there is Old Stove Brewing, Seattle Beer Company, and The Pike Brewing Company.
Obviously, you can't visit all of them, but definitely check out one or two during your last evening in Seattle.
Elliott's Oyster House Address: 1201 Alaskan Way, Ste 100, Seattle, WA
Elliott's Oyster House Hours: Sunday-Thursday 12-9 pm. Friday and Saturday 12-10 pm.
Recap Seattle 3 Day Itinerary
Here is a quick reference guide on what to do in Seattle for 3 days:
Seattle 3 Day Itinerary Map
If you have 4 Days in Seattle or More…
If you have more than a 3 day Seattle itinerary, I recommend adding another day trip or visit places outside of downtown. Here are a few options if you have more time in Seattle: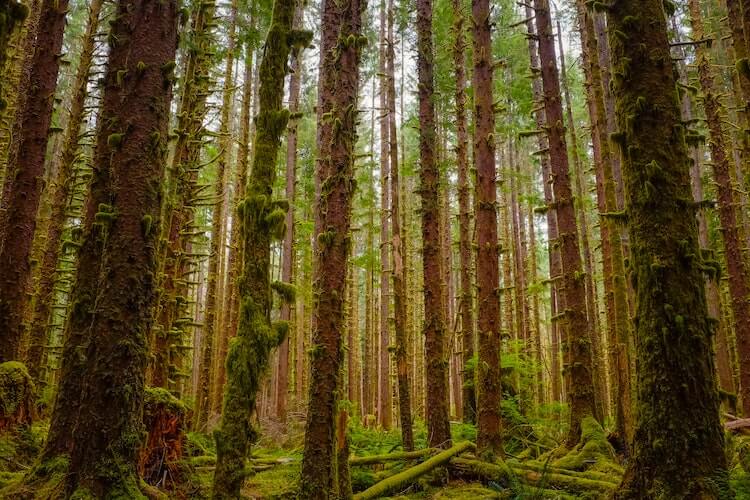 Best Time to Visit Seattle
Seattle is known for its rainy weather, but the summer months are the driest and sunniest times of year to visit. I visited in June one year and it hardly rained and there was quite a bit of sunshine.
Summertime temperatures average 70-75º F (21-24ºC) during the day and 53-57ºF (12-14ºC) at night. Spring and fall temperatures range from 52-70ºF (11-21ºC) during the day and 39-53ºF (4-12ºC) at night. And winter temperatures range from 47-51ºF (8-11ºC) during the day and around 36ºF (2ºC) at night.
So while temperatures are pretty moderate throughout the year, Seattle sees most of its rainfall in the late fall and winter months. The least rainfall is typically around July and August.
So the best time to visit Seattle for great weather and exploring the outdoors is July and August. However, that is also its busiest time of year for tourism. If you want to save a little money, then go in the off-season, especially in winter.
In winter, most of the precipitation in the mountains is snow, so if you are looking to go skiing, winter is obviously ideal.
Also, fall is an incredible time of year to visit for fall foliage. I know that isn't as well-known as the northeast, but Seattle has its fair share of colorful leaves in the fall.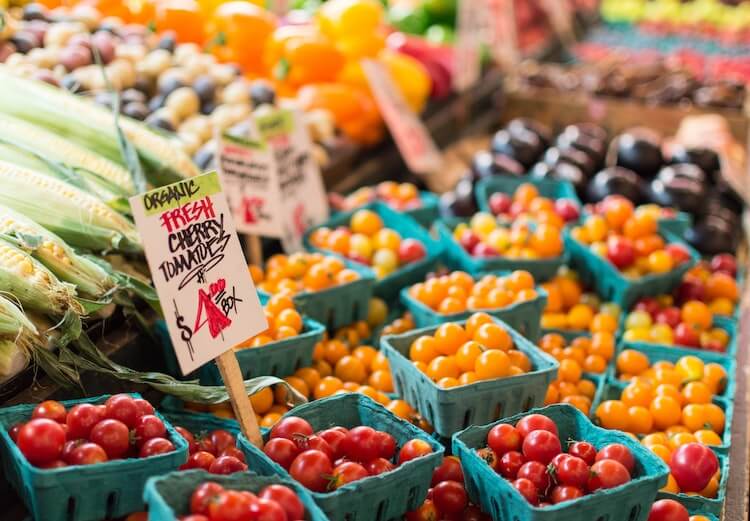 Where to Stay During your 3 Day Seattle Itinerary
There are a ton of great places to stay around Seattle, and if you are on a tight budget, then VRBO has a lot of great options! Many VRBOs are under $100 per night. Check out Seattle VRBOs here!
There are also a lot of hotel options, and here are a few based on your budget. To keep things simple, I recommend staying closer to downtown near Pike Place Market and Belltown.
Budget: Hyatt Place Seattle/Downtown
Located within walking distance of the Space Needle and Chihuly Garden and Glass, this hotel is affordable, comfortable, and has great views of the city.
Read reviews on TripAdvisor and book here!
Mid-Range: Thompson Seattle
This place is super close to Pike Place Market and the waterfront, so you'll enjoy great views, chic rooms, and cocktails at the rooftop bar.
Read reviews on TripAdvisor and book here!
Luxury: Four Seasons Hotel Seattle
With luxurious suites, a rooftop pool, and a delicious restaurant all with sweeping views of Elliott Bay, Puget Sound, and the mountains, you'll be in paradise here. They also have a spa and fitness center.
Read reviews on TripAdvisor and book here!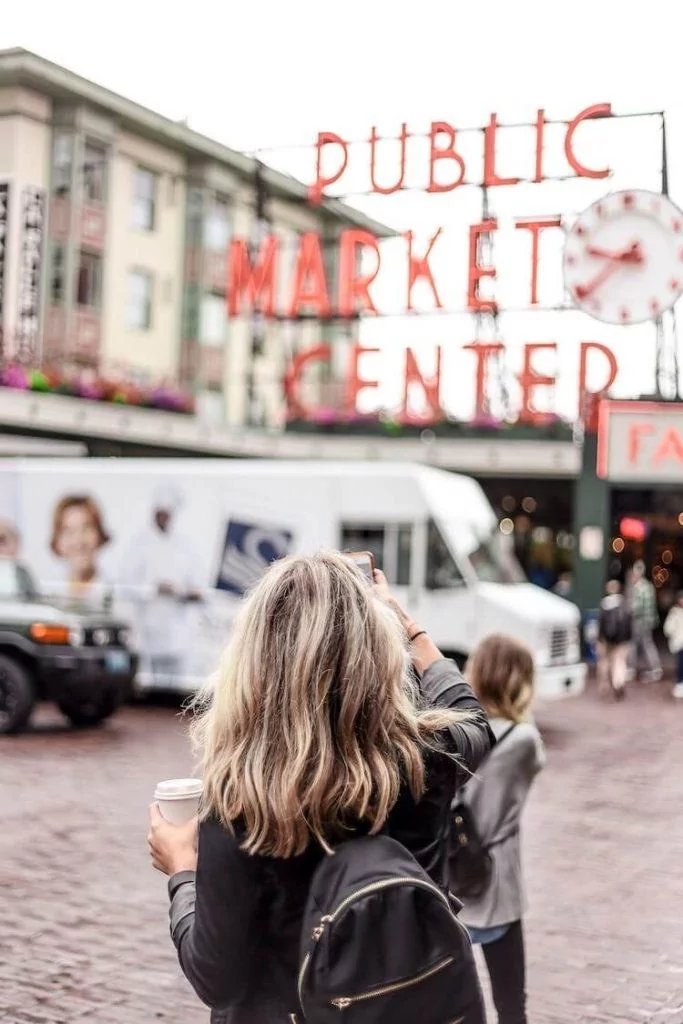 Getting to & Around For 3 Days in Seattle
There are several flights per day that go to Seattle-Tacoma Airport. All major US airlines fly here, making it easy to find a flight. I always check Skyscanner for the best deals on flights.
You can also take the train to Seattle from cities like Vancouver, BC, Canada, Portland, OR, Salem, OR, and Eugene, OR via Amtrak.
There is also the option to drive here from surrounding areas like those listed above.
Once you get to Seattle, there are plenty of ways to get around including the Link Light Rail (perfect for getting from the airport to downtown), buses, streetcars, as well as Uber, Lyft, and taxis. If you plan to get outside of downtown on your own, especially if you plan to visit a national park, I recommend renting a car for the day. I love Skyscanner.com for checking rental car prices.
Also, many places are easy to walk to, especially in the downtown area. There are also plenty of rental bikes and scooters all over.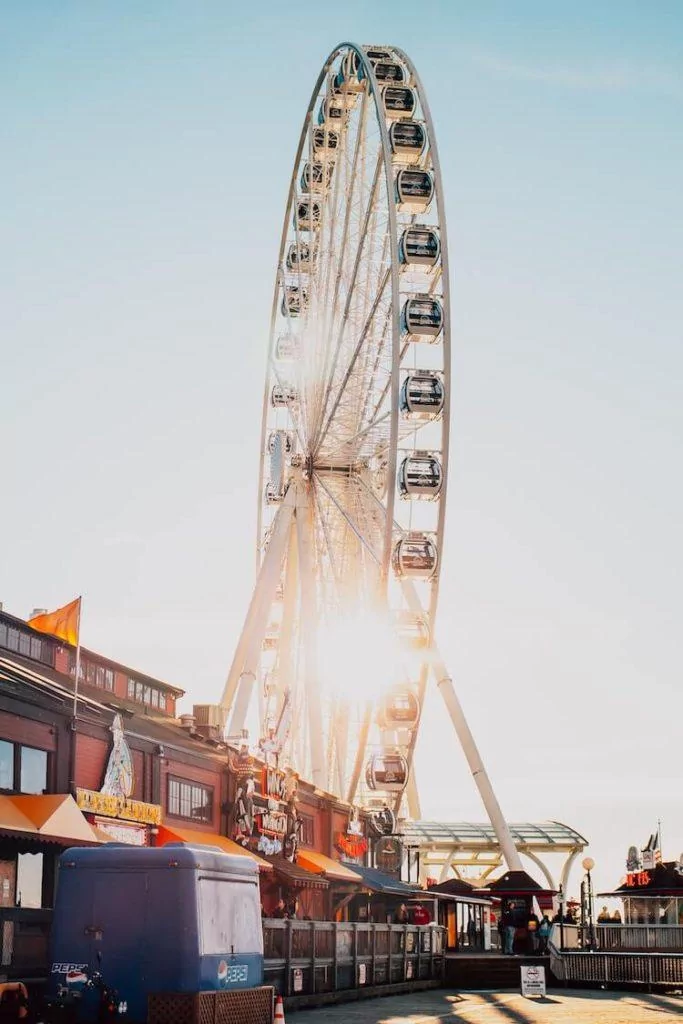 What to Pack for Seattle in 3 Days
First and foremost, have either a light jacket or umbrella on you during your 3 days in Seattle. Unexpected rainfall can happen, so it doesn't hurt to have it on you.
I also recommend comfortable walking shoes, jeans, and a light top in the summer. A light jacket or flannel (kind of a staple in Seattle) is helpful as mornings and evenings can be pretty cool that time of year. Even daytime temperatures can be chilly.
During the winter, I recommend wearing boots, jeans, a sweater (I love this sweater!), a scarf, and this comfortable and warm parka.
If you plan to go hiking during your trip to Seattle, I love my Merril Moab hiking boots, hiking socks, running leggings, and these sweat-wicking long sleeve shirts. Also, as the mountains can be quite chilly, a warm jacket is helpful to have. Be sure to pack plenty of water (I love this 3L bladder that fits into my Osprey HikeLite Pack). And a LifeStraw Water Bottle is a good idea, especially if you are hiking alone.
For taking great photos, I just use my iPhone most of the time with my tripod. And if you need new luggage, we always travel with our Osprey 40L backpacks and these packing cubes.
If you're traveling internationally to the US, it is helpful to grab a universal adapter to plug in your things too.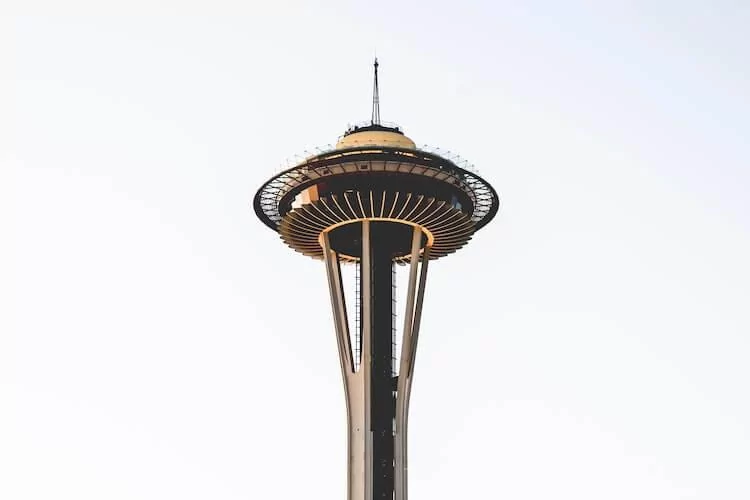 Tips for the Perfect Weekend in Seattle
Your Seattle 3 day itinerary will be perfect with these extra tips:
If you plan to see and do a lot in Seattle, opt for the Seattle CityPass. It includes admission to attractions like the Space Needle, the Seattle Aquarium, a harbor cruise, plus other attractions for only $115.
Always keep an eye on your things. I say this for every big city. I love my Travelon anti-theft purse to keep my things safe. I also leave most of my cash, credit cards, and passport in the hotel safe to prevent those from being stolen.
Be prepared for hills. It is a hilly city, so be prepared to hike up some steep hills if you wander around. You can also take public transportation or an Uber to get around if needed too. But definitely wear comfortable shoes.
Seattle does have rain, but it isn't all the time or an all-day kind of rain every day. You'll definitely have a quick rainfall, but it blows over a lot, especially in summer.
We hope you have the perfect 3 day itinerary in Seattle! From the incredible coffee to amazing attractions, Seattle is a place you'll quickly fall in love with too.
Want more USA travel inspiration? Check out these posts:
Pin it here!