Some posts on this site contain affiliate links, meaning if you book or buy something through one of these links, I may earn a small commission (at no additional cost to you!). Read the full disclosure policy here.
---
Searching for the best Caribbean honeymoon destinations? We've got you covered!
There are ample romantic vacations to be had in the Caribbean. With white, sandy beaches, crystal clear water, and an abundance of resorts, choosing a honeymoon in the Caribbean is a fantastic choice to kick off married life.
That is why, with the help of other travel bloggers below, we've come up with these 25 great Caribbean honeymoon destinations for you.
Whether you want to relax and sip drinks at an all-inclusive resort or get adventurous and explore, these are the best places to honeymoon in the Caribbean!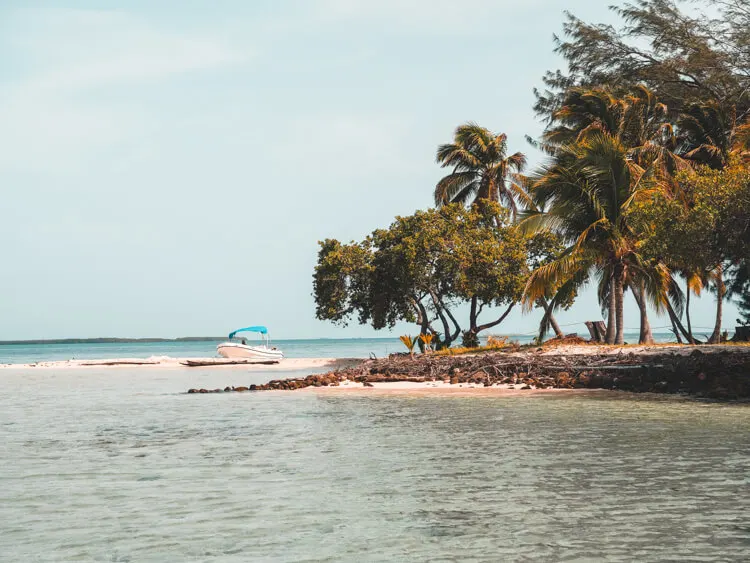 25 Best Caribbean Honeymoon Destinations
From mountains to beaches, waterfalls to caves, these are the most romantic honeymoon destinations in the Caribbean.
1. St Lucia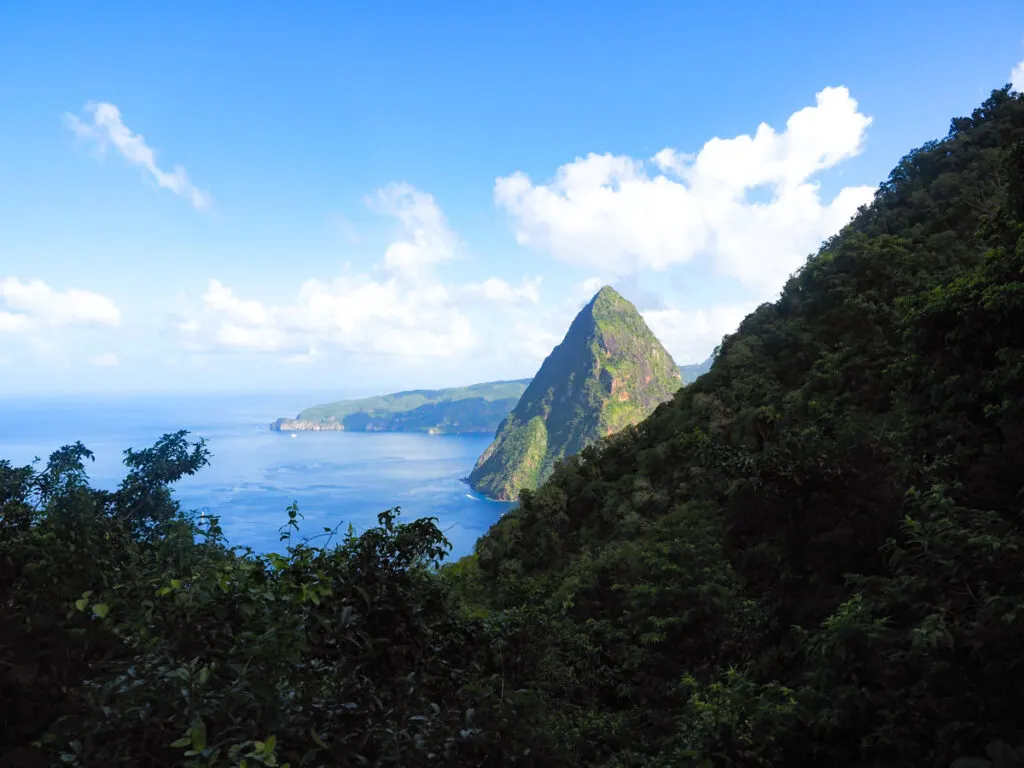 This may come as no surprise to you, but St Lucia is definitely a popular honeymoon choice–and for good reason! For starters, look at the views! I mean, there are the iconic Gros and Petit Pitons to admire, stunning beaches, and some idyllic snorkel spots.
St Lucia is full of all-inclusive resorts that cater to any couple. Whether you want to be in the mountains with a private plunge pool overlooking the sea like at Stonefield Villa Resort, or you want to be steps from the beach with endless food options like at Sandals Regency La Toc, you'll easily find a romantic spot for two during your Caribbean honeymoon.
The best part is you can do as little or as much as you like on this island, as the activities seem endless, but the beaches are also perfect for lounging.
Things to do in St Lucia for your honeymoon:
Take an evening sunset cruise
Visit the mud baths at Sulphur Springs
Hike up Gros Piton for a challenge
Visit the Tet Paul Nature Trail for epic views
Go on a snorkel trip to some iconic beaches
PS- Check out how much a St Lucia honeymoon costs plus the perfect packing list! And for the ultimate honeymoon trip, check out this 5-7 day St Lucia itinerary.
2. Belize Honeymoon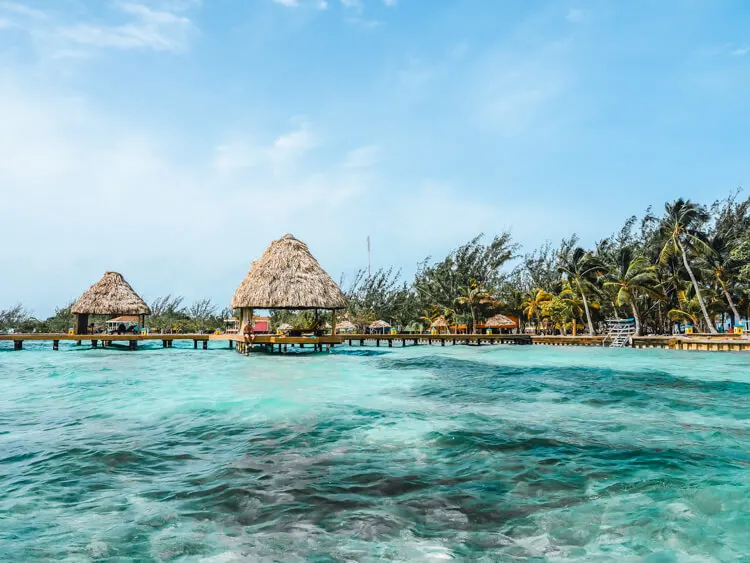 With the second-largest barrier reef system in the world, you know that Belize is one of the best Caribbean honeymoon destinations for snorkelers and Scuba divers.
Belize is a small country, but it packs a punch when it comes to adventures to be had! There are Mayan ruins, caves, beautiful beaches, the jungle, and more! Plus, this Central American country offers a pretty amazing opportunity to stay in an overwater bungalow for less than $600 per night!
Seriously, check out Thatch Caye Resort, an all-inclusive resort that has overwater bungalows that'll make your dreamy honeymoon in the Caribbean that much more romantic!
Things to do in Belize include:
Snorkel or dive in the Belize Barrier Reef
Fly or boat to see the Blue Hole
Go cave tubing
Zipline through the jungle and then go river tubing
Visit Mayan ruins like Xunantunich
Head to the Inland Blue Hole at St Herman's Blue Hole National Park
Check out the ultimate 7-day Belize itinerary, how much a Belize trip costs, and what to pack for Belize here!
3. St Barths Honeymoon in the Caribbean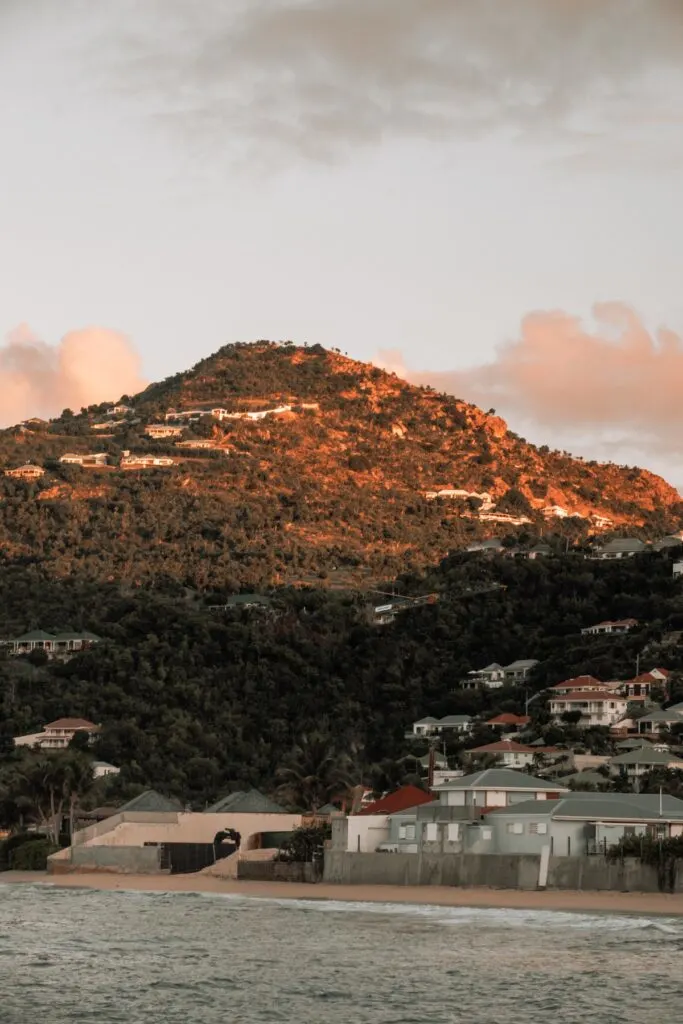 This French Caribbean honeymoon island may be tricky to get to, but it is worth it for those seeking luxury and exclusiveness on your romantic getaway.
St Barths is a Caribbean playground for the rich and famous, which means there are ample luxury hotels, great dining, and beautiful beaches.
To get to St Barths, you'll most likely want to fly into St Martin and either take a small, puddle-jumper flight or ferry over to the island. For a lovely hotel, Eden Rock offers rooms, suites, and villas with amazing views.
Things to do in St Barths for your honeymoon:
Nothing. Seriously, this is the perfect place to just chill out on the beach if you want!
Enjoy brunch at Eden Rock's Sand Bar
Indulge in spa treatments and delightful cuisine
People-watch and potentially celeb spot
Relax and go swimming or snorkeling in the beautiful clear water
4. Turks and Caicos Honeymoon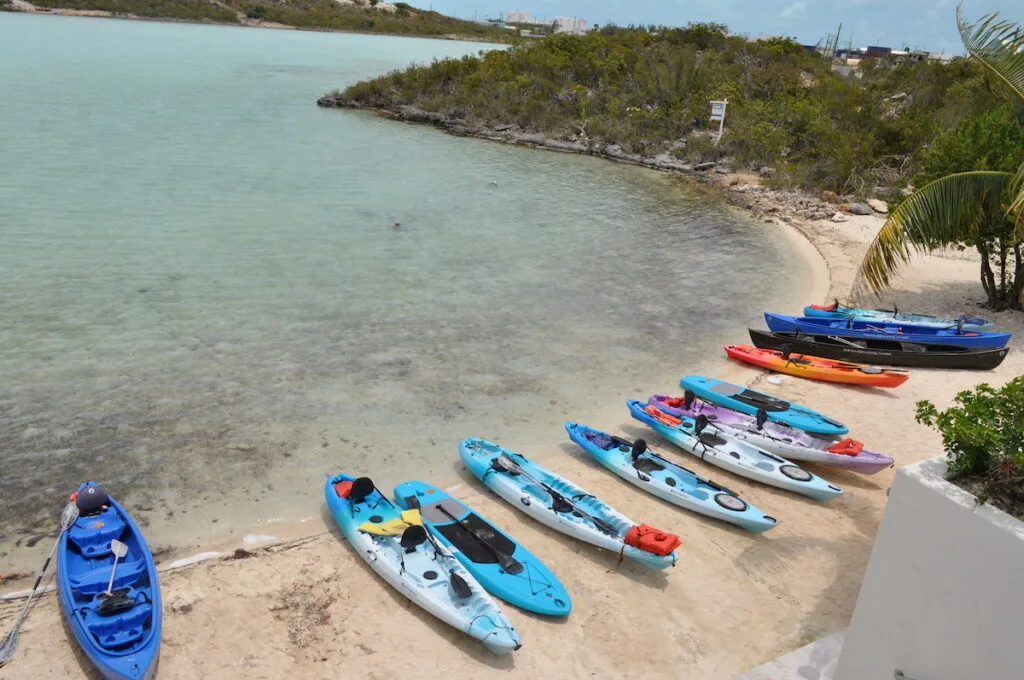 You won't find a more perfect honeymoon destination in the Caribbean than Turks and Caicos! This laid-back island is impossibly beautiful. With vivid, turquoise water and bright white sand that's soft under the toes, it's perhaps the most incredible vacation destination for couples and honeymooners.
While in Turks and Caicos, honeymoon in luxury at The Palms Turks and Caicos. Located right on Grace Bay Beach, you'll have the stunning Caribbean Sea right outside your balcony.
Relax on the famous Grace Bay Beach, voted time and time again as one of the best beaches in the Caribbean.
Things to do in Turks & Caicos:
Rent kayaks or paddleboards at Chalk Sound National Park
Go horseback riding on the beach
Explore a shipwreck, La Famille Express on Long Bay Beach
Rent jet skis at Sapodilla Beach
Scuba dive "The Wall" on Grand Turk
Visit Malcolm's Road Beach for phenomenal sunset views
Recommended by Nikki of She Saves She Travels.
5. St John

St John is known as the most romantic island of the three US Virgin Island territories. 1/3 of St John USVI is protected under the Virgin Islands National Park. Because it's largely untouched, the water is crystal clear, and coral reefs are thriving.
St John sees fewer tourists than sister islands St Thomas and St Croix. All of these combined allows for a secluded island perfect for a Caribbean honeymoon destination.
St John has two primary areas – Cruz Bay and Coral Bay. For convenience, you'll want to stay in Cruz Bay. Cruz Bay is the heart of St John with shops, restaurants, and things to do. But, Coral Bay offers private villas perfect for a romantic getaway. If you stay in Coral Bay, don't forget to stop by the famous Skinny Legs Bar for a cold drink with impeccable views.
There are no all-inclusive resorts in USVI, but there are many resorts and boutique hotels to choose from. Gallows Point Resort offers a pool, beach access, and a free shuttle to the ferry port for day trips.
If you choose to go to St John, you'll want to explore the hikes in the National Park that lead to protected beaches. These beaches are perfect for snorkeling (keep an eye out for sea turtles), swimming, or simply enjoying picnics on the soft white sand. But, that's not all St John has to offer.
What to do on your St John honeymoon:
Visit Coral Bay's friendly donkeys you'll find strolling down the empty roads
Take a snorkel tour to LIME OUT!, a floating taco bar in the middle of the ocean
Charter a boat around St John and the British Virgin Islands
Take the island ferry to St Thomas or the British Virgin Islands for the day
Recommend by Rachel of Caribbean Uncovered.
6. Negril, Jamaica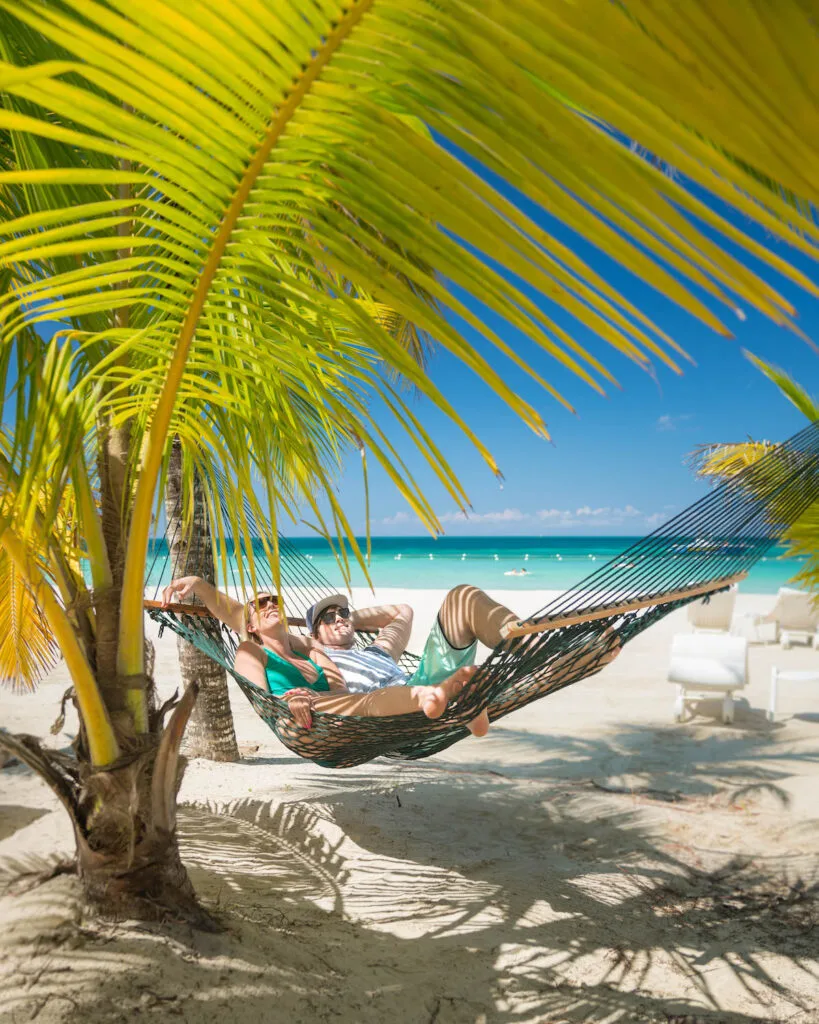 Negril, Jamaica is a perfect honeymoon destination for newlywed couples as it is a romantic getaway where you can enjoy relaxation by the beach or the pool, world-class restaurants, and gorgeous sunsets.
Fun fact, we actually got married in Negril!
Negril is known for being a laid-back beach town with clear turquoise waters, white sandy beaches, lush forests, and rocky cliffs just waiting to be explored.
Jamaica offers couples romance and relaxation as they spend time together lounging on the white sandy beaches, eating gourmet meals together, or enjoying couples' massages. Negril is laid back and relaxed but has a vibrant and exciting nightlife whether you visit a local beach bar or nightclub or simply dance under the stars.
Negril offers a variety of accommodations, from all-inclusive resorts to boutique hotels and villas located right on the beach. For a romantic place to stay, you will want to check out the Sandals Negril, which features oceanview rooms as well as swim-up rooms, making sure you and your partner can enjoy both the ocean and the pools.
Negril offers plenty of fun excursions to enjoy with your partner and create lasting memories that you will cherish.
What to do in Negril, Jamaica:
Go on a day trip and climb Dunn River Falls
Relax on the beach
Snorkel or Scuba dive to see local fish and marine life, shipwrecks, and coral reefs
Watch the sunset from the sea on a catamaran cruise
Enjoy YS Falls by ziplining, watching the rushing waters of the waterfall, or swimming in a natural pool
Explore Negril Lighthouse, which offers stunning views of the coastline and is a historic landmark
Indulge in local Jamaican cuisine, and don't miss out on the unique flavors of jerk chicken, curried goat, ackee, and saltfish
Negril offers beautiful scenery, warm weather, and friendly people, so it's no surprise that Negril is such a popular destination for honeymooners
Recommended by Hannah and Adam of GettingStamped.
7. Dominican Republic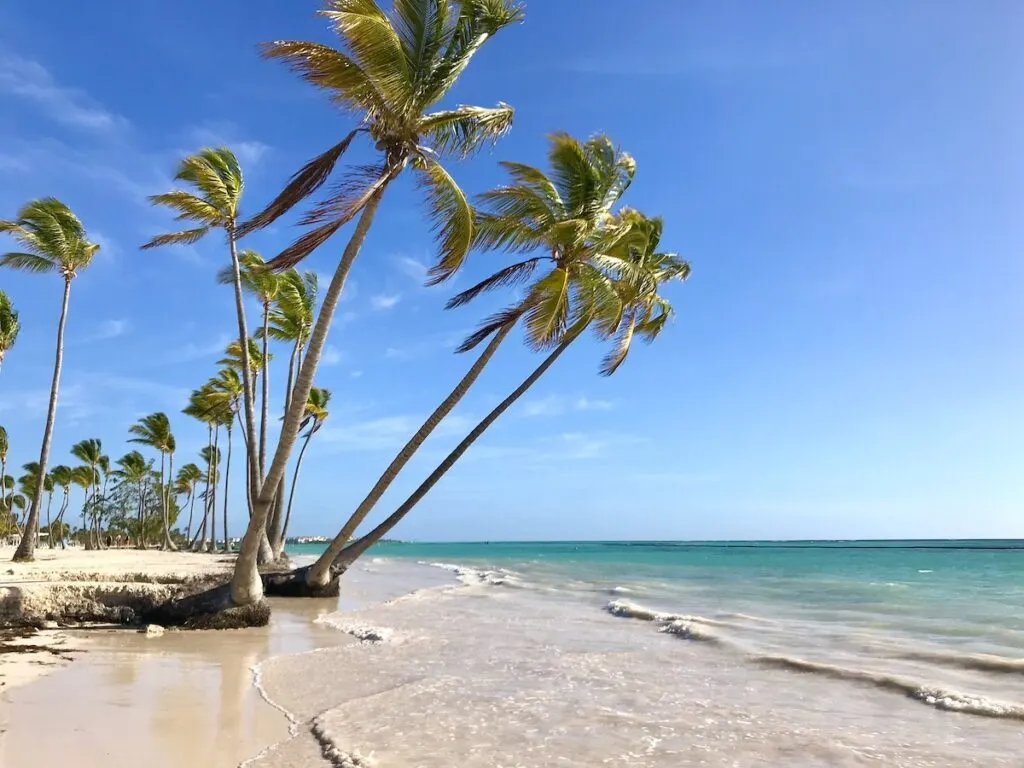 The Dominican Republic is one of the top honeymoon destinations for couples in the Caribbean for a reason. Not only does it have a wide range of honeymoon spots — from the golden sands of Puerto Plata to the powder white beaches of Punta Cana – but its colonial capital of Santo Domingo and lush mountains on the interior offer a lot of things to do beyond the beach.
You won't have to rough it no matter where you stay. But a hot spot for honeymooners is Cap Cana, a secluded community that's home to an exclusive collection of upscale all-inclusive adults-only resorts such as Secrets Cap Cana Resort & Spa and the newly-reopened Sanctuary Cap Cana, the first all-inclusive member of Marriott's high-end "Luxury Collection."
The top things to do in the Dominican Republic on a honeymoon include:
Ziplining through the jungle in Punta Cana
Surf or bodyboard the waves in the surfing mecca of Cabarete
Stroll hand in hand along the cobblestone streets of the Colonial Zone of Santo Domingo, a UNESCO World Heritage Site. Founded in 1496, it's the oldest continuously inhabited European city in the Americas.
Play castaway on Saona Island on a day trip by catamaran
Snorkel turquoise waters on a sailing excursion along the north coast
Plunge through pristine waterfalls during a jeep safari in the country's mountainous interior
Sip tropical cocktails featuring fine Dominican rum such as Bermudez, founded in 1852
Recommended by Michele of A Taste for Travel.
8. St Thomas Caribbean Honeymoon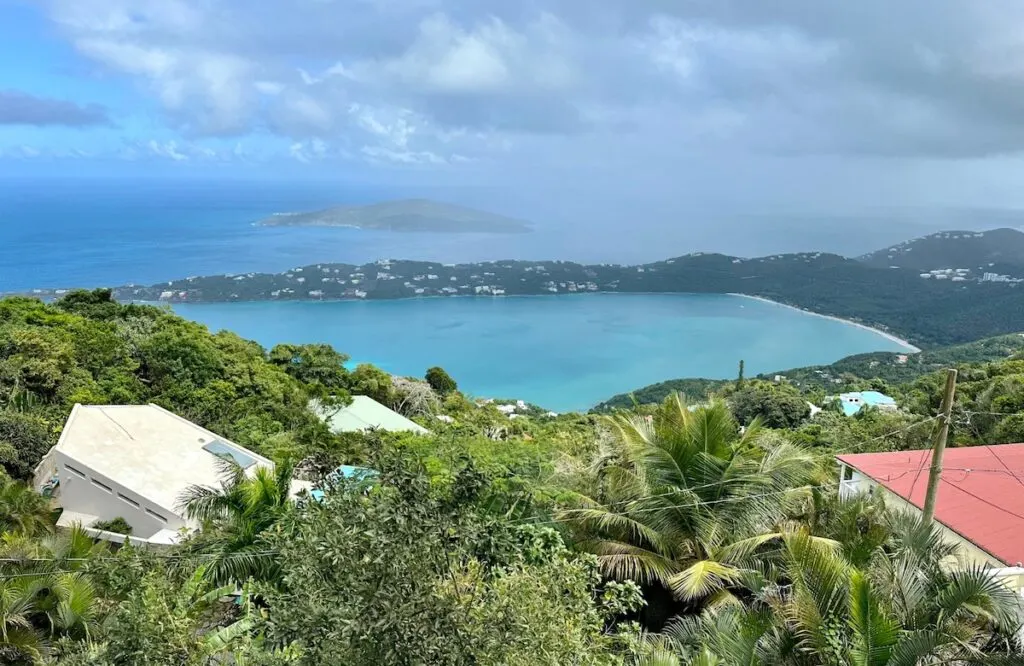 From pristine beaches and unparalleled beauty to endless opportunities for adventure and more, it's no wonder that St. Thomas is one of the best Caribbean honeymoon destinations!
One of the most striking things about St. Thomas is its crystal-clear waters. The turquoise sea is rich with marine life, and snorkeling and diving offer an unforgettable experience for couples.
The beaches here are also exceptional; the soft sands and warm, gentle waters are perfect for sunbathing, swimming, or simply taking in the beauty of your surroundings.
Amid the natural beauty, St. Thomas is also home to a rich and fascinating history. The island is dotted with historic landmarks, such as Blackbeard's Castle and Fort Christian, that provide a glimpse into the past.
Last but not least, St. Thomas is a place where the island culture is vibrant and alive. The locals are welcoming and friendly, and there are so many lively celebrations and cultural festivals that honeymooners can immerse themselves in.
One of the most incredible places to stay on the island is the Bolongo Bay Beach Resort. This all-inclusive hotel offers everything you need for the ultimate honeymoon experience, from beachfront rooms and gourmet dining to snorkeling excursions and nightly entertainment.
Best things to do in St. Thomas on your honeymoon:
Visit Magens Bay Beach and savor the mesmerizing views of the Caribbean
Visit The Mountain Top and try their world-famous banana daiquiri while soaking in the panoramic views of Magens Bay
Take a food tour and experience local cuisine, including dishes like curry chicken, conch fritters, and fried plantains
Take a ride on the Skyride to Paradise Point for breathtaking views of the island from above
Go on a snorkeling or diving excursion and discover the diverse marine life beneath the crystal-clear waters
Recommended by Disha of Disha Discovers.
9. Virgin Gorda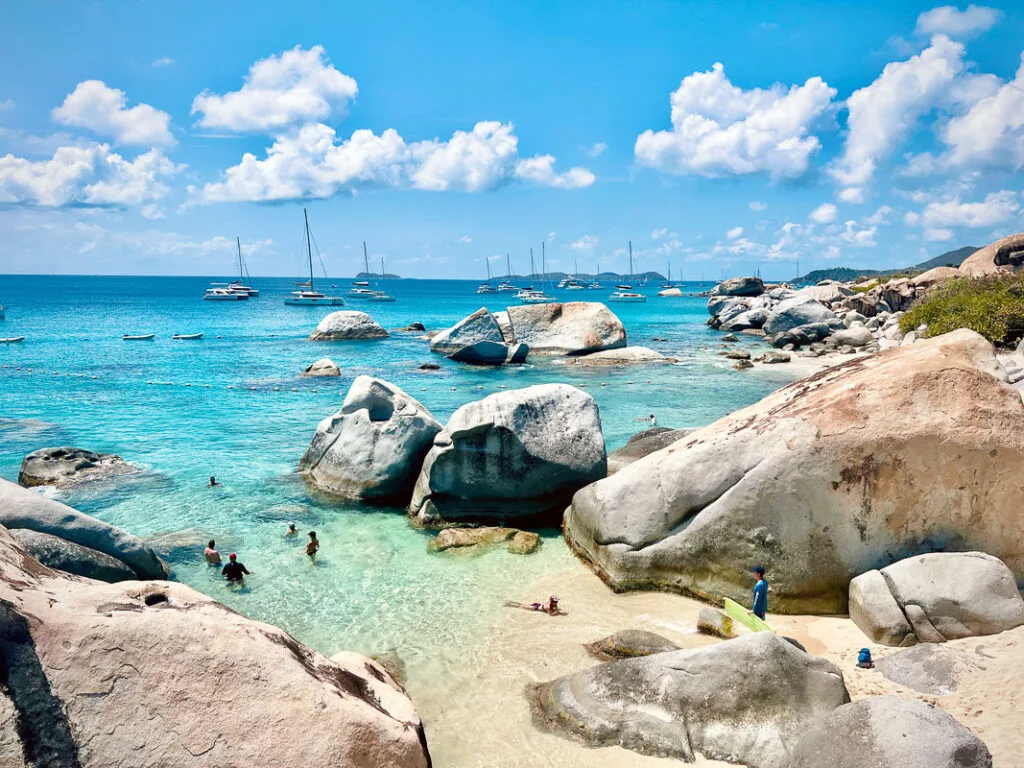 The British Virgin Islands are made up of around 50 different islands, each with its own unique attractions. You can find everything from serene forests teeming with wildlife to sparkling clear waters filled with sea turtles and exquisite tropical fish. And while all of these places are certainly worth visiting during a BVI vacation, Virgin Gorda stands out as a top honeymoon destination in the Caribbean.
Virgin Gorda is the third-largest island in the BVI. Its name, meaning "fat virgin," is a nod to its distinctive shape, which resembles a reclining woman.
The island is characterized by its unique rolling hills, massive rock formations, and beautiful beaches. In addition to postcard-perfect views out at sea, visitors will also find a variety of excellent all-inclusive resorts that offer everything from gourmet dining experiences to luxurious spa treatments.
One of the best places to stay in Virgin Gorda is the Rosewood Little Dix Bay resort. The resort sits on a beautiful beachfront location and offers an all-inclusive package with a range of amenities.
While lounging on a sun-soaked beach may be the biggest draw for some couples, there is plenty else to do on Virgin Gorda.
Here are some of the best activities:
Take a private sailing tour around the BVI's – or even charter your own boat/yacht! You might even be lucky and catch the bioluminescence
Explore The Baths National Park – an amazing collection of giant granite boulders strewn along the shoreline that form a series of interconnected pools and grottoes. It is an excellent spot for spectacular hiking trails and snorkeling spots galore.
Enjoy watersports activities like kayaking or scuba diving amidst blue waters and coral reefs
Grab a bite at one of the many fine seafood restaurants scattered across the island, where you'll enjoy fresh catches prepared right before your eyes – not to mention unbeatable ocean views!
Recommended by Catherine of Nomadicated.
10. Tulum, Mexico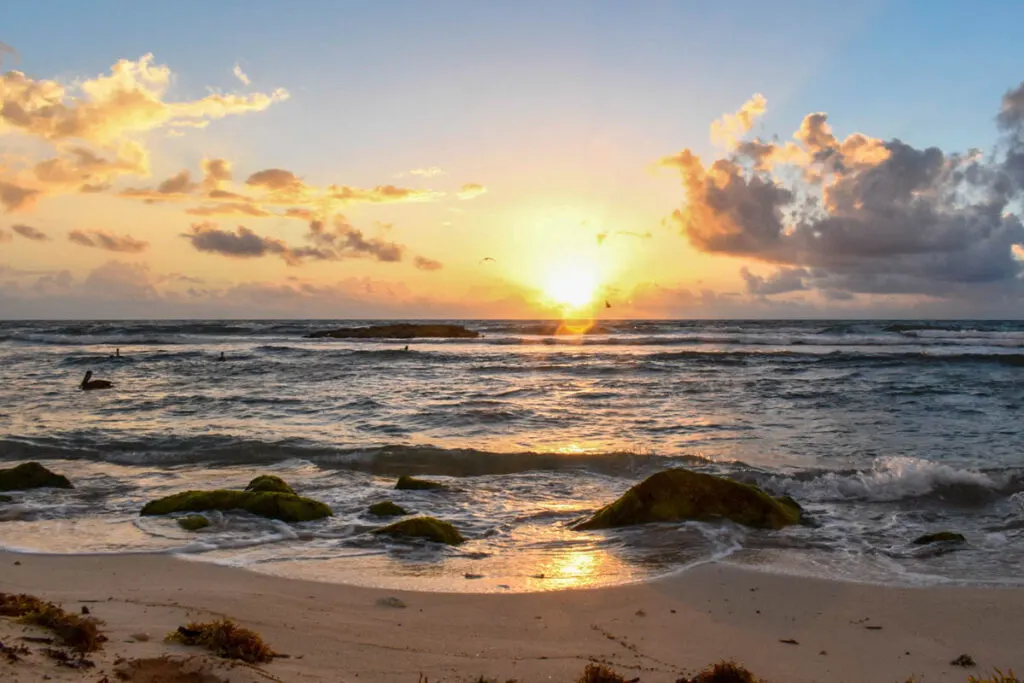 Tulum, located in the Yucatan Peninsula, is perched on Mexico's Caribbean coastline. It's no surprise, then, that this colorful city offers pristine beaches with electric blue water and powdery white sand. This thriving resort town is so much more than that, though, with vibrant nightlife, a fascinating history, rooted in Mayan culture, and stunning natural beauty.
While there are tons to keep you busy in Tulum, you'll definitely have plenty of options as far as all-inclusive resorts if you just want to kick back and relax after your wedding. For example, Dreams Tulum Resort & Spa offers suites with private balconies or terraces, an adults-only pool, and a luxurious, beachside spa. If you're looking to soak up some beach or pool time, Dreams Tulum is the perfect place for that, with its own private beach and swim-out suites, or, alternatively, if you're looking to soak up Tulum's culture, you'll be just a quick 15-minute ride away from the town center.
What to do on your Tulum honeymoon:
Cool off in a cenote (a limestone sinkhole, filled with crystal-clear groundwater)
Learn more about Mayan history by booking one of the many Chichen Itza tours from Tulum, so you can explore North America's only Wonder of the World together
Scuba dive in a cenote, where you might see a crocodile, or in Tulum's coral reef (part of the second-largest coral reef system in the world), for a chance to spot rays, lobsters, and sea turtles
Dance the night away at Gitano or Papaya Playa Project
Take a Mexican cooking class to learn how to make classic Yucatanian dishes
Recommended by Jessica of Uprooted Traveler.
11. Antigua is One of the Best Caribbean Honeymoon Destinations
For one of the best honeymoon destinations in the Caribbean, head over to beautiful Antigua.
Antigua quite possibly has the most beautiful beaches in all of the Caribbean. The soft white sand and crystal blue water look like something from a postcard! Not to mention its colorful towns, beautiful views, and romantic places to stay. It's truly a perfect place to spend a romantic Caribbean honeymoon.
For a great place to stay during your visit, consider booking at Cocos Hotel. This all-inclusive hotel and resort is for adults only and sits right on a beautiful beach. Rooms offer stunning views and some even include a private pool.
The resort has numerous activities and experiences that can be booked such as private beach dinners, yoga classes, spa services, and kayaking. It's a romantic place to stay that offers a perfect mix of relaxation and entertainment options. What more could you ask for?
What to do on your Antigua honeymoon:
Stroll through the town of Saint John's and check out the local shops and colorful architecture
Visit Devil's Bridge National Park and admire the natural rock formations and ocean views
Visit the English Harbor and enjoy snorkeling and beautiful views of the marina. Make sure to hike to the summit of Shirley Heights for the best view! (The hike starts at Galleon Beach).
Go out on the water. Whether that means on a boat or kayak tour, snorkeling excursion, jet ski, etc, the choice is yours. But experiencing Antigua from the ocean water is a MUST.
Spend a day at the beach. Whether it's the beach closest to your resort or one further away, enjoy a day laying in the warm sun and swimming in the clear water.
Recommended by Chelsea of Adventures of Chels.
12. Barbados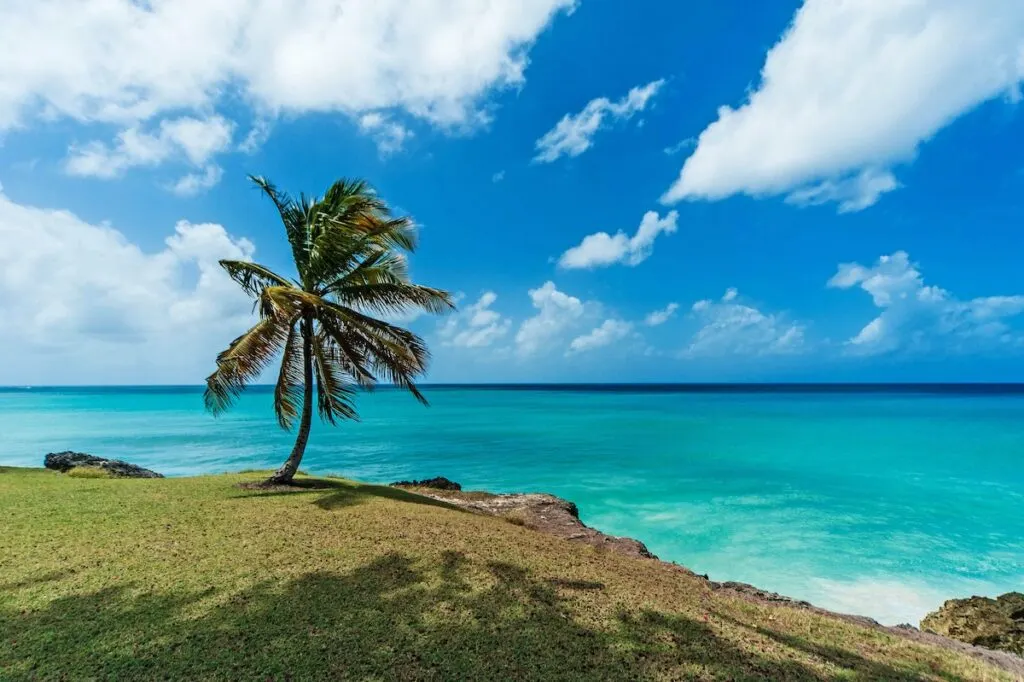 Barbados is a great Caribbean honeymoon destination. Located at the eastern edge of the Caribbean, this island offers a lot in its small size. Stunning beaches, diverse activities, and luxurious resorts make it an ideal destination for couples looking to start their lives together in style. From romantic strolling along the beach to exploring historical sites or taking leisurely boat rides, Barbados has something for everyone.
Sandals Barbados is the perfect place to stay for your honeymoon. This all-inclusive resort offers luxurious accommodations with stunning beachside views that are sure to make your stay unforgettable. From snorkeling and kayaking adventures to a world-class spa, there's something for everyone at Sandals in Barbados.
What to do on Your Barbados honeymoon:
Go on a rum tasting
Walk and shop around Bridgetown
Ride a historic train
Explore a cave
Recommended by Melissa of My Beautiful Passport.
13. Nicaragua Makes For a Lovely Honeymoon in the Caribbean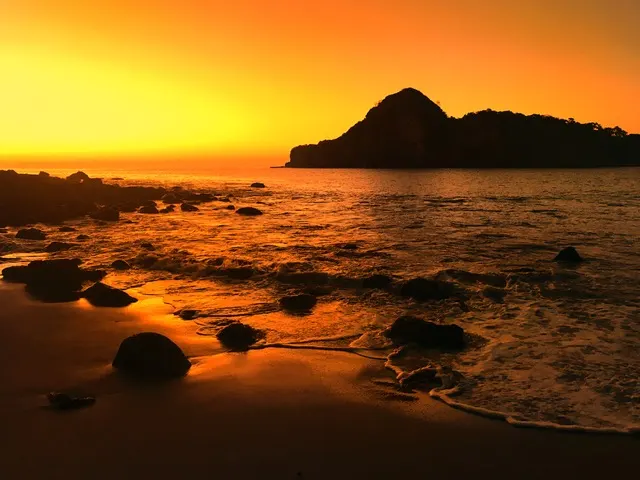 One of the best Caribbean honeymoon spots is the tropical hidden gem of Nicaragua. This destination is known for its explosive volcanoes, pastel-hued cities, and abundant wildlife. There are a lot of beautiful beaches found in Nicaragua on the Caribbean coastline, including on the romantic Corn Islands.
Nicaragua is neighbored by Costa Rica but is a much cheaper alternative, so it is a great choice for those who want to splurge on some really incredible places to stay including the Yemaya Reefs Hotel.
Things to do in Nicaragua:
Explore the colonial city of Leon, and try your hand at the countries most unique activity – volcano boarding down Cerro Negro volcano. In fact, it is the only place in the world you can partake in this experience!
Honeymooners should also visit the beautiful city of Granada if they love watersports, as it's possible to spend time kayaking or stand-up paddle boarding with monkeys around the islets on Lake Nicaragua.
If you want to get your adrenaline pumping, visit Masaya Volcano, one of the few places in the world where you can see an active lava lake bubbling away in front of you.
If you like hiking, then spending a few days visiting Ometepe Island is a great idea.
Recommended by Roshni of The Wanderlust Within.
14. San Blas Islands, Panama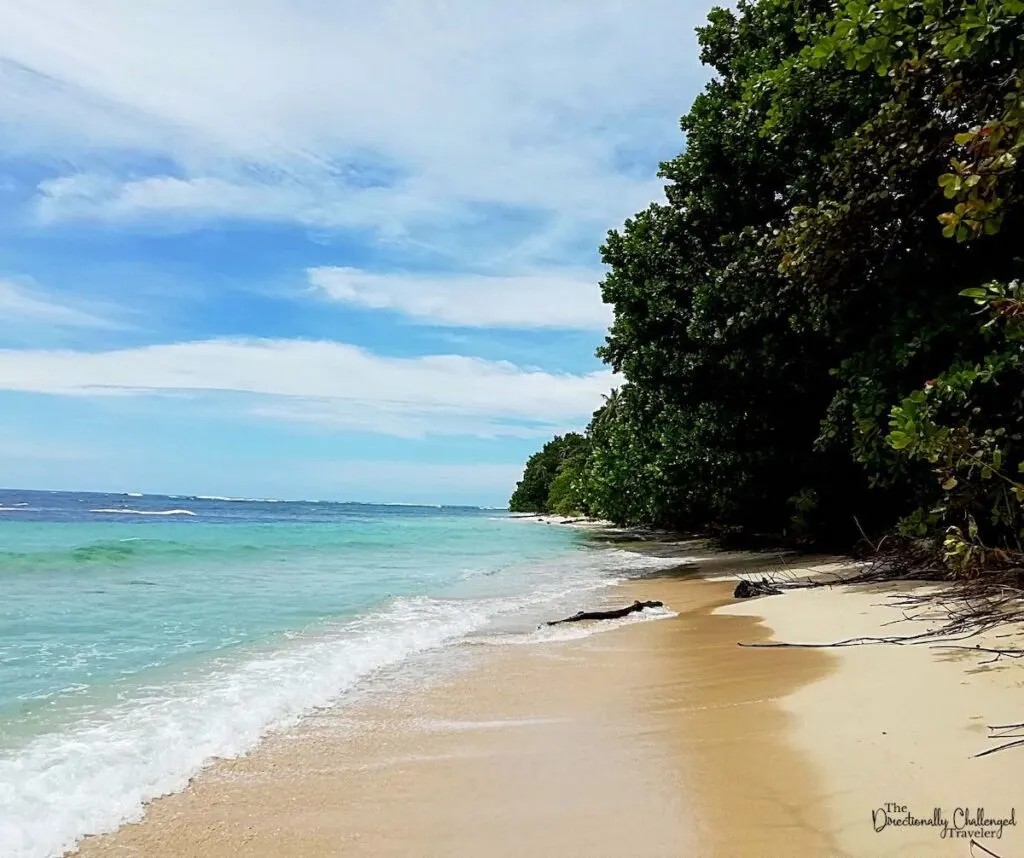 The San Blas Islands in Panama are often an overlooked destination in the Caribbean. They make for an incredible honeymoon destination with stunning beaches that aren't overcrowded. Plus, they have perfect weather all year round because they're near the equator.
There are actually 365 islands in the San Blas region, and most of them are uninhabited. Even the ones that are inhabited aren't crowded. People usually visit the islands from Panama City, and there are plenty of tour operators that can help you get there. The region is an autonomous region of Panama, governed by the Guna people, so you will need a passport to enter the area.
One of the best things about visiting the San Blas Islands is the ability to completely disconnect. There's no internet in San Blas! It's perfect for couples looking to unwind from the craziness of wedding planning.
If you're looking for a great place to stay, check out Cabanas Naranjo Chico. They have over-the-sea bungalows that are affordable and provide delicious fresh food, and you can even learn about the Guna people and their traditions.
What to do on your San Blas honeymoon:
Go snorkeling with a variety of wildlife
Head to Starfish Island to hang out with them (but don't take them out of the water).
Explore shipwrecks on a few of the islands
Enjoy beachside cocktails with a great view
Relax with a breathtaking sunset
Learn about the Guna culture and traditions
Recommended by Pamela of Directionally Challenged Traveler.
15. Cartagena, Colombia is One of the Best Caribbean Honeymoon Destinations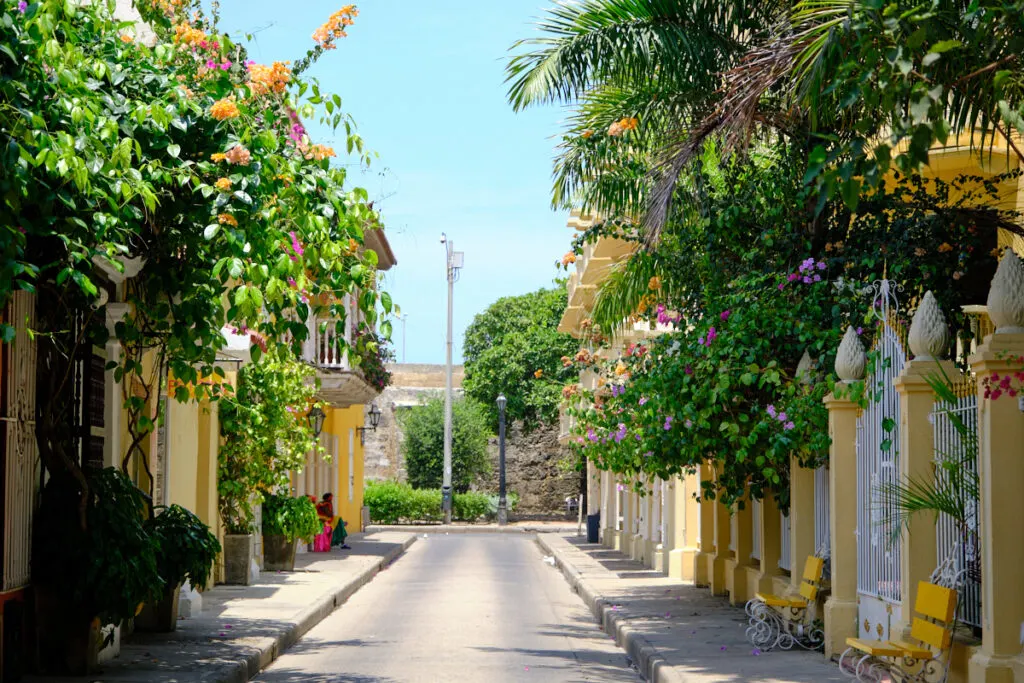 Cartagena, located on Colombia's northern Caribbean coast without a doubt makes for one of the best Caribbean honeymoon destinations. Besides offering gorgeous honeymoon-worthy beaches in the nearby Rosario Islands, the historic colonial city is full of romantic charm.
The Casa San Agustín is Cartagena's finest hotel. Located in a cluster of former colonial mansions, it captures that romantic charm perfectly. The Sofitel Legend Santa Clara and Hotel Charleston Santa Teresa also offer luxury experiences perfect for a Caribbean honeymoon in former colonial-era convents. All are located in Cartagena's historic Walled City, where you'll find the best restaurants, cafes, and nightlife.
Among the can't-miss things to do in Cartagena, is strolling that historic city. The flower-covered balconies and colorful colonial architecture are perfectly romantic. For an extra romantic feel, snuggle up in one of the old cannon openings in the wall itself to watch the sunset over the Caribbean.
What to Do on Your Cartagena Honeymoon:
Recommended by Adam of Cartagena Explorer.
16. Bahamas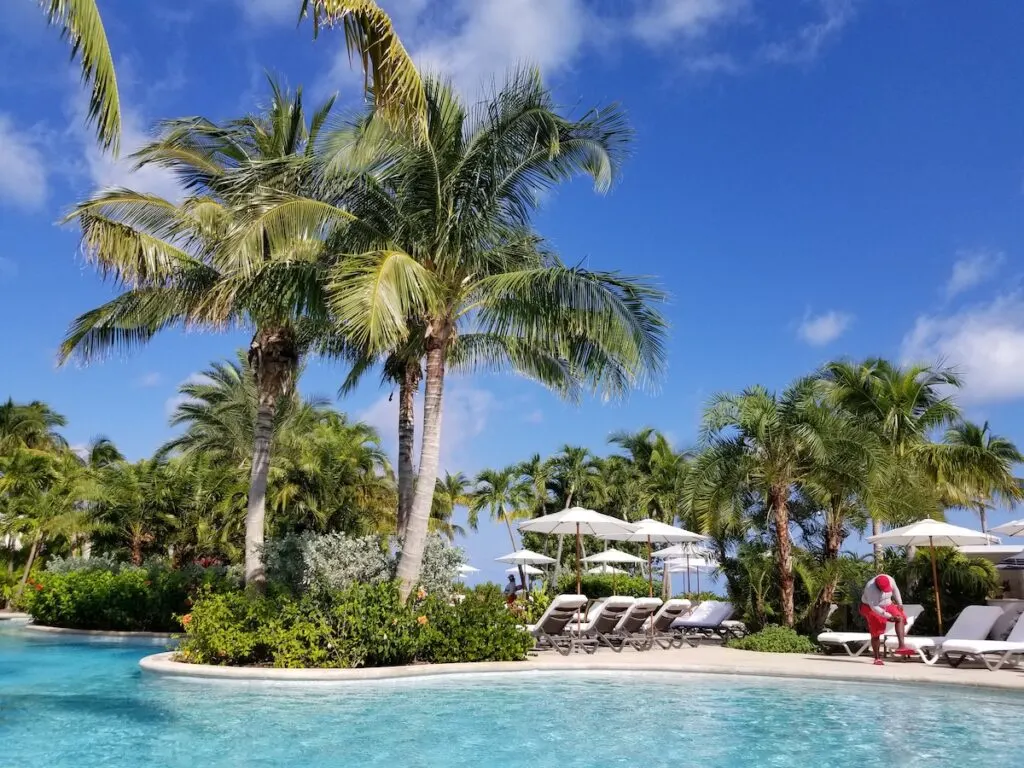 The Bahamas is truly one of the best spots in the Caribbean for your honeymoon! It's absolutely gorgeous, there are a ton of things to do (but you'll also easily find quiet spots for couples as well), and the overall culture is so lively and inviting.
There are a lot of great places to stay in the Bahamas. One to check out is the Baha Mar resort complex. It's made up of 3 luxurious hotels: the SLS, Grand Hyatt, and Rosewood. Each has its own vibe and they are connected by an upscale casino and an array of world-class restaurants and bars. The SLS is adults-only and the Rosewood has its own private pool and beach access, so you'll be ensured privacy for your honeymoon.
There are also so many things to do all throughout the Bahamas:
Take a day trip to Exuma and swim with pigs (yes, there are pigs that swim in the Caribbean and they're super cute!). It's truly a unique experience.
If you're an eco lover, you can also check out the Ardastra Gardens & Wildlife Conservation Center and catch a flamingo rodeo
Make your way out to the Blue Holes National Park for great snorkeling (there are also hiking opportunities too)
Rum lovers can take a tour at John Watling's Distillery
And truly no matter where you stay, you will find a stunning beach to laze around all day if that's your jam.
Recommended by Kelie of Vacations Planned.
17. St Vincent & the Grenadines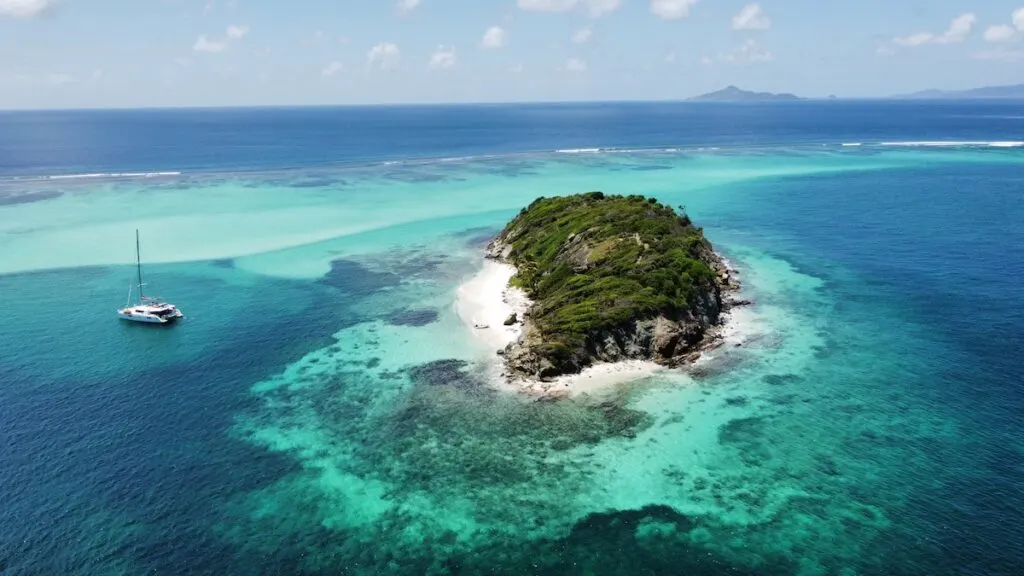 Saint Vincent and the Grenadines, in the southern Caribbean Sea, is the perfect tropical destination for an off-the-beaten-path, luxurious honeymoon experience.
There are several islands to choose from in the Grenadines, from the Tobago Cays to Bequia, each with luxurious accommodation options. But if you're looking for a total honeymoon splurge, and barefoot luxury appeals, then Petit Saint Vincent is the place to stay. This private island resort is ringed by a 2-mile beach, with turquoise sea in every direction, and a lush green interior.
There are only 22 villas on the entire island, so honeymooners can enjoy total privacy and peace. But whichever island you choose as your home base, a big part of the fun will be setting sail to explore other islands in the Grenadines with day trips or an overnight hop.
The turquoise waters of the Grenadines and warm sunshine combined with luxurious villas, delicious food, and plenty of activities will make it an unforgettable experience that you can cherish forever. It's the perfect destination for honeymooners looking to get away, relax on the beach and in the sun, and find romance in a truly magical tropical setting!
Things to do on your honeymoon in the Grenadines:
Spend the day at the beach, snorkel, or take up scuba diving
Relax in the afternoon at the hillside spa at Petit St. Vincent, which offers a range of treatments that will leave you rejuvenated and refreshed
Feast on fresh fish, and don't forget to sample a glass from the Petit Saint Vincent's 6,000-bottle wine cellar, with award-winning selections
Island hop by sailboat to the Tobago Cays or Carriacou, a small island that's part of Grenada
Recommended by Lee of Mango Tree Travel.
18. St Kitts and Nevis is One of the Best Honeymoon Spots in the Caribbean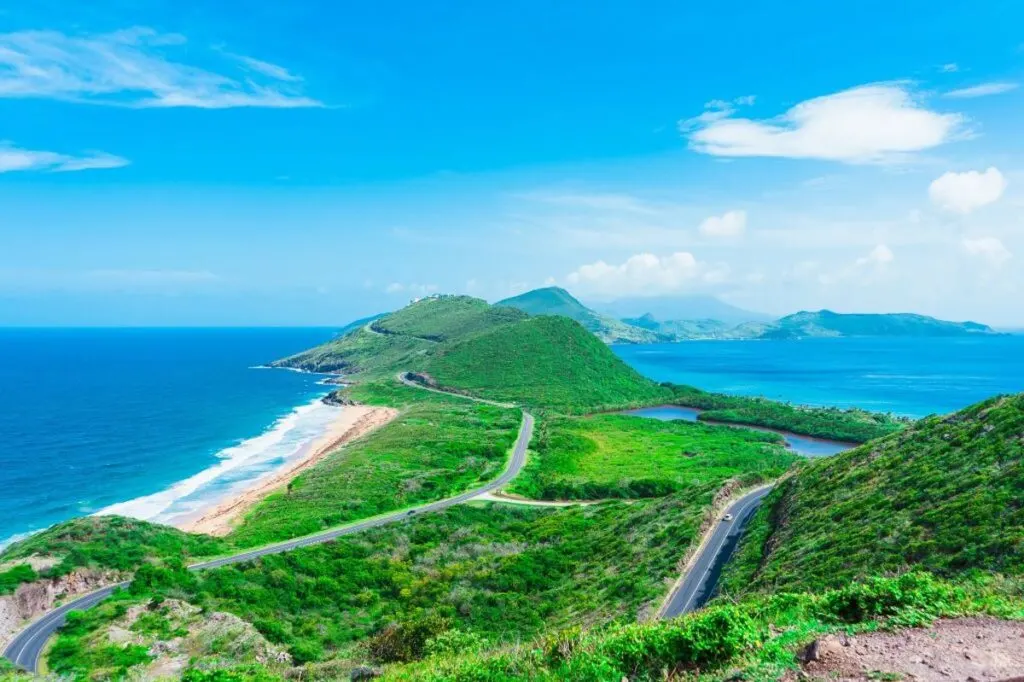 If you're looking for the perfect Caribbean honeymoon destination then the tiny twin island nation of St Kitts and Nevis will tick all the boxes. There are plenty of romantic honeymoon activities in St Kitts and Nevis to keep newlyweds occupied on both islands.
For a relaxing honeymoon, there are plenty of amazing beaches to visit and the water temperature is warm year-round for swimming, snorkeling, or scuba diving. For more adventurous couples hiking is a great option to get out and explore the islands with many hikes available from short hikes in the jungle to full-day hikes up the volcanos on both St Kitts and Nevis. For the longer volcano hikes it's recommended to go with an experienced guide.
Both islands have some amazing accommodation options for honeymooners like the exclusive Belle Mont Farm in the north of St Kitts, or the Park Hyatt resort on the southeast peninsula of St Kitts with beautiful views of Nevis.
In Nevis, there are a few standout luxury boutique hotels like The Golden Rock, The Hermitage, or Montpelier all of which have a perfect romantic atmosphere for a honeymoon. For the best honeymoon experience, we recommend spending at least a few nights on each island to get a real feel for this beautiful hidden gem in the Caribbean.
Things to do on St Kitts and Nevis:
Horseback ride on the beach
Ziplinine in St Kitts
Visit Brimstone Hill Fortress, a UNESCO world heritage site on St Kitts
Explore the Scenic Railway to learn about the history of the sugar trade in the Caribbean
Visit the Alexander Hamilton Birthplace Museum on Nevis
Recommended by Stephanie of Book It Lets Go.
19. St Maarten
St Maarten is an amazing international destination that is perfect for a Caribbean Honeymoon. You can enjoy relaxation time, beach time, and exploring the different sides of this French/Dutch Island.
St. Maarten is perfect for newlywed couples looking for a romantic getaway where you can enjoy holding hands on beautiful white sandy beaches such as Orient Beach or enjoying gourmet food at local culinary hot spots. The lush green rolling hillsides and bright blue Caribbean Sea are the perfect places to experience love and romance.
St Maarten is a balance of relaxation opportunities such as sunset cruises, and massages as well as exhilarating adventure activities like hiking, water sports, and ziplining through rainforests. For a luxurious honeymoon-worthy hotel you will want to stay at the Sonesta Ocean Point Resort which offers breathtaking views of the Caribbean at this adults-only resort.
What to do on your St Maarten honeymoon:
Checkout scenic views at two different locations: the Dutch-side Rainforest Adventure Park as you zipline through this eco-adventure park, or explore Pic Paradis on the French-side
Watch planes fly overhead at Maho Beach
Explore by horseback along the beach or on the lush hillside at Seaside Nature Park
Swim in a natural pool such as David's Hole which is located on the French side of the island and is a geological wonder
Relax at Great Bay Beach, and then check out the local boutiques and restaurants as you stroll through Phillipsburg
Enjoy a Creole-style dinner and wine together by sunset on a catamaran cruise
Recommended by Kate and Erin of the Exploring Family.
20. St Croix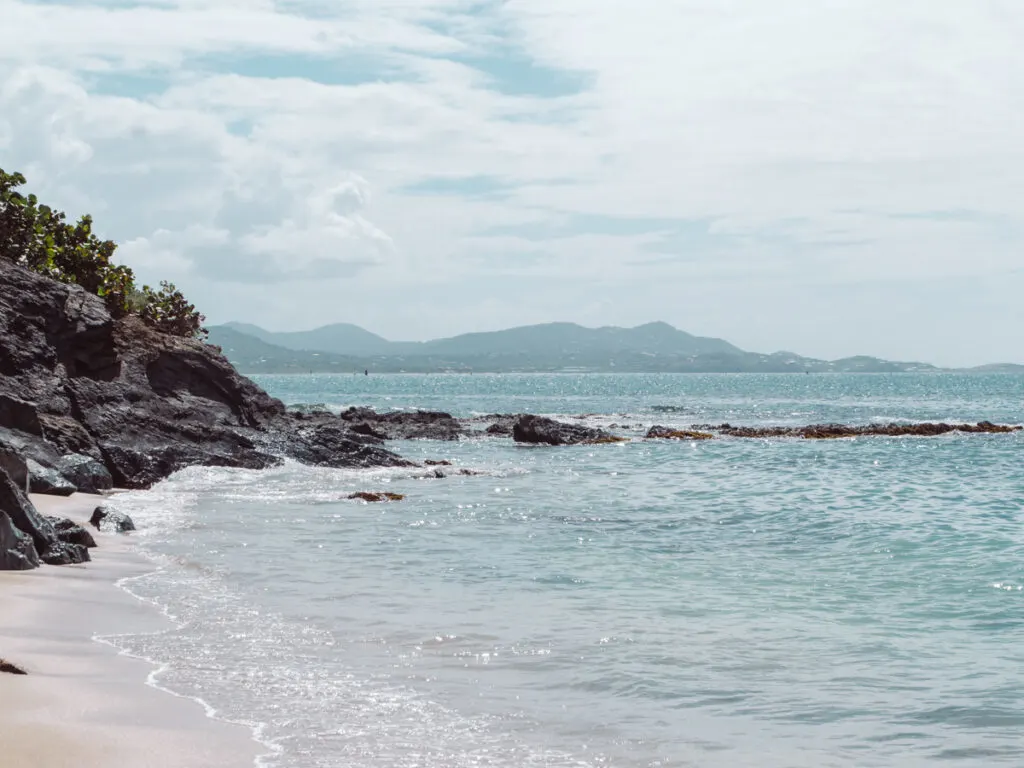 St. Croix is the largest in land area and furthest south of the US Virgin Islands. With diverse tropical landscapes and gorgeous beaches, this chill island is the perfect setting for a memorable honeymoon. Plus, there is no passport required for US citizens, and direct flights are offered from a handful of US cities.
When comparing St. Thomas vs St. Croix, many travelers opt for the former, which offers the chance to go island hopping in the British Virgin Islands. However, ignoring St. Croix is a mistake, as this more isolated island boasts three National Historic Sites, hiking trails to sweeping sea views, and an impressive foodie scene. In one trip, it is possible to hike past the arid landscapes and low-lying cacti of the island's east end, as well as take an ATV tour through the small rainforest on the west end.
The best place to stay in St. Croix during your honeymoon is the Buccaneer Beach & Golf Resort. Located only seven minutes from the sights and restaurants of Christiansted, the Buccaneer offers an idyllic location, with access to three different beaches right on the property. Additional luxury amenities at the resort include four restaurants, tennis courts, and an 18-hole golf course with views of the Caribbean Sea.
What to do on your St. Croix Honeymoon:
Bask in the calm turquoise waters of Mermaid Beach, where you can order food and drinks from your chair while lounging on the white sands
Take a snorkel tour of the coral reefs around Buck Island National Monument
Explore the period of Danish colonization and walk in Alexander Hamilton's footsteps at Christiansted National Historic Site
Visit Point Udall to see the easternmost point of the United States
Visit Rainbow Beach to swim, jet ski, grab casual fare at Rhythms, and watch the sunset
Recommend by Theresa of Fueled by Wanderlust.
21. Curaçao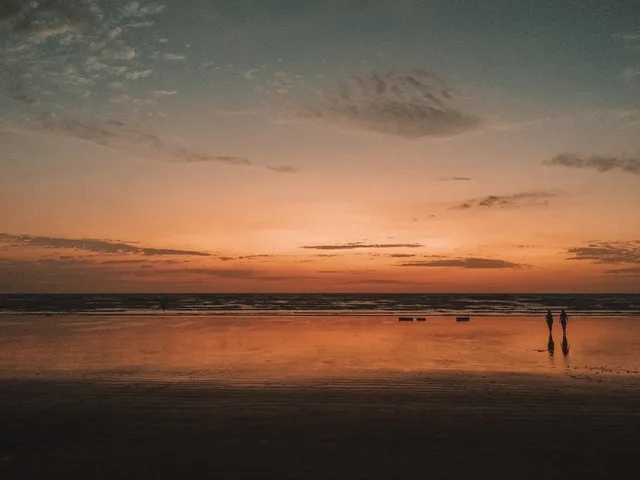 While this island is best known to U.S. travelers as an impressive southern Caribbean port of call, don't overlook Curaçao as a destination for a dreamy honeymoon. An amazing array of things to do in Curacao make this a perfect destination for a Caribbean honeymoon, whether you're looking for an adventurous vacation or one spent by the beach.
Curacao is well known for having an impressive reef located just offshore, providing incredible opportunities for snorkeling and scuba diving. The pair of idyllic Grote Knip and Kleine Knip beaches are the perfect choice for a beach day, including great snorkeling.
If you're looking for a more exciting swim spot, check out the Tugboat Wreck; located in just 15 feet of water and accessible from the beach– even snorkelers can enjoy this wreck. Curacao's Superior Producer Wreck, considered one of the best wreck dives in the Caribbean, is another popular option for certified Scuba divers.
Another white sand beach not to miss is on Klein Curacao, a tiny island located a short catamaran ride from the main island. This deserted island is home to unending stretches of white sand and a beautiful lighthouse. The excursion to the island is one of the most popular day trips in Curacao.
Curacao has a huge variety of boutique hotels, guest houses, and impressive resorts to choose from. While Sandals Royal Curacao is a favorite, consider staying at Baoase Luxury Resort instead – it's located on one of Curacao's most popular beaches and feels much more secluded and romantic than the island's larger resorts.
What to do on your Curaçao honeymoon:
Explore the colorful capital of Willemstad, famous for its incredible Dutch Caribbean architecture
Visit Playa Lagun, a stunning cove beach with white sand and incredible snorkeling
Walk from one side of the city to the other on the Queen Emma Pontoon Bridge for the best views of the city from the water
Eat a Jaanchies on the island's rugged west end for traditional local favorites – even try iguana and goat!
Recommended by Carley of Explorers Away.
22. Cuba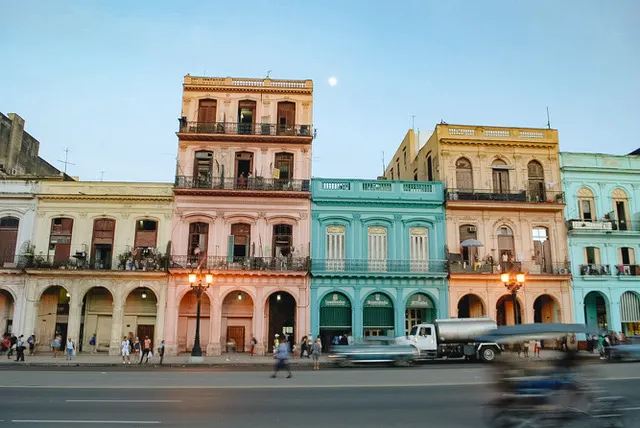 Just 90 miles off the coast of Florida, Cuba isn't a honeymoon destination many U.S. travelers might consider. However, with regulations making it easier than it has been in decades to visit the island, now might be the perfect time to visit this once-off-limits place. From the winding, historic streets of Old Havana to the colonial gem of Trinidad and much more, there is so much to see and do in Cuba if you're looking for an active honeymoon.
Or, if relaxing on the beach is more the honeymoon style you're after, you'll have your pick from some of the most beautiful beaches in the Caribbean, many of which remain untouched and undeveloped, like the Caribbean from decades ago.
What to do on your Cuba honeymoon:
Explore Old Havana with its colorful architecture, cool cafes and restaurants, and endless galleries, museums, and historical monuments
Try authentic Cuban food in Havana's local "paladares"
Hike Cuba's highest peak, Pico Turquino
Visit untouched white sand beaches on Cuba's less-visited cays like Cayo Jutias, Cayo Saetia, and Cayo Largo del Sur
Recommended by Carley of Home to Havana.
**Check here for visa requirements for Cuba for US Citizens.
23. Aruba is One of the Best Caribbean Honeymoon Destinations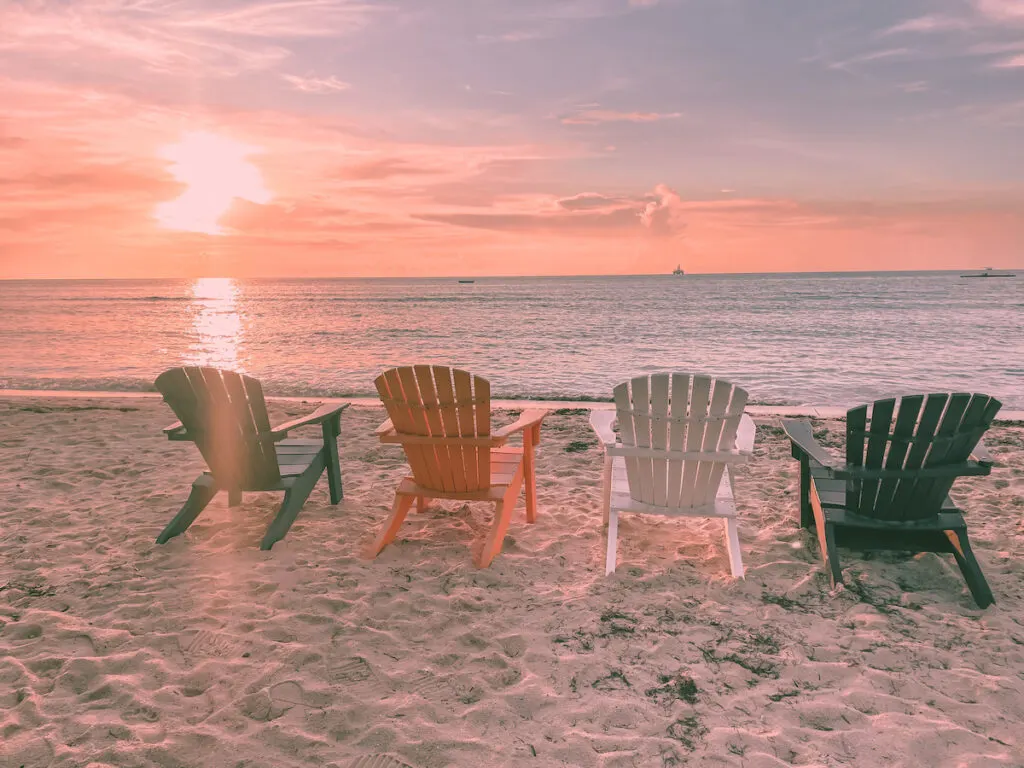 Aruba is a beautiful small island in the Caribbean and the perfect destination for a romantic honeymoon. Endless, white sandy beaches, crystal clear water, and happy island vibes make Aruba the ideal destination.
Together with Bonaire and Curacao, Aruba forms the ABC-island group. They are conveniently located outside of the hurricane belt so that you can visit Aruba all year round and enjoy amazing weather.
Not only are the beaches in Aruba next level but everything else on the island is up to a high and luxurious standard. Romantic, beachfront restaurants with special cuisine and beautiful, relaxing spas can be found at every corner of Aruba.
The best place to stay in Aruba for your honeymoon is at the Renaissance Wind Creek Aruba Resort in Oranjestad. The fabulous all-inclusive resort will cater to your every need.
Most importantly, staying at the Renaissance itself is the easiest way to get a day pass for the famous Renaissance Island. This is where you will find flamingos lounging on the beach.
Renaissance Island is the perfect place for a romantic beach day. You can let yourself be spoiled in one of the Cabanas on the Beach, book a massage package at the Spa Cove, or simply sip some cocktails and enjoy the view. The best part about Flamingo Beach: it is adults-only, which makes it perfect for honeymooners!
Other great things to do in Aruba on a honeymoon are:
Recommended by Sabrina of Shades of Summr.
24. Grand Cayman is Where to Honeymoon in the Caribbean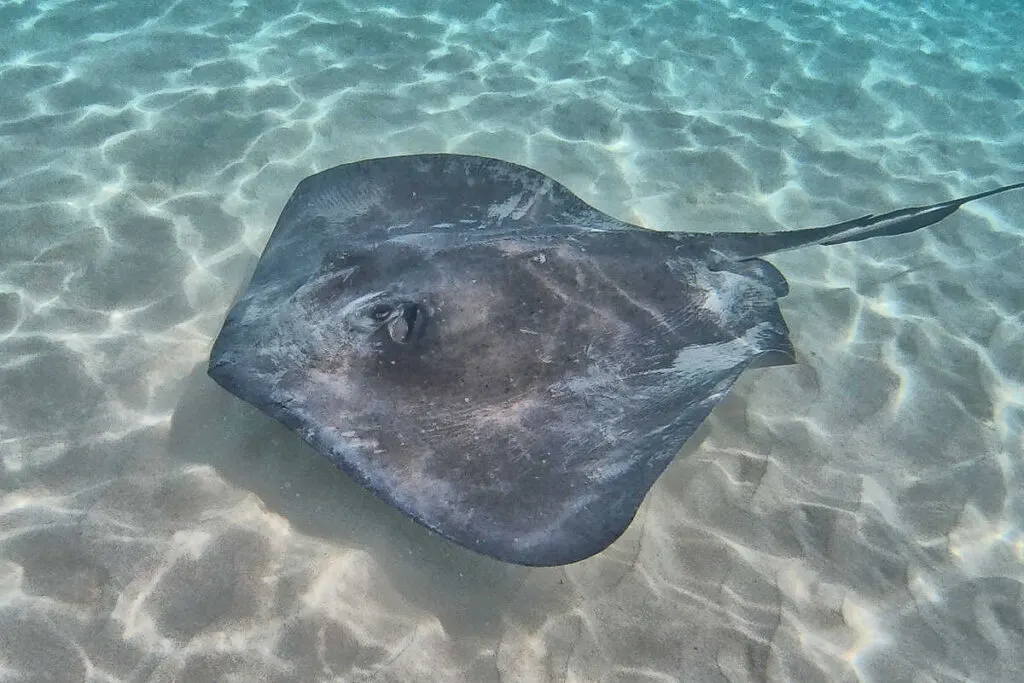 Are you looking for a honeymoon destination that is both romantic and beautiful? Look no further than Grand Cayman! This exotic Caribbean Island is perfect for newlyweds, with its year-round warm weather, dreamy landscapes, and world-class resorts. Also, Georgetown provides a great place to shop duty-free!
The Cayman Islands consist of three islands: Little Cayman, Cayman Brac, and Grand Cayman in the Western Caribbean. The latter attracts the rich with its non-existent tax for corporations. You could say it's a tropical playground for the very wealthy.
Of the three, Grand Cayman sees the most visitors. It is the perfect destination to create wonderful honeymoon memories with its picturesque beaches, ideal climate, and romantic couples' activities.
The Westin Grand Cayman Seven Mile Beach Resort & Spa provides the ultimate pampered stay. Located on the nicest part of Seven Mile Beach, you'll enjoy a slice of island paradise. The hotel's Beach House Restaurant offers a torch-lit toes-in-the-sand dinner, perfect for honeymooners.
During your stay, book a couple's massage at the Hibiscus Spa. The romantic treatment includes the use of a private jacuzzi.
If you want to check out the neighboring isles of Little Cayman and Cayman Brac, boat charters take one hour and cost under $25.
Grand Cayman excursions and tours are plentiful. While swimming with stingrays might be its number one attraction, it's very touristy. However, if you've never experienced this event, it's a must-do on your honeymoon.
What to do on your Grand Cayman Honeymoon:
Tour Cayman Crystal Caves to see the spectacular stalagmites and stalactites
Take a moonlight horseback excursion on the beach. Alternatively, a daylight tour allows you to swim with the horses.
Enjoy the views of the islands and ocean on an intimate helicopter ride
Certified divers can enjoy a diving tour of the USS Kittiwake shipwreck
Recommended by Karen of Forever Karen.
25. Puerto Rico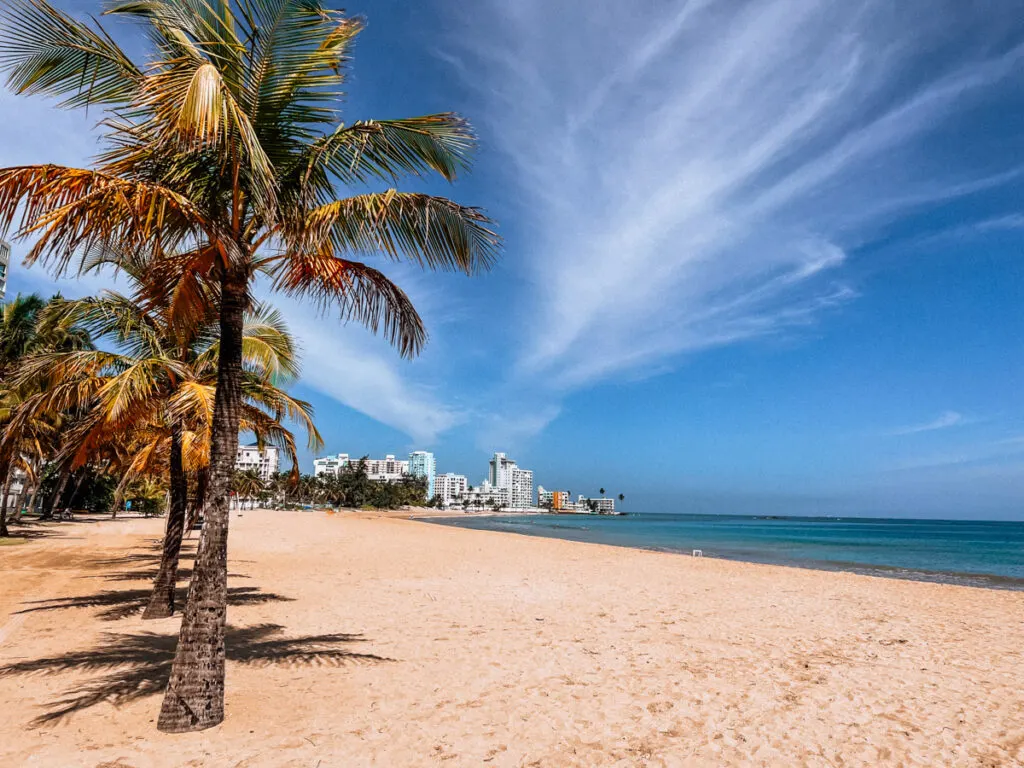 Puerto Rico is a fantastic Caribbean honeymoon destination, especially for Americans! For starters, US citizens don't need a passport to enjoy this lovely place. Secondly, there are ample stunning beaches, cute towns, smaller islands, places to snorkel, surf spots, and so much more!
Let's not forget to mention the astounding 3 bioluminescent bays where you can admire the starry night above and sparkling glowy water below. For the most unforgettable experiences, definitely head to Vieques for the brightest bio bay in the world: Mosquito Bay, and then head to La Paguera for the only bio bay in Puerto Rico you can swim in together!
Spend your days lounging along the beaches and your evenings enjoying local cuisine and dancing the night away!
For a great place to stay, opt for the Caribe Hilton in San Juan! It is where the famed Pina Colada came from!
What to Do in Puerto Rico:
Go snorkeling in Vieques near stunning reefs with Vieques Snorkel Tour
Enjoy a food tour of Old San Juan
Explore Old San Juan with its colorful buildings
Learn to surf in Rincon
Swim at the cays in La Paguera
Enjoy a fantastic kayak or snorkel tour of the bio bays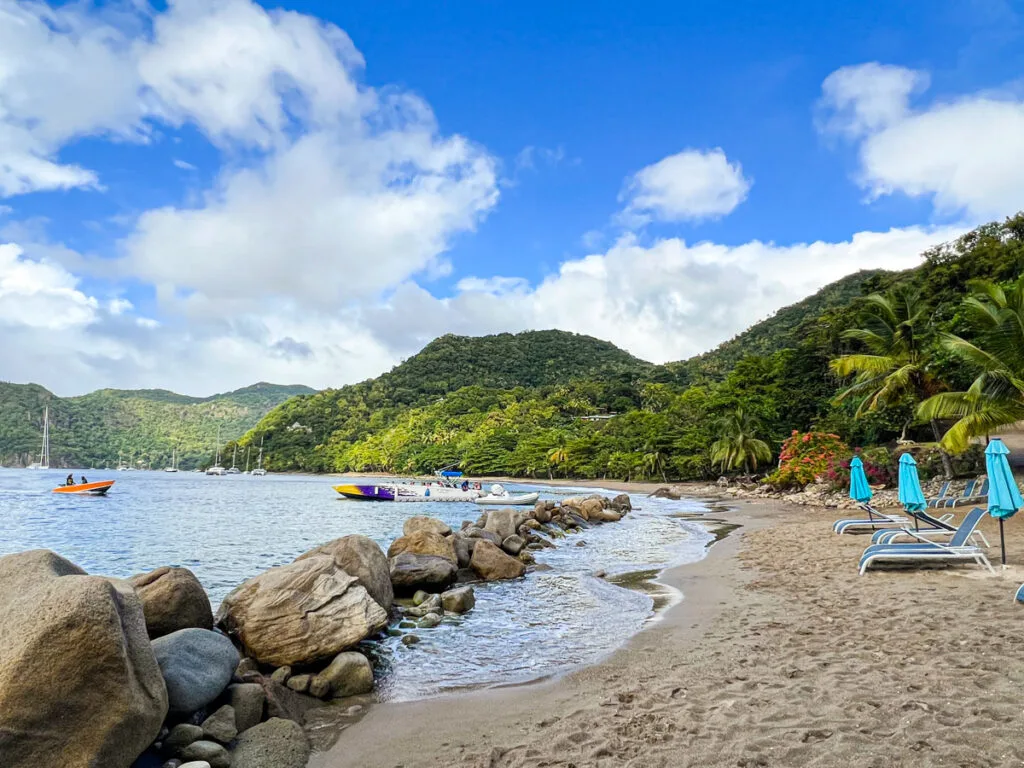 These are the 25 best Caribbean honeymoon destinations for the most romantic getaway! Which would you most like to visit?
Want more honeymoon ideas? Check out these posts!
Pin it here!