Some posts on this site contain affiliate links, meaning if you book or buy something through one of these links, I may earn a small commission (at no additional cost to you!). Read the full disclosure policy here.
---
Planning a Kenya honeymoon? You're in for a treat!
There are so many great Kenya honeymoon destinations from romantic Kenya safari honeymoon locales to dreamy beaches and more! The possibilities are endless for your incredibly exciting honeymoon in this charming East African nation.
So whether you're in search of one of Africa's best beaches for your honeymoon or want a combination of a Kenya safari and beach honeymoon, we've got you covered in this ultimate Kenya honeymoon guide.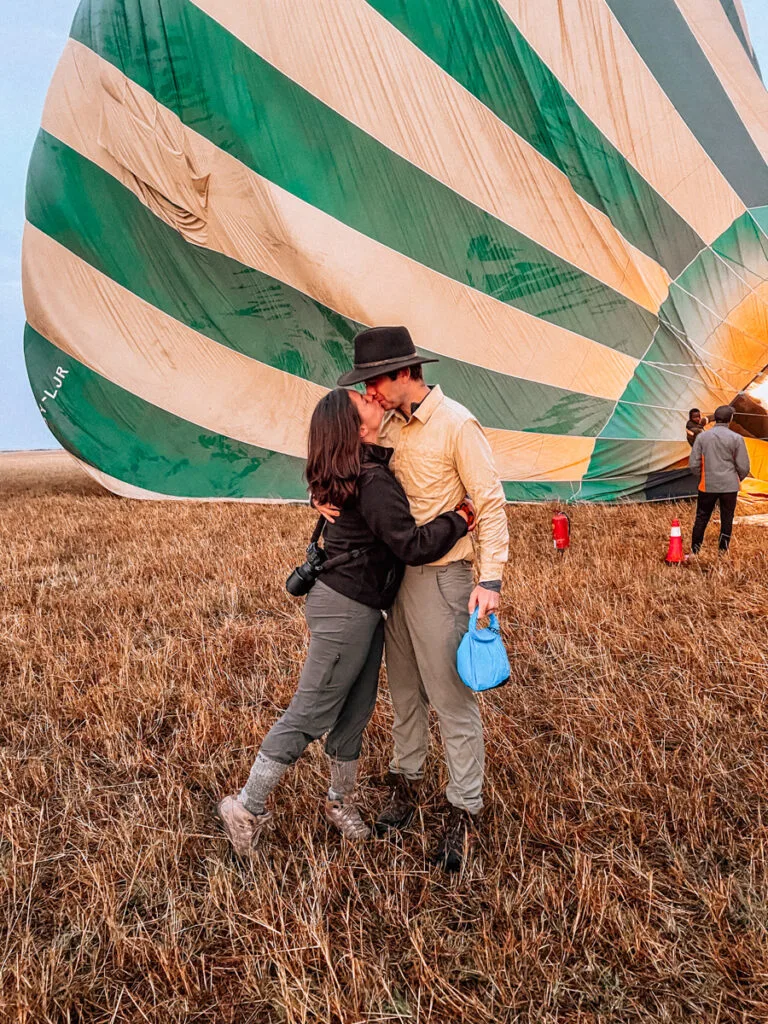 Best Honeymoon Destinations in Kenya
The most important thing when it comes to planning your honeymoon in Kenya is choosing where to go! Here are the top 10 honeymoon destinations in Kenya to check out for your trip.
Masai Mara National Reserve
Nairobi
Amboseli National Park
Watamu Marine National Park
Mombasa
Lake Naivasha
Chale Island
Samburu National Reserve
Meru National Park
Tsavo National Park West
For more information about these romantic destinations in Kenya, the best Kenya honeymoon resorts, and more, keep reading below!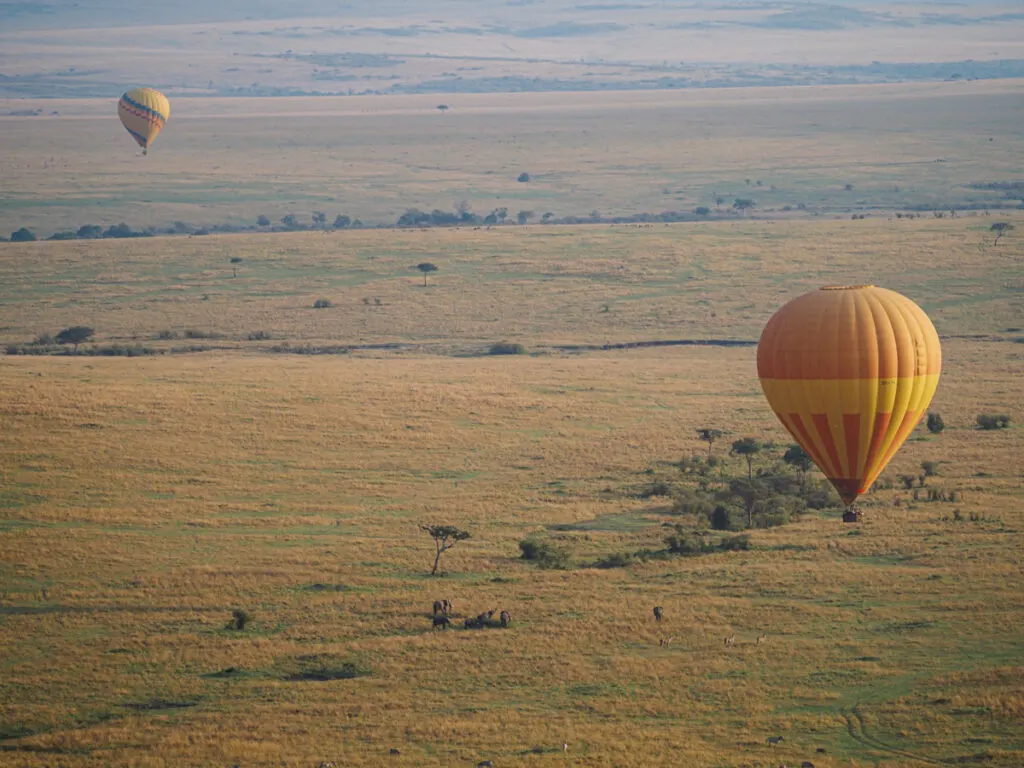 Best Kenya Honeymoon Destinations & Resorts
From Nairobi to the Masai Mara, here are the best places to honeymoon in Kenya.
1. Masai Mara National Reserve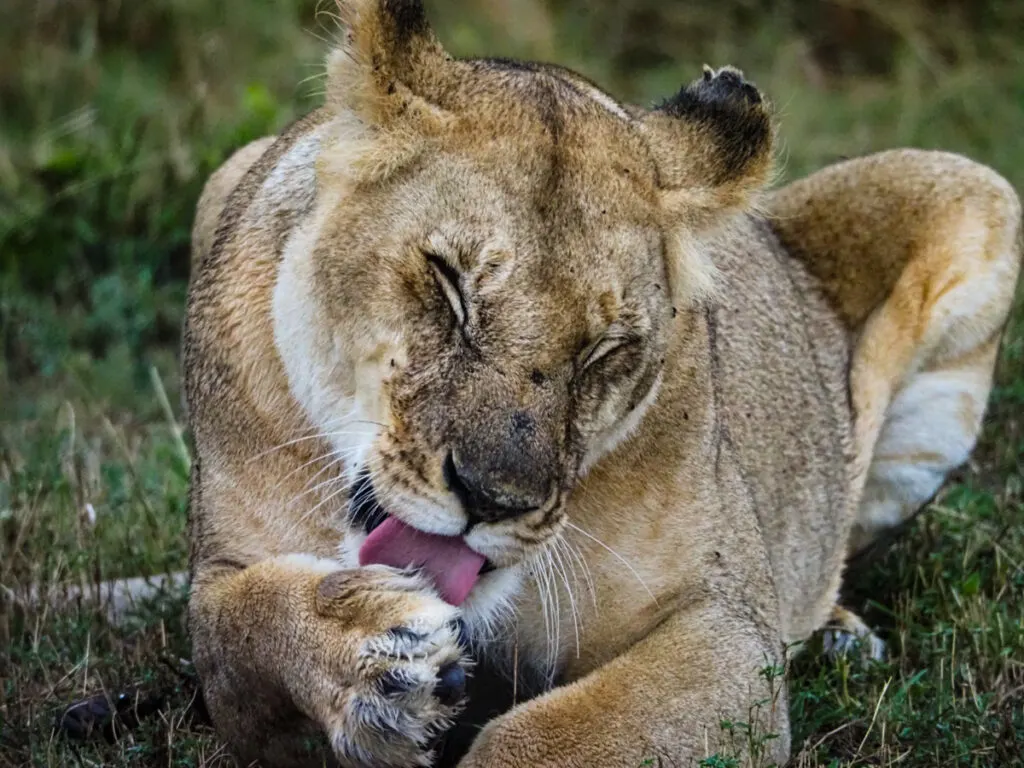 This is easily one of the most popular honeymoon destinations in Kenya, let alone one of the most popular places to honeymoon in Africa! This massive national reserve sits at the border and meets the Serengeti in Tanzania.
The Masai Mara is named after the Maasai people, and this reserve is known for spotting the Big 5, cheetah, hippos, and the chance to witness the Great Migration of wildebeest. Also, the reserve is known for its uber romantic hot air balloon safaris.
And if you stay in one of the conservancies outside of the national reserve, they also offer things like horseback safaris, walking safaris, nighttime safaris, and more!
This is a lovely place to enjoy big game sightings and luxurious tented lodges during your Kenya honeymoon safari.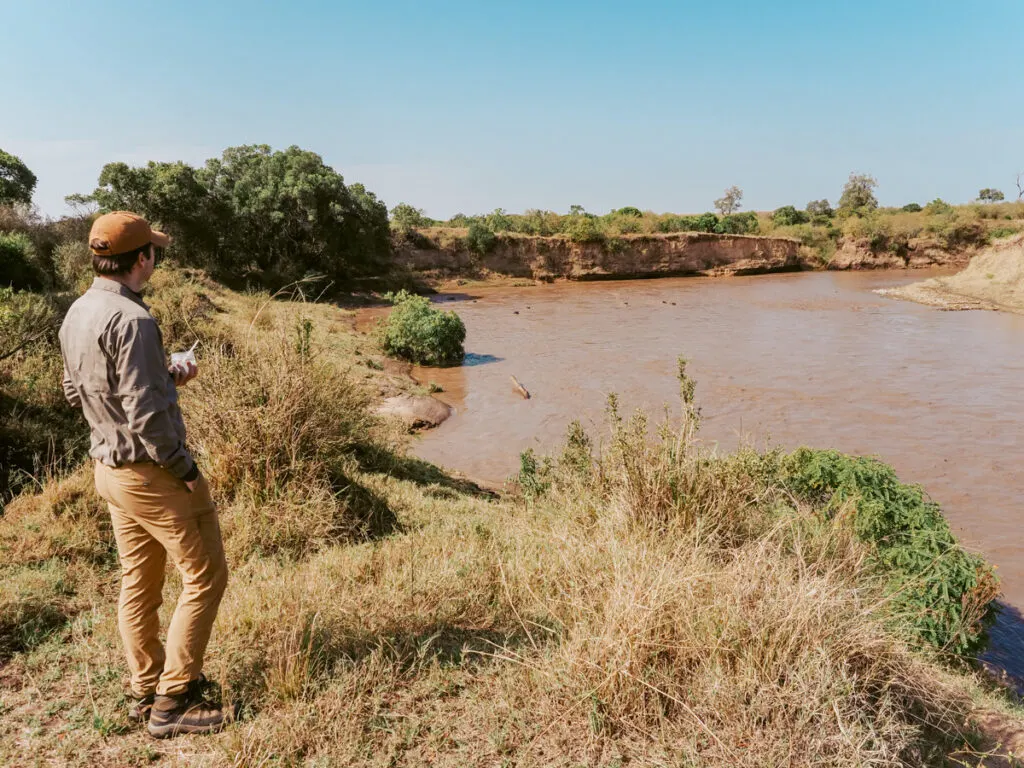 Top Kenya Safari Honeymoon Lodges in the Masai Mara:
andBeyond Kichwa Tembo Tented Camp– This gorgeous tented camp offers everything you could want at a convenient all-inclusive honeymoon package in Kenya. Rates include all meals, laundry, drinks (other than premium beverages), twice-daily game drives, and more! Plus, they offer things like massages, visits to the nearby Maasai village, nature walks, and hot air balloon safaris.
They also have a pool to cool off in during the heat of the day.
Ilkeliani Camp– This is where we stayed on our visit to the Masai Mara and couldn't recommend it enough! It is located next to the Talek River and there are ample places to get a good view of the area including your own tent, a game viewing deck, the fire pit, and even the dining hall. Rates include all meals, game drives, transport fees, and more! They also offer massages, local Maasai tours, hot air balloon rides, and nature walks.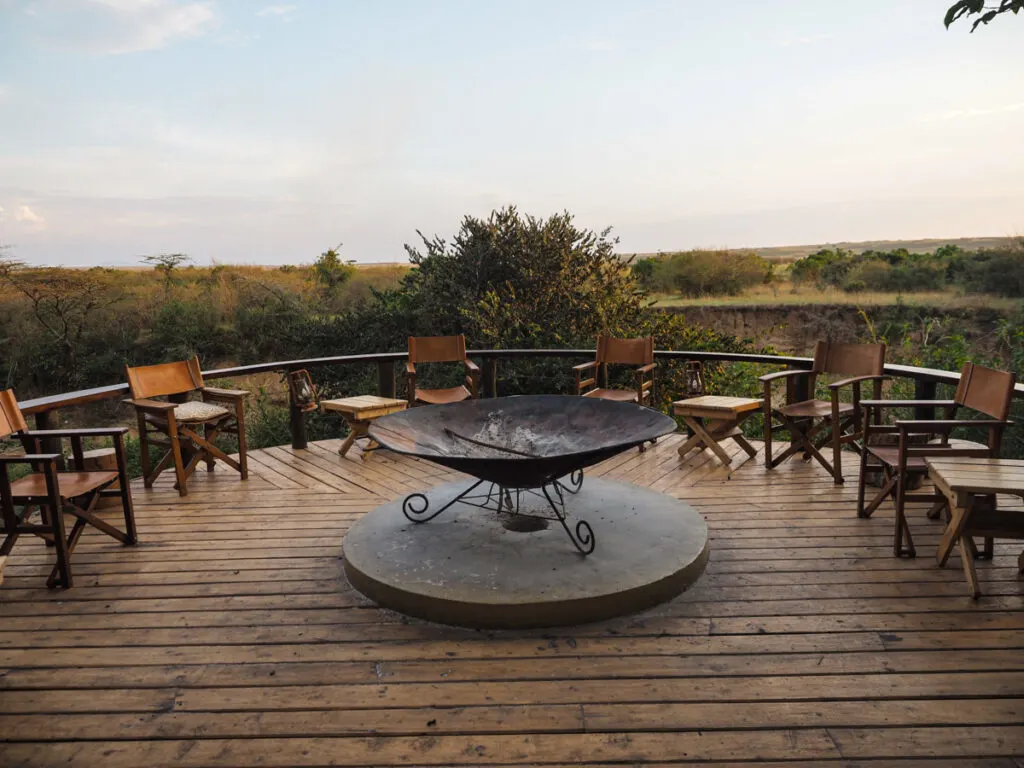 Mara Explorer Tented Camp– Also located along the Talek River, you'll see some great game viewing and beautiful scenery just at your lodge. This all-inclusive Kenya honeymoon package offers things like all meals, drinks, multiple game drives per day, guided bush walks, bush breakfasts and dinners, and more. Plus, they also offer things like hot air balloon rides, and cultural visits.
2. Nairobi Honeymoon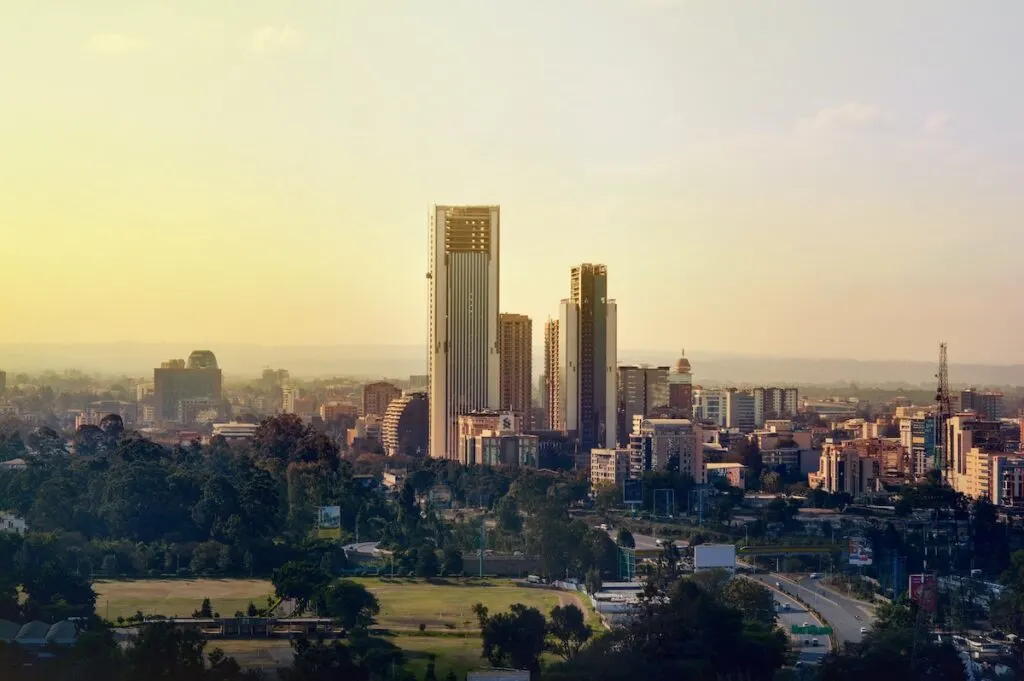 Chances are that you'll be in Nairobi at some point during your honeymoon. As it is the largest city in the country with a large international airport, it tends to be a place where many people fly into and out of and kind of skip.
But there is so much more than meets the eye in this metropolis. For starters, it has its own national park just in the city called Nairobi National Park which features animals like rhinos, lions, leopards, cheetahs, wildebeest, zebra, and many bird species.
You could easily pack up a picnic and spend a day viewing wildlife right outside of downtown!
Nairobi also has the Giraffe Center, where you have the chance to get close and visit giraffes, the Maasai Market to purchase souvenirs, or the chance to stay in a luxurious hotel.
Nairobi is a lovely place to kick off your incredible Kenya honeymoon!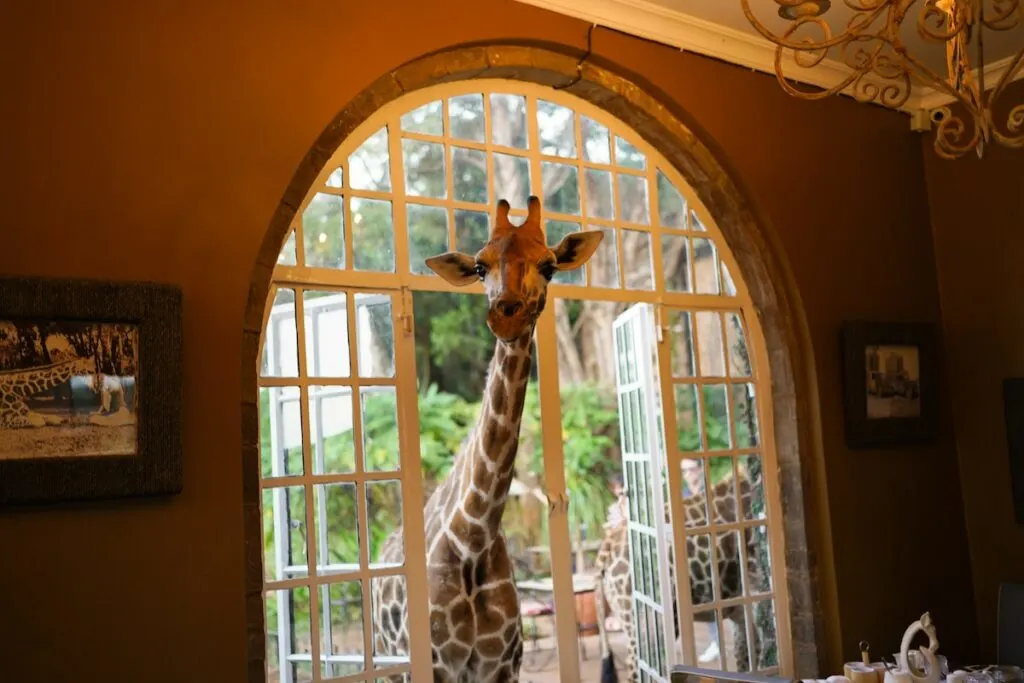 Nairobi Honeymoon Hotels:
Giraffe Manor– Chances are if you've searched for Kenya honeymoon hotels, or just have an Instagram, you've seen this magical hotel. Not only are the rooms super vintage-chic, but they offer fantastic views of the area. But its most unique feature is the resident Rothschild giraffes that will tend to visit and poke their head in the windows during breakfast or in the evenings!
Hemingways Nairobi– This 5-star boutique hotel is named after the famous author and safari-enthusiast, Ernest Hemingway. This place has beautiful views, a gorgeous spa, and a restaurant serving breakfast, lunch, dinner, and afternoon tea. And, being named after Hemingway, you know there is an iconic bar area.
Karen Blixen Coffee Gardens & Cottages– For a unique stay in a historic place, this is a lovely spot. Named for Karen Blixen, the writer of Out of Africa, the reception office is the original house of the hunting lodge and is only about a half mile from the Karen Blixen museum. This place also has a pool, luxury cottages, and a restaurant.
3. Amboseli National Park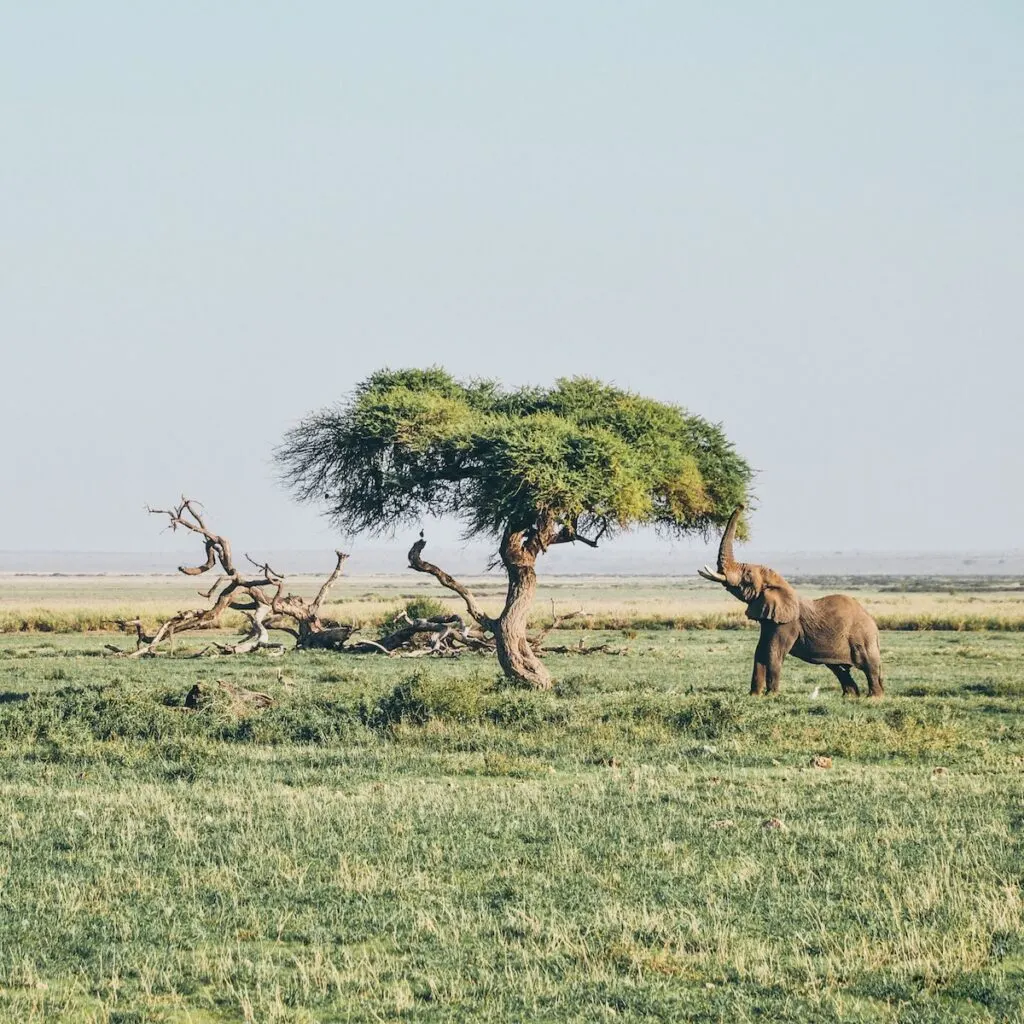 Another phenomenal Kenya safari honeymoon destination, Amboseli is the place to witness large herds of elephants up close. It is also known for many other animal sightings like lions, cheetahs, leopards, giraffes, many antelopes, and many species of birds.
To top off the beauty of Amboseli National Park is the chance to spot the stunning Mount Kilimanjaro in the background.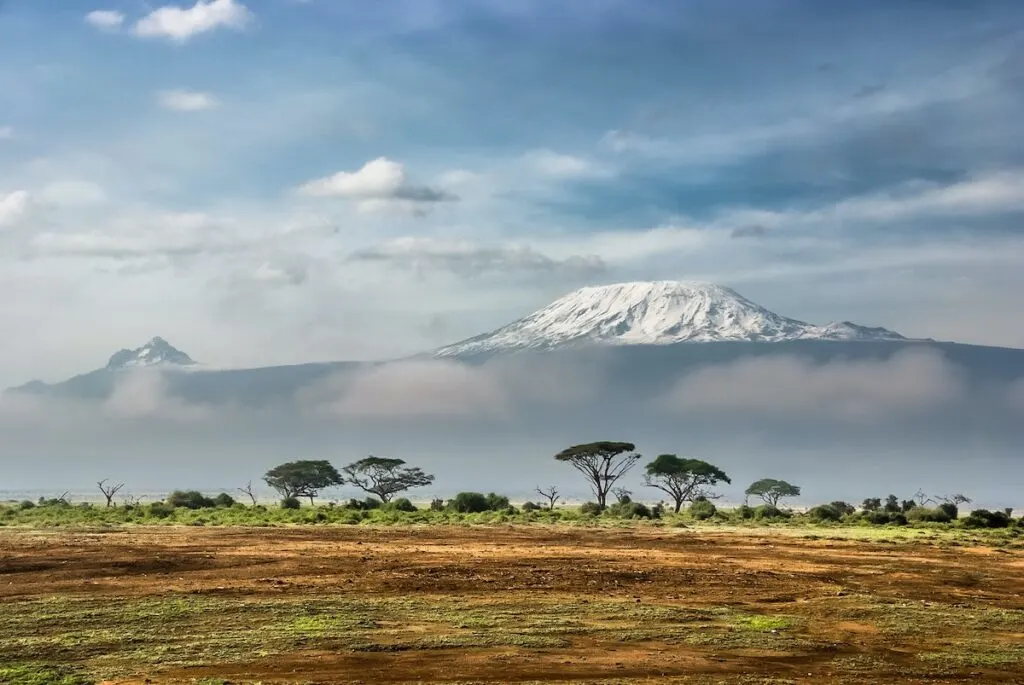 Top Amboseli National Park Lodges:
Kibo Safari Camp, Amboseli– This is a luxury tented camp featuring views of the area, including a potential view of Mount Kilimanjaro. To top it off, they have a spa and pool, which is perfect after a day of exploring the park.
Elewana Tortilis Camp Amboseli– This eco-friendly tented camp lodge is run 100% by solar power. This camp also has a pool and offers things like game drives, nature walks, massages, Maasai cultural tours, and more! If you purchase the Game Package, it includes all meals and drinks, game drives, walking safaris, laundry, and more!
Ol Tukai Lodge– With views of Mount Kilimanjaro or the wetlands, this luxury lodge offers chalet-style rooms with unique Kenyan decor. You can opt to purchase either the half-board or full-board packages. Half-board includes breakfast and lunch or dinner, and full-board includes all meals. They also offer honeymoon packages here which include a champagne breakfast, a bottle of wine, and more! Ol Tukai Lodge also can arrange things like drives, a Maasai village visit, etc.
4. Watamu Marine National Park Honeymoon in Kenya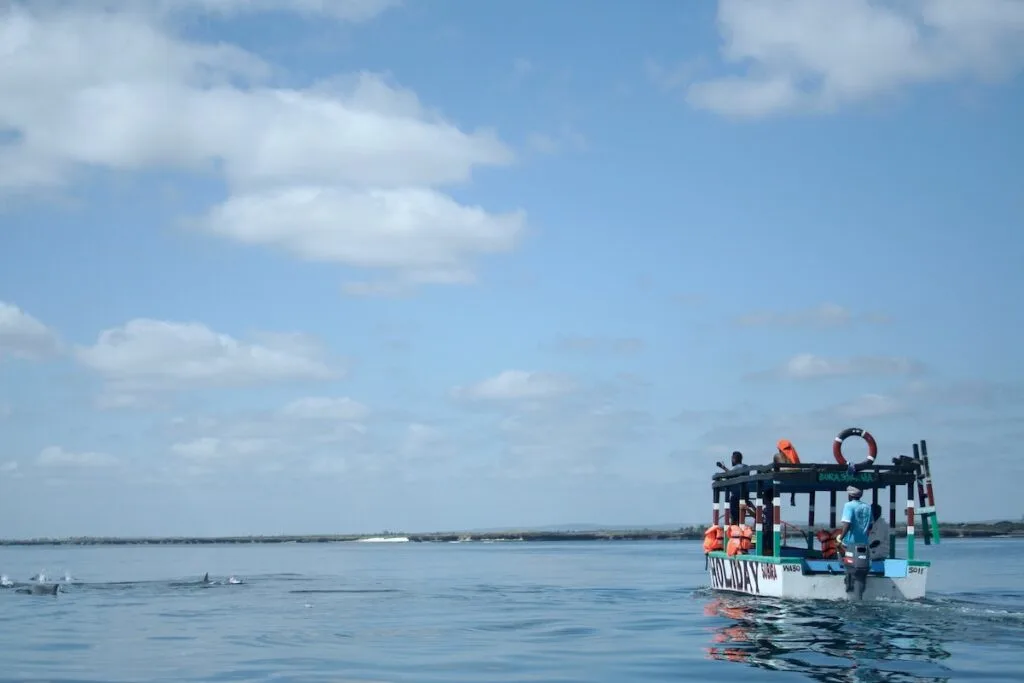 While we've talked about a couple of safari honeymoon destinations in Kenya, let's talk about the coast. Kenya has stunning beaches along its lengthy coastline. Watamu Marine National Park & Reserve is no exception.
Located along the northern coast of Kenya, this place offers sandy beaches, great snorkeling, and even glass-bottom boat tours. What makes this place unique is the chance to spot green turtles, its stunning coral gardens, and its ample fish and birdlife.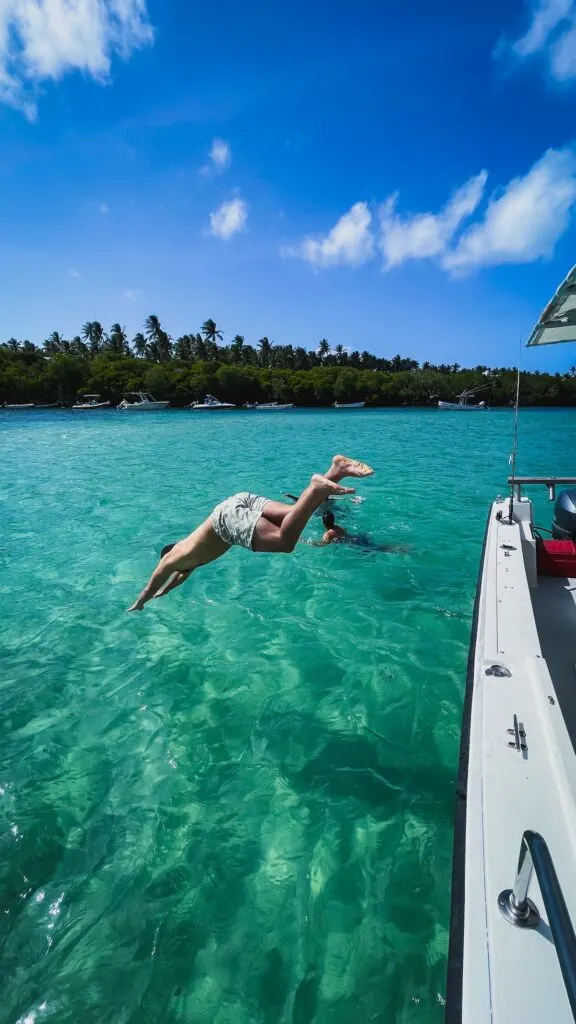 Top Watamu Marine National Park & Reserve Hotels:
Rock & Sea– This eco-lodge has some incredible lodging ranging from its king suite with its soaking tub to unique bubble lodges. Stay under the stars with incredible views in a clear bubble lodge together. They can also arrange activities such as snorkeling, diving, sailing, bird watching, kayaking, and more. Or, you can just relax by the beach together.
Palm Garden Boutique Hotel– With locally crafted decor and gorgeous suites, a spa, and a swimming pool, this is a great place to relax and unwind in post-wedding bliss. It is also a short drive or walk to the beach, and is just an overall romantic spot for your Kenya honeymoon. They also can arrange things like safaris, dolphin watching, and more!
The Mida Creek– This luxury-rustic boutique hotel sits along Mida Creek and has its own swimming pool, bar, restaurant, gym, and terraces. Aside from leisurely days of sunning and swimming, they can arrange things like wakeboarding, snorkeling, bird watching, paddle boarding, etc.
5. Mombasa Kenya Honeymoon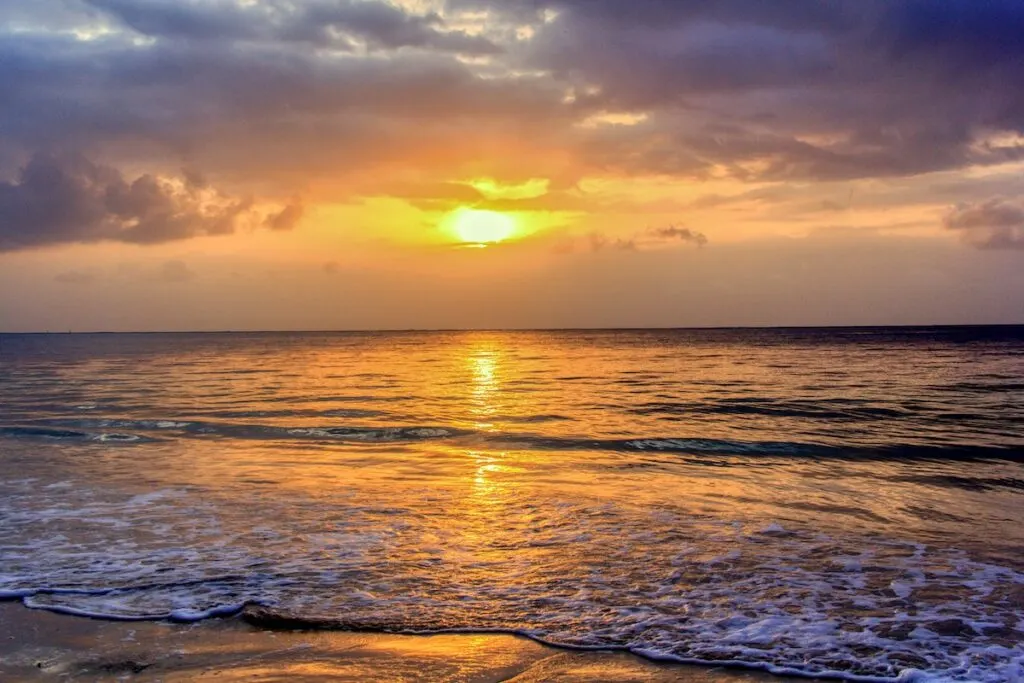 This coastal city is another popular spot for honeymoons, especially as it is a convenient location to visit after a safari honeymoon. So for those searching for a Kenya honeymoon safari and beach trip, a visit to Mombasa is a great idea!
Fly into the airport and head to the beach for a relaxing time together. This area is well known for some of its beaches, including Diani, Nyali, and Bamburi Beaches. And it isn't too far from Shimba Hills National Reserve if you're interested in a day trip safari during your beach honeymoon.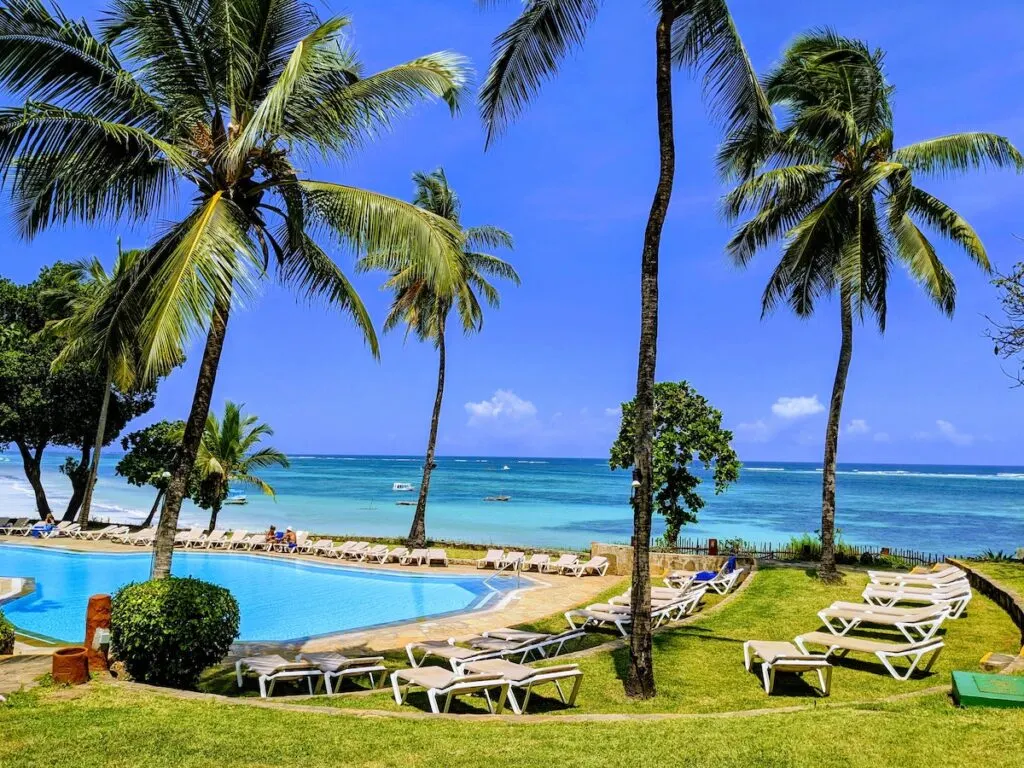 Top Mombasa Honeymoon Hotels:
Elewana AfroChic Diani Beach– Located outside of the city of Mombasa, this beachside resort has only 10 rooms, meaning you'll get quite a personalized experience during your stay. The rooms are warm and inviting–almost as much as the dreamy ocean water. They can also arrange things like snorkeling, tours of the reef with locals, visits to Shimba Hills National Reserve, diving, and massages.
Swahili Beach Resort– This resort near Diani Beach offers so much including several pools leading to the white sandy beach, a luxurious spa, and even a fun pool bar. There are even multiple restaurants to enjoy during your stay at the resort, and, if you want to try diving, this is the place to do it.
Sarova White Sands Beach Resort & Spa– This 5-star beach resort is one of the best hotels in Mombasa. They have 5 swimming pools, and a beachfront spa and the hotel offers some incredible views of the luscious beach, the gardens, or the pool area. You can even book on a full-board basis including all your meals at their delicious restaurants. They can arrange visits around Mombasa and water activities for your stay.
6. Lake Naivasha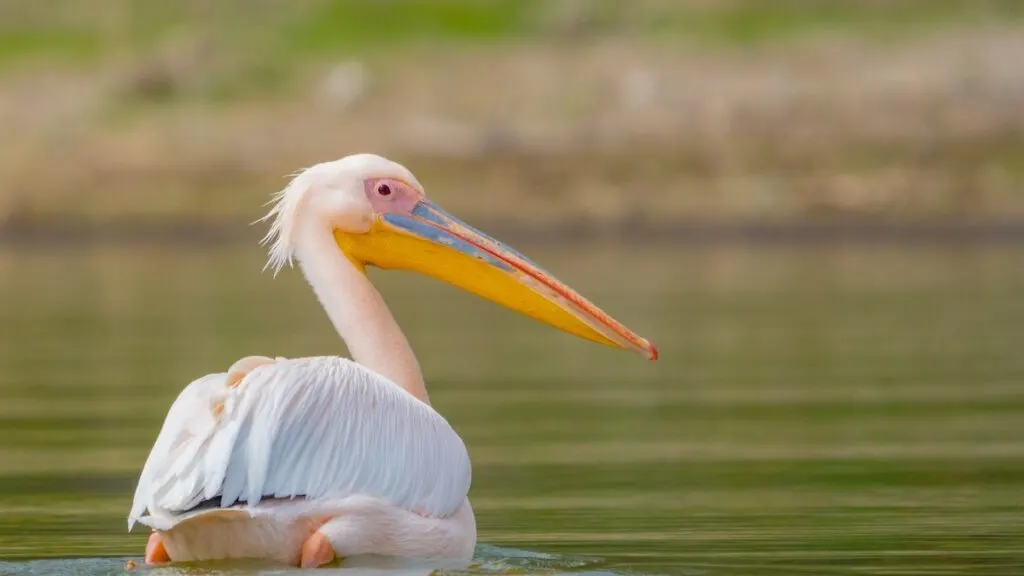 Located in the Great Rift Valley, this high-elevation lake is stunning to visit on its own, but with its vast amount of birds and hippos, it is a dreamy place for a honeymoon in Kenya.
Explore the area on your honeymoon with a visit to Crescent Island, a private island in the middle of the lake offering guided walks to see many animals including giraffes, zebras, impalas, and more.
Then, visit Crater Lake Game Sanctuary for hiking and more game spotting, or take a day trip over to Hell's Gate National Park for incredible gorges and rock formations.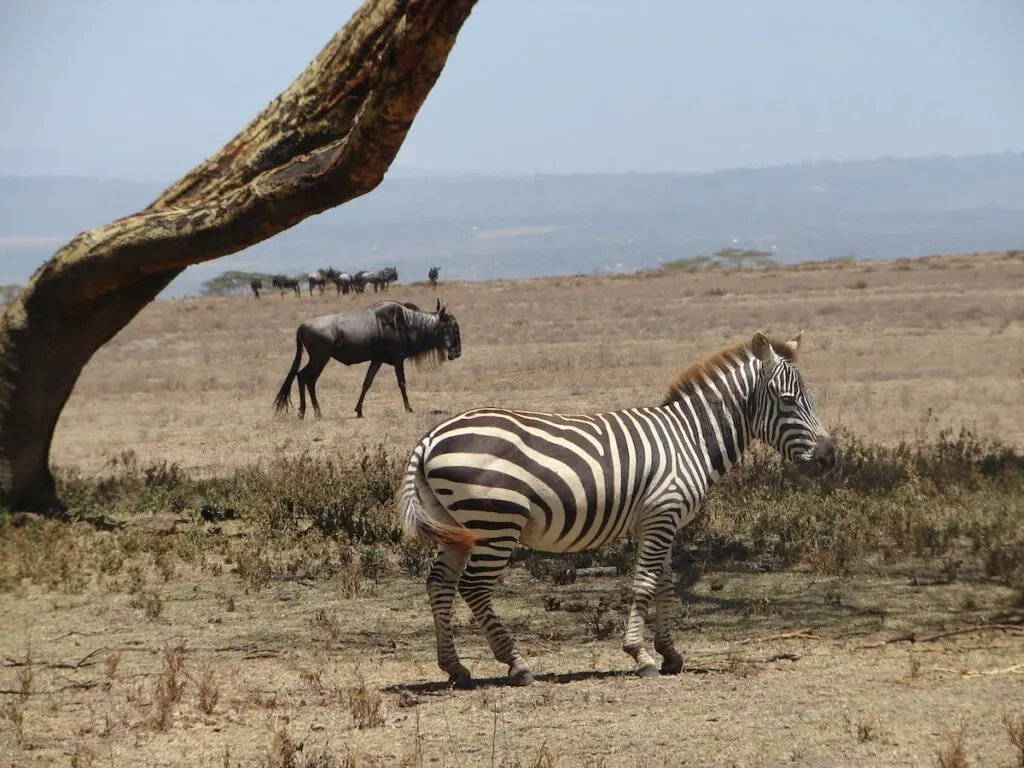 Best Hotels Near Lake Naivasha:
Lake Naivasha Sopa Resort– Why leave the resort when you can spot animals such as waterbuck, monkeys, hippos, giraffes, and more just at the property? To top it off, they also have a restaurant, pool, bars, and a gym, and they can plan activities for your stay like boat rides, nature walks, and biking.
Sawela Lodges– With beautiful rooms, a pool, spa, restaurant, movie theatre, and gym, you'll fall in love with what Sawela Lodges has to offer.
Naivasha Kongoni Lodge– Enjoy views of Lake Olodien in this private oasis. Indulge in relaxation by the pool, taste great cuisine at the farm-to-table restaurant, and partake in many nearby activities like nature walks and boat rides.
7. Chale Island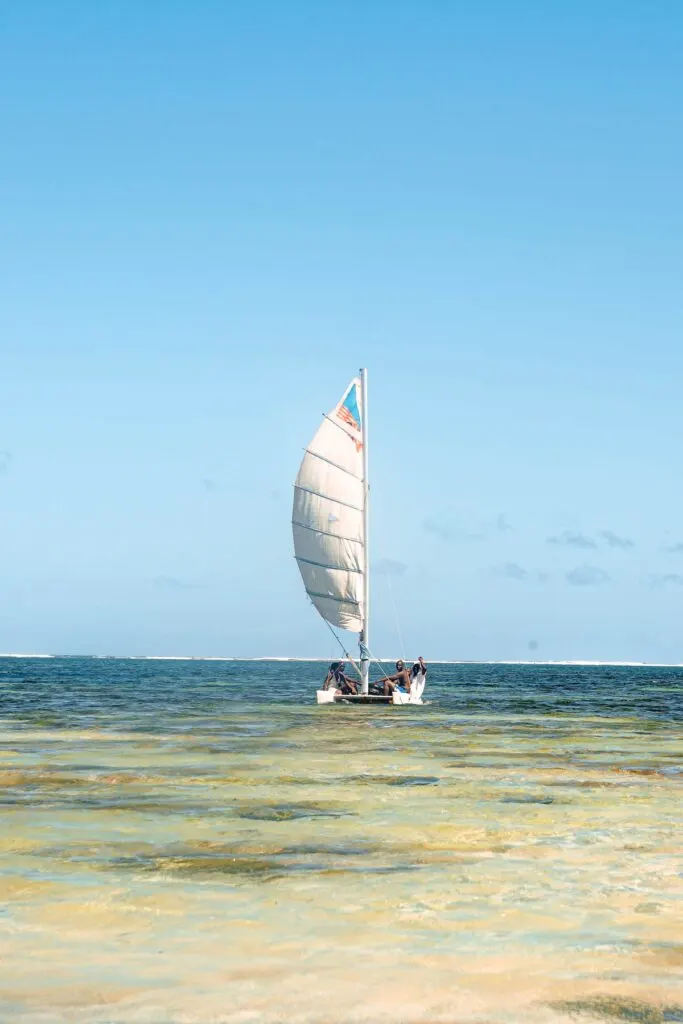 Sometimes on your honeymoon, you don't want to do anything but relax and have beach time. Totally understandable. But…why not do just that on a private island resort in the Indian Ocean?
Thankfully, The Sands at Chale Island is an island resort where the only other people on the island are the hotel guests and staff. Enjoy ultimate relaxation on the beach, by the pool, in your room, or at the spa.
And, for those who love activities, you can also go diving, partake in water sports, or go on boat excursions.
8. Samburu National Reserve Kenya Honeymoon
Searching for a more off-the-beaten-path Kenyan honeymoon destination? Samburu National Reserve fits the bill. Go on spectacular game drives to spot the "Samburu Special": Somali Ostrich, reticulated giraffe, Beisa oryx, Grevy zebra, and gerenuk.
There are also elephants, lions, leopards, cheetahs, and even wild dogs.
Plus, with great lodges to choose from, you'll have a romantic safari stay far from the crowds.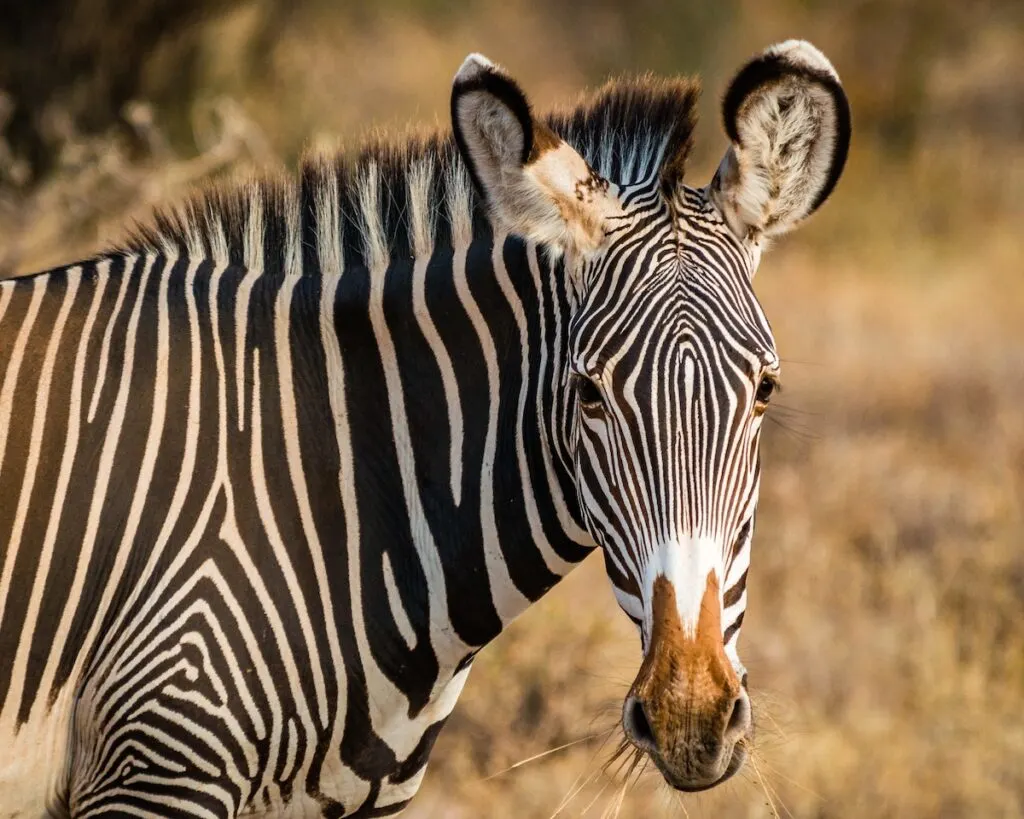 Best Lodges in Samburu National Reserve:
Sasaab Samburu– Another luxury lodge in the Safari Collection (who also own Giraffe Manor), this place features canvas rooms with their own private plunge pools. Enjoy game drives, a camel safari, nature walks, and even a helicopter ride over the area.
Elephant Bedroom Camp– Located along the Ewaso Nyiro River, this place has 14 luxury tents with their own private decks for viewing the river. Plus, the honeymoon tent even has its own plunge pool on the deck. Enjoy things like game drives, walking safaris, sundowners, and cultural visits during your stay.
Samburu Intrepids– Spot elephants and crocodiles at this luxury tented camp, as it is located along the river. Enjoy star gazing, camel rides, game drives, and more during your stay in this lovely lodge.
9. Meru National Park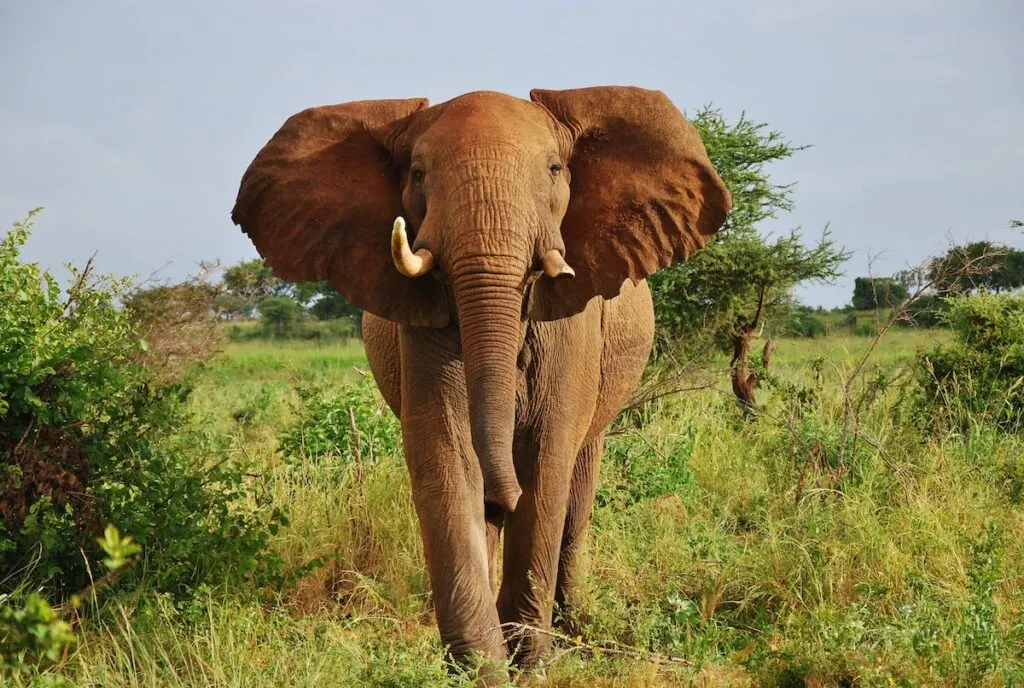 Unspoiled wilderness can be experienced at this romantic safari destination. Enjoy game spotting from Grevy's zebra to elephants and cheetahs to hippos.
Marvel at jungles, rivers, swamplands, grasslands, and sights of Mount Kenya between Meru and Kora parks.
Also, being a bit more off-the-beaten-path than other safari destinations in Kenya, expect serene wilderness all to yourself!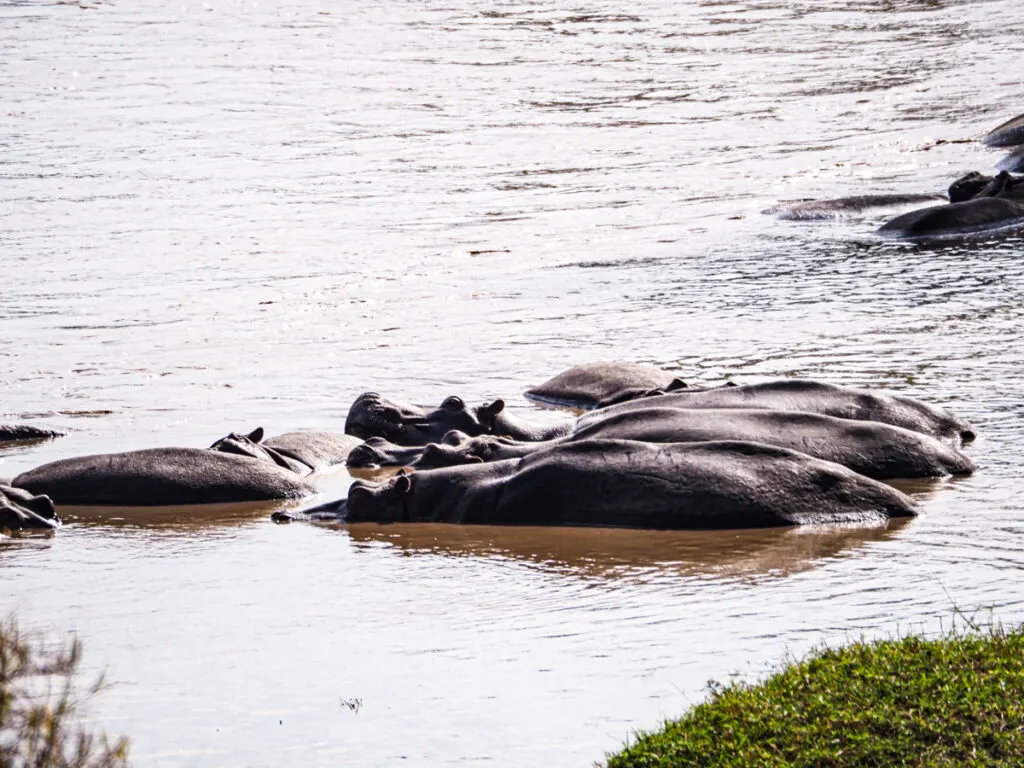 Best Lodge in Meru National Park:
Elewana Elsa's Kopje Meru– With limited lodging options in Meru National Park, for a romantic honeymoon escape, this is definitely the place for you. Located within the park itself, you'll enjoy stunning views of the surrounding area with no one else around.
From here, you can go on game drives, visit the rhino sanctuary, visit the Tana River, go on a guided walk, or even partake in a cultural visit.
Also, like many lodges, you can enjoy massages and the pool during your stay.
10. Kenya Honeymoon Destination: Tsavo National Park West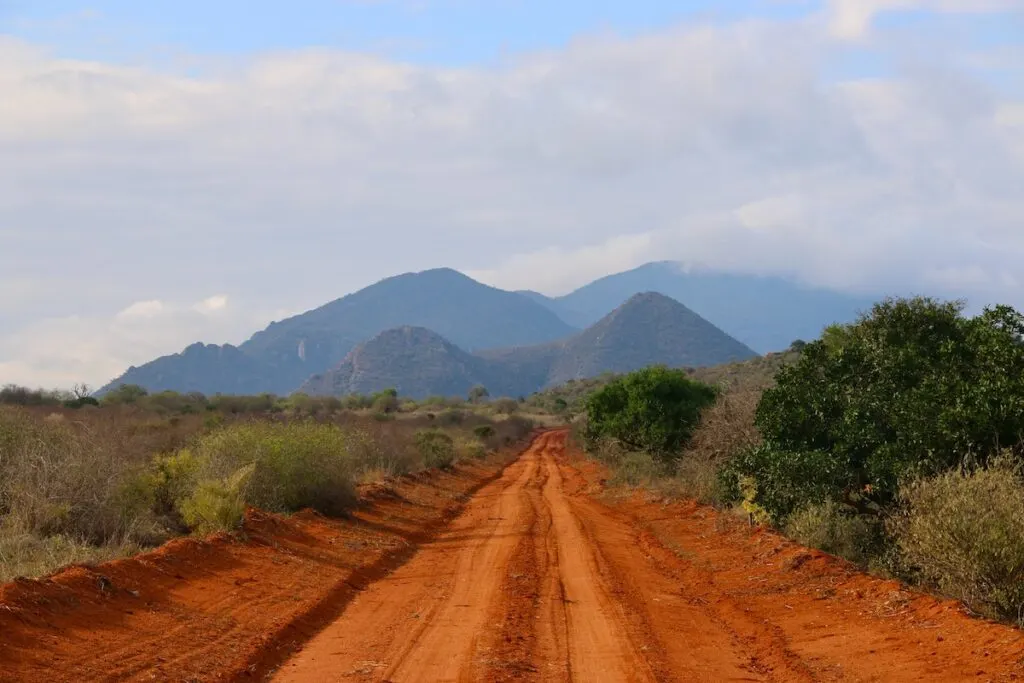 Known for its natural springs, lava flows, impeccable scenery, and excellent game viewing, this lesser-visited Kenya honeymoon safari destination is well worth a stop on your trip.
Some animals you may spot during your safari include the Big 5 (rhinos, elephants, lions, leopards, and buffalos), cheetahs, hippos, giraffes, zebras, and various antelopes. After game drives, enjoy relaxing at beautiful lodges in the area.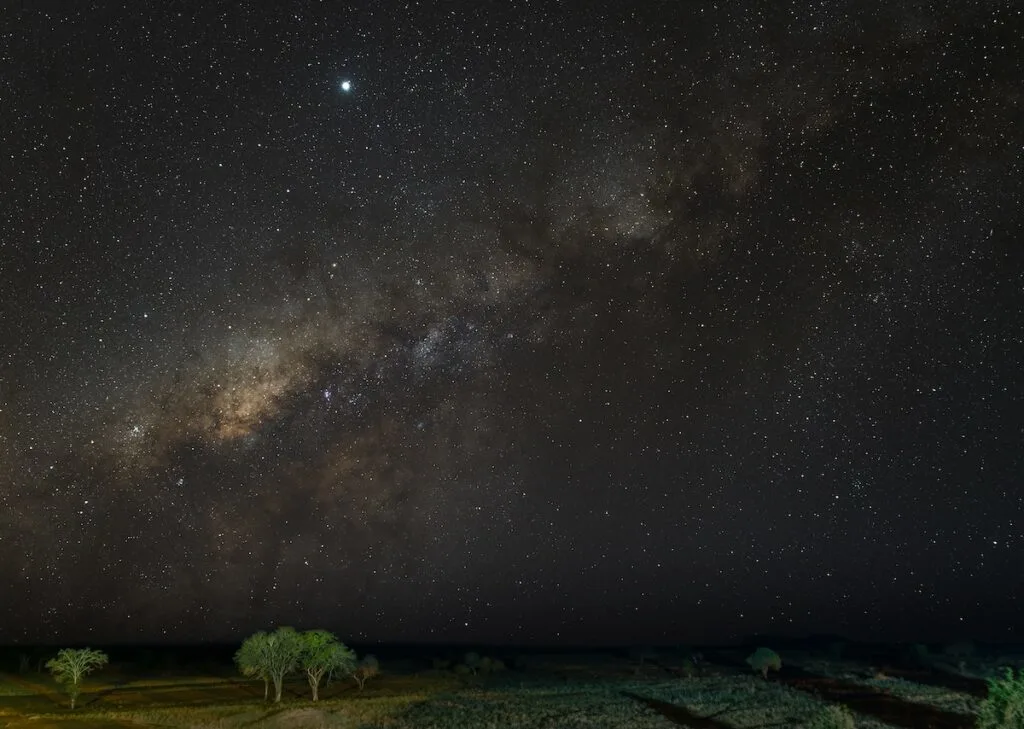 Best Lodges in Tsavo National Park West:
Kilaguni Serena Safari Lodge– With hilly views leading up to Mount Kilimanjaro in the distance, you're immediately immersed in the wildness and beauty of Tsavo National Park here. Enjoy game viewing from your own balcony, swim in their pool, and partake in game drives in the park from your lodge.
Severin Safari Camp– Enjoy glamping at its finest in a luxury tent, where you'll love relaxing on your own deck. Embark on game drives, sundowners, bush walks, bush breakfasts, and cultural visits in between resting at the spa and pool.
Finch Hattons Luxury Tented Camp– Fall in love with pristine luxurious tents featuring beautiful decor, and some suites even have their own pools. Witness ample views of the area, and take advantage of all the amenities like the gym, spa, and pool, as well as the opportunity for game drives, bush walks, cultural visits, and more!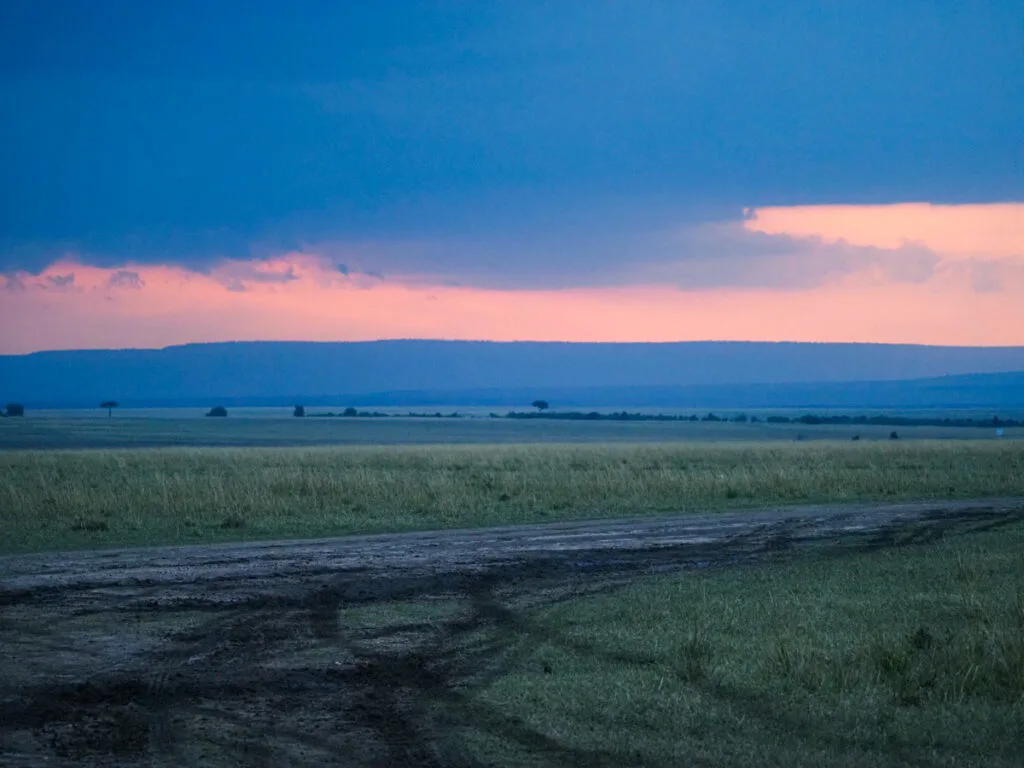 Best Safari Companies For Your Honeymoon
It can be a challenge to find the perfect safari company for your honeymoon. However, after a couple of visits to the continent and a few times on safari, I have a couple of suggestions.
For starters, if you plan to go on a safari, I highly recommend booking through a safari planner. There are a ton of details including flights, park fees, transportation, etc. to arrange, and it makes a lot of sense just to have someone do it for you, especially an expert.
I love and have used Safari365 and Go2Africa in the past. On our most recent trip, including our time in Kenya, we booked through Go2Africa and it was incredible! I highly recommend booking through them for your unforgettable safari honeymoon in Kenya!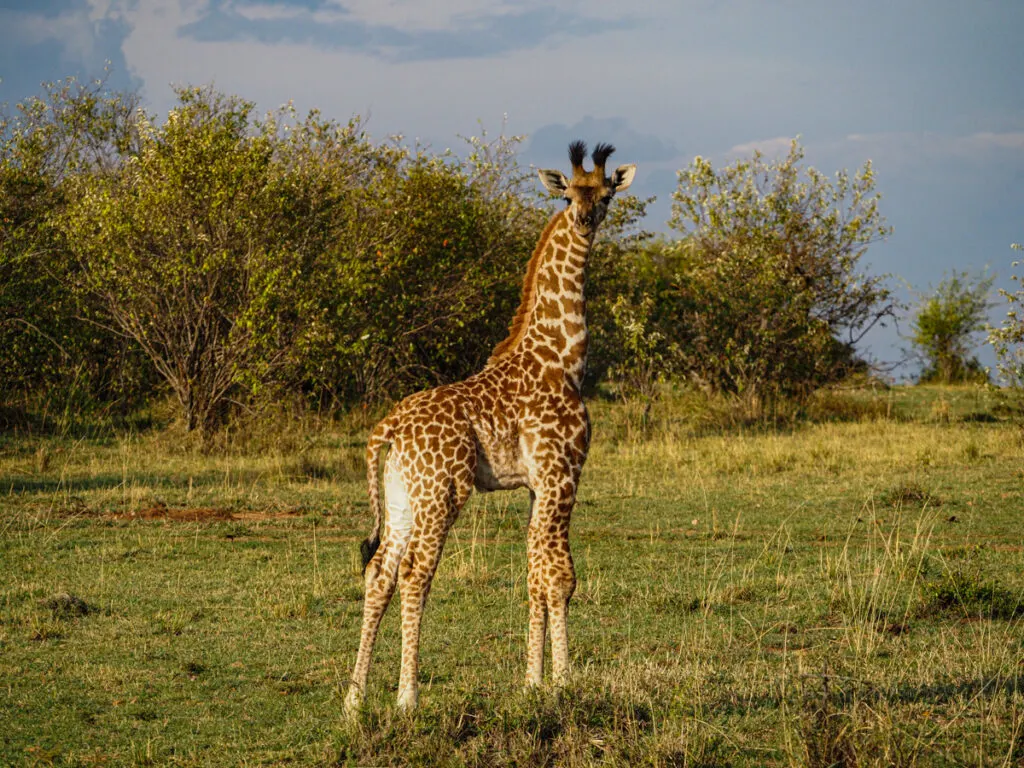 When to Visit Kenya On Your Honeymoon
This may vary slightly depending on your destination, but, for the most part, for a lovely honeymoon in Kenya, opt for the months of July–September. This is a great time for game viewing and warm, dry days versus the rainy season.
It is also the time for the Great Migration if that is something you'd like to see in the Masai Mara.
We were just in Kenya in early September, and, while the rainy season was just about to start, it was a great time to visit for warm days, cooler evenings, and incredible safaris!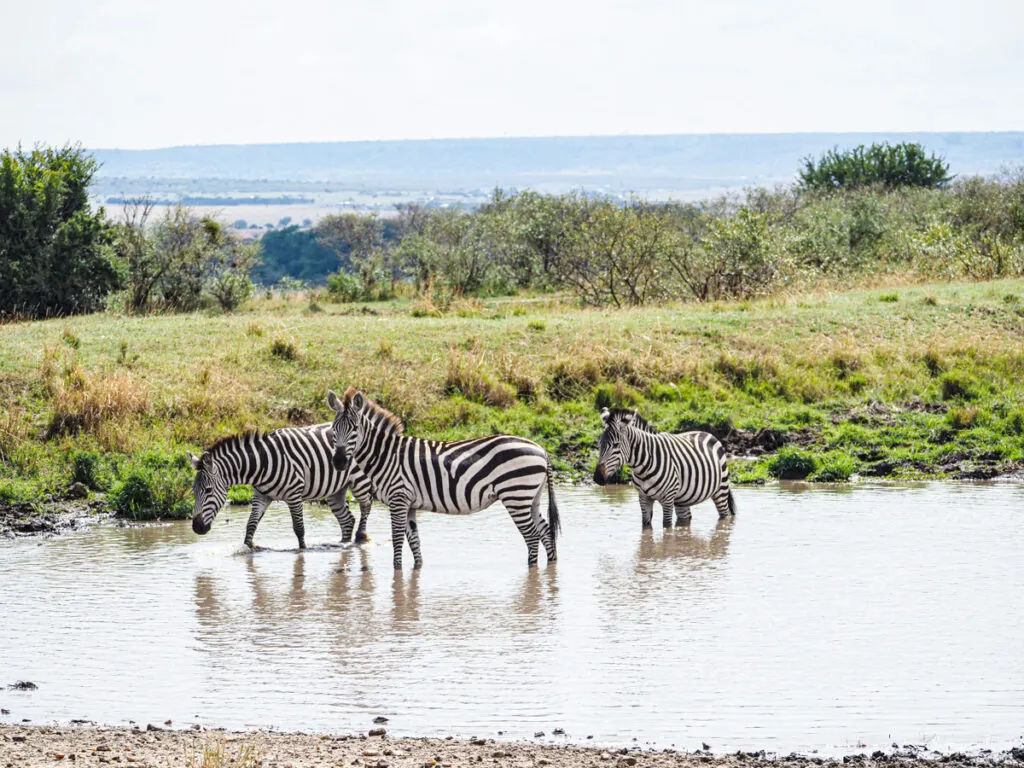 Do I Need a Visa to Visit Kenya?
This depends on your home country, but for US citizens, yes, you will need a visa to visit Kenya. You can either get a single entry visa or a multiple entry visa, which costs $51 and $101, respectively.
They also offer the East African Tourist Visa if you plan to visit Uganda and/or Rwanda during your trip. This is $101 and covers those three countries. You have to apply for this visa with the country you will enter first.
For more information about visas, and for the most updated requirements, check out Travel.State.Gov.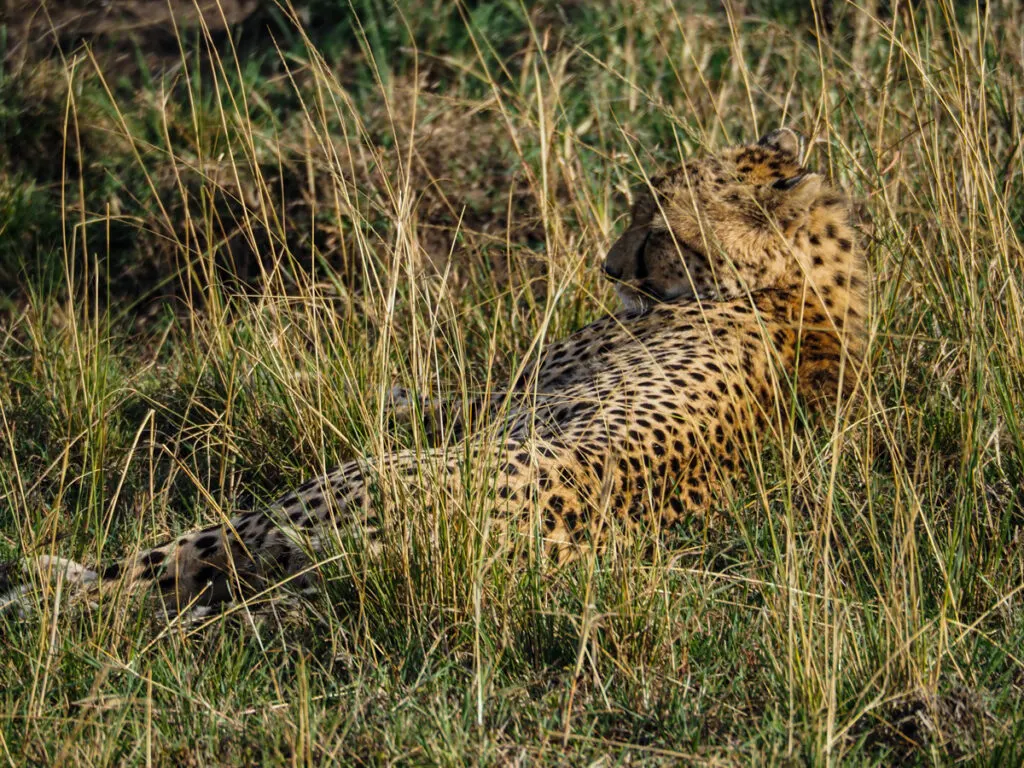 Tips For Your Kenyan Honeymoon
Before your romantic trip to Kenya, here is what you should know.
Pack Light. You'll likely be flying in tiny bush planes to get around the country and those have strict size and weight restrictions. Try to keep all your luggage (including a purse, camera, etc.) under 15 kg (33 lbs). They also usually only allow soft-sided luggage.
Do NOT Bring in Plastic Bags. Another thing to note is that single-use plastic bags are not allowed to enter the country. So make sure that nothing you bring in is in a single-use plastic bag. For my toiletries, I purchased these reusable clear bags.
Bring USD. This is widely accepted for tipping and even preferred at times. It is also pretty well accepted at lodges.
Pack Mosquito Repellent. Mosquitos can be annoying and spread disease. Prevent bites with either this Sawyer's lotion with DEET (for deep woods, hiking, etc.), or Badger Balm works well and is all-natural for safaris.
Sunscreen is a Must. You're along the Equator, so the sun can be strong. I love this sunscreen.
Don't Forget Travel Insurance. Many safari companies may even require it. I love Seven Corners for big-ticket trips like safaris. They also have Cancel For Any Reason Insurance options.
Go to the Travel Clinic. Be sure to visit a travel clinic before your trip. Kenya requires Yellow Fever vaccine proof and your clinician can provide you details specific to travel in Kenya and other things you may need like antimalarials, other vaccines, etc. We use Passport Health, which has several offices around the US.
This is the ultimate Kenya honeymoon guide from the best destinations for your Kenya honeymoon to other helpful tips to plan your memorable getaway.
Which destination would you most like to visit?
Want more honeymoon ideas? Check out these posts!
Pin it here!