Some posts on this site contain affiliate links, meaning if you book or buy something through one of these links, I may earn a small commission (at no additional cost to you!). Read the full disclosure policy here.
---
One of the most fun ways of exploring the Winelands of South Africa has to be via the Franschhoek Wine Tram! This tram winds its way through several vineyards and wineries in the Franschhoek Wine Valley, providing easy access to wine tastings without worrying about driving.
If you're planning a visit to Franschhoek, then I highly recommend spending a day on this tram. But first, let's talk about everything you need to know about the Franschhoek Wine Tram tour including the best route, when to visit, and more!
Plus, I even included a sample itinerary from our recent visit along the tram!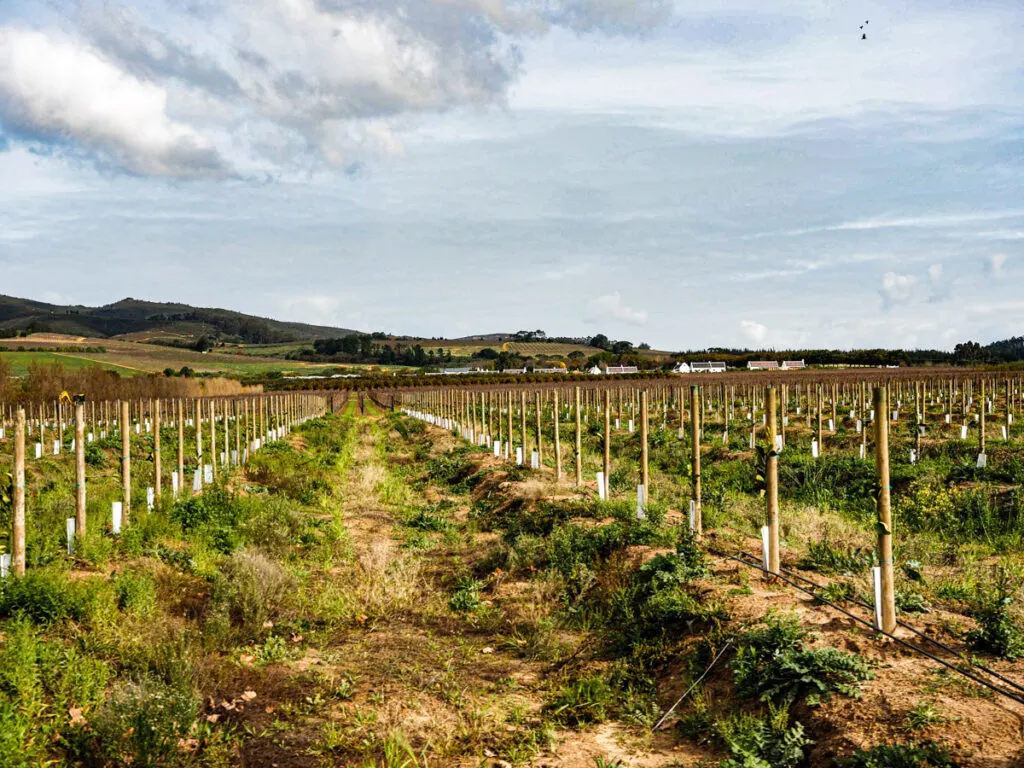 What is the Franschhoek Wine Tram?
The Franschhoek Wine Tram is both a train and bus hop-on and hop-off experience broken up into 5 lines or routes with different wineries to visit.
You begin at Franschhoek or Groot Drakenstein Terminal depending on which line you choose, and from there, you have a choice to visit any of the 7-9 wineries along the route.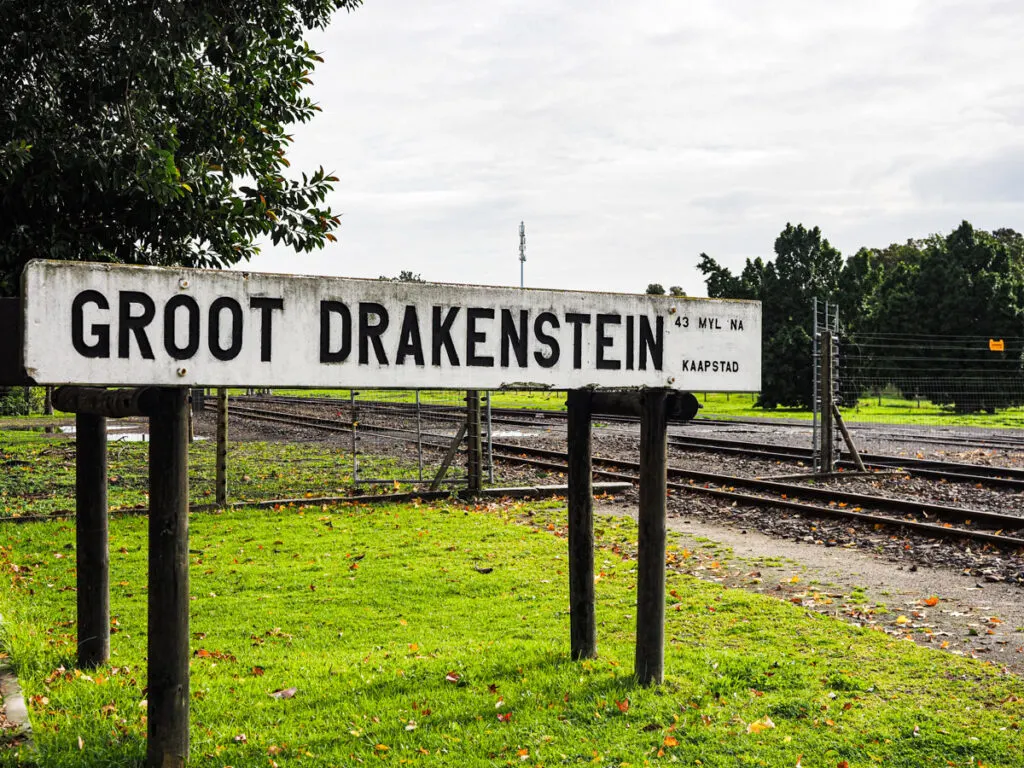 These lines start anywhere from 8:45-9:30 am and end around 5:00-6:00 pm. The stops last an hour, meaning you have an hour interval between the bus/tram drop off and pick up. Most tastings can be done in this amount of time, but if you wish to have lunch along your route at one of the wineries, then you'll want to plan to stay for 2 hours.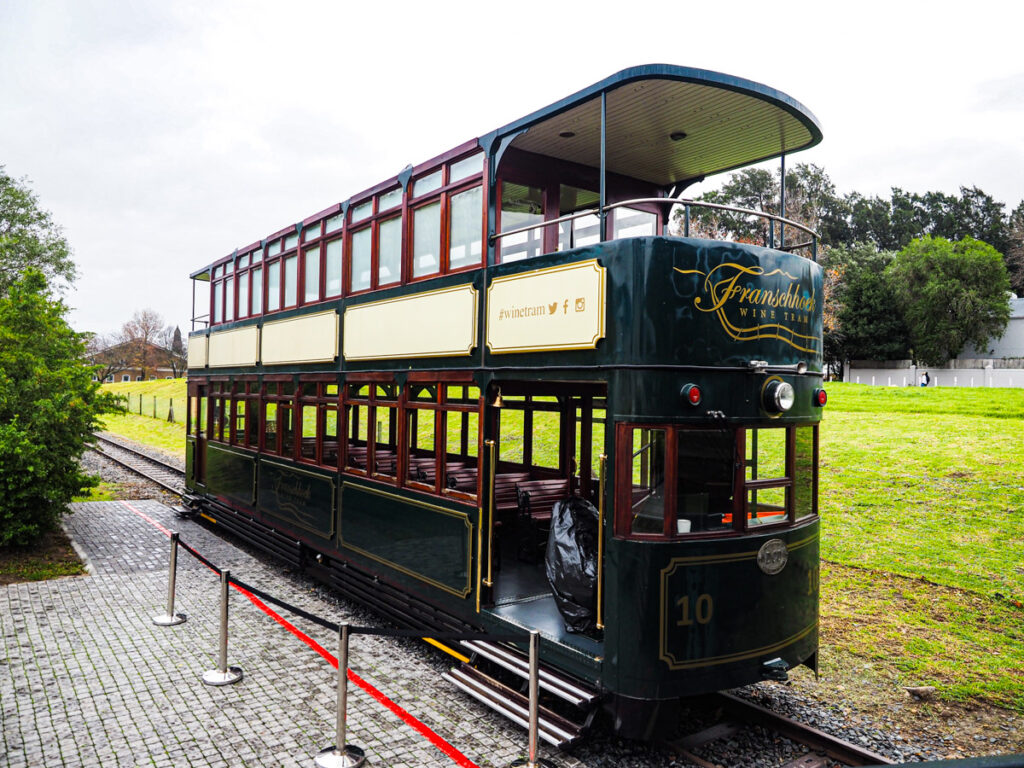 I wouldn't recommend trying to see all of the wineries in a day, as you'll likely end up properly sloshed, but 3 to 4 wineries are a good amount depending on when you start and end your trip.
As for the Franschhoek Wine Tram price, it is R280 per person, or about $15.
What Are the Franschhoek Wine Tram Routes?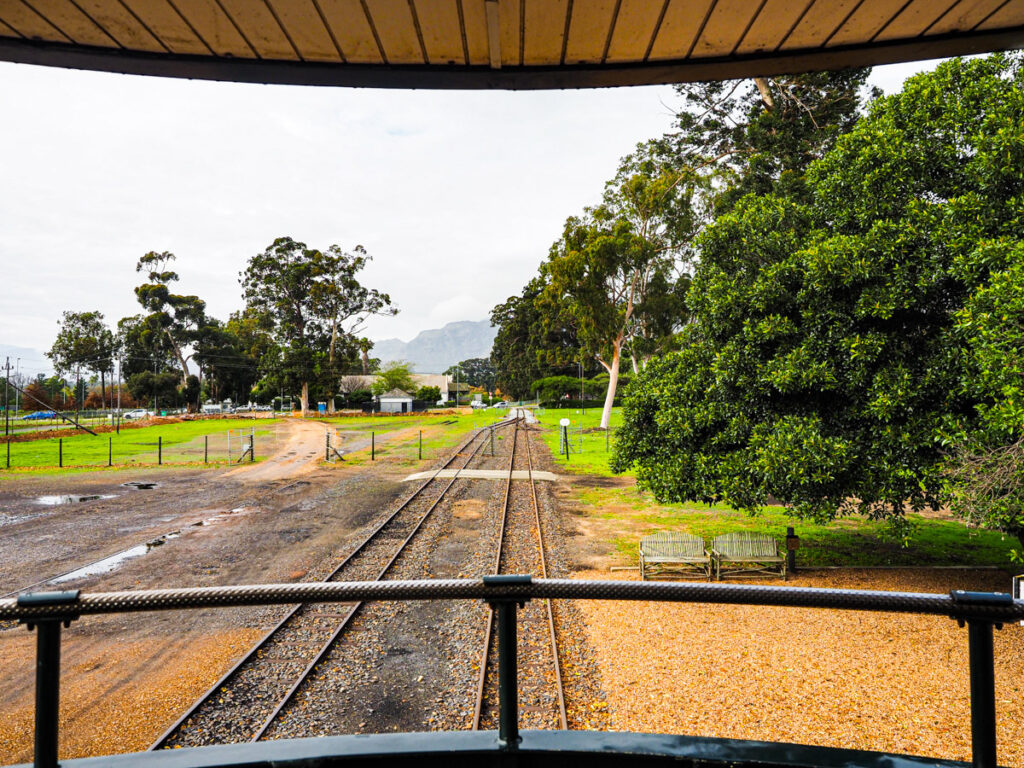 There are 5 routes on the Franschhoek Wine Tram explorer tour, each with its own color. You'll want to purchase your route in advance to avoid showing up and it being fully booked.
Here are the wineries each route stops at depending on the color:
Blue Line: La Bri, Holden Manz, Mont Rochelle, Atlas Swift, Klein Goederust, Rickety Bridge, Grande Provence, and Franschhoek Cellar
Orange Line: Boschendal, Solms Delta, Plaisir, Noble Hill, Babylonstoren, Bacco, Anura, and Vrede en Lust
Pink Line: Dieu Donne, Chamonix, Pigcasso, Eikehof, Paserene, Rickety Bridge, Grande Provence, and Franschhoek Cellar
Red Line: Haute Cabriere, Le Lude, Lynx, Leopard's Leap, Rickety Bridge, Grande Provence, and Franschhoek Cellar
Navy Line: Allee Bleue, Camberley, Bartinney, Le Pommier, Zorgvliet, Plaisir, Vrede en Lust, Boschendal, and Solms Delta
Note: For the Blue, Pink, Red, and Navy Lines, you must choose either the bus first or tram first schedule. For the Orange Line, you pick from schedule 1 or 2. Both routes on each line visit the same wineries, but they are in a different order. For the full schedule, check out the Franschhoek Wine Tram website.
Also, for those who choose to visit Boschendal, you'll need to allow for a 2-hour visit at least. On Mondays, Leopard's Leap is closed.
Franschhoek Wine Tram Best Route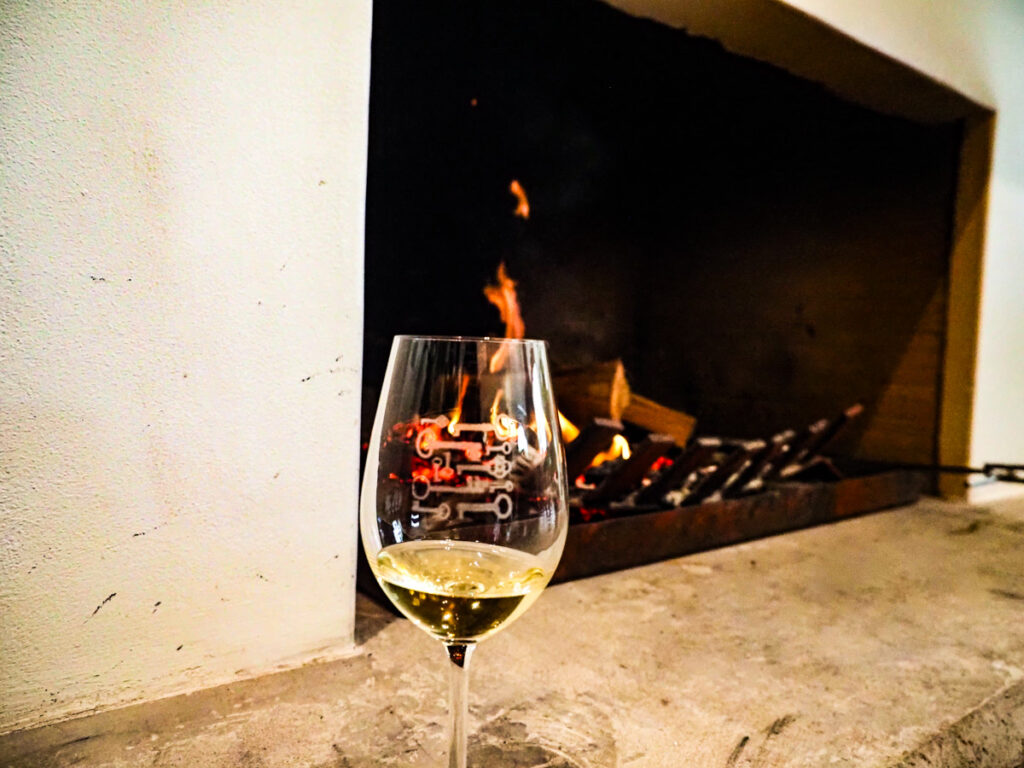 Okay, now you've got to make a decision. Which of the Franschhoek Wine Tram lines should you take?
Honestly, it does depend on which wineries you prefer. Boschendal and Babylonstoren are certainly some of the most well-known wine estates along the tram routes, so if you really want to see both in one trip, then I'd opt for the Orange Line.
I would personally do research on each line to see which wineries sound the most appealing to you! Some wineries specialize in Cap Classique sparkling wines, some in red, some in white, and some have great restaurants.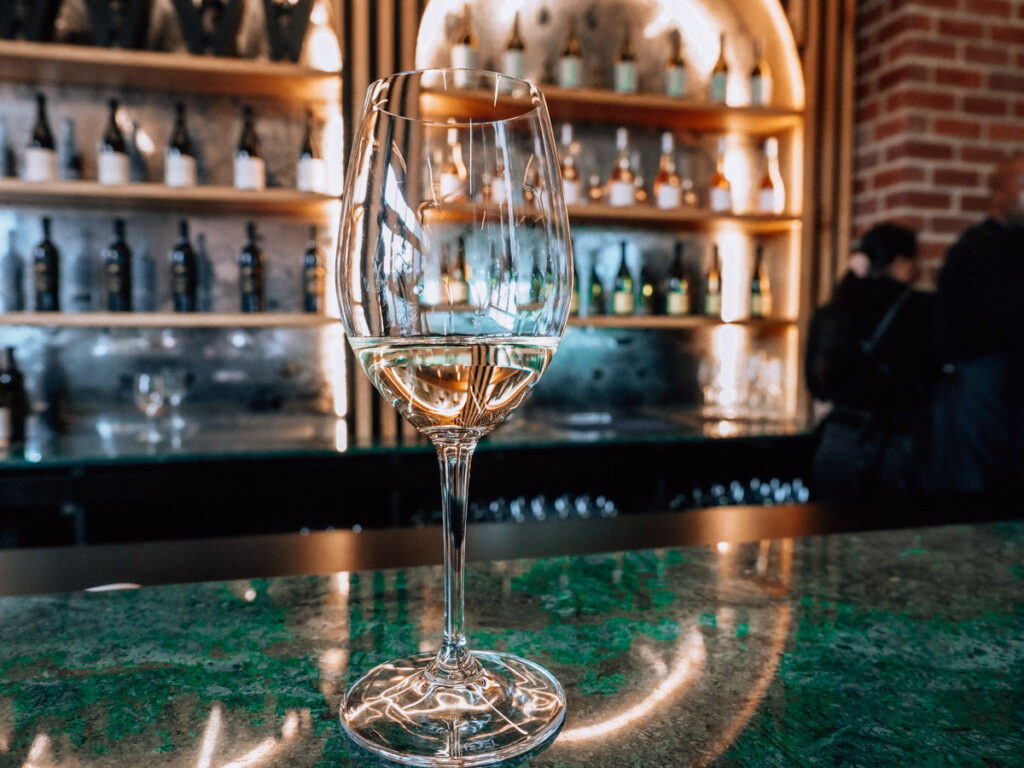 Also, some wineries offer unique tastings, tours, and more to try. So if you wish to do a special tasting, you can select a line with great offerings.
Here are some highlights from each:
Franschhoek Wine Tram Blue Line: La Bri Wine & Chocolate, Turkish Delight, or Biltong Pairing, Holden Manz Rose & Wild Oyster Pairing, Mont Rochelle Wine & Canape Pairing, Grande Provence Wine & Nougat or Oyster Pairing, Franschhoek Wine Cellar Wine & Cheese or Chocolate Pairing, Rickety Bridge Non-Alcoholic Pairing
Franschhoek Wine Tram Orange Line: Boschendal Choclatiers Pairing, Plaisir Gin Tasting and Artinsinal Confectionary Pairing, Noble Hill Wine & Cheese Tasting
Franschhoek Wine Tram Pink Line: Chamonix, Dieu Donne, and Franschhoek Cellar all have Wine & Chocolate Pairings, Paserene Cocktail & Wine Experience, Grande Provence Wine & Nougat or Oyster Pairing
Franschhoek Wine Tram Red Line: Le Lude Cap Classique & Canape Pairing, Grande Provence Wine & Nougat or Oyster Pairing, Rickety Bridge Non-Alcoholic Pairing, Franschhoek Cellar Wine & Chocolate or Cheese Pairing
Franschhoek Wine Tram Navy Line: Alle Bleue Pinotage & Biltong Pairing, Bartinney Gin Tasting, Boschendal Chocolatiers Pairing, Plaisir Artisinal Confectionary Pairing and Gin Tasting
Personally, we ended up choosing the Franschhoek Wine Tram Orange Line because we actually wanted to try out the smaller wineries on the list that tend to get overlooked in favor of the larger vineyards like Boschendal and Babylonstoren.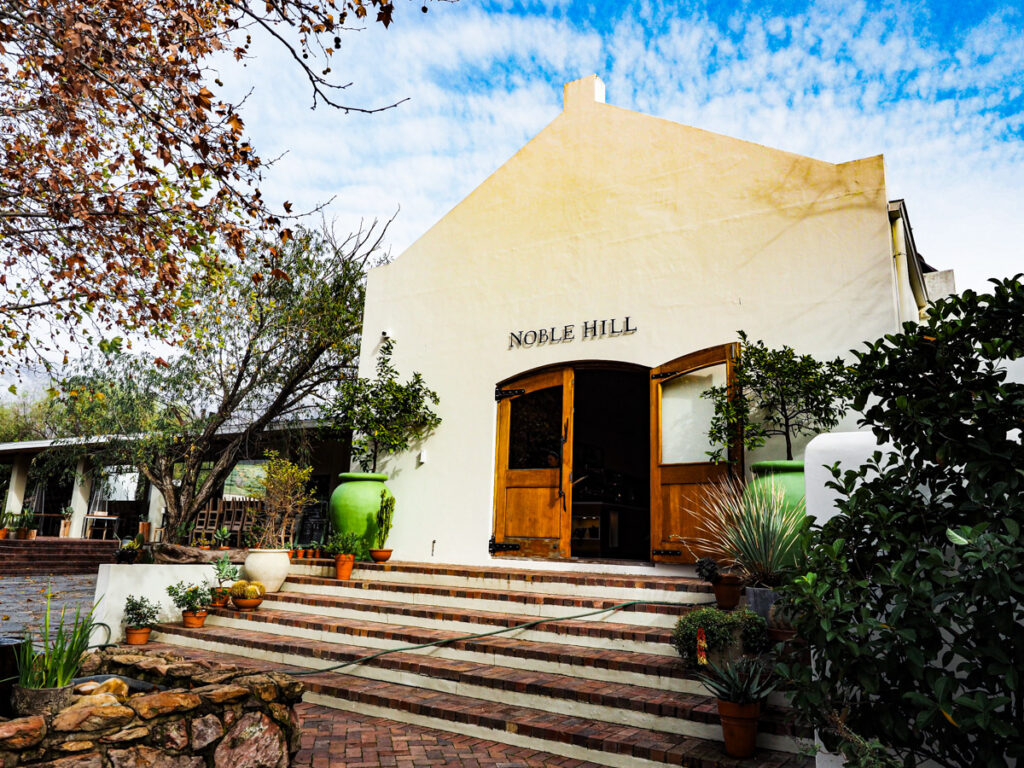 However, it was nice to have the option to visit if we wanted to. We actually were going to visit Babylonstoren, but many locals recommended checking out places like Plaisir, Bacco, and Solms Delta instead.
So with that advice, we were excited to check out the Orange Line!
One Day Itinerary For the Franschhoek Wine Tram Orange Line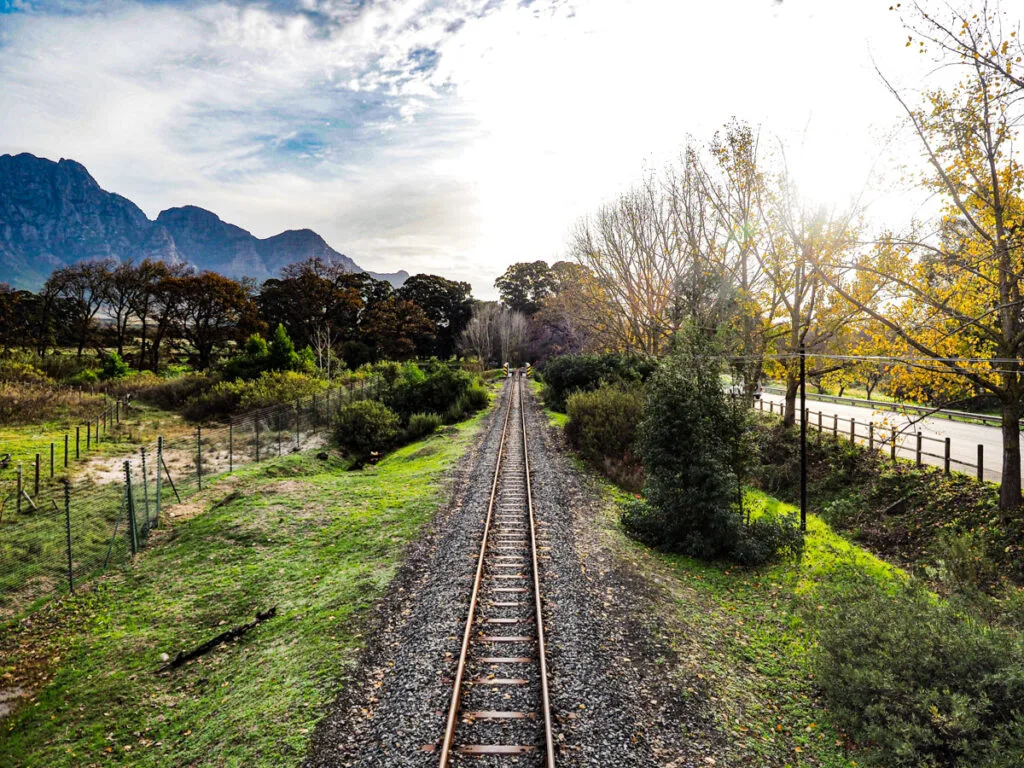 Let's get into what our actual itinerary was for our day on the Franschhoek Wine Tram!
We ended up booking the Orange Line Schedule 2 for our day on the tram, and we took the shuttle bus from Franschhoek Terminal to the tram departure station at Groot Drakenstein Terminal.
Here are the stops we made:
Stop 1: Plaisir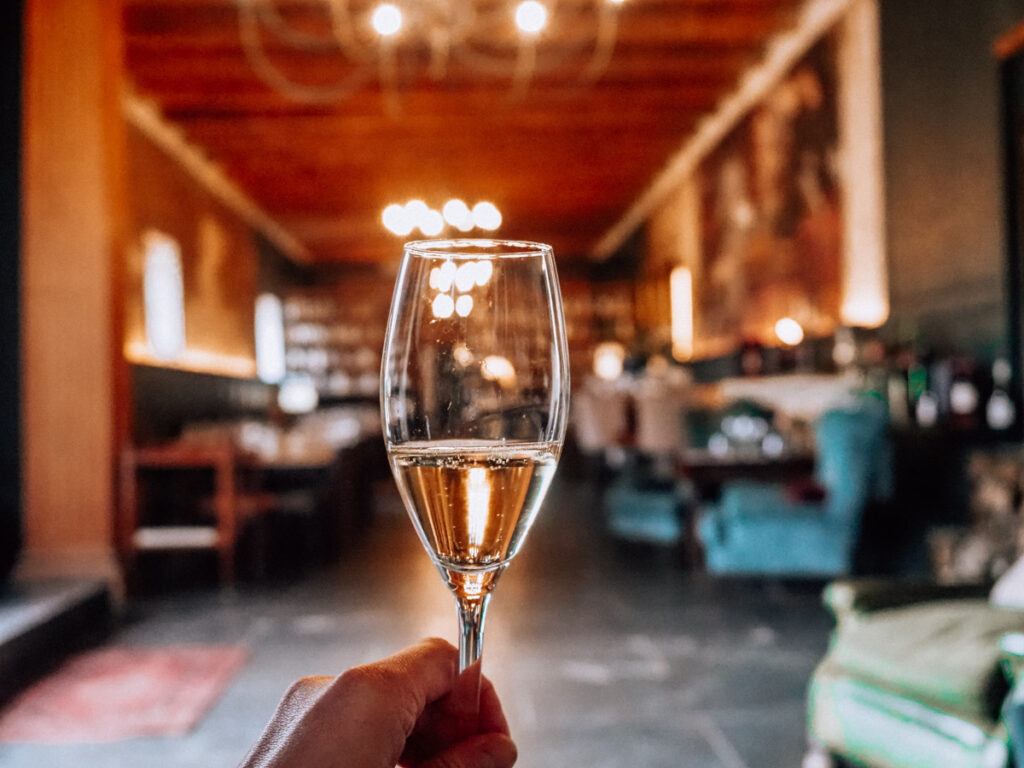 As we did Schedule 2 of the Orange Line, the first stop was at Plaisir. We began our journey at 10:05 a.m. from the Franschhoek Terminal and ended up at Plaisir at around 10:46 a.m.
We spent an hour here doing a wine tasting that included a Cap Classique, Chenin Blanc, Chardonnay, and Cabernet Sauvignon. This is actually the Franschhoek Wine Tram Tasting! This includes the Brut Cap Classique and 3 tastings of your choice from the Estate Range.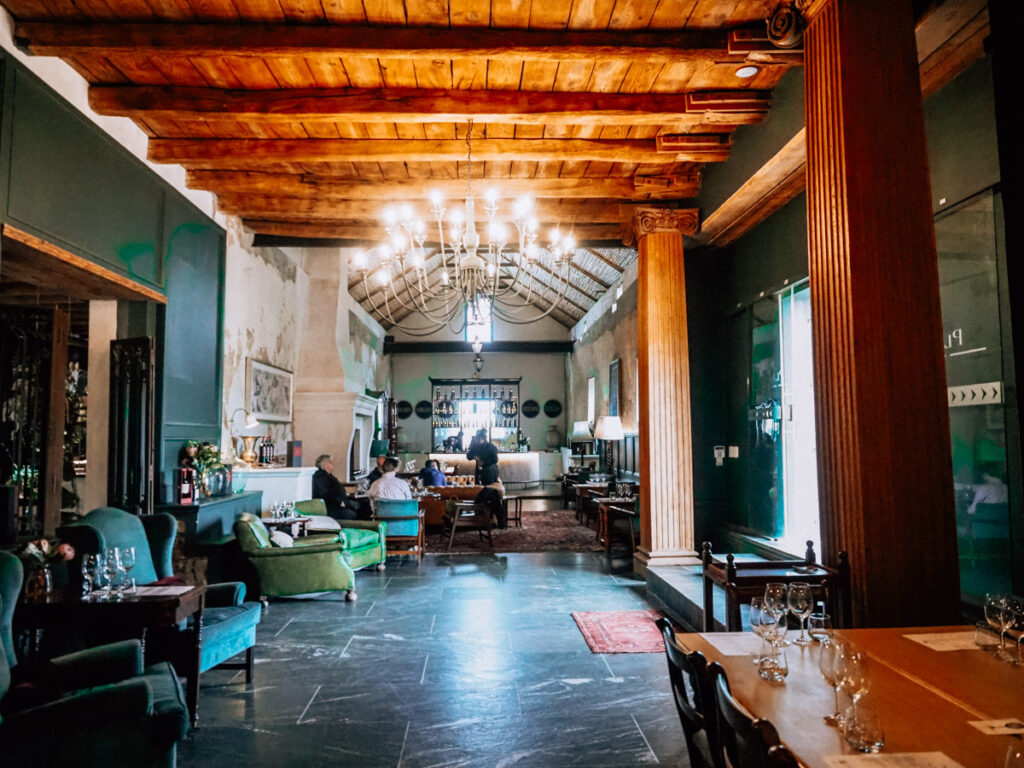 This tasting only cost R80, or a little over $4.
We also split a meat and cheese tray because having snacks during your tastings is just a good idea if you don't want to stumble into each additional tasting after that.
Stop 2: Noble Hill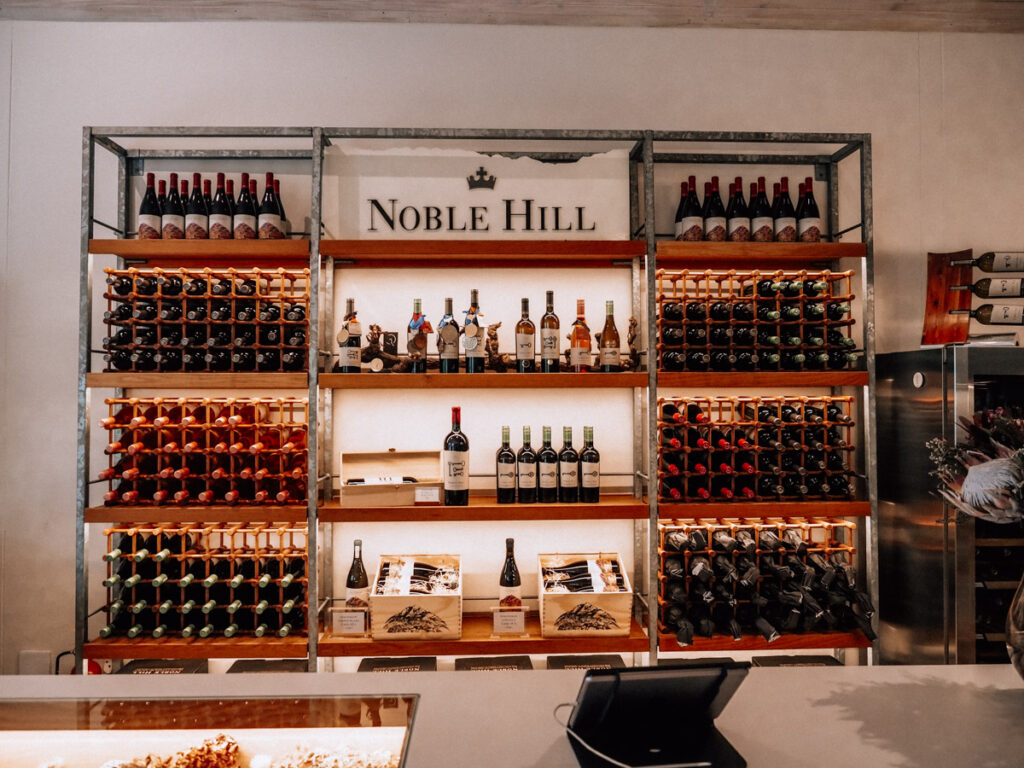 Up next was a stop at Noble Hill at 12:02 p.m. Here we did the Classic 3 Wines Tasting which allowed us to try a red, white, and sparkling wine.
We had the Cap Classique Brut Nature Blanc de Blancs, Estate White, and Estate Red. We really enjoyed both the sparkling and red wines here! This ended up being Chris's favorite stop!
Also, if you're here around lunchtime and their restaurant, Cosecha Restaurant, is open, you can try their take on fresh Latin cooking!
Stop 3: Bacco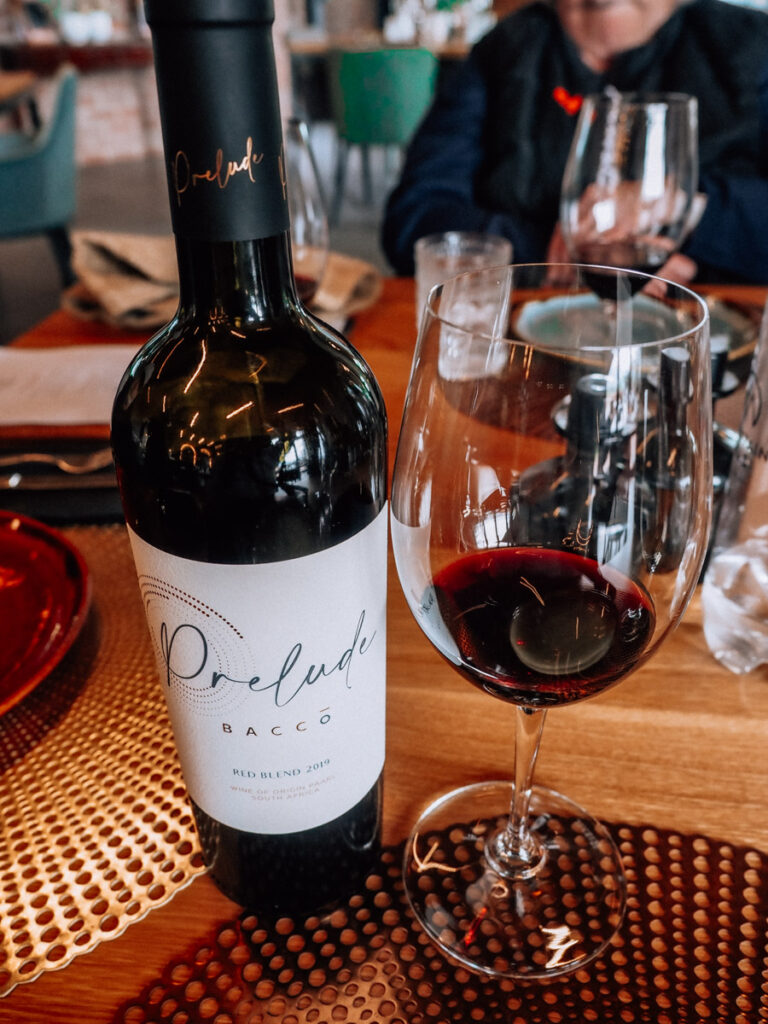 So far, our tastings have only lasted an hour each, and we were surprised by how efficient they were. We arrived at Bacco at 1:17 p.m. after a brief bus stop at Babylonstoren. We're glad we got to see the estate as we dropped off people, but I loved the wineries we went to instead.
So instead we went to Bacco, which is known for its Italian-style wines.
Here they also serve Cicchetti, or Italian-inspired small plates to go with the wine pairings.
We ended up doing their 6 wine tasting which cost around R210, or a little over $11.
The wines we tasted included the Vermentino, Estate Rose, Estate Chardonnay, Estate Prelude Red Blend, Estate Prelude Syrah, and Estate Cabernet Malbec Blend.
Each was delightful, but we absolutely loved the Vermentino!
Stop 4: Solms Delta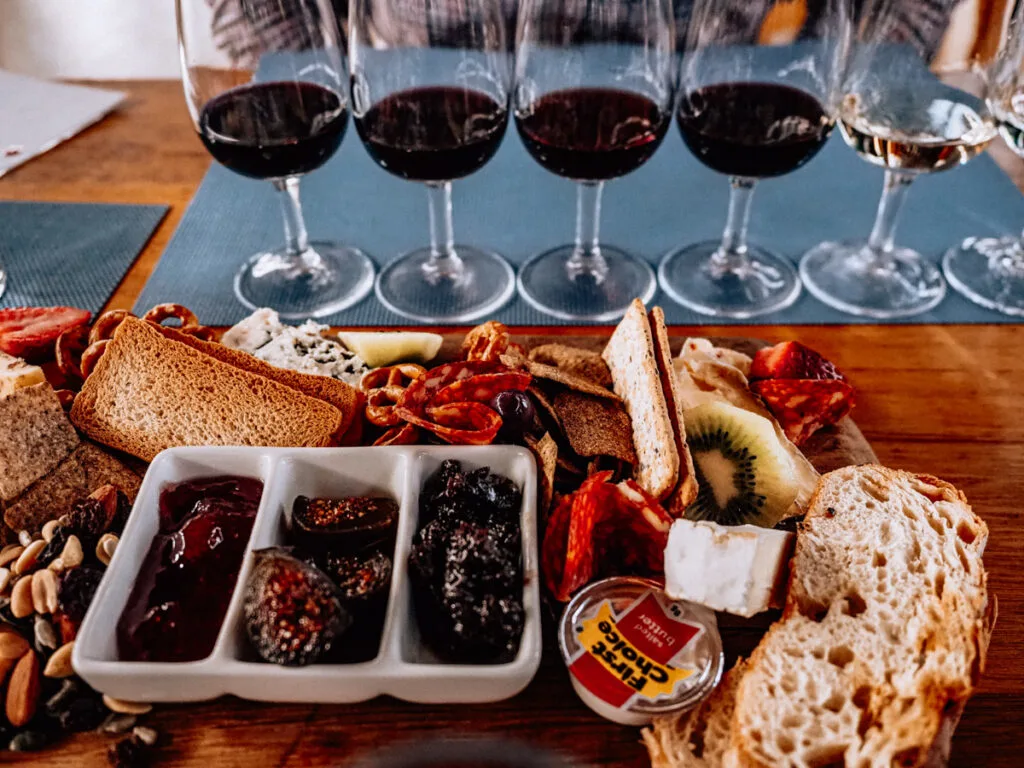 We honestly weren't sure how many wine tastings we could do in a day. We thought that 3 would be all we'd have time for.
However, thanks to how efficient the wineries were with their tastings, we were excited to try just one more winery before going to our hotel in Franschhoek for the evening.
So, we hopped on the bus and then tram to go to Solms Delta. We arrived around 3:26 pm and decided that we'd enjoy a nice long tasting and if we finished within an hour just head back to Franschhoek and enjoy our cottage.
Here we enjoyed a tasting of Chenin Blanc, Chardonnay, Shiraz, Hiervandaan, Merlot, and Cabernet Pinotage. We also split a cheese and tapas platter which was delicious!
After this stop, we went back into Franschhoek in time to check in and enjoy our cottage!
Where to Stay in Franschhoek | Best Franschhoek Wine Tram Accommodation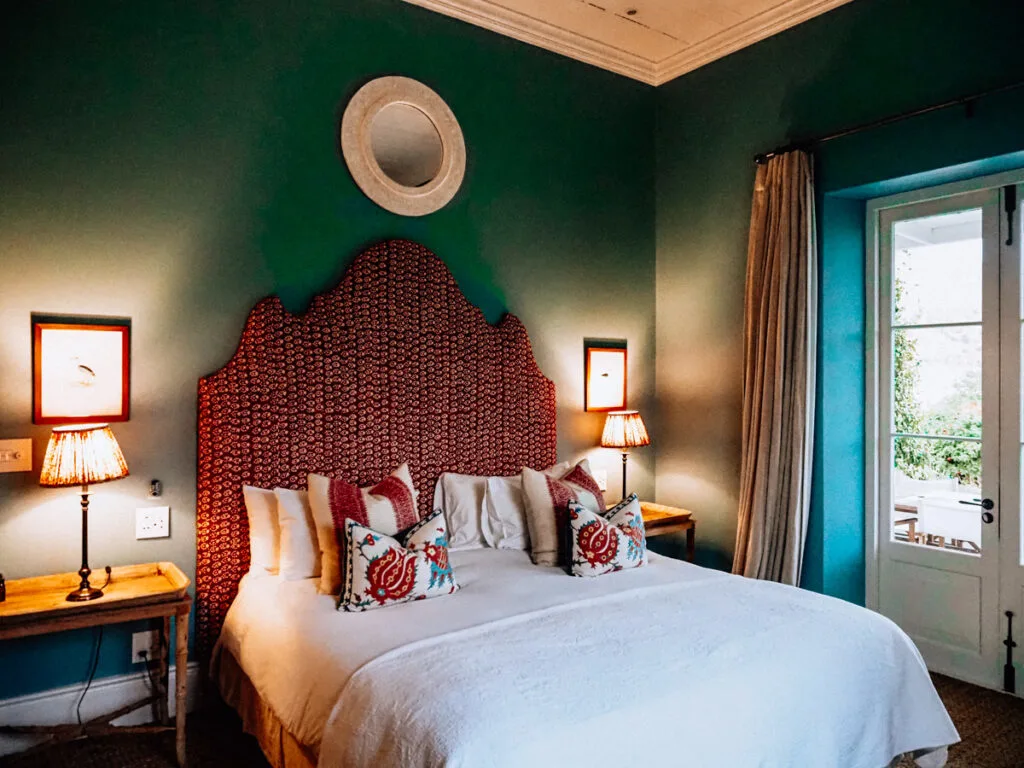 Could you take a day trip on the Franschhoek Wine Tram from Cape Town? Sure, but after all of the drinking, I highly recommend staying near the terminal in Franschhoek.
Plus, Franschhoek is known as the culinary capital of South Africa! So what better way to enjoy that than getting dinner here after wine tasting all day?
Here is where to stay in Franschhoek:
La Cotte Farm: This is where we stayed, and we absolutely loved it! It is located on a working wine farm, and they have the most adorable manor house and cottages where you can stay!
We stayed in the orchard cottage which has 2 bedrooms and its own private plunge pool! The views from the backyard are stunning from the surrounding mountains!
This place is also only 15 minutes away from the Franschhoek Wine Tram terminal on foot. It is also easy to walk into the town and other wineries.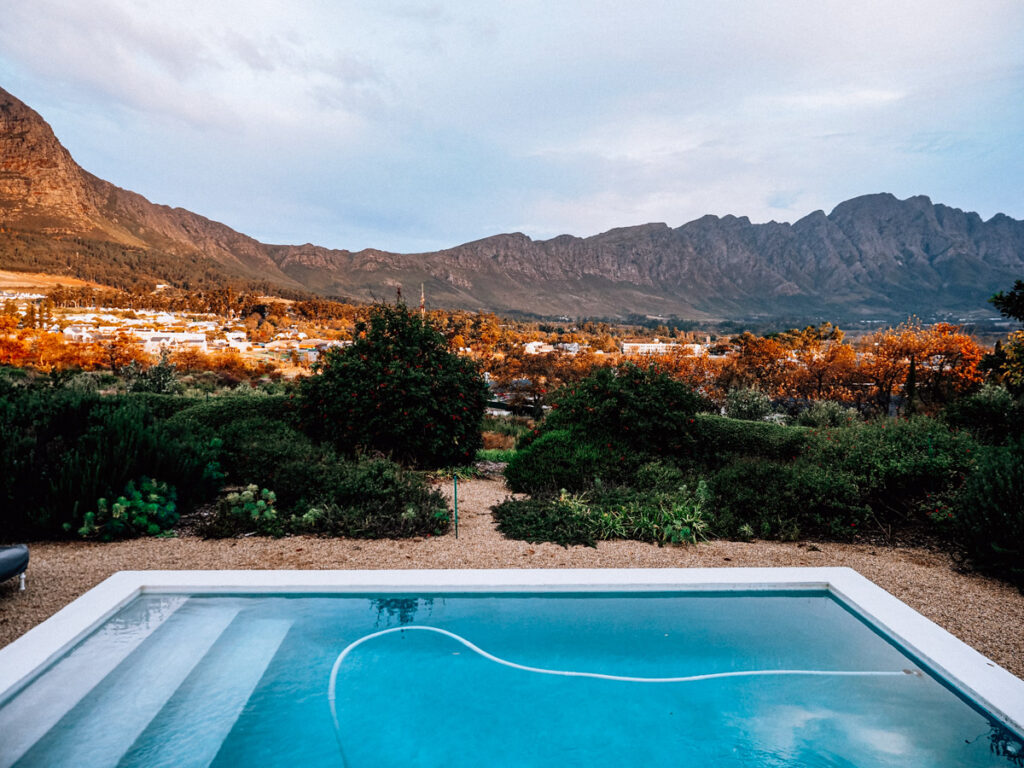 Mont Rochelle: This place is also about 15-20 minutes away from the tram terminal and has amazing views! This boutique hotel only has 26 rooms, and you can either stay at the main hotel or the manor house which is a private villa. They also have great restaurants, a tasting room, and a spa.
Avondrood Guesthouse Franschhoek: This place is only about a 6-minute walk from the terminal and it is within easy walking distance to many wineries and restaurants in the town. This place has a nice pool for hot days, and the rooms here are spacious and beautifully decorated.
Best Time to Visit for the Franschhoek Wine Tram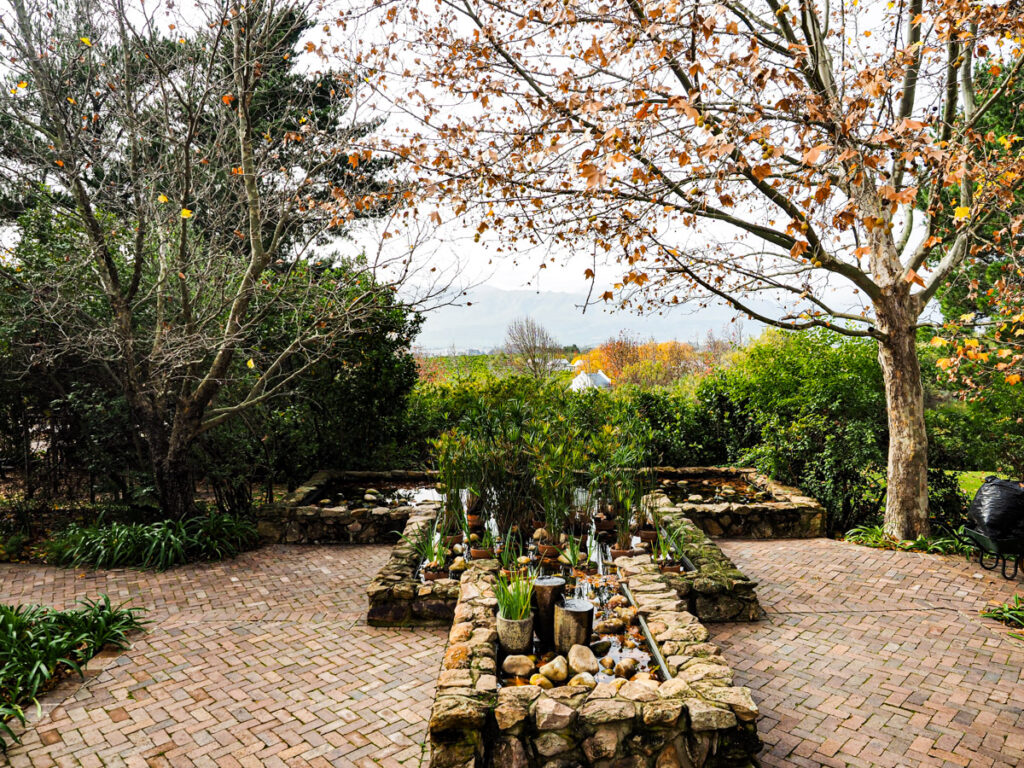 Honestly, you could ride the Franschhoek Wine Tram year-round. However, it is open air, and it does get cold in the wintertime. So, if you want to avoid the chilly winter air while wine tasting, you may want to avoid visiting from May through August.
If you want to enjoy a summertime holiday here, definitely check this place out around December through March. However, this is a busy time, especially around the holiday season for travelers.
If you want to visit with nicer weather and fewer crowds, opt for September-November and April.
We ended up visiting in early June and honestly, it was fine! It was a bit chilly on the tram and bus, but if you wear the appropriate clothing (i.e. jacket, scarf, etc.), you'll be fine!
Regardless of when you visit, it makes for a perfect addition to any trip to South Africa!
That wraps up the best wine tram in Franschhoek guide! Whether you're visiting South Africa on a honeymoon trip, or you want to explore the Winelands after a few days in Cape Town, you'll fall in love with the Franschhoek Wine Tram!
Want more African travel inspiration? Check out these posts!
Pin it here!