Some posts on this site contain affiliate links, meaning if you book or buy something through one of these links, I may earn a small commission (at no additional cost to you!). Read the full disclosure policy here.
---
Check out our Cape Winelands Itinerary Podcast Episode!
When one thinks of wine country, Napa Valley, Burgundy, or even Mendoza come to mind. However, Cape Town, South Africa is starting to rise in popularity for their unique and delicious wines. With a climate perfect for winemaking, and the strength of the dollar versus the rand, wine tasting is not only a delicious but incredibly affordable experience in South Africa. The best part is that if you only have one day to spare as we did, we have the perfect private DIY Cape Winelands tour itinerary for you!
We spent a lot of time making this itinerary for ourselves and we absolutely loved our day wine tasting in the Cape Winelands. With wineries within a 20 minute to an hour drive from Cape Town, you need to check them out for yourself and enjoy as many as possible. If you have the time to spend a few days in the Winelands, I would recommend it, but a day trip is enough to get a taste of the delectable wines of South Africa. Here is a great Cape Winelands one-day itinerary.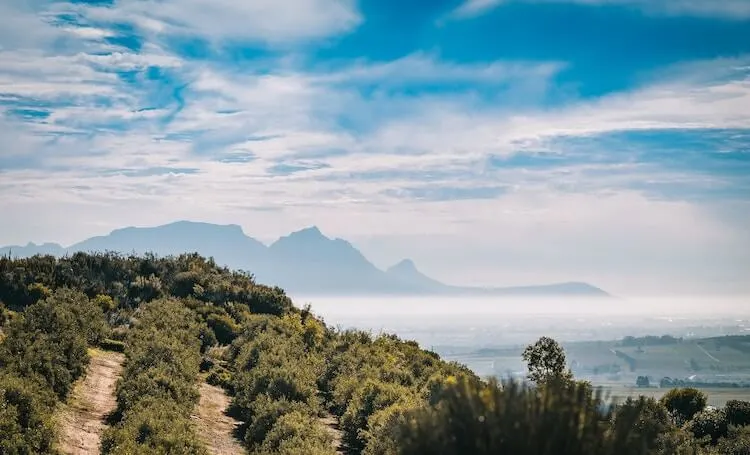 Where to Visit Wine Farms Near Cape Town
First of all, there are four main areas known for their wineries: Constantia, Stellenbosch, Franschhoek, and Paarl. Constantia is closest to Cape Town and only a 20-minute ride from downtown. So if you don't have a full day to devote to the Winelands in South Africa this is a great stop in the Winelands near Cape Town. Even the Cape Town Hop On Hop Off Bus makes a stop here! We actually made a stop at Groot Constantia during our time in Cape Town after our shark cage diving day trip to calm our nerves!
Continuing on, Stellenbosch was one of the first European establishments outside of Cape Town and was settled by the Dutch. You'll see Cape Dutch architecture all over this gorgeous town. The French Huguenots settled in Franschhoek, and you can see the French influence from the types of wine to the names of wineries. Lastly, Paarl is the largest of the three towns and furthest from Cape Town. It is nestled right up next to Paarl Rock, a gorgeous mountain.
As we only had a day in the Winelands, we decided to focus on just Stellenbosch and Franschhoek as they were closer and had so many delicious wineries to try.
We opted to do the private tour so that we could make our own itinerary based on the tons of research that I did. As an avid wine lover, I scoured the Internet searching for the best wineries to check out. I did the research here so you don't have to! And it turned out to be an incredibly romantic and fun day in South Africa!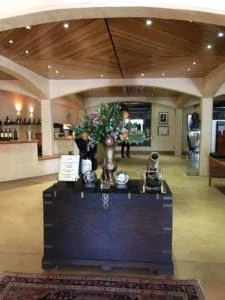 The Perfect DIY Private Cape Winelands Tour from Cape Town
We recommend starting in Stellenbosch for the wine tour and working your way over to Franschhoek for more wine tastings. Here is our private wine tour from Cape Town itinerary:
Kanonkop Wine Estate
When we first started chatting with our driver, we learned that Pinotage wine is unique to South Africa. This grape is a hybrid between Pinot Noir and Cinsaut and is amazingly delicious. So we asked him to take us to the winery that makes the best Pinotage. He said that there were two: Beyerskloof and Kanonkop. As Beyerskloof is very commercialized and was readily available at every restaurant we went to, we decided to try Kanonkop.
It did not disappoint. Upon walking into the almost deserted tasting room in the morning, we found three large, boisterous dogs happy and ready to play and a friendly woman who showed us the six different wines to taste: three of which were Pinotage.
From the Pinotage rosé to the ready to drink, and even the aged, estate wine, the taste of red berries and earthiness was amazing. And while the Pinotage was incredible, the Cabernet Sauvignon was the best I've ever had. It was woody, fruity, and smooth. We loved the wine so much that we found out they shipped to the U.S. and bought twelve bottles. But with shipping only $34 and a 10% discount for ordering twelve, how could we not? This place certainly had some of the best South African red wine!
Delheim Wine Estate
Delheim is probably the most popular among tourists visiting Stellenbosch, mainly because of the famous wine and cupcake pairing. That was a huge reason that we chose this place! Lucky for us, as we started early in the day, we almost had the whole place to ourselves. The wine was good but when paired with cupcakes? Even better. Think of a pomegranate cupcake with Pinotage Rosé, Rooibos cupcake with Chenin Blanc, pumpkin cupcake with Pinotage, and African Makataan cupcake (wild melon) and Gewürztraminer. They were paired perfectly and small enough to not make you feel guilty for eating four cupcakes in one sitting. Also, their South African white wine was spectacular!
What's another amazing part of this winery? There was an incredibly friendly cat that would pay a visit to each patron, sit next to him or her and purr. As cat lovers, we really enjoyed it. But let's not forget about the stunning views. This winery sits right at the edge of the mountains, with the vineyard expanding far out into the distance.
Annandale Wines
It was safe to say that Annandale was our favorite. This cozy little winery is off the beaten path of tourists but is so authentic that it's worth the visit. Upon entering the small tasting room, we noticed the cobweb-covered windows from years of use, heard roosters crowing in the midday sun, and saw a larger, older gentleman walking around barefoot and happily signing bottles. The heavy log cackled in the fireplace as the person serving our tasting explained the history of the estate and that the owner was the gentleman signing bottles. He was a famous rugby player back in the day and now runs his family wine estate, dating back 300 years.
In short, it was the perfect place. It was so laid back and welcoming, that we spent quite a bit of time here. The wine on offer included more amazing Cabernet Sauvignon, Shiraz, Cabernet Franc, and even a red wine blend called Cavalier. Each sip was better than the next. As this was our favorite winery, and the only winery of the day that doesn't ship to the U.S., we ended up buying six bottles to take home… if that gives you any indication of how much we enjoyed this place.
La Motte Wine Estate
The first three wineries above were in Stellenbosch, and as it was reaching 1 pm, we decided to head for Franschhoek and eat at the next winery. Our driver recommended La Motte, and again, another amazing recommendation. Not only was it another scenic winery with sprawling vineyards and mountain peaks, but the food was delectable. We feasted on cheese, soft, chewy bread, trout, and mushrooms. Each part of the meal was amazing. The Winelands are known for their amazing food, so definitely take the time to eat at one of the wineries while there.
After lunch, we headed to the tasting room and were treated with some more delicious red wines, most notably the Shiraz. We even were allowed to go to the back room and see the barrels of aging wine. It was a gorgeous estate and the food and wine were well worth the visit.
Haute Cabrière
Our fifth and final stop on our wine tour was Haute Cabrière. I think we saved the most beautiful estate for last. The tasting room itself is nestled in the side of a mountain. There is a small pond next to the estate and across the way you get an amazing view of the Franschhoek Mountains. It was so stunning I could hardly believe it. I took far too many photos.
And let's not forget about the wine! Much like the French name, they are known for more French-style wines, especially their sparkling wines. We tried several sparkling and dessert wines here, all of which were crisp and delicious. It was a perfect ending to an amazing day in the Winelands: stunning mountain and vineyard views with a glass of South African made wine in hand.
We were sad to have to return back into the city after a day trying the most amazing wine but were happy to have visited the five wineries that we saw. We even left with 18 bottles of wine to remind us of our visit and share with family and friends back home! I would highly recommend each of these on a wine tour. I spent far more time than I care to admit researching the best places to go. And while we didn't see everything, I think this private Cape Town wine tour makes for a wonderful introduction to the Winelands when you're short on time.
Where to Stay in the Cape Winelands
If you decide to plan on overnight in the Cape Winelands, here are the perfect hotels in Stellenbosch and Franschhoek! Hint: they are ALL on wine farms! And to save more money, there are affordable Airbnb options too!
Stellenbosch Budget Hotel: Devonvale Golf & Wine Estate. At around only $60 per night, this hotel is perfect. Located right in the Cape Winelands, it has a pool, golf course, free parking, and a spa. Top it off with the lovely wine farm and you'll fall in love with the views!
Read reviews and book on TripAdvisor | Booking.com | Agoda
Stellenbosch Mid-Range Hotel: Lovane Boutique Wine Estate & Guest House. Luxury for less is fairly easy to achieve in South Africa, especially at this hotel. At just over $100 per night, it includes free parking and breakfast, a pool, has bike rentals available, a spa, shuttle service, and the rooms are absolutely perfect with winery views.
Read reviews and book on TripAdvisor | Booking.com | Agoda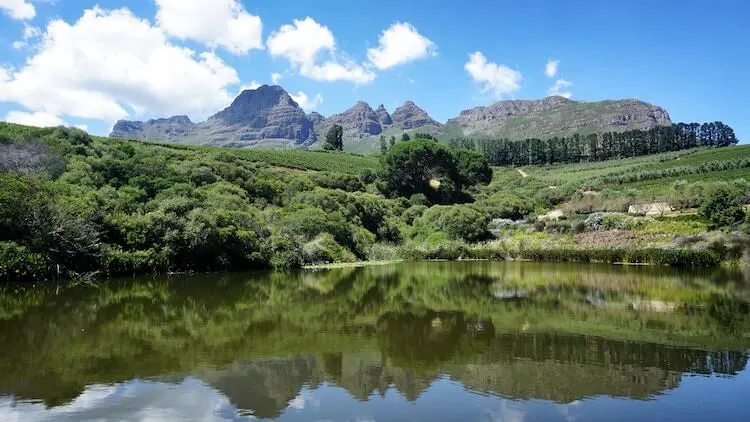 Franschhoek Mid-Range Hotel: Rickety Bridge Country House. This place is nestled against the rolling hills in Franschhoek and has all of the amenities you'd expect like free parking and breakfast, a pool, spa, etc. But they also have a wonderful BBQ, perfect for a good ol' South African braii. What I love most about this place is the country house feel, from the decor to the lovely views over the wine estate. Priced at around $150 per night, it will leave your pockets happy too.
Read reviews and book on TripAdvisor | Booking.com | Agoda
Stellenbosch Luxury Hotel: Delaire Graff Estate. This place definitely is pricey, starting around $950 per night. However, it is pure luxury. The estate itself is positively stunning, and a famous stop on the wine route in South Africa for many. So aside from trying their delicious wine and tasty food, you'll love your own heated outdoor plunge pool, free parking and breakfast, full-service spa, and terrace. They even offer childcare services for some adult time tasting wine at the wineries.
Read reviews and book on TripAdvisor | Booking.com | Agoda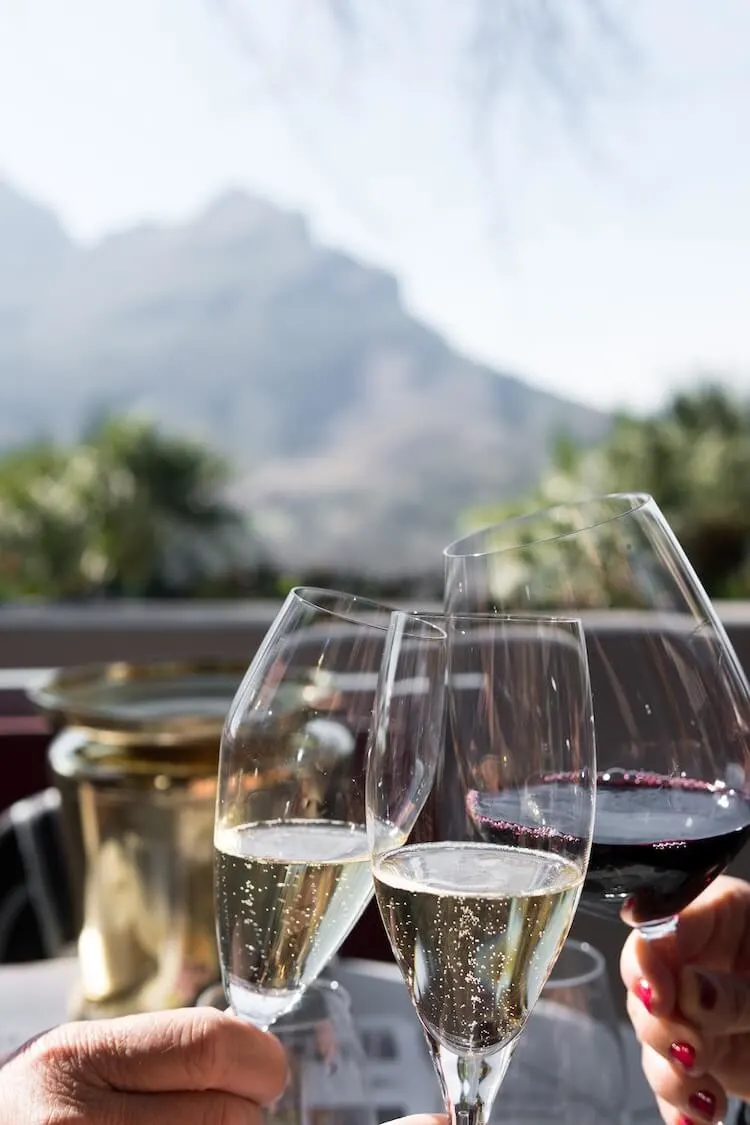 Top Tips for Your Cape Winelands Tour in South Africa
Now that you have selected the Cape Winelands day trip from Cape Town, it is important to keep these tips in mind:
Don't drink and drive. For us, we booked a private Winelands tour from Cape Town and had a private driver take us around. You can also take a group full day Cape Winelands tour from Cape Town. This is great if you aren't sure where you'd like to visit and would like someone else to do all the planning! They also offer half-day Cape Winelands tours from Cape Town as well!
You can certainly rent a car- but don't forget to have a designated driver!

Renting a car

to get from Cape Town to Stellenbosch is a popular thing to do, especially among people who opt to drive the Garden Route.
Want to read up about South African wine? Our favorite book is Windows on the World Complete Wine Course that'll up your wine knowledge, and it breaks down the language of wine tasting so you don't feel like a dunce (it has really helped us)!
For the best winery views, opt to visit during South Africa's autumn in March through May, or the Northern Hemisphere's spring. The vines will be full and ready for harvest!
But for fewer crowds, visiting during the winter and spring are perfect! We went in September and none of the wineries we went to were crowded! Also, avoiding holidays and weekends is a good idea too.
Have Travel Insurance. We don't travel internationally without our World Nomads travel insurance. With easy and fast quotes and easy to understand coverage, book travel insurance just in case!
For best flight prices to Cape Town, check Skyscanner. It combines airlines so you get the real best deal! We used this for our flights to South Africa and booked when the prices dropped (hint: you can set up alerts to book when prices drop)!
Most wineries are open from 9 am-5 pm, so plan your Cape Winelands tour accordingly! Also, be sure to get to the last winery by 4 pm.
Wine tastings are cheap! We're talking less than $10 per tasting (and many tastings are free if you purchase wine)! Wine tasting is much cheaper here than wine tasting in California or France!
Dreaming of an African honeymoon? Check out this post with

20 destination ideas!

Check out our Uganda Honeymoon Destinations, How Much Does a Gorilla Trek Cost, Ultimate Masai Mara Itinerary, Only South Africa Honeymoon Guide You Need, 1 Day Panorama Route Itinerary,

Cape Town Honeymoon Guide

,

Fun Things to Do in Cape Town For Couples

, Best Things to Do in Victoria Falls, and Kenya Honeymoon Spots.
Want to read about more wine regions? Check these posts out:
Have you been to any of these wineries? What's your favorite type of wine? Let us know in the comments!
Pin it here!