Some posts on this site contain affiliate links, meaning if you book or buy something through one of these links, I may earn a small commission (at no additional cost to you!). Read the full disclosure policy here.
---
What's a romantic vacation without a little adrenaline rush thrown in? Enter shark cage diving.
We had already been on safari, venturing just six feet away from animals that could kill us in seconds if they had wished. My heart stopped the first time we saw a lion that close. But nevertheless, we both wanted to face our fear of sharks once and for all in the only place in the world that was most convenient to do it: Shark Alley.
I had wanted to visit for years. I grew up watching Shark Week on the Discovery Channel, and I would see it: the scientists cruising out to Shark Alley, chumming the water, and tossing a decoy seal out. Seconds later, amongst ominous music playing in the background, a huge Great White shark would launch from the water five feet into the air, with the decoy in tow. It was mesmerizing and terrifying at the same time. But I had to see it for myself.
I signed us up without even thinking about it. It was easy to be unafraid when you're months away from it actually happening. Chris was even terrified when I told him that I wanted to do this. But as we were retrieved from our Cape Town hotel at 3:50 am by Ilios Travel, we were both exhausted but only I was chilled with fear and cold. Chris was completely excited.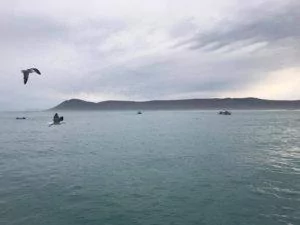 The Dive
Upon arriving in Gansbaai the fear started to set in further. I could hardly understand the marine biologist as she gave her instructions and a short demonstration of the sharks and their habits. The crew at Marine Dynamics then handed us orange plastic coats and life jackets and led us out the door to the boat.
The boat ride was almost comforting for the first ten minutes. The hazy sky over the cliffs and the sea was a sight to behold. It was a blend of sage and deep turquoise. The seagulls trailed behind us, calling at our backs, no doubt anxious and excited to steal a bit of the fish heads we were using as bait.
Then suddenly, the boat stopped. An anchor was lowered. The men on board below started whistling while stewing together saltwater and salmon and poured it into the ocean. The bait and decoy were thrown out into the sea along with the cage. We were given thick, black wetsuits and boots that covered everything but our faces. My two conditions to Chris were this: to not go in the cage first and to not be on the end. Unfortunately for us, we stood too close to the cage and were quickly ushered inside first.
Ten seconds into my almost paralyzing fear in the cage, the marine biologist called out, "Down! Down! Down!" meaning a shark was in our midst. Before I had a chance to think, I held my breath, plunged under the water, and I saw it: a nine-foot Great White female shark slowly swim past me. She was close enough to reach out and touch. And she was… calm?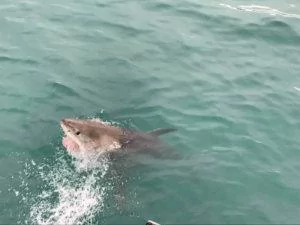 Before I had a chance to think, I held my breath, plunged under the water, and I saw it: a nine-foot Great White female shark slowly swim past me. She was close enough to reach out and touch.
My fear quickly dissipated after that experience. The sharks came up quite a bit during our twenty minutes in the cage, but they were almost graceful. They would chase the fish head, which would be pulled from them, and they would swim calmly past the cage, hopeful that the decoy would bring more luck.
It was fascinating to watch these animals above and below the water. The twenty minutes flew by quickly, and I hadn't even realized how cold I was until I had left the cage. I shivered a little as I sipped my hot chocolate but couldn't wait to get to the second story of the vessel and watch the sharks.
That's when we saw it: another large female swam around and suddenly went deeper underwater. A few seconds later, she soared from the water, breaching four feet, catching the fish heads, and stealing them. It was a gorgeous sight to see. It was like the shows I had seen in my childhood. I couldn't believe it was happening in front of me!
The men had to gather up more fish heads, but shortly after we saw a Copper shark and even a rather large stingray take interest in the bait. After we had all had our chance in the cage, the anchor was pulled and the cage taken aboard. We were off to Gansbaai where we started.
Overall Thoughts
The ride back was much more relaxing after the initial fears of being that close to sharks. We were all pleased with our findings. Overall, we saw three Great White sharks (two female, one male), one Copper shark, and a very large stingray! We couldn't believe our luck.
Watching these animals was dumbfounding. I couldn't believe my prior fears of sharks being man-eating creatures. We're the larger threat to them than they are to us. And while I have a newfound respect for this calm and calculating predator, you can tell that the ocean is theirs and we're only visitors.
Have you been to Gansbaai or have gone shark cage diving in the past? Would you do this? Let me know all about it in the comments!
**We booked this through Ilios Travel and Marine Dynamics. This is not a sponsored post. We just enjoyed our trip and wanted to give credit to these awesome companies!