If you want to hear more about us, you'll love following along via our newsletter! Sign up below and receive exclusive content and announcements NOT on the blog!
And if you're interested, here is a bio about us and our travels!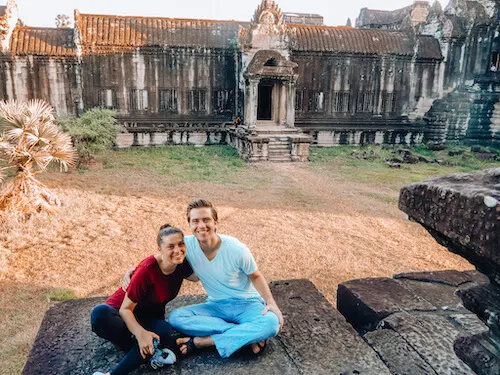 "I want to travel the world twice. Once to see the world. Twice to see the way you see the world."
Hey everyone! We're Kat and Chris, a Cleveland-based couple who travels as much as we possibly can around the world for less (and sometimes in a little luxury too)! Our mantra will always be, "We don't want to spend our life savings on overwater bungalows, but we're also not trying to cram ourselves into hostels either." We love a good happy medium and a little #treatyoself moment too. So we meticulously work to budget for all of our travel wants/needs, budget our vacation days, and basically, try to have the best time with each other on this big, beautiful planet. And we love meeting and helping other couples who feel the same!
It all started a few years ago when I asked Chris where in the world he wanted to go. Chris answered that he wanted to go on an African safari. As I had traveled around quite a bit as a solo traveler and with friends, I was so excited to potentially see South Africa with him… and I wasn't waiting until retirement to do it.
So I researched flight deals, talked with safari companies, and sat down with Chris and told him how much it was and when we could do it. All he had to say was yes. "Yes," he said, and we've both been addicted to travel since.
That trip was truly life-changing for us. We realized that we'd much rather share experiences than things and travel while we're young. So we set out to build a life where we could do just that!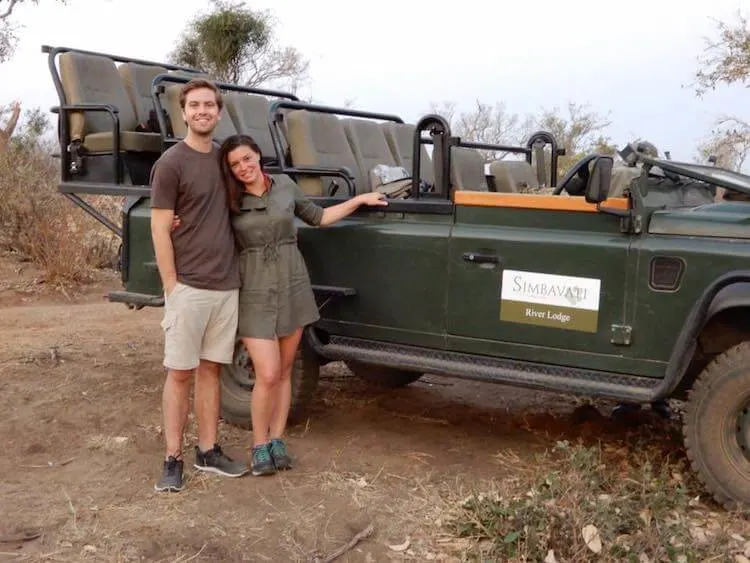 A Wedding, A Honeymoon, And A Whole Lot Of Miles
Shortly after we started to make plans to travel more, we got engaged! We were so excited about our wedding, and we were really looking forward to traveling more on our honeymoon. As we were heading to Southeast Asia, we knew we wanted to fly in business class, and there was no way after paying for a wedding that we could afford that.
So we started researching travel hacking, the art of collecting miles and points to stay and fly places for practically nothing, and have since collected over 1.4 million points that we've used to fly to 4 continents and several countries! We also found out that 1) wedding planning is literally the best time to collect miles, 2) collecting as a team makes it easier to rack in miles and make lifetime memories on trips, and 3) when you bring down the cost of flights to less than $100 anywhere in the world, the possibilities are truly endless.
So we decided to create a blog to document all things couples travel and travel hacking to help you do the same! Because what is more romantic than seeing the world with your love, experiencing new things, AND actually sticking to a budget while doing that? Who says the honeymoon ever has to end? And lastly, you don't have to wait until retirement to travel the world! Make a plan and go! It'll only make your relationship stronger, and you'll have amazing memories to share.
So follow along with our adventures and honeymoon-inspired trips around the world, where we'll strive to travel more, spend less, and always follow our dreams.