Some posts on this site contain affiliate links, meaning if you book or buy something through one of these links, I may earn a small commission (at no additional cost to you!). Read the full disclosure policy here.
---
When visiting Peru, the top bucket list item is almost always Machu Picchu. It isn't difficult to see why, but one of the best things that you can do on your visit to Peru is to visit the Amazon Rainforest. With dense vegetation, amazing wildlife, and wonderful eco-lodges, your stay in Peru wouldn't be complete without spending a few days here. And what is the best Peru Amazon lodge? We loved the Tambopata Research Center in the Tambopata National Reserve.
Chris and I both agreed that as much as we loved visiting the Sacred Valley and Machu Picchu during our 10 days in Peru, our best experience was by far the Amazon. And while this was Chris's number one thing he wanted to see in Peru, it wasn't mine initially.
So after being pleasantly surprised by the beauty that is this giant rainforest, I wanted to show you an amazing itinerary, plus all the tips on staying at the best Peru Amazon Lodge in Tambopata National Reserve.
Check out our podcast episode all about the Amazon Rainforest in Peru!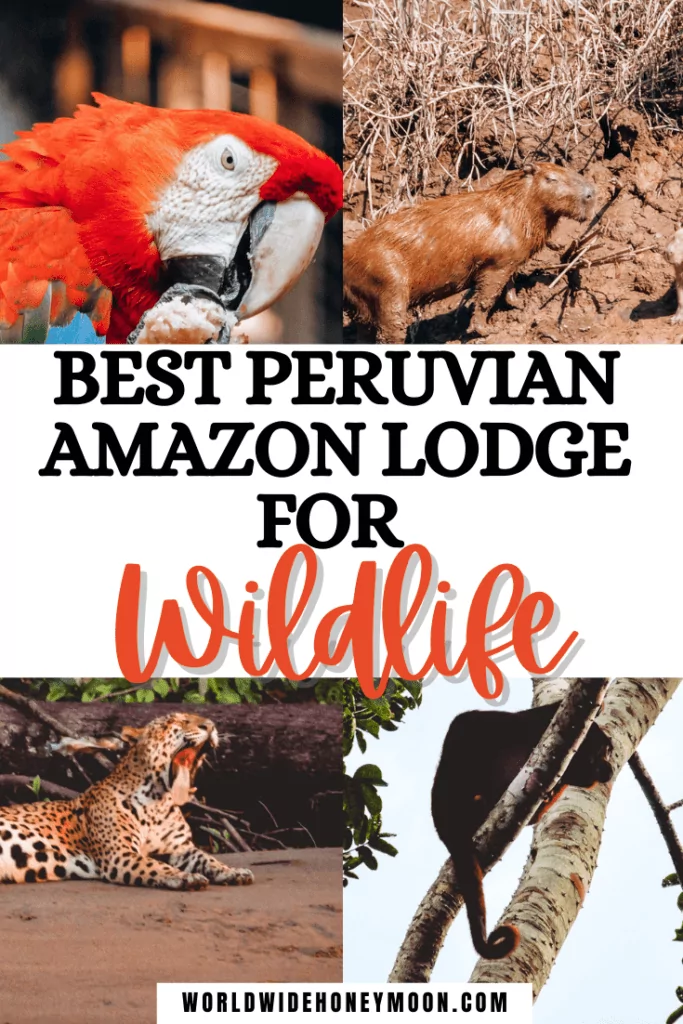 Best Time of Year to Visit the Peruvian Amazon
The Amazon and specifically the Tambopata National Reserve has two main seasons: wet and dry. The wet season is between November and March and is very rainy, with torrential downpours most of the day. You'll find great deals, but it can be dangerous to get to some lodges, some activities will be canceled due to weather, and your chances of spotting wildlife in a rainstorm are unlikely. And we haven't even begun to talk about how terrible hiking through the muddy mess it would be.
Instead, opt to visit during the dry season, or May through October. There are fewer rainy days and much more opportunities to spot animals, insects, birds, and more! The temperatures are also a little cooler at this time.
We ended up visiting in mid-May, and the weather was perfect! While of course, it was pretty hot outside, things cooled down a touch in the evenings and the only rain we saw was for an hour in the morning before we left the lodge to continue our trip.
How to Get to Tambopata Research Center, The Best Peru Amazon Lodge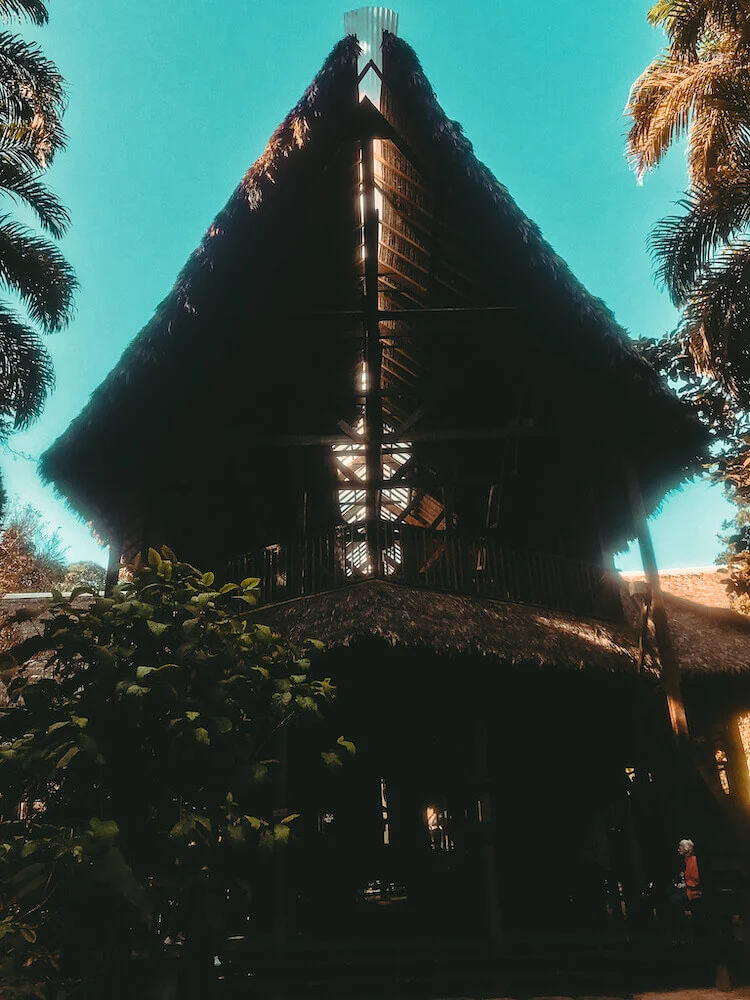 While we were in Peru, we had the pleasure of staying at two rainforest lodges. This wasn't what we were planning initially, but as we chose to stay at the Tambopata Research Center, we had to stay at Refugio Amazonas for a night on the way at the time. This has since changed.
This is because, when we visited, flights to Puerto Maldonado from Lima typically arrive around 1 PM, then you have to take an hour-long bus ride to the port, and then take a 3-hour boat ride along the river to the first lodge for the night. They cannot continue on after the sun sets so everyone going to Tambopata Research Center had to spend the night at Refugio Amazonas first.
However, as of 2020, we confirmed with Rainforest Expeditions (who own Tambopata Research Center and Refugio Amazonas) that you no longer need to spend the night at Refugio Amazonas to get to Tambopata Research Center. It is only a 2.5-hour boat ride now. If you can, though, we totally recommend spending the night at Refugio Amazonas on the way as it is an incredibly beautiful lodge and the sunrise canopy tour makes it all worth it!
Refugio Amazonas and Tambopata Research Center are known for their amazing research projects as well as every room there has only 3 walls. The fourth wall is open-air, meaning you have nothing between you and the jungle. The sounds at night were incredible!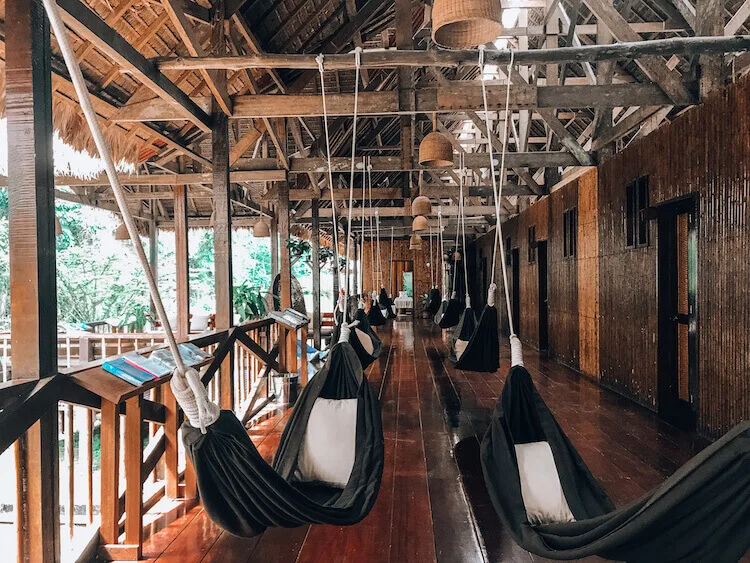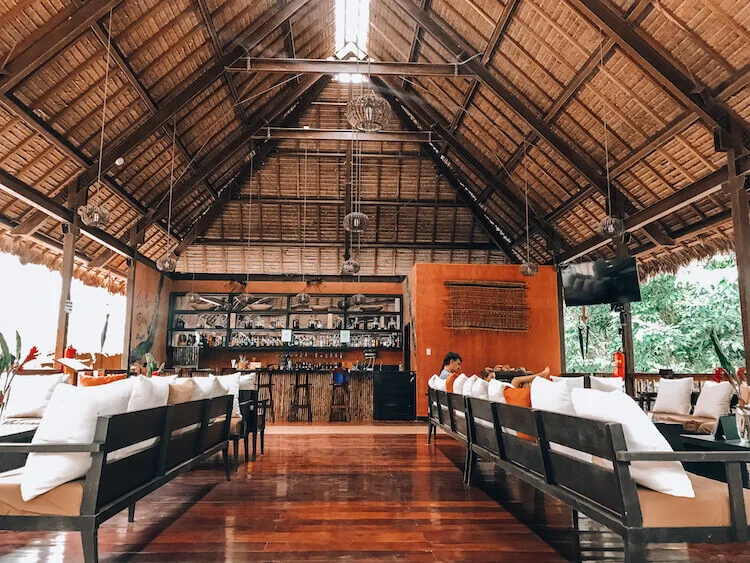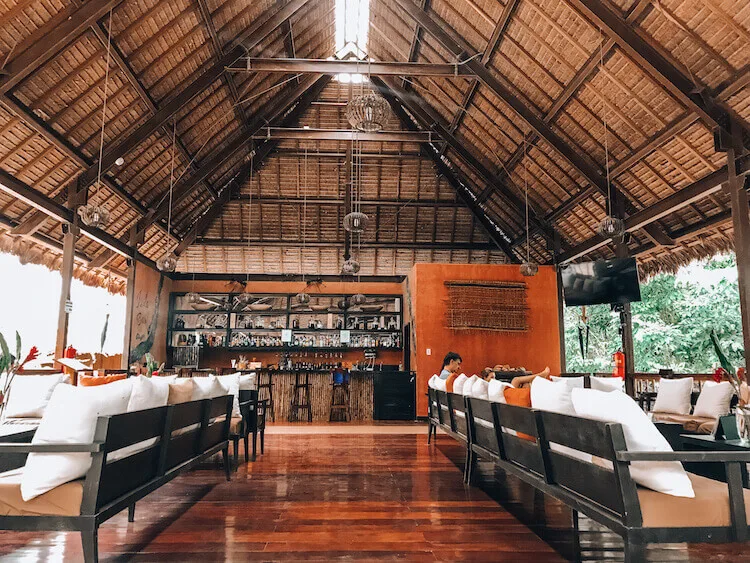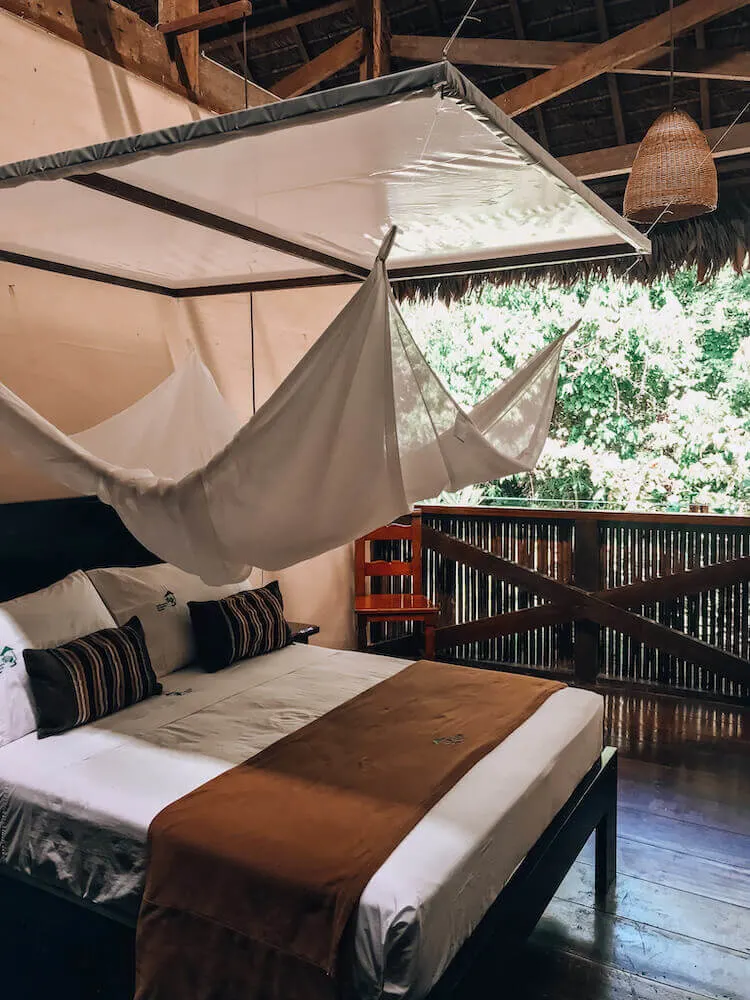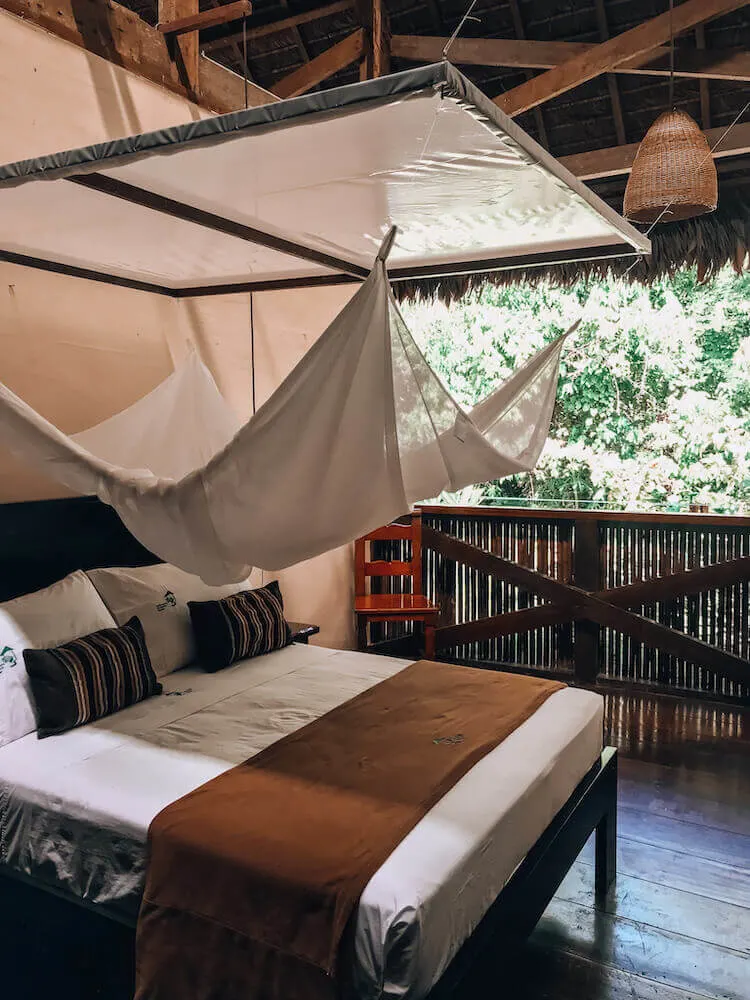 I highly recommend staying at one of these lodges, particularly the Tambopata Research Center, as it is very remote. This means you have much higher chances of viewing wildlife, such as jaguars, macaws, howler monkeys, peccaries, and more! It is located in the Madre de Dios region in the Southeastern part of Peru, right in the heart of the Peruvian Amazon.
What to Pack for the Amazon in Peru
Packing for Peru was definitely our biggest packing challenge to date, especially as we travel carry-on only. Here is a quick list of what to pack and wear in the Peruvian Amazon.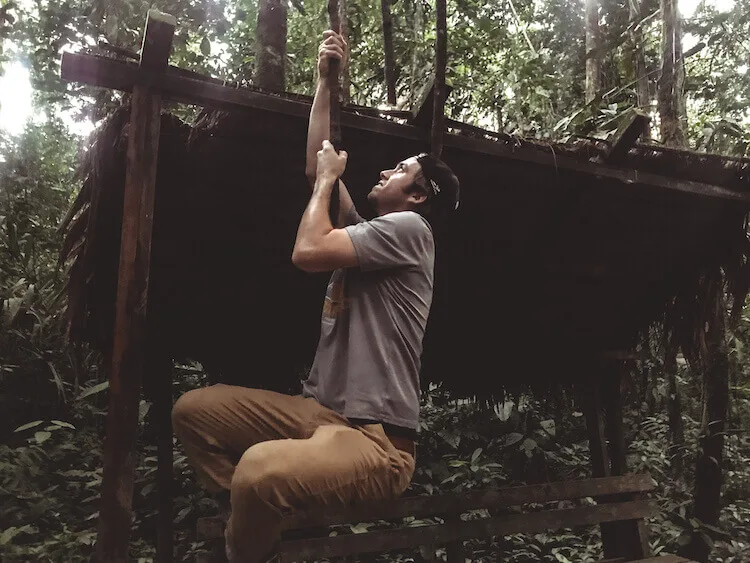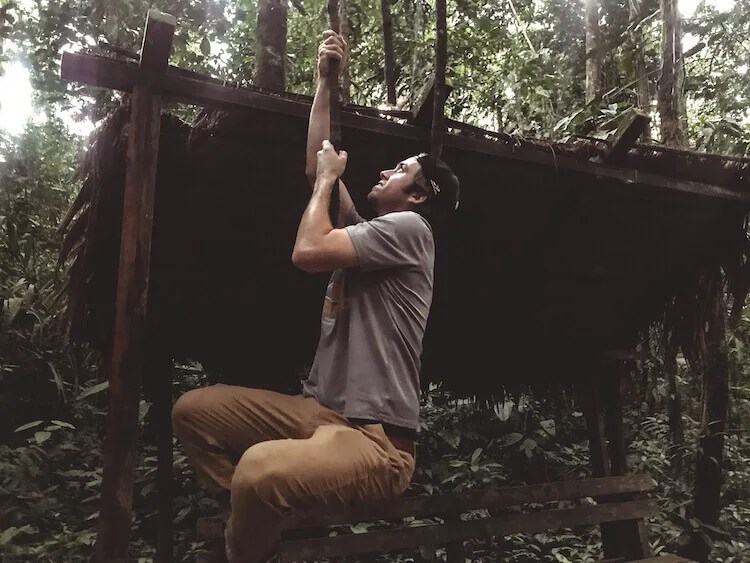 Hiking Boots: Initially I was skeptical about purchasing new hiking boots for Peru, but I'm so glad I did. They were invaluable when trekking through mud and uneven terrain in the Amazon. These boots are what Chris and I purchased.
Hiking Socks: This goes with the boots, obviously, but definitely get socks with merino wool as they are great with absorbing sweat and keeping your feet dry. They also recommend wearing socks high enough to cover over the pant openings for your feet and prevent bugs from getting in your bottoms. Here is a fantastic brand here.
Long Pants (aka trousers for those in the UK): Yes, it gets hot in the Amazon, but bugs are no joke. Prevent bug bites from ants, spiders, and mosquitos with long pants with breathable material. Chris found these great men's hiking pants on Amazon. I wore my running leggings and was just fine.
Long Sleeve Tops: Again, to prevent bug bites while hiking, wear a long sleeve shirt that is sweat-wicking and breathable. Think workout shirts. I found these great women's long-sleeve shirts on Amazon, and Chris wore old long-sleeve marathon shirts.
Flip Flops for the Lodge: When you're hanging out at the lodge, you'll want to cool down and wear some comfortable sandals. Also, you have to leave your hiking boots at the entrance to prevent tracking mud and stuff in the lodge.
Comfortable Clothing for the Lodge: We packed comfortable sports shorts, t-shirts, and such for lounging around the lodge during the afternoons and evenings between hikes.
Bug Spray: There are SO many bugs in the Amazon. And it isn't a place where you want to get bit. We absolutely love Badger Balm, as it is a stick instead of spray and isn't a liquid (perfect for carry-ons), is all-natural with lemongrass, citronella, etc. (no DEET), and a whole large tube can last about a week per person.
Sunscreen: Definitely opt for sunscreen as you'll be out a lot in the sun.

Binoculars

: I almost didn't pack this and I'm so glad we did. There are SO many birds and many love to hang out in the upper canopy, so having binoculars will help you spot them.
Camera: Of course! Get one with a good zoom for spotting wildlife from far away! We love our Nikon Coolpix A900 for its great zoom!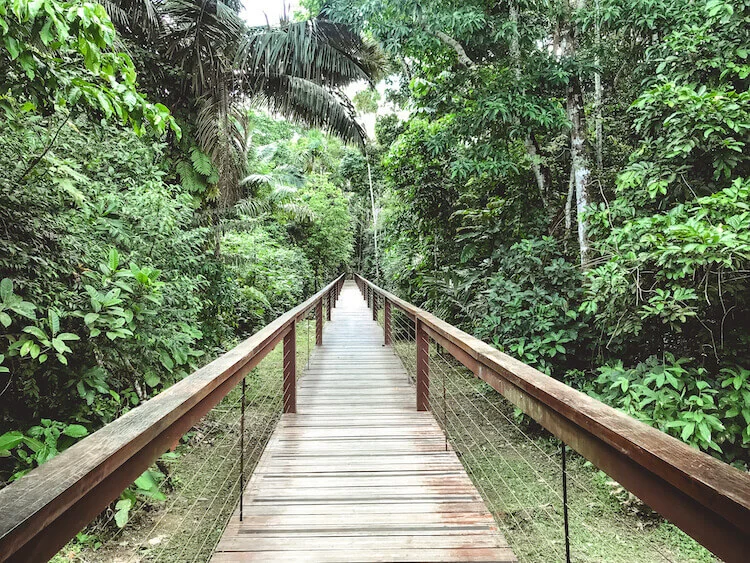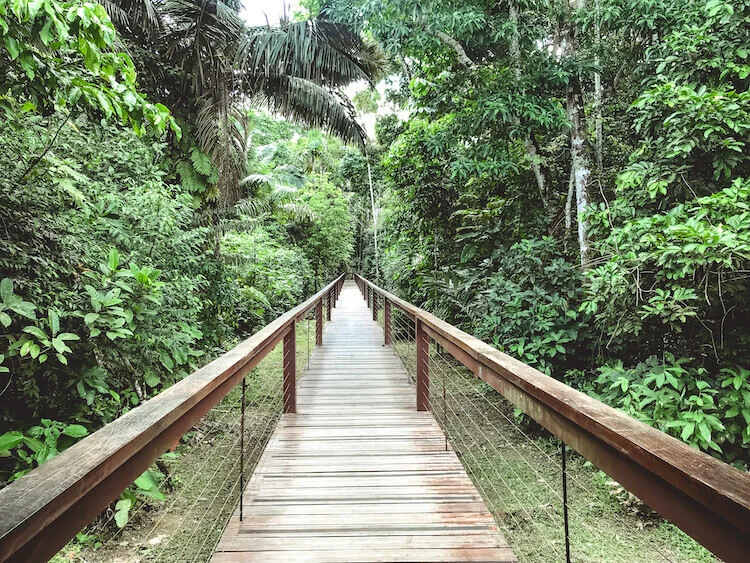 4 Days in the Best Peru Amazon Lodge
Now that we have all of the important information laid out for visiting the Amazon, let's get into the amazing itinerary! If you have 4 days to spend in the Amazon, this is the perfect way to spend them: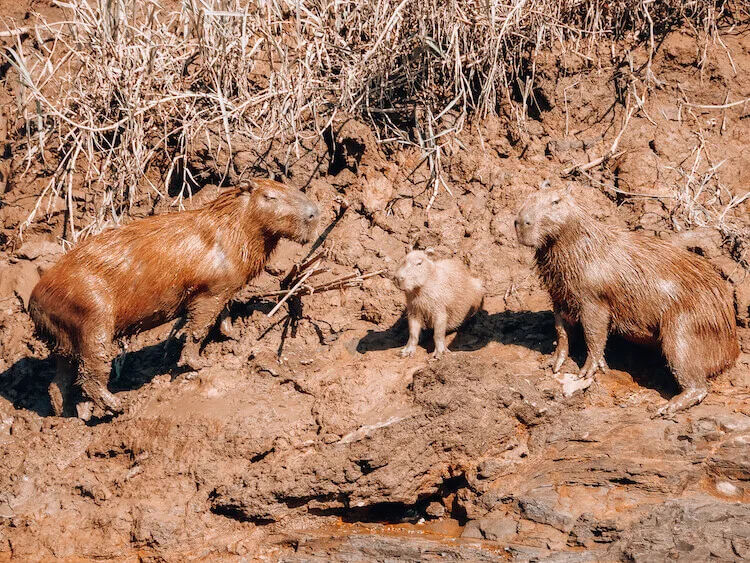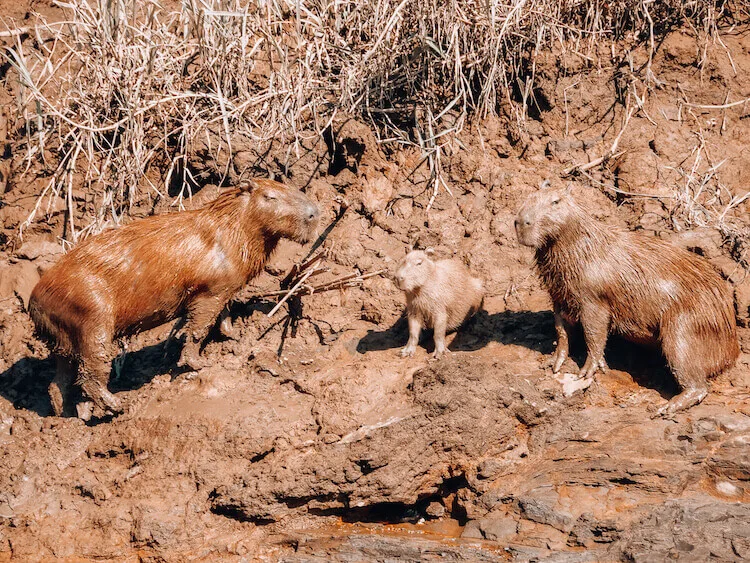 Day 1: Fly into Puerto Maldonado and Arrive at Refugio Amazonas
This is the first day of your journey. Fly into Puerto Maldonado via Lima or Cusco and arrive around 1 PM. You will then be picked up by Rainforest Expeditions, the owners of the lodges, where they will drive you to their office (10 minutes from the airport) and you can leave any extra bags you don't need behind. The boat is pretty small, so you'll only want to take a carry-on-sized bag versus a huge piece of luggage.
Then, you'll have an hour bus ride to the port, and a boat ride to Refugio Amazonas. The boat ride is amazing, especially as you'll spot many animals and birds as you wind further down the river, including capybara, herons, owls, and more!
You arrive at Refugio Amazonas just in time to grab a cocktail and check out the nightly lecture (we learned about their research on the Brazil nut tree), get some dinner, and go on your first hike: a night walk. Discover frogs, spiders, tarantulas, and so much more!
Then, it's time to sleep in your three-walled room complete with a bug net, because nobody wants to wake up with a spider in their bed!
Alternatively, you can just head straight to Tambopata Research Center and have more time there!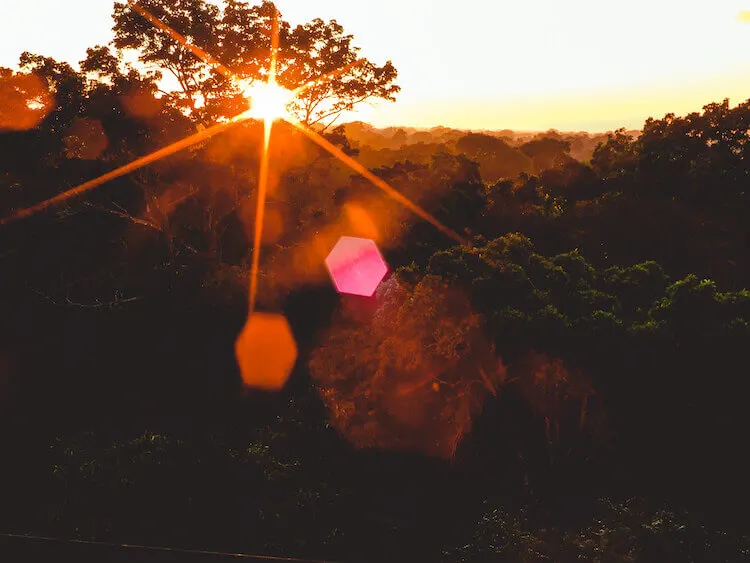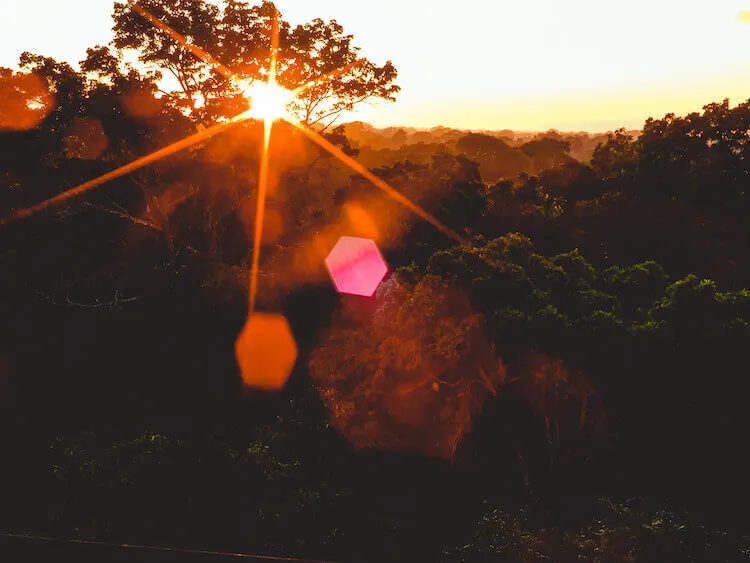 Day 2: Canopy Tour and Arrival to the Best Peru Amazon Lodge- Tambopata Research Center
Wake up early to catch the sunrise over the stunning rainforest canopy with the canopy tour. Hear the screeches and haunting noises of howler monkeys as you wind your way down the path to the tall tower. Admire the various levels of the rainforest canopy as you get to the top and feel the calmness and excitement for the day to come.
Then, after breakfast, you get back on the boat to ride to your final destination and the best Peru Amazon lodge: Tambopata Research Center. Trust me, it's worth it. You'll arrive before lunchtime and have a quick hike around the forest. Then, you are given a demonstration of the various activities you can choose and you sign up for each. We ended up choosing the macaw clay lick, monkey and giant tree hike, island tour, and night hikes.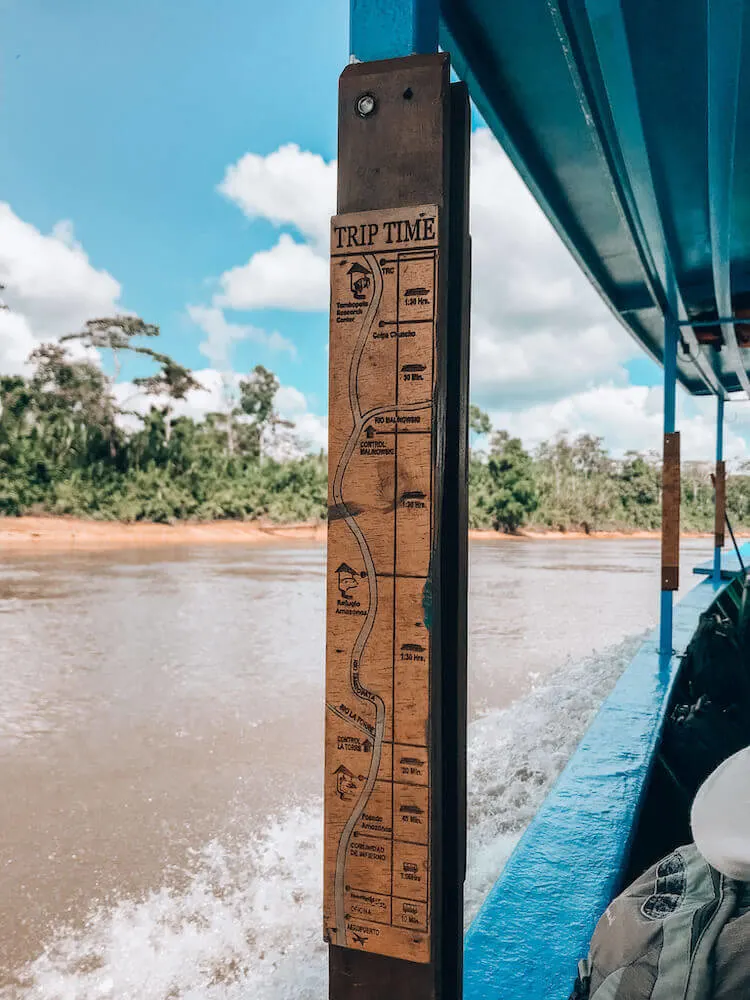 They also had options for bird watching, master hikes, sunset cruises, and more based on activity level and duration. You can pick as many or as few activities as you like, however, as we only had a short amount of time, we tried to do as much as we could!
Later that evening, enjoy a pisco sour while you listen to what the research team here is discovering about macaws and how you can help.
Day 3: Clay licks, Macaws, and Hikes
Another early day awaits as you hike and board the boat for a quick trip to the island in the river to check out the largest clay lick: Colorado Clay Lick. Known from National Geographic for its many macaws, parrots, and mammals that come here to take in the sodium from the clay, it is a sight to behold.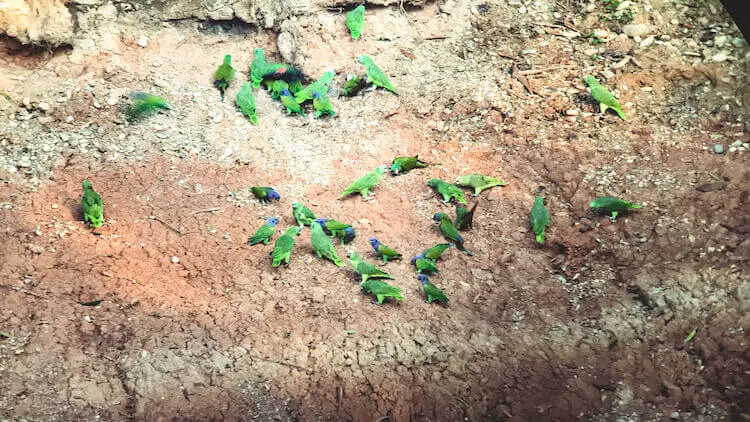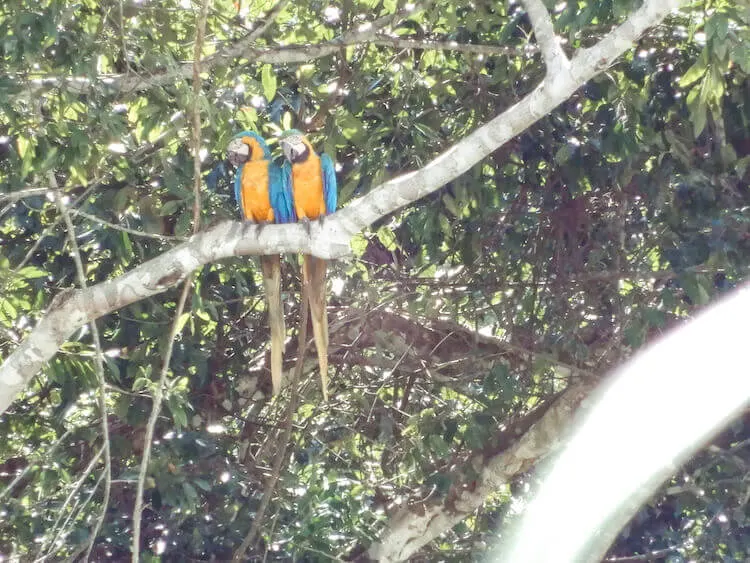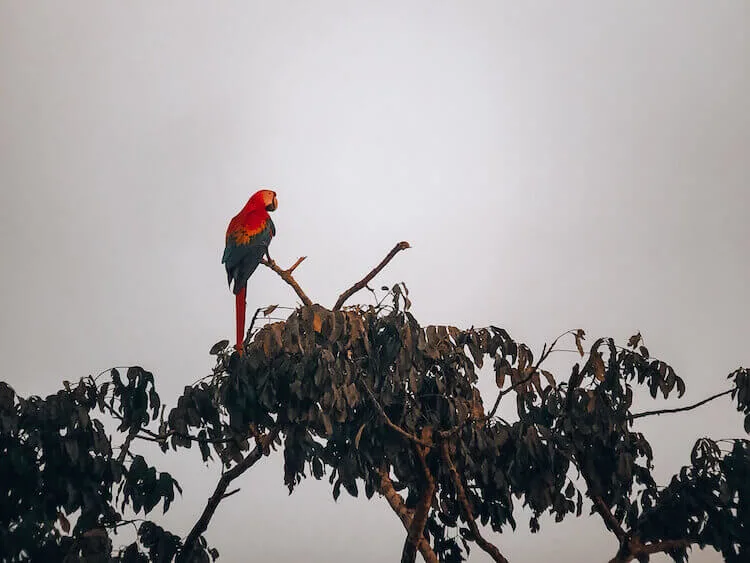 Sit and wait, as the noise of birds squawking gets louder until one or two lands on the clay lick and start feeding. Then more, and then you've got several parrots and macaws flying around and getting their share of clay. It truly is breathtaking.
But if you want to get really up close and personal with the big-personality macaws, just go to breakfast. A while back, the lodge used to serve pancakes and jam for breakfast, and the macaws loved it. So now they've grown used to stopping in for breakfast, stealing the sweets, and getting way too close for comfort to your plate or butter dish!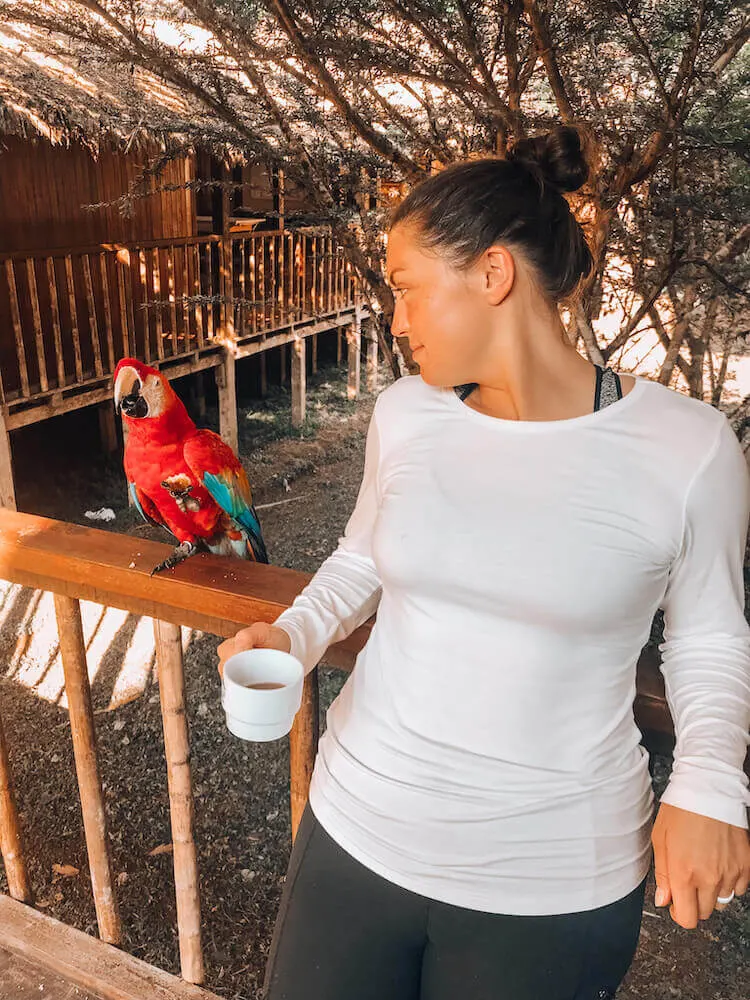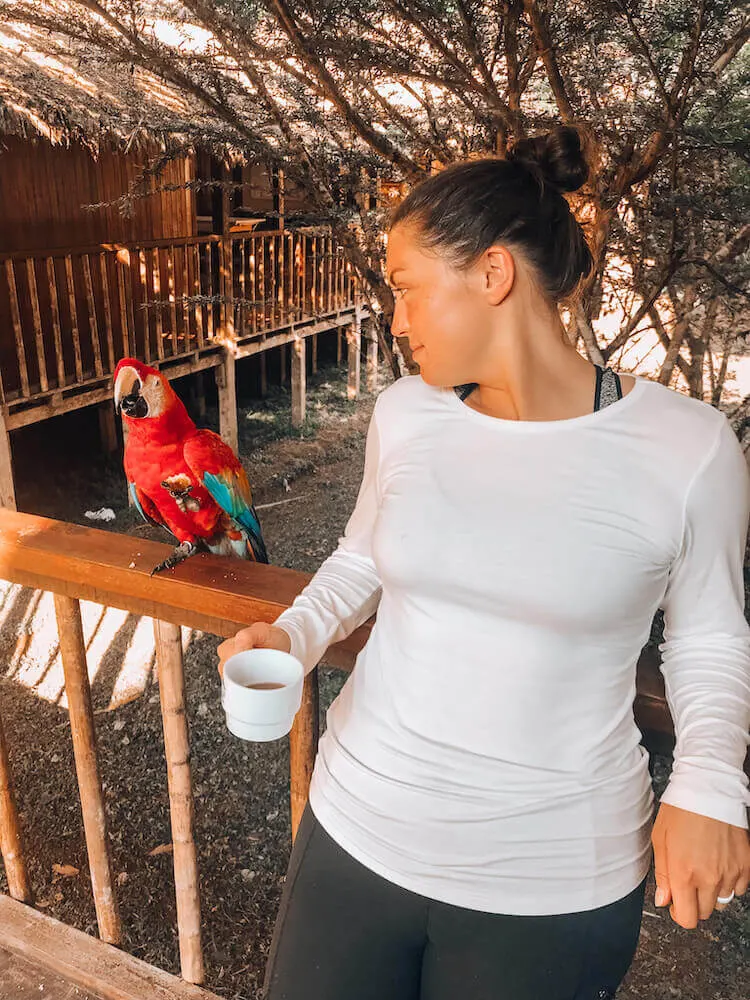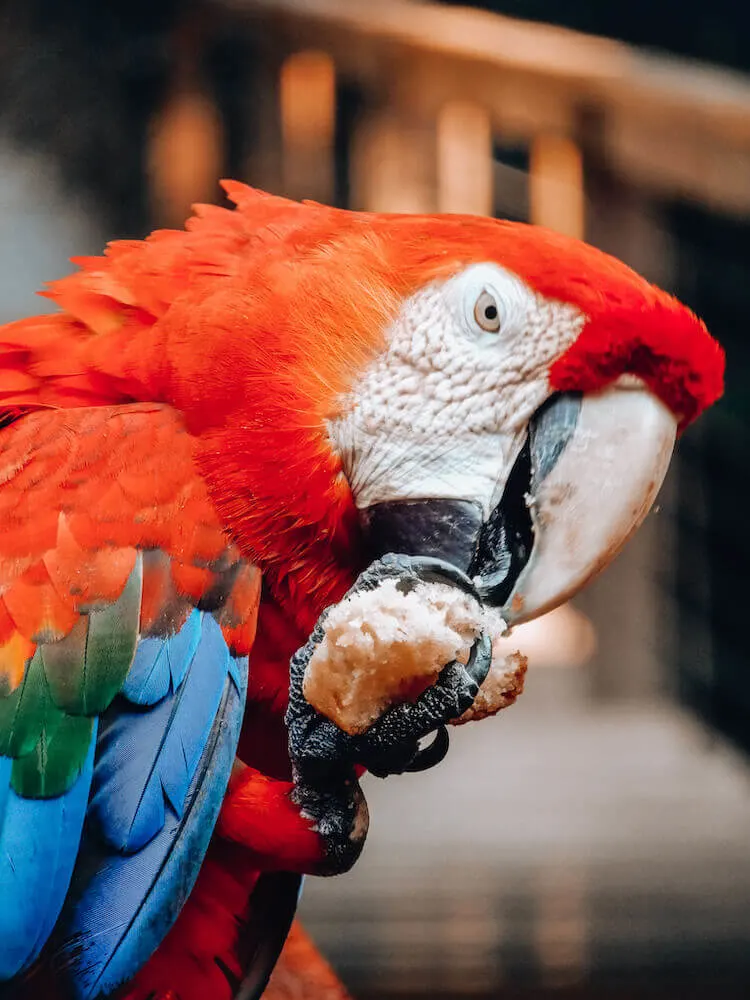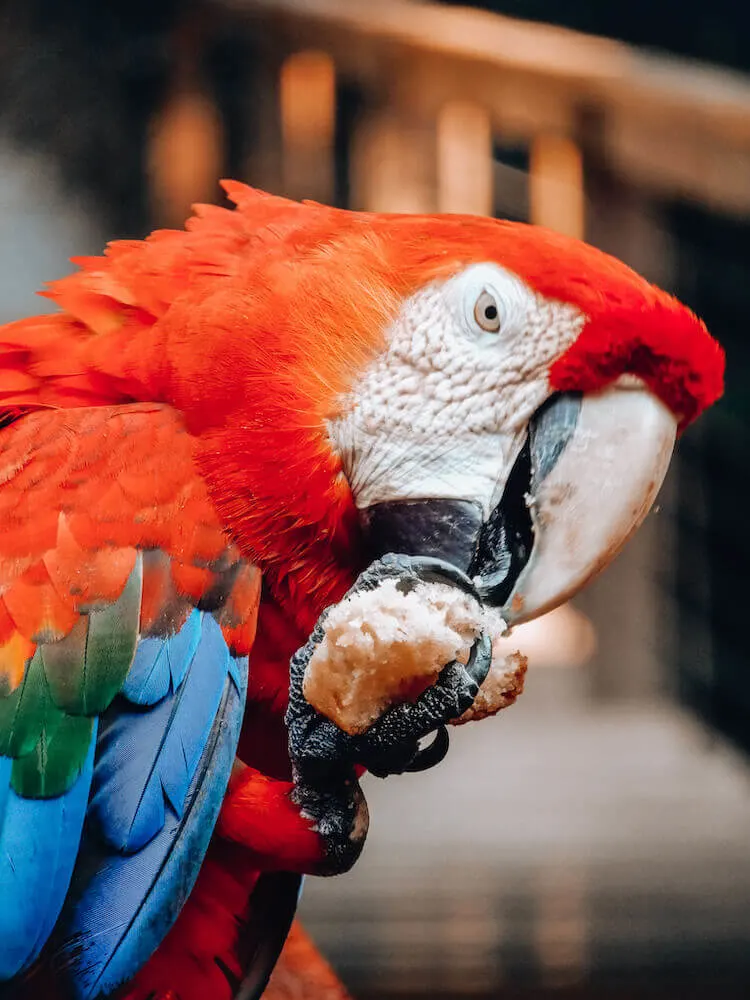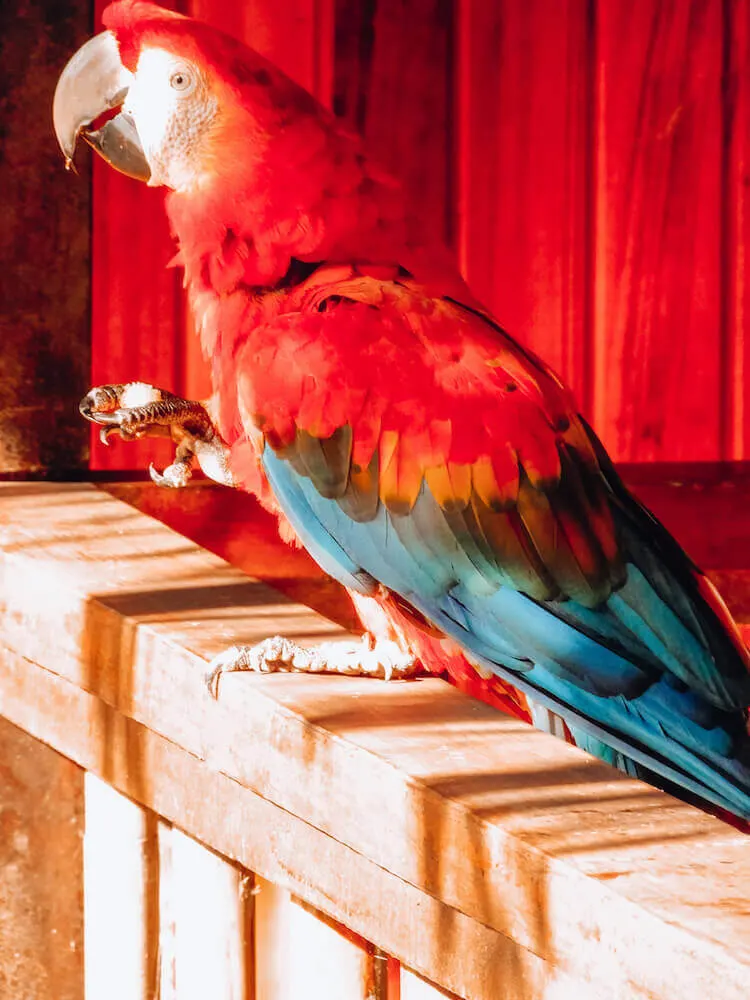 If you've ever wanted to see these guys, this is the best lodge for it!
Then spend the afternoon relaxing or getting a massage before your late afternoon hike, exploring the large trees of the forest, finding exotic bird species, and perhaps spot a couple of monkeys!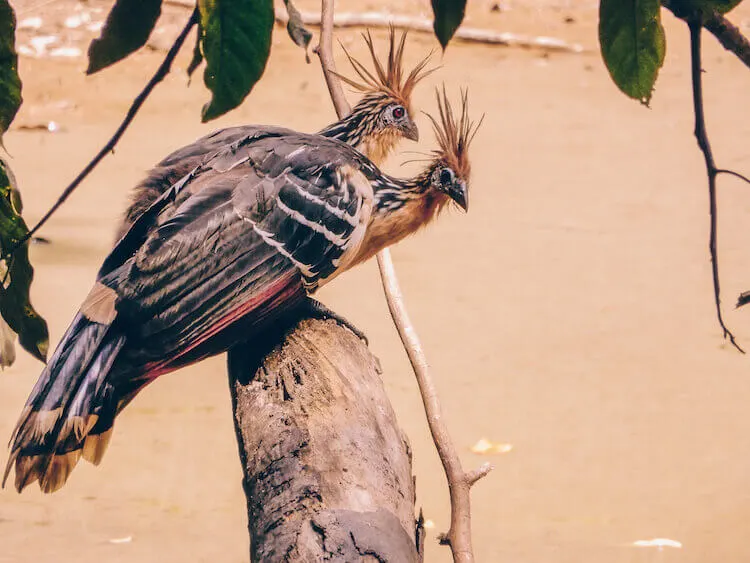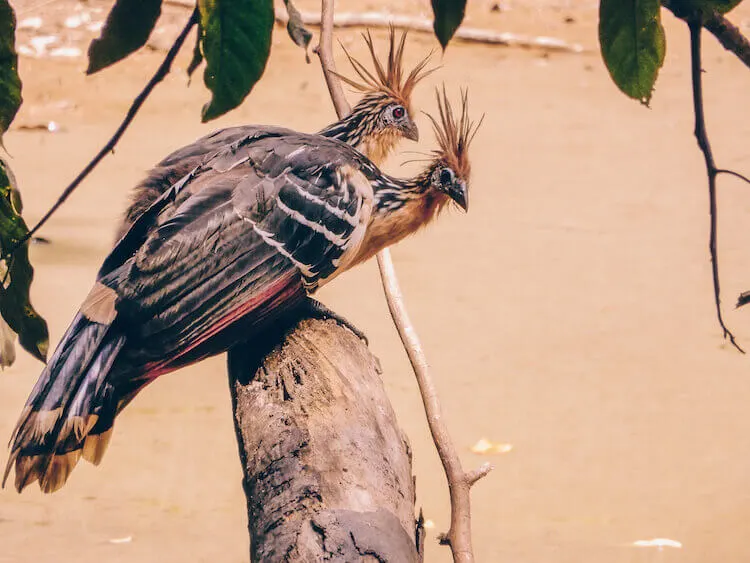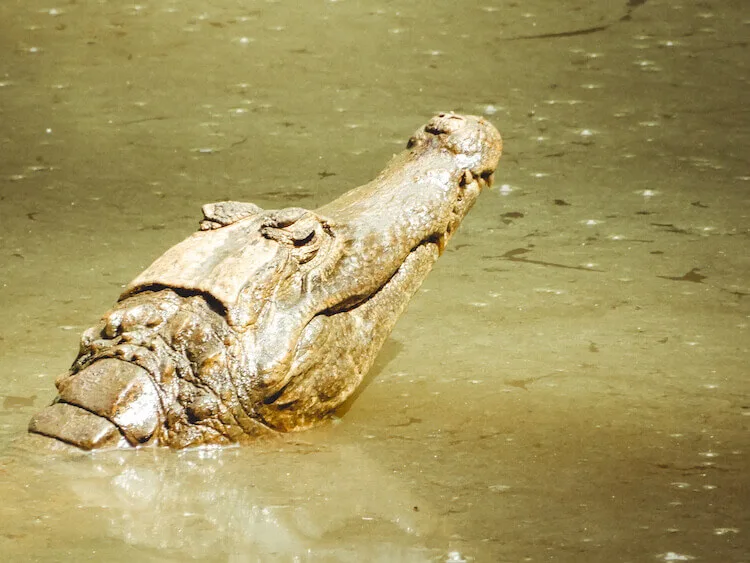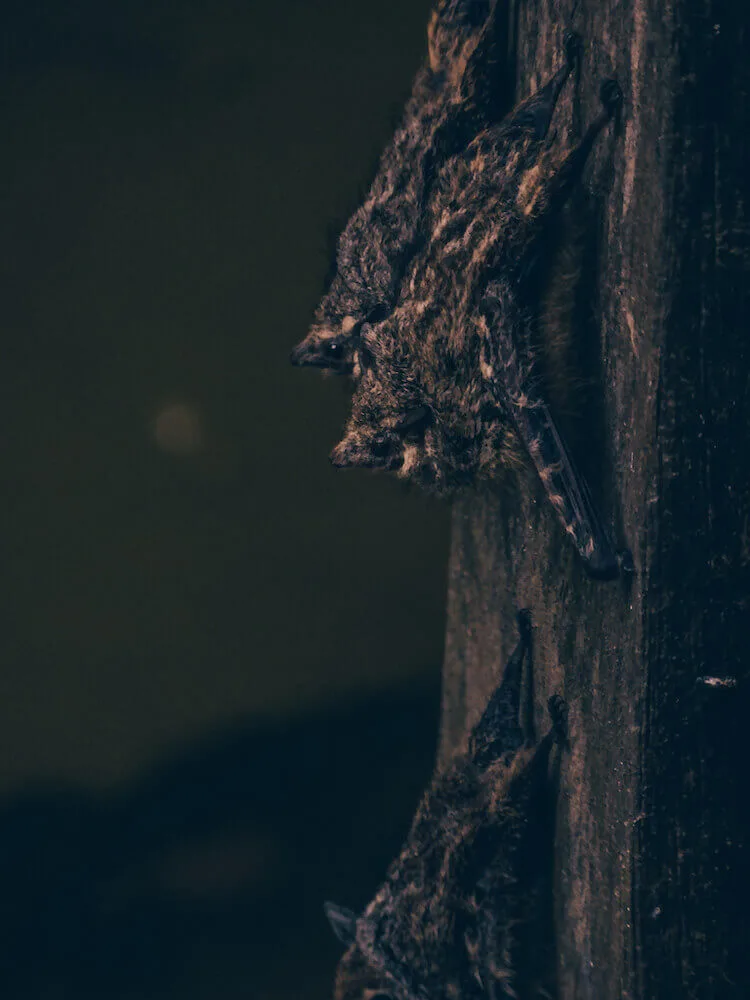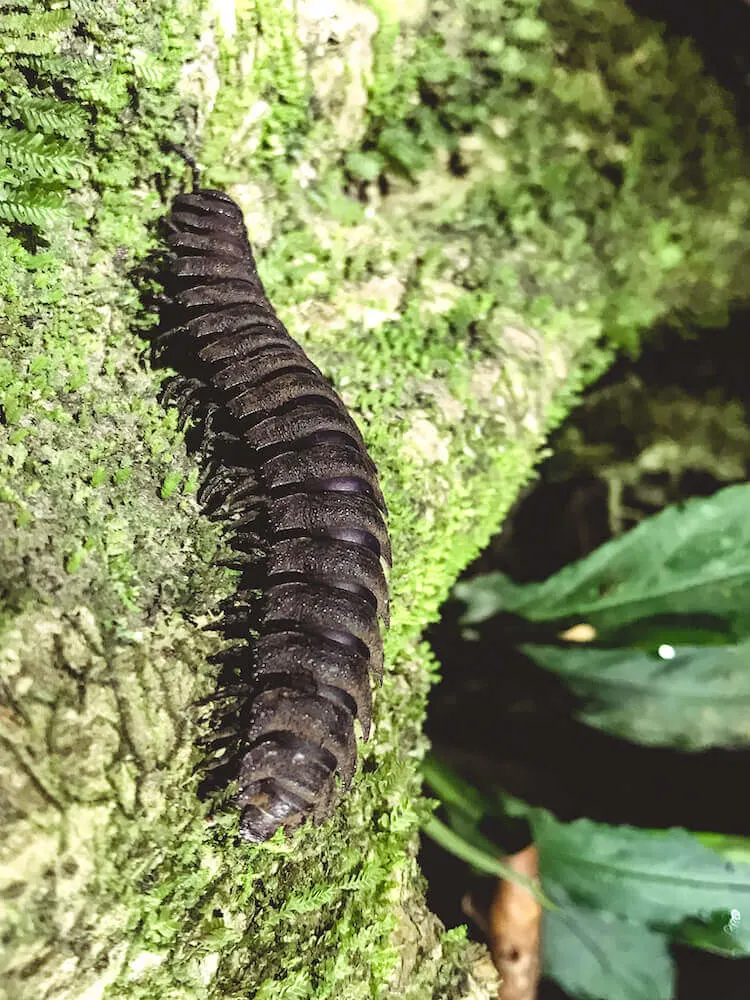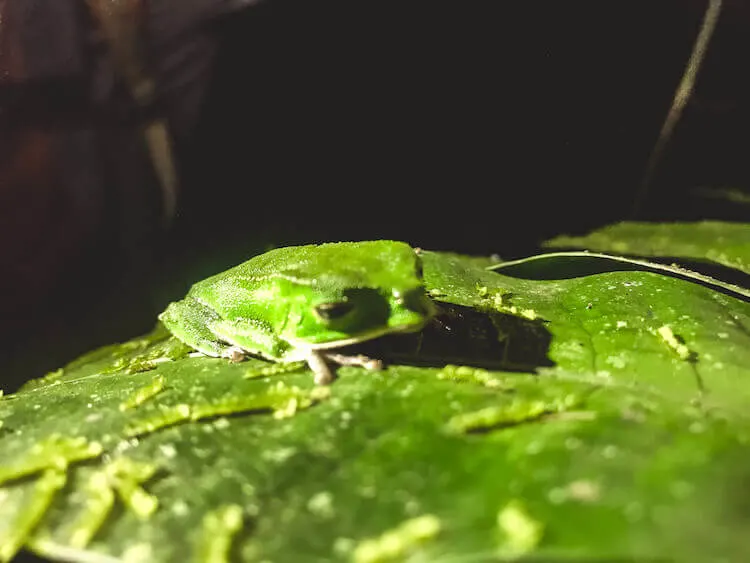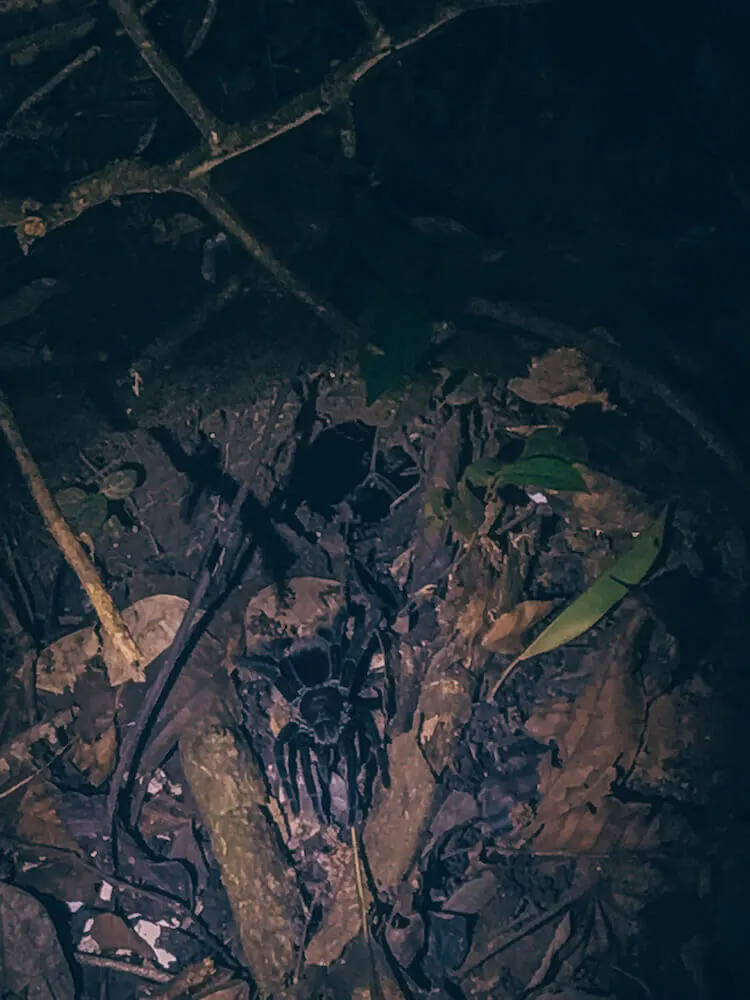 It all ends with dinner and a great night hike where we saw the giant chicken spider above!
Day 4: Take the Boat Back to Port, and Maybe Spot a Jaguar!
This is a long day of being on a boat, then bus, then back to the airport. So it is definitely an early day. Luckily it goes fast as you ride downstream and the boat ride isn't terribly long.
And I don't want to get your hopes up when it comes to spotting a jaguar. They are rare to find, but the best time to spot them is in the early morning. And the best place to spot them is along the river. At the Tambopata Research Center, the chances of seeing a jaguar are much higher than others as it is more remote (35% chance according to their website).
After hearing about people spotting a jaguar the day before on their boat ride into the lodge, we were hopeful! And guess what? We saw two jaguars on our way to the airport along the river! Yes, we were SUPER lucky, but it could happen to you too!
So hopefully spot a jaguar before getting back on the bus and flying out to your next destination.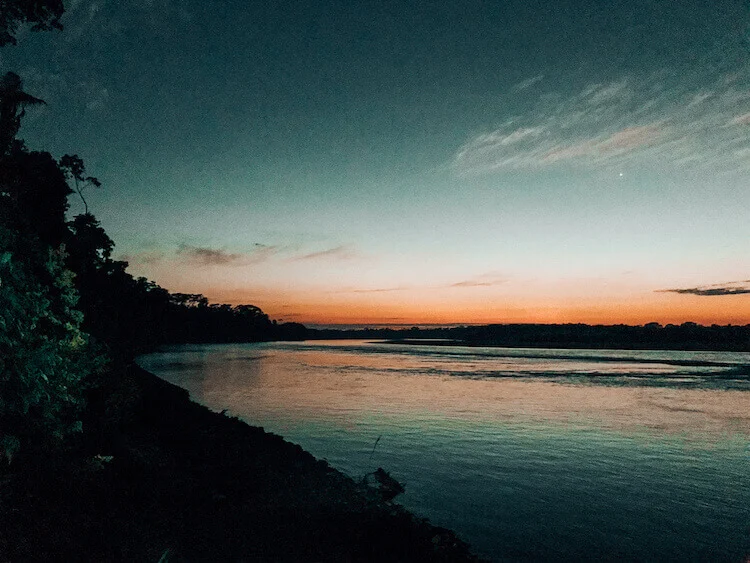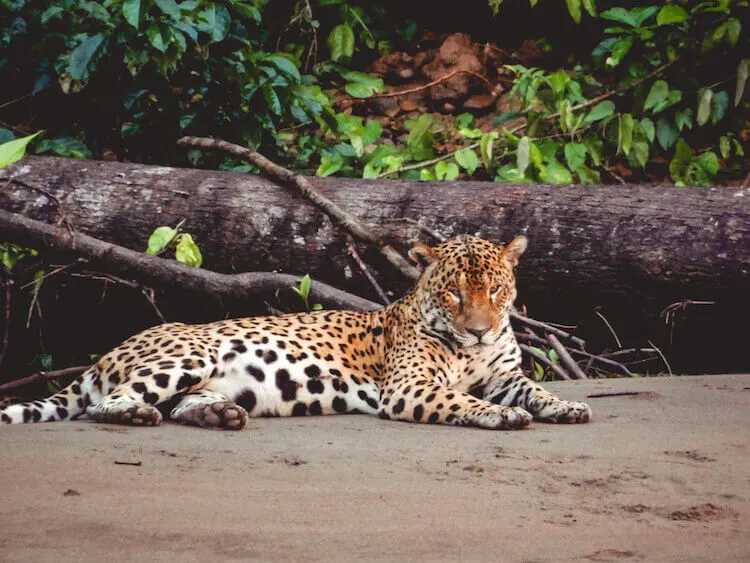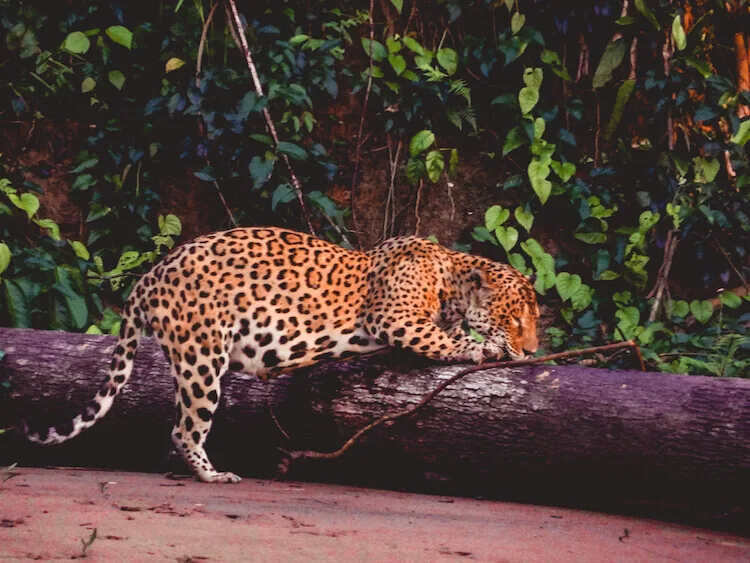 The Tambopata Research Center is Really the Best Peru Amazon Lodge!
These are 4 amazing days that you could spend in the Tambopata National Reserve, and they are 100% worth the effort to get there. Having breakfast and hanging out with macaws was a dream. I almost cried when I first spotted a jaguar. And hiking around the famous rainforest was everything and more. I couldn't recommend this adventure to anyone enough. It simply is a place you've got to see for yourself when you're in Peru.
Would you visit the Tambopata Research Center (AKA the best Peru Amazon lodge)? What would be your Peru highlight? Let us know in the comments!
Planning a Peru honeymoon? Check out our ultimate Peru honeymoon guide!
Read next: Best Osa Peninsula, Costa Rica Lodge, Best June Honeymoon Destinations, 23 Top September Honeymoon Destinations
Pin it here!