Some posts on this site contain affiliate links, meaning if you book or buy something through one of these links, I may earn a small commission (at no additional cost to you!). Read the full disclosure policy here.
---
Searching for the perfect Costa Rica rainforest vacation? What about a Costa Rica rainforest AND beach vacation? In 4 days? In just one location?
Y'all, we've got you covered. Enter Playa Nicuesa Rainforest Lodge.
Forget what you think you know about visiting Costa Rica. Seriously. Whether this is your first trip to Costa Rica or your 50th, we know the popular rainforest and beach destinations around the country. They are popular for a reason, of course, and they certainly are worth visiting.
But…What about having the chance to spot wildlife on a self-guided or guided hike? What about witnessing where 2.5% of the world's biodiversity lives? Kayaking or snorkeling and witnessing 2 species of dolphins?
In just ONE location?
The Osa Peninsula and Golfo Dulce region is truly a one-of-a-kind place in Costa Rica, let alone in the world!
We've visited the Amazon Rainforest in Peru, and Costa Rica's Osa Peninsula and Golfo Dulce region definitely go toe to toe with it!
So if you're longing for the most amazing and adventurous Costa Rica rainforest vacation, look no further than Playa Nicuesa Rainforest Lodge.
Listen to the podcast episode all about the Osa Peninsula here!
Where to Stay: Playa Nicuesa Rainforest Lodge
Located along the shores of the lush Golfo Dulce near Piedra Blancas National Park in the Osa Peninsula area, Playa Nicuesa Rainforest Lodge is the Costa Rica jungle escape that you need.
First of all, it is remote. You'll have the beach all to yourself as you admire the waves lapping on the shoreline and mountains in the distance.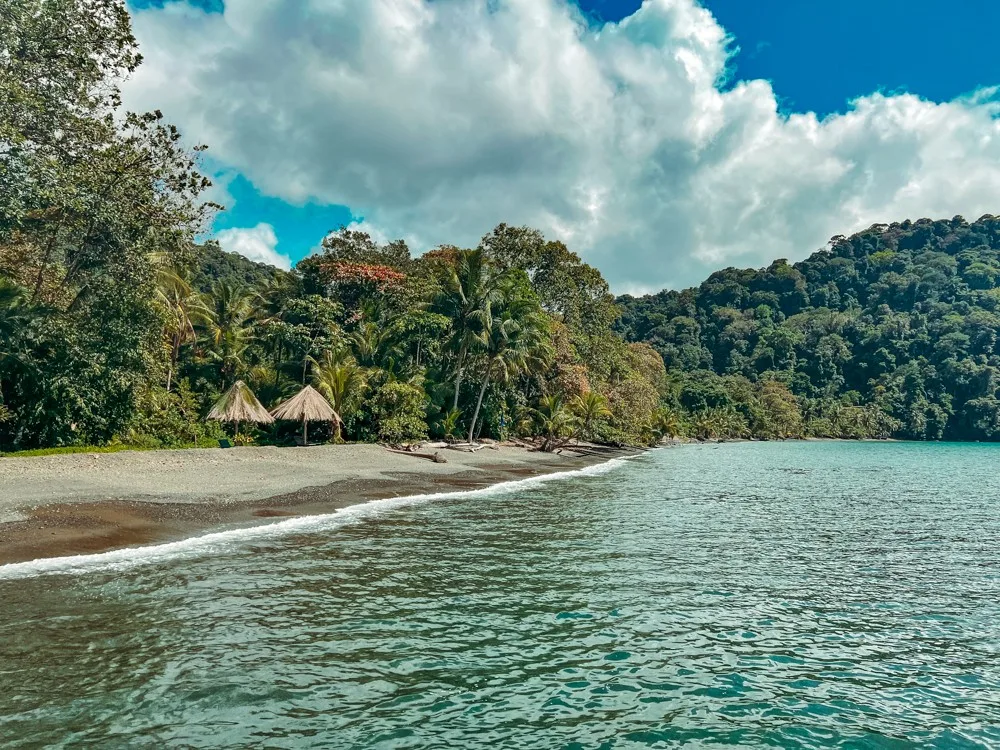 Then, you'll be instantly charmed by the open-air private cabins that allow for the perfect opportunity to enjoy the sounds of nature as you lazily lounge on your hammock. Don't worry- the doors do close if you want to shut them at night!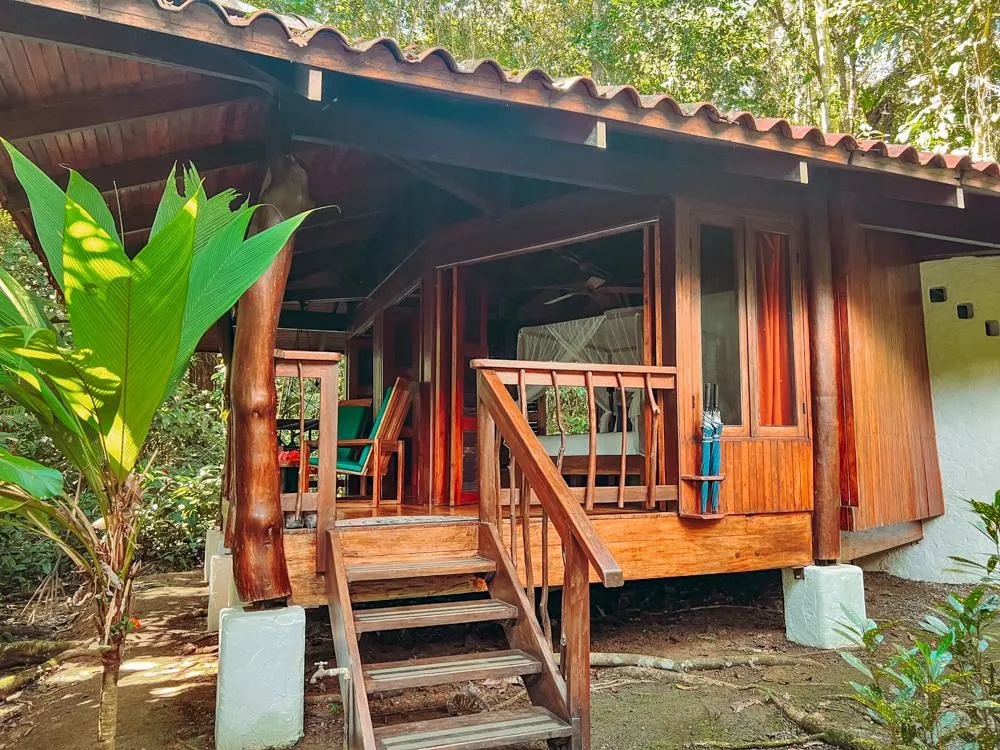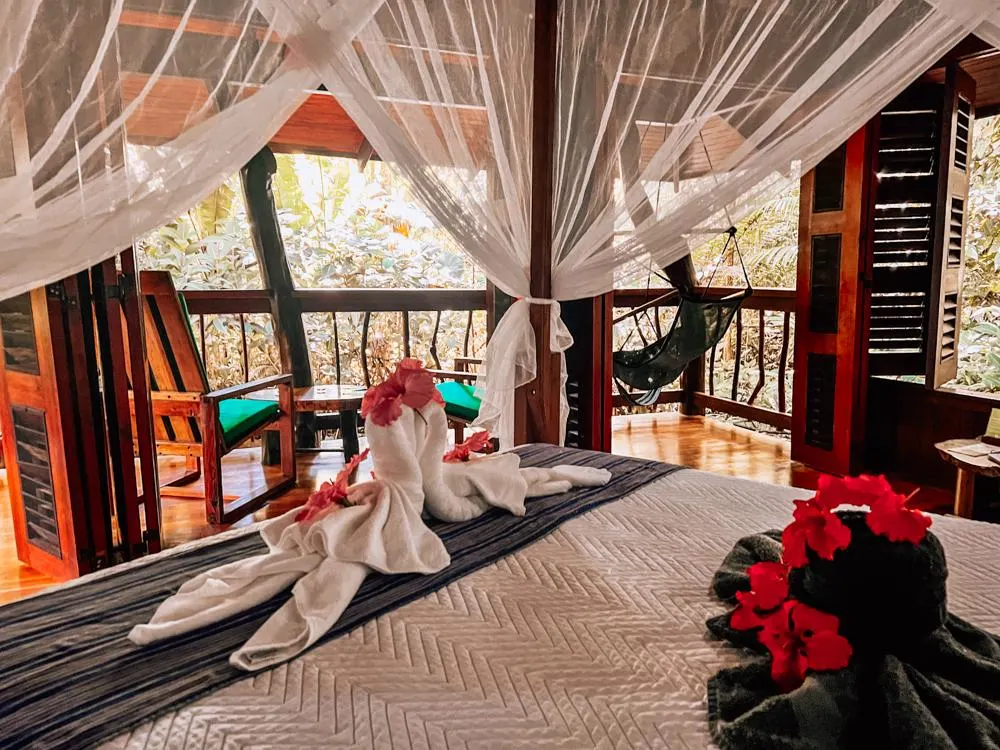 There is also a lovely lodge where your meals are served and the bar is located with views of the gulf, and a downstairs den where you can lounge on hammocks or play many games on offer.
Aside from the lodging itself, this place offers several hiking trails for both guided and self-guided hikes, kayaks, snorkel gear, and paddleboards for exploring the beach, an outdoor yoga studio and instructor for beachside yoga, and several knowledgeable local guides to plan and take you on many of the tours that they offer.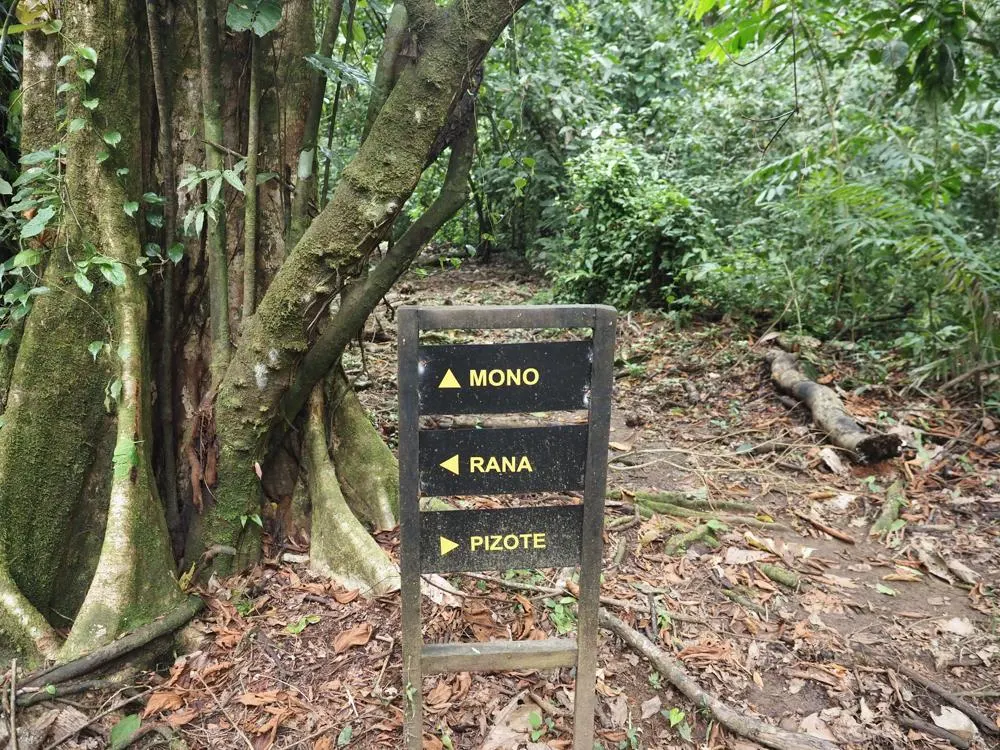 And trust me, there is a ton to do there!
When you arrive, you'll be shown a guidebook with all the tours available and each evening during appetizer hour, you can speak with guides and they'll help you choose which tour you'd like to take the following day and what time to meet for it. As tours are up to each party, most end up being private tours!
They really do help you make the most of your stay, and we found the staff super nice!
Prices start at $430 per night for 2 guests in a room. The price includes the use of all beach equipment, transportation to/from the airport, all meals, and access to trails for self-guided hikes.
Or you can book the Rainforest Package where you additionally get a guided tour included each day. That starts at $810 per person for 3 nights in a double room. We did the Rainforest Package and it was well worth it as we went on a tour each day!
Read more about Playa Nicuesa Rainforest Lodge here!
Okay, enough gushing about the lodge. We seriously enjoyed it, and it quickly topped our list of favorite lodges we've visited in the world, keeping in good company with one of our faves, Tambopata Research Center in the Peruvian Amazon!
How to Get to Playa Nicuesa Rainforest Lodge
So… how does one even get to the Osa Peninsula area and to Playa Nicuesa Rainforest Lodge?
The Osa Peninsula and Golfo Dulce are definitely some of the most remote parts of Costa Rica. So flying is your best option. While you can drive all the way to Golfito, which is at least 5-7 hours away from San Jose depending on traffic, flying is easier.
If you do choose to drive, then Playa Nicuesa will pick you up in Golfito and take you to the lodge via boat.
If you choose to fly as we did, Sansa Air has a few flights to both Golfito and Puerto Jiménez. Then, from there they will pick you up and you'll have a 30-minute boat ride from there to the lodge itself.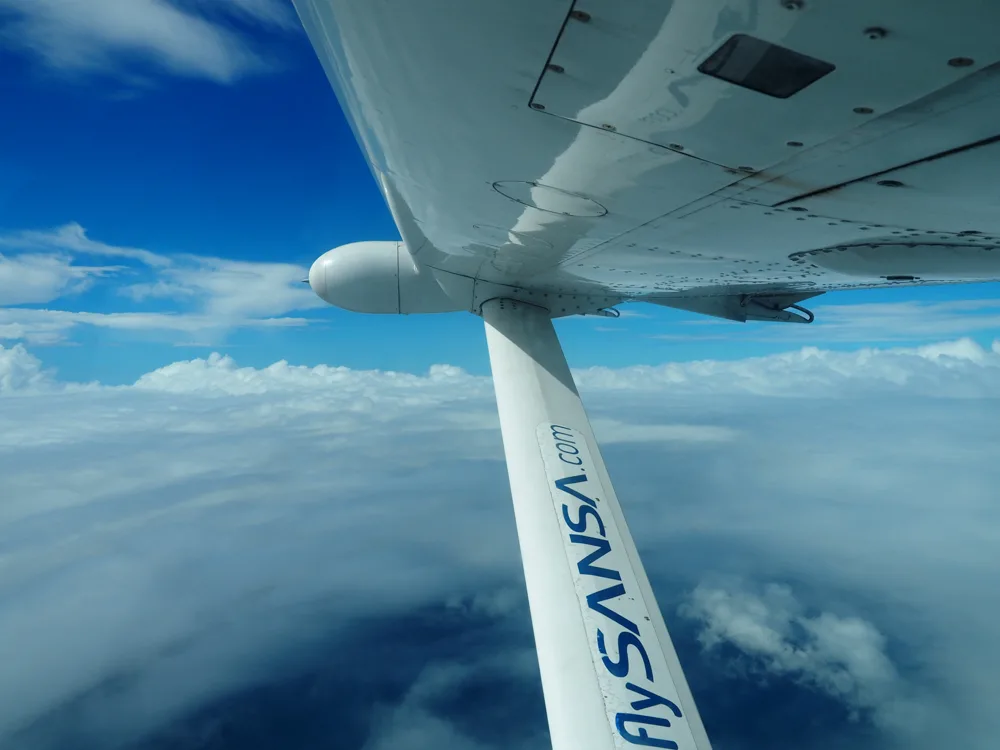 The flight from San Jose on Sansa Air is only about 45 minutes long, so it takes much less time to get there. However, it is a tiny 15-person flight. I'm a nervous flyer, to begin with, but it turned out to be a lovely flight with fantastic views!
The lodge does request that you arrive and depart before 3 pm as it can be harder for the boat to cross the Golfo Dulce after that time. We ended up arriving around 10:30 am, which is a great idea to get settled in and have more time on your Costa Rica rainforest trip.
4 Day Costa Rica Rainforest Vacation Itinerary
Okay, once you're at the lodge. You can pretty much do whatever you want. There are several tours you can choose from, or you can just rest, relax, and enjoy the rainforest and beach at your own pace.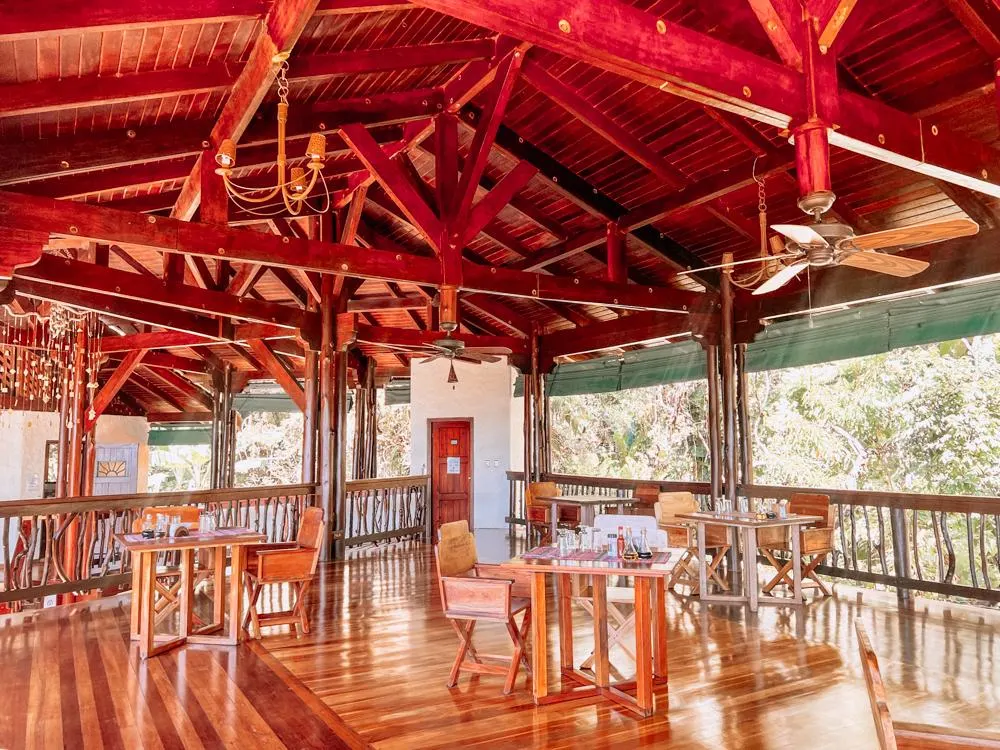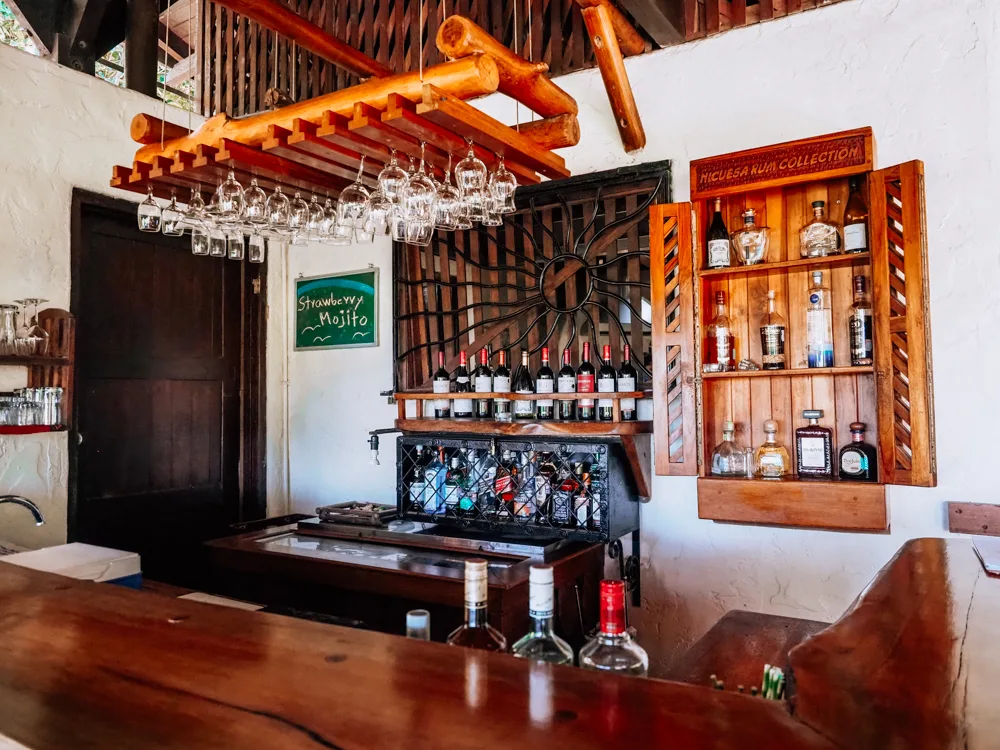 They encourage you to do as much or as little as you like. But, if you're searching for the best way to spend 4 days in the rainforest in Costa Rica in the Osa Peninsula area, this is a great itinerary!
Day 1 in the Rainforest in Costa Rica: Arrive, Get Situated, and Hike
Once you arrive on the sandy shores of Playa Nicuesa, you're welcomed with a refreshing drink and given an introduction to the lodge, times for meals, and information about tours. You also get a map of the hiking trails should you choose to go for a hike.
From there, you get to see your cabin and settle in. We stayed in the Toucan Cabin and enjoyed the privacy and being surrounded by the rainforest!
I recommend getting in early (we got in around 10:30 am) and relaxed in our cabin, lounging in the hammock, and looking at the tours.
Then, after a scrumptious lunch (BTW- they have a new menu daily where you pick your lunch during breakfast and dinner during lunch and it's all so tasty and healthy), we recommend going out for a self-guided hike.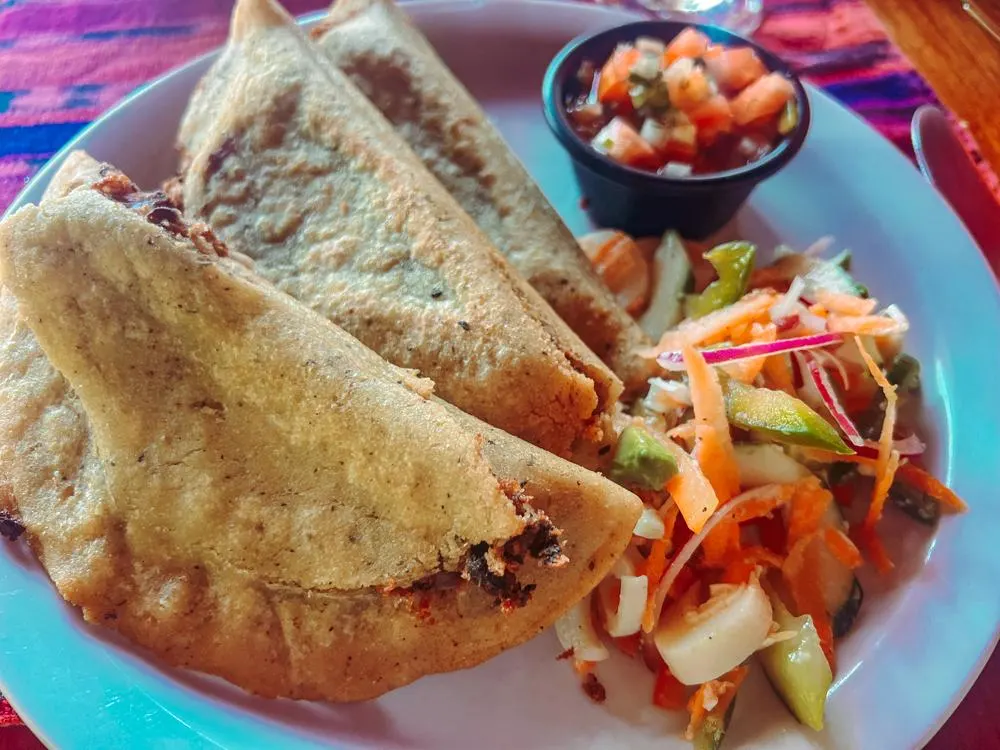 We decided to hike up to the canopy viewing platform and saw so much on the way! Agouti, great curassows, toucans, macaws, leaf cutter ants, and a howler monkey were all along the trail. It was crazy to see so much wildlife in one hike!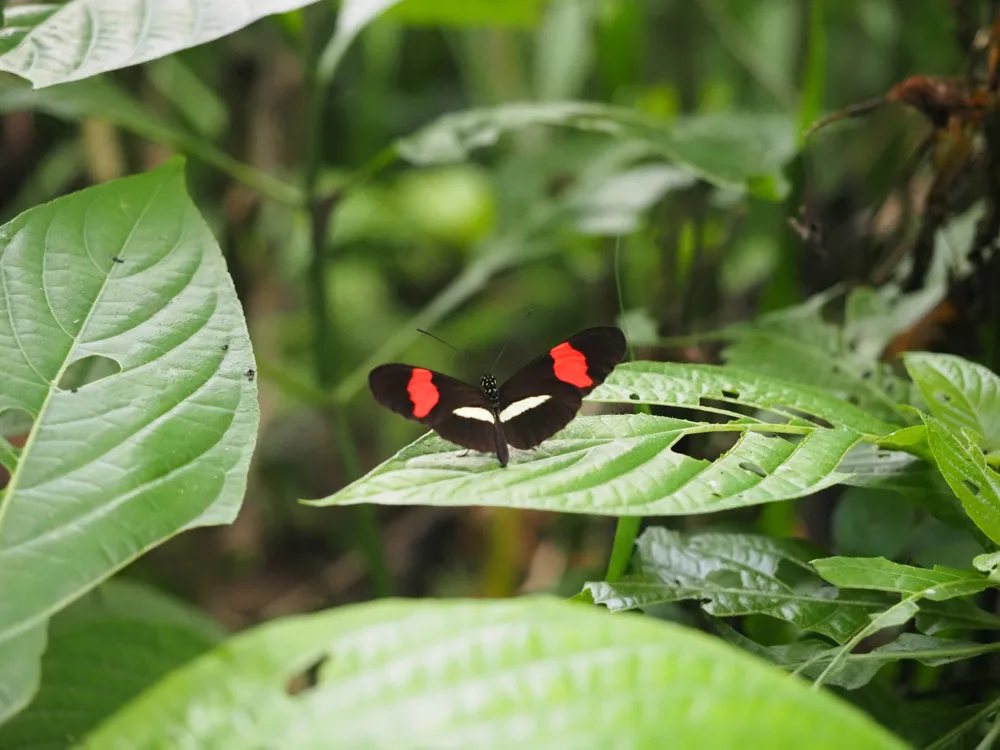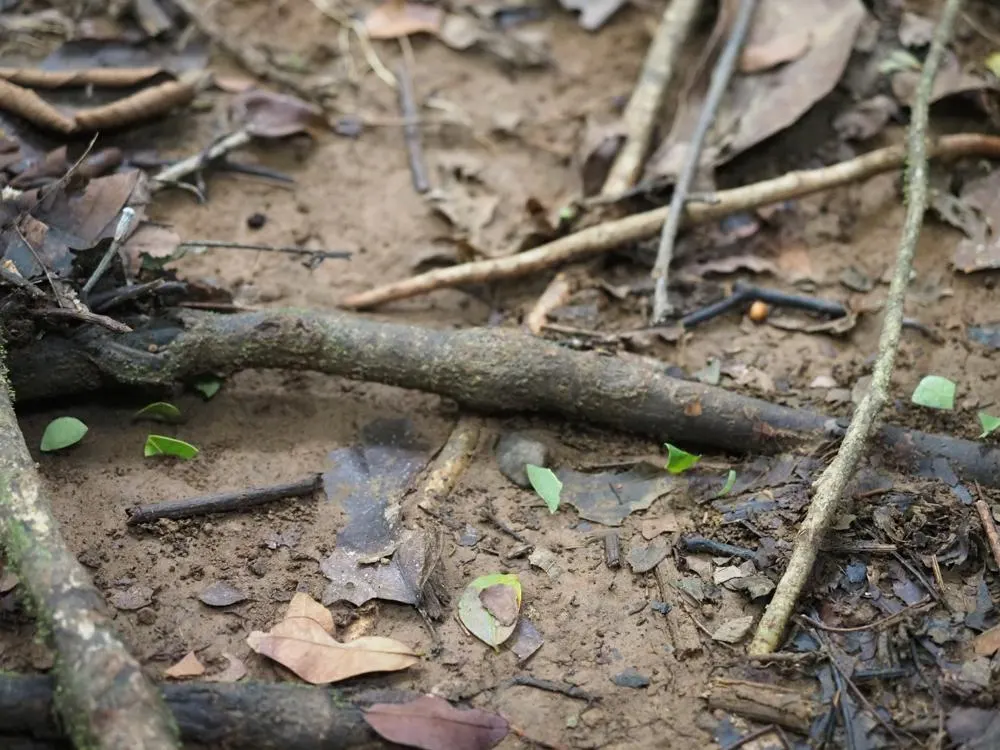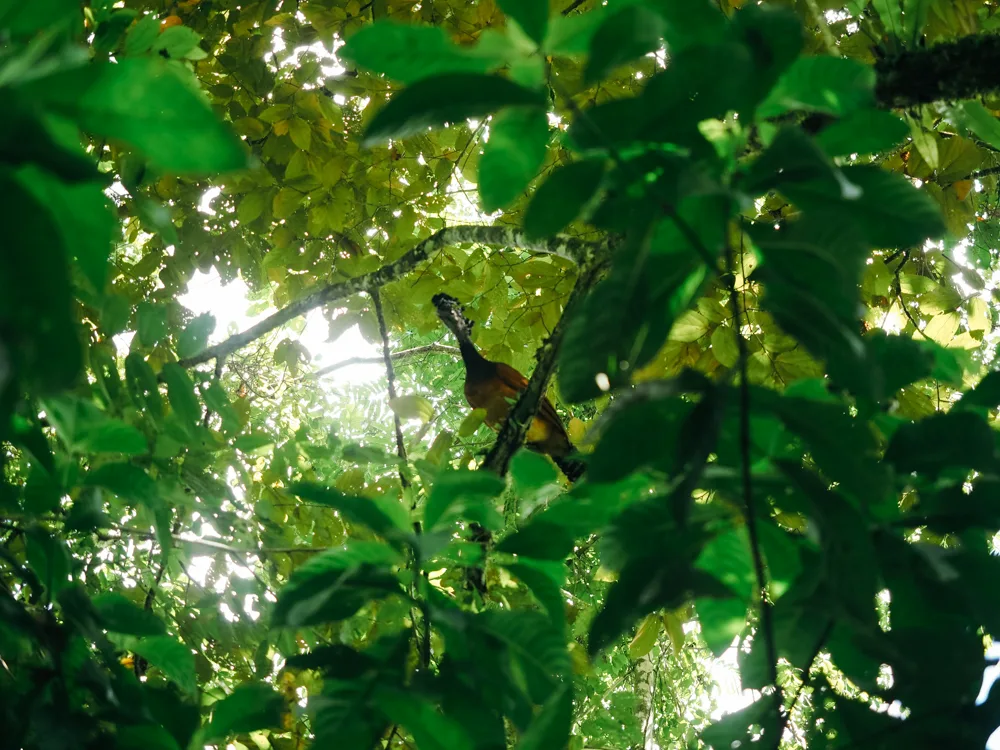 After the hike, if it rains like it did while we were there (it is a rainforest after all), head back to your cabin to relax, read in the hammock, or take an incredible nap while listening to the rain. Or, if there isn't rain, go check out the beach! Lounge in the beach chairs and read a good book!
Once you've finished with dinner that evening, head out on your first guided tour: a night hike! While night hikes sound scary, it is a must for any Costa Rica rainforest trip!
Most animals in the rainforest are nocturnal, so a night hike provides a great opportunity to spot many of the lizards, snakes, bugs, and sometimes mammals that are out and about. You'll also be with an expert guide so you're in good hands!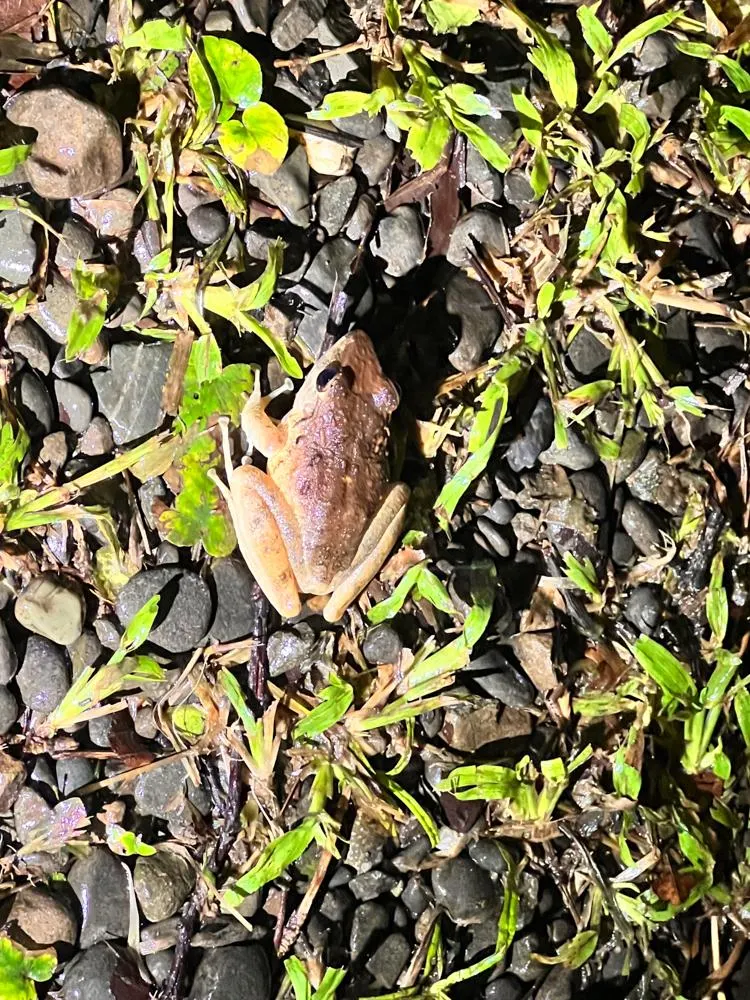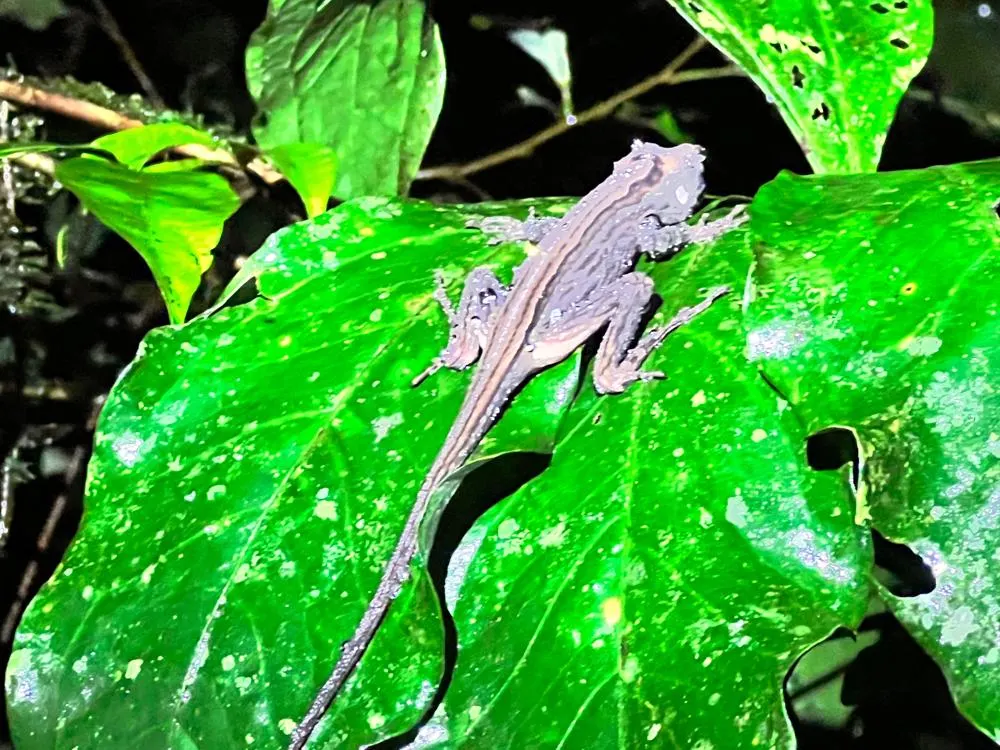 After that, be lulled to sleep under your bug net in your cabin by the sounds of the rainforest in Costa Rica at night.
Day 2 of Your Stay at This Rainforest Eco Lodge: Golfo Dulce Tour
On the second day of your stay at Playa Nicuesa Rainforest Lodge, definitely opt for the Golfo Dulce tour.
Golfo Dulce means "Sweet Gulf" in English and is also known as the world's nursery as many of the world's scalloped hammerhead sharks and humpback whales give birth in these protected waters. The gulf itself is deep and the waters are calmer.
A tour of the Golfo Dulce leaves early in the morning and the guide will take you around the gulf to spot wildlife! If you happen to travel in the dry season when the water is clearer, then you'll get the chance to go snorkeling too!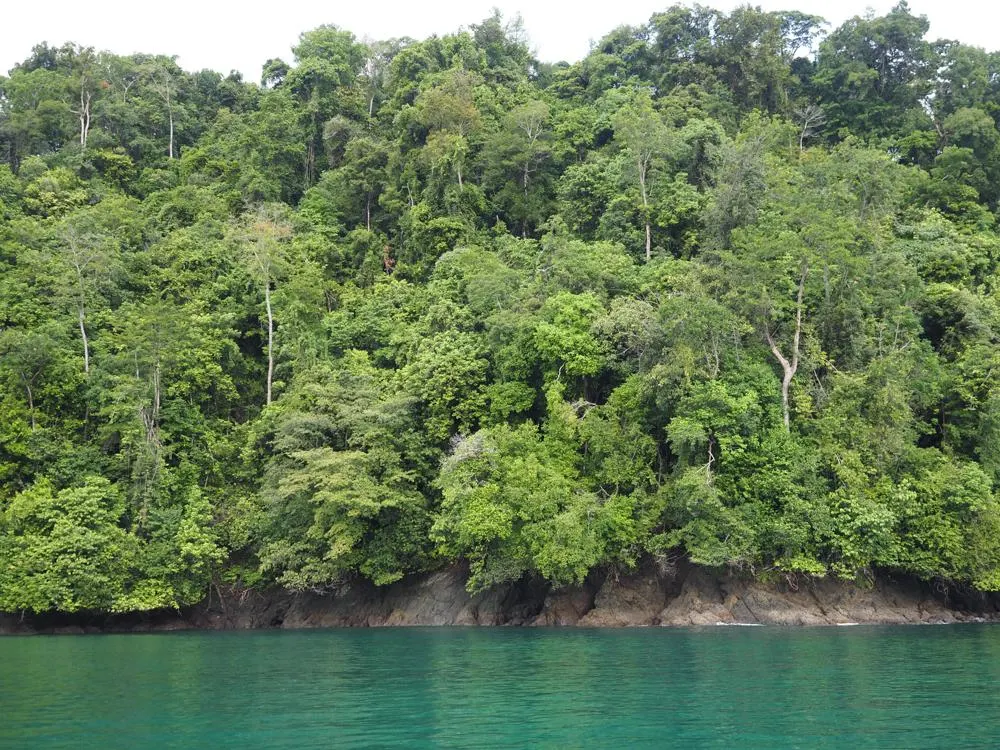 We spotted a sea turtle, several macaws and toucans along the shore, several fish, and 2 species of dolphins: bottlenose and spotted.
The bottlenose dolphins came right up to the boat and then at the end of our tour, we witnessed hundreds of spotted dolphins, many of which played in the boat's wake, with one leaping into the air!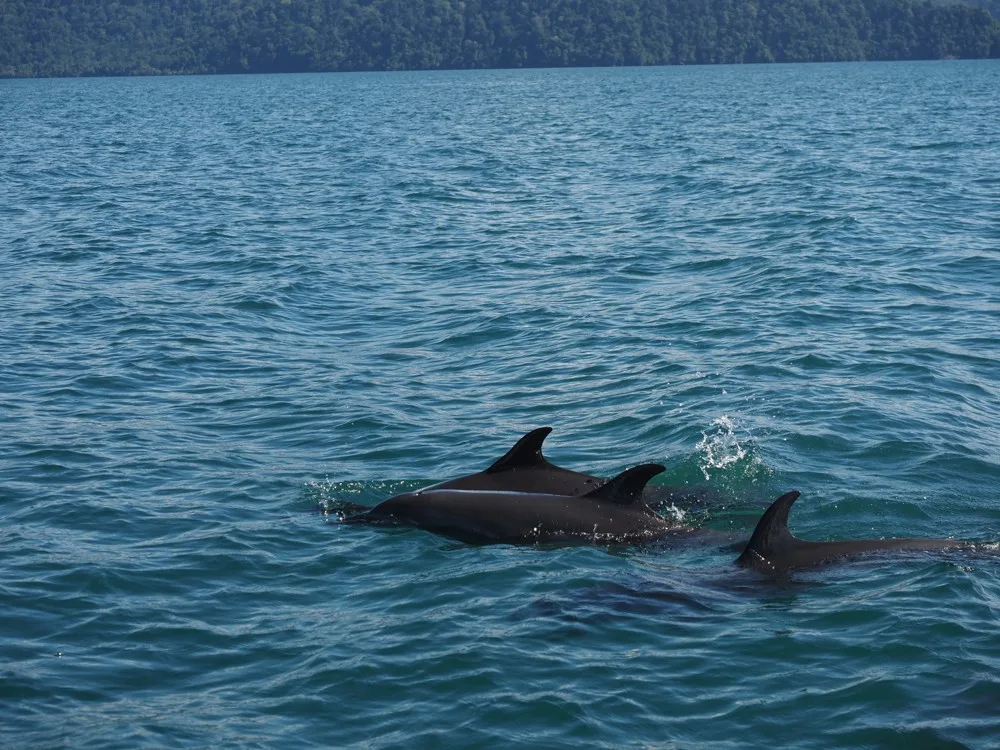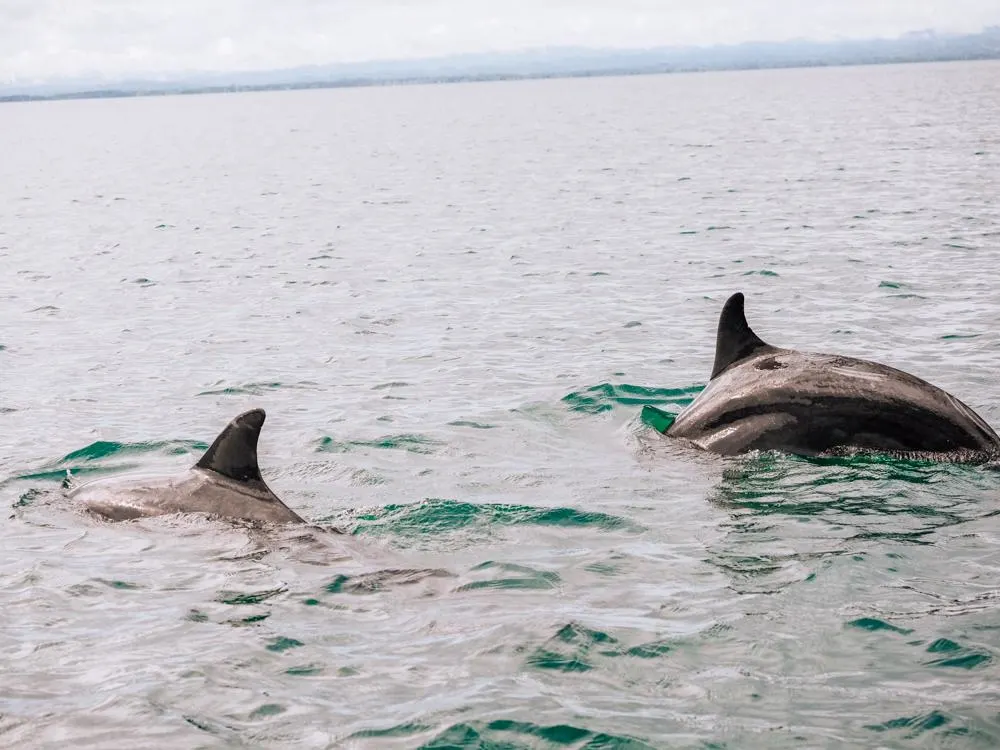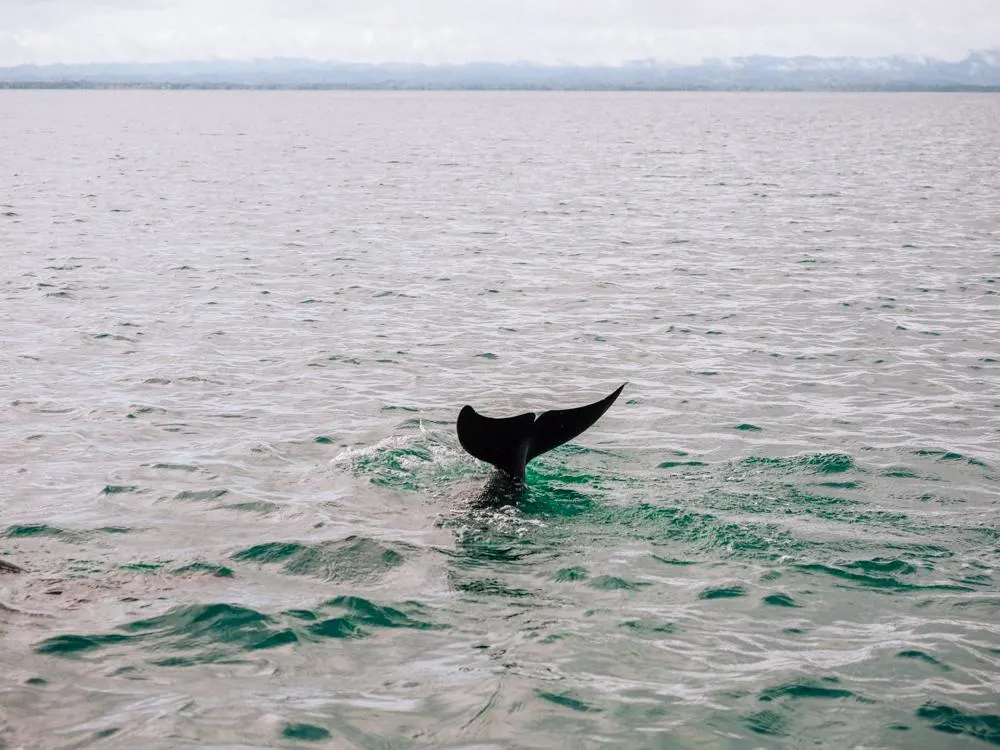 It was seriously one of the most incredible moments! I highly recommend this tour in the morning!
Then, in the afternoon after lunch, the remainder of the day is up to you! You could try to see more wildlife on another self-guided hike. Or you can just lounge by the beach. Perhaps go kayaking or snorkeling off the shore?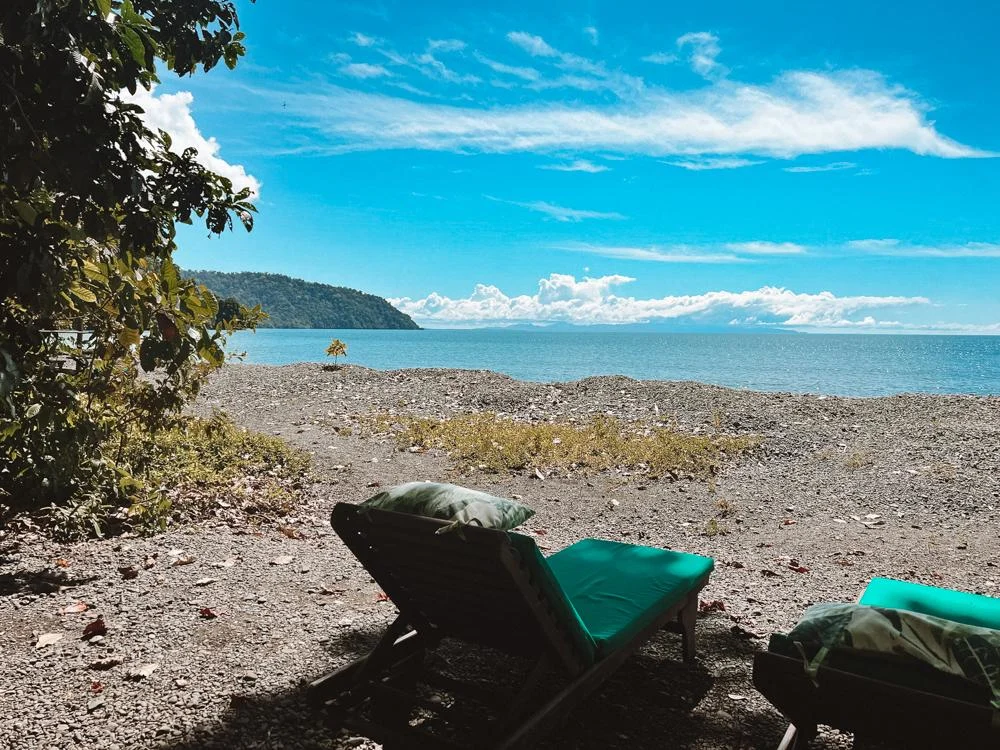 Then, it is time to head back to the lodge for drinks at the bar, play games and chat with fellow guests, and have another tasty dinner, usually with the option of the catch of the day!
Day 3 of the Costa Rica Rainforest and Beach Vacation: Waterfall, Wildlife, and Sustainability
This day is full of adventure as you first go on a 6-mile hike during your Costa Rica jungle trip! A guide will take you along the woods and up a dry riverbed before you eventually climb up a creek and see the waterfall!
Along the way, you'll look for animals and tracks. We spotted several birds, white capuchin monkeys, and even puma and ocelot tracks. Unfortunately, we lost track of the puma and ocelot one we got to the riverbed, but they're definitely wandering around!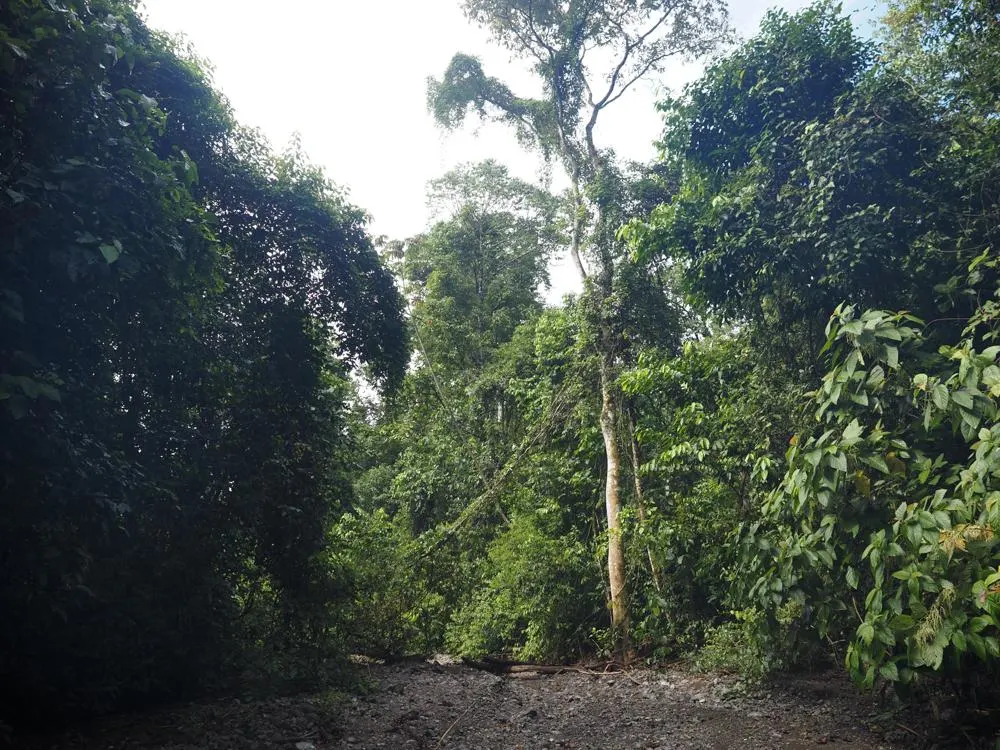 Then, once you get to the waterfall, you'll likely be quite sweaty. The rainforest is very damp and humid, so you'll be relieved to know that you can cool off by taking a dip in the natural pool at the base of the waterfall!
We had so much fun splashing around and hanging out in the refreshing waterfall before making the hike back down.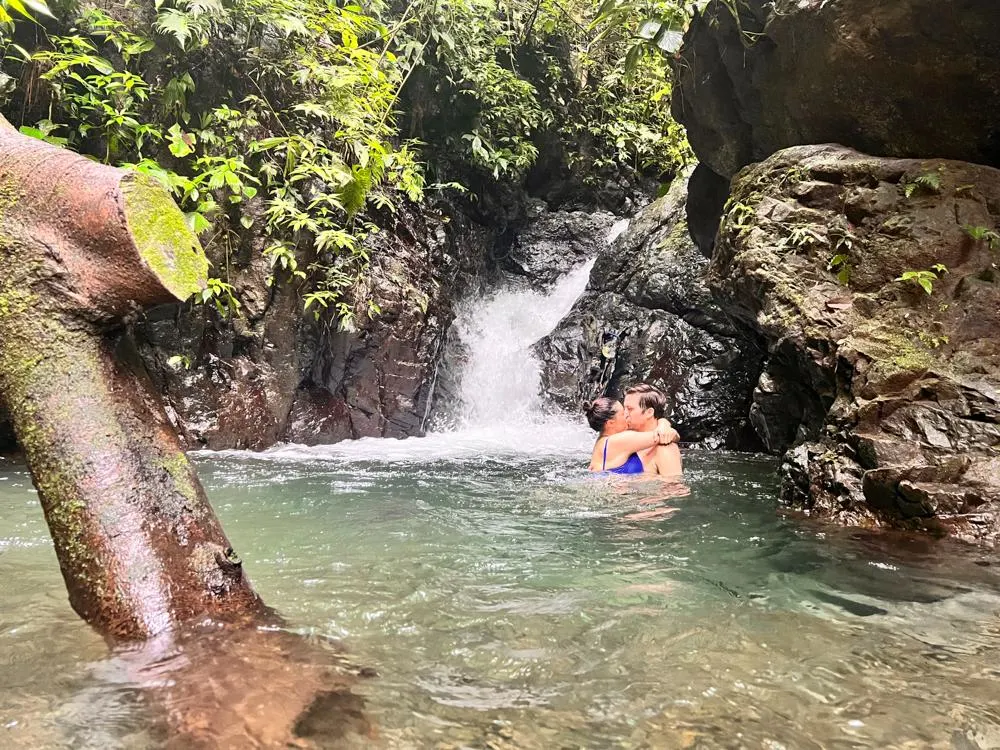 You'll be back in time for another lunch with a view of the beach and jungle, and then I recommend checking out the free sustainability tour.
They take you around to their gardens, discuss how they produce their own electricity, show you a peek at their compost and recycling, and even show you the solar drying room for laundry. This eco-friendly rainforest lodge in Costa Rica really has thought of everything!
And lastly, after the short sustainability tour, why not enjoy the beach, sign up for an afternoon yoga class to unwind, or perhaps get a beachside massage?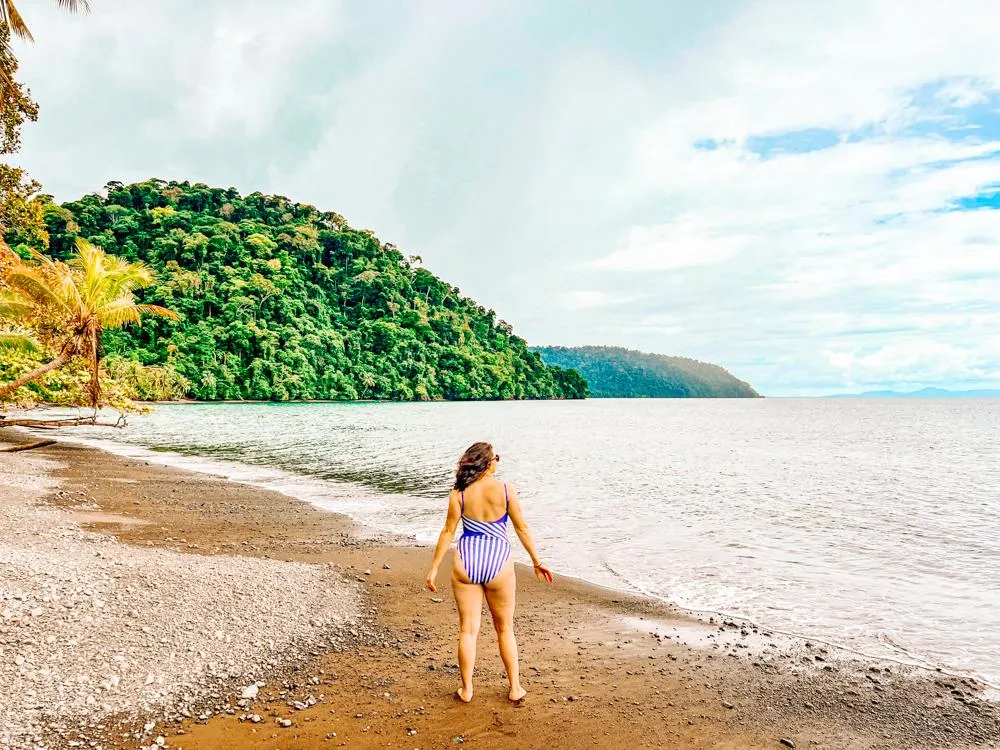 Really, all of the above sounds great, or even just relaxing in the hammock at the lodge or cabin is a good idea too.
Day 4 of the Costa Rica Rainforest Trip: Choose Your Own Adventure Plus Chocolate
On the last full day of your Costa Rica rainforest vacation, there are so many options to choose from! You could do the always-popular River Tour where you explore the mangroves of the Rio Esquinas either by boat or kayak.
There are also birding tours, fishing expeditions, guided hikes, and more to choose from! After chatting with the guides, we settled on visiting a wildlife sanctuary nearby. They work hard at rehabilitating animals to release them back into the wild.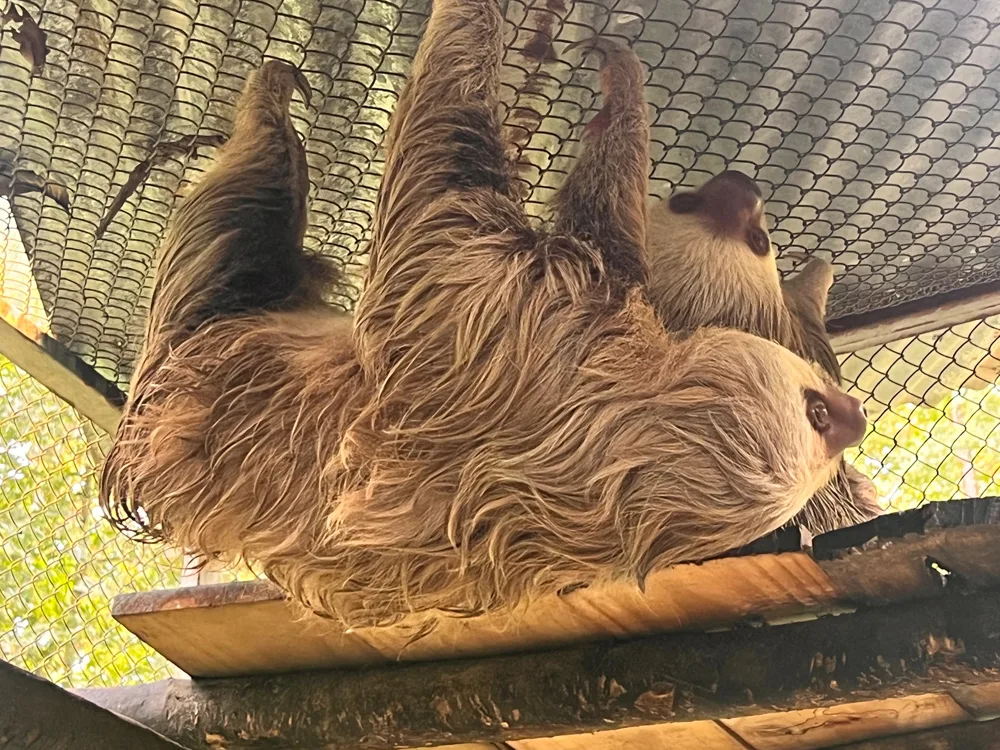 So while you won't see the animals they plan to release, they have a few resident animals like macaws, peccaries, monkeys, and sloths that are either disabled or not able to be released safely.
There are a few places that do this in the peninsula and have really helped with populations of species in the area! It is a great cause and fun to visit to learn more about the conservation and animals of the Golfo Dulce and the Osa Peninsula.
After a morning tour and lunch back at the lodge, it is time for dessert. And what better way to enjoy a world-favorite treat than to make it yourself?
We're talking about a chocolate-making demonstration!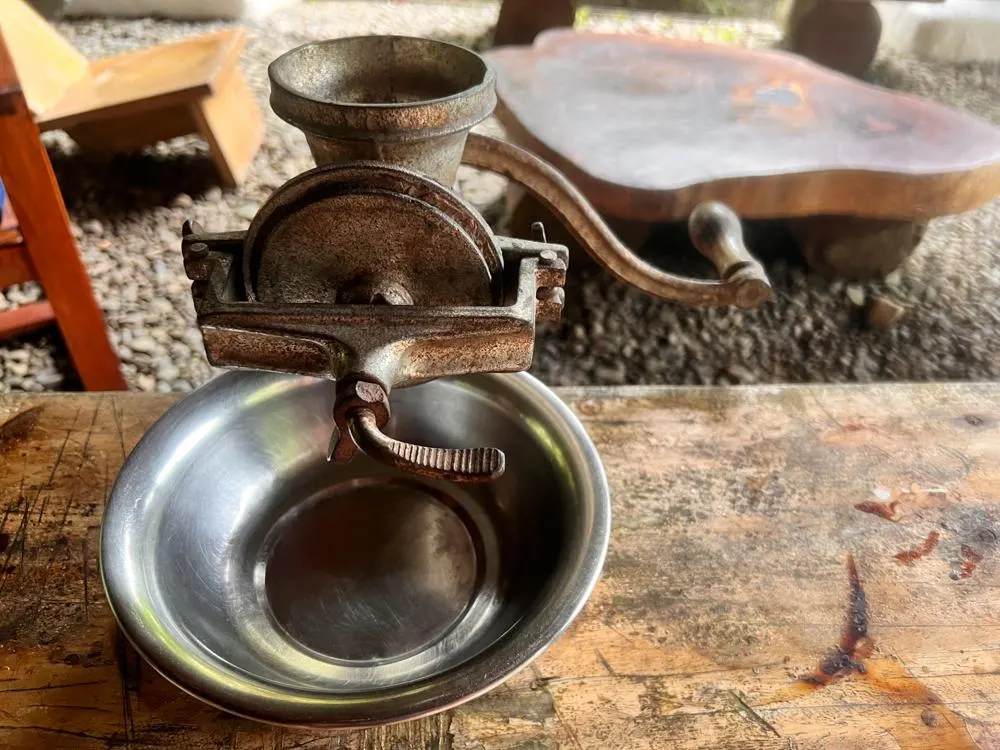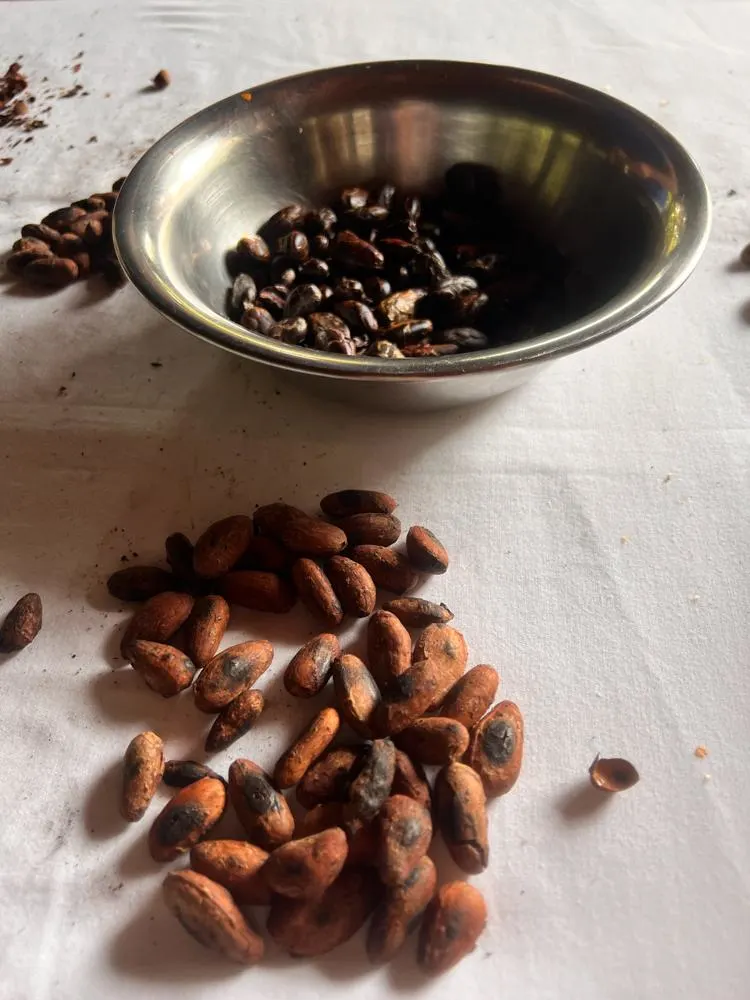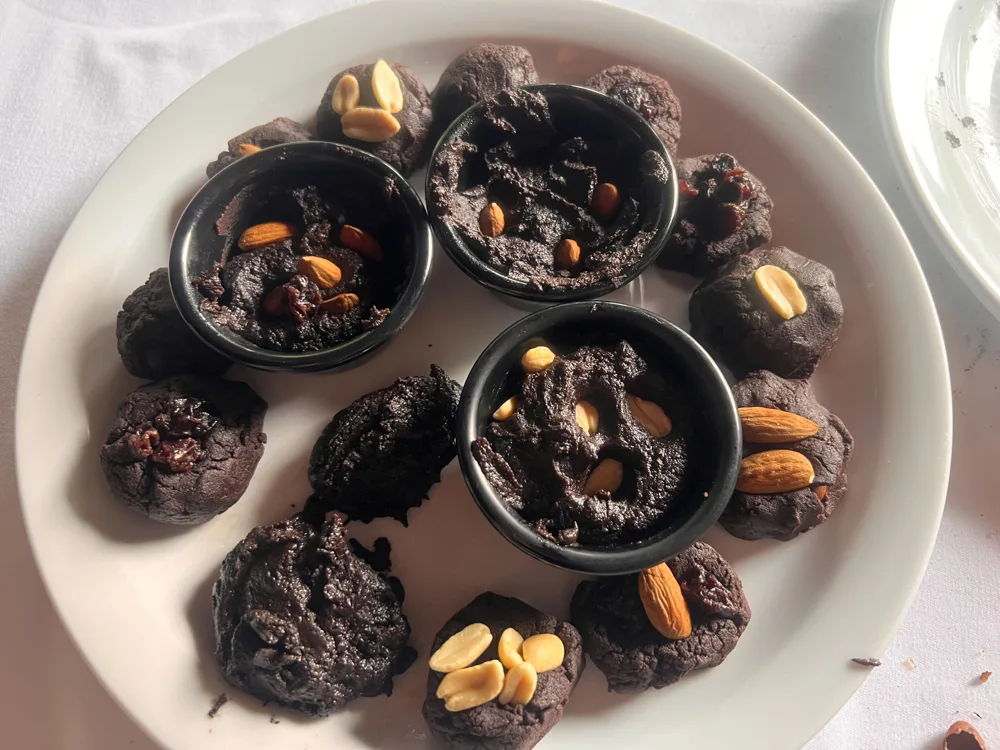 Costa Rica is definitely known for its coffee. And trust me, if you check out our Costa Rica 10 day itinerary, we definitely enjoyed the coffee during it. But Costa Rica also grows chocolate too!
Playa Nicuesa Rainforest Lodge is actually on a former cacao plantation. Sadly, it is no longer in operation and was sold to the lodge after a fungus destroyed most of the crops.
However, there are still quite a few cacao trees on the property and during the chocolate demonstration, you'll learn about the history of chocolate in the area, how chocolate is made, and you get to make it yourself!
The best part is you get to enjoy it after dinner once it's hardened a bit!
Then, I recommend spending the remainder of the day on the beach. Soak up some sun, kayak, or paddleboard. Maybe jump off the dock and snorkel around. We loved exploring the length of our beach during the low tide.
Catch the sunset over the Golfo Dulce before enjoying one last evening at Playa Nicuesa Rainforest Lodge.
Day 5: Time to Leave
After an incredible 4 day Costa Rica rainforest vacation, it is time to leave. But not without catching an incredible sunrise!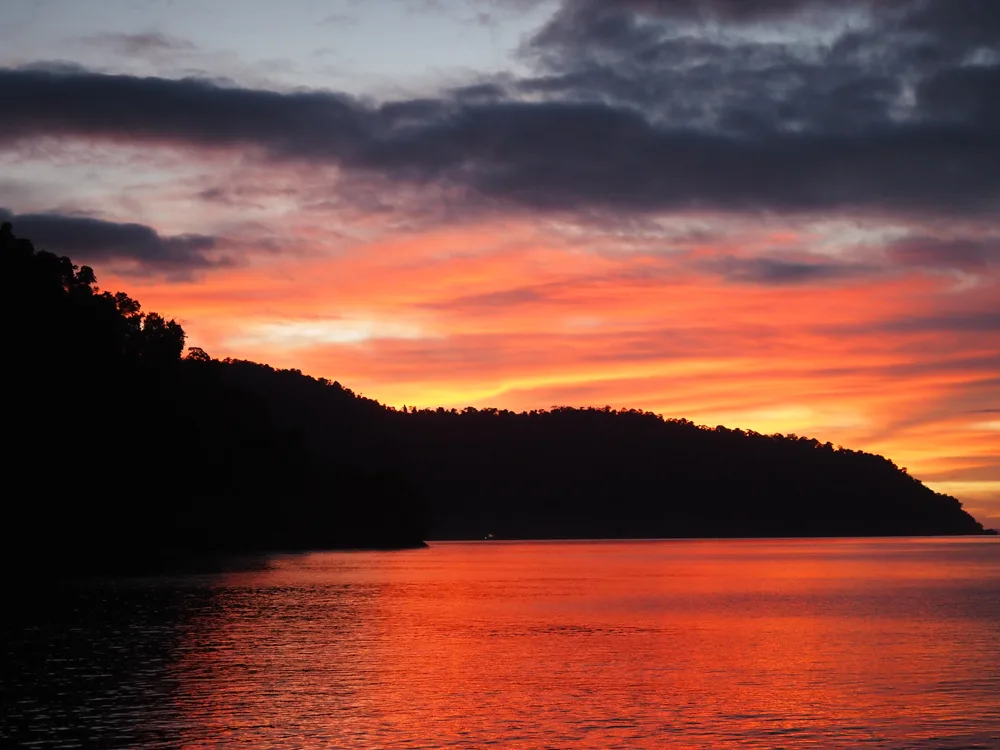 Wake up early and take a flashlight to the beach. Then wait as the purples, pinks, and blues start to poke through the sky. You'll also start to hear the call of howler monkeys in the jungle and macaws as they awake.
It is such a lovely way to spend an early morning in the Osa Peninsula.
After that, enjoy one last breakfast, tip all the guides and staff, and check out. Hop on the boat back to either Puerto Jimenez or Golfito and be on your way.
If you're really lucky, the residents of the Golfo Dulce will give you a nice send-off! We were again surrounded by hundreds of spotted dolphins as we made our way back to Puerto Jimenez. Plus, we even saw a sea turtle at the port!
That is the best way to spend 4 days for a Costa Rica rainforest trip with beach time. This place is truly special. We fell head over heels with the Osa Peninsula, Golfo Dulce, and, of course, Playa Nicuesa Rainforest Lodge.
They really knew how to make our time there so special and after a combination of relaxation, adventure, wildlife, and beach time, I can honestly say that we definitely want to go back!
Best Time of Year to Visit the Osa Peninsula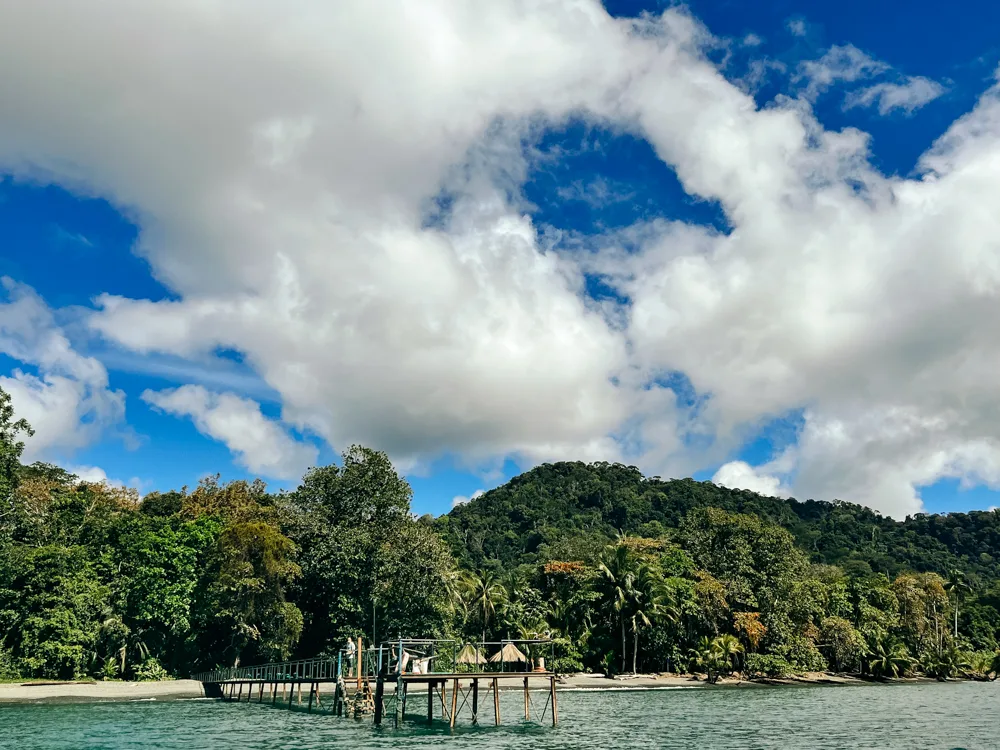 Costa Rica in general has two seasons: wet and dry. The rainy season is May through November and the dry season is typically mid-December through April.
This holds true for the rainforest in Costa Rica as well. However, there is also a mini-dry season typically from July through mid-August.
However, note that prices typically increase during the dry season as it is a popular time to visit, and many tourists, especially people from the US, like to visit during winter to escape the cold.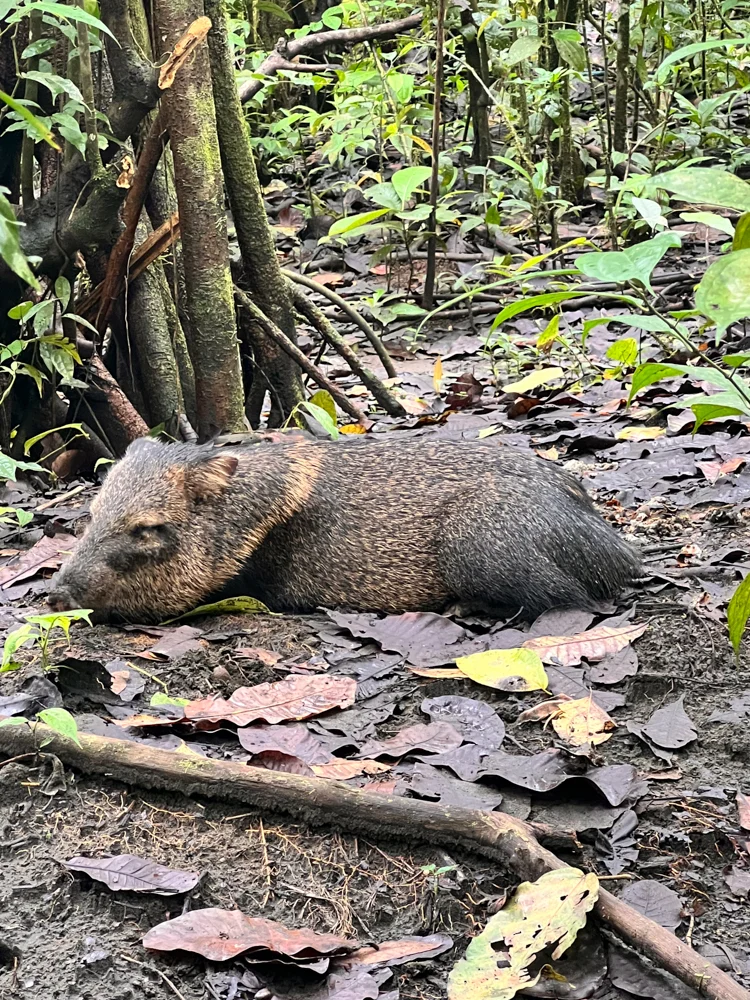 And the rainy season doesn't mean rain all day. It usually means rain in the afternoons/evenings but nice mornings. Also, the dry season doesn't mean zero rain. It is a rainforest, after all, so rain is possible any time of the year.
Now if you are hoping for clearer water at the beach, visiting during the dry season is best as the rains shouldn't be as heavy, thus the water will be clearer.
And if you want to spot humpback whales, then July-September is a great time to visit!
What to Pack For a Costa Rica Rainforest Vacation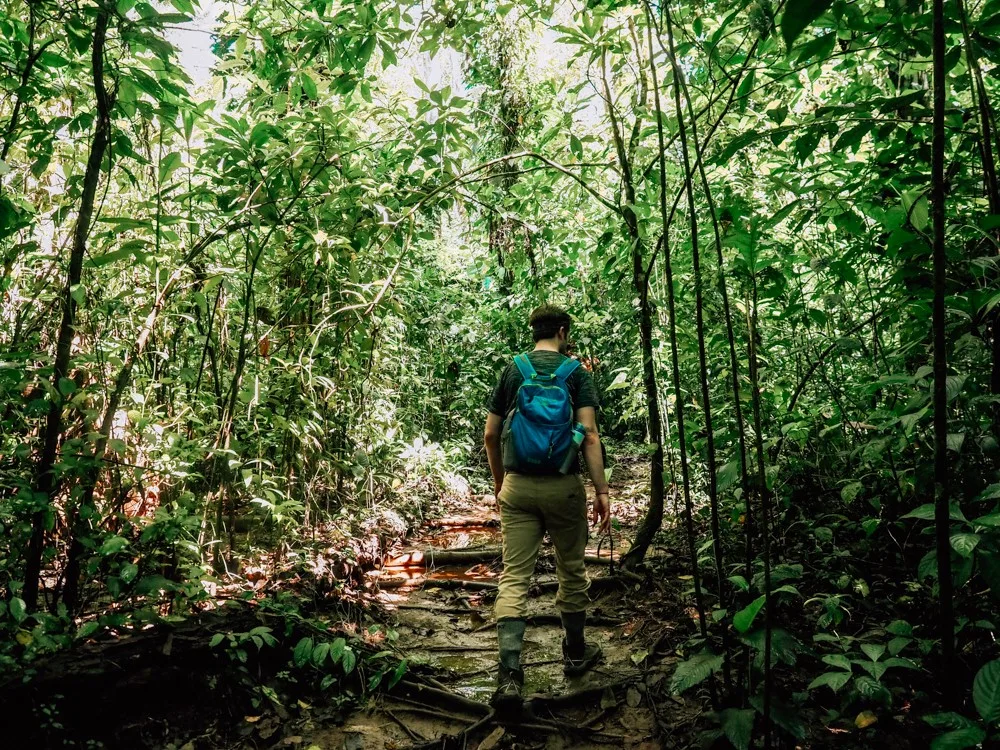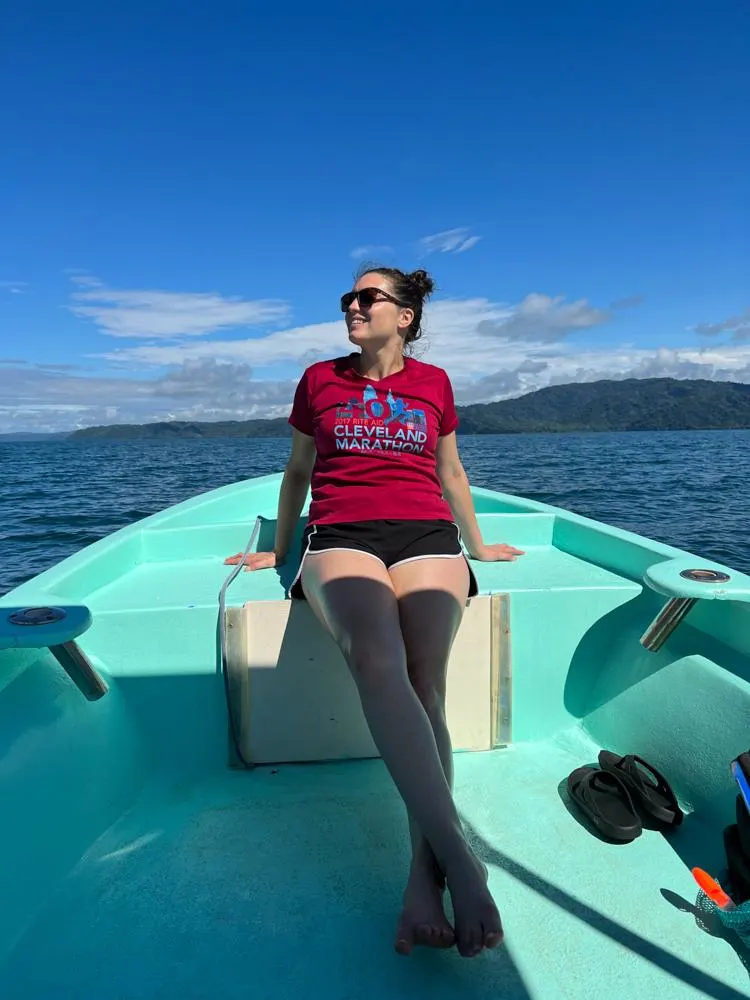 I will definitely be writing a post all about what to pack for a Costa Rica trip, but here are some key things to take with you specifically to the rainforest. The lodge recommends many of these items too!
Staying in the Osa Peninsula and Golfo Dulce area of Costa Rica was incredible. It truly makes for the perfect Costa Rica rainforest vacation. It has everything you could want including a mix of adventure and relaxation.
And Playa Nicuesa Rainforest Lodge is the perfect place to stay in the Osa Peninsula area for its remoteness and proximity to incredible wildlife!
Would you stay here? Where would you spend a Costa Rica rainforest trip?
Want more Central American/Caribbean content? Check out these posts:
Thank you Playa Nicuesa Rainforest Lodge for the discount for our stay! We found and sought out this lodge prior to our travels and are honored to work with them! We only work with brands and companies we'd be 100% thrilled about paying for and doing ourselves. As always, all opinions are our own.
Pin it here!