Some posts on this site contain affiliate links, meaning if you book or buy something through one of these links, I may earn a small commission (at no additional cost to you!). Read the full disclosure policy here.
---
Trying to figure out where to stay in the Amazon Rainforest in Peru? We definitely had the same struggle while planning our 10 day trip to Peru!
With 3 main jumping-off points in Peru to enjoy the Amazon Rainforest (Iquitos, Manu, and Puerto Maldonado) it can be a challenge to decide. That is why we came up with this guide to help you choose where to stay in the Amazon based on your goals!
Check out our podcast episode all about the Peruvian Amazon here!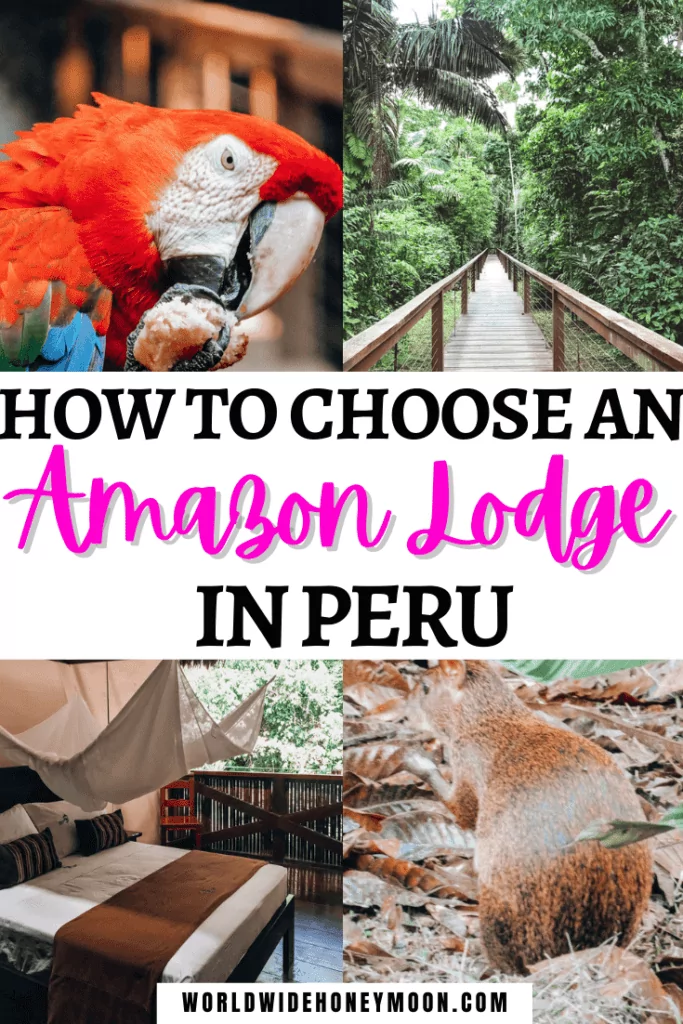 Where to Stay in the Amazon Rainforest in Peru
Before we go over the questions you'll want to ask yourself to help you decide where to stay in the Amazon, let's talk about the 3 main places to visit in the Amazon:
1. Iquitos
Iquitos is a very popular destination to visit for the Peruvian Amazon. It is also along the Amazon River, so if visiting the Amazon River is important to you, then Iquitos is a great place to go. Plus, this location offers a lot more cultural tours and activities as well as the opportunity to go on an Amazon River Cruise. It also can be a great jumping-off point for places in the Amazon that can be easier to get to, making it great for a shorter trip. Iquitos is in northern Peru.
Where to Stay:
Treehouse Lodge: Gorgeous treehouses with canopy views are fantastic at this Amazon lodge. It also is one of the easier lodges to get to in the heart of the Amazon, as it is about 2.5 hours from the airport. Book it here!
Tapiche Jungle Reserve: This lodge is pretty remote. As in you'll need a day just to get here. But there is ample opportunity for wildlife spotting. Book it here!
Delfin Amazon Cruises: Cruise along the Amazon to spot pink dolphins. You can also go kayaking, paddleboarding, and enjoy just viewing the gorgeous scenery from your room in between excursions like hiking and canopy tours. Book it here!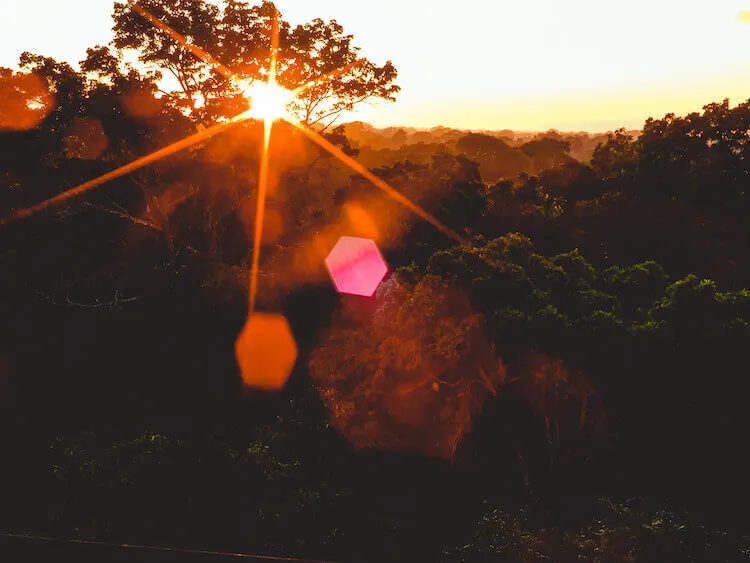 2. Puerto Maldonado
Puerto Maldonado is well known for its wildlife. It also is a bit easier to get to than other places within the Amazon Rainforest, making a shorter trip doable (like Iquitos as well). However, it is a bit less popular than Iquitos, making it a great off-the-beaten-path destination. Combine that with iconic spots like the Colorado Clay Lick, this area is great to fly into for exploring the Tambopata National Reserve. This is located in southern Peru.
Where to Stay:
Tambopata Research Center: This place is absolutely incredible with 3-walled rooms in the lodge plus plenty of wildlife in and around the place. Explore the Colorado Clay Lick or have breakfast with macaws flying in! As one of the most remote Amazon lodges, it also has a 35% chance of seeing a jaguar during your stay! It takes about 3.5 hours to get here from the airport. Book it here!
Refugio Amazonas: This is also in the heart of Tambopata, but only 2 hours from the airport. This place also has the opportunity to visit a farm, explore the gorgeous canopy, and you can go biking around the lodge! Book it here!
3. Manu:
Also located in southern Peru, Manu National Park is a bit more challenging to get to, and there aren't as many lodges. There also isn't a closer airport there. It can take hours and even a full day to get deep into the lodges in this part of the Peruvian Amazon.
Where to Stay in Manu:
Tambo Blanquillo Private Nature Reserve: Explore oxbow lakes, mammal and macaw clay licks, view the canopy from above, and hike around the place at this reserve. You'll be met with ample wildlife all around! Book it here!
Manu Casa Matsigenka Jungle Lodge: Stay and learn about the Amazon Rainforest from locals from the Matsigenka community. Go on guided tours on various trails, visit oxbow lakes, and learn about the rich culture of the Matsigenka people. Book it here!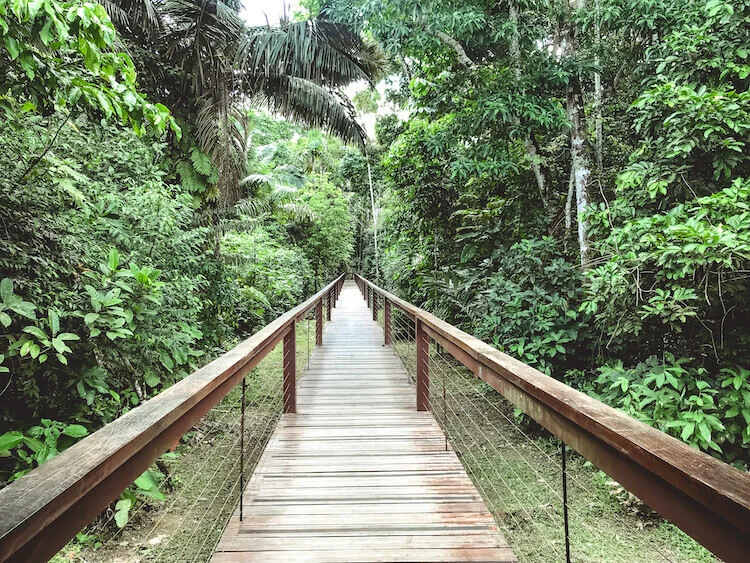 How to Decide on Where to Stay During Your Amazon Trip
While many of these areas offer similar things (i.e. potential wildlife spotting, canopy towers, etc.), each area has something different to offer. So when it comes to deciding where to go in the Amazon Rainforest in Peru, you'll want to ask yourself these questions to determine where exactly to go.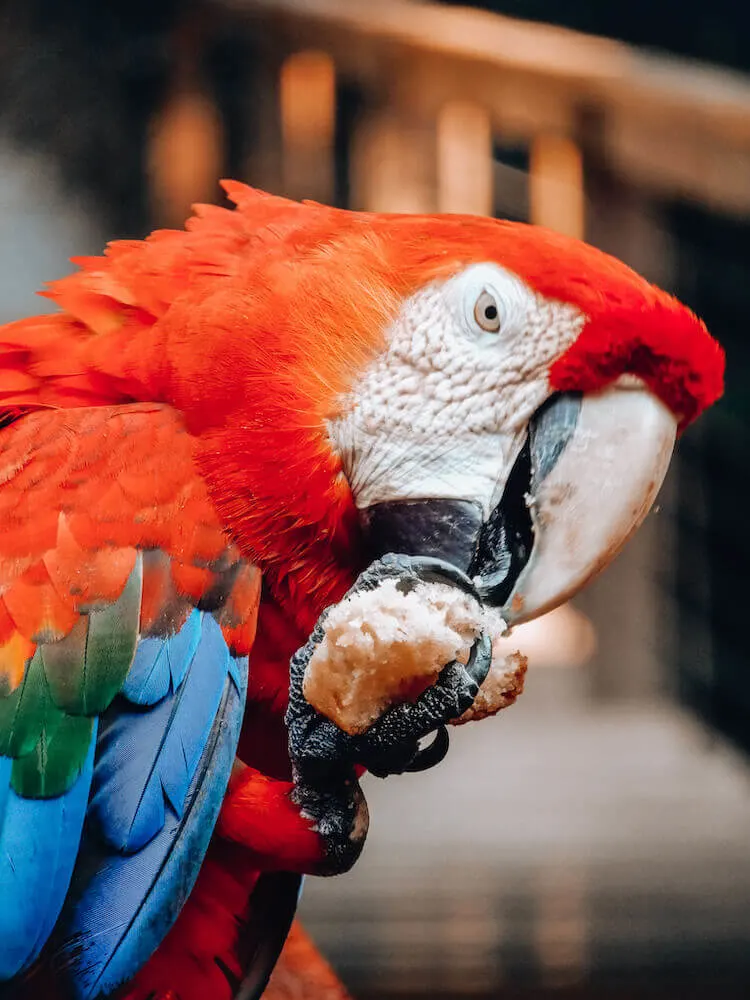 How many days will you spend in the rainforest?
Accessing some parts of the Amazon rainforest can take a LONG time, which is a good thing! If you could hop off a plane and drive for ten minutes, it likely would not be an authentic rainforest experience.
But, at the same time, if you are only able to spend three days in the Amazon, it is not feasible to visit certain areas that take two days just to reach! In fact, due to the remote location of some lodges, you will only be able to book them if you stay a minimum of three nights, for example.
The general rule of thumb is that, if you do not plan to spend at least one week in the Amazon, you will not be able to access Manu (which requires a roughly 10-hour car/bus ride AND an average of a 7-hour boat ride). So, in that case, stick to either Iquitos or Puerto Maldonado!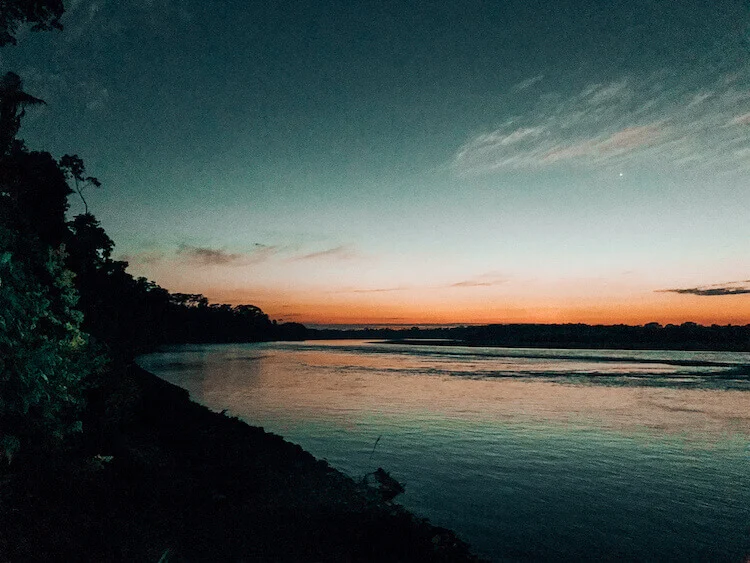 Where to Stay in the Amazon Question: What is your "bucket list" rainforest experience?
Each area offers its own set of unique experiences, mostly because the Amazon is so large. So, it is important to decide upon the ONE experience that you couldn't live without!
Maybe, you have always dreamt of taking a cruise down the Amazon River. If so, consider the Delfin Amazon Cruises, which is a luxury river cruise with access from Iquitos.
Perhaps, you would love nothing more than to learn about the culture of an indigenous population within the Amazon. If this sounds more like you, visiting Manu and meeting the Matsigenka people is probably more your style!
Or, witnessing dozens of wild macaws on a clay lick may be your true reason that you are considering a trip to the Amazon. In this case, why not visit the world's LARGEST macaw clay lick in Puerto Maldonado?!
Whatever your reason for making a stop in the Amazon as a part of your trip to Peru, you can't go wrong with any of these three areas!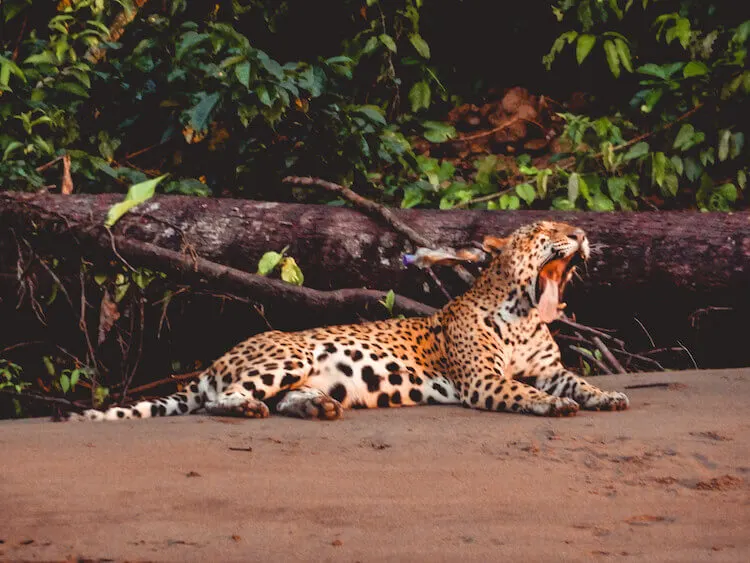 Which wildlife would you like to attempt to see in the rainforest?
If you're not interested in seeing any wildlife in the Amazon rainforest, then you can go ahead and skip this section to see where we decided to book! It definitely makes your decision of where to stay in the Amazon rainforest much easier, but I highly suggest second-guessing that decision!
From jaguars to capybara, macaws to parakeets, black caiman to giant otters, two-toed and three-toed sloths to pink dolphins, and almost everything in between, the Amazon rainforest is home to some of the most unique and breathtaking wildlife in the world! However, visiting certain areas of the rainforest will maximize your chances of seeing certain animals, and many lodges will publish historical statistics for spotting wildlife, which include the percentage of guests that encounter a specific type of wildlife.
If photographing a jaguar would be the highlight of your trip to the Amazon, a visit to either Manu or Puerto Maldonado should be your best bet for spotting this powerful predator. If you want to witness macaws at a clay lick, Manu or Puerto Maldonado are also the top choices for this activity as Iquitos does not have any accessible clay licks.
However, if you'd like to witness a pink river dolphin swimming in the Amazon River or a two-toed or three-toed sloth slowly making its way through the treetops, Iquitos is the area of the rainforest to spot these rare mammals.
In all honesty, it doesn't seem like you can go wrong when choosing an area of the rainforest, but it truly depends on which animal(s) you'd like to maximize your chances of seeing. But, remember, these are wild animals, so be wary of a lodge that guarantees a sighting of anything (especially jaguars!).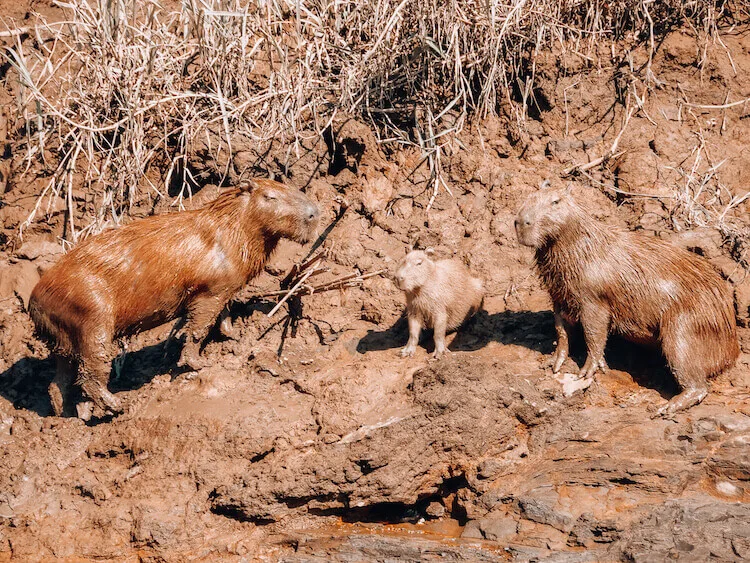 Which activities would you like to experience in the rainforest?
In addition to viewing wildlife, there are options to attempt to discover a new species of insect, kayak down or fish in the Amazon River, and even visit a coffee or cocoa bean farm! While many lodges offer some variation of more traditional activities such as night walks, sunset cruises, or a climb into the treetops, each lodge has its own unique offerings based upon its location in either the Puerto Maldonado, Manu, or Iquitos areas.
So, before you book, make sure that any additional activities are available at your lodge or in the area of the Amazon that you plan to visit!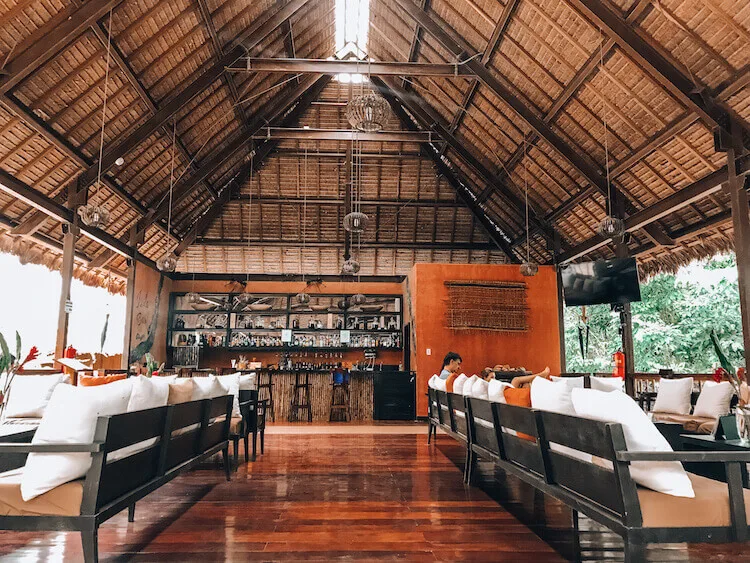 Our Decision on where to stay in the Amazon rainforest
In making our decision, we knew that (1) we would be traveling to Peru for less than two weeks in total; and (2) we wanted to experience more of Peru than just the Amazon rainforest. So, we knew that we couldn't dedicate a full week to the Amazon rainforest. Consequently, we narrowed our choices to either Puerto Maldonado or Iquitos.
If you've been reading the blog or listening to our podcast for a while, you know that we love interacting with animals. So, we could not pass up a trip to the Amazon without prioritizing an experience that would give us incredible access to wildlife! Knowing that this was our Peru bucket list item for our trip into the Amazon, we chose to visit Puerto Maldonado to maximize our chances of viewing beautiful macaws, capybara, peccary, and perhaps even a tapir or a jaguar.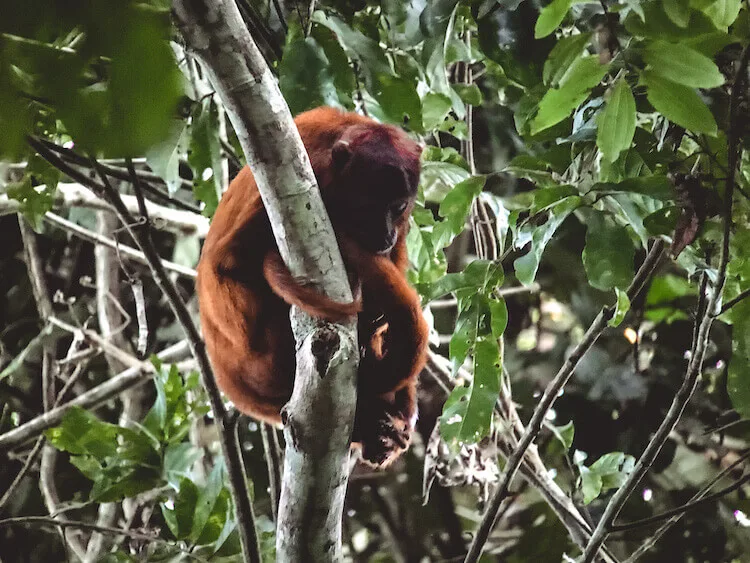 More specifically, we chose to stay at the Tambopata Research Center! Seeing macaws at the Colorado Clay Lick, possibly helping to discover a new species of insect unknown to mankind, and witnessing the countless other wildlife around the Tambopata Research Center made our choice an easy one.
And oh my gosh did we have a great time! We were fortunate enough to have breakfast with macaws, witness the stunning Colorado Clay Lick, and see tons of capybara, monkeys, and even 2 jaguars! It was the trip of a lifetime and we cannot recommend it enough!
Have you visited the Amazon rainforest before? If so, how did you figure out where to stay in the Amazon rainforest? What kinds of wildlife did you encounter during your trip?
Check out more on Peru:
Love this post or want to read later? Pin it here!