Some posts on this site contain affiliate links, meaning if you book or buy something through one of these links, I may earn a small commission (at no additional cost to you!). Read the full disclosure policy here.
---
Traveling together is one of the best things to do as a couple. Chris and I have added several ideas to our couple's travel bucket list over the years from exploring romantic cities to wandering remote destinations. While it can be hard to narrow down the list, we've got 25 bucket list ideas for couples who love travel!
Whether you are planning a romantic honeymoon bucket list or you want to cross off some destinations together, check out this list for all of the best ideas to travel to for two!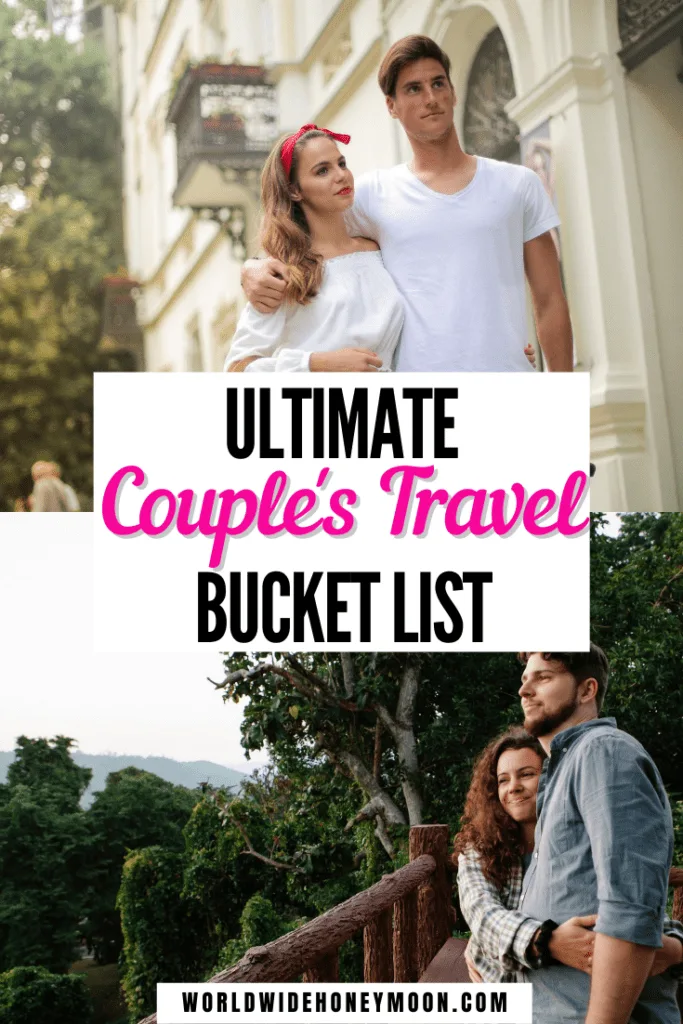 The Ultimate Couple's Travel Bucket List
So let's get started with some of our favorite destinations to travel to for two!
1. Glamping in the Peruvian Amazon Rainforest is Definitely Up There on a Bucket List For Couples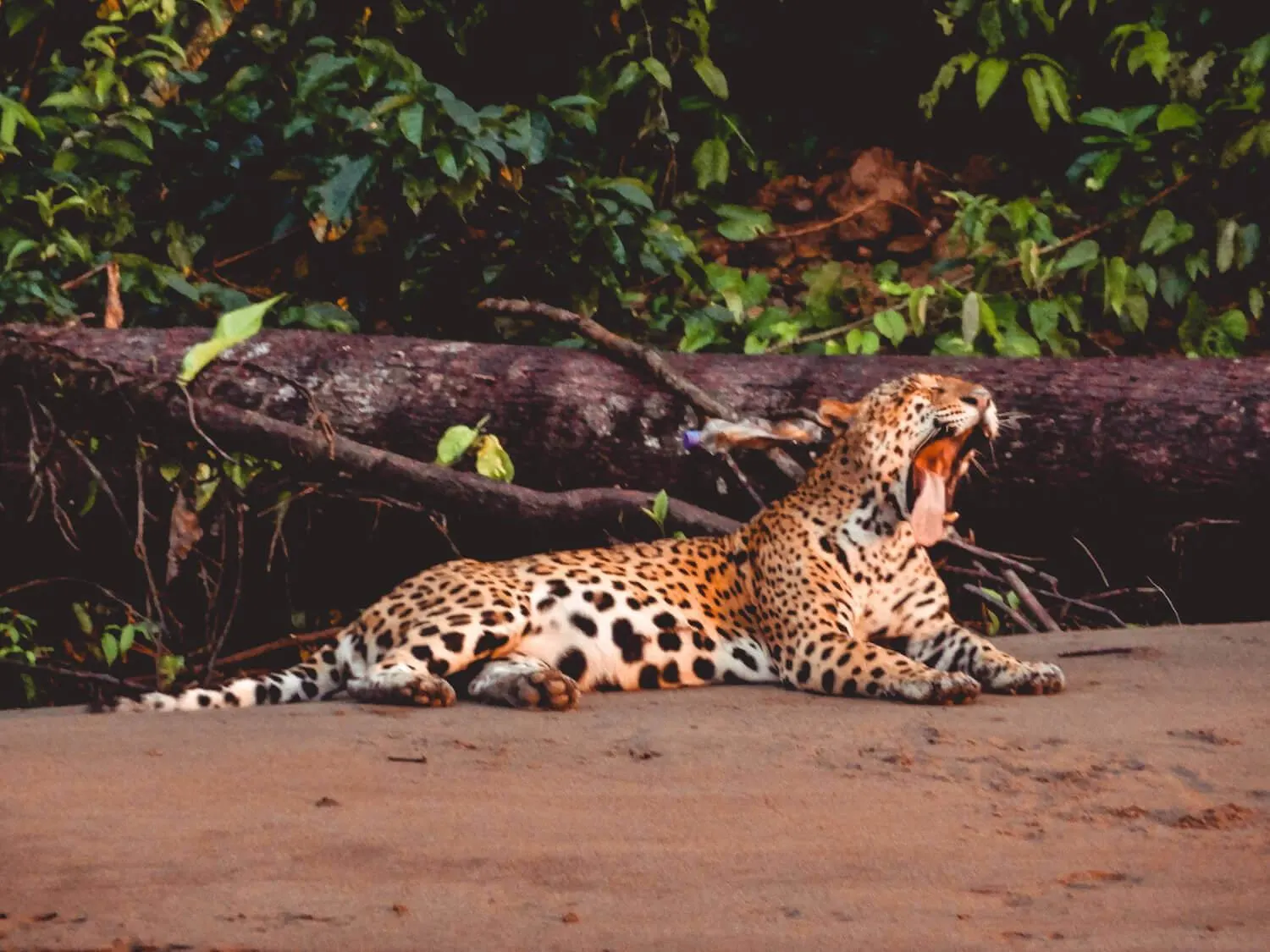 The Amazon rainforest is truly one of the most inspiring and romantic remote places in the world. After having visited the Amazon rainforest in Peru last May, we knew that it had to be an addition to the couple's travel bucket list.
And the best part is the lodge. If you choose to visit the Amazon rainforest in Peru, we highly recommend Tambopata Research Center. Why? Because TRC is the most remote Amazon lodge.
At TRC you'll go on night walks, explore the Colorado Clay Lick, and perhaps have breakfast with some playful macaws. Plus, if you're lucky, you have a 35% chance of spotting a jaguar in the wild! We spotted 2 on the way back from TRC!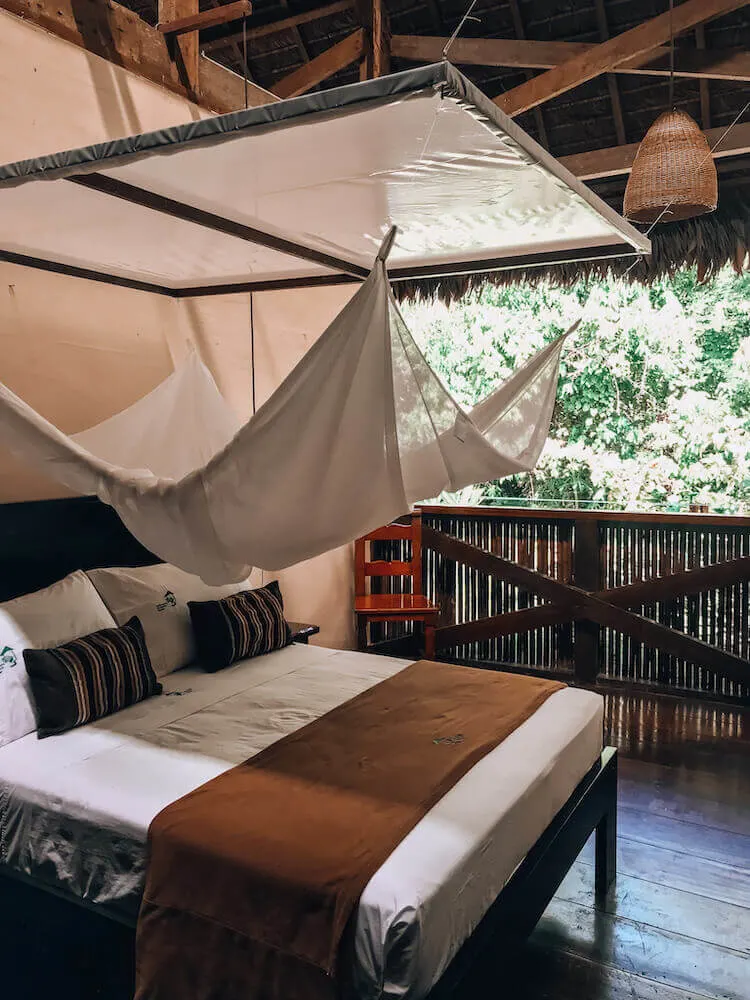 We loved the lodge because it only has 3 walls. Yup, you have a whole part of the lodge facing the jungle. While that sounds intimidating, it is actually really peaceful to listen to the sounds of the jungle at night. And what is more romantic than cuddling at night listening to the wildlife of the Amazon in one of the most remote destinations?
2. A Must on the Couple's Travel Bucket List: Frolick with Sea Lions in the Galapagos
While we're talking about South America, another bucket list vacation for couples has to be visiting the Galapagos islands. Whether you base yourself on land and take day trips to various islands or take a Galapagos islands cruise, if you have to see one thing in the Galapagos, it is the adorable sea lions.
Go snorkeling amongst these playful animals and admire the wildlife on both land and sea as you cruise about the various destinations around these beautiful islands.
3. Hike With Elephants at Elephant Nature Park in Thailand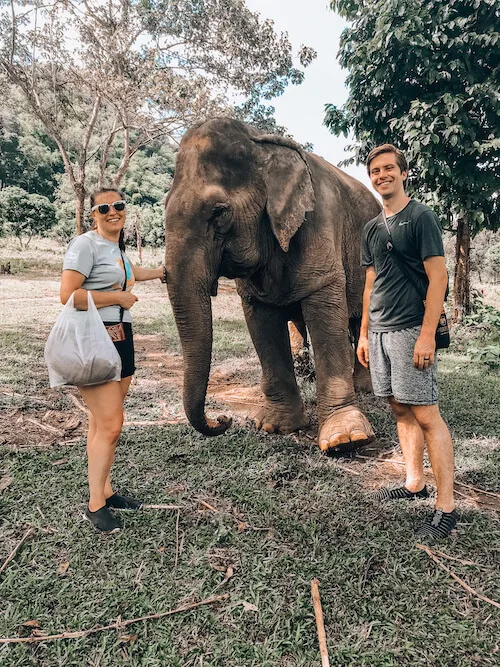 Northern Thailand has some of the most beautiful scenery around. If you have time to spare while visiting Chiang Mai, we highly recommend spending a day at Elephant Nature Park.
One of the highlights from our honeymoon in Southeast Asia was hiking in the jungle with the most beautiful elephant named Sai Thong. We loved getting up close and personal with nature. To be able to spend a day feeding and walking an elephant and learning about all of the good things ENP is doing with thousands of rescue animals including elephants, cats, dogs, chickens, buffalo, etc. was definitely the perfect couple bucket list adventure.
Pro-tip: We did the Care for Elephants program, which is how we had an elephant to ourselves for the day!
4. Cruise Along Mysterious Mountains in Halong Bay, Vietnam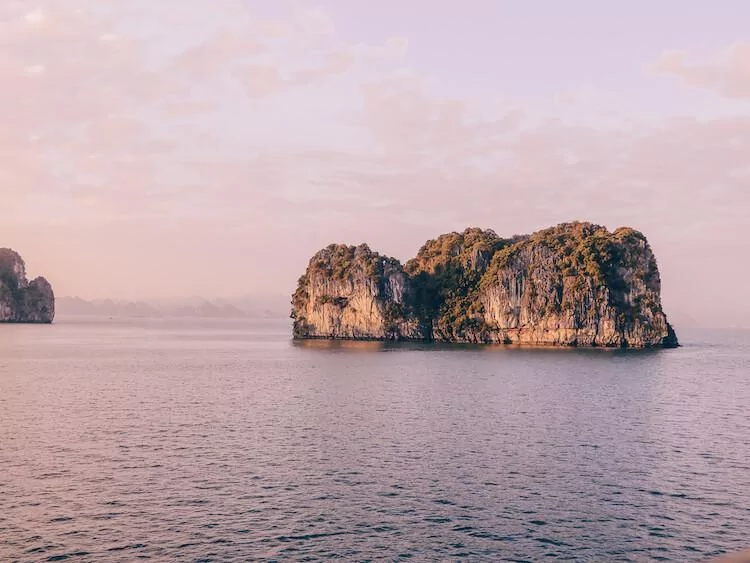 If you are searching for the perfect honeymoon bucket list item, look no further than the romantic karst mountains of Halong Bay, Vietnam.
Chris and I went on a 3 day/2 night Bai Tu Long Bay (northern more remote part of Halong Bay) cruise during our honeymoon, and there is nothing more romantic than watching the sunset over these mountains that jut out of the water and falling asleep to the sounds of the sea.
These mountains are everywhere too! If you decide to book it, we highly recommend the Dragon Legend Cruise as they venture to Bai Tu Long Bay and we hardly saw any other boats during the day!
Plus, you get to visit a fishing village, hike through a cave, have a picnic on one of the islands, and kayak along these mountains. It is the perfect mix of relaxation, romance, and adventure!
5. Hike Amongst the Ruins of Machu Picchu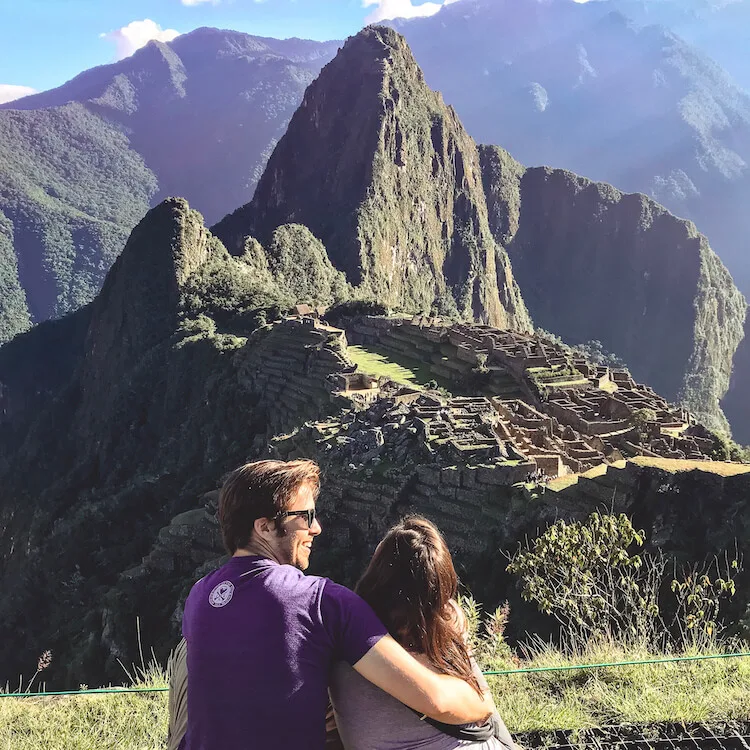 For the truly adventurous, this is a perfect addition to the travel bucket list for couples, especially if you plan to hike the trail. However, you don't have to hike the whole Incan trail to appreciate the beauty of Machu Picchu.
In fact, we did a 2 day/1 night tour of the Sacred Valley and Machu Picchu during our short 10 days in Peru! And let me tell you, it was truly romantic to stay in the beautiful town of Aguas Calientes and then take the bus up to Machu Picchu the following day.
Pro-tip: Catch the earlier bus up to avoid the crowds and admire the view while the sun is rising in the sky!
PS- Check out our guide on how much a trip to Peru costs!
6. Dive in the Great Barrier Reef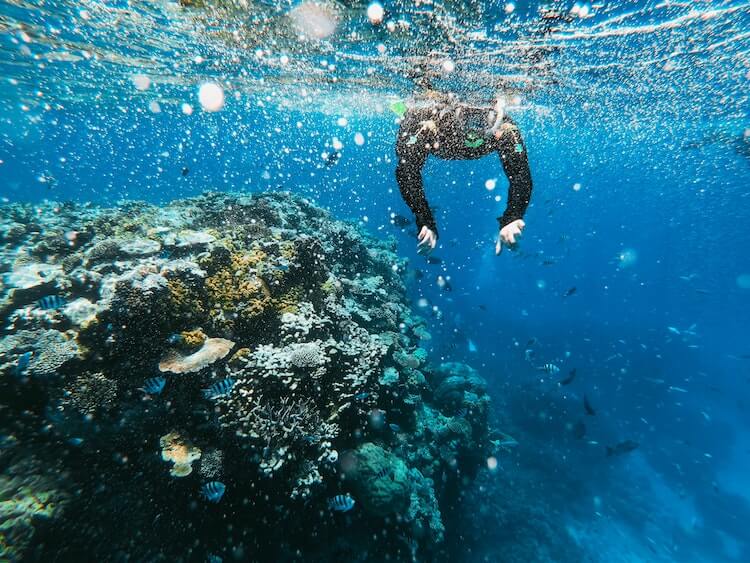 If you are searching for bucket list ideas for adventurous couples, then this is definitely one to add to the list! The Great Barrier Reef is vast, beautiful, and full of adventure. So why not snorkel or dive with your love here?
Plus, if you have zero experience diving, you can do an assisted dive to get the experience of diving in the Great Barrier Reef! This is also one of those places that you must visit sooner rather than later, as it won't be around forever.
Admiring this beautiful natural wonder of the world is the perfect addition to any couple's travel bucket list.
7. Visit the Most Romantic City in the World: Paris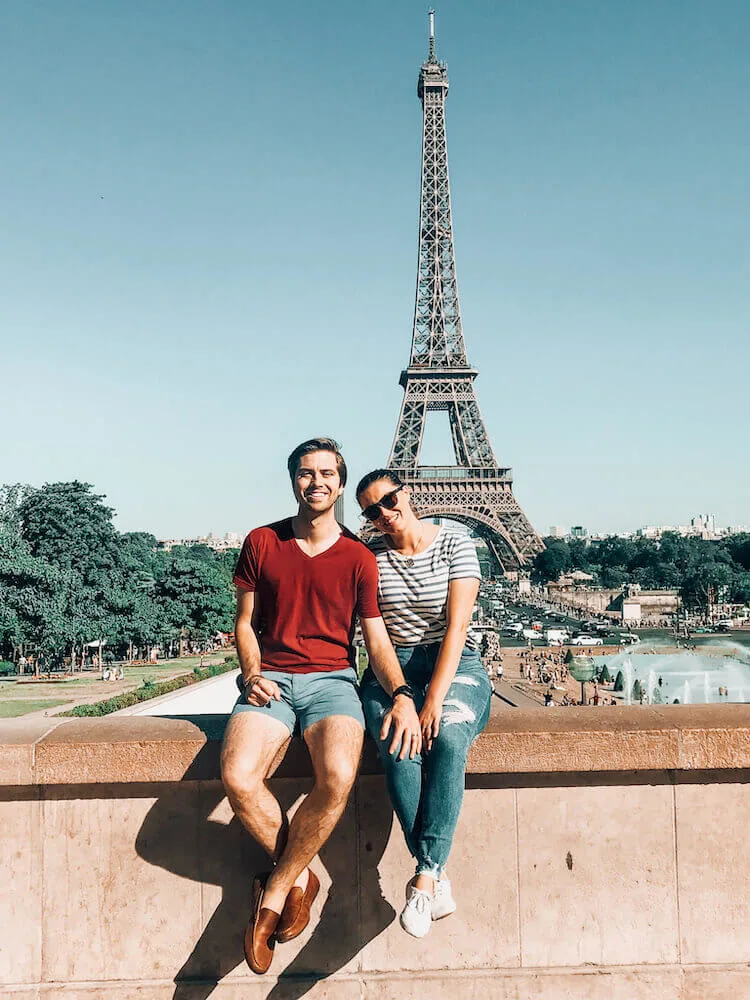 Paris oozes romance. I know that sounds cliche, but it is totally true. From the stunning art museums to the beautiful parks and gardens, the time spent in Paris is never wasted.
Chris doesn't even like big cities, and he has even said that he can't wait to return here. Why? It may be a large city, but there are so many beautiful hidden pockets to explore! From the canal Saint Martin to the cafes in the Saint Germain des Pres neighborhood, you'll find romance in every corner.
So admire the sunset over the Eiffel Tower, walk along the Seine, and maybe have a picnic in one of the many public parks across the City of Lights. Paris is always a good idea, after all.
PS- Check out how much a trip to Paris costs!
8. Explore Waterfalls in Iceland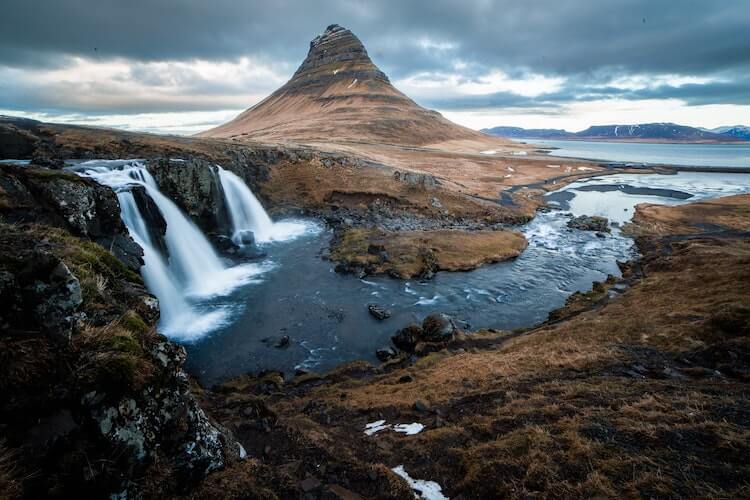 Adventure is the name of the game on this bucket list idea for couples! Chris and I have added this to our couple's travel bucket list for a road trip. For starters, we want to chase waterfalls across this beautifully adventurous country.
Second, we have always wanted to spot the Northern Lights. We hope to cross this off our list here soon enough, but in the meantime, it is certainly worth it to dream and plan a trip to Iceland in the near future as a couple's travel bucket list item.
9. Explore the Fast-Paced Tokyo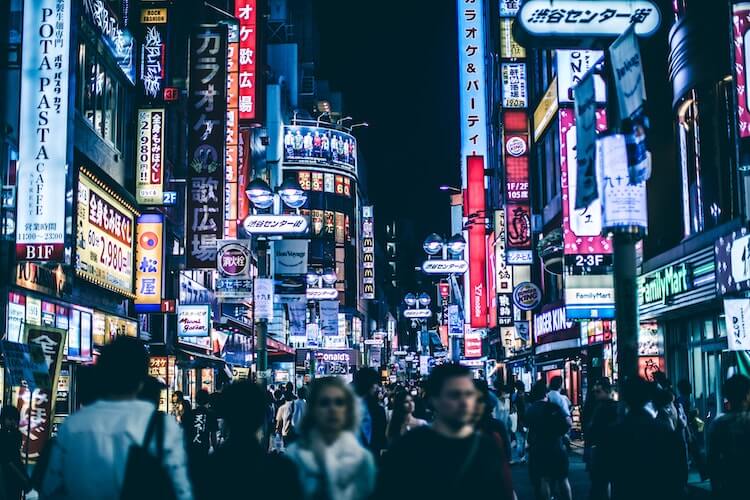 Bright lights, big city, and a ton of things to see! Tokyo has it all from fresh and delicious food, quirky bars, and high-speed trains to take you across the country!
Snag a night or two at the Park Hyatt Tokyo for amazing views of this exuberant city!
10. Celebrate Holi in India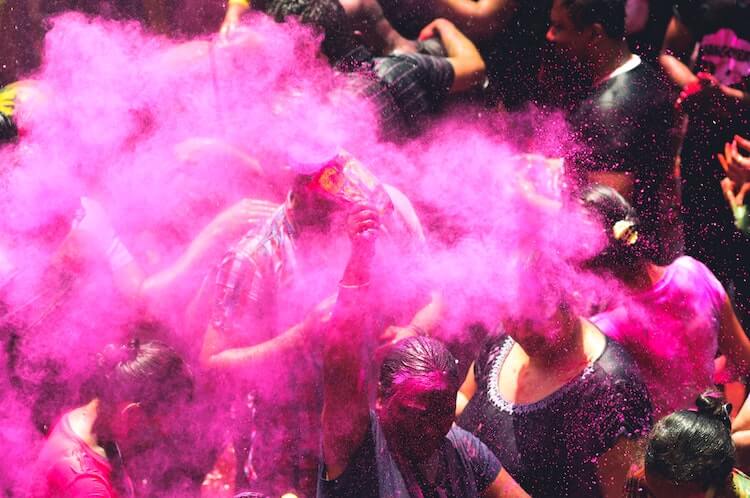 Another top item for many couples' bucket lists is a trip to India during one of their most vibrant festivals. Frolic the streets and become immersed in colorful powder as you dance, make new friends, and have a little competition on who can get the other person more doused in color!
Pro-tip: Northern India is more well-known for this festival, so check out cities like Jaipur and Udaipur or Mathura and Vrindavan for the ultimate experience.
11. Enjoy the Wonders of Nature on an African Safari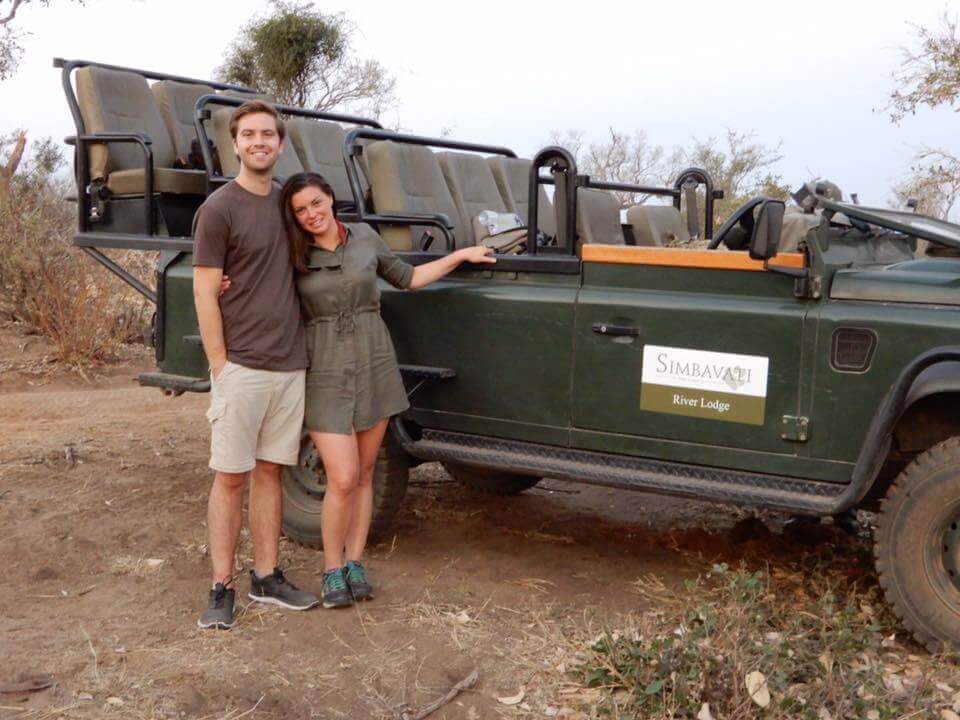 I can think of few places more romantic than going on an African safari and to go glamping in the wilderness. One of our very first trips and first items that we checked off of our bucket list ideas for couples was this trip.
In fact, our trip to South Africa really inspired our couple's travel blog! Watching the sunset while drinking cocktails and admiring the view over a river full of hippos was one of the highlights of our time on safari, as was seeing the big 5, and watching how bright the stars were at night!
You could totally make this the perfect honeymoon or add it to your own bucket list holidays for couples for a future trip!
12. Bucket List for Couples Idea: Trekking in Patagonia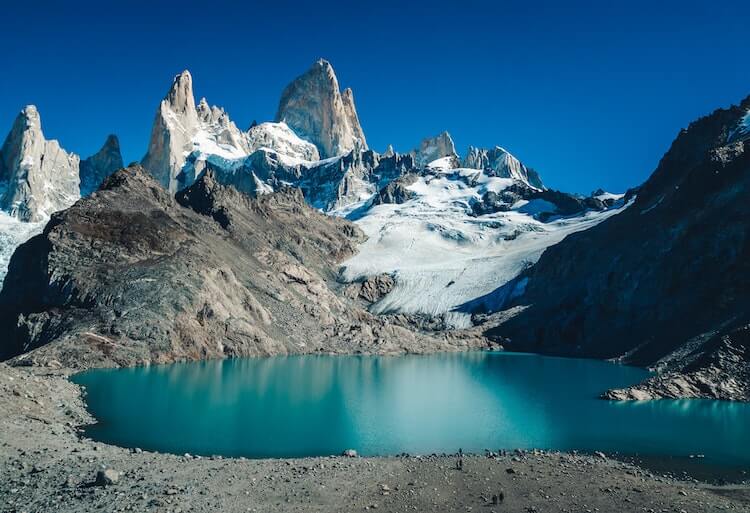 We get that some of the items on this list are more adventurous than others. And if you are into adventure travel for couples, this needs to be on your bucket list.
Hike the W Trek and admire the magnificent mountains and lakes during the day and crazy beautiful stars at night. When it comes to the perfect couples travel bucket list for adventurers, this is near the top!
13. Snorkel in Thailand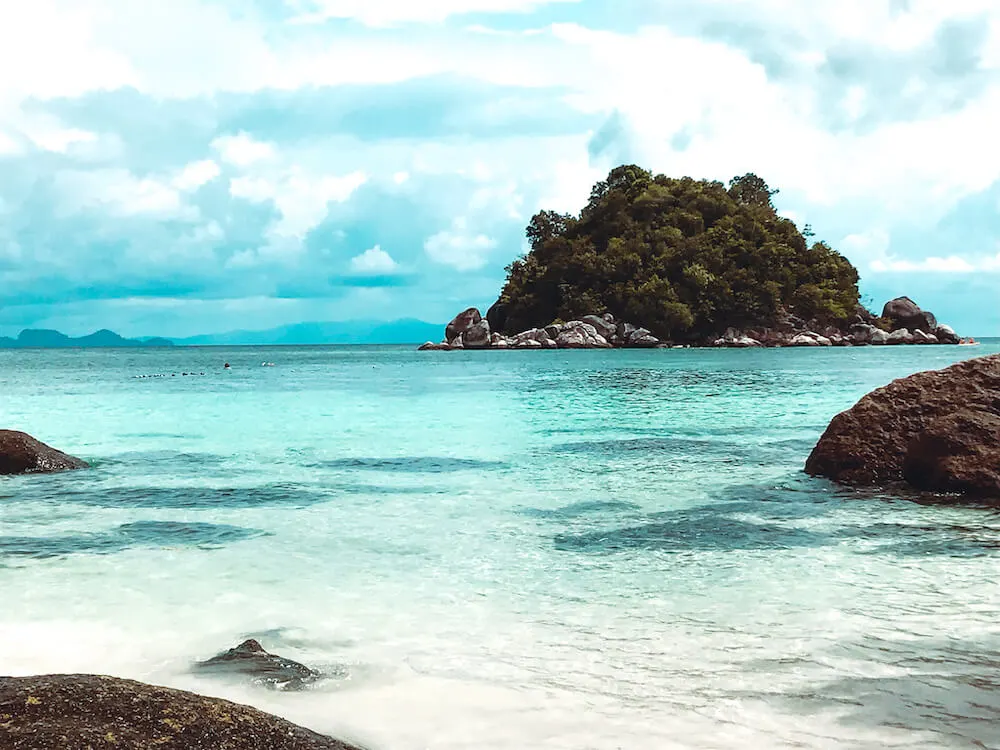 Thailand has some of the clearest and most beautiful snorkel spots in the world! We were so lucky to have spent time in Koh Lipe, a smaller, more remote island in the Andaman Sea, during our honeymoon.
With untouched coral reefs, so many colorful fish, and pristine beaches, it was the perfect, romantic spot to relax and enjoy. Sometimes relaxing on the beach is all you need for the perfect couple's travel bucket list!
14. Clear Kayak in Aruba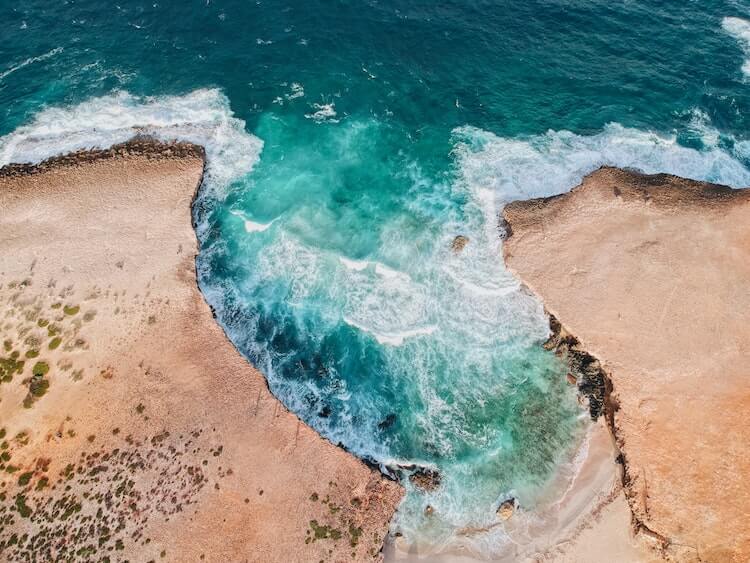 Who doesn't love those clear kayaks? And when you're in a place with stunningly clear water like in Aruba, you'll want to see everything! So get in your kayak for two and paddle out to see the wildlife in the crystal clear ocean.
Also, as a bonus, definitely check out the pink flamingos in Aruba during your time there! This is a great place to relax and unwind, which is pretty perfect for a honeymoon destination!
15. Splash in Cenotes in the Yucatan Peninsula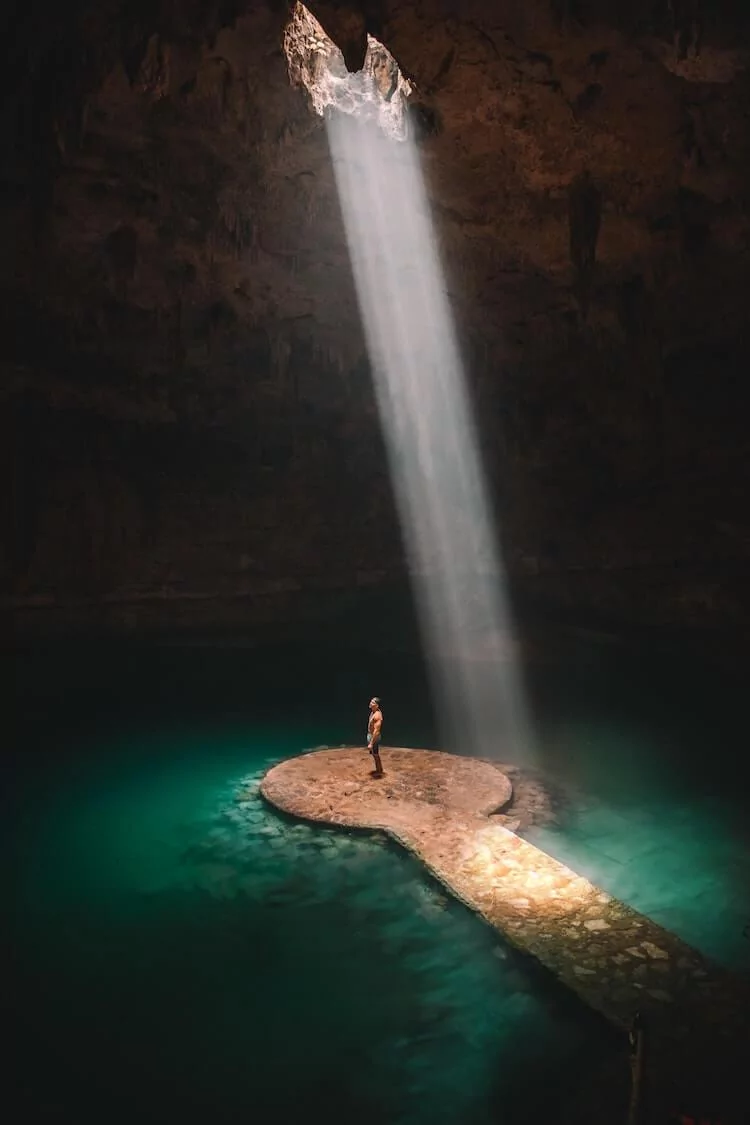 Aside from being incredibly Instagramable for a couple's photoshoot, these cenotes are absolutely stunning. Chris and I have been longing to travel here and it has been on our couple's travel bucket list for a while.
Visit the Yucatan Peninsula and take a road trip to the various cenotes across the area! While you're there, be sure to check out some Mayan ruins like Chichen Itza, Tulum Ruins, or even Chacchoben! And, of course, beach time is a must in many places like Tulum, Playa del Carmen, or even have some island time at Isla Holbox.
16. Tasting Delicious Food in Italy is Definitely Perfect for a Bucket List for Couples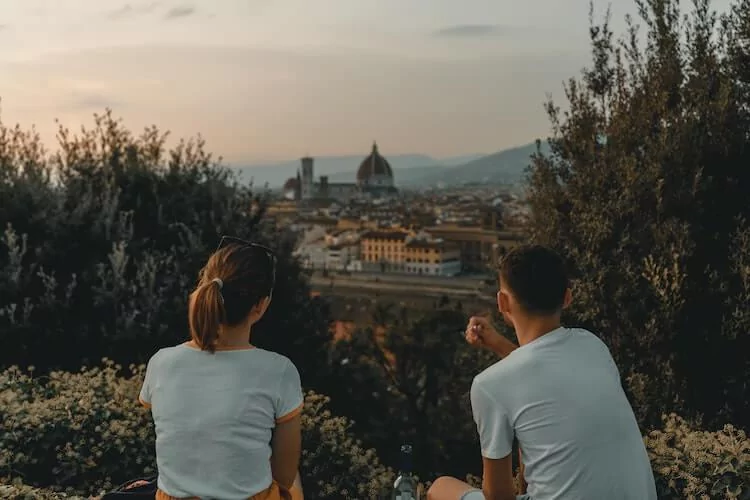 Italy pretty much has it all when it comes to delicious and flavorful food. Creamy pasta, fresh ingredients, and robust wine to pair with it make for the perfect meal.
And while you can definitely create the spirit of Italy at home, if you are looking for perfect couple's bucket list ideas, visiting Italy and admiring the culinary arts from the risottos of northern Italy to pizza in Napoli should definitely be on the list.
17. Watching the Sunrise Over Angkor Wat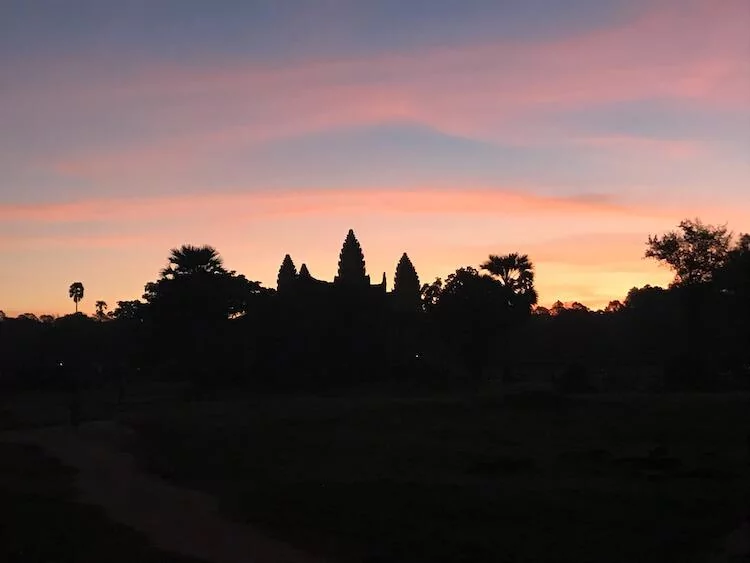 Angkor Wat is absolutely stunning. These architectural marvels have stood for hundreds of years! And while you could spend weeks exploring many of the ruins and not see them all, if you only have 2 days in Siem Reap as we did, be sure to watch the sunrise over the main temple of Angkor Wat!
If you have a clear day, you can admire the purples, pinks, and oranges as the sun rises slowly over this temple complex. It truly is a sight to behold and an absolute must to add to your bucket list ideas for couples who love travel.
18. Stay in an Over-The-Top Hotel in Santorini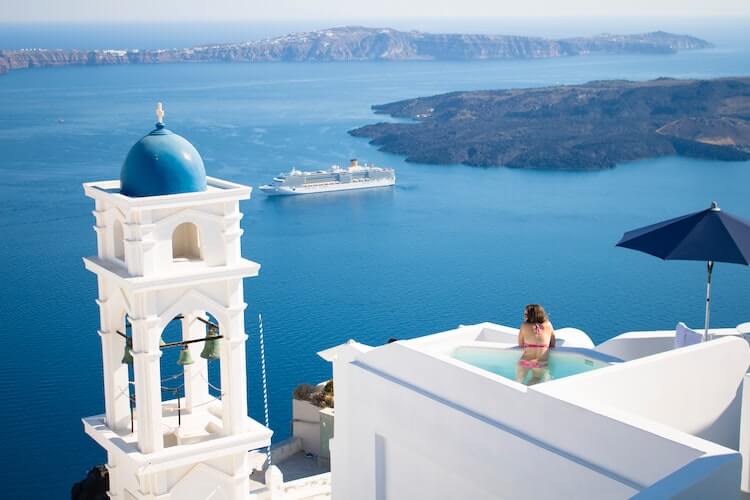 Santorini is an iconic honeymoon destination, and it is easy to see why. A gorgeous island full of whitewashed buildings with blue roofs, red, black, and white sand beaches, and a dreamy caldera; one of the best bucket list ideas for couples is to get a luxurious hotel that overlooks the Aegean Sea.
Watch the sunset over the sea as you soak in your own private plunge pool. It is the perfect splurge! Check out Andronis Boutique Hotel for the most lux experience!
19 Floating in the Dead Sea is a Must on Any Couple's Travel Bucket List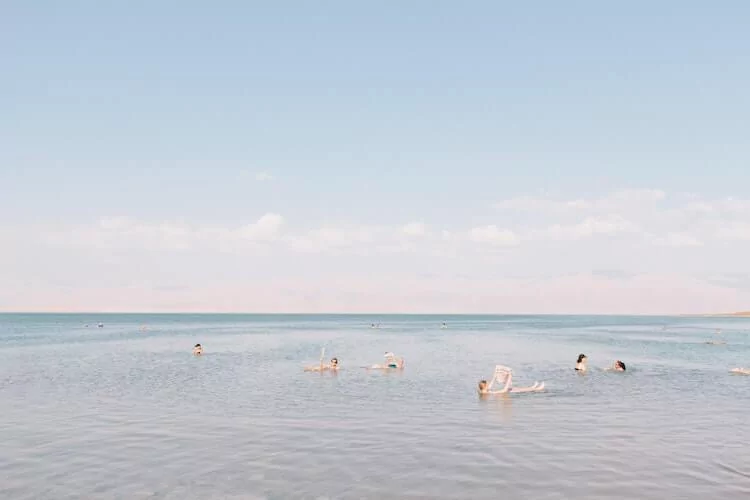 Take a mud bath and float in the Dead Sea from either Israel or Jordan. Chris and I have had this on our bucket list ideas for couples travel for a long time!
Dive deep into the history of this area of the world, make your own DIY spa day along the shores of the Dead Sea, and eat all of the delicious food.
20. Admire the Stars in the Sahara Desert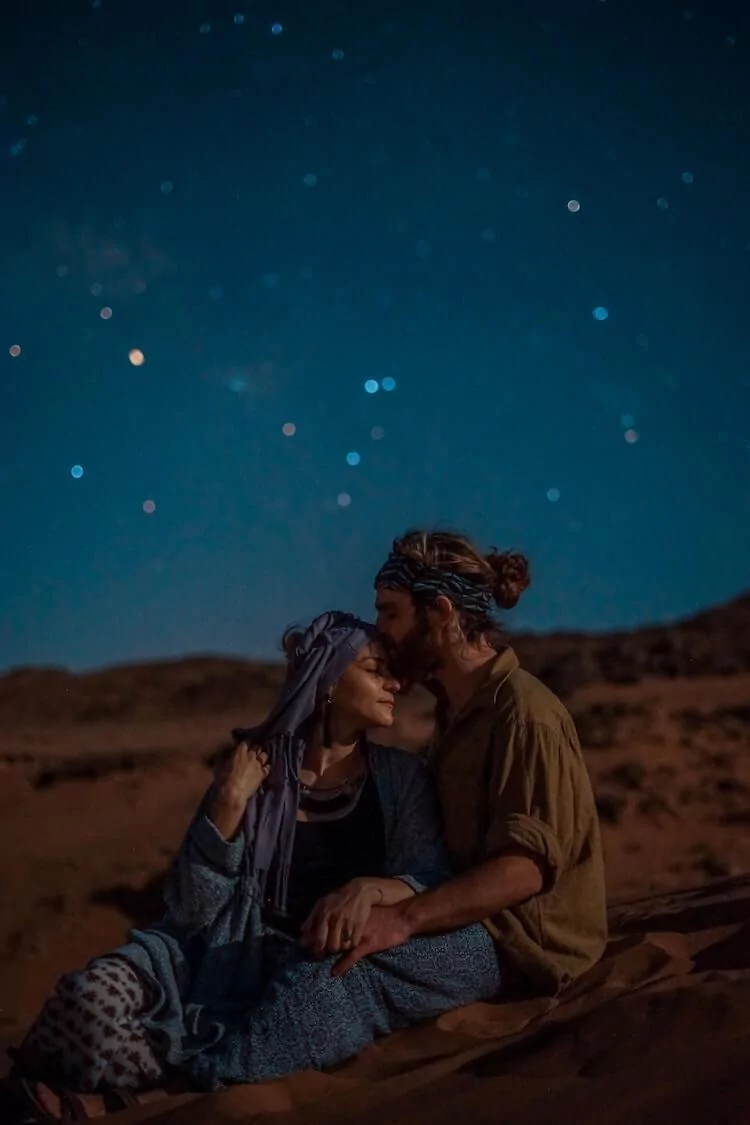 Searching for more romance for your couple's travel bucket list? Look no further than the Sahara Desert. Go glamping in the middle of the desert, ride on camels, and watch the sunset and dance under the starlight with few others in sight.
The perfect date while traveling has to include a proper sunset and stargazing, right?
21. Visit the Magical European Christmas Markets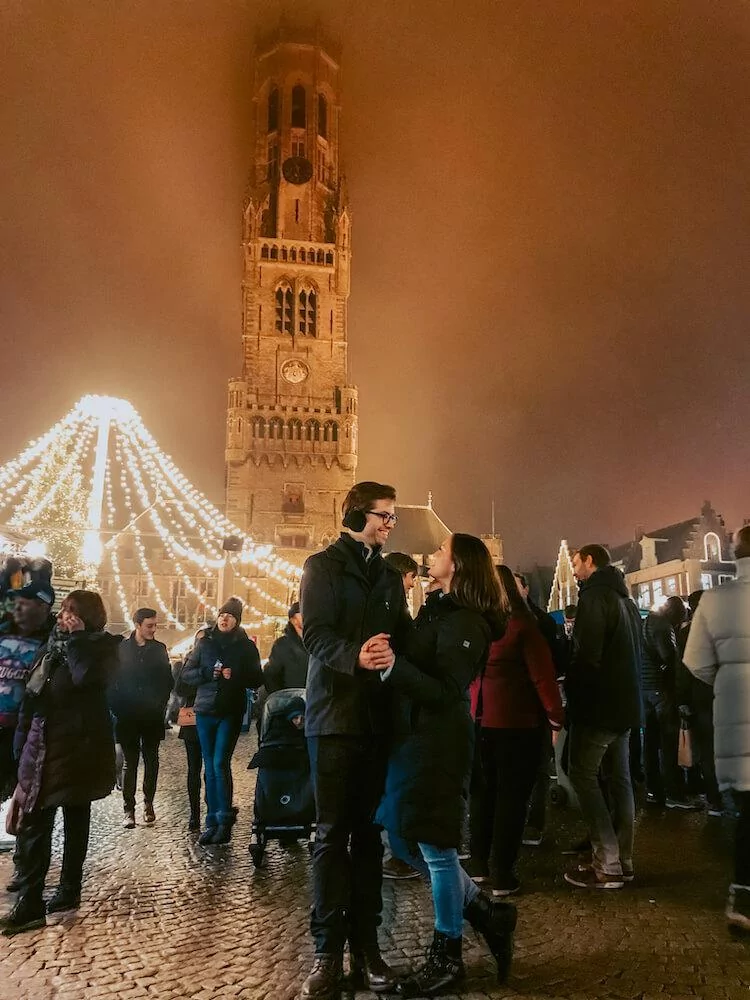 After visiting the European Christmas markets last year, we have to say that there is nothing more magical than drinking a cup of mulled wine while enjoying the lights and music at these markets.
There are a handful of places that are so awe-inspiring that I actually cry, and visiting the Christmas markets in Bruges, Cologne, and across central Europe definitely brought tears to my eyes.
Which was our favorite? It's a tough call! And while we totally agree that you should add the Christmas markets to your couple's travel bucket list, we think Cologne has the cutest themed markets all across the city, Vienna takes the cake for the most elaborate markets, Bratislava has some of the best Christmas market food, and Prague has the most beautiful Christmas market on the main square!
Seriously, go to as many as you can across Germany, France, Belgium, The Netherlands, and Central Europe!
22. Stay in an Overwater Bungalow in the Maldives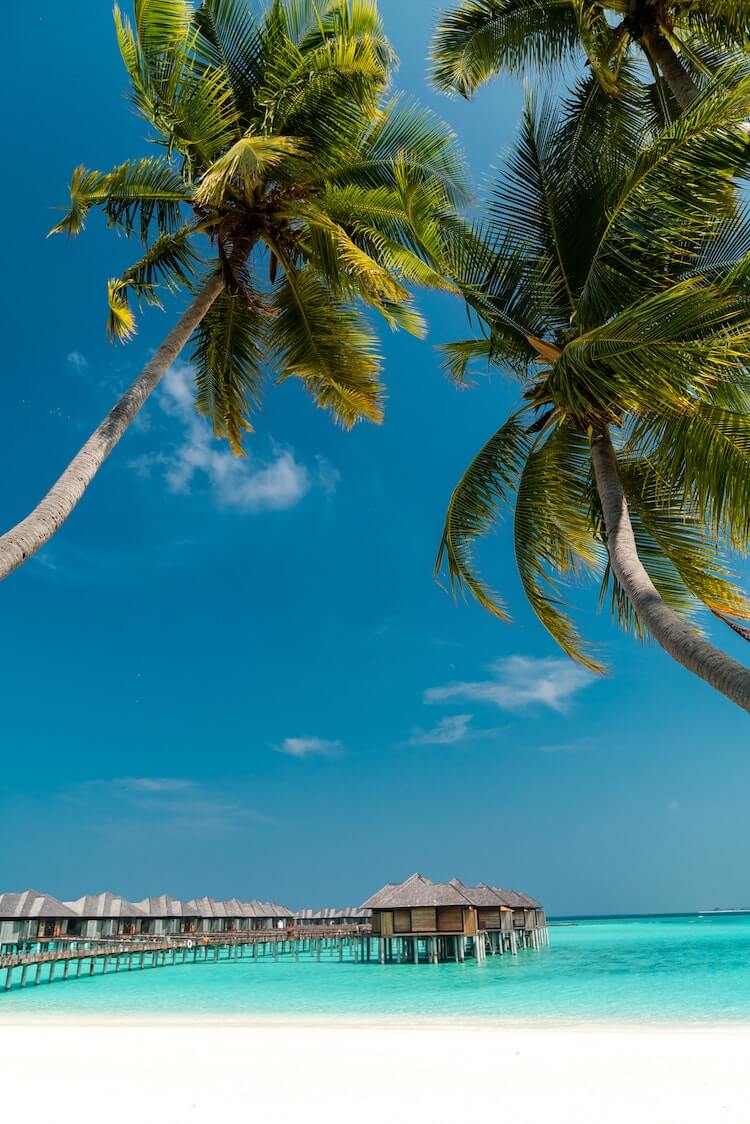 This is definitely on the higher-end price-wise on the couple's travel bucket list, but it is 100% worth it! If you can snag a bungalow on miles and points, that is incredible! But this is worth saving the money to do.
Snag an overwater bungalow in the Maldives where you can relax and play in the sun, go snorkeling off of your deck, and bike around the island! Soneva Fushi is pricey but one of the most luxurious places to stay in the Maldives!
Pro-tip: Snag a night or two in an overwater bungalow and then switch to a room on land to save extra money but still get to experience it!
23. Island Hop Around Hawaii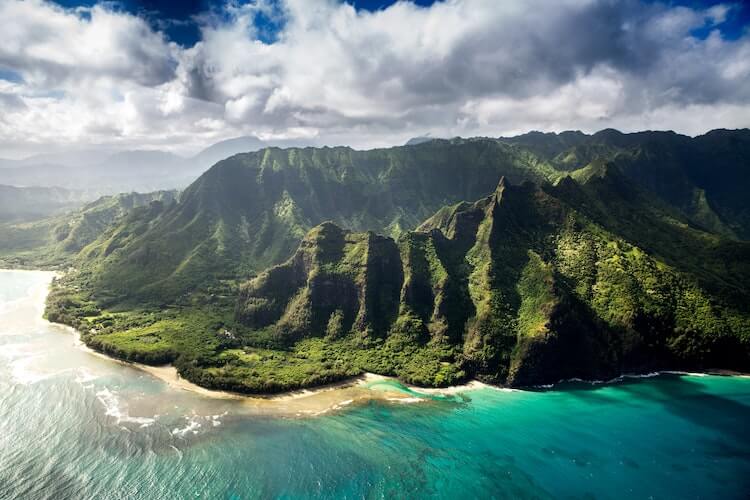 Hawaii is a dream of a honeymoon destination. So if this is added to your honeymoon bucket list, that's great! With fantastic islands like the dreamy Maui, exciting Oahu, or the adventurous Big Island, there is a lot to explore.
What is great about Hawaii is that it offers the perfect combination of relaxation and adventure. If you love snorkeling, surfing, and hiking this place has it. If you want to relax at a resort and sit in the sun, this place is perfect.
Budget Tip For Hawaii: Aim to get the Southwest Companion Pass (i.e. earn 125,000 Southwest points in a calendar year via their credit cards) and you'll get two plane tickets for the price of one!
24. Sipping Wine in California is a Perfect Couple's Travel Bucket List Item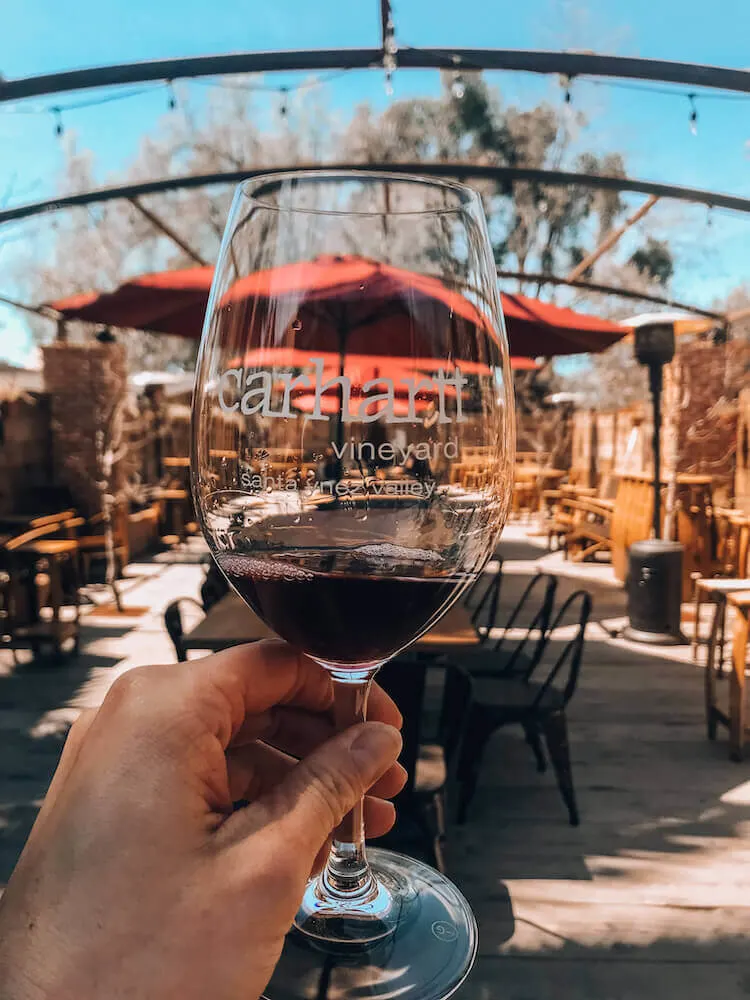 I had to include some wine time on this list! If you follow Chris and me, you'll know that we completely geek out over wine. So when we had the chance to visit California and the Santa Ynez Valley last year, we jumped on it! The best part about a trip to California is that there are quite a few wine regions to enjoy from Napa to the Santa Ynez Valley!
Aside from all of that wine, be sure to check out some phenomenal national parks like Yosemite and Joshua Tree or some exciting cities like San Diego or San Francisco! We still consider this one of the best bucket list trips in the USA!
25. Get Adventurous in Queenstown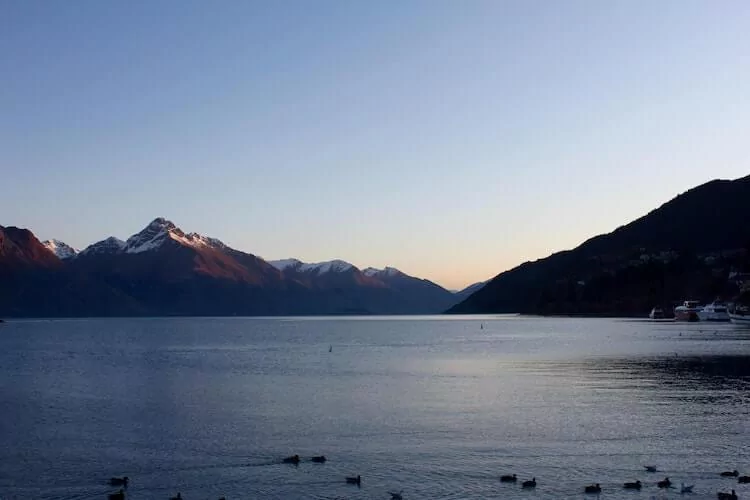 Last, but certainly not least, a must for any adventurous couple's travel bucket list, is Queenstown, New Zealand. Known as the capital for adventure, get your adrenaline pumping together while partaking in activities like bungee jumping, zip-lining, canyoning, a Shotover jet, or even zorbing (rolling down a steep hill in a big inflatable ball)! There are so many great adventures to be had!
Plus, once you've finished adventuring in Queenstown, be sure to check out the gorgeous Milford Sound and perhaps enjoy a glass or two of wine from the Otago Region.
Whether you both enjoy adventure or relaxation, this travel bucket list for couples is the perfect list to inspire wanderlust and get you going on planning that next big adventure together! After all, "In life, it's not where you go, it's who you travel with."
What destinations would you add to your couple's travel bucket list? What are your thoughts on this?
Read Next: Best October Honeymoon Destinations
Pin it here!