Some posts on this site contain affiliate links, meaning if you book or buy something through one of these links, I may earn a small commission (at no additional cost to you!). Read the full disclosure policy here.
---
It is one thing to see the best Christmas markets in Cologne, Germany, it is another to hit them ALL up in one day!
There are few places in the world that ooze Christmas. Cologne is one of those places. With 6 main Christmas markets in Cologne, Germany, and other hidden ones, there is plenty of holiday cheer to go around! And we're not just talking about the gluhwein! So we want to share with you the perfect Cologne Christmas market itinerary plus a Cologne Christmas market map to help you find these markets!
And the best part is that this can be done in 1 day.
We know, because when we explored Europe for 2 weeks during the holiday season, we had a lot of places we wanted to see including Antwerp to visit friends, a day trip to Bruges, and then a few days in Budapest, Vienna, and Prague each.
With all of these cities and holiday markets to explore, we only had 1 day to spare. And, being known as one of the best cities for German Christmas markets out there, we knew we had to stop in Cologne even if only for a day.
But we found that it is pretty easy to see most of these Cologne Christmas markets in just 1 day and we're here to show you how!
Check out our podcast episode all about the Cologne Christmas markets too!
Cologne Christmas Market Map
To help you navigate your way around the Koln Christmas markets, here is a map with locations of all of the main markets plus hotels.
Getting There to See the Christmas Markets in Cologne, Germany
There are many great ways to get to Cologne, but the easiest by far is the train. We booked a train from Antwerp to Cologne for only about $24 per person and it was a 2.5-hour ride.
You could also fly to the Cologne Bonn airport or even Dusseldorf airport from many places in Europe with discount airlines like Eurowings, Ryanair, Wizz Air, and more. We flew out the following morning from the Dusseldorf airport, and it was only a 30-minute train ride from central Cologne to the airport.
Lastly, renting a car is a great option if you plan to continue on to the many other great cities in Germany for Christmas markets including Heidelberg, Rothenburg ob der Tauber, etc. We love checking rental car prices on Rentalcars.com for the best deals.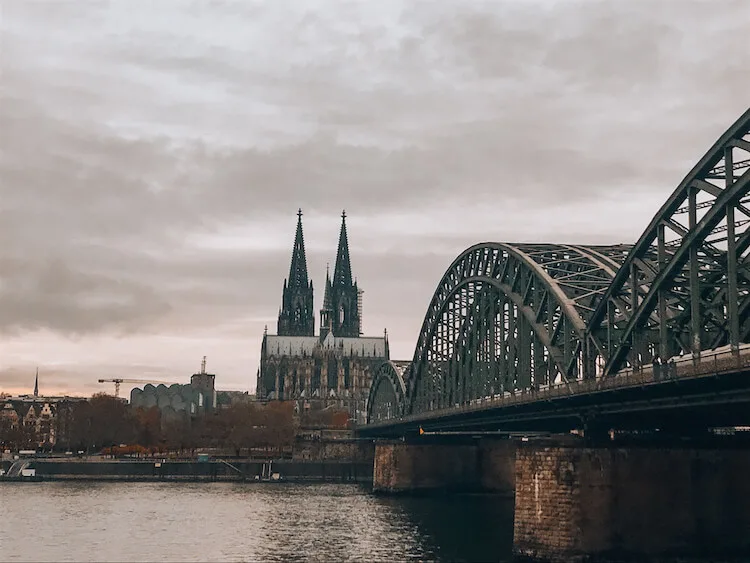 Christmas Markets in Cologne, Germany 1 Day Itinerary
During our day in Cologne, we ended up going to 6 Christmas markets. I know what you're thinking, 6 Christmas markets in 1 day? But if you are short on time and want to see the magic of this city's holiday markets, it is totally doable in 1 day.
However, when you only have 1 day, Christmas market hopping is probably all you will get up to. So bundle up for this magical day of exploring the best German Christmas markets in Cologne!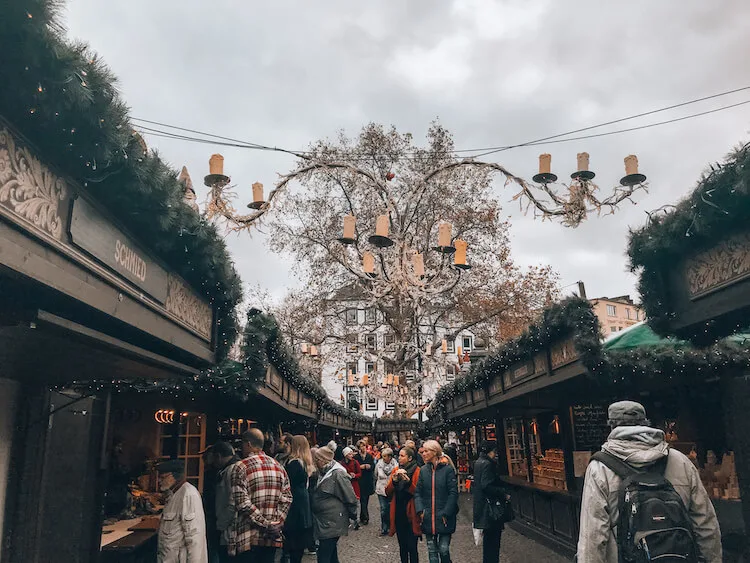 Stop 1: Cologne Cathedral Christmas Market is the Perfect First Stop on Your Cologne Christmas Market itinerary
Whether you are arriving by train that morning, like we were, or you just woke up and are ready to explore, this is the best place to start during your Cologne Christmas market trip.
The largest and most scenic Christmas market in Cologne, the Dom (or Cathedral) towers over 150 stalls and a lovely tree.
I actually recommend starting here because it is the closest one to some hotels like the Hyatt Regency Cologne where we stayed, but it is also far less crowded and less busy first thing in the morning.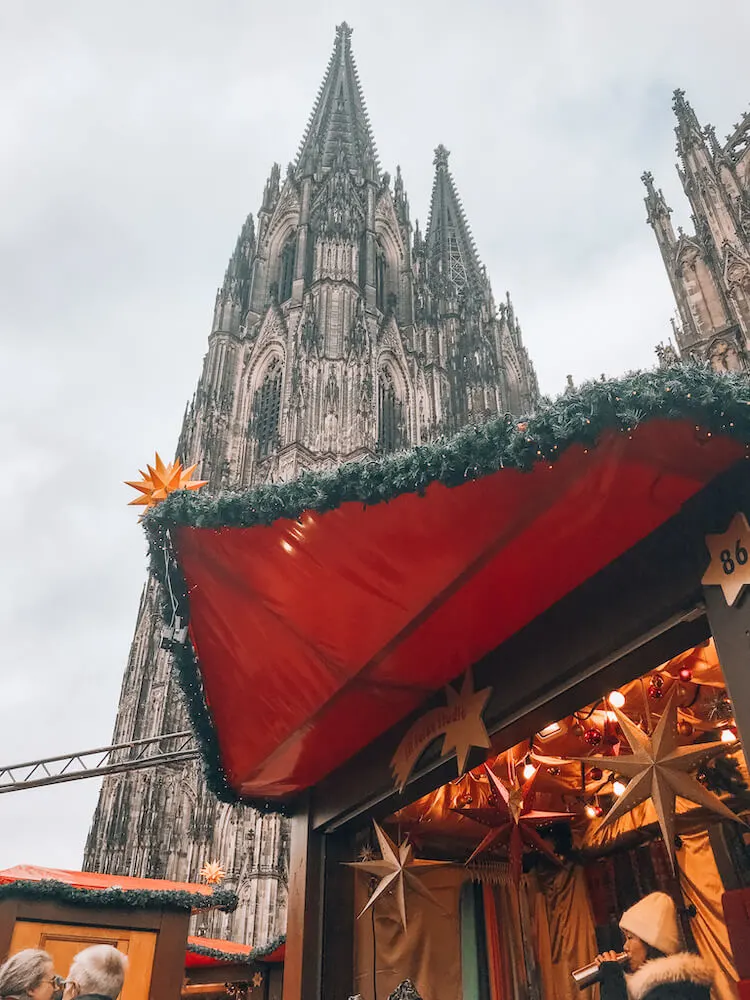 The market itself is located between the sky-high Cologne Cathedral and the Roman-Germanic Museum. If you are at the train station facing the cathedral, it is on the other side of it.
The Cologne Cathedral Christmas Market (or Weihnachtsmarkt am Dom) is known for having many artisan stands with wooden-crafted items and ceramics, a stage that hosts performances throughout the day and evening, and, most importantly, a ton of great food and drinks.
We recommend grabbing a gluhwein (aka hot wine with mulling spices like cinnamon, clove, star anise, etc.), potato pancakes with applesauce, and churros with chocolate sauce for dessert.
PS- If you have time, try to go inside the cathedral or climb the tower for a stellar view!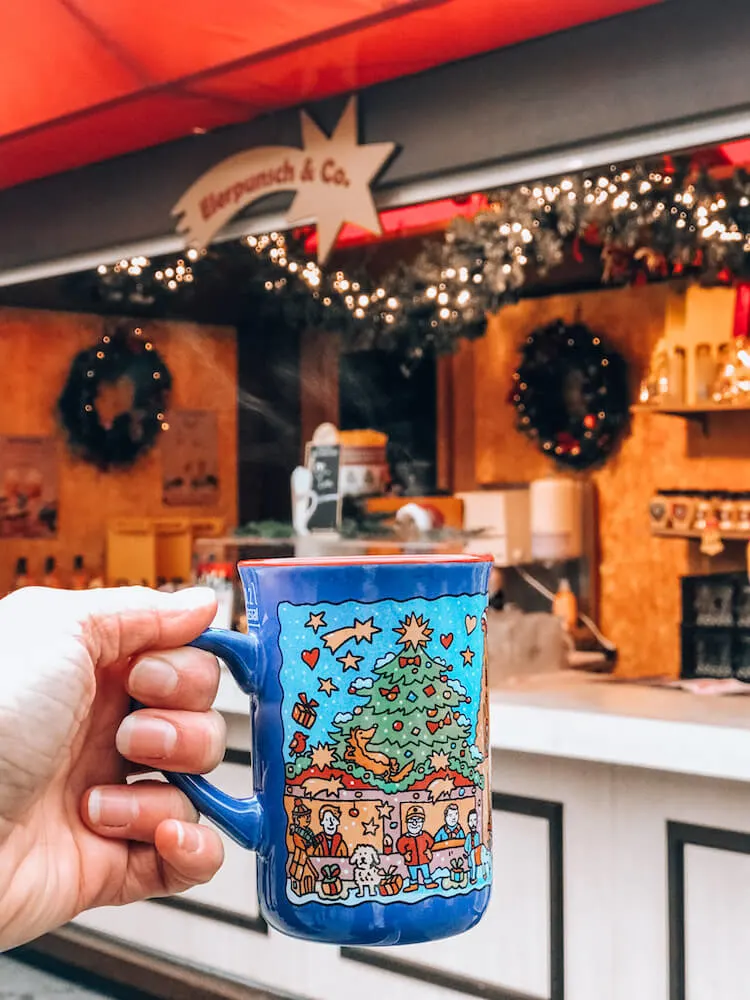 Cologne Cathedral Christmas Market 2022 Dates & Times:
November 21-December 23, 2022
Open daily Sunday-Wednesday 11 am-9 pm, Thursday-Friday 11 am-10 pm, Saturday 10 am-10 pm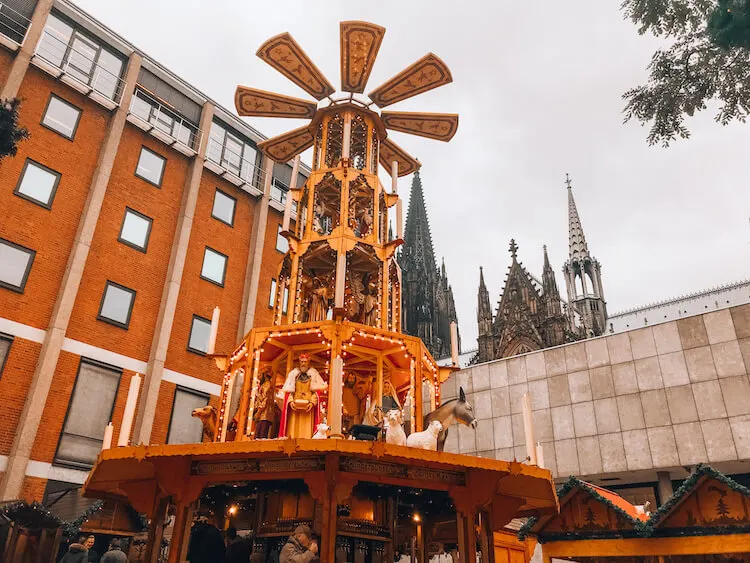 Stop #2 of the Cologne Christmas Market Guide: Adventsdorf am Kolner Dom
Not as popular as some of the many other Christmas markets, this hidden gem is definitely worth a stop.
Tucked away on Am Hof, just steps from the cathedral Christmas market, the focal point of this tiny, one block-sized market is the giant wooden Christmas pyramid. And underneath is a place to buy you guessed it, gluhwein.
Aside from mulled wine, you can also buy Kinderpunsch, a non-alcoholic Christmas punch.
But this market also sold fantastic crepes, giant gingerbread cookies shaped into hearts to hang on the tree, and even gluhbier, or hot, mulled beer made from Belgian red beer.
We loved the overall vibe of this cute little market, and it doesn't take much time to see as it is so tiny. They also had good spots to sit down which is hard to come by at Christmas markets.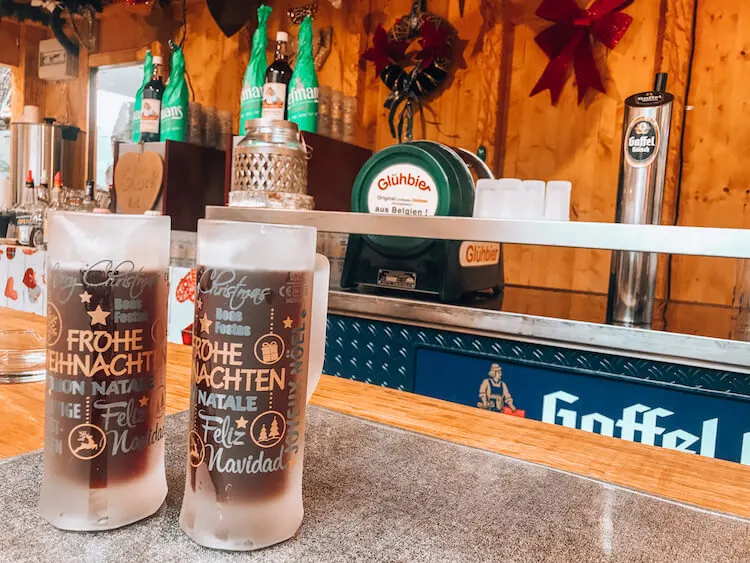 Adventsdorf am Kolner Dom Christmas Market 2022 Estimated Dates & Times:
November 21-December 26, 2022
Open daily Sunday-Thursday 11 am-10 pm, Friday-Saturday 11 am-11 pm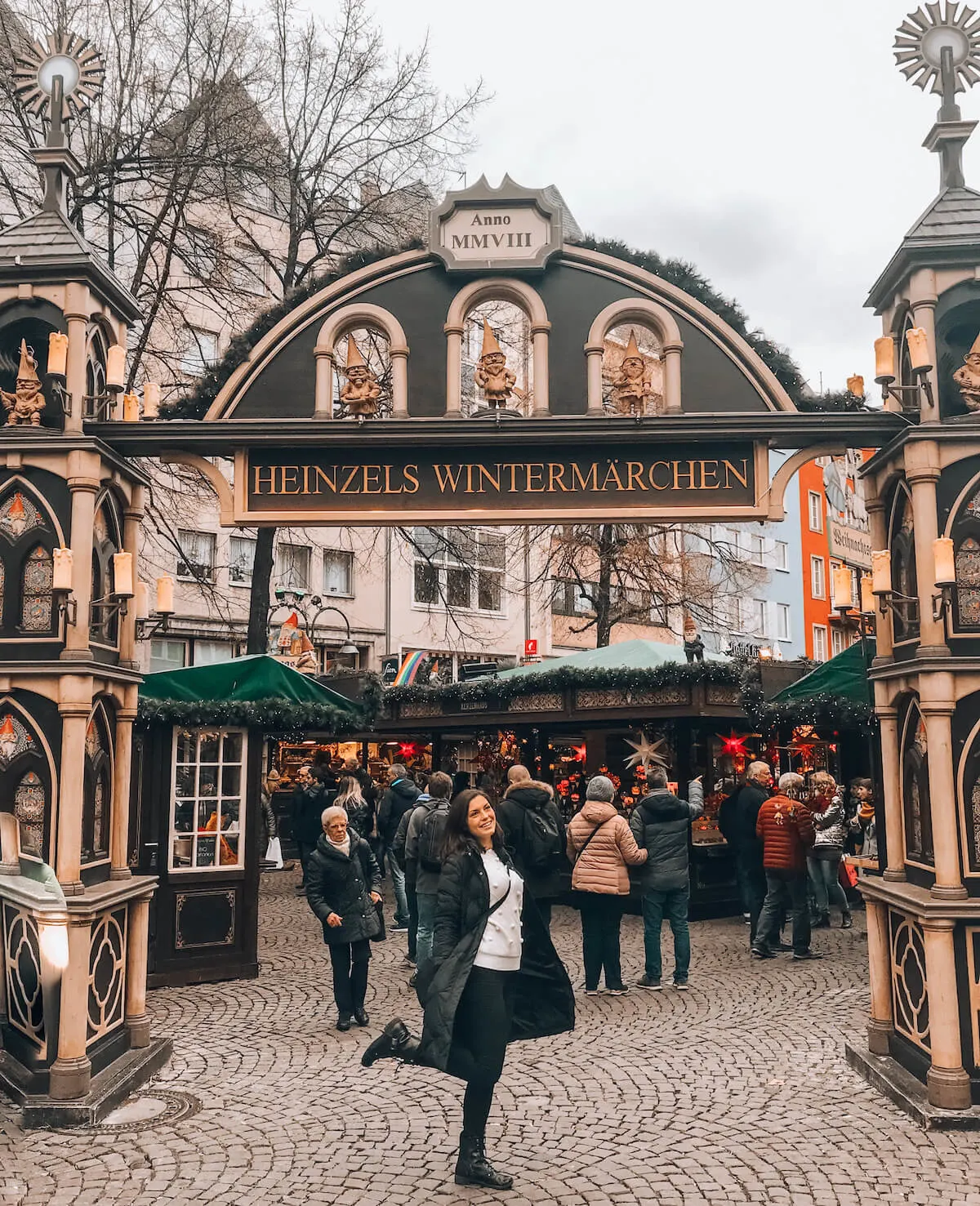 Stop #3 of the Best Christmas Markets in Cologne, Germany: Alter Market
The prettiest and most intricately decorated Christmas market in Cologne, the Alter Market, or Heinzels Wintermaerchen, is located in the heart of the old town just 200 meters from the cathedral. We loved the charm of this older market, especially because it is also known as the gnome market!
Cute little gnomes are everywhere throughout the market as hand-crafted goods to buy for your home, perched atop food and craft stands, on signs leading you to Futtergasses (feeding alley) or Glitzergasse (Glitter Alley), and even the gluhwein mugs have a gnome smiling cheekily.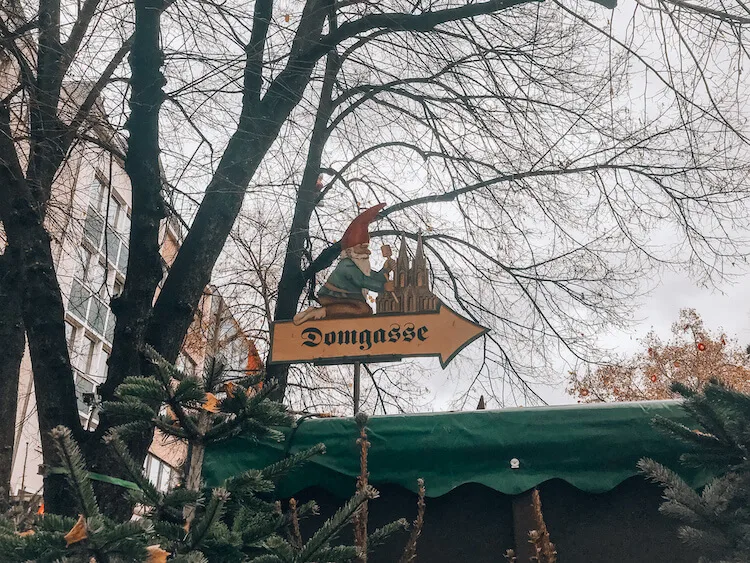 This larger market is also a great spot for kids with a Ferris wheel, a carousel, a puppet theatre, and many toy stands.
This market starts at Alter Markt, continues down a street, and into another square called Heumarkt where you'll find tasty treats, an ice skating rink, and even ice stock curling. But a word of advice, book the curling early and make a reservation online to get a spot!
We spent the most amount of time exploring this market and drinking gluhwein and Kolsh beer, enjoying the tastiest raclette (half wheel of cheese that is placed under a heat lamp and the melty cheese is spread on crusty bread), roasted chestnuts, some traditional French pistachio nougat, grabbed a veggie brat and found the best licorice stand. Seriously, they had sweet and salty black licorice that Chris loved as well as orange, strawberry, and many other sweet flavors.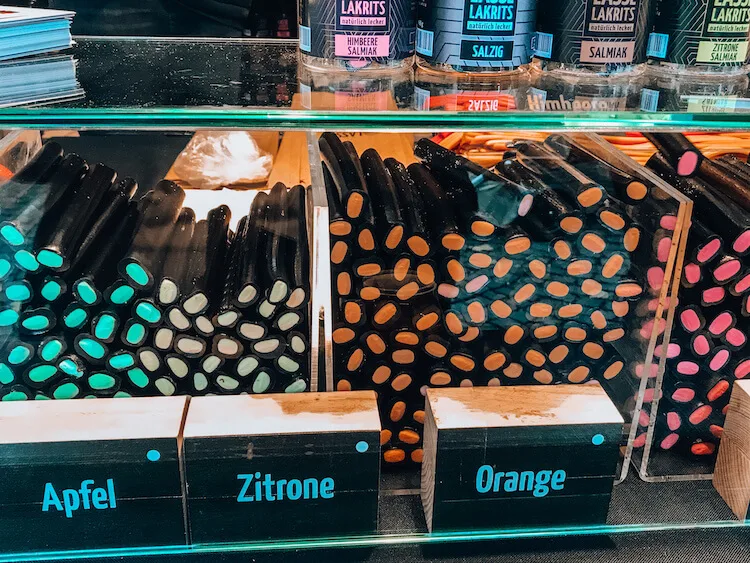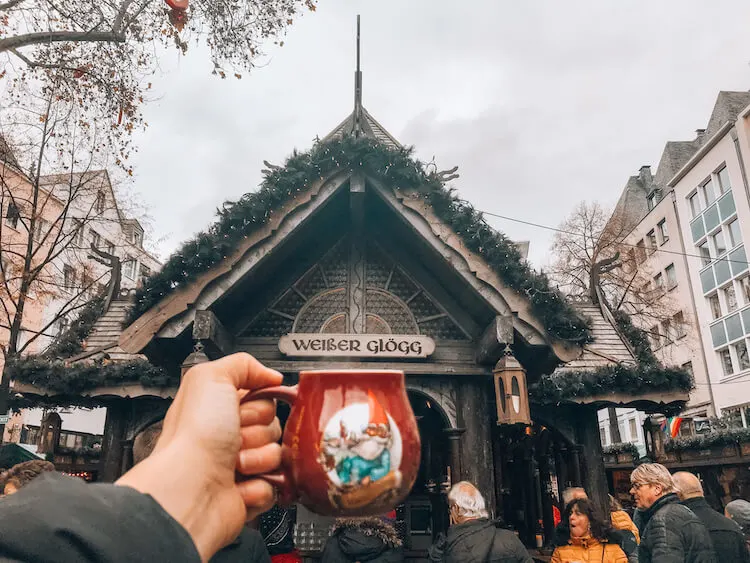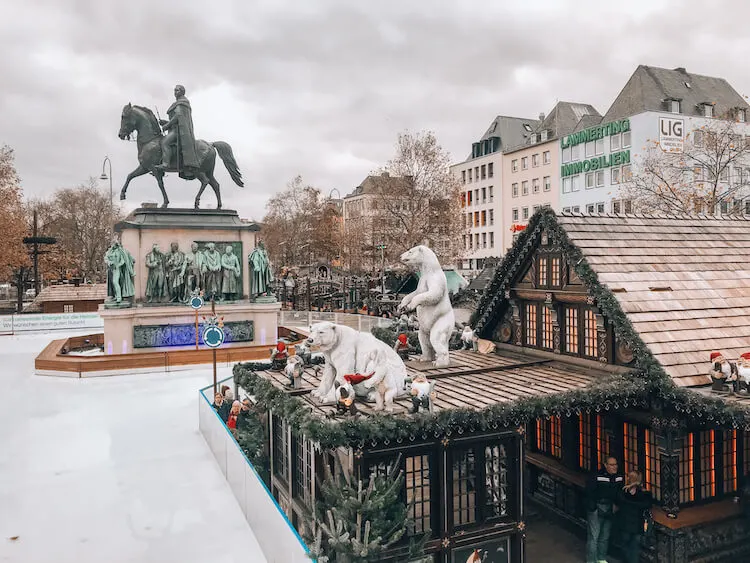 Alter Market Christmas Market 2022 Dates & Times:
November 21-December 23, 2022
Open daily from 11 am-10 pm
Ice Rink is open from November 21, 2022, to January 8, 2023, at the same time as the market above. It is closed on December 24 and 25 and reopens on December 26 with opening times from 11 am-9 pm.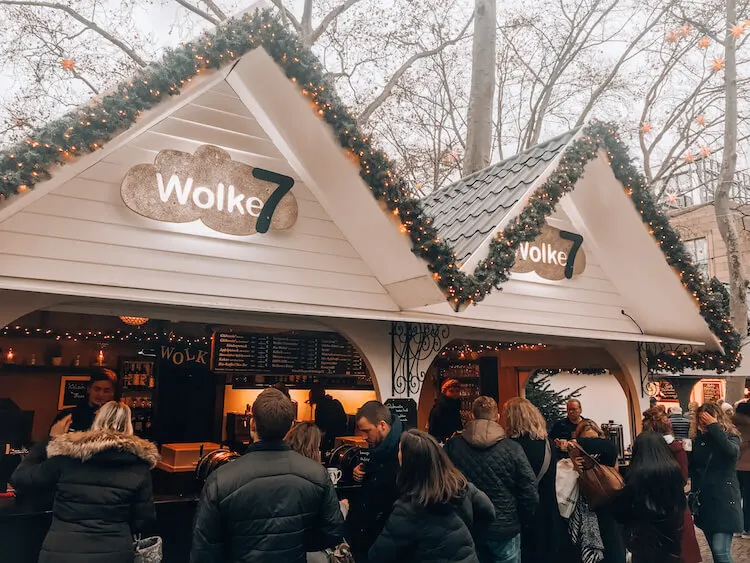 Stop #4 of the Cologne Christmas Market Trip: Angel Christmas Market
The Angel Christmas Market, or Markt der Engel, is truly magical, and a perfect next stop on your Cologne Christmas market crawl as it is in the heart of the city in the shopping district.
The oldest Christmas market in Cologne boasts many beautiful lights hanging overhead in the trees, ethereal stands with lights and white decor, and even people dressed as angels wandering the market.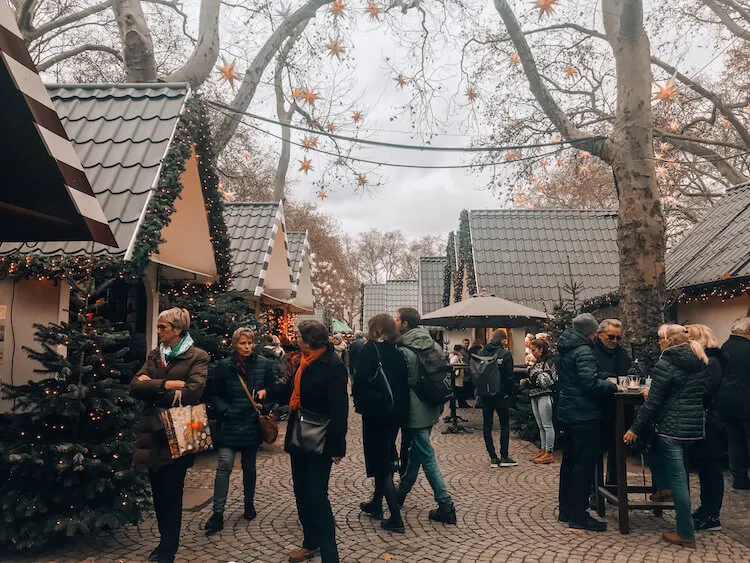 This is the place to have some more heavenly gluhwein to warm up as the sun goes down, a tasty salt-covered pretzel, and even some flammkuchen ("German pizza" that is a flatbread topped with cheese, bacon, and onion).
We also tried some eggnog in the heavenly looking mugs, but beware: it is strong. It was so strong that we couldn't finish it. If you love boozy eggnog, go for it, but if not, I'd give it a miss.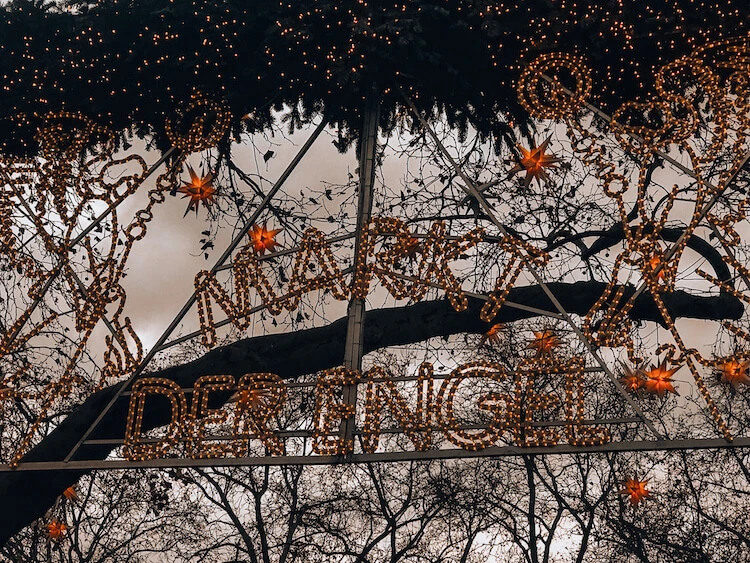 Angel Christmas Market 2022 Dates & Times:
November 17-December 23, 2022
Open daily Sunday-Thursday 11 am-9 pm, Friday-Saturday 11 am-10 pm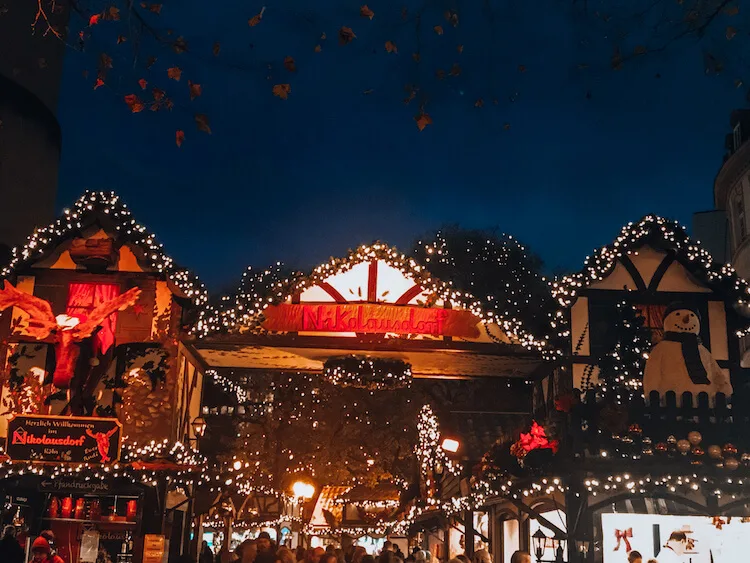 Stop #5 on Your Christmas in Cologne Tour: Village of Saint Nicholas
The Village of Saint Nicholas or Nikolausdorf am Rudolfplatz, is a great stop for when after the sun goes down. If you continue further west down the street from the Angel Market, you'll run into this in just a few minutes.
Set against the castle gate backdrop of Hahnentorburg that is lit up with a light show that moves to the music, this place is enchanting.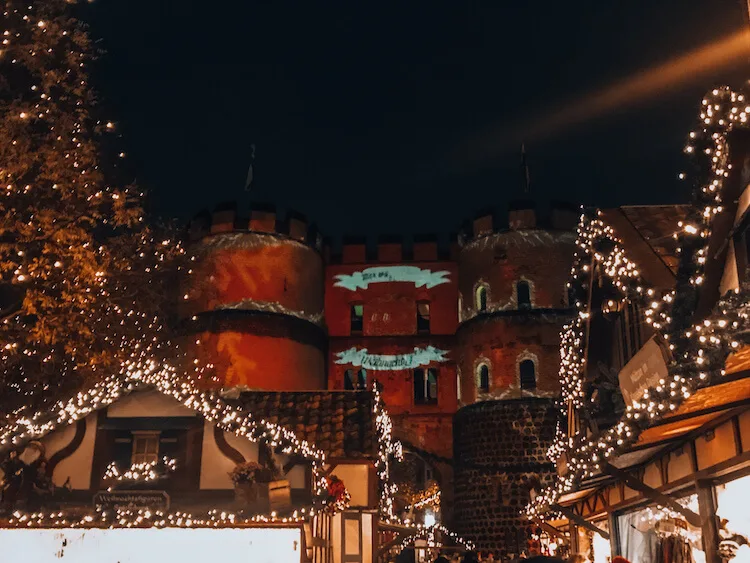 Wander booths of artisan crafts, sausages being cooked over an open fire, and Christmas lights dazzling the booths and trees in this beautifully decorated market. Even the booths are distinctly German with a charming chalet theme.
We loved this market's adorable gluhwein mug and we recommend picking up a cup of this stuff and a bratwurst to enjoy while walking around.
Perhaps you'll spot a toy for the kids in your life or a Christmas ornament to take home too!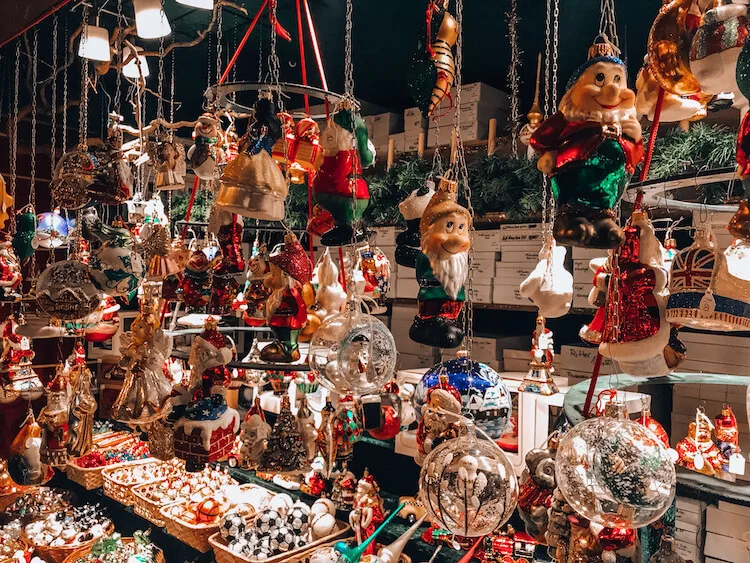 Village of Saint Nicholas Christmas Market 2022 Dates & Times:
November 17-December 23, 2022
Open daily Sunday-Thursday 11 am-9 pm, Friday & Saturday 11 am-10 pm.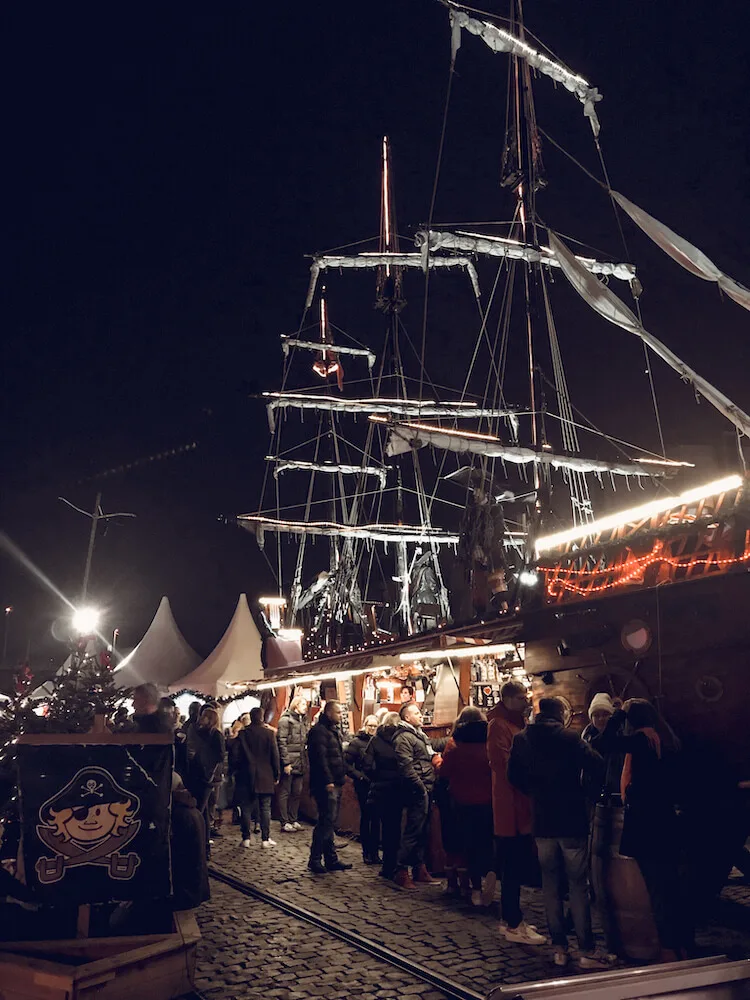 Stop #6 to wrap up the Christmas Markets in Cologne, Germany: Harbor Christmas Market
This may be the most unique looking Christmas market in Cologne. The maritime-themed Christmas market is located on the Rhine next to the Chocolate Museum.
With festive stands decorated with nautical décor and even the giant wooden ship serving mulled wine, it will surely put you in the Christmas mood.
We loved the gluhwein here as well as the hot chocolate. Chris also enjoyed the grilled mushrooms and potato pancakes. And, being a maritime market, I had to try some fried calamari from a seafood stand.
This is a great way to wind down visiting 6 Christmas markets in one day in Cologne.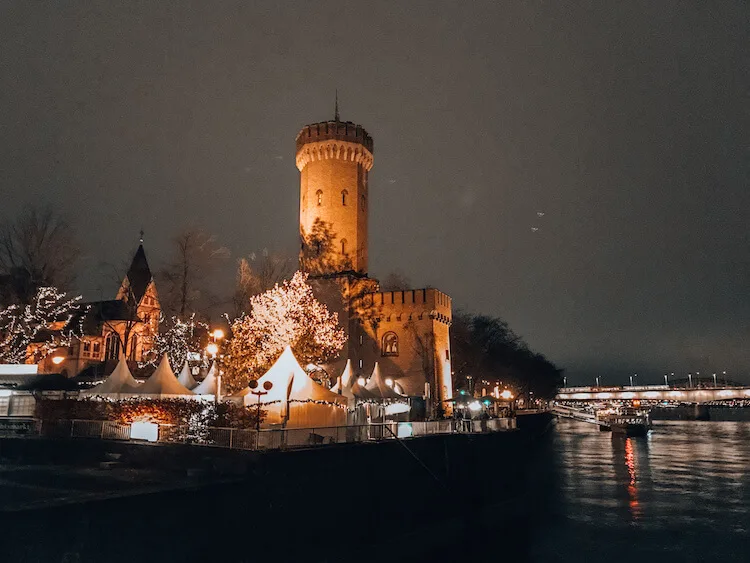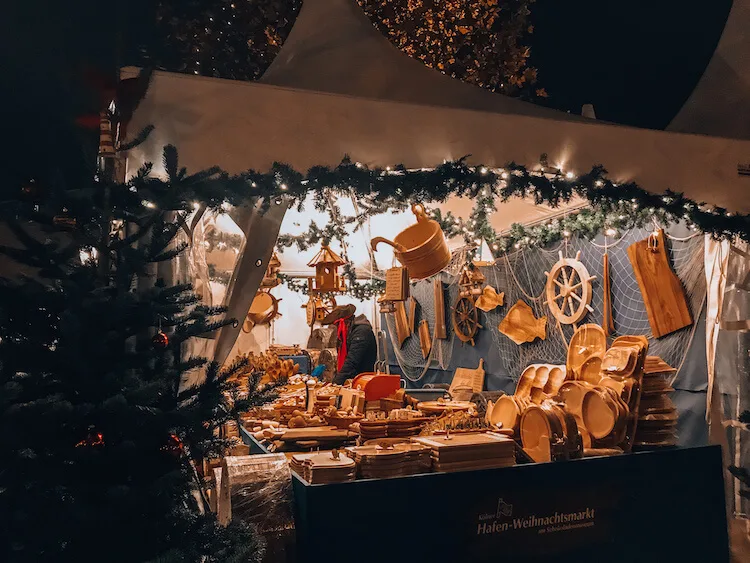 Harbor Christmas Market 2022 Dates & Times:
November 18-December 23, 2022
Open Daily Sunday-Thursday 11 am-9 pm, Friday-Saturday 11 am-10 pm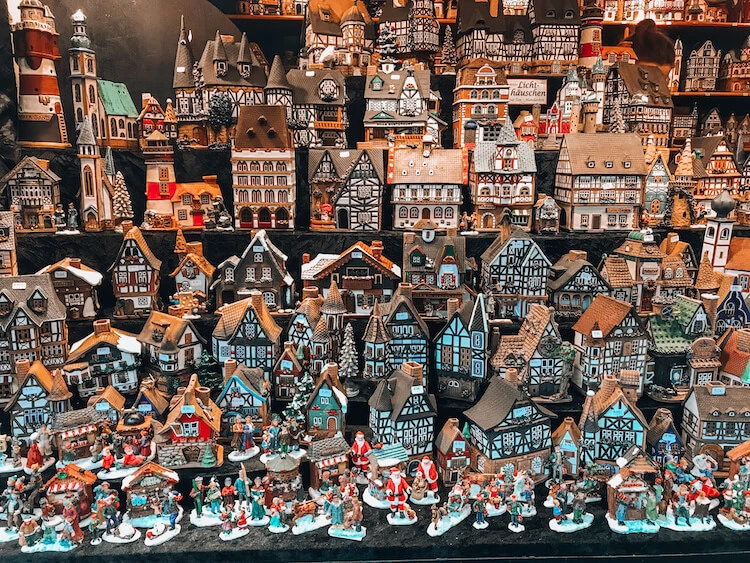 Another Notable Market to Visit in Cologne: Christmas Market in the Stadtgarten
As we wanted to get back to our hotel around 8 pm for our early flight to Budapest the following day, we didn't get around to the last big Christmas market in Cologne. However, if you have the time, while it is the furthest away, it isn't too far to walk to from the Saint Nicholas Christmas market on Rudolfplatz.
With stews, tarts, waffles, and raclette, it is a great spot to grab some food, and there are plenty of stands to purchase one of a kind gifts as well.
They also have a stage featuring puppet shows, storytellers, children's theatre, and jazz.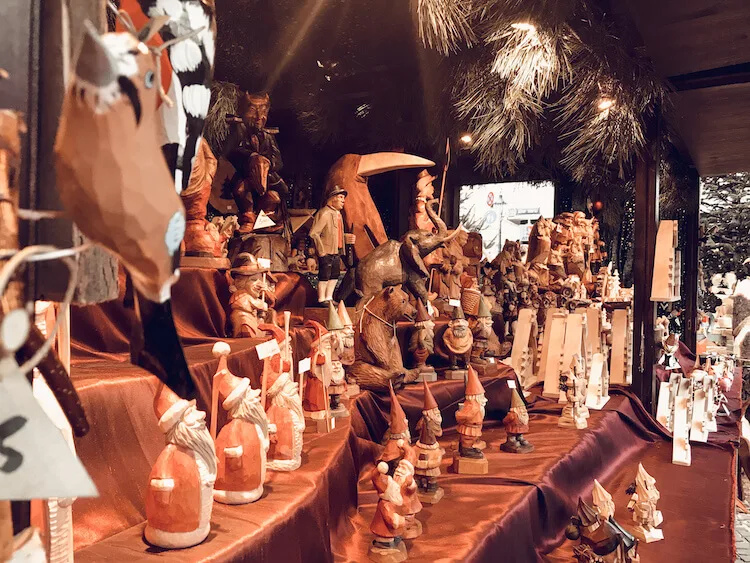 Stadtgarten Christmas Market 2022 Dates & Times:
November 17-December 23, 2022
Open daily 4 pm-9:30 pm, open from 12:00 pm on Saturday and Sunday
After all of this Christmas crawling in Cologne, if you have extra time, you can loop back around to some favorites, as we did with both the gnome and Dom markets as they were on the way back to our hotel and we wanted to see them lit up at night.
But that concludes a full day of exploring the Christmas markets in Cologne, Germany! And strangely enough, rather than making us have our fill of Christmas markets, it made us more excited to explore the Christmas markets across Europe.
They are a thing of wonder with each and every market having their own personality and charm.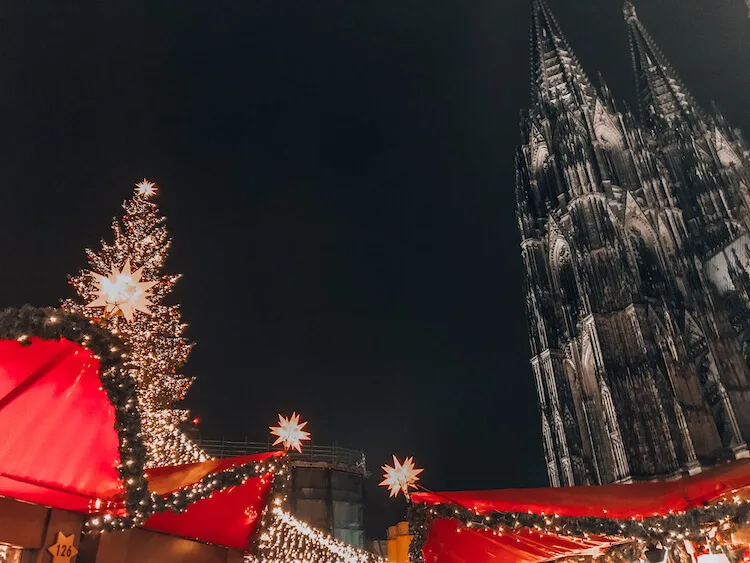 Best Christmas Markets in Cologne, Germany
After having been to almost every Christmas market in Cologne, we hands-down loved the gnome-themed market at Alter Market or Heinzels Wintermaerchen.
We loved all of the great activities for both kids and adults with the ice-skating rink, Ferris wheel, and ice stock curling. They also had a ton of great food stands, including sausages cooking over pits, raclette, multiple candy stands, etc.
The vibe of this market was pure magic and we couldn't get enough.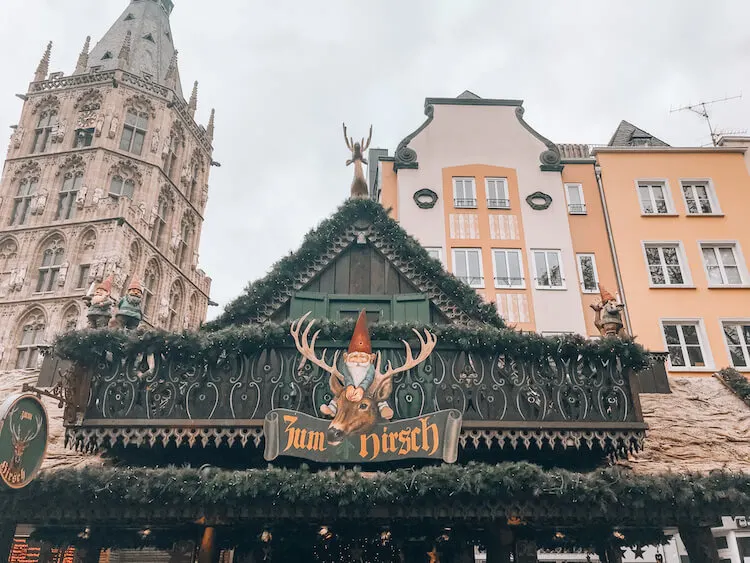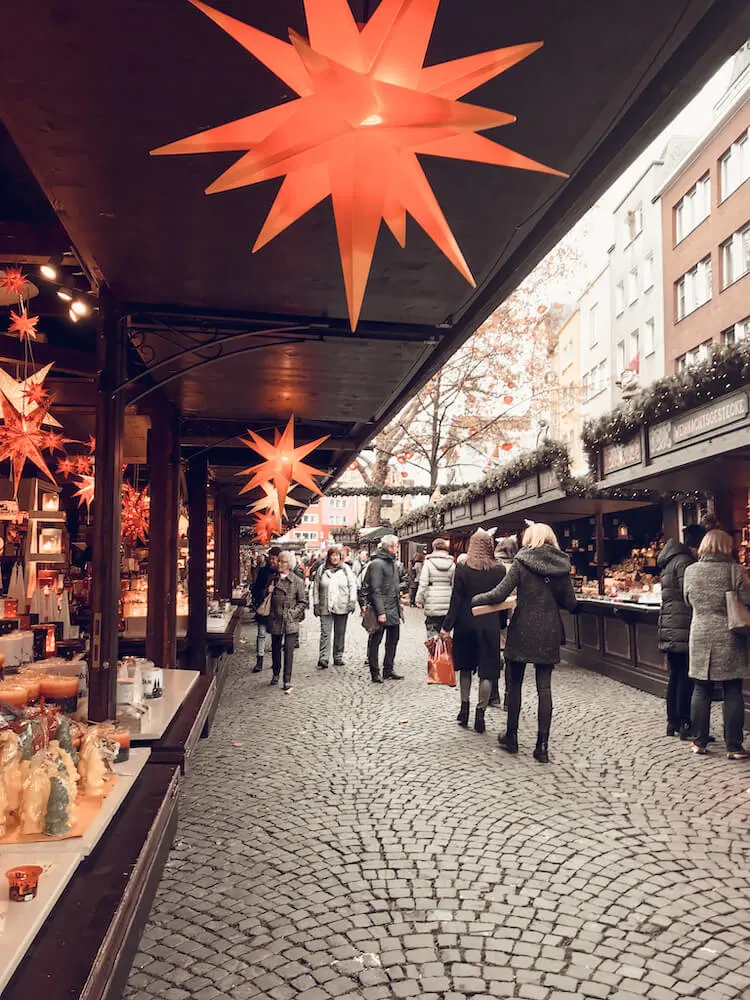 Another fantastic market we recommend if you are short on time is the Village of Saint Nicholas. The medieval gate is charming, especially lit up at night, and the stands were beautiful with a chalet theme. They also had the best mugs and ornament selections.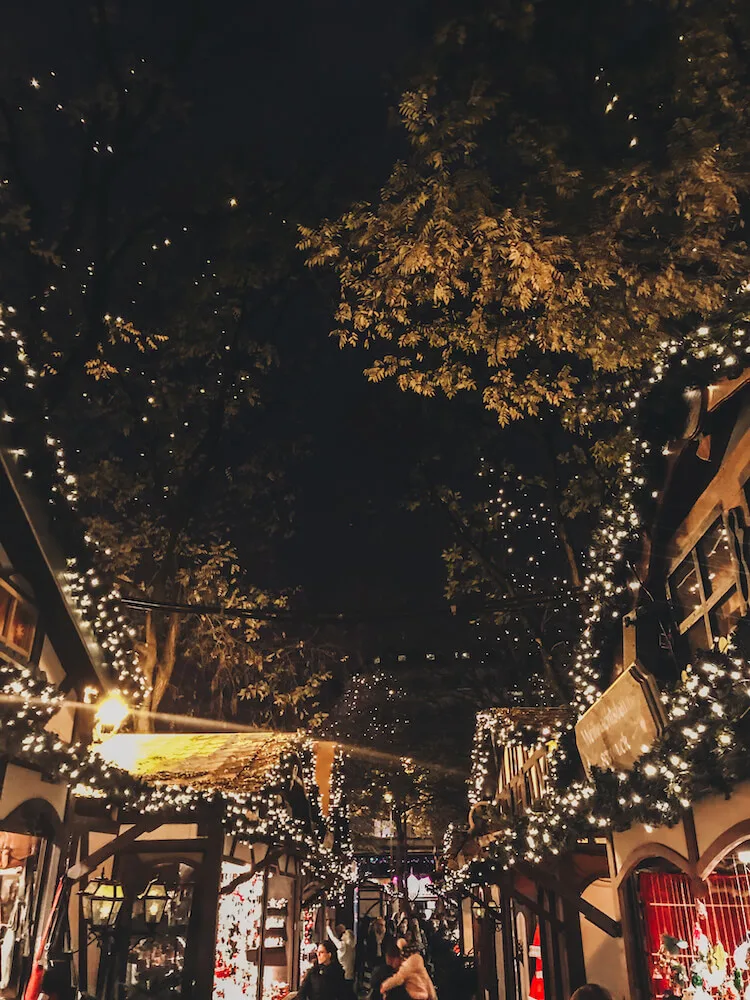 And lastly, you have to stop by the Cathedral Christmas market at least once during your stay! It is stunning with the Dom towering over the market with the massive Christmas tree at the center and lights surrounding it. While this market does tend to get the most crowded, it is well worth it to see the lights, performances, and try some tasty food!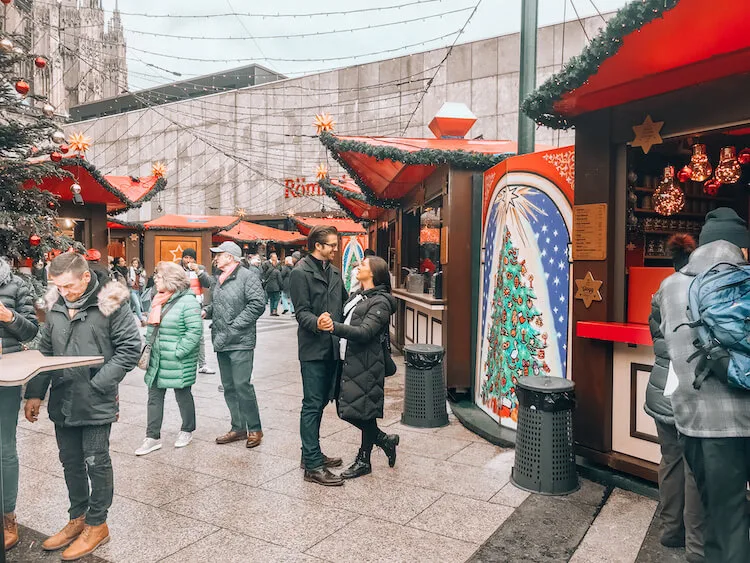 Cologne Christmas Market Food to Try
During our 1 day Cologne Christmas market itinerary, we ONLY ate at the Christmas markets. Why not, when there is such tasty food? So we made a little list of the top things to try at the Christmas markets in Cologne.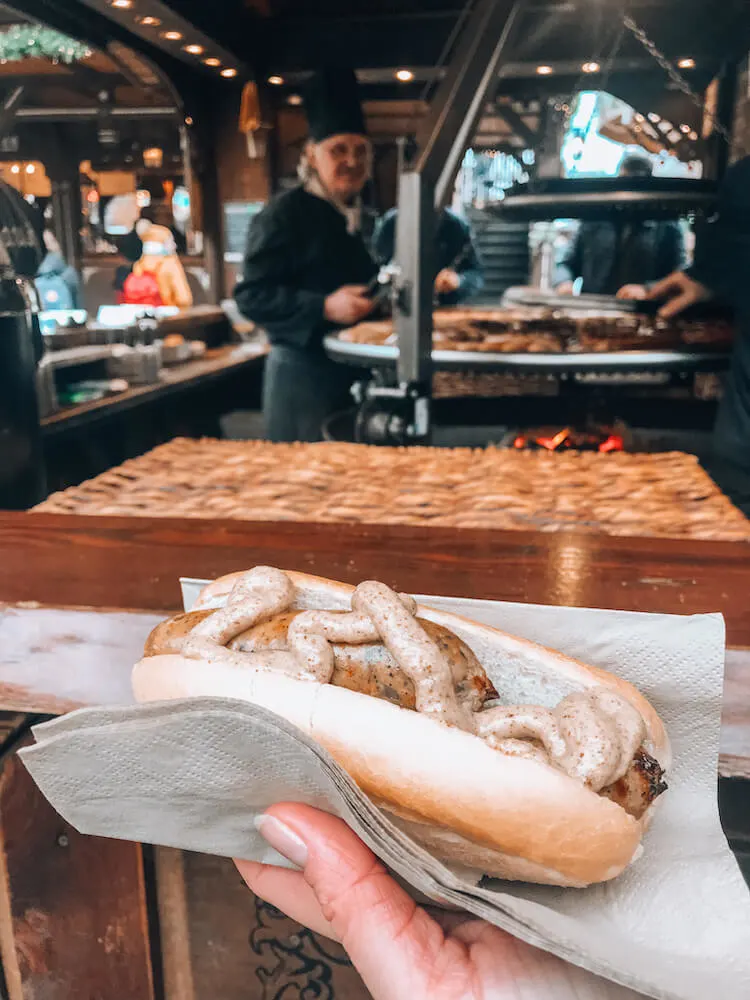 Sausages.
Only get the ones cooked over the fire! The grill itself is dangling from the chalet ceiling, and the sausages are cooked over the open flame to perfection.
They serve these with a baguette and you can put ketchup or mustard on it. These sausages are SO good with the perfect snap and taste. And when in Germany, you've got to have a German sausage, right?
Also, for those eating vegetarian, the gnome market had veggie sausages which were very tasty!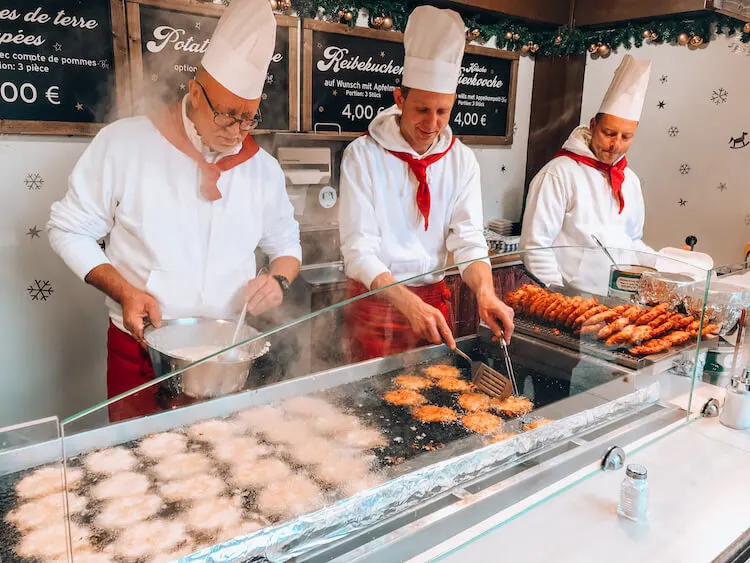 Potato Pancakes.
Potato pancakes are the best. Fried pancakes served with a side of applesauce for dipping, these are easy to share…or eat on your own.
We had these a couple of times during our day here and they are worth the calorie bomb.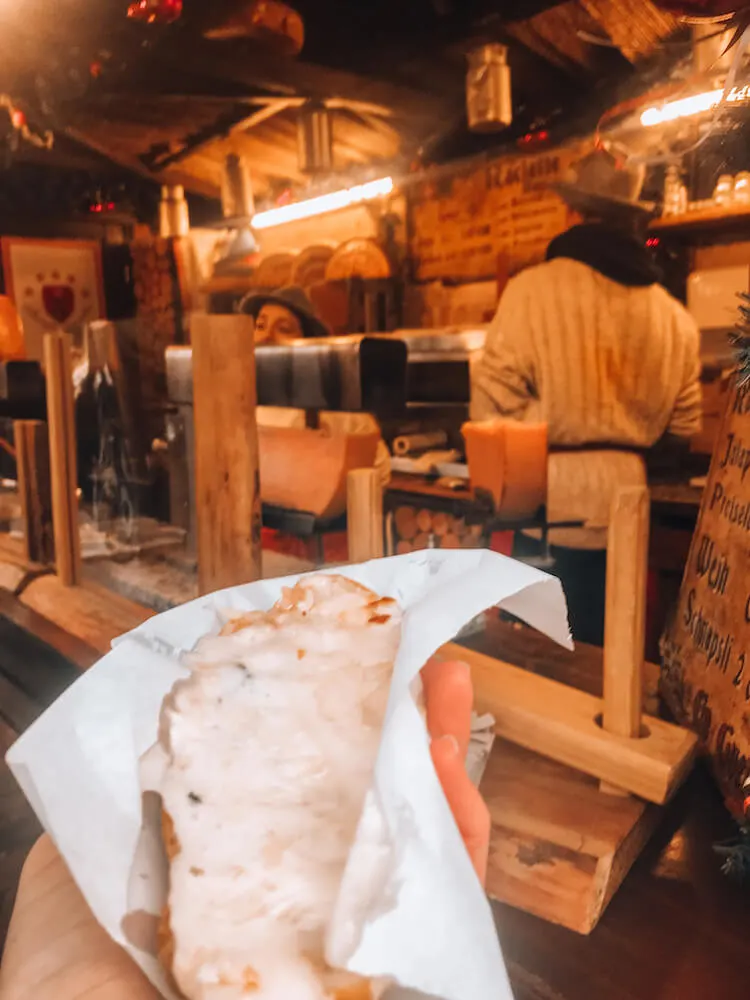 Raclette.
Melty cheese on crusty bread with the option to top with bacon, onions, or garlic is incredible. I fell in love with raclette when I lived in the French Alps during my semester abroad and when I found out it was a popular Christmas market food, I knew I had to have it. It is one of my favorite Christmas market delights!
Flammkuchen.
We found this at the Angel Market and oh my gosh it is perfection. I mean, who doesn't love cheesy flatbread with bacon? That's what I thought.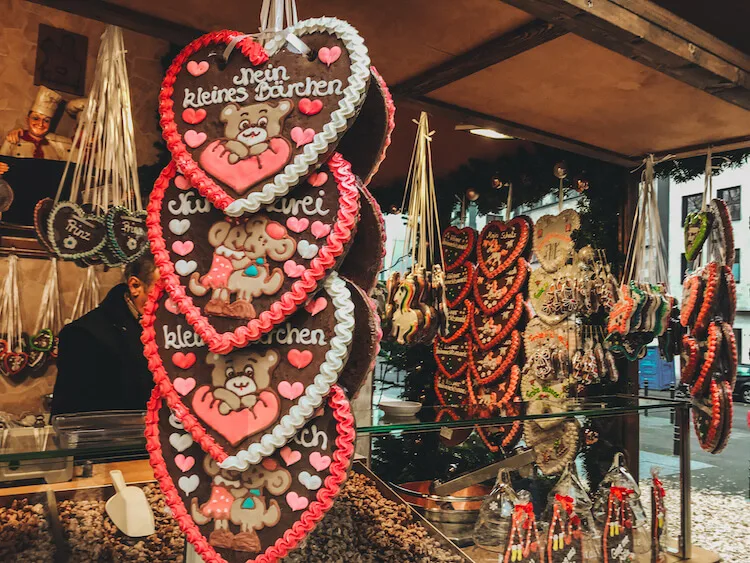 Gingerbread.
While I've heard on many occasions that the giant icing covered cookies aren't that great, I bought a smaller-sized one and it was phenomenal. It was still chewy and the flavor was wonderful! I recommend purchasing a cute gingerbread cookie to split and enjoy at the Adventsdorf Am Kolner Dom market.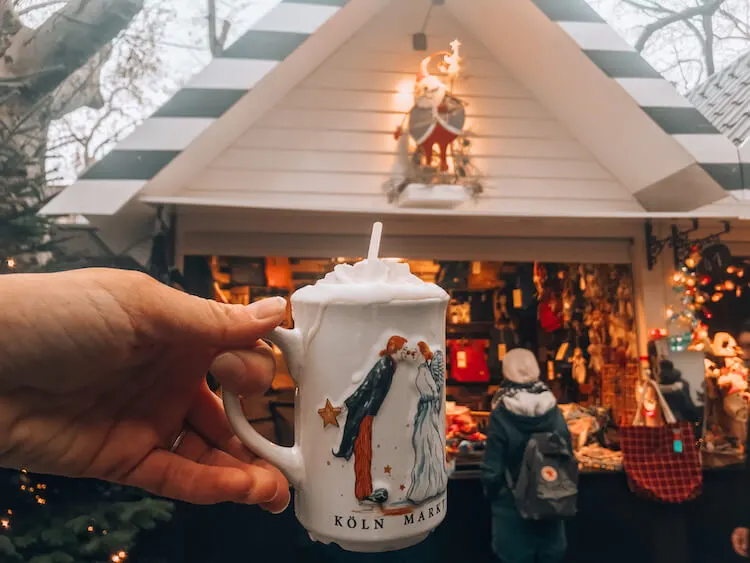 Top Tips For Visiting the Cologne Christmas Markets
When it comes to Christmas in Cologne, Germany, here are some tips for the markets:
If you want to see the Christmas markets in Cologne, Germany, you'll want to come before Christmas.
Sounds counter-intuitive, but if you look at the dates above, almost every market closes a couple of days before Christmas itself. So if you were planning to show up for the holiday, you will be disappointed with the markets being shut down after the 23rd.
The best time to visit is earlier on and during the week.
If you want the least amount of crowds, going in late November/early December, earlier in the day, and during the week is your best bet.
Obviously, dates/times can't always be helped, but it is something to keep in mind. We went on a Tuesday in late November and there weren't many crowds at all except at the Dom at night.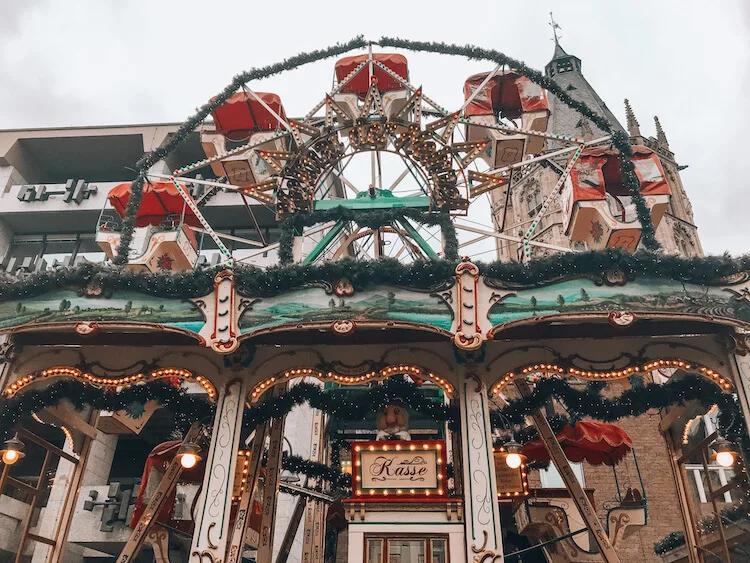 For a quick way around the Christmas markets, take the Cologne Christmas Market Express.
There is a cute little Christmas train you can take to the Cathedral Christmas Market, Alter Market, Harbor Market, and Angel Market. It runs every 15 minutes starting at 10:15 am at the Cathedral Christmas Market until 8:15 pm at the Angel Christmas Market.
The cost is €10 for the full trip that lasts 1 hour or €3 per stop. Children under 10 are €5 for a round trip and €1.50 for a single trip.
Be sure to get travel insurance for your travel needs!
Yes, even for a trip to Europe it is a good idea to have travel insurance. We insured our trip with World Nomads and we love their easy-to-understand policy and great plans including trip delay, medical, etc.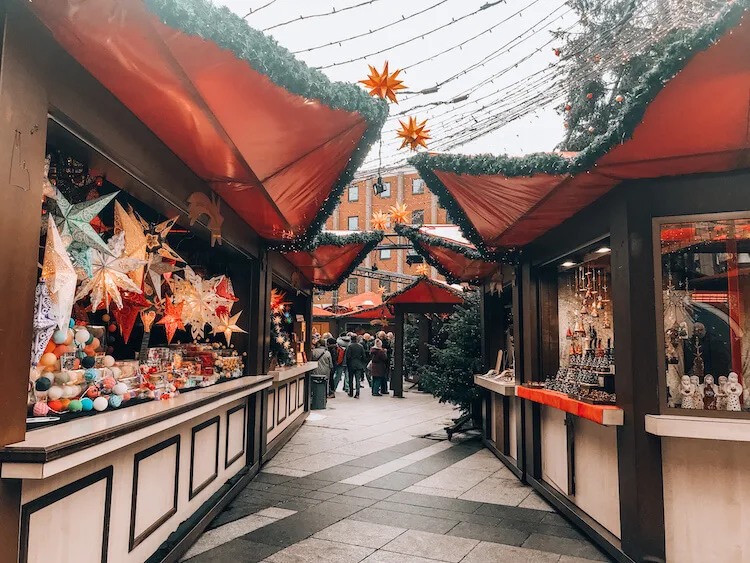 Hotels Near the Christmas Markets in Cologne, Germany
There are plenty of hotels near the Christmas markets in Cologne. There is also an option of renting a VRBO to save extra cash. Check out great VRBO deals in Cologne here!
But for those wishing to stay in a hotel, these are within walking distance to the Christmas markets:
Budget: City Class Hotel Residence am Dom
This comfortably chic hotel is located right next to the Alter Market and only a 4-minute walk to the Cologne Cathedral. You'll be in the perfect spot to explore the Christmas markets, and it usually has great deals for your stay in Cologne.
Read reviews and book on TripAdvisor!
Mid-Range: Hyatt Regency Cologne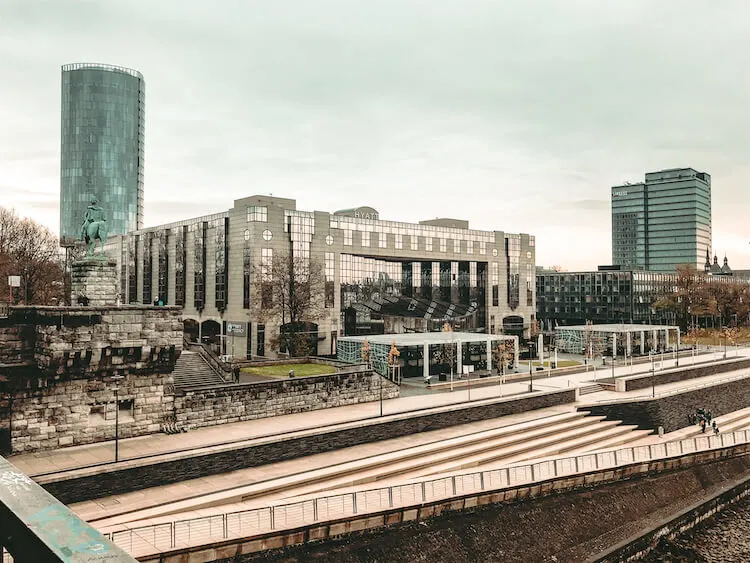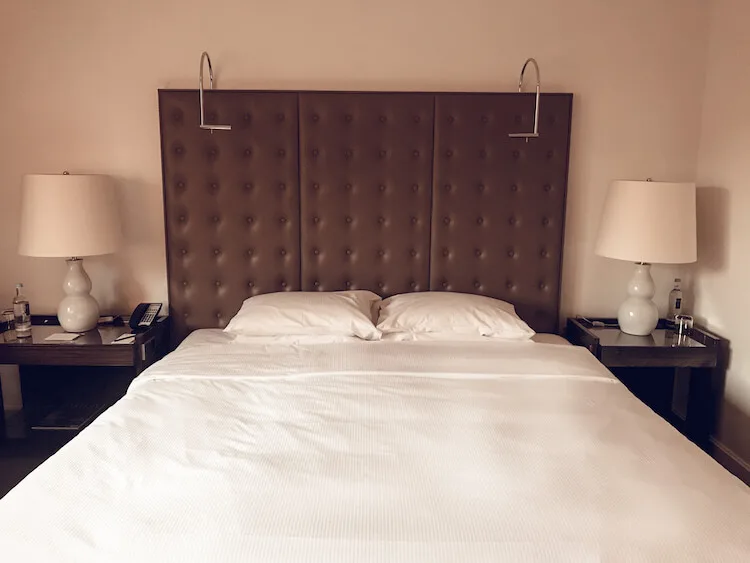 This is where we stayed during our overnight in Cologne, and we wish we had more time! First of all, it is right across the bridge from the Cologne Cathedral and has the most gorgeous views of the Rhine, the iconic Hohenzollern Bridge, and the cathedral itself.
We were a short walk to the Christmas markets from this hotel, which is beautifully decorated and has 4 restaurants and a bar/lounge. For a comfortable stay with friendly and helpful staff, this is the place.
Read reviews and book on TripAdvisor!
Luxury: Excelsior Hotel Ernst
Next to the Cologne Cathedral with stunning views, you'll feel like a king at this hotel. They have beautiful rooms with large beds, marble bathrooms, and even luxury suites. This is the place to enjoy some luxury during your time in Cologne.
You'll also enjoy their afternoon tea and tasty concoctions at the restaurant.
Read reviews and book on TripAdvisor!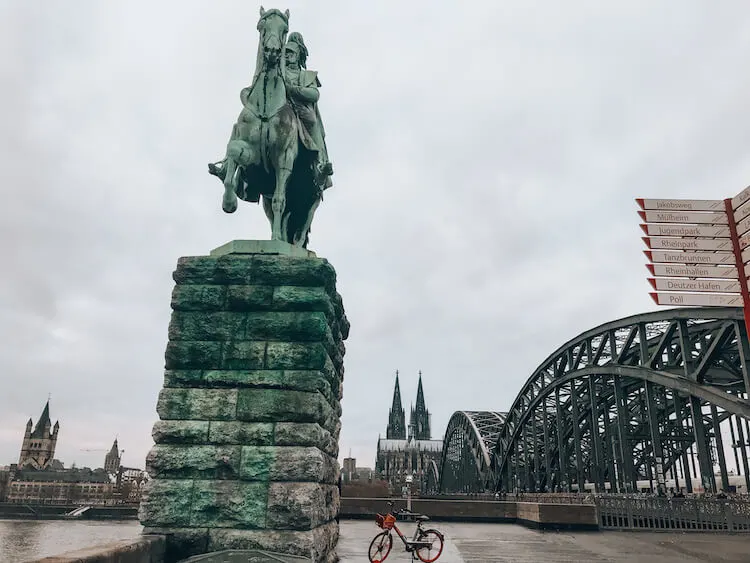 What to Pack For the Cologne Christmas Markets
When it comes to packing for Cologne in winter, we've got you covered! We have a full packing guide for Europe in winter here, but check out some key things to pack below!
First of all, for women, I recommend warm boots with wool socks (like these fantastically cozy ones). Then, I recommend some tights to wear under jeans and the most comfortable sweater I've ever owned. Seriously, I bought two of these and wore them during my time in Europe in winter because they are super warm, adorable, and really soft.
I also recommend taking a heavy coat, like The Northface Parka that I swear by whether I am wondering the best Christmas markets in Europe or walking down the street on a chilly Cleveland winter day. Also, a pair of gloves (I just used my Nike running gloves), some earmuffs (like these that I put behind my ears), and a scarf are great things to have on chillier days.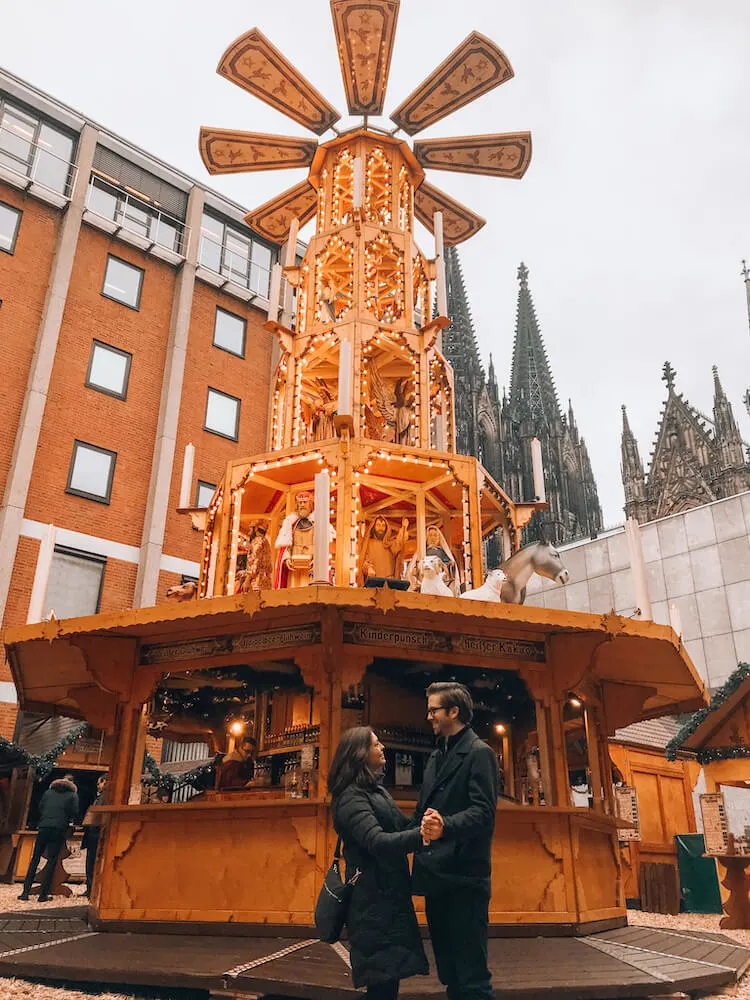 For men, Chris wore his thick, wool hiking socks under his waterproof boots, jeans, really comfortable sweaters that are perfect for layering, and his wool peacoat.
He also had a scarf, gloves, and earmuffs to keep him cozy when the sun went down!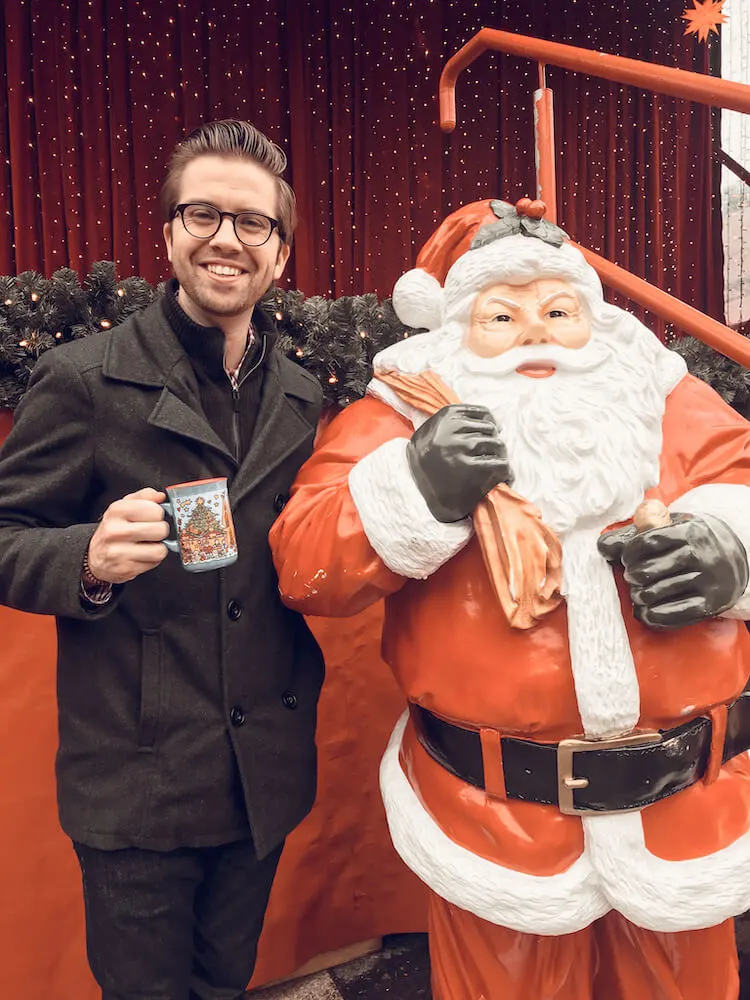 I also recommend packing a small umbrella, as the weather can be unpredictable this time of year. It rained a little during our day in Cologne and having an umbrella was nice so that we could stay dry.
For carrying my things and not worrying about getting pickpocketed, I love my anti-theft purse and have carried it for years. It has a slash-resistant bag and strap, RFID-blocking credit card holders, and clips for the zippers.
And for creating memories that last, we love using the Olympus OM-D E-M5 Mark III mirrorless digital camera.
We had a wonderful day exploring the best Christmas markets in Cologne, Germany and we hope that this handy guide will help you see these markets in just a short amount of time too!
Would you like to visit the German Christmas markets in Cologne? Let us know in the comments!
Want more winter fun? Check out these articles:
Pin it here!