Some posts on this site contain affiliate links, meaning if you book or buy something through one of these links, I may earn a small commission (at no additional cost to you!). Read the full disclosure policy here.
---
Searching for the perfect 1 day in Antwerp? We've got you covered!
Belgium is a fantastic country to visit during your time traveling in Europe. From tasting the best Belgian beer to enjoying waffles and charming canals in Bruges, there is a lot to experience in this small country. But if you're going all the way to Belgium, you need to spend at least one day in Antwerp. There are so many things to do in Antwerp in a day that it'll make you absolutely fall in love with this city.
Chris and I had the pleasure of visiting Antwerp back in November of 2019 to see friends of ours who are locals. So when it comes to finding the best things to see in Antwerp, we've got you covered!
Check out our podcast episode all about spending 1 day in Antwerp!
Map of Antwerp Things to do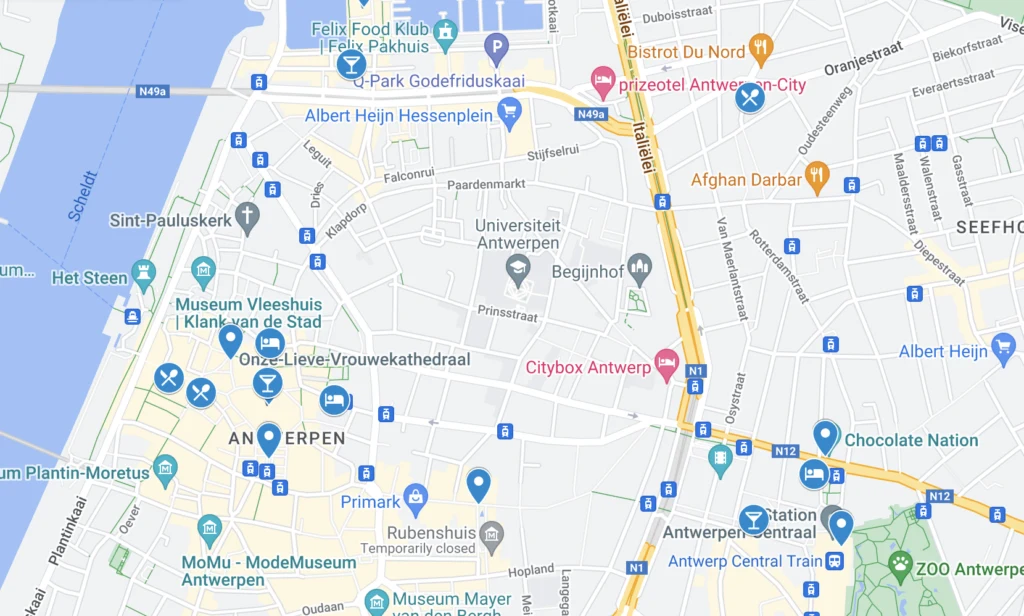 One Day in Antwerp: Top Things to do in Antwerp, Belgium in a Day
To begin our Antwerp guide, let's talk about all of the incredible attractions in Antwerp! So whether you'd like to take your time and have more than a day in Antwerp or you only have one day, here are the Antwerp attractions you must see.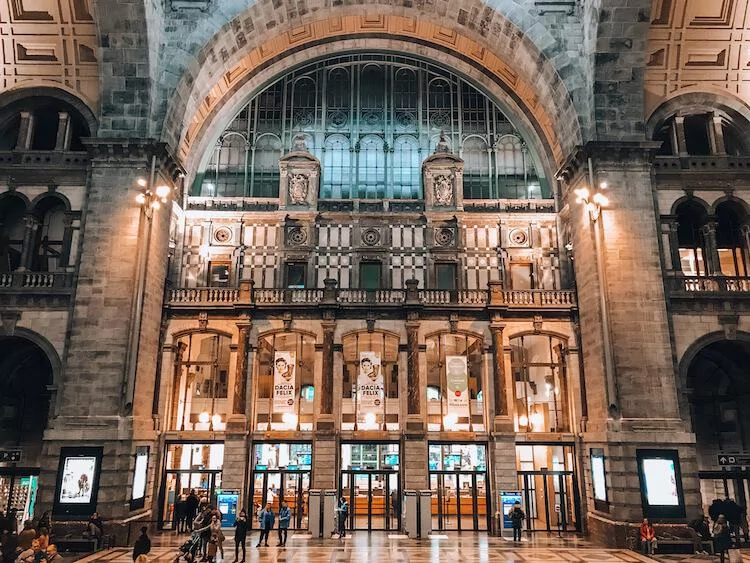 Antwerp Central Station
If you end up taking the train to Antwerp, then you'll likely already cross this off your list. But when you arrive in Antwerp, don't just head straight out the doors! Take a look around this stunning train station. With beautiful architecture, a domed ceiling in the entrance, and more, it feels almost like walking into a real-life Gringotts bank!
Hours: 24/7.
Price: Free to go inside.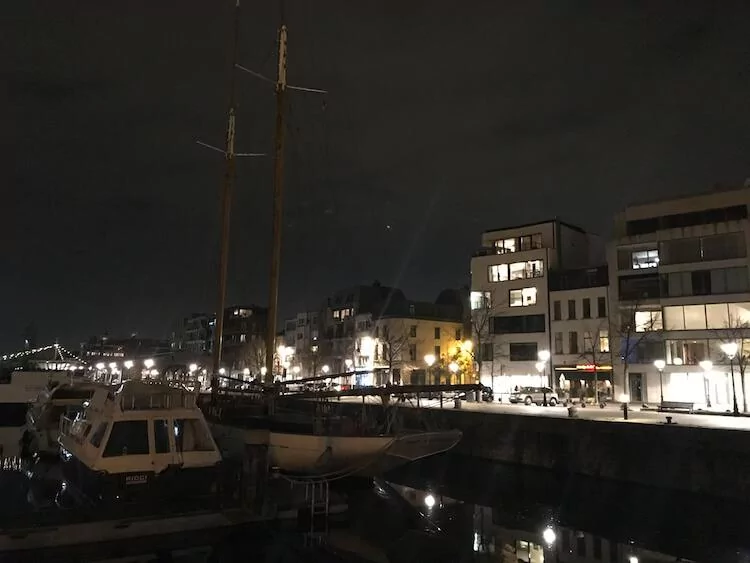 1 Day in Antwerp Must-See: Antwerp Harbor
No, we're not talking about the shipping port… that is definitely not that scenic (but fun fact: they have the 14th largest port in the world and 2nd in Europe)!
But the Antwerp Harbor itself is really pretty. Lined with adorable buildings, lovely boats, and great bars, this is the perfect spot to sit and relax while watching the sunset or grab a beer during your one day in Antwerp.
Hours: 24/7.
Price: Free.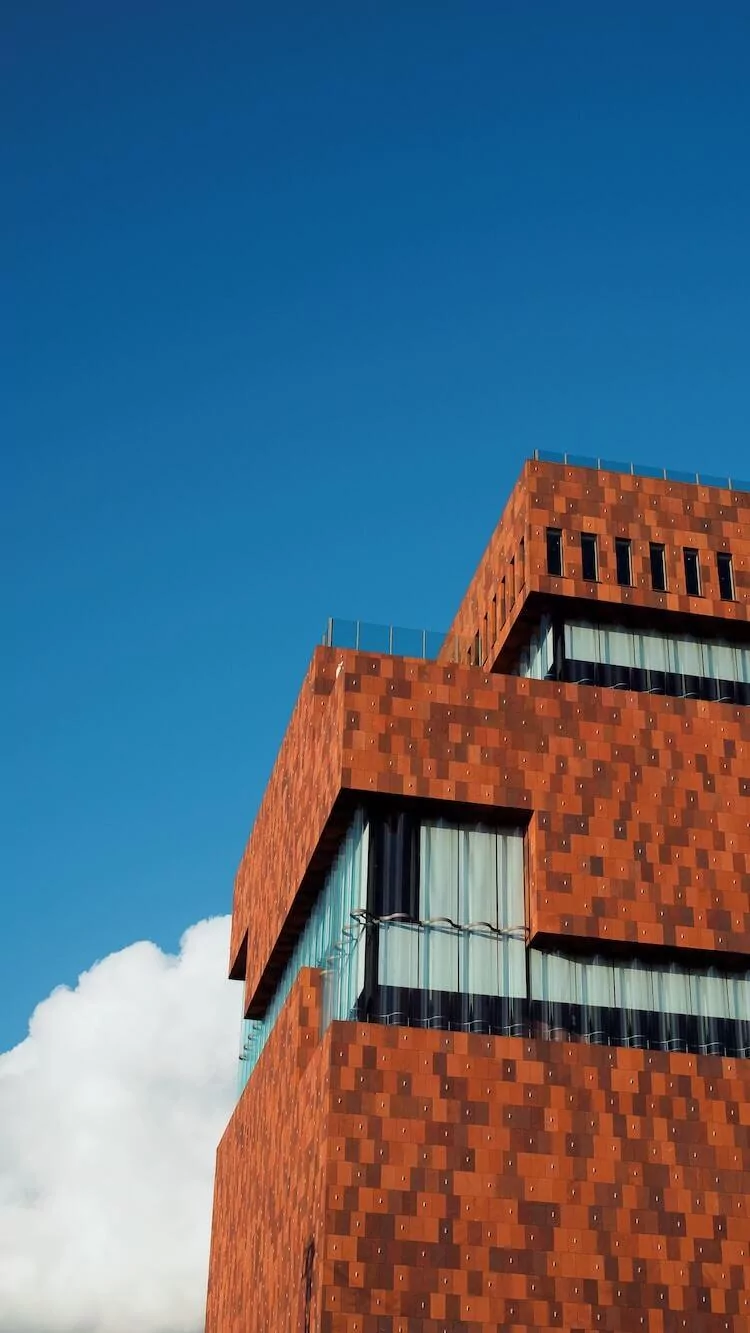 A fantastic history museum, it discusses the history of Antwerp along with art from around the world. The best part is the top floor, where you can see a panoramic view of the city and harbor below!
Hours: Tuesday-Sunday 10 am-5 pm. Closed on Monday.
Price: €10 for the permanent exhibit, €12 for permanent and temporary exhibits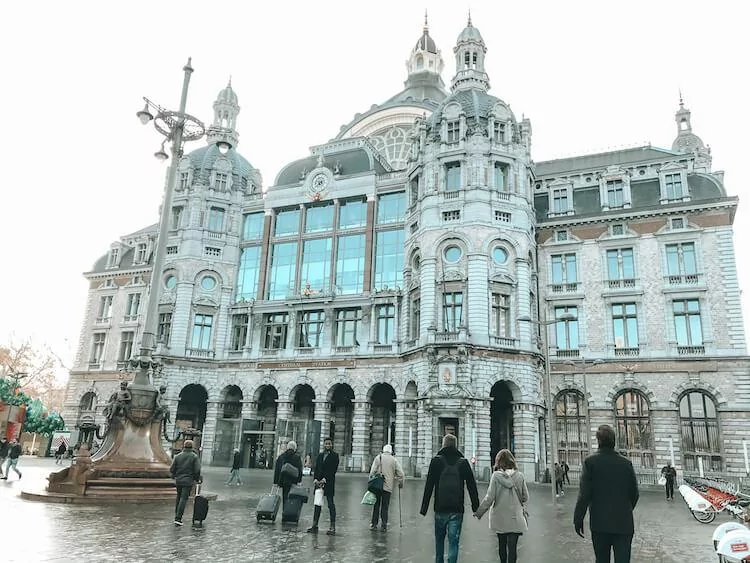 Old Town of Antwerp
If you are searching for the beautiful Dutch architecture of this area of Europe, then this is where to find it. With lovely facades on buildings, fry stands, and cute sculptures, this charming part of the city is a must-see while exploring Antwerp.
Hours: 24/7.
Price: Free.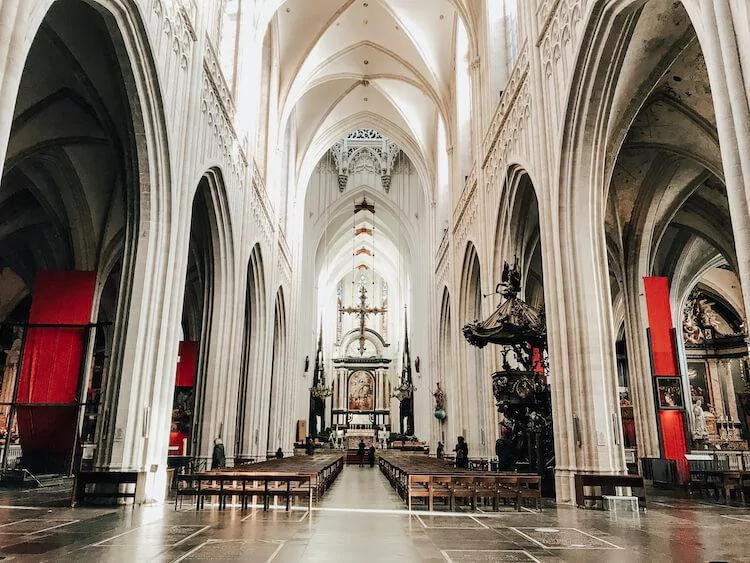 Our Lady of Antwerp Cathedral
While you're checking out the old city, this cathedral is very pretty too. Construction began on this church in 1352 and was completed in 1521. It also has 4 pieces of art from Flemish artist Peter Paul Rubens from the 17th century. If you love baroque art and gothic cathedrals, this is a must-see church in Europe.
Hours: Monday-Friday 10 am-5 pm. Saturday 10 am-3 pm. Sunday 1-5 pm.
Price: €12
Grote Markt
The Grote Markt, or town center, is lined with cafes, bars, and restaurants. It hosts the main Christmas market during the month of December, but throughout the year, it is a scenic spot. Aside from the Antwerp City Hall, check out the Brabo Fountain in the center.
Antwerp is actually steeped in legend, as the fountain displays. They say that a giant (Antigoon) would terrorize the citizens of the city who tried to cross the Scheldt River. If they didn't pay his toll, he would cut off one of their hands and throw it into the river. Then, the hero Brabo came, slew the giant, and cut off his hand and threw it into the river. Antwerp in Dutch is actually Antwerpen, or "hand werpen" meaning "to throw." So the name itself means throwing of the hand.
Hours: 24/7.
Price: Free.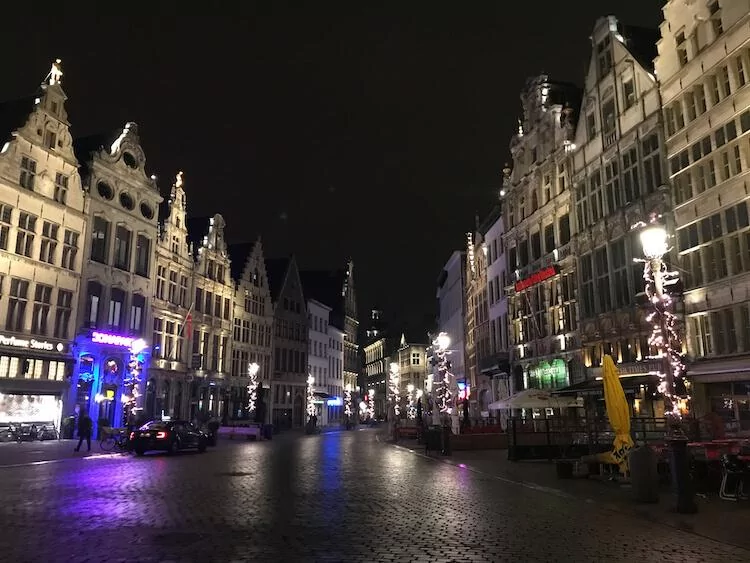 Meir
If you are wandering in the city of Antwerp and love shopping, this is the place to go. Filled with shops, and a great walking street in general, you'll love window-shopping (or actually purchasing) things here. Antwerp itself is actually a great fashion capital, so find the latest fashions here.
Hours: Vary by store.
Price: Free (if window-shopping)
Best 1 Day in Antwerp Attraction: Chocolate Nation
If there is one thing you have to do during your one day in Antwerp, come to Chocolate Nation. This super-interactive museum goes over the origins of chocolate production in Belgium, why Belgium started creating their famous pralines, and you'll get tons of free samples during the introduction and praline demonstration.
But the best part of all has to be the "chocolate on tap" at the end. They give you a spoon and send you to a room with 12 taps of various kinds of chocolate ranging from dark to milk to white and even their latest chocolate creation: ruby chocolate.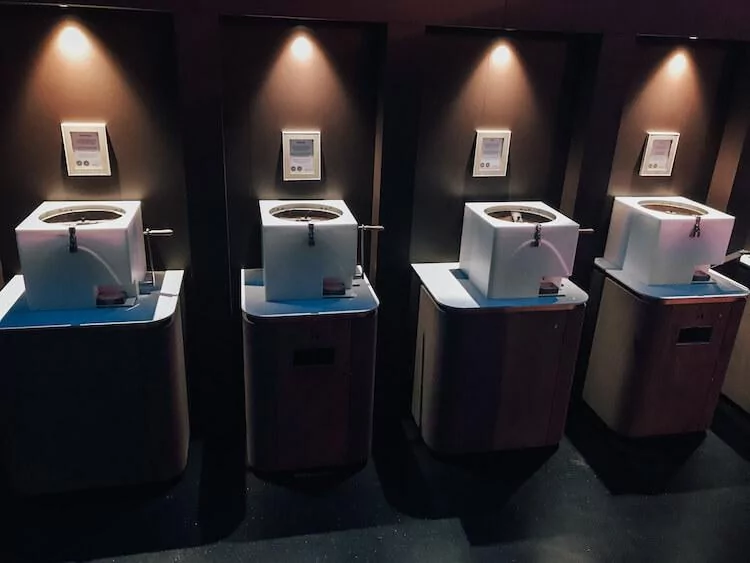 And it is unlimited! Run…don't walk! I've never been chocolate drunk until then and it was amazing. If you want to learn more about chocolate and taste a ton of it, this is the place!
Hours: Daily from 10:15 am-6:30 pm (last tour at 5:00 pm).
Price: €19.90 for adults, €18.50 for 12-17-year-olds, students, and groups of 15 or more. €14.50 for children.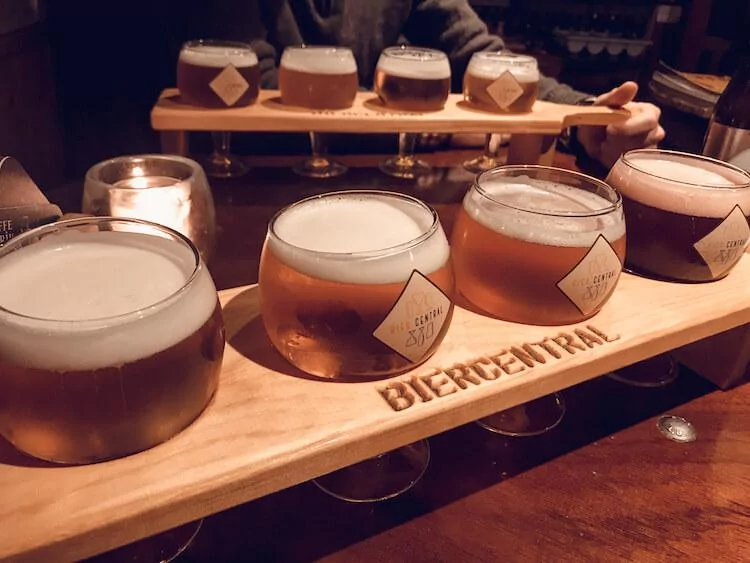 Check Out the Best Bars in Antwerp
After all of that exploring, it is time to try some of the most amazing Belgian beer! We wrote an entire guide on drinking beer in Belgium, but when it comes to this city, here are some of the best bars in Antwerp:
Dr. Beer: This adorable place near the harbor has fantastic craft brews. Plus, it is a very cozy, local spot. We loved the Amer-Amer IPA and Dulle Griet Dubbel.

Hours: Wednesday & Thursday 4 pm-12 am. Friday & Saturday 1 pm-1 am. Sunday 1-11 pm. Closed on Mondays and Tuesdays.

Bier Central: Not only does this beer bar in Antwerp have 300+ beers on the menu, but they also have old beer barrels you can sit and drink beer in! It is a fun place near the central station to grab a flight of beer to test. I loved my flight of Delirium Red, La Chouffe, Triple d'Anvers, and Cuvee de Trolls.

Hours: Sunday-Thursday 11:30 am-12 am. Friday-Saturday 11:30 am-1 am.

Elfde Gebod: This name means "11th Commandment" and is right next to Our Lady of Antwerp Cathedral. The bar itself serves plenty of great Belgian beer, but the décor makes it quirky and fun. This place has pews, statues of saints, and so much more, making you feel like you're drinking beer at church.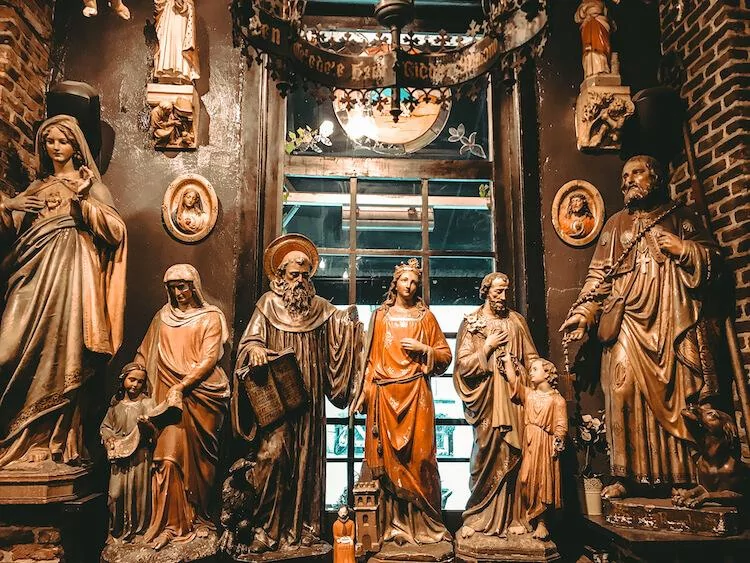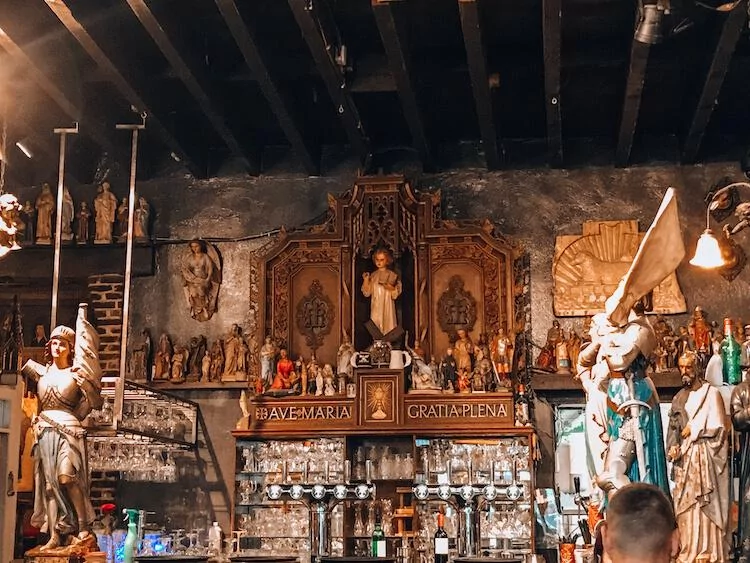 Brouwerij De Koninck. The brewery De Koninck Antwerp is one of the great breweries in Antwerp to go on a brewery tour or just sip some of their famous Bolleke De Koninck beer!

Hours: Sunday and Tuesday-Thursday 11 am-7 pm. Friday 11 am-10 pm. Saturday 11 am-6 pm. Closed on Monday.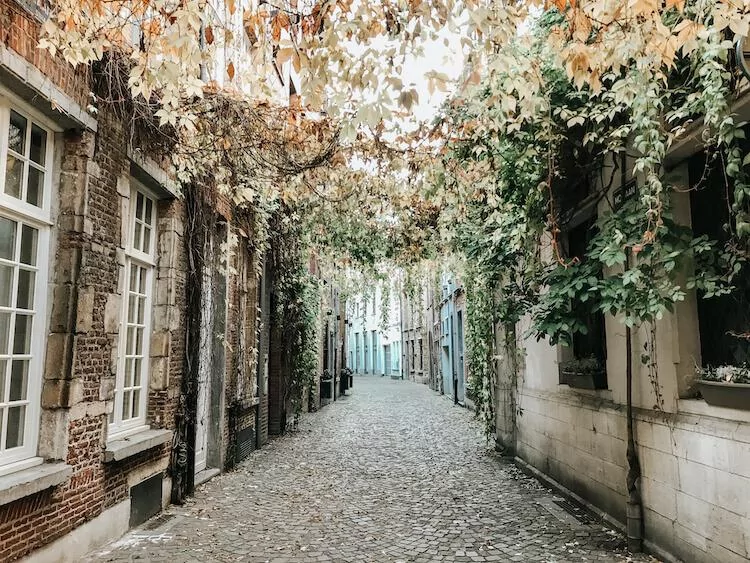 If You Have More Than One Day in Antwerp
If you are lucky and have more than a day in Antwerp, I suggest checking out the Antwerp Zoo, which is located next to the Central Station or the Antwerp Botanical Garden! Both are really pretty!
And if you're into museums, check out the Rubens House (where the famous painter lived with his family and produced many works of art!), or the Plantin-Moretus Museum, the former home and workplace of the Plantin-Moretus family!
You could also take some trips from Antwerp as we did to Bruges for a day, or visit Brussels in a day during your time in Belgium!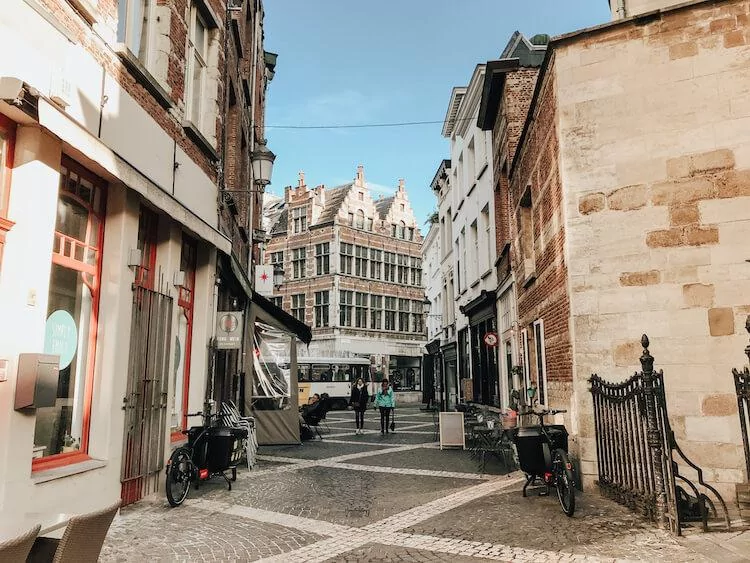 Best Restaurants For Your 1 Day in Antwerp
When it comes to good restaurants in Antwerp, we've got some gems that you'll love!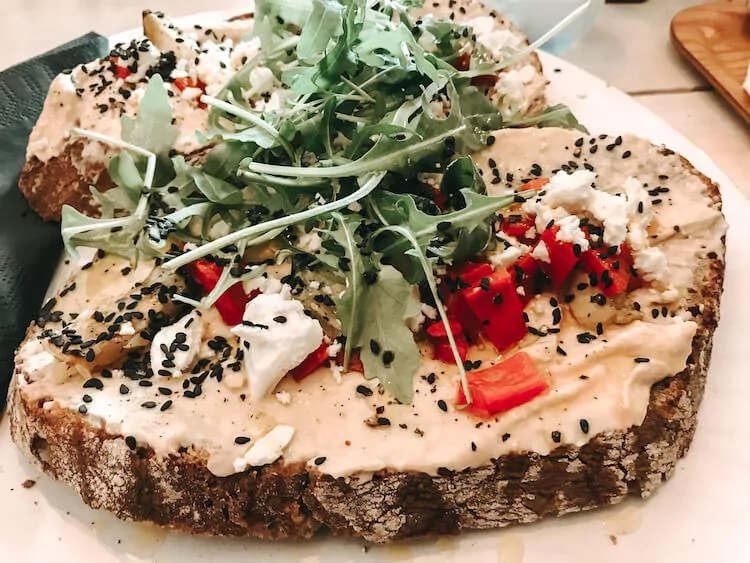 Crumbles & Beans
This adorable café in Antwerp makes a great cup of coffee, but it is also the perfect brunch spot to start your morning before exploring. I loved the Mediterranean toast with hummus, grilled veggies, feta, and olive oil, and Chris enjoyed the avocado toast with grilled veggies, arugula, bean sprouts, and olive oil!
Hours: Monday, Tuesday, Thursday, and Sunday 9:30 am-3 pm. Closed on Fridays, Saturdays, and Wednesdays.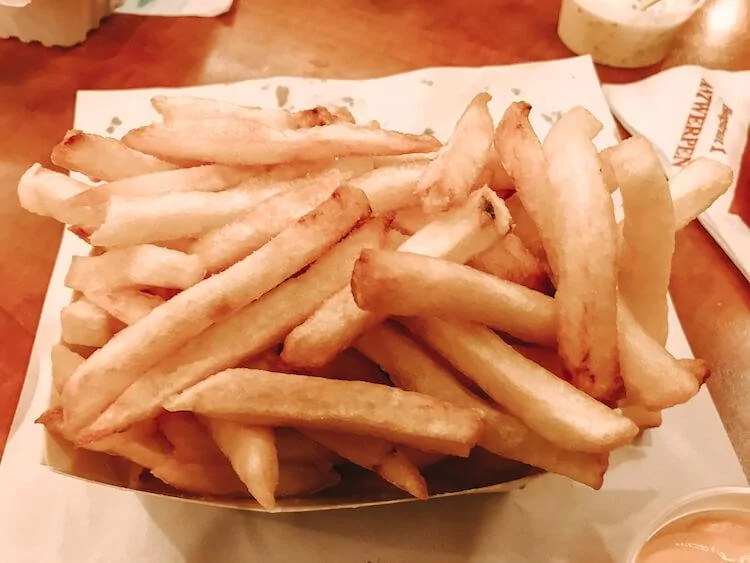 Frituur No. 1
I mean…if you're in Belgium, getting fries is an absolute must. This place is in the old city and is a great spot to grab fries with sauce or a number of other fried meats and things during a day of exploring! We loved the curry sauce with our fries.
Hours: Sunday-Thursday 10 am-3 am. Friday-Saturday 10 am-6 am.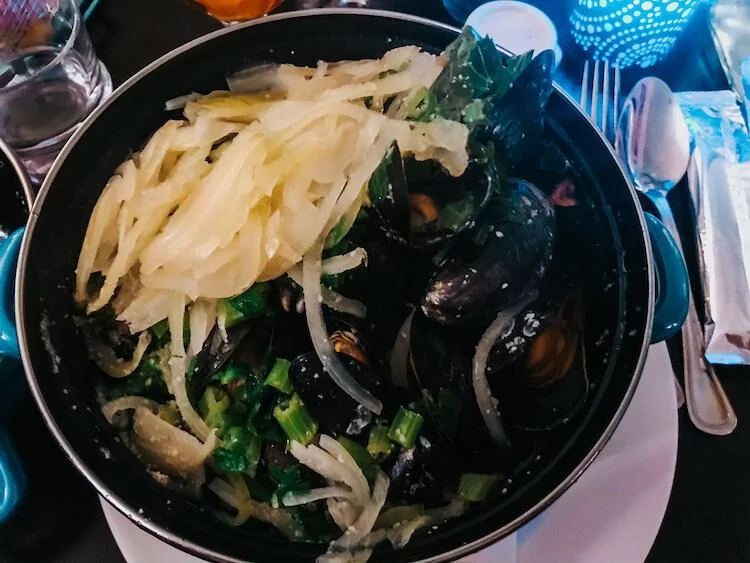 De Bomma
If you ever wondered what Belgian grandmothers serve their families, this is the place to go. Expect hearty Belgian comfort food like Grandma's rabbit stew, mussels and frites, and deep-fried croquettes. Wash it down with one of their delicious beers, and you'll feel cozy and full.
Hours: Wednesday, Thursday, and Sunday 12-9:30 pm. Friday-Saturday 12-10 pm. Closed on Monday and Tuesday.
Other Important Things to Know Before Your One Day in Antwerp
Before you go, here are some top tips including where to stay, how to get there, getting around, and more!
Getting There for Your 24 Hours in Antwerp
Let's chat about how to get there. Antwerp itself doesn't have a larger airport, so the easiest way to get to Antwerp is by train. You can book a flight to Brussels and take a 30-40 minute train ride to Antwerp from there.
For cheap flight deals throughout Europe to Brussels or the US to Brussels, we love checking Skyscanner. You can set alerts to book when prices drop and they combine various airlines to make sure you get the best deal. Also, we booked our train to Antwerp from Brussels on The Trainline.
Of course, there is also the option of renting a car and driving from Brussels or elsewhere in Europe. We like checking Skyscanner for good deals in Europe. The drive from Brussels to Antwerp is a little over an hour.
Lastly, you could also visit as part of a day tour from Brussels. If you're really short on time a day trip to Antwerp is a good option, but I recommend staying in Antwerp itself and exploring its hidden gems!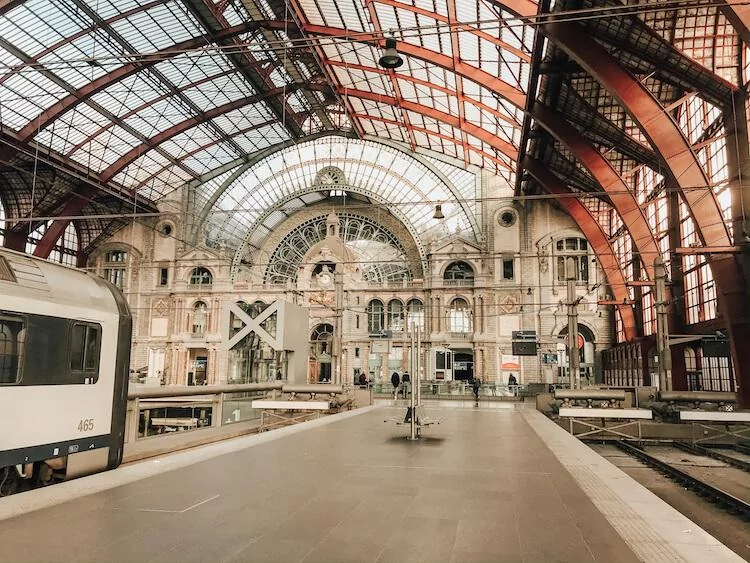 Getting Around During Your 1 Day in Antwerp
While on holiday in Antwerp, you can take an Uber or taxi to get around. But the easiest way to get around Antwerp, other than by walking around the main parts, is by bicycle.
We know a lot of countries in Europe have embraced and encouraged people to use bicycles, and in Antwerp, it is a way of life. Our friends we stayed with even bike regularly to work or into the downtown area from their suburb.
The best part is biking is SO cheap here too! Velo Antwerpen is the citywide bike rental where you can pick up a bike in one location and drop it off at many other spots across town.
The prices are great too! For €5, you can have access for a day and this includes the first 30 minutes of each bike rental. And, as the bikes are all within 30 minutes of each other, it's unlikely that you'll spend more than the €5 for the whole day on a bike. For a week, you can expect to pay €12, and for a year it is only €58!
We loved riding these bikes across town and it was easy to get around with bike lanes, bridges, and more!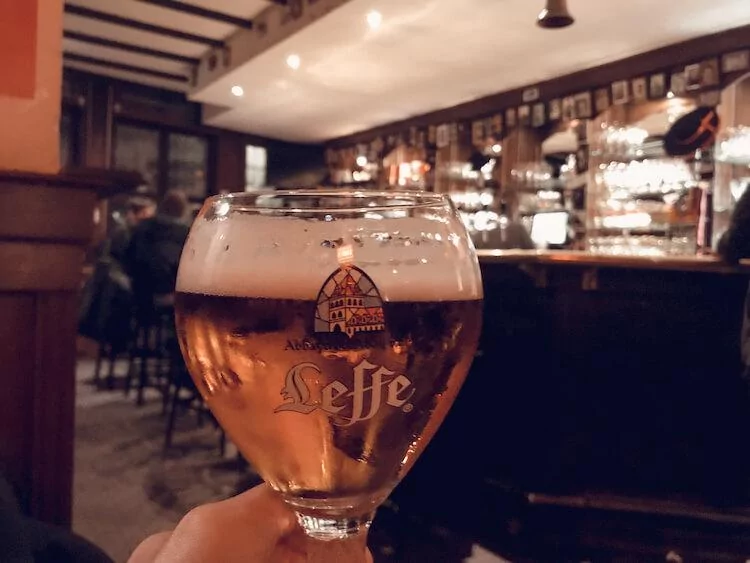 Best Hotels in Antwerp
If you are spending one day in Antwerp and need a place to stay, here are some great hotels!
Budget: Hotel Indigo Antwerp City Center
With only 82 rooms, you'll feel the personal touch this hotel has including their great restaurant, Queen A's Kitchen, modern and colorful rooms, and more! It is also super close to Central Station making it great for day trips.
Read reviews on TripAdvisor and book here!
Located in the old part of the city, you'll be a stone's throw from the major attractions in Antwerp as well as great bars and restaurants. You'll also love the stunning and spacious rooms that'll keep you comfortable during your stay.
Read reviews on TripAdvisor and book here!
Built in two 16th century properties, this beautifully designed hotel draws on its historical charm as well as modern furnishings and amenities. This place is tucked away but a short walk to the main shopping areas and historical parts of the city.
Read reviews on TripAdvisor and book here!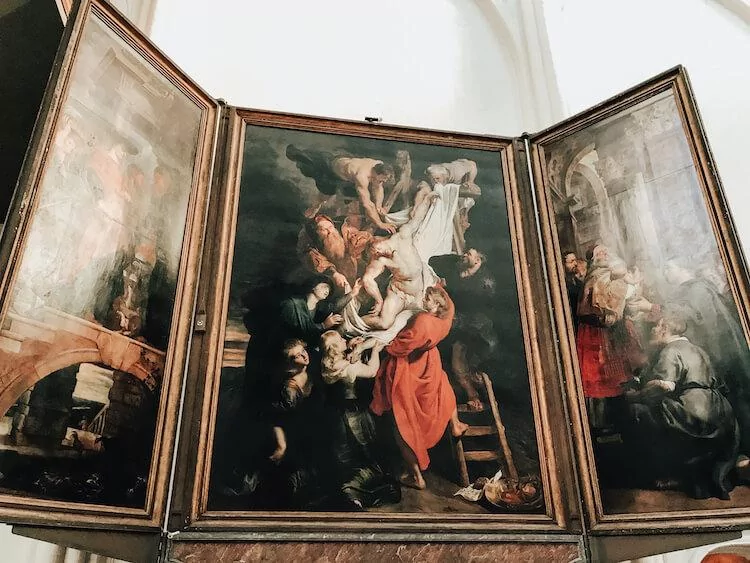 Best Time to Spend 1 Day in Antwerp
There really isn't a bad time to visit Antwerp. While I recommend avoiding many large cities in Europe during the July/August timeframe, Antwerp isn't a super touristy city, meaning you won't find a ton of crowds here throughout the year. So whether you come in the winter or summer, you'll love exploring this place.
I do recommend visiting in the summer between May-July for the best temperatures and weather, and in December for the Christmas markets! Just a heads up, while many Christmas markets open in November or December around Europe and in Belgium, Antwerp's does not open until around December 8. So if you are planning to visit around the holidays, plan to come to Antwerp when the markets are open.
As far as weather, winter can be quite chilly, but spring through fall has more pleasant temperatures and some rainfall.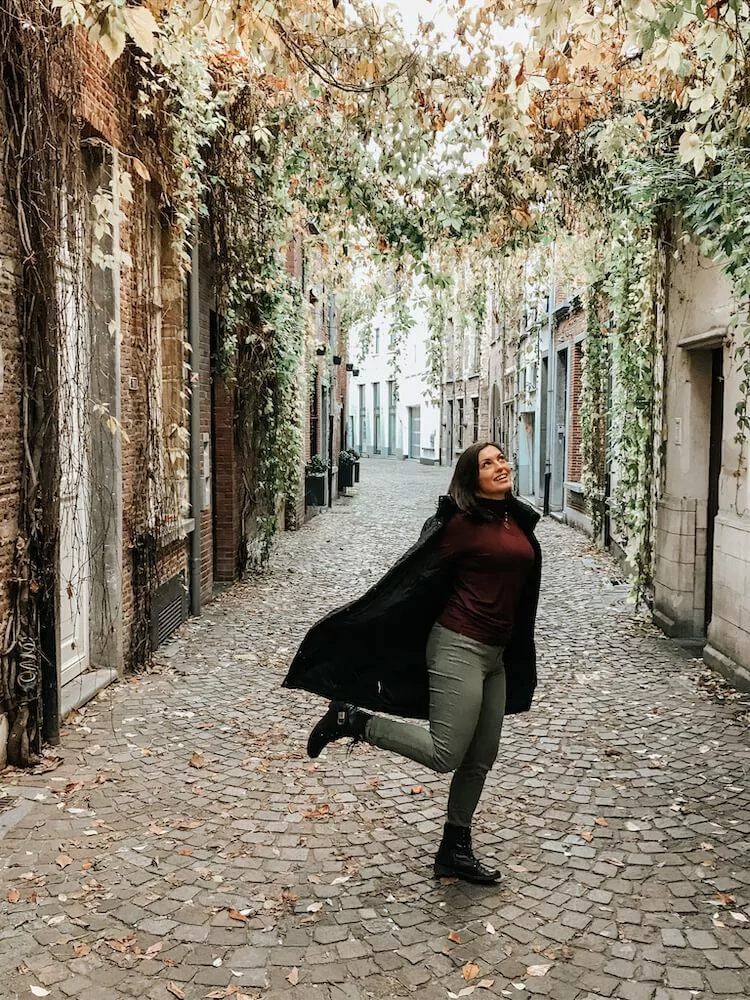 What to Pack for Antwerp
If you plan to visit Antwerp in the winter (hint: we have a whole guide on packing for Europe in winter), I recommend some waterproof boots, jeans, a cute sweater, scarf, and a winter coat (like my Parka by The Northface).
For men, I recommend waterproof boots, jeans, a layering sweater, scarf, and a good wool peacoat.
And be sure to pack earmuffs and gloves for the cold as well!
For the rest of the year, a light jacket will do, as mornings can be cooler. I also recommend still wearing jeans, but I love my white tennis shoes for exploring and Chris loves his loafers. Also, a cute top for ladies or a nice shirt for men is great too!
No matter the time of year, a small umbrella is a good idea!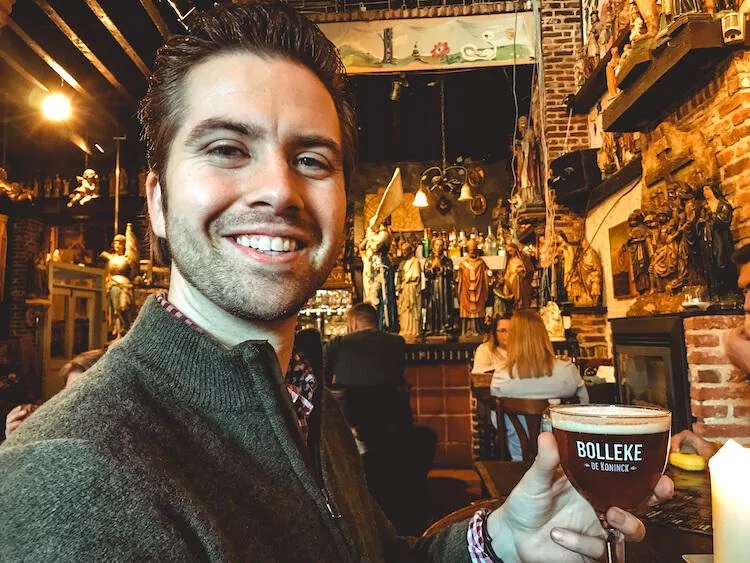 Lastly, if you want to take awesome photos, we recommend a tripod that you can put your phone or small camera on to take photos of each other without the obvious selfie stick.
If you only have one day in Antwerp, there are plenty of amazing things to do. From exploring the adorable streets of the old city to getting your fill of Belgian chocolate at Chocolate Nation, a visit to Antwerp is a perfect stop in your Belgium itinerary.
Would you visit Antwerp? What are your thoughts on spending a day in Antwerp? Let us know in the comments!
Pin it here!