Some posts on this site contain affiliate links, meaning if you book or buy something through one of these links, I may earn a small commission (at no additional cost to you!). Read the full disclosure policy here.
---
Searching for the perfect one day in Brussels itinerary? We've got all the tips!
Belgium is such an incredible place. From the delicious Belgian beer to the exciting cities, this small country has a lot to offer. But if you're short on time, you can certainly sneak in Brussels in one day and get a good taste of what Belgium is like!
So whether you are planning a Belgian trip including Antwerp and Bruges for a day, or you are taking a Brussels day trip from many other cities nearby, this is the best Brussels 1 day itinerary you're going to want to steal.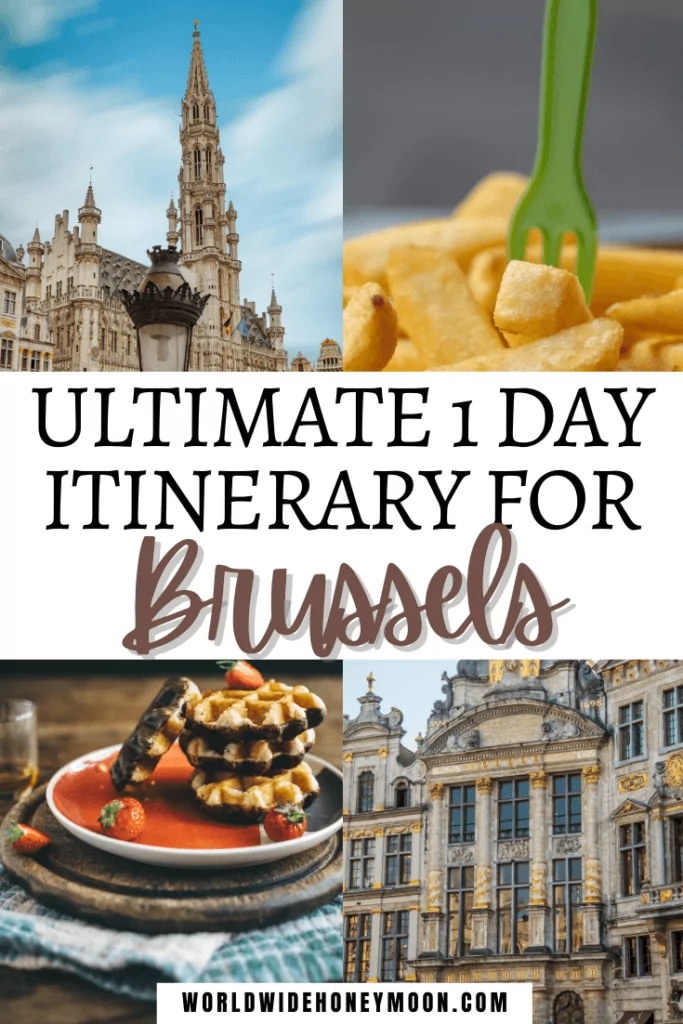 Getting There For Your Brussels One Day Itinerary
Brussels is a well-connected city in Europe, thanks to its airport! There are even direct flights from many major cities in the US and throughout Europe that go there. For cheap flights to and around Europe, we always check Skyscanner for the best deals.
To get from the airport to downtown, you can simply take a taxi, bus, or train. The most expensive is the taxi at around €50 and it would take about 20 minutes. The Brussels airport train is about a 20-minute ride and costs about €9. And the bus from the airport to downtown is €3 and takes about half an hour.
You could also take the train in from various cities across Europe including Paris, Amsterdam, London, etc. All of these are about a 2-hour train ride away. For train times and bookings, we always check The Trainline.
There is also the option to do Flixbus from cities like Paris and Amsterdam, or you could rent a car and drive.
Basically, as this is the capital of Belgium, it is pretty easy to get here for your one day in Brussels.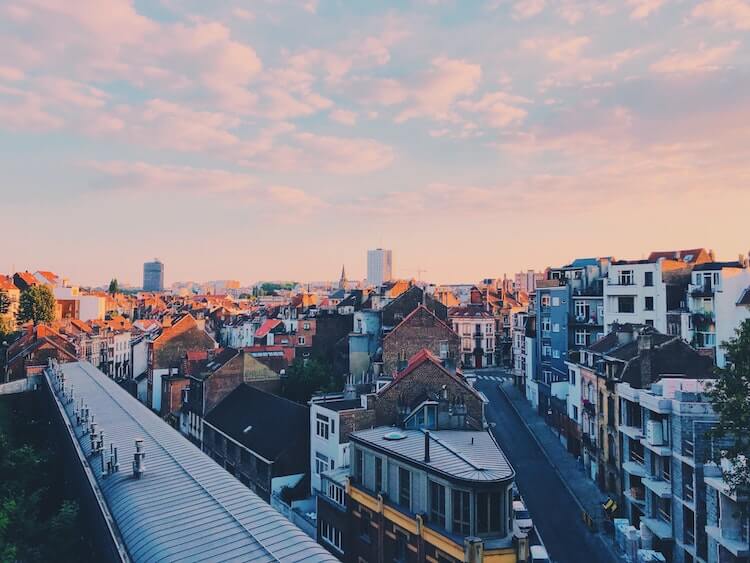 Things to do in Brussels in a Day
If you are short on time, here is the best of Brussels in one day to give you a taste of this fabulous city. And because you only have a day, it is a good idea to stick closer to the city center to make the most of your time.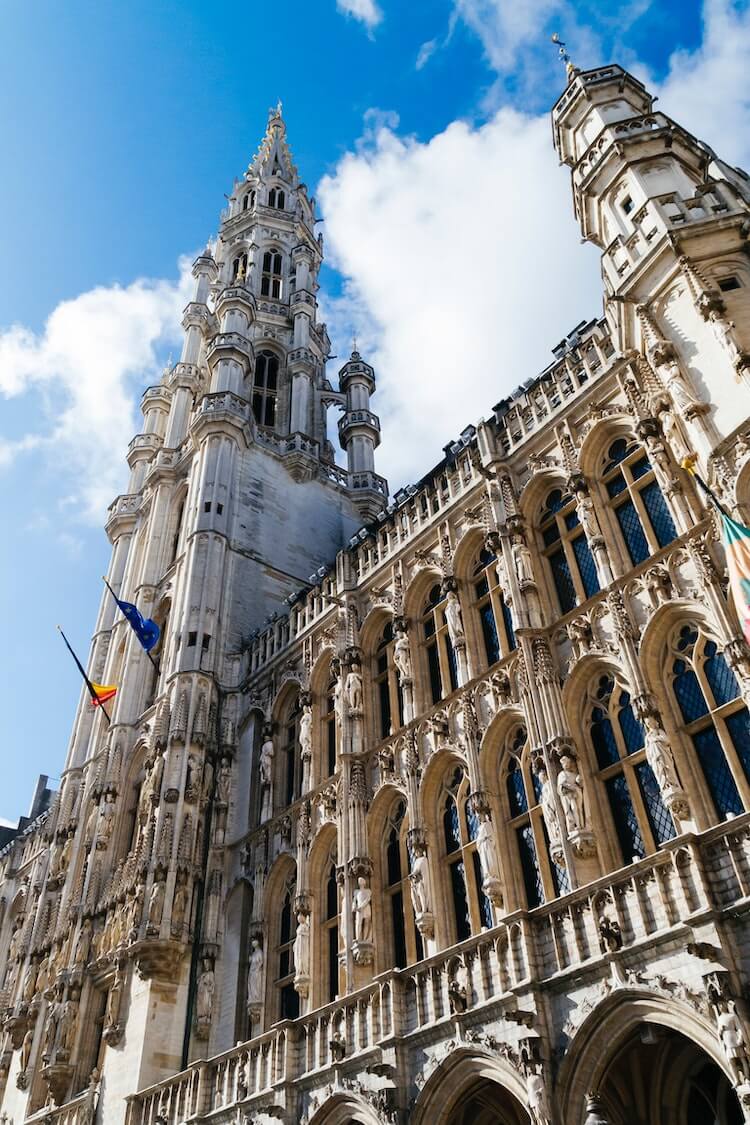 1. Grand Place (Grote Markt) is a Must-See for a One Day in Brussels Itinerary
Belgian cities seem to always have a central square named Grote Markt, and Brussels is no exception. This beautiful area is full of opulent buildings including the Town Hall, King's House, and Brussels City Museum.
The Grand Place is truly stunning both day and night, and this UNESCO World Heritage site is a must-see for any Brussels itinerary. As it is the most popular sight in Brussels, it definitely is worth seeing first on your list.
Another reason I recommend going here first is it can get crowded with tourists throughout the day. So if you go earlier in the morning, you can enjoy the square almost to yourself!
Admire the architecture of the Town Hall, a Gothic building that dates back to the middle ages. It is also the last medieval building in the Grand Place. Then snap some Instagram-worthy photos of the whole area while the rest of the city begins to wake up.
Grote Markt/Grand Place Address: Grand Place, 1000 Brussels, Belgium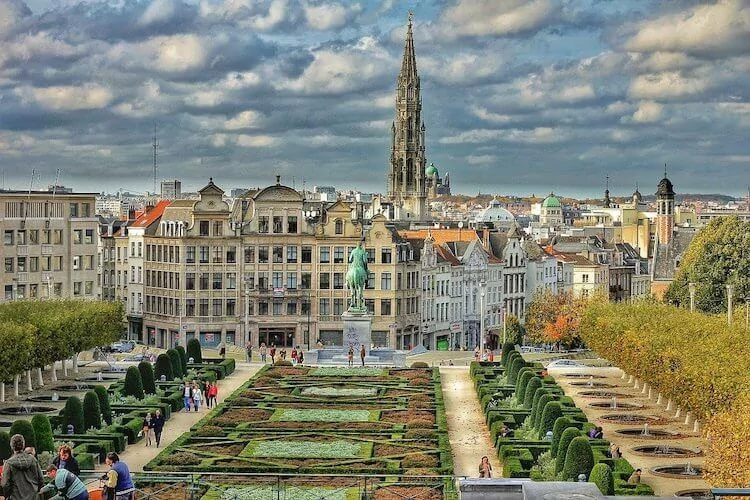 2. Brussels City Museum
While you're in the square, it is worth popping into the Brussels City Museum as well. This museum shows you the history, art, and legends surrounding Brussels from today all the way to the beginning to when the city was founded.
It's a great way to learn more about the history and culture of the city, and there are so many artifacts to check out from tapestries to sculptures.
Also, your ticket gives you entrance to the Garderobe MannekenPis exhibit, or the many costumes of the famous fountain Manneken Pis (discussed below).
Brussels City Museum Address: Grand Place 2, 1000 Brussels, Belgium
Brussels City Museum Hours: Tuesday-Sunday 10 am-5 pm. Closed on Mondays.
Admission: €8 per adult.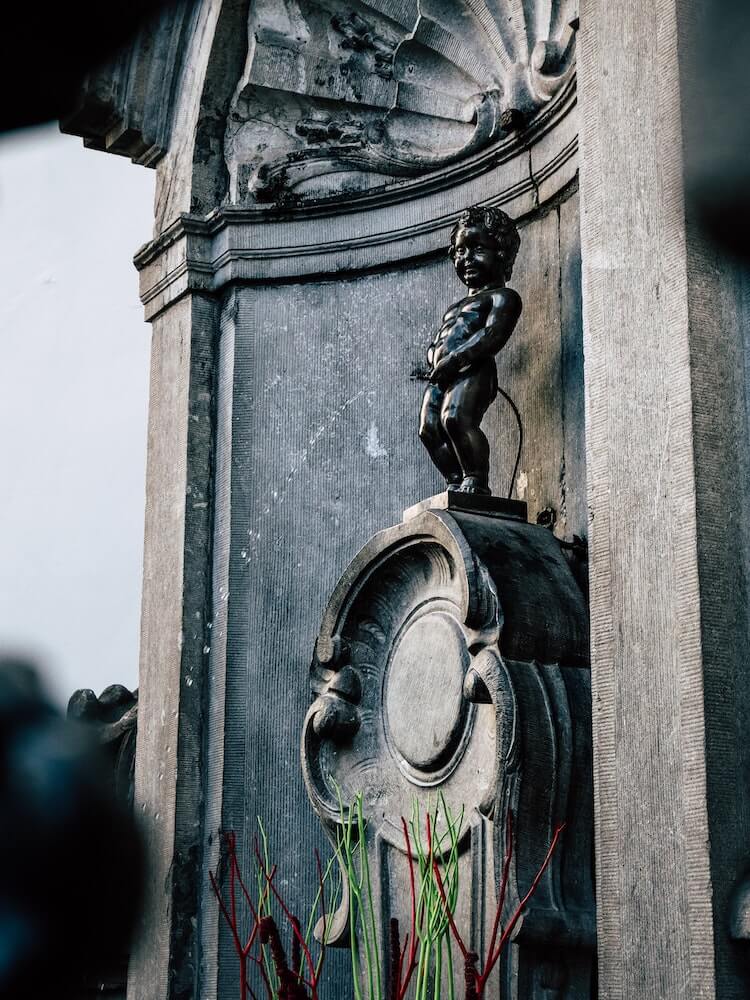 3. Manneken Pis
Guys, I'm not going to lie, this may be one of the more overrated tourist attractions in Europe. However… it's something you've got to at least check out during your one day in Brussels.
It essentially is a fountain of a little boy and it looks like he's urinating the water into the fountain's basin. That's it. But its origins date back to the 1600s, and sometimes he gets dressed up in various costumes throughout the year. You can see the many costumes at the Garderobe MannekenPis during the Brussels City Museum visit.
Sure, it's overrated, but it's worth a stop while you're in the city center for a photo.
Manneken Pis Address: Manneken Pis, 1000 Brussels, Belgium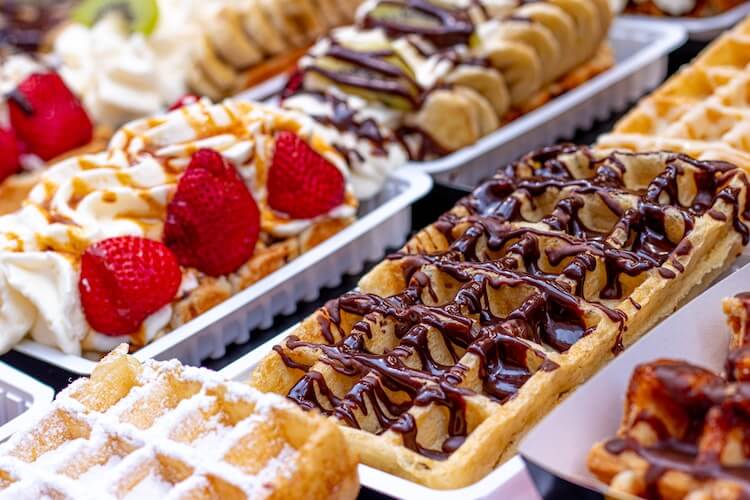 4. Eat Lots of Waffles & Fries
When one thinks of Belgian food, waffles and fries definitely come to mind. The street food of Belgium is the perfect fuel for your one day in Brussels.
First of all, waffles in Belgium come in two ways: Liege and Brussels. Liege waffles are more dense, round, and have a delightfully crispy, sugary, chewy texture. Brussels waffles are what we're more familiar with as rectangular waffles that are light and airy and are typically topped with powdered sugar.
Both are equally delicious! But where should you grab this sweet treat? Maison Dandoy is famous for these tasty waffles! You can get either liege or Brussels waffles here and top them either the traditional way with powdered sugar, or you can indulge with some whipped cream, fruit, and/or chocolate sauce.
Just be sure to grab some speculoos on the way out to save for later!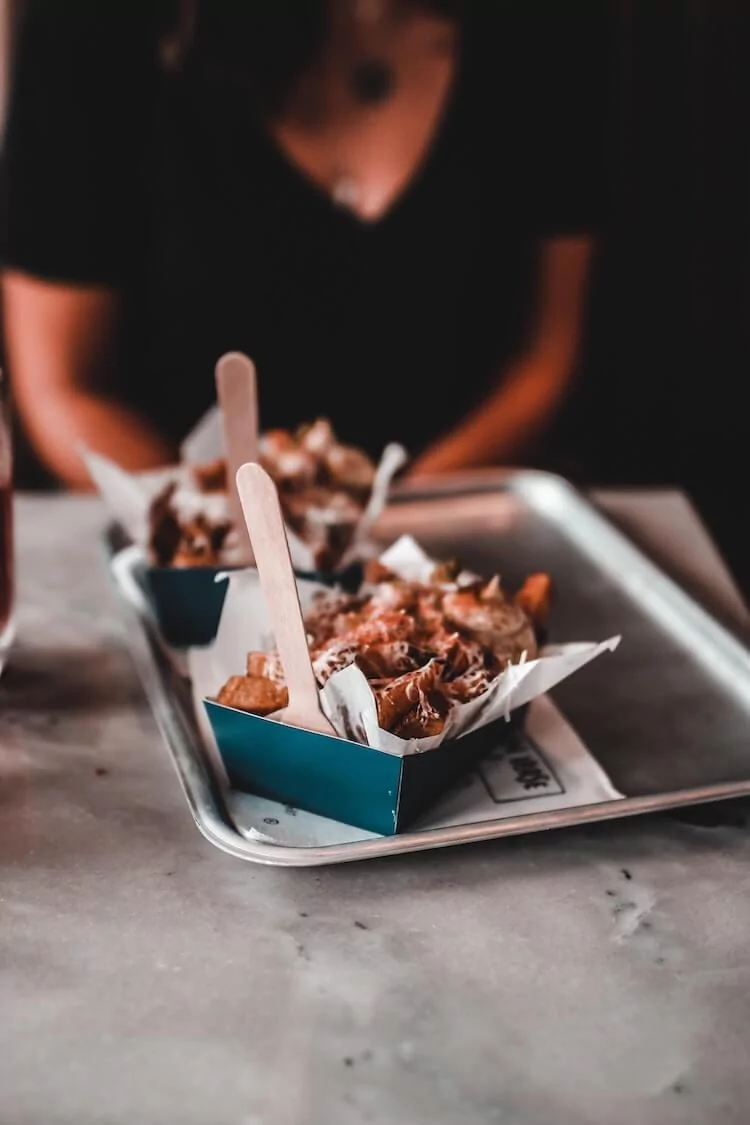 And for a quick to-go waffle, Vitalgaufre is great for tasty liege waffles. They also have different waffle flavors like cinnamon, raspberry chocolate, and apple cinnamon! Top them with whatever you like and be on your way!
Okay, now we've got to try some fries too, right? Fritland is a great place in the city center for takeaway fries, sausages, sandwiches, etc. Pair a cone of fries with sauces like mayo, samurai sauce, or curry ketchup!
Maison Dandoy Address: Various locations across Brussels, but we recommend the one near the Grand Place at Rue au Beurre, 31, 1000 Brussels, Belgium.
Maison Dandoy Hours: Monday-Saturday 10:30 am-6:30 pm. On Sunday they are open from 10 am-6 pm. They are closed from 1:30-2:00 pm daily.
Vitalgaufre Address: Rue Neuve 23/29, 1000 Brussels, Belgium
Vitalgaufre Hours: Monday-Saturday 9:30 am-7:30 pm. Sunday from 12-7:30 pm.
Fritland Address: Rue Henri Maus, 49, 1000 Brussels, Belgium
Fritland Hours: Monday-Thursday and Sunday 11 am-1 am. Friday-Saturday 11 am-3 am.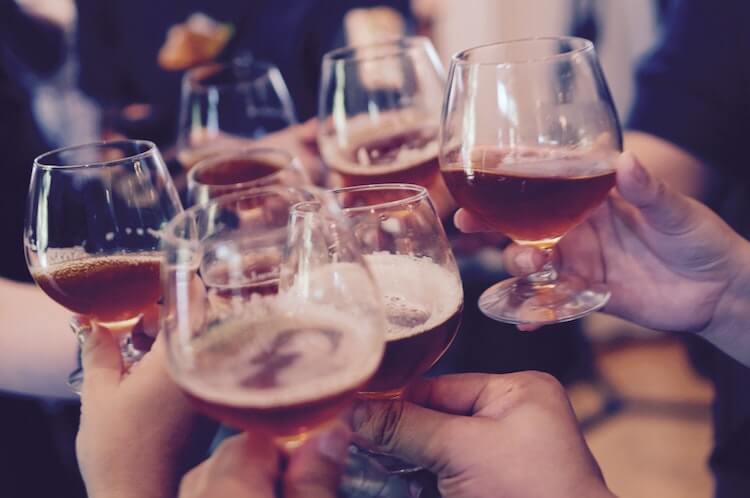 5. Head to an Iconic Belgian Brewery
For the next stop on your one day in Brussels, you've got to try one more famous thing that Belgium has to offer: beer!
You can't leave without at least visiting a brewery or pub in Brussels. Hint: we have a whole article dedicated to Belgian beer (plus where to drink it!).
Cantillon Brewery is one of the more popular breweries in Brussels, and it is easy to see why! It is known for its lambic beers, or sour wheat beers. Lambic beers come in many different types like traditional lambic that has no carbonation and is truly sour, geuze which is a mix of lambics from varying ages, fruit lambic which has fruit in it, and more!
You should try the Saint Lamvinus beer while you're in this brewery! This has a burgundy color and this fruity beer incorporates grapes. For a slightly acidic and fruity taste, try the Gueuze too.
You can also take either a guided or self-guided tour of the brewery to learn more about lambic beers and their brewery.
Cantillon Brewery Address: Rue Gheude 56, 1070 Brussels, Belgium
Cantillon Brewery Hours: Monday, Tuesday, Thursday, and Friday from 10 am-5 pm. Open on Saturday from 10 am-4 pm.
Tour Information: €9.50 for an individual for the guided tour that lasts 1.5 hours (includes tastings) and is offered on Monday, Friday, and Saturday. The self-guided tour costs €7 including tastings, lasts about 45 minutes to an hour, and is available from 10 am-4 pm on days the brewery is open.
PS– if you want to try more beers, opt for a brewery tour of Brussels!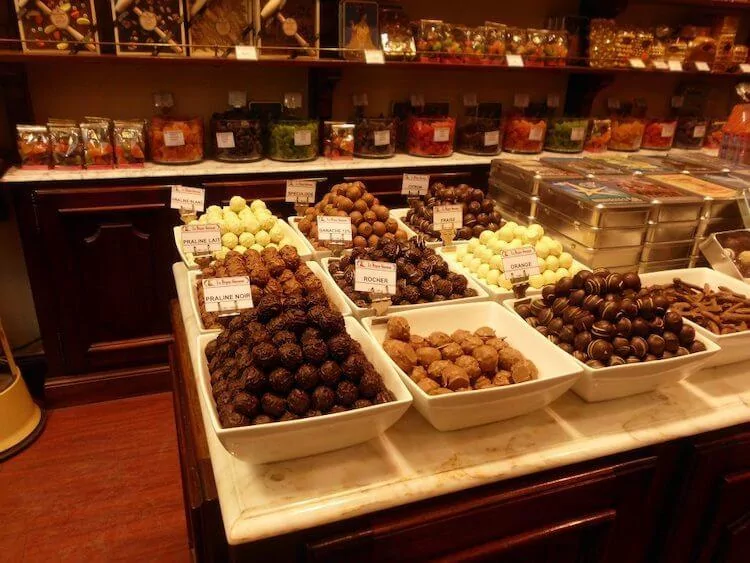 6. Taking a Chocolate Tour Is Perfect During Your Brussels Day Trip
Belgium is world-renowned for their chocolate, particularly their chocolate pralines. You'll find chocolate shops across Brussels with these treats stacked in pyramids just waiting for you to purchase a bag of it to share (or don't because #treatyoself).
But what better way to get acquainted with Belgian chocolate than on a tour with a local?
On this Brussels chocolate tour, you'll learn about the origins of Belgian chocolate, visit famous chocolate shops throughout the city, and admire the famous Royal Galleries of Saint Hubert, all while enjoying tasty sweets along the way!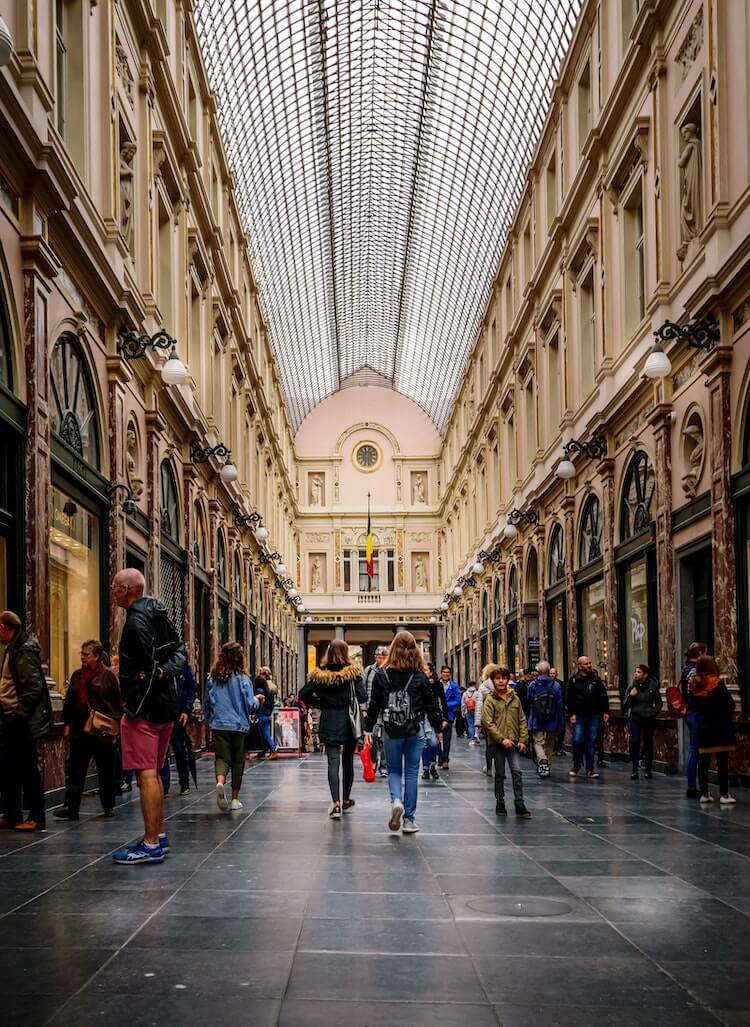 You'll definitely want to come hungry while visiting Brussels in one day!
Chocolate Tour Start Time and Location: Starts at 2 pm in front of the Galerie du Roi.
Tour Price: $47 per person and includes the chocolate tastings plus a guide.
Book your chocolate tour here!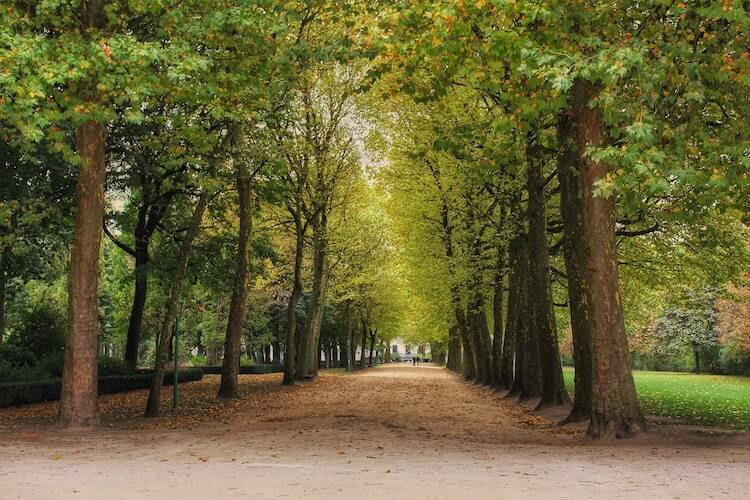 7. Strolling Through Brussels Park Is Perfect During Your 1 Day in Brussels
After all of that feasting on waffles, fries, and chocolate, you'll want to go on a walk to burn it off, right?
Head over to Brussels Park to get some fresh air as you spot important buildings along the park-like the Palace of Justice, the Royal Palace, and the Center for Fine Arts in Brussels.
This park also has some lovely fountains and is a great place to walk around or have a picnic during a warm summer day.
Brussels Park Address: Brussels Park, 1000, Brussels, Belgium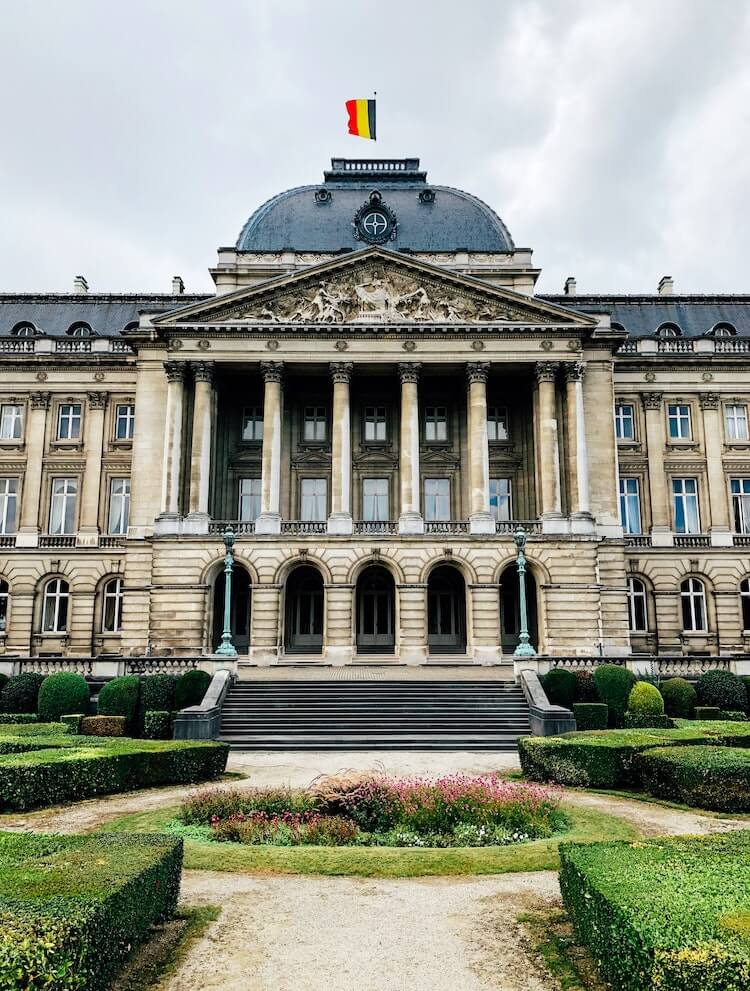 8. Royal Palace of Brussels
While you're in the area, wander over to the Royal Palace of Brussels. This is the official palace of the King and Queen of Belgium even though they don't actually live there. However, they do work here, but you can visit the palace during the summer from July 21-early September for free.
If you happen to be there while it is open, you can see the beautiful rooms like the Empire Hall, The Klein and Groot Wit Salon (among many other salons), and the Venice stairs.
If you are there during the remainder of the year (or happen to be there after it is closed for the day), it is lovely to admire from the outside as well.
Royal Palace of Brussels Address: Rue Brederode 16, 1000 Brussels, Belgium
Royal Palace of Brussels Hours: July 21-early September: Tuesday-Sunday 10:30 am-5 pm. Closed on Mondays.
Things to do in Brussels in One Day Map

Where to Stay in Brussels
After spending 1 day in Brussels, you may want to spend the night. If so, we have a few recommendations! For starters, you'll want to stay closer to the city center near Grand Place so that you can make the most of your time.
Here are great hotels to stay at in Brussels based on your budget.
Located less than a mile from the Grand Place, this hotel has fabulous reviews, is beautifully designed, and has all of the comforts you'll love for your stay like a breakfast buffet, spa, wifi, and room service. Prices start at $100 per night.
Read reviews and book it here!
Located within steps from the main attractions, you'll love this charming hotel. Enjoy the bar and lounge, rooftop terrace, and beautiful guest rooms. Prices start around $150 per night.
Read reviews and book it here!
For those looking to splurge, you'll love this hotel. Adjacent to the Grand Place, the views from the hotel are stunning. They also offer a tasty breakfast buffet, valet service, butler service, and beautifully designed rooms! Prices start around $300 per night.
Read reviews and book it here!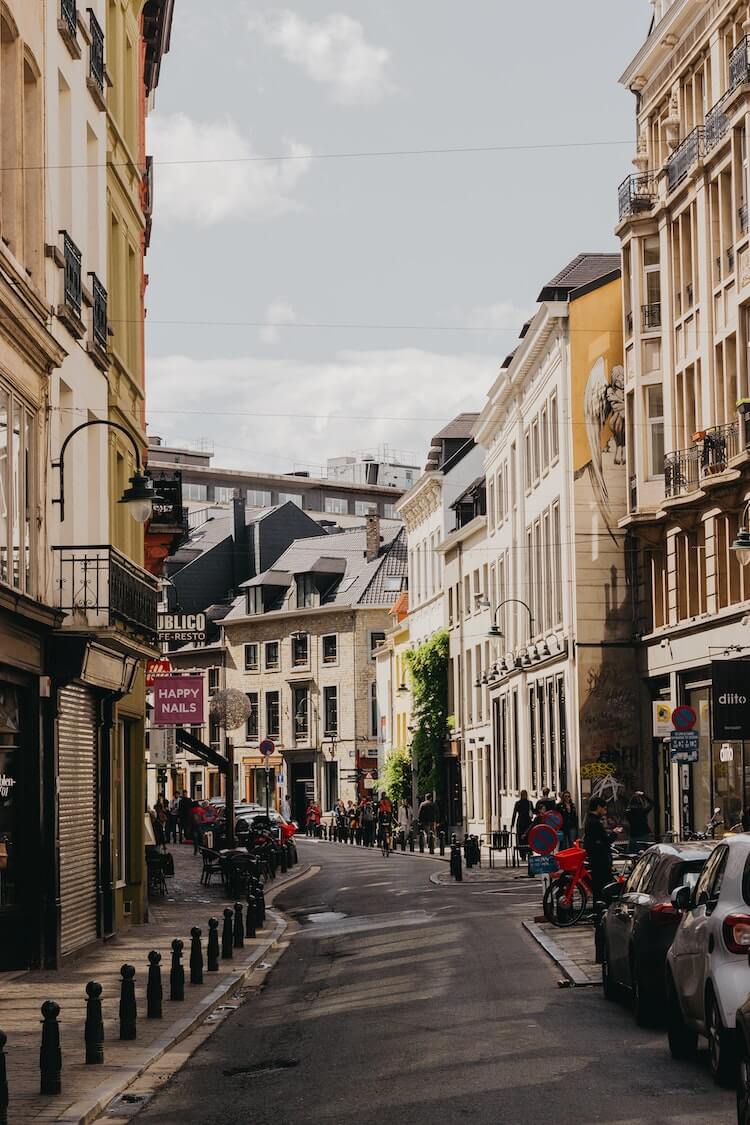 Things to Know Before Your Brussels Itinerary
Before you set off on your one day in Brussels itinerary, there are a few things you need to know before you go!
French and Dutch at the languages of Brussels.

80% of people living in Brussels speak French as their native language, but Dutch or Flemish are spoken as well. In restaurants, bars, and tourist attractions, French is more commonly spoken, so knowing a few words will help you! However, English is also pretty widely spoken in touristy areas.

Be vigilant!

I always say this, but in some popular areas, like the Grand Place, keep an eye on your belongings to prevent being pickpocketed. I love my

crossbody anti-theft purse

for this reason as it has an RFID-blocking credit card holder, hooks on the zippers, and is made out of slash-resistant material.

What to pack: I recommend comfortable walking shoes (I love my Keds during the summer or these cute boots

for winter). I also love wearing a

cute sundress

or skirt in the summer or jeans, a

cute sweater

, and a

heavy coat

for a winter visit.
I also always recommend an umbrella for rainy days while walking around outside, and for taking photos, I love using my tripod and cell phone lenses to get a great shot!
If you are planning to pack carry-on only, I love my Osprey 40 backpack and these packing cubes. Also, don't forget to bring an outlet adapter so you can charge your things!
When to visit Brussels: It's a great city to visit year-round, but for fewer crowds and cheaper prices, the off-season of September-November and January-April is a good time, as long as you are prepared for some winter weather from January-March! December is perfect for the Christmas markets, and the summer is lovely, but it can be crowded!
Plan to see a lot in Brussels? Check out the Brussels Card that gives you access to several museums and tourist attractions!
If you have more than a day in Brussels:

I totally recommend making a day trip out to

Antwerp

or

Bruges

to explore more of Belgium during your time there! You could also go on a

day trip to Paris

or even a

trip up to Amsterdam

to explore!

Always get trip insurance.

We don't travel internationally without it. This helps for things like getting sick on the road, getting your passport lost or stolen, etc. We purchase

World Nomads

for its easy-to-understand policies and great coverage plans!
A 1 day Brussels itinerary gives you plenty of time to see and experience the best sights, tastes, and culture of this wonderful city in a short amount of time! From sipping lambic beers to standing in awe in front of gorgeous architecture, we hope you enjoy every second of your one day in Brussels!
Would you spend 1 day in Brussels? Let us know in the comments!
Pin it here!