Some posts on this site contain affiliate links, meaning if you book or buy something through one of these links, I may earn a small commission (at no additional cost to you!). Read the full disclosure policy here.
---
Paris is one of the most romantic cities in the world. With stunning architecture, tasty desserts, and sprawling art museums, there is plenty to fill your 1 day in Paris itinerary. But even if you are visiting Paris in a day, you'll have plenty of time to soak in the culture and iconic sites in the city.
As a frequent visitor to Paris, and France in general, I understand how much of a challenge it can be to want to see everything in a short amount of time. But with this one day in Paris travel itinerary, you'll feel like you've truly enjoyed the city of lights!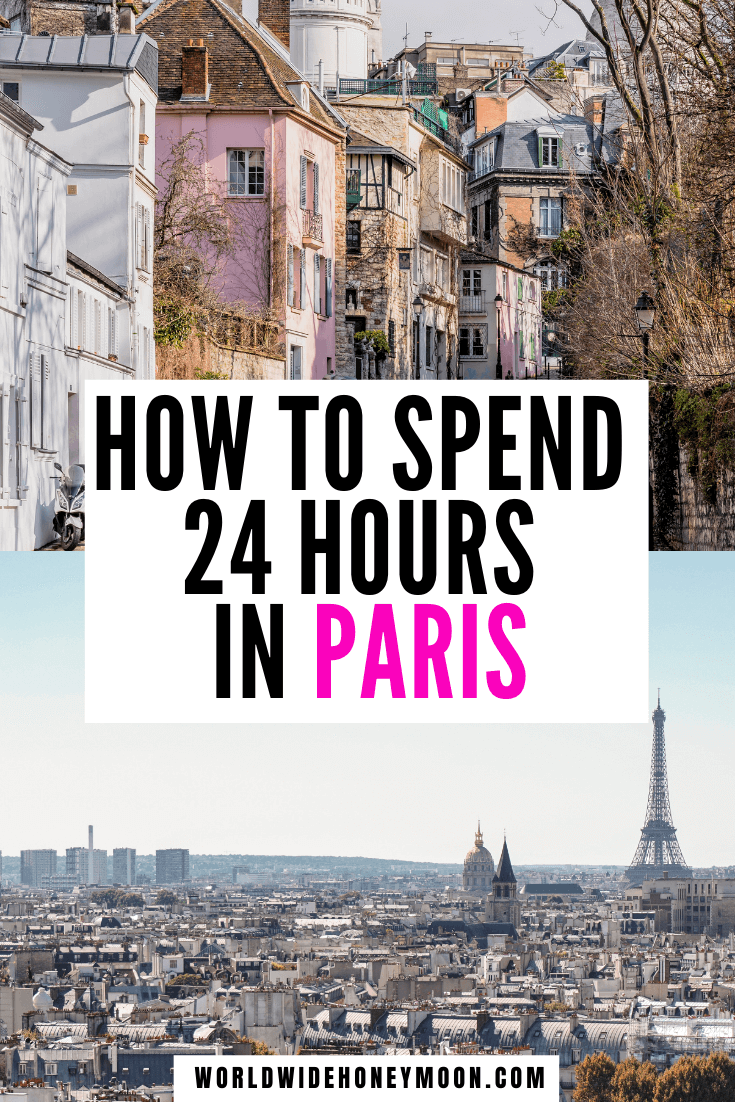 Getting There To See Paris in a Day
Paris is super easy to get to, thanks to it being a large transportation hub in Europe. There are several flights going to/from Paris daily from both the Paris Charles de Gaulle (CDG) and Orly (ORY) airports. So whether you are including Paris as a stop on your France itinerary or you are traveling internationally to France, you can fly into one of these airports.
And for cheap flight prices to Paris, Chris and I love checking Skyscanner. You can set price alerts and book when the price drops!
Keep in mind that the airports are about 1 hour or so from downtown Paris. So if you are only visiting Paris in a day, I recommend catching an earlier flight or flying in the night before. Once you arrive at the CDG airport, you can take the RER B train from CDG to the city center or an Uber. From the Orly airport, you can catch the metro to Anthony Train Station and then switch to RER B.
There is also the option of taking the train for your one day in Paris if you are coming in from around Europe. I love booking tickets on The Trainline, as they show you all the time and dates so you can compare prices.
Lastly, you can take an arranged day trip to Paris from London.
However, I recommend a full 1 day in Paris to really see as much as you can. So planning to spend at least one night in Paris is a great idea.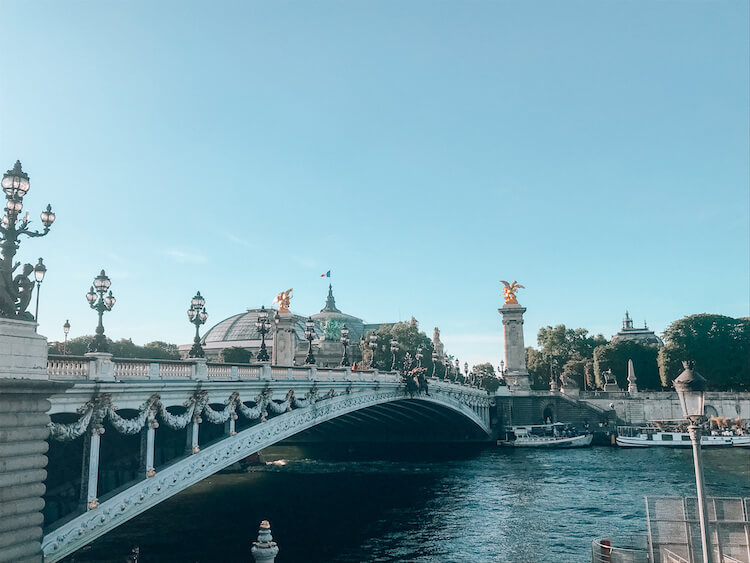 Things to do in Paris For a Day
While there are hundreds of options to fill your Paris one day itinerary, these are the top ones to choose from when planning to see Paris in a day.
Start With An Early Breakfast at a Famous Café to Kick Off Your 1 Day in Paris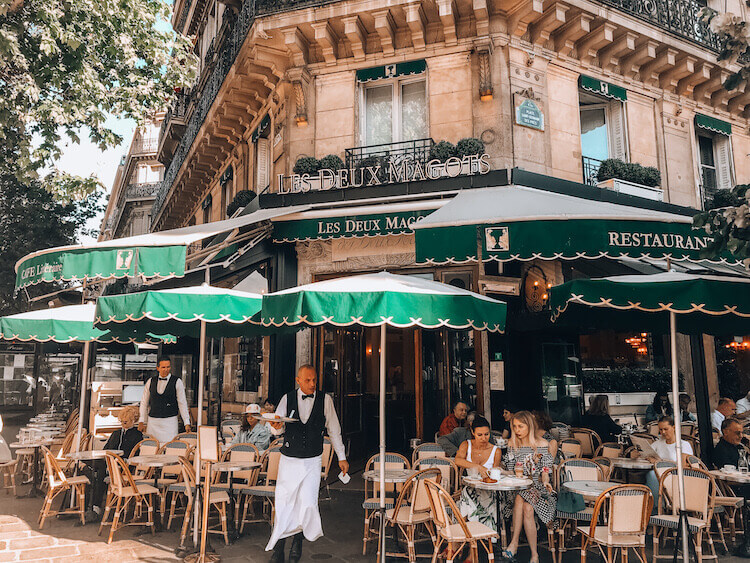 If you're able to, I highly recommend spending the night before in Paris so that you awake refreshed and ready to hit the ground running for your one day in Paris.
And to kick off your visit you should grab breakfast at an iconic café: Les Deux Magots.
This café was a famous haunt for writers, artists, philosophers, and other creative-types back in the day. You would have seen the likes of Ernest Hemingway, Pablo Picasso, and more as patrons many years ago.
Of course, they mostly grabbed dinner and cocktails while here…so why am I telling you to get breakfast at this historical establishment? The ancient hot chocolate!
I can't tell you how many times I've raved about this hot chocolate, whether it is in our 4 day Paris itinerary or even podcast episodes like our Travel to Paris and Top Food and Drinks episodes.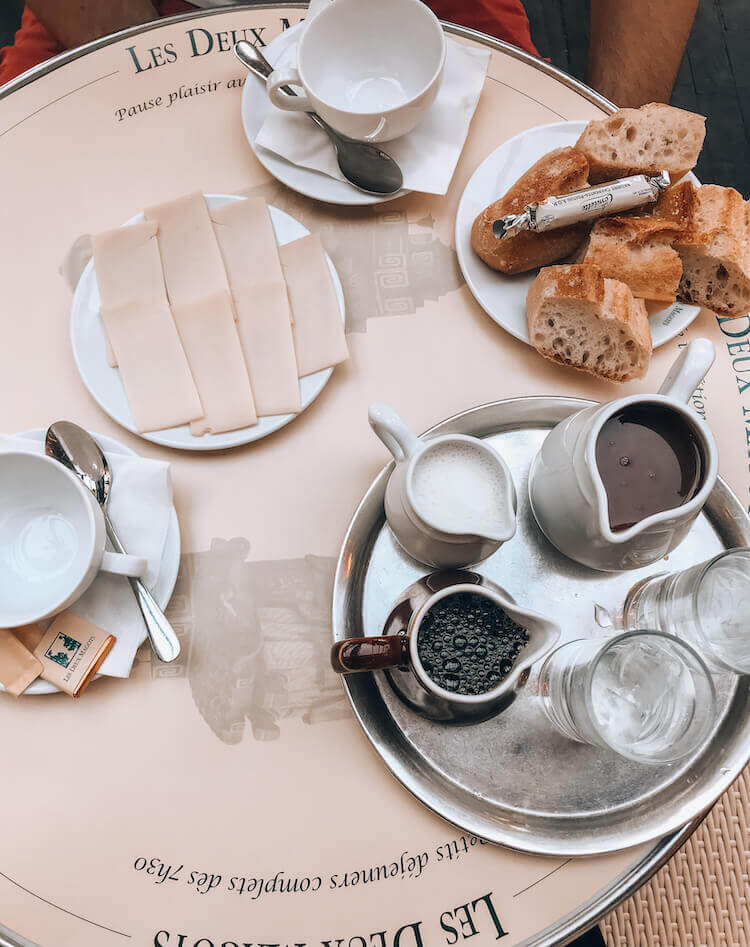 Essentially, Chris and I loved their ancient hot chocolate so much that we both agree it is our favorite beverage we've ever had. It was like drinking a not-too-sweet, melted candy bar. It was warm, delicious, and perfectly creamy. If you go to Paris for a day, you must get this drink and have breakfast at this café.
They give you a huge pot of it too, so it is perfect for splitting. I also recommend their coffee as well as their bread with butter and cheese.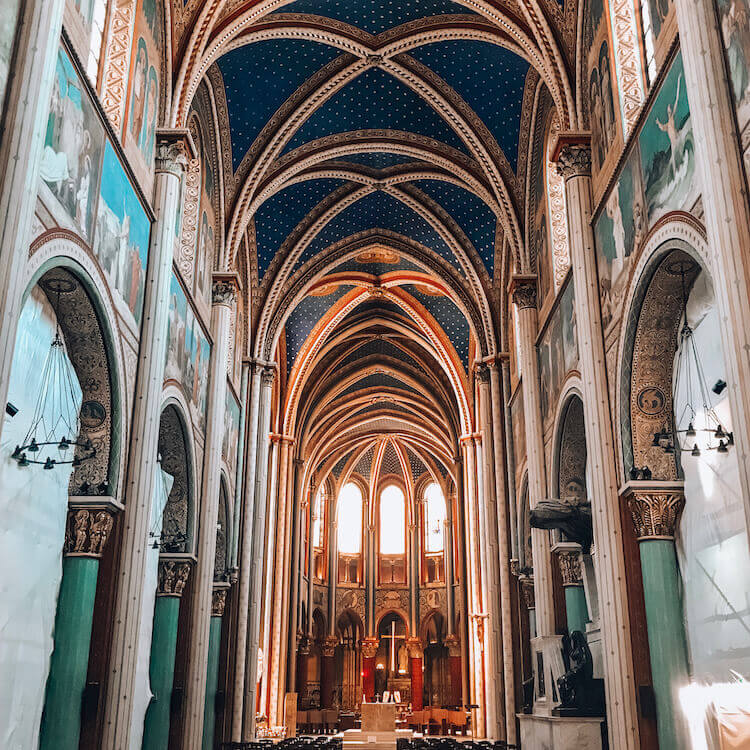 And if you are visiting Paris in the summer, you'll love sitting outdoors looking at the gorgeous Abbey of Saint-Germain-des-Pres and watching the world go by in the Saint-Germain-des-Pres neighborhood, one of our personal favorite arrondissements in Paris.
Les Deux Magots Address: 6 Place Saint-Germain-des-Pres, 75006 Paris, France
Les Deux Magots Hours: Open daily 7:30 am-1 am.
Next Up on Things to See in Paris in One Day: Museum L'Orangerie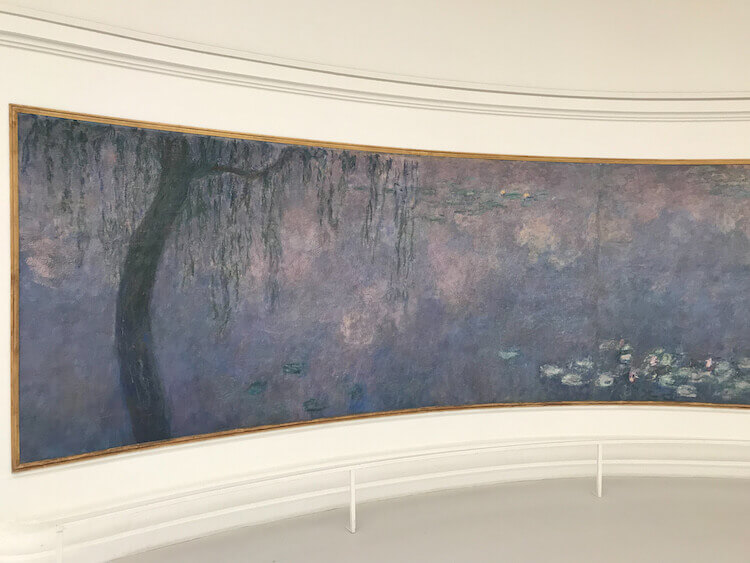 You can't have a Paris 1 day itinerary without a stop at an art museum (or two!). Our favorite art museum in Paris is Museum L'Orangerie. Full of impressionist and post-impressionist paintings, this smaller museum is great to check out if you are short on time.
Plus, the reason this is our favorite museum is that it has the full-size Water Lily paintings by Monet. Two rooms are full of these delightful paintings with natural light filtering in. The paintings and room are in an elliptical shape to feel as if these lilies go on forever, and they are huge, making one feel as if they are right there sitting by the lovely water lilies.
Once you've had your fill of these water lilies, I recommend checking out the remainder of the impressionist and post-impressionist paintings at the museum. And, as this is a small museum, you likely won't need more than an hour or so to take it all in.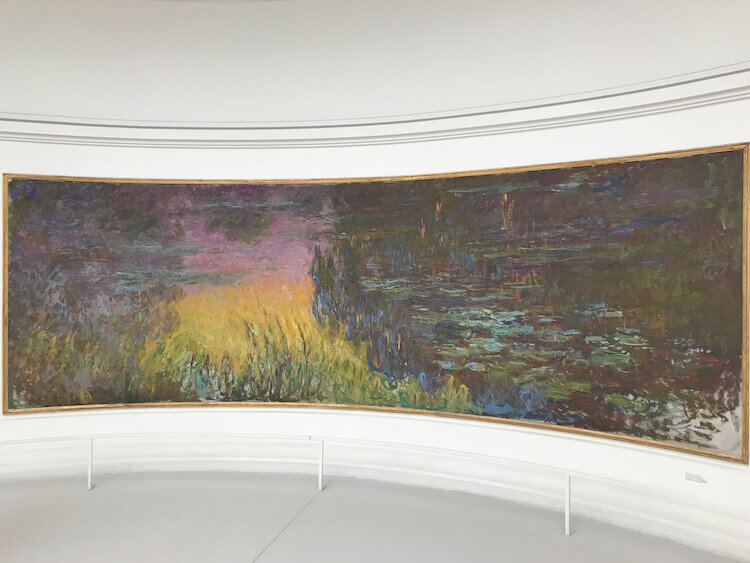 If you go to one museum during your one day in Paris, this is the one to visit.
Museum L'Orangerie Address: Jardin Tuileries, 75001 Paris, France
Museum L'Orangerie Hours: Wednesday-Monday 9 am-6 pm. Closed on Tuesdays.
Museum L'Orangerie Entrance Fee: €6.50. You can also combine a ticket here and Museum D'Orsay for €18.
Tuileries Garden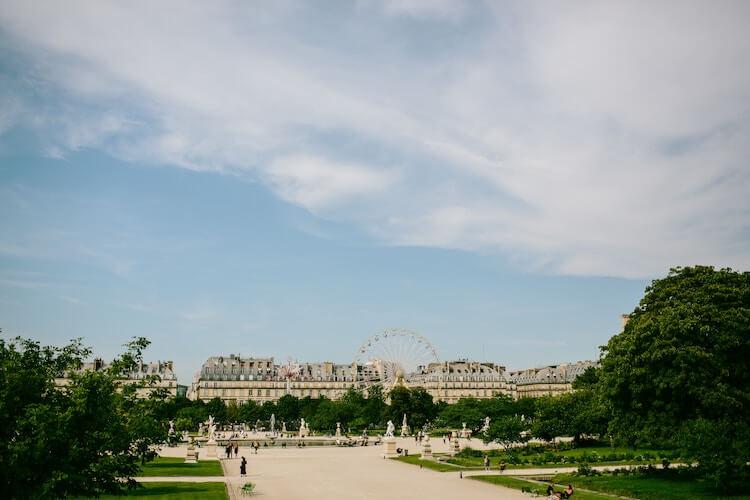 After visiting the museum, I recommend walking along through the Tuileries Garden on your way to the next stop on your Paris 1 day itinerary.
This sprawling garden stretches from Place de la Concorde to the Louvre and is full of lovely trees, fountains, and is the perfect spot for sunbathing and strolling. So wander along as you head up toward to the next museum stop.
It is only about a 15-20 minute walk from Museum L'Orangerie through this garden.
A Must-Stop For Your Paris 1 Day Itinerary: The Louvre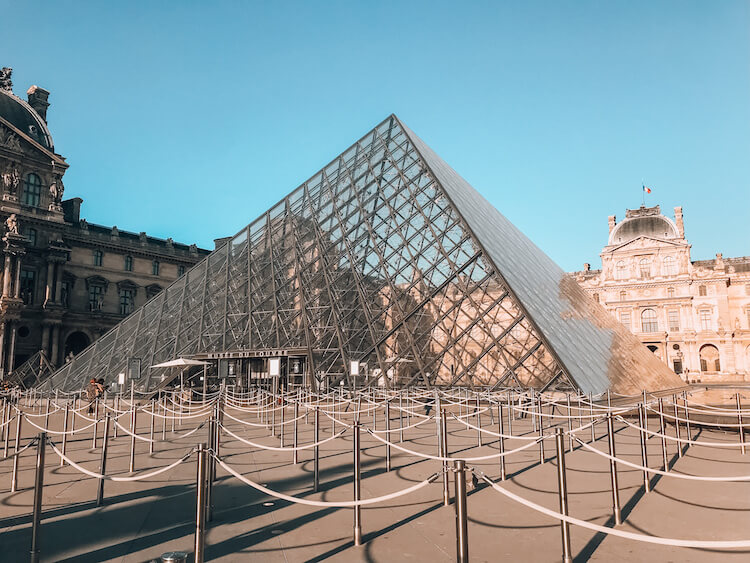 While you've seen plenty of art already this morning, I also recommend checking out a classic museum, and a must-visit for first-time visitors to Paris: The Louvre.
Known for the Mona Lisa among many other notable Renaissance pieces, the Louvre is massive. However, if you only have one day in Paris, I recommend spending only about 2 hours here. Trust me, that is plenty and you can see a lot during that time.
The last time I visited the Louvre, I checked out the Mona Lisa, many other paintings and sculptures, the Greek and Egyptian art exhibits, and more within 2 hours and felt like I had seen the gist of it. The museum itself is a work of art on its own, and if you are visiting Paris for the first time, I highly recommend going.
But the biggest advice I can give you is to plan what you want to see ahead of time. Check out the map on the Louvre's website and map out the places you'd like to see most.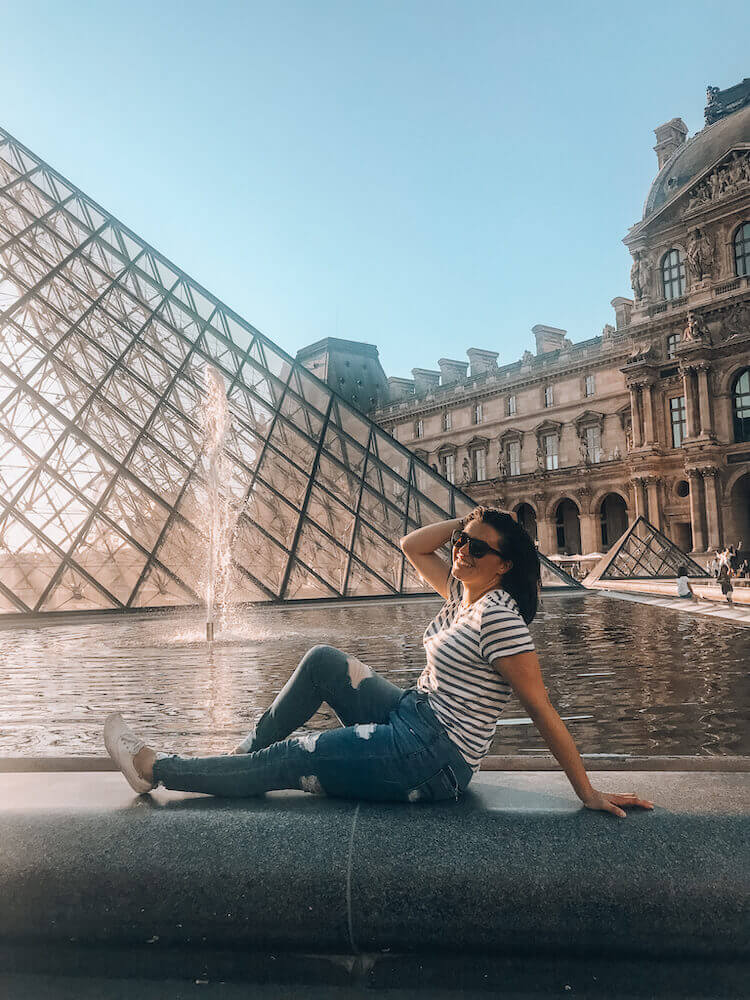 I also highly recommend purchasing timed entry tickets ahead of time. This is the most visited museum in Paris, and if you go in the height of summer, you may not even be able to get in. Plus, when you only have a day in Paris, there isn't a lot of time to waste waiting in line to purchase tickets. Instead, get it online and try to aim for the 11 am ticket.
Then, once you've spent time admiring the famous art in the Louvre, I recommend walking up toward the Le Marais neighborhood for your next stop! Be mindful of your time, as it is about a 25-minute walk to the Temple Metro Stop, where your next adventure begins.
Louvre Address: Rue de Rivoli, 75001 Paris, France
Louvre Hours: Saturday-Monday, Thursday 9 am-6 pm. Wednesday & Friday 9 am-9:45 pm. Closed on Tuesdays.
Louvre Admission Prices: €15 if purchased at the museum. Free for European Economic Area residents between the ages of 18-25. Free for people under 26 on Friday evenings between 6-9:45 pm. Free for everyone the first Saturday of each month between 6-9:45 pm and Bastille Day (July 14).
I recommend purchasing a timed ticket online to avoid crowds for $22.50.
Take a Food Tour to Try the Best of Paris in a Day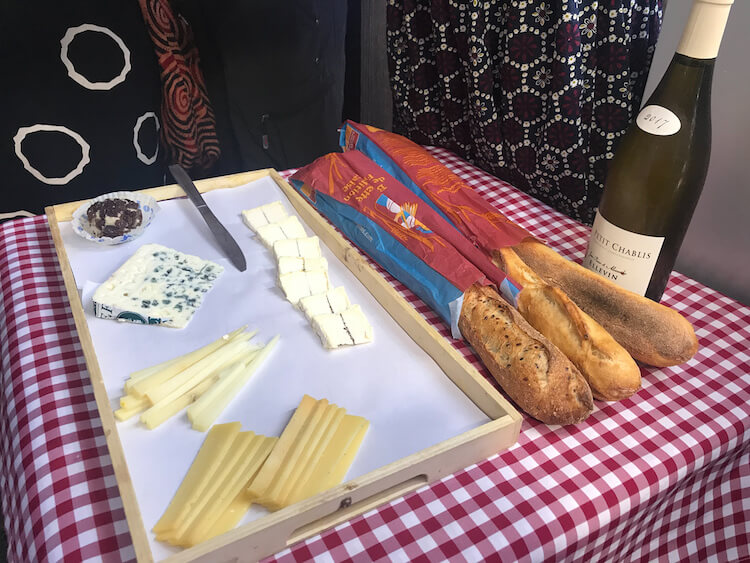 If you are only visiting Paris in 1 day, then you must take a food tour to try the best flavors this city has to offer! We did a food tour the last time we visited and loved the Le Marais Secret Food Tour. It was such a unique thing to do in Paris!
Not only do you visit the most adorable covered market, Marche Des Enfants Rouges, but you also try French treats like croissants, Croque Monsieur, one of the best baguettes in Paris, plus even a secret dish from this eclectic neighborhood that will surprise you!
And they guide you through a delicious wine and cheese tasting…basically this tour includes iconic French foods to enjoy during your day in Paris.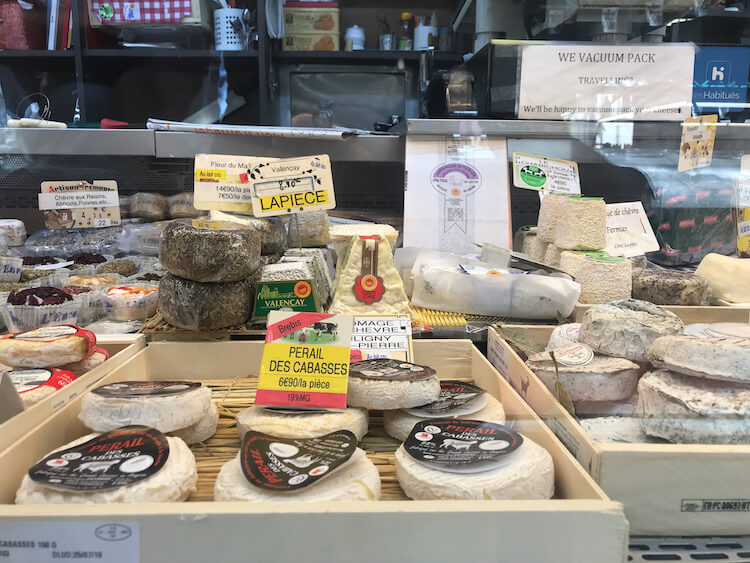 I recommend purchasing the tour that starts at 2 pm, which is perfect for lunchtime after exploring museums.
Pro-Tip: They also offer an 11 am tour throughout the year. If you decide to do the 11 am tour, I recommend doing this after Museum L'Orangerie and visiting the Louvre at 3 pm.
Paris Secret Food Tour of the Le Marais Starting Point: Temple, 75003 Paris, France
Paris Secret Food Tour Price: $112.
Tour Duration: 3-3.5 hours.
Start Winding Down at One of the Top Things to do in Paris in One Day: The Eiffel Tower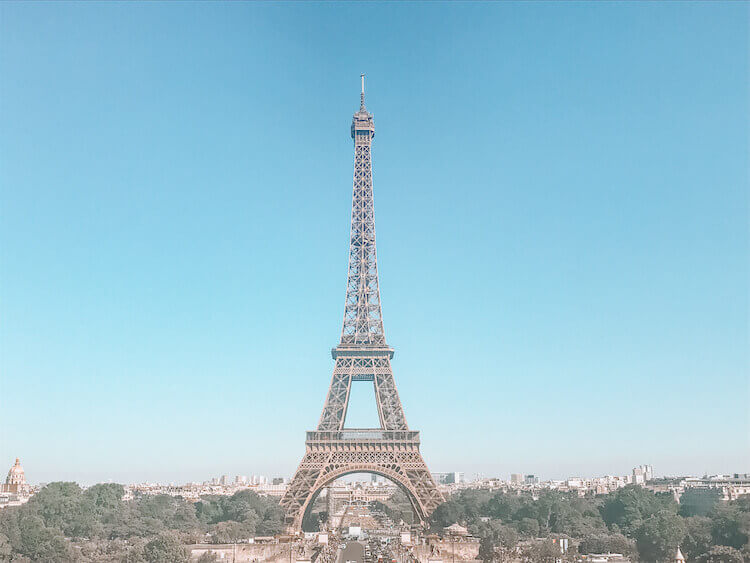 I recommend heading to the Eiffel Tower after your food tour. Take photos across the way from the Eiffel Tower, be enamored by this gorgeous structure, and perhaps catch a glimpse of it shimmering in the early evening hours if you are lucky enough to catch it when the sun is setting or it is dark outside.
A stop in Paris isn't complete without capturing the view of this iconic landmark. And for added adventure, go up inside of the Eiffel Tower for some great views of the city!
Plus, if you have the time, you can see the Eiffel Tower while taking a Seine River Cruise. It only lasts about an hour, and you'll get to see the loveliest views of Paris!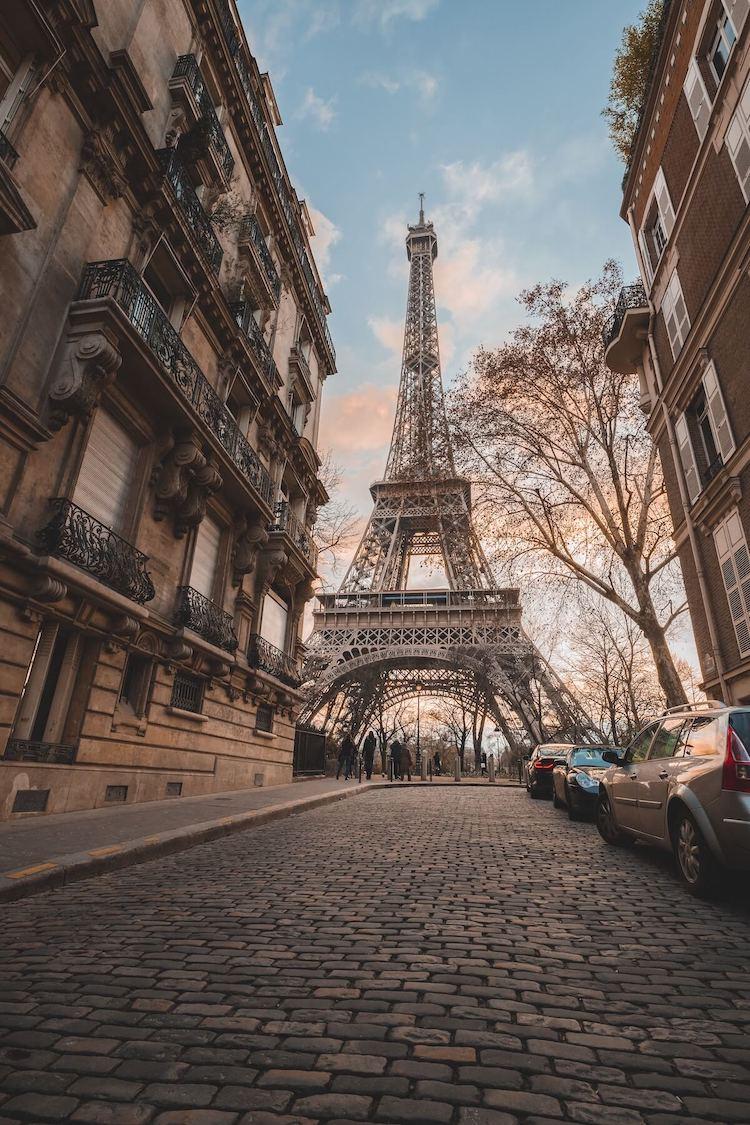 Eiffel Tower Address: Champs de Mars, 5 Avenue Anatole France, 75007 Paris, France
Eiffel Tower Hours: 9:30 am-11:45 pm. Hours vary by season.
Eiffel Tower Admission: €16.60 for lift access to 2nd floor, €25.90 for lift access to the top, €10.90 to take stairs to 2nd floor, and €19.70 to take the stairs to the 2nd floor and lift to the top. These are adult rates. Check the website for discounted rates.
Wine Down Your Day in Paris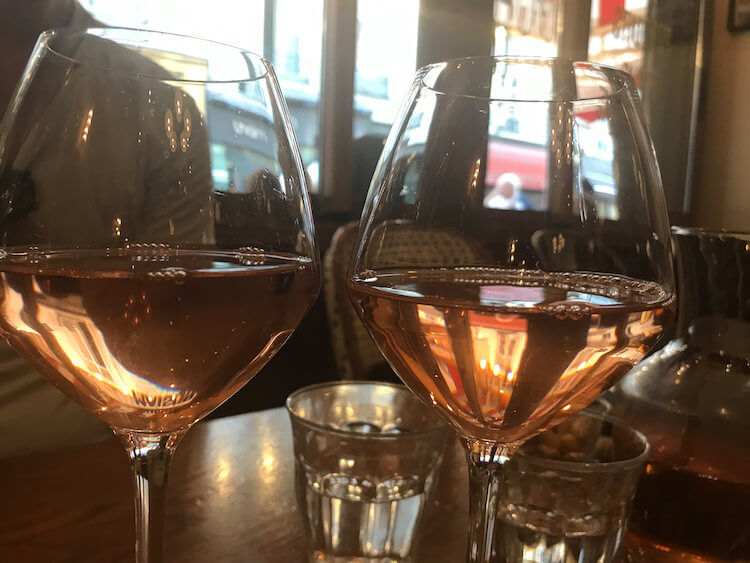 And to wrap up your final hours exploring Paris, I suggest heading over to a wine bar to test out some of France's best wine.
I recommend Juveniles. This cozy little wine bar has quite a selection, plus there are plenty of cheeses and desserts to enjoy if you are still a little hungry after your tour.
Sit back, reflect on your perfect day in Paris, and enjoy a glass of wine from the Rhone Valley, Languedoc, or other regions in France or perhaps sip on wines from around the globe.
Pro-Tip: If you plan to eat here, we recommend making a reservation. It is a smaller place and fills up quickly.
Juveniles Address: 47 Rue de Richelieu, 75001 Paris, France
Juveniles Hours: Tuesday-Saturday 12-2:30 pm and 7-10:30 pm. Closed on Mondays.
After those amazing places to visit in Paris in 1 day, you've seen and experienced the most incredible spots that you'll remember for years to come! This is the perfect way to see Paris in a day from morning until evening!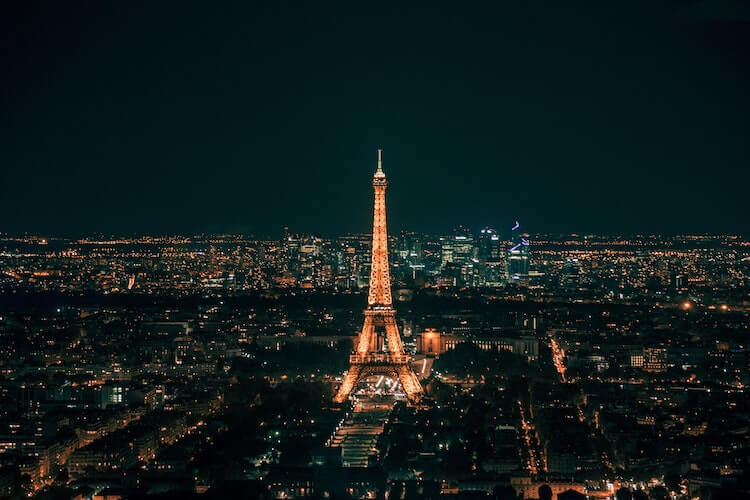 One Day in Paris Map
Where to Stay in Paris
If you plan to spend the night in Paris, I recommend staying closer to the city center as you don't want to waste a lot of time figuring out the metro when you're in Paris for 1 day. And depending on your travel style, I recommend checking out our article all about where to stay in Paris. For a shorter summary and our recommendations for a short visit, check these out.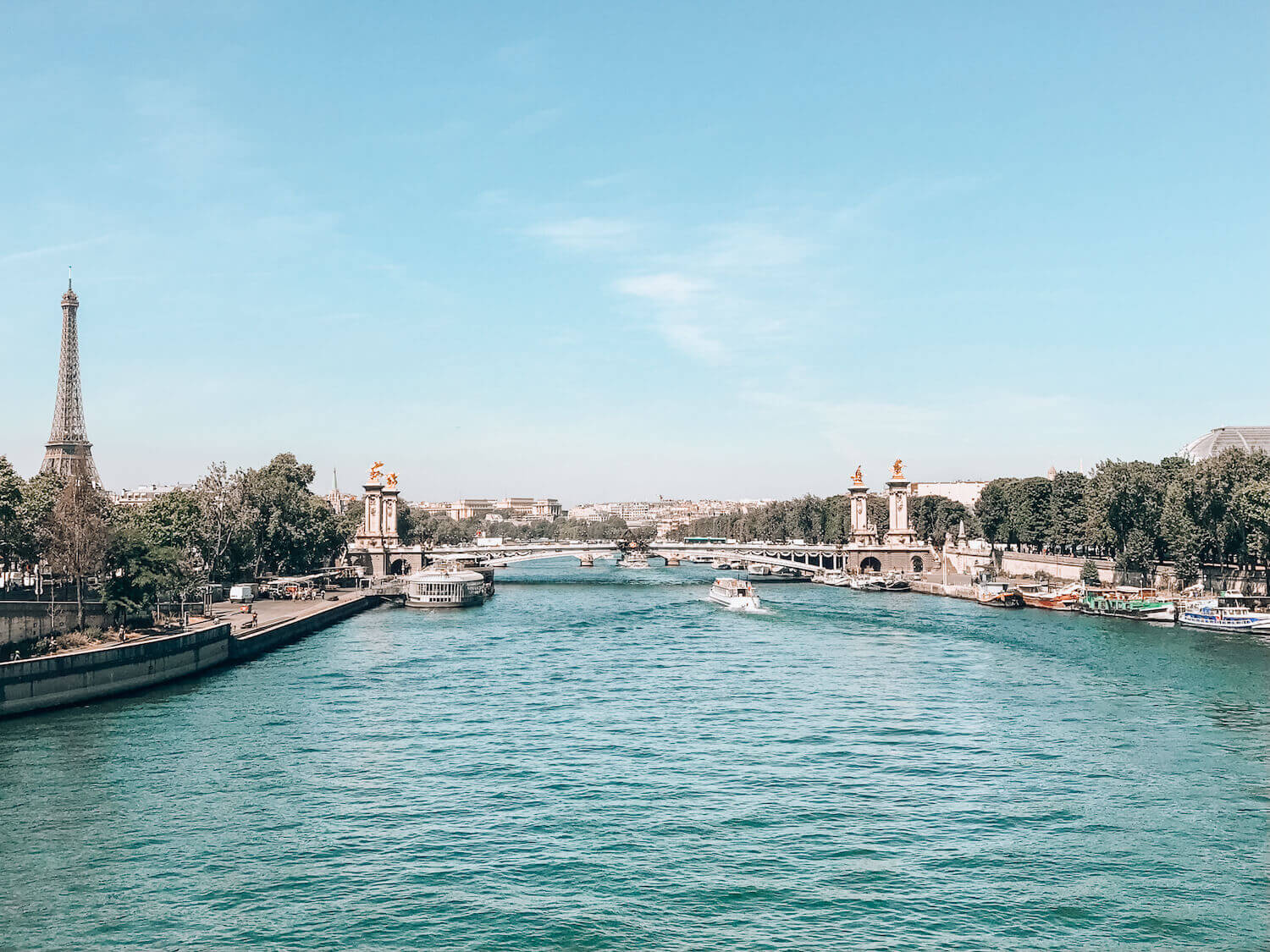 There are also plenty of affordable VRBOs!
If you prefer hotels, here are some great hotels to stay in Paris depending on your budget.
Budget: Hotel De La Paix Tour Eiffel
If you want to be near the heart of the action, and maybe have some Eiffel Tower views, this is a great spot. Plus, it starts around $125 per night, making it much more affordable. (Read reviews on TripAdvisor and book here!)
Mid-Range: Au Manoir Saint Germain Des Pres
If you plan to start your morning off in the Saint-Germain-des-Pres neighborhood, why not stay in a beautifully opulent Parisian hotel in the area? Starting at $270 per night, you'll enjoy the gorgeous views and classic vibes. (Read reviews on TripAdvisor and book here!)
Luxury: Grand Hotel Du Palais Royal
Right in the heart of Paris, you'll be within steps of the Louvre and Palais Royal, perfect for exploring Paris in a day. They also have a Turkish bath, gorgeous terraces, and all the luxuries and service you'd expect. Prices start at $350 per night. (Read reviews on TripAdvisor and book here!)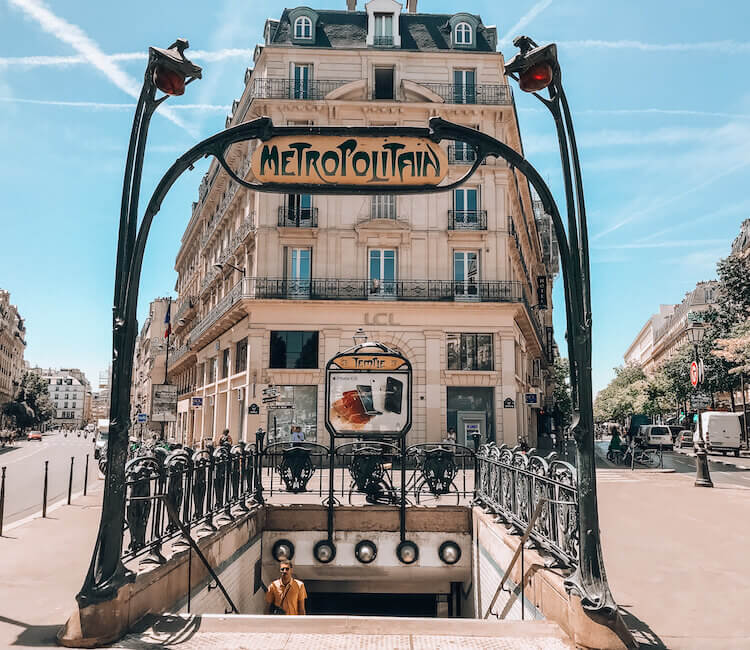 Things to Know While Planning Your 1 Day in Paris Itinerary
You could walk to most of the stops in the Paris Itinerary.
Chris and I would know, as we've walked all over Paris in a day. If you have the ability to, I recommend walking Paris in a day as you wander over to each of these spots. You are afforded the opportunity to see other sights along the way including views of Notre Dame, Seine River, Les Invalides, and more. Just be sure to time things appropriately, as you'll likely have both timed entry museum tickets and the food tour.
If you cannot walk this far or don't have the time between activities, the metro is pretty easy to navigate thanks to Google Maps. You can also opt to purchase a Hop On/Hop Off ticket to see a lot in a day in Paris.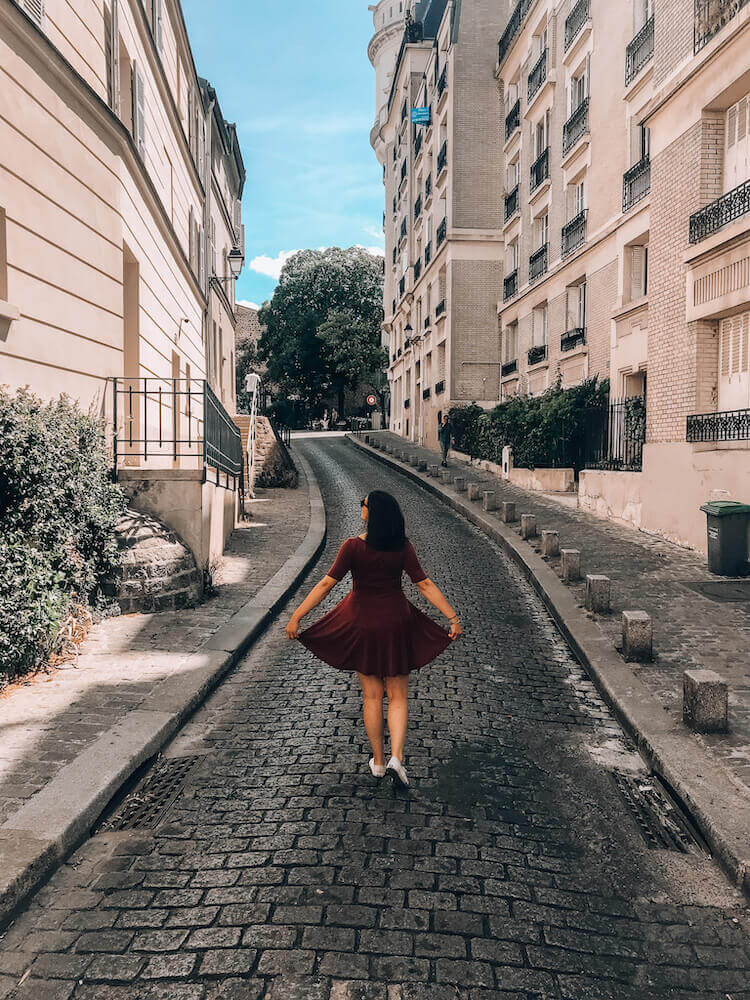 Beware of pickpockets.
Unfortunately, Paris doesn't have the best reputation for this. Just be vigilant of your things at all times and keep it close to you with your hand on your bag in busy areas. I usually even sit on the metro and in restaurants with my purse in my lap. I also have an anti-theft purse that I always carry to prevent pickpocketing.
Also, I usually keep my passport and most of my credit cards in the hotel safe while I'm out and about for the day and only carry the cash I need, a copy of my passport, and one credit card. That way if I were to get pickpocketed, I still have the important things back at the hotel. Knock on wood, that hasn't happened, but it is good to be prepared.
Strikes do happen, so check the local news.
Whether it was the transportation strike of late 2019/early 2020 or various other train/metro strikes that happen, France is known to have union strikes occasionally. This could happen at any time, but before you go, be sure to check the news and see what you're up against.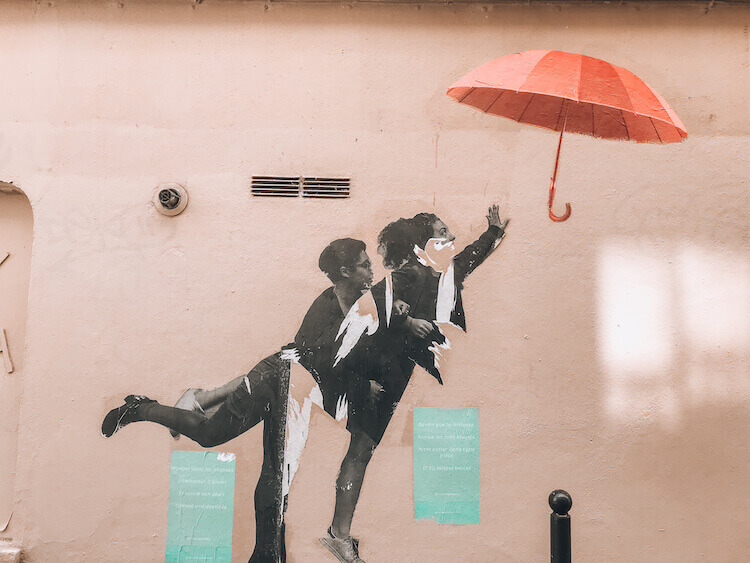 Purchase trip insurance.
I say this a lot, but if your passport is lost or stolen, your flight is delayed, or if you get sick, having travel insurance isn't just an option, but necessary. We get World Nomads before every trip to cover us.
Some things to remember to pack for Paris.
I've detailed more packing tips for Paris in another blog post, but always be sure to bring comfortable walking shoes, as you'll be on your feet a lot. Plus, it could rain at any time, therefore a small umbrella is a great idea.
For packing, I love our Osprey Farpoint 40 backpacks that we've traveled the world with. It is perfect for carry-on only.
Lastly, staying hydrated is key if you're exploring Paris, especially in the summer when a heatwave may strike. I love this collapsible reusable water bottle that you can refill in many of the drinking fountains across Paris.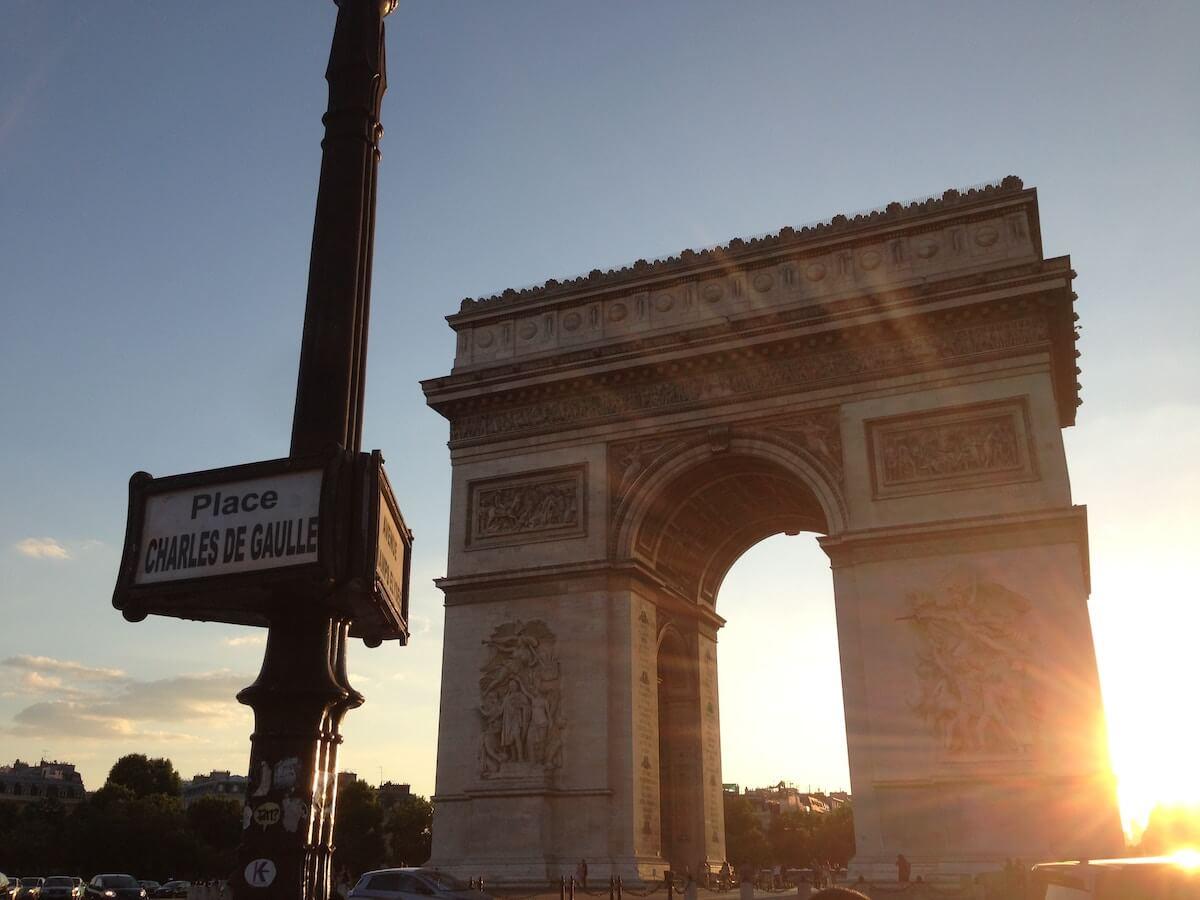 How much to budget for a day in Paris.
I have a whole post about budgeting for Paris, so I recommend checking that out to gage the costs for a day in Paris.
What if you have more time in Paris?
If you have more time in Paris, I recommend checking out more of Paris's neighborhoods and museums, plus maybe even going on a day trip (We loved the Loire Valley!). I have a whole 4-day itinerary guide you can use if you plan to spend a few more days in Paris.
Want to spend more time in France?
Check out our 7-day France itinerary plus tips for things to do in Annecy and a honeymoon guide to Nice. And as far as when to visit the city of lights, we've got a whole guide here for all the details!
Paris is one of my favorite cities to explore and whether you visit Paris in January, visit in May, or in July, there is always something fun to do! While I definitely recommend spending more than a day in Paris, we hope you enjoy this 1-day in Paris itinerary, and that it will leave you full of fond memories of the city of lights.
Pin it here!