Some posts on this site contain affiliate links, meaning if you book or buy something through one of these links, I may earn a small commission (at no additional cost to you!). Read the full disclosure policy here.
---
If you plan a trip to Belgium, whether it is to visit the medieval town of Bruges, the fashion-forward Antwerp, or even the bustling capital of Brussels, chances are you'll have a Belgian beer. Or, you'll at least stumble upon a pub offering tons of Belgian beer. But with all of the choices, styles, and breweries out there, figuring out the best beer in Belgium to drink can be tricky. That's why we made the ultimate beer guide to Belgium plus where to drink beer in Belgium to help you out!
As avid beer drinkers, we knew Belgium had to be a stop for us in Europe. And during our time in Belgium, we drank an embarrassing amount of beer, as categorized on our Untappd profile.
So when it came to making this Belgian beer guide, we used our own personal taste, what we've learned over the years as beer lovers, hours of chatting and quizzing our Belgian native friends and fellow beer lovers Ron and Eline, and even consulted the best beer book out there: The Oxford Companion to Beer by Garrett Oliver. If you see a * next to something, we are citing from this source.
Check out our Belgian Beer Episode: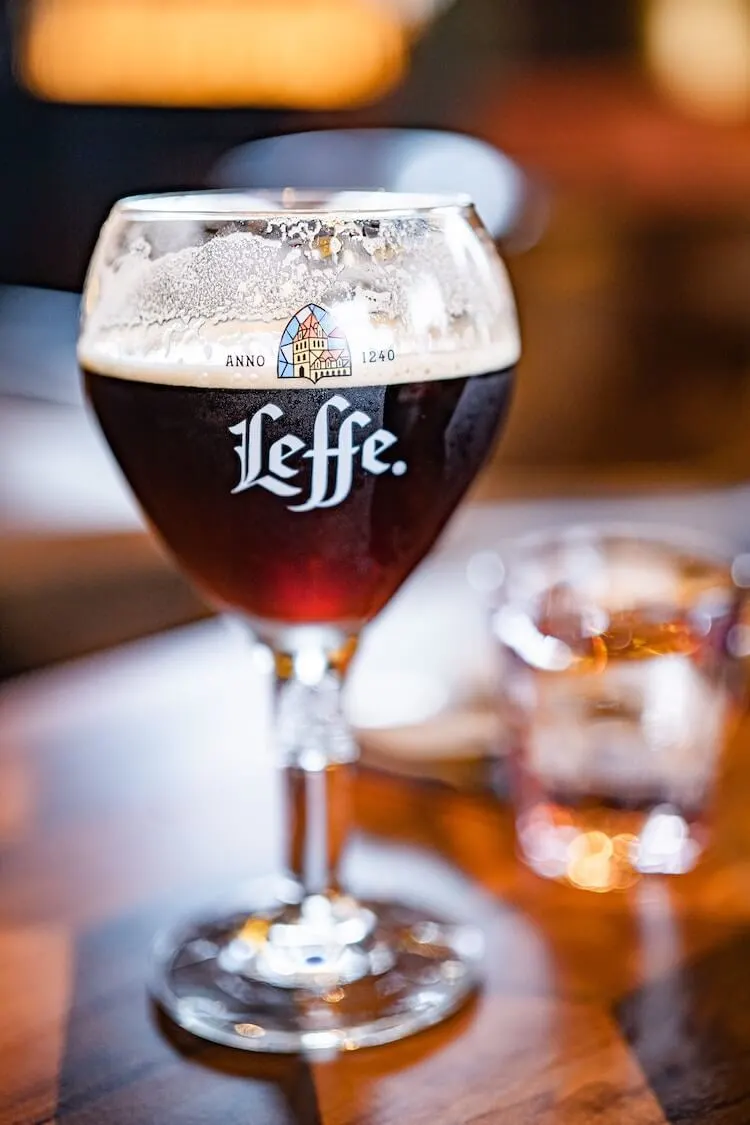 That's how much we take Belgian beer seriously.
With the help of all of these things, we wanted to create a good beer guide to Belgium for beginners and those looking to enjoy the best that Belgian beer has to offer!
And as The Oxford Companion to Beer actually states, "Belgium is to beer what Cuba is to cigars and France is to wine,"* you know this country is the place where you're almost guaranteed to have a good pint!
So let's get started! It's time to lift up those chalices, give a quick "proost" or "santé," and let's do this!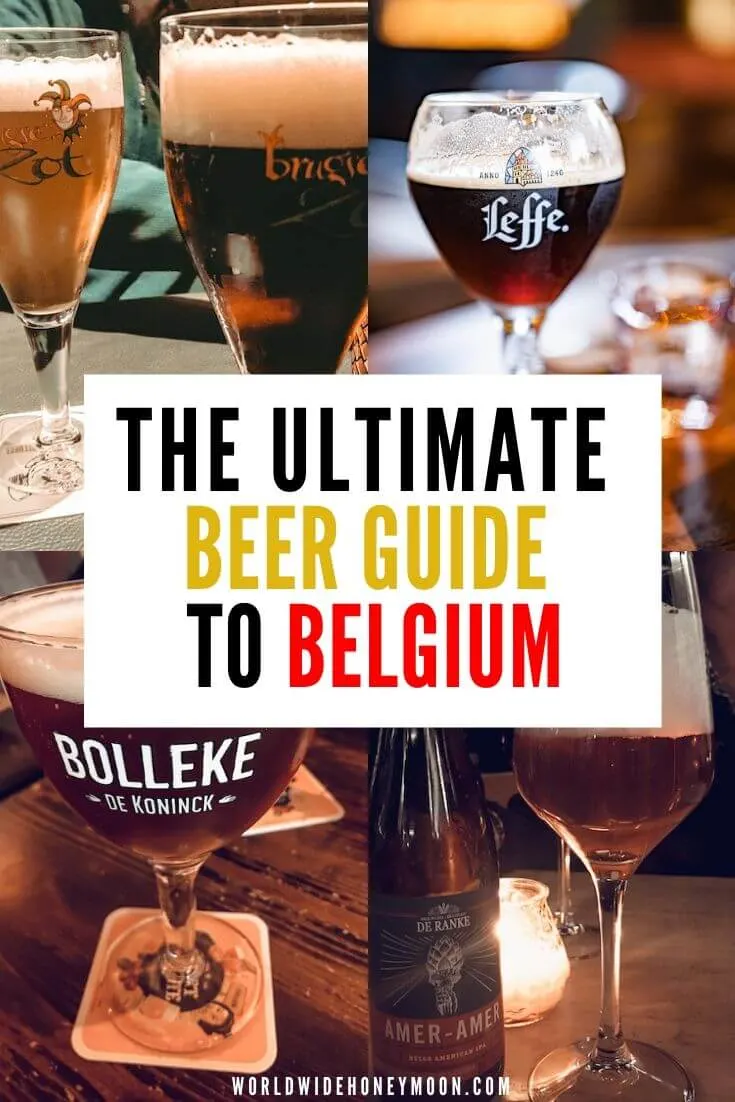 The Most Important Thing on This Beer Guide to Belgium: Types of Belgian Beer
Let's start with the very beginning: what are the types of Belgian beer? Here are the main types of Belgian beer to look out for on menus across the country!
Trappist Beer.
Yes, we're talking about the monk's beer in Belgium, y'all! Brewed by Belgian Trappist monks, there are only 11 breweries in the world that are designated as Trappist.
So what makes it a Trappist beer? Absolutely nothing at all to do with the brewing or style! It just has to be made by monks in the Trappist order.
And why do monks even brew beer in Belgium?
In the middle ages, beer and wine were much safer to drink than water, and because monks had access to a lot of land, were meant to be self-sufficient, and grain grew plentiful, it was only a matter of time before brewing their own beer came into the picture. *
Some famous Belgian monasteries that brew this delicious beer include Abbaye Notre-Dame de Scourmont (Chimay), Abdij der Trappisten Westmalle (Westmalle), and Abbaye Notre-Dame d'Orval (Orval).
Saison Beer.
Chances are you've seen one or two of these on craft brewery menus in the US for a while. But originally, these beers were created in Wallonia in Belgium by farmers around the harvest time. As there was no refrigeration, and it was cooler that time of year, it was the perfect opportunity to ferment beer. *
The Belgian Saison, or farmhouse ale, has a dry, hoppy taste. Of course, flavors can vary a lot, and the conditions for brewing have changed over the years thanks to more controlled environments, but the style is the same.
Notable saison beers in Belgium include Saison Dupont by Brasserie Dupont and Ardenne Saison by Brasserie de Bastogne.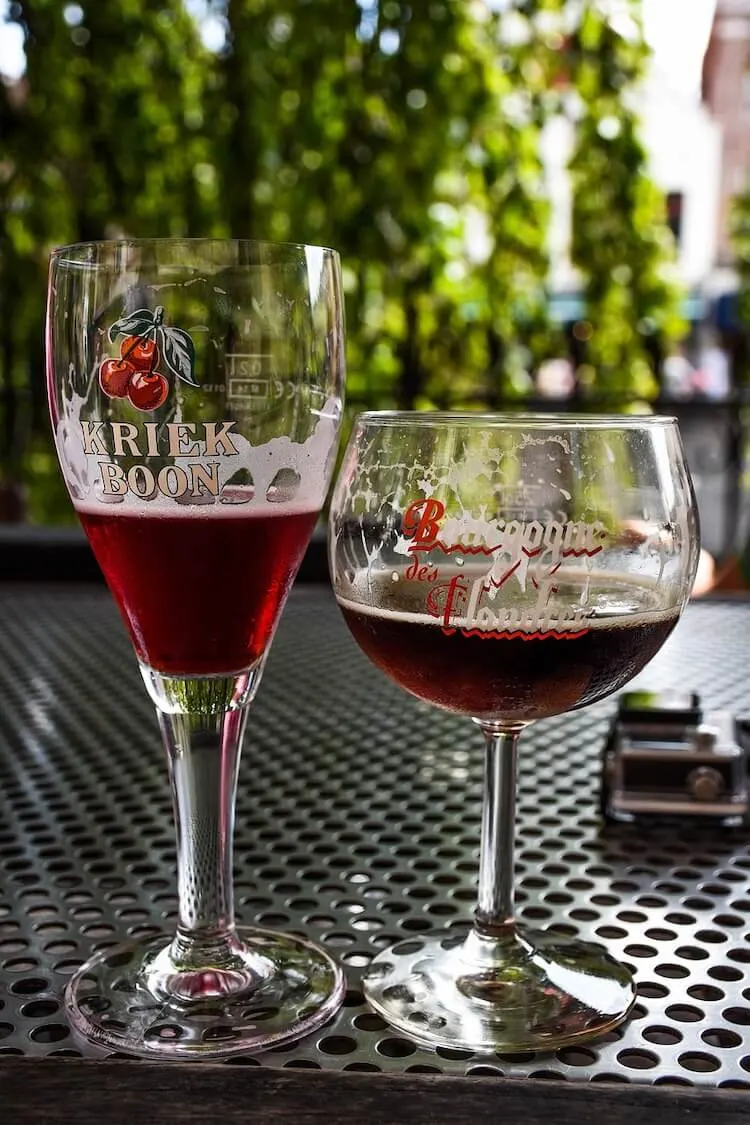 Lambic Beer.
Lambic beers are sour wheat beers and started around Brussels. They can be sweet and fruity or dry and tart, and it really depends on the native yeast and bacteria surrounding the process of making this beer. *
And if that isn't enough, there are many types of lambic beer like traditional lambic (no carbonation, truly sour beer), Biere de Mars (created by the second running of the first lambic mash), Faro (sweetened with sugar and low in alcohol), Gueuze (a mix of lambics of varying ages- what you would think of "gose"), and lastly, Fruit (these incorporate fruit at the early stages).
Some popular lambic beers include Saint Lamvinus by Brasserie Cantillon or even the Lindemans Brewery fruit beer.
Belgian Red Ale.
Sweet and sour, red ales in Belgium are typically red and brown colored. A well-known specialty of the West Flanders province in Belgium, these beers are created using a combination of yeast and lactobacilli during fermentation and then aged in oak barrels. *
What we can only guess as the OG of sour ales is the result and it is perfection. A notable beer in this category includes the Rodenbach Grand Cru.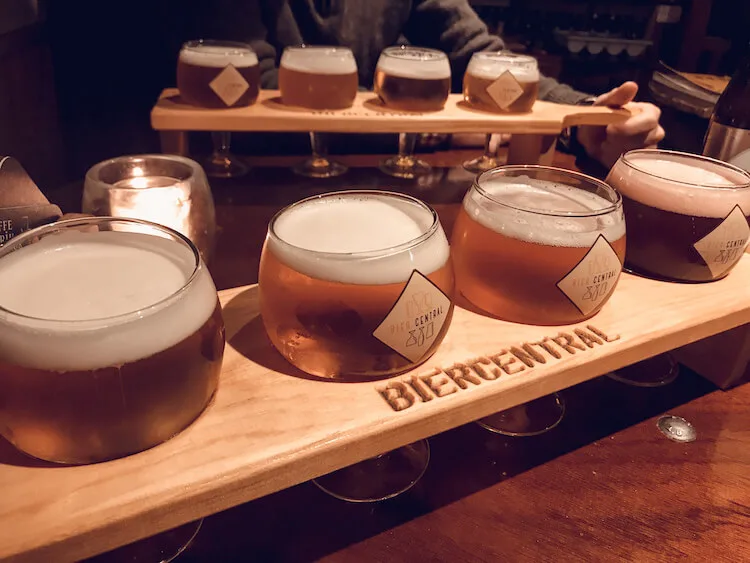 Belgian Tripel.
A popular beer brewed by Trappist monks, Tripel is a pale ale that is golden in color and sneaks up on you. No kidding, these beers can be super strong.
The name is from the brewing process, where 3 times the amount of malt is used than a normal, Trappist beer. And thanks to the extra sugar, you may or may not even notice the strength of the beer. So trust me when I say that sipping this one slowly is your best bet.
Notable Tripels include La Fin Du Monde by Unibroue and Tripel White by Chimay.
Belgian Dubbel.
This sounds pretty similar to the Tripel, but the Dubbel is mostly referred to for its strength. * A darker brown color and with a taste of caramel and sometimes chocolate, Dubbels are a hearty beer on their own.
Some notable Dubbels include Westmalle Trappist Dubbel and Brasserie de Rochefort Trappistes Rochefort.
Witbier.
Unfiltered and top-fermented, this wheat beer means "white beer" and is named for the cloudiness of the beer in the glass. These beers typically have unmalted wheat, and occasionally malted barley, spices, and oats. *
This gives it a great, light flavor, perfect for a hot day. And if you're thinking of Hoegaarden Wit Blanche right now, this is exactly the type of beer that is witbier.
Yes, I totally get that there are plenty of more beer styles that come from Belgium, but these are definitely the most popular ones to look out for during your trip!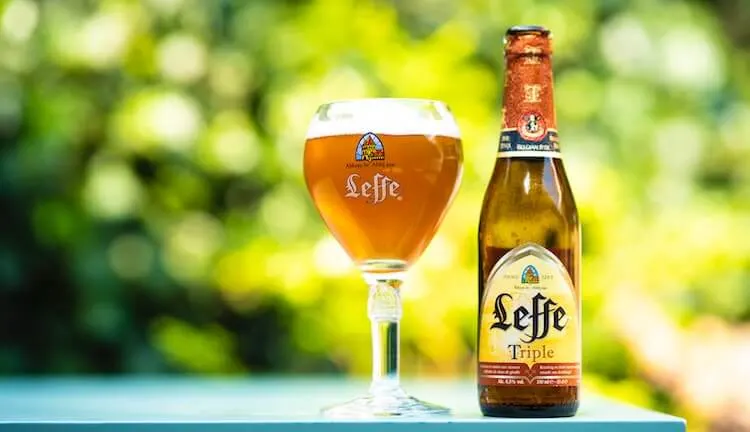 Why Do The Glasses Not Look Like Normal Pints?
I don't know about you, but back home in the US, most beer is served in a pint glass. At a brewery, expect it to have the brewery label slapped on, and in most restaurants, you're lucky if that glass is the same as the brewery that made the beer itself.
Not so in Belgium.
They take it seriously there. Every time you order a beer, not only does it come in either a chalice, tulip, or flute glass, but also it almost always is the glass from the brewery itself.
Why?
Because every single beer made in Belgium also comes with a specific glass that is designed to enhance the flavors and aromas of the beer.
And I'll drink to that.
As a quick reference guide, here are the main types of glassware you'd expect when you grab a pint in Belgium:
Chalice or goblet
These are popular among those tasty Trappist beers we talked about above. The glasses are wide-rimmed and are meant for handling those Dubbels, Tripels, and even Quadruples!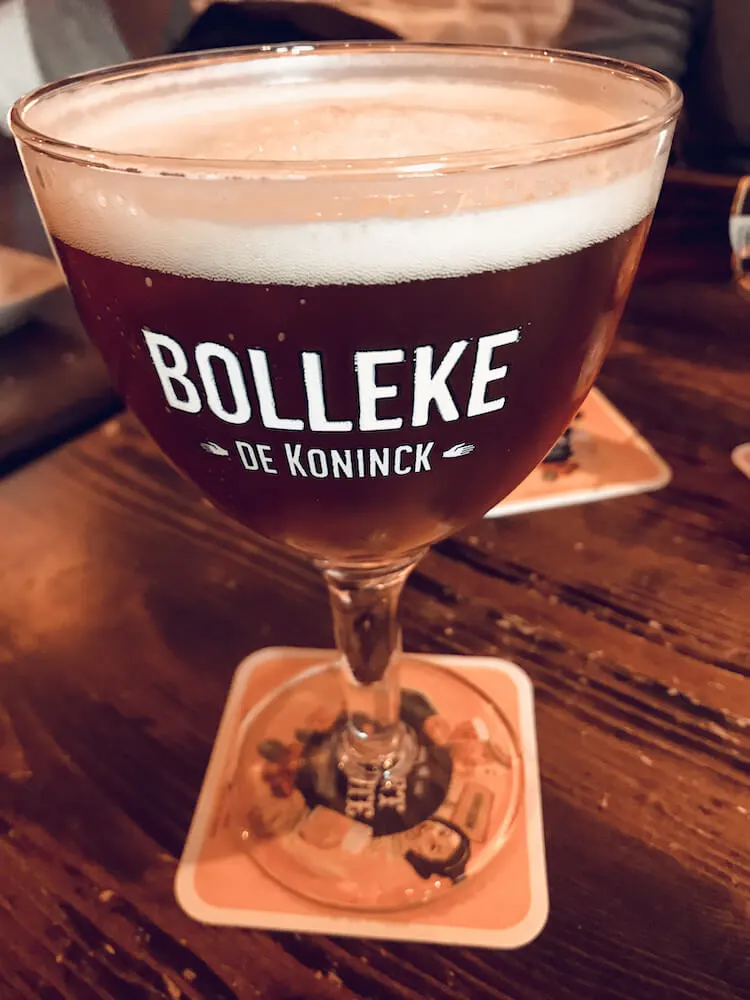 Tulip
Not just a pretty springtime flower, but the tulip glass itself is shaped just like that: a tulip. This has a larger bottom that narrows a bit before widening at the top. This glass is great for beers that are best with a lot of foam. Think La Chouffe!
Flute
Not an instrument, but named for the narrow glass that is evenly shaped from top to bottom and has a short stem. This is meant for heavily carbonated beers like those fruity lambics.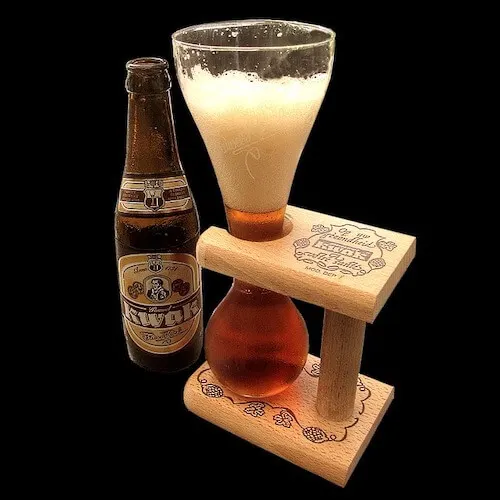 Other, oddly specific designs
And some breweries have strange designs for their beers like Kwak that has the quirky, hourglass/beaker shaped glass that you hold with a wooden holder.
While many would think it has a specific taste purpose, it really was made during Napolean times when taking a carriage was the way to travel. Kwak himself wanted the drivers to be able to enjoy the beer while they waited outside to drive their patrons home, so he devised this glass and holder to be fastened to the carriage so they could drink and drive (definitely don't do that today)!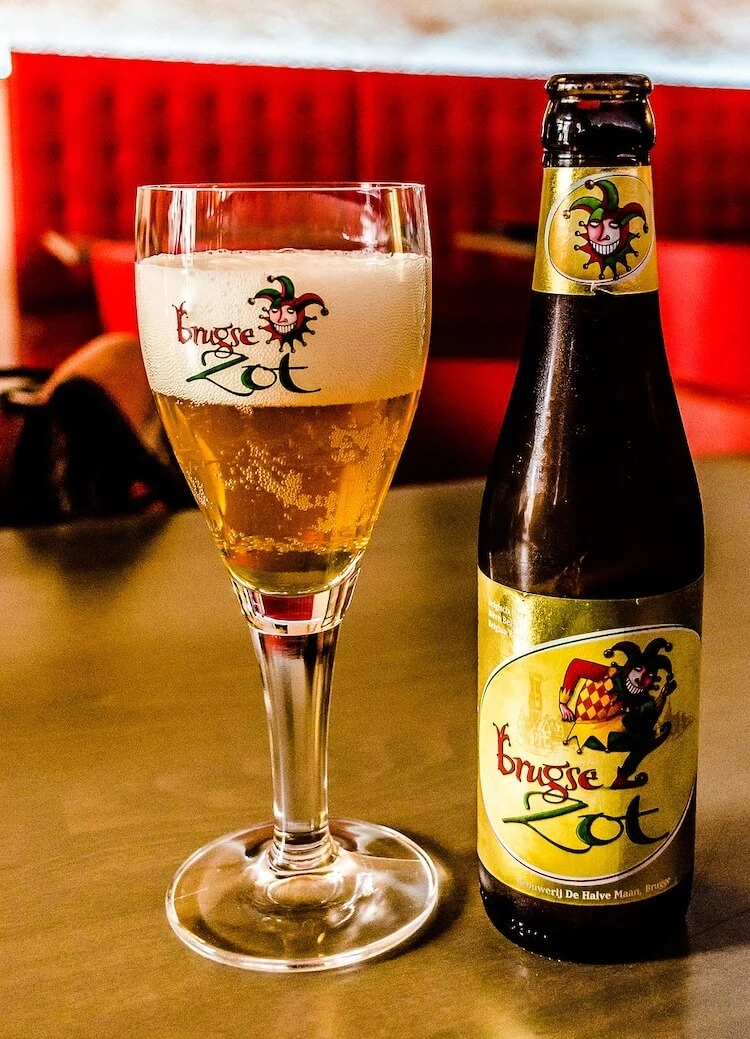 How to Pour That Perfect Belgian Beer
As my Belgian friend Ron once said, "In the US, if you give a man a beer with foam, he'll push it back and want more beer. In Belgium, if you give a man a beer without foam, he'll push it back in disgust."
When I go to one of Cleveland's great breweries back home, while the beer is fantastic, they almost always pour it at an angle so as to avoid creating a foamy top.
But in Belgium, the standard is 2 fingers width of foam. The reasoning is this: the foam keeps the beer safe from the oxygen in the air, thus leaving it fresh! No foam means things get stale quicker.
Also, the foam has a flavor all its own! Creamier and sweeter, it gives the beer the perfect balance and mouthfeel while drinking it.
And if you thought it was just about the foam, you should know that draft isn't always better. As Belgian beer can still age in the bottle, serving it from there actually helps the flavor! Now, this isn't a hard and fast rule for every Belgian beer, but if the beer list contains mostly bottled Belgian beers, don't disregard it.
Lastly, Belgians are even picky about the temperature of their beer. Many bottles even have the ideal temperature for serving labeled on it. So pay special attention: these breweries want to ensure you get the best flavors and aromas of their beer, even if that means they get picky about glass design, foam, bottle, and temperature!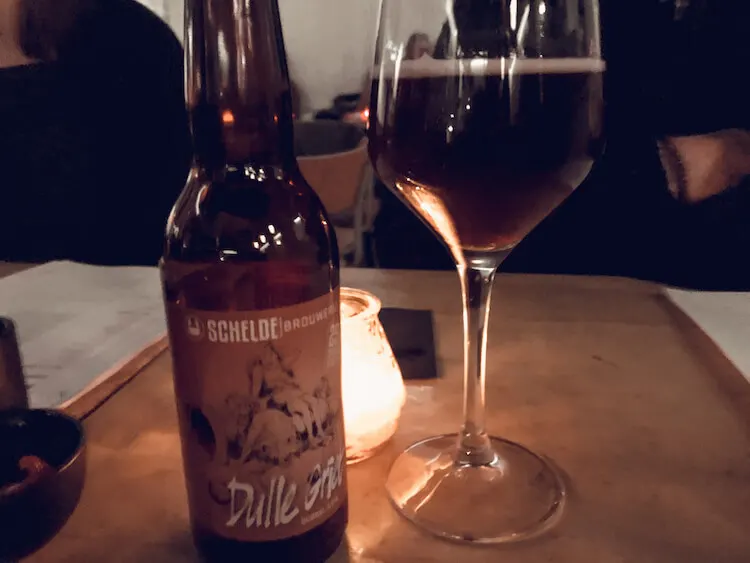 Best Beer in Belgium (According to Us…And Some Belgian Locals)
Okay, we took a lot of notes and logged everything we drank. And we drank a TON of Belgian beer in Belgium (for research purposes, right?). So now we're going to give you our tips for the best beer in Belgium you've got to try!
Delirium Noel by Huyghe Brewery. Holy crap, I thought Cleveland had the Christmas beer game down. But, while Delirium is an incredible brewery in general, this red, sweet, slightly bitter beer is perfect for Christmas.
N'Ice Chouffe by Brasserie d'Achouffe. Another Christmas beer, but La Chouffe makes some killer beers overall. Spicy, smooth, and strong, it'll warm you up in even the chilliest winters.
Brugse Zot by Brouwerij de Halve Maan. This beer, made in Bruges, has 4 kinds of malt and 2 kinds of hops that give it that perfect fruity, easy to drink beer.
Delirium Tremens by Huyghe Brewery. Another beer that inevitably made this list, this sweet, strong, and fruity beer is about as mysterious as the ceramic bottle it comes in.
Gouden Carolus Tripel by Brouwerij Het Anker. With that characteristically golden color, it is sweet and curiously smooth.
Straffe Hendrik Brugs Tripel Bier 9º by Brouwerij de Halve Maan. A deliciously smooth and fruity yet bitter tripel.
Delirium Red by Huyghe Brewery. If you haven't noticed, if you go to Belgium, you have to try Delirium. This fruit beer has tastes of sour cherries and almonds.
Westmalle Trappist Tripel by Brouwerij der Trappisten van Westmalle. A Trappist tripel that is perfectly fruity, malty, and strong.
Dulle Griet by Scheldebrouwerij. Dark, light in flavor and malty, this Dubbel is full of fruit and spice.
Leffe Blond by Abbaye de Leffe. A delicious beer that is perfect for a summer day, this lighter beer is smooth, with hints of banana.
Brugse Zot Dubbel by Brouwerij De Halve Maan. With a roasted, malty start and bitter, hoppy finish, you'll taste hints of coffee in this dark beer.
Tripel d'Anvers by Brouwerij De Koninck. This sweeter, fruity beer has vanilla and hazelnut tastes and is truly addicting. But be careful, it is a strong tripel, after all.
Chouffe Soleil by Brasserie d'Achouffe. Another Belgian blonde, this one has citrusy flavors with a hint of vanilla. It is another perfect beer for a sunny day.
Kriek Girardin 1882 by Brouwerij Girardin. And, of course, we had to include this tasty lambic beer. Red, sour, and fruity, you'll love the cherry flavors of this beer.
Okay, this isn't the full list of every single beer we drank in Belgium, but these were the top-rated beers that we loved! These are all solid choices if you can't decide which beers to try in Belgium, with many coming from the main cities of Antwerp and Bruges!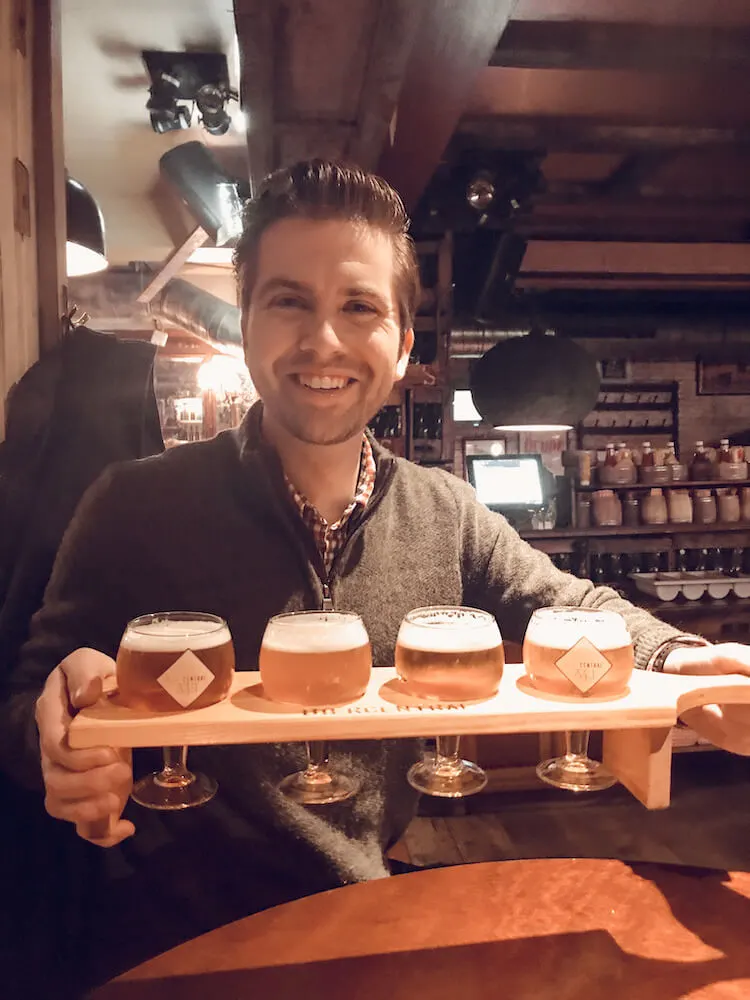 Your Beer Guide to Belgium: Where to Drink Beer in Belgium
I mean, where is there not a great place to drink beer in Belgium, right?! With countless breweries, brassies, and more, we had to round up some top spots to try beer in Belgium during your stay. And while I have been to the major cities of Brussels, Bruges, and Antwerp, we didn't have time to go to Ghent, which is why that isn't on here.
But as we followed our Belgian friends around Bruges and their hometown of Antwerp, they certainly had fabulous places to drink beer that we're giving you all the details on.

Where to Drink Beer in Brussels
When it comes to where to drink beer in Brussels, these are great places! You can also check out this amazing beer tasting tour to learn more!
This family-run brewery is worth a stop during your time in Brussels. Creating lambic beers using organic ingredients like barley, wheat, cherries, etc. this is a great place to tour the brewery itself and sample some of their famed beers.
Address: Rue Gheude 56, 1070 Bruxelles, Belgium
Hours: Monday-Tuesday and Thursday-Saturday 10 am-5 pm with the last entry at 4 pm. Closed on Wednesdays and Sundays.
Perhaps a mouthful to say, this café is eclectic with puppets on the walls and an absolute giant beer menu including beers such as Leffe Blonde, Delirium Nocternum, and a sweet Apple Lindeman beer.
Address: Rue du Chêne 5, 1000 Bruxelles, Belgium
Hours: Tuesday-Thursday and Sunday 11 am-1 am. Friday-Saturday 11 am-2 am. Closed on Mondays.
A bar with over 2,000 beers, you definitely can't go wrong. And you know that Delirium is on the menu. You'll also love the dark, cozy feel with beer decorations everywhere.
Address: Impasse de la Fidélité 4, 1000 Bruxelles, Belgium
Hours: Monday-Thursday 10 am-4 am. Friday-Saturday 10 am-6 am. Sunday 10 am-3 am.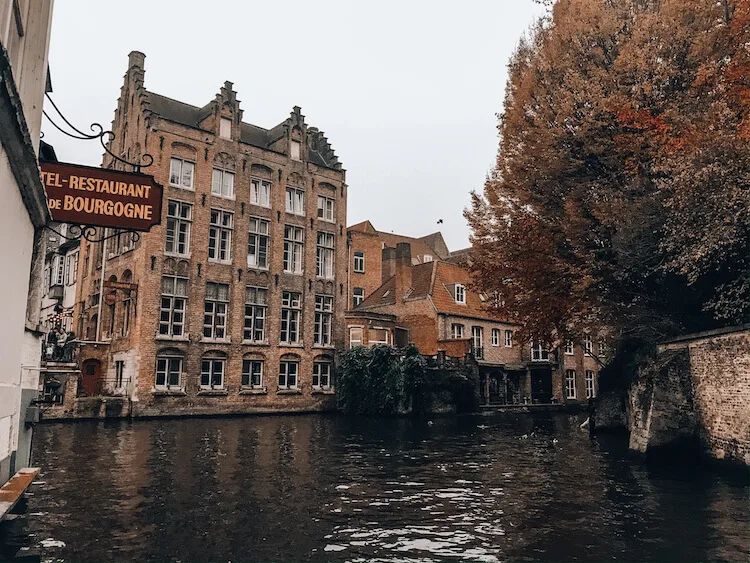 Where to Drink Beer in Bruges
Bruges is a solid place for some of Belgium's best beers; there are some spots you're going to want to check out if you've got the time! Or you can even check out this great beer tour of Bruges!
If this name sounds familiar, it is because I referenced it a few times on my list of the best beer in Belgium above. And it is in Bruges! With tasty beers like Straffe Hendrik Brugs Tripel Bier 9º and Brugse Zot blonde, a trip to this brewery will not disappoint.
You can also sign up for the tour, it is €12 and you get a Brugse Zot at the end of the tour.
Address: Walplein 26, 8000 Brugge, Belgium
Hours:
Tour: Monday-Friday & Sunday every hour on the hour between 11 am-4 pm. Saturday is every hour on the hour from 11 am-5 pm.
Brasserie: Sunday-Wednesday 10 am-6 pm. Thursday-Saturday 10 am-9 pm.
A place mixed with young and old beers combined…and beer drinkers I suppose. They are known for their iconic red-brown lambic beers. You can also go on a brewery tour for €11 and it even includes a free beer!
Address: Kartuizerinnenstraat 6, 8000 Brugge, Belgium
Hours:
Tour: Tuesday-Sunday every 20 minutes from 10 am-6 pm. The final tour is at 5:10 pm.
Brewery: Tuesday-Sunday 10:30 am-7 pm.
Le Trappiste Brugge:
Want to drink Trappist beer? This is the place to go to during your time in Bruges. With a rotating specialty beer list from around the world, their own Trippel on tap, plus many great Trappist beers, you'll enjoy this bar. Oh, and it is set in a 13th-century cellar. It's all about the atmosphere, right?
Address: Kuipersstraat 33, Brugge, Belgium
Hours: Daily 5 pm-1 am.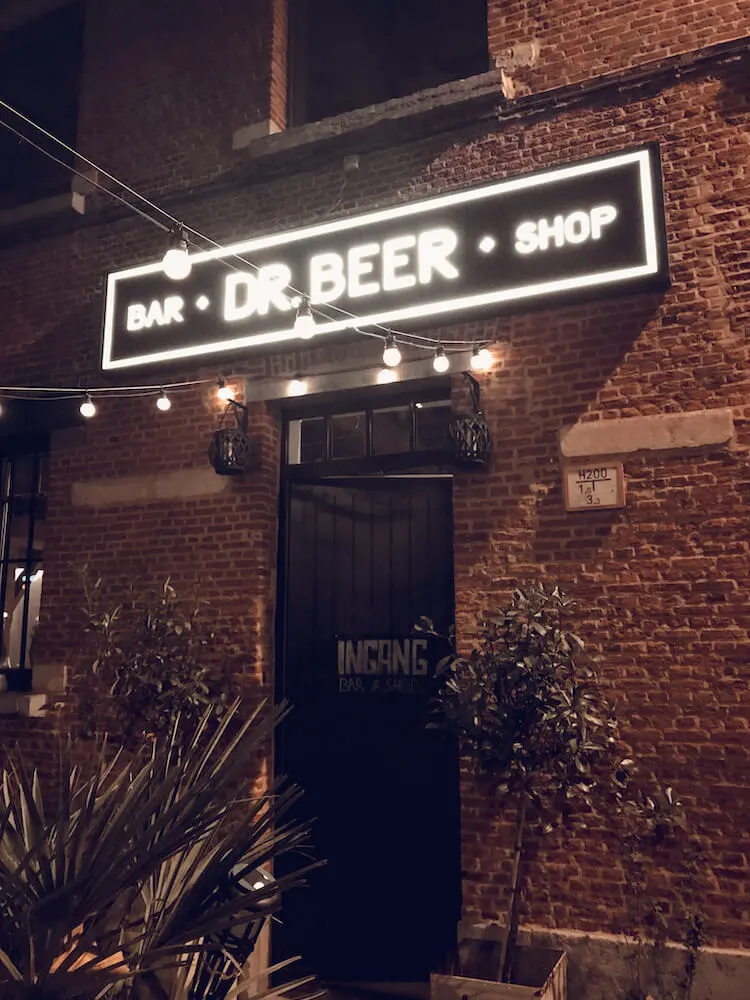 Where to Drink Beer in Antwerp
And to finish off our places to drink beer in Belgium, let's dive into some great spots in Antwerp! Check these out and take a beer tour of Antwerp if you have time!
Brouwerij de Koninck

.
Can't make it to Bruges for a brewery tour or just love visiting breweries? Check this one out in Antwerp. With tasty beers like the one mentioned above, Tripel d'Anvers, and the iconic Bolleke De Koninck, enjoy the rich, spicy flavors of these delectable beers right from the source.
You can also go on a tour for €14 per person.
Address: Mechelsesteenweg 291, 2018 Antwerpen, Belgium
Hours:
Tour: Daily 10 am-6 pm. Tours are self-guided! Closed on Mondays.
Bar: Tuesday-Friday & Sunday 10 am-6 pm. Saturday 10 am-10 pm. Closed on Mondays.
Dr. Beer.
This cozy little bar is the perfect place to duck in to warm up when it is cold outside and try some seriously good beer. This place also fills up with locals so if you want to go where the locals go, check this spot out.
We really enjoyed their Amer-Amer IPA and Dulle Griet Dubbel (mentioned above) beers they served!
Address: Adriaan Brouwerstraat 31 GLV, 2000 Antwerpen, Belgium
Hours: Tuesdays & Thursdays 4 pm-12 am, Friday & Saturday 4 pm-1 am, Sunday 4-10 pm. Closed on Mondays and Wednesdays.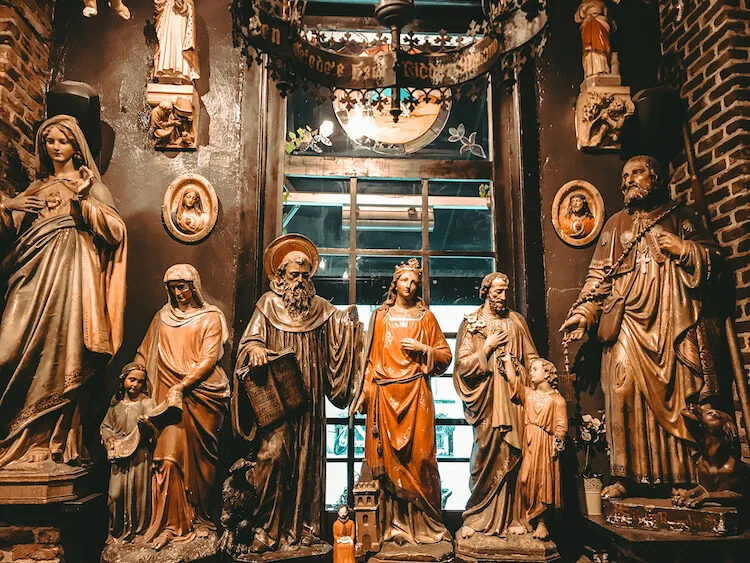 Also known in English as the 11th Commandment, this place is really neat to see. Our friends call it the "church bar," with statues of saints all over the place and an overall church vibe but with beer. Maybe it'll make you feel like a Trappist monk? We loved it.
Chris tried the Bolleke de Koninck here and really enjoyed it!
Address: Torfbrug 10, 2000 Antwerpen, Belgium
Hours: Open daily 12-11 pm.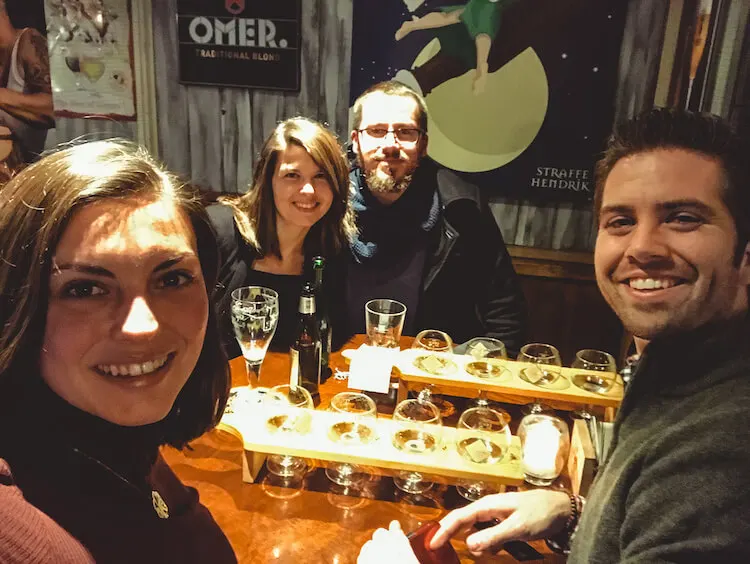 This came highly recommended by Ron and Eline and it was a top-notch spot. With a cool vibe and chance to sit inside of a beer barrel, they offer flights of beer, which is great because they offer over 300 Belgian beers to try!
We each got a flight for "research" and enjoyed the Delirium Red, La Chouffe, Triple d'Anvers, and Cuvee des Trolls most of all.
Address: De Keyserlei 25, 2018 Antwerpen, Belgium
Hours: Open daily 12 pm-1 am.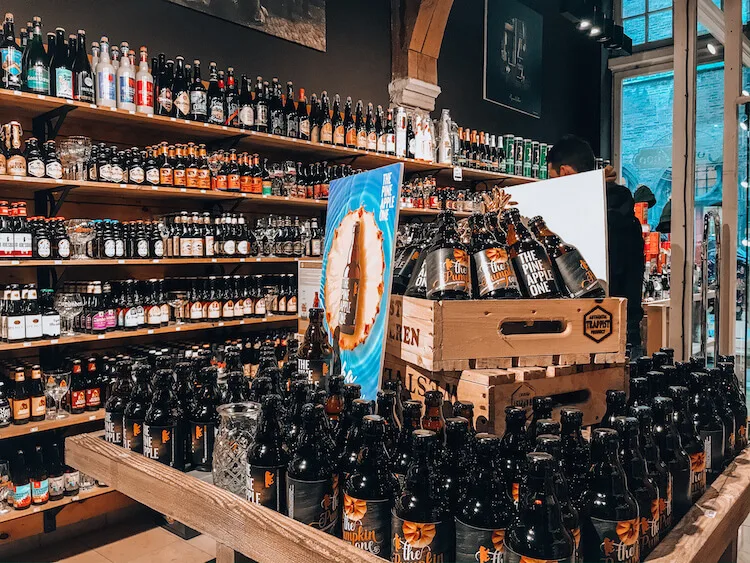 Tips for Drinking Beer in Belgium:
The price of beer in Belgium: Beer prices can vary across Belgium, but at most cafes and brasseries, many beers range from €3-4.50 per glass, with gueuze lambics being a little pricier at €7-10 per glass.
If you are renting a car in Belgium, please drink responsibly. You guys know by now that drinking and driving (contrary to Kwak), is never a good idea.
For finding great hotels in Belgium, we love checking TripAdviso

r

and

Booking.

com.
For finding train or bus times and booking train or bus tickets across Belgium, we check The Trainline. They were essential for us getting tickets from the Brussels Airport to Antwerp and even for our day trip to Bruges.
And like all destinations, travel insurance is key. Whether your luggage gets lost or you have a medical emergency, travel insurance is there. Our choice is World Nomads for its easy to understand policies and great plans!
We hope you enjoyed this beer guide to Belgium and all of the insider tips to drinking beer in Belgium before your stay! Whether you love Belgian beer or are hoping to order the right kind of beer during your visit, this guide has you covered!
Would you visit Belgium and try the beer? Where would you like to visit in Belgium? Let us know in the comments!
And want to read more? Check out these posts:
* Oliver, Garrett. The Oxford Companion to Beer. New York, NY, Oxford University Press, Inc., 2011.
Pin it here!