Some posts on this site contain affiliate links, meaning if you book or buy something through one of these links, I may earn a small commission (at no additional cost to you!). Read the full disclosure policy here.
---
Peruvian food is making a name for itself around the globe thanks to many chefs dominating the food scene in Lima. But, did you know that Cusco has a thriving culinary scene as well? During our trip to Peru, every single meal we had was amazing, especially the food in Cusco. So read on to check out the 10 best restaurants in Cusco that you'll want to try today!
Check out our Cusco Travel episode here!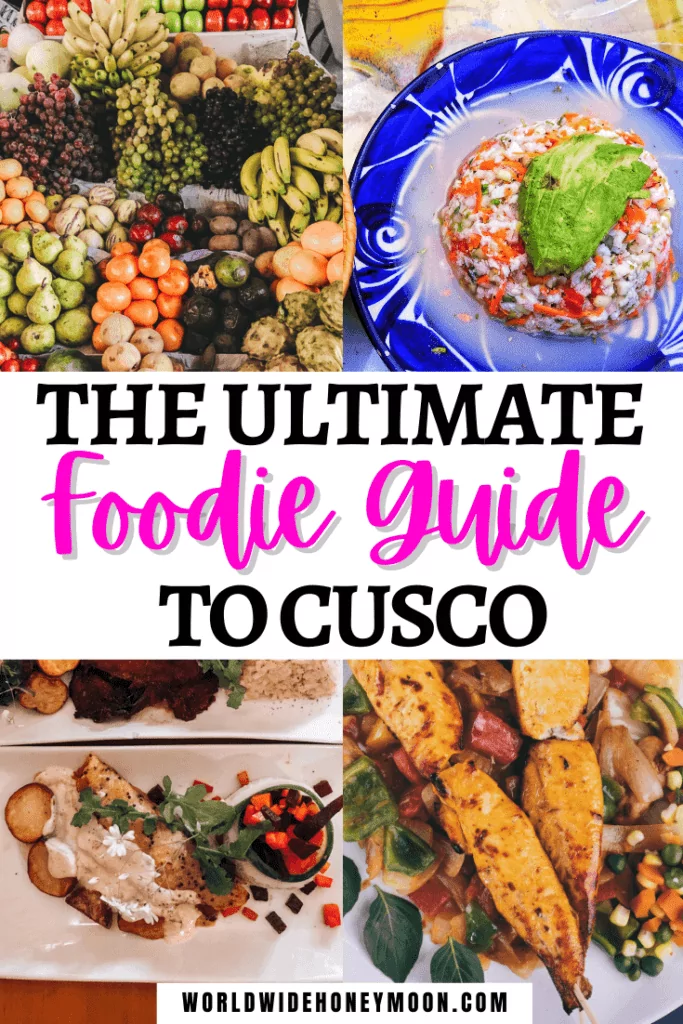 The 10 Best Restaurants in Cusco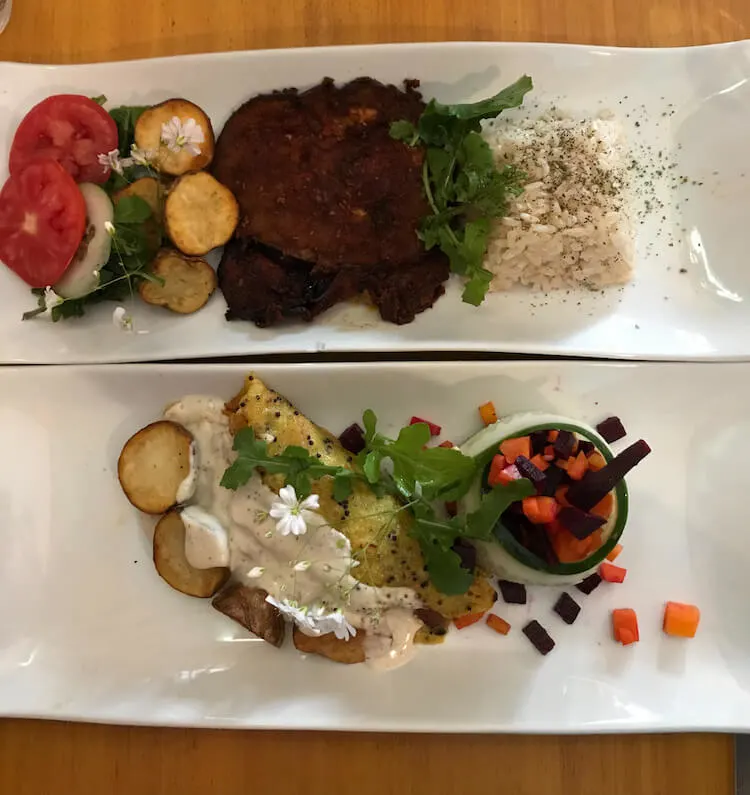 1. Best Restaurants in Cusco:

Chia Vegan Kitchen
Address: Tecsecocha 466, Cusco 08002, Peru | Phone: +51 84 599055 | Hours: 10 AM-10 PM daily | Cuisine: Healthy, Vegan | Price Point: $9-12 per entree
A vegan restaurant may not sound like typical Peruvian food, but did you know that Peru alone has over 4,000 varieties of potato? And that delicious and healthy quinoa many people switch out higher-carb foods for is a Peruvian staple as well. And for a top restaurant on TripAdvisor for Cusco, it certainly is worth a visit.
You won't find a bad meal at this restaurant, including their biggest seller- the veggie grill. Loaded with veggies, vegan sausage, and potatoes, it is large enough to split between two people. Also, if you are hoping to save a few soles, opt for the lunch menu, where you get soup, salad, a choice between two main courses, and a dessert for only 15 soles ($4.50) per person!
We opted for the lunch menu one day and enjoyed the flavorful quinoa soup, filling and tasty salad, the best veggie enchiladas of our lives, and the dessert, the aguaymanto pudding, was so perfect. You'll certainly want to come back to this delicious spot!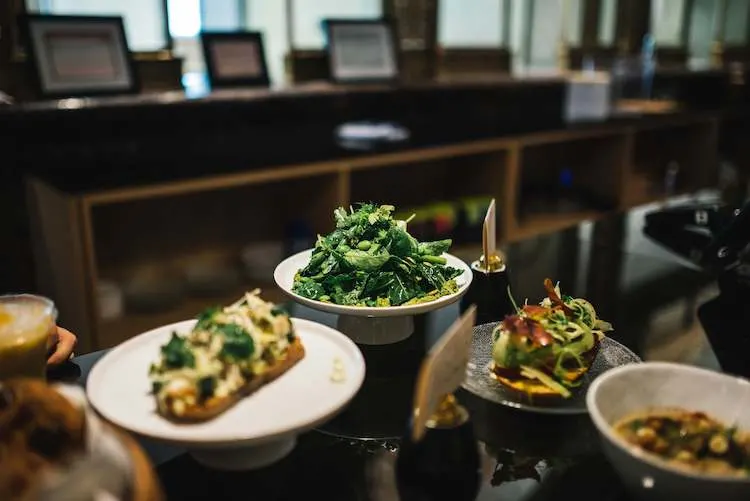 Address: Huaynapata 410, Cusco 08002, Peru | Phone: +51 84 200948 | Hours: 11 AM-10:30 PM daily | Cuisine: Peruvian, Latin | Price Point: $8-10 per entree
When it comes to trying typical Peruvian and Cuscanian dishes this is the spot. From Lomo saltado, strips of beef pan-fried with veggies and potatoes, to chicharron, pork belly, this is the place to try some of the best dishes of Peru.
And if you're feeling adventurous, try out the alpaca burger, made like a regular hamburger, but certainly a different texture and flavor than the beef patty you may be used to. Of course, if you're still hungry post-meal, opt for the tronquitos de chocolate, or chocolate cake with cacao mousse and crunchy coco leaves. I mean if you're going to be in a country with some of the best chocolate in the world, you've got to splurge, right?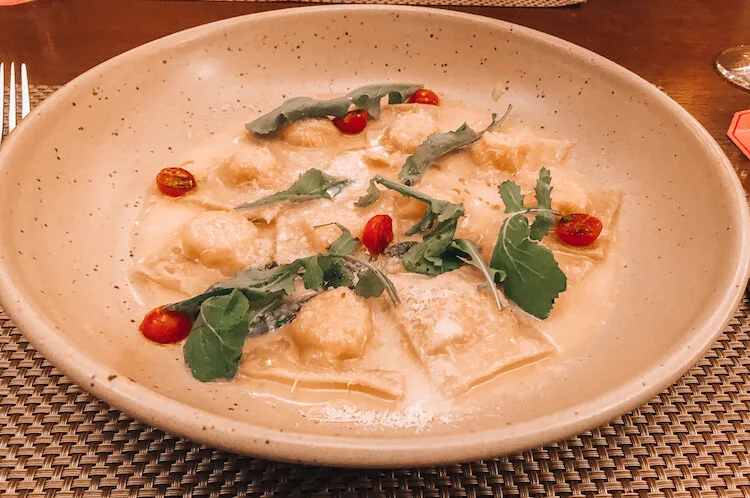 Address: Plaza Regocijo 261, Cusco 08002, Peru | Phone: +51 84 240520 | Hours: 12 PM-10:30 PM daily | Cuisine: Upscale Peruvian, Latin | Price Point: $12-19 per entree
If there is one chef's name that you'll undoubtedly learn in Peru, it is Gaston and for good reason! He is a treasure with restaurants sprinkled in every larger city throughout the country. We learned about him our very first day during our food tour in Lima, and while we didn't get to try out his flagship restaurant in Lima, we definitely made reservations to check out Chicha in Cusco. It definitely delivered!
We opted for the vegetarian selections this time, and the ravioli comprised of corn and cheese was so delicious, as was the cheese qapchi with fava beans, cheese, potatoes, eggs, and chili. For those sticking to meat selections, definitely check out the pachamanquera trout with fava beans and spinach or the chicharron with ribs and served with onions, peppermint, and fried potatoes.
Either way you order you have to get the chocolate balloon for dessert. This sexy sweet course looks like a chocolate mound to start, until they pour hot caramel on the top, collapsing the dome to reveal apples with caramel mousse, ice cream, quinoa foam, and crunchy almonds. It is the perfect way to end the meal.
And a visit to a special restaurant like this deserves a special wine. Try the Peruvian wine! They have Intipalka wine in both red and white varieties to enjoy!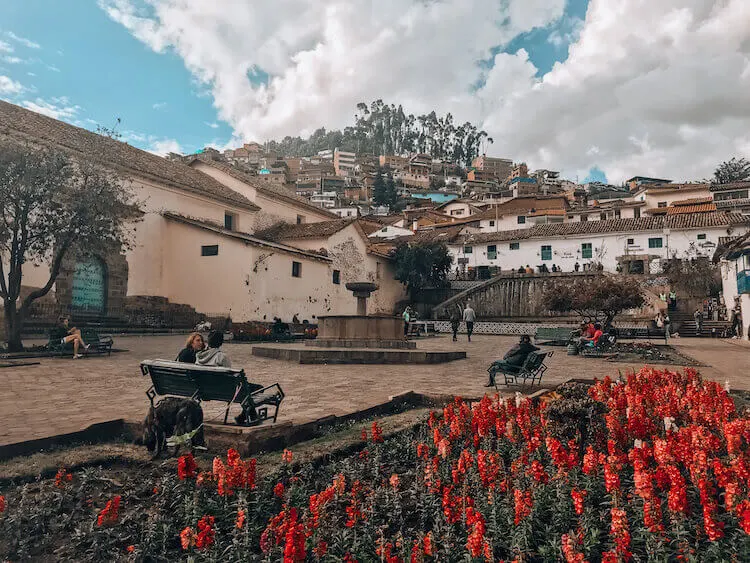 4. Kusikuy Restaurante is One of the Best Restaurants in Cusco for a Traditional Delicacy
Address: Amargura, Cusco 08002, Peru | Phone: +51 84 262870 | Hours: 10 AM-10 PM Monday-Saturday | Cuisine: Peruvian, Latin | Price Point: $11-21 per entree
Ready to get even more adventurous with your food? Then it's time to try the Peruvian delicacy of cuy. Not sure what cuy is? It is a guinea pig. And while for many that sounds more like a pet than dinner, it is a very much-loved dish in Peru, especially in Cusco.
It is a bigger splurge for the cuy al horno, or roasted guinea pig served with stuffed pepper and baked potatoes with cheese, but it could certainly feed two people for the $21 price point. Just as a heads up- it does come wholly cooked, toes and all. However, once you try it, you'll be delighted with its unique and special flavor.
And if you want to try more cuy, opt for the cuy chactado, served with the same potatoes and peppers, but this time fried up. It's kind of like eating fried chicken, right?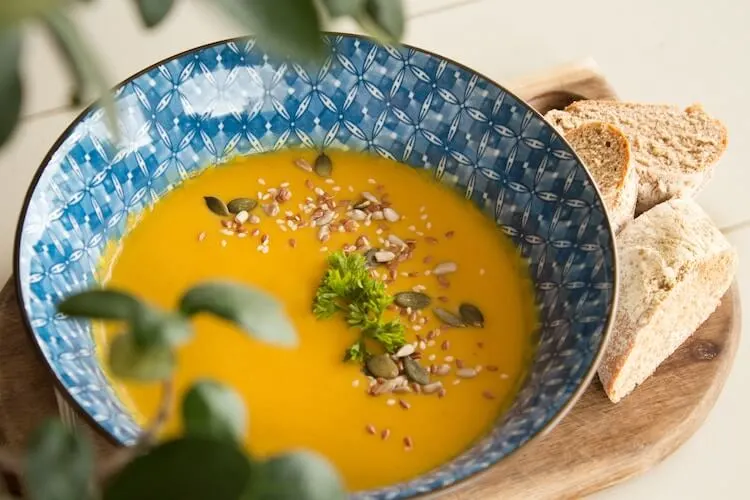 5. Mr. Soup
Address: Calle Garcilaso 210, Cusco 08002, Peru | Phone: +51 84 386073 | Hours: 12 PM-10 PM daily | Cuisine: Soups, Salads | Price Point: $5.50-7.50 per entree
Who doesn't love a good soup? When you first arrive, one of the best places to eat in Cusco is Mr. Soup. Why? The altitude here is no joke. Eating a heavy meal, trying to exert yourself too much, and not drinking enough water are ways that will certainly give you some bad altitude sickness. So take it slow, and have a nice bowl of warm soup to settle your stomach and body before hiking and walking around Cusco and the Sacred Valley.
We loved both the misoshiru soup with miso, tofu, carrots, leek, spinach, and peas as well as the lentil soup loaded with carrots, pumpkin, and green beans. Also, split a tasty salad of the day, like the excellent quinoa and veggie salad.
You'll feel refreshed and ready to take on all of the adventures that are to come in the Sacred Valley as well as warm up after a walk in the chilly Cusco evening with Mr. Soup.
6.

Organika
Address: Ataud 154, Cusco 08000, Peru | Phone: +51 84 237216 | Hours: 8 AM-10:30 PM daily | Cuisine: Peruvian fusion, healthy | Price Point: $10-15 per entrée
Locally grown, organic, healthy food describes Organika. From delightfully plated entrees to the authentic flavors of the Sacred Valley in Peru, you'll find the most amazing dishes here.
While ceviche in Lima is known for using ocean fish like flounder or sole, ceviche in Cusco is made with freshwater fish like trout. And Organika makes delicious trout ceviche. For more Peruvian flavors, try the alpaca with pasta or the lomo saltado.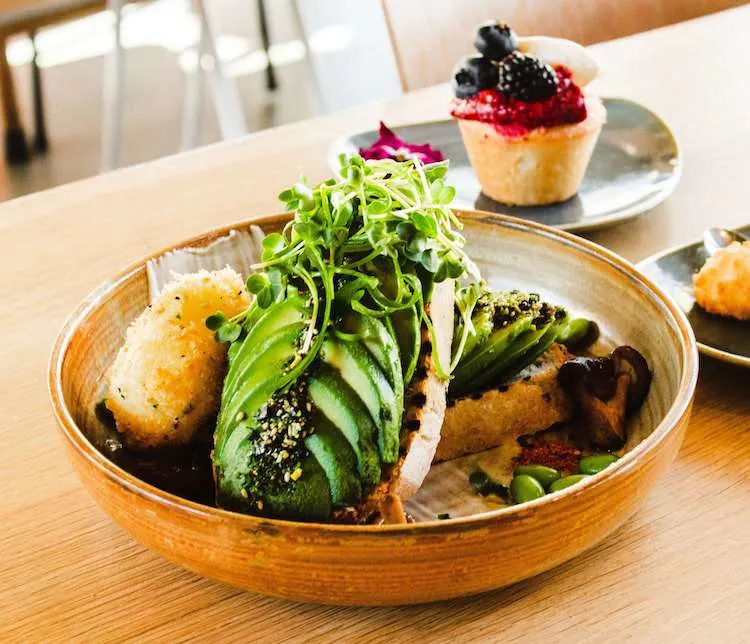 And if you are searching for vegetarian-friendly fare, opt for the veggie lasagna or delicious, homemade ravioli. Whether it is for lunch or dinner, this place is farm-to-table perfection.
7. Kion Peruvian Chinese is One of the Best Restaurants in Cusco
Address: Triunfo 370, Cusco 08002, Peru | Phone: +51 84 431862 | Hours: 11:30 AM-11 PM daily | Cuisine: Chinese-Peruvian fusion | Price Point: $7.50-15 per entrée
Did you know that Peru has many fusion cuisines? From colonizers from Spain to many immigrants from Germany, Italy, Japan, China, and West Africa, the food here has become a melting pot. So while you're in town, definitely try ceviche, all the Incan corn and potatoes, and cuy. But, definitely sample some of Peru's best fusion cuisine.
One popular Peruvian fusion cuisine is Chifa or Chinese-Peruvian food. Kion is certainly one of our favorites. Start with the green tea before tucking into some Lomo saltado chifero, a tasty beef dish that is served like fajitas and comes complete with Chinese pancakes. It was one of the best dishes in Cusco that we had! And for those who enjoy a good Peking duck, this is the place to get it.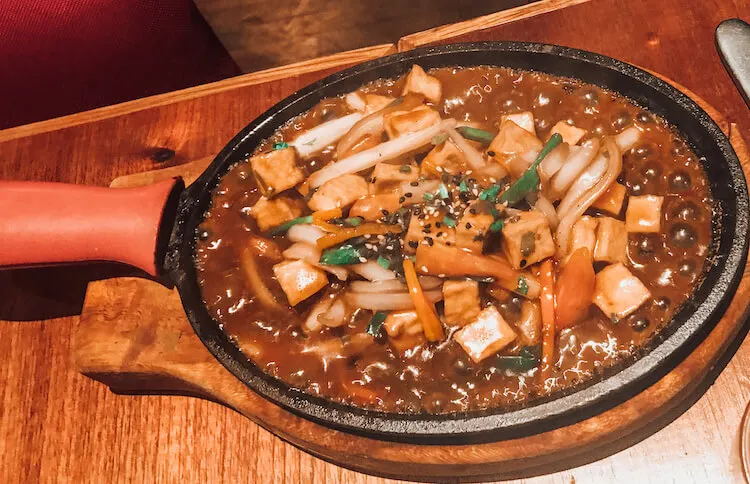 Anyone who has seen most Peruvian menus has noticed chaufa. This stir-fry dish is a Chifa dish, and it is another must-try at this place. With so many great options, it is a wonderful spot to fill up after a day of exploring the city.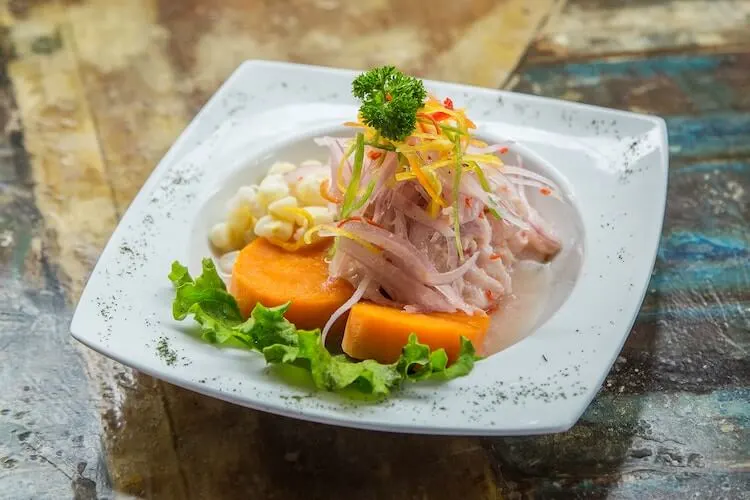 Address: Portal de Panes 181, Cusco 08002, Peru | Phone: +51 84 266334 | Hours: 12 PM-10 PM daily | Cuisine: Peruvian, seafood | Price Point: $12-14 per entrée
Love seafood? Then this is where to eat in Cusco. And what better way to wash down Peru's national dish than with an excellent Pisco Sour! This place, which is definitely one of the best restaurants in Cusco, has a great drink menu on top of the seafood. And if you are adjusting to the altitude and not drinking, definitely get a Chicha Morada. This spiced Peruvian purple corn drink is seriously amazing and we miss it so much.
But now to talk seafood! Grab some fish burgers, and then settle in on some amazing ceviche. Get the classic ceviche, complete with tiger's milk, Andean corn, and sweet potato or spice it up with ceviche caliente with some rocoto chili kick!
Of course, you can get other popular Peruvian dishes like grilled trout or Lomo saltado, which are equally as tasty. However, when at a cevicheria, you may as well try what they do best!
9. Hanz Craft Beer Restaurant
Address: Portal de Carnes 216, Cusco 08002, Peru | Phone: +51 84 500194 | Hours: 11 AM-11 PM daily | Cuisine: Pub food, brewery | Price Point: $9-12 per entrée
One of the best restaurants in Cusco when it comes to views and beer, Hanz is right in the heart of Plaza de Armas. Located on the second floor, take a seat by the windows for optimal people watching in the square as the evening breeze rolls in. Sip delicious brews while watching the sunset reflecting off the Church of the Society of Jesus.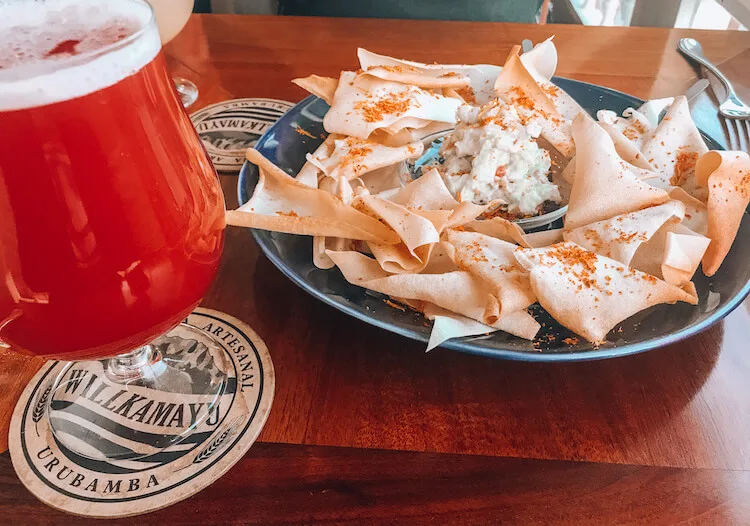 The beers here are light and crisp, and we loved the sour-like red ale. This is the perfect place to order drinks and appetizers like the guacamole plate and get a flight of beer. If you are hungrier than that, definitely opt for one of their juicy and delicious burgers.
Address: Cascaparo, Cusco 08002, Peru | Phone: None | Hours: 6 AM-8 PM daily | Cuisine: Peruvian, street food | Price Point: $5-10 or less
And for the final item on our list of best restaurants in Cusco, it isn't a restaurant at all; it's a market! And one thing is for sure- you will love this market! Bustling with tourists and locals alike, come for lunch hour and come hungry.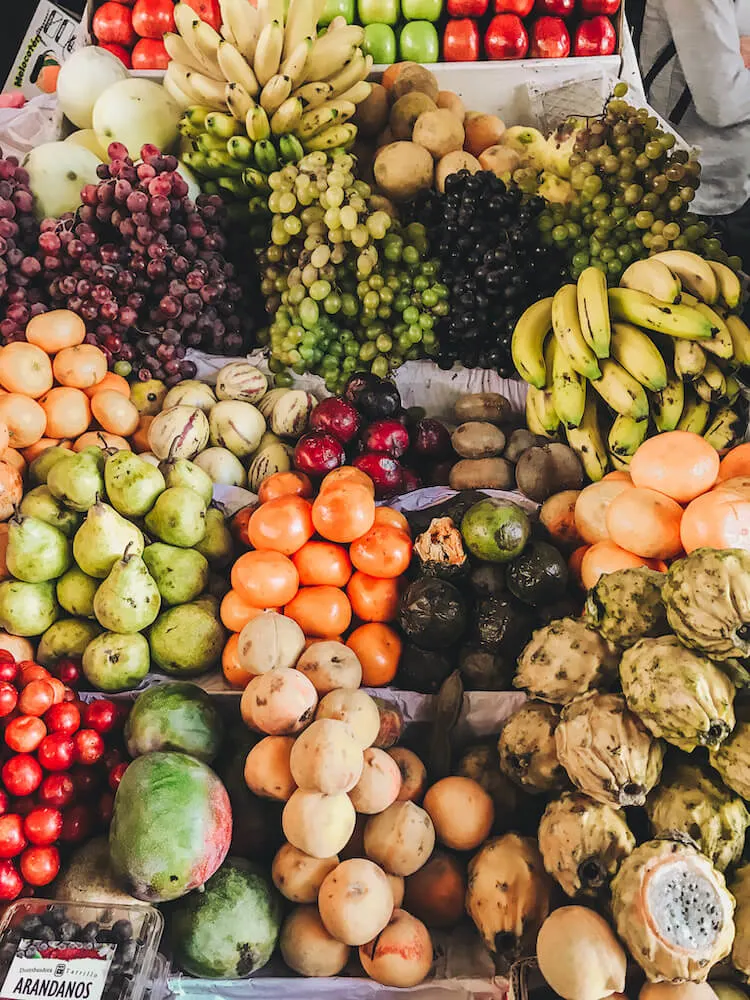 This place has everything! From fresh produce to unique Peruvian souvenirs and even food stands, you can find anything at this place. So after perusing around for a fantastic alpaca scarf or various stunning Peruvian textiles, wander over to the food stands to try out fresh juices, fruits, and classic lunchtime dishes like salchipapas (fried potatoes and sausage) or empanadas.
Or if you want to get way outside of your comfort zone, you can opt for beef hearts. But no matter what, stroll through the whole market and see what treasures you can find and taste!
Where to Eat in Cusco Peru
When it comes to great food, these are definitely some of the best restaurants in Cusco. From classic Peruvian dishes like ceviche and cuy, to unique tastes like the veggie grill and Peking duck, you certainly will not go hungry, or have a bad meal. Eating around Cusco is certainly one of the top things to do there!
And if you want more food, definitely opt for a cooking class! This one is our top pick!
Which restaurants are you most interested in trying while in Cusco? Let us know in the comments!
Planning a Peru honeymoon? Check out our ultimate Peru honeymoon guide!
Pin it here!