Some posts on this site contain affiliate links, meaning if you book or buy something through one of these links, I may earn a small commission (at no additional cost to you!). Read the full disclosure policy here.
---
Wherever we travel, we love collecting souvenirs for family, friends, and even ourselves! So when it came to traveling to Peru for 10 days, we knew we wanted to collect some amazing Peru souvenirs to remember our trip.
This South American country is known for so many incredible things including delicious food, textiles, and handcrafted goods, so I suggest saving up some space in your luggage for a lot of souvenirs from Peru!
If you are looking for what to buy in Peru, these Peru gifts will help you recall the fond memories you had during your incredible travels throughout this beautiful country.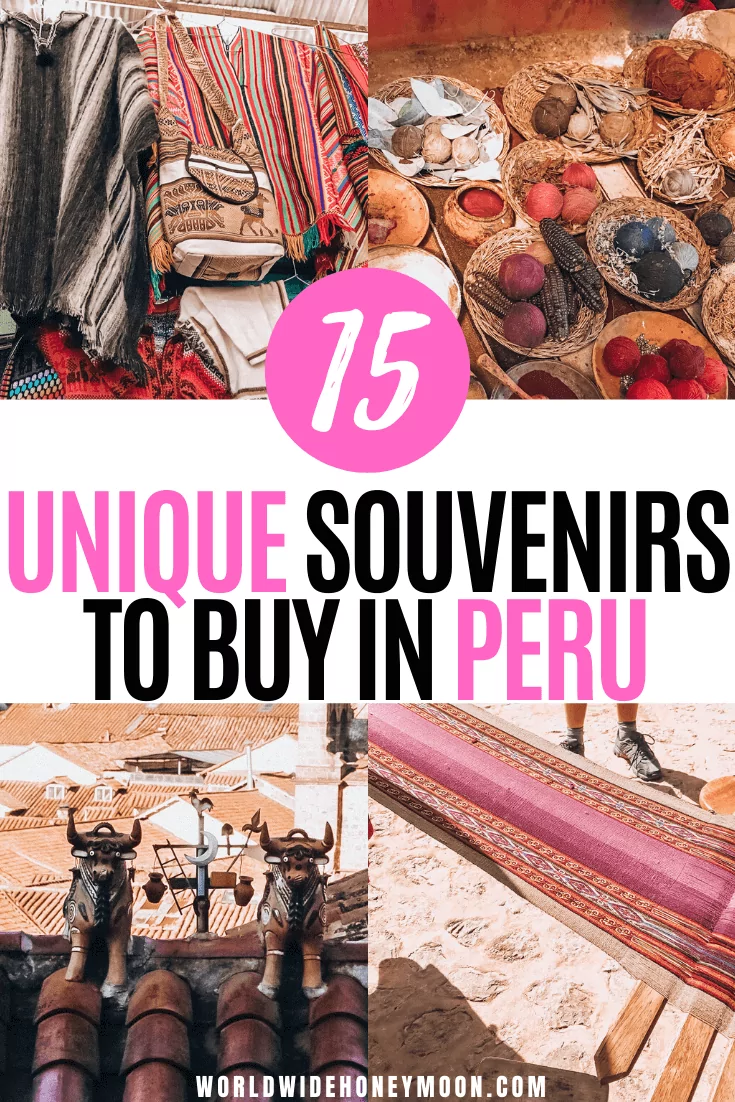 Peru Clothing Souvenirs & Alpaca Souvenirs From Peru
Peru is well-known for its textiles and clothing, particularly alpaca-based goods. So if you're planning to bring home some gifts from Peru, here are some good ideas:
1. Alpaca Clothing
Alpaca sweaters surround you at every market in Cusco and Arequipa… but that doesn't always mean they are of high quality. While baby alpaca is some of the most sought-after, as it is so soft, many of these sweaters are mass-produced and are definitely not super authentic.
But if you don't care about it being 100% pure baby alpaca wool, you can definitely get a bargain at the markets. Either way, these sweaters are warm which is great for trekking in the Andes.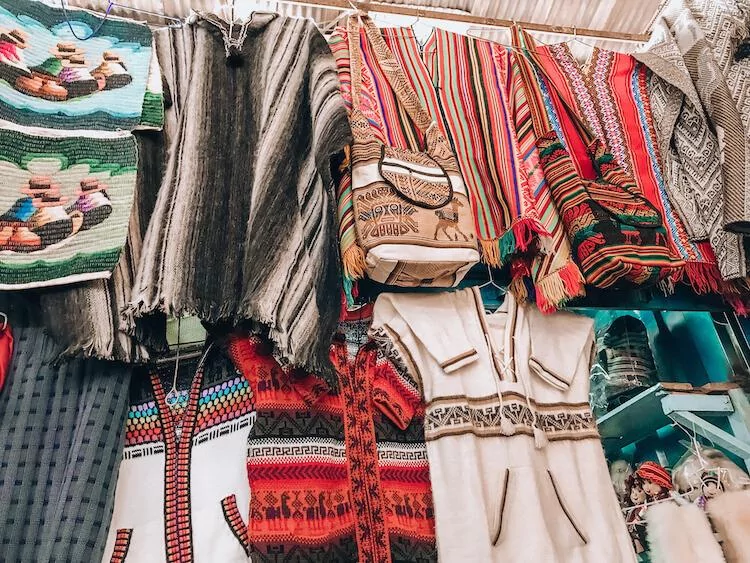 Most of the time these products do have alpaca wool in it, but it is a wool blend with synthetic fibers. Just be sure to haggle a bit for a good price. Also, some key things to note if you want some quality alpaca wool at the markets:
Alpaca wool is soft

It shouldn't be itchy

It should be cooler

You likely won't find baby alpaca wool due to its scarcity (as it comes from the first shearing so it can only be used once in the animal's lifetime)

Don't be afraid to haggle, but some higher-quality and authentic alpaca products are more expensive to produce, therefore it will be more expensive.
If you want well-known high-quality alpaca products, including real baby alpaca wool, I recommend checking out Kuna (they have stores across the country with higher-end alpaca clothing). They are pricier, but it is the real deal.
2. Peruvian Textiles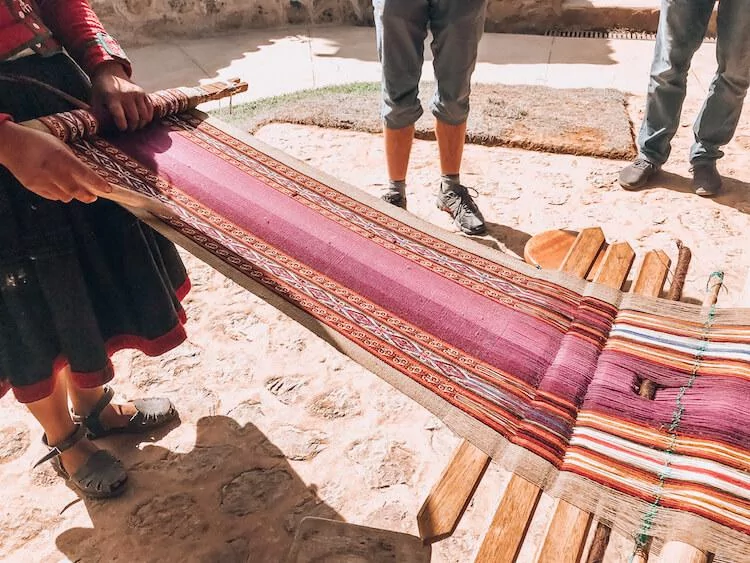 Peru is famous for its textiles! With bright, beautiful colors and designs, this is a must to add to your Peru shopping experience.
One of the best souvenirs from Peru that we have is our Peruvian blanket draped on a chair in our living room. It has alpaca and other traditional Incan designs on it, including the Inca cross.
You can purchase many Peruvian textiles all over Peru at various markets. We loved San Pedro Market in Cusco with stands everywhere with textiles. Also, on our day trip to the Sacred Valley, we stopped by a village where we saw people making traditional Peruvian textiles for purchase.
It is incredible to see how it is made including the all-natural dyes including purple corn for purple, chilca for green, and even cochineal bugs found on succulent plants for red.
Aside from blankets, there are scarves, bags, and more to purchase with these designs.
3. Chullo Hat
This hat is pretty easy to spot while hiking in places like Rainbow Mountain. With bright colors and flaps over the ears, it keeps you warm and is a beautiful addition to your list of Peruvian souvenirs.
Again, another wool product (either vicuna, alpaca, llama, or sheep), and has traditional Peruvian designs on it, you can find these at markets across the country, but in particular in cities high in the Andes.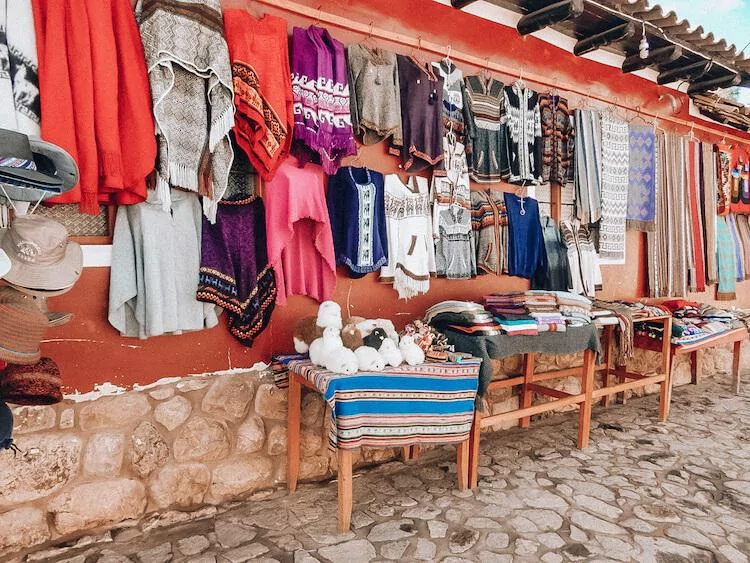 4. Alpaca Dolls
These dolls are really delightful and we enjoyed picking up a couple of these for our nephews back home! The super fluffy alpaca dolls are made with alpaca fur and look just like the famous animal.
These are perfect things to buy in Peru for little ones or if you love cute and fluffy animals!
Peruvian Souvenirs For Foodies
When Chris and I started planning our trip to Peru, we knew that the country was known for pisco sour and organic coffee. What we didn't know is that cities like Lima and Cusco are a foodie's paradise!
This means that if you plan to pick up some of the best souvenirs from Peru, then you better add these to your list if you are a fan of food and drink.
5. Pisco
Peru's national drink, pisco sour, is readily available throughout the country (even in the remote Amazon jungle)! But you can purchase Peruvian pisco while you're there to make this delightful and refreshing drink back home.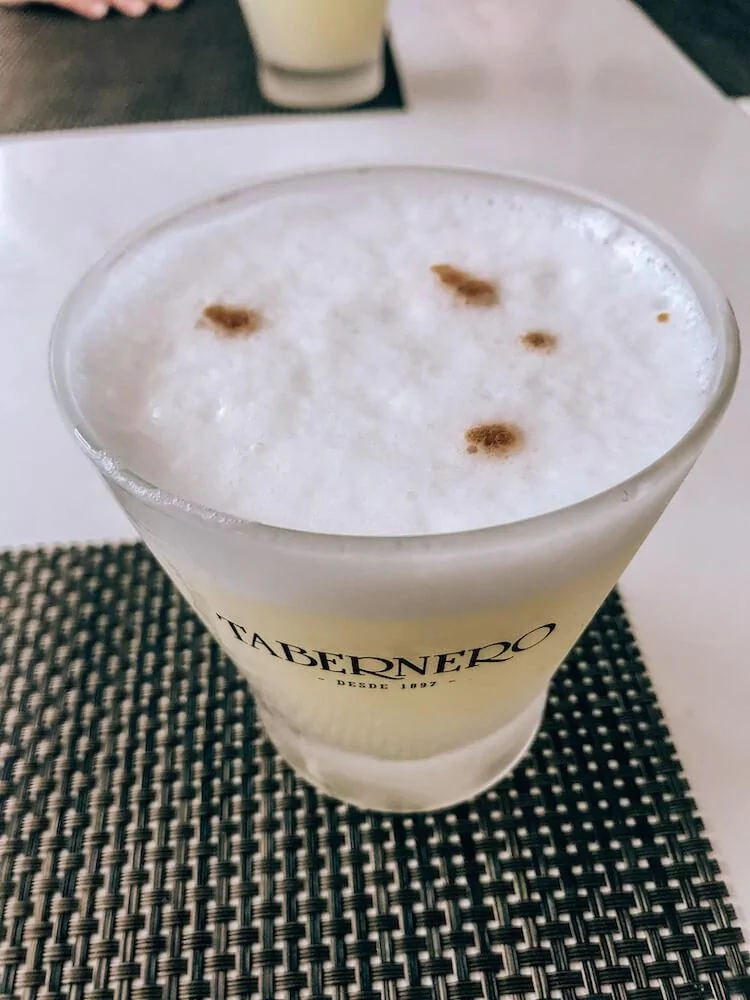 While Pisco is a city in Peru and claims to be the maker of this grape brandy, you can also find this as a great Lima, Peru souvenir after a day of exploring the city (and making your own pisco sour).
Either way, you'll impress friends back home when you offer them an authentic pisco sour at dinner!
6. Peruvian Chocolate
Warning: this Peru souvenir may not even make it home! I know ours didn't! There are a few Chocolate museums throughout Cusco and Lima where you can learn how chocolate is made, sample some goodies, and even take a workshop about it.
Either way, be sure to pick up some bars before you leave! We found so many delicious bars including quinoa chocolate bars, dark chocolate with salt, etc.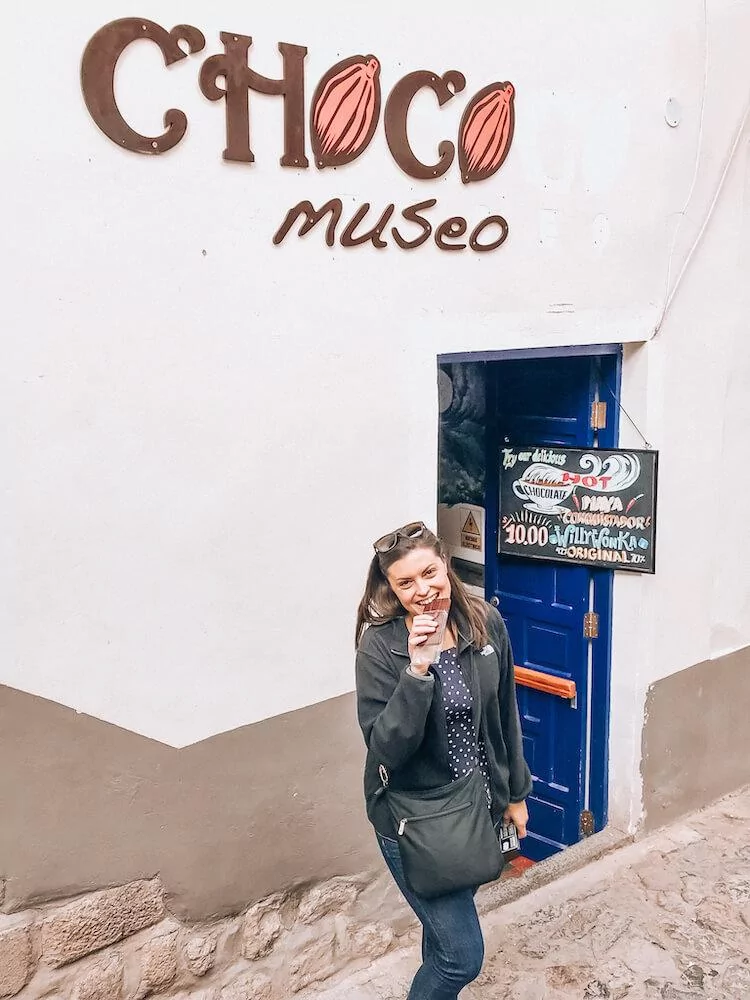 Bring some back for snacks on the plane or to share with friends when you get home.
7. Peruvian Coffee
Peru is also one of the largest and tastiest coffee producers in the world! We found so many incredible coffee shops during our time in both Lima and Cusco, and a freshly roasted, whole bag of Peruvian coffee beans is a fantastic souvenir.
As far as where to purchase Peruvian coffee across Peru, I recommend buying some beans from a favorite coffee shop you find, and even in some places like Lima, they sell pretty good coffee at the grocery store!
8. Pink Salt
If there is one thing you must-do in Peru, it is to see the Maras Salt Mines. It was truly the most jaw-droppingly cool thing to see in the Sacred Valley! Aside from getting the perfect Instagram photo of your visit, we recommend picking up some tasty pink salt to take home as a souvenir from your trip.
We purchased a small bag and love to sprinkle the chunkier salt on toast and popcorn or as a finishing touch on a dish. You could also put it in a salt grinder to give it a smoother texture.
It is such a great flavor to add to any dish. They also sell salt products there including pink salt chocolate (yum!).
9. Coca Leaves/Candy
We drank a lot of coca tea during our time in Cusco. Not only do the locals claim it aids with altitude sickness, but the green tea flavor was quite tasty!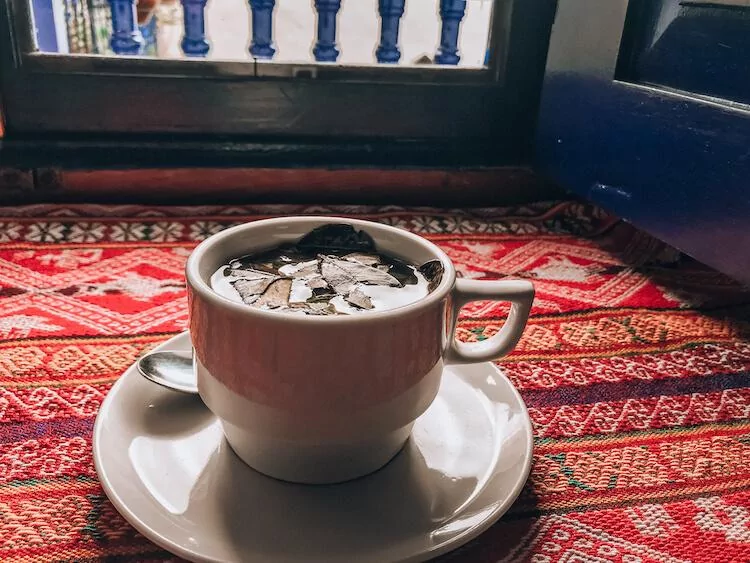 It is also available everywhere in Cusco, so it was a nice warm beverage to have on chillier days. They also make candy from it which is equally delicious.
Just be careful about transporting coca products. It should be fine while traveling across Peru, but I would not recommend taking it home with you, especially if you are coming back to the US. The coca plant is used in drug production, so the plant and its products are illegal here. While you won't get high on the tea and candy, they are still banned from the US.
Pro-tip: don't plan on having any coca leaves or candy if you have a drug test coming up back home, as it could give you positive results.
10. Peruvian Corn Nuts
Corn is a staple product in Peru. And with over 4,000 varieties of potato, it is easy to see why. But if there is one snack you have to try while in Peru and bring home, it is Peruvian corn nuts (or Inka Corn).
These salty treats are addicting, and we would pop into convenience stores just to buy more of it daily. They also sell it in various flavors from spicy to salty. Either way, it is a great snack to keep you fueled up for hiking Rainbow Mountain. And it is perfect for sharing with friends as a Peruvian souvenir.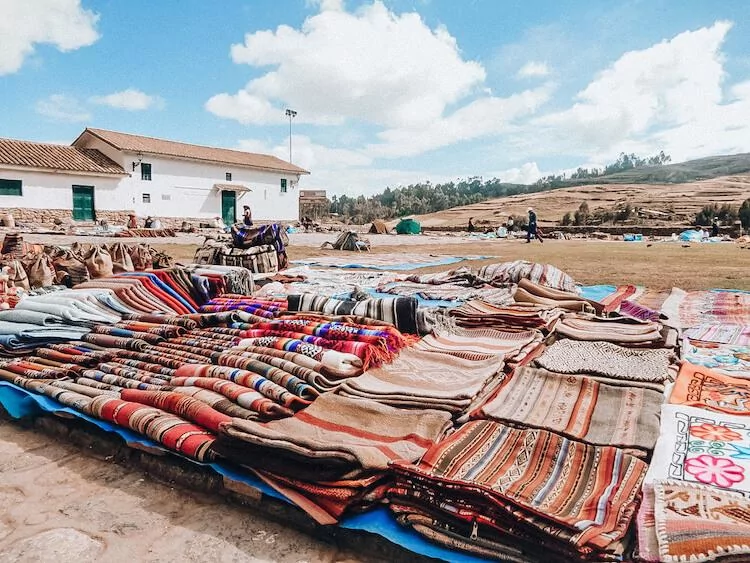 Other Fun Peru Souvenirs
Aside from Peruvian food and textiles, there are also some other fun souvenirs to bring home to remember your trip to Peru.
11. Instruments
A unique Peru souvenir would most certainly be a musical instrument. The most popular is the pan flute, which has many tubes stuck together that increase in length. You can find these in various markets, especially in the Andean region.
12. Peruvian Jewelry
You'll find a lot of shops selling gold and silver jewelry. You'll also notice that they have many geometric shapes, including the Inca cross, which is an important religious symbol for the Quechua people.
These all have beautiful Incan designs on them and are a wonderful gift for jewelry lovers.
13. Retablos Altar
These are popular in Peru and are brightly painted wooden houses that show important events to Peruvian people. There are usually two floors inside: one depicting heaven and the other depicting earth. You'll find animals and people in the boxes.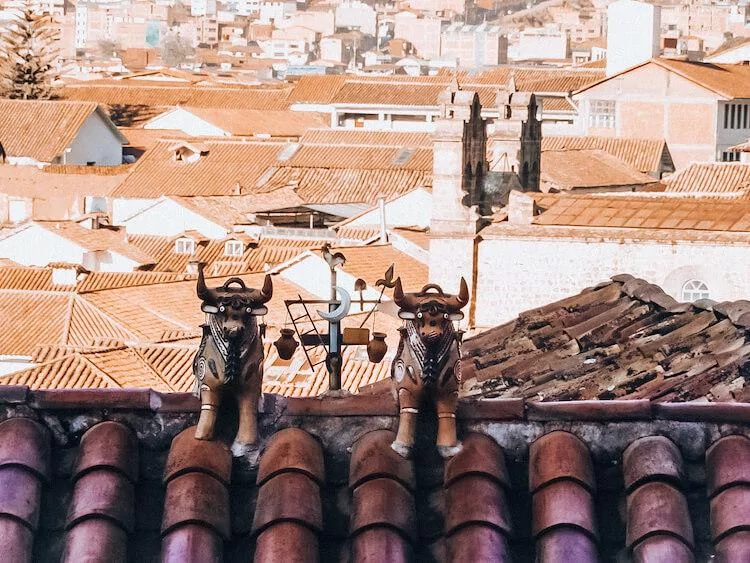 14. Pucara Bulls
We found two bulls on rooftops across Cusco and had no clue what they were. Then we learned that they are Pucara bulls, which are meant to be wedding gifts for couples and the bulls are meant to bring happiness, prosperity, and protection to the home.
We picked up a couple of them on the way home and they are so beautifully painted. Pick up one for yourself or for a couple in your life!
15. Passport Stamps
One of the best souvenirs is a passport stamp, right? Aside from acquiring a stamp upon arrival to Peru, there are a couple of opportunities to fill your passport across the country.
For starters, bring your passport to Machu Picchu. It is a form of ID and you have to have it for you to enter this site. However, you can also pay a small amount to get a passport stamp, giving you a great Machu Picchu souvenir!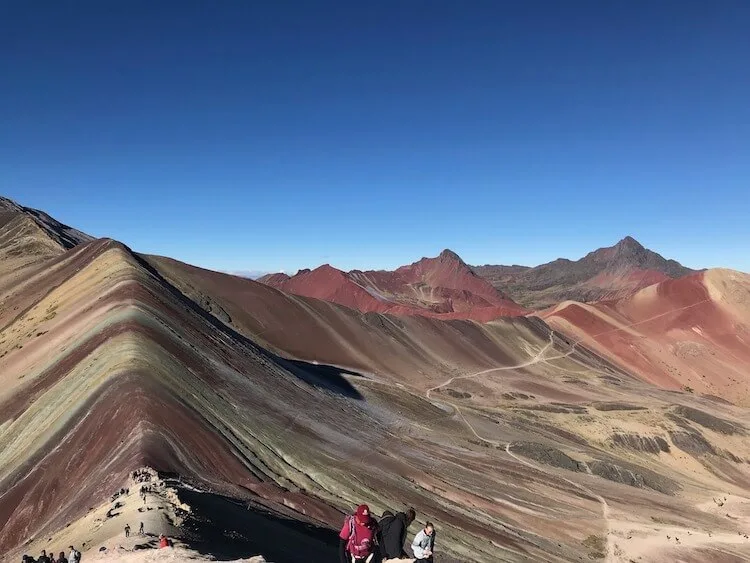 You can also bring your passport along to Rainbow Mountain. Here they'll stamp it as well. So you could get several passport stamps to show off and remember your trip when you flip through your passport next!
These are all wonderful Peruvian souvenirs that you can purchase to remember your time exploring this unique and beautiful country. From tasty treats to bring to your loved ones back home to soft sweaters to keep you warm, we know you'll find something beautiful to buy in Peru. Just be sure to include these souvenirs in your Peru budget!
Which souvenir would you buy in Peru?
Planning a Peru honeymoon? Check out our ultimate Peru honeymoon guide!
Pin it here!