Some posts on this site contain affiliate links, meaning if you book or buy something through one of these links, I may earn a small commission (at no additional cost to you!). Read the full disclosure policy here.
---
Looking for the best things to do in Cusco, Peru? We've got you covered!
We fell in love with Cusco during our 10 days in Peru last year. We were lucky enough to spend several days exploring this gorgeous city high in the Andes of Peru, and we highly recommend staying here for a few days!
While of course, it is well-known as a jumping-off point for the Sacred Valley and Machu Picchu, it is well worth your time to explore this city because we have a sneaking suspicion that you'll fall in love with it too!
---
Check out the Cusco, Peru Podcast Episode!
---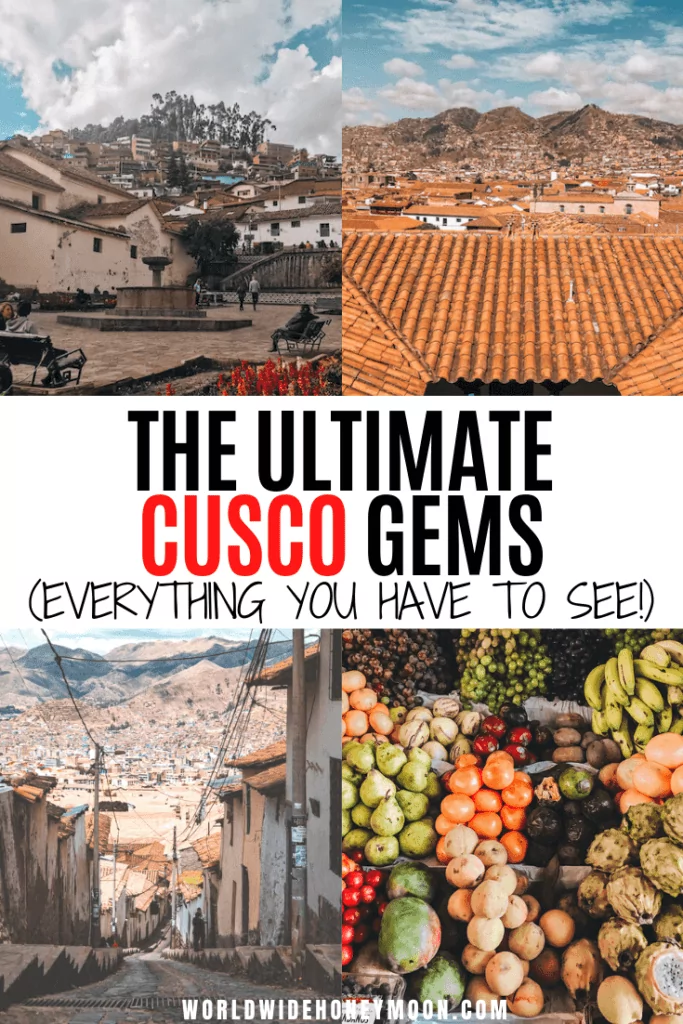 The 12 Best Things to do in Cusco, Peru
Now in our attempt to convince you that Cusco is the coolest Peruvian city, here are the top Cusco attractions and things to do that you'll love!
1. Eat and Drink Your Way Around San Pedro Market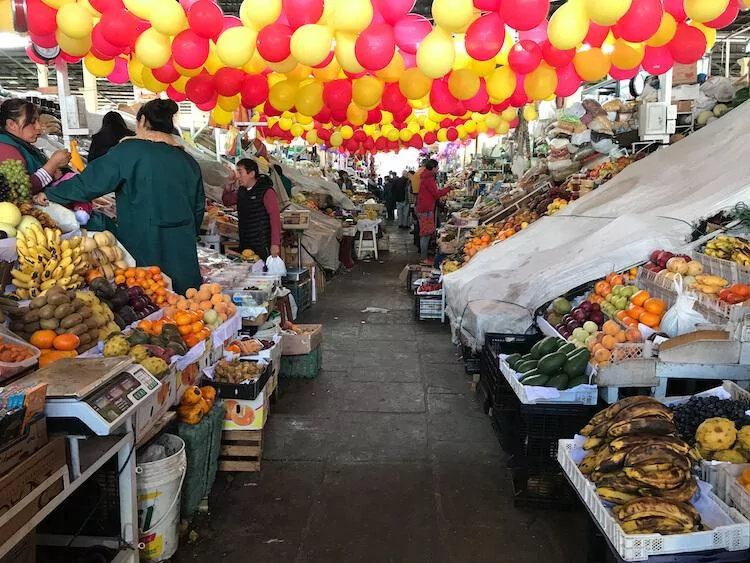 One of our favorite things to do in Cusco (and anywhere really) is to go to a local market. San Pedro is phenomenal as it is a one-stop-shop for delicious food, drinks, and even unique Peruvian souvenirs!
So after perusing the merchandise like alpaca wool blankets, scarves, and even adorable little stuffed animals, we highly recommend you check out the food here. There are food stands all over selling things like empanadas filled with cheese, chicken, or beef, salchipapas (fried up sausages and potatoes), or many other street food items.
The market also has many stands dedicated to selling fresh fruits and veggies, cheeses, and tasty fruit juice! Fuel up with a tasty orange and cherimoya fruit juice after all of that shopping!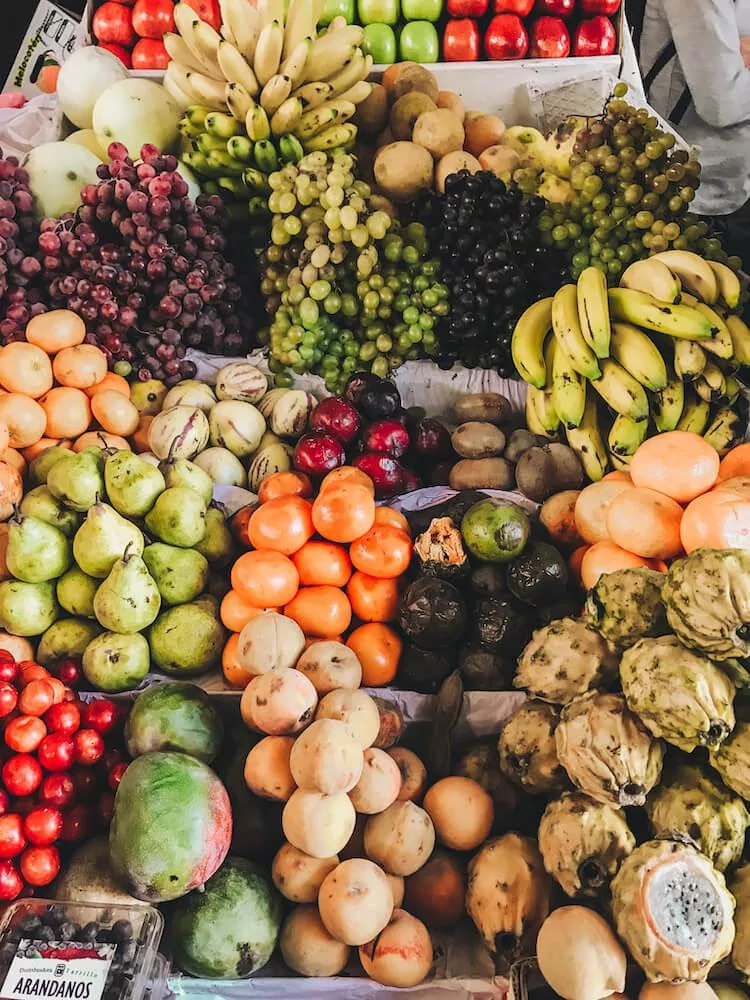 If you love food, and let's face it: Peru is a fantastic country for food, then this stop is a must see in Cusco.
San Pedro Market in Cusco Address: Thupaq Amaru 477, Cusco 08002, Peru
Hours: 6 am-7 pm Monday-Wednesday and Friday-Saturday. Open 6 am-6 pm on Sunday and 6 am-7:30 pm on Thursday.
2. Enjoy all the Tasty Peruvian Coffee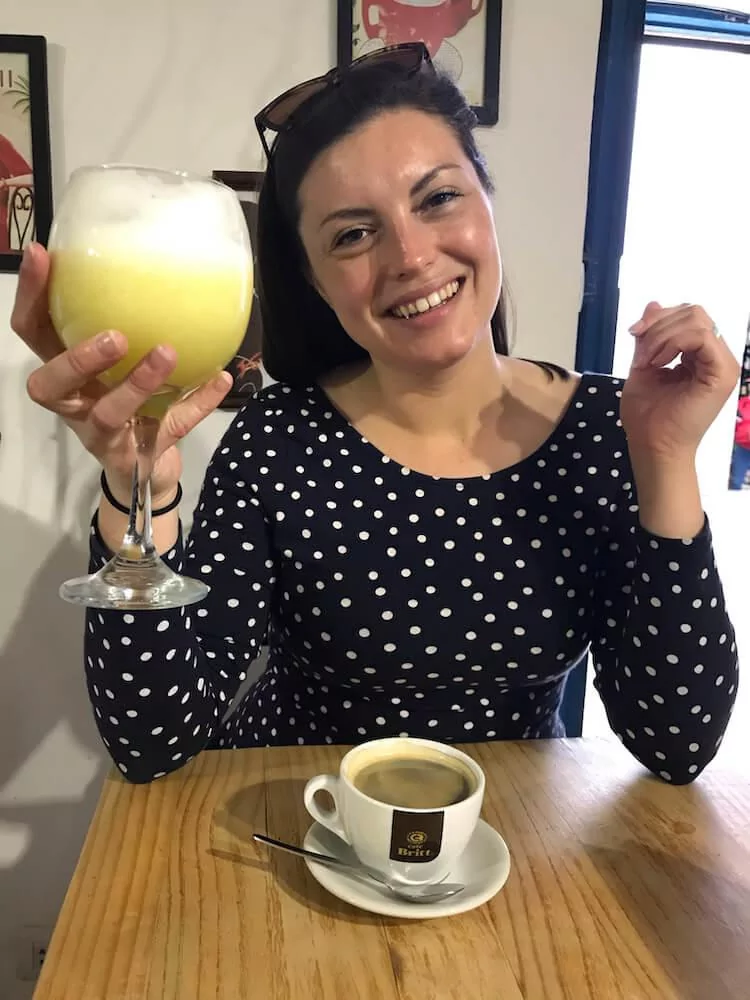 Coffee is life, and in Peru, it is a way of life. Known as the 3rd largest producer of coffee in South America, you know Peru has some fantastic places both in Cusco and Lima for a cup of this delicious brew.
So while you're exploring the city, you've got to add visiting a few coffee shops to your Cusco itinerary! Here are a few of our favorites:
Eusebio & Manolo– This shop is great for breakfast, juices, and coffee drinks! After a day of sightseeing, a ristretto or americano is the thing to pick you up! Also, it is cash only so make sure to have cash on you! (Address: Calle Carmen Alto 116, Cusco 08000, Peru)
The Churro Bar Cusco– Coffee, creamy hot chocolate, and amazing churros. It is simple yet oh-so-perfect for a place to relax in between seeing the sights of Cusco! (Address: Choqechaka 216- C, Cusco 08003, Peru)
Catfetin Cat Cafe– I mean… as people who are cat-obsessed, a visit to a cat cafe anywhere in the world is a treat! Enjoy a latte or caramel macchiato in between frolicking with the most adorable cats around! They also have juices, sandwiches, and crepes. Be sure to make reservations in advance! (Address: Calle Maruri 320, Cusco 08002, Peru)
Cafe Ayllu– This place has a great brunch as well as tasty pastries (and, of course, coffee). (Address: Almagro 133, Cusco 08002, Peru)
3. Visiting San Blas is One of the Top Things to do in Cusco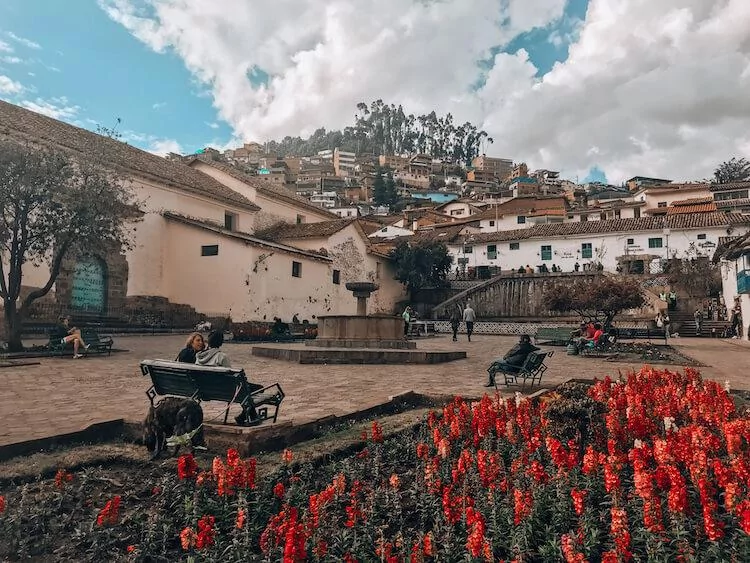 While many know and love Plaza de Armas in the heart of Cusco's historic district, San Blas is equally as historic, but without as many crowds.
The history dates back to the Inca Empire where it was known as the "salt cave" (T'oqokachi in Quechua) where artisans and craftsmen resided. When the Spaniards arrived, they changed the name to San Blas, destroyed the temples in the area, and created the streets and church you'll find as you wander along the cobblestone today.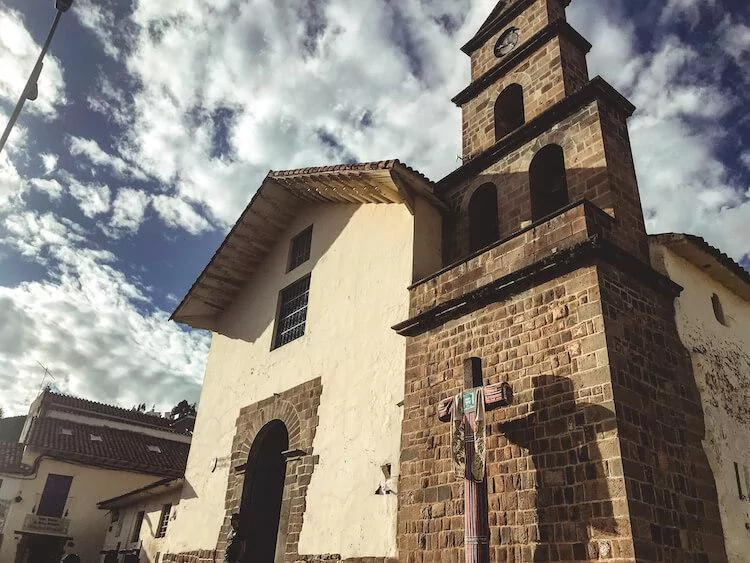 Now, that mix of Spanish and Andean influence still exists with this area boasting many art galleries and the iconic Plazoleta de San Blas.
Enjoy the fountain, the beautiful Templo de San Blas church, and the amazing views of the city and surrounding mountains from this area.
---
Next Up for Peru:
---
4. ChocoMuseo is a Must on Your Cusco Sightseeing List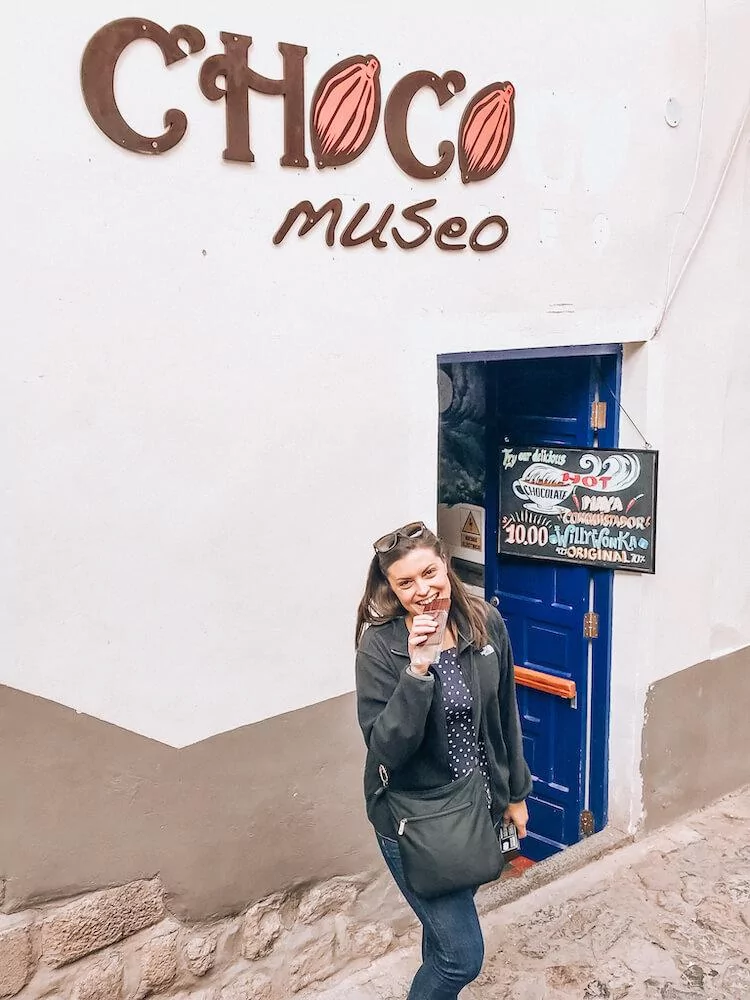 You'll find these in a few places throughout Cusco, and Peru in general, but this is such a fun experience if you want to learn more about Peruvian chocolate and make your own truffles!
You can even book a chocolate farm tour through the ChocoMuseo that is 2 days/1 night and you get to see how chocolate gets from bean to bar!
But, if you're like us and didn't have time to add this to our shorter Peru trip, you can also enjoy the museum and perhaps sample a few chocolates! I recommend purchasing a few bars to go (like their Maras salt chocolate bar)!
ChocoMuseo Locations:
Original Cusco Museum Location: Calle Garcilaso 210, Int. 216 (2nd floor), Cusco 08002, Peru
Factory: Plaza Regocijo 216,Cusco 08002, Peru
Corner Store: Hatunrumiyoc 480, Cusco 08002, Peru
Hours:
Original Museum Location: Daily 8 am-8:30 pm.
Factory: Daily 9 am-9 pm.
Corner Store: Daily 8 am-9 pm.
Price for a tours:
Museum visit: Free
Bean to Bar Workshop: $25 per adult ($20 for kids)
Cusco Cooking Class: $49 per person
Expert Tasting: $30 per person
Cusco Plantations Overnight Tour: $310 per person
5. Stay at a Hotel with a View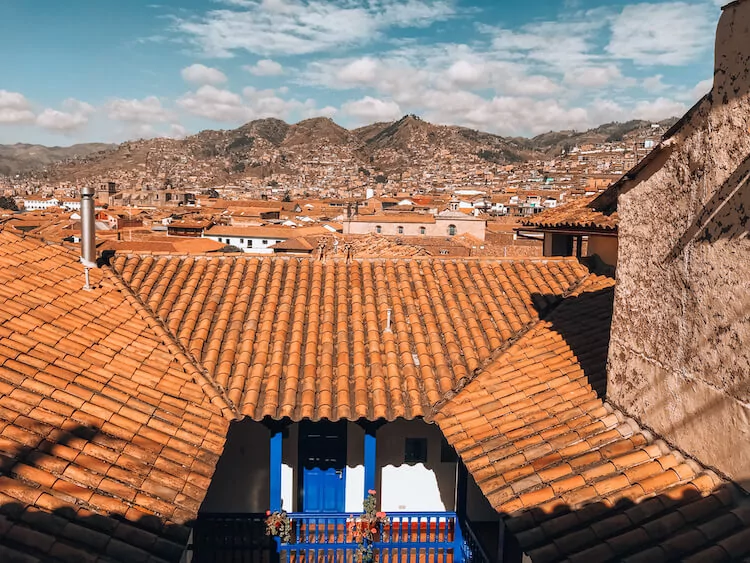 If you're going to come all the way to one of the most beautiful cities in the world with stunning mountain views, you've got to stay in a hotel with a view, right?
Here are some phenomenal places to stay based on your budget for jaw-dropping views! The best part is that gazing at the Andes is one of the many great free things to do in Cusco!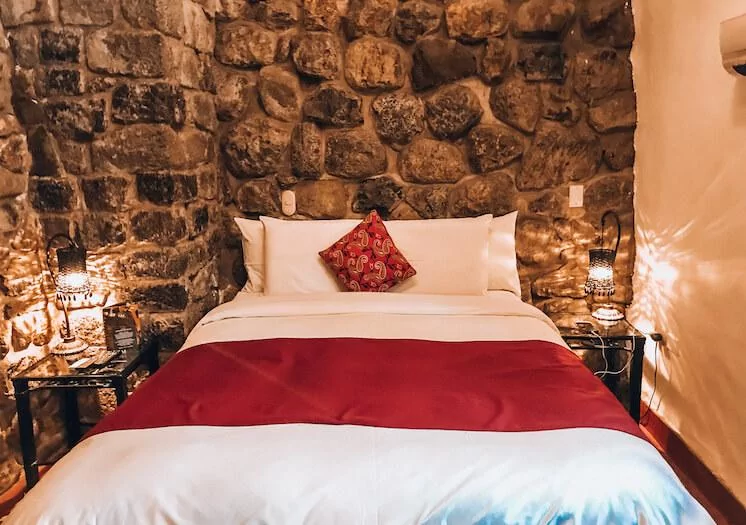 Budget: Rumi Wasi
We stayed here during our time exploring Cusco and it was a dream. Built into the hills over Incan ruins, this place is seriously stunning. The best part though, aside from the attention to detail for every guest, is that view. You can have your free breakfast either in your room or on the hotel balcony, and we chose the balcony every time to take in the views of the city. For less than $100 a night, it was a steal right in the heart of the historical part of Cusco.
Read reviews on TripAdvisor and book here!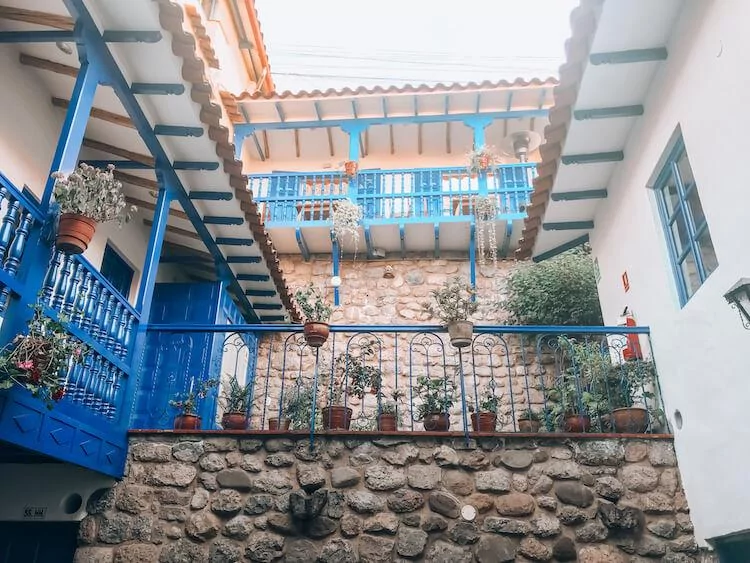 Mid-Range: Hilton Garden Inn Cusco
This isn't your average Hilton. This place mixes the old with the new with modern amenities plus the charming colonial courtyard and all of the mountain views. Feel pampered with free breakfast, gorgeous views right from your window, and a spa to unwind after a day exploring Cusco. Prices start around $100 per night.
Read reviews on TripAdvisor and book here!
Luxury: Belmond Palacio Nazarenas
Perhaps this is your honeymoon and you're looking to splurge! Belmond is the place for it. Not only do they have this dreamy and scenic hotel in Cusco, but they also have a luxury train to take you to Machu Picchu as well as the only hotel located at the entrance to Machu Picchu. They also have hotels all across Peru and the world, but this place has it all from stellar mountain views over Cusco, spa, pool with a poolside bar, and the most beautiful rooms that would make a trip to Cusco super romantic. Prices start around $400 per night.
Read reviews on TripAdvisor and book here!
6. Have a Drink and Watch a Sunset Over Plaza de Armas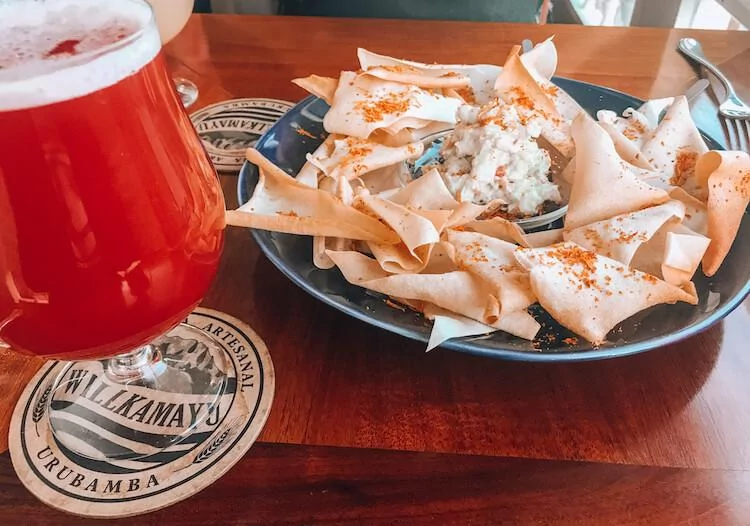 Plaza de Armas is the most well-known square in all of Cusco. There is plenty of stuff to do in Cusco here at this place. However, our favorite thing, especially if you prefer to get away from the crowds but want to enjoy a nice sunset here, is to have a drink at Hanz Craft Beer Restaurant.
Located right on the plaza with breathtaking views, enjoy a flight of their beer with a burger or snacks as you take in the sunset over Plaza de Armas. It is a fantastic place to wrap up your time in Cusco and do a little people watching as it is a 2nd-floor restaurant.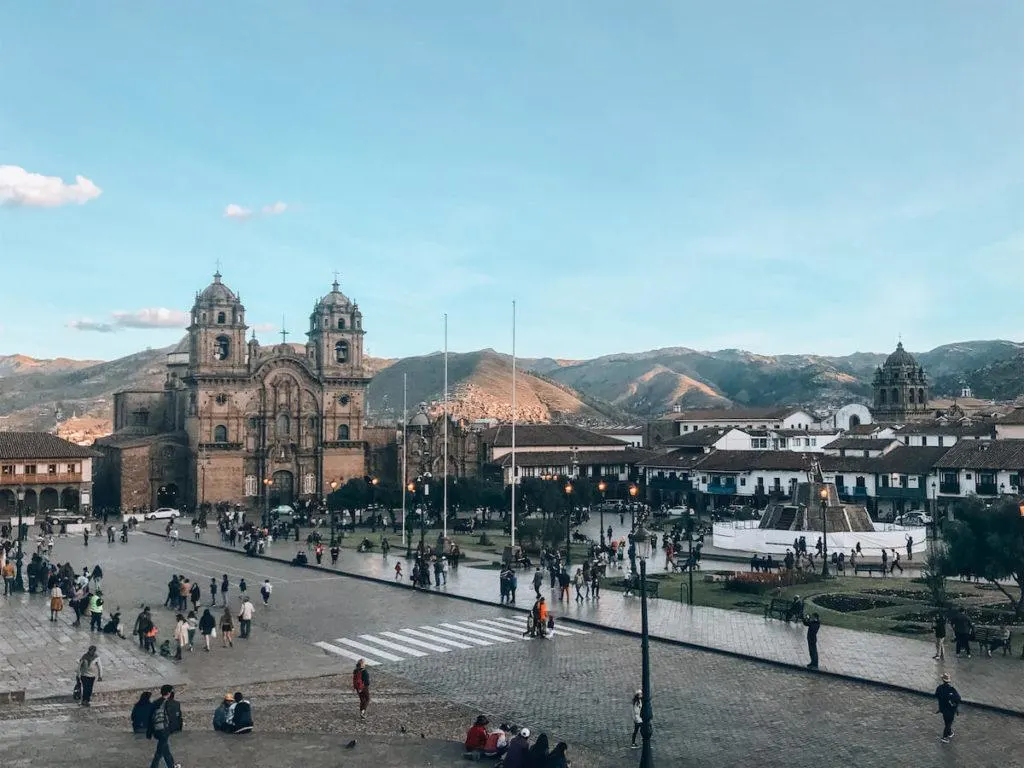 Hanz Craft Beer Restaurant Address: Portal de Carnes 216, Cusco 08002, Peru
Hours: Daily 11 am-11 pm.
---
Discover More on Peru:
---
7. Enjoy the Tastiest Food is a Must-do in Cusco
Peru has some of the best food around. I mean…with over 4,000 types of potatoes, you know they've got some good stuff right? We're not even mentioning the corn and various other veggies and foods they've perfected over the years!
Peru also has many fusion cuisines thanks to many different immigrants from Spain, Italy, Germany, West Africa, China, and Japan living in this country. So that means you've got to try out some of these incredible foods while you're in Cusco. And while I wrote quite a lot about where to eat in Cusco, here are a few places you cannot miss during your time here:
Chicha por Gaston Acurio: Created by world-renowned Peruvian chef Gaston Acurio, who also has restaurants across the country, Chicha is the perfect place to dress up and have a delicious and romantic dinner. They serve anything from corn and cheese ravioli to pachanguera trout. Expect deliciously amazing Peruvian food (and wine) here. (Address: Plaza Regocijo 261, Cusco 08002, Peru)
Chia Vegan Kitchen: Did you know that one of the most highly rated restaurants in Cusco is a vegan restaurant? Yes it is, and it was SO good! Their biggest seller is the veggie grill that is perfect to eat family-style and consists of vegan sausage, potatoes, and veggies. We also love their super affordable lunch special with salad, soup, main, and dessert- all vegan and all delicious! (Address: Tecsecocha 466, Cusco 08002, Peru)
Kion Peruvian Cuisine: This chifa restaurant (a Peruvian-Chinese fusion cuisine) is super tasty and a must if you want to try some iconic dishes like lomo saltado (a beef dish similar to fajitas) or stir-fried chaufa. (Address: Triunfo 370, Cusco 08002, Peru)
Kusikuy Restaurante: If you are hoping to try more Peruvian delicacies, then this is the place for cuy. Cuy is guinea pig, and they serve it up, toes and all. It is slightly more expensive, but it is meant to split. (Address: Amargura, Cusco 08002, Peru)
8. One of Cusco's Places to Visit is the Catacombs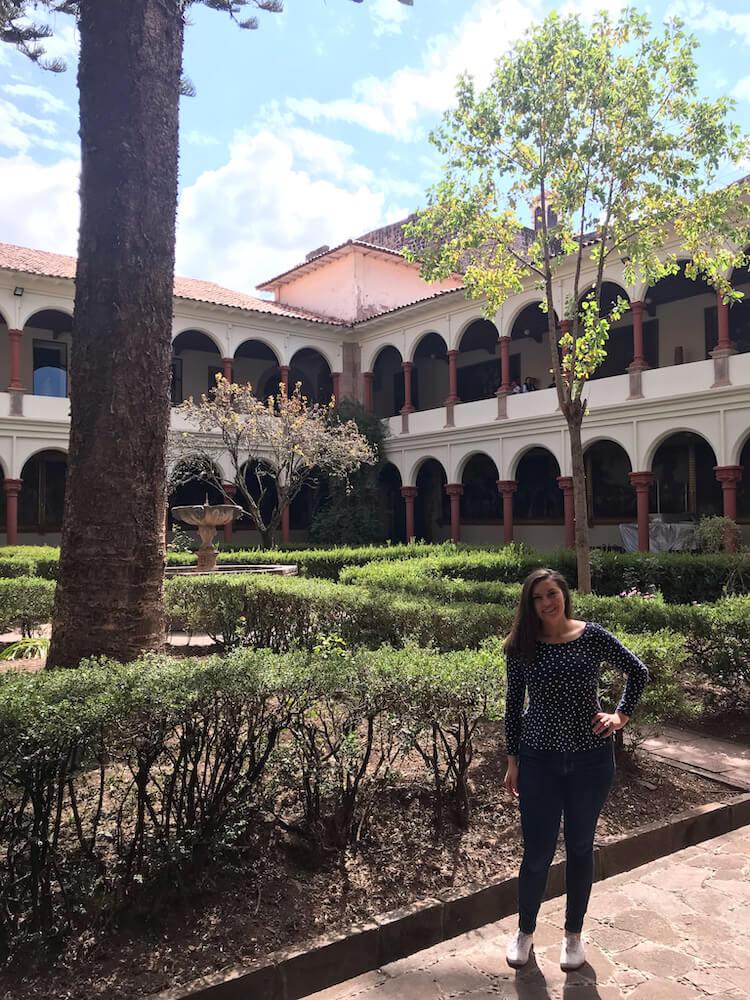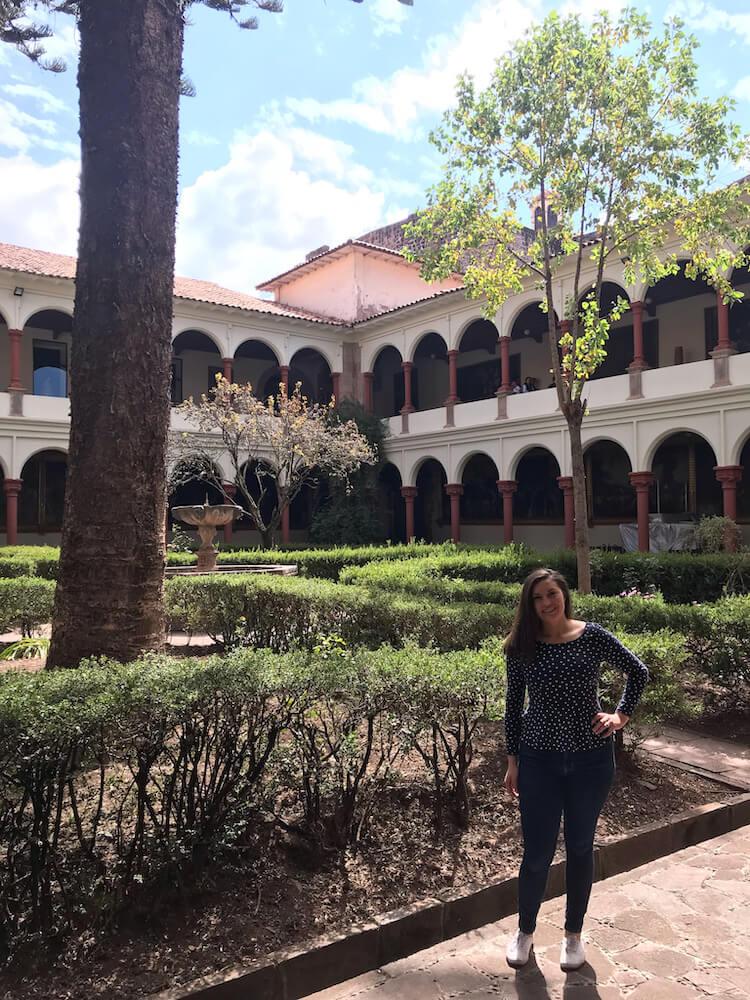 You've probably heard about the catacombs in Paris, but did you know that Cusco has them too? If you visit the Museo y Catacumbas del Convento San Francisco de Asís del Cusco (right across from San Pedro Market) this is where the catacombs are, and we highly recommend taking a tour of this beautiful church. There is a lovely courtyard inside with a beautiful garden, a gorgeous library, and many paintings!
After seeing that, then you descend down into the Catacombs. The bones are from prominent families in the area from years ago.
Museo y Catacumbas del Convento San Francisco de Asís del Cusco Address: Plaza San Francisco S/N Al Costado Del Colegio Nacional de Ciencias, Cusco Peru
Hours: Daily 9 am-6 pm.
9. Church of the Society of Jesus is One of the Best Things to do in Cusco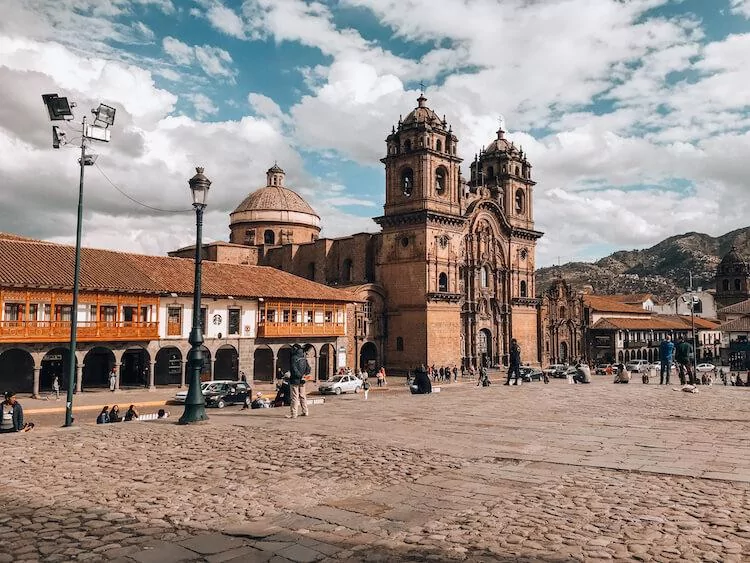 Located right on Plaza de Armas, it is one of the iconic buildings of Cusco. This historical Jesuit church was built in 1576 on the grounds of Amarucancha, an Incan palace. It then was destroyed by an earthquake in 1650 and rebuilt to what it is today.
It is a breathtaking church with amazing views over the plaza and mountains. If you plan to be near the Plaza de Armas area (which is where most of the hotels are located) there is a huge chance that you'll see this and definitely want to go inside!
Church of the Society of Jesus Address: Plaza de Armas Cusco S/N, Cusco 08001, Peru
Hours: Monday-Friday 9 am-5:10 pm. Saturday 9-11:15 am and 1-5:10 pm. Sunday 9-10:30 am and 12:45-5:10 pm.
Admission: Less than $3.
10. Wander the Stunning Cobblestone Streets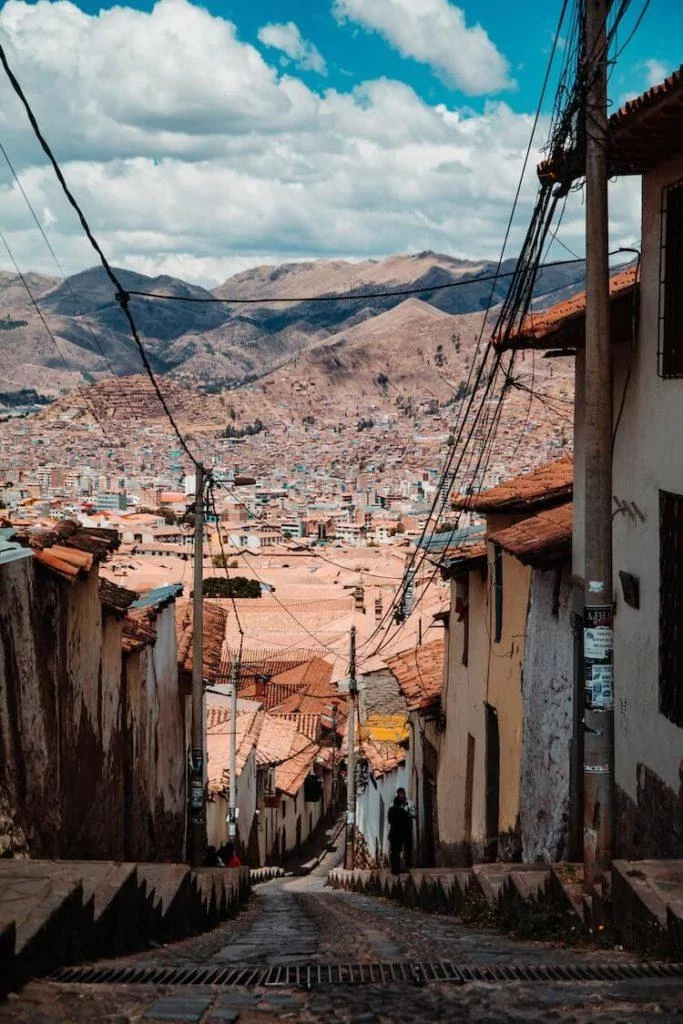 Walking along the cobblestone streets is a dream. The hills will leave you breathless. No…seriously, the altitude is real here and you may need to stop and catch your breath. But there is nothing quite like wandering around the unique streets, hills, colorful doors, and stone buildings in the historical part of Cusco.
11. Make Best Friends With the Doggos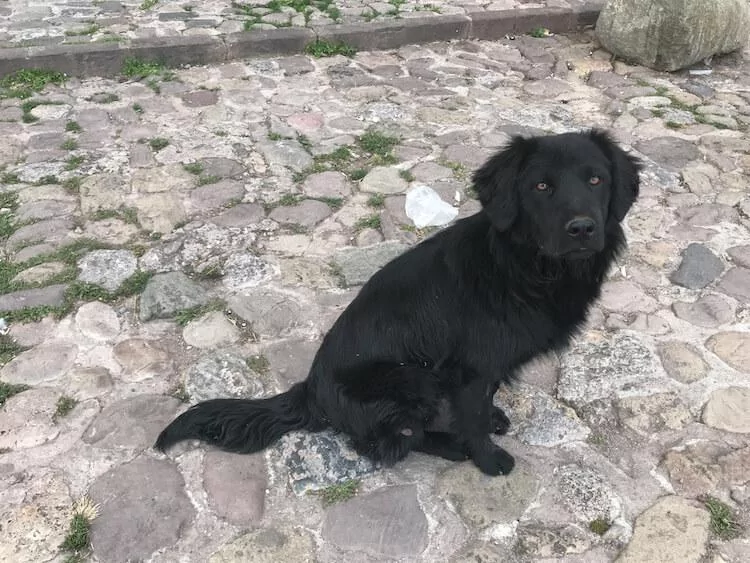 If you are an animal lover then this one's for you. There are dogs everywhere in Cusco and they are adorable. From Plaza de Armas to the streets of San Blas, you'll see dogs of all shapes and sizes wandering around. Some are outdoor day dogs. Some live on the streets.
While they are adorable, I recommend to help out by either donating money, dog food, or blankets/supplies to the Cusco Animal Protection and Rescue or, if you plan to stay longer in Cusco, you can sign up and volunteer at the shelter to walk, play, clean, and assist staff in taking care of these pups.
12. Enjoy the Best Day Trips From Cusco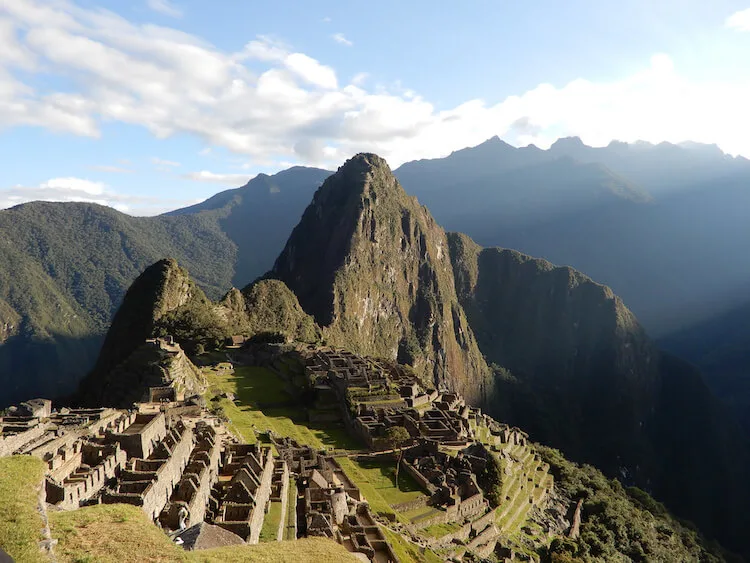 While we know there are plenty of things to do in Cusco, Peru, many also use this as a jumping-off point for incredible adventures! I have a whole article dedicated to the best day trips from Cusco, but here are a few of our favorites:
Machu Picchu: Of course, everyone comes to Peru for this! I have all of the details about visiting Machu Picchu in a shorter amount of time!
Sacred Valley: If there is one thing you must see in the Sacred Valley, it is the Maras Salt Mines. It was other-worldly cool. But we also enjoyed the Moray agricultural ruins and the ruins of Ollantaytambo.
Rainbow Mountain: This was an incredibly challenging (and incredibly worth it hike)! I can't recommend visiting Rainbow Mountain enough!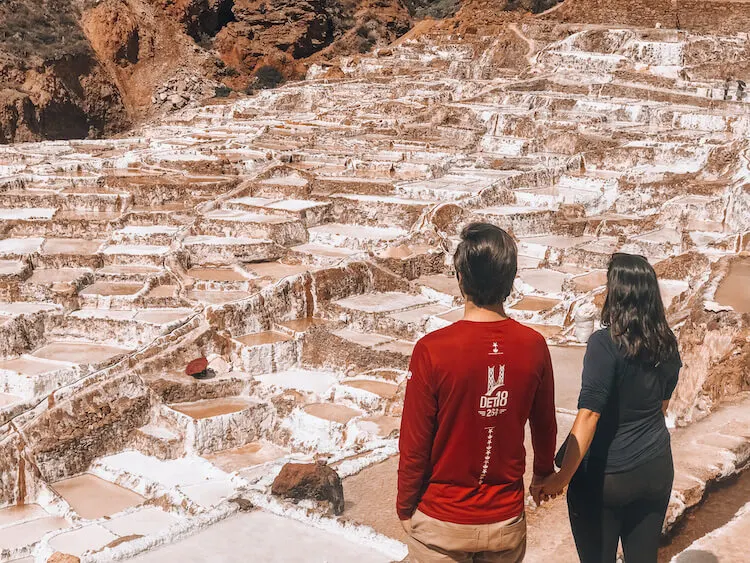 ---
Check Out More on Peru:
---
Tips For Getting Around Cusco
While you're thinking about things to do in Cusco, it also helps to understand how to get around.
Foot: Luckily, most of this stuff is in the historical part of the city, meaning that you can walk to almost everywhere here. However, don't try to do too much your first day- that altitude takes some getting used to!
Taxis: These are all over the place and easy to get. They are also pretty cheap and are regulated so they shouldn't be overcharging. Be sure to ask your hotel for good taxi companies and perhaps have them call a few for you, especially if you're planning to head to the airport.
Bus: Buses are super cheap, but not that convenient in the downtown area. If you want to travel to other cities within the Sacred Valley, then I recommend getting a bus, but other than that, a taxi or walking is good.
Train: Again, not good for getting around Cusco, but if you plan to visit Machu Picchu or Ollantaytambo, then you can relax with a scenic train ride.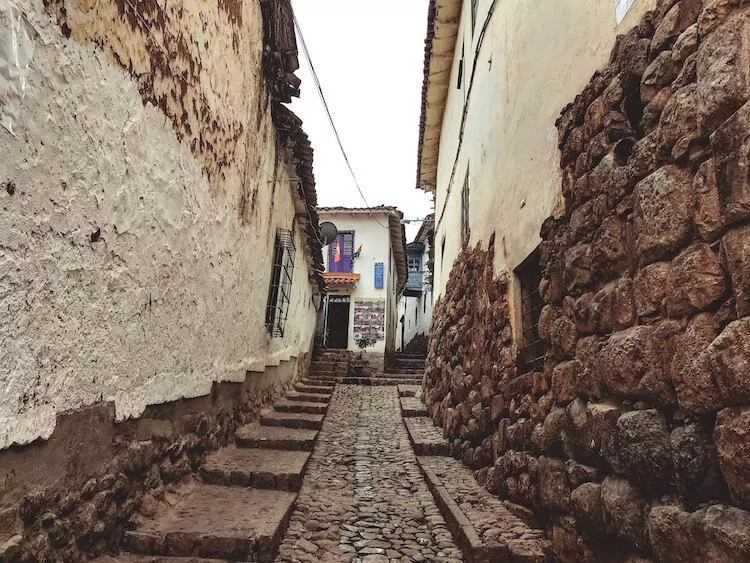 Best Time to Visit Cusco
It is far more convenient to travel to Cusco during the cooler, dryer season between June-August. Temperatures range from 67ºF (19ºC) during the day and 32-35ºF (0-2ºC) at night. The precipitation is around 0.1-0.3 inches (0.25-0.76 cm) during this time, making it ideal weather for a Cusco itinerary. However, it can be quite crowded during this time.
The shoulder seasons, or May and September-October, are great for avoiding crowds and for dryer weather. Average temperatures range from 67-69ºF (19-21ºC) during the day 37-42ºF (3-6ºC) at night. The precipitation ranges from 0.3-1.9 inches (0.76-4.82 cm).
The rainy season is between November-April with temperatures ranging from 65-69ºF (18-21ºC) during the day and 43ºF (6ºC) at night. Precipitation is around 3.1-6.3 inches (7.87-16 cm). As it can get so rainy, you'll find far fewer tourists at this time and better hotel deals.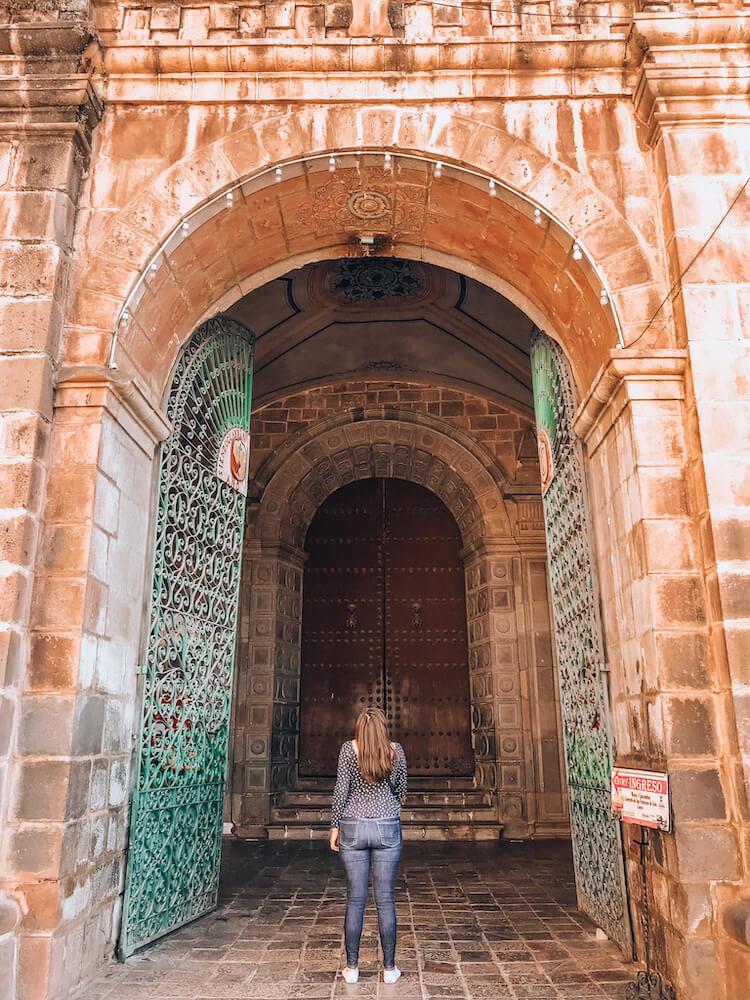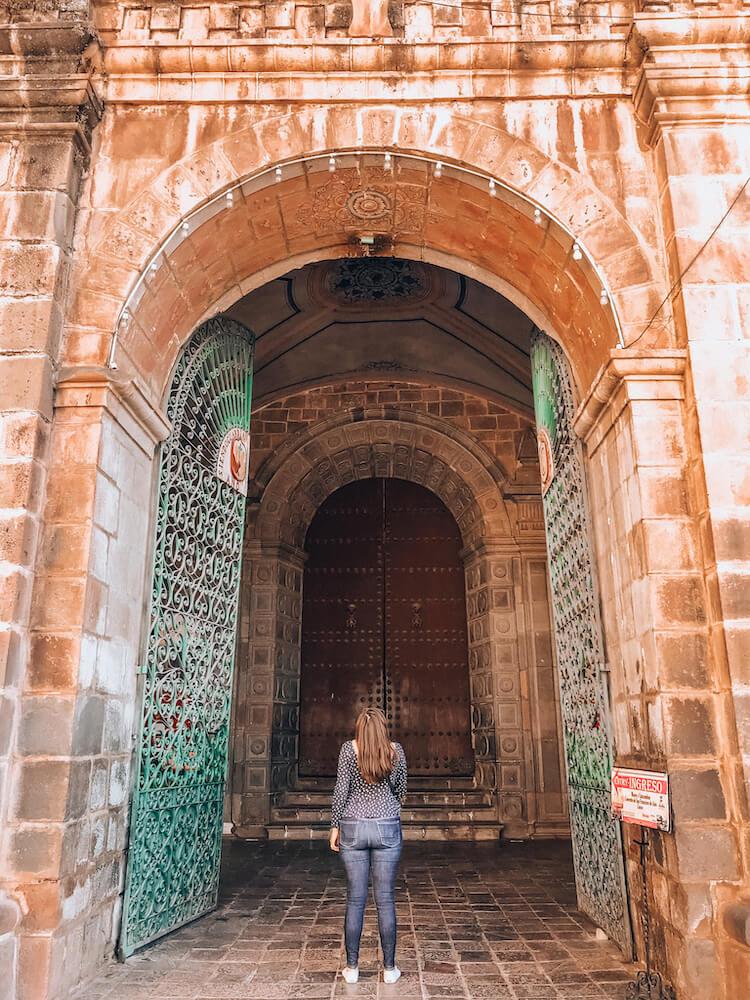 What to Pack for Cusco
I have a whole Peru packing guide dedicated to traveling to Peru in JUST a carry-on, but here are a few key things to bring to Cusco:
Jeans
Tops to mix/match
Scarf
Comfortable jacket (I love this one by The Northface that can be a rain jacket, fleece, or combo).
Comfortable walking shoes (I love my Keds).
Hiking boots (I love Merril Moabs) and socks, plus workout leggings and sweat-wicking shirts for hiking day trips.
Tripod for taking photos of the two of you!
iPhone lenses to capture great photos using a wide-angle, zoom, etc.
Anti-theft cross-body bag to prevent pickpocketing.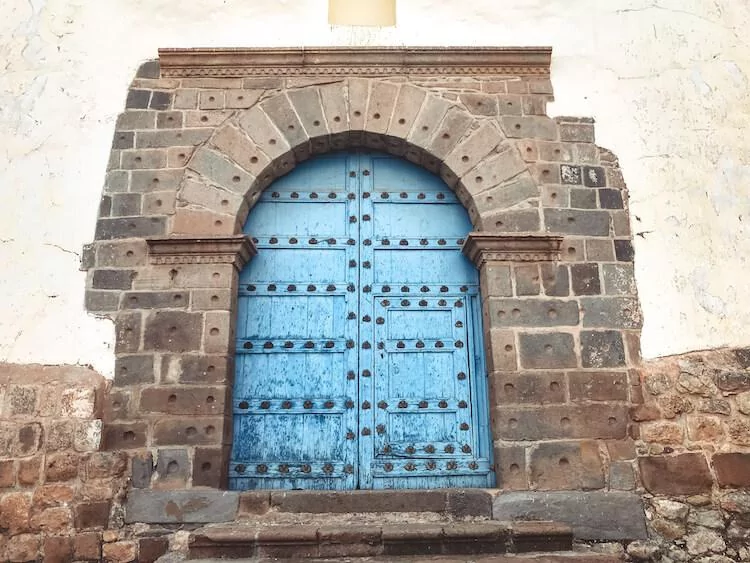 Tips for Visiting Cusco, Peru
Before you discover all of the Cusco, Peru things to do, here are a few key tips to know!
Take some time to adjust to the altitude. At around 11,152 feet (or 3,400+ meters) above sea level, you will likely feel some altitude sickness. This is especially true if you are flying from a place with a much lower altitude. Most of the time you'll land in the afternoon, but I recommend taking that day easy and getting a good night's sleep. Listen to your body first and foremost, and don't push yourself. If you are worried about altitude sickness or have had it in the past, it is a good idea to talk with your doctor and see if they recommend taking medication for it.
Definitely leave room in your Cusco itinerary for day trips to places like Machu Picchu and Rainbow Mountain! They are incredibly worth it!
Cusco is a pretty safe place, however, use common sense and always keep an eye on your things.
I always recommend travel insurance. Whether you get sick or your luggage gets lost, travel insurance is there for the "Oh crap!" moments. We don't travel internationally without World Nomads.
Don't drink the tap water. Either purchase bottled water or use a water bottle like

Lifestraw

or this

UV filter

. Also, make sure the water served at restaurants is safe to drink prior to drinking (this includes any ice).
Don't throw the TP down the toilet. Instead, many places will ask you to throw it in the bin next to the toilet.
Pack toilet paper and hand sanitizer just in case. Some restrooms may not have soap or toilet paper.
What will be your favorite things to do in Cusco? Which would you most like to see? Let us know in the comments!
---
Check Out Our Peru Podcast Episodes:
---
Pin it here!