Some posts on this site contain affiliate links, meaning if you book or buy something through one of these links, I may earn a small commission (at no additional cost to you!). Read the full disclosure policy here.
---
Exploring Rainbow Mountain Peru, or Vinicunca Peru is a dream. The colorful reds and greens splashed across this peak make the early morning wake-up call, altitude sickness, fairly challenging hike, and everything else worth it. And it isn't just the mountain itself! The whole Rainbow Mountain trek is truly stunning with alpaca roaming, dogs leading the way, and more!
However, the secret is out: Rainbow Mountain went from being small and off-the-beaten-path to very popular within no time flat. So when we were planning our 10-day trip to Peru, we still wanted to see this famed mountain…and we weren't going to let crowds get in the way.
And luckily, we ended up picking the best Rainbow Mountain day trip from Cusco, where we were the first ones on the trail to the mountain. So stick with us as we let you know everything you need to know about visiting Rainbow Mountain, including how to avoid the crowds!
Check out our podcast all about it too!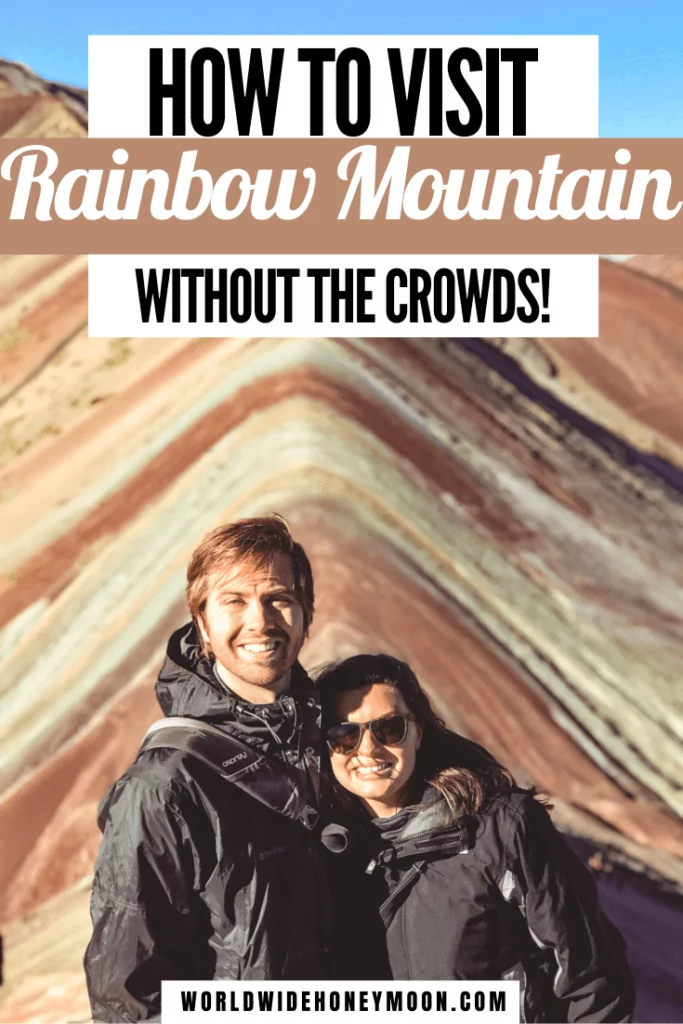 First Off: What is Rainbow Mountain Peru?
Rainbow Mountain is a mountain with 7 layers of color, thanks to a mineral composition including iron for the red clay and more.
The reason why it was discovered recently is mostly due to climate change. After having been covered by snow and ice, it is now mostly clear to see the colors all on its own. While a sad reality, it has since become a very popular tourist attraction for people exploring Peru.
And it is easy to see why, the colors are beautiful, as are the mountains you'll pass as you make the hike up Rainbow Mountain.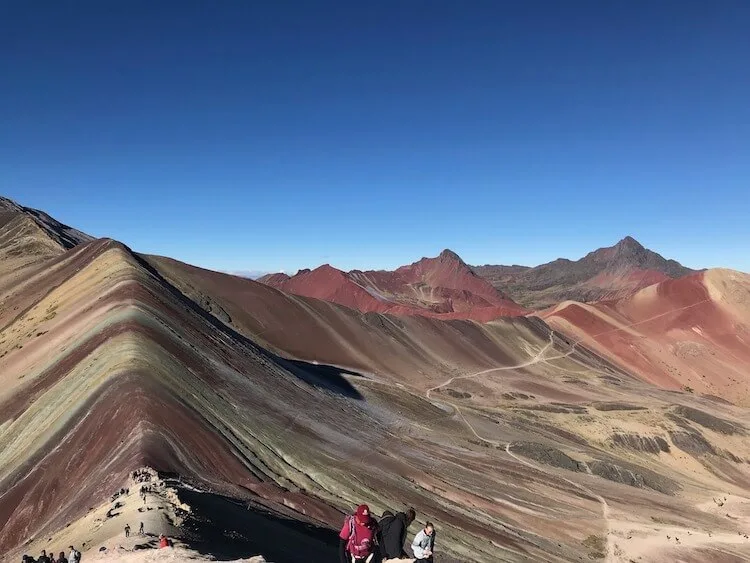 Best Rainbow Mountain Tour:
Flashpacker Connect
After months of research on Chris's end, as this was one of his top things to do in Peru, he came upon Flashpacker Connect. They became well known as being the first to reach Rainbow Mountain, so when we heard about the terrible crowds and the dangers of seeing Rainbow Mountain with the increased amount of hikers on it, we knew we wanted to get in early and avoid the trouble.
They also have professional guides who carry medicine to help with altitude sickness, and they are very attentive to every person on the tour.
They offer anything from a Rainbow Mountain day trip from Cusco to a 6-day trek, making it easy no matter your budget and time constraints. As we only had the 10 days, we opted to just do a day trip from Cusco.
**Note that this is not a sponsored post, we just really enjoyed our time with Flashpacker Connect and our Rainbow Mountain Peru tour!
Perfect Rainbow Mountain Itinerary
Something that is unique about this particular Rainbow Mountain tour was the fact that it starts early. 2 AM to be exact. We woke up at our hotel in Cusco, Rumi Wasi, and left just as people were stumbling home from the bars. Seriously… we saw a guy being carried off by his friends from the pub while we were driving to pick up another person for our tour.
And while I wasn't exactly thrilled to get up that early, the 3-hour drive to the starting point was a perfect time to take a nap.
Once we got there, I wasn't sure we were on the right tour. We pulled into an empty parking lot with a bathroom at the bottom of the hill. The sun was barely rising, and it was just our group.
Then, we saw a path leading into the mountains. We ate our breakfast, took some preemptive Tylenol, and let some little dogs lead our way as we passed by a camp of locals setting up to run tourists back and forth on horses all day.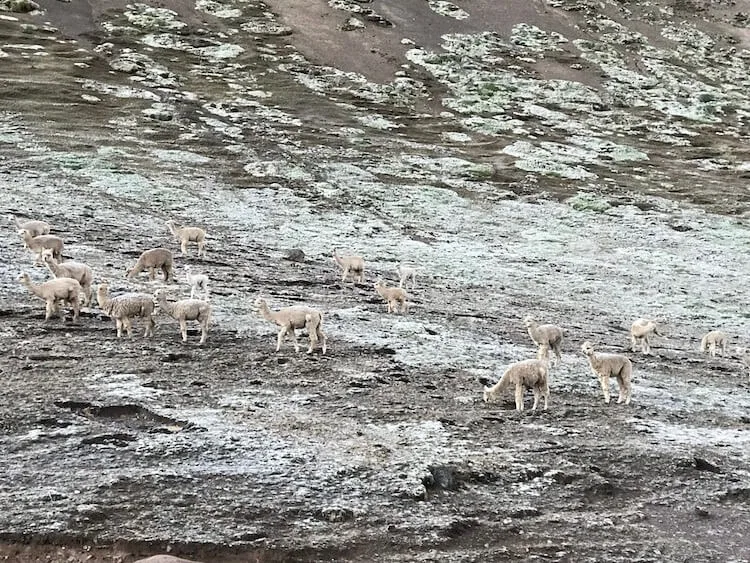 The hike to Rainbow Mountain takes about 2 hours, and you get to see some of the most beautiful snow-capped mountains in Peru glisten as the sun starts rising over them. It truly is stunning to just witness this all on its own. And the best part was the fact that it was just our small group of 4 watching this.
However, the hike is challenging. I'm not saying it is technical with narrow paths and tree roots. It has nothing to even do with the gradual incline, until the big hill at the top. Rainbow Mountain sits at around 17,000 feet (5,182 meters). So you'll feel short of breath and your heart will likely start racing. So keep control of your breathing. Take deep breaths and slowly walk up there. If you need to take the horse, do it. But it isn't a fast walk to get to the top.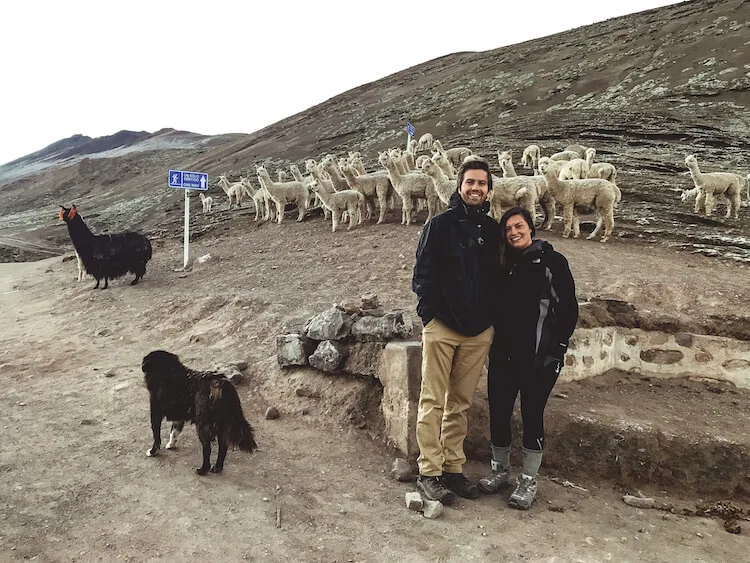 After two hours of wandering the mountains of Peru, seeing wild guanaco (they look like a smaller llama), and climbing up the steepest part, you'll come upon the peak. On a bright, sunny day, the colors are vibrant.
No, they don't look like all the photos on Instagram with the saturation turned up all the way, but they still are colorful and stunning. You can sit on the peak across from it to take photos, and you can even get a passport stamp with the mountain on it!
I recommend taking some time to sit and catch your breath and take it all in. By this time, you'll see more people arriving on horseback and the other tour groups rolling in. Before the mountain gets too crowded, it is time to leave.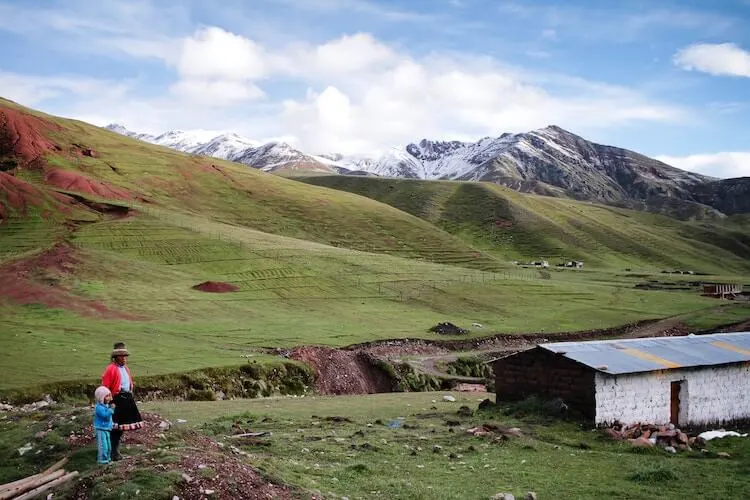 Thankfully, the hike down is easy, mostly downhill, and is only about an hour. But you'll be so glad you came super early, as the hike down will consist of passing massive groups of people coming to the peak and many more people on the mountain.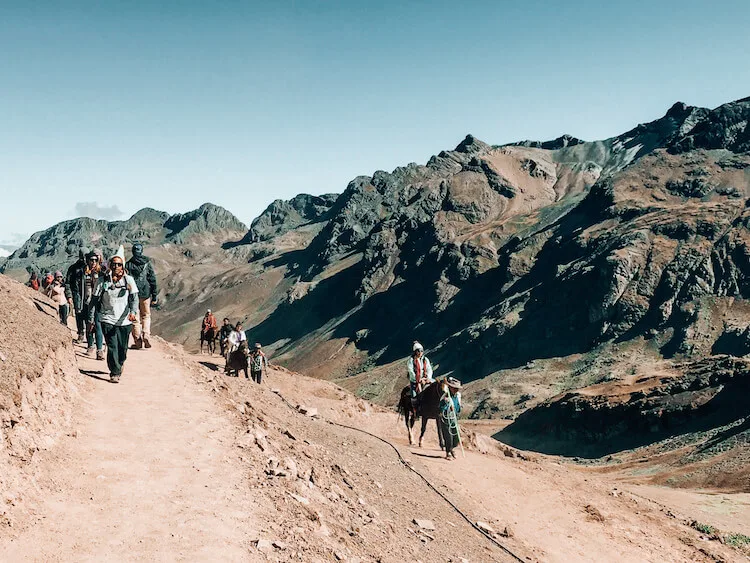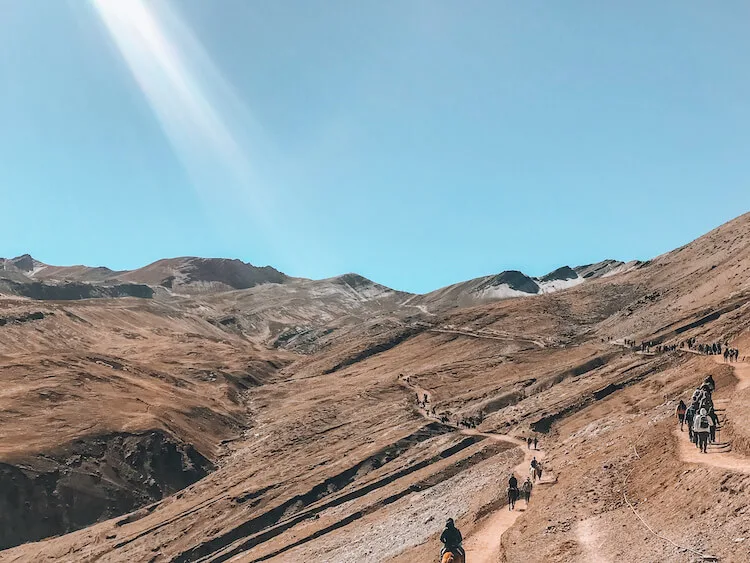 To avoid the extra crowds and have the hike to yourself, definitely go early! Once you get back to the car, they will drive you to a house for a home-cooked traditional lunch to chow down after that crazy hike!
And the amazing thing is that by the mid-afternoon, you're back in Cusco and able to take a nap and explore all the things there is to do in Cusco!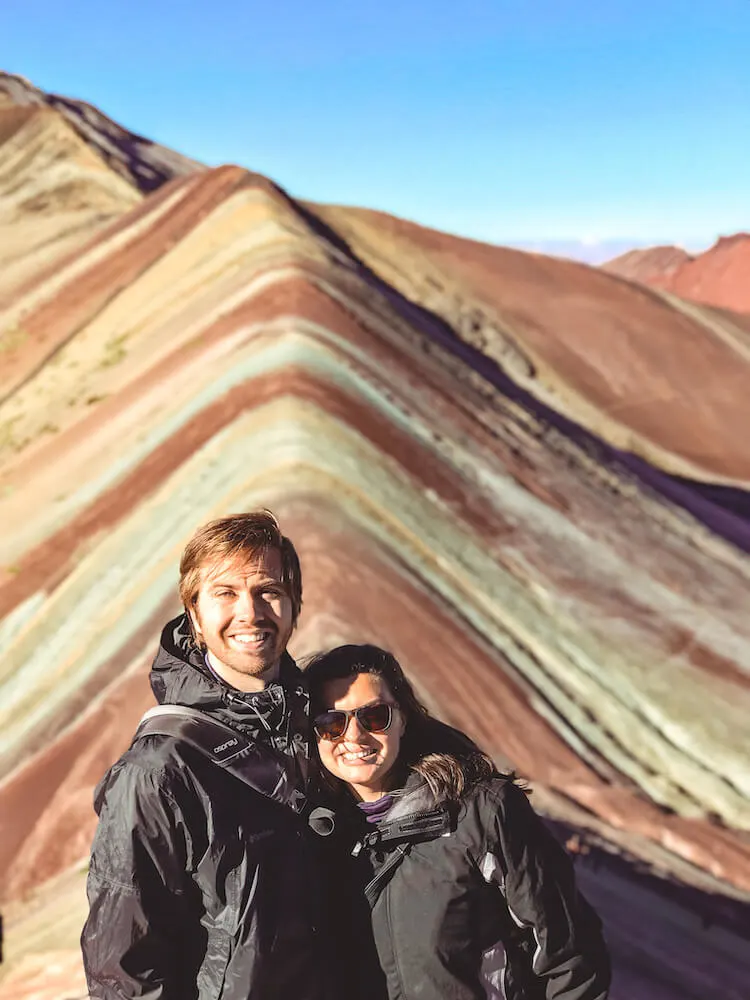 Optional Rainbow Mountain Hikes
On our tour, our group could decide if we just wanted to hike and see Rainbow Mountain and come back, or if we wanted to also take an extra hour to see the Red Valley. We opted to just see the mountain, as we could see much of the Red Valley from our hiking and honestly, we were pretty wiped out with the altitude.
However, definitely do it if you have the energy! The valley is also stunning and much less crowded!
And if you really want to make this a big Rainbow Mountain trek, opt for the 2-day trek instead, where you go from the large, green valley with views of Ausangate Mountain and trek all the way to Rainbow Mountain the following day.
Or to avoid Rainbow Mountain Peru altogether, check out these other treks that you can do instead of Rainbow Mountain:
Ausangate Trek has glacier lakes, stunning and rugged landscapes, and options for multi-day treks.
Palccoyo Mountain, or Tres Rainbows, is a great alternative and is far less crowded. Plus, you get to spot 3 rainbow mountains in Peru plus Ausangate glacier! It is also a far less strenuous hike.
Cost to Hike Rainbow Mountain
With Flashpacker Connect, it costs $150 per person for the Rainbow Mountain day trip from Cusco, including breakfast, lunch, snacks, water, transportation, oxygen, and a guide. The only things not included were tips, the cost to ride a horse up (if you choose to do that) of $25 (80 soles), and the passport stamp at the top (optional).
For the 2-day trip, it costs $375 per person, including all the camping supplies and food. And the 4-6 day treks cost between $595-795.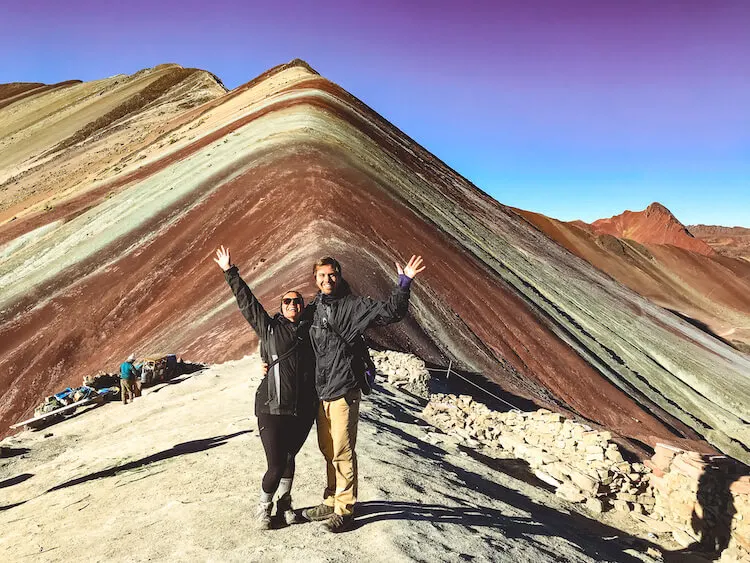 What to Wear to Hike Rainbow Mountain Peru
Layers, layers, and more layers. Don't let Instagram fool you again. It can get very cold! We went at the end of May and wore hiking boots (here are the exact hiking boots I wore) with thick wool socks, and I wore thermal running leggings, a long-sleeved shirt, hoodie, and a thick winter jacket with gloves and earmuffs and was comfortable during our hike.
Chris wore his hiking boots and socks as well as hiking pants, two shirts, and a light jacket and was cold in the beginning. If he wore an extra layer and gloves he would've been warmer at the start. Definitely bring a thick coat and layers to keep you warm!
It is very chilly, especially in the early morning before the sun is up! It warms up a little during the hike but be prepared for any kind of weather!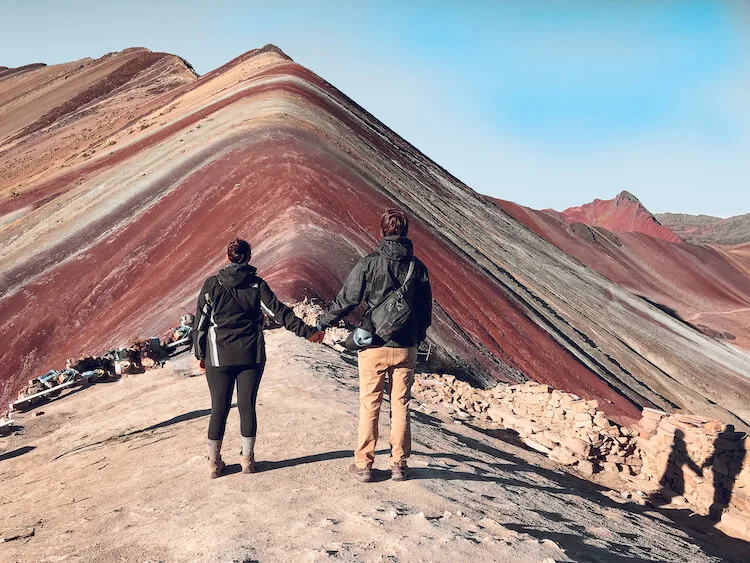 Best Time to Visit Rainbow Mountain Peru
When it comes to the best time for the Rainbow Mountain trek, you certainly want to take the weather into consideration. You don't want to get rained out and you definitely don't want to visit if the mountain is completely covered in snow!
Peru has a rainy and a dry season. In this area, the rainy season runs from December to April. I would avoid December-April especially as it can be snowy, rainy, chilly, have low visibility, and perhaps even have hail! If you don't want to be miserable during your hike, it is best to avoid those months.
Of course, there are still nicer days during that time, but in general, you may want to visit outside of the rainy season. The dry season is between May through October. The days are much sunnier and the weather much more cooperative. We ended up visiting at the end of May, and while below freezing during the start of our hike, it was sunny and pleasant!
Top Things to Know About the Rainbow Mountain Day Hike
Here are some great things to know before you go hike Rainbow Mountain:
Acclimatize beforehand. We ended up doing this hike at the very end of our trip to Peru, after spending several days in Cusco, a day in Machu Picchu, and a day in the Sacred Valley. Get acclimatized by staying in Cusco for a few days to get adjusted to the altitude first.
Choose a reputable company. I don't want to freak you out, but people have died hiking here. The altitude is very high and you never know how you'll react. If you feel lightheaded, have an intense headache, or any symptoms of altitude sickness, start descending. A reputable company will have oxygen and other remedies for altitude sickness. So while FlashPacker Connect was more expensive than some tours, we felt more comfortable knowing they were a highly reputable, small group tour that looks after the guests.
Drink lots of water. It may be cold, but you're still hiking. It's always important to get plenty of fluids in.
Be prepared for rustic toilets. There are toilets at the beginning, middle, and end of the hike. So if you have to go, at least there are places to do it. However, they are very rustic, with some even being squat toilets. Be sure to pack some toilet paper and hand sanitizer for the hike.
Wear sunscreen. I know, it can be a cold hike, so why would you need it? Well, at that high altitude and on a sunny day, you will very likely get burnt. So pack a little sunscreen to put on any exposed skin.
Don't forget travel insurance! We always use World Nomads for those just in case moments. And when we plan to do something riskier like hiking at high altitude, it's a smart thing to have! Get a quote here.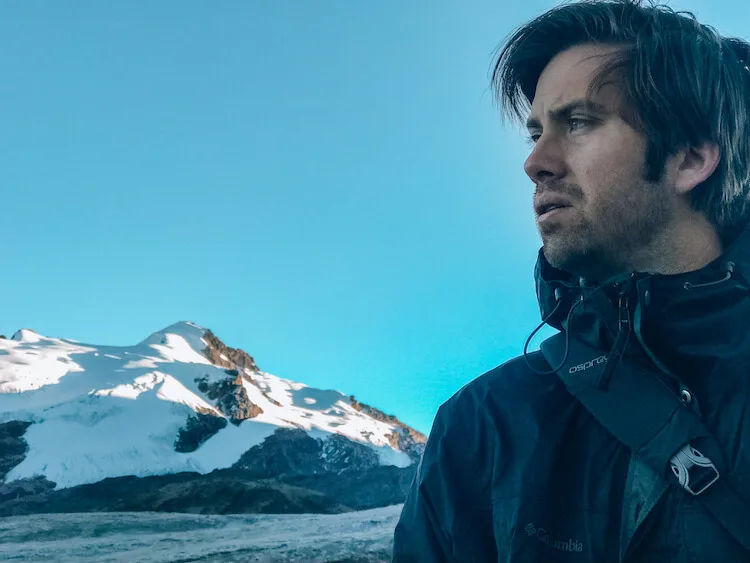 Why It Is Still Worth Going on a Rainbow Mountain Peru Tour
I've heard of many complaints in recent years about the crowds on Rainbow Mountain. Yes, droves of people are coming every day, and without any limits like the Incan Trail or Machu Picchu, it is only getting worse.
However, getting there bright and early and over an hour and a half ahead of the crowds means that you get the mountain almost to yourself and can leave as everyone else arrives. It was 100% worth the early morning hike.
When we got back to the parking lot at the end, it was completely full versus when we arrived at 5:30 in the morning to an empty parking lot! We said we were so thankful we did the early tour, especially as we hiked down and had to walk past so many large groups of people.
If you are debating whether to do the Rainbow Mountain trek or not, I can definitely say it is amazing. You can take a nap on the bus and when you get back to Cusco, but nothing was more awe-inspiring than having the whole trail to ourselves and a peaceful, colorful mountain to see at the end!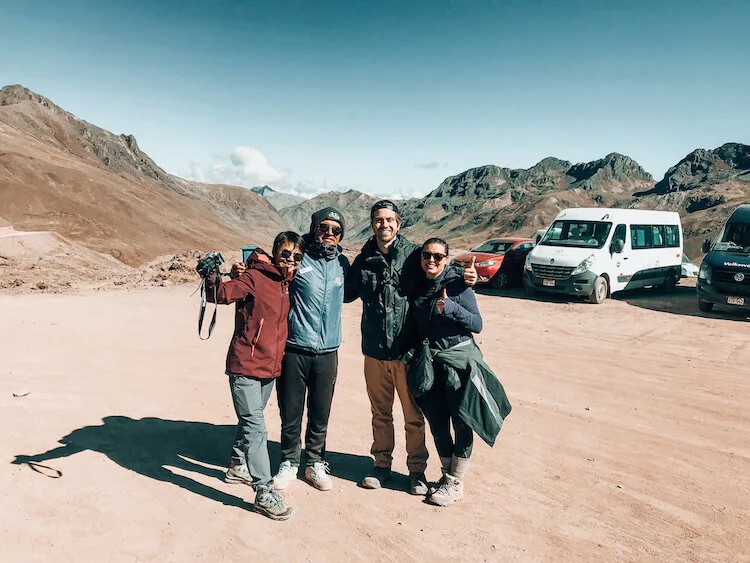 Would you hike Rainbow Mountain? Have you hiked it? What are your thoughts? Let us know in the comments!
Planning a Peru honeymoon? Check out our ultimate Peru honeymoon guide!
Pin it here!