Some posts on this site contain affiliate links, meaning if you book or buy something through one of these links, I may earn a small commission (at no additional cost to you!). Read the full disclosure policy here.
---
When one thinks of Incan ruins in Peru, many think about Machu Picchu. And while that is the most popular, it is far from the only significant Incan structure. The beauty of flying into Cusco and going to Machu Picchu is exploring the Sacred Valley itself. And for those of us who are short on time like we were during our 10 days in Peru, we decided to stick to a 1-day Sacred Valley itinerary by going with the best Sacred Valley tour from Cusco that we could find!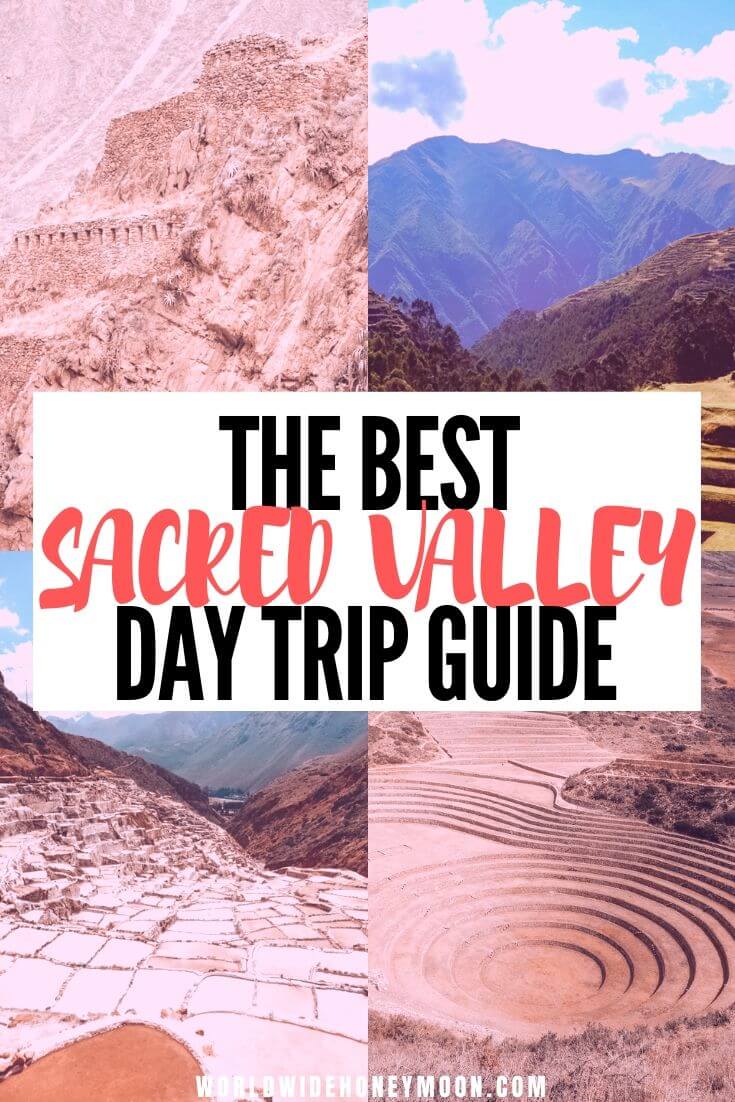 Best Sacred Valley Tour From Cusco – FlashpackerConnect
As we had a limited amount of time, we opted to go with FlashpackerConnect for their Sacred Valley and Machu Picchu 2 day/1 night tour. It was the perfect option for us because we could still see the other highlights of Peru while enjoying the Sacred Valley. It felt like we didn't have to sacrifice anything during our trip, thanks to the efficient tours with this company. We loved FlashpackerConnect because they use local guides, are reasonably affordable, and are very reputable (which is something you want when climbing around in higher elevations).
Our guide, Yeicob, was amazing! He is born and raised in Cusco, has a degree in history, and is super passionate and knowledgeable about Incan culture. He also is just an all-around great guy! Oh and these photos with both Chris and me in them? He took them- so he's a great photographer too! If you're lucky enough to get him, you'll be in fantastic hands!
You can also opt for the 1-day Sacred Valley Day Tour with FlashpackerConnect if you would rather see Machu Picchu separately!
Note: For the 2 Day/1 Night Sacred Valley and Machu Picchu Tour that looks like ours, you'll need to request a customized tour. It is totally worth it and costs $510 per person!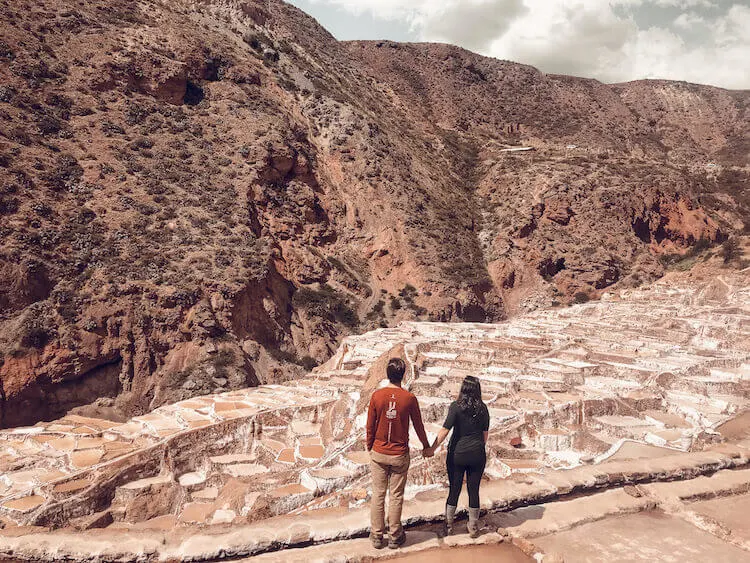 Check out our other Peru posts:
Perfect Sacred Valley Itinerary for 1 Day
The perfect tour starts with an earlier morning. And basically in Peru, be prepared for the early morning wake-up times. If you want to stay in the Amazon, you'll be getting up at 4 AM to start searching for animals or watching the sunrise at 5 AM. If you want to hike Rainbow Mountain, to get ahead of the crowds, you have to get up before 2 AM. But I digress…
Today won't be too bad though, as it is only a 7 AM pick-up time. And you start your day heading to Chinchero.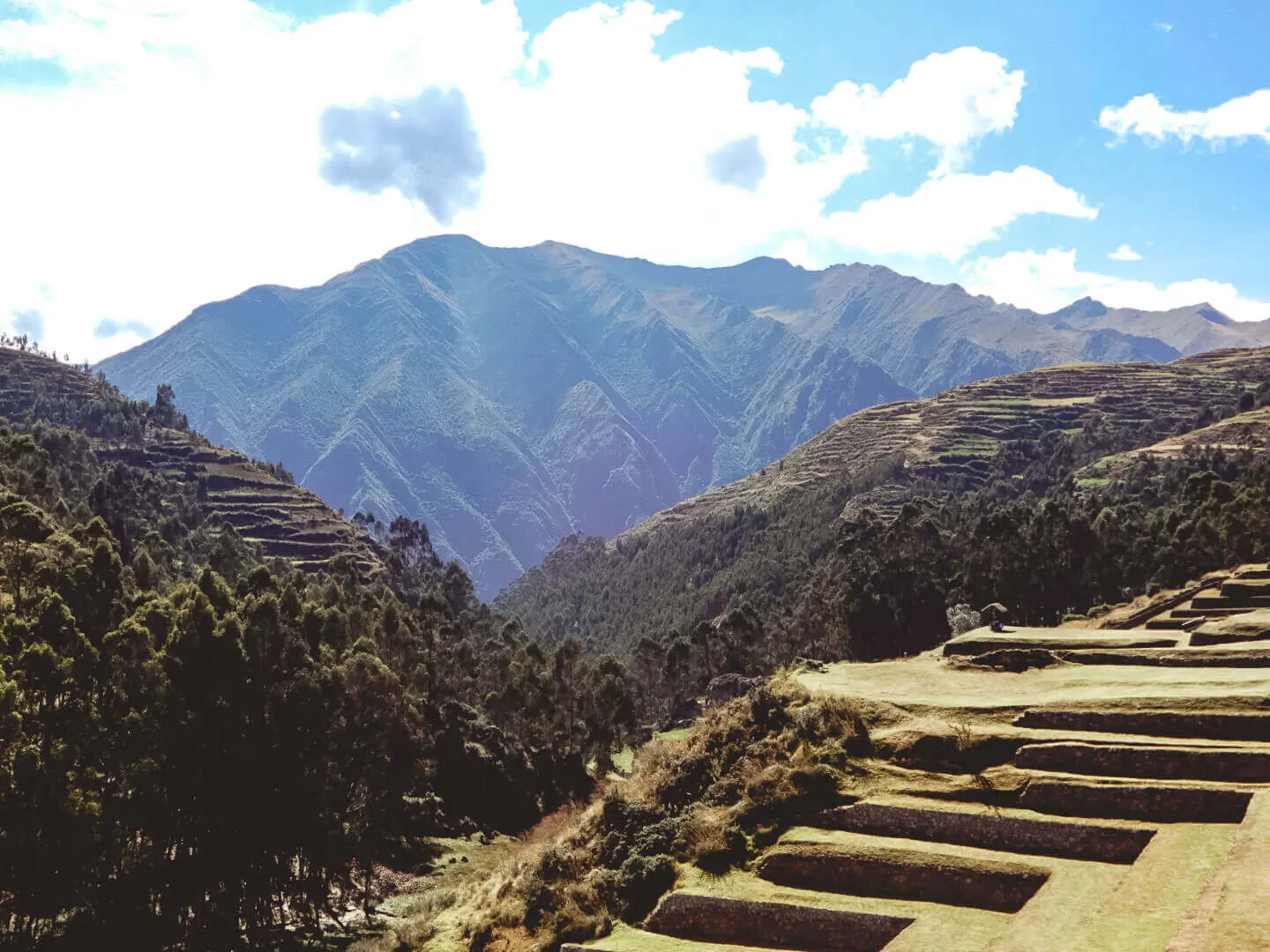 Chinchero Market and the Archeological Site
This small town surrounded by the stunning Andes Mountains, with Salcantay Mountain ahead, has a beautiful market, lovely ruins, and an old Cathedral.
You start off walking around the hilly town, and with the higher altitude of over 12,000 feet, or 3,600 meters, you'll be puffing a bit. But once you get to the ruins, you'll learn about how the Incans used terraces for farming and support as they built many of their towns on the mountains. The Incans grew quinoa, fava beans, potatoes, and more along the terraces, as the earth in the Sacred Valley is very fertile.
After admiring the ruins and the amazing mountain views jutting past them, you will head to the colonial church built on top of an Incan palace by the Spanish.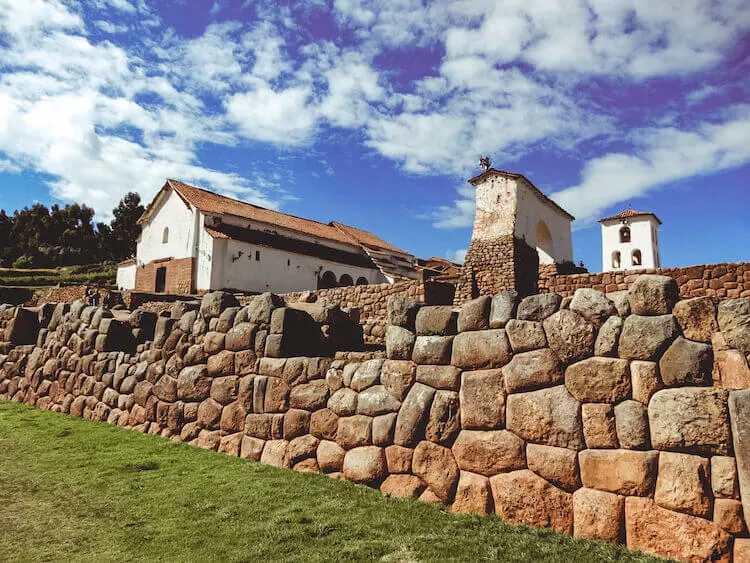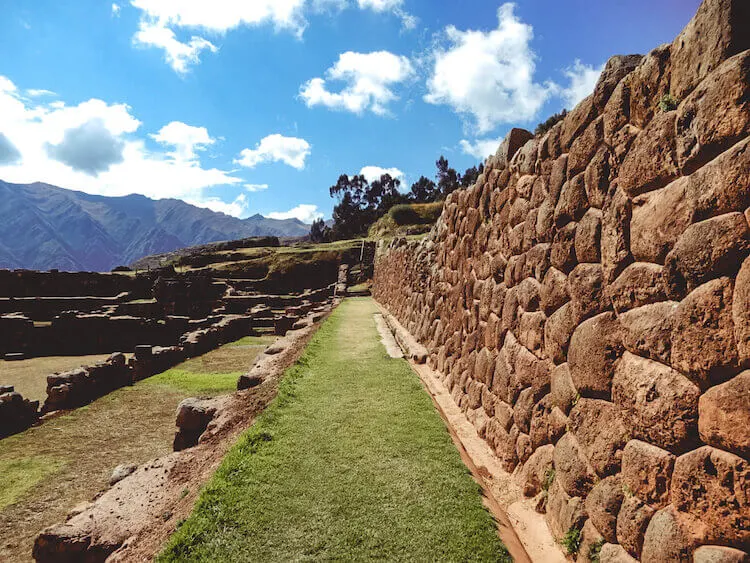 Then, you'll venture to a weaving demonstration and learn how the locals make alpaca and wool products from the fur to dying various colors, and finally, to making the textile itself. You have the opportunity to purchase some products from them, and there are so many beautiful scarfs, blankets, sweaters, etc. to choose from.
Lastly, the Chinchero Market is another great place to visit to haggle for more textiles, fruit, and more!
Moray Ruins
The Moray Ruins look like circular walls getting smaller and smaller as each layer is deeper and deeper into the ground. They are very cool to look at and take photos of, but the reason they were built was to experiment with food! Yup- it was an agricultural research center for the Incans!
The terraces were built in different levels to block out wind and create their own microclimate so that they could grow food in more humid and warmer temperatures. They even have a draining system underneath them to prevent flooding! They brought in soil from different spots in the country, studied a lot of vegetation, and experimented with creating hybrid plants. It is really neat to learn about and see just how advanced the Incans were in their time.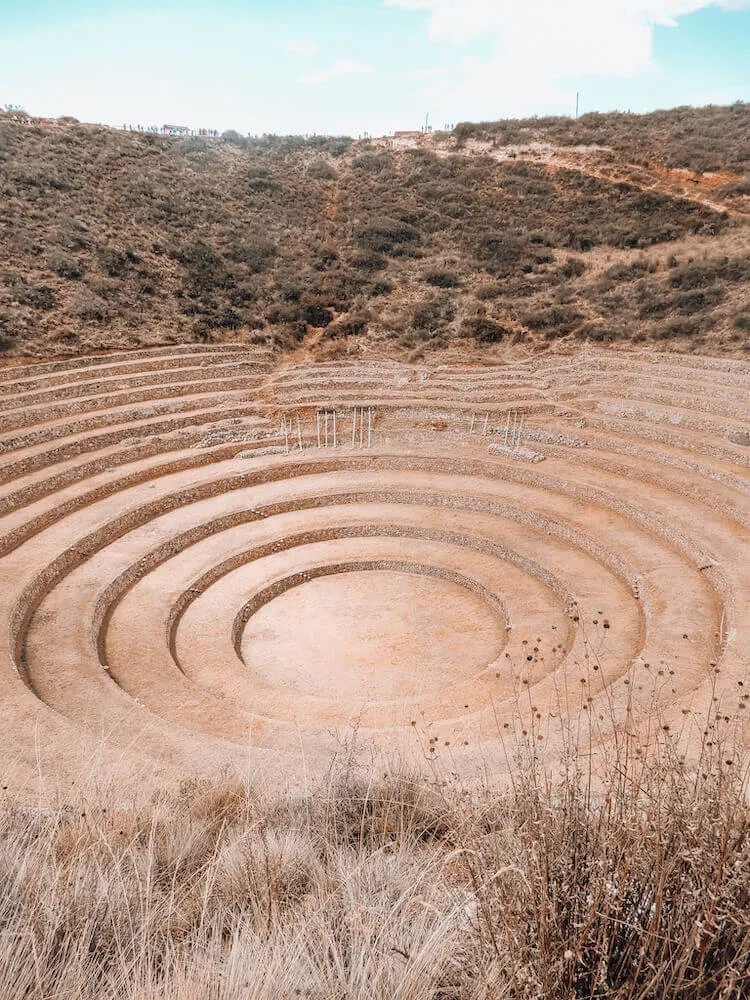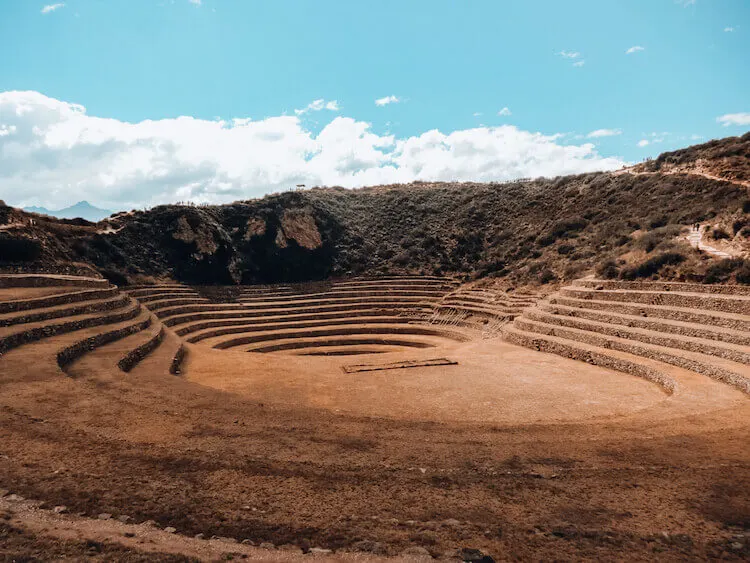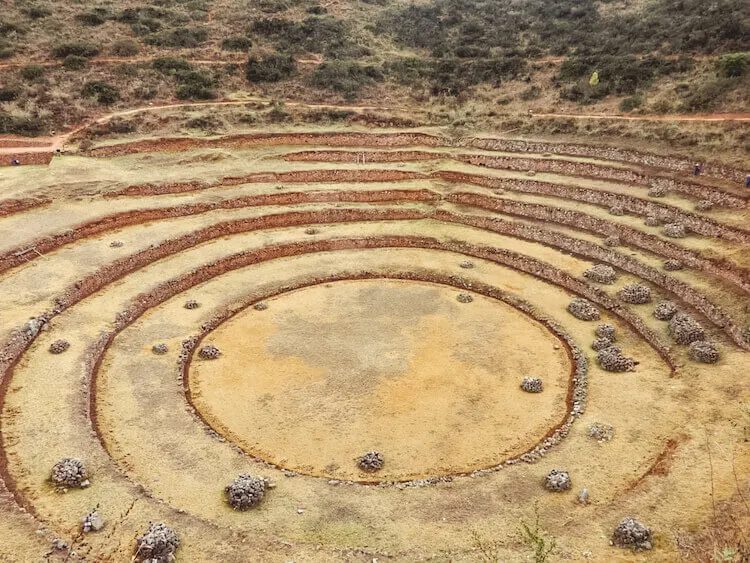 Walk around the three terraced areas and admire the work the Incans contributed to agriculture way ahead of their time.
Maras Salt Mines, or Salineras
After wondering around Moray, it is time to check out the Maras Salt Mines or salineras. This site was created by the Inca and is still used to this day! The Inca found a salty spring and created small channels that filtered into these pools. They would coat the pools with clay to prevent the water from seeping out, and then they would wait for it to evaporate, wash it three times, and voila! The famous pink salt from Peru.
And it is still used today. This place is less of a site and more of a working, natural salt factory where you will still see families producing salt. You can even purchase the salt at the market within the site. They sell processed white salt, natural pink salt, various flavored salts, and more! Definitely pick up a dark chocolate salt candy bar and thank me later.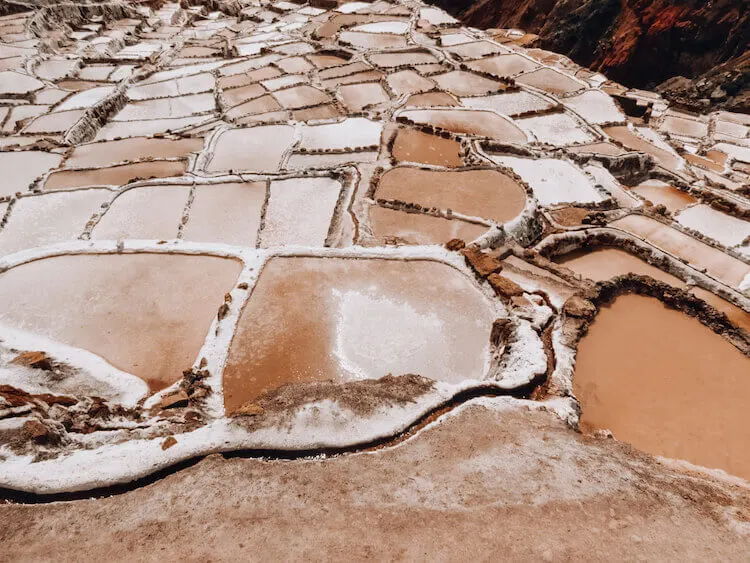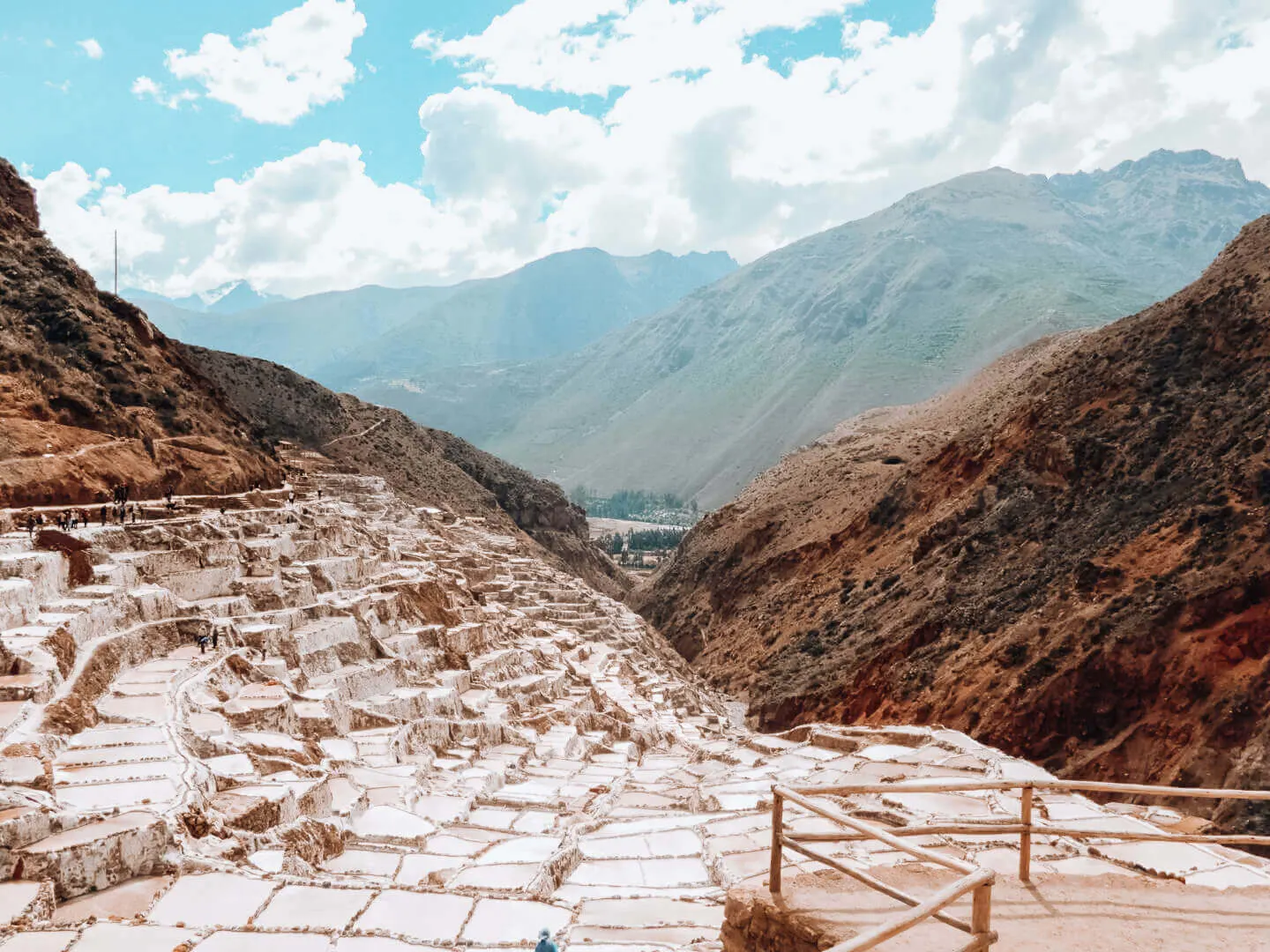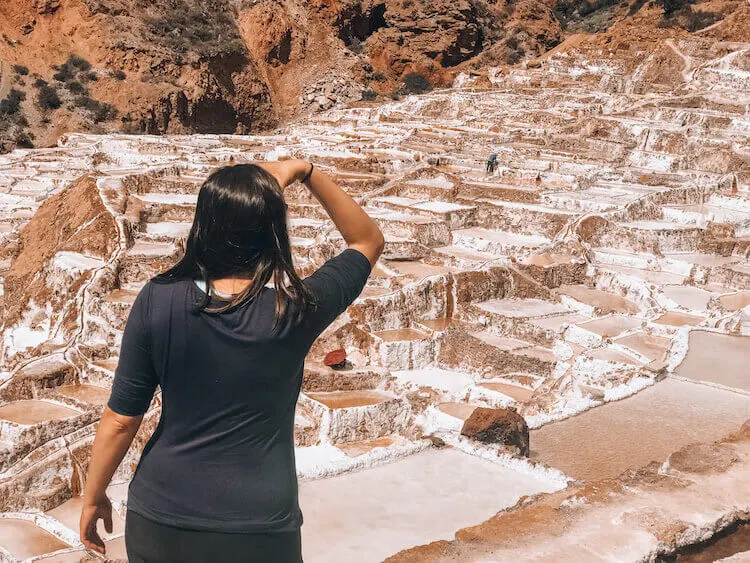 This was hands-down our favorite spot on our journey through the Sacred Valley. I highly recommend this Sacred Valley route (the route options are discussed below) so you can see this.
Pro-tip: This is the only site you'll see today that the entrance fee isn't included in your tour. It is only 10 soles, or $3, per person and well worth it!
Then, you'll head to a Peruvian buffet for lunch where you can try all kinds of local dishes like cuy, or guinea pig, trout ceviche, and alpaca curry.
Ollantaytambo Ruins and Train to Aguas Calientes
About an hour drive from the salt mines is Ollantaytambo. This town is a great stop and a major hub for those departing for Machu Picchu. Here you will visit the Ollantaytambo Ruins. This ancient Incan temple and fortress became home to many Incan nobility. It had temples, many terraces for support and farming, and was built into a very steep hill.
It also was the site of a major victory against the Spanish conquistadors. And while it eventually succumbed to the Spanish, the ruins are still a significant place to visit. What we noticed were the huge stones creating a wall for the Temple of the Sun. How did they carry it all the way from the quarry? The marvels of Incan technology are astounding.
Climb the steps around the ruins and enjoy the views before taking the train to Aguas Calientes at the base of Machu Picchu. The train has a glass roof, allowing you to see all of the views in the Sacred Valley as you ride alongside the river and past many snow-capped mountains.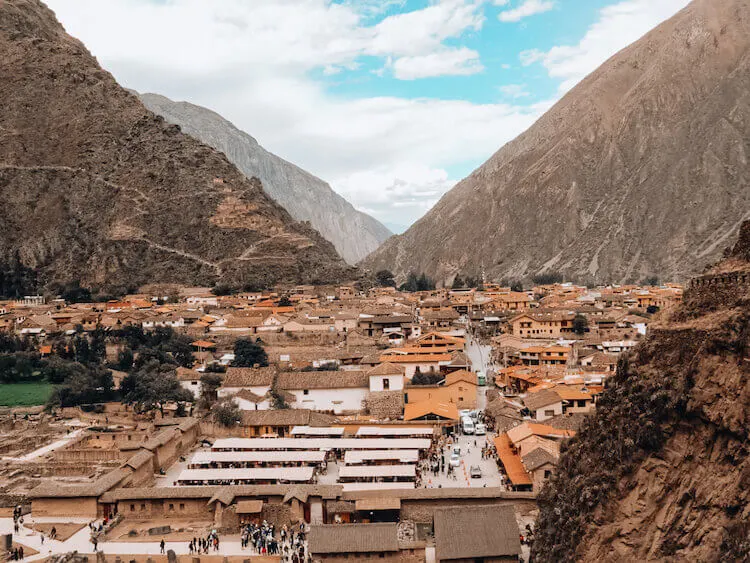 Pro-tip: Try to get a seat if you can on the side of the train next to the river. If facing the front of the train that will be on your left. It has better views!
Note: If you are just doing the day tour, it may go in a different order than this and you will be dropped off back in Cusco or you can contact FlashpackerConnect on how you can take the train to Aguas Calientes instead.
Love what you're reading? Subscribe for more exclusive content and tips!
Aguas Calientes
After a fun-filled day exploring the Sacred Valley and learning more about the Inca, check into your hotel in Aguas Calientes, explore across the river, and grab dinner. You'll arrive around 5 PM, so you've got time to wander around the city or visit the hot springs! The hot springs are open from 6 AM-8 PM and cost around $2.
And for dinner, I definitely recommend Julian Restaurant. Get the trout with Andean potatoes! It is SO good! Then, head to bed for an early day at Machu Picchu!
Where to stay in the Sacred Valley
I highly recommend the hotel we stayed at in Aguas Calientes called Jaya Machupicchu Hotel. The rooms are huge with king-sized beds, a large jet bathtub, and the perfect place to stay after a long day of walking around the Sacred Valley. It was also included in our tour price.
If you would like to be super-adventurous, there are the Sky Lodges that hang from the cliffs in the mountains of the Sacred Valley!
Lastly, if you plan to spend more time in the Sacred Valley, check out an affordable Airbnb we mention in this article!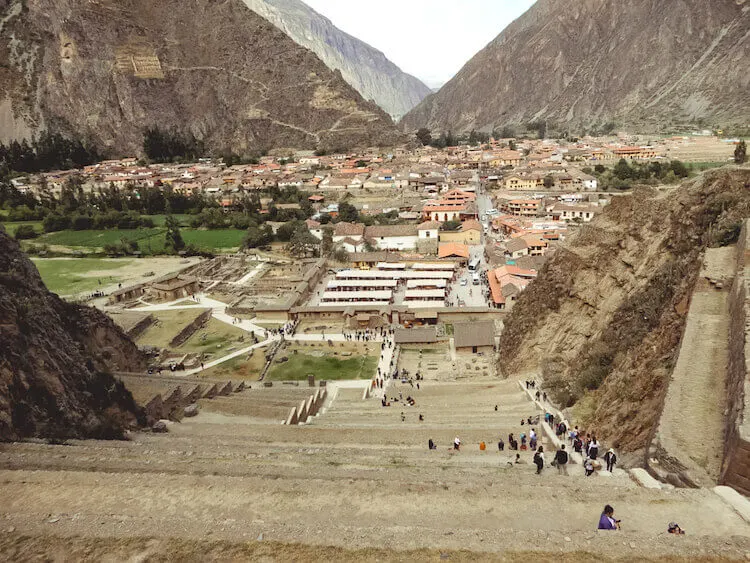 Cost and Logistics of the 2 Day/1 Night Tour of the Sacred Valley from Cusco
No, this is not a sponsored post. Chris did thorough research for months before deciding on a tour for this. So to save you all a bunch of time, we're breaking down the itinerary (as seen above), costs, logistics, and more!
Contact Information:
Cost: $510 per person for the 2 Day/1 Night Tour, $125 for the Sacred Valley Classic Day Trip (option 1 below), or $150 for the Sacred Valley Plus Day Trip (option 2 below).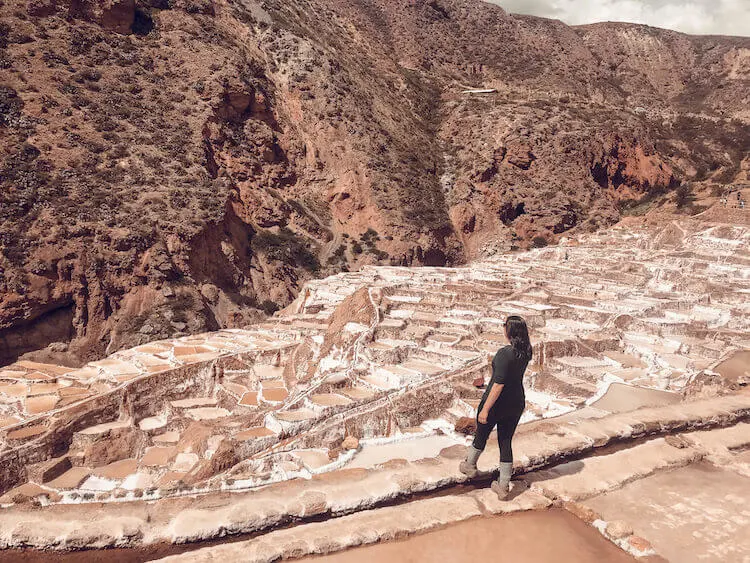 What it includes: The cost may sound high, but here is what you're getting:
Local guide fluent in Spanish and English
Transportation (including bus to Machu Picchu and train from Ollantaytambo)
Hotel pick-up and drop-off
Hotel in Aguas Calientes
Entrance tickets to Machu Picchu and most of the Sacred Valley sites (excluding Maras Salt Mines)
We paid the $510 per person and it was well worth it!
Pro-tip: Our tour is a customized tour, so definitely reach out and request this!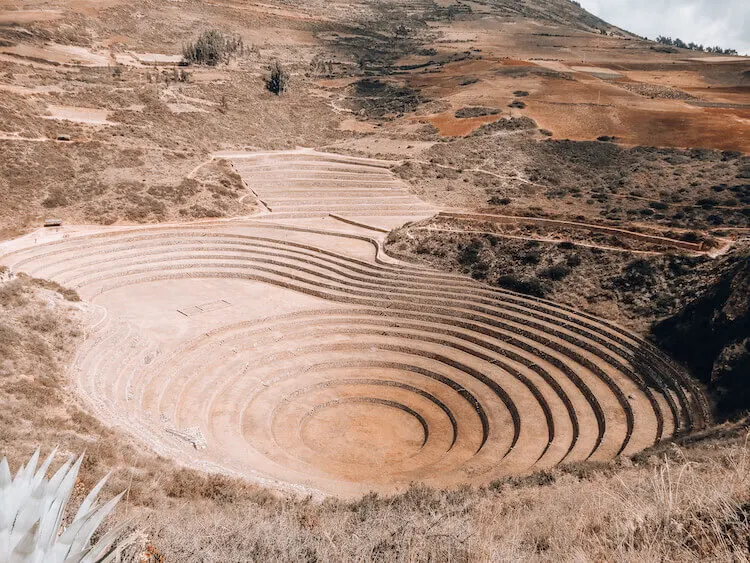 Which Sacred Valley Route to Choose During Your Day Tour
Did you know that the Sacred Valley has two main routes to choose from? You will need a couple of days at least if you plan on seeing most of the Sacred Valley, so if you have one day, here are the two to choose from:
Option 1: Pisac and Ollantaytambo
This route takes you to the Pisac archeological site, Pisac Market, Urubamba for lunch, and then the Ollantaytambo ruins. As these locations are further apart from each other, you can't see as much, but you will be able to explore Pisac and Ollantaytambo.
Option 2: Chinchero, Moray, Maras Salt Mines, Pisac, and Ollantaytambo
This route has a lot of really neat Sacred Valley destinations. I definitely recommend this route, as there are really cool ruins and salt mines to visit! It also is much less touristy, as we had fewer crowds at Moray, Chinchero, and Maras.
As much as we'd all wish we had more time to explore all the highlights of Peru, having the option to do a one-day tour of the Sacred Valley is a great fit for those short on time. So start dreaming of the perfect day exploring the amazing ruins, markets, and historical sites of the Sacred Valley to get prepared to see Peru's most famous landmark- Machu Picchu!
What would you like to see in the Sacred Valley? Let us know in the comments!
Pin it here!