Some posts on this site contain affiliate links, meaning if you book or buy something through one of these links, I may earn a small commission (at no additional cost to you!). Read the full disclosure policy here.
---
Looking for vacation rentals or Airbnbs for your honeymoon?
Airbnbs and other vacation rentals are a great idea to save money on a honeymoon! Let's face it, weddings inevitably cost more than anyone plans on (seriously…how does food possibly cost THAT much?!). So if you want to have a great wedding and amazing honeymoon without compromising where you want to celebrate post-nuptials, a VRBO or Airbnb honeymoon is the way to go!
These days, there are tons of beautiful Airbnbs and VRBOs that give you the feel of a boutique luxury hotel. You can stay right on the beach at a fraction of the cost of most 4-star hotels, discover unique stays you just can't get with a chain hotel, and you get a slightly more local feel. It is kind of a win-win.
However, even Airbnbs and VRBOs can get quite pricey if you don't watch out. Yes, even they are creeping up in prices thanks to popular destinations for Airbnbs and other vacation rentals. But we've searched high and low for unique and amazing vacation rentals and Airbnbs for your honeymoon around the world that you can actually afford.
While "affordability" is certainly subjective, know that these Airbnbs and VRBOs range from around $50-300 per night.
So relax in that post-wedded bliss as you explore the world and save a bit of money while doing that!
18 Romantic Airbnbs for Your Honeymoon (Plus VRBOs)
Whether you plan on wandering around Paris or relaxing in the Caribbean, here are the best Airbnbs and VRBOs you can actually afford for your honeymoon.
Honeymoon Airbnb & VRBO Location: USA
There are a lot of great places to stay in the USA during a romantic getaway! We have a lot of details on dreamy cabins in the Smoky Mountains, chic vacation rentals in Asheville, best places to stay in Cincinnati, and where to stay in Vermont.
But for a honeymoon, we've got a few great Airbnbs and VRBOs you'll want to book ASAP!
1. Charming Cabin by Lake Tahoe
Get away from it all in this charming cabin next to Lake Tahoe. This romantic honeymoon-worthy destination will make you swoon. With charming high ceilings, wood beams, and a cozy fireplace, this VRBO is perfect for those who want to relax or those who are searching for adventure.
This place is perfectly located along the shores of Lake Tahoe and is within walking distance to the beach and not far from the ski slopes. Snuggle and watch the snowfall in the winter or get adventurous outdoors in the summer. This place is ideal year-round!
Prices start at $283 per night.
2. Get Beach Views in This Sanibel Island Honeymoon VRBO
Sanibel Island in Florida is a dream. And this VRBO for your honeymoon is complete with views over the gulf, bright and airy space, and the condo complex has a pool.
Plus this condo is only steps from the beach, making it super convenient. Leave all your cares behind as you embrace newlywed life together in one of the US's most romantic beach havens.
Prices start at $239 per night.
3. Mountain Montana Views
Indoor private pool? Check. Cozy and relaxing place? Check. Stunningly beautiful views overlooking Ennis Lake and gorgeous Montana mountains? Check. What more could you want in a romantic mountain honeymoon than this VRBO?
If you are a lover of mountains over beaches, then this incredibly romantic VRBO/Airbnb is perfect for your honeymoon. And as an added bonus, it is only about an hour away from the entrance to Yellowstone!
Prices start at $248 per night.
4. Relax in Maui
With views like these from your balcony, who would ever want to leave?
This Maui VRBO is located on the west side of the island, close to Lahaina and Kaanapali beach. Take in stunning sunsets, go snorkeling in the ocean, or just relax from your balcony in this perfect VRBO/Airbnb honeymoon spot.
The interior of this vacation rental is meant to make you feel relaxed with bright walls, wooden beams, and views from every window. And for a fraction of the hotels nearby, this is a perfect affordable honeymoon rental.
Prices start at $297 per night.
Beachy Airbnbs For Your Honeymoon
Whether you want to save money in the Maldives or have incredible views over some of the Caribbean's best beaches, these are the best beachy Airbnbs and VRBOs you can actually afford.
5. Sea Views in the Maldives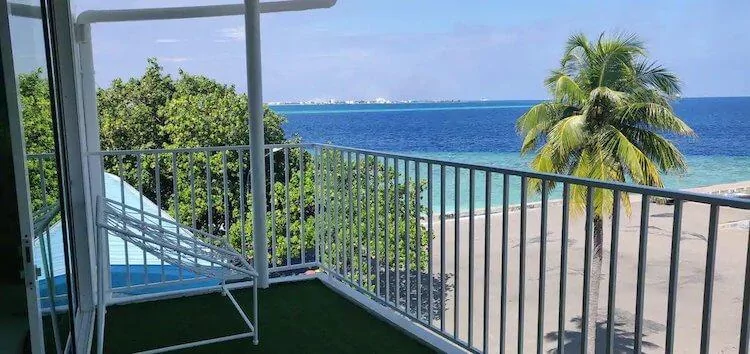 This Airbnb is located in the Maldives and the best part is that it is less than $100 per night! I mean, look at this view!
The reviews are also glowing, including rave reviews about the host being super helpful in arranging activities and helping people get to this place (you'll need to take a taxi and ferry). It is located in Villingili, a hidden gem of the Maldives. You'll have beaches almost free from tourists to explore, plus help from the host to find snorkel or dive tours and local spots to eat.
A luxury honeymoon location at a fraction of the cost? It is the perfect Airbnb honeymoon.
Prices start at $65 per night.
6. Beachfront Apartment in Phuket, Thailand
One of the great things about visiting Southeast Asia on a honeymoon (like we did back in 2018) is how affordable of a place it is. I mean look at this place! It has views overlooking the ocean, a luxurious pool, and it is in a prime location to explore this area of Thailand.
Feel pampered in this gorgeous apartment without draining your wallet. You'll save up money for either splurging on other things during your honeymoon or just traveling more.
Prices start at $55 per night.
7. This Luscious Bali Bungalow is Ideal for a Honeymoon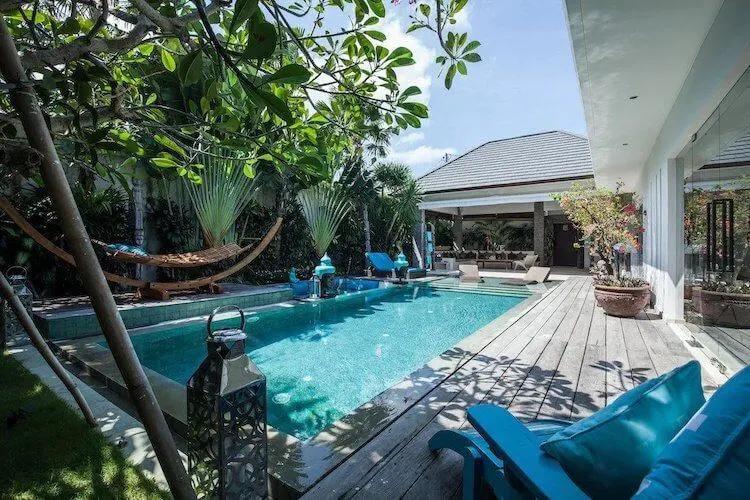 This luxurious bungalow is complete with modern and stylish furnishings, lovely decor including art from local artists, and a lot of attention to detail. Plus, this place has a dreamy pool and is only 10 minutes from the lovely beaches.
This honeymoon rental has the best of both worlds with being near the beach but also has a private chill feel. Relax and unwind in this truly romantic place.
Prices start at $237 per night.
8. Get on Island Time at this Isla Holbox, Mexico Airbnb/VRBO For Your Honeymoon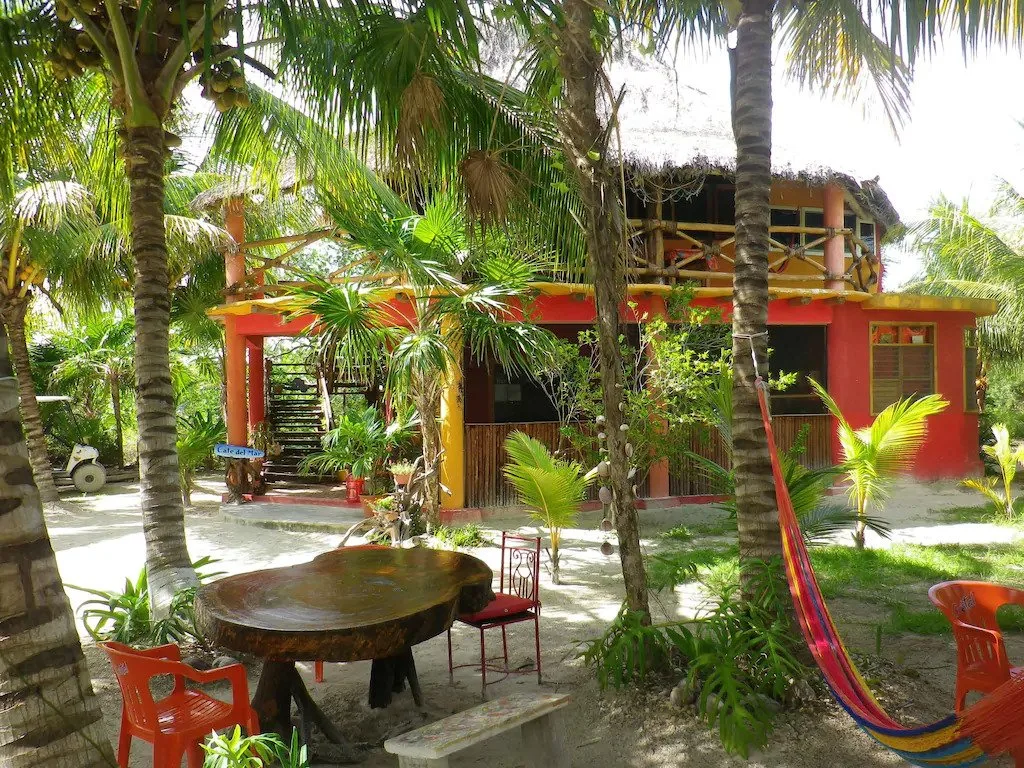 Run from your beach house to the ocean at this lovely VRBO. This place is complete with a large bed, dreamy outdoor space, large kitchen, and is close to the ocean.
Watch the days pass lazily or get out and swim, snorkel, and more!
Prices start at $166 per night.
9. Views Over One of the Caribbean's Best Beaches
This bright VRBO has views out over Eagle Beach, one of the best beaches in the Caribbean (and world!). Plus, you're within steps of this dreamy beach.
The rental has plenty of space with a balcony, kitchen, and a shared pool for the condo building. It is an ideal location to explore the island and at a fraction of the cost of many of the beach hotels next door.
Prices start at $250 per night.
Perfect Airbnbs for Your European Honeymoon
Eiffel Tower views without a luxury hotel price tag? The ability to watch a sunset from your Santorini balcony but pay less than the many hotels in the area? Sign us up for these lovely honeymoon Airbnbs and VRBOs.
10. A Dreamy Parisian Apartment… with a View!
Imagine sipping champagne on your honeymoon in a fancy Parisian apartment and you look up and there is the Eiffel Tower sparkling at night! Paris is a dreamy place to visit on any occasion (we loved spending 4 days there), but for a honeymoon it is divine!
This apartment is not only affordable for your France honeymoon, but you're within walking distance of the main attractions in the area! Sip coffee at a dreamy sidewalk cafe, stroll hand-in-hand along the Seine and stare longingly into each other's eyes over a bottle of wine at a trendy wine bar…all within a few minutes of your perfect apartment.
Prices start at $205.
11. Watch a Sunset Over the Aegean Sea From Your VRBO
Santorini is always a popular honeymoon destination in Europe for good reason!
You've seen it all over Instagram: a photo of someone watching an iconic sunset from their dreamy hotel balcony. While they may be paying upwards of $1,000 a night, this vacation rental is far less.
Aside from the close proximity to all the action in the famous town of Oia, the views from your room are completely stunning, and the interior is super cozy and bright.
Prices start at $295.
12. Wake Up in Paradise in Italy
This VRBO is full of views and beautiful flowers! The balcony is ideal for having a coffee as you watch the day begin together along the perfect Amalfi Coast.
The interior is cozy as well with a small kitchenette and comfy bed. It is also only a couple of minutes from the beach as well as plenty of bars and restaurants in the area.
Prices start at $220 per night.
13. Cozy Up in the Cotswolds in this Cottage VRBO
There are few things more charming than the English countryside…except maybe this VRBO. With the cozy fireplace, lovely garden, wooden beams, and a beautiful clawfoot tub, you'll easily fall in love with this cottage in Burton-on-the-Water, UK.
So whether you want to snuggle by the fire and chat for hours or you want to go for a stroll in the countryside, this vacation rental will surely enchant anyone for a honeymoon.
Prices start at $182 per night.
Other Unique Airbnbs and VRBOs Around the World Built For Romance
Planning a unique honeymoon somewhere around the world? Or do you also love unique places to stay? Regardless, here are some incredible international Airbnbs and VRBOs you'll want to book for your honeymoon ASAP.
14. Farm Stay in South Africa
The Cape Winelands are nothing short of awe-inspiring. Spending an overnight (or even a week!) there is always an incredibly romantic thing to do during a South Africa honeymoon. With mountains, sprawling vineyards, and lush greenery, a farm stay is the ideal dreamy rental.
This place not only has incredible views, but you have a spacious place with a private outdoor tub, a pool, and you have never-ending views of the mountains and farm. This place is the perfect escape during a honeymoon getaway.
Prices start at $96 per night.
15. Enjoy a Charming Apartment Airbnb in Tokyo
Escape the hustle and bustle of exciting Tokyo in this dreamy oasis. This Airbnb is nice and bright with a kitchen, spacious accommodations, and your own balcony.
It is also close to public transport so you can zoom around the city and see the main sights!
Prices start at $82 per night.
16. Amazing Views in Queenstown, New Zealand
Yes, that is your view overlooking Lake Wakatipu in Queenstown! I mean you could spend the whole time just snuggled up with your love on the balcony, right?!
This VRBO has so much to offer including a full kitchen, several windows showing off this view, and a super comfy bed! Plus it is only a few minutes from many shops and restaurants.
Prices start at $148 per night.
17. Urban Oasis in Sydney
I don't know about you, but I love being in the heart of a city but in a lovely oasis. That's exactly what this Airbnb in Sydney has to offer.
The interior of this place is spacious and chic, and the exterior offers fabulous views. It is also within minutes of the beach and other restaurants in the area.
Feel pampered and in paradise but also within an easy distance to explore all that Sydney has to offer.
Prices start at $210 per night.
18. Stay in a Country House in the Sacred Valley, Peru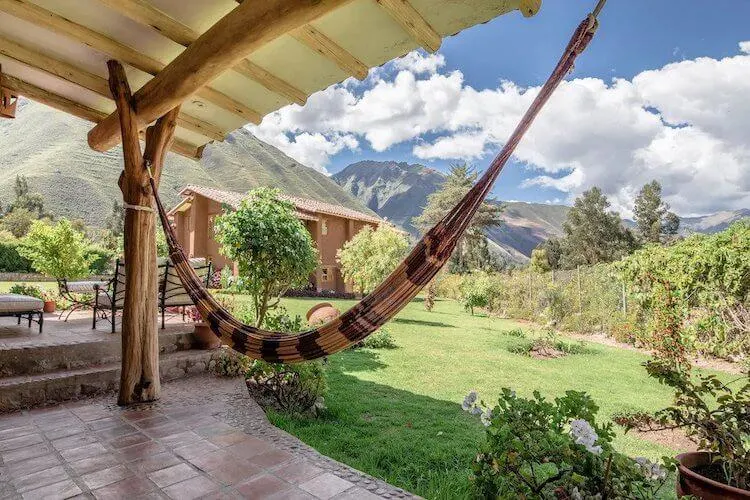 A Peruvian honeymoon is something I highly recommend. The Amazon Rainforest is a dream, visiting Machu Picchu is stunning, and even eating your way through Lima is a joy. But one place you should spend a bit of time in is the Sacred Valley.
There is a lot to see and do in this area (including taking a tour of the sights), and the views are stunning, to say the least. That's why this VRBO is perfect! Aside from its cozy and warm decor inside, there is a lovely patio and garden, and the views cannot be beaten.
The mountains surround this place and you aren't far from the Urubamba River. If you are looking for a truly unique and romanitc VRBO, this is it.
Prices start at $267 per night.
There are so many incredible VRBOs and Airbnbs to book for your honeymoon. So where will you go with your love?
You may be interested in these posts!
Pin it here!