Some posts on this site contain affiliate links, meaning if you book or buy something through one of these links, I may earn a small commission (at no additional cost to you!). Read the full disclosure policy here.
---
Peru is full of exciting places to visit. Many people come for Machu Picchu, the Amazon Rainforest, Lake Titicaca, Cusco, and more. And while seeing these fantastic landscapes and beautiful ruins are more than worth it, take the time to spend one day in Lima. With a booming culinary scene and wonderful bars, street art, and cool neighborhoods, there are so many things to do in Lima that you'll wish you had more time to explore.
And while Lima is a huge city, if you've only got one day to enjoy the capital of Peru, this guide has you covered on what to see in Lima, Peru in one day.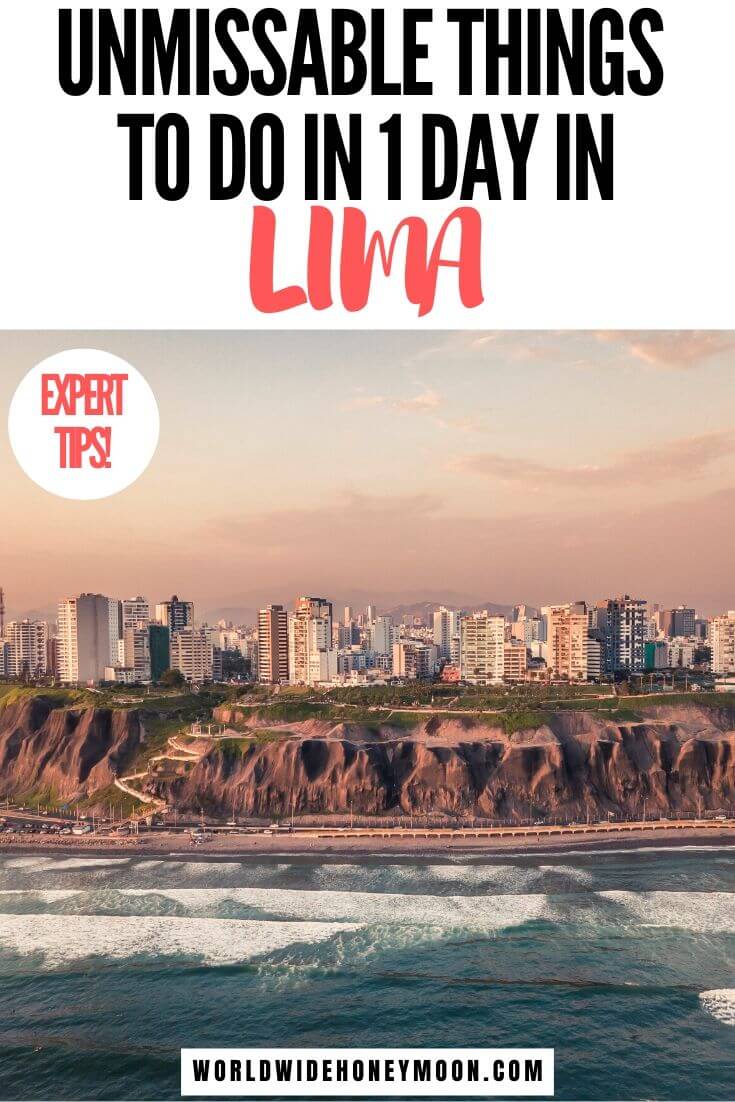 Best Time to Visit Lima
As you only have a one-day itinerary of Lima, you may want to aim for when the weather is best, right? Lucky for you that Lima's climate is known as a coastal desert, meaning that there is little rainfall year-round and the temperatures stay fairly moderate.
Here are the two main "seasons" of Peru:
Summer: Summer is December through April in Peru. It is the warmest, and sunniest, time to be in Lima. Daytime temperatures hover around 75-80ºF (24-27ºC) and evening temperatures are typically around 65ºF or 18ºC.
Winter: "Winter" is a relative term, as the months of May through November aren't what I'd call "cold" in Lima. It is more autumn temperatures here, with daytime temperatures getting up to 65ºF or 18ºC and evening temperatures dropping to 59ºF or 15ºC.
The biggest difference you'll notice (aside from a minor temperature difference) from these two times of year is that during May through November there will be a dense fog that covers the ocean and there are more overcast skies.
We went at the end of May (as it is a better time to visit places like the Amazon Rainforest and Machu Picchu), and the dense fog and overcast skies usually went away in the afternoon, and temperatures were definitely comfortable.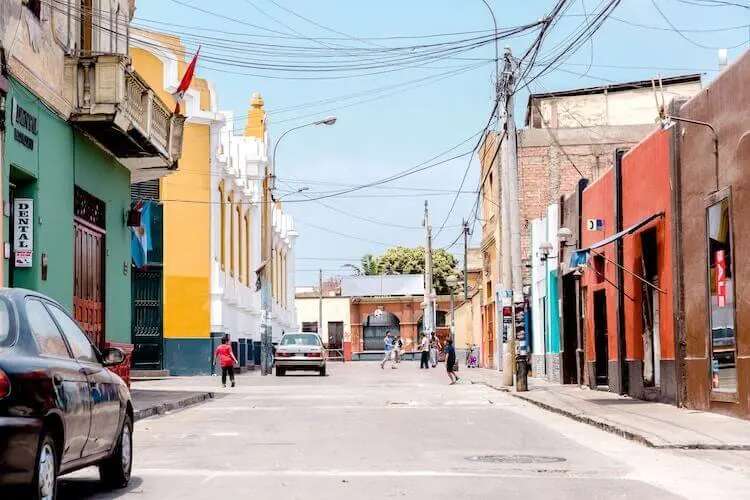 One Day in Lima, Peru Itinerary: What to see in Lima, Peru
With only 24 hours in Lima, you'll want to see a lot. Luckily, there are so many great city tours that will show you the highlights of Lima in a short amount of time. But in this case, I recommend experiencing Lima's culinary scene head-on with a food tour. Eat a light breakfast at your hotel, and mostly be prepared for a day of eating some of the best food in Peru.
Lima Gourmet Company Food Tour
Guys- I cannot recommend Lima Gourmet Company enough! This interactive tour of Lima's best cuisine is 5 hours long, which is a lot considering you only have one day. But if there is one thing that you do in Lima, it should be this.
Why? Because this 5-hour tour takes you through three distinct and exciting neighborhoods (Miraflores, Barranco, and San Isidro), shows you the top spots of Lima, AND you get to eat/drink your way around the city.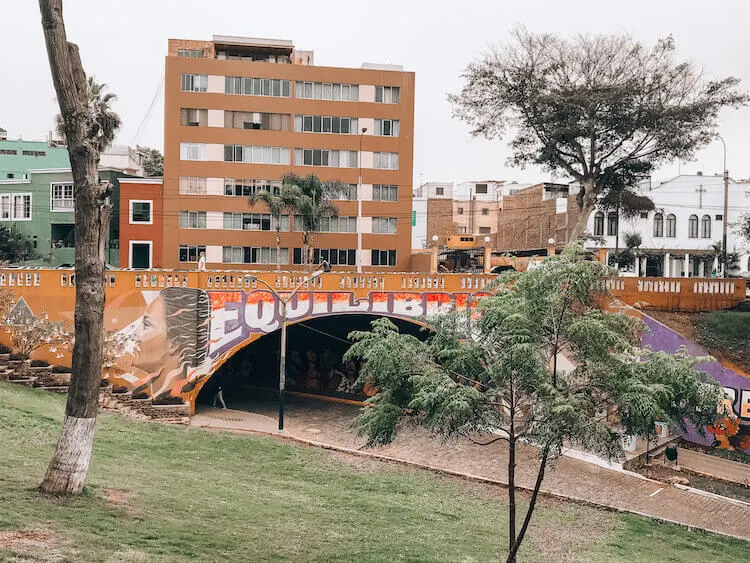 While they have a morning and evening tour, we highly recommend taking it in the morning. Get picked up and head into the bohemian Barranco neighborhood to start your tour off with fresh and famous organic coffee at a really cool café.
Then, you wander along the Bridge of Sighs, where rumor has it that you'll be together forever if you manage to cross it with your love while holding hands (and your breath). Take in the views of the city and street art as you wander to get a fruit smoothie at the next stop.
Next up, you'll check out a market to taste unique and fresh fruit grown in Peru before making your own ceviche and pisco sours for lunch right next to the beach.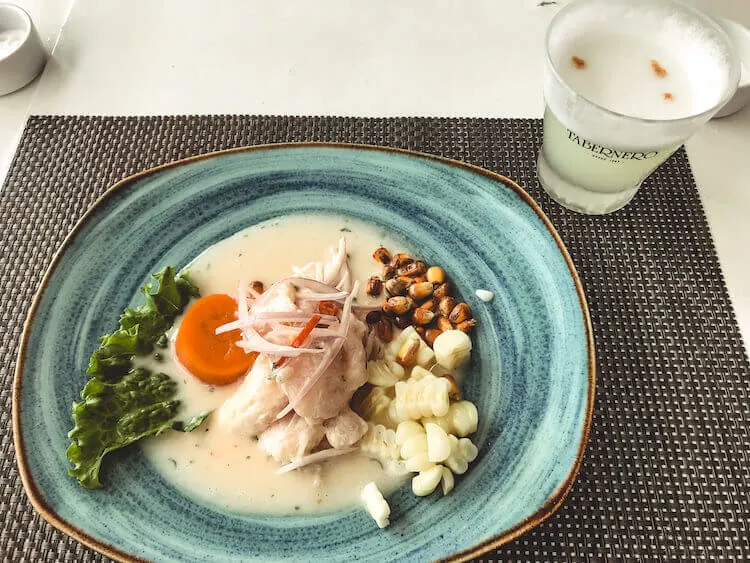 And then you'll end in Miraflores, sampling more pisco sours and snacks as you sit next to Huaca Pucllana, pre-Incan ruins dating back to 200-700AD.
In 5 hours you will have seen many great spots in Lima on top of tasting amazing food. It truly is the best thing you'll want to do in Lima.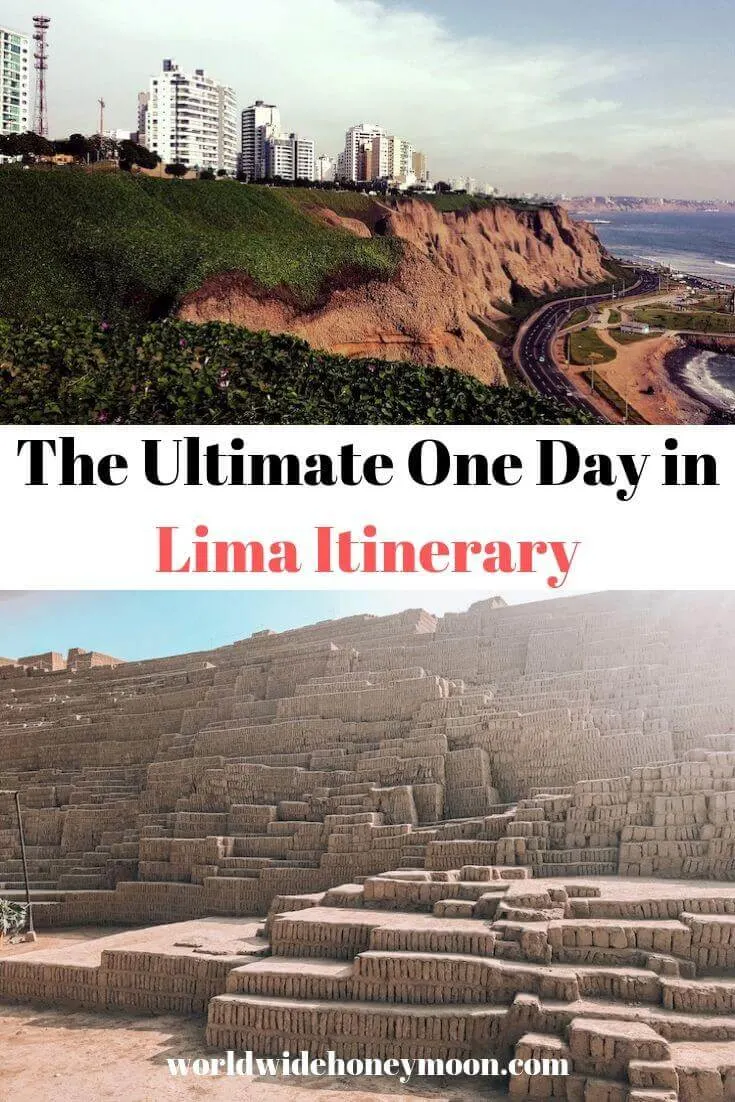 Explore Miraflores Bar/Brewery Scene During Your One Day In Lima
By the time you finish your food tour, it is basically time for happy hour, right? Okay, it may be around 2:30 or 3 pm, but why not check out some great bars for a cocktail or beer? Lima isn't just a place for foodies, but it also has a thriving bar and brewery scene.
And a great spot to check out is definitely Barbarian. This craft brewery is serving up burgers (just in case you're still hungry post-food-tour), as well as beers like IPAs, barley wine, fruit beer, and more.
We really enjoyed the Sacha Birra fruit beer and K-7 Double IPA.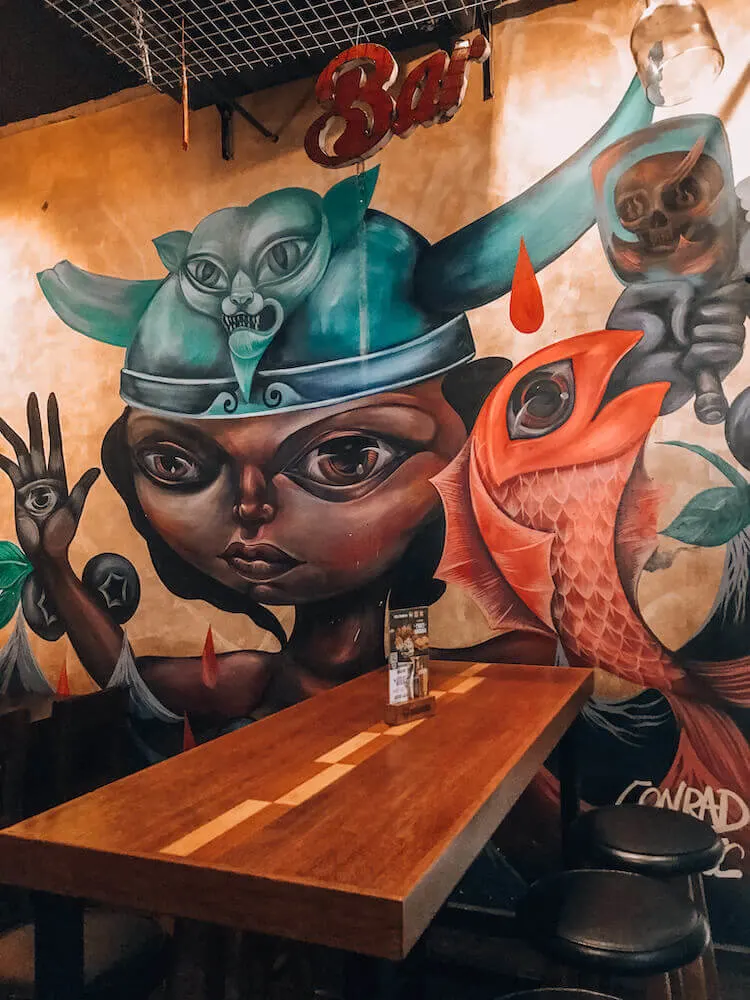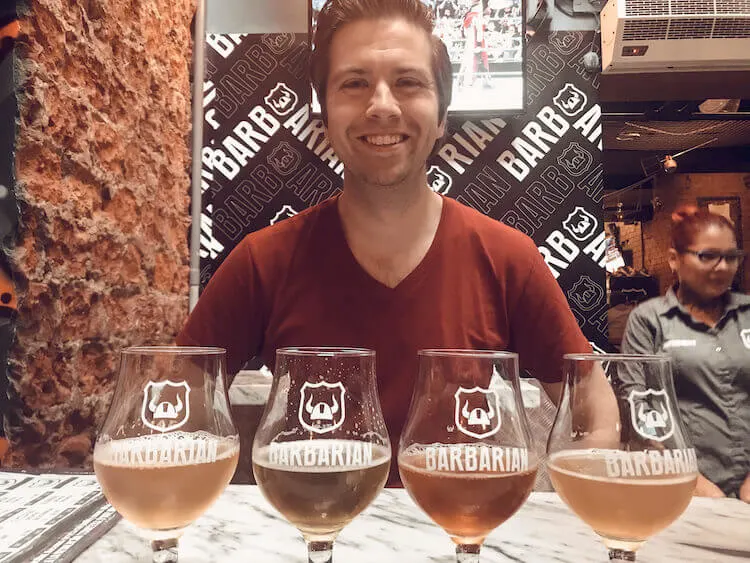 Next up, stop by Halftime Cervecia Peruana for tasty Jora Pale Ale and Halftime Vanilla Stout. We seriously loved checking out the brewery scene in Lima and spent quite a bit of time hanging out at these local spots.
Lima Sightseeing | Lima, Peru Points of Interest
Aside from food and breweries, you want to see more of the main sites before heading out to your next destination. Here is what to do in Lima during your remaining daylight hours:
Main Square of Lima: Surrounded by gorgeous palaces, this is the birthplace of Lima. Admire the architecture as you wander around the main square.
Larco Museum: For those interested in history, definitely check out the pre-Colombian art at this museum.
Park of Love: This park complete with a kissing sculpture, overlooks the Pacific Ocean. It is the perfect spot to reflect on your short time in Lima or grab a snack and hold hands while walking around.
Kennedy Park: Speaking of parks, this may be my favorite. Aside from boasting many street vendors to purchase things from, there are a lot of cats living here. And if you love cats, you'll love this park.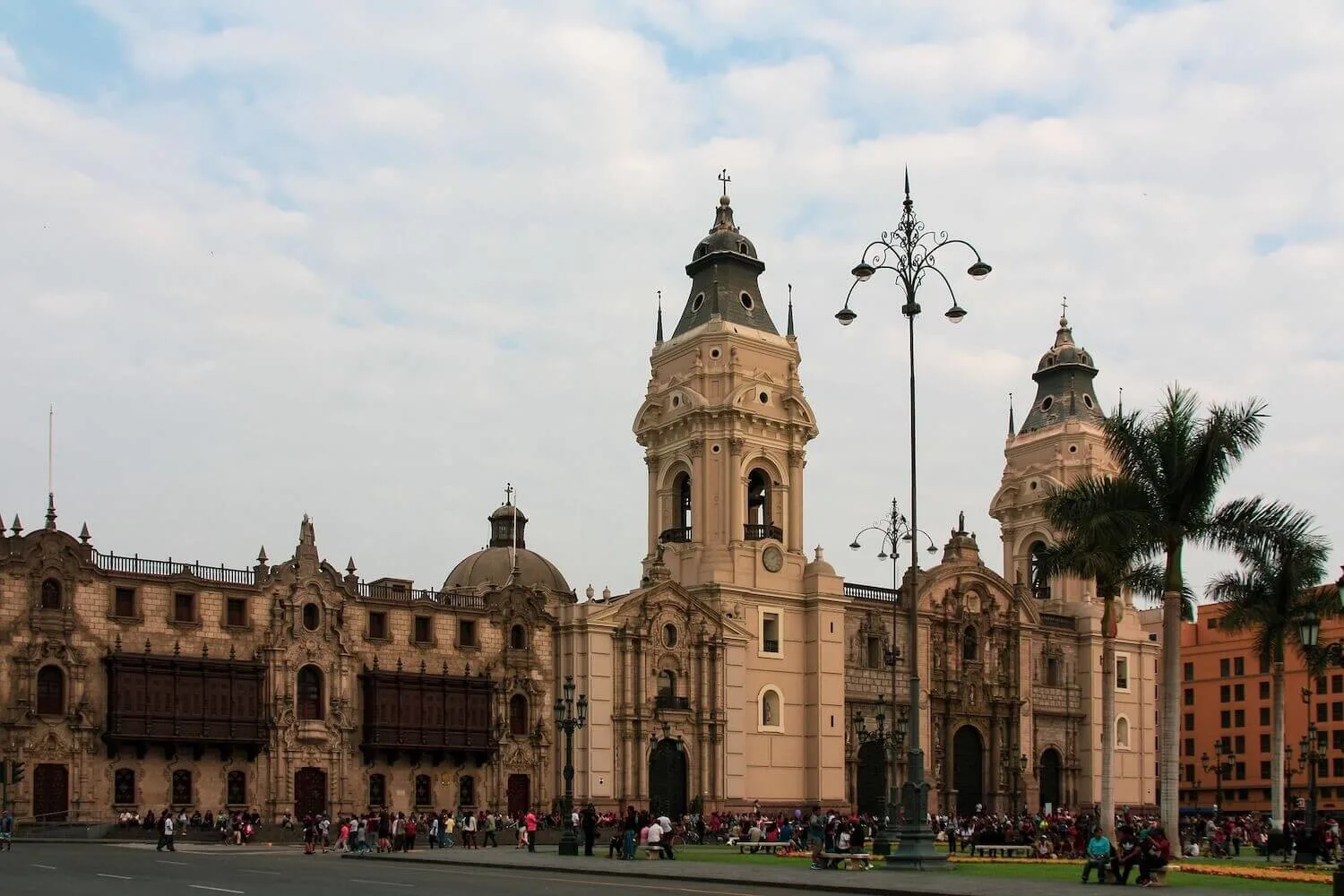 Sample Lima's Best Food at Mercado 28
Okay, so by now you've realized that this is a very food-centric way to see Lima. But how often do you get to visit a place world-renown for its food? And the best place to sample a lot of food from various vendors is at Mercado 28.
This delicious market, right in the heart of Miraflores boasts 18 vendors cooking up anything from ceviche and seafood to the various fusions of Peruvian cuisine. We're talking Japanese-Peruvian sushi, Peruvian-creole like the famous beef stir-fry known as lomo saltado, and even Italian food.
We spent a good chunk of our evening going back and forth to the bar, sampling all the flavors of pisco sour (we loved the passion fruit best), and eating at as many stands as we could.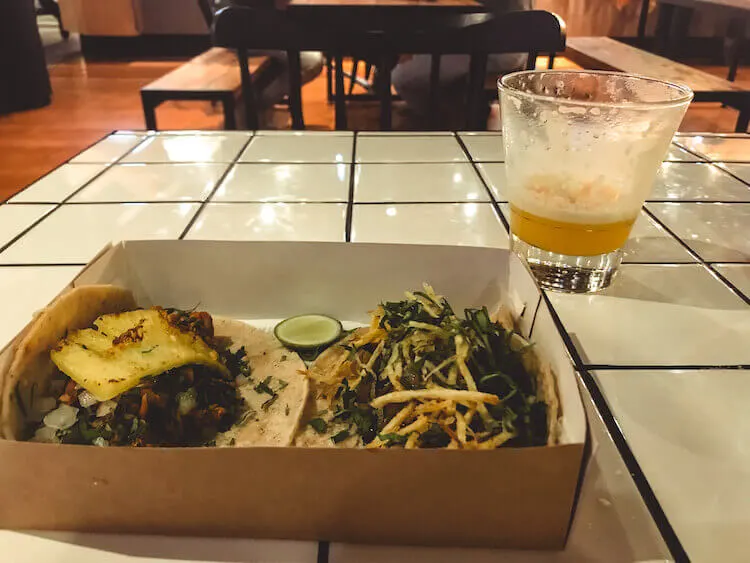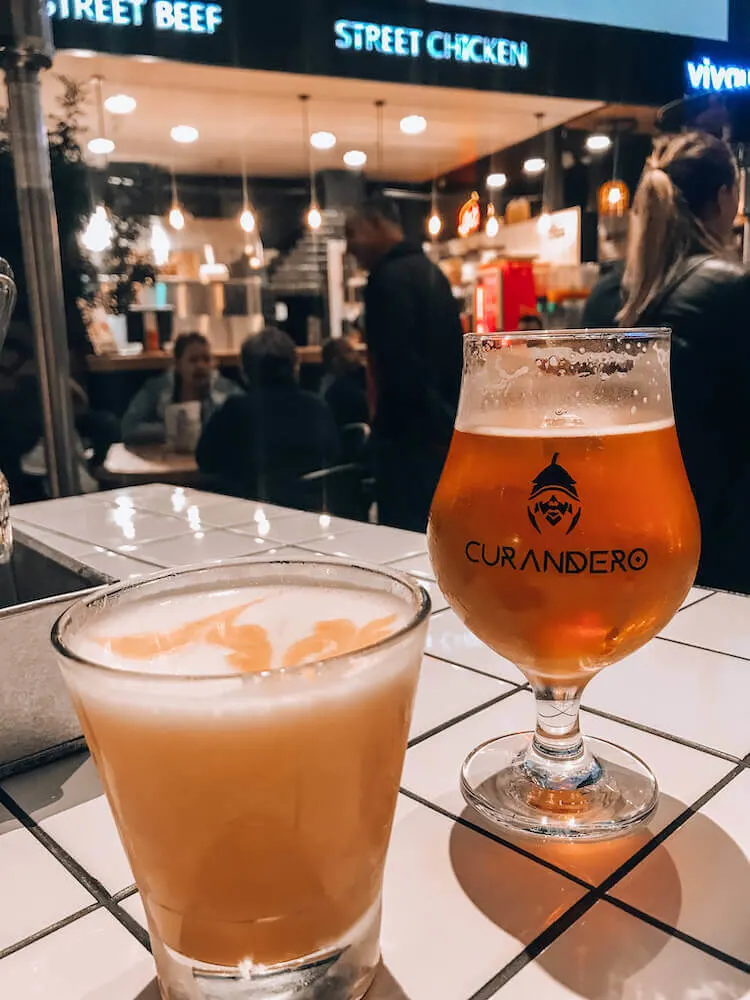 Day Trips from Lima
If you have extra time in Lima or you just want to take a day trip instead, here are a few great day trips to enjoy!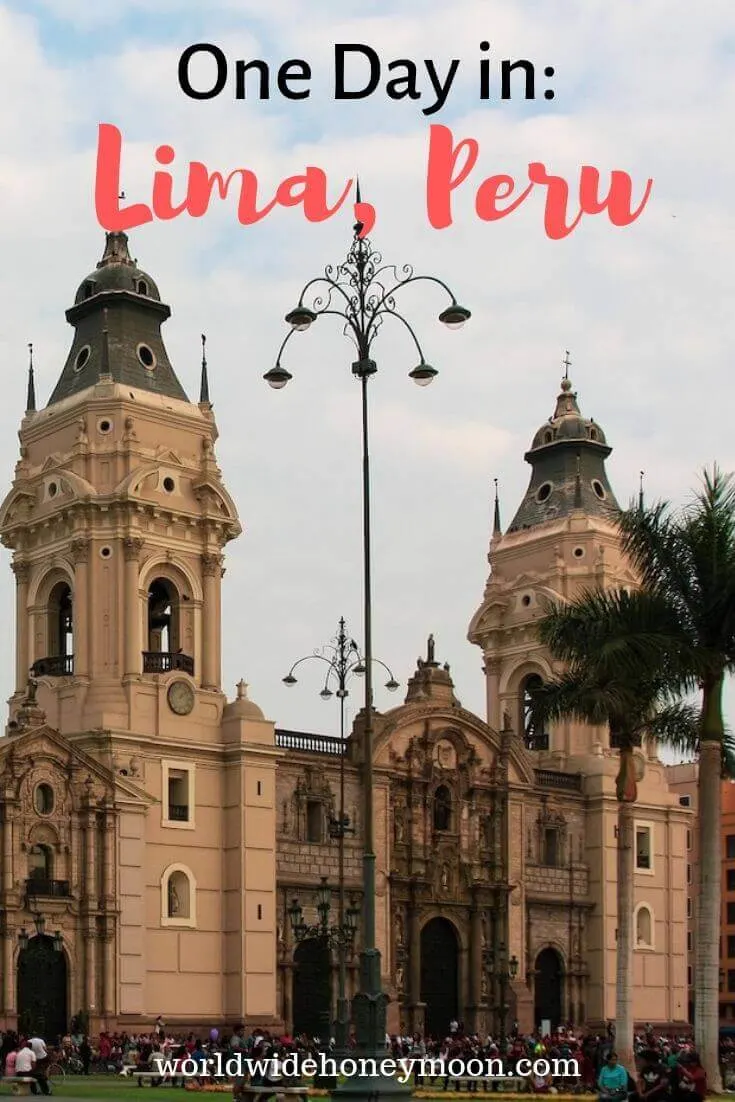 Where to Stay in Lima
When it comes to where to stay in Lima, I recommend staying in the Miraflores neighborhood. It is close to other great neighborhoods like San Isidoro and Barranco, and there is so much to see and do in Miraflores alone. Here are great hotels to stay at based on your budget!
This is where we stayed and the price was very reasonable. It had all the comforts of home, including a nice bathtub. It was super close to a lot of great bars and restaurants, and they had the cutest patio area to sit and relax with a drink. The breakfast was huge each morning too with plenty of coffee!
Price Point: Stating at $70.
Check prices and reviews on TripAdvisor | Booking.com | Agoda
This gorgeously designed hotel is close to Kennedy Park and the craft market. Enjoy free breakfast or a fun cocktail in the lounge before checking out the pretty rooms with photos of iconic sites of Peru.
Price Point: Starting at $105.
Check prices and reviews on TripAdvisor | Booking.com | Agoda
Overlooking the ocean with all the amenities you'd expect from Marriott, this hotel also has a heated pool, spa, hot tub, fitness center, free parking, and a great breakfast spread. It is central to everything, so for the ultimate luxury, this is the place.
Price Point: Starting at $273.
Check prices and reviews on TripAdvisor | Booking.com | Agoda
Logistics: Getting to and Around Lima
Lima is really easy to get to thanks to several flights a day coming into the Lima, Peru airport, the Jorge Chavez International Airport. Many airlines such as Delta, American, United, LATAM, Spirit, and JetBlue all have flights that go to Lima from the US. And with discount airlines like Spirit flying here, you can typically find a good deal with cash. Check flight prices on Skyscanner to see all the deals!
We flew in using 35,000 American Airlines miles for the two of us, which was a great deal from Cleveland!
Once you get here, there is a bus system called El Metropolitano that can take you to the hotspot areas you'd like to visit. There are also minivans that act as buses that have the destination on the window. You can hop in for a local experience and it is cheap.
Uber is also readily available in Lima, which is preferable over taxis, as they don't have meters. If you do take a taxi, be sure to negotiate the price before hopping in!
**Also, never forget to purchase travel insurance in case of the unexpected. We always use World Nomads.
If you are short on time and only have one day in Lima, this is certainly the best way to spend it. Eat to your heart's content on all of the fresh seafood, corn dishes, drink pisco sours, and try all the craft breweries. You'll find yourself understanding the local culture of modern-day Peru, which is perfect before exploring the Sacred Valley of the Incas.
Check out our Peru must-haves!
Would you spend a day in Lima? What would you see? Let us know in the comments!
Planning a Peru honeymoon? Check out our ultimate Peru honeymoon guide!
Pin it here!